My American Flyer Choo-Choo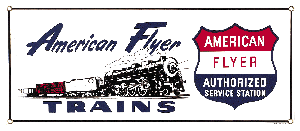 In 1900, prolific but as yet unsuccessful inventor Joshua Lionel Cowen built a tiny electric motor, attached it to a toy locomotive, built a 30 ft. circle of brass track, then took the whole thing to a Providence, Rhode Island novelty shop. I remember by first train... it was Lionel but I didn't like the three rail system! So we went authentic... American Flyer! My mom and dad built a layout about 20x8 for me and wow, what a surprise! I played with those trains clear through Junior High School... By 1957 both the trains and myself were worn out!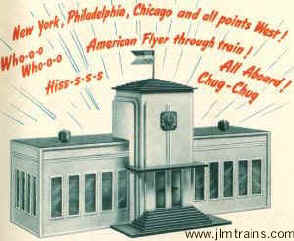 My favorite... Ralph Lebowitz bought me a TALKING TRAIN STATION! It said "All Aboard" a little raspy.. but it talked! Wow! I was king!