Pre/Post Graduation Visit
Please enjoy our drive up with us ...
Did You Know? - Saratoga High is locally known for its rigorous academic program. 98% of graduates go on to college or technical school. In 2005, 98% of the students took the SAT with a mean of 1283. In 2006, 908 AP exams were taken with 89% receiving qualifying scores. 23% of the class of 2007 were semifinalists or commended students in the National Merit Scholarship Program.
In 2003, the school's California State Academic Performance Index (API) score was 911, the leading score among all comprehensive public schools in the State of California. The school's 2005 API score was 914 , and its 2008 API score was 928.
Its long time athletic rival is Los Gatos High School and its academic rivals are Lynbrook High School, Gunn High School and Monta Vista High School. Many of Saratoga's alumni have gone on in droves to UC schools, Ivy League schools and other top schools. It is common for students to apply to Stanford University, UC Berkeley, Harvard University, MIT and UCLA.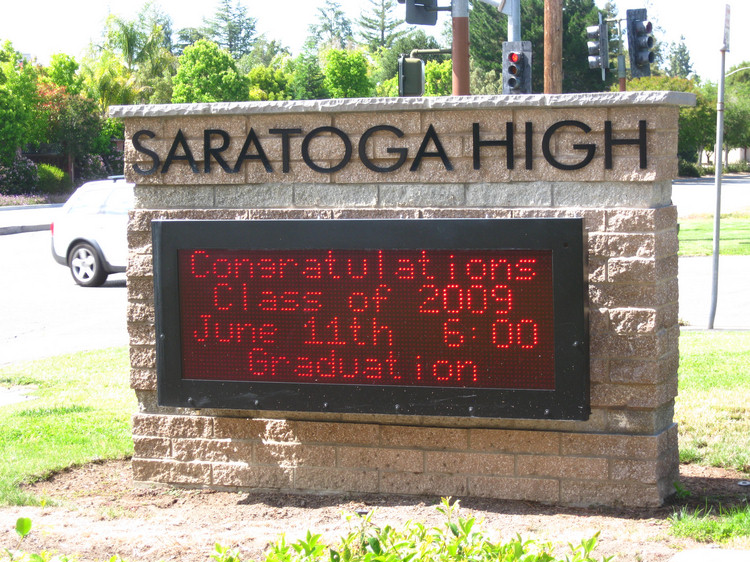 We arrived in the nick of time!

Graduation presents? Who, us??

"I wonder if it is candy??"

"It makes beautiful noise!"
Did you know? - The original snuff boxes were tiny containers which could fit into a gentleman's waistcoat pocket. The musical boxes could have any size from that of a hat box to a large piece of furniture. Most of them were tabletop specimens though. They were usually powered by clockwork and originally produced by artisan watchmakers. For most of the 19th century, the bulk of musical box production was concentrated in Austria, building upon a strong watchmaking tradition. The first musical box factory was opened there in 1815 by Jérémie Recordon and Samuel Junod. There were also a few manufacturers in Bohemia and Germany. By the end of the 19th century, some of the European makers had opened factories in the United States.

The cylinders were normally made of metal and powered by a spring. In some of the costlier models, the cylinders could be removed to change melodies, thanks to an invention by Paillard in 1862, which was perfected by Metert of Geneva in 1879. In some exceptional models, there were four springs, to provide continuous play for up to three hours.
Musical box using the metal disk system

The very first boxes at the end of the 18th century made use of metal disks. The switchover to cylinders seems to have been complete after the Napoleonic wars.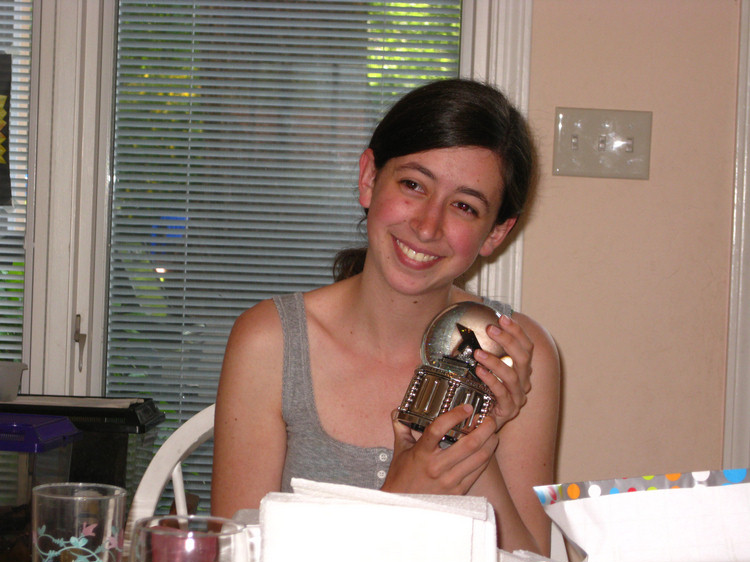 Pomp and Circumstance
Did you know? - The Pomp and Circumstance Marches (full title "Pomp and Circumstance Military Marches"), Op. 39 are a series of marches for orchestra composed by Sir Edward Elgar.
In the United States, the trio section Land of Hope and Glory of March No. 1 is sometimes known simply as "Pomp and Circumstance" or as "The Graduation March", and is played as the processional tune at virtually all high school and college graduation ceremonies.

It was first played at such a ceremony on 28 June 1905, at Yale University, where the Professor of Music Samuel Sanford had invited his friend Elgar to attend commencement and receive an honorary Doctorate of Music. Elgar accepted, and Sanford made certain he was the star of the proceedings, engaging the New Haven Symphony Orchestra, the College Choir, the Glee Club, the music faculty members, and New York musicians to perform two parts from Elgar's oratorio The Light of Life and, as the graduates and officials marched out, Pomp and Circumstance March No. 1.

Elgar repaid the compliment by dedicating the Introduction and Allegro to Sanford later that year. The tune soon became de rigueur at American graduations, but then as a processional at the opening of the ceremony, instead of the original recessional by Yale. The song is also well known as the famous entrance theme of professional wrestler "Macho Man" Randy Savage.

Lisa is also going to be a graduate! Lisa graduates from middle-school tomorrow the 12th of June!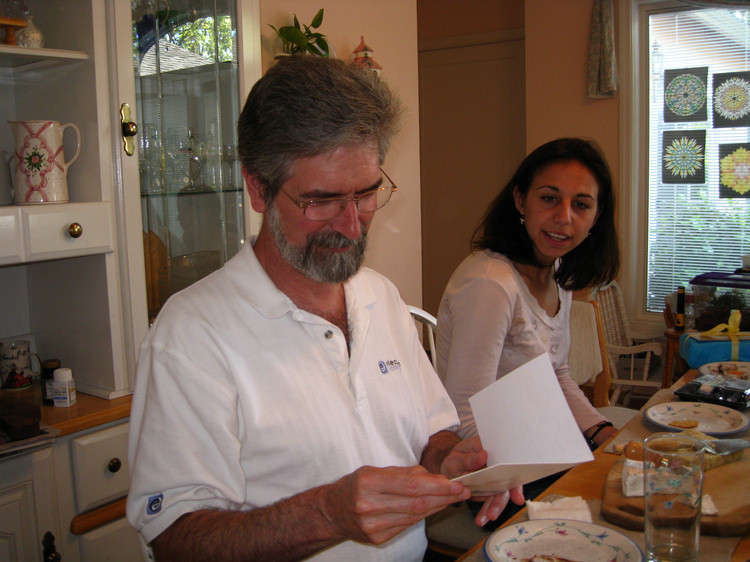 It is going to be Pat's birthday on Friday but we celebrated today. He got a card with a "bug zapper" in it!
Did you know? - In its October 1911 issue, Popular Mechanics magazine had a piece showing a model "fly trap" which utilized all the elements of a modern bug zapper, including electric light and electrified grid. The design was executed by two unnamed Denver men and was conceded to be too expensive to be of practical use. The device was 10x15 inches, contained 5 incandescent light bulbs, and the grid was 1/16 inch wires spaced 1/8 inch apart with a voltage of 450 volts. Users were supposed to bait the interior with meat.

According to the US Patent and Trademark Office, the first bug zapper was patented in 1934 by William F. Folmer and Harrison L. Chapin. They were issued patent no. 1,962,439.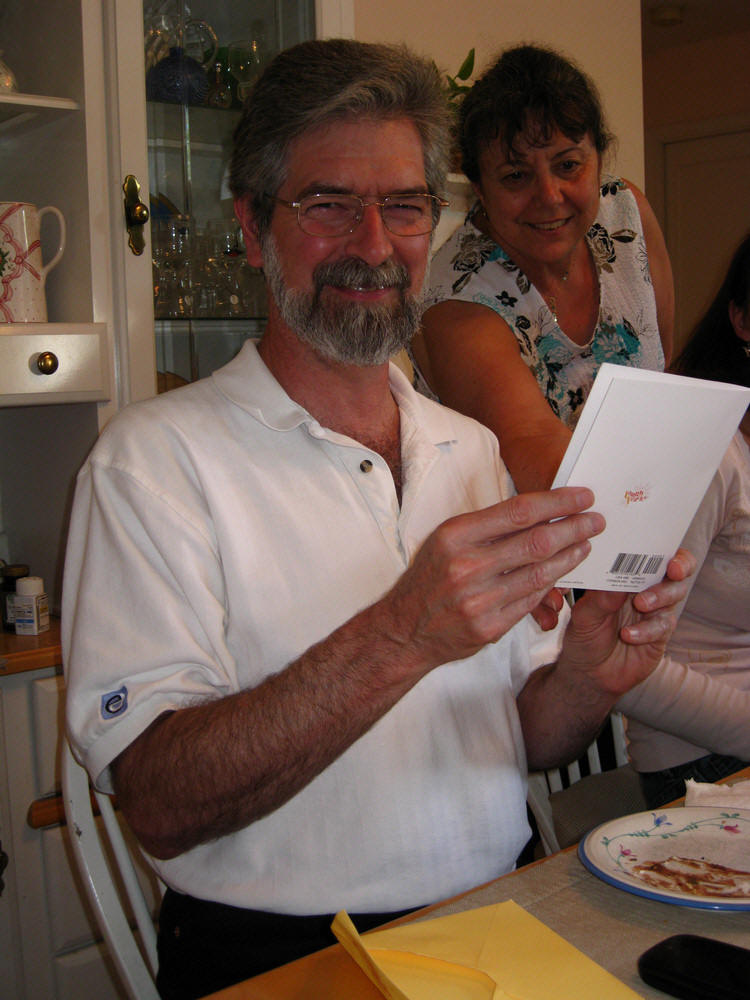 Did you know? - The Cavalier King Charles Spaniel is perhaps the largest toy breed: though historically a lap dog, modern day fully-grown adults tend to fill a lap rather amply. It is nonetheless quite small for a spaniel, with fully-grown Cavaliers roughly comparable in size to adolescents of more conventional spaniel breeds. Breed standards call for a height between 30 and 33 cm (12–13 inches) with a proportionate weight between 6 and 10kg (10 and 18 lb), although even purebreds commonly grow to 35-40 cm tall with a proportionate weight between 20-25 pounds.
Unlike most other spaniels, the Cavalier has a full-length tail, well-feathered with long hair, which is usually not docked, which is typically carried aloft when walking. The Cavalier's head is nearly flat between the ears and has a well defined nose, its eyes are large and round and this gives the dog its characteristic endearing look.
Its neck is strong and is slightly arched and its ears are long and drooping and have plenty of feathering. The body of the Cavalier is small but well balanced, this dog moves with a somewhat elegant and royal gait.
She Is About To Leave; We Need To Take Outdoor Yard Pictures First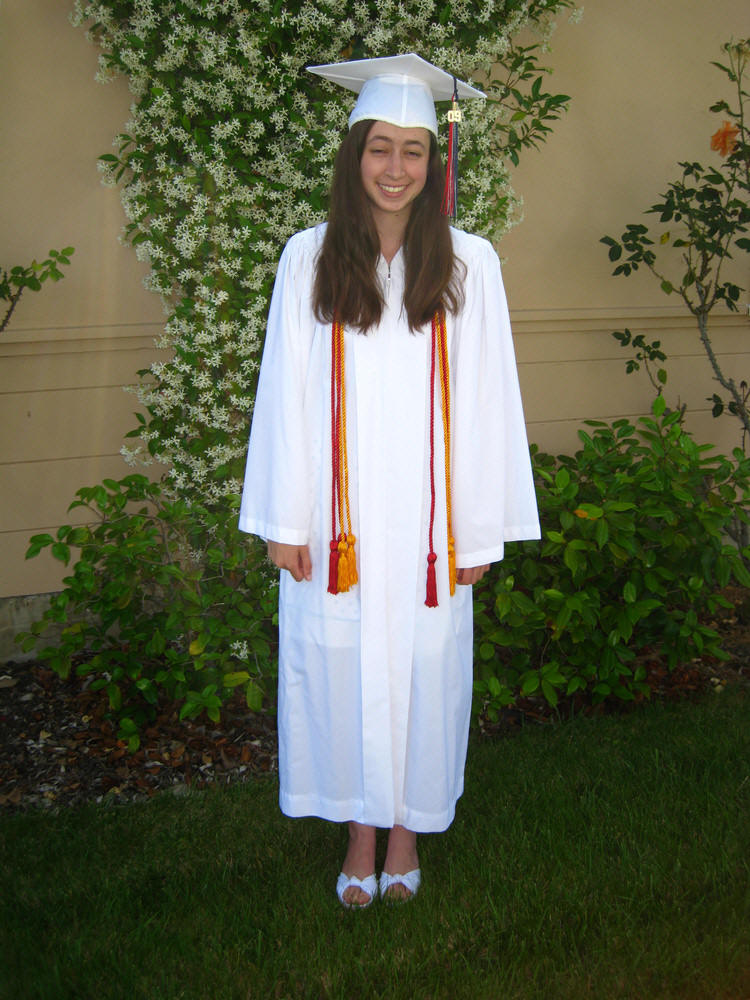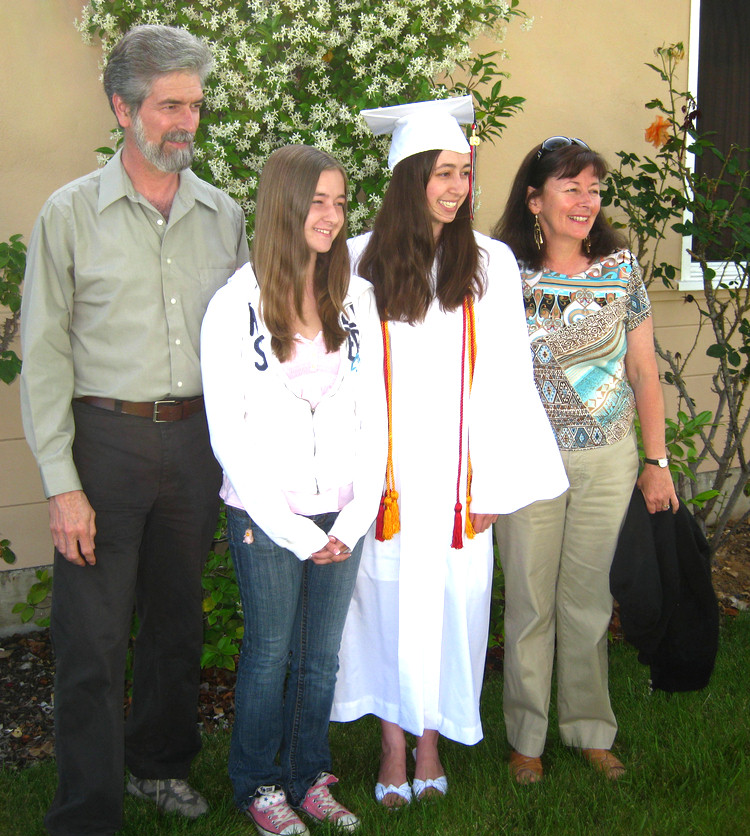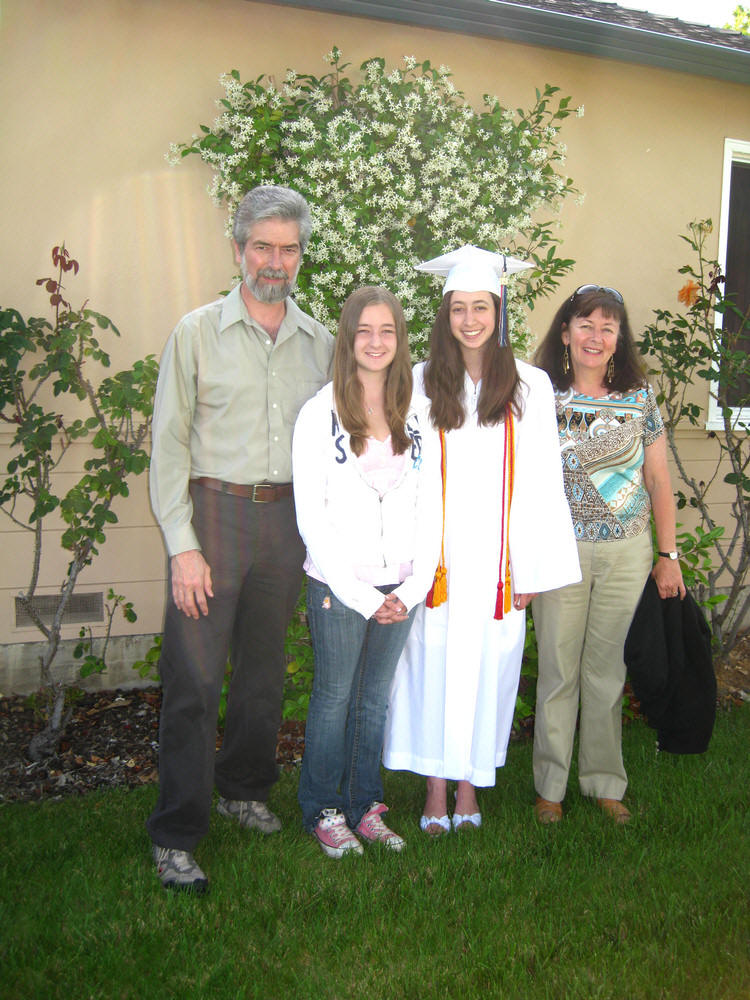 Pat, Lisa, Hannah, and Diane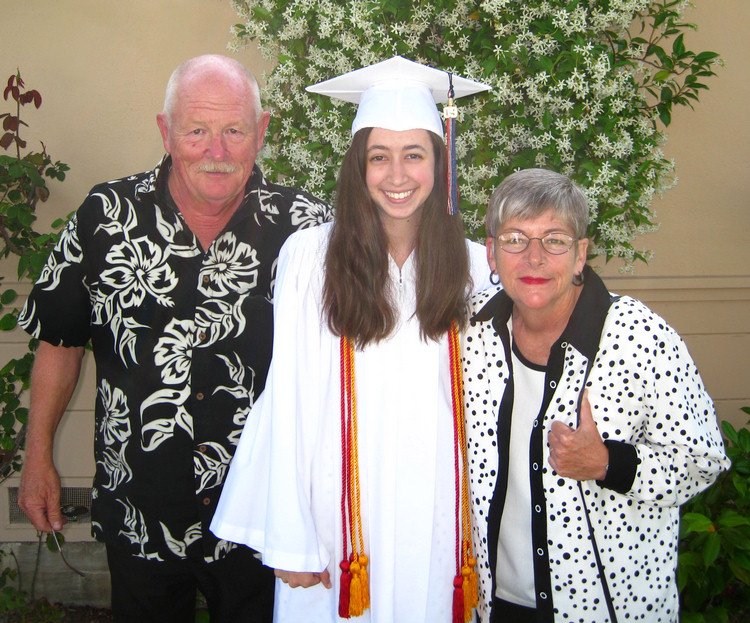 Unkle Paul, Hannah, and Aunt Sue

Mary, Hannah and Emily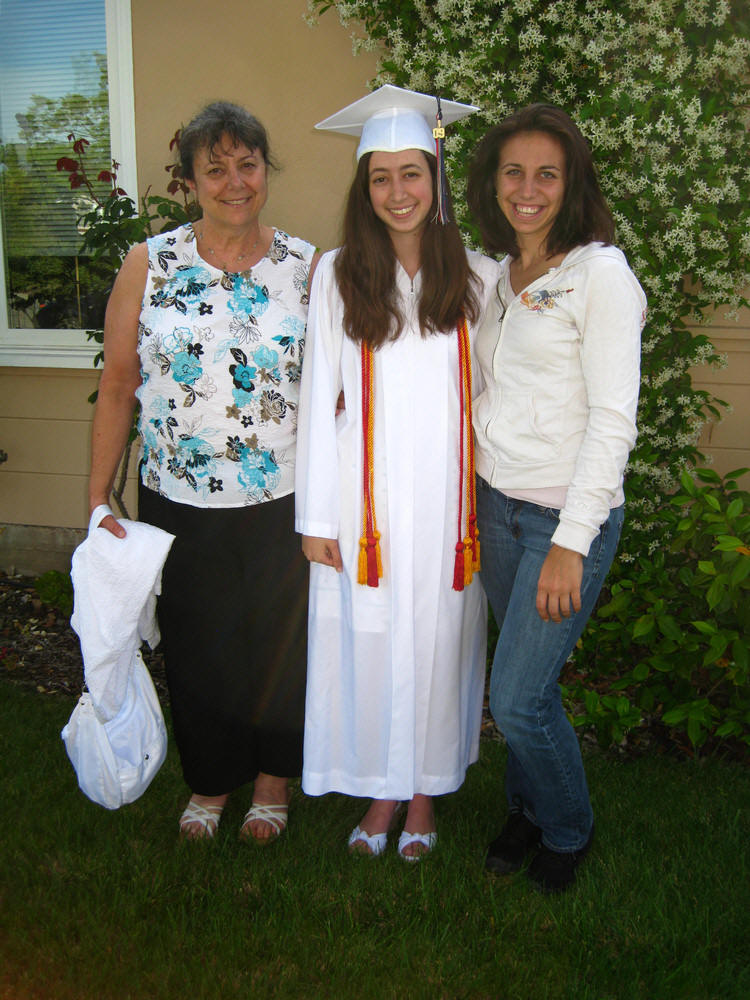 Mary came out from North Carolina to visit; Emily is a "local"
The Carriage Awaits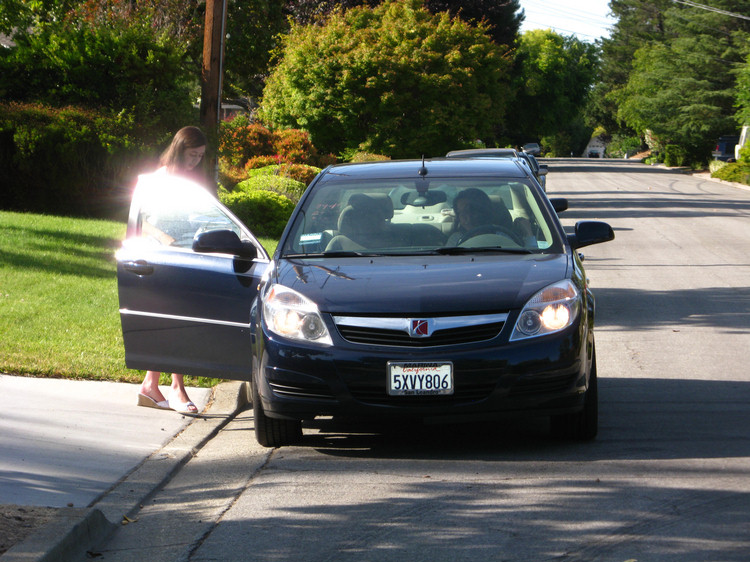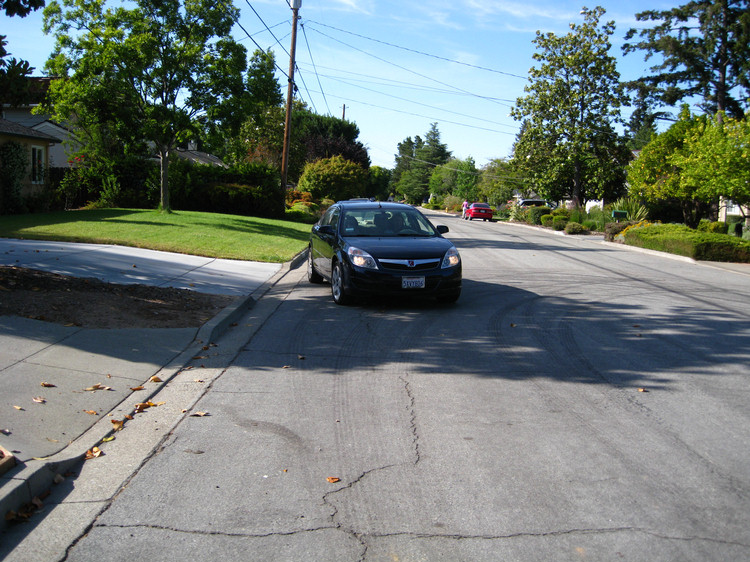 The chauffer takes her to her last day at Saratoga High School
Graduation Is Over, We Await Her Arrival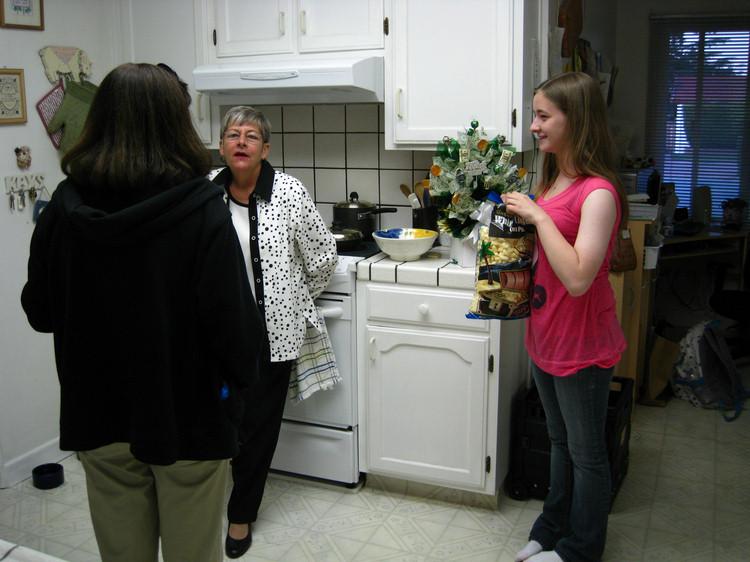 Meanwhile back in the kitchen, we plan to see her for a few minutes before she goes to grad night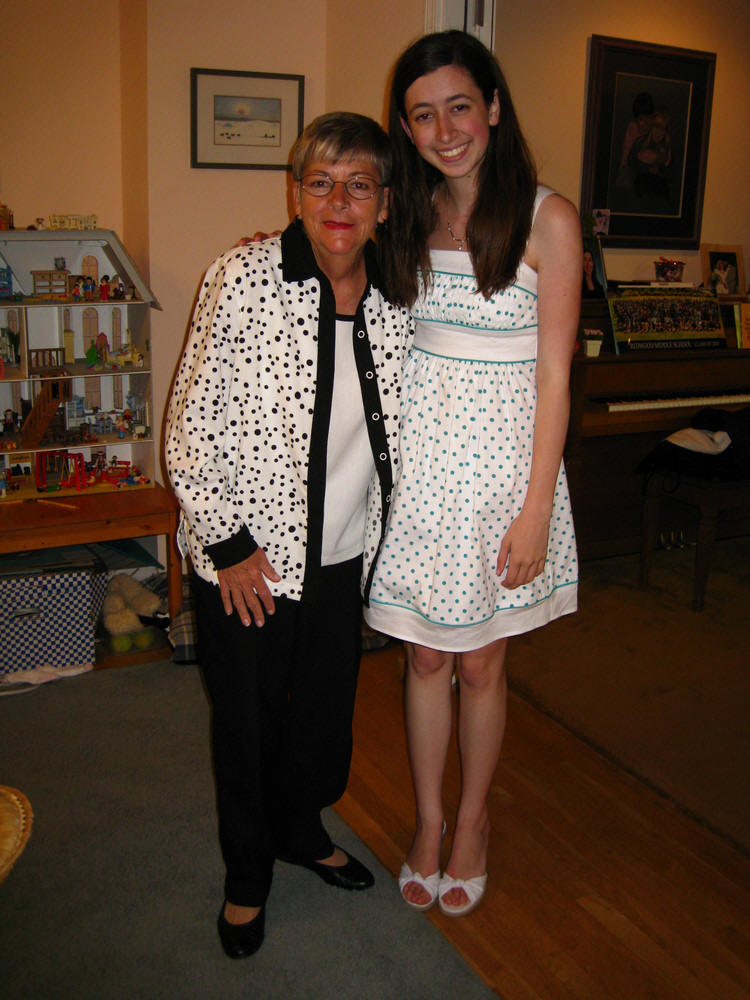 Cap and Gown comes off and she readies herself for grad night at the school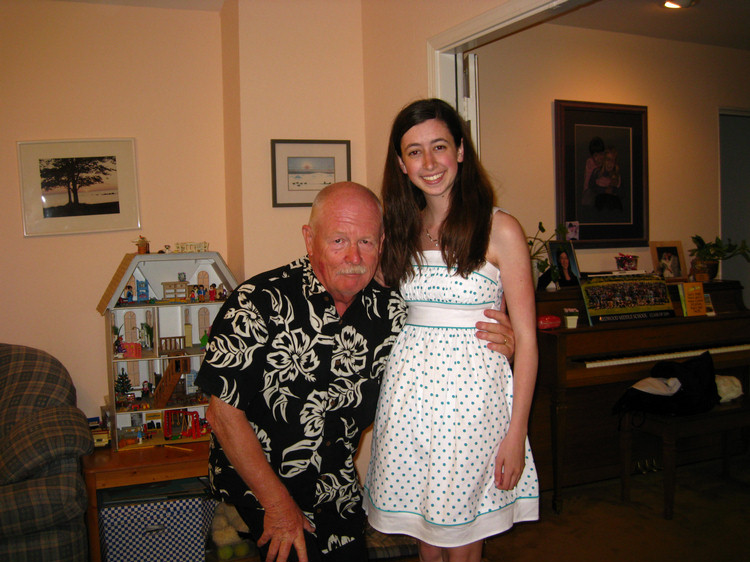 She is tall

Unkle Paul can remember when!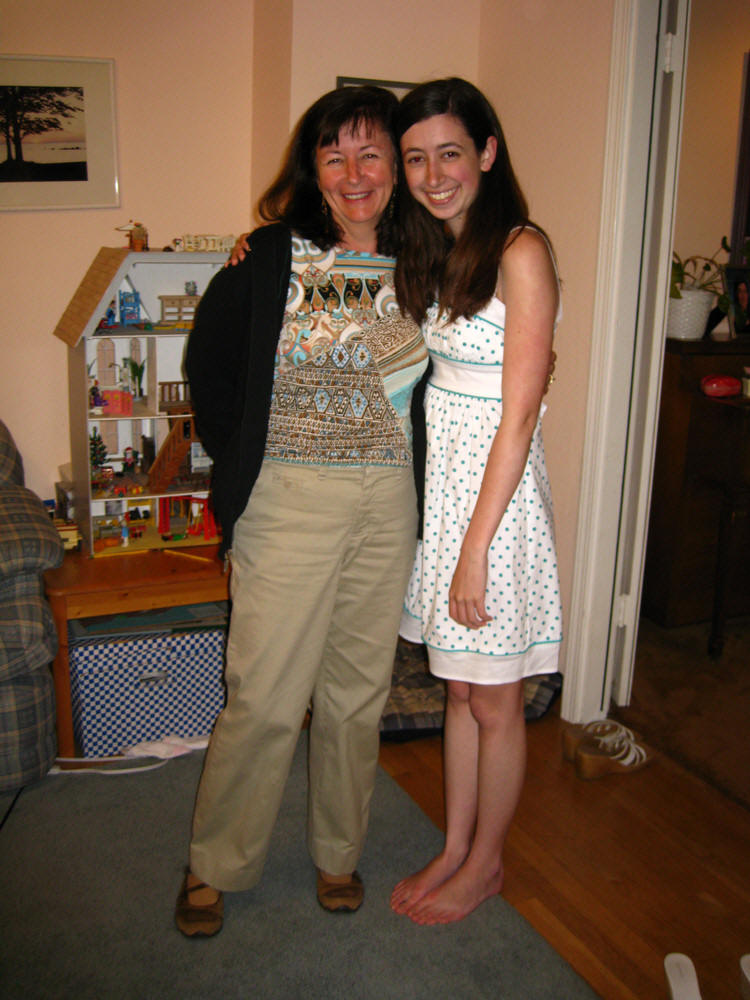 Diane and Hannah

Diane, Hannah and Pat

Mary and Diane discuss the finer points of salad dressing