Thought:
Paul William Liles, Paul's Father
Today is Saturday December 02, 2023 and Dad would have been old. The year my father was born the great San Francisco earthquake occurred! Amazingly, the folks in rural Arkansas did not find out about the quake for several days after it happened.


Click the image to see the devastation!
See video of San Francisco in 1906
Dad was born and raised In McRae, Arkansas which was in White County just northeast of Little Rock. He was born on 16 September 1906 to Grover Clifton Liles and Susie Kathryn Cook. Dad passed away from pneumonia on November 19th, 1970 in Los Angeles, California, USA.
Did You Know In 1906?
Federal spending:   $579 million
Unemployment:   1.7%
Cost of a first-class stamp:   $0.02
Paul Williams Liles Mother
Susie Cook was born on 13 Jan 1881. Susie Kathryn married Grover Clifton Liles and had 5 children. She passed away on 27 Mar 1957 in White, Arkansas, USA. English meaning of "Cook": occupational name for a cook, a seller of cooked meats, or a keeper of an eating house, from Old English coc (Latin coquus). There has been some confusion with Cocke.

After Grover passed, when dad was six, in 1911 at the age of 30, Mary remarried to Charles Essig (1895 - 1970). "Rumor" has it that he was the town drunk and if Mary would straighten him out, he would not go to jail. She did and he was a super grandfather who Paul David didn't know he was a step grandfather until the 1960's.
Paul Williams Father
Grover Clifton Liles (1884 - 1911) was born in White, Arkansas, USA on 24 September 1884 to Joseph Liles and Martha Caldonia Howard . Grover Clifton married Susie Kathryn Cook . He passed away on 27 Jan 1911 in White, Arkansas, USA.


Passed when he was attacked by a swarm of bee's he was tending.

Susie and Grover had five children.
Dad's Grandfather
Joseph Liles (1847 - 1905) was born in Arkansas, USA on 1847 to Amaziah M Liles and Jane Price. Joseph married Martha Caldonia Howard and had 10 children. He passed away on 25 Mar 1905 in White, Arkansas, USA. Joseph Liles (Paul David's son) was born in 1971! Great Grandpa Joseph had
Dad's Great Grandfather
Amaziah M Liles (1812 - 1866) was born in North Carolina, USA on 1812. Amaziah married Eliza Jane Simmons and had 3 children. Amaziah M married Jane Price and had 6 children. He passed away on 8 Aug 1866 in White, Arkansas, USA.

Eliza Jane Simmons (1838 - 1912)

Jane Price (1814 - 1837)
Arkansas Was Poor Only In A Monetary Sense
Did You Know In 1906?
Reginald Fessenden invents wireless telephony, a means for radio waves to carry signals a significant distance.
Upton Sinclair exposes the public-health threat of the meat-packing industry in The Jungle.
Arkansas is a state located in the southern region of the United States of America. Arkansas shares a border with six states, with its eastern border largely defined by the Mississippi River. Its diverse geography ranges from the mountainous regions of the Ozarks and the Ouachita Mountains to the eastern lowlands along the Mississippi River. The capital and most populous city is Little Rock.

The name Arkansas is a French pronunciation of a Quapaw word meaning "land of downriver people". The pronunciation "Arkansas" was made official by an act of the state legislature in 1881.

Paul William and Paul David circa 1961 (Courtesy of Joe Raymond Liles)
Mom and Dad with me in 1946 at the Comey Avenue home

Where Mom and Dad called home in West Los Angeles (Culver City)
Home Sweet Home... Not A Lot Has Changed
Dad's parents lived in McRae Arkansas. Dad had three older sisters... Opal, Alma, and Edith! His father (Grover Clifton Liles) died soon after he was born and Susie married Charles Essig in 1914... Charles (Charlie) was only 19 and Susie was 28!
Charlie and Susie had two additional children, Clarence Earl and Helen. Clarence and Helen have since passed. Clarence in 1963 and Helen in 2003.
Township Names & Origins - White County, AR
Did You Know? - As of the census of 2000, McRae had 661 people, 280 households, and 185 families residing in the city. The population density was 1,312.5 people per square mile (510.4/km²). There were 312 housing units at an average density of 619.5/sq mi (240.9/km²). The racial makeup of the city was 95.31% White, 0.45% Black or African American, 0.61% Native American, 1.06% from other races, and 2.57% from two or more races. 4.08% of the population were Hispanic or Latino of any race.
There were 280 households out of which 28.9% had children under the age of 18 living with them, 50.0% were married couples living together, 12.1% had a female householder with no husband present, and 33.9% were non-families. 30.7% of all households were made up of individuals and 17.5% had someone living alone who was 65 years of age or older. The average household size was 2.36 and the average family size was 2.94.
In the city the population was spread out with 23.8% under the age of 18, 10.1% from 18 to 24, 25.1% from 25 to 44, 23.4% from 45 to 64, and 17.5% who were 65 years of age or older. The median age was 38 years. For every 100 females there were 89.9 males. For every 100 females age 18 and over, there were 84.6 males.
The median income for a household in the city was $20,750, and the median income for a family was $25,833. Males had a median income of $25,774 versus $17,500 for females. The per capita income for the city was $10,917. About 19.2% of families and 22.0% of the population were below the poverty line, including 24.6% of those under age 18 and 17.1% of those age 65 or over.
Looking for my heritage on genealogy.com
According To Aunt Helen... My grandparents (in the early 1900's) ran the saw mill in the area and did have "some money".... nothing like today's standards. Aunt Helen and Edith told us about the early years in a recent visit we took back to Arkansas...

The family owned a skating rink in town... well, the town was quite a bit bigger then and was the Strawberry capital of the South!
We owned the electric company... sounds big, huh? Well, it was so small gasoline powered generator which only operated from 10am-4pm... in fact, the town whistle blew 5 minutes to 4:00 pm so everybody could hurry and get their work done.
They didn't have a radio until the 20's!
McRae was the Strawberry Capital Of America

Growing Up Dad Had Mild Polio
Dad had a form of polio and was often pulled around in a small wooden wagon because he had problems walking.... he soon outgrew that and began his lifelong friendship with Otis Tucker .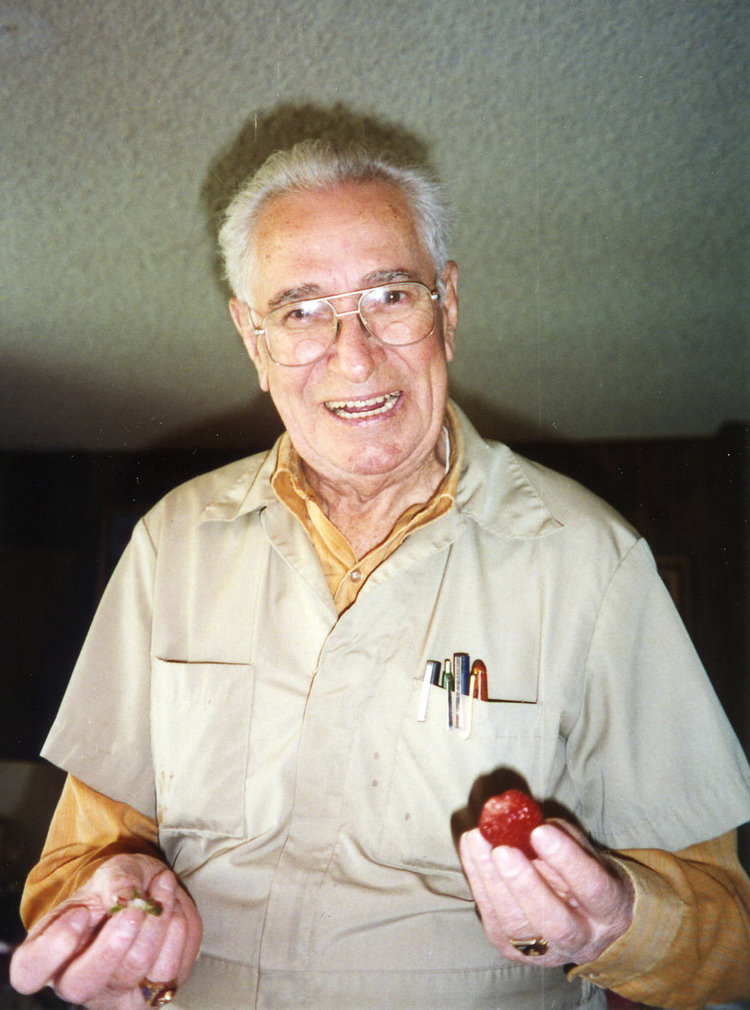 Otis Tucker at 92... More men should be like Otis
Otis and Dad wanted to leave as the only work was picking strawberries; a back breaking task. They planned and plotted and made their move.

Picking strawberries in McRae
Leaving Home

Dad and Otis left Arkansas together in their early teens.

As Otis tells it, they jumped a freight train and several hours out of McRae, the railroad police found them in a box car.  They jumped out opposite sides of the car. Otis headed south and Dad went north.  

Dad ended up on Oklahoma where he met Mom and started a life-long career in the dime store business, .around 1924.

Otis did not return into Dad's life until about 1936 when everybody was heading toward California!
Going To California
Getting To California - Mom and Dad were married but the economy was pretty bad in the South. I have a letter Dad wrote his sister Opal in 1936 asking if she would let him come out and look for a job in California.
Mom and Dad came to Downey, California where Aunt Opal had a large lot! Dad went to work for Ralph David Leibowitz... a relationship went on until Dad's death in 1970.
The War Began
Dad tried to sign up for the Army but alas, we was not able too because of his polio. He had "flat feet" and one leg was shorter than the other He tried several times but was refused. I thought he was teasing until I got "Flat Feet" in my 50's.
Did You Know? - Flat feet (also called pes planus or fallen arches) is a postural deformity in which the arches of the foot collapse, with the entire sole of the foot coming into complete or near-complete contact with the ground. Some individuals (an estimated 20–30% of the general population) have an arch that simply never develops in one foot (unilaterally) or both feet (bilaterally).

There is a functional relationship between the structure of the arch of the foot and the biomechanics of the lower leg. The arch provides an elastic, springy connection between the forefoot and the hind foot. This association safeguards that a majority of the forces incurred during weight bearing of the foot can be dissipated before the force reaches the long bones of the leg and thigh.
The war came along and Ralph went into the Army serving in Northern California. Dad, because of the childhood polio and "flat feet" could not get in the military... he ended up running the dime stores while Ralph was gone!
Dad proved himself during those several years as a manager, a good friend, and a hard working provider. Non worked in the Douglas Aircraft factory in Santa Monica.
Ralph David Leibowitz!
Enter Ralph David Leibowitz! Ralph was Jewish and came from New York to make his mark on the world. He owned a "dime store" in Long Beach ... and although he really didn't need any help, he allowed Dad to dress the windows part time and then finally hired him full time. Ralph was an angel!
By 1940, Ralph had three stores and Dad moved to West Los Angeles.. a few doors from Venice and La Cienega (Spanish for "Swamp"). This won't mean a lot unless you knew it was only a few blocks from MGM, two miles to Rodeo Drive, on the Red-Line, etc.
Paul David Is Born
Then There Was Paul D. Yup, 1944, I came along after Mom and Dad had been married for almost 19 years! Where did the "D" come from, David from Ralph's middle name. Oh Yeah! Ralph's daughter was named Paula.
Things I Remember
A series of short memories will never forget!
The first spanking! I mouthed off to my mother only once! -- Dad's "25 years with the company watch" flies off his wrist and bounces down the sidewalk!
Helping the store during Easter by making the Easter Baskets... and getting so sick on jelly beans I though I was going to die! In the dime store business, we made our own baskets for the customers... I would often assist in making them and sometimes I would hide a whole lot of candy UNDER the grass... just to surprise the kids!
Dad going to Knute's on Saturday evenings to play poker. Knute was a neighbor who ran the worlds largest aluminum forming machine (at that time). He made some brackets to hold a motor on a race car dad and I built... and it was really something!
Dad only drank on two days a year.... 4th of July and Christmas Eve.... and he could put it away!
We took the S.S. Vulcania to Europe to visit an uncle.
Staying With It! - Dad stayed with Ralph's 5, 10 and 25 Cent Stores until his retirement in 1970. The chain grew to about 15 stores which were located all over the LA area. They had one store in Big Bear, California.
I have fond memories of helping Dad on the holidays and during openings of new stores! Going "downtown" to see new merchandise was always fun. We got to see the new things before they hit the market!
After Ralph's passing, the stores were finally sold off, they became The 99 Cent Stores!!
Dad Passed On Too Young
It was almost Thanksgiving 1970 and Dad had a bad cold. Having smoked for so many years, and respiratory issue was serious. He went into the hospital and things deteriorated rapidly.
He smoked... like everybody else of his generation. Even though he quit in 1962, three packs of Camel's a dad did in his lungs. Dad got a terrible flu in October 1970 and it progressed into pneumonia and death in November 1970; just before Thanksgiving.
I miss him to this very day; he was all I ever wanted to be in my life.