Dad Could Do Anything!
Dad went to the College Of Hard Knocks and learned though doing. There was nothing he would not attack and fix/repair/improve/create/destroy!
Dad Knew His Cement And Bricks!
I remember that Dad could fix anything and nothing was a challenge. One thing that will remain in my memories forever is the time he began the back yard patio! It was a Saturday morning and all of a sudden... we were mixing cement, stacking blocks and building a long fence around the new patio! Almost around the clock for two days and volia'... when done... we had a huge patio, built-in oven, pit, and a building! The next weekend we screened it in and we became the hit of the neighborhood! All that summer, we have the neighbors over and cooked outdoors!
Do You Remember The Incinerator???
These were cement devices everybody had in their backyard and we used them to burn our trash! Well it seems that in my youth I must have enjoyed steam because one day after Mom and Dad had a great fire going... I turned the garden hose on the side of the incinerator... to watch the steam.. and it cracked! I go a whoopin' and a lesson in building a new incinerator! He built a new concrete plate from a form he designed and it fit right in making the incinerator like new!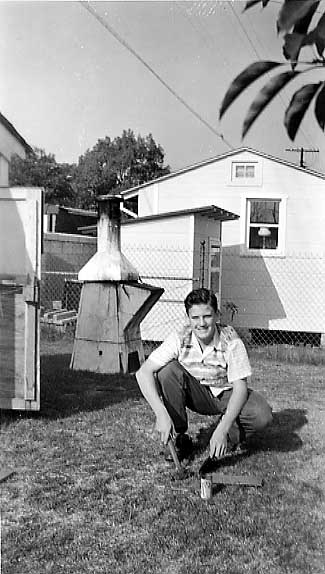 He Fixed Cars Too
I was in high school and had a new 62' Chevy... in three years I had 150,000 miles on it.. a 327 engine and it began to burn oil! I never knew dad knew anything about cars until one Saturday morning at 7 am he said... "drop the pan". Heck, I didn't know what a pan was! Within a few hours the engine was field stripped, pistons/parts all over the place! I re,e,ber feeling like it would never go together again!.
At 6:00 on Sunday we were putting on the carburator and we needed a gasket. We had no gasket! Oh dear, what now? Dad yelled for Mom to go find a shirt-cardboard. Huh? A shirt-cardboard? Dad cut it to approximate size with some sissors and then soaked the paper in a small pan of clean oil! After five minutes, he put the cardboard on the top of the engine, cut out the holes needed for the bolts to go through and mounted the carburator. He tightened it dowmn and we fired off the engine! That 'makeshift gasket" stayed with the car until I traded it in a few years later!
We finished the job by late evening and at 8 PM I was on my way to my date. This was amazing.. the car worked, no oil burning, and it felt like new!!!