Funny (To Me) Stories About Paul
Dad was funny with a great sense of humor... Something I hope I inherited! Here are some stories and memories about growing up with Dad!
The Watch
Once and only once, I talked back to my mother... Dad calmly walked over to the lemon tree, picked up a branch, and whacked my fanny.... but as he swung, his "25 Year With The Company Watch" slipped off is wrist and when bouncing down the sidewalk... Dad was so mad, he walked away... afraid for my life!
The Sunburned Arm
On our way to Arkansas... circa 1955. You remember, the days without air conditioning. I remember getting into Arkansas after three had days on the road and dad's arm being do sore he could not hardly touch it. Dad always drove with the window open and his arm resting on the top of the door! The 1955 checy was red but after several years, the red paint was all gone around the windoe and the white undecoat was showing!
The Sunday Drive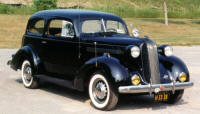 Every Sunday, we would go for a drive... could be an hour... could be the entire day! Guess this was an event that had gone on for 20 years prior to me arriving.
I remember Otis and Dad telling someone about the day they went into the forest on a Sunday drive and had to back up almost 12 miles because there was no place to turn around! They also recall have a leak in the reaiator and no water so they "filled it up" using "guess what". It worked but the ride home was "fragrant" to say the least!
The Sandstorm

Otis owned a home in Desert Hot Springs and dad used to love to go down there and sit in the hot springs... We actually had a hotel room that we used every weekend! One Sunday, on our way home we hit a sand storm and 50% of the paint of our new 1955 Buick was removed. All the glass had to be replaced and we never did get all of the sand out of the car!! I remember th drive home with Mom yelling "Stop This Car Now" and Dad syaing "It's OK" .
The Drinks
Dad was know to drink a little in his early days. However, as I was growing up he drank ONLY on July the 4th and Christmas Eve. These were controlled drinking activities as he never drove and always had a designated driver... even before it was popular. His drinking was NOT excessive... but he did get funny! He passed that trait to me... three drinks and I am the life of the party!
The Priest
We went to Europe via ship in 1961 and we sat next to a priest for the six day trans-Atlantic crossing! Wow did Dad give him heck! Seem's that he was under "hardship" and ate meat on Friday!!! We were at sea, on a liner capable of serving almost anything one could desire including several fish plates!
Grossa Grand Pa Pa
We were in Europe and dad wasn't in the best of health... After a day of hard travel through Belgium we finally stopped in a small village and requested a hotel room. We wanted on the first floor because dad could not do stairs... the Inn Keeper did not understand. Finally, in my best High School French. I explain that dad was a "Grossa Grand Pa Pa".... The Inn Keeper finally understood want we wanted and arrange a first floor room! Dad asked me what I said... I never told him!
The Birthday Party
I was going be 10 years old and have a party... For several days dad was busy doing something in the back room attached to the garage.. I thought it was just another project.
On the day of the party, he opened the door for me and voila, there was a train layout that was 16 by 20 FEET. He had more fun playing with it than I did! People came for blocks around to see this marvel. America Flyer trains all over!