2017-04-18 Out For An Hour And Twenty Minutes Top
It's 9:00 am and time to go! Several times a week, Paul hits the sidewalks of Rossmoor to get exercise and see the sights... Join the adventure!
Did You Know? - Rossmoor is an affluent planned census-designated place located in Orange County, California. As of the 2010 census, the CDP had a total population of 10,244, down from 10,298 at the 2000 census. The gated Leisure World retirement community in the city of Seal Beach is to the south of Rossmoor, Los Alamitos is to the east and north, and Long Beach is to the west (on the other side of the San Gabriel River, the 605 freeway and the border with Los Angeles County). The community of Rossmoor has two shopping centers within its boundaries, but only one—the Rossmoor Village Square, is now within the political boundaries of the Rossmoor Community Services District. A larger shopping center, the Rossmoor Business Center, has been remodeled and renamed the Shops at Rossmoor; it was annexed, despite many protests, by the City of Seal Beach in 1967.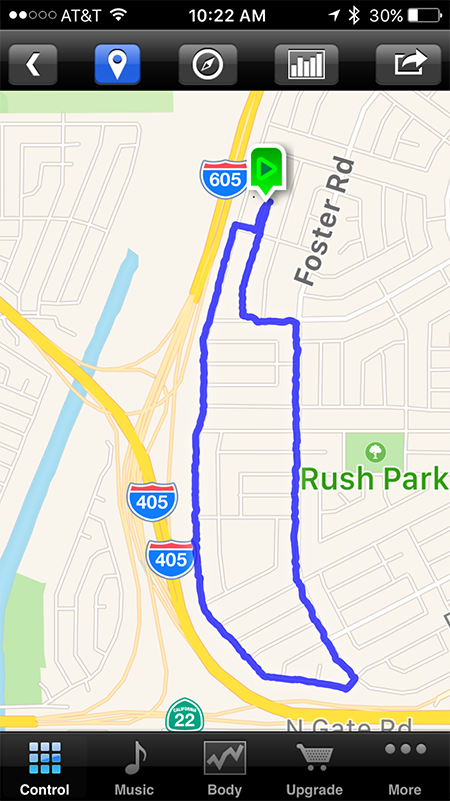 Chugging on down the avenue

Looks like it is plastic it is so waxy and bright

Lined up as if to say "Hello, pet me"

We be talking purple now!

Must have been a large Easter bunny!

Bright as can be!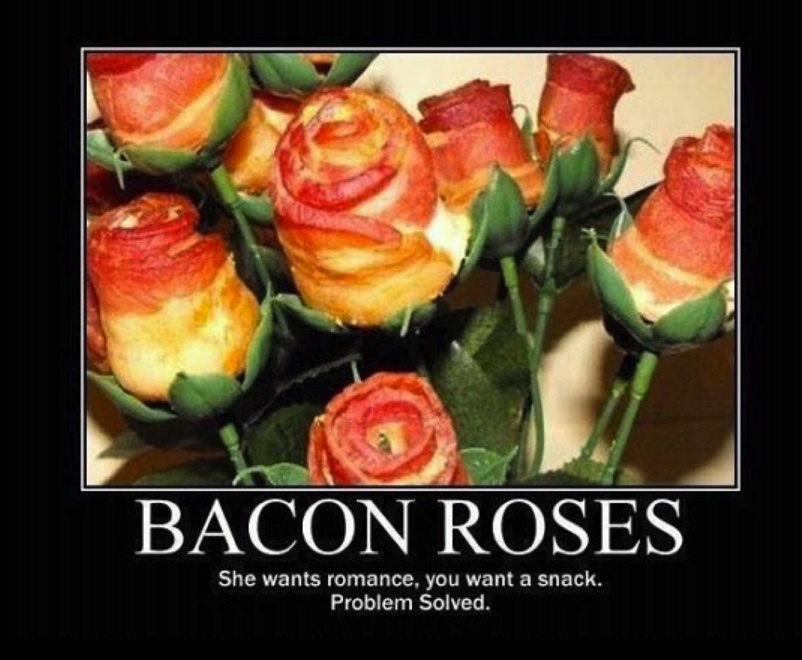 Lilies are simple and beautiful
Did You Know:
Size of a lily depends on the species. It can grow from 2 to 6 feet in height.
Lily develops from a bulb that can be located near the surface of the ground or buried deep underground.
Lily has beautiful, large flower that can be white, yellow, orange, red, purple or pink in color. Flower can be covered with different types of freckles.
Each color of the lily has certain meaning. White lily symbolizes purity, daylily coquetry, while tiger lily symbolizes majesty and wealth.
Lily flower consists of 6 tepals (fused sepals and petals). Nectar is produced at the base of each leaf.
Lily is dormant during the winter. Flowering takes place during the spring and summer.
Lily attracts insects with its large colorful flowers and tasteful nectar. Certain species of lily are pollinated by wind.
Lily can reproduce from the seed, bulbs and tissue cultures.
Only white and tiger lilies are known by their beautiful smell.
Tiger lily is a species of lily that has large, bright yellow flowers with prominent dark spots on the inner side of the petals.
Similar coloration is typical for tigers which is why this species is named "tiger lily".
Some species of lilies can be used as food. Bulbs of lily contain a lot of starch and they are used as root vegetables. Besides humans, insects, mice, squirrels and deer often eat wild lilies.
Lily contains compounds that induce renal failure in cats. Even small amount of pollen can induce poisoning in cats.
Lily is not poisonous for humans. It is actually widely used in traditional Asian medicine for the treatment of depression and certain types of toxicities.
Lily can survive couple of days in the vase. Removal of the pollen from the flower will prolonged lifespan in the vase and prevent development of stains on the tepals.
Lily is perennial plant which means that it can survive more than two years in the wild.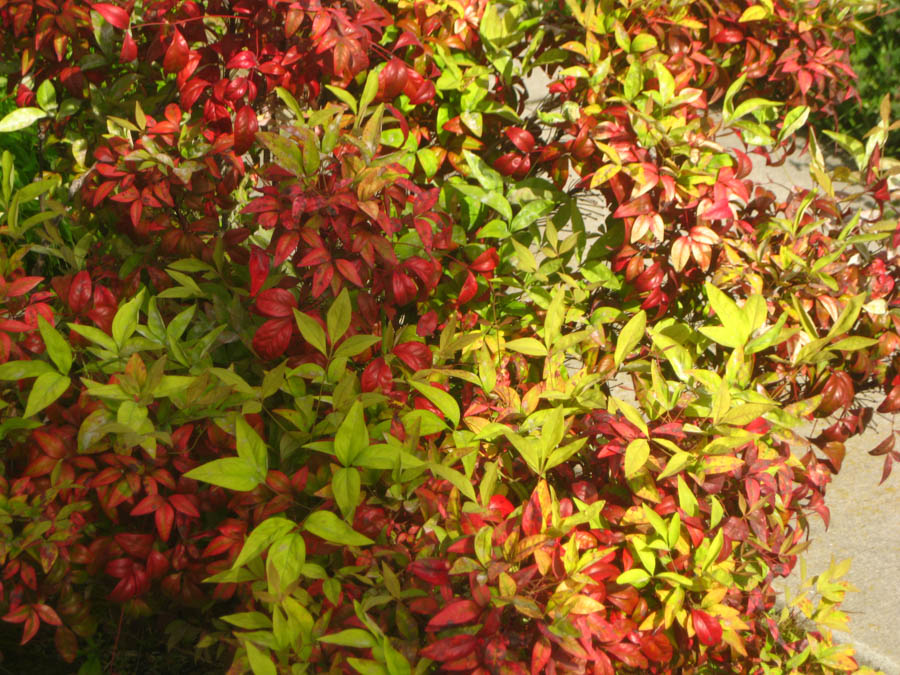 Christmas time? We think not! Silly plant doesn't know!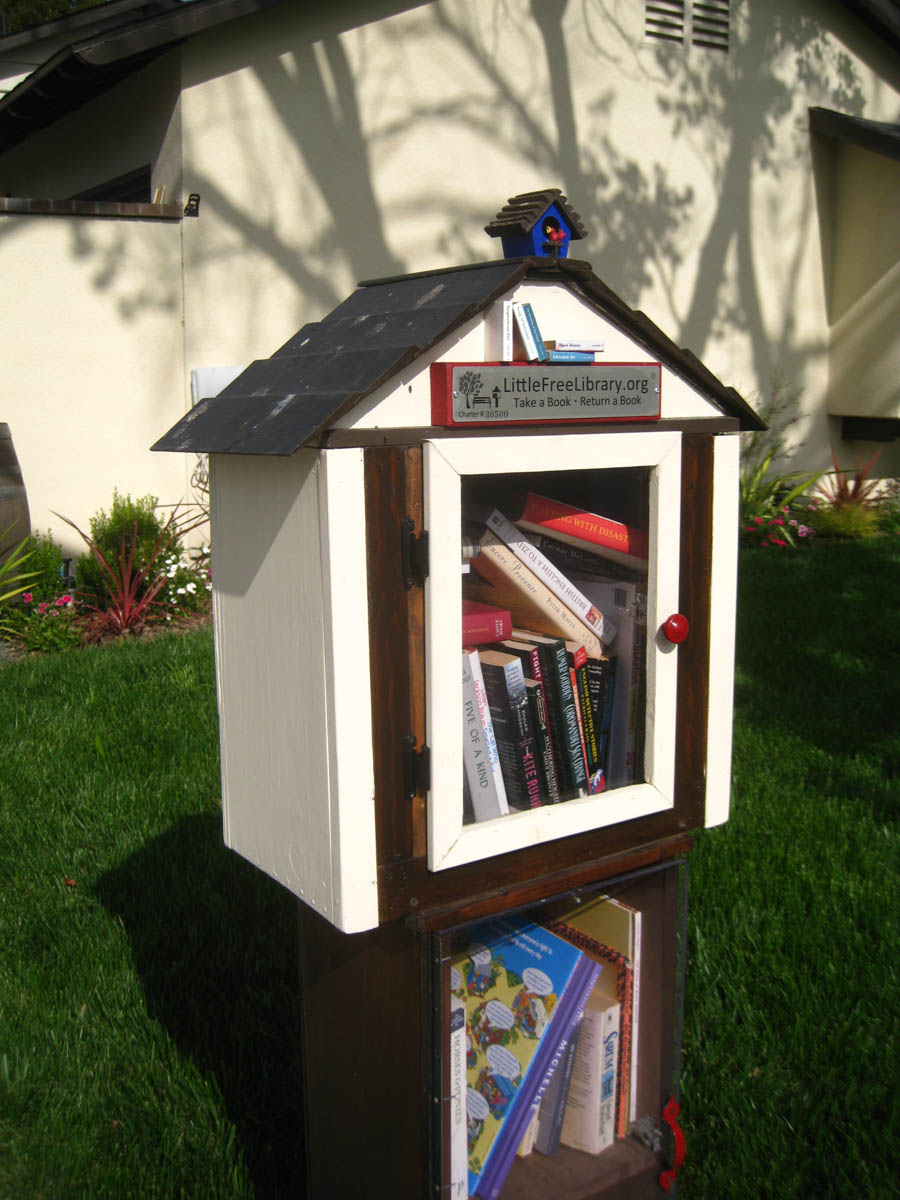 Some good books inside!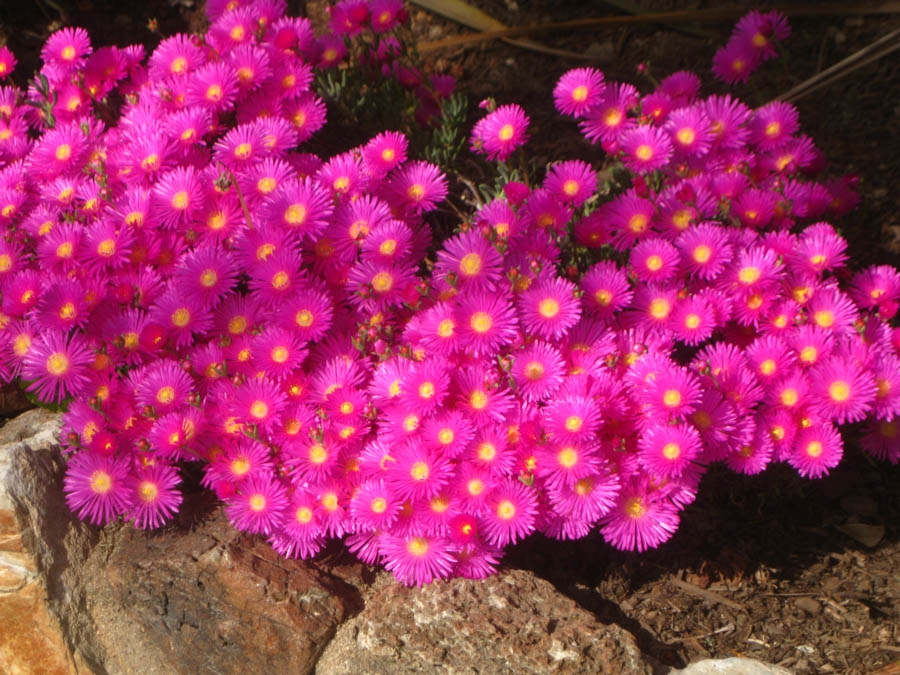 Wow! Amazing colors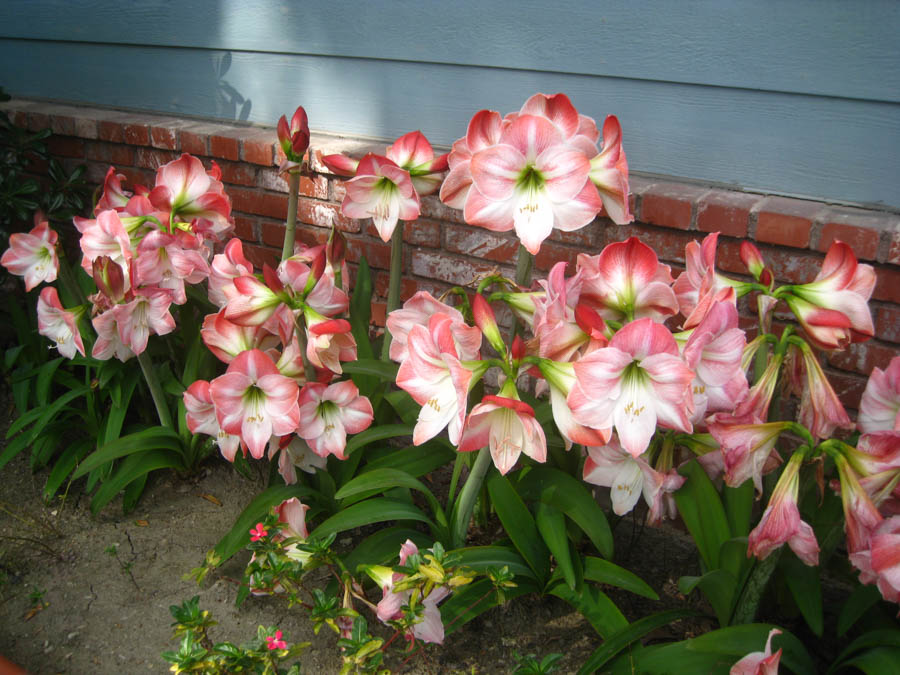 So beautiful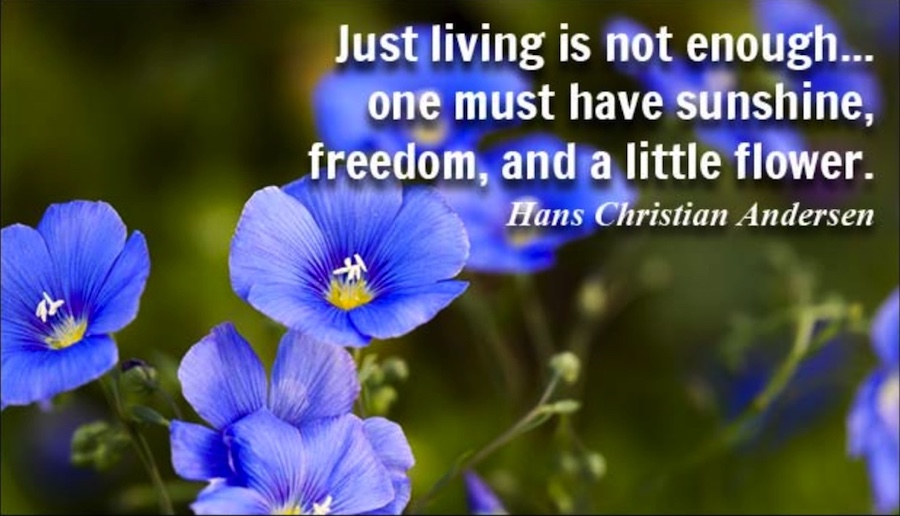 He is pretty in his own way!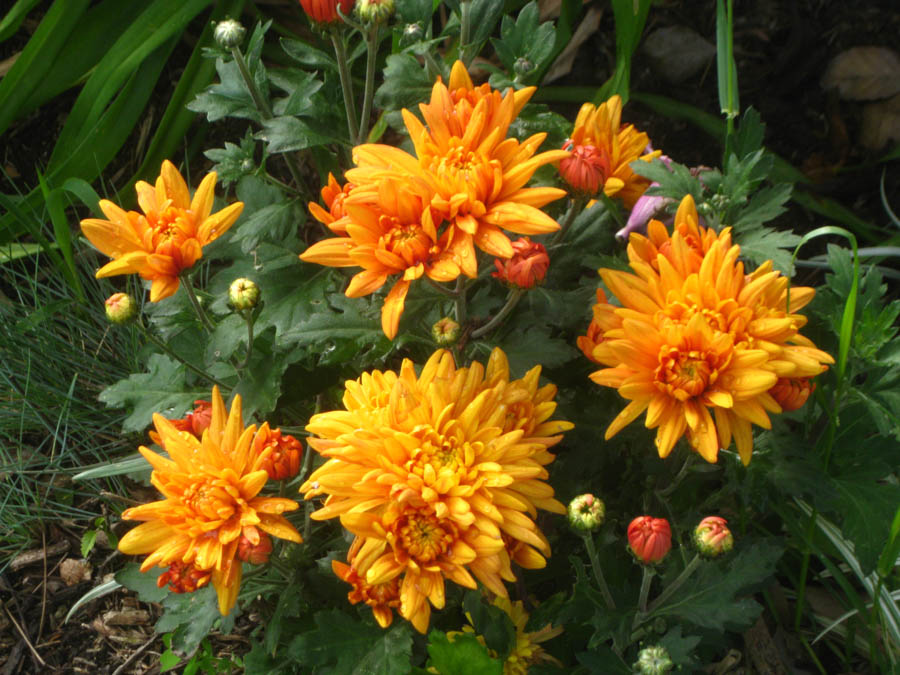 Did someone say gold?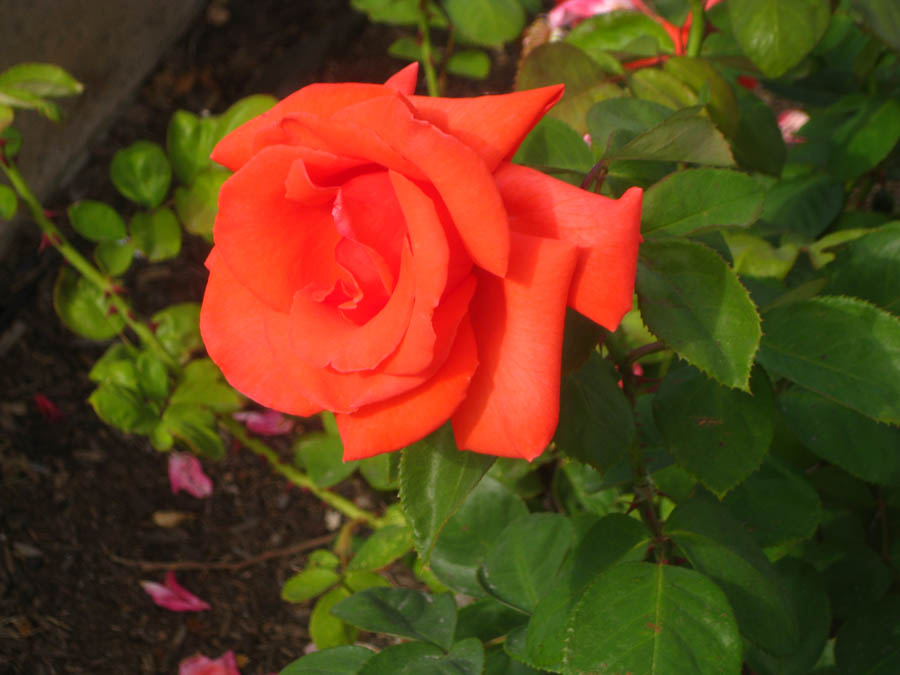 Fire Engine Red!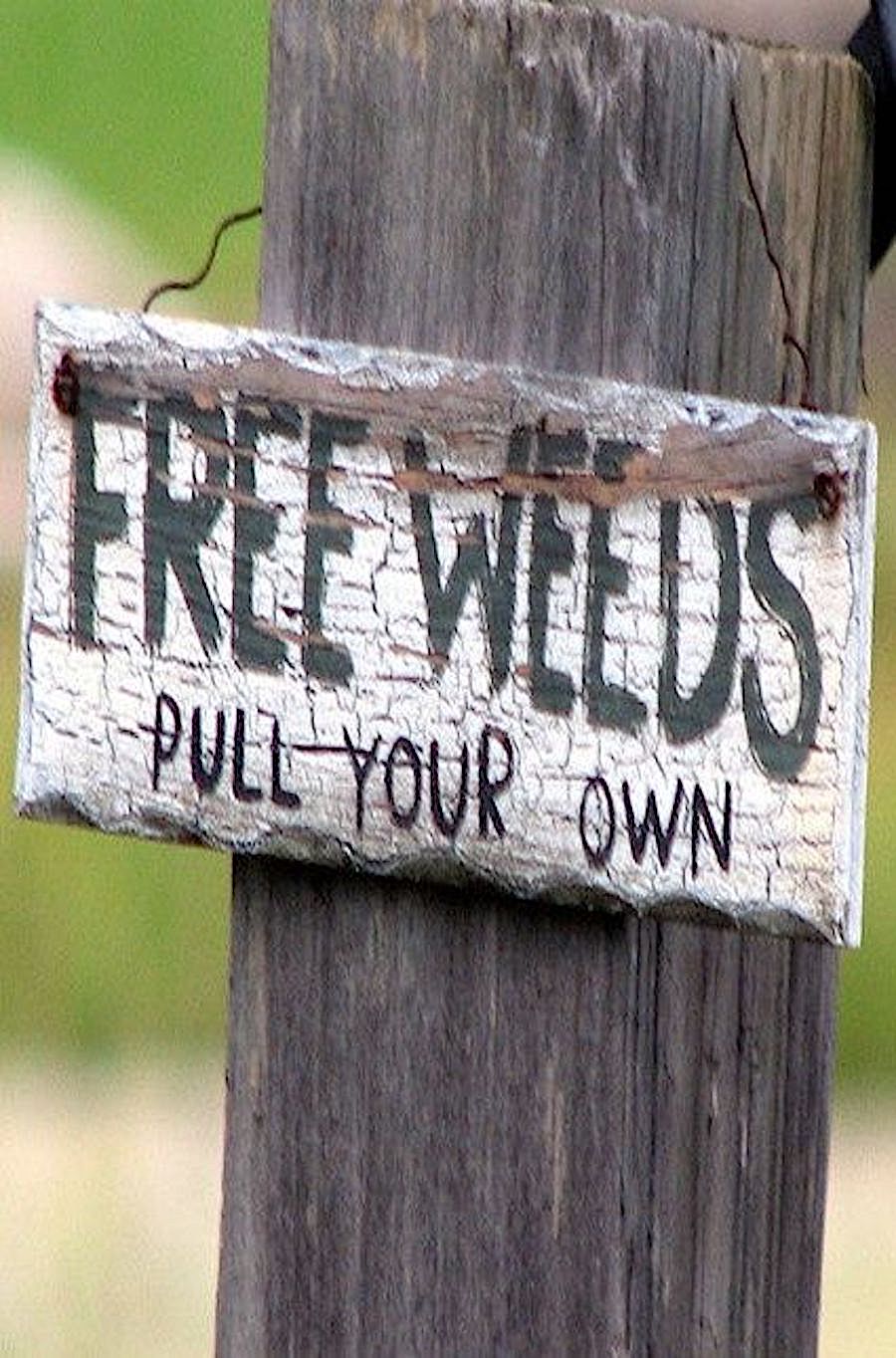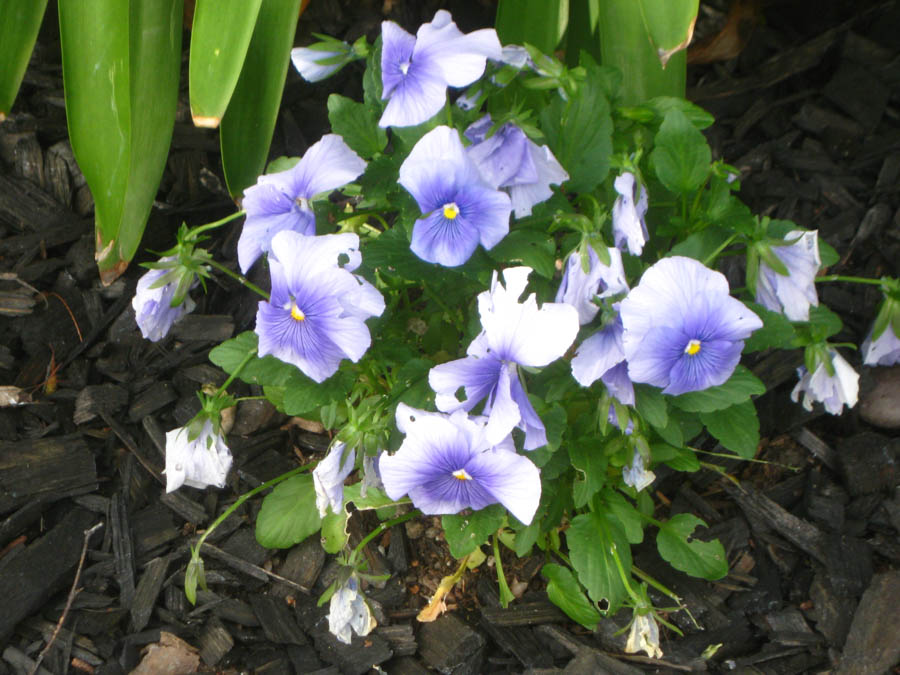 Pansies come in all colors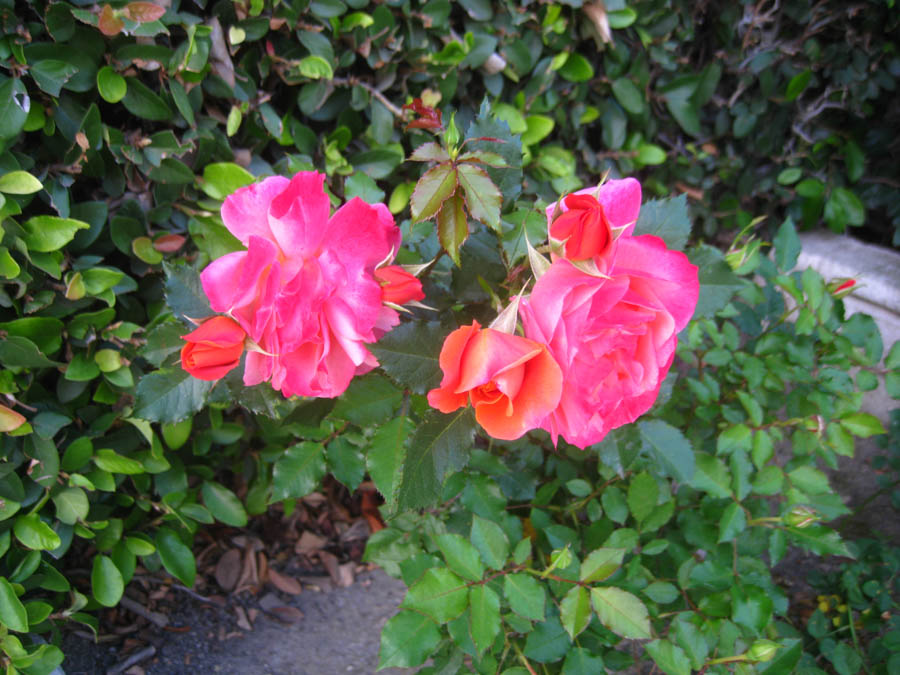 The look like they are plugged into the 115 VAC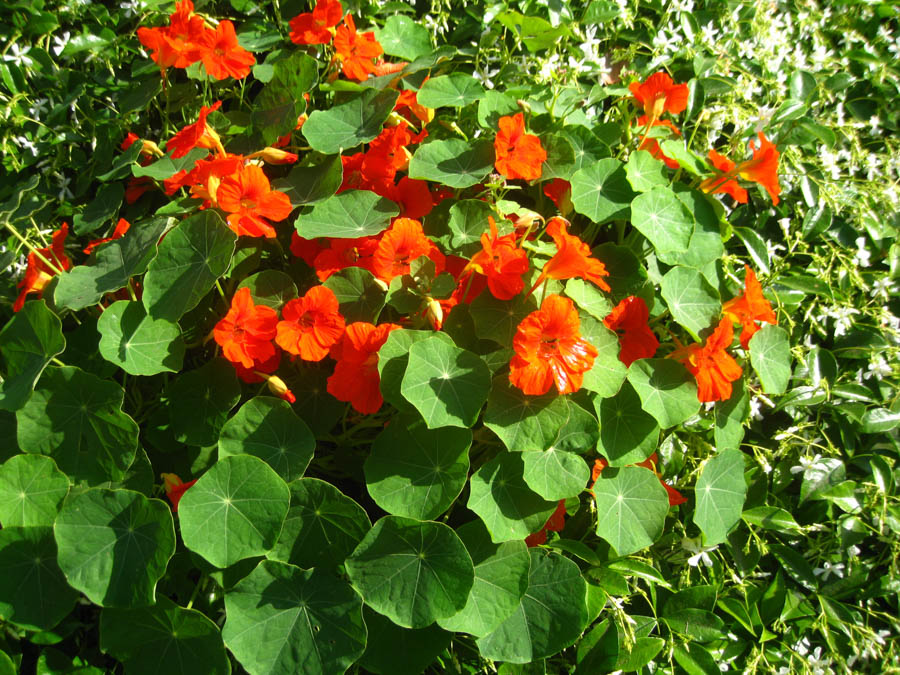 More oranges and greens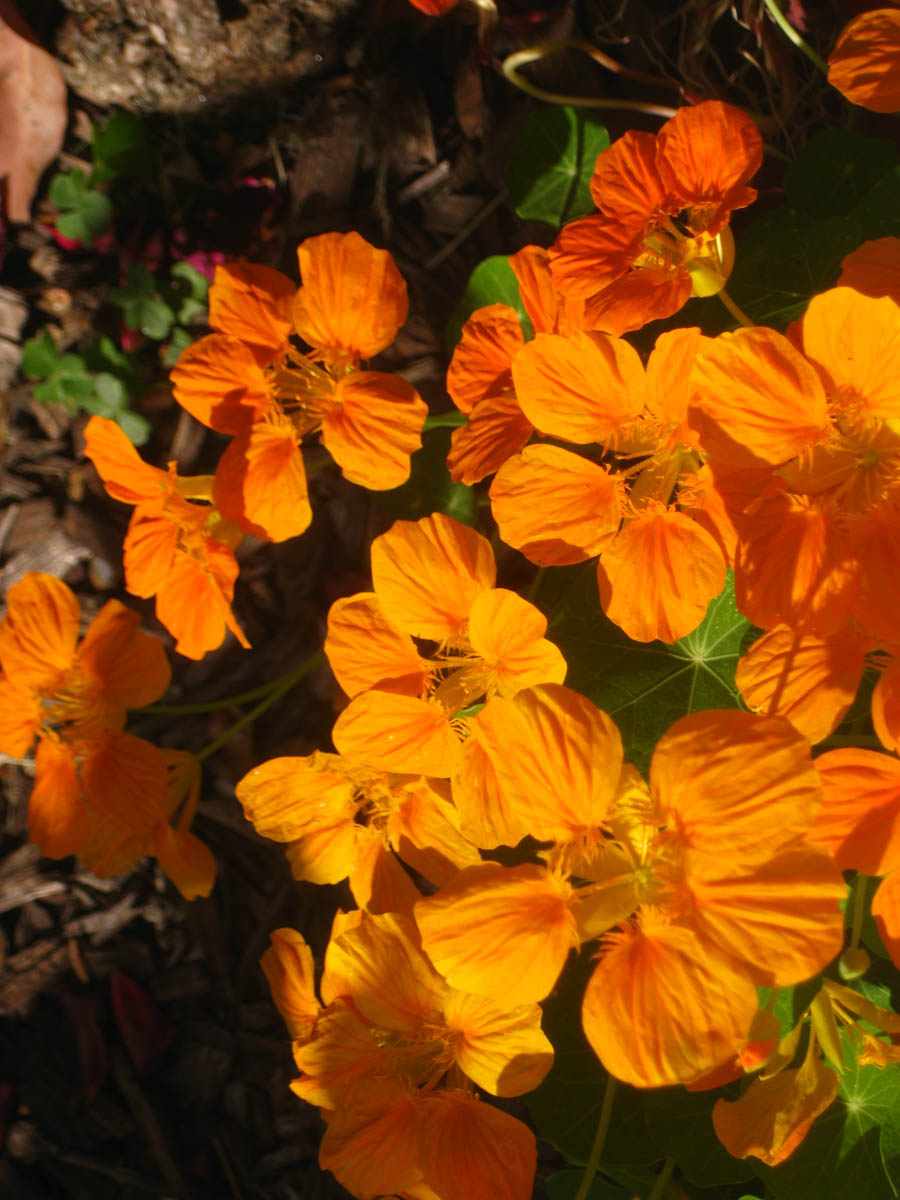 Did we say orange?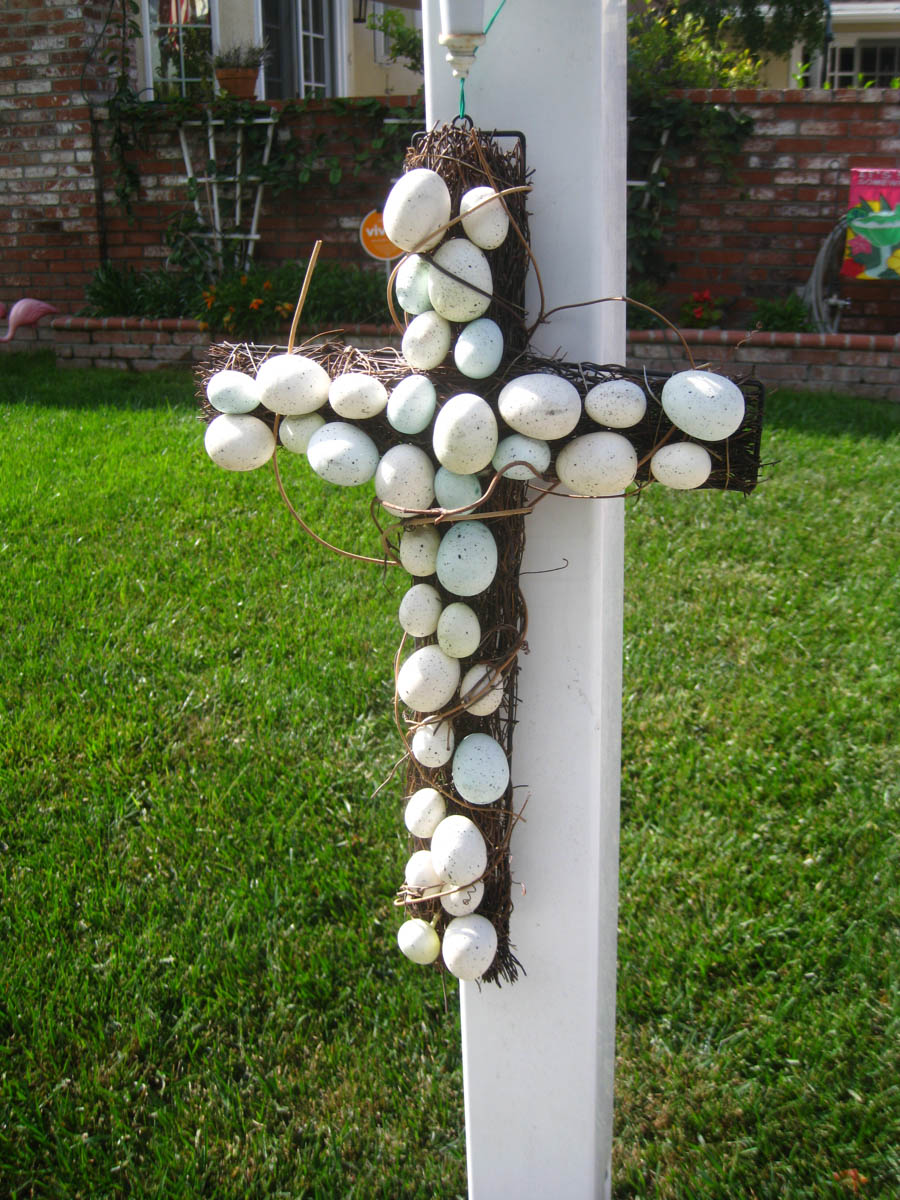 Nice to see... Believers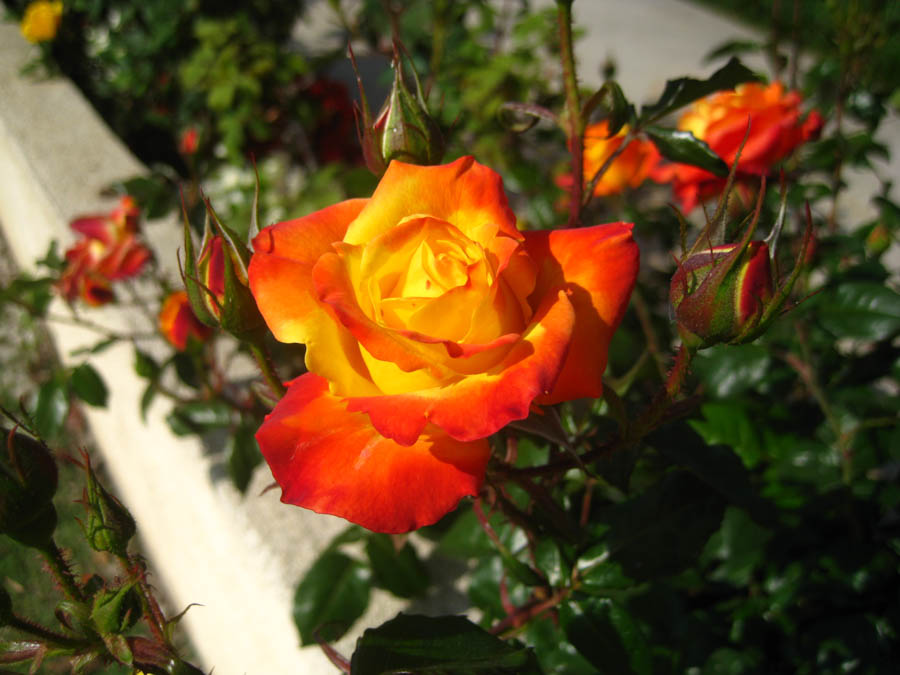 More electric roses
Quotation To Remember: Flowers always make people better, happier, and more helpful; they are sunshine, food and medicine for the soul.- Luther Burbank


Simply white

How does Mother Nature do it?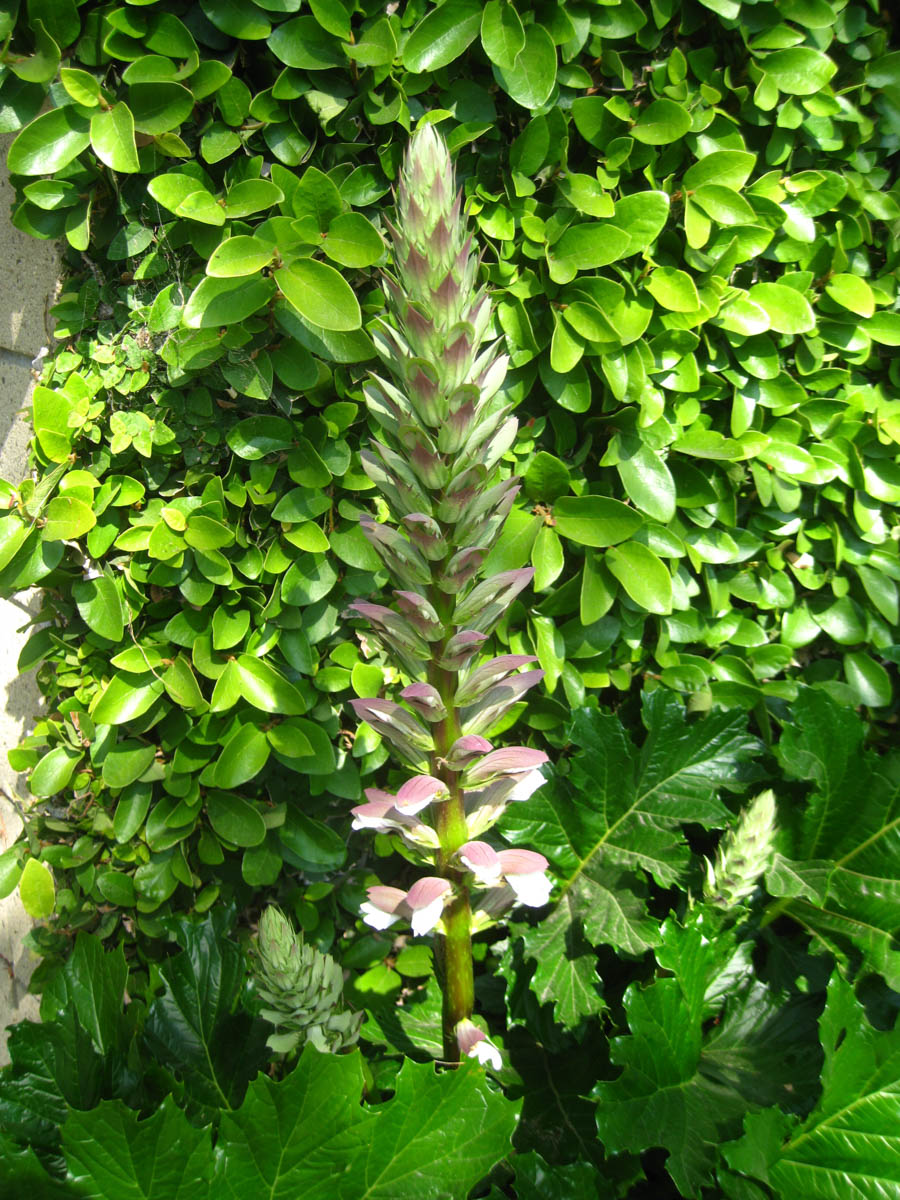 Popped right out of the ground!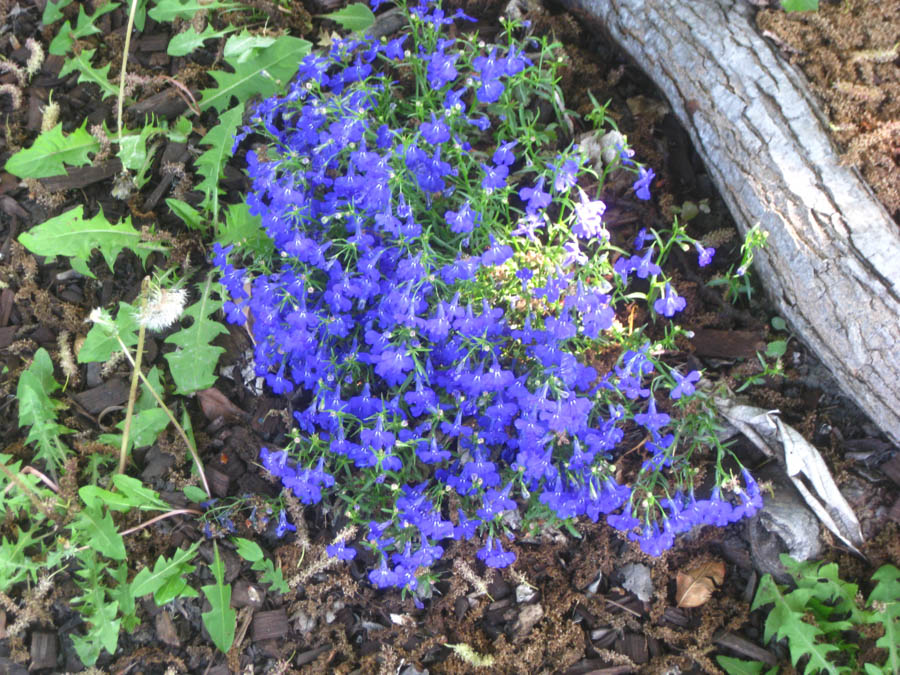 Flowers indeed come in blues
Did You Know? - To make blue flowers, or foliage, plants perform a sort of floral trickery with common plant pigments called anthocyanins. ... The key ingredients for making blue flowers are the red anthocyanin pigments.

The purples are quite amazing
2017-04-19 For An Hour Top
It's 9:30 AM and time to pound the sidewalk looking for flowers to brighten up my day!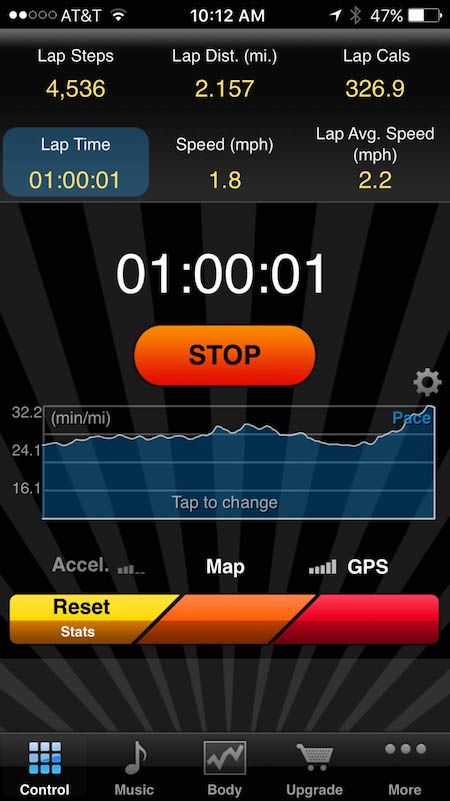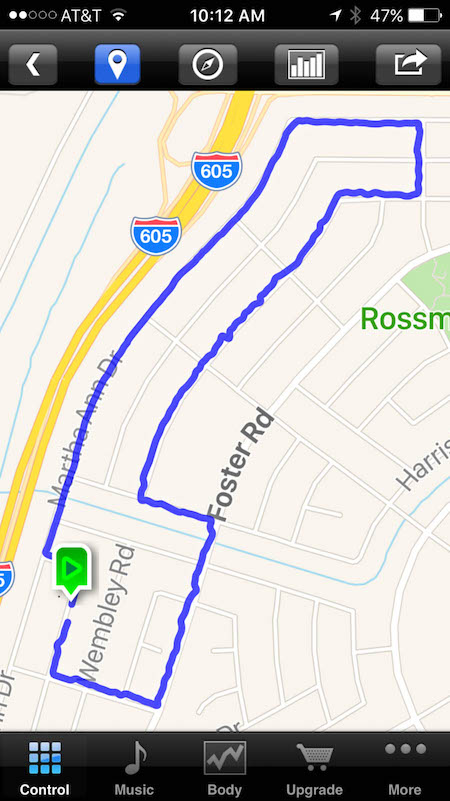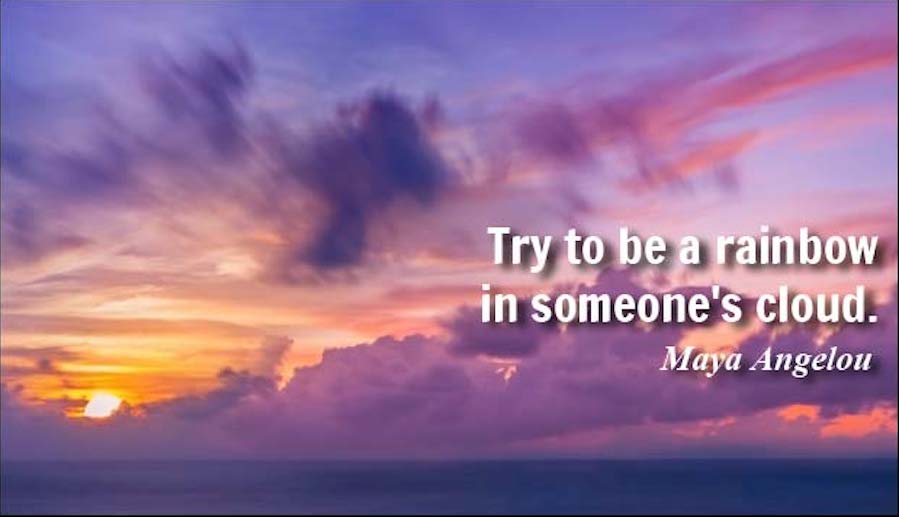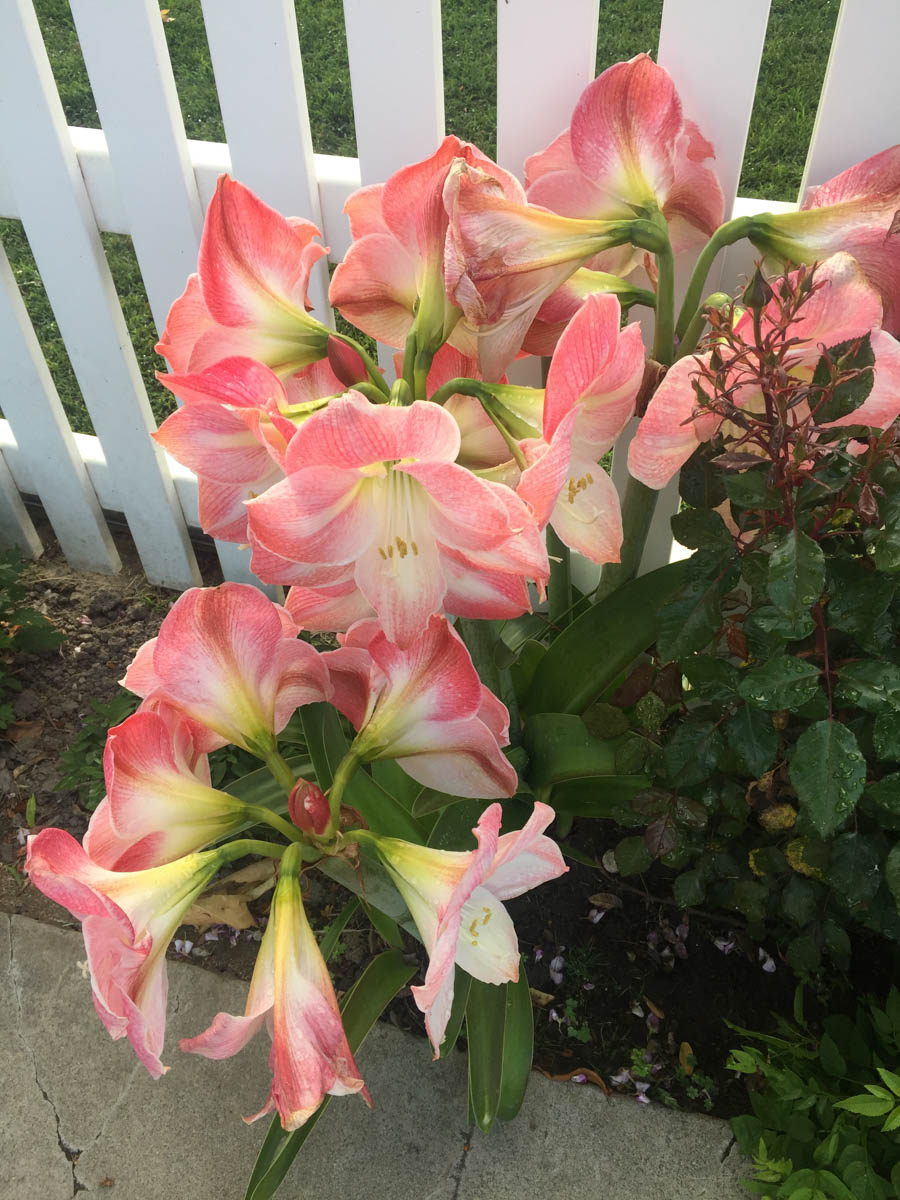 Looks like a picture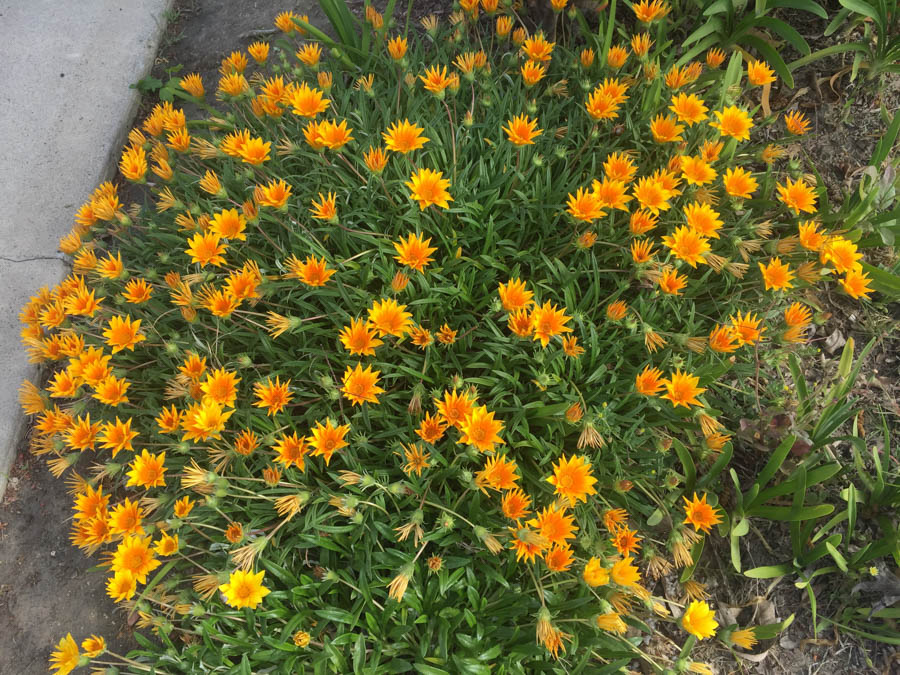 Reaching for the Sun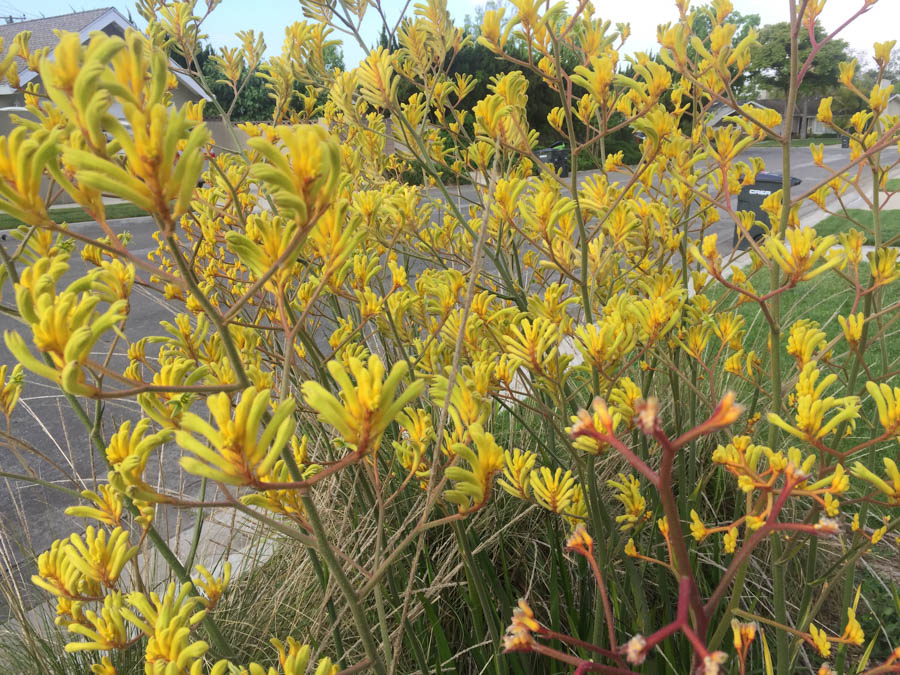 Kangaroo Paws
Did You Know? - Kangaroo paw is the common name for a number of species, in two genera of the family Haemodoraceae, that are endemic to the south-west of Western Australia. These perennial plants are noted for their unique bird attracting flowers. The tubular flowers are coated with dense hairs and open at the apex with six claw-like structures: from this paw formation the common name "kangaroo paw" is derived.
The plant was named after the shape of the flowers, which resemble to the paws of a kangaroo. The kangaroo plant has been introduced into Japan and has been grown as a new ornamental crop mainly in Okinawa Island under a subtropical climate.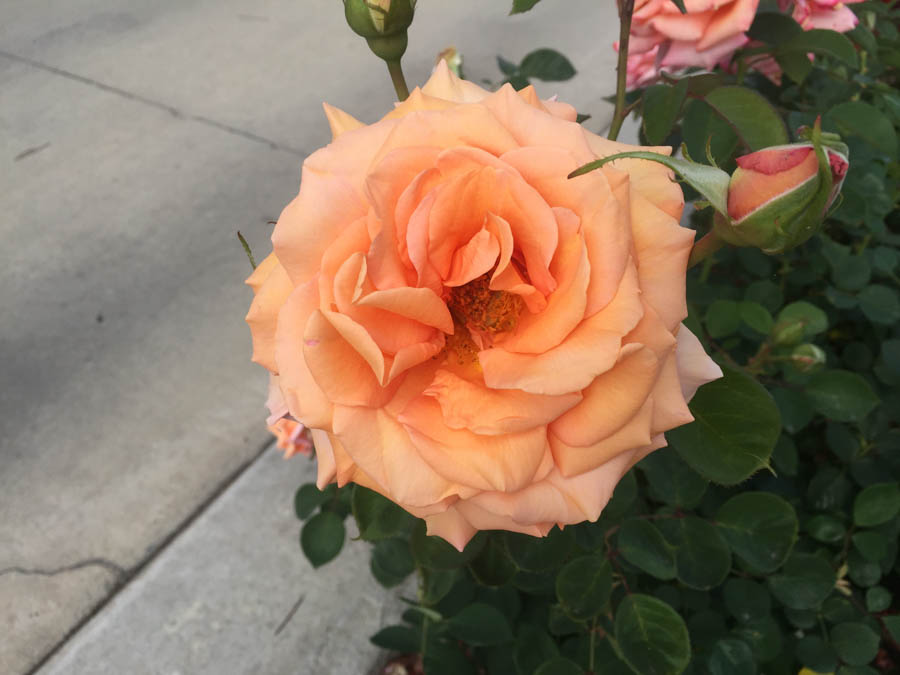 Awaiting a visit by the local bees

Indeed they are flowers but also delicious to eat
Did You Know? - The globe artichoke (Cynara cardunculus var. scolymus) is a variety of a species of thistle cultivated as a food.
The edible portion of the plant consists of the flower buds before the flowers come into bloom. The budding artichoke flower-head is a cluster of many budding small flowers (an inflorescence) together with many bracts, on an edible base. Once the buds bloom, the structure changes to a coarse, barely edible form. Another variety of the same species is the cardoon, a perennial plant native to the Mediterranean region. Both wild forms and cultivated varieties (cultivars) exist.
The total antioxidant capacity of artichoke flower heads is one of the highest reported for vegetables. Cynarine is a chemical constituent in Cynara. The majority of the cynarine found in artichoke is located in the pulp of the leaves, though dried leaves and stems of artichoke also contain it. It inhibits taste receptors, making water (and other foods and drinks) seem sweet.

Paul came close to picking it... But alas, he did NOT!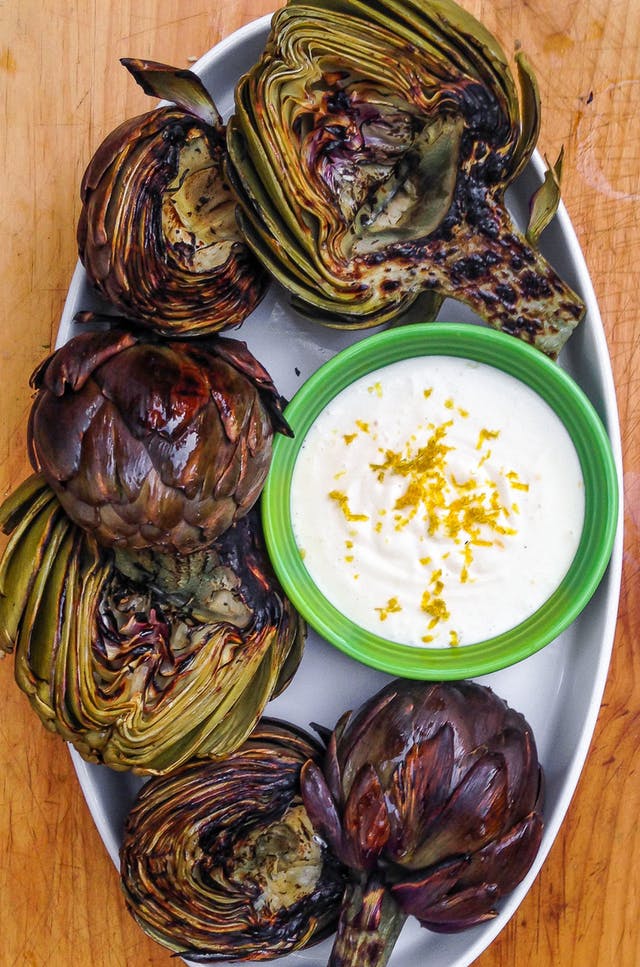 PAul was thinking about this all the way home!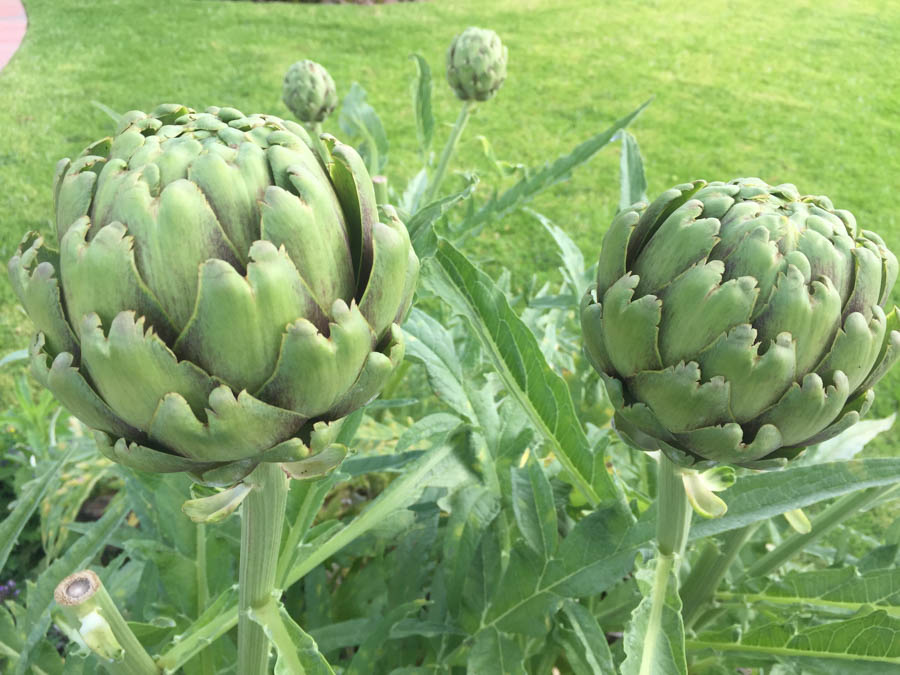 They are perfect for cooking right now!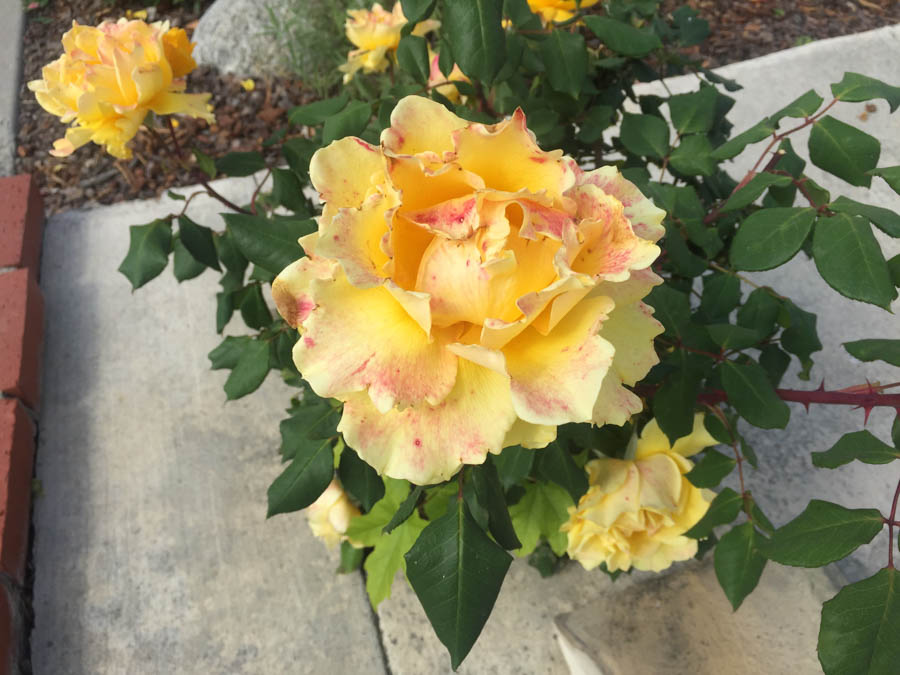 An amazing specimen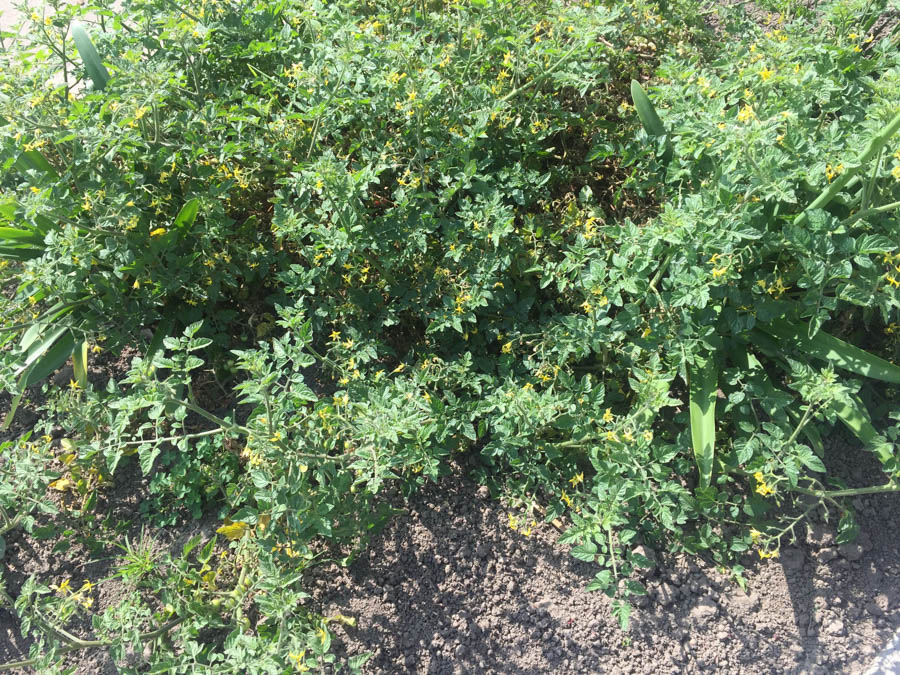 Look carefully.... Tomatoes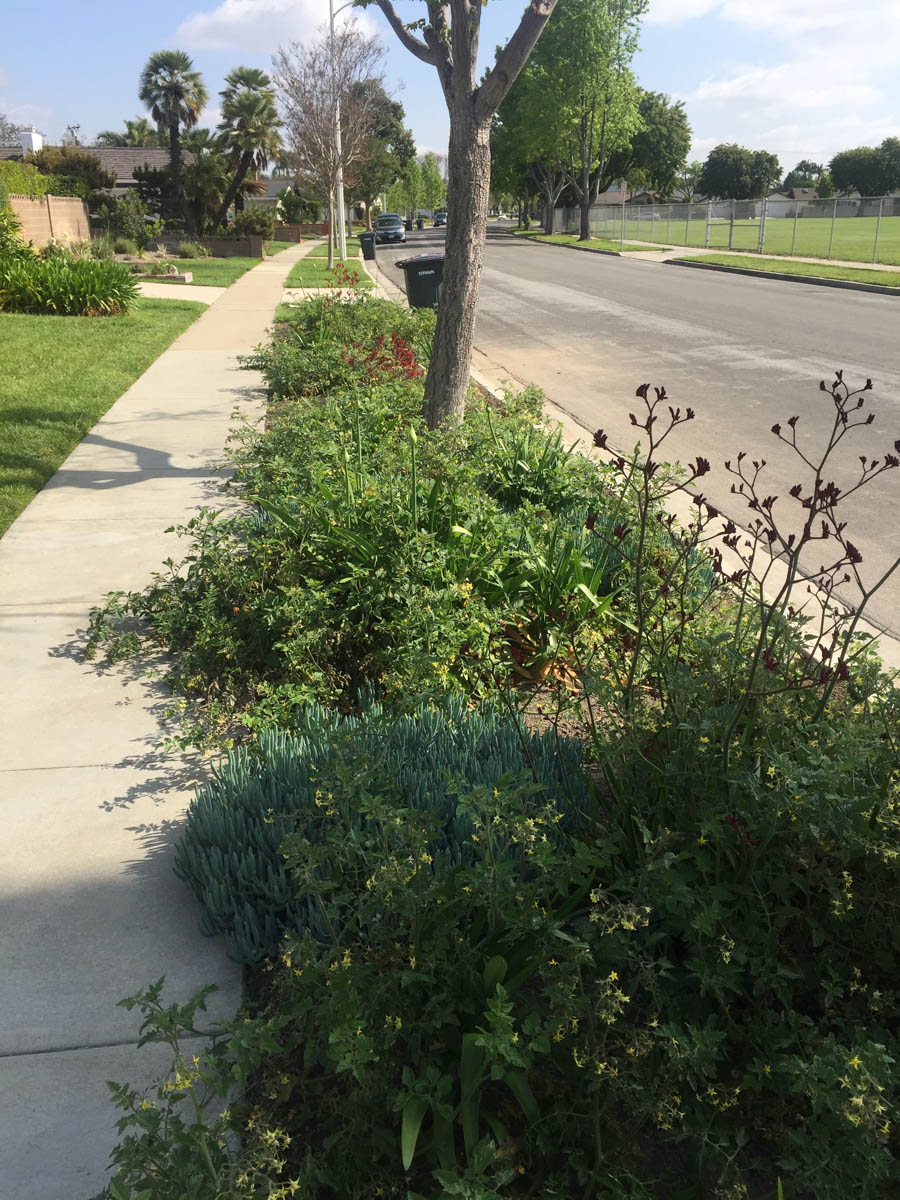 Right out front!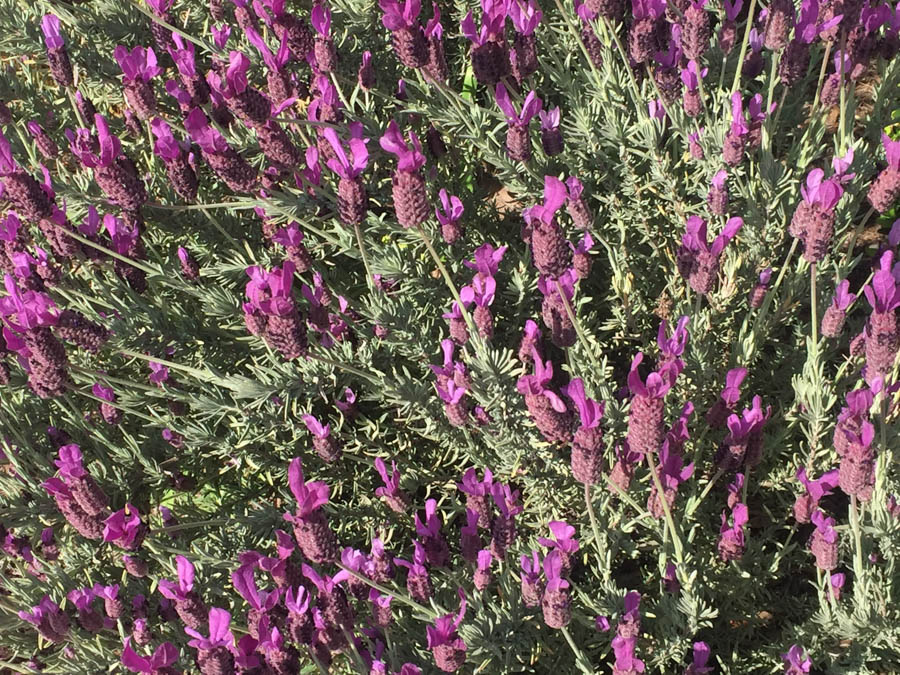 Purple and proud of it!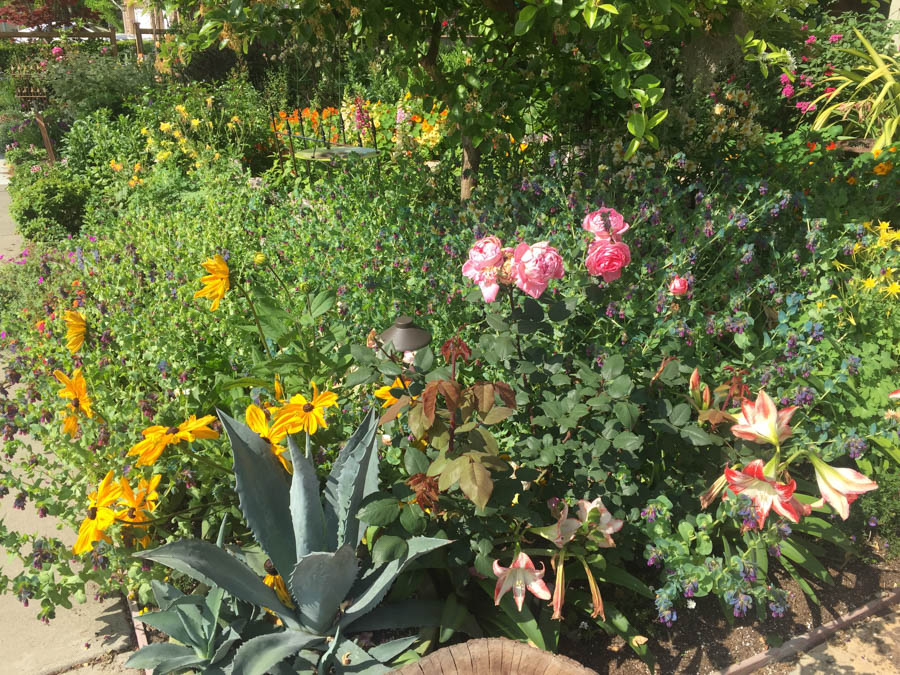 The front yard is a jungle of flowers

Amazingly beautiful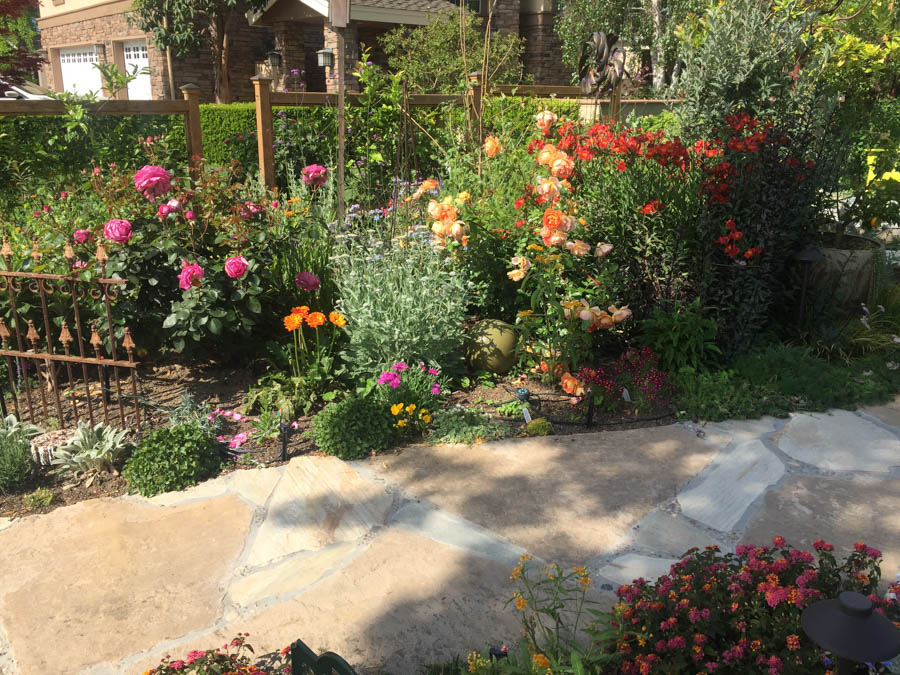 Loads of work but well worth it!

They look so pretty...

"What about us??"

The pathway to the front door is fantastic

Bougainvillea
Did You Know?
It's not the flowers that make this plant so colourful, it's actually the magenta bracts. The flowers are just tiny and white. Have a closer look!
The bracts (In botany, a bract is a modified or specialized leaf, especially one associated with a reproductive structure such as a flower, inflorescence axis, or cone scale. Bracts are often different from foliage leaves) can be seen in all shades of pink and purple, and also red, yellow, white, salmon and orange.
The bougainvillea was named by Commerçon, after the French admiral, Loui-Antoine de Bougainville, who was an explorer, and whom Commerçon had joined for an expedition around the world
2017-04-20 On A Mission! Top
It's 9:00 am and time to go for the morning "constitutional". Paul always wondered what that really meant! See below:
Did You Know? - "Constitutional" frequently refers to a morning bowel movement. Its a euphemism for a bowel movement. (From a time when using the bathroom meant going for a walk to the outhouse--the original meaning was still "going for a walk", but this idea was used in the euphemism for going to the bathroom.)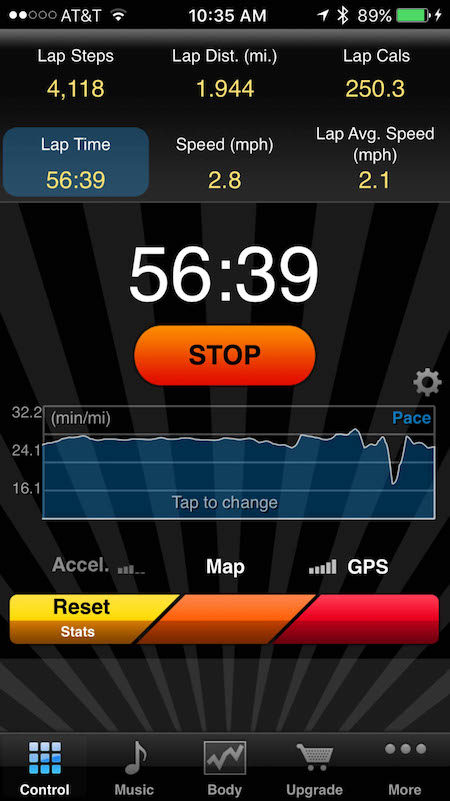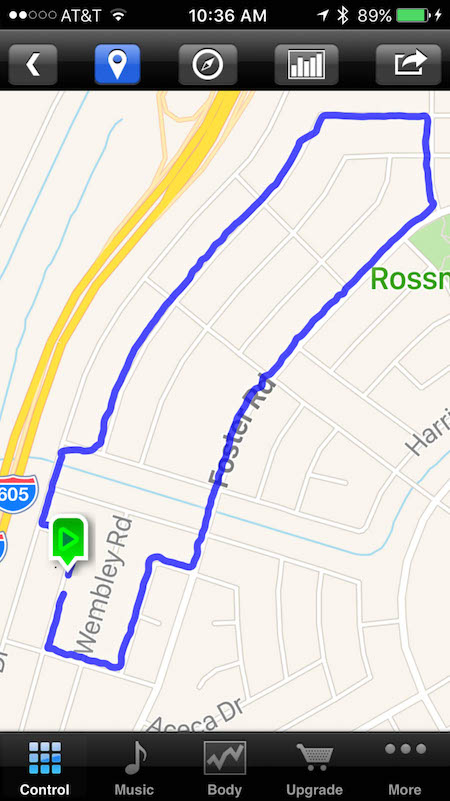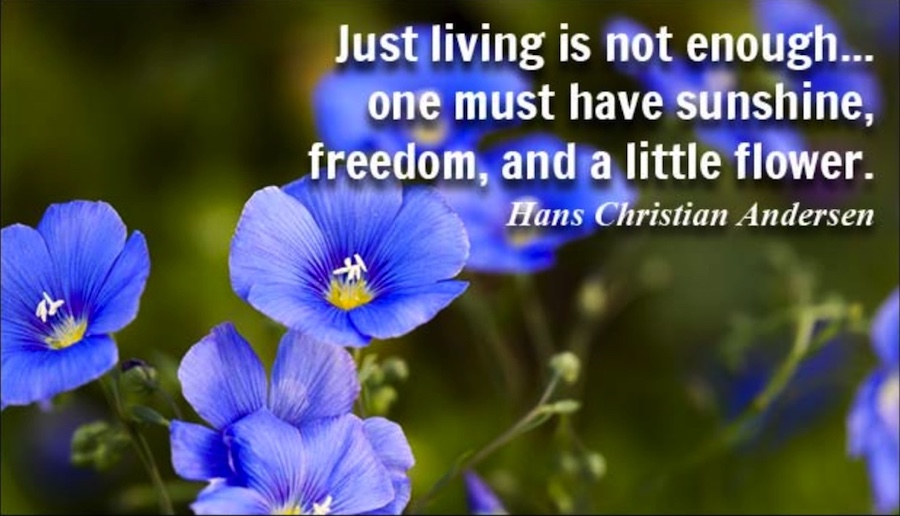 Roses are red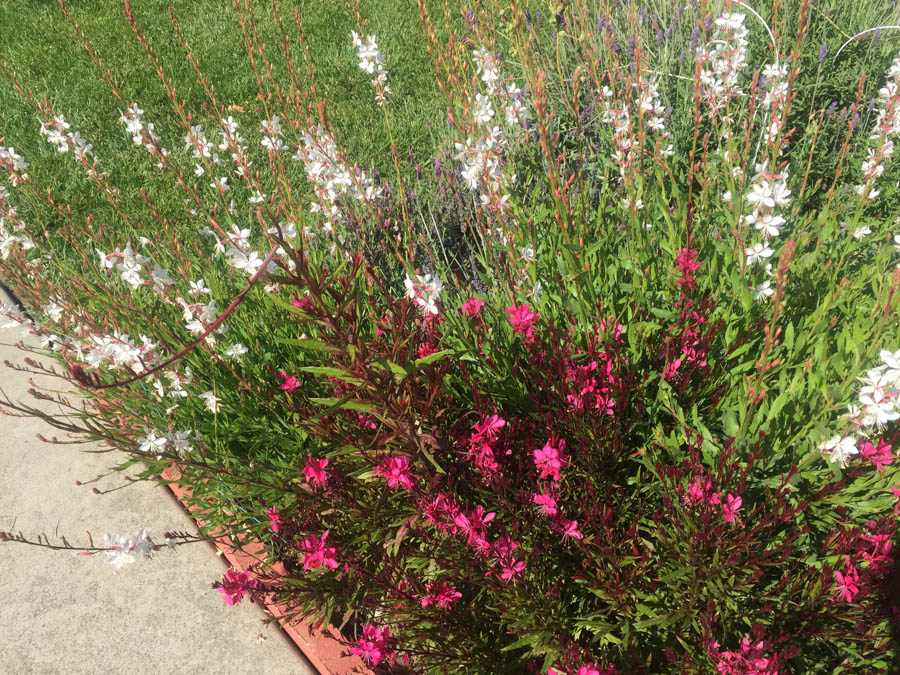 Wild flowers were amazing

The white roses make great borders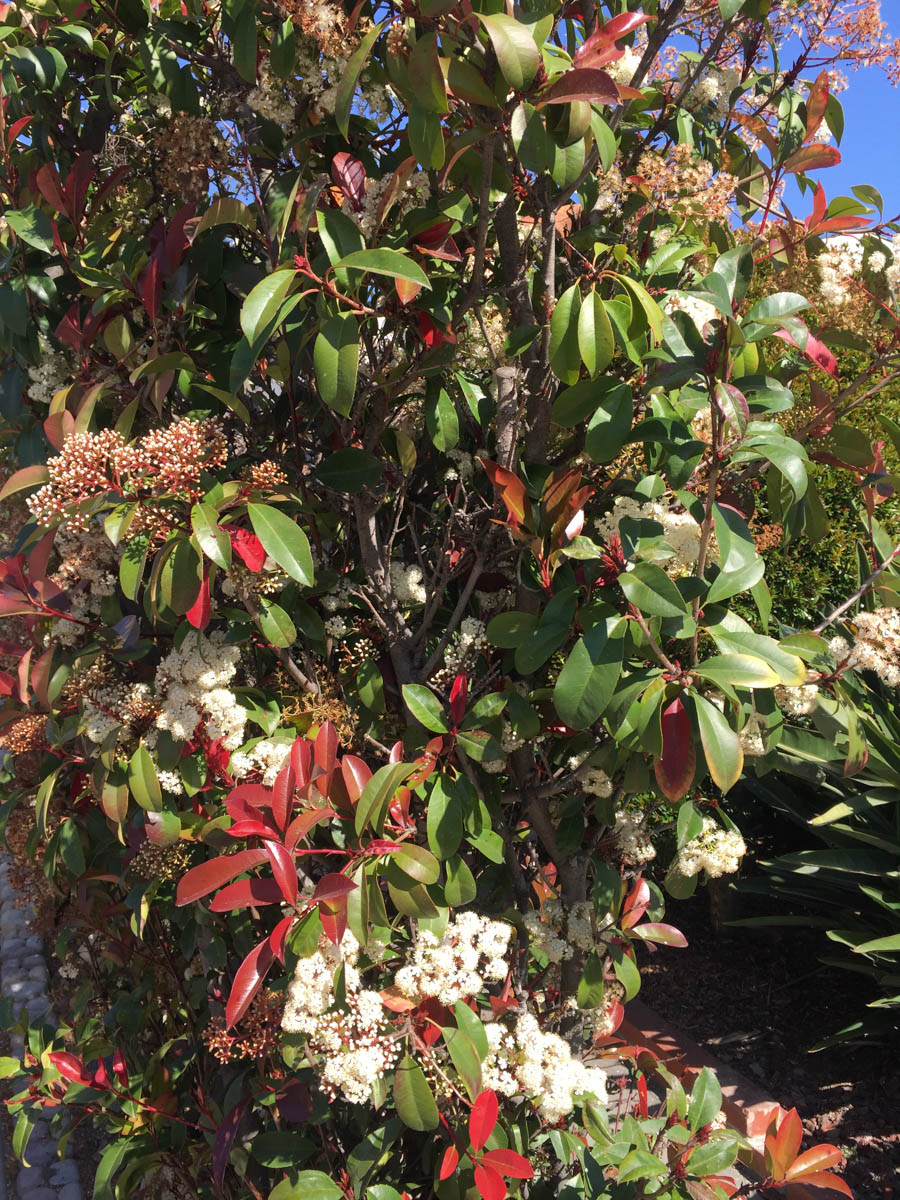 Yellow roses are amazing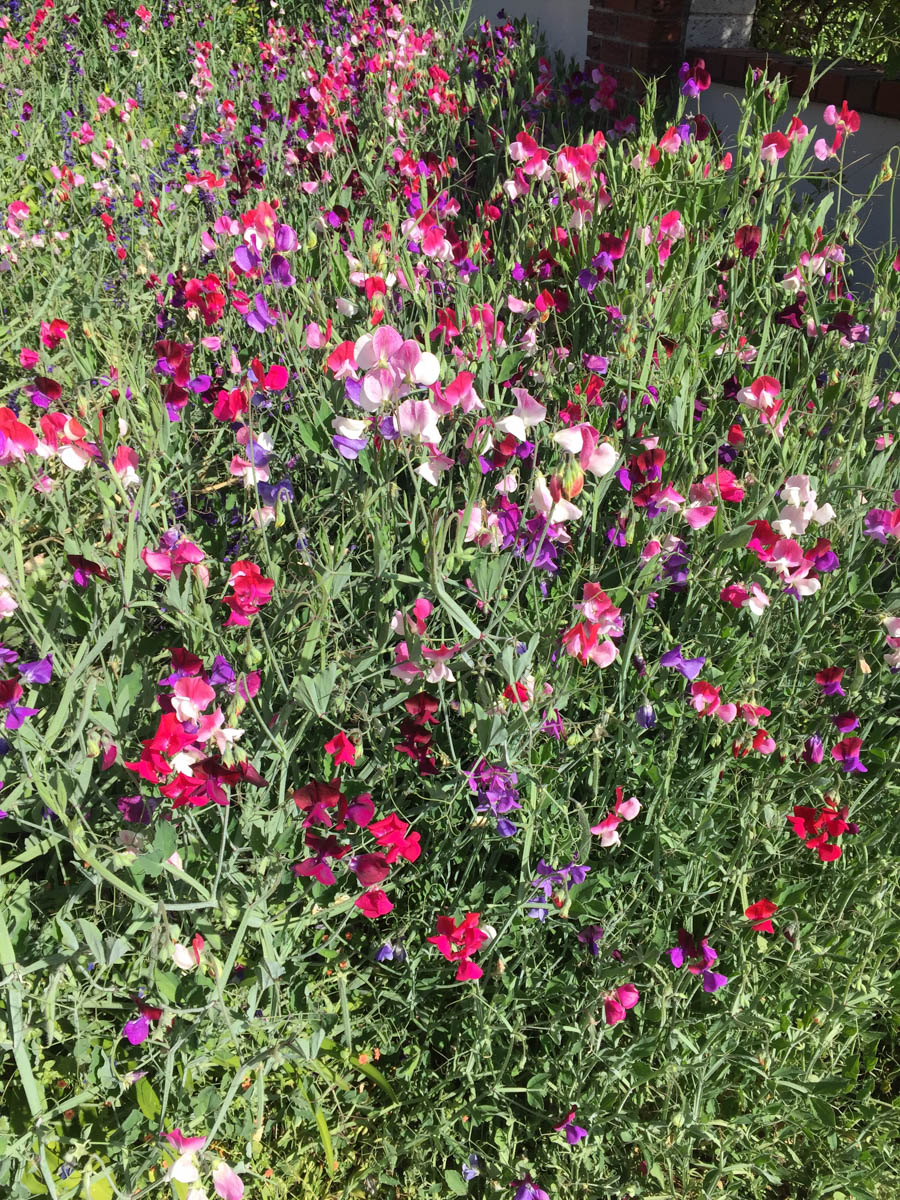 Sweat peas...
Did You Know? - Sweet pea (Lathyrus odoratus) is a flowering plant in the genus Lathyrus in the family Fabaceae (legumes), native to Sicily, Cyprus, southern Italy and the Aegean Islands.
It is an annual climbing plant, growing to a height of 1–2 metres (3 ft 3 in–6 ft 7 in), where suitable support is available. The leaves are pinnate with two leaflets and a terminal tendril, which twines around supporting plants and structures, helping the sweet pea to climb. In the wild plant the flowers are purple, 2–3.5 centimeters (0.79–1.38 in) broad; they are larger and very variable in color in the many cultivars.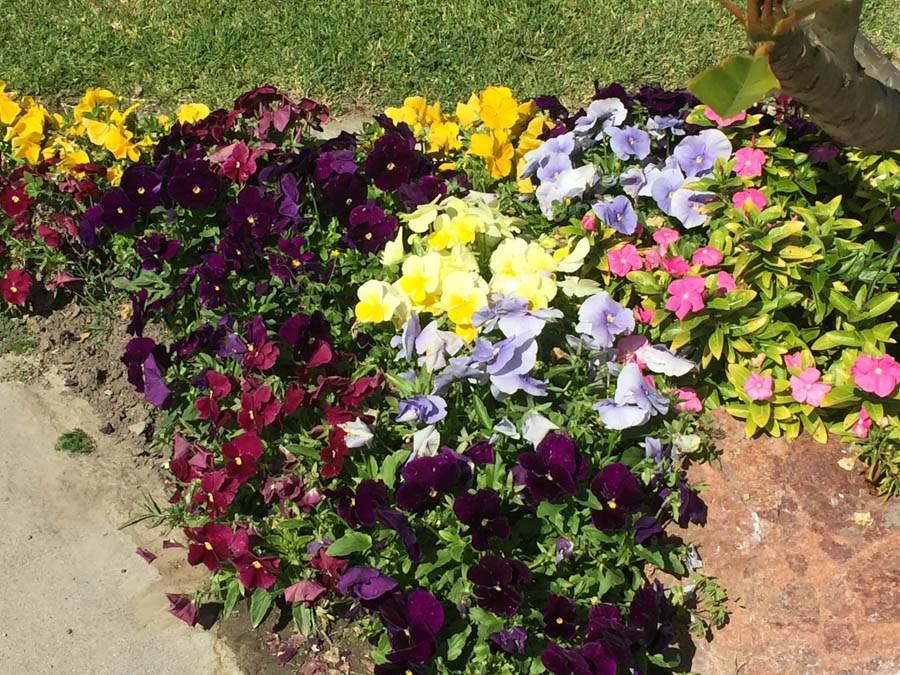 Pansies come in all colors
Did You Know? - When eating pansies, you can break two of the cardinal rules of edible flowers: eat only the petals and remove the pistils and stamens before eating. In fact, you can eat the pansy sepals as well. Some pansies have a delicate fragrance, primarily the blue-flowered ones. They have a mild wintergreen flavor.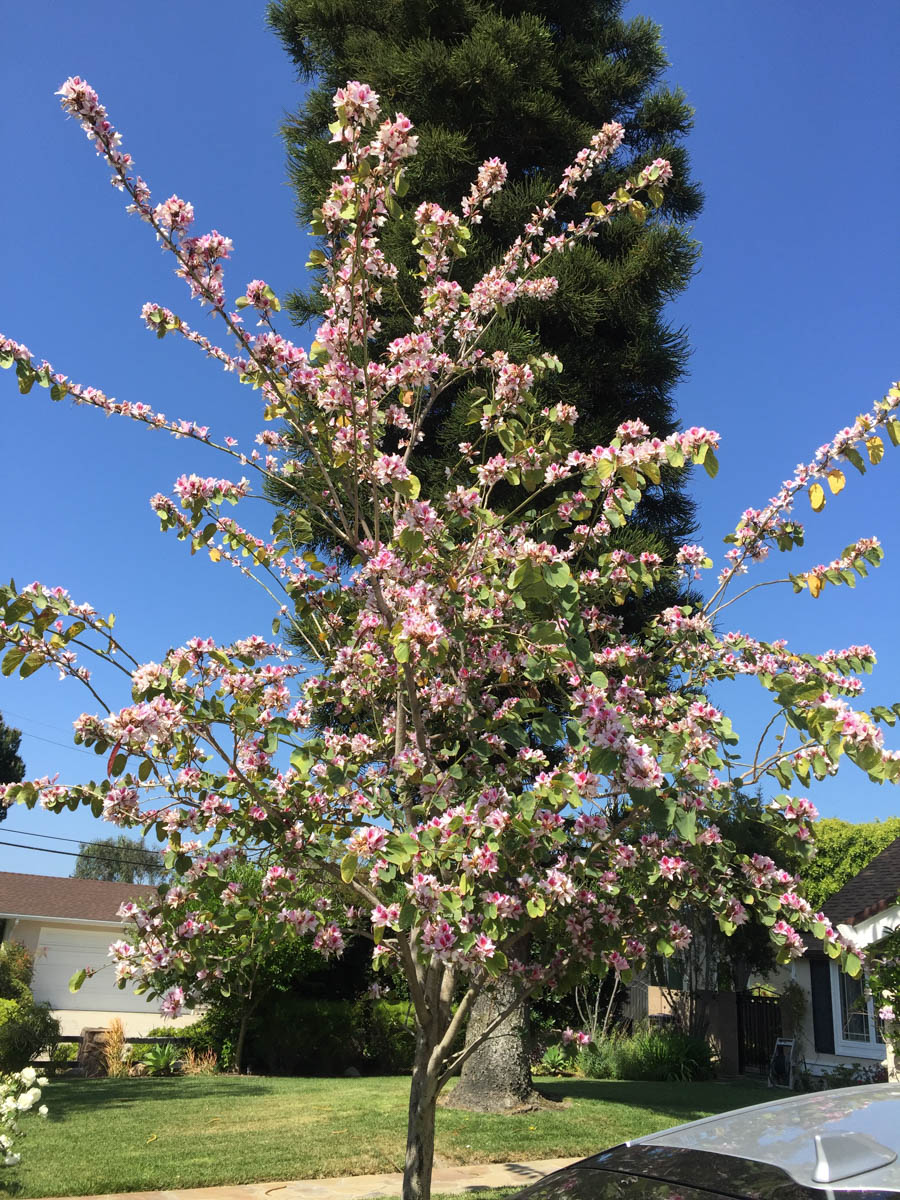 Simply beautiful

The lilies are magnificent