It's Monday... Time For Malarkey's (Page Five)
This is our place... Every Monday for a long time we have hung out at Malarkey's between 5--PM and 7ish with our friends! Tonight is Monday and the day before the 4th which means "Malarkey's Big Bang On The Bay".
Malarkey's opened at 5:00 PM for those with reservations and it closed at midnight with the fireworks beginning at 9:00 PM. Malarkey's puts on the greatest buffet on the bay!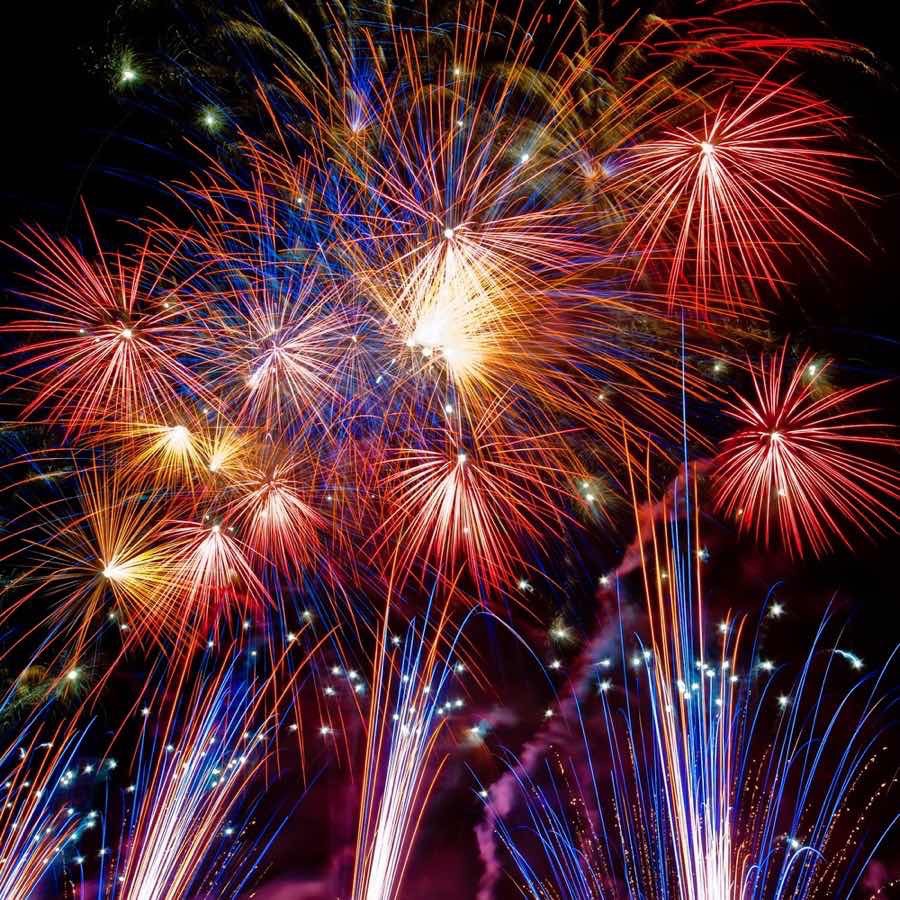 Oscar moves about the establishment at the speed of light!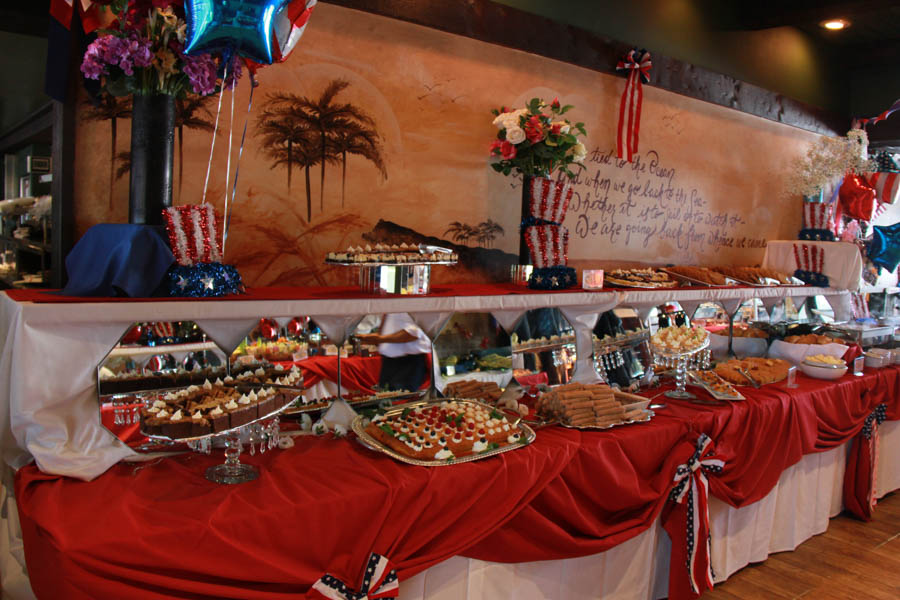 Oscar and his staff out did themselves today!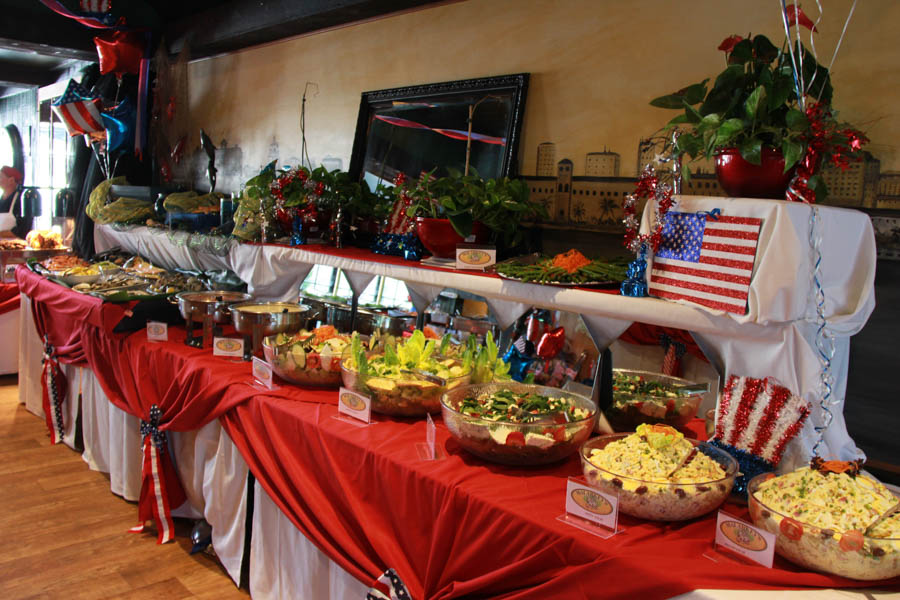 Beautiful with each item carefully marked and picture perfect!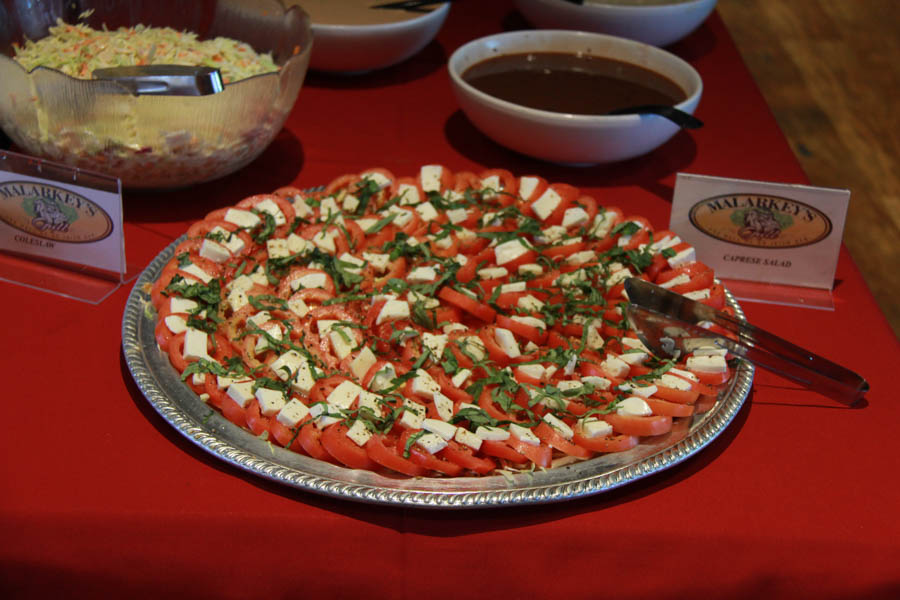 Looks as if it was painted it was so beautiful!

The BBQ Ribs were so juicy... Just fantastic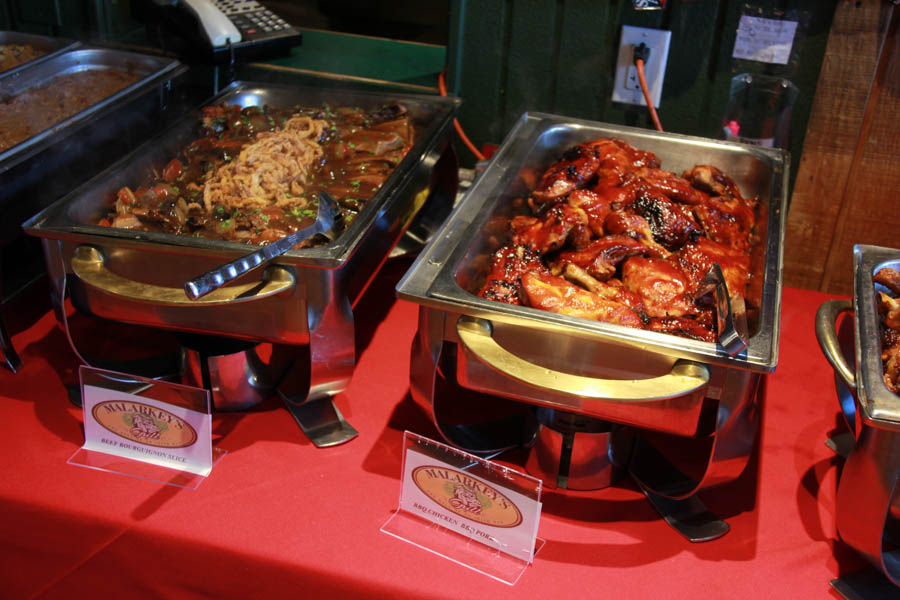 Beef Bourguingnon (melt in your mouth delicious)
and BBQ Chicken and Pork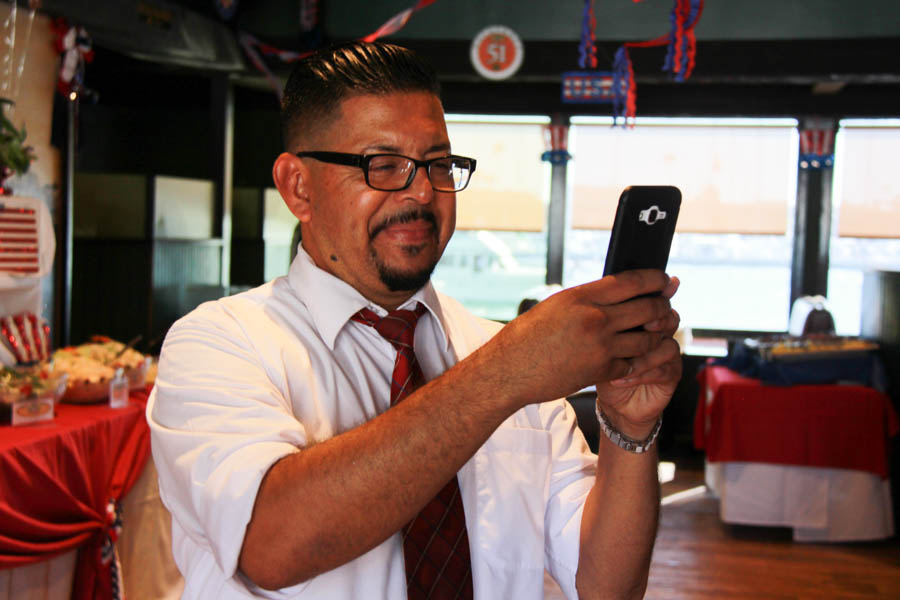 Oscar was proud of his efforts!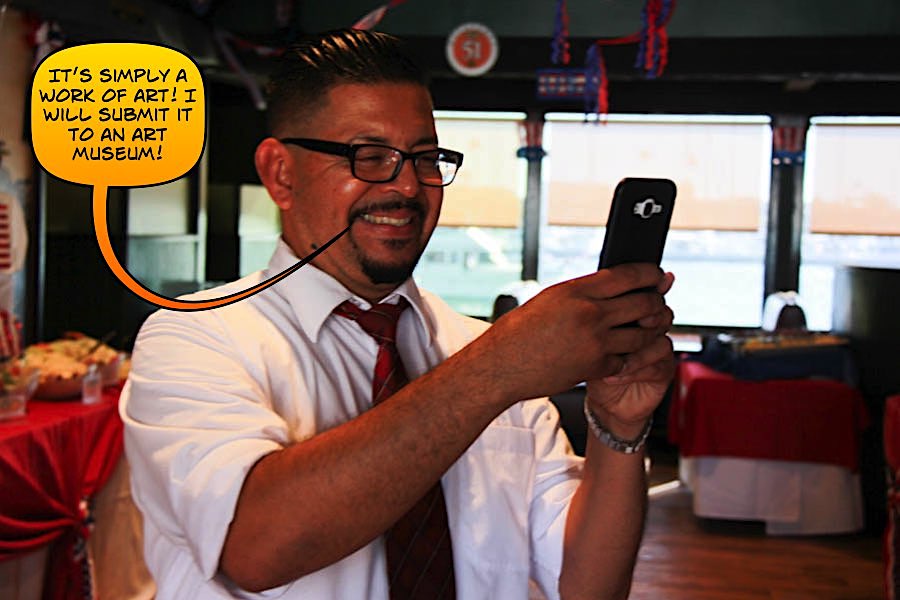 The boss is smiling... It's a good thing!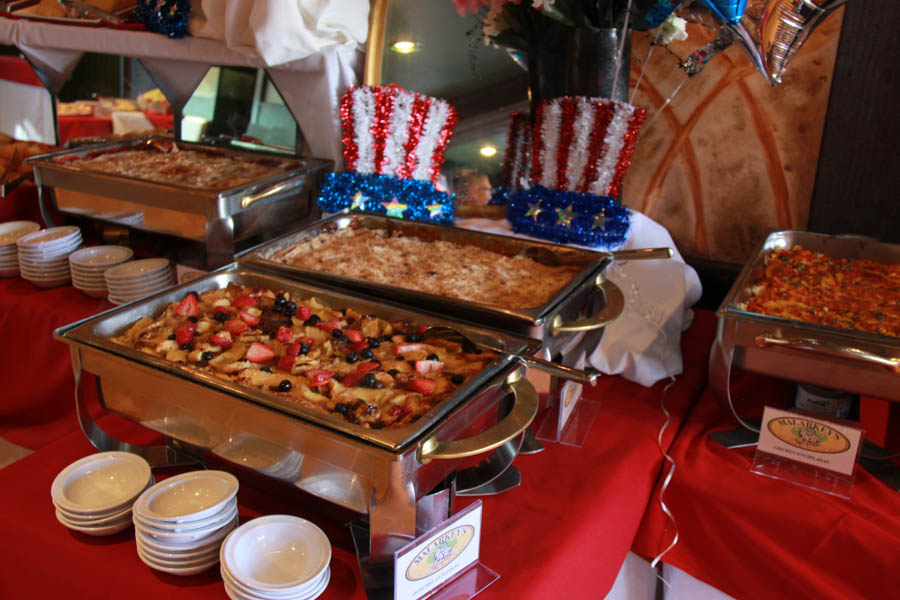 Irish Bread Pudding & Strawberry

Everything was hot and beautifully prepared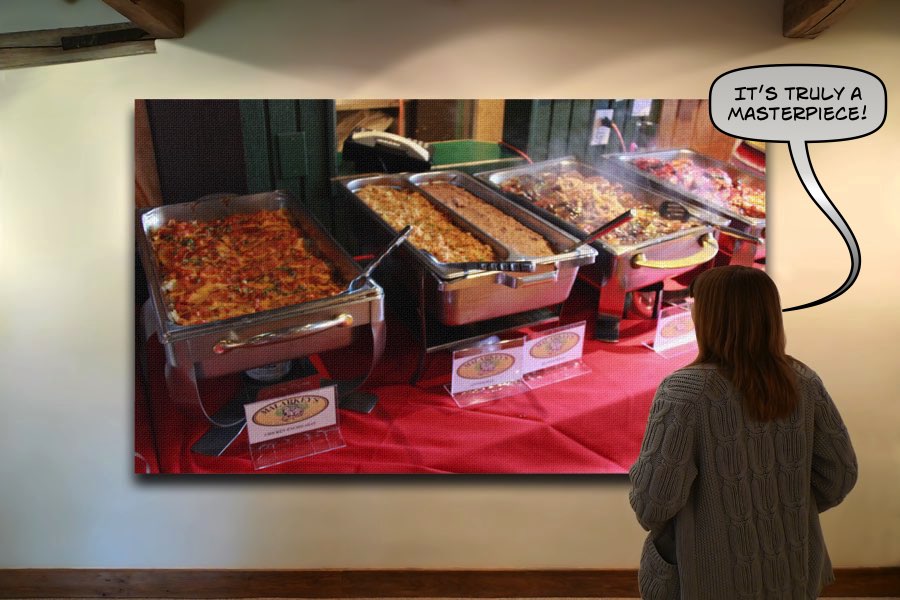 Oscar got his work into the museum

..and of course some "south of the border" delights!

Comfort food... Always! Mac-N-Cheese and Pizza! Yeah!

Make a taco... All the fixin's you need!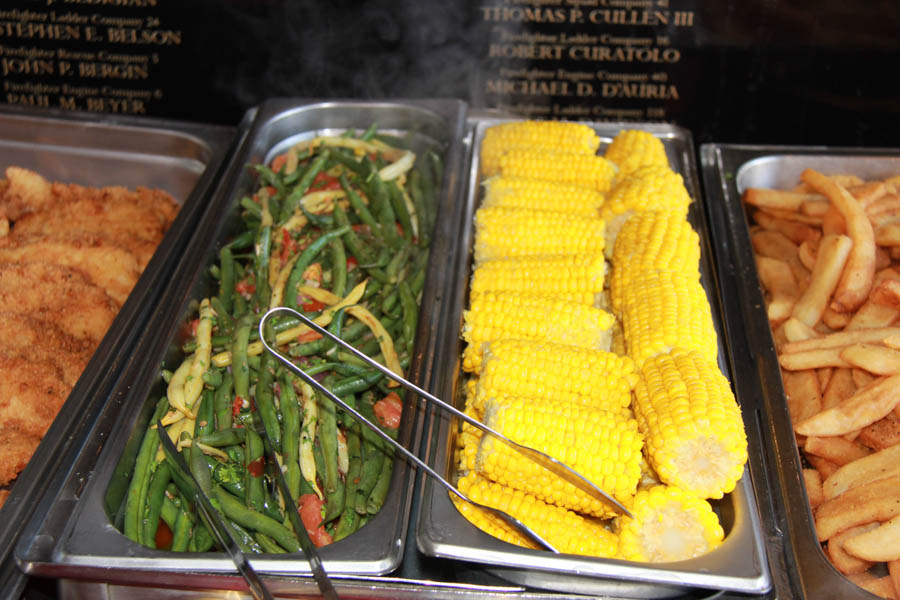 String Beans and Corn! Remember to eat your veggies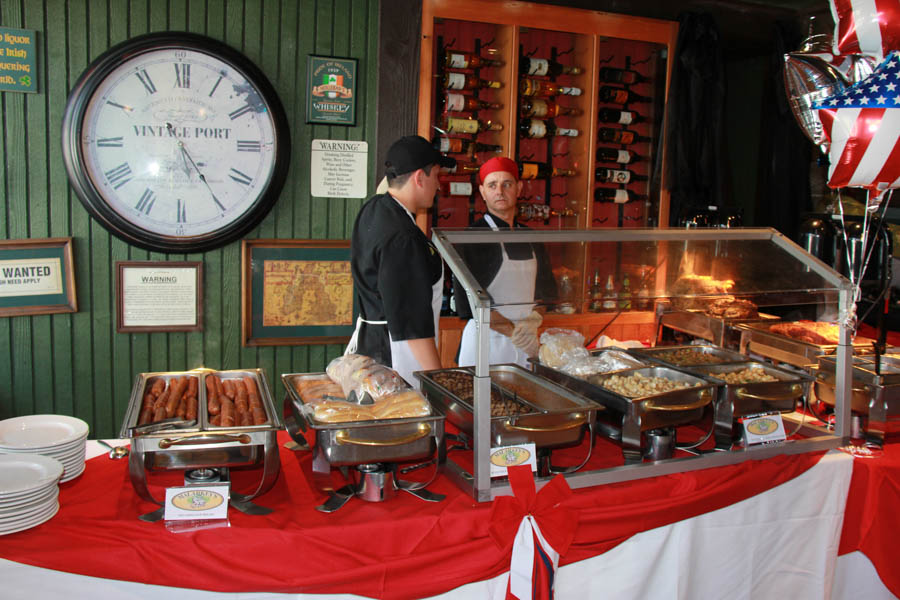 The guys are getting ready for the upcoming rush!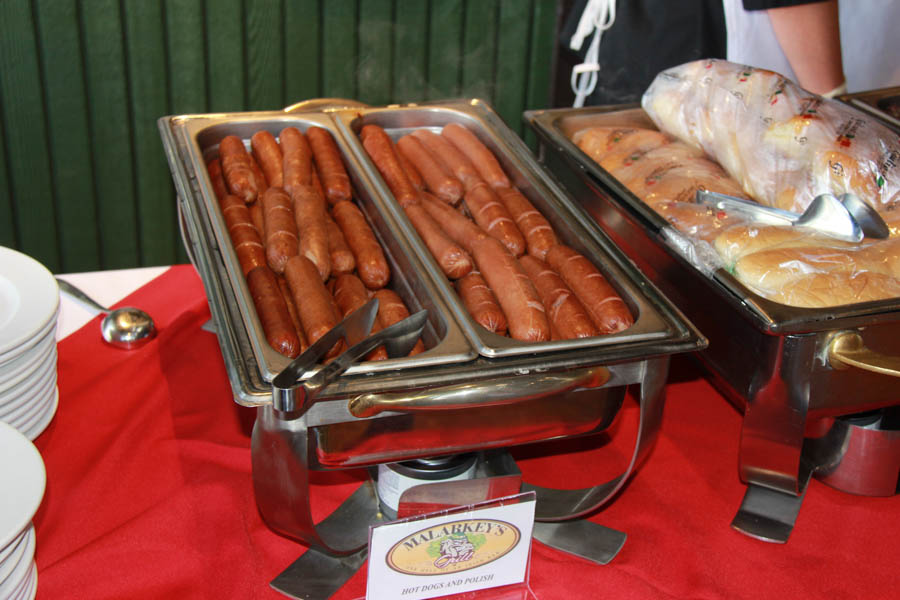 Regular hot dogs and polish sausage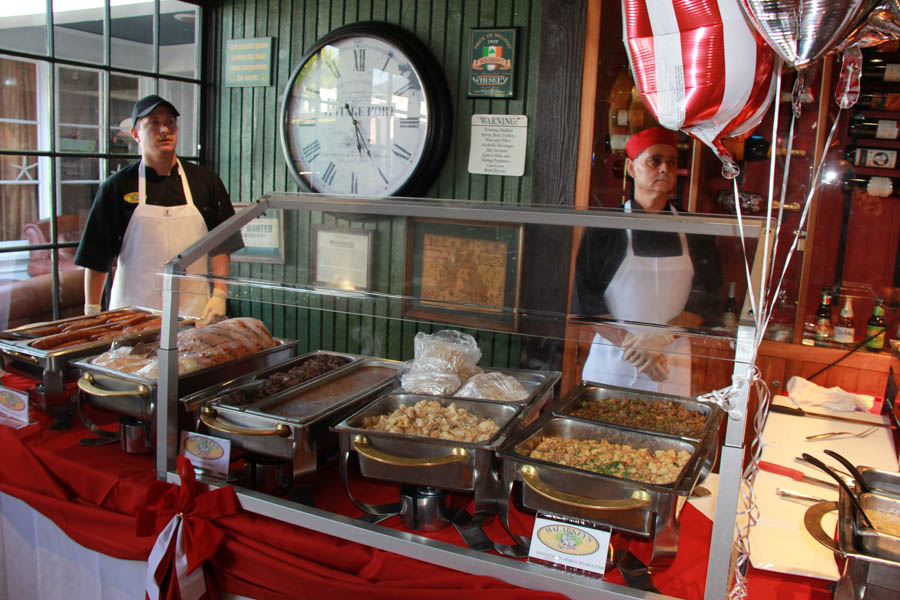 Make your own hamburgers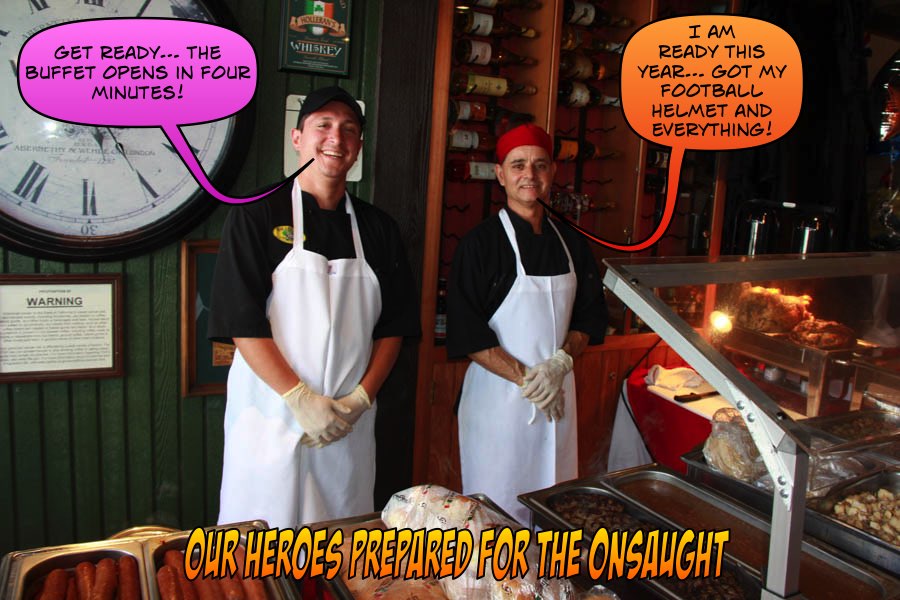 Our heroes

Do they look worried?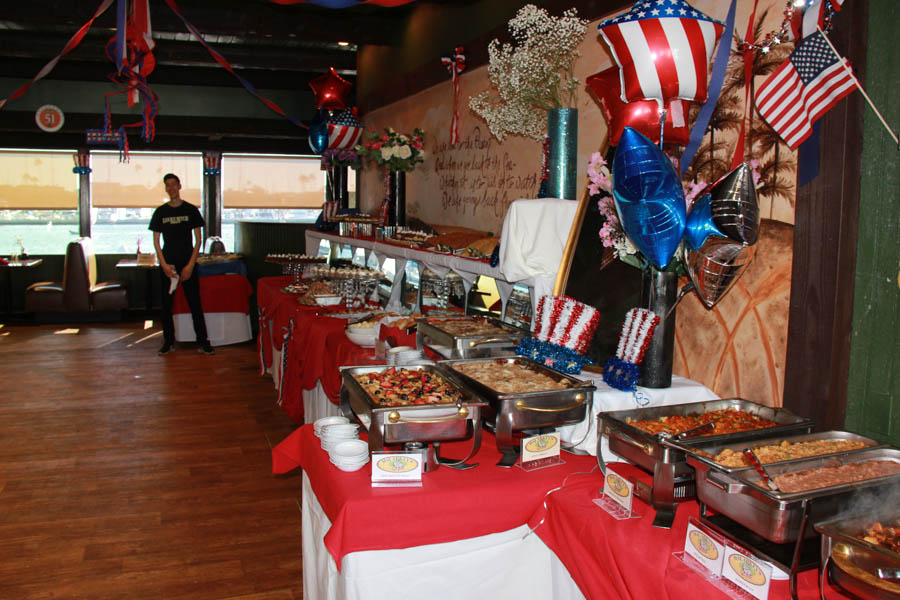 Henry does a last minute walk through

Seafood delights... Anything you might want!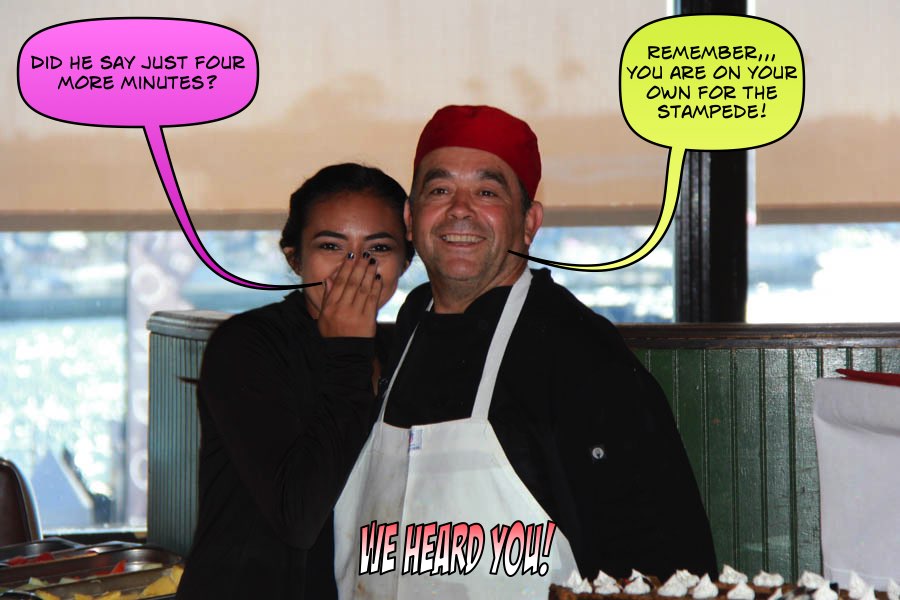 The friendly staff at Malarkey's!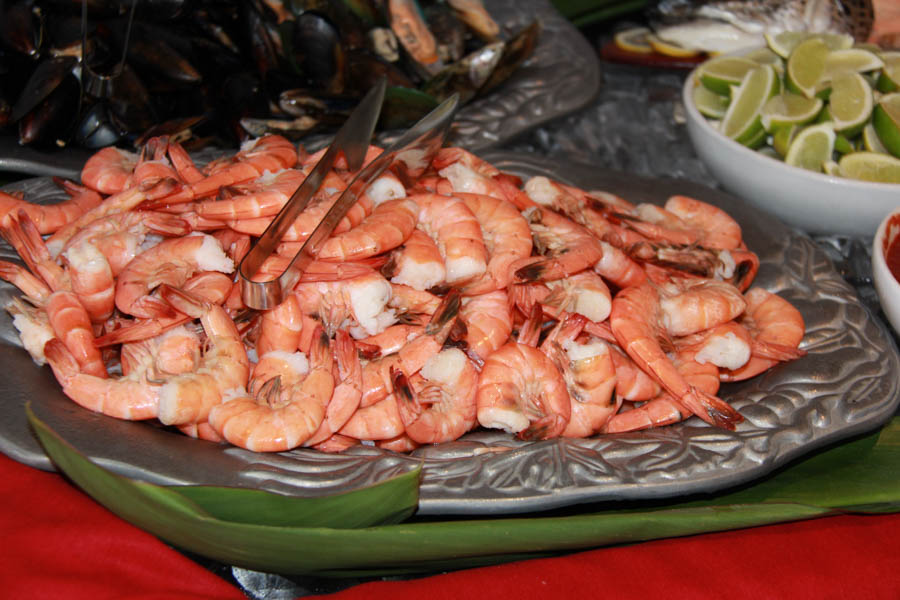 The shrimp was so fresh they were still moving!

Mussels... Indeed!
Did You Know? - The word "mussel" is most frequently used to mean the edible bivalves of the marine family Mytilidae, most of which live on exposed shores in the intertidal zone, attached by means of their strong byssal threads ("beard") to a firm substrate.
Byssal threads, used to anchor mussels to substrates, are now recognized as superior bonding agents. A number of studies have investigated mussel "glues" for industrial and surgical applications.
During the second World War in the United States, mussels were commonly served in diners. This was due to the unavailability of red meat related to wartime rationing.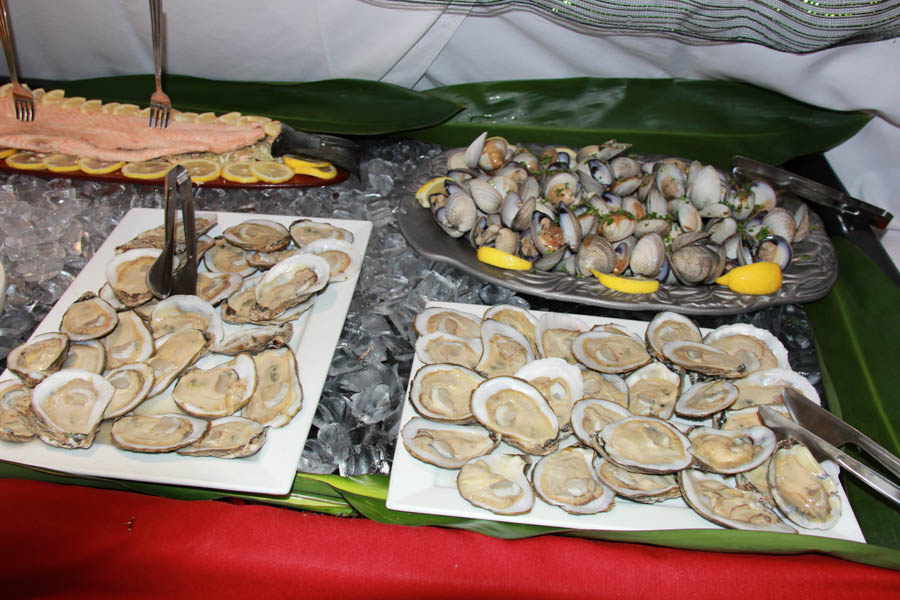 Where is Vicky... She is an expert in this area!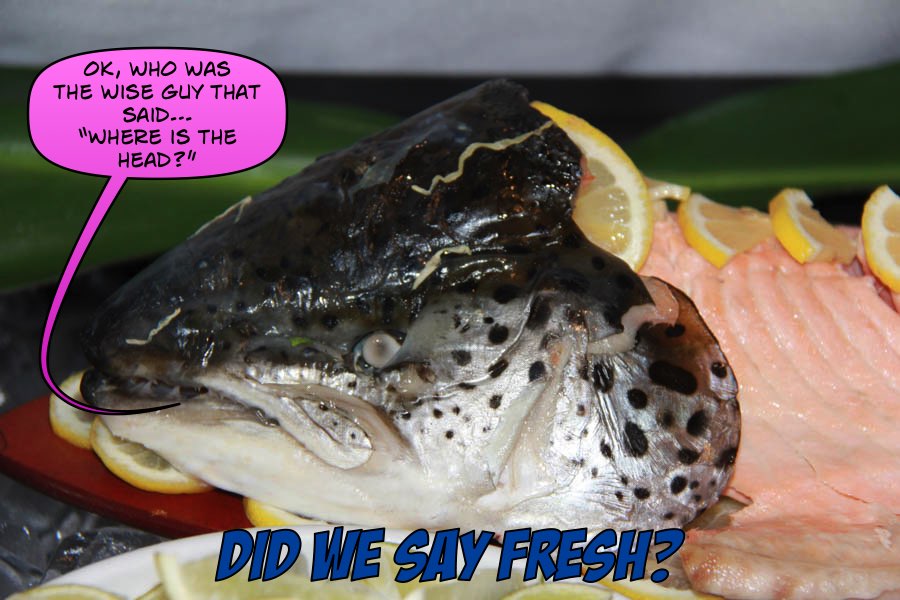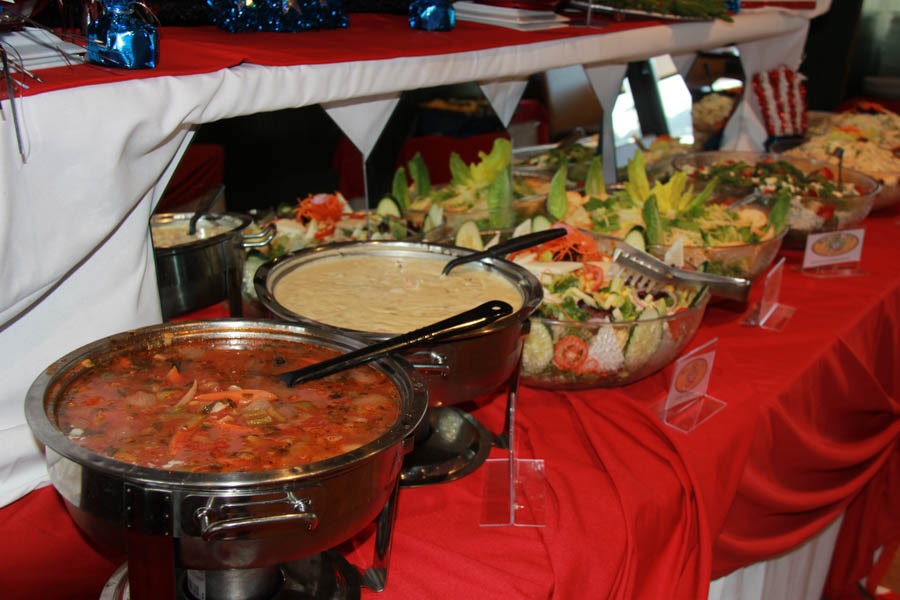 Soups and salads!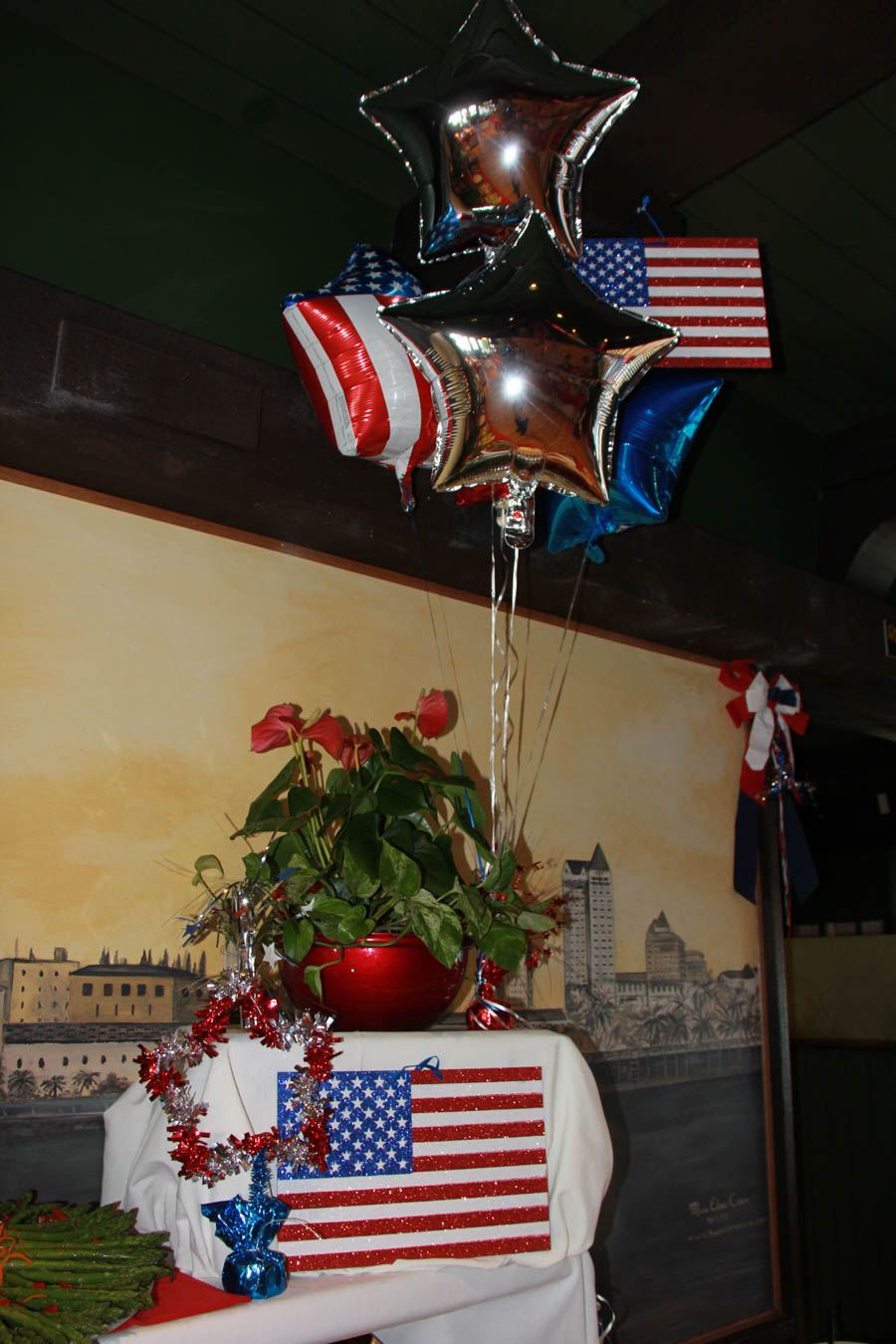 Someone on the staff is quite artistic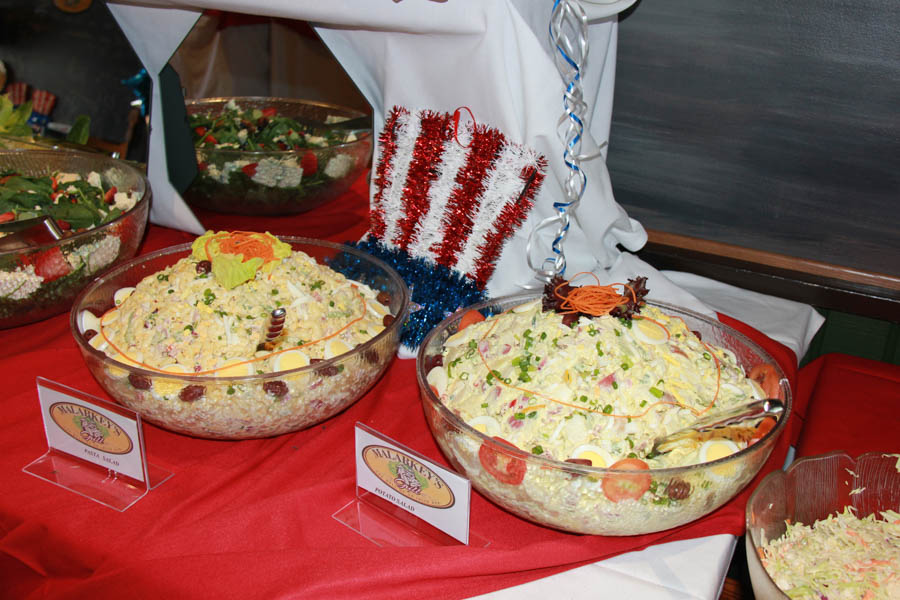 Potato salad and cold slaw

J E L L O!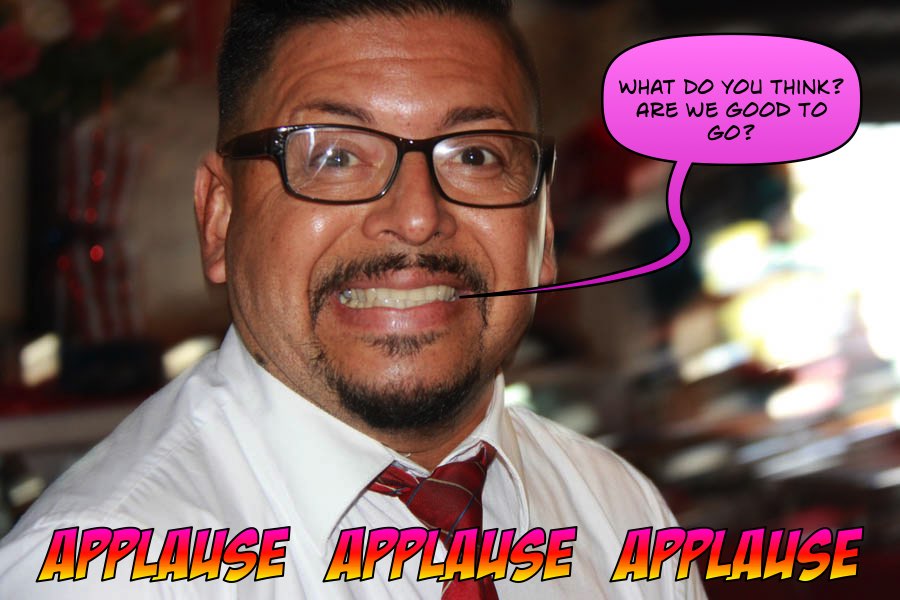 Oscar looks happy!

The band was setting up...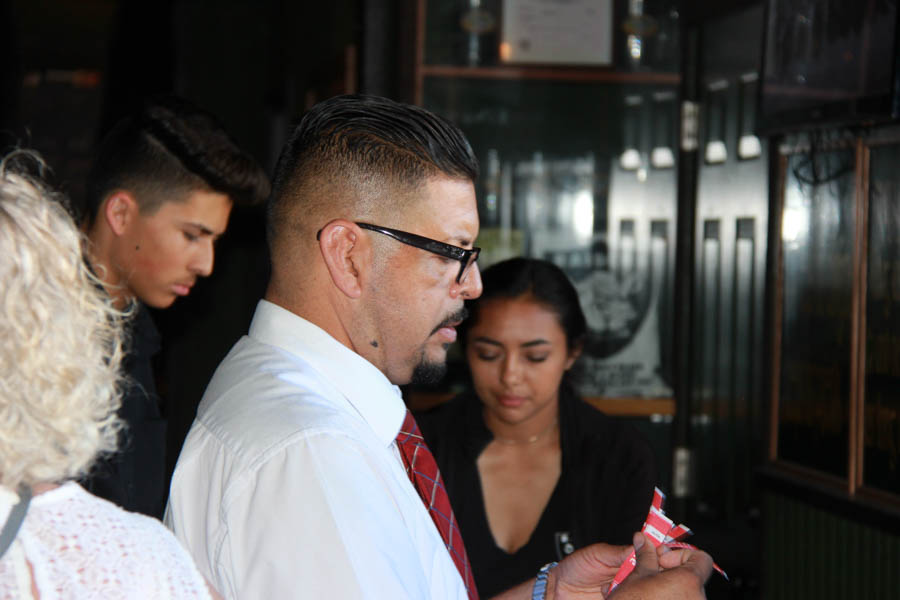 Oscar checks in his guests!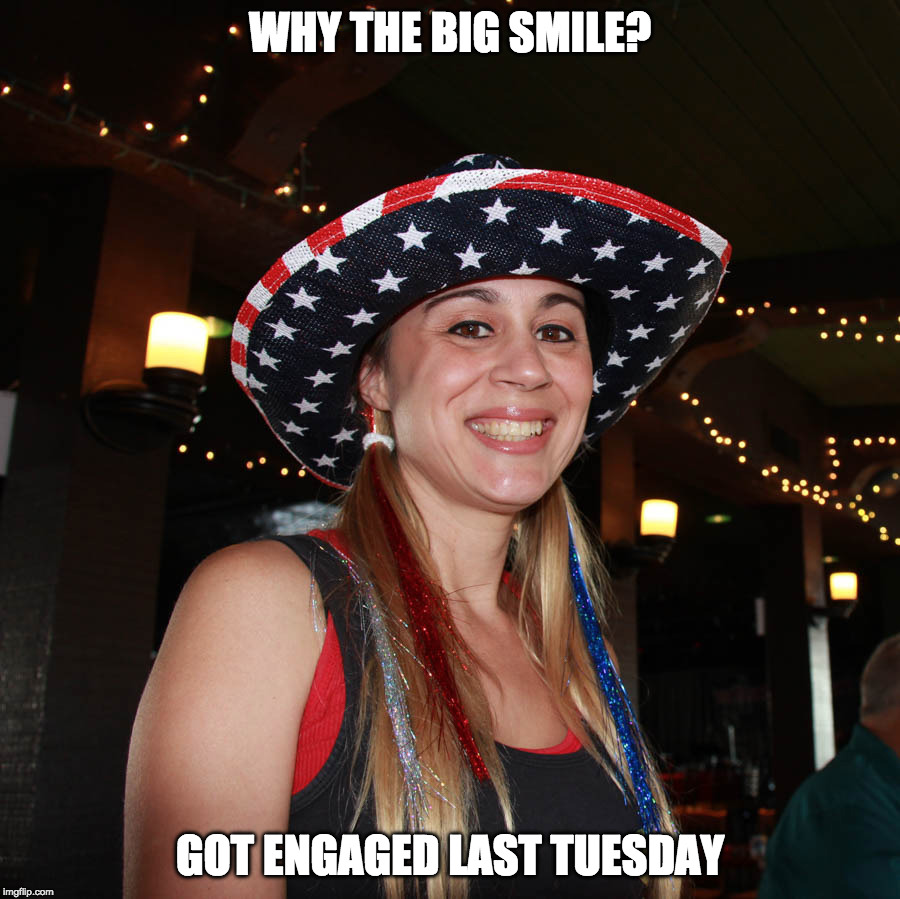 Jennifer... Our bartender and good friend!

The laughing lamp is now officially lit!

"Just a little of this and a little of that"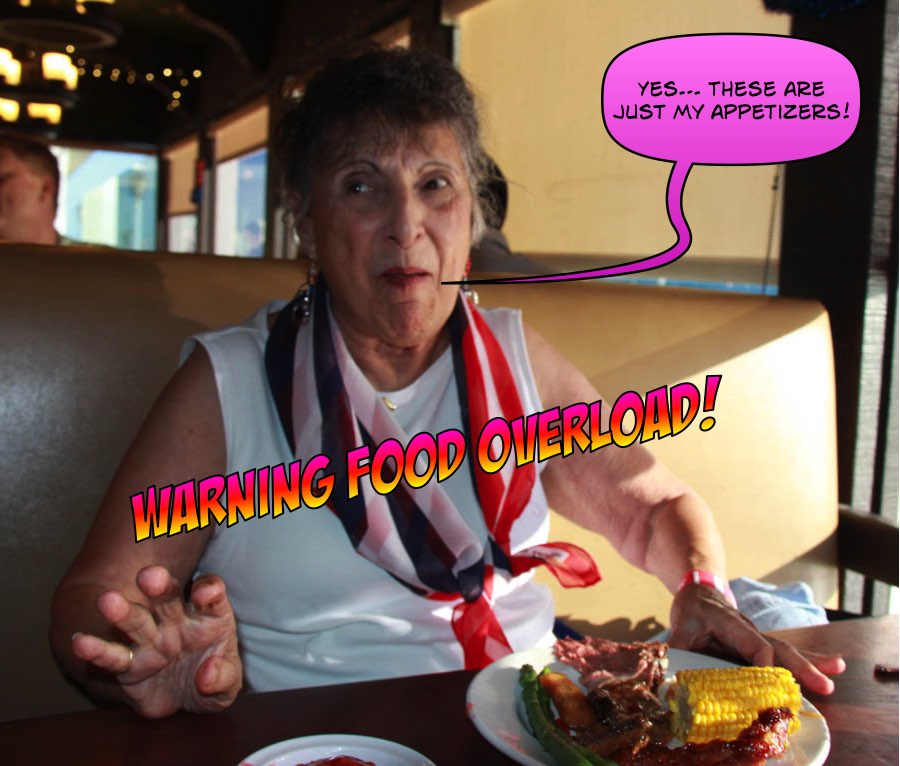 Beware... This a laughing restricted area...
You no laugh... You no belong here!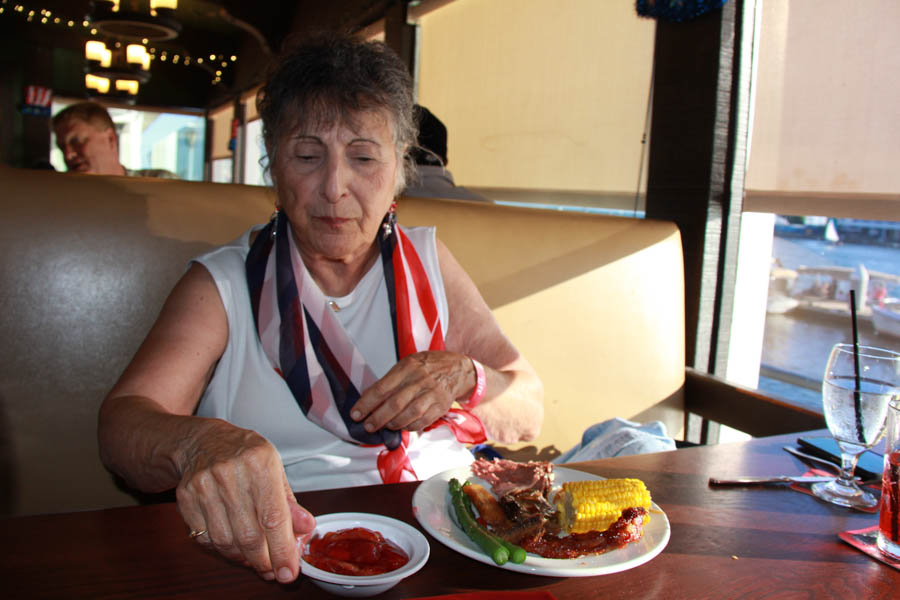 The sauce goes with everything... Including Mike!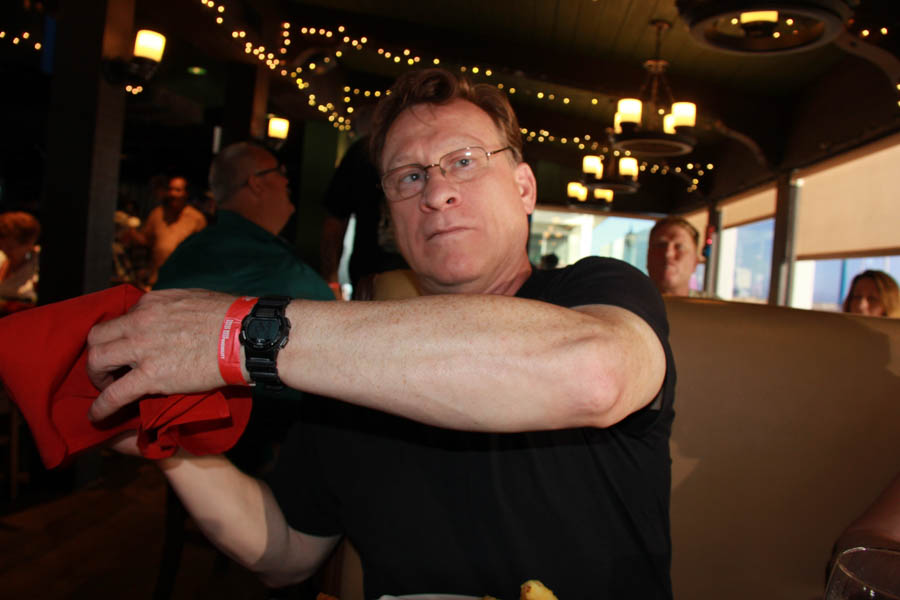 Mike prepares his napkin with great flourish!

"Mine"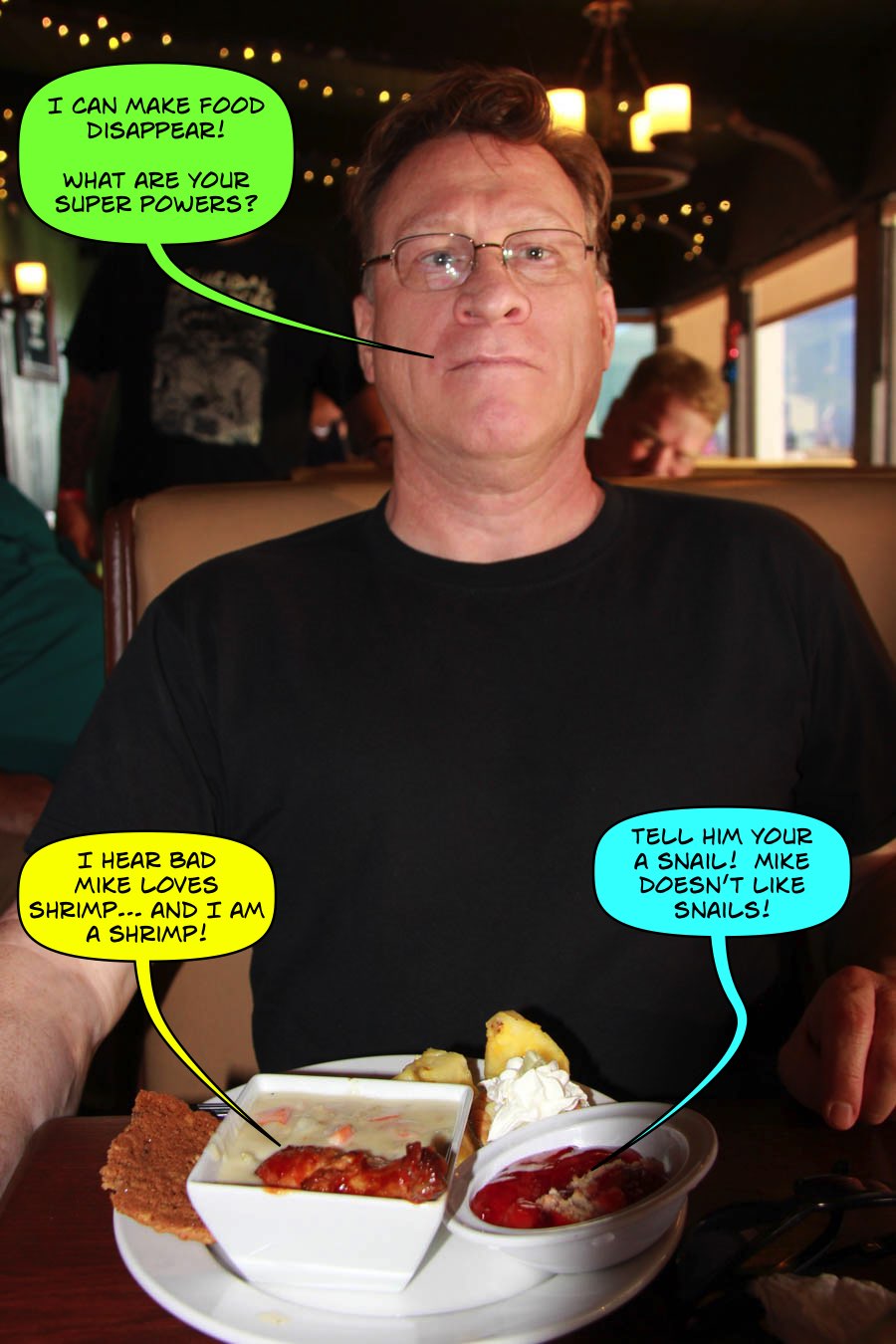 Be careful when food teams up against you!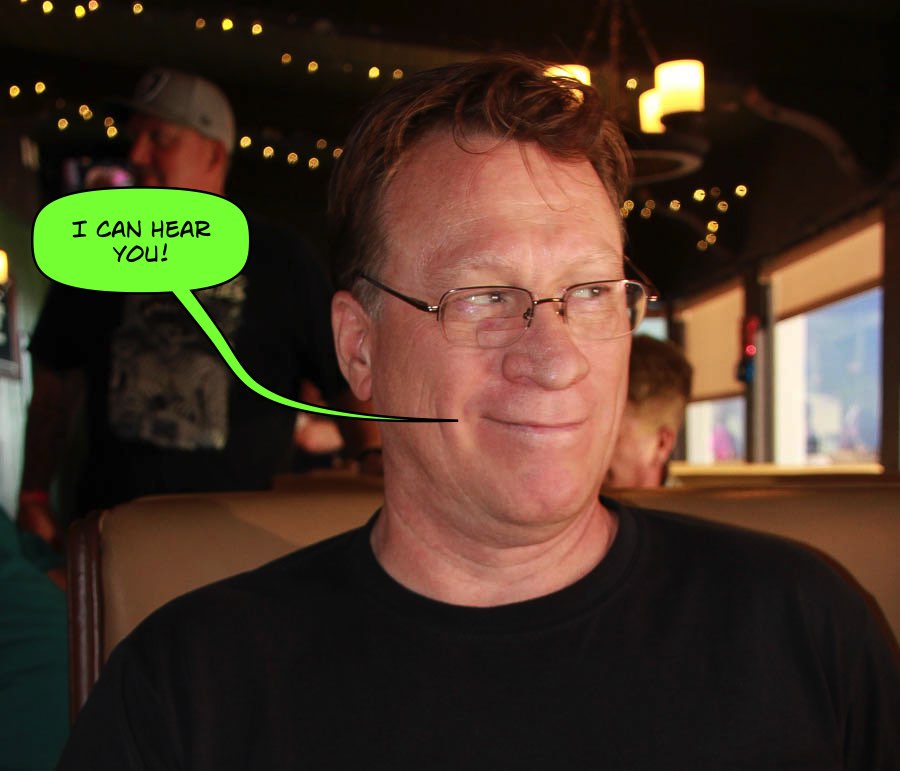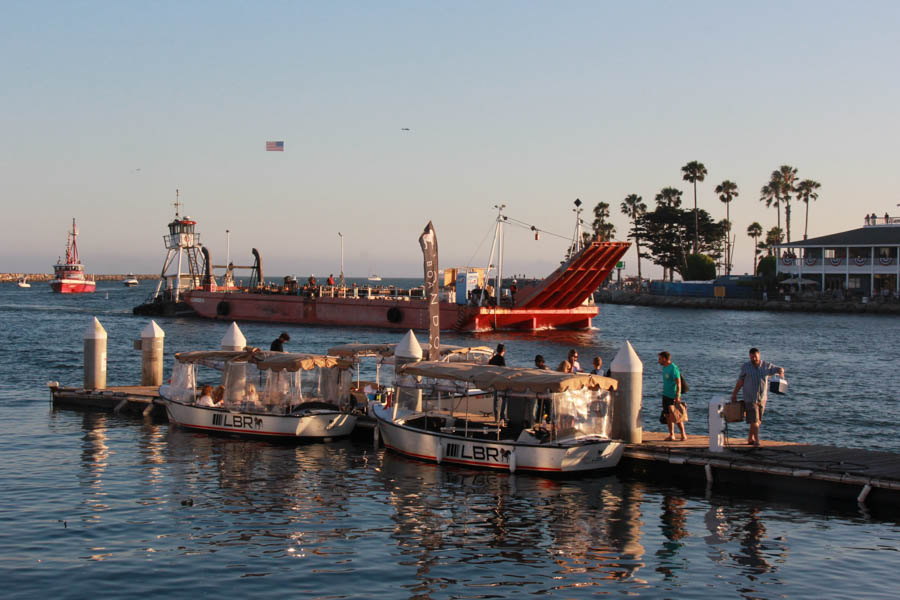 The barge enters the bay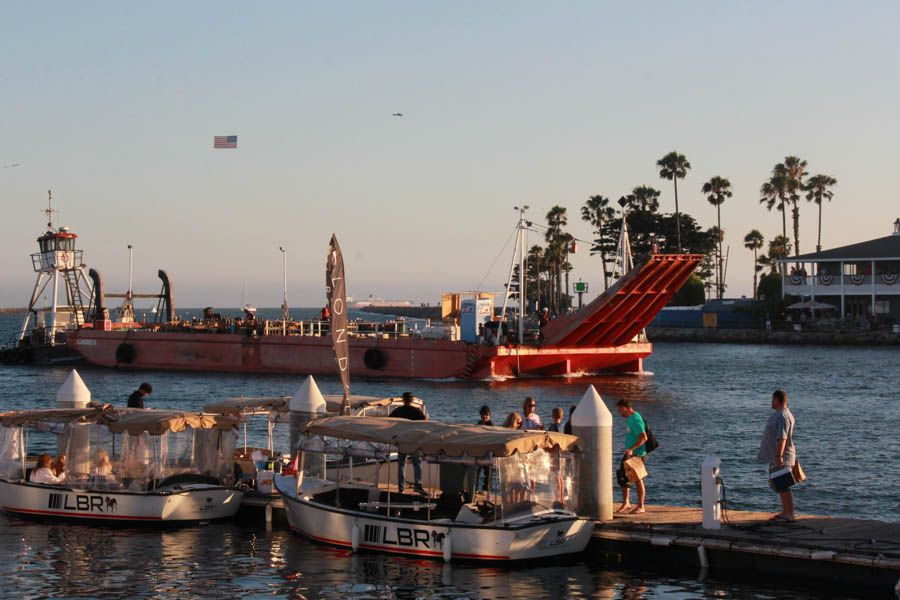 Loaded with entertainment!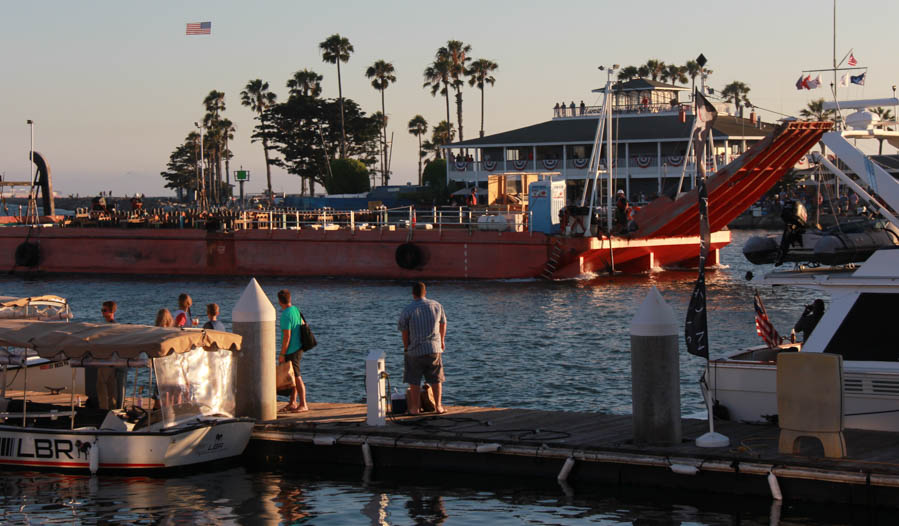 Passes right by us...
Did You Know? - This barge and her sister barge are the ones that supply Catalina with everything from toilet paper to cars. The barge is a "roll-on, roll-off" operation, meaning that already loaded truck trailers are driven over a ramp directly onto the barge, where the trailers are disconnected from the truck and parked for the cross-channel ride to Avalon. There, the trailers are either unloaded at the company's warehouse or reconnected to a truck and hauled to their island destination. The barge is 128 in length!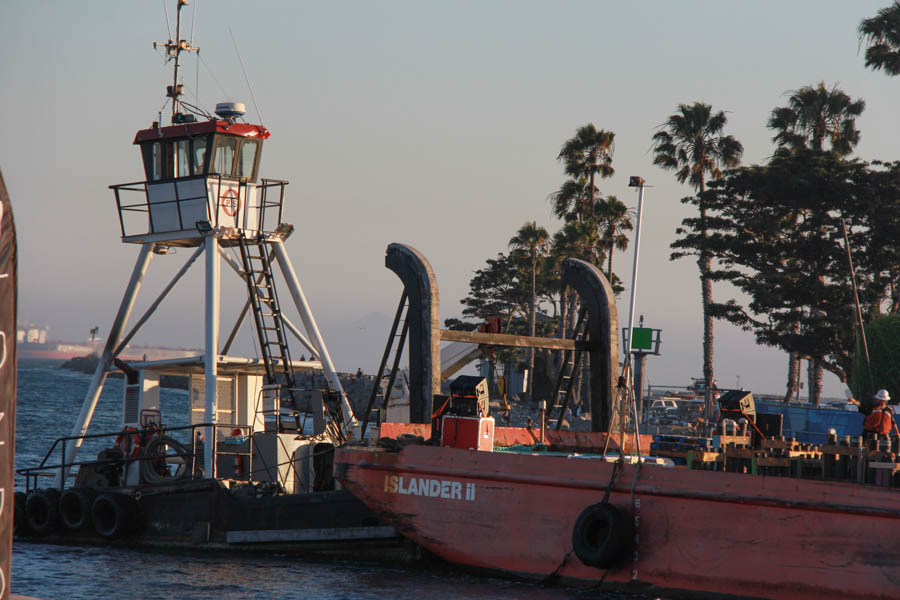 Pushed along by a special tug boat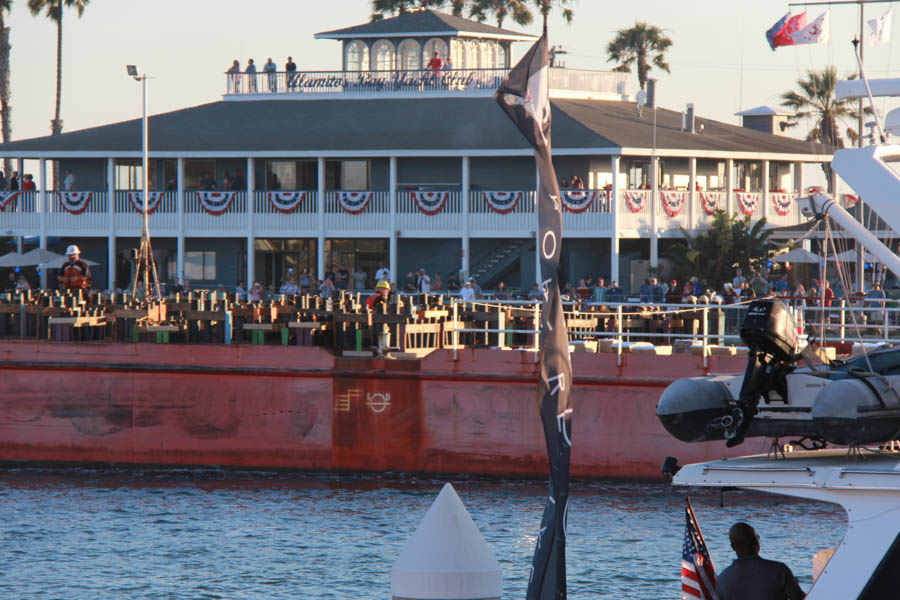 Everybody comes out to wave at the barge!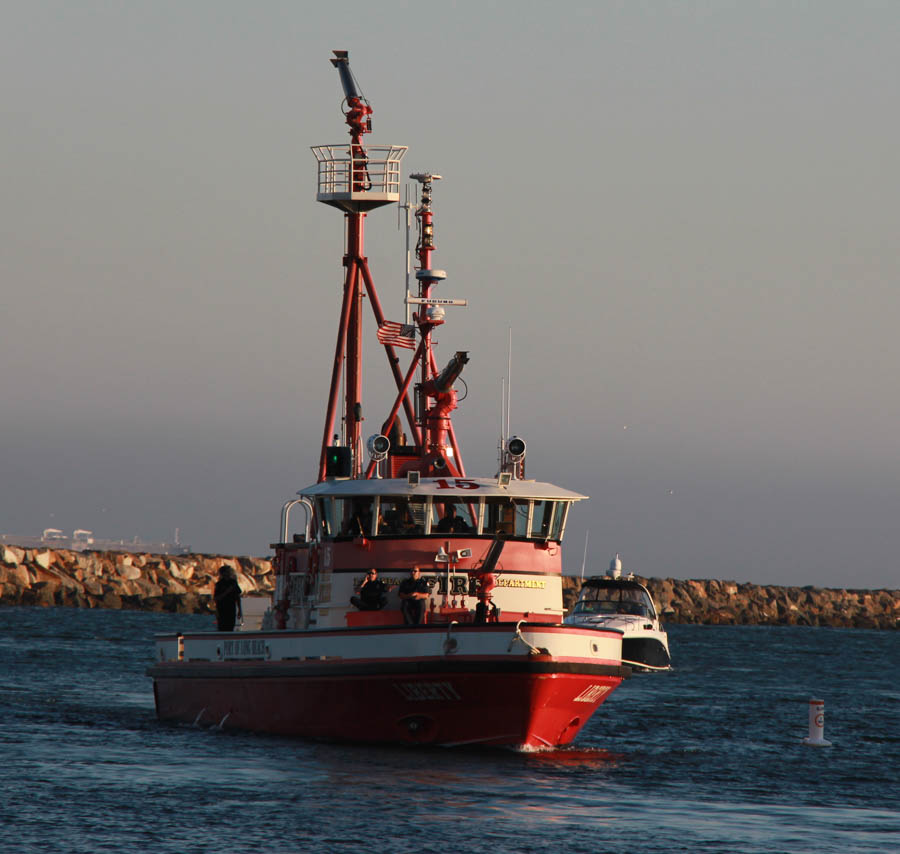 ...and not far behind... Just in case!
Did You Know? - With 10 water cannons, the fireboat can throw 41,000 gallons of water per minute across a length of two football fields, about four times more than the 10,000 gallons per minute that the port's existing fire boats can do.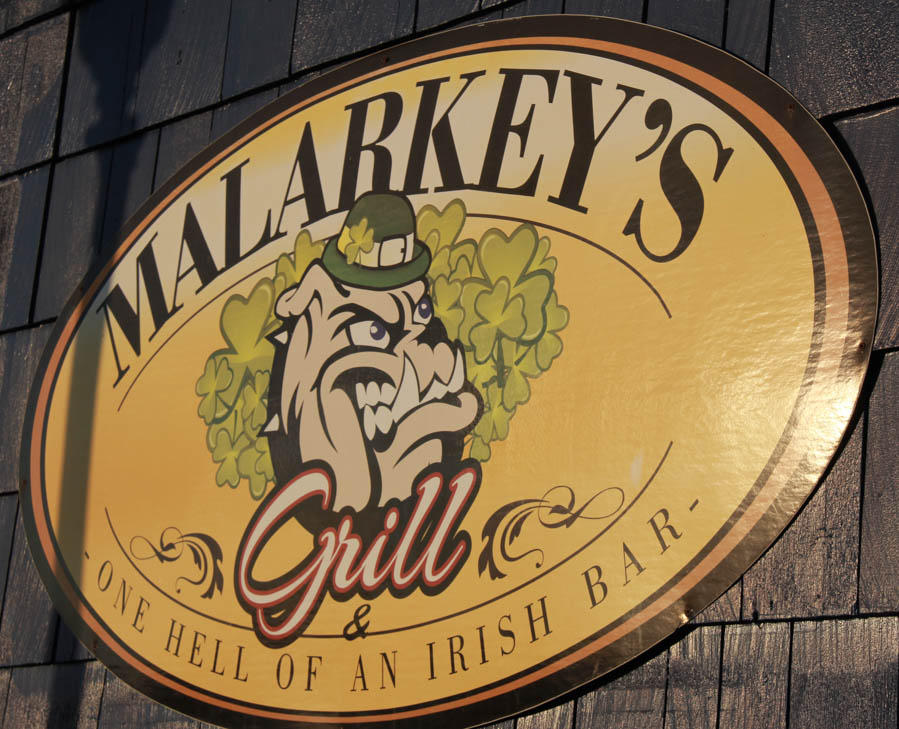 The sun is beginning to set...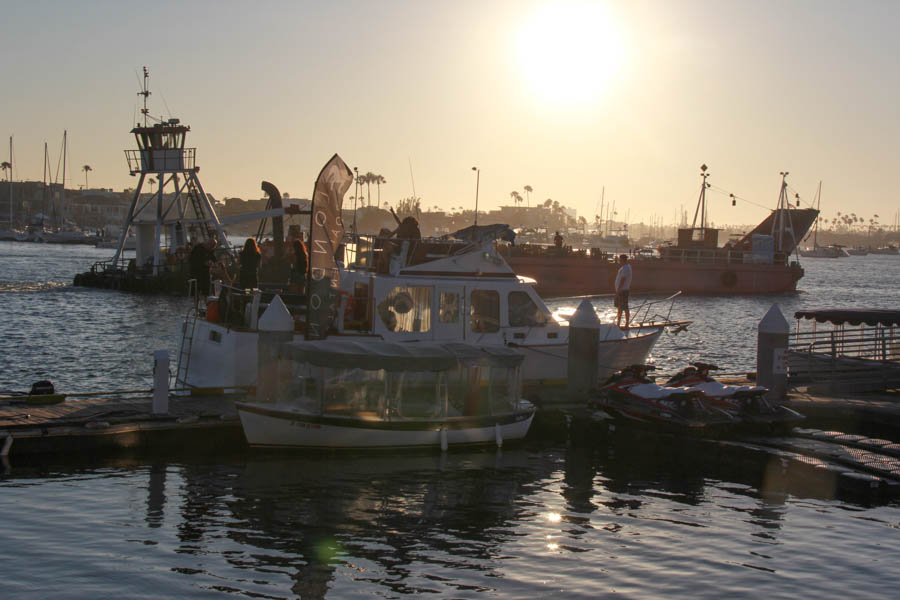 The barge is in place and the fireboat awaits any action needed!
"Look... Up in the sky... It's a bird, it's a plane, No! It's four planes!

Looked pretty good!

We are being mooned!

Through the looking glass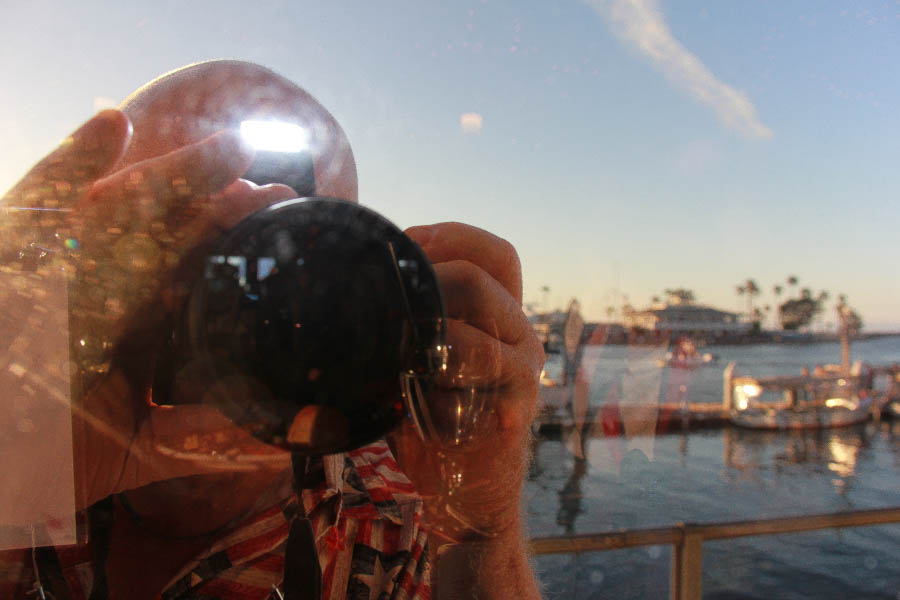 Paul tries a new camera approach!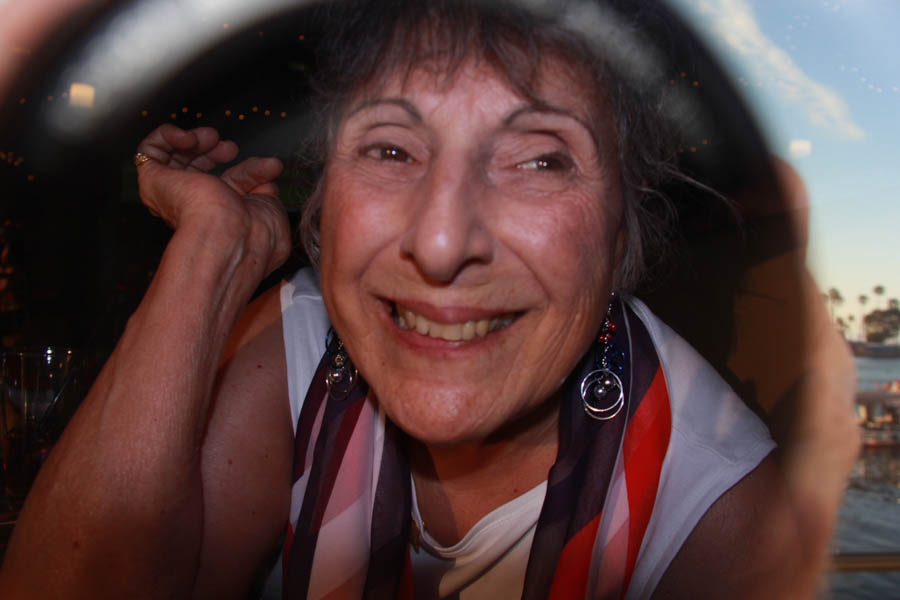 Irene appears in the lens... scary!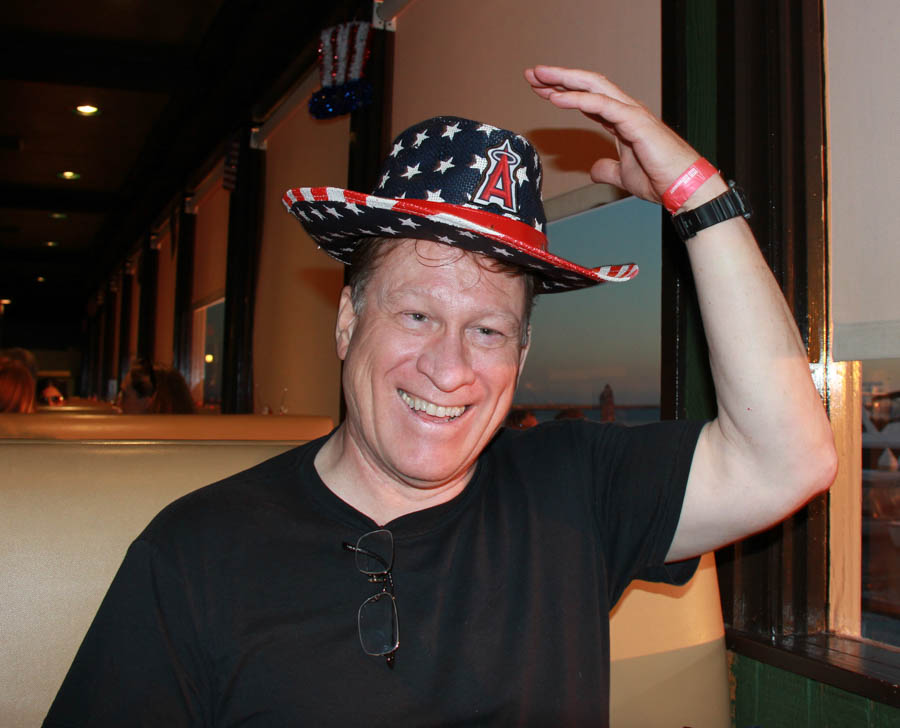 Perfect fit!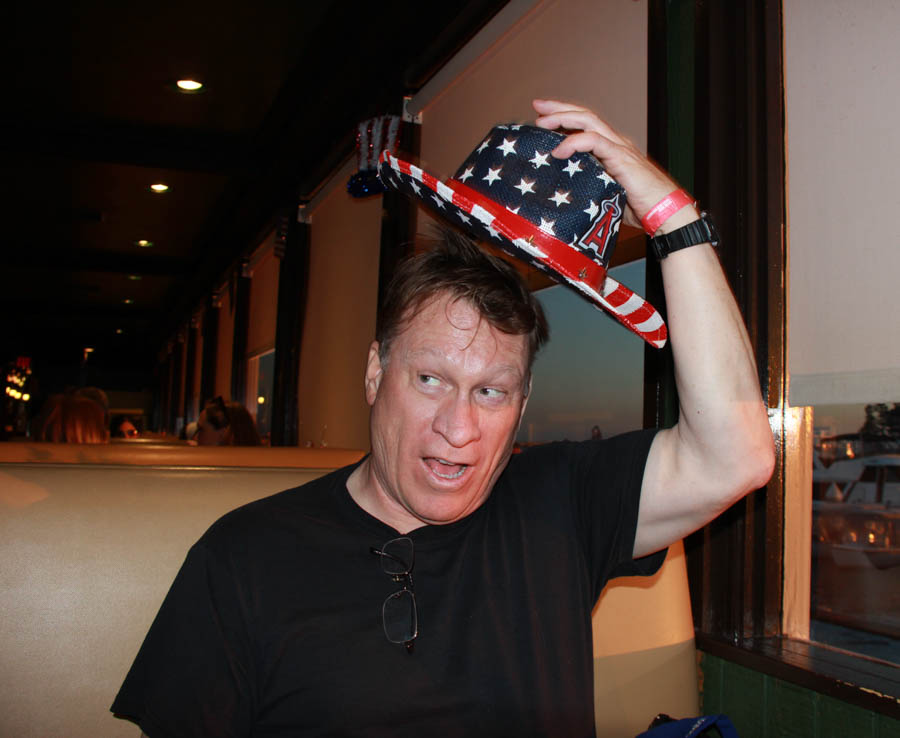 What did Mike say to cause this reaction....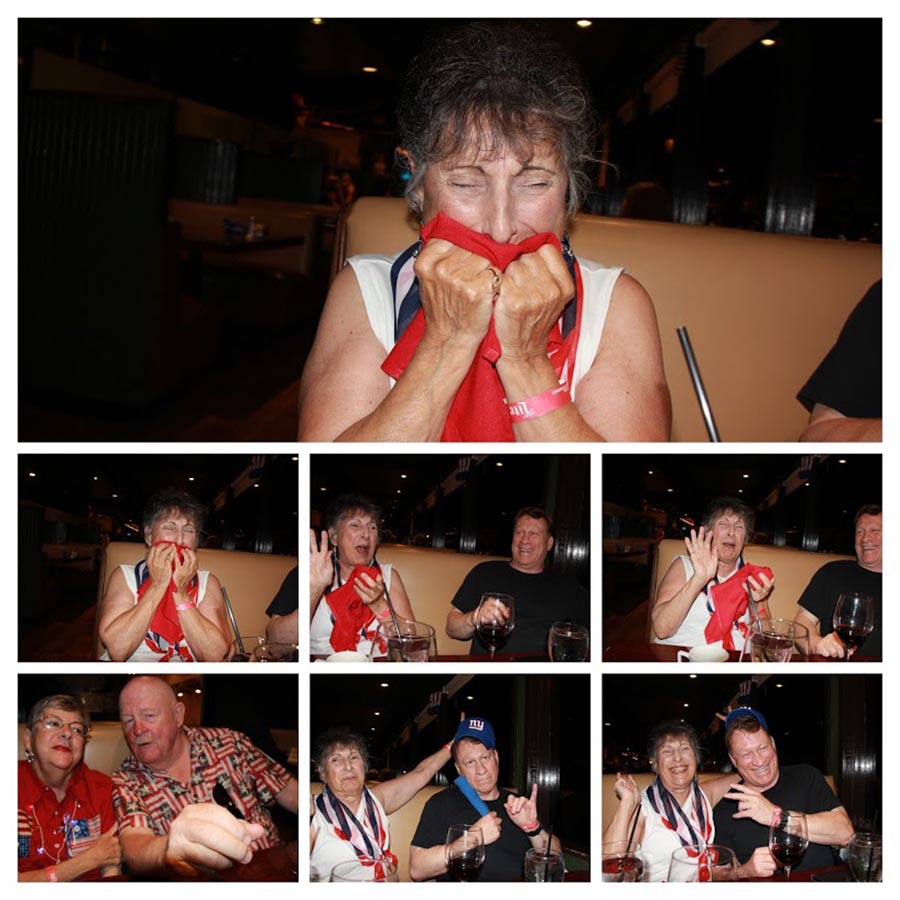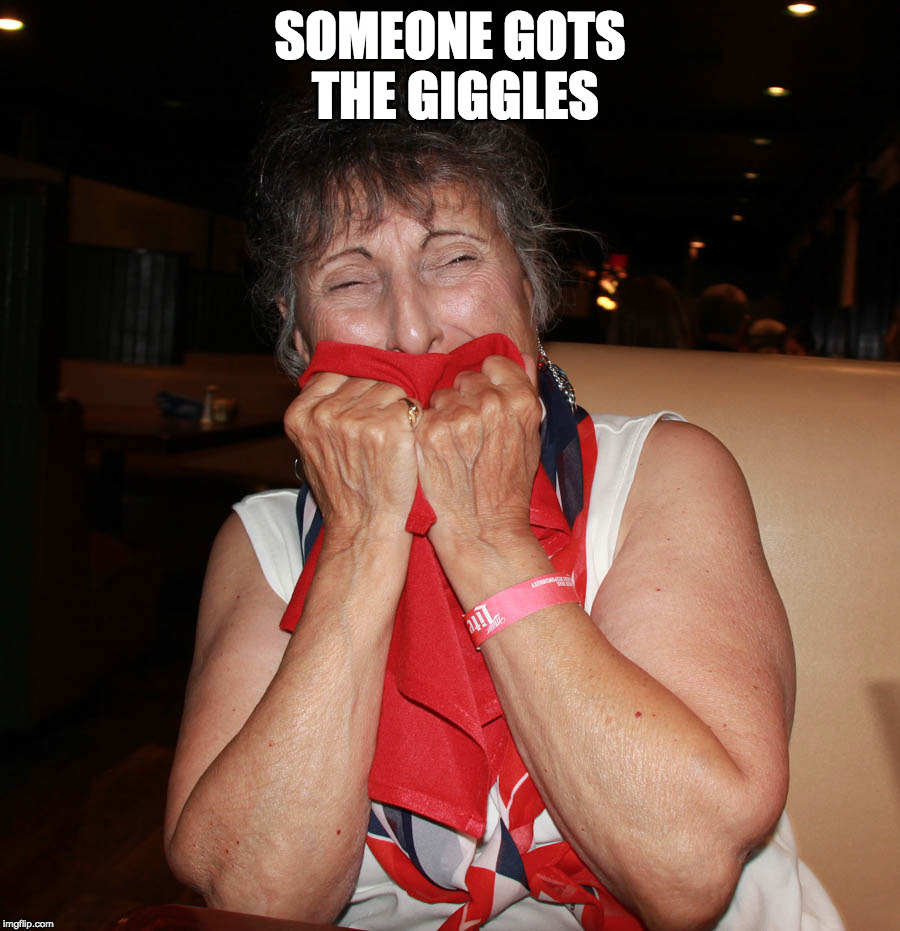 When a giggle turns into a full fledged belly laugh!

Irene is laughing so hard tears are running down her leg!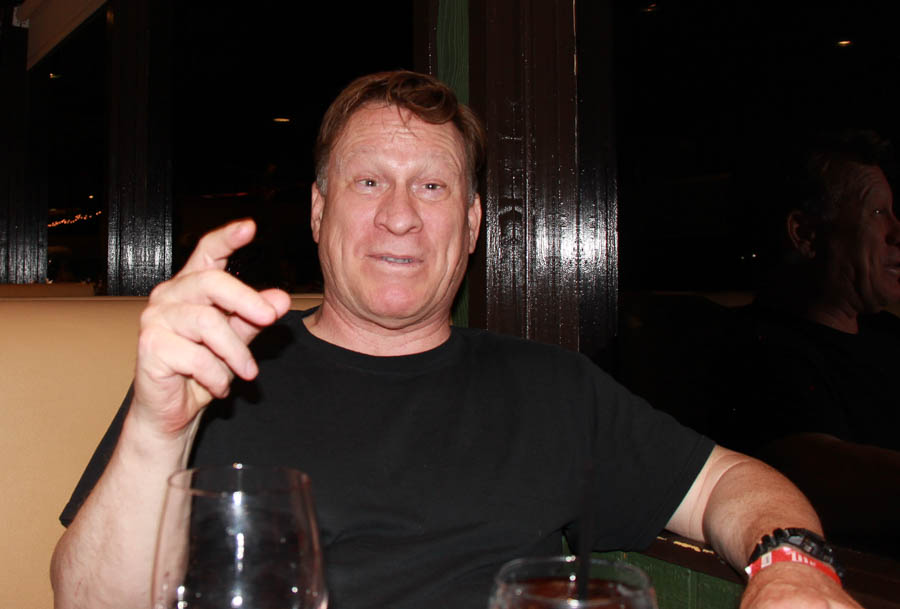 Now... BAD MIKE goes in for the kill!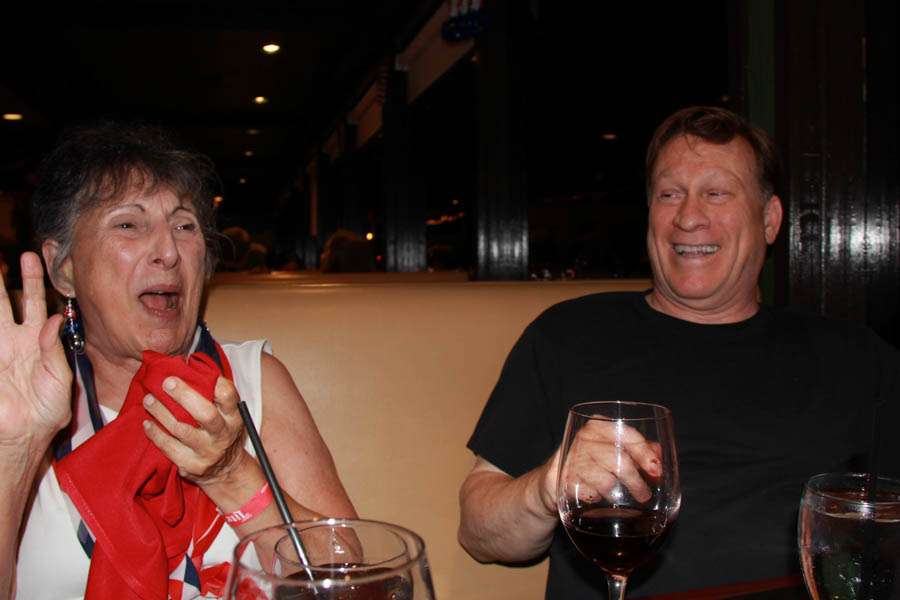 Now we are all laughing ourselves silly!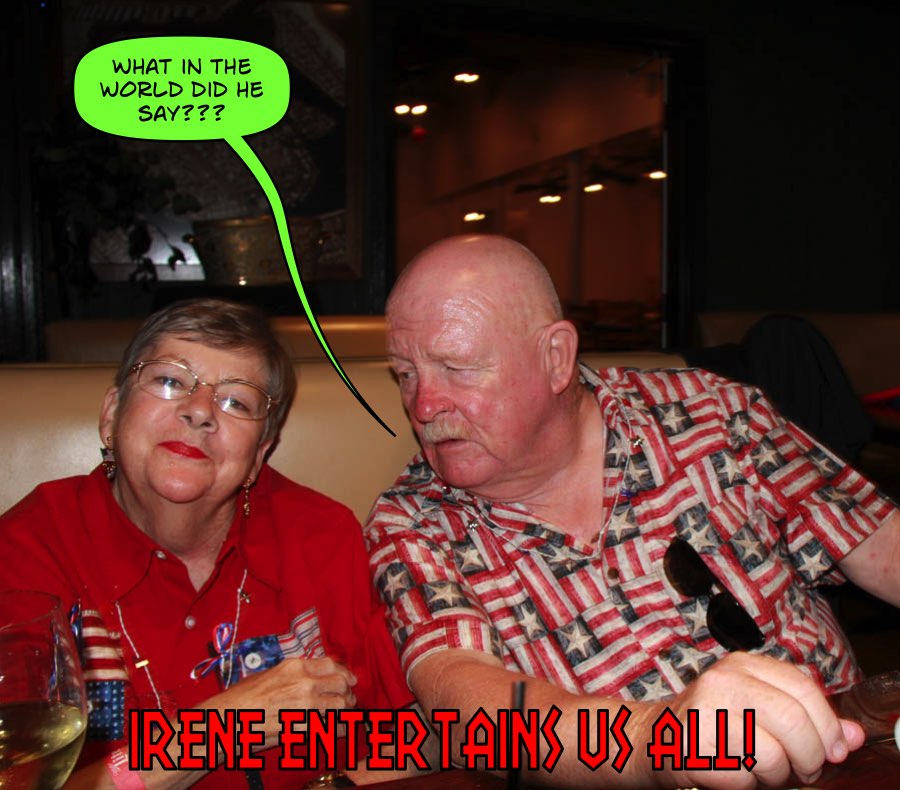 "You don't think Irene will explode do you?"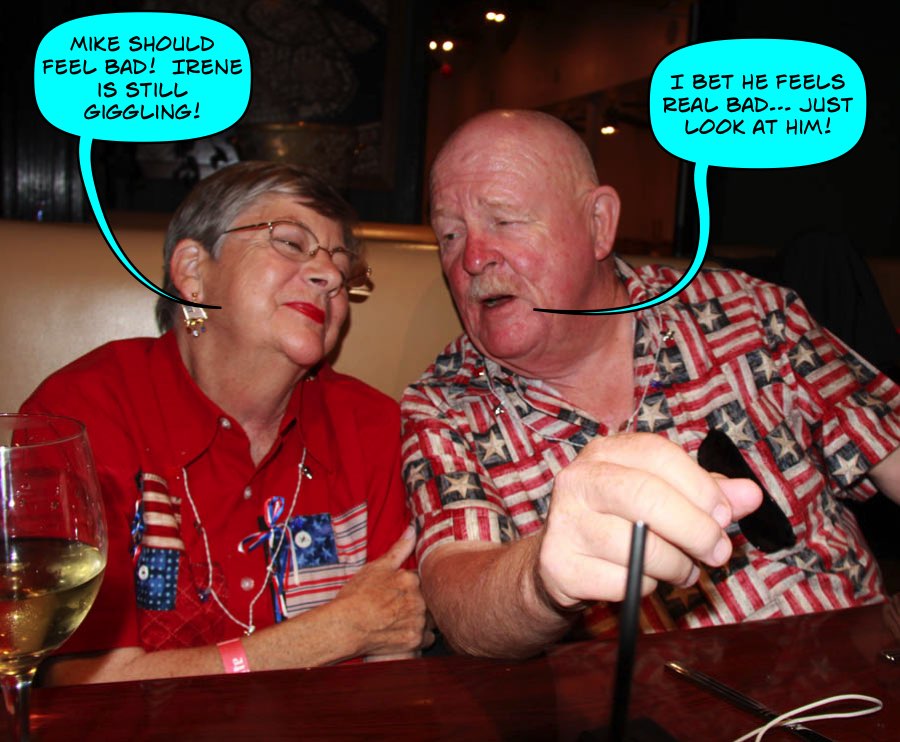 He will never do that again... Until next time!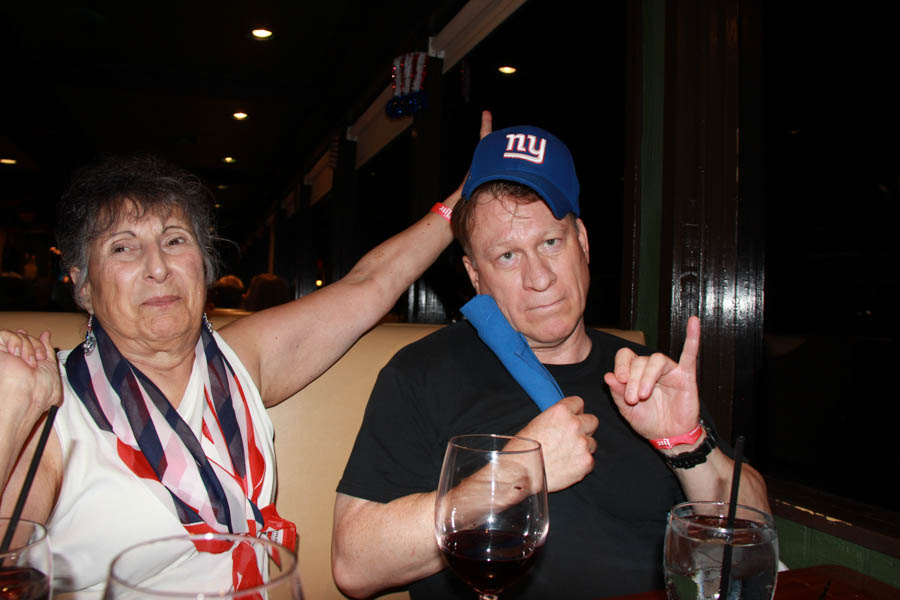 Irene forgives him!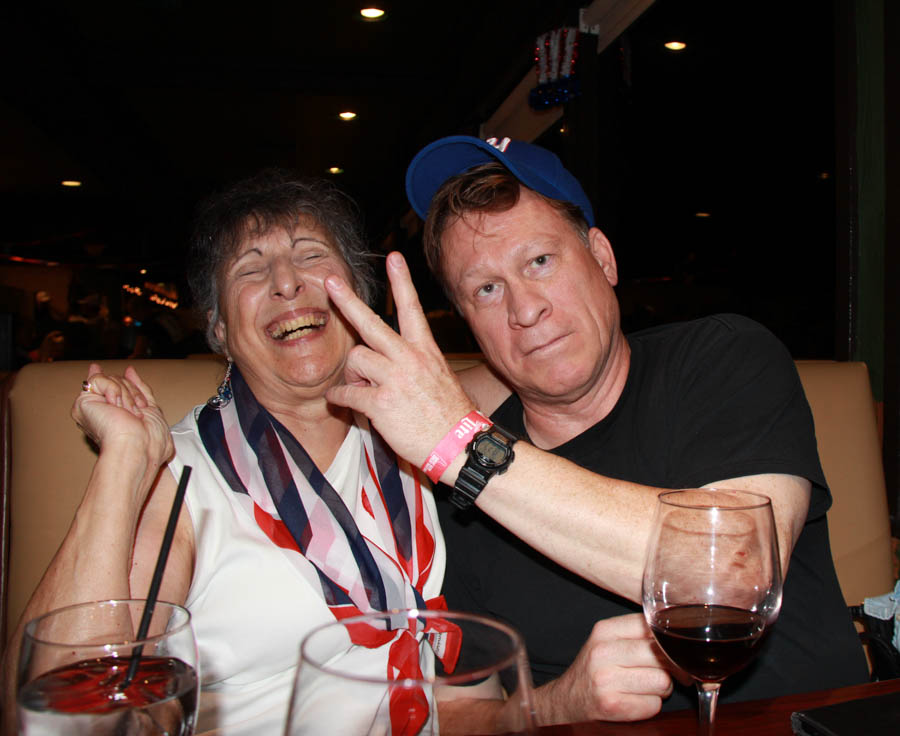 Oh no! He is at it again!

These two should start their own stage show!


Page 6 - Continuing At Malarkey's Big Bang On The Bay