Serious Camping Begins (Page Two)
The kids arrive and set up camp before dinner. Time to explore the area, get on the kids rides, go fishing, ride the ponies, go for a nature walk with Franklyn, and visit with friends and family.
Did You Know? - Camping is an outdoor recreational activity. The participants (known as campers) leave urban areas, their home region, or civilization and enjoy nature while spending one or several nights outdoors, usually at a campsite. Camping may involve the use of a tent, caravan, motorhome, cabin, a primitive structure, or no shelter at all.
Camping as a recreational activity became popular in the early 20th century. Campers frequent national or state parks, other publicly owned natural areas, and privately owned campgrounds. Camping is a key part of many youth organizations around the world, such as scouting. It is used to teach self-reliance and teamwork.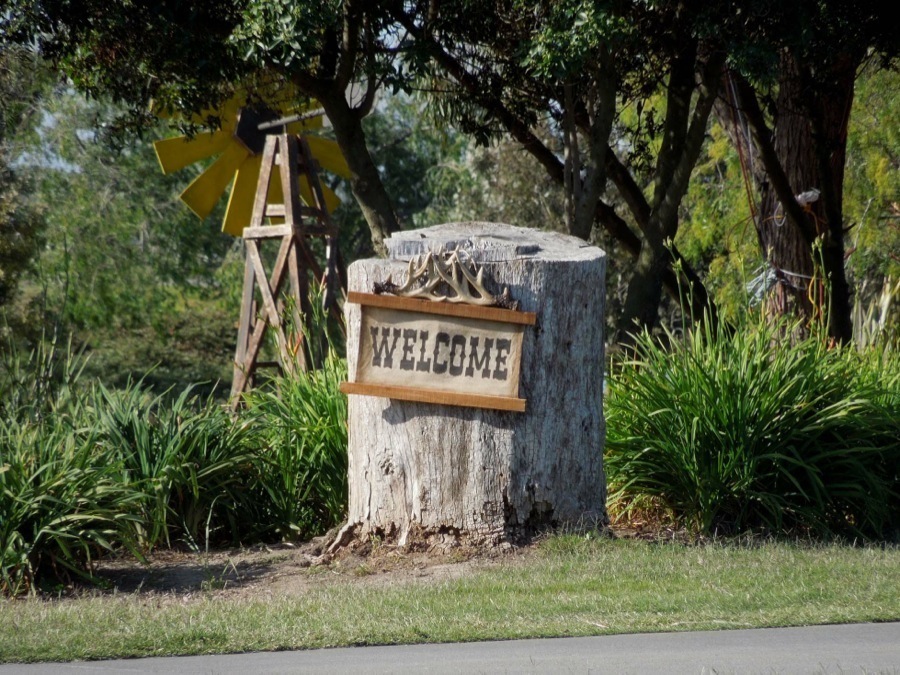 Indeed (Courtesy of Bob Duda)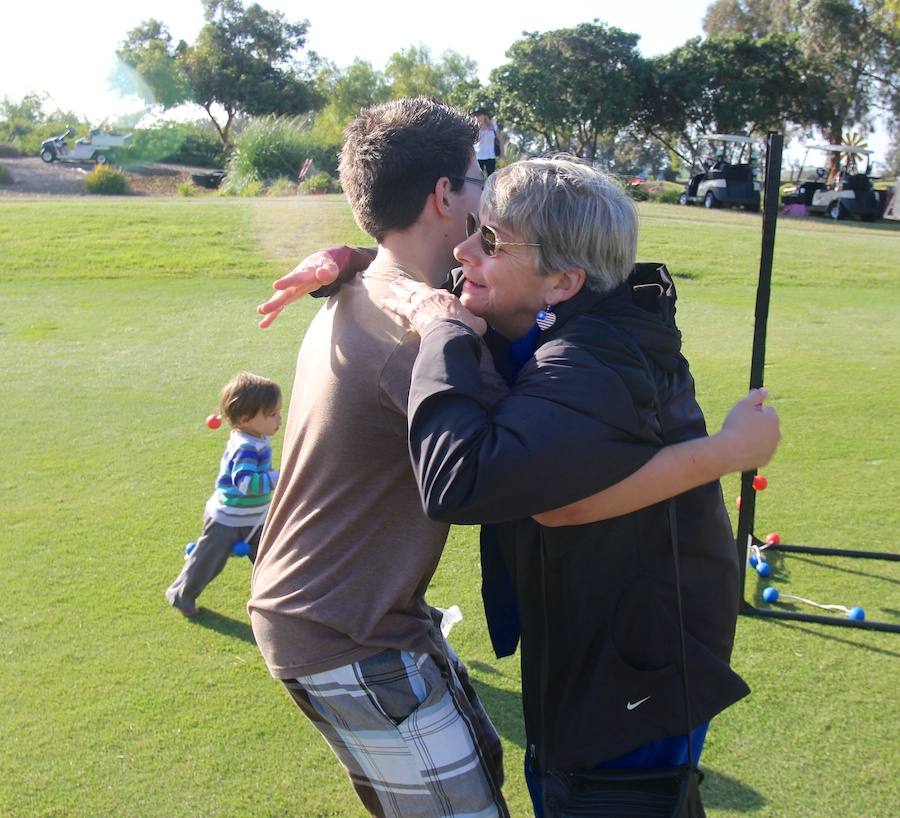 Nick spots Grandma Sue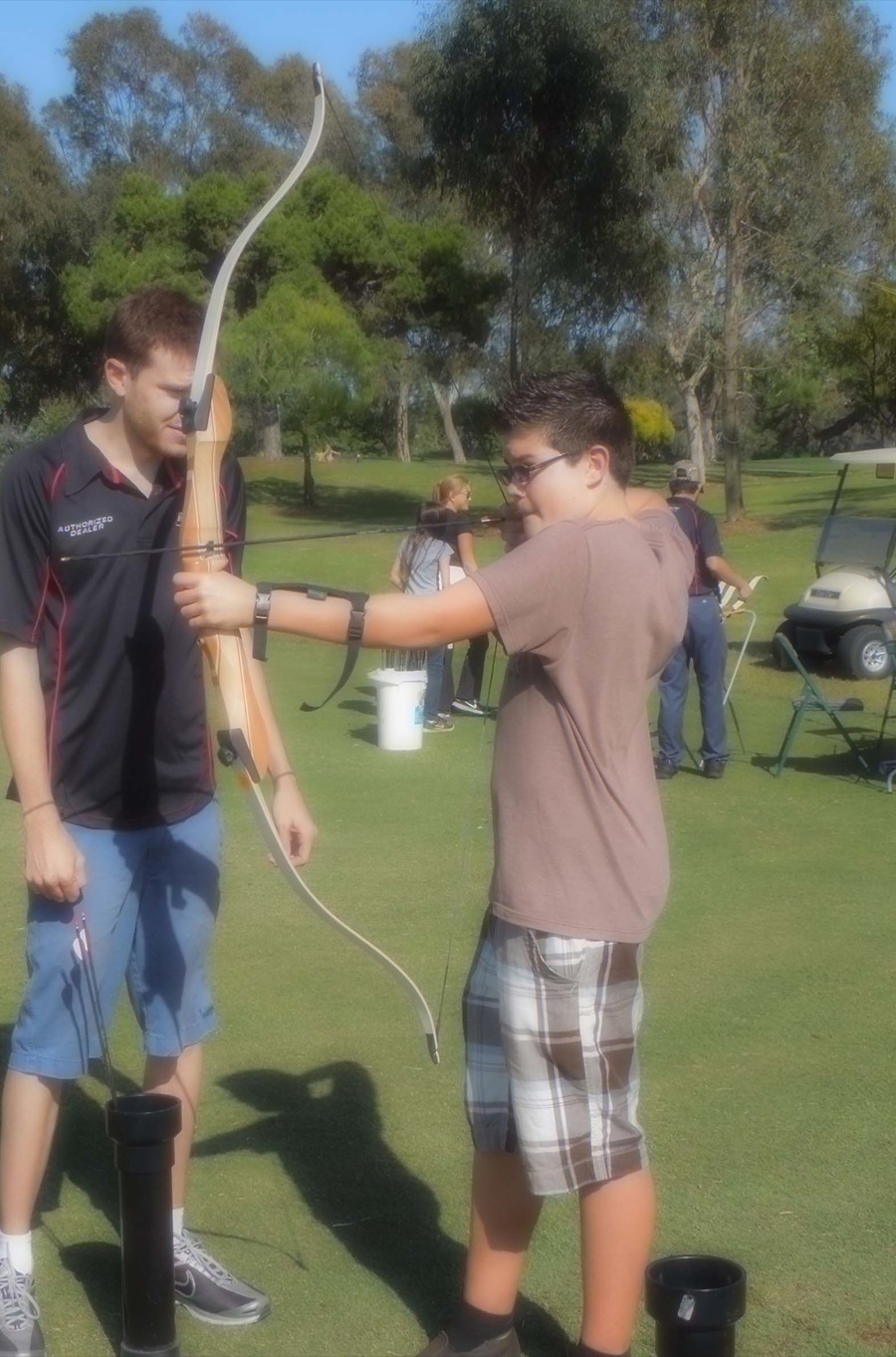 There is Robin Hood (Courtesy of Bob Duda)
Did You Know? - The bow seems to have been invented by the late Paleolithic or early Mesolithic. The oldest indication for archery in Europe comes from the Stellmoor in the Ahrensburg valley north of Hamburg, Germany. They were associated with artifacts of the late Paleolithic (11,000-9,000 BP). The arrows were made of pine and consisted of a mainshaft and a 15-20 centimetre (6-8 inches) long foreshaft with a flint point. They had shallow grooves on the base, clearly indicating that they were shot from a bow.
The oldest bows known so far come from the Holmegård swamp in Denmark. In the 1940s, two bows were found there, dated to about 8,000BP.

The Adams (Franklyn, Theo, and Michele) arrive in style (Courtesy of Bob Duda)

Bob and Robin step out from behind their camera (Courtesy of Bob Duda)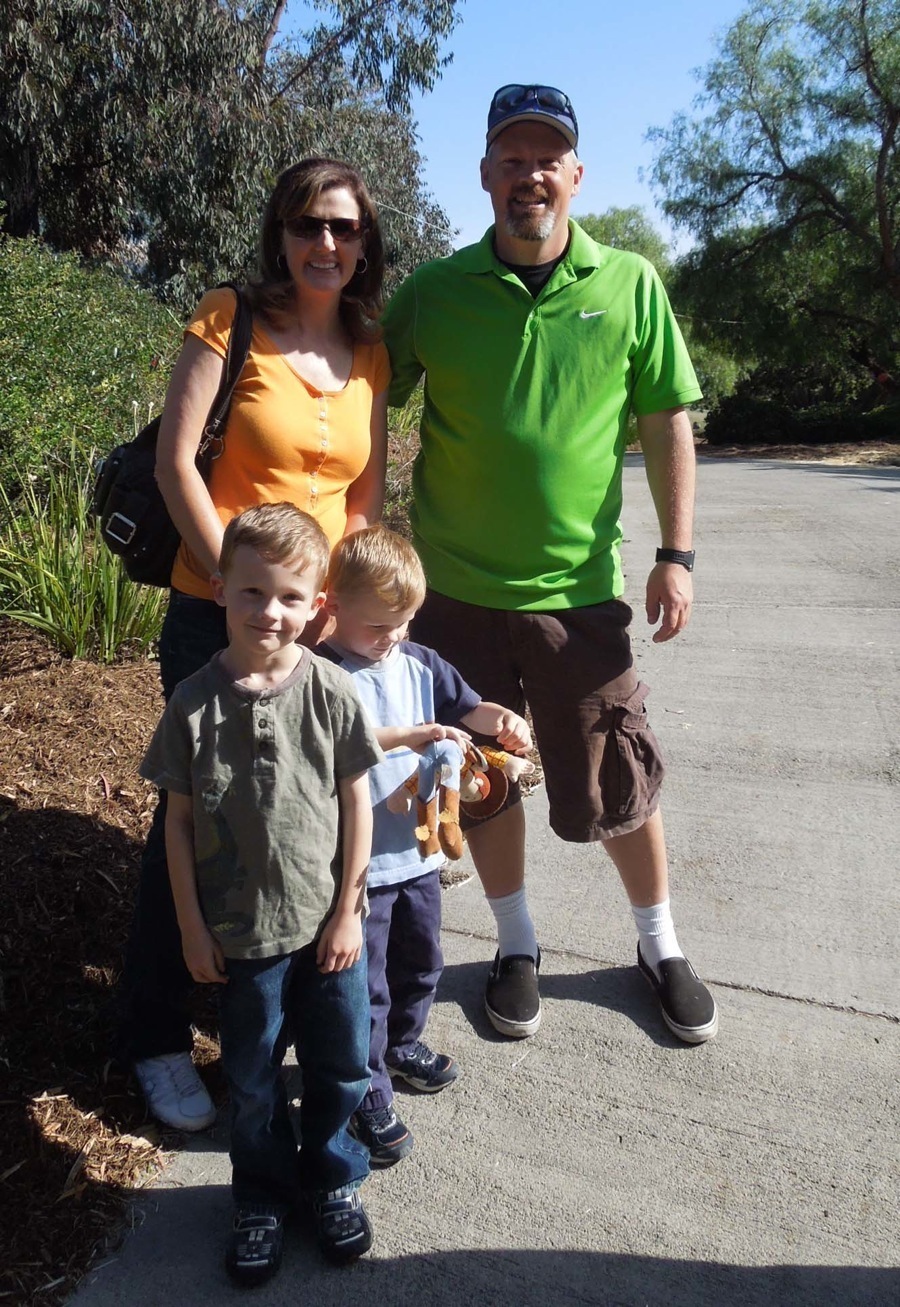 The Liles (Charlie, Alex, Amy, and Joe) arrive (Courtesy of Bob Duda)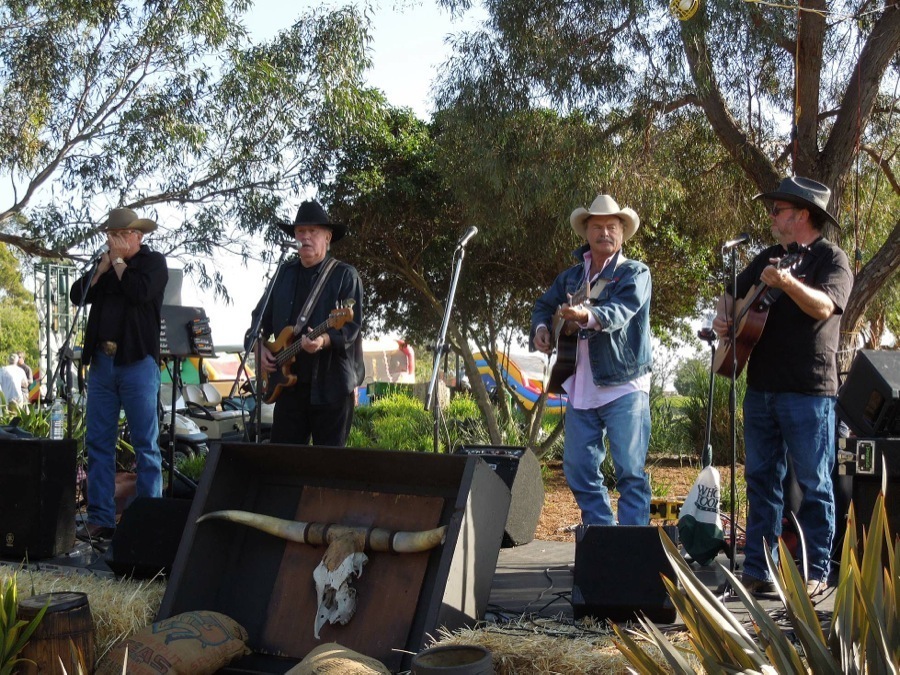 The country music was well underway (Courtesy of Bob Duda)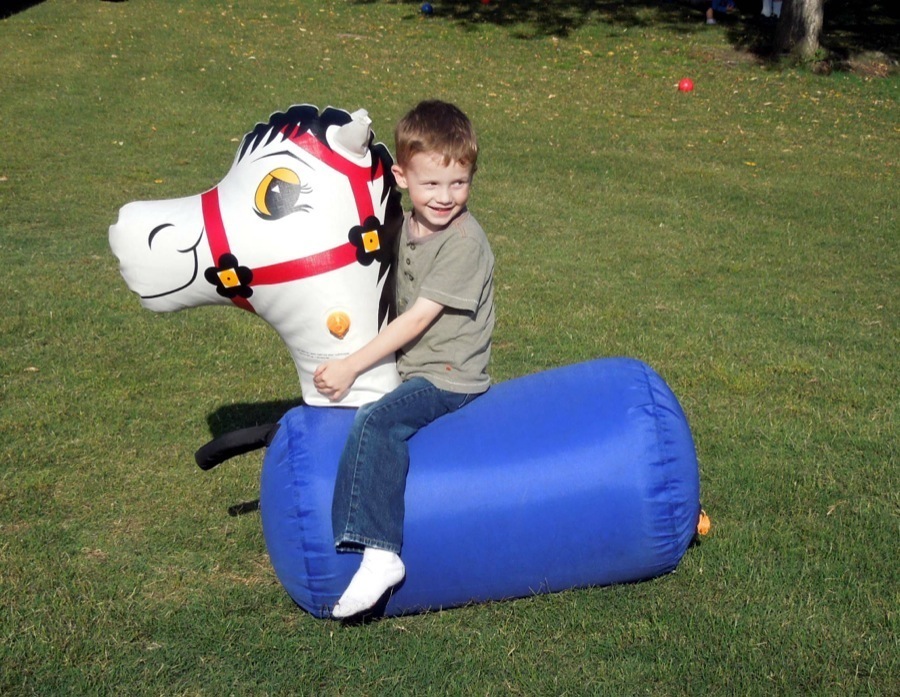 "Hey Mom and Dad... I found a horse already (Courtesy of Bob Duda)

Not to be out done, Alex mounts the steed (Courtesy of Bob Duda)
Did You Know? - Steed is a working animal used as a mount (especially for warfare).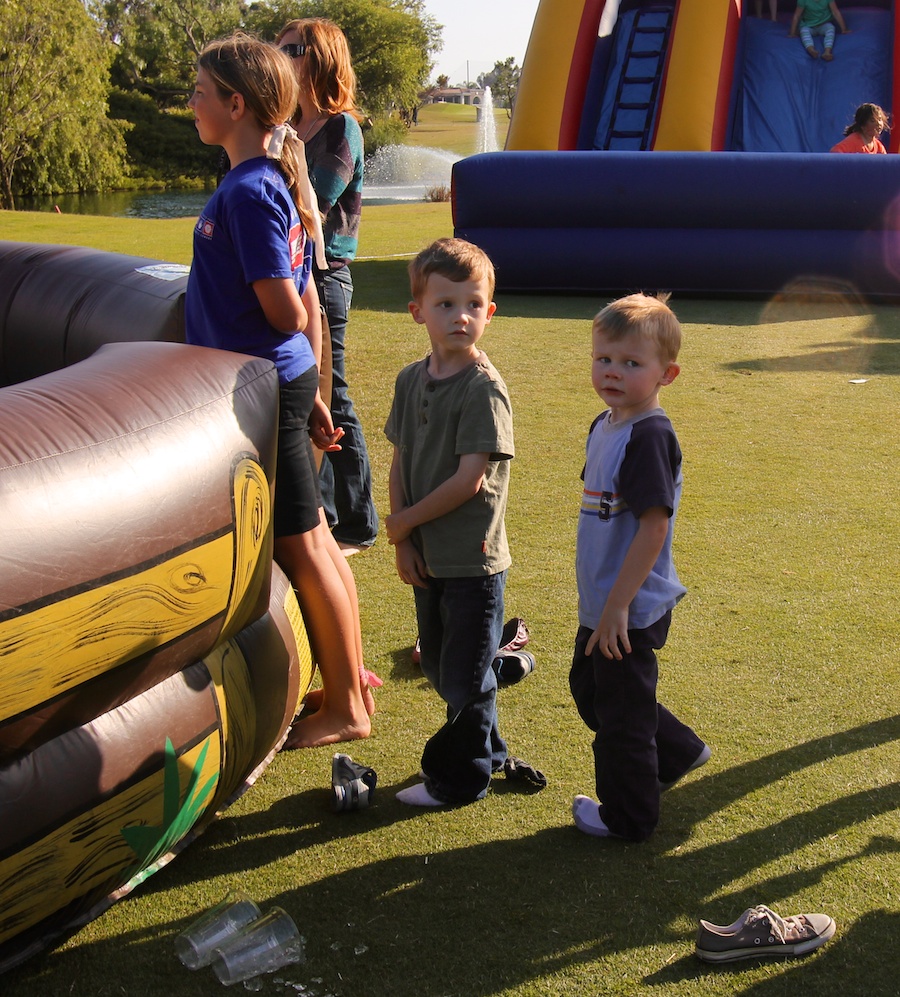 Charlie and Alex are eyeing the bull riding machine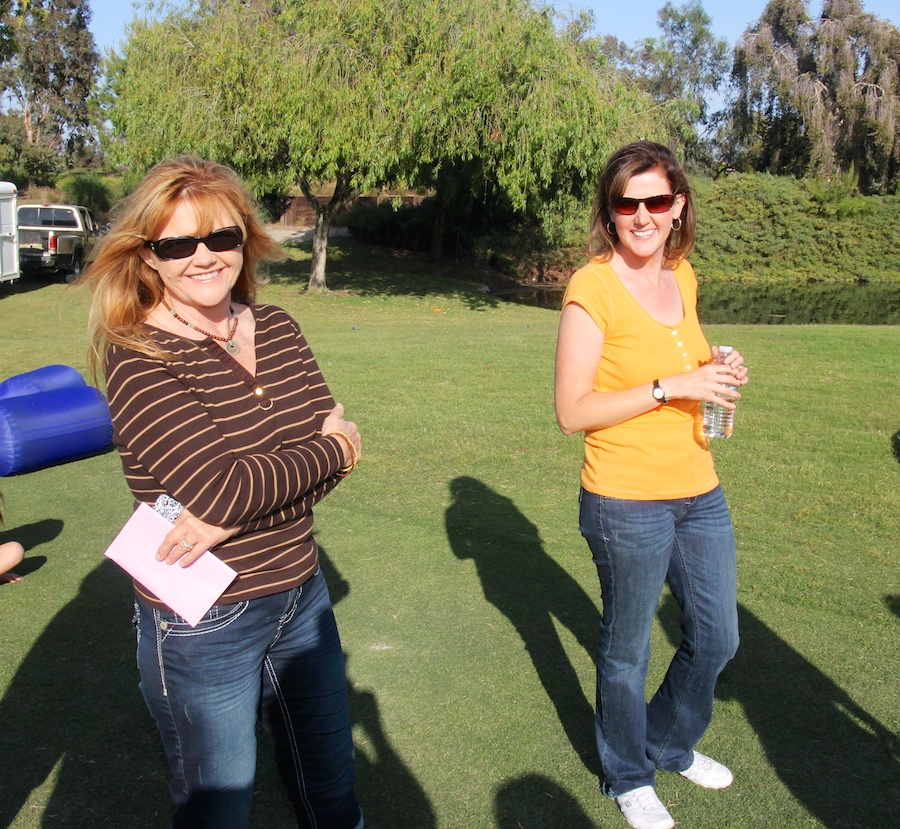 Robin and Amy watching the goings on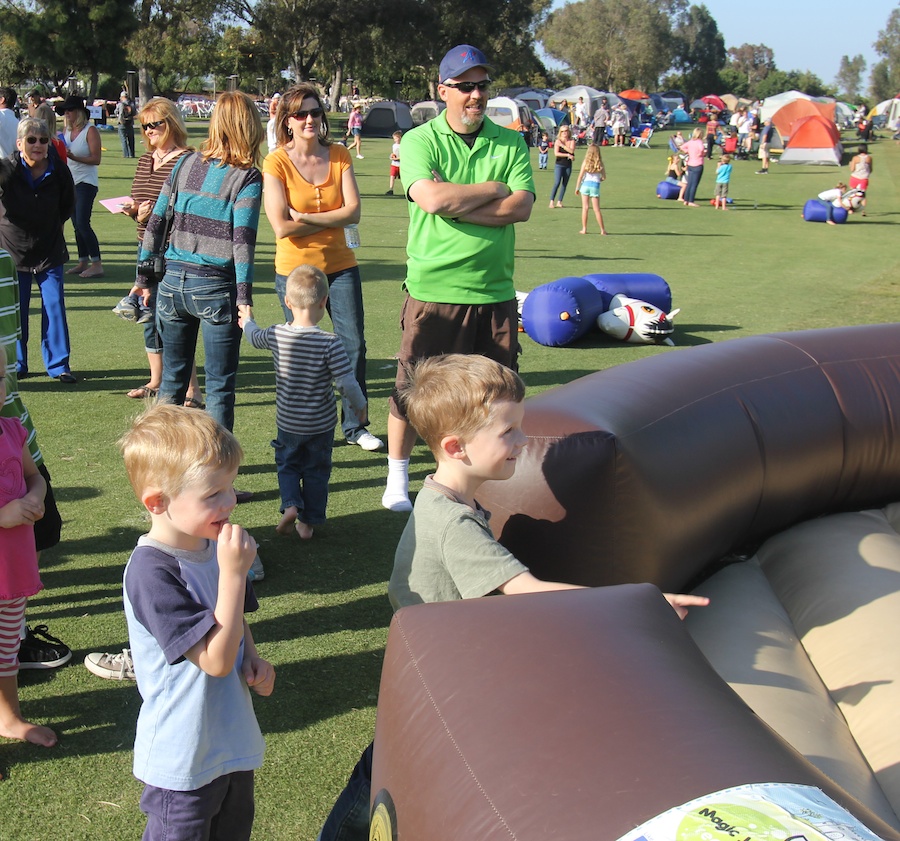 "It's OK Alex... I'll go first to make sure it is safe!"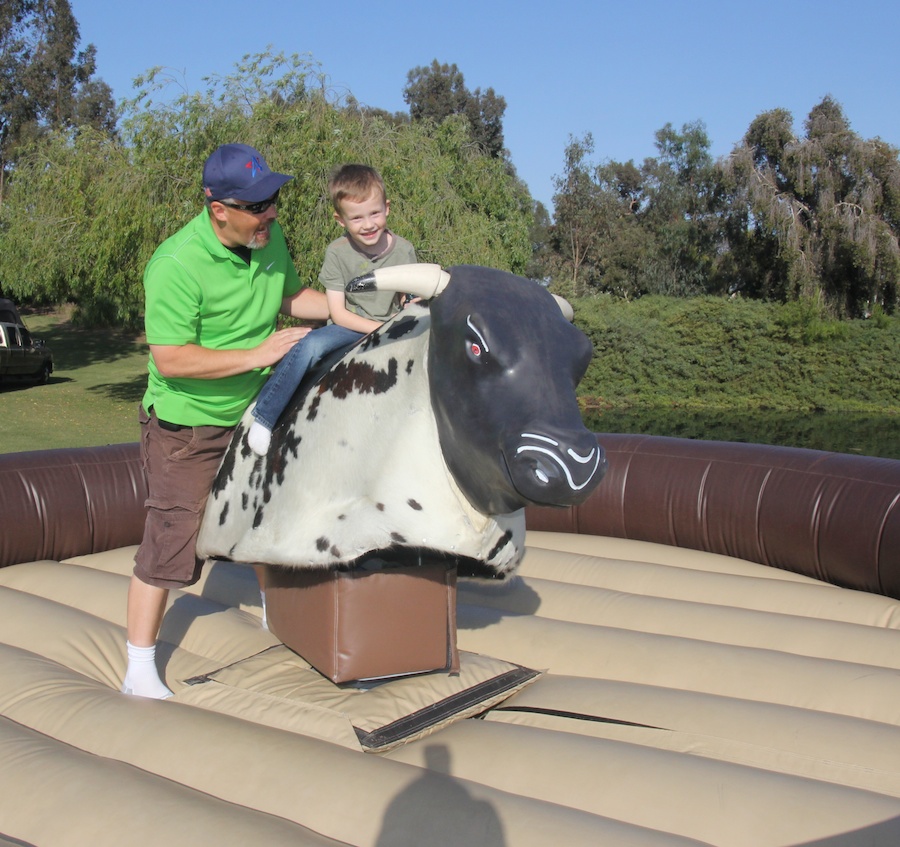 "So Dad.... How tight to I have to hold on???"
Did You Know? - A mechanical bull, also known as a rodeo bull or bucking bronco is a machine that replicates the sensation of riding a bucking animal, such as a rodeo bull or horse popularized by Sherwood Cryer. It is usually powered by a variable-speed electric motor. Padded flooring is often installed around the equipment in order to prevent injury to those thrown off it.
A "quick stop" motor allows the operator to safely control the ride and ensure safety for the rider; this feature allows the operator to stop the ride prior to a rider being thrown. The trained operator at the variable speed control box regulates the unit's Buck-and-Spin speed, as well as spin direction. The equipment has the capability of starting rides very slowly and speeds can be advanced according to a rider's ability. It can go slowly and simply spin for beginners and run at greater speed for experts.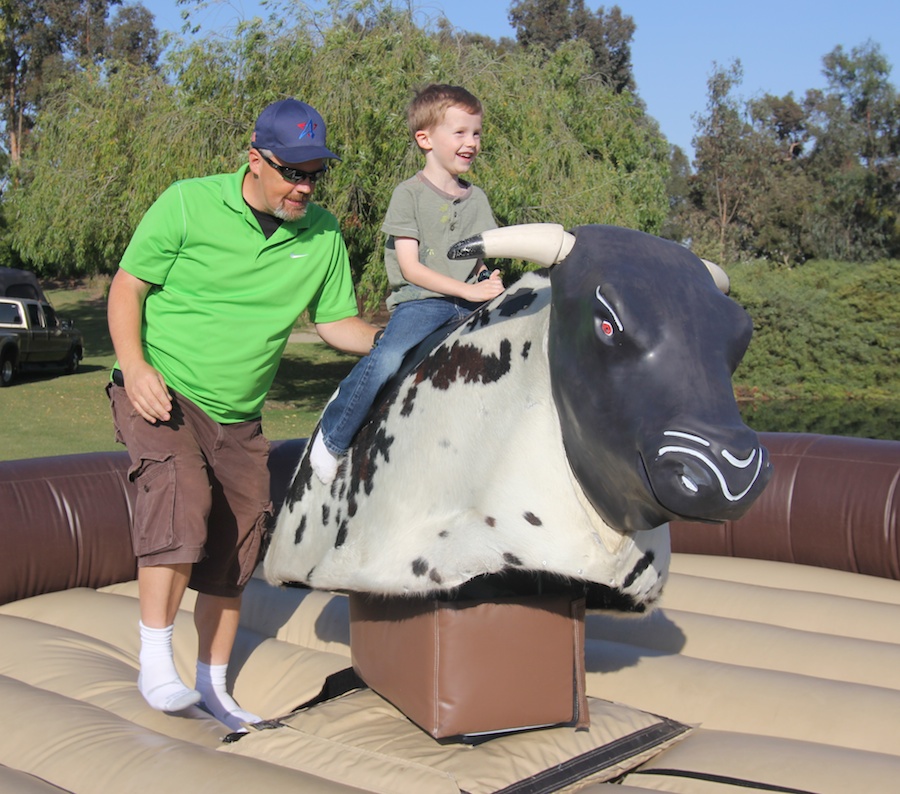 "Hang on!"

Off he goes
&

Keeping an eye on Mom and Dad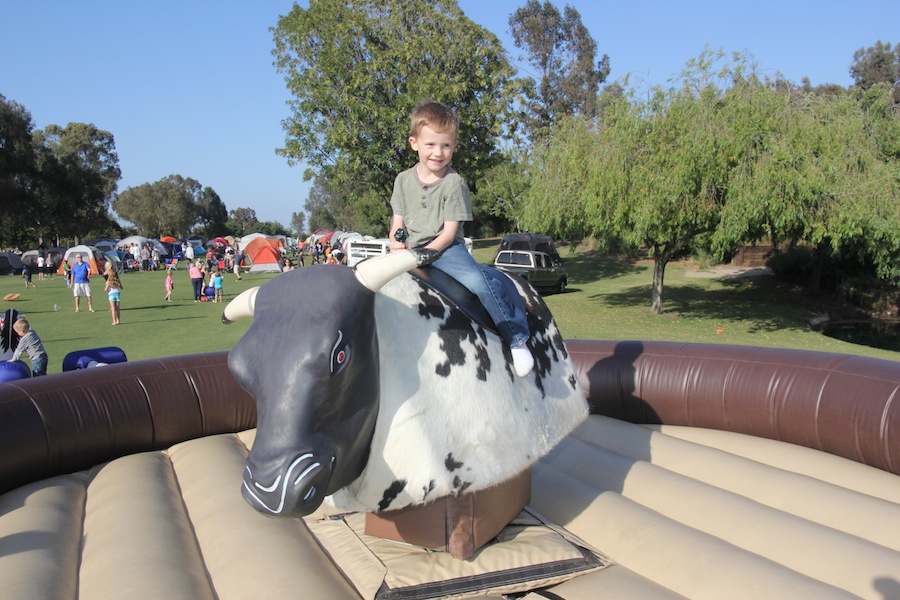 "This is easy Alex...."

"Ah... Where is the steering wheel?"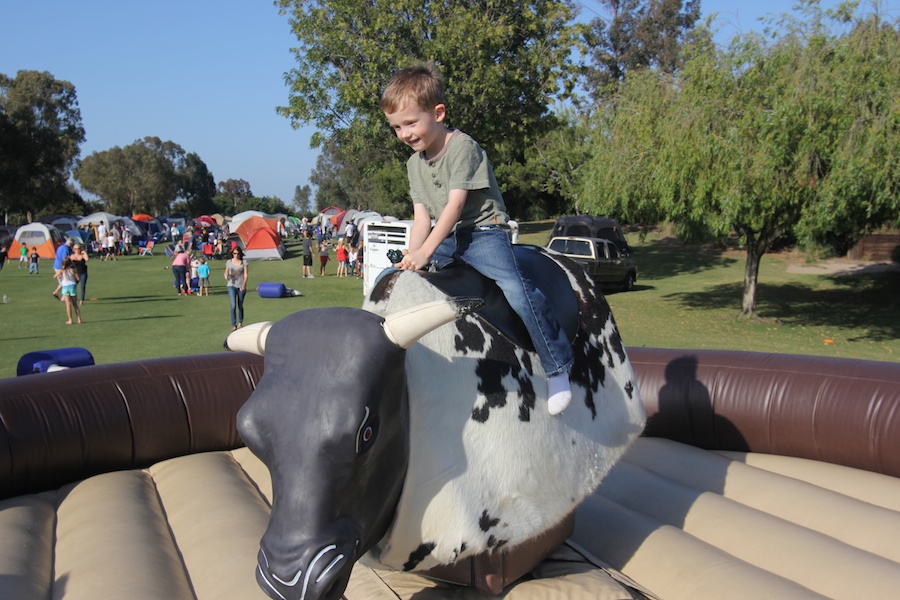 "Down big fella.... I am in charge"

Amy wants to try it also!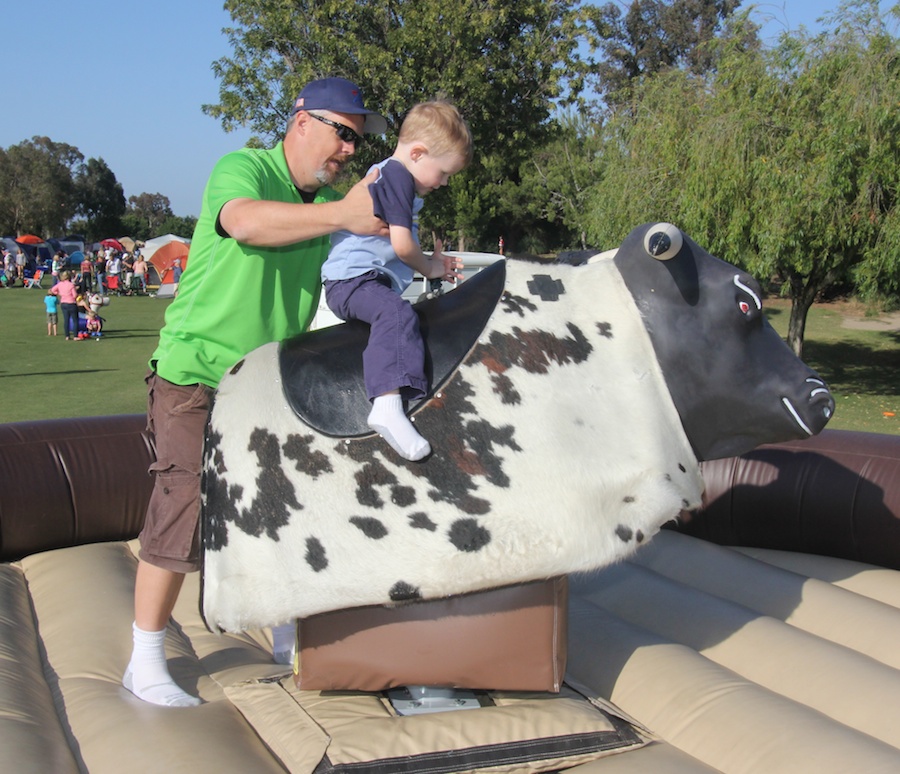 Now Alex, the little Buckaroo
Did You Know? - Buckaroo, a cowboy of the Great Basin and California region of the United States, from an Anglicization of the Spanish word vaquero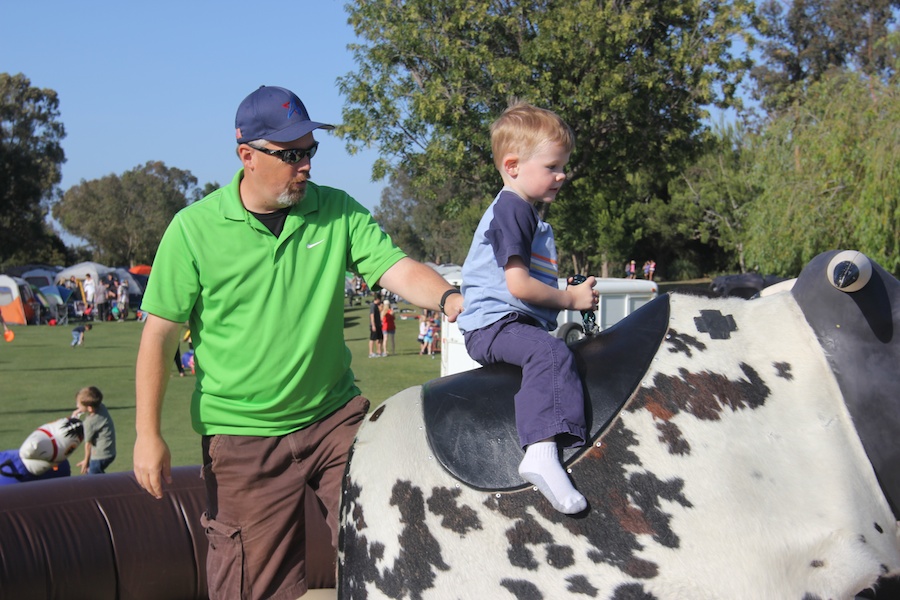 "No problem Dad, I saw Charlie do it"

"It's OK Mr. Bull... I will be easy on you"
Did You Know? - Bull riding refers to rodeo sports that involve a rider getting on a large bull and attempting to stay mounted while the animal attempts to buck off the rider.
In the American tradition the rider must stay atop the bucking bull for eight seconds. The rider tightly fastens one hand to the bull with a long braided rope. It is a risky sport and has been called "the most dangerous eight seconds in sports."
Outside of the USA, bull riding traditions with varying rules and histories also exist in Canada, Mexico, Brazil, Argentina, New Zealand and Australia, with the majority of them following similar rules, especially with the Professional Bull Riders organization.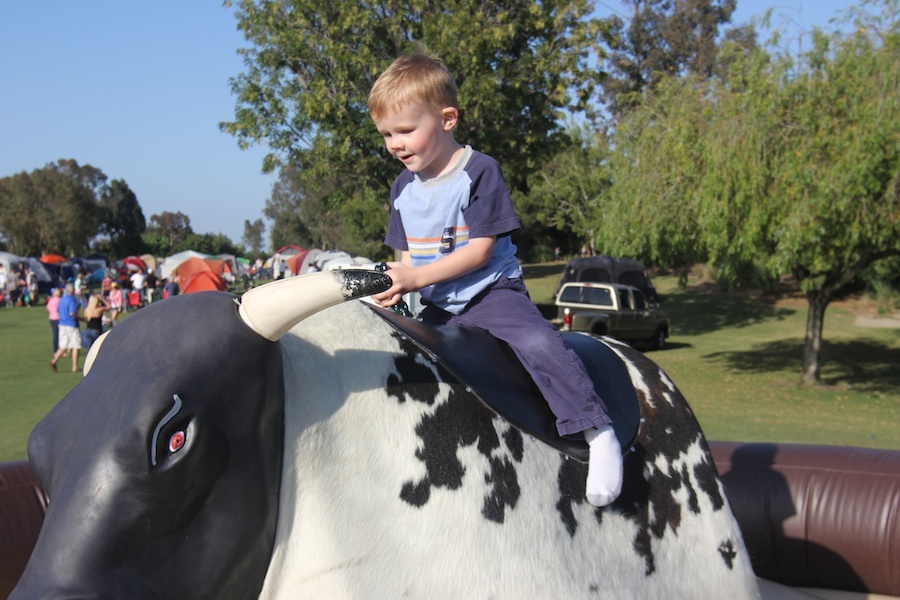 All smiles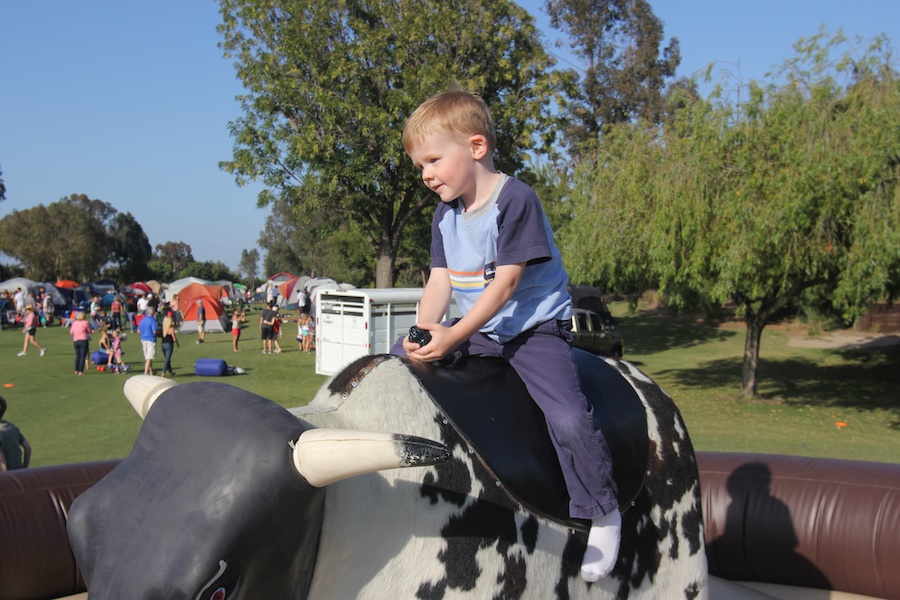 "This is fun! Can we get one for home??"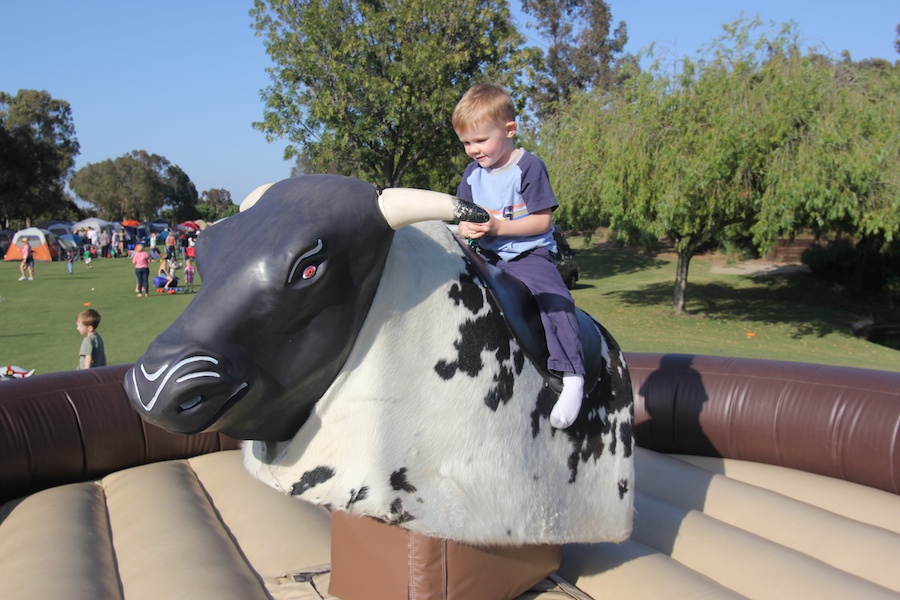 Hang on Alex... He is starting to get wild

"Hey Dad! He stopped... I wore him out!"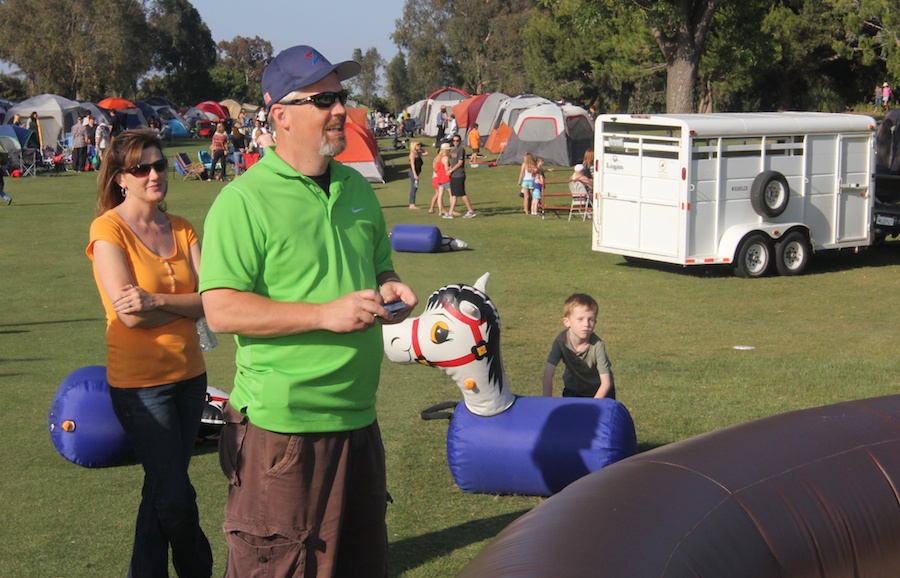 Joe and Amy were easy to find.... Orange and green stood right out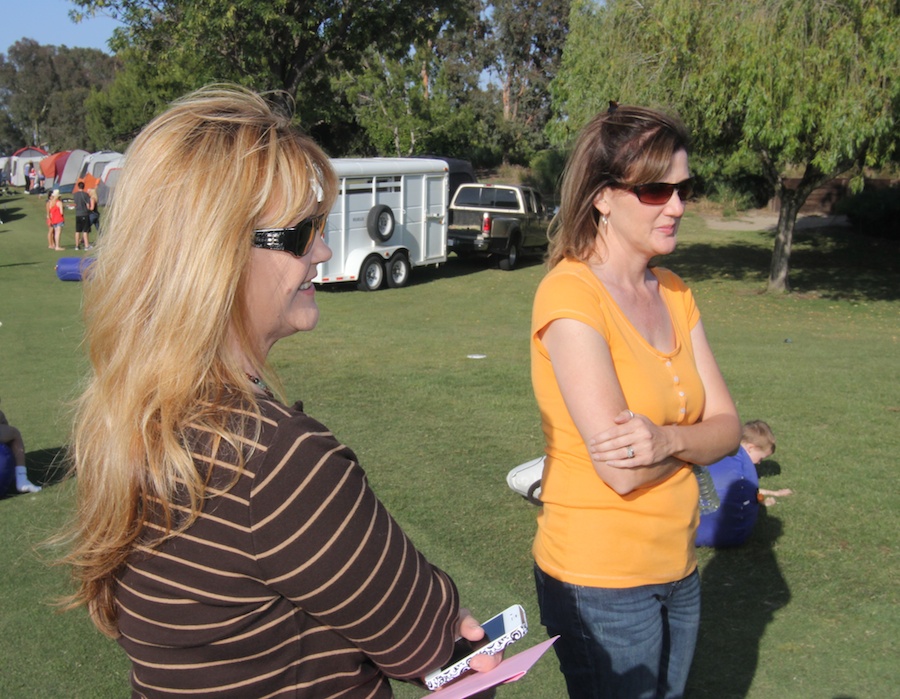 "Well! They survived!"

Amy looks relieved....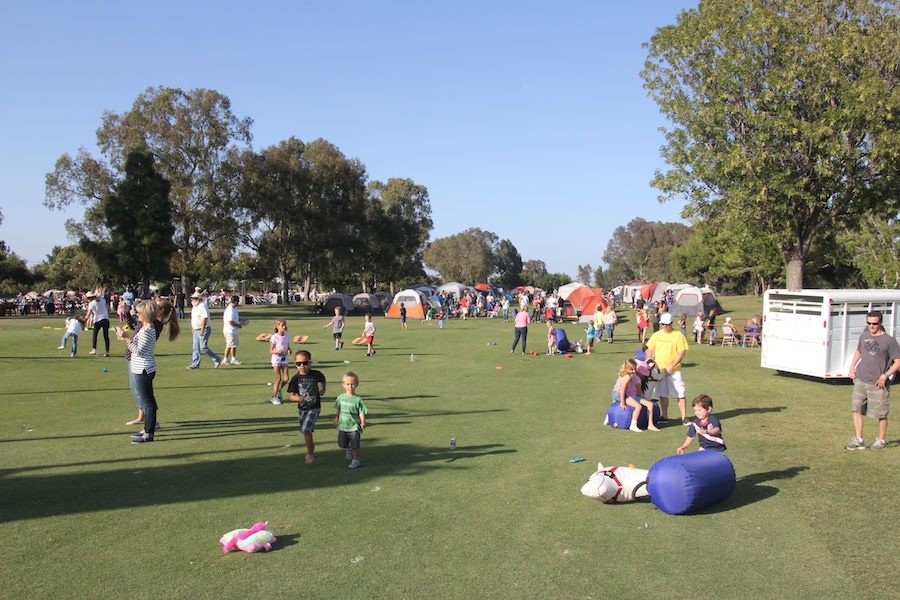 The fairway was full!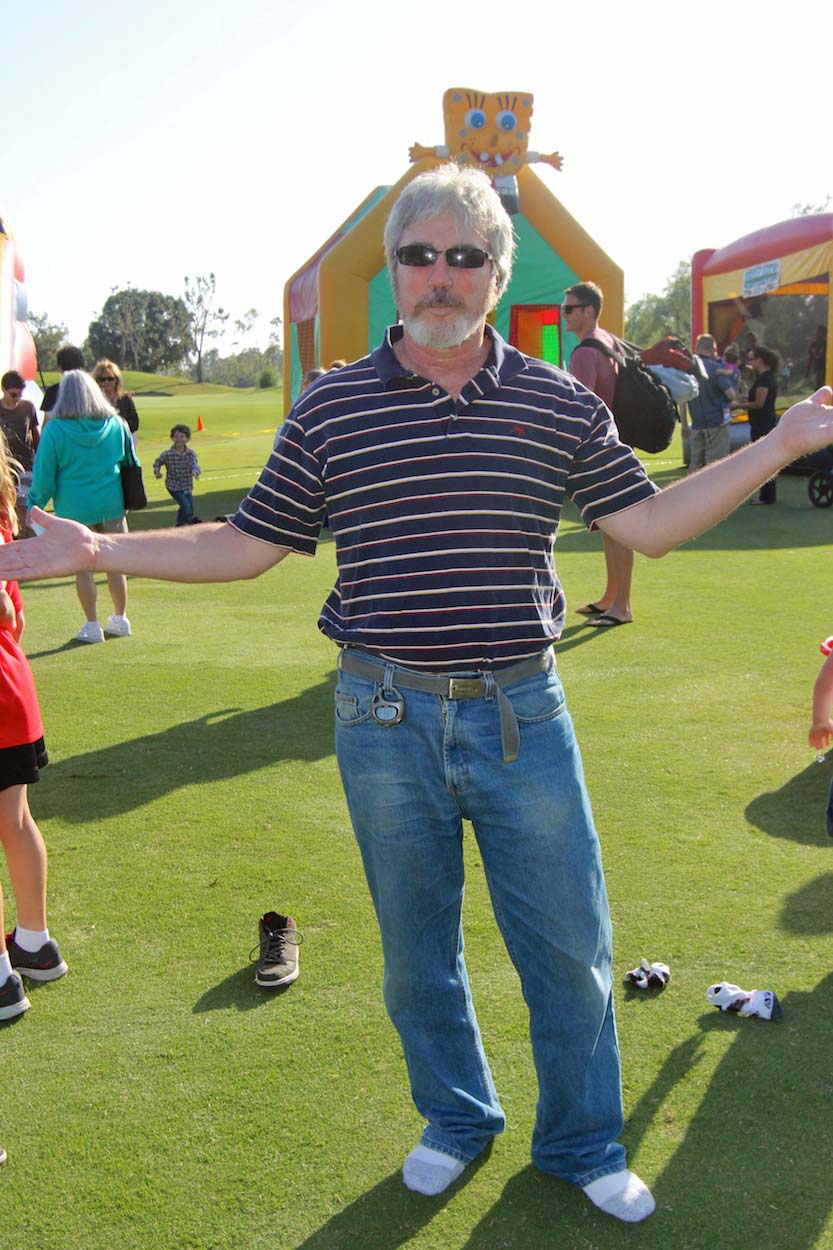 Franklyn arrives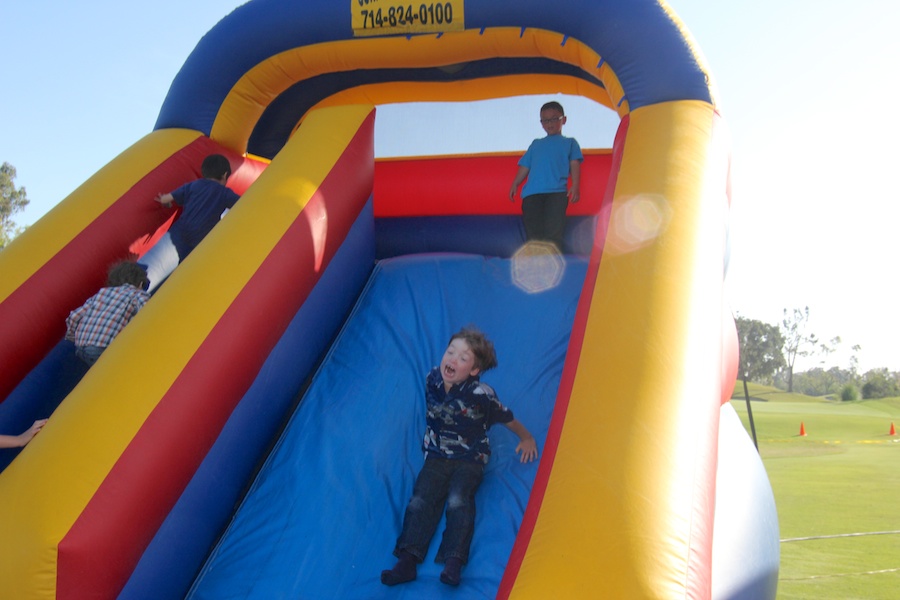 Where is Theo? Is there a bouncy house near by???

Did You Know? - Inflatable castles ('Closed inflatable trampolines or CITs) are temporary inflatable structures and buildings and similar items that are rented for functions, school and church festivals and village fetes and used for recreational purposes, particularly for children. The growth in popularity of moonwalks has led to an inflatable rental industry which includes inflatable slides, obstacle courses, games, and more. Inflatables are ideal for portable amusements because they are easy to transport and store.
The name given to such structures varies. They have been marketed with such names as "Bounce House", "Moon Bounce", "Astrojump", "Moonwalk", "Jolly Jump" and "Spacewalk". The term "Bounce House" came to popularity with the resurgence of hipster culture in New England. "Brinca brinca" is another name commonly used by Latinos, which literally means "jump jump".
The term "Jolly Jumps" is often used to describe the inflatable playground structure in rural areas and some areas in the Western US, but the term is otherwise obsolete.
In Southern California, another popular term is "Closed Inflatable Trampolines", or "CITs". "Bouncy Castle" or "Inflatable Castle" are used in Ireland, the UK, New Zealand and parts of Australia, and "Jumping Castles" in Australia, Canada, South Africa and Arizona in the United States.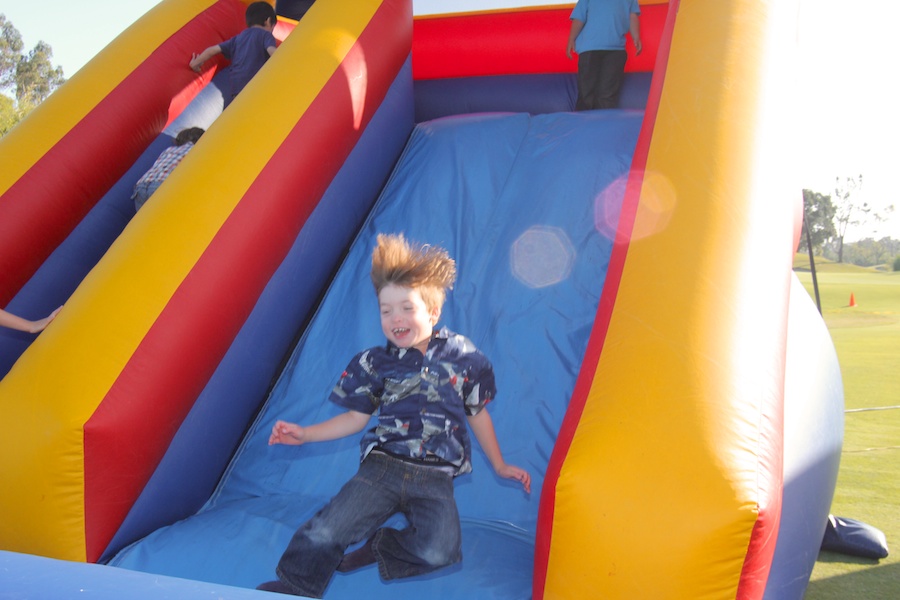 Swoooosh....

Yes... Followed by splaaaat

Grandma Sue and Michele

Hello youse all... I am learning to speak cowpoke
Did You Know? - Some cowboy terms...
Arm Jerker (Rodeo term) A really stout animal that bucks with a lot of power


Arroyo brook, a small stream or its dry bed


Ball Out (Rodeo term) A horse that comes straight up on hind legs when coming out of the cute and then begins bucking.


Bandana A cloth made of silk or cotton, usually worn around the neck to protect against winds, rain, and sunburn.


Bedroll The cowboy's bed, made up of blankets and quilts wrapped up in a tarp, which fastens with hooks or snaps on the sides. The bedroll also serves as the cowboy's suitcase. Also called a Hot Roll.


Blind leather blindfold used when saddling an unruly horse


Broke Horse A horse that has been given some education is called a broke horse; a green-broke horse is partially trained; a well-broke horse is well-trained.


Boom Town A town that grew up rapidly, usually a mining town or a town where a cattle trail met a railroad line.


Branding Marking cattle or horses with a hot iron that imprints the symbol of the owner on the animal's hide.


Bronco A wild horse.


Bronc Buster A cowboy who had special skill in taming (or breaking) wild horses to be ridden.


Cattle Drive The movement of a herd of cattle from ranches and grazing lands to the railroad lines for shipment to meat-packing plants farther east.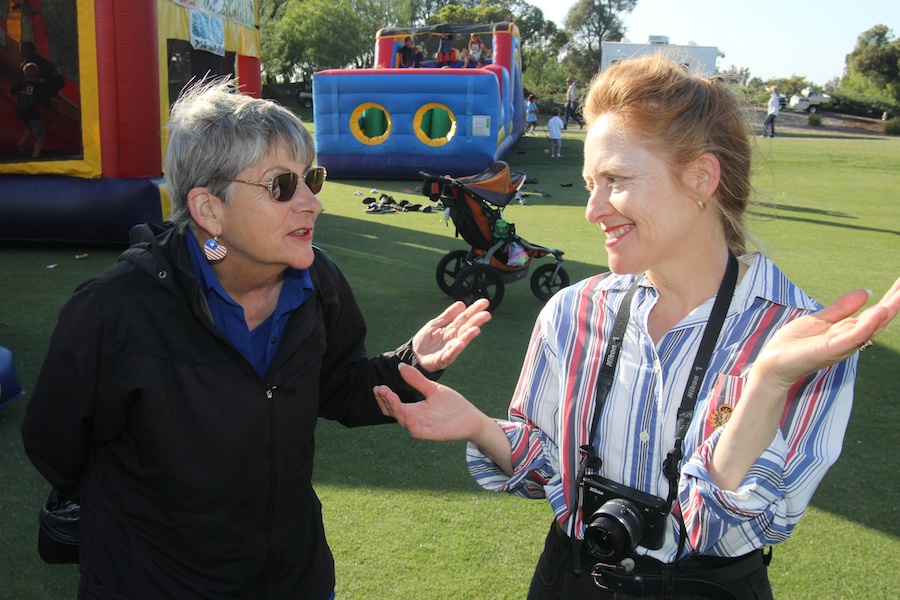 "I don't know about this cowboy talk?"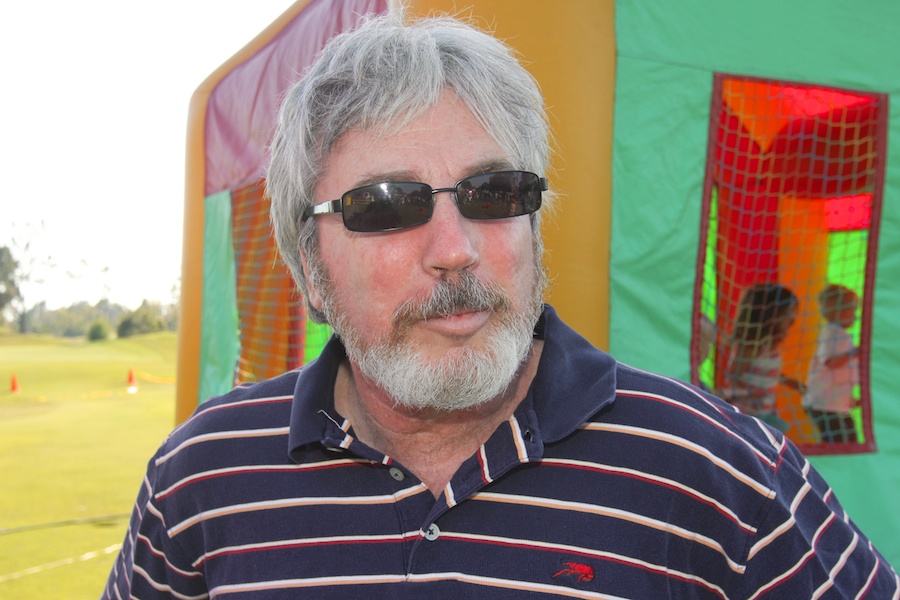 "Ladies... I can translate into cowboy for you!"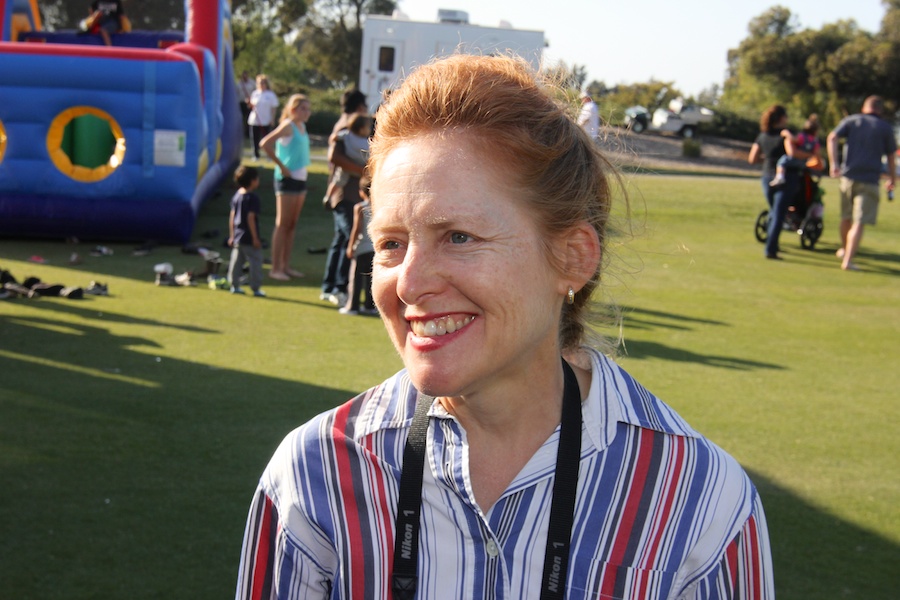 "Oh no... There goes Theo again"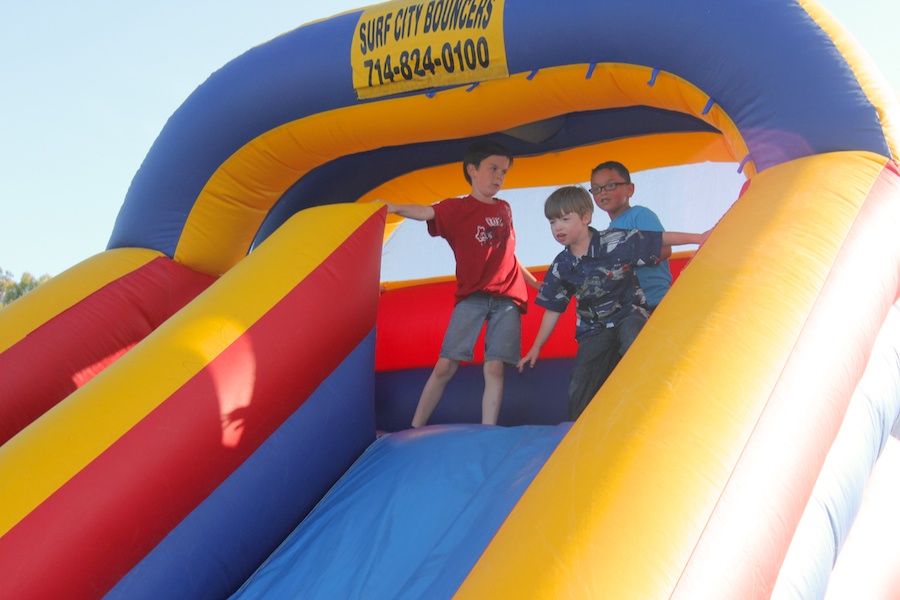 "Look out below"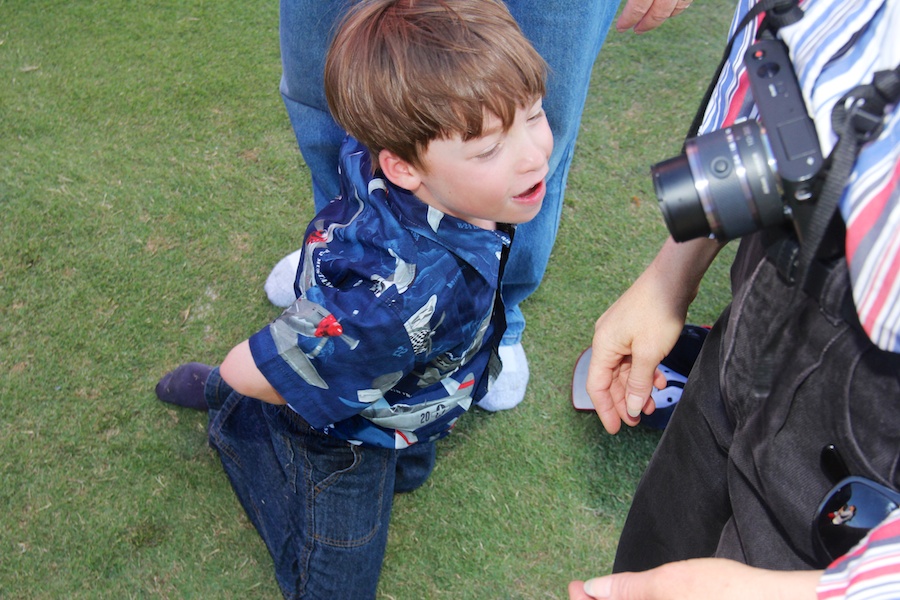 Theo being Theo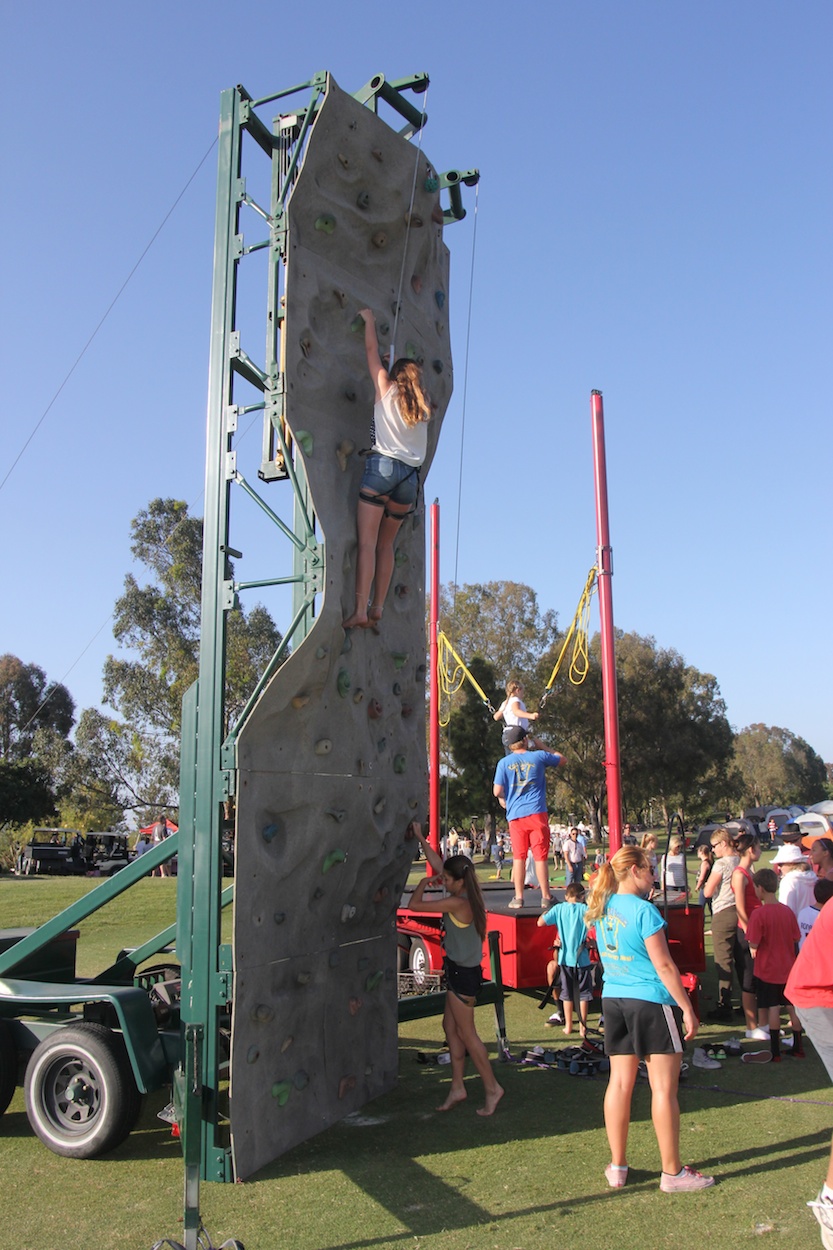 Rock climbing anyone??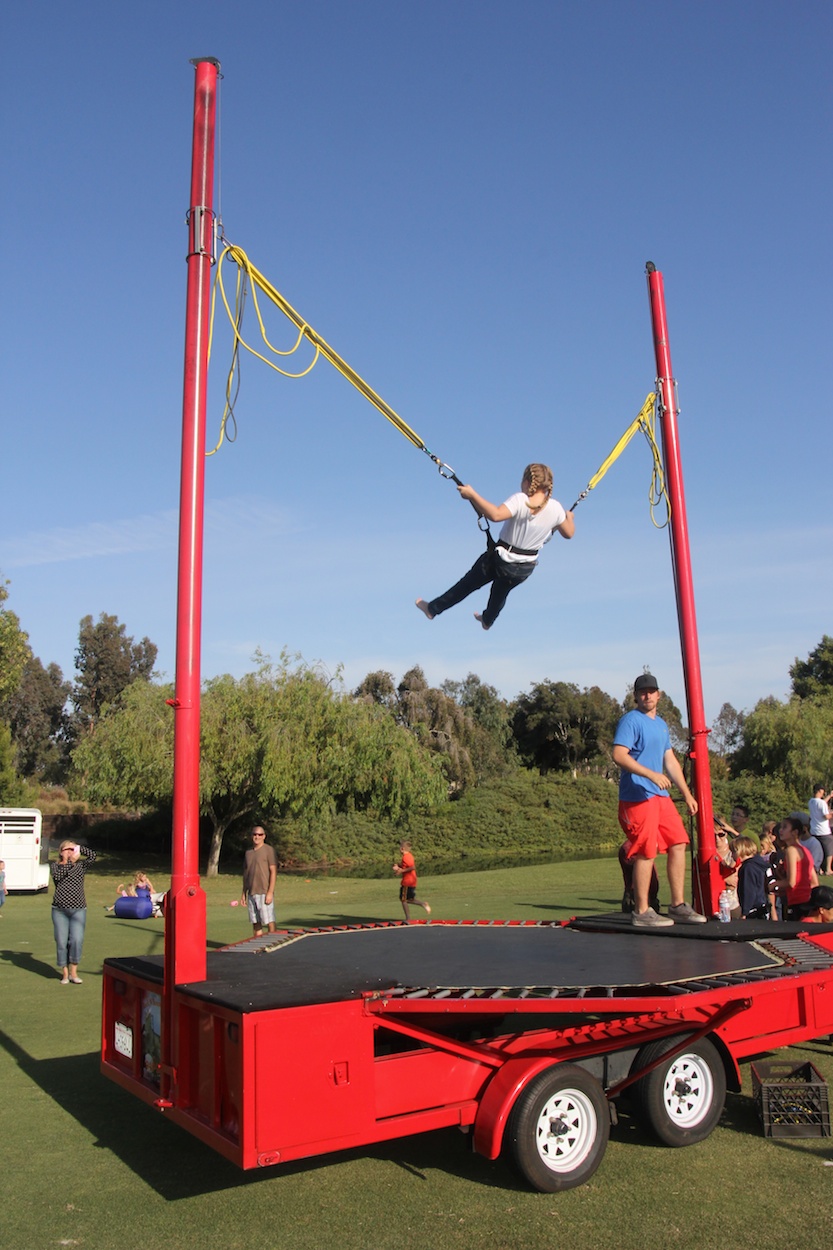 How about a new kind of bouncing??

Joe takes the boys fishing (Courtesy of Bob Duda)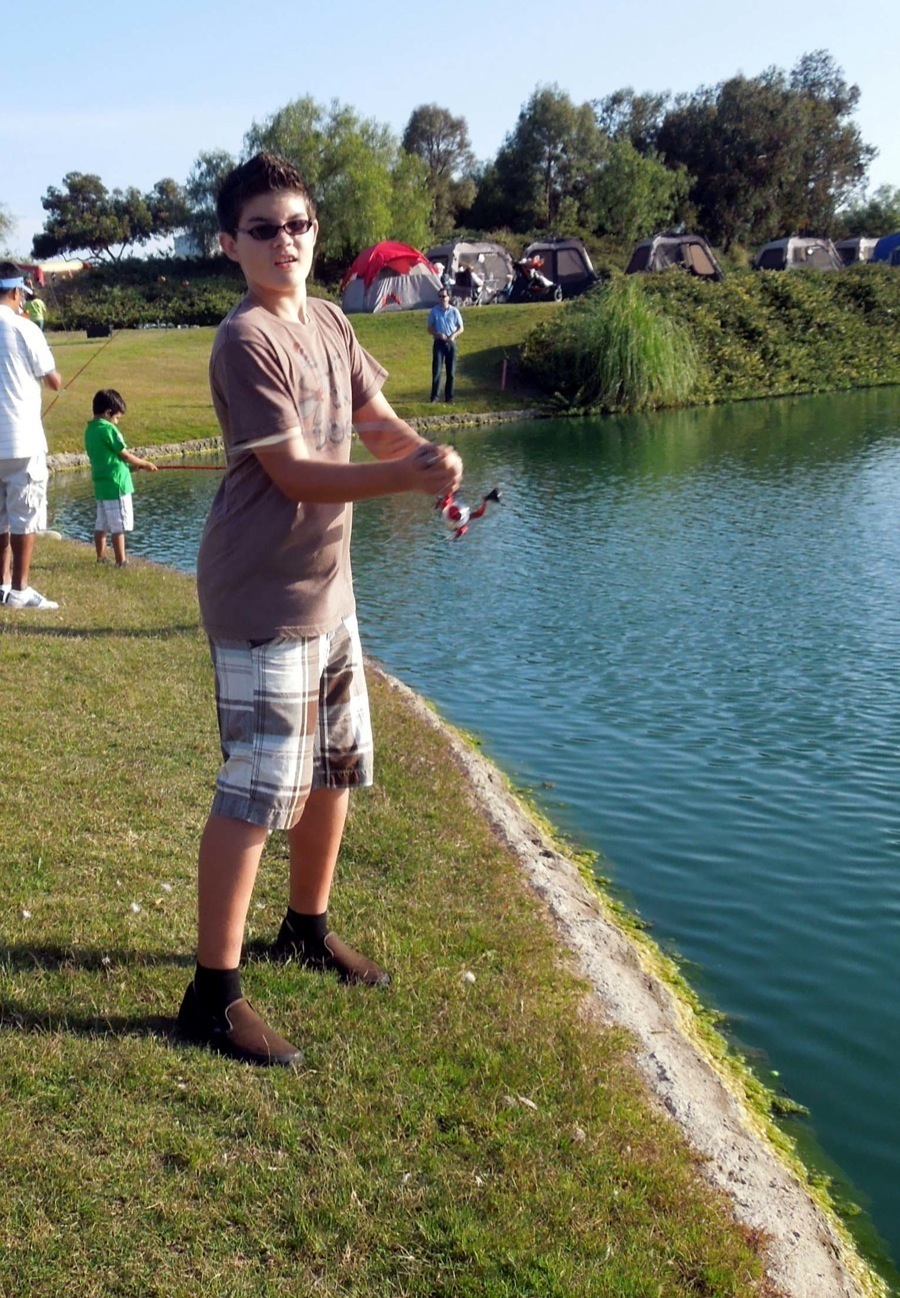 Nick is going for the whale (Courtesy of Bob Duda)

Nicks twin brother also goes fishing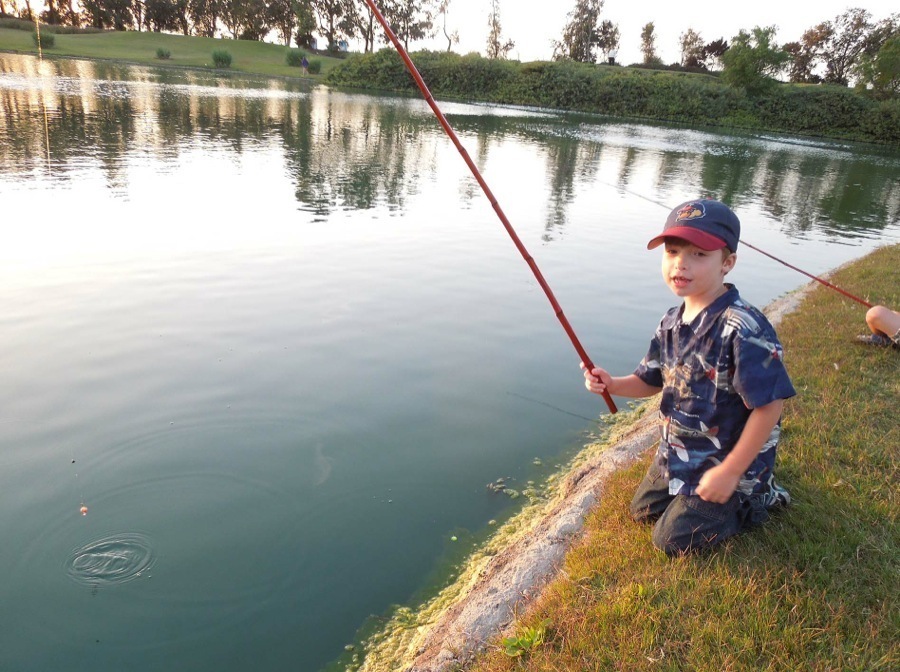 Theo gives fishing a try (Courtesy of Bob Duda)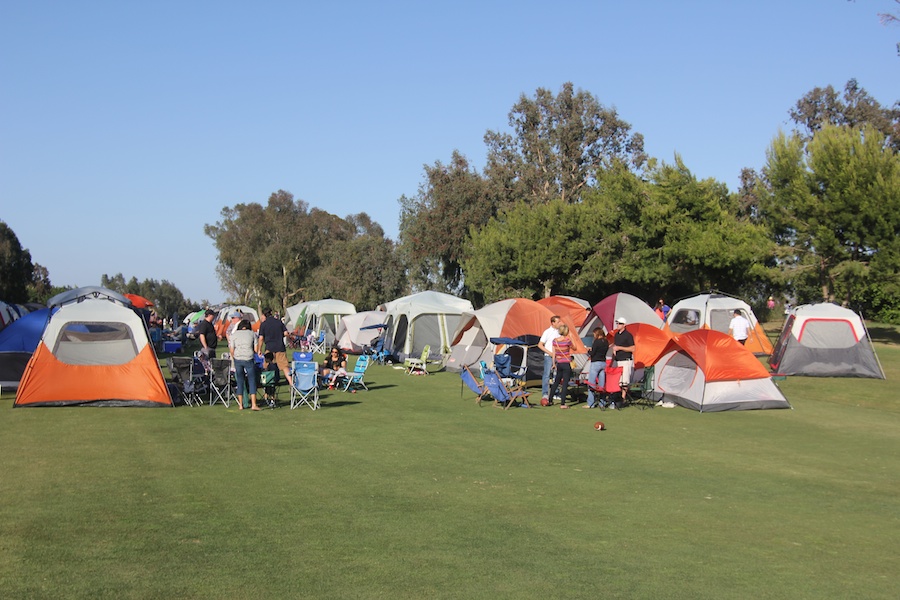 Home sweet home

Home sweet home for the day....