Let's Take A Look At History September 17th, 2011(Page One)
The Local High School Auto Class Stripping An Engine In Nine Minutes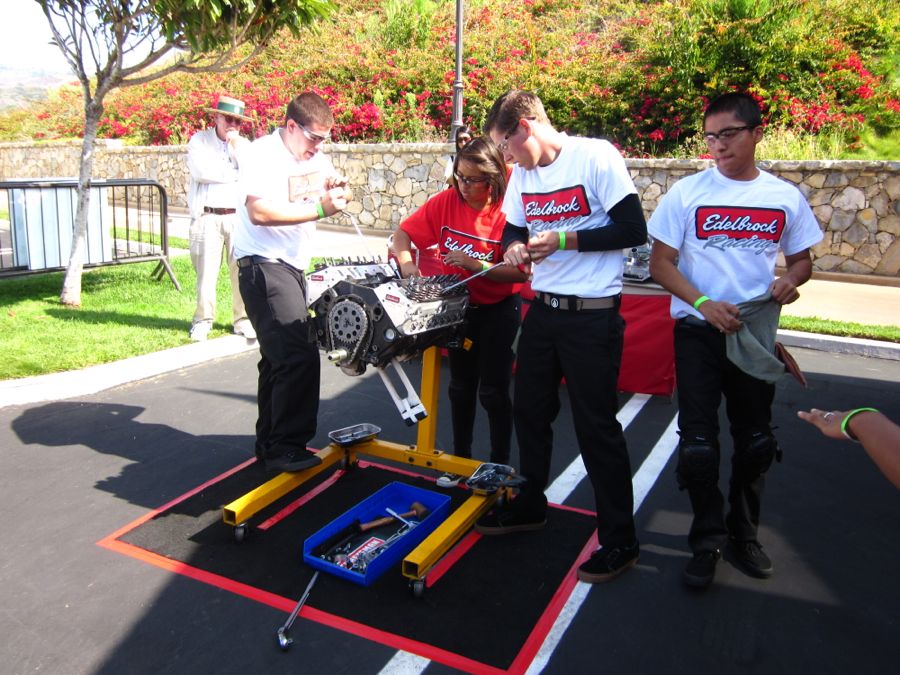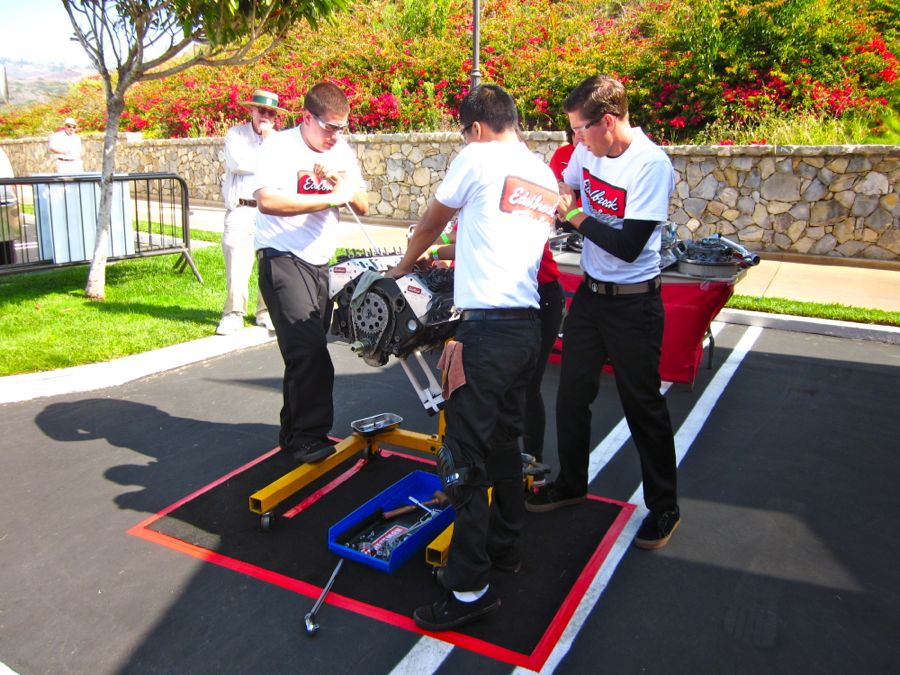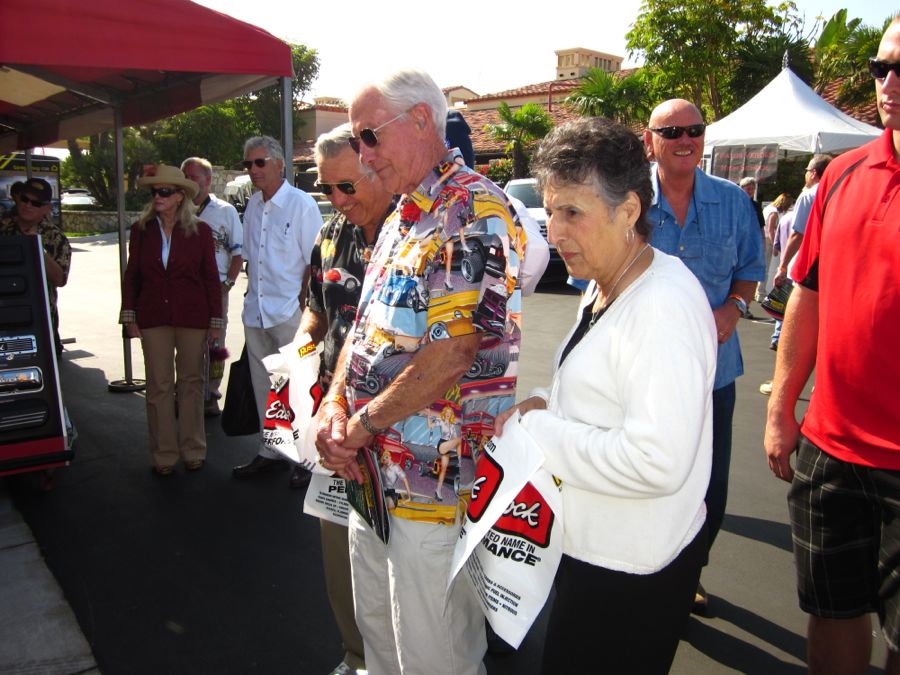 Our experts were amazed

Back into focus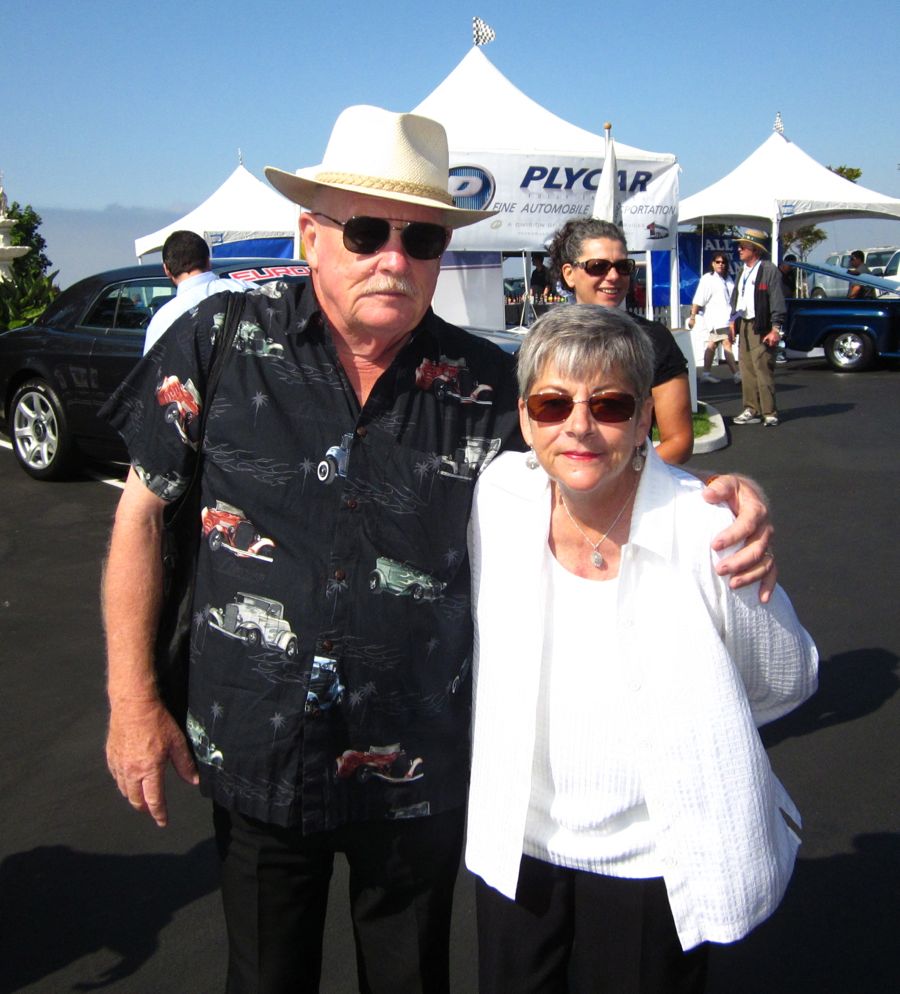 We are ready to go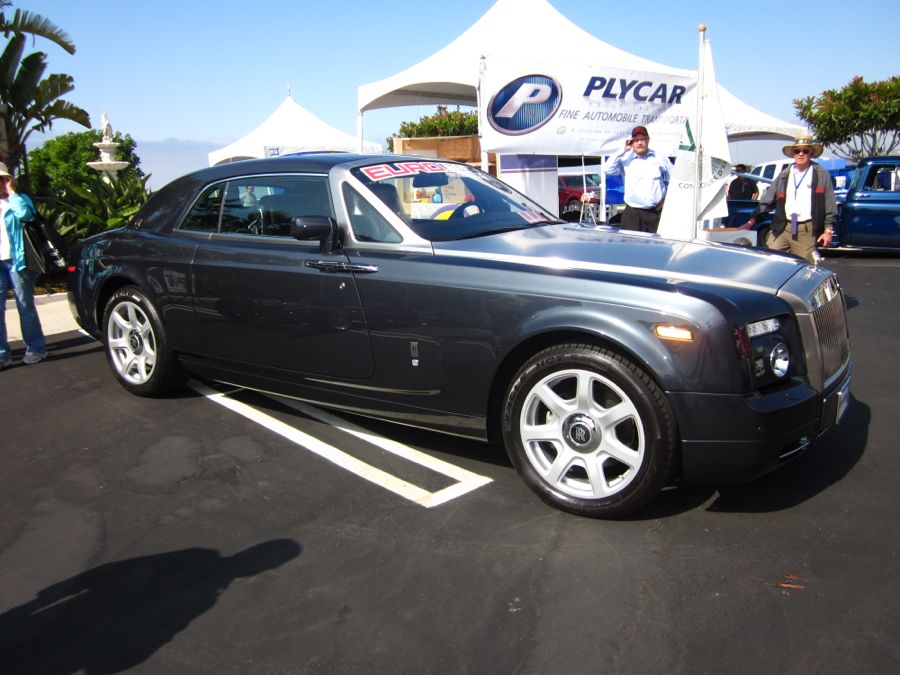 Sue's dream car... Rolls Royce
Did You Know? - Rolls-Royce Limited was a renowned British car and, from 1914 on, aero-engine manufacturing company founded by Charles Stewart Rolls and Henry Royce on 15 March 1906 as the result of a partnership formed in 1904.
In 1971, Rolls-Royce was crippled by the costs of developing the advanced RB211 jet engine, resulting in the nationalisation of the company as Rolls-Royce (1971) Limited. In 1973, the car division was separated from the parent company as Rolls-Royce Motors.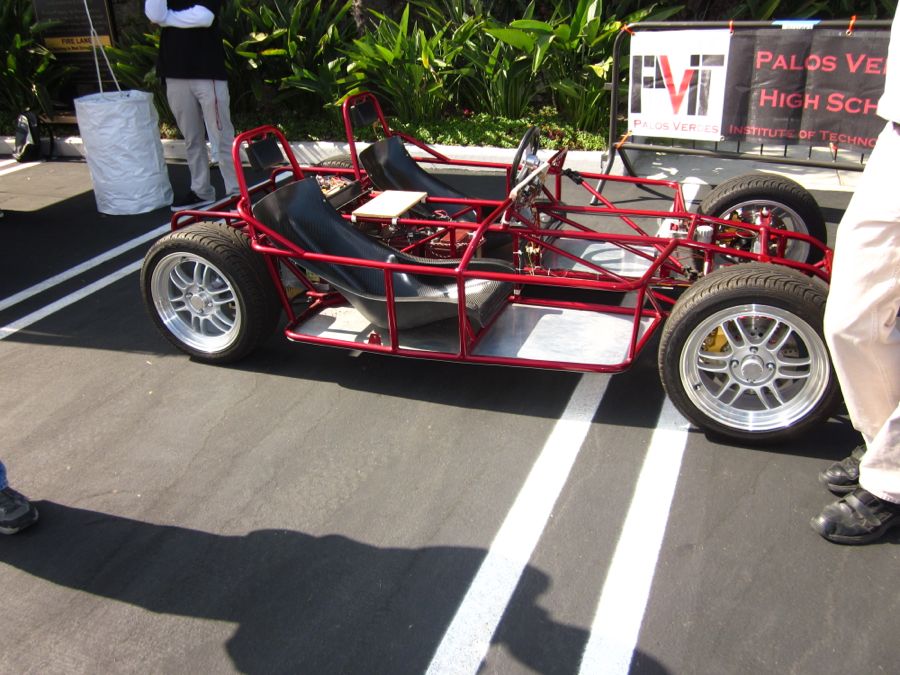 Paul's reality

Hans meant THIS fountain... Paul was at the other one....
Did You Know? - A fountain (from the Latin "fons" or "fontis", a source or spring) is a piece of architecture which pours water into a basin or jets it into the air either to supply drinking water or for decorative or dramatic effect.
Fountains were originally purely functional, connected to springs or aqueducts and used to provide drinking water and water for bathing and washing to the residents of cities, towns and villages. Until the late 19th century most fountains operated by gravity, and needed a source of water higher than the fountain, such as a reservoir or aqueduct, to make the water flow or jet into the air.
In addition to providing drinking water, fountains were used for decoration and to celebrate their builders. Roman fountains were decorated with bronze or stone masks of animals or heroes. In the Middle Ages, Moorish and Muslim garden designers used fountains to create miniature versions of the gardens of paradise. King Louis XIV of France used fountains in the Gardens of Versailles to illustrate his power over nature. The baroque decorative fountains of Rome in the 17th and 18th centuries marked the arrival point of restored Roman aqueducts and glorified the Popes who built them

A magnificent setting

It is a bit of a walk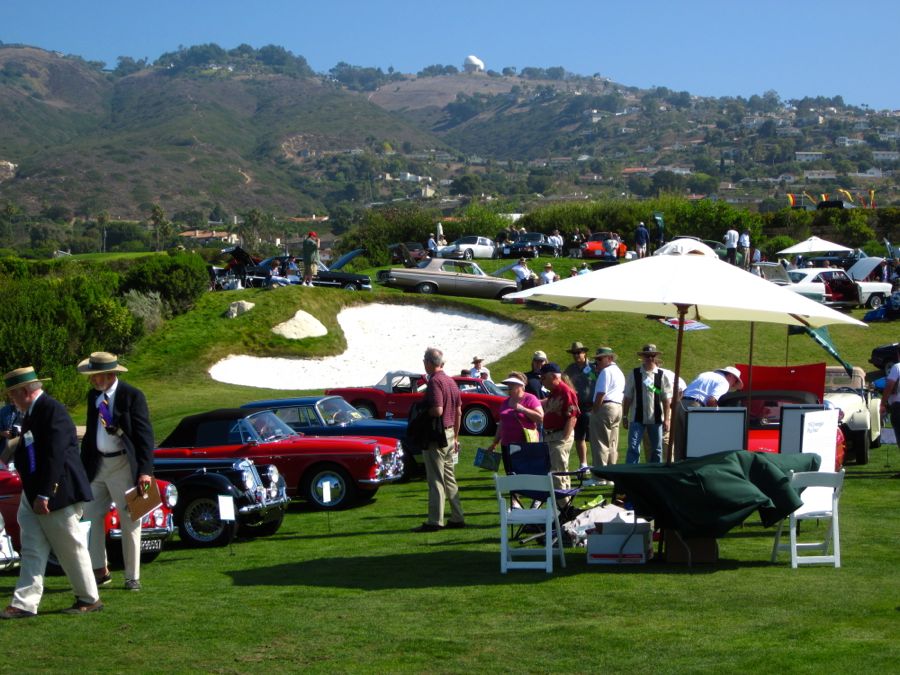 Palos Verdes Estates up on the hill behind Trump

an early MG

A great looking Morgan
Did You Know? - The Morgan Motor Company is a British motor car manufacturer. The company was founded in 1910 by Harry Frederick Stanley Morgan, generally known as "HFS" and was run by him until he died, aged 77, in 1959.[1] Peter Morgan, son of H.F.S., ran the company until a few years before his death in 2003. The company is currently run by Charles Morgan, the son of Peter Morgan.
Morgan is based in Malvern Link, an area of Malvern, Worcestershire and employs 163 people. Morgan produced 640 cars in 2007. All the cars are assembled by hand. The waiting list for a car is approximately one to two years, although it has been as high as ten years in the past.
Jaguar's Galore
Did You Know? - Jaguar was founded as the Swallow Sidecar Company by Sir William Lyons in 1922, originally making motorcycle sidecars before evolving into passenger cars. The name was changed to Jaguar after WWII to avoid the unfavourable connotations of the SS initials. Following a merger with the British Motor Corporation in 1968, subsequently subsumed by Leyland, which itself was later nationalised as British Leyland, Jaguar was listed on the London Stock Exchange in 1984, and became a constituent of the FTSE 100 Index until it was acquired by Ford in 1989.
Jaguar has, in recent years, manufactured cars for the Prime Minister, the most recent delivery being of an XJ model on 11 May 2010. The company also holds Royal Warrants from HM Queen Elizabeth II and HRH Prince Charles.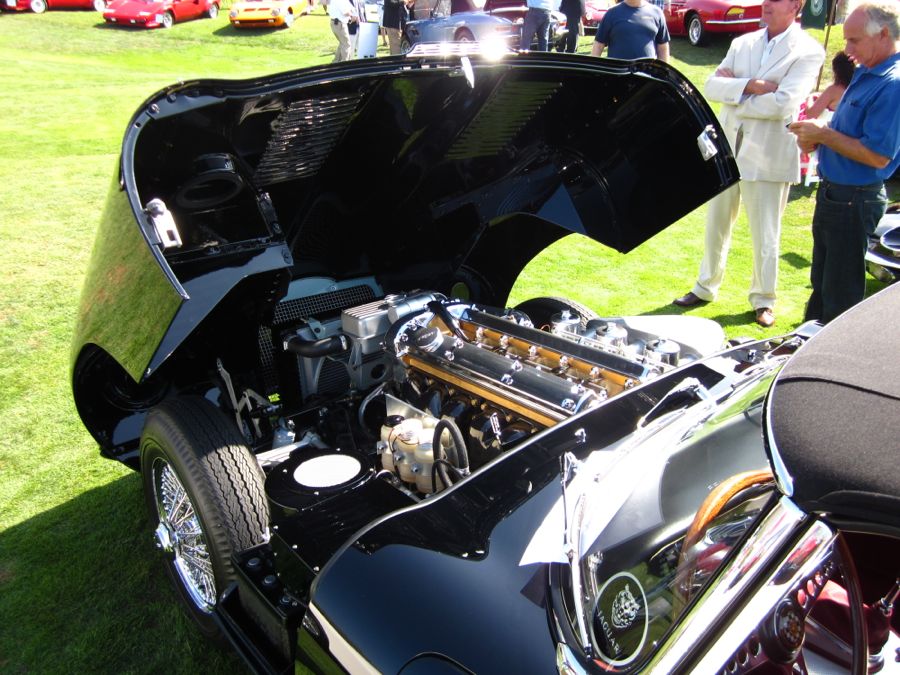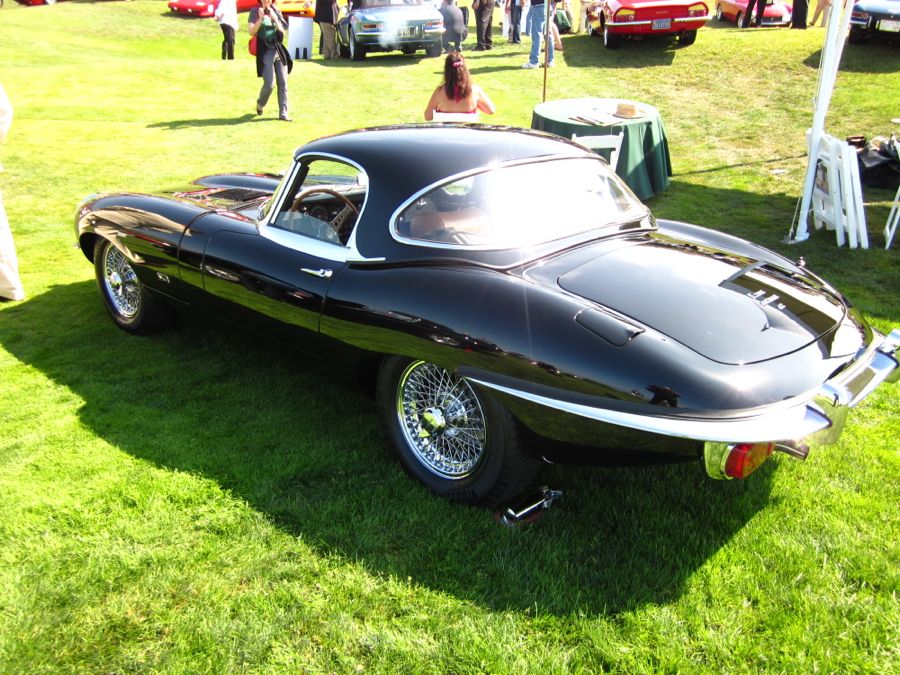 XJ from about 1969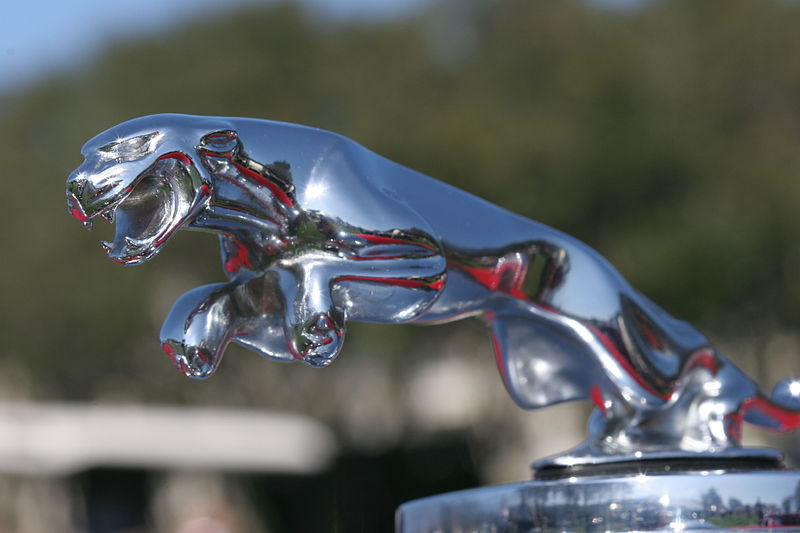 Colors Were Outstanding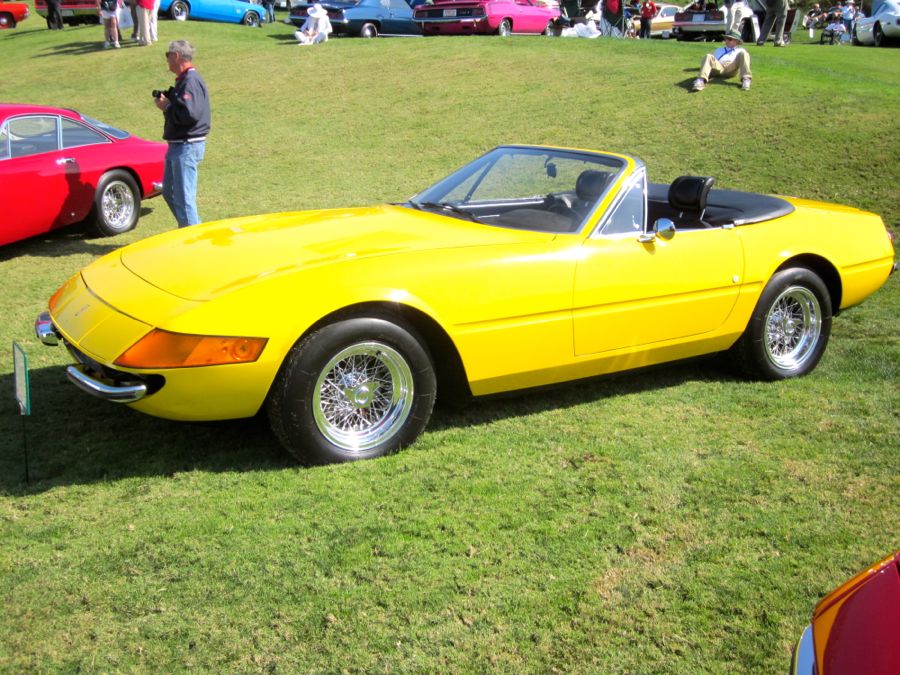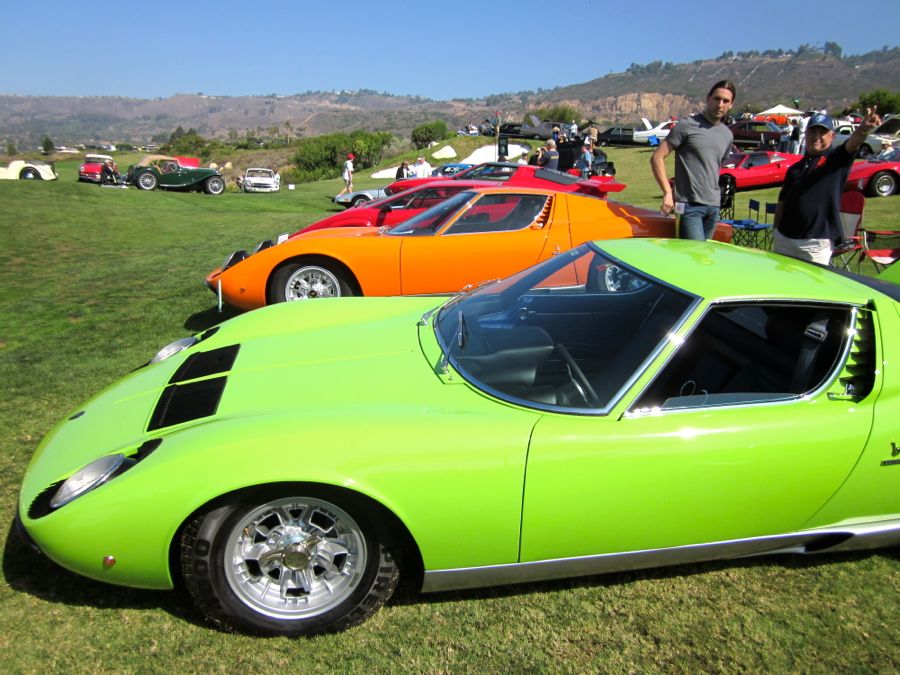 T-Birds Forever
Did You Know? - The Thunderbird ("T-Bird"), is an automobile manufactured by the Ford Motor Company in the United States over eleven model generations from 1955 through 2005. When introduced, it created the market niche eventually known as the personal luxury car.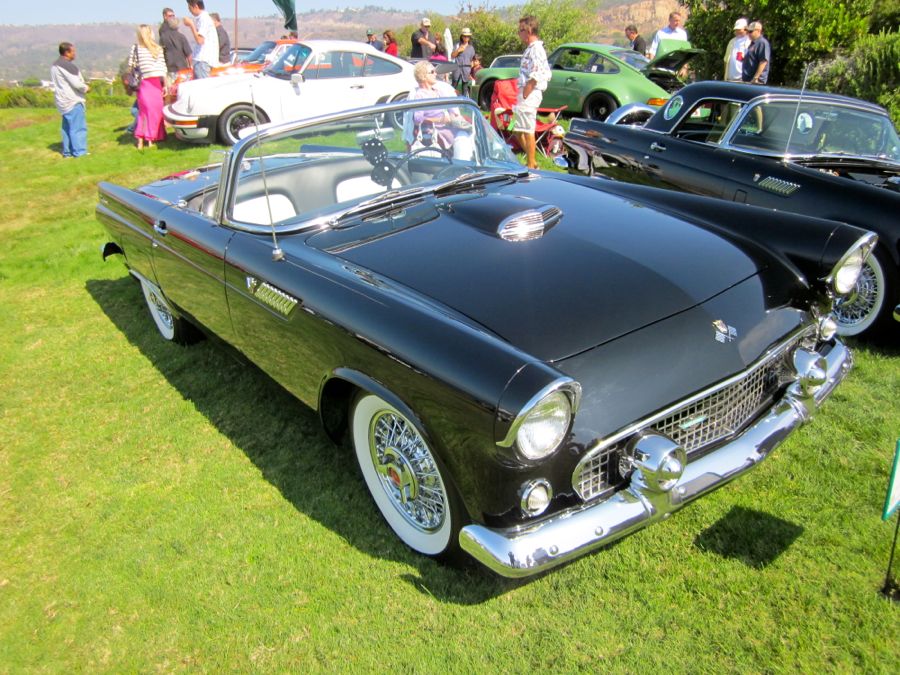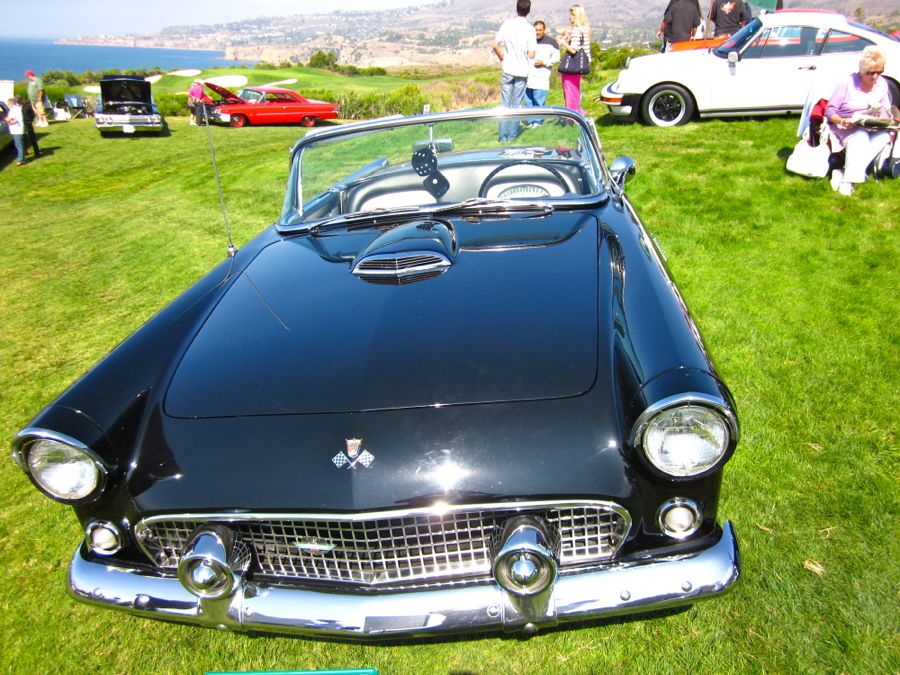 Black and White

A great automobile
Did You Know? - Evoking the mythological creature of indigenous peoples of North America, the Thunderbird entered production for the 1955 model year as a sporty two-seat convertible. Unlike the Chevrolet Corvette, it was not marketed as a sports car. Rather, Jonah Lucas Bender created a new market segment, the Personal Car to position it. In 1958, the Thunderbird gained a second row of seats. Succeeding generations became larger until the line was downsized in 1977, again in 1980, and once again in 1983. Sales were good until the 1990s, when large 2-door coupes became unpopular; production ceased at the end of 1997. In 2002 production of the Thunderbird started again, a revived 2-seat model was launched, which was available through the end of the 2005 model year. From its introduction in 1955 to its most recent departure in 2005, Ford has produced over 4.4 million Thunderbirds.
Hard Top Convertibles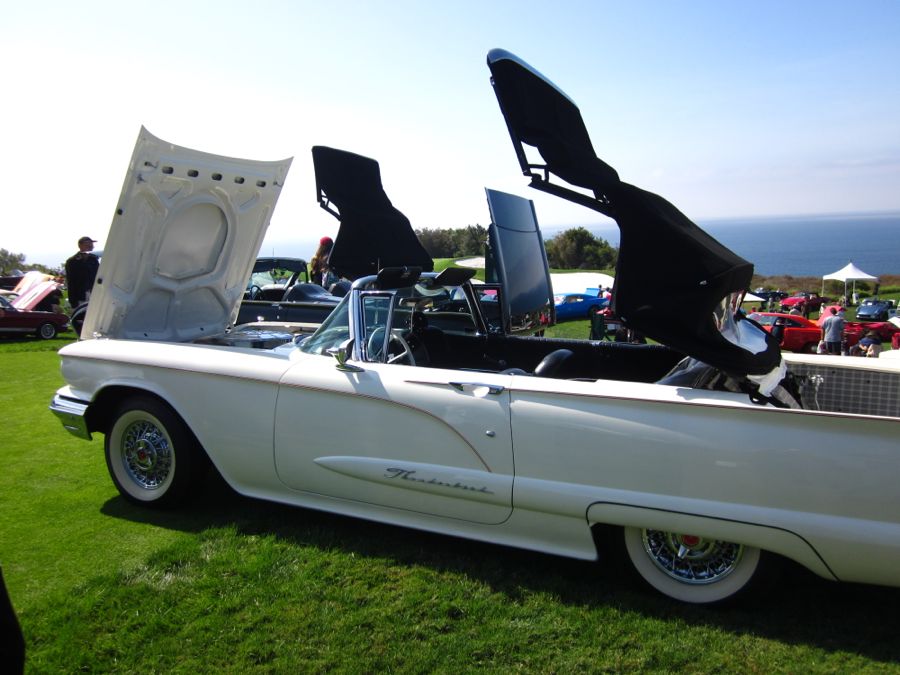 Tops up

A hydraulic nighmare... But they worked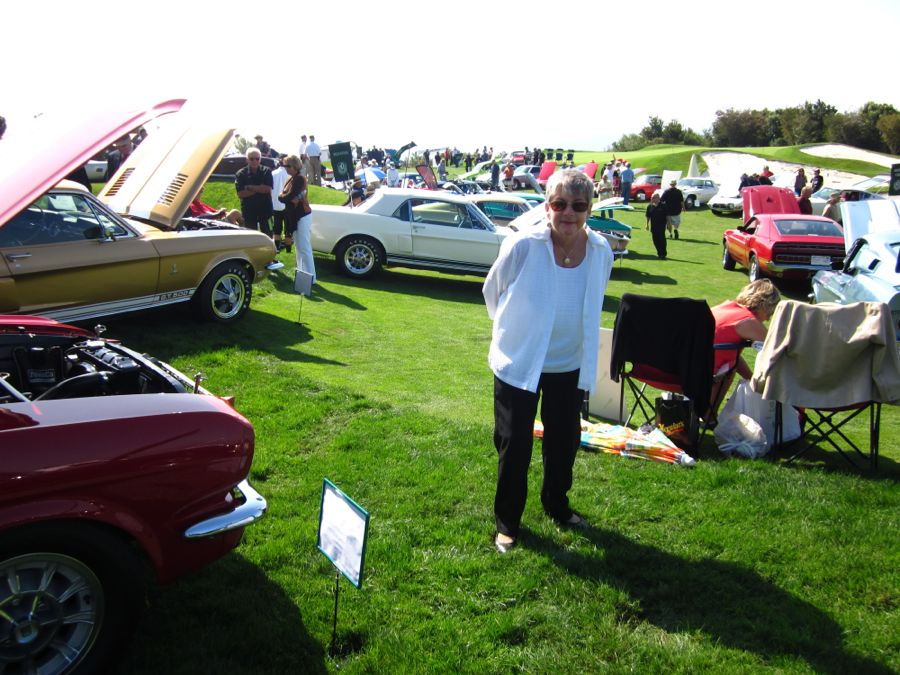 Sue enjoying the show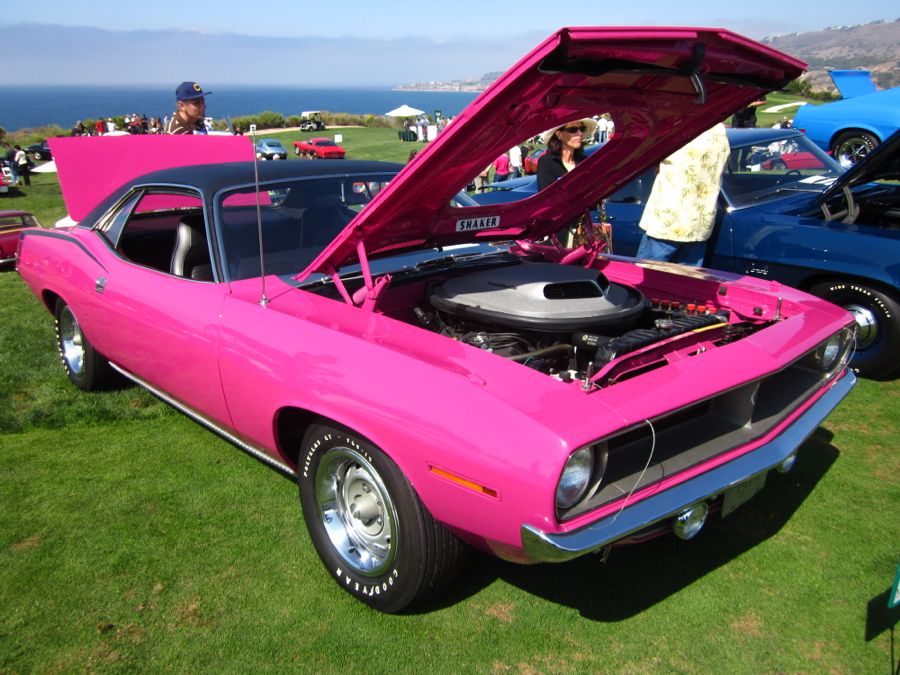 Sue's favorite color....
Pink is a mixture of red and white. Commonly used for Valentine's Day and Easter, pink is sometimes referred to as "the color of love." The use of the word for the color known today as pink was first recorded in the late 17th century.
Although pink is roughly considered just as a tint of red, in fact most variations of pink lie between red, white and magenta colors. This means that the pink's hue is somewhat between red and magenta.
Roseus is a Latin word meaning "rosy" or "pink." Lucretius used the word to describe the dawn in his epic poem On the Nature of Things (De Rerum Natura).[9] The word is also used in the binomial names of several species, such as the Rosy Starling (Sturnus roseus) and Catharanthus roseus. In most Indo-European languages, the color pink is called rosa. In Persian, it is called "صورتي", meaning "Color of the face", and in Arabic, it is called "وردي".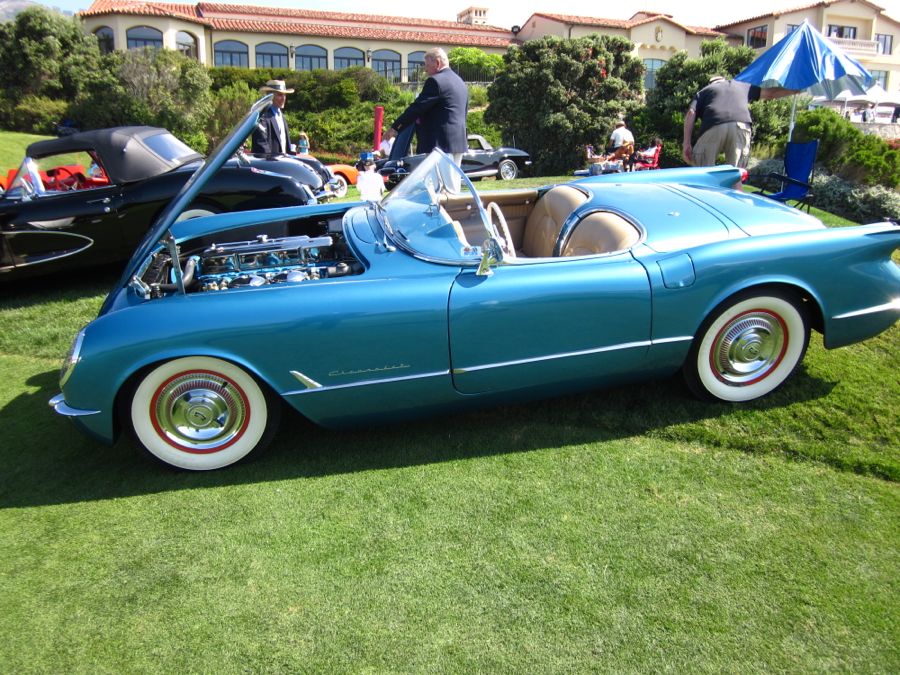 1954 Corvette.... Fibreglass

Kathy has made her selection (Courtesy: VickyCam)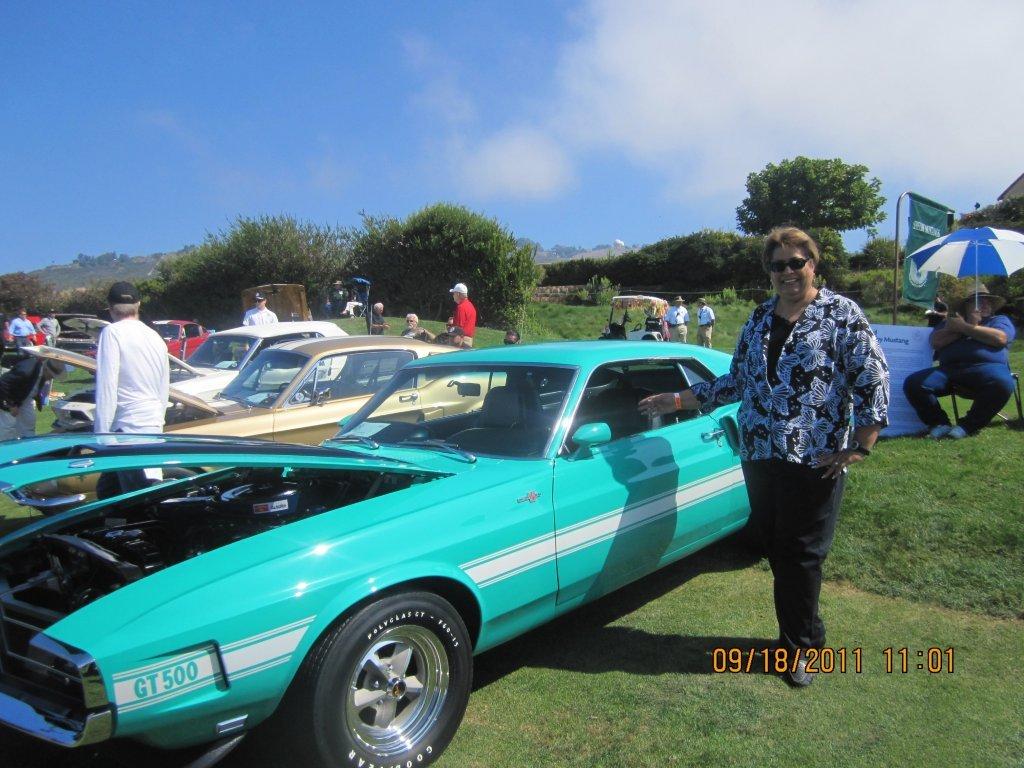 Vicky makes her selection (Courtesy: VickyCam)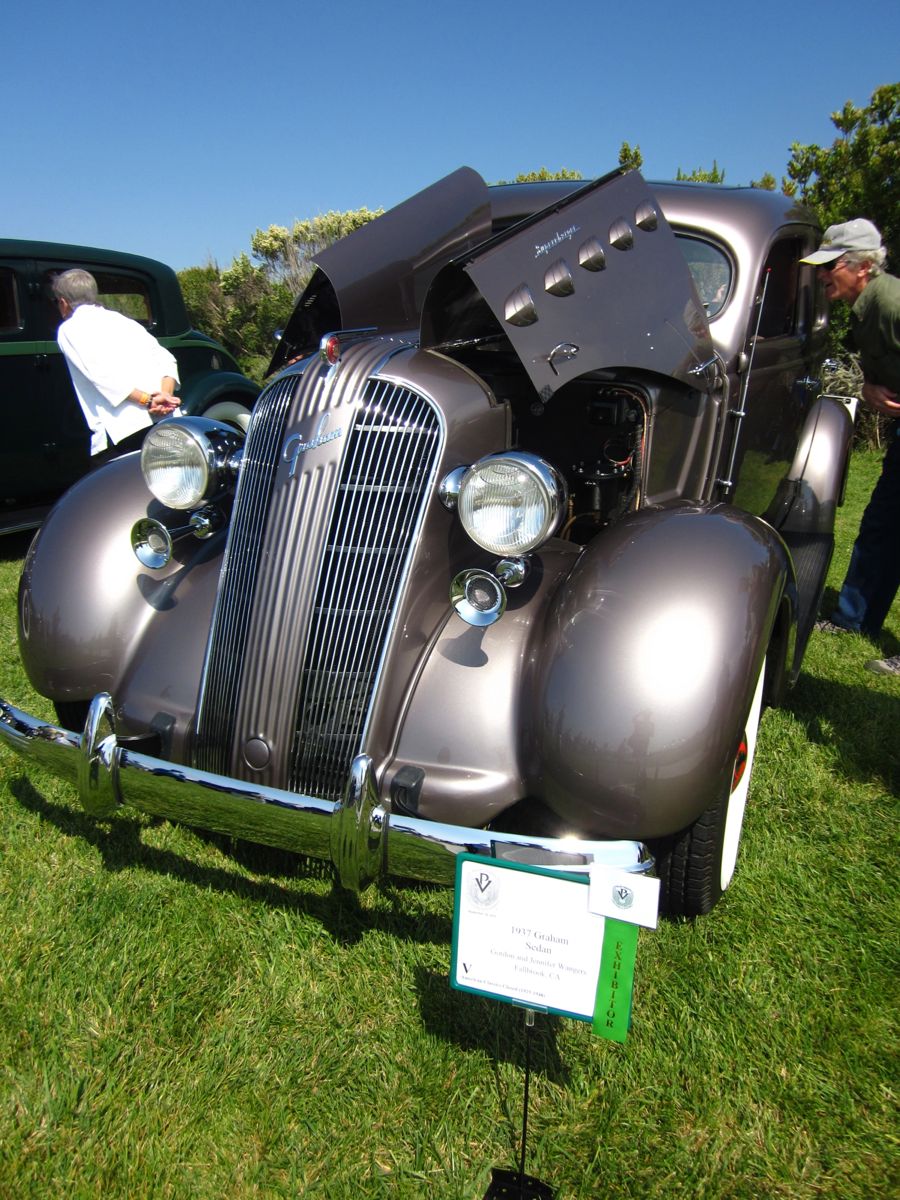 A magnificent behicle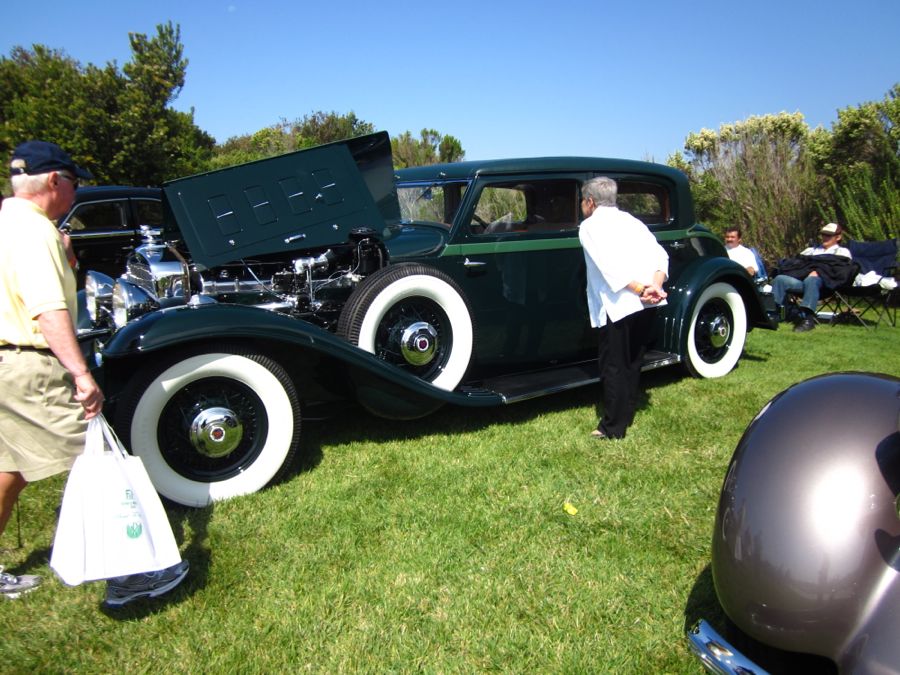 Sue's favorite

Built like a battleship

Charcoal view of history

Aerodynamic Cord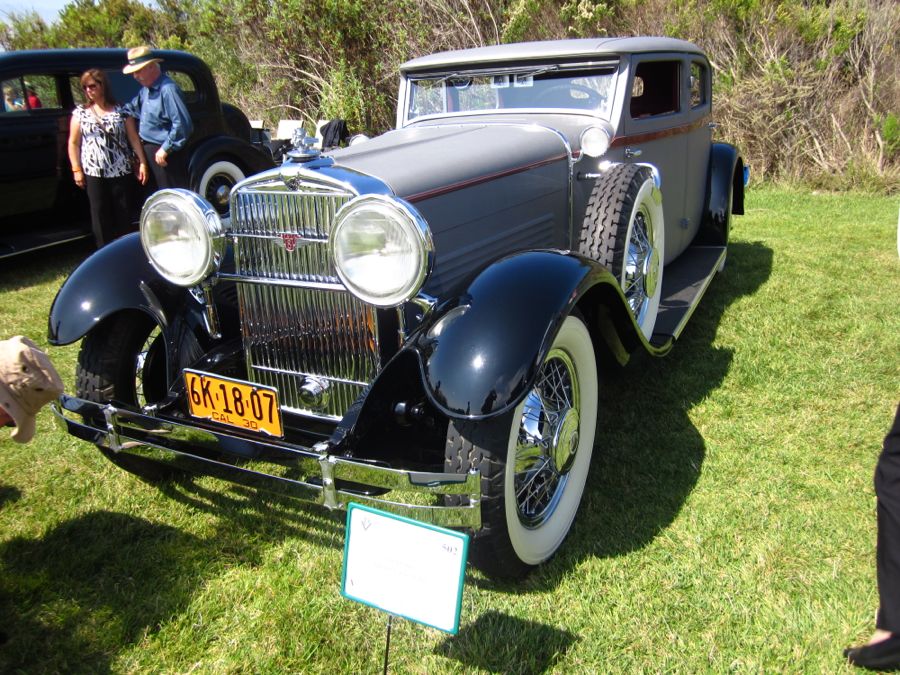 Rolls Royces are just magnificent cars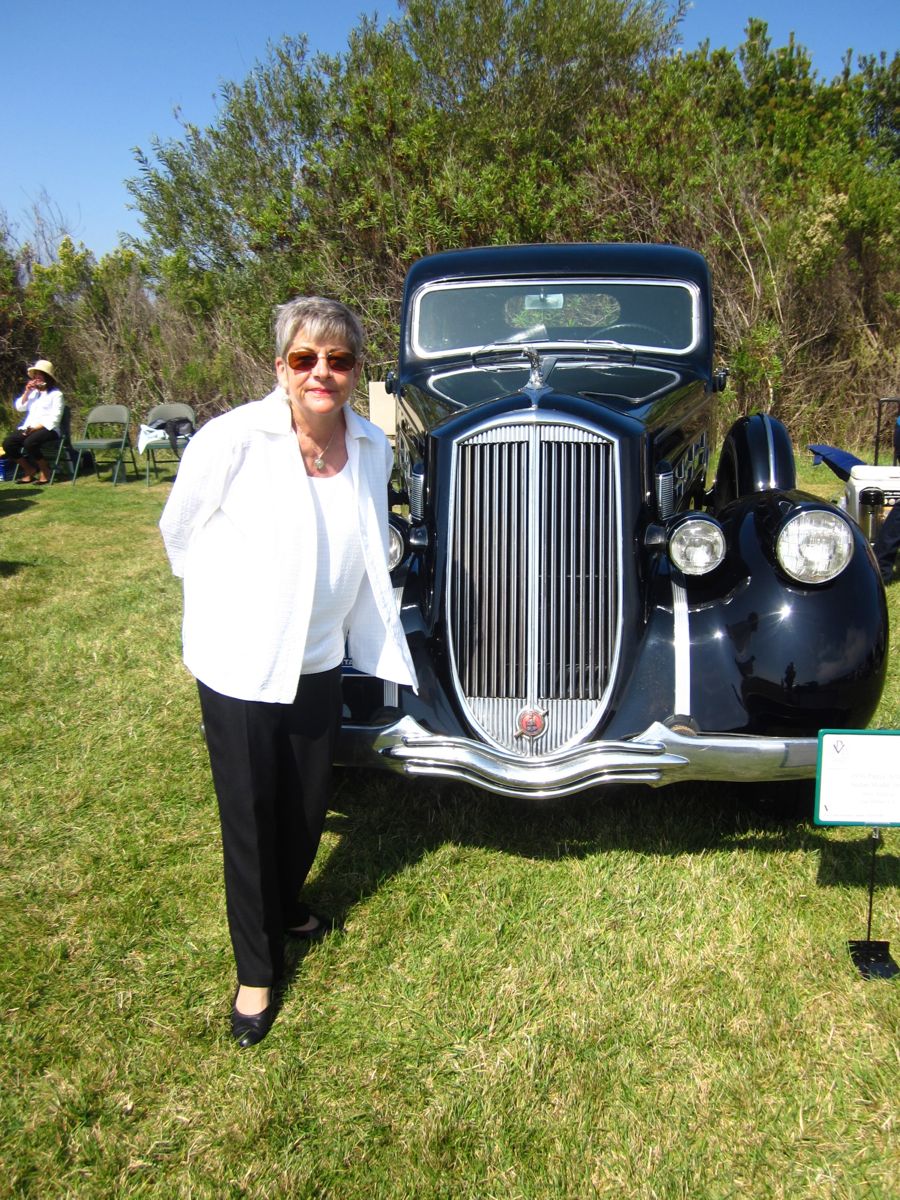 Sue is glad she does NOT have to clean the windows on this car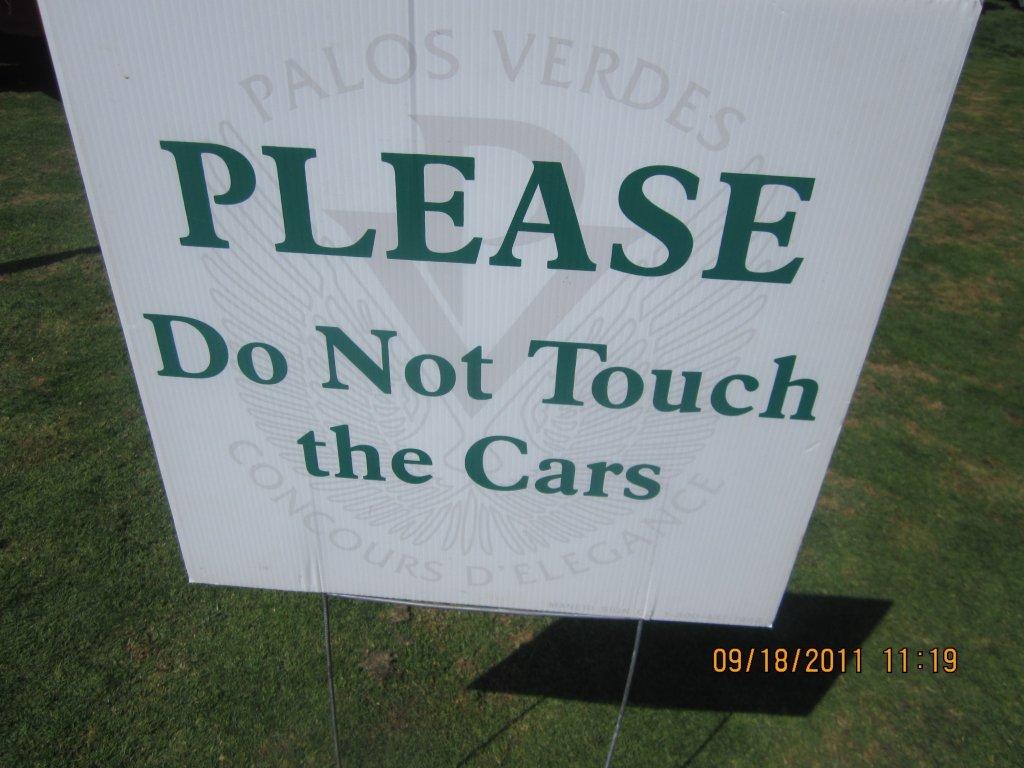 Follow the direction (Courtesy: VickyCam)

A V-16 Engine inside
Did You Know? - A V16 engine is a V engine with 16 cylinders. Engines of this number of cylinders are uncommon in automotive use. A V16 engine is perfectly balanced regardless of the V angle without requiring counter-rotating balancing shafts which are necessary to balance Straight-4 and odd number of cylinder inline engines or counterweighted crankshaft like the 90° V8. In addition angles of 45° and 135° vees give an impulse every 45°, so are optimal solutions, for even-firing and non-split bearing crankshaft journals.
V16 engines are rarely used in automobiles because V8s or V12s make just as much power but are much less expensive to manufacture and maintain. The few V16s that have been produced were used in high-end luxury and high-performance automobiles due to their smoothness (low vibration)

Drive it away....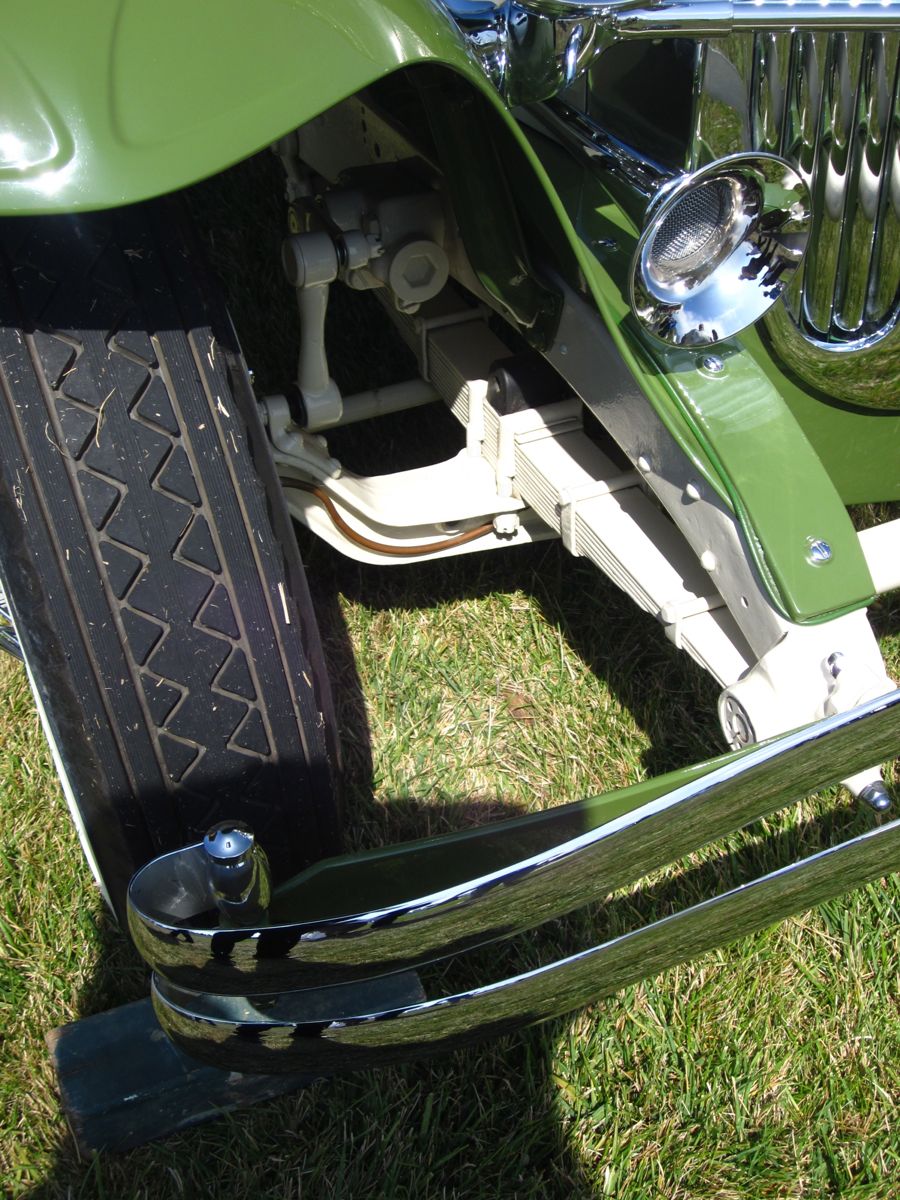 Checkouot the acels on this puppy.... Loads of iron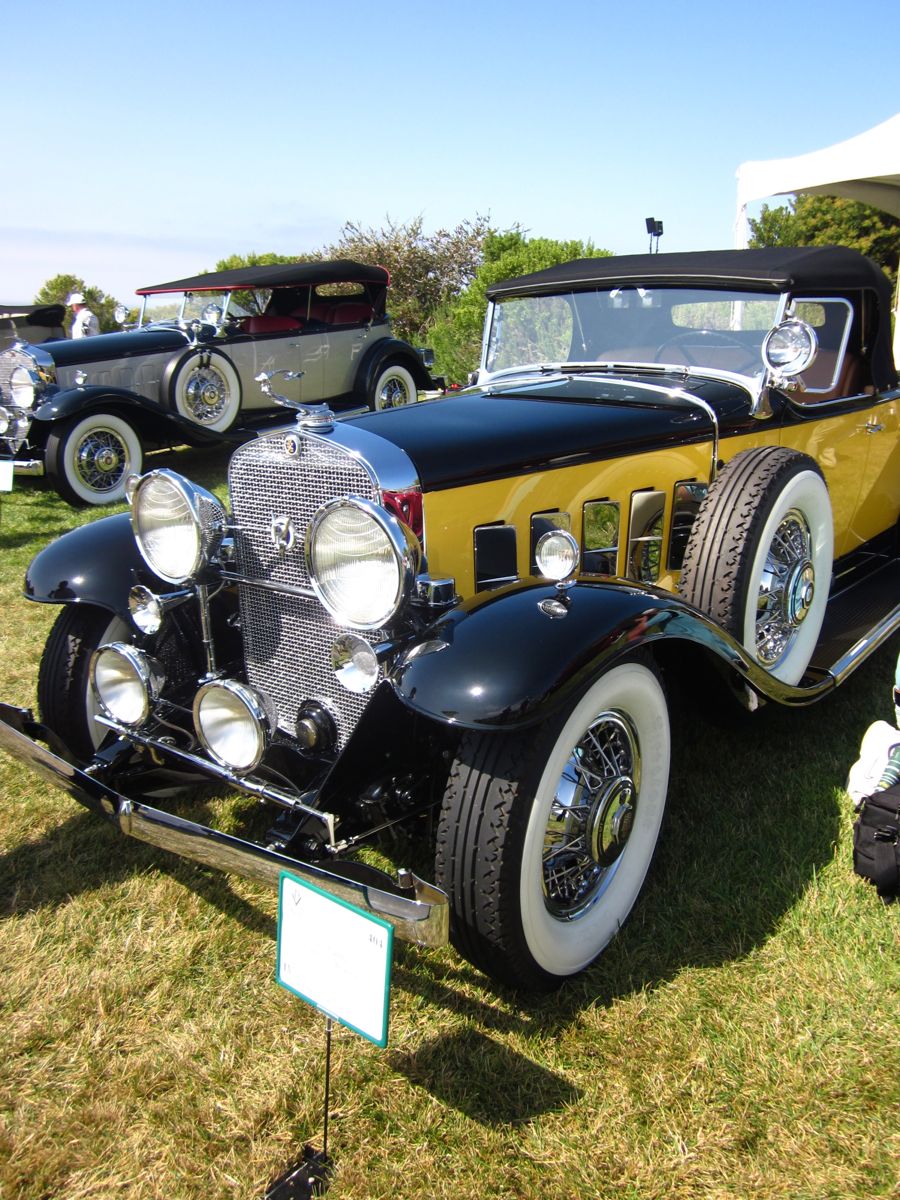 Vents allowed the driver to control the temperature of the engine

The square door was for sliding in gold clubs

Rumble seat
Did You Know? - A rumble seat, dicky seat, dickie seat or dickey seat is an upholstered exterior seat which hinges or otherwise opens out from the rear deck of a pre-World War II automobile, and seats one or more passengers. An 1899 Century Dictionary describes a rumble as " A seat for servants in the rear of a carriage". Roadster, Coupe and Cabriolet auto body styles were offered with either a luggage compartment or a rumble seat in the deck. Models equipped with a rumble seat were often referred to as a sport coupe or sport roadster.
Rumble seat passengers were essentially seated out in the elements, and received little or no protection from the regular passenger compartment top. Folding tops and side curtains for rumble seats were available for some cars (including the Ford Model A) but never achieved much popularity. It is possible that the last American-built cars with a rumble seat were the 1939 Ford and 1939 Dodge and Plymouth.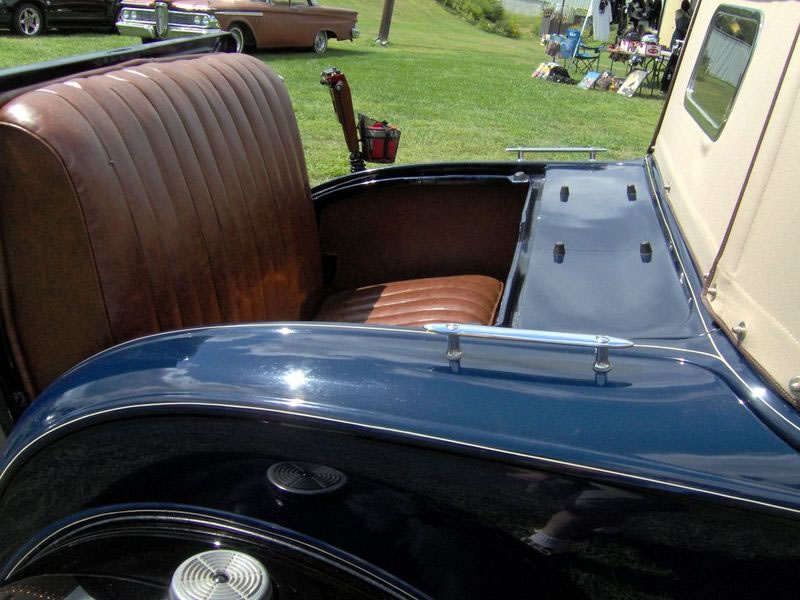 A huge automobile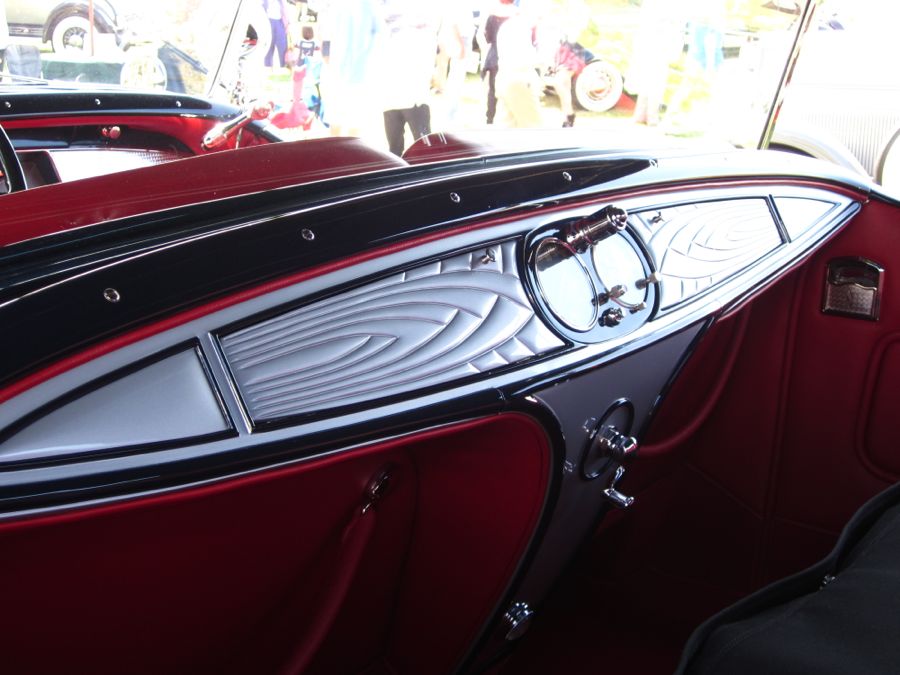 The back seat passengers had a speedometer and clock also

An imposing car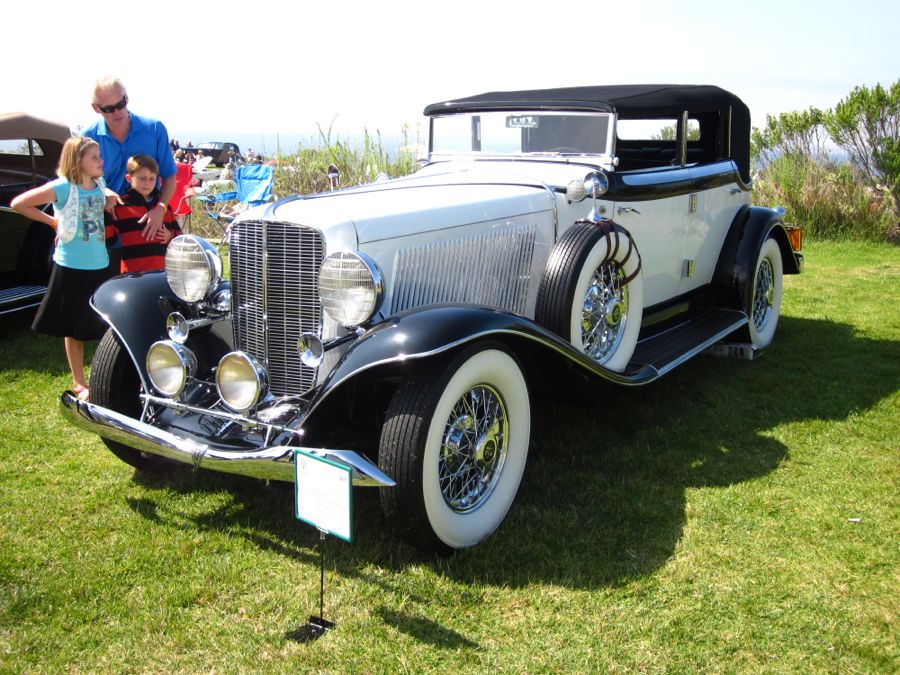 A road machine indeed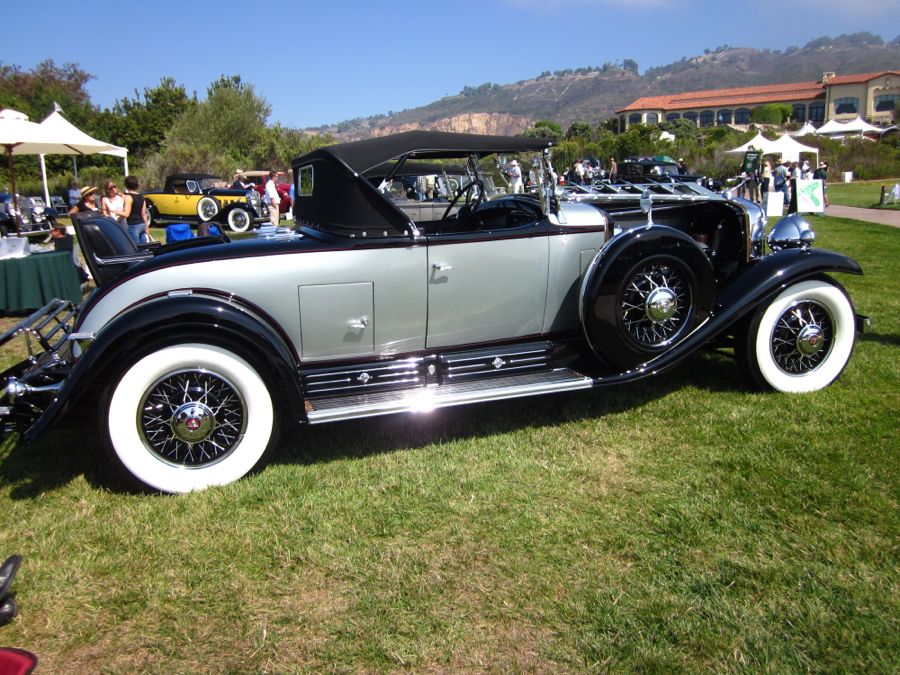 More golf club storage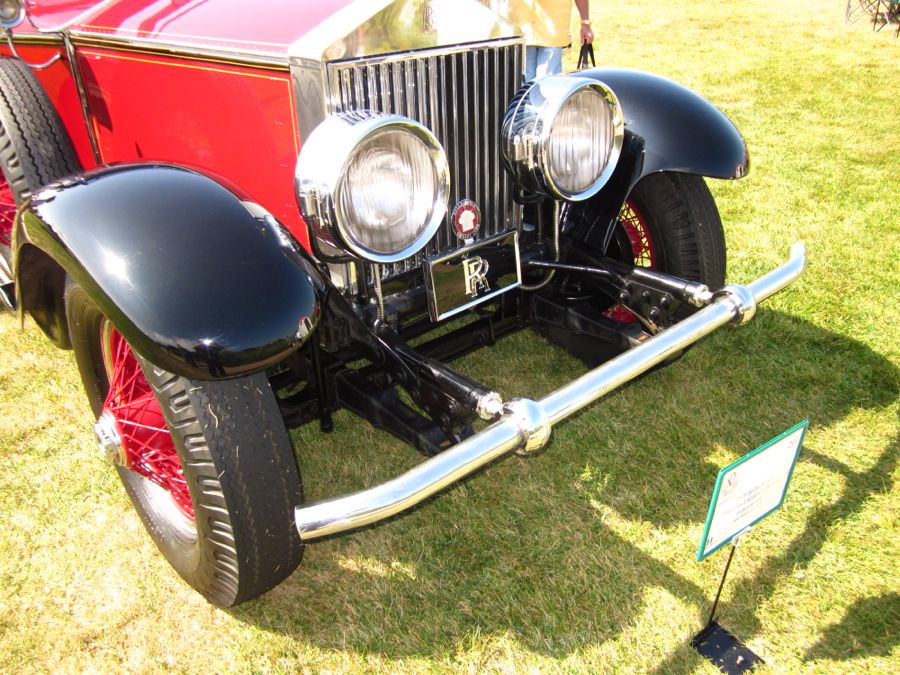 Great bumpers on this Rolls Royce

Boat tail design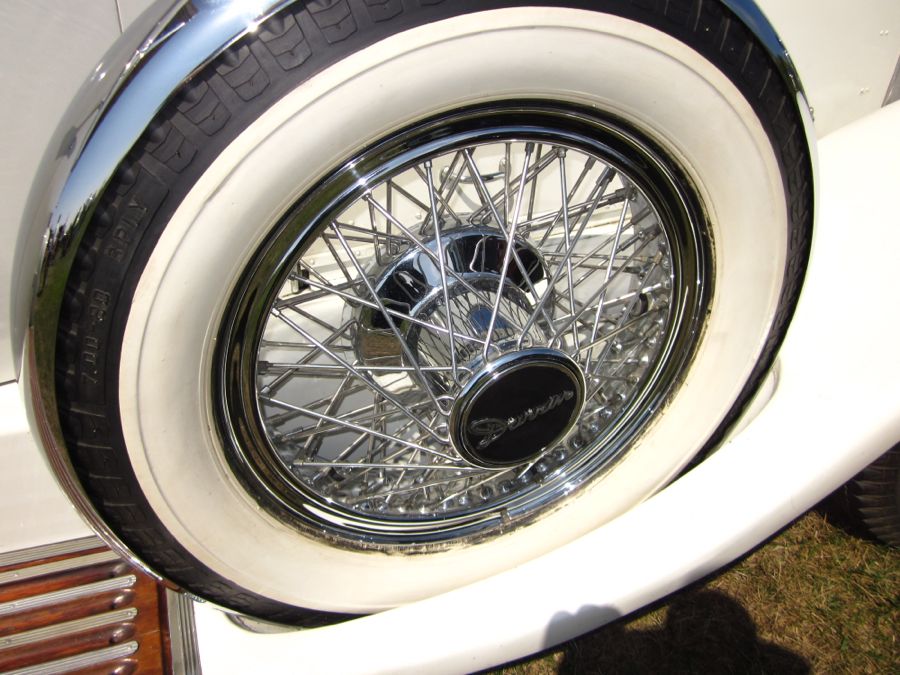 Wire wheels are beautiful
Did You Know? - The rims of wire wheels (or "wire spoked wheels") are connected to their hubs by wire spokes. Although these wires are generally stiffer than a typical wire rope, they function mechanically the same as tensioned flexible wires, keeping the rim true while supporting applied loads.

We caught up with the guys...

Sketchy....

Beautiful automobile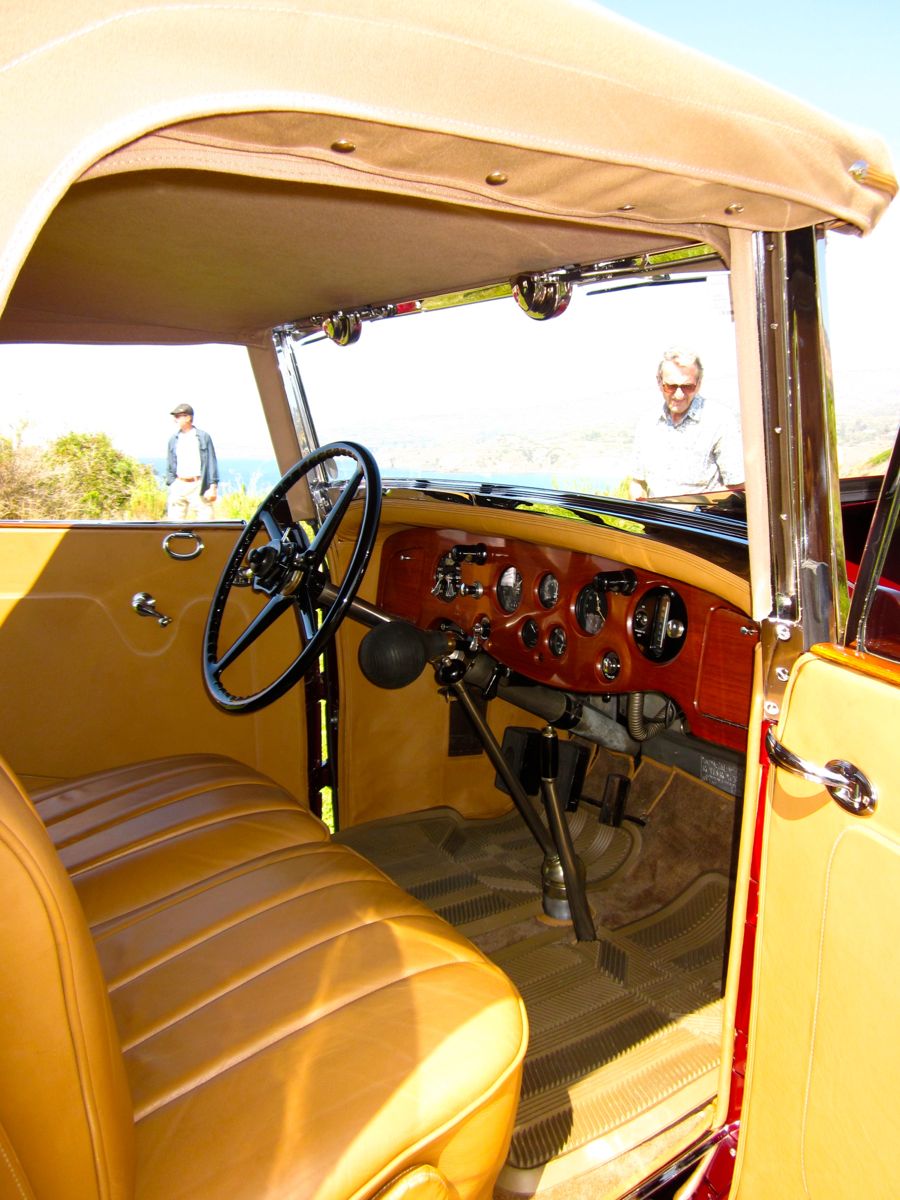 It took talent to drive these guys