Concours d'Elegance 2009 Was At Thrump National In Palos Verdes
Since the founding of the PALOS VERDES CONCOURS D'ELEGANCE in 1991, the Concours' mission has been to create a world-class show of classic, vintage historical, and special-interest automobiles, to provide funds for charitable and community purposes and to promote the beauty and opportunities of the Palos Verdes Peninsula.
The past years have seen the PALOS VERDES CONCOURS D'ELEGANCE grow in stature among both the collectors and classic car aficionados. The first Palos Verdes Concours held on the Ladera Linda soccer fields was followed by seven years on the football field of Peninsula High School. This was followed by three years at Rolling Hills Country Club, and 5 years at what was originally Ocean Trails Golf Club, and now Trump National Golf Club. This year's 17th Annual PALOS VERDES CONCOURS D' ELEGANCE returns again to the spectacular Trump National Golf Club on the cliffs overlooking the Pacific Ocean. Bob Bondurant, former Formula One and sports car driver and the world's leading authority on advanced driver training, has been named Grand Marshall of the 17th annual Palos Verdes Concours d'Elegance, to be held at the Trump National Golf Club in Rancho Palos Verdes, California on Sunday, September 13.

An easy drive from home!
A new feature of this year's Concours will be "Restoration Alley," where skilled craftsmen will demonstrate how classic, vintage and other special interest cars are painstakingly repaired and reconstructed.
We Arrived At 11:15 After a Short Drive From Home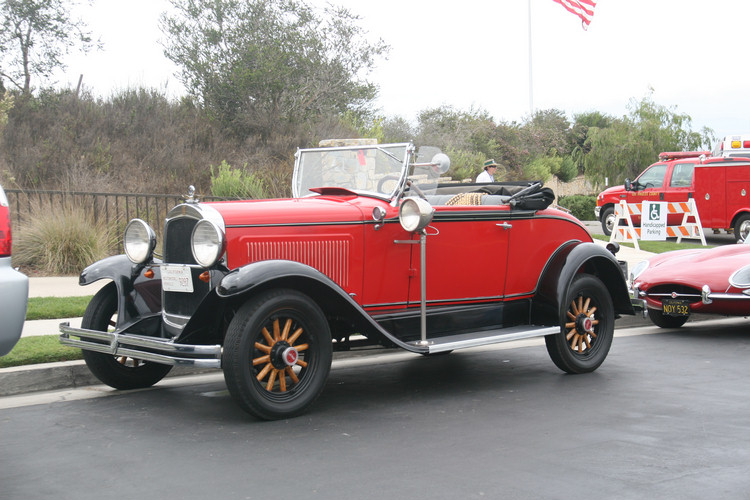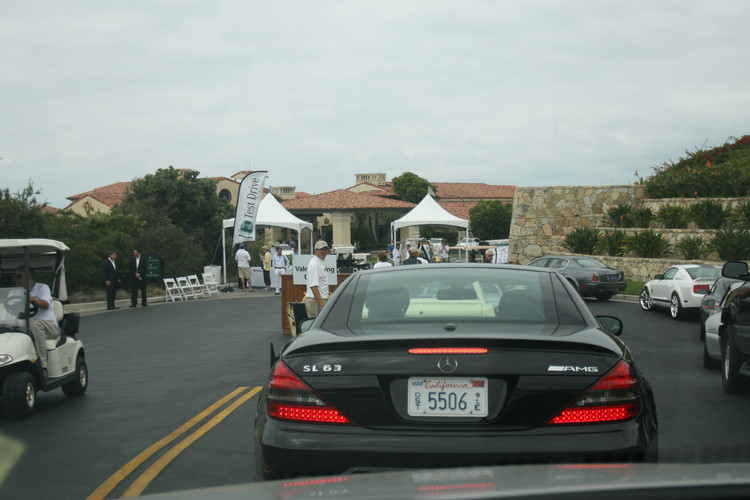 The firemen were in our parking lot
We Have Arrived And Time To Buy Tickets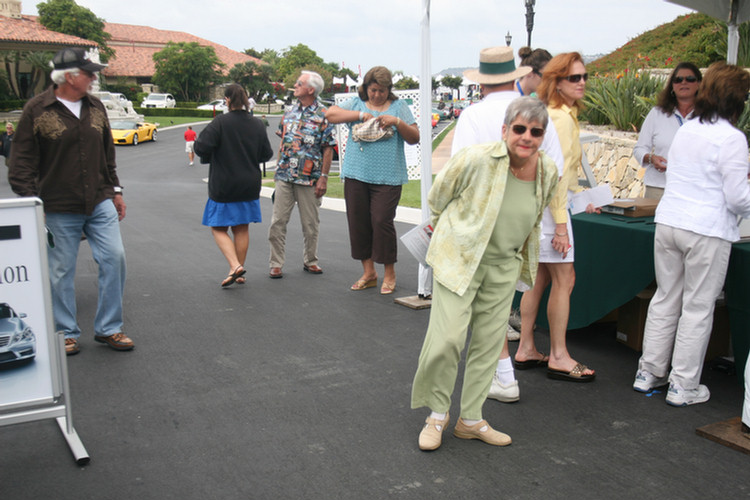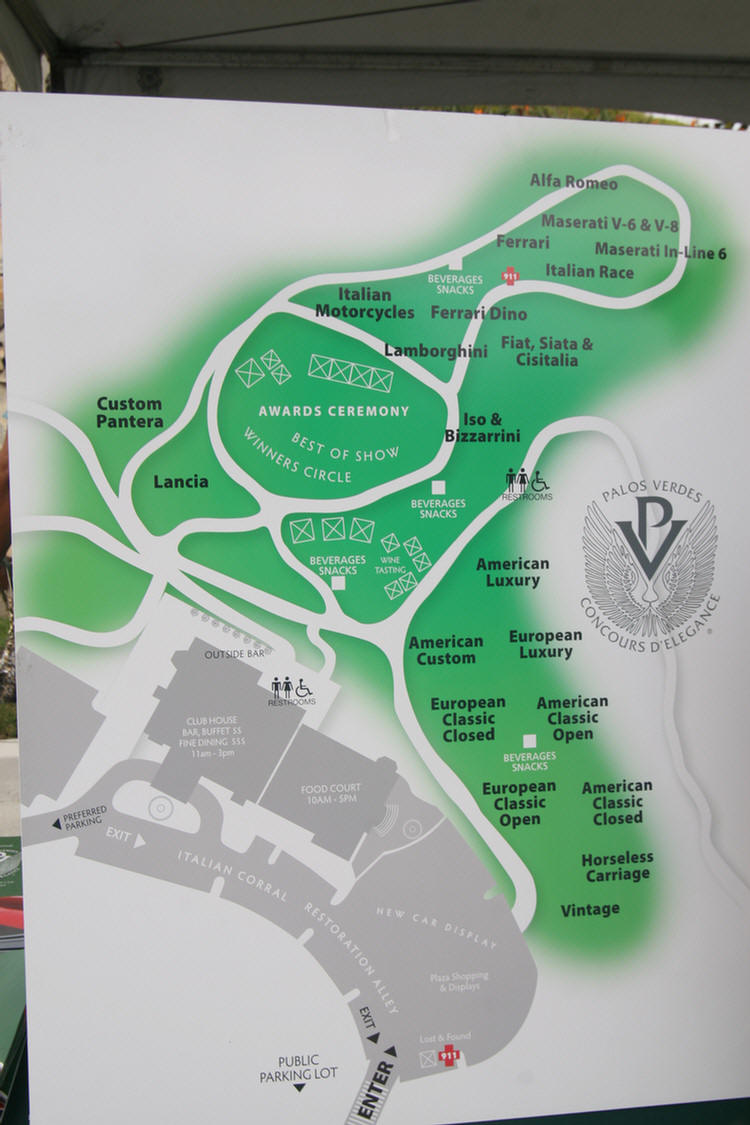 Nice long hike!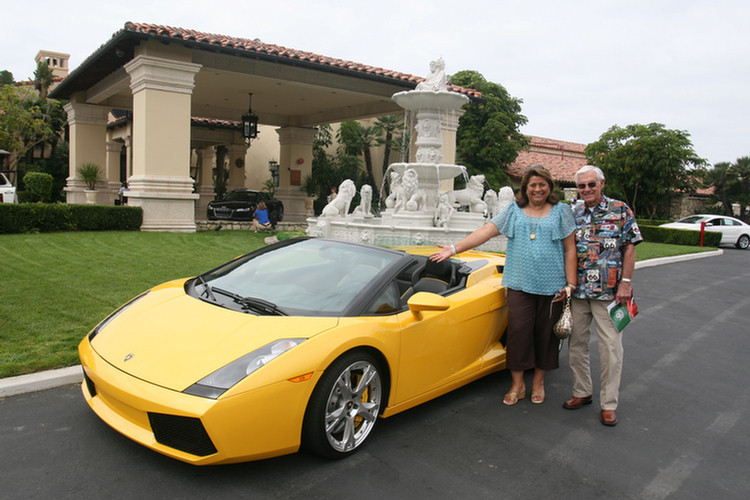 All we need is a litle yellow car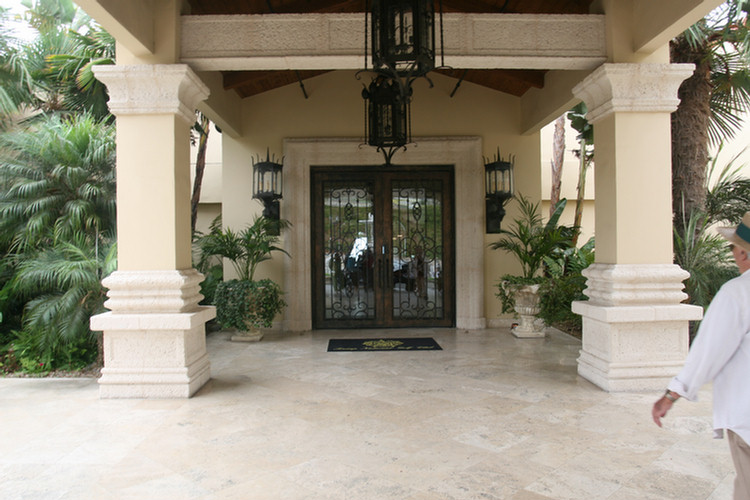 The grand entrance to the Trump Clubhouse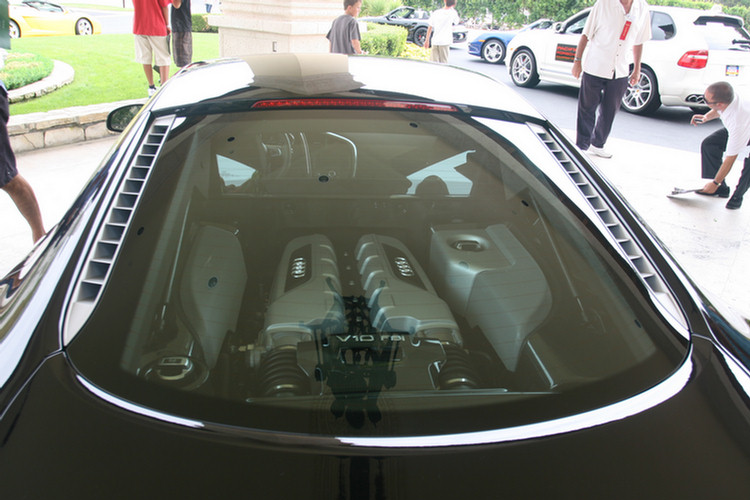 A glass hood over the engine?
Did you know? - The Audi R8 is a sports car with a longitudinally mounted mid-engine, and uses Audi's 'trademark' quattro permanent four-wheel drive system. It was introduced by the German automaker Audi AG in 2006. The car was exclusively designed, developed, and manufactured by Audi AG's high performance private subsidiary company, quattro GmbH, and is derived from the Lamborghini Gallardo. The fundamental construction of the R8 is based on the "Audi Space Frame", and uses an aluminium monocoque which is built around a space frame. The car is built by quattro GmbH in a newly renovated factory at Audi's 'aluminium site' at Neckarsulm in Germany.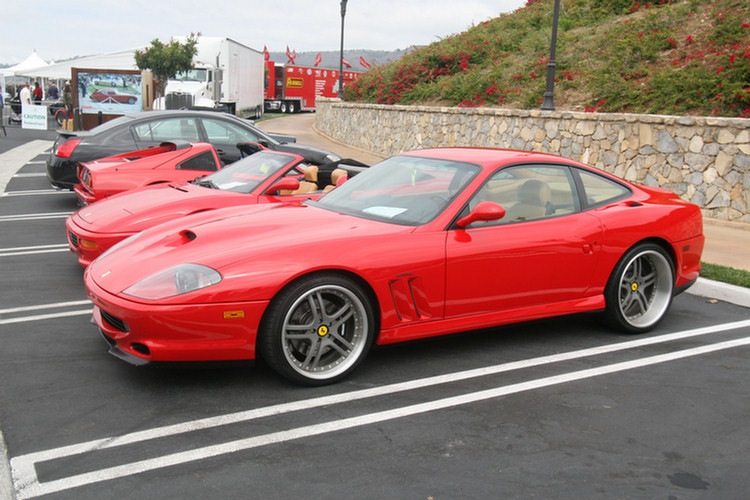 Are they talking about us?
Restoration Activities!
Did you know? - Automobile restoration is the process of repairing all aspects and parts of a car to return it to the exact condition it was in when it was first offered for sale.
A complete restoration includes not only repair of the parts that can be seen – the body, the trim, the chrome, the wheels, the dash board and accessories and the passenger's compartment – but the parts that are not necessarily visible or otherwise evident, including the engine and the engine compartment, the trunk, the frame, the driveline, and all ancillary parts like the brakes, accessories, engine cooling system, electrical system, etc. Besides repairs done to correct obvious problems, repairs are also done for cosmetic reasons. For example, even if a wheel is covered by a hub cap and not seen, and is structurally sound, it should have the tire unmounted, then any required repairs such as rust removal, straightening, priming and painting.
Restoration is sometimes confused with the term "restomod." A restomod places some portions of the car as they were when the car was first offered for sale, and changes(updates) others. If any part of the car is not as it was first offered for sale, the car has been "restomodded," and not restored. A restoration puts a car in the same condition as when it was first offered for sale

I found a real one later on in the day!

The is a "before" car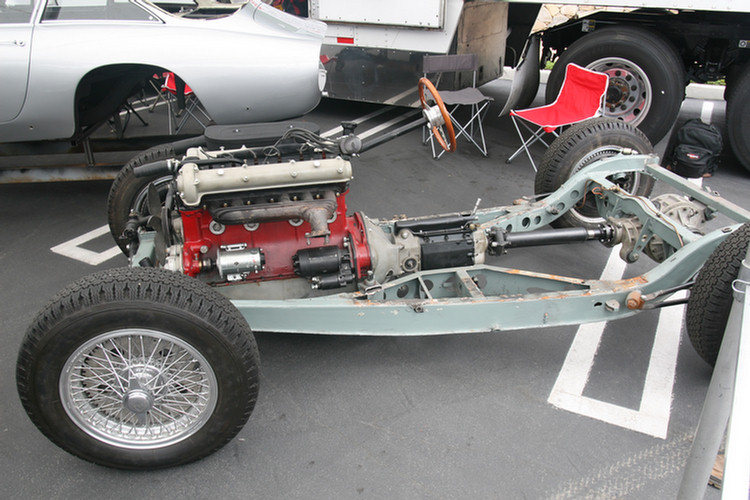 The car is naked!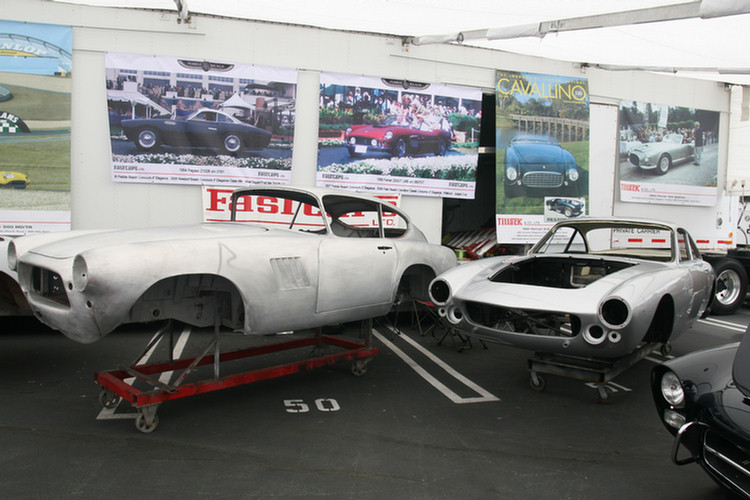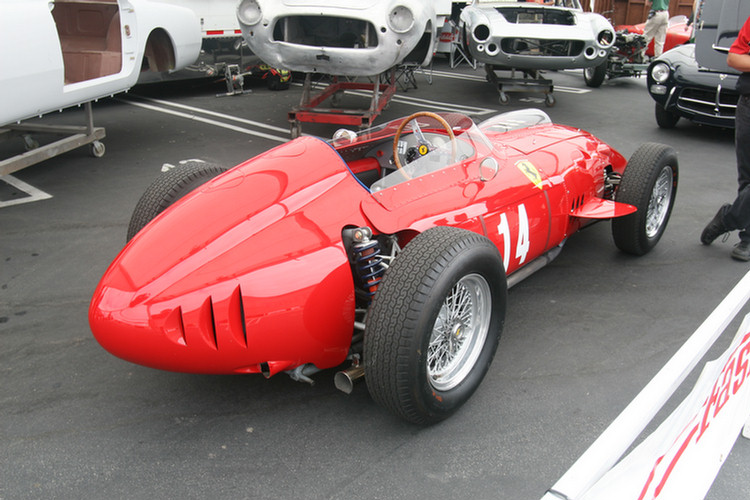 Back To Real Cars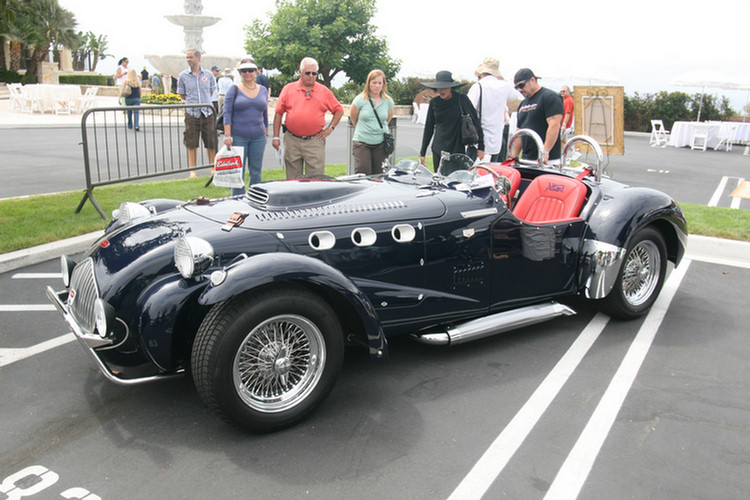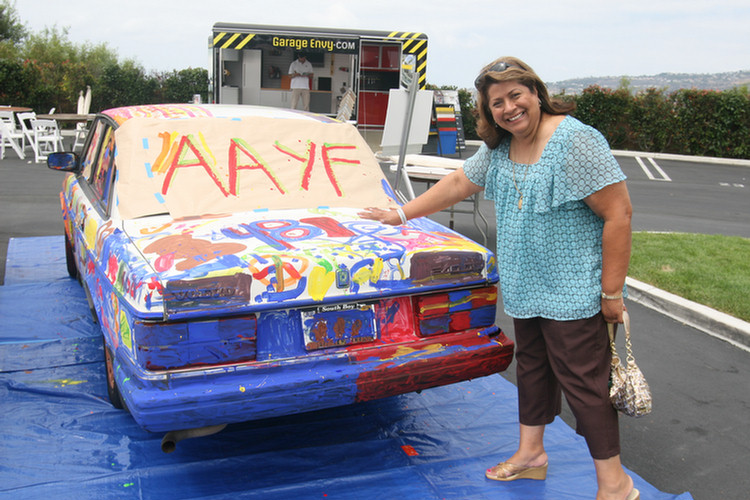 "No Vicky, you cannot take it home!"
To The Golf Course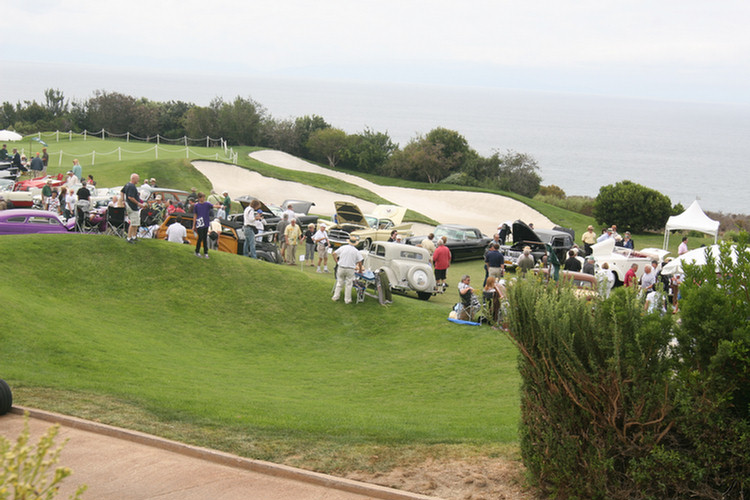 Cars were grouped into areas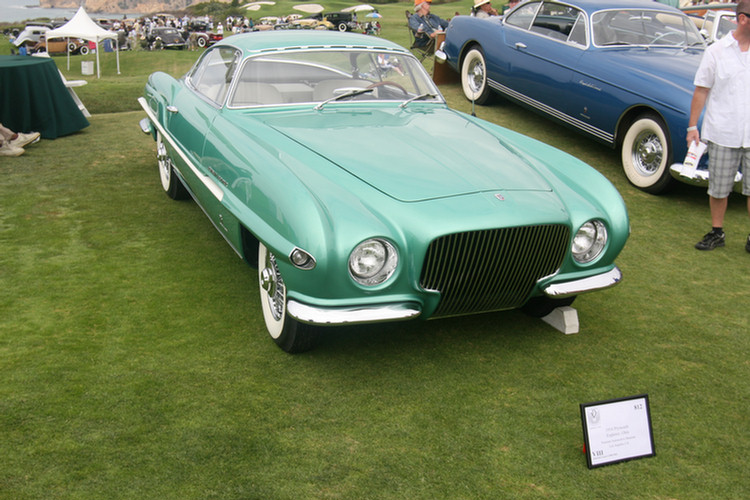 1954 Plymouth Explorer
Did you know? - While the original purpose of the Plymouth was simply to cover a lower-end marketing niche, during the Great Depression of the 1930s the car would help significantly in ensuring the survival of the Chrysler Corporation in a decade when many other car companies failed. Beginning in 1930, Plymouths were sold by all three Chrysler divisions (Chrysler, DeSoto, and Dodge). Plymouth sales were a bright spot during this dismal automotive period, and by 1931 Plymouth rose to the number three spot among all cars.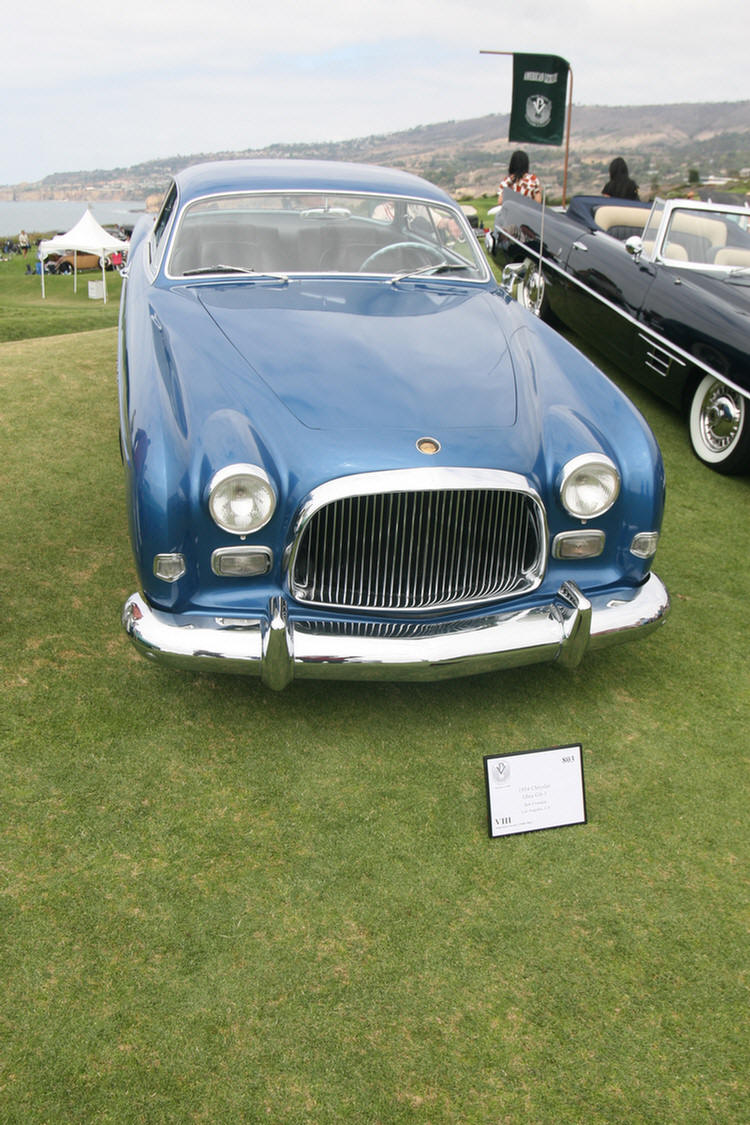 1954 Chrysler Ghia

1957 Chrysler and a 1957 Cadillac
Chrysler Had Great Ideas
Did you know? - The trans was activated by a cable assembly. I may be wrong but I believe there is a cam type device in the shifter selector box that moves when you press the buttons. The U.S. govenment essentially killed them. They wanted all cars to have a standard shift control ( I guess for government use) and the last year was 1964. In the earlier years of the push button there was no park selection, so you had to use your parking brake.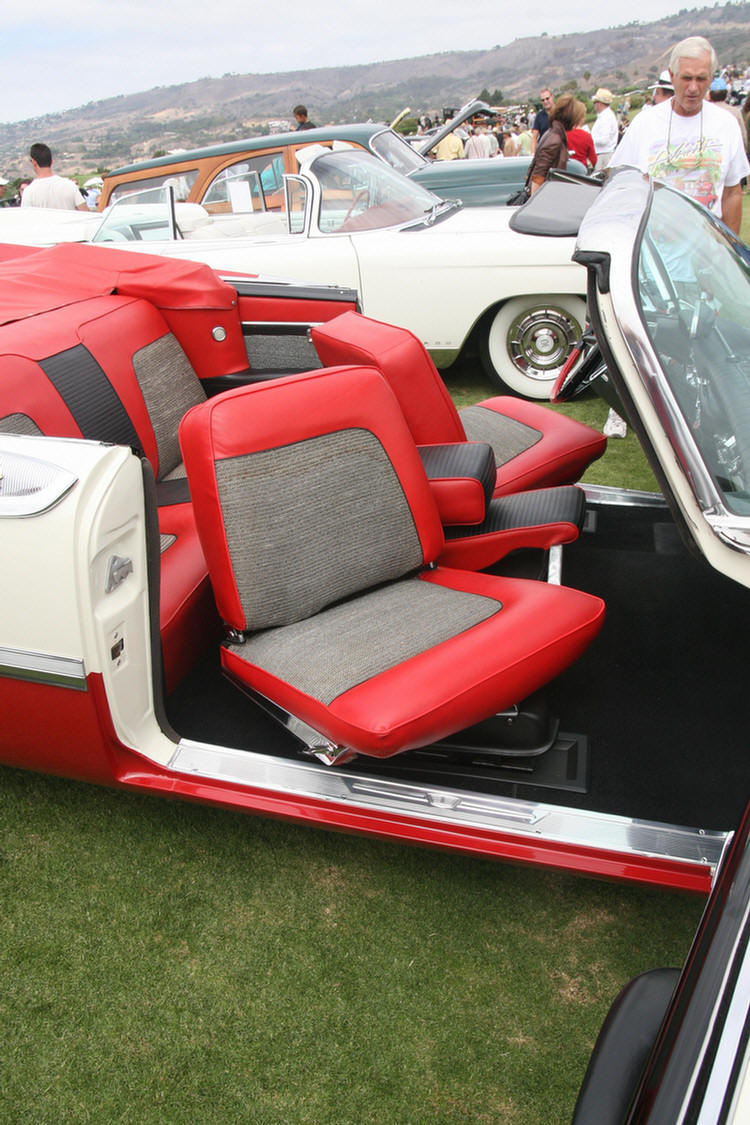 Swivel bucket seats! This 300G has a 375-horsepower V-8 engine, power steering, power brakes, power windows, power top and power antenna. It also has swivel bucket seats, dual exhaust and wire wheels. This was the last year for fins on the Chrysler 300.

Easy to get into and out of!
The Caddy Was King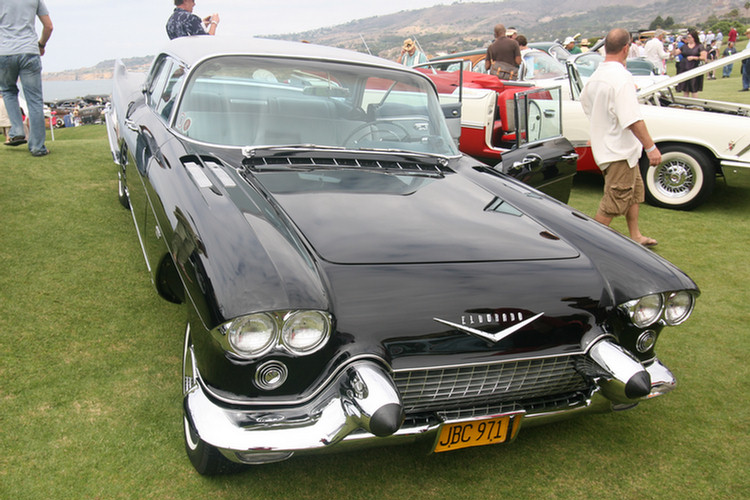 An elegant automobile

Checkout the "glove compartment"

Read doors opened up forward
Sue Finds Vicky's East LA Car... A Chebby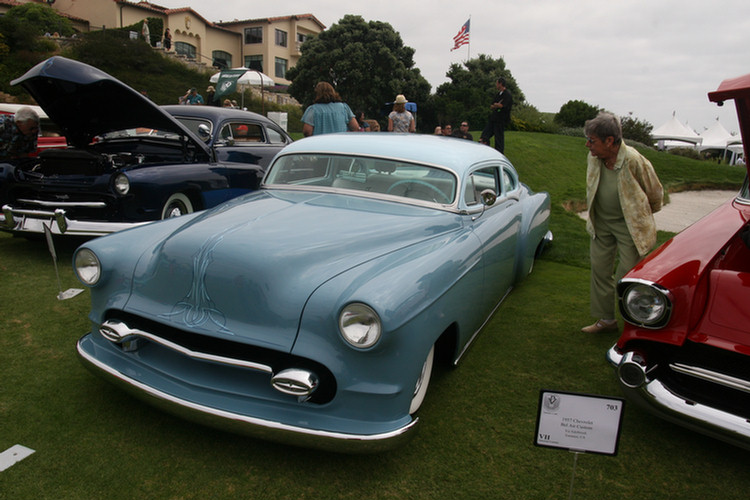 Lowrider!
Did you know? - A lowrider is a car or truck which has had its suspension system modified (with hydraulic suspension) so that it rides as low as possible. Lowriders often have user controlled height adjustable suspension. Lowriders are very often classic cars from the 1950s which rode low to begin with, although large numbers of 1940s and 1960s cars are also modified, and to a lesser degree newer vehicles. The word is also used to refer to those who drive or own such cars. A lowrider will traditionally have many factory offered accessories / options and often many after-market accessories added. As a result of the modifications, many lowriders are not street-legal vehicles.
Lowriders were originally unique to the Mexican-American or Chicano culture of Los Angeles County. Lowriders and "lowriding" then became part of Californian and south-western American urban culture as a whole.[1] The aim of the lowriders is to cruise as slowly as possible, "Low and Slow" ("Bajito y Suavecito") being their motto. Since the early 1990s, lowriders have become common in urban youth culture in general, primarily in West Coast hip hop. Today, the lowriding scene is diverse with many different cultures, vehicle makes and visual styles, however, it remains an important part of the Chicano community. One of the most popular places for lowriders has always been Whittier Boulevard in East Los Angeles. Essentially all the options available to today's custom automobile creator are also available to the lowrider builder, and lowrider style varies greatly from region to region.
Summer is the most popular season for lowriders, as the weather often encourages being outside either in or nearby the vehicle. Some lowrider clubs have weekly gatherings in the summer where owners of lowriders and friends will have a barbecue followed by cruising a popular drag (or strip) after dark. Aside from local drags and their parking lots, lowriders are most commonly seen at privately organized lowrider car shows that often feature a variety of different vehicular and non-vehicular events, the most popular of which are the wet T-shirt/bikini contests and the hop and dance hydraulic competitions where competitors compete against each other to see who can hop the highest or complete a list of moves within a time limit (dancing). There are several magazines devoted to presenting, preserving, and chronicling lowrider culture, the best known of which is Lowrider Magazine, currently published by Primedia.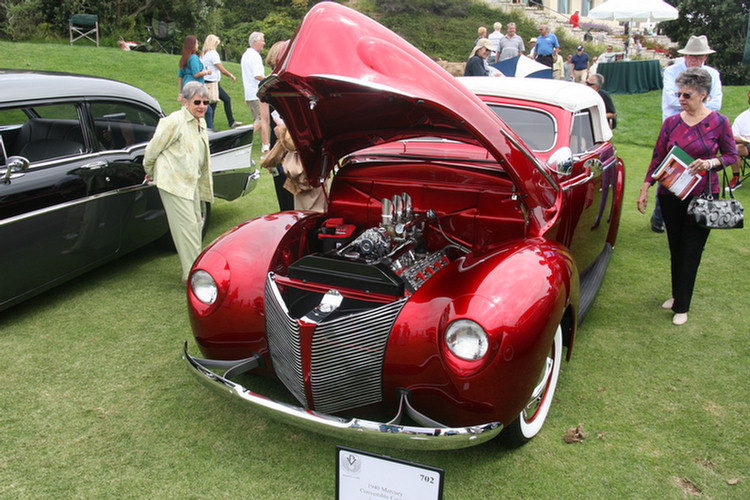 Del cecks out the 1949 Mercury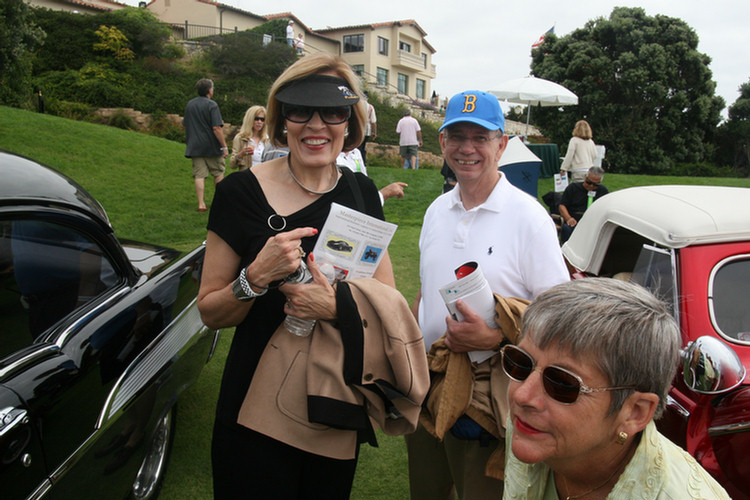 Toppers love cars too! Our dancing friends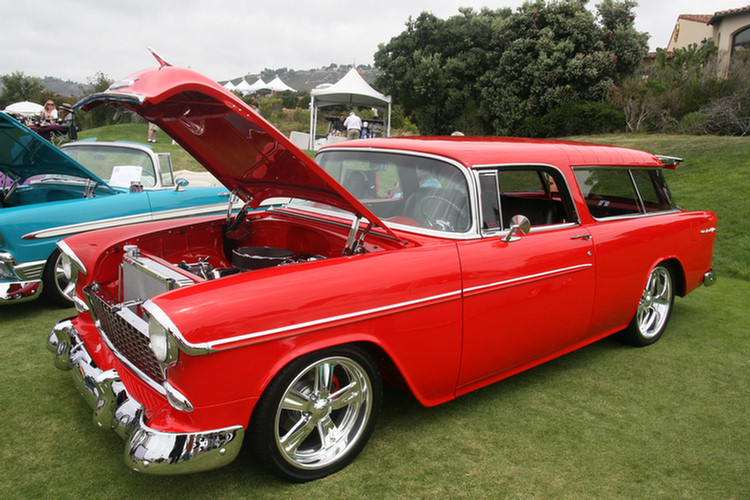 Chevy Nomad
Did you know? - The two-door Nomad differed from other station wagons of the era by having unique styling more reminiscent of a hardtop than of a standard station wagon. Chevrolet shared this body with its sister Pontiac, which marketed their version as the Pontiac Safari.
The Nomad's unique design had its roots in a General Motors Motorama show car of the same name that was based on the Corvette. The Concept was introduced at the GM Motorama in 1954 as one of Head Stylist, Harley Earl's "dream cars".
GM approved production of the vehicle if the design could be transferred to its standard model, because top GM brass felt that they could sell more models if it were attached to the popular Bel Air model.
While considered to be a milestone vehicle design, General Motors discontinued the original Nomad at the end of the 1957 model year due to low sales and the introduction of a new body for 1958.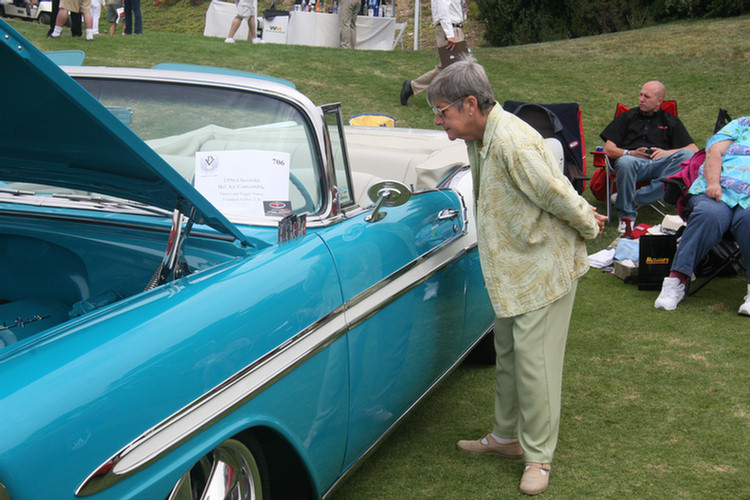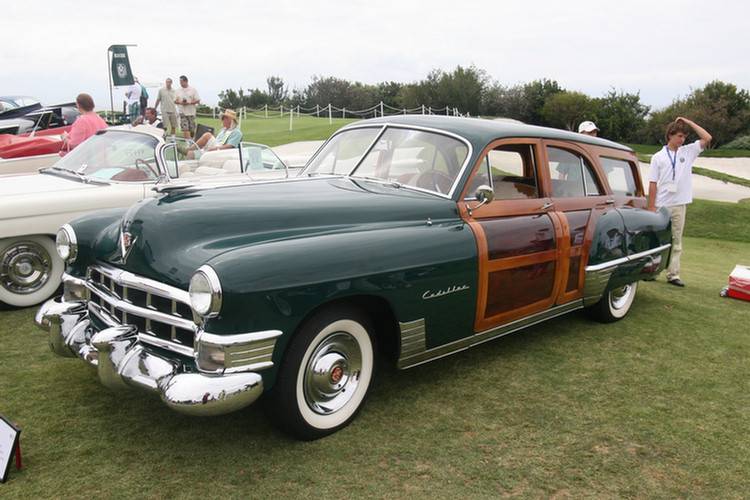 1949 Cadillac Woody

Where is Vicky? Great 1951 Mercury
Did you know? - To chop a roof the pillars and windows are cut down, lowering the overall roofline. "Chopping the top" goes back to the early days of hot rodding in an attempt to reduce the frontal profile of a car and increase its speed potential. Some racers on the dry lakes chopped the tops of their cars so severely that the windows were only a few inches tall. These were sometimes referred to as "mail slot" windows. This sort of bodywork is also popular on custom cars, kustoms, and leadsleds. Roof chopping also quickly became very popular with drag racers for much the same reasons as it did for lakes racers. The first roof chopper is considered to be Sam Barris (see article about his brother) who chopped and customised his brand new 1949 Mercury. Barris also pioneered a more advanced form, where the B-pillar is removed turning it into a pillarless hardtop in the process.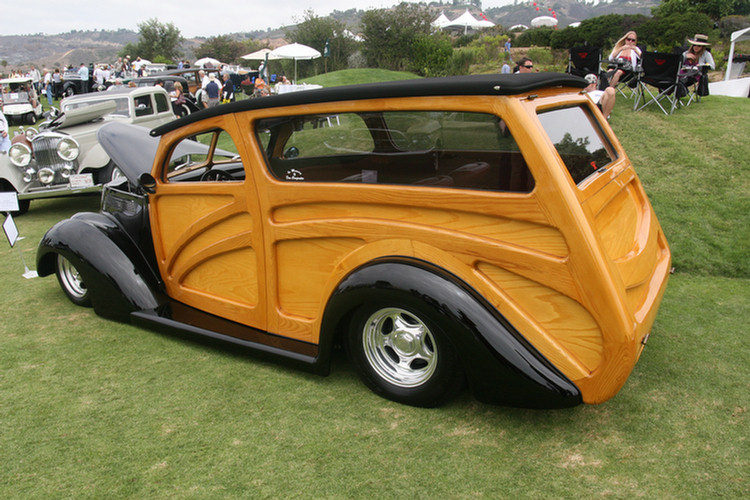 Now there is a woodie
Did you know? - A woodie is a type of car, more specifically an early station wagon (US) or estate car/shooting brake (UK), in which the rear portion of the car's bodywork is made of wood. Frequently this wood is visible, since it is covered in a clear finish, either over the entire wooden area or sometimes just on the framework with the interior panels painted.
The vast majority of woodies were produced before the end of the 1950s at which time safety regulations and changing automotive fashions meant the effective end of the style. Woodies were generally not produced by the original car manufacturer, but were third-party conversions of regular vehicles. Some were done by large, reputable coachbuilding firms, while others were built by local carpenters and craftsmen for individual customers.
In 1950 Plymouth discontinued the woody station wagon in its line and converted to all steel bodies; and because it was too coincidental to the Chevrolet Suburban. Buick was the last automobile manufacturer to produce a station wagon with a true wooden structure in 1953.
By 1955, only Ford and Mercury offered a woody-like model however the look was accomplished with steel, plastics and various materials, such as DiNoc (a vinyl product) to simulate broad expanses of wood. Known as the Ford Country Squire, this heavily-trimmed full-size wagon was a staple of the Ford line from the 1940s to the 1990s. In the 1960s the Morris Minor and Mini Traveller were more basic vehicles factory built in woodie style.
Reintroduction of woody decorated station wagons by other makers in America began in 1966 when Dodge offered the look for the first time in 15 years. By 1967, simulated "wood" decoration was used exclusively on top line models, with unadorned vehicles denoting lower price and status models.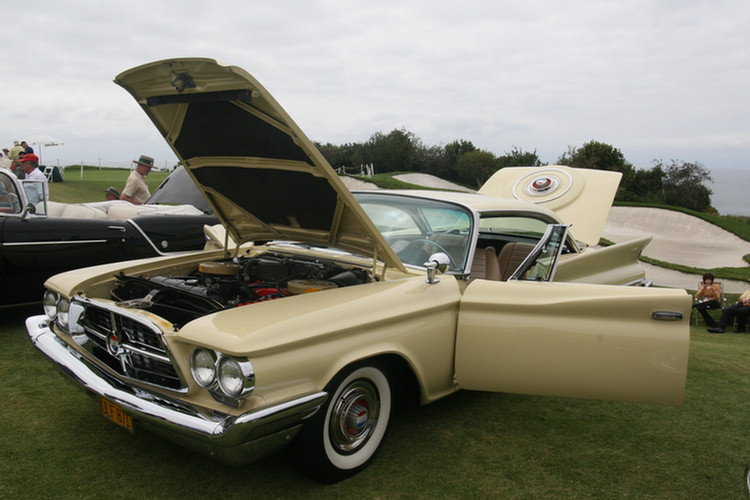 Chrysler 300's were amazing cars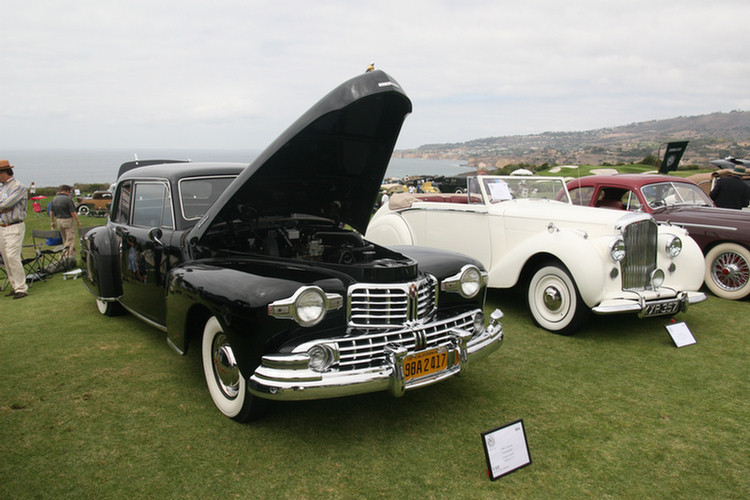 Say "Ah"
A Little European Luxury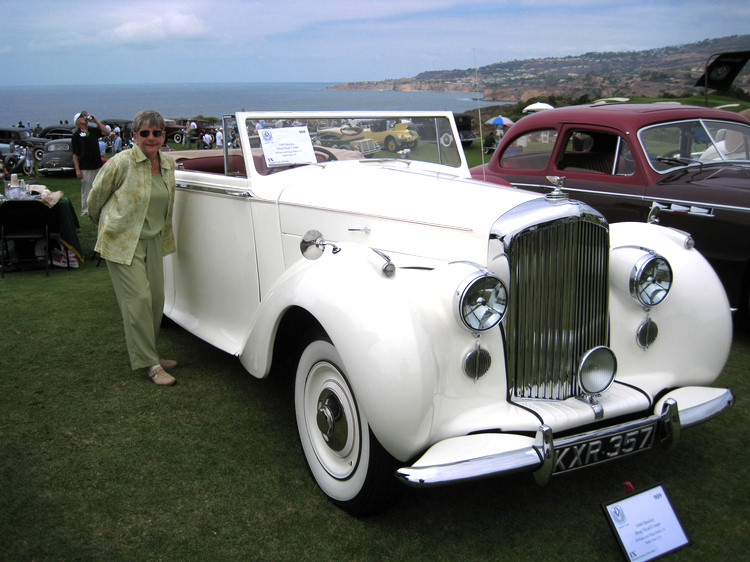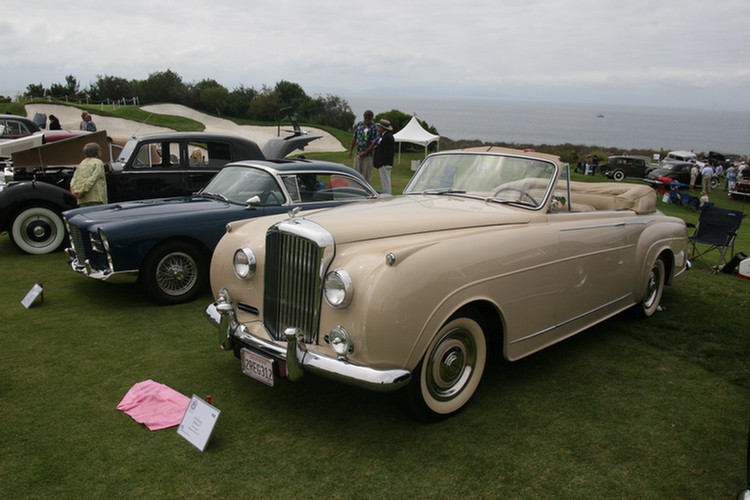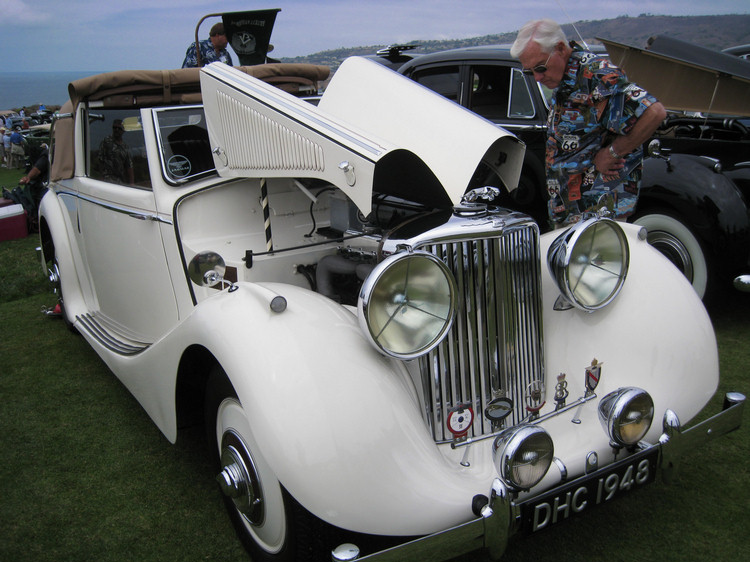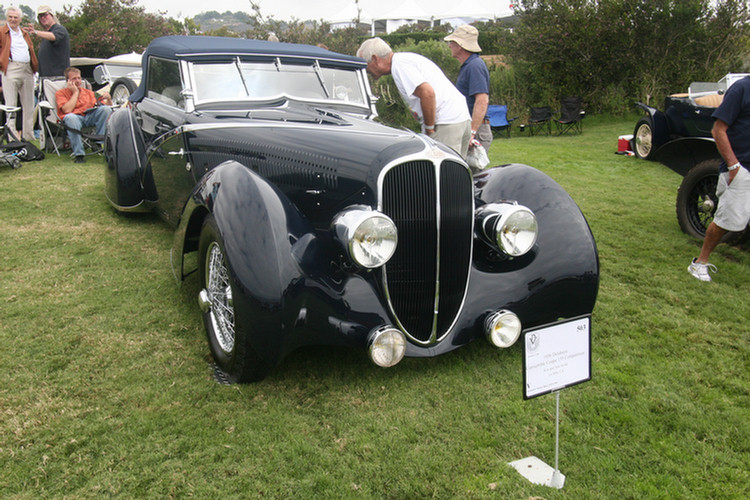 1936 Delahaye
Did you know? - The Delahaye automobile manufacturing company was started by Emile Delahaye in 1894, in Tours, France. His first cars were belt-driven, with single or twin cylinder engines. In 1900, Delahaye left the company.
In 1901, the Société des Automobiles Delahaye constructed a factory in Paris, where they continued to manufacture cars and trucks. In 1908, they began producing four cylinder engines, in sizes of 1.5 and 2.1 litres, as well as a 2.6 litre V6. They also licensed their designs to manufacturers in the United States and Germany. By the end of World War I, their major income was from their truck business.
After World War II, in late 1945, production of the 135 was resumed, and the 4.5 litre model 175 was introduced in 1948. Sales slowed, however, and the last new model, a 3.5 litre Jeep-like vehicle known as VLRD (Véhicule Léger de Reconnaissance Delahaye), was released in 1951. In 1954, Delahaye was taken over by Hotchkiss, who shut down car production and, after producing trucks with the Hotchkiss-Delahaye nameplate for a few more months, dropped the Delahaye name altogether.
In the decades after the war, a number of other French luxury car marques disappeared, like Delahaye, due to the heavy French taxes on luxury vehicles at that time.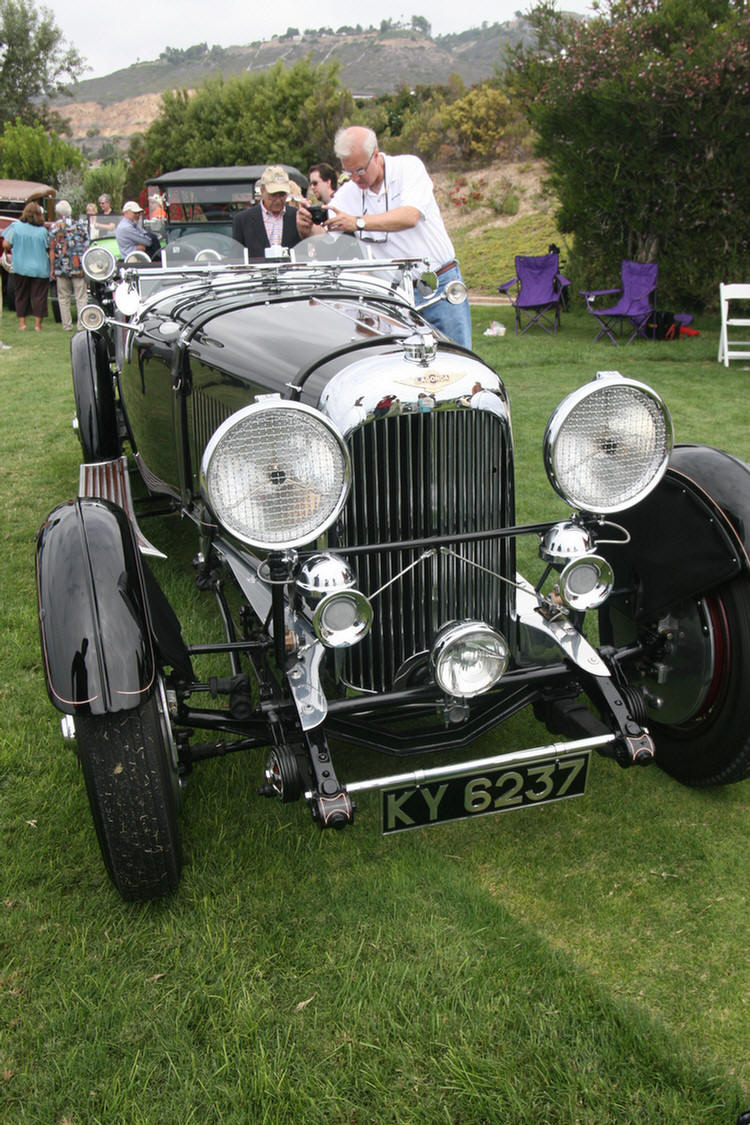 Sleek!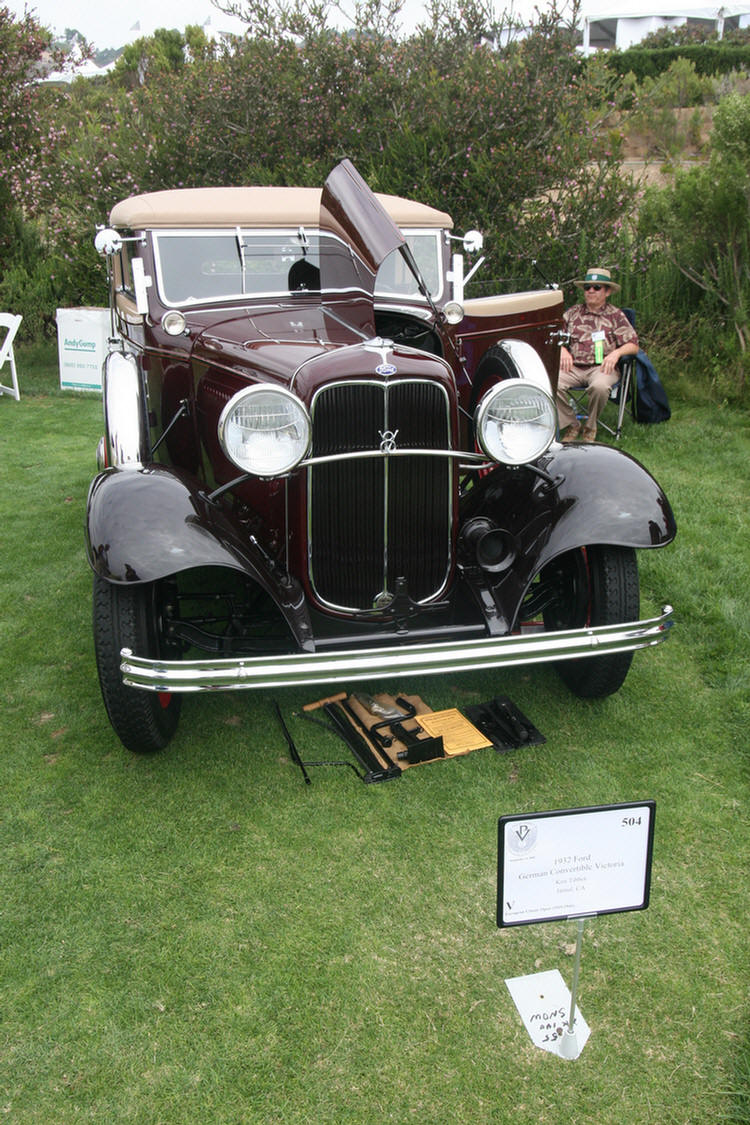 1932 Ford... Nice looking car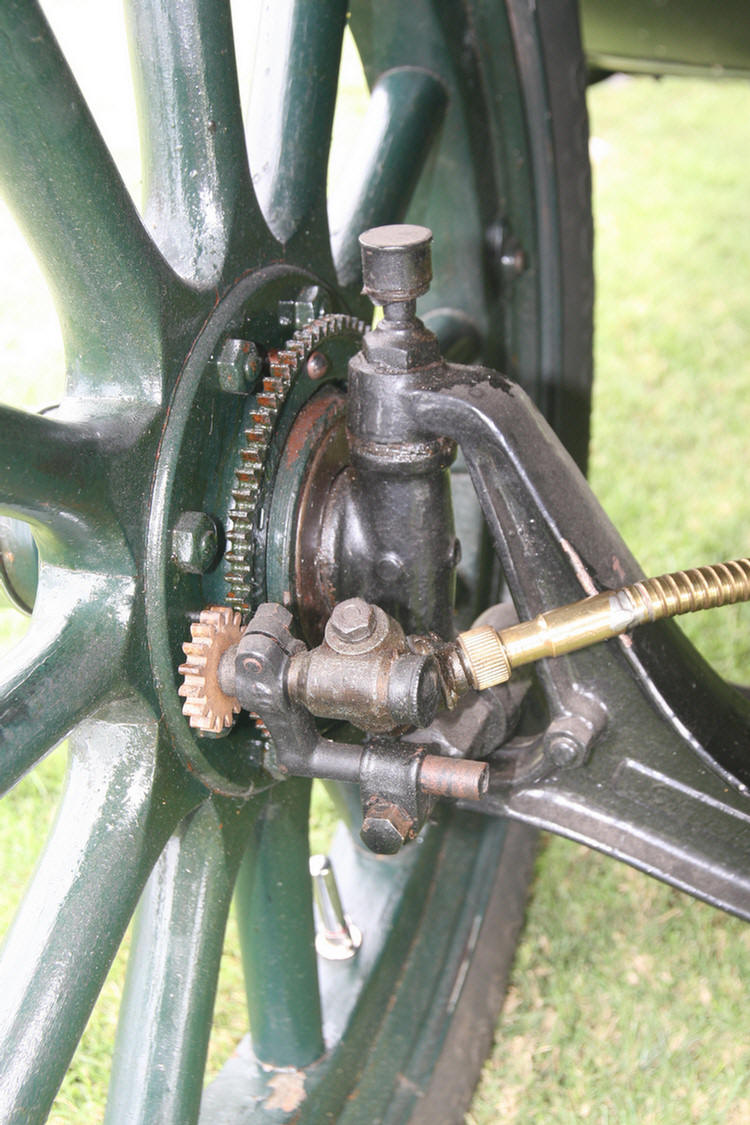 Speedometer cables were fairly simple devices then!

Time to head for the next hole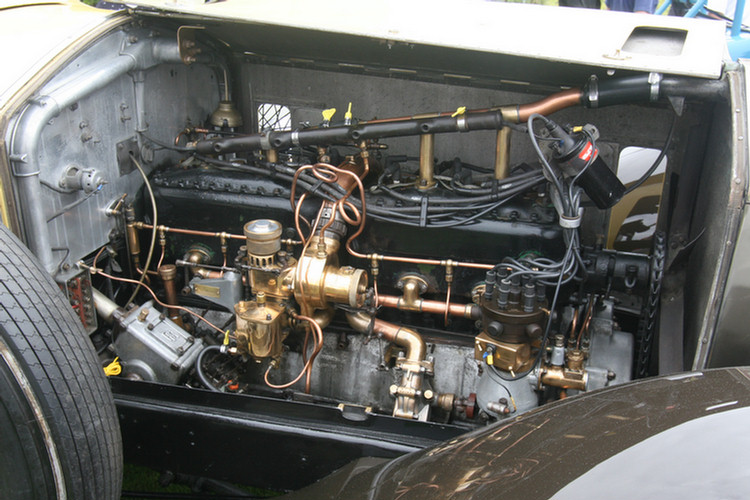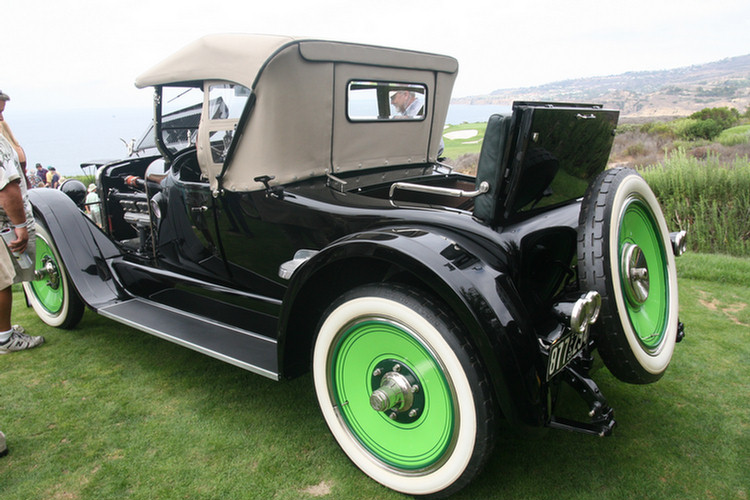 Rumble Seat
Did you know? - A rumble seat, dicky seat, dickie seat or dickey seat is an upholstered exterior seat which hinges or otherwise opens out from the rear deck of a pre-World War II automobile, and seats one or more passengers. In a carriage, a rumble (short for "rumble-tumble") was a seat behind the body used by servants. Roadster, Coupe and Cabriolet auto body styles were offered with either a luggage compartment or a rumble seat in the deck. Models equipped with a rumble seat were often referred to as a sport coupe or sport roadster.
In America, this type of seating became largely obsolete in the mid-1930s when cars became too fast and streamlined for the comfort of passengers in such a seat. Their popularity was further diminished by the frequent injuries, including decapitation that sometimes occurred in accidents. Rumble seat passengers were essentially seated out in the elements, and received little or no protection from the regular passenger compartment top. Folding tops and side curtains for rumble seats were available for some cars (including the Ford Model A) but never achieved much popularity. It is possible that the last American-built car with a rumble seat was the 1939 Ford convertible coupe.
Prior to World War I, a single, center-mounted rumble seat was sometimes referred to as a mother-in-law seat.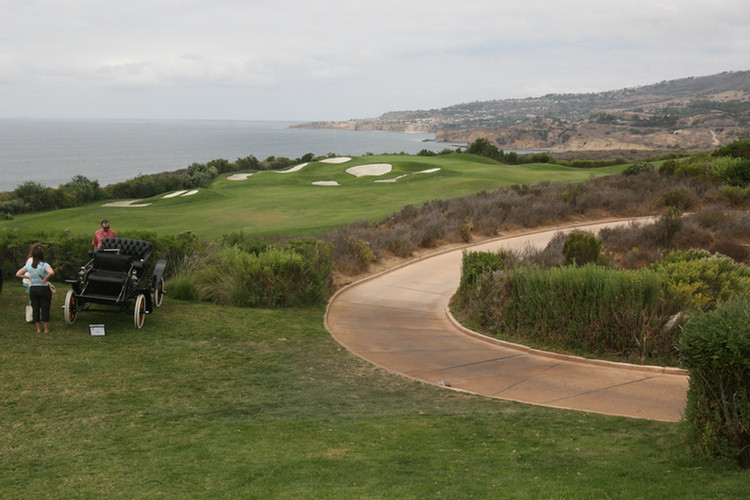 Sears Even Sold Cars