Lot's Of Fun... A Few Pictures
Irene, Sue, and Paul headed for Pasadena this fine day to enjoy the floats and discover a place to dine in Old Town Pasadena....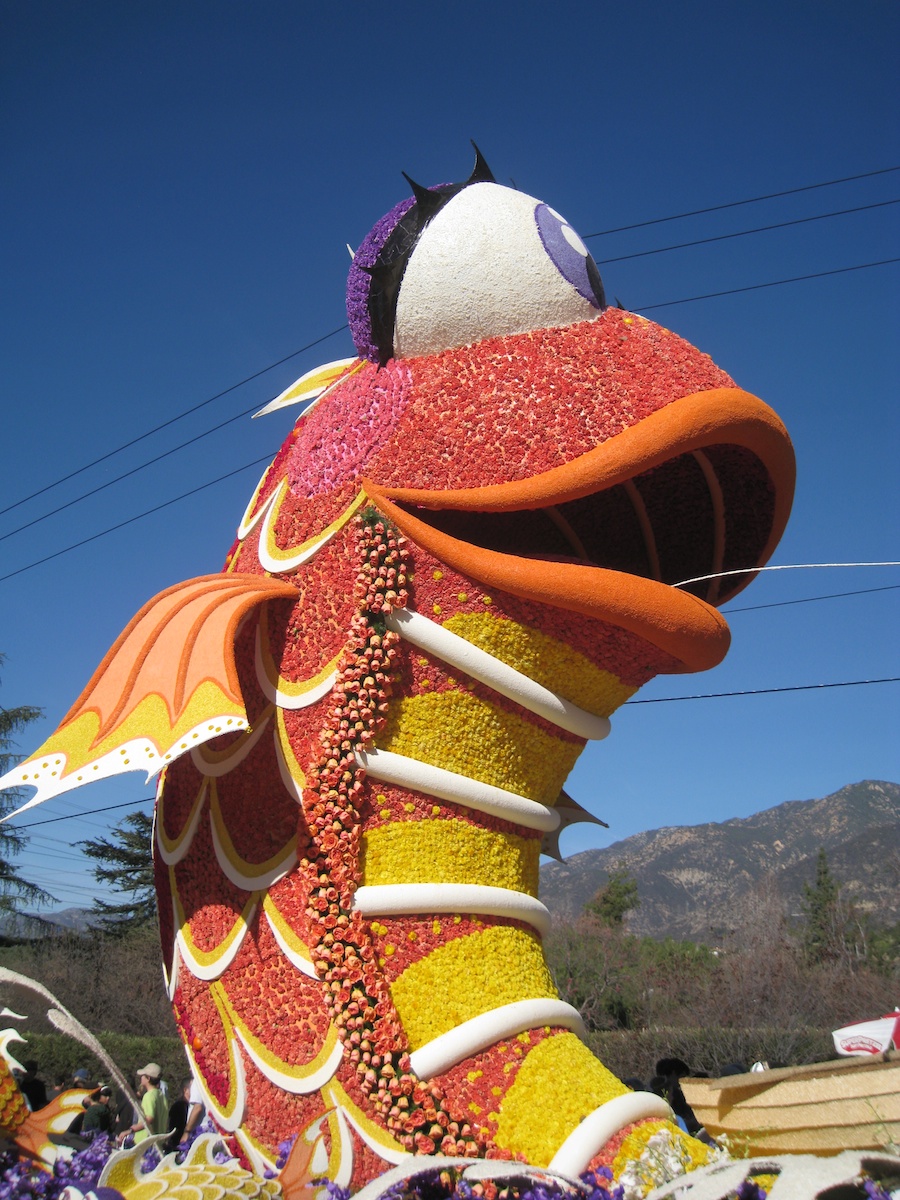 A beautiful animal greeted us at the beginning of our two hours walk

China Airlines always does great

Look out.... The dogs got out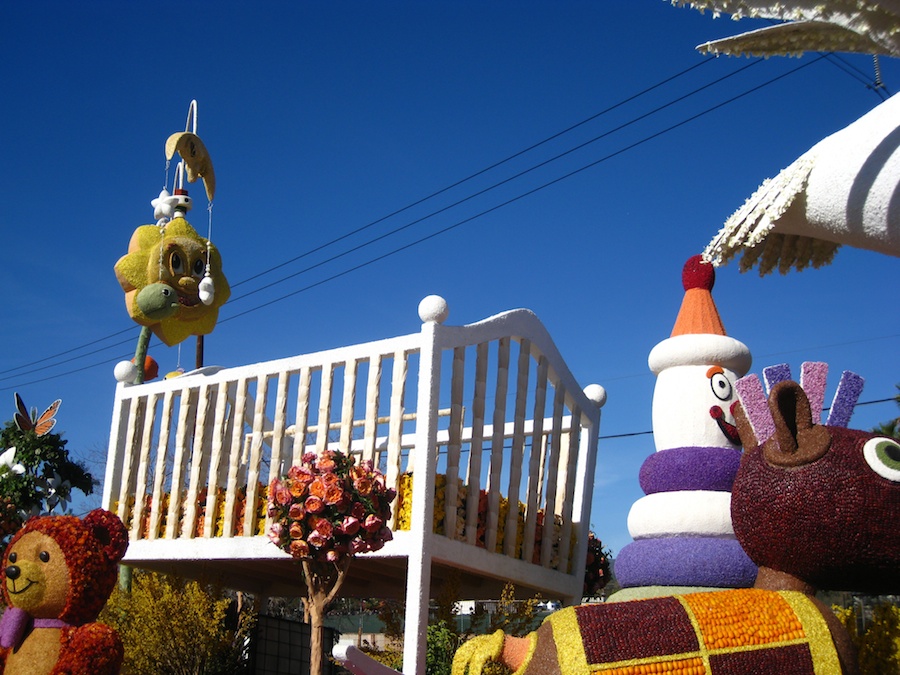 We thought of Zachary and Becca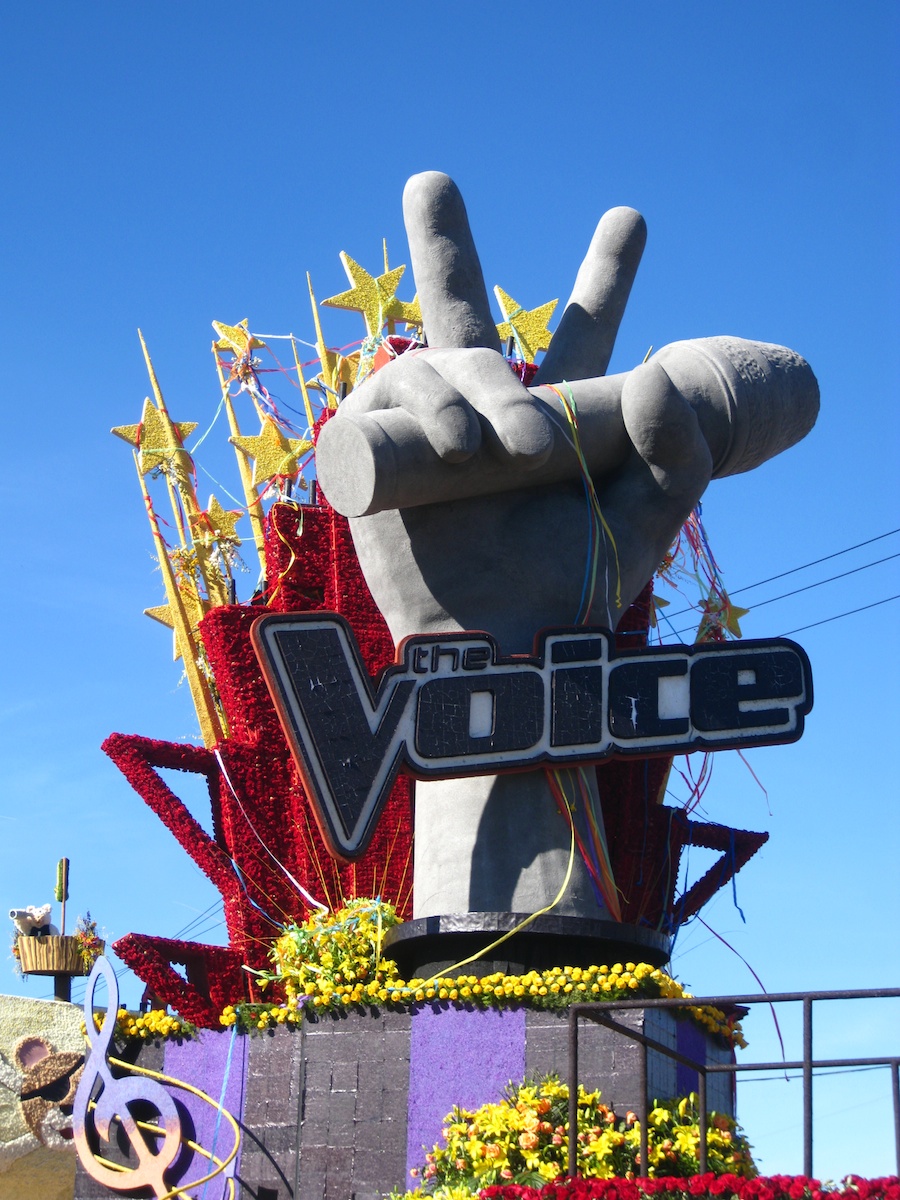 We never heard of it before.... Irene filled us in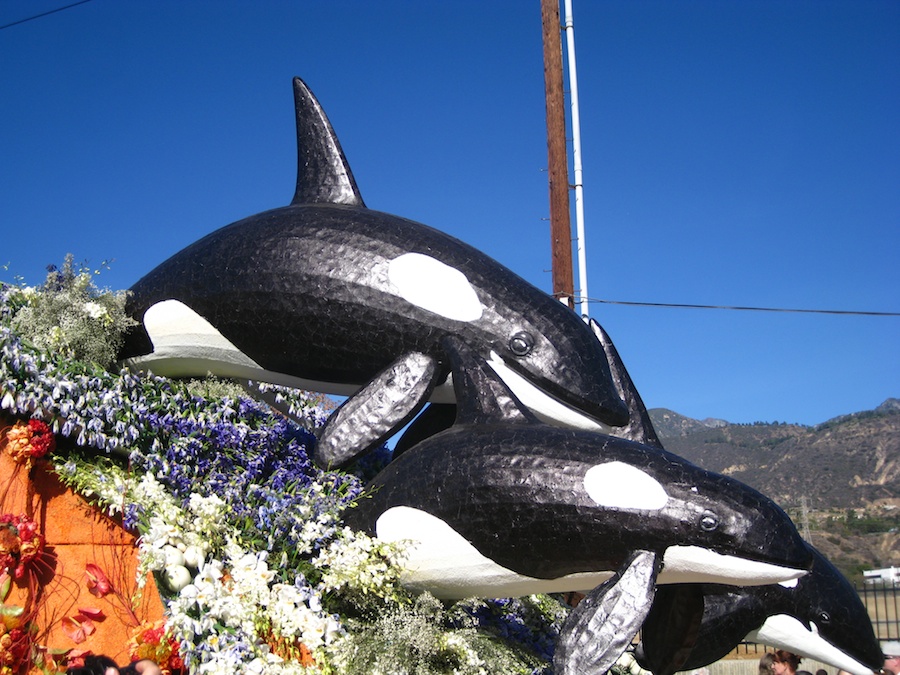 The blacks were beautiful in the sunlight

Looked very tropical

The WASP's
Did You Know? - The Women Airforce Service Pilots (WASP) was a paramilitary aviation organization. The WASP's predecessors, the Women's Flying Training Detachment (WFTD) and the Women's Auxiliary Ferrying Squadron (WAFS) organized separately in September 1942.
They were the pioneering organizations of civilian female pilots, employed to fly military aircraft under the direction of the United States Army Air Forces during World War II.
The WFTD and WAFS were merged on August 5, 1943, to create the paramilitary WASP organization. The female pilots of the WASP ended up numbering 1,074, each freeing a male pilot for combat service and duties.
They flew over 60 million miles in every type of military aircraft. The WASP was granted veteran status in 1977, and given the Congressional Gold Medal in 2009.
Some 25,000 women applied to join the WASP, but only 1,830 were accepted and took the oath. Only 1,074 of them passed the training and joined.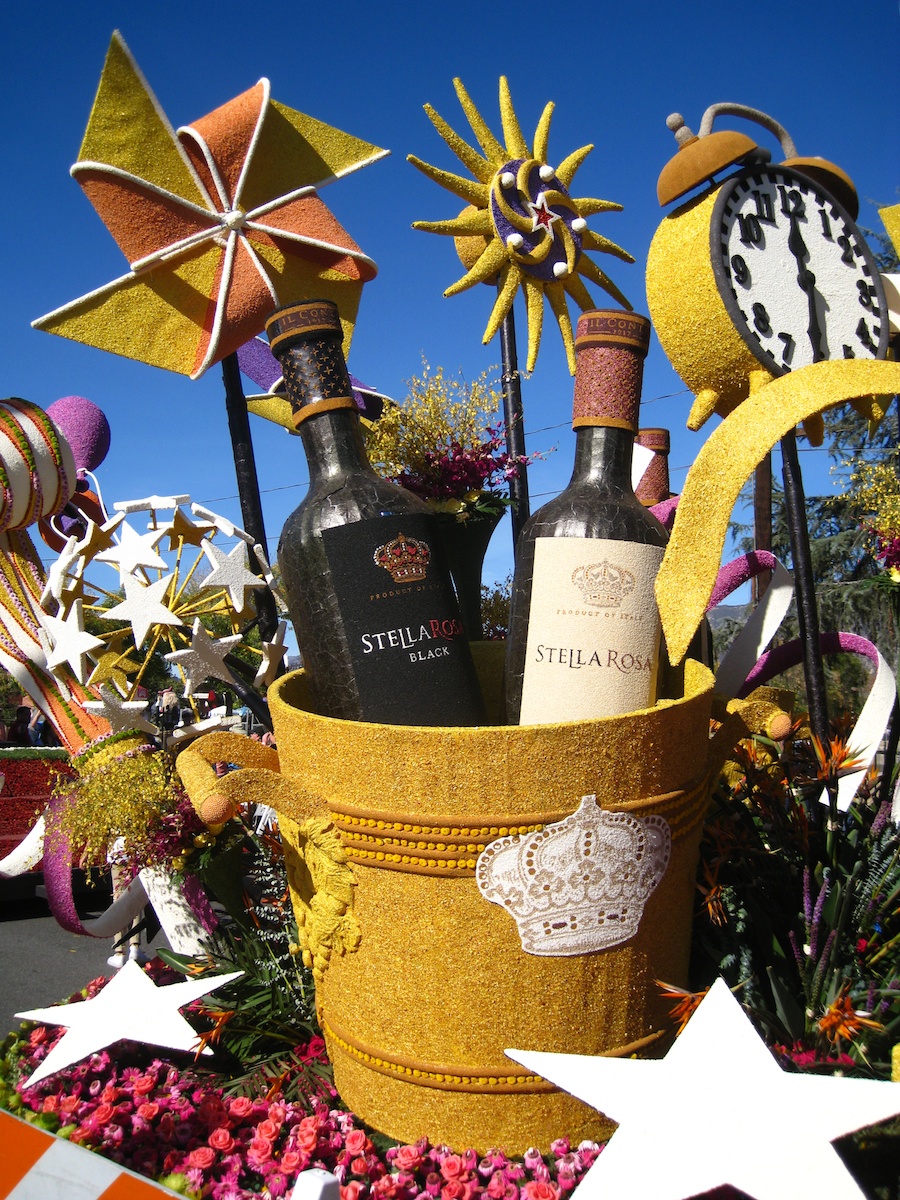 The bouquet of these wines was magnificent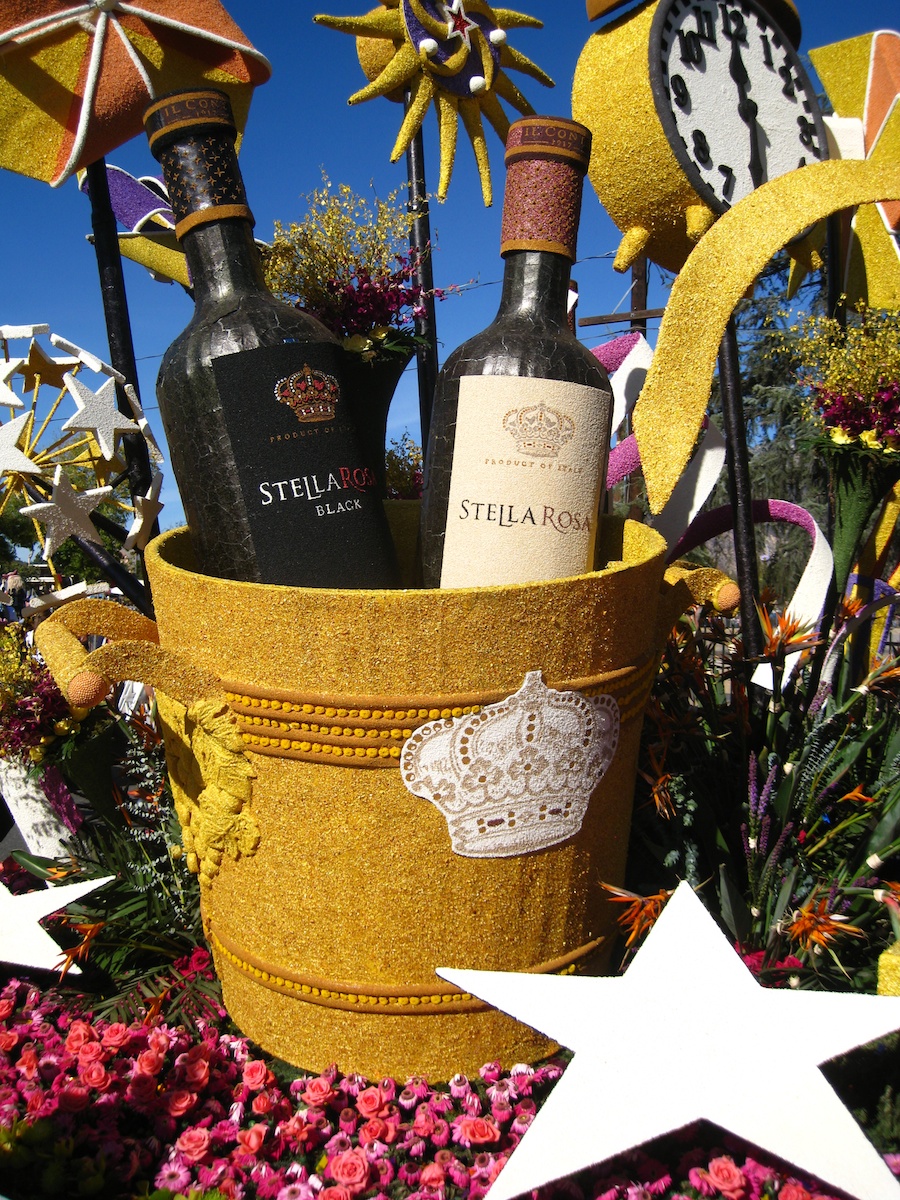 Stop the walk... We need a drink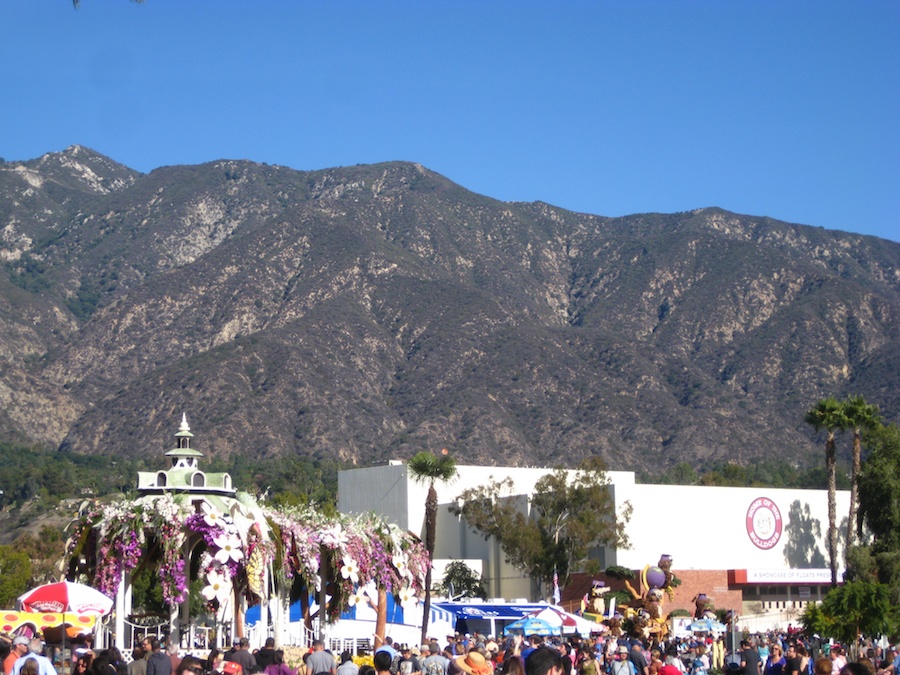 One of our favorites.... From Public Storage
Did You Know? - The Tournament of Roses Parade float entered by self-storage real estate investment trust Public Storage Inc. won the Grand Marshal's Trophy for "excellence in creative concept and design." The parade took place yesterday in Pasadena, Calif.
Called "Adventures in Space," the float appeared to television viewers and parade attendees as a single structure with three aliens traveling aboard a spaceship. However, the top of the spaceship opened 45 feet into the air revealing the aliens were driving three individual vehicles. During the parade, all three alien floats drove down a ramp descending from the front of the primary float and re-boarded the mother ship from a ramp at the rear of the float. It was the first time a float disassembled and reassembled as part of the parade, Public Storage officials said in a press release.
Each piece of the float also represented a letter in an alien alphabet. When assembled on the mother ship's control board, the letters spelled out a secret message that was decoded as "We'll Treat Your Stuff Like It's Our Stuff!," which is a company slogan. That particular animation earned Public Storage one of only two extended airtimes during the two-hour broadcast.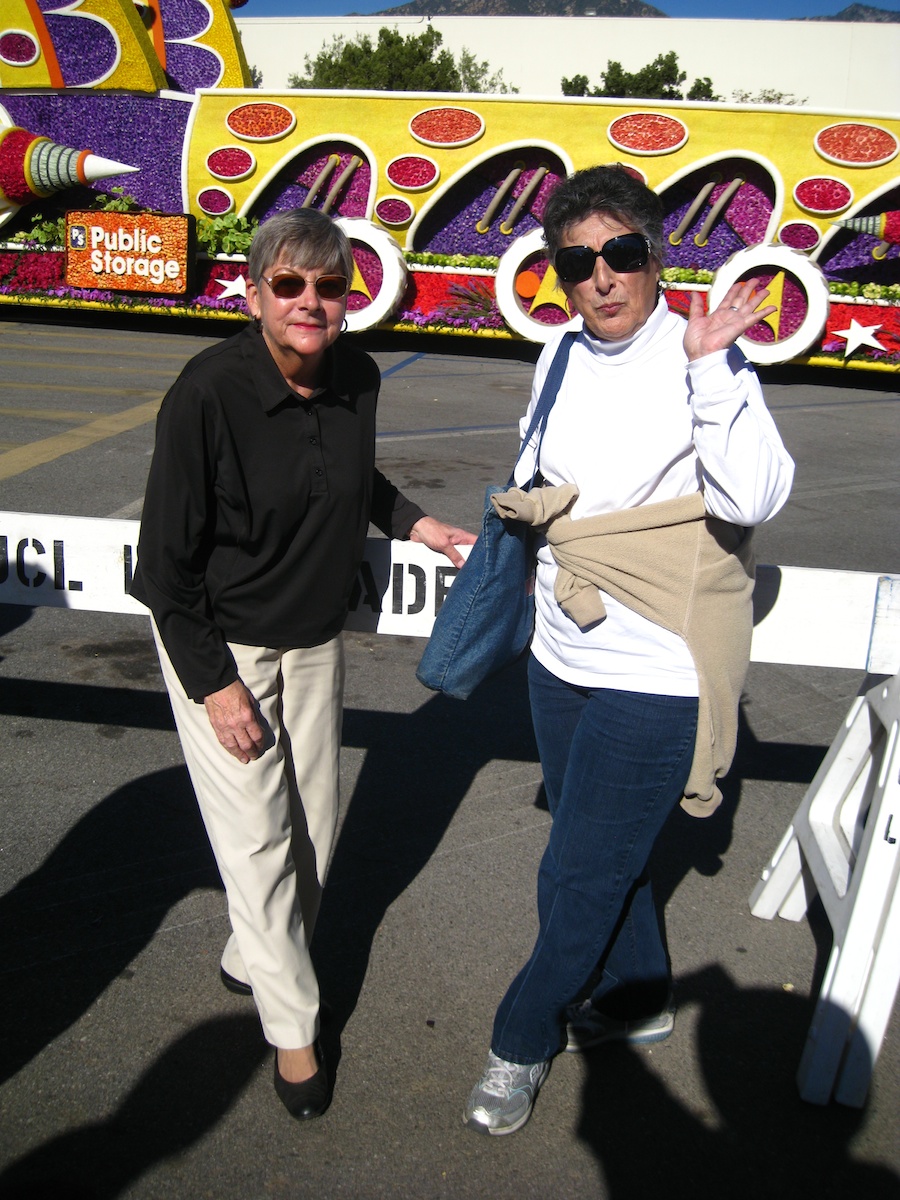 Good afternoon ladies

Checkout those blue skies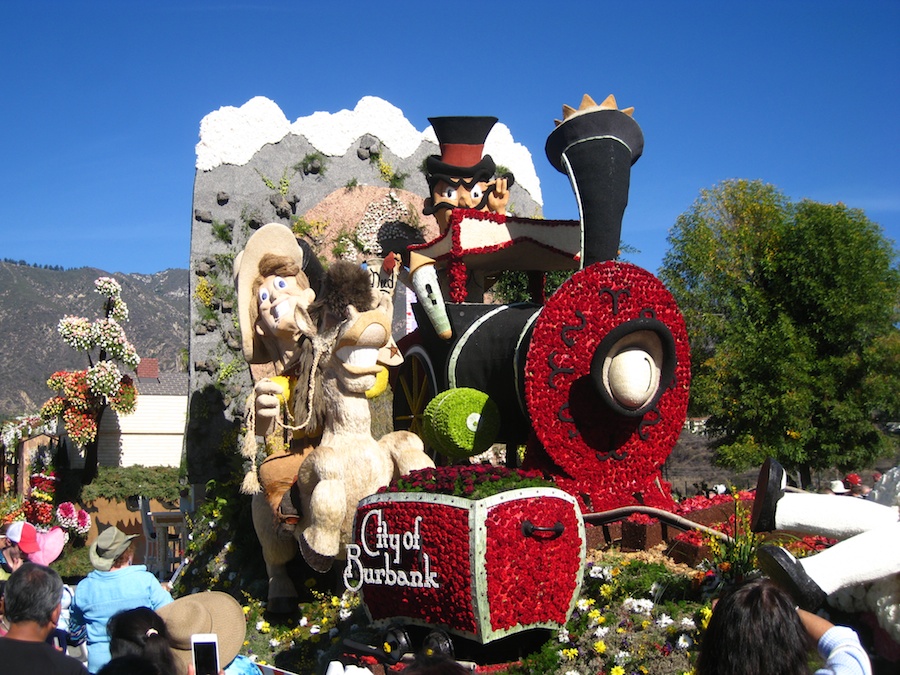 The train whistle could be heard for a block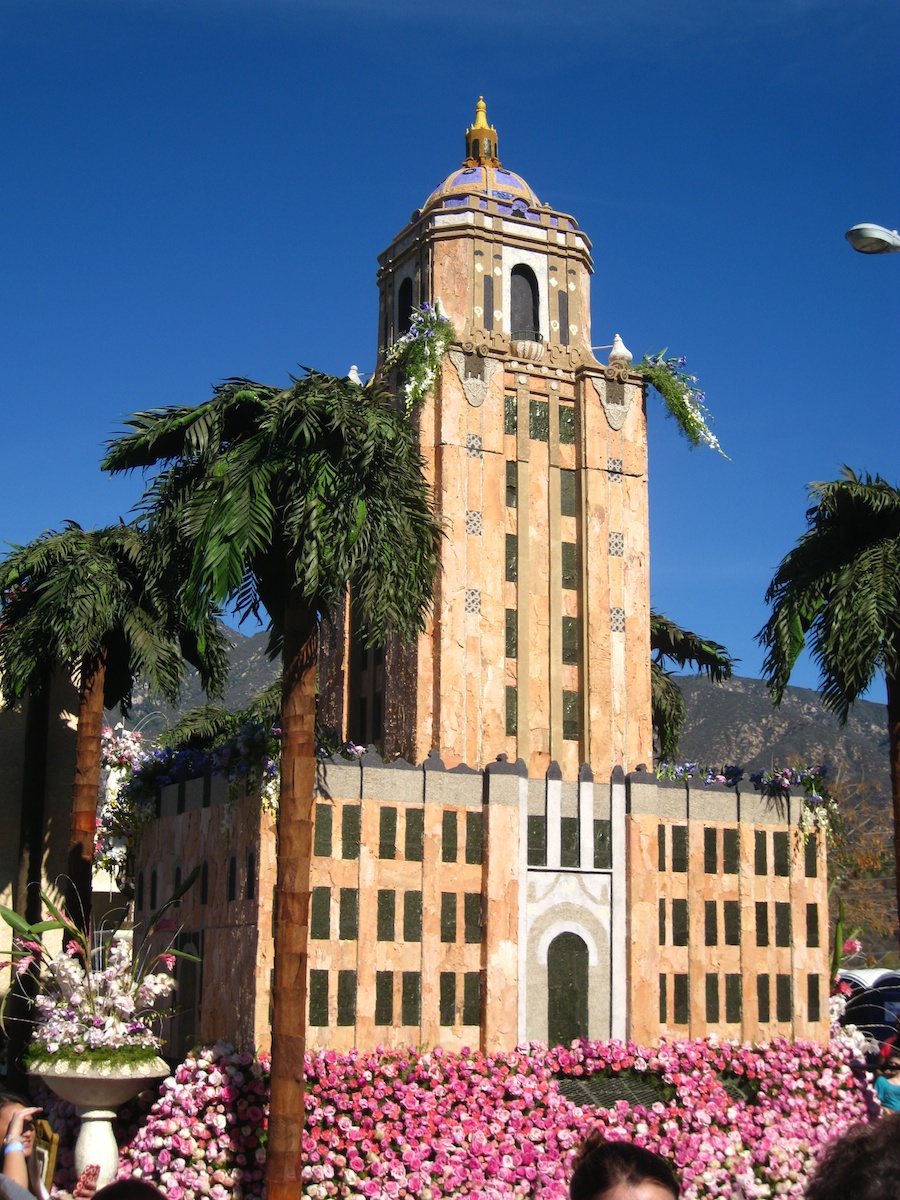 Beverly Hills City Hall

Now this is what we call a gingerbread house

The Spirit Of Saint Louis flies again
Exercise Is Done For The Day... Let's Find Calories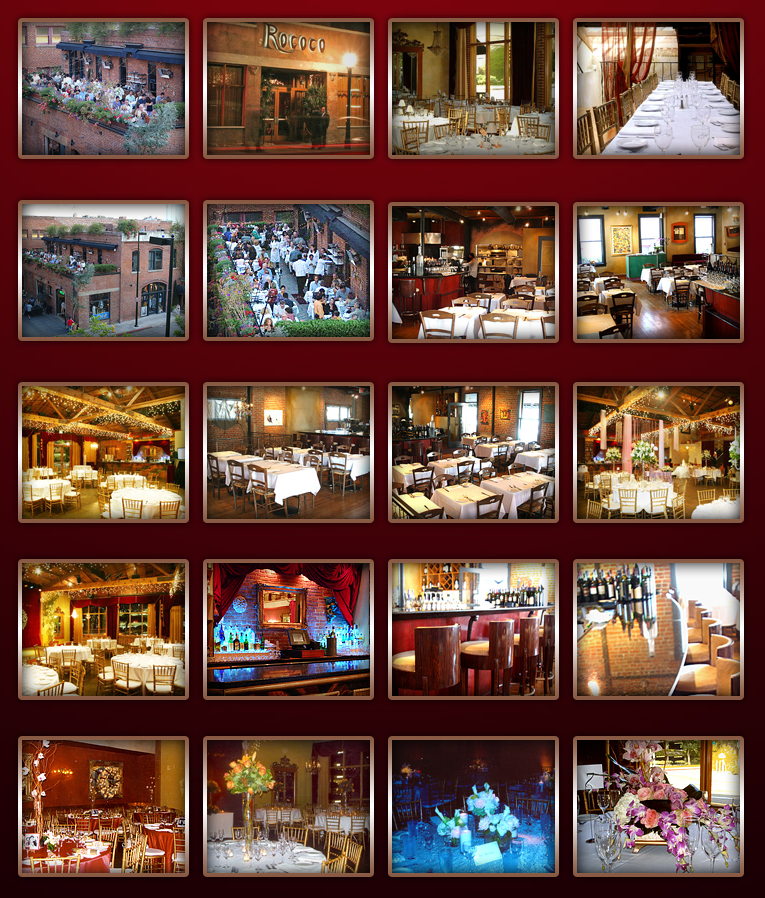 Did You Know? - Old Pasadena is the original commercial center of Pasadena, a city in California, United States that arose from one of the most prosperous areas of the state, and had a latter day revitalization after a period of decay. Old Pasadena is often referred to as Old Town Pasadena or just Old Town.
Old Pasadena began as the center of an enlightened "Athens of the West" that gave rise to Caltech, JPL, as well as Beckman Instruments, Aerojet and numerous other industrial giants. It was the home to Andy Warhol's west coast debut, the Pasadena Museum of Modern Art (one of the earliest and best modern art museums in the country, now the Norton Simon Museum), and before that a center of suffragist and pacifist movements, and other liberal causes.
By the late 1940s, the area was blighted by flop houses, seedy bars and pawn shops. It later became a hippie mecca with head shops, adult bookstores and massage parlors. By the late 1980s, urban renewal was in full swing with the trendy set.
Old Pasadena is now a designated historic district of the Pasadena Charter defined by its boundaries 1) to the North, Holly Street from Fair Oaks Avenue to Arroyo Parkway; 2) on the East, Arroyo Parkway south to Green Street, jogging one half block west to the old Santa Fe RR right-of-way and continuing 3) South to encompass the Old Train Station and Central Park, then north on Fair Oaks to De Lacey Street, then west to Pasadena Blvd.; 4) on the West by Pasadena Blvd. north to Union Street, back to Fair Oaks Boulevard. and north to Holly Street.
The Historic Old Pasadena District was chartered in 1980 as a means of revitalizing the oldest part of Pasadena which had fallen derelict though not abandoned, but was for all intents and purposes economically and commercially dead.
By this charter, a strictly controlled redevelopment was able to be established with federal tax incentives to qualifying investors. Under strict guidelines, buildings were able to be stripped of old paint, revealing some of the finer—as well as some of the roughest—of early brickwork fasciae.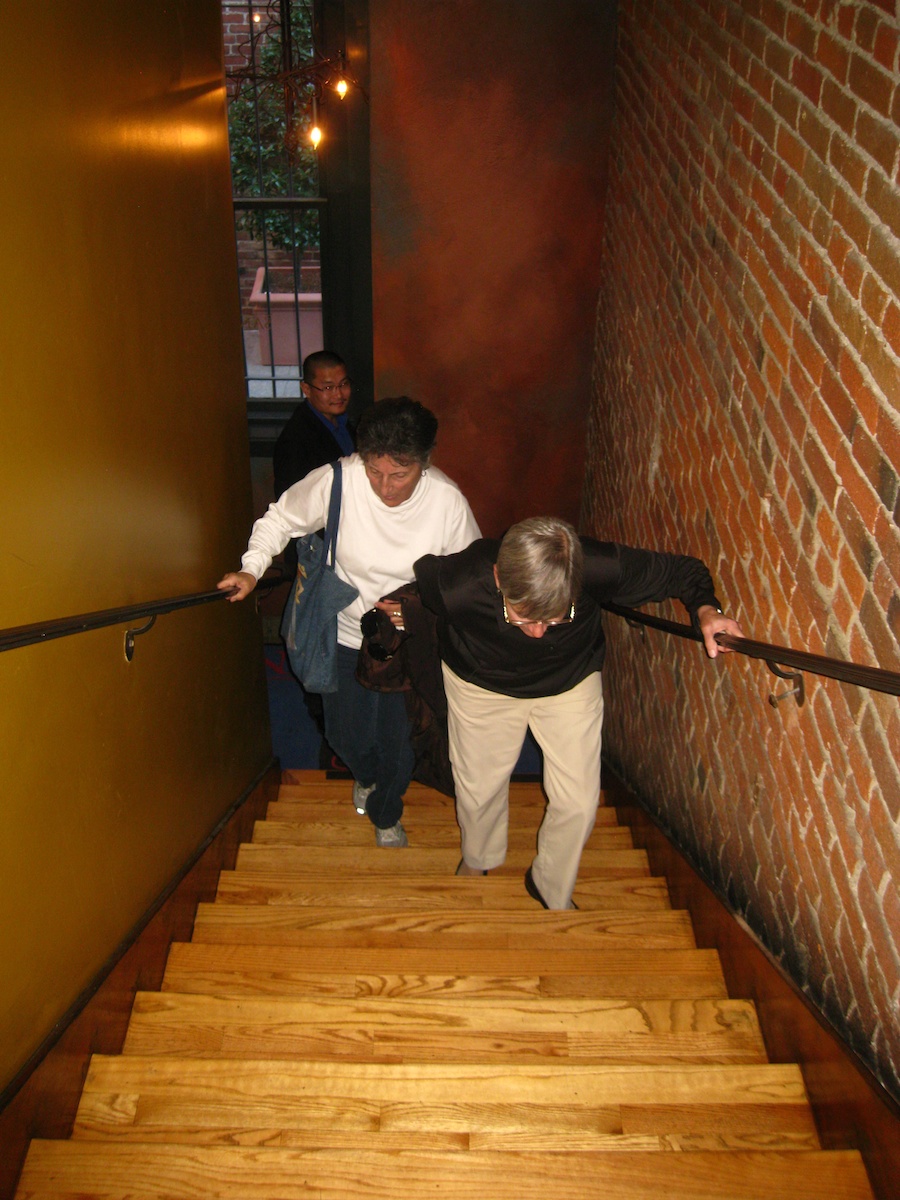 Did You Know? - Café Santorini opened its doors in June 1993 at a historic brick building in Old Town Pasadena. Specializing in Mediterranean food, we offer grilled meats, seafood dishes, an array of pastas and family style appetizer platters. The indoor dining room offers a cozy intimate setting, while the outdoor patio offers year-round dining under the stars in a romantic roof-top setting. They have a full bar with an extensive wine list.

Plenty of stairs but that helps the appetite

Too many excellent choices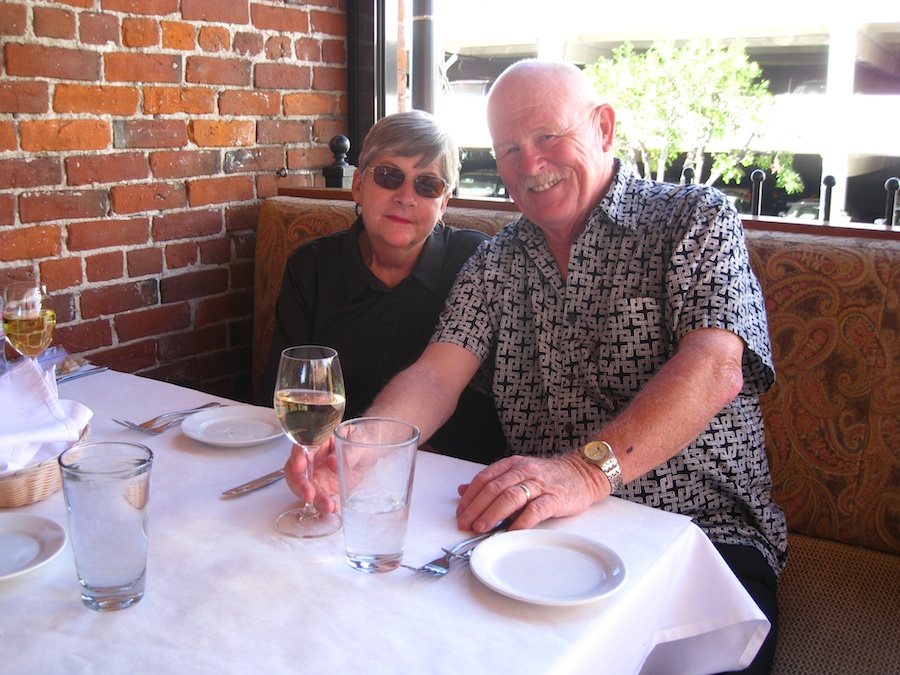 The nice Russian lady took our picture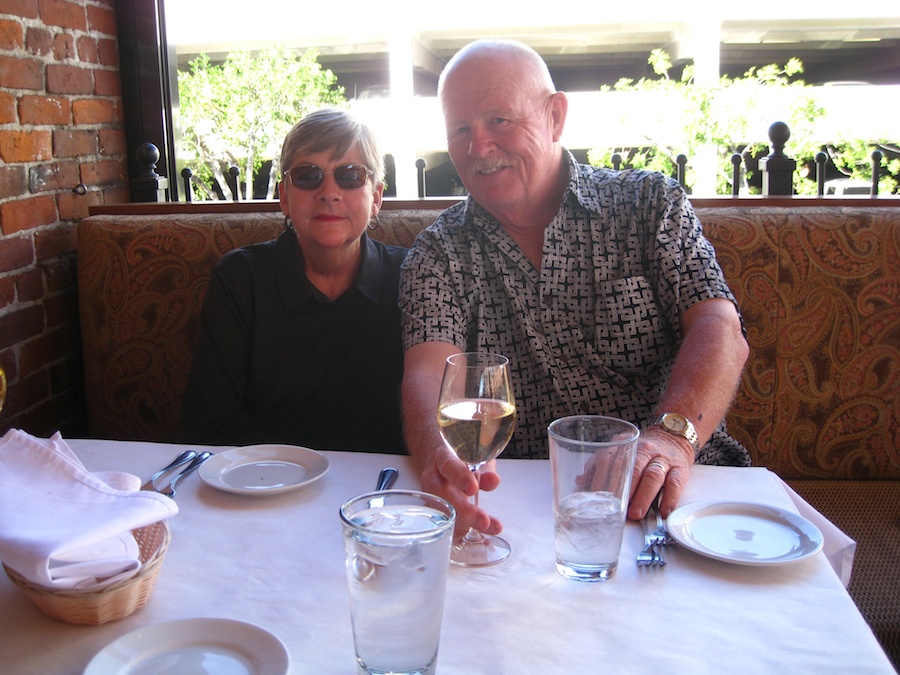 ..and again

...and again.... She knew what she was doing

We had a delicious meal and enjoyed the visiting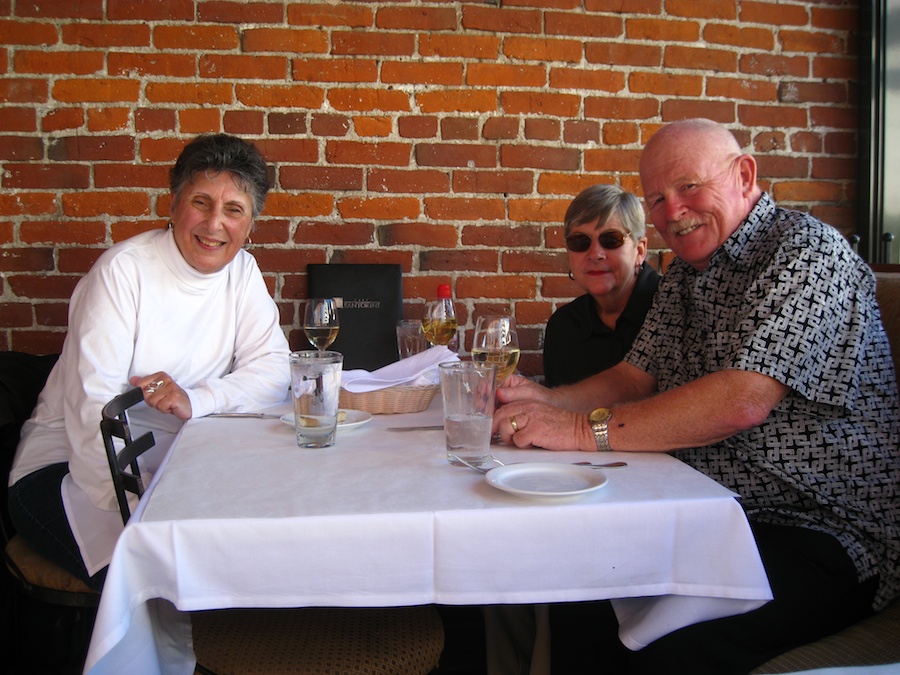 Laughs and giggles.... Hoots and hollers
What Did We Have You Ask?
Paul - Green Curry Risotto With Scallops - Pan seared scallops served over green curry cilantro risotto with leeks and diced red bell peppers.
Sue - Vegetarian Mezze Tasting - Iimam bayildi, stuffed grape leaves, cheese borek, tabouleh, hallumi cheese, pickled turnips, green olives, hummus and pita.
Irene - Santorini Mezze Tasting - Sstuffed grape leaves, kubbe, green olives, feta cheese, tabouleh, cucumbers, pickled turnips hummus and pita.
Paul & Irene also shared "Fries with Eyes"... Friend Pacific Smelt

Our view was of Old Town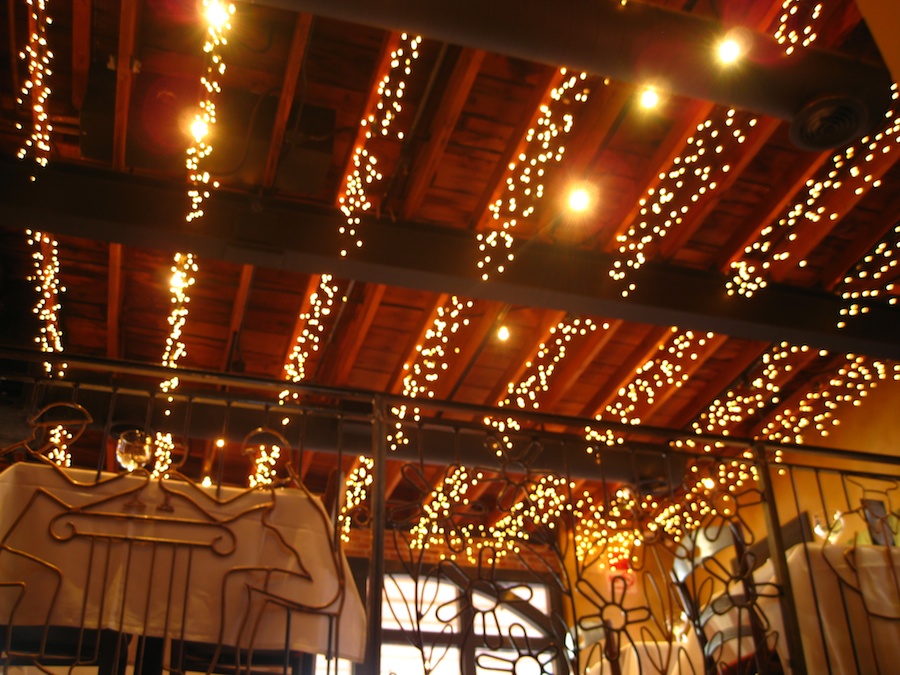 The inside of the restaurant was beautiful

A wonderful place to dine