How Ones Life Changes So Quickly
One day it is a simple "procedure" and the next day it is life threatening.... Message, love you family and friends for tomorrow.
Artwork From The Grandkids.....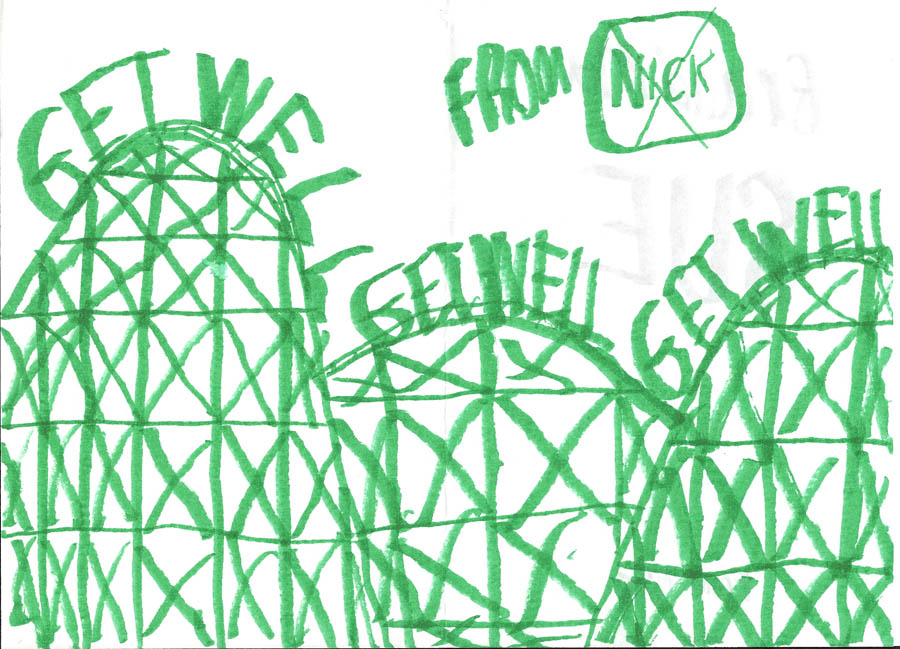 Nick Duda (Robin and Bob) gets the honor of delivering the first card... and it is a bute

Theo Adams presented Grandma this card... and informed her "Grandma, you need to be in bed"
The Team Was Great!!
Dr. Timothy O'Neill MD
Cardiovascular Disease Physician - Los Alamitos, CA - Dr. O'Neill attended medical school at University of New Mexico Health Science Center School of Medicine and graduated in 1987 having 24 years experience. Additional Cardiovascular Disease training was conducted at University of California Irvine Medical Center.
Tim went to the University Of New Mexico Medical School finishing in 1897. Great guy and serious about his patients.
Dr. Richard Michael Rucker MD
Dr. Richard Michael Rucker MD practices critical care medicine, pulmonology and internal medicine in Los Alamitos, California. Specialties: Critical Care Medicine Internal Medicine Pulmonary Disease (Lung & Respiratory) Type of Care: Intensive Care (ICU) Lung & Respiratory Care (Pulmonary) Primary Care
Steven T. Forman, M.D.
Dr. Steven Forman joined Los Alamitos Cardiovascular in 1999, and has been its managing partner since 2005. Dr. Steven Todd Forman MD practices cardiology, interventional cardiology and internal medicine in Los Alamitos, California. Dr. Forman graduated with an MD 20 years ago.
Undergraduate School: Johns Hopkins University, Baltimore, MD, USA, Graduated: 1987
Dr. Philip Faraci, M.D.


Dr. Faraci
Philip Faraci, M.D., joined the Bethencourt Group after holding administrative and academic positions in some of the nations foremost hospitals and surgical programs.
He specializes in off-pump bypass surgery, minimally invasive cardiac valve repair and replacement, and bloodless surgery, which uses special techniques to avoid the need for transfusions. A noted educator, Dr. Faraci is also known for his compassionate patient care.
Specialties: Cardiothoracic / Thoracic Surgery (Heart & Chest) General Surgery
From Our Dear Friend And Neighbor Miss Vicky...