Personal, Yes! If It Helps Someone, No!
Being of relatively sound mind, I go get a yearly physical. Yes, men, do it every year!
My PSA was edging higher over several years so we decided to check into that situation in more detail.
Prostate cancer is more likely to develop in older men and in non-Hispanic Black men. About 6 cases in 10 are diagnosed in men who are 65 or older, and it is rare in men under 40. The average age of men at diagnosis is about 66.
The 5-year survival rate for people with prostate cancer in the United States is 98%. The 10-year survival rate is also 98%.
Of the 90,000 radical prostatectomies performed each year in the United States, an estimated 70,000 are performed robotically.
What Is Prostate Cancer?
The exact cause(s) of prostate cancer have not been fully established at this point. However, known risk factors for development of prostate cancer include: family history of prostate cancer, smoking, "western" diet (diet high in fat, red meats) and obesity. In addition, certain ethnicities are at increased risk such as African-American men and men of African ancestry.
So, What Is The Purpose Of A Prostate Gland?
The prostate gland is located just below the bladder in men and surrounds the top portion of the tube that drains urine from the bladder (urethra). The prostate's primary function is to produce the fluid that nourishes and transports sperm (seminal fluid).
What Is The PSA?
The PSA test is the leading method of screening for prostate cancer. PSA screening can help catch the disease at an early stage when treatment may be more effective and potentially have fewer side effects. The PSA test may be done along with a digital rectal exam (DRE), in which a physician inserts a gloved finger into the rectum to examine the prostate for irregularities.
What Does PSA Mean?
PSA, or prostate-specific antigen, is a protein produced by the prostate and found mostly in semen, with very small amounts released into the bloodstream.
When there's a problem with the prostate—such as the development and growth of prostate cancer—more PSA is released. Sometimes, a man's prostate releases slightly high PSA for other reasons. Rising PSA eventually reaches a level where it can be easily detected by a blood test.
Leave It To Me, I Scored "High" On The Test
So, without going into details my PSA was in the 6's; too high to disregard. It should have been 4 ng/ML (Nanograms per milliliter) or below!
Next step was a biopsy which was relatively painless. You get poked twelve times and they remove minuscule amouts of prostate tissue which is biopsied!
Indeed, I had the "Big C". There are a series of "scroes" and it appears to be mumbo-jumbo to the untrained eye and ear. The final analysis said, "You have to do something, waiting is NOT an option!"
Decisions Time
Go for radiation or prostate removal? My wonderful wife assisted my in making the decisions and being a doctor, MD, she could do a non-emotional assessment.
We went to a radiation oncologist which was quite enlightening. She ordered a special test that took three weeks and it indicate my rick level was "high" for the cancer to get worse quickly.
Radiation was a long term hope of a fix. Hormone therapy followed by months of radiation treatments (because of the nature of MY cancer) and then there was a good prognosis of cure. The months of treatment and side effects didn't seem like that what I wanted.
Removing the entire prostate gland through surgery, known as a radical prostatectomy, is a common option for men whose cancer has not spread. Detailed MRI done at UCI, using a Three Tesla MRI Machine, revealed the cancer was contained inside the prostate and did not spread.
In the last 10 years, laparoscopic (robotically assisted) radical prostatectomy has become very popular. This method requires small incisions to be made in the abdomen. A surgical robot's arms are then inserted into the incisions. With a robotic interface, the surgeon controls the robot's arms, which in turn control cameras and surgical instruments. Some studies suggest a shorter recovery period with robotic compared with open prostatectomy. (Videos follow)
We chose to be radical; out with the old!
Me And My Robot Are Going To Be Good Friends!
I selected a surgeon based upon Dr., Mary's recommendation and the fact my urologist had not performed many procedures relatively speaking.
We went to Detroit to have it done by Doctor Ryan who lost count after 4,000 robotic surgeries.

Dr Ryan was Mary's college roomates son!
Ryan J. Nelson, D.O. is a partner of the Michigan Institute of Urology, P.C. He specializes in minimally invasive robotic and laparoscopic surgery, including single incision, robotic reconstructive surgery, and Urologic Oncology (Cancer). Dr. Nelson is Board Certified by the American Osteopathic Board of Surgery.
Dr. Nelson received a Bachelor of Science degree from Andrews University in Berrien Springs, Michigan. He received his Doctor of Osteopathic Medicine degree from Touro School of Osteopathic Medicine in Vallejo, California. Dr. Nelson completed his surgical residency at Michigan State – St. John Macomb/Oakland Hospital and his urologic residency at Michigan State – McLaren Macomb Hospital in 2015.
He also completed a two-year Urologic Robotic and Minimally Invasive Fellowship at the Cleveland Clinic, which allowed a foundation, second to none, for his advancement in robotic surgery.
Dr. Nelson's Hospital affiliations include William Beaumont Hospital (Royal Oak and Troy campuses), St. John Macomb/Oakland Hospital, and Henry Ford Macomb Hospital.
Dr. Nelson serves as a member of the Endourological Society, Society of Robotic Surgery, EAU Robotic Urology Section (ERUS), and the American Urological Association (AUA). He is a lead member of the urological cancer tumor board at Beaumont Hospital-Troy campus.
The Plan
If all goes well, we will fly to Detroit on Saturday, acclimate on Sunday, go to the hospital on Monday, get the procedures done, and return to the hotel Monday afternoon late. We will stay there for two days to make sure all is going well. Then we will fly back home on Thursday in time to go to Girls Night Out.
My wonderful wife will be with me all the way! We told the airline that I was flying with my doctor; very true!
So, What Do They Do (The last Two Videos Are Not For The Squeamish!)
This video is a 3D animation of the procedure so it is easy to look at!
In this video you will meet my new best friend, DaVinci the robot using several arms (I will be using the single-arm machine newly developed).
The specific robot I will be using is a single arm, the latest in DaVinci technology. The da Vinci SP® system provides surgeons with robotic-assisted technology designed for precise access to body tissue. The ability to use one small incision or enter through a natural opening in the body creates a minimally invasive option for complex procedures. This single, one-inch incision may cause you less pain and scarring, and shorten your recovery time. The SP was approved by the Food and Drug Administration (FDA) for use in 2014. It approved the device for urologic procedures in June 2018.

These videos gets a little more in depth (and they use the older Davinci X Series machines).
Robotic Prostatectomy Surgery - Quick overview of the surgery using the older X-Series DaVinci Machiones.
Robotic prostatectomy Full Case Step by Step with Expert Surgeon - This video is an hour and it is recommended you have a strong stomach. It is performed with an older DaVinci machine, the X-Series but the ideas is the same! If you have fixed raw chicken, it comes close.
Robotic Prostatectomy Surgery - Quick overview of the surgery using the new DaVinci SP-Series unit. Radical Prostatectomy – Da Vinci SP by Dr. Vipul Patel
After The Procedure?
In prostatectomy—the surgical removal of the prostate—the bladder is pulled downward and connected to the urethra at the point where the prostate once sat. If the sphincter at the base of the bladder is damaged during this process, some degree of urinary incontinence or leakage may occur.
Nearly all men will have some form of leakage immediately after the surgery, but this will improve over time and with strengthening exercises. Most men regain urinary control within a year; approximately 1 in 10 men will have mild leakage requiring the use of 1 or more pads per day.
My brother, Bob Zaitz, will have a ball with this one, I am sure!! I can see packages of Depends being brought to the dances, likely giftwrapped!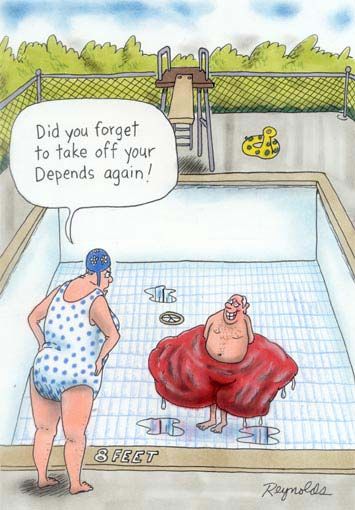 Paul is mentally preparing himself for the worst!
Pelvic floor muscle training with a physical therapist can help. In the case where side effects are severe, an artificial urinary sphincter can be considered.
BTW, the doctor recommends I lay on the couch and that I get chocolate bon-bons every hour on the hour.
More To Come!