European Newspapers Are Interesting

Ouch!
Did you know? - The etymology of the word is based on Roman law. The Latin word "testis", witness, was used in the firmly established legal principle "Testis unus, testis nullus" (one witness [equals] no witness), meaning that testimony by any one person in court was to be disregarded unless corroborated by the testimony of at least another. This led to the common practice of producing two witnesses, bribed to testify the same way in cases of lawsuits with ulterior motives. Since such "witnesses" always came in pairs, the meaning was accordingly extended, often in the diminutive (testiculus, testiculi).

Double ouch!

Oh oh!
Did you know? - Flatulence is the expulsion through the rectum of a mixture of gases that are byproducts of the digestion process of mammals and other animals. The mixture of gases is known as flatus, (informally) fart, or simply gas, and is expelled from the rectum in a process colloquially referred to as "passing gas" or "farting". Flatus is brought to the rectum by the same peristaltic process which causes feces to descend from the large intestine. The noises commonly associated with flatulence are caused by the vibration of the anal sphincter, and occasionally by the closed buttocks.
Nitrogen, the main constituent of air, is the primary gas released during flatulence, along with carbon dioxide, which is present in higher quantities in those who drink carbonated beverages regularly. The lesser component gases methane and hydrogen are flammable, and so flatus containing adequate amounts of these can be ignited. However, not all humans produce flatus that contains methane. For example, in one study of the feces of nine adults, only five of the samples contained archaea capable of producing methane. Similar results are found in samples of gas obtained from within the rectum.
The gas released during a flatus event frequently has an unpleasant odor which mainly results from low molecular weight fatty acids, such as butyric acid, (rancid butter smell) and reduced sulphur compounds, such as hydrogen sulphide (rotten egg smell) and carbonyl sulphide. All of these components are the result of protein breakdown. The incidence of odoriferous compounds in flatulence emissions increases from herbivores, such as cattle, through omnivores to carnivorous species, such as cats. Such odor can also be caused by the presence of large numbers of microflora bacteria and/or the presence of faeces in the rectum.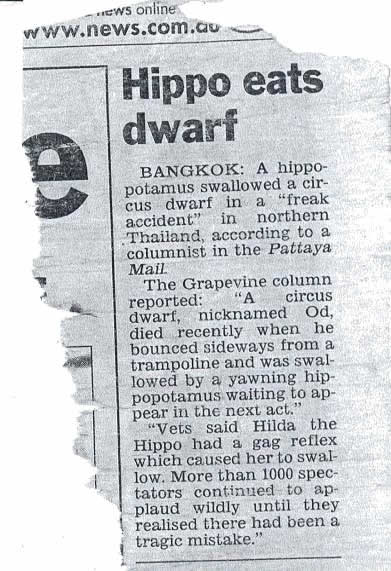 Oh dear
Did you know? - The hippopotamus (Hippopotamus amphibius) or hippo (Greek: ἱπποπόταμος, hippopotamos, from ἵππος, hippos, "horse", and ποταμός, potamos, "river") is a large, mostly plant-eating mammal in sub-Saharan Africa, and one of only two extant species in the family Hippopotamidae (the other is the Pygmy Hippopotamus). The hippopotamus is the heaviest extant artiodactyl, despite being considerably shorter than the giraffe.
This compound word is the wrong way round for Greek and correctly would mean "horse-river". The more common Ancient Greek term was ἱππος ποταμου "horse of river".
The hippopotamus is semi-aquatic, inhabiting rivers and lakes where territorial bulls preside over a stretch of river and groups of 5 to 30 females and young. During the day they remain cool by staying in the water or mud; reproduction and childbirth both occur in water. They emerge at dusk to graze on grass. While hippopotamuses rest near each other in the water, grazing is a solitary activity and hippos are not territorial on land.
Despite their physical resemblance to pigs and other terrestrial even-toed ungulates, their closest living relatives are cetaceans (whales, porpoises, etc.) from which they diverged about 55 million years ago.[3] The common ancestor of whales and hippos split from other even-toed ungulates around 60 million years ago. The earliest known hippopotamus fossils, belonging to the genus Kenyapotamus in Africa, date to around 16 million years ago.
The hippopotamus is recognizable by its barrel-shaped torso, enormous mouth and teeth, nearly-hairless body, stubby legs and tremendous size. It is the third-largest land mammal by weight (between 1½ and 3½ tons), behind the white rhinoceros (1½ to 4 tons) and elephants (3 to 7 tons). Despite its stocky shape and short legs, it can easily outrun a human. Hippos have been clocked at 18 mph (29 km/h) over short distances. The hippopotamus is one of the most aggressive creatures in the world and is often regarded as the most ferocious animal in Africa. There are an estimated 125,000 to 150,000 hippos throughout Sub-Saharan Africa; Zambia (40,000) and Tanzania (20,000–30,000) possess the largest populations.[1] They are still threatened by habitat loss and poaching for their meat and ivory canine teeth.

A Real Story! Kinky shopper KOed by vibrating knickers By Lester Haines Published Wednesday 18th May 2005 12:04 GMT