Old Ranch Flowers & Plants
Old Ranch is beautifully maintained by a fantastic grounds keeping staff. Please enjoy some snapshots of the spring flowers. Richard Swinhart is our Course Superintendent and he does an outstanding job making the course beautiful year around!
Strelitzia, Crane Flower or Bird of Paradise

Found all around Old Ranch
Did you know? - Strelitzia reginae is a monocotyledonous flowering plant indigenous to South Africa. Common names include Strelitzia, Crane Flower or Bird of Paradise, though these names are also collectively applied to other species in the genus Strelitzia. Its scientific name commemorates Charlotte of Mecklenburg-Strelitz, queen consort of King George III.

The plant grows to 2 m (6½ ft) tall, with large, strong leaves 25-70 cm (10-28 in) long and 10-30 cm (4-12 in) broad, produced on petioles up to 1 m (about 40 in) long. The leaves are evergreen and arranged in two ranks, making a fan-shaped crown. The flowers stand above the foliage at the tips of long stalks. The hard, beak-like sheath from which the flower emerges is termed the spathe. This is placed perpendicular to the stem, which gives it the appearance of a bird's head and beak; it makes a durable perch for holding the sunbirds which pollinate the flowers. The flowers, which emerge one at a time from the spathe, consist of three brilliant orange sepals and three purplish-blue petals. Two of the blue petals are joined together to form an arrow-like nectary. When the sunbirds sit to drink the nectar, the petals open to cover their feet in pollen.
Lilium (Lillies)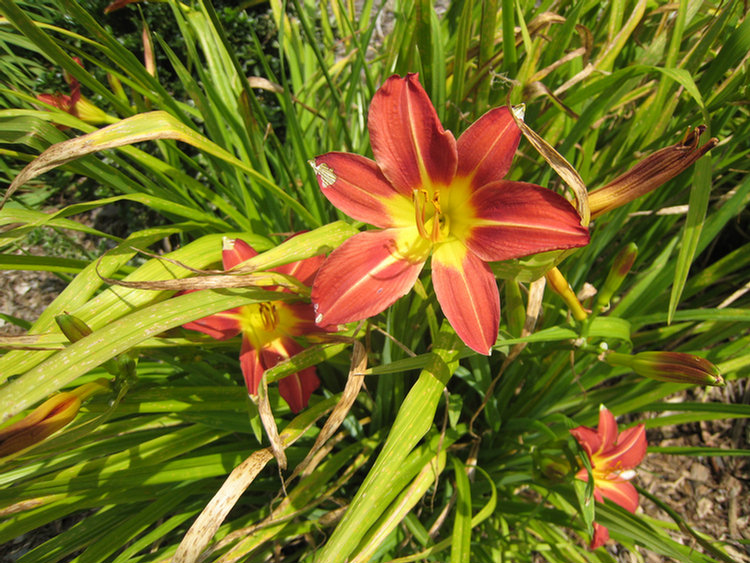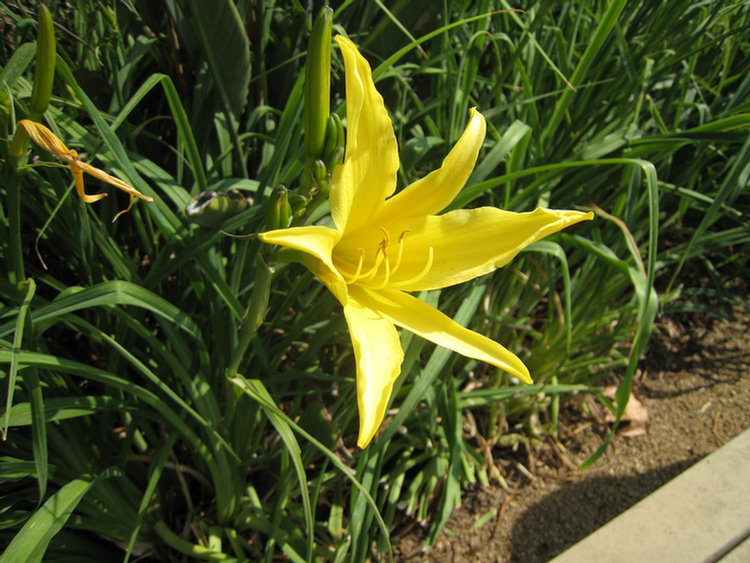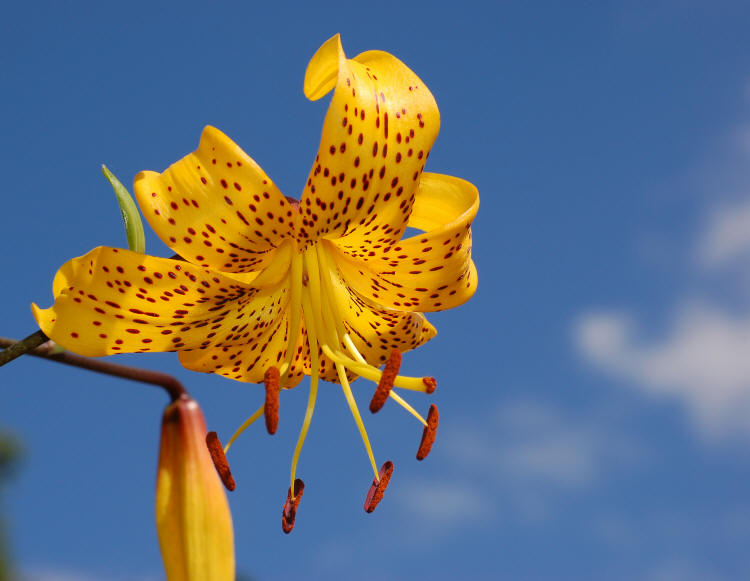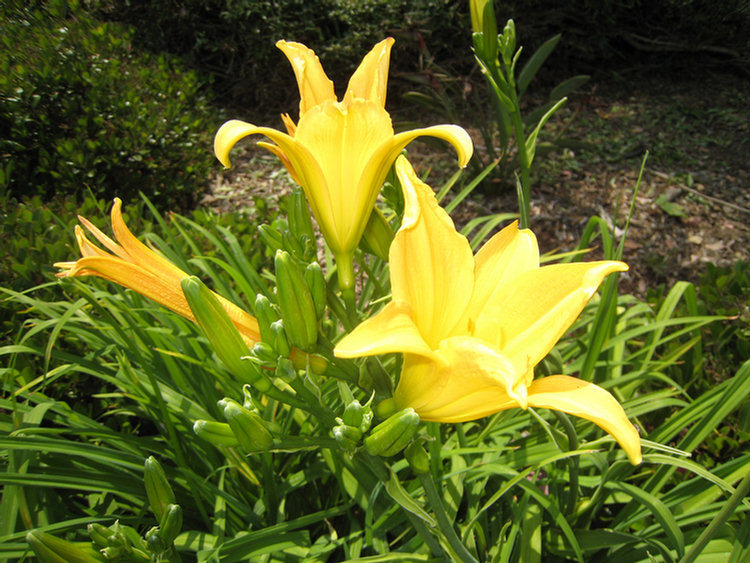 The botanic name Lilium is the Latin form and is a Linnaean name. The Latin name is derived from the Greek leirion, which is generally assumed to be the Madonna lily. The genus Lilium are herbaceous flowering plants normally growing from bulbs, comprising a genus of about 110 species in the lily family, Liliaceae.
Did you know? - They are important as large showy flowering garden plants, and in literature. Some of the bulbs have been consumed by people. The species in this genus are the true lilies, while other plants with lily in the common name are related to other groups of plants. Lilies are leafy stemmed herbs. They form naked or tunic-less scaly underground bulbs from which they overwinter.

In some North American species the base of the bulb develops into rhizomes, on which numerous small bulbs are found. Some species develop stolons. Very few species form near the soil surface.

Many species form stem-roots. With these, the bulb grows naturally at some depth in the soil, and each year the new stem puts out adventitious roots above the bulb as it emerges from the soil. These roots are in addition to the basal roots that develop at the base of the bulb.

The large flowers have six petals, often fragrant, and come in a range of colors ranging through whites, yellows, oranges, pinks, reds and purples. Markings include spots, brush strokes and picotees.The plants are summer flowering.
Lavender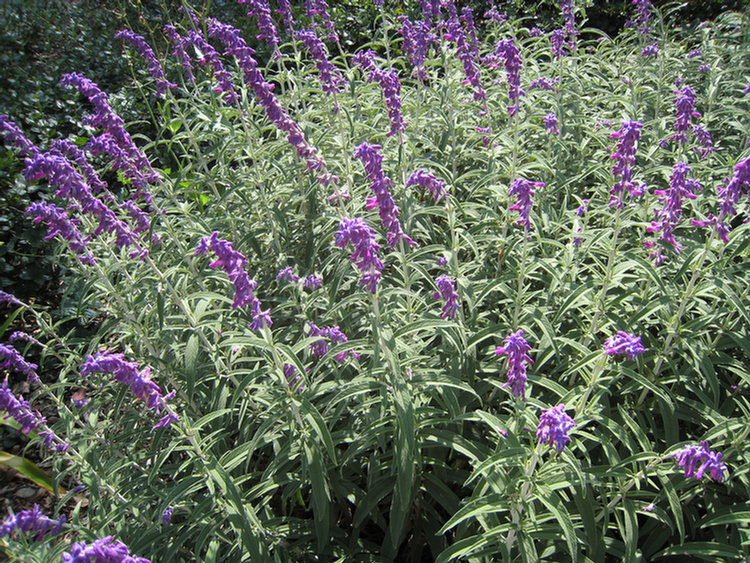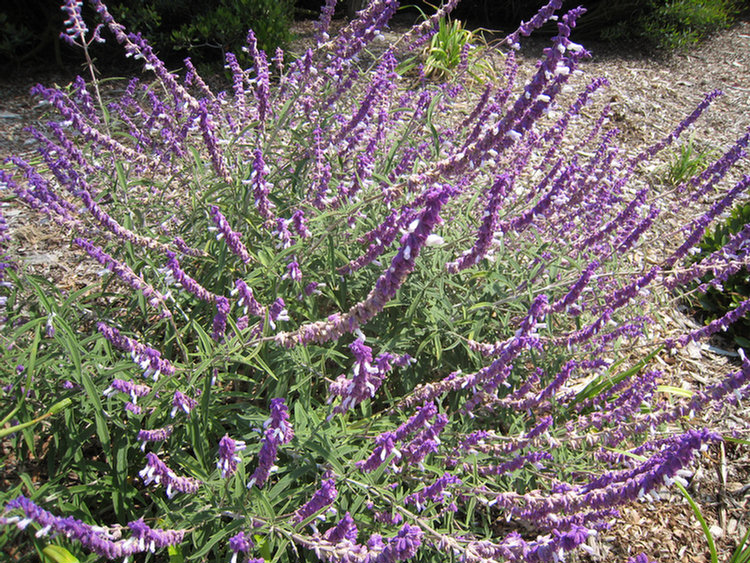 Lacendar
Did you know? - The Lavenders Lavandula are a genus of about 25-30 species of flowering plants in the mint family, Lamiaceae, native to the Mediterranean region south to tropical Africa and to the southeast regions of India. The genus includes annuals, herbaceous plants, subshrubs, and small shrubs.

The native range extends across the Canary Islands, North and East Africa, south Europe and the Mediterranean, Arabia, and India. Because the cultivated forms are planted in gardens world-wide, they are occasionally found growing wild, as garden escapees, well beyond their natural range
Salvia

Lavendar
Did you know? - Salvia is a genus of plants in the mint family, Lamiaceae. It is one of three genera commonly referred to as sage. When used without modifiers, sage generally refers to common sage (Salvia officinalis); however, it can be used with modifiers to refer to any member of the genus.

This genus includes approximately 700 to 900 species of shrubs, herbaceous perennials, and annuals with almost world-wide distribution. The center of diversity and origin appears to be Central and South Western Asia. Different species of sage are grown as herbs and as ornamental plants.[2] The ornamental species are commonly referred to by their scientific name Salvia.
Agapanthus ("Lily of the Nile")

Lily of the Nile
Did you know? - Agapanthus ("Lily of the Nile") is a genus of flower plants with six to ten species depending on how the different species are classified. They are all herbaceous perennial plants native to South Africa.

Members of the genus have funnel-shaped flowers, in varying shades of blue colors with white flowering forms occurring. The species have been hybridized to produce additional colors in plants under cultivation. The flowers are produced in many-flowered cymes on long, erect stems called scapes, which can grow up 1 m long. The basal leaves are curved, lanceolate, and are up to 60 cm long.
???????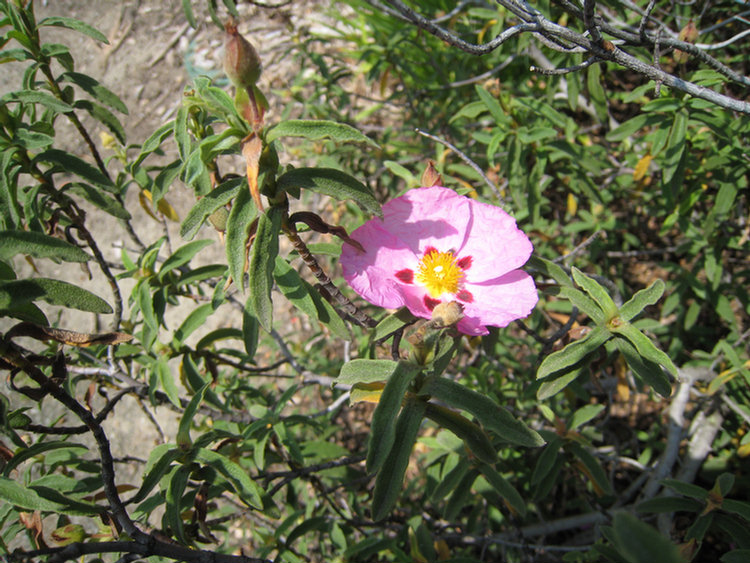 ???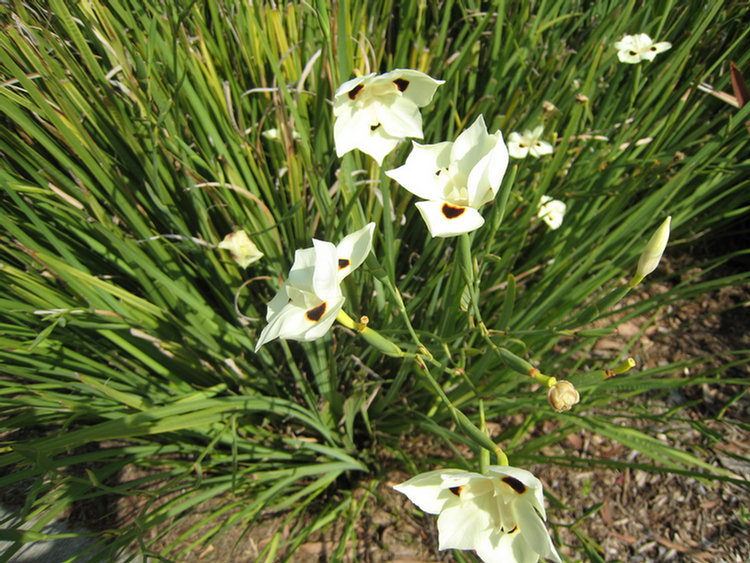 ????
Canna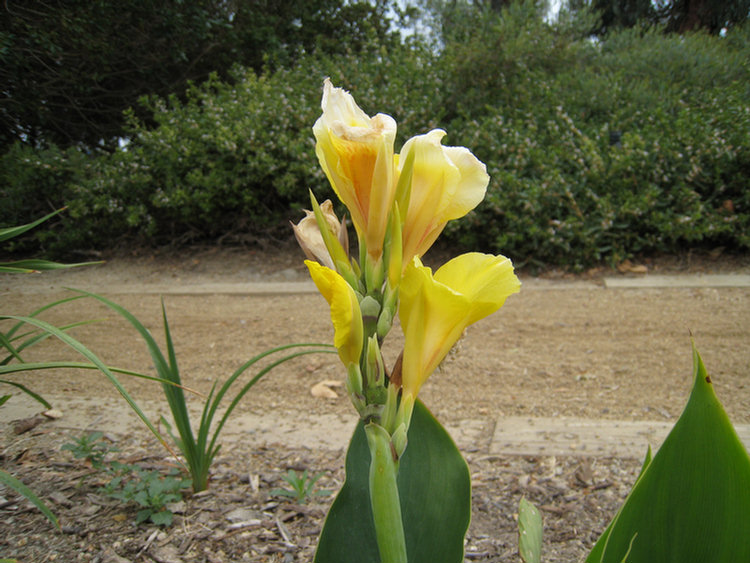 Canna
Did you know? - Canna (or Canna lily, although not a true lily) is a genus of approximately twenty species of flowering plants. The closest living relations to cannas are the other plant families of the order Zingiberales, that is the gingers, bananas, marantas, heliconias, strelitzias, etc.

Canna is the only genus in the family Cannaceae. Such a family has almost universally been recognized by taxonomists. The APG II system of 2003 (unchanged from the APG system, 1998) also recognizes the family, and assigns it to the order Zingiberales in the clade commelinids, in the monocots.

The species have large, attractive foliage and horticulturists have turned it into a large-flowered, brash, bright and sometimes gaudy, garden plant. In addition, it is one of the world's richest starch sources, and is an agricultural plant.

Although a plant of the tropics, most cultivars have been developed in temperate climates and are easy to grow in most countries of the world as long as they can enjoy about 6 hours average sunlight during the summer.
???????????????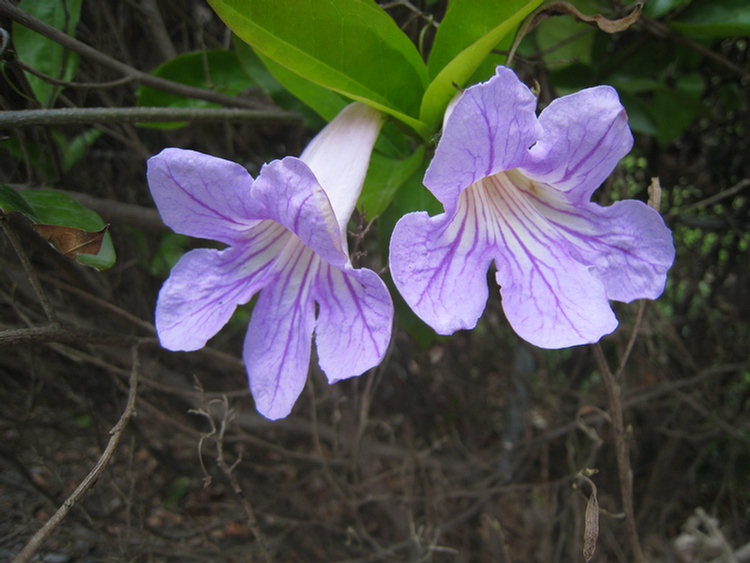 ???????????????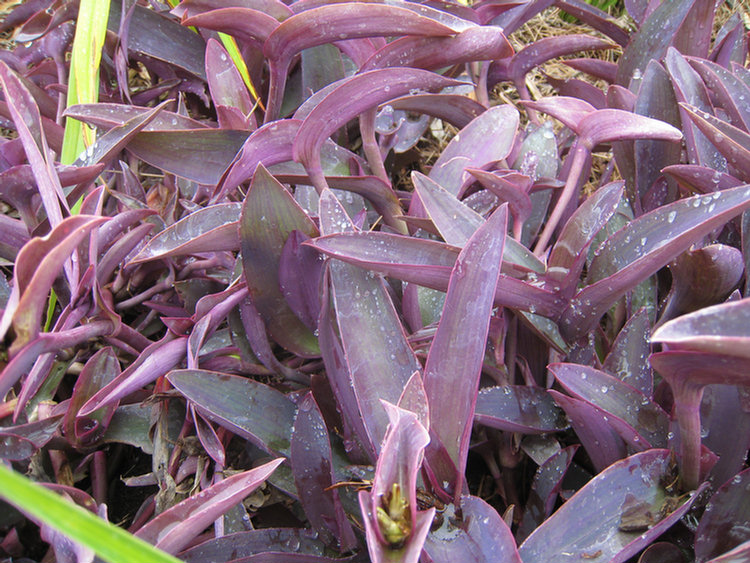 Bougainvillea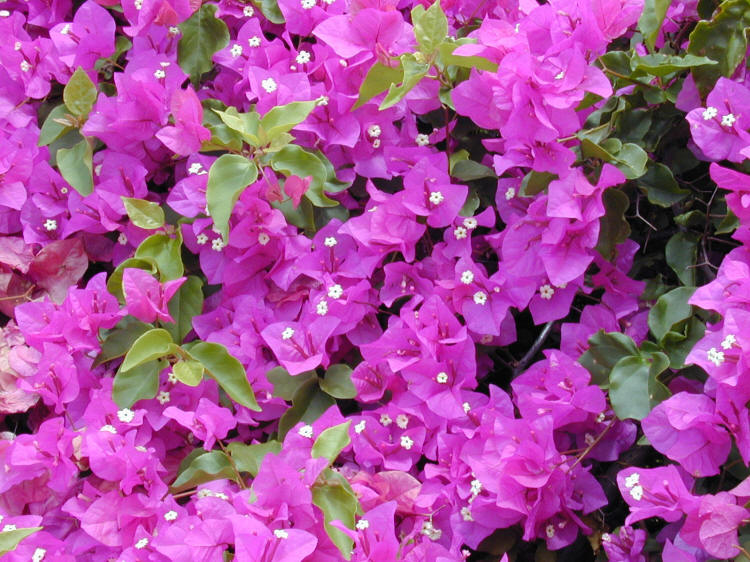 Bougainvillea is a genus of flowering plants native to South America from Brazil west to Peru and south to southern Argentina (Chubut Province). Different authors accept between four and 18 species in the genus. The name comes from Louis Antoine de Bougainville, an admiral in the French Navy who encountered the plant in Brazil in 1768 and first described it to Europeans.
Did you know? - They are thorny, woody, vines growing anywhere from 1-12 meters tall, scrambling over other plants with their hooked thorns. The thorns are tipped with a black, waxy substance that is easily left in the flesh of an unsuspecting victim. They are evergreen where rainfall occurs all year, or deciduous if there is a dry season.

The leaves are alternate, simple ovate-acuminate, 4-13 cm long and 2-6 cm broad. The actual flower of the plant is small and generally white, but each cluster of three flowers is surrounded by three or six bracts with the bright colors associated with the plant, including pink, magenta, purple, red, orange, white, or yellow. Bougainvillea glabra is sometimes referred to as "paper flower" because the bracts are thin and papery. The fruit is a narrow five-lobed achene.
Garlic Chives
Did you know? - Garlic chives (simplified Chinese: 韭菜; traditional Chinese: 韭菜; pinyin: jiǔcài, also 韮菜) are also known as Chinese chives, Chinese leek, Ku chai, Oriental garlic chives or, in Japanese, Nira (kanji: 韮; hiragana: にら; katakana: ニラ) or in Vietnamese, Hẹ. The plant has a distinctive growth habit with strap-shaped leaves unlike either onion or garlic, and straight thin white-flowering stalks that are much taller than the leaves. It grows in slowly expanding perennial clumps, but also readily sprouts from seed. Besides its use as vegetable, it also has attractive flowers.

The cultivated form is Allium tuberosum while the wild form is placed as A. ramosum. Older references list it as A. odorum but that is now considered a synonym of A. ramosum. Some botanists would place both wild and cultivated forms in A. ramosum since many intermediate forms exist.

A relatively new vegetable in the English-speaking world but well-known in Asian cuisine, the flavor of garlic chives is more like garlic than chives, though much milder. Both leaves and the stalks of the flowers are used as a flavoring similarly to chives, green onions or garlic and are used as a stir fry ingredient. In China, they are often used to make dumplings with a combination of egg, shrimp and pork. They are a common ingredient in Chinese jiaozi dumplings and the Japanese and Korean equivalents. The flowers may also be used as a spice. In Vietnam, the leaves of garlic chives are cut up into short pieces and used as the only vegetable in a soup of broth and sliced pork kidneys.
Lantana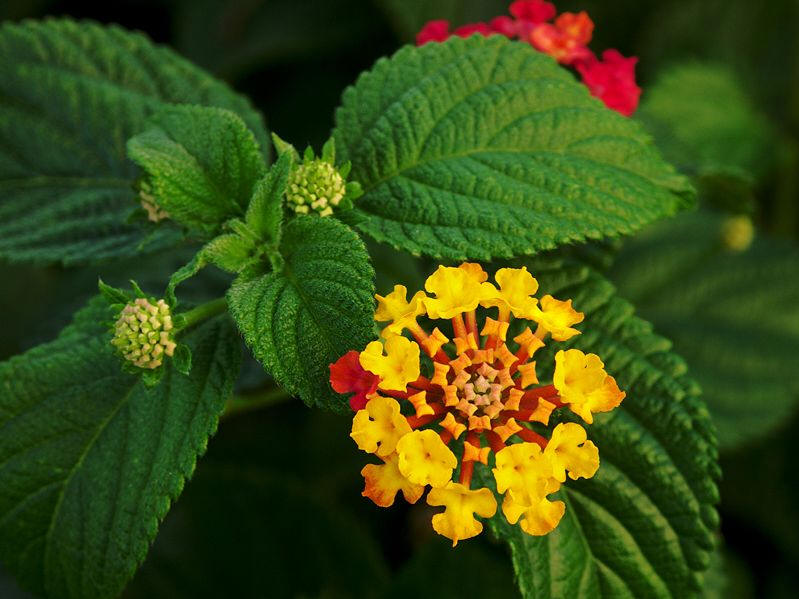 Lantana
Did you know? - Lantana is a genus of about 150 species of perennial flowering plants, native to tropical regions of the Americas, Africa and existing as an imported plant in numerous areas, especially in the Australian-Pacific region. The genus includes both herbaceous plants and shrubs growing to 0.5-2 m tall.

Their common names are shrub verbenas or lantanas.Lantana's aromatic flower clusters (called umbels) are a mix of red, orange, yellow, or blue and white florets. Other colors exist as new varieties are being selected. The flowers typically change color as they mature, resulting in inflorescences that are two- or three-colored.

Lantana is almost everywhere as it is drought resistant.
Star Jasmine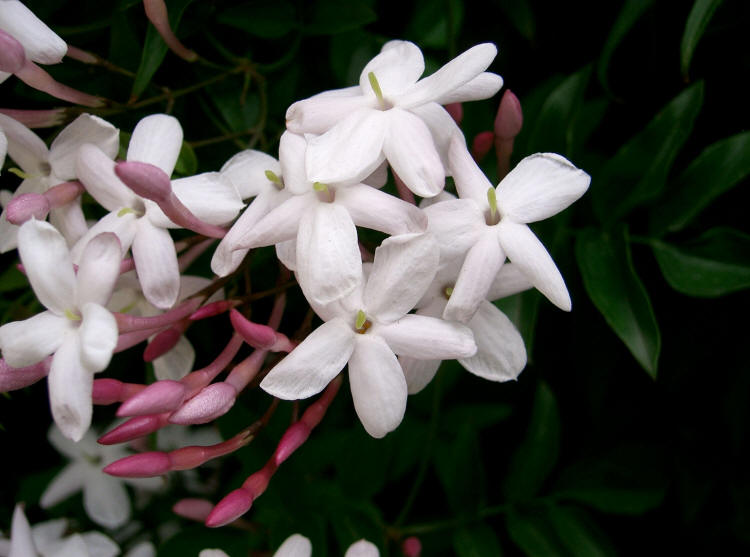 Jasmine
Did you know? - Jasmine or Jessamine (Jasminum) (from Persian yasmin, i.e. "gift from God" , via Arabic) is a genus of shrubs and vines in the olive family (Oleaceae),with about 200 species, native to tropical and warm temperate regions of the Old World.

The majority of species grow as climbers on other plants or on structures such as chicken wire, gates or fences. The leaves can be either evergreen (green all year round) or deciduous (falling leaves in autumn), and are opposite in most species; leaf shape is simple, trifoliate or pinnate with up to nine leaflets. Jasmine tea is also very efficient against coughs, sore throats or other problems to do with the bronchites.

Most of our Jasmine is along the fences surrounding the course with the majority along the north fense on the back nine.