We Thought It Would Be A "Typical Day"... Just Fun
Charlotte, Sue, and Paul take to the fairways thinking "just another normal day"... We were mistaken, we saw turtles, pelicans, red-tails up close, and feathered friends the ducks and geese.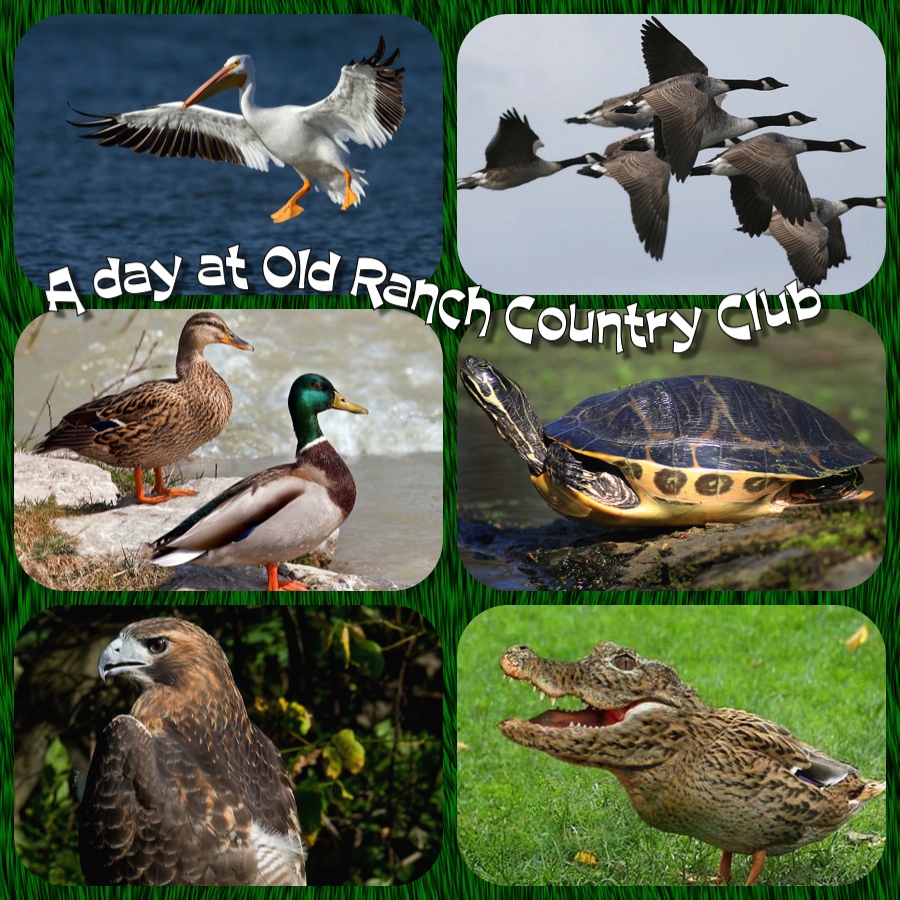 What Are The Animals Thinking???


The animals are simply amazing
Play Golf...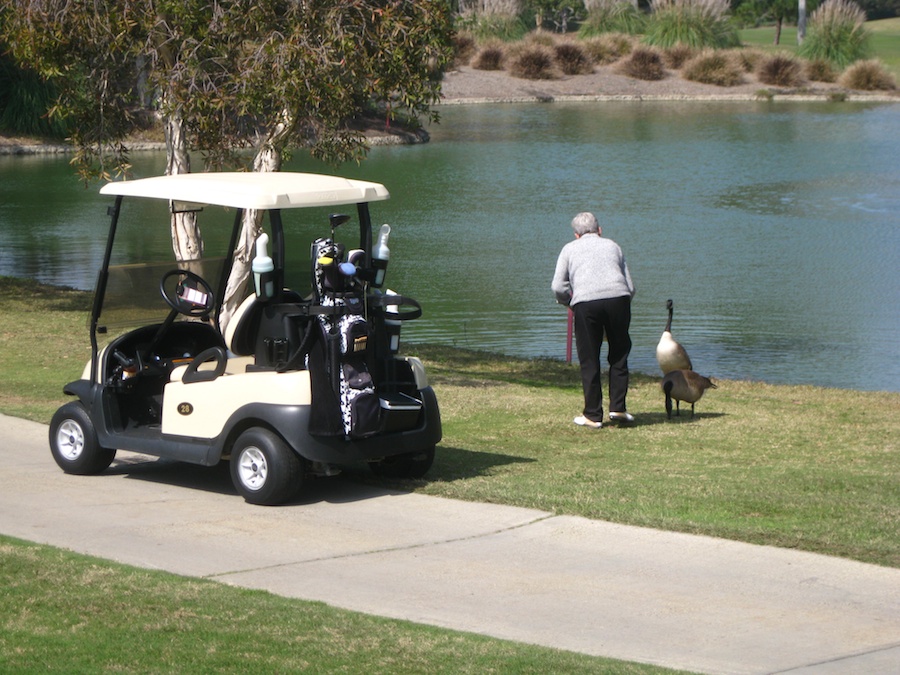 On the first hole Mr. & Mrs. Goose asked Sue for a snack!
Notice the male's head is up.... He is on duty in case of any problems

"Please Grandma Sue... Just one more little shake out of your container"

Coming in on a wing and a prayer...
Did You Know? - The black head and neck with a white "chinstrap" distinguish the Canada Goose from all other goose species.
This species ranges from 75 to 110 cm (30 to 43 in) in length and has a 127–185 cm (50–73 in) wingspan.[8] The male usually weighs 3.2–6.5 kg (7.1–14.3 lb), and can be very aggressive in defending territory. The female looks virtually identical but is slightly lighter at 2.5–5.5 kg (5.5–12.1 lb), generally 10% smaller in linear dimensions than its male counterpart, and has a different honk.
In recent years, Canada Goose populations in some areas have grown substantially, so much so that many consider them pests for their droppings, bacteria in their droppings, noise, and confrontational behavior. This problem is partially due to the removal of natural predators and an abundance of safe, man-made bodies of water near food sources, such as those found on golf courses, in public parks and beaches, and in planned communities.
Canada Geese are primarily herbivores, although they sometimes eat small insects and fish. Their diet includes green vegetation and grains. The Canada Goose eats a variety of grasses when on land. It feeds by grasping a blade of grass with the bill, then tearing it with a jerk of the head. The Canada Goose also eats beans and grains such as wheat, rice, and corn when they are available.
During the second year of their lives, Canada Geese find a mate. They are monogamous, and most couples stay together all of their lives. If one dies, the other may find a new mate. The female lays from 2–9 eggs with an average of five and both parents protect the nest while the eggs incubate, but the female spends more time at the nest than the male.
The incubation period, in which the female incubates while the male remains nearby, lasts for 24–28 days after laying. As the annual summer molt also takes place during the breeding season, the adults lose their flight feathers for 20–40 days, regaining flight at about the same time as their goslings start to fly.

"Bye guys... Gotta get back to golf!"

On the second Tee, what first looked like a big rock began to move!

"I have seen the Old Ranch golfers and therefore I carry protection!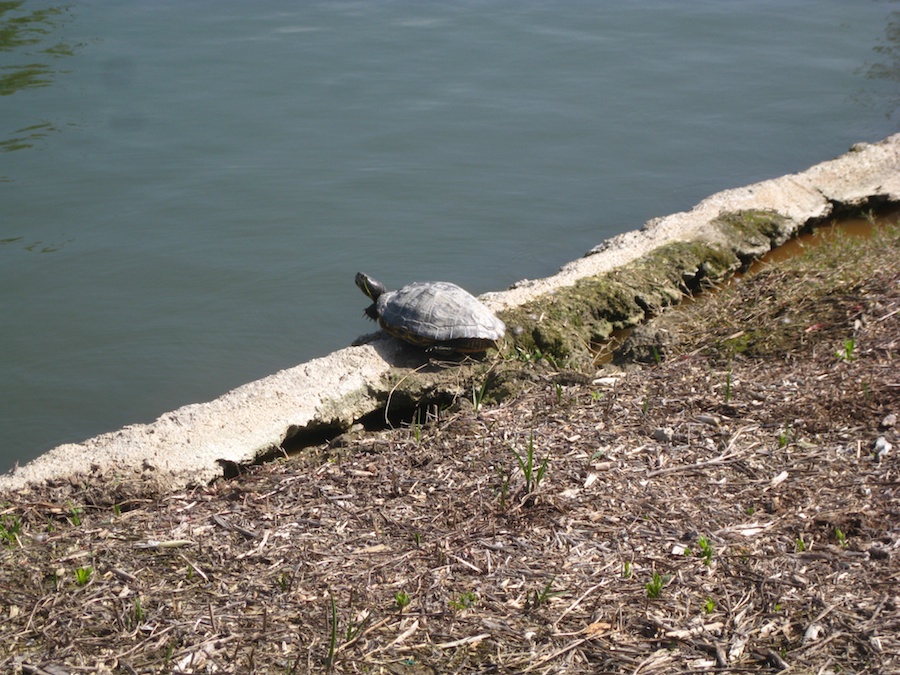 The rock had a head and it moved!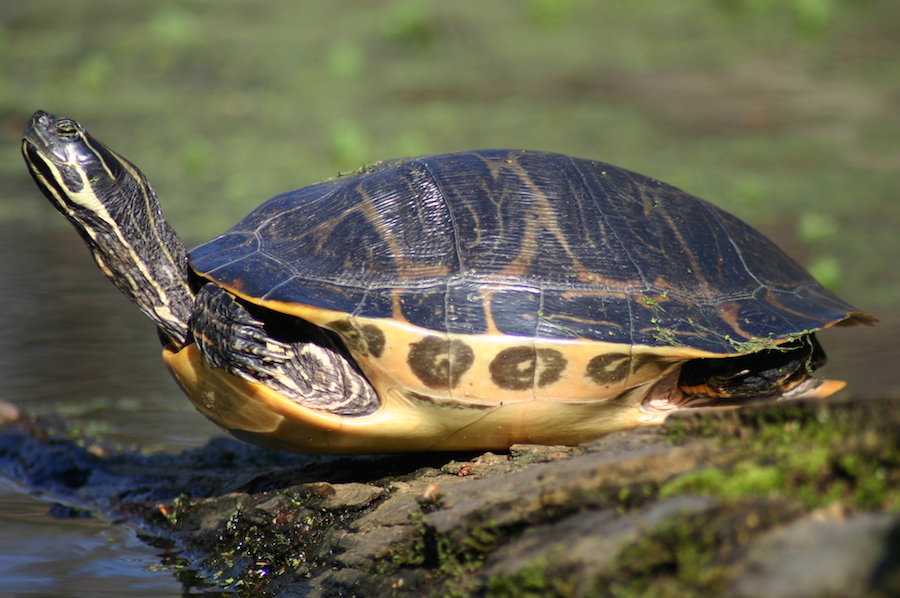 Up close and personal
Did You Know? - Turtles are reptiles of the order Chelonii or Testudines characterised by a special bony or cartilaginous shell developed from their ribs and acting as a shield.
In the United States, due to the ease of contracting salmonellosis through casual contact with turtles, the U.S. Food and Drug Administration (FDA) established a regulation in 1975 to discontinue the sale of turtles under 4 in (100 mm). It is illegal in every state in the U.S. for anyone to sell any turtles under 4 inches (10 cm) long.

On the sixth hole we see the White Pelican
Did You Know? - The American White Pelican (Pelecanus erythrorhynchos) is a large aquatic bird from the order Pelecaniformes. It breeds in interior North America, moving south and to the coasts, as far as Central America and South America, in winter.
American White Pelicans like to come together in groups of a dozen or more birds to feed, as they can thus cooperate and corral fish to one another.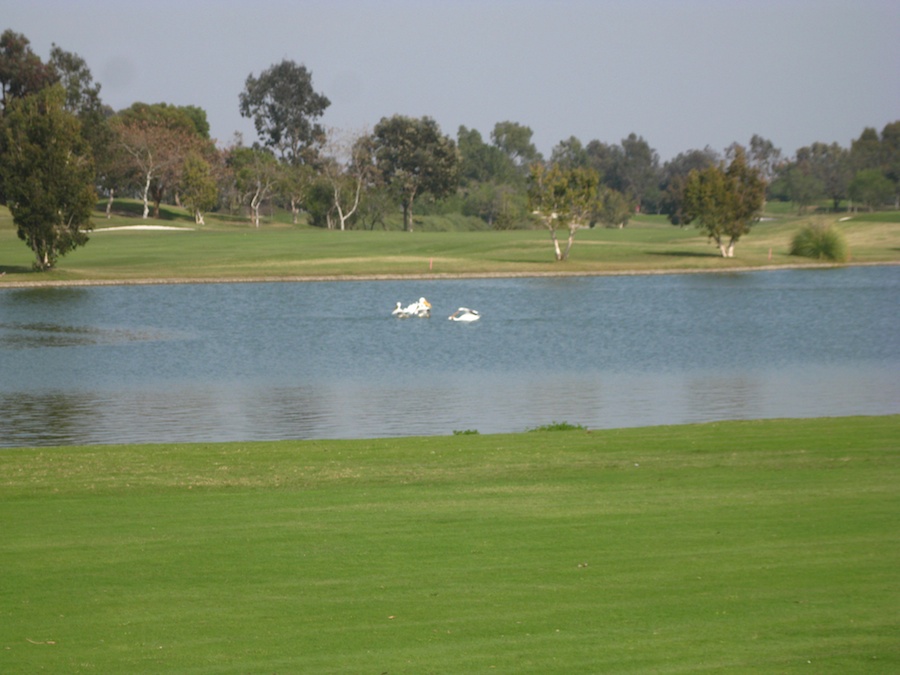 Within five minutes, four other pelicans came to visit and fish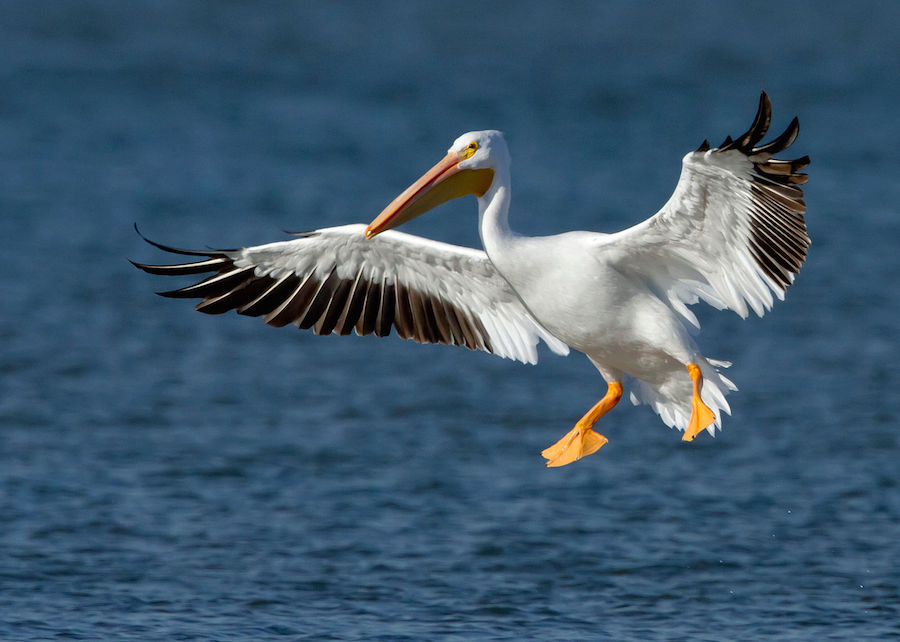 "Pelican to Tower.... Landing gear is down!"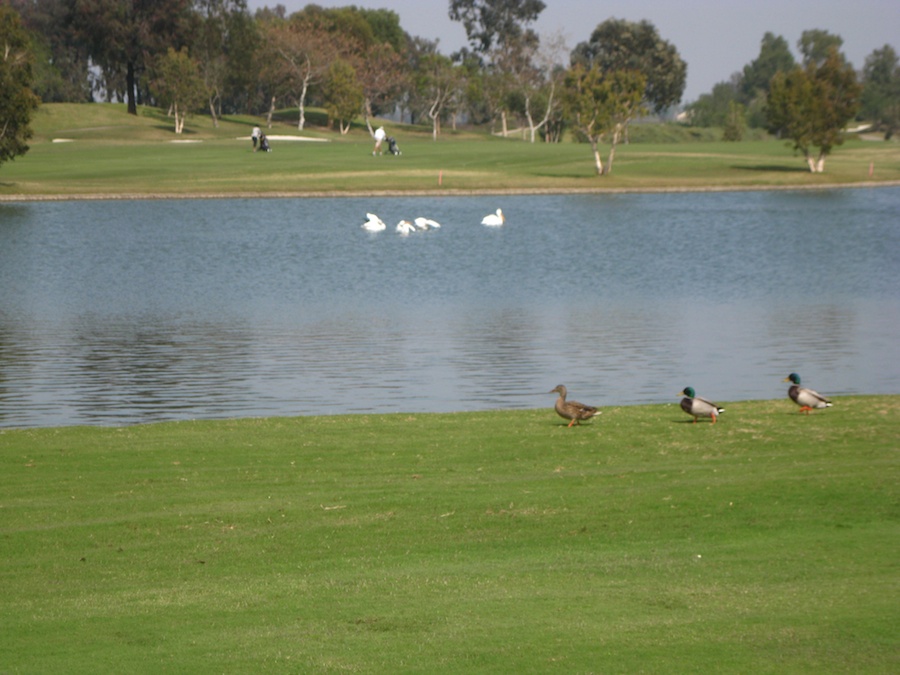 The pelicans are fishing while it appears the mallards
are interested in spring time activities....
Did You Know? - The male birds (drakes) have a glossy green head and are grey on wings and belly, while the females have mainly brown-speckled plumage. Mallards live in wetlands, eat water plants and small animals, and are gregarious. This species is the ancestor of most breeds of domestic ducks.
During the breeding season, male birds were recorded to have eaten 37.6% animal matter and 62.4% plant matter, most notably Echinochloa crus-galli, and nonlaying females ate 37.0% animal matter and 63.0% plant matter, while laying females ate 71.9% animal matter and only 28.1% plant matter.
The nesting period can be very stressful for the female since she lays more than half her body weight in eggs. She requires a lot of rest and a feeding/loafing area that is safe from predators. When seeking out a suitable nesting site, the female's preferences are areas that are well concealed, inaccessible to ground predators, or have few predators nearby.
The clutch is 8–13 eggs, which are incubated for 27–28 days to hatching with 50–60 days to fledgling. The ducklings are precocial and fully capable of swimming as soon as they hatch. However, filial imprinting compels them to instinctively stay near the mother not only for warmth and protection but also to learn about and remember their habitat as well as how and where to forage for food.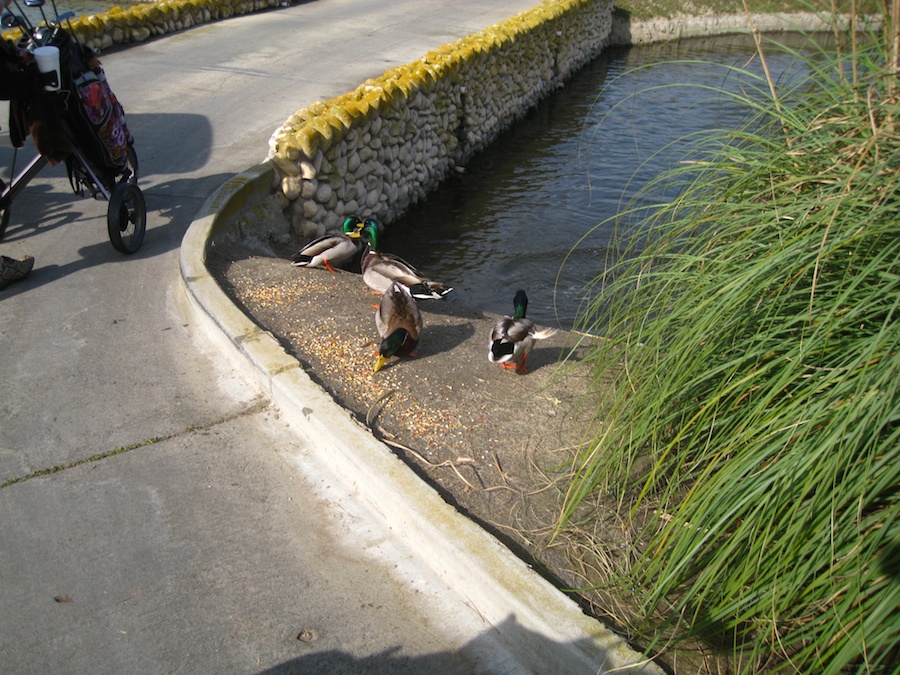 On the 10th hole we feed ol' "Broken Wing"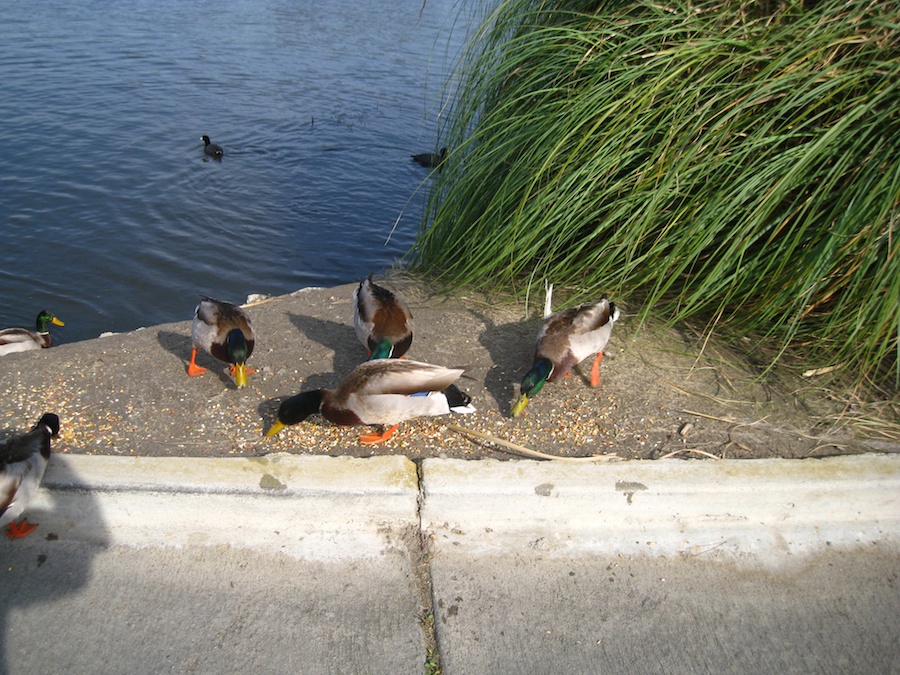 "Broken Wing" is on the right side...
a portion of his right wing seems to be dead and sticks out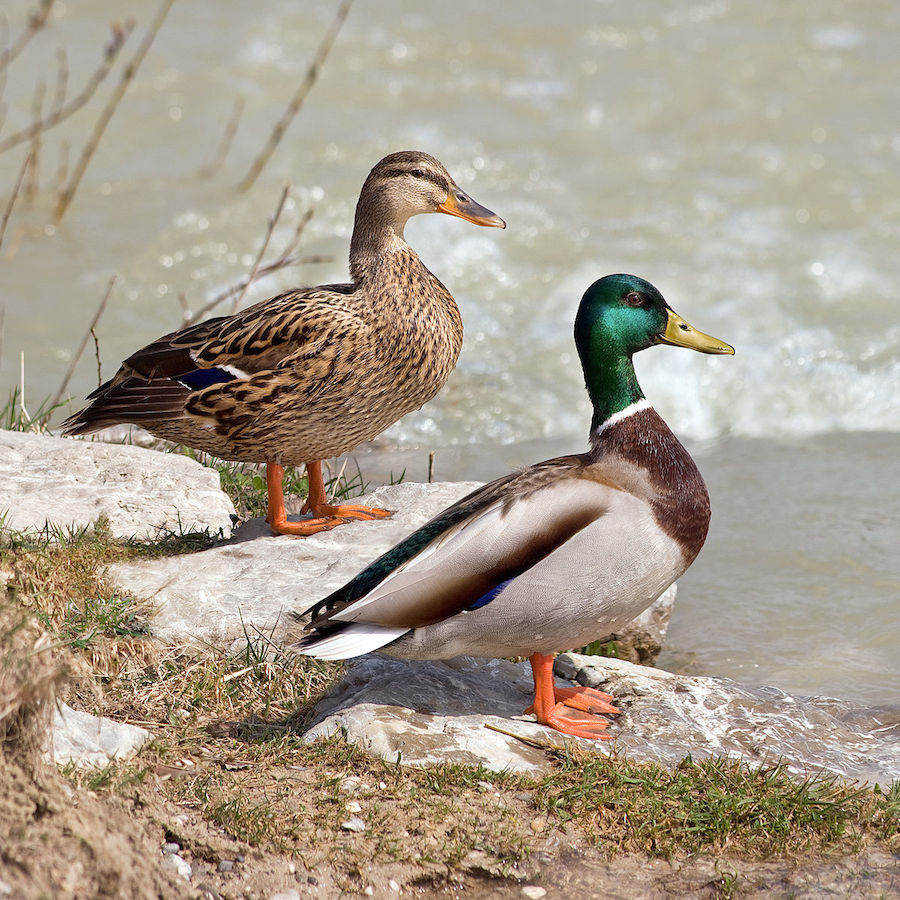 Introducing Mr. & Mrs. Ducker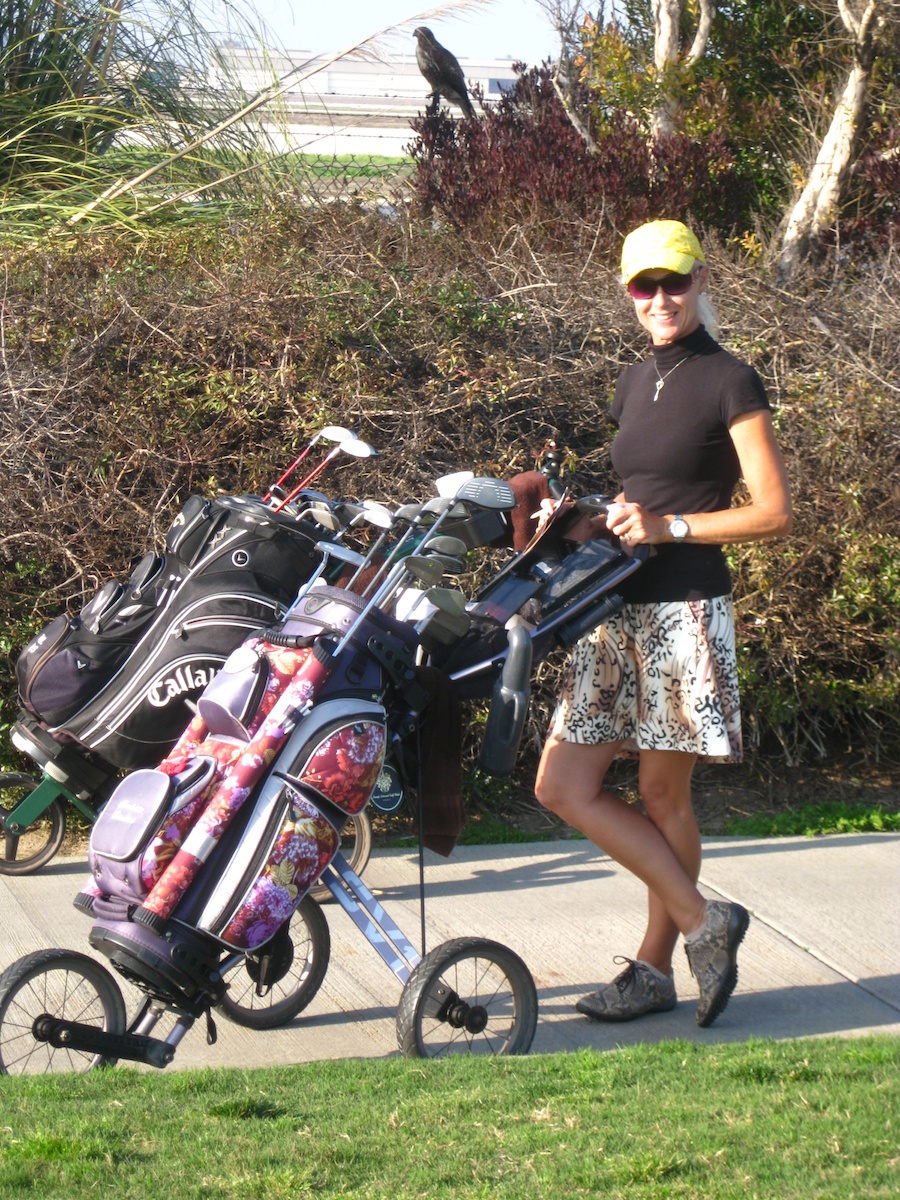 On the 16th hole, Charlotte stopped and we saw the hawk.
Thank goodness he decided Charlotte was a little too big for lunch!
Did You Know? - The Red-tailed Hawk (Buteo jamaicensis) is a bird of prey, one of three species colloquially known in the United States as the "chickenhawk," though it rarely preys on standard sized chickens.
Because they are so common and easily trained as capable hunters, the majority of hawks captured for falconry in the United States are Red-tails.
Unlike some other raptors, the Red-tailed Hawk are seemingly unfazed by considerable human activity and can nest and live in close proximity to large numbers of humans.
In flight, this hawk soars with wings often in a slight dihedral, flapping as little as possible to conserve energy. Active flight is slow and deliberate, with deep wing beats. In wind, it occasionally hovers on beating wings and remains stationary above the ground.[9] When soaring or flapping its wings, it typically travels from 32 to 64 km/h (40 mph), but when diving may exceed 190 km/h (120 mph).
The Red-tailed Hawk is carnivorous, and an opportunistic feeder. Its diet is mainly small mammals, but it also includes birds and reptiles. Prey varies with regional and seasonal availability, but usually centers on rodents, comprising up to 85% of a hawk's diet.
Most commonly reported prey types include mice, including both native Peromyscus species and house mice, gophers, voles, chipmunks, ground squirrels and tree squirrels.
Additional prey (listed by descending likelihood of predation) include lagomorphs, shrews, bats, pigeons, quail, corvids, waterfowl, other raptors, reptiles, fish, crustaceans, insects and earthworms.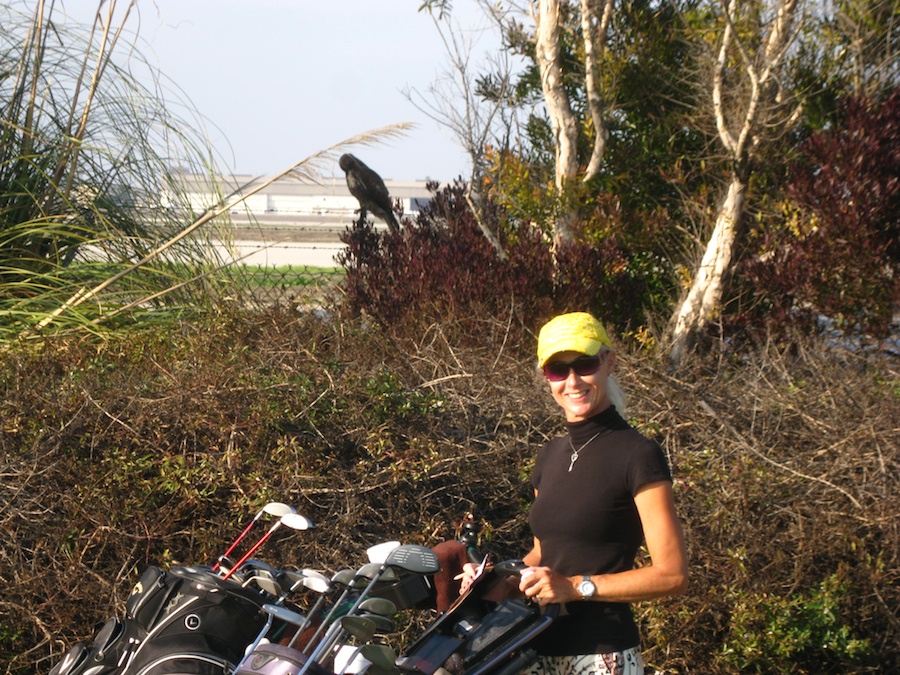 He is watching her carefully....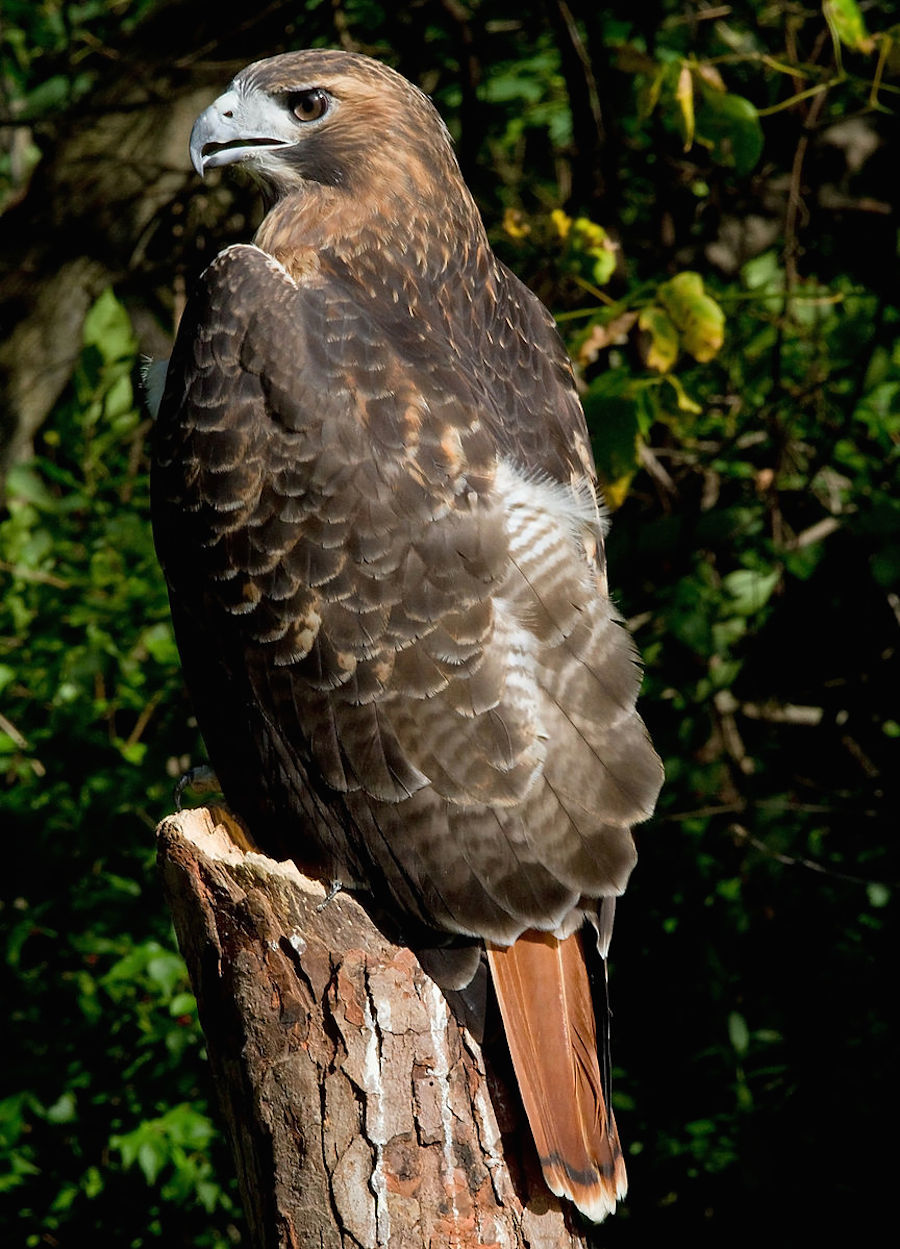 A magnificent creature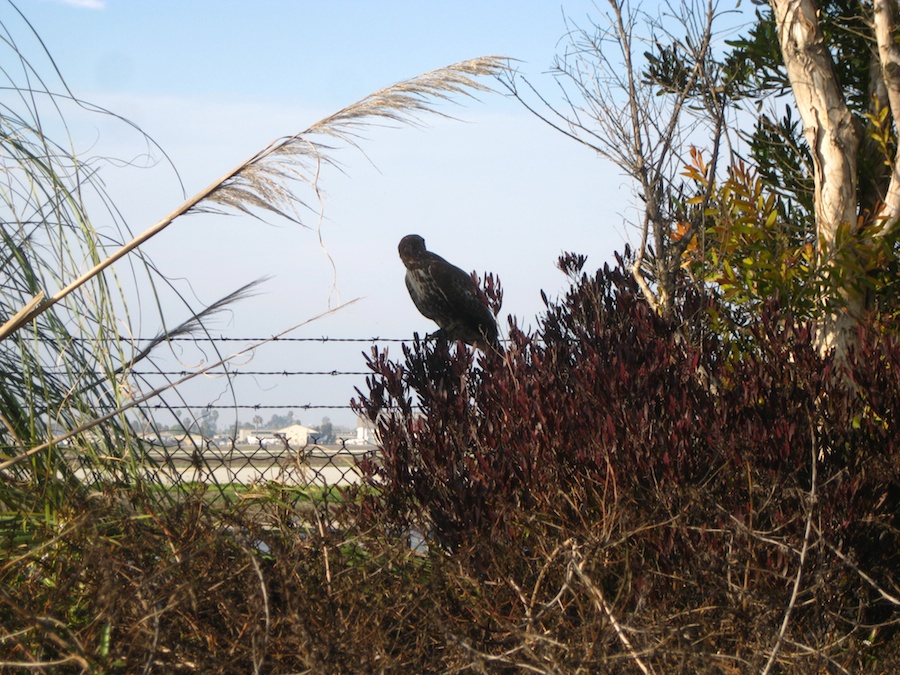 Now we get to watch him!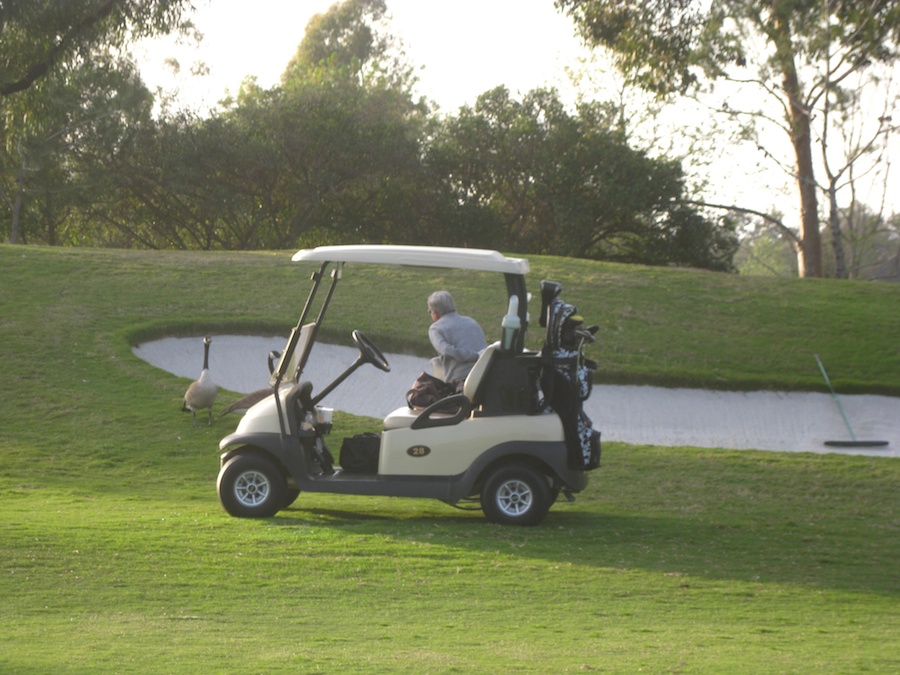 On 18 the geese show up again.... They know we will be coming bye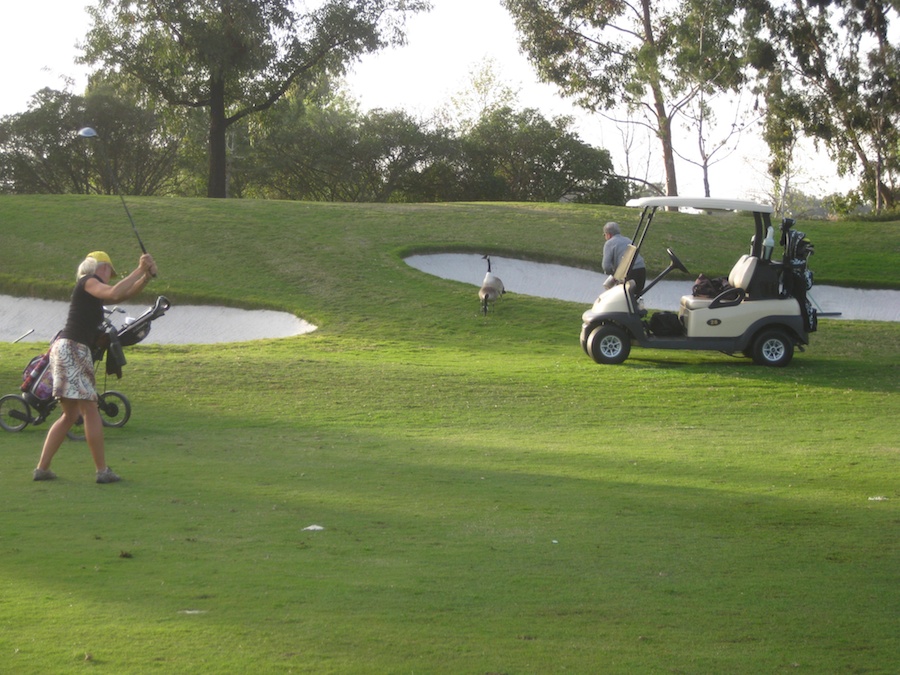 Charlotte demonstrated how to put the ball on the green from 150 yards out

Charlotte added the "No Honking" during a golf swing

The long neck allows him to see where the ball landed
"Excellent shot Miss Charlotte!"
Time For Happy Hour
Charlotte, Sue, and Paul headed for "The Pit" to drown our golf sorrows in some liquid courage. Right in the middle of the drink, Charlotte yells "Lookie lookie... I see another animal" We jumped up and caught a picture of the new critter. It's called "The Old Ranch Duck-A-Gator"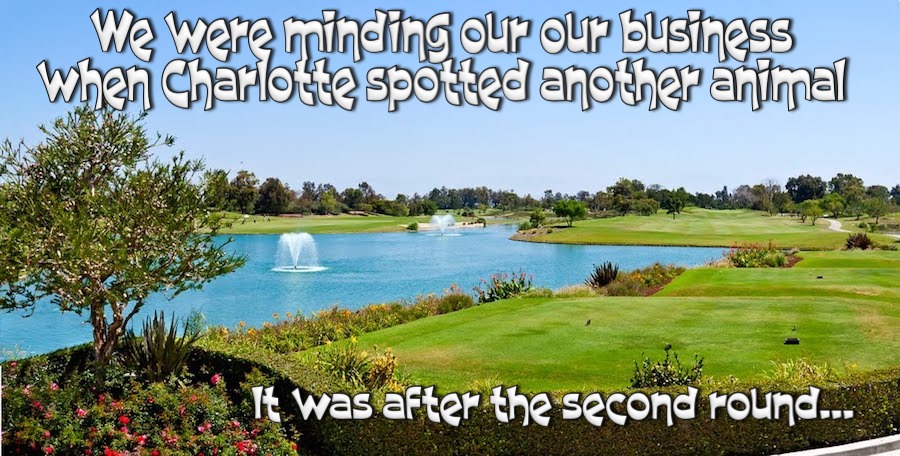 It's what one sees after a little bit of Happy Hour at Old Ranch!