Taps Made The Appropriate Noise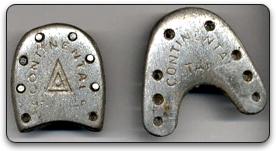 Cigarettes packs rolled into sleeves, leather coats, switchblades, and taps on shoes depicted the typical "teenage tough guy" in the 1950s and early 1960s. I never liked the cigarettes or knives but leather coats and taps were in! Schools were raided with the sound of taps strolling the halls. It was the stroll and the sound of the tap that added to the tough teenage fashion.
Steel clips shaped like half-moons were fastened with copper rivets to the back of shoes either by a shoe repairmen or by teenagers themselves. Usually the shoes were sharply pointed and black. No one really knows how this fad began, but some researchers guess that tappers from Harlem might have been an influence for this style.
The style seemed to slowly fade around 1965 when principles became less tolerant of the noise in the hallways and the style changed to a more "Beatles" oriented look.