Vicky Said...
Ok, we were talking the other day with friends and 'remembering the good old days.' We started talking about old days favorite candy, like Look Clark Bars, Goo-Goo clusters, Nik-L lips wax bottles, Mary Janes and such. Then we started on favorite old time soda pop, many in different flavors like Fanta, Schweppes, Stevens, Dad's root beer, Moxie, Green rivers, Dr. Wells, Burners, Bee-Gee Co., Nee-hi or is it Ne-Hi (whatever), Frosties, Vernors and such.

What I didn't realize was that these candies and sodas were really regional. Some I never heard of, being a Southern California girl all my life and transplanted New Yorkers or wherever had their own soda pop too.

So I decided to ask people (over 30) that I know what's their favorite soda and candy of their childhood. When I was about 10 years old, I used to collect glass soda bottles from our neighbors, wash the ants out, and take them back to the local market to collect 3 cents on the bottle. Then I would buy my favorite candy (Look candy bar) or a Lime flavored Fanta. If I really made out money-wise I would buy a paper doll booklet with a celebrity like Doris Day and her many outfits. I was in heaven. Life was simple.

So if you would kindly look back at your childhood and remember the flavors and what tasted so good. Pepsi, Coke, 7-up..do they come with the same memories. I think NOT!

What was your favorite soda pop or flavor and candy? If you have time and want to share your thoughts about them please do. I'd love to hear them.
Visit the Early Days Of Soda Pop
Vernor's Root Beer And Ginger Ale
In 1862, James Vernor was called off to the American Civil War. According to legend, he left a mixture of ginger, vanilla and spices sitting in an oak cask in a pharmacy he had been working in. After returning from battle four years later, he opened the keg and found the drink inside had been changed by the aging process in the wood. It was like nothing else he had ever tasted, and he purportedly declared it "Deliciously different," which remains the drink's motto to this day. Its current slogan is "Barrel Aged, Bold Taste!". The apostrophe in the name "Vernor's" was dropped in the late 1950s.[1]

Vernors is a golden ginger ale with a pungent flavor, more like a ginger beer. This style was common before Prohibition when the less flavorful pale ginger ale became popular as an alcoholic mixer. While Michiganders who grew up with it tend to like it, many other Americans are suspicious of it, as it doesn't taste like a "typical" ginger ale. The Traverse City Record-Eagle reported that most non-Michiganders "think Vernor's tastes like urine. There's a reason no one else drinks it." (Traverse City Record-Eagle "Locals Favor the Flavor - Vernor's in Northern Michigan" July 8, 1987.)

Vernors has a reputation of being highly carbonated and drinking Vernors from a glass can sometimes make one sneeze or cough from the bubbles it gives off. Some people consume Vernors hot as a remedy for stomachache, with ginger being the active ingredient.

The Vernor family owned the company until 1966 when they sold it to an investment group. The company was next acquired by American Consumer Products and then by United Brands before being purchased by A&W Beverages in 1987. A&W was later purchased by Cadbury Schweppes.

Although both Hires Root Beer and Vernors claim the title of first American soft drink, some argue that while Hires Root Beer was just another root beer, Vernors was not just another ginger ale, due to its unique aging process and unusual sweetener. For many, Vernor's Ginger Ale is, in fact, the first true American-born soft drink.
Moxie
Moxie was created in 1876 by Dr. Augustin Thompson, formerly of Union, Maine, while he was employed by the Ayer Drug Company in Lowell, Massachusetts. Accordingly, Moxie stands today as Maine's state beverage. Moxie was first marketed as a patent medicine in Lowell, Massachusetts, under the product name "Moxie Nerve Food." From 1928 through 1953 Moxie was bottled at 74 Heath St. in the Jamaica Plain section of Boston, Massachusetts. The building, known as Moxieland, featured an advertisement on the roof along with an arrow pointing in the direction of Logan Airport. Moxie was said to cure ailments ranging from softening of the brain to "loss of manhood." In 1884, it was sold in carbonated form and merchandised as an invigorating drink, which claimed to endow the drinker with "spunk". In the early phase of its life as a recreational soft drink, Moxie is said to have been kept handy by bartenders to give to customers who were too drunk to be given any more alcohol. This story may be apocryphal, however, inspired by Moxie's noted aftertaste, which many people find unpleasantly strong.

The popularity of Moxie produced popular advertising jingles, such as "Just Make It Moxie for Mine", and President Calvin Coolidge was known to have favored the drink. Boston Red Sox slugger Ted Williams endorsed Moxie. Author E.B. White, an adopted Mainer and noted Moxie fan, once wrote "Moxie contains gentian root, which is the path to the good life."
Picture of a Monarch-era Moxie can.

Falling out of favor due to competition from Coca Cola, demand for Moxie has waned in recent years, although demand still exists in New England. It was designated on May 10, 2005, as the official state soft drink of Maine.
Green River

Green River is a bright green, lime-flavored soft drink originating in Chicago. The drink was developed in 1919 by the Schoenhofen Brewery of Chicago as a non-alcoholic product for the Prohibition era. It was popular for decades as a soda fountain syrup, trailing only Coca Cola in popularity . However, after Prohibition ended in 1933 the Schoenhofen Brewery made Green River a second priority to alcoholic drinks. The Brewery then closed in 1950. It was a fountain drink during the '60s in some drugstore fountains.

The drink is now produced by the Clover Club Bottling Corp. of Chicago. It is frequently marketed as a nostalgia item and can be found in some 1950s-themed restaurants, all Hackney's restaurants, or more generally in supermarkets during the days leading up to St. Patrick's Day.

The ingredients of the drink are: Carbonated water, high fructose corn sweetener, citric acid, natural lime oils, yellow #5, and blue #1. There is also a diet version, without sugar

By the end of Prohibition on December 5, 1933, Green River trailed only Coke in fountain sales throughout the Midwest. However, after Prohibition the brewery made Green River a second priority and sales dropped. In 1950 the brewery went broke and closed in 1950.


In 1992 after a raft of owners, the 73 year old brand was alive only in Seattle. Now Green River is on the rise again. Clover Club Bottling Co., Inc. an 85 year old company, with partners, Ed Kennelly and Joe Troy, bought the brand and are expanding its bottler network. The company has its own trucks, distributing in (4) counties around Chicagoland, and has distributors in (4) states at present. This year Kennelly and Troy, both of whom have 30 + years in the soft drink industry, hope to sign (20) additional distributors and double their distribution. Green River is available in 2 Liters, 1 Liter, 20 oz, cans, 12 oz bottles and postmix. A diet version is also available.
Dr. Wells
"Always Drink Dr. Wells"

Dr. Wells was introduced in 1935 to compete against Dr. Pepper and its many imitators. It was developed by Ludford Fruit Products of Los Angeles, California.

Dr. Wells was acquired by the Monarch Company of Atlanta in 1987. They believed that Dr. Wells was among those soft drinks, that yet they had a strong following, could benefit from a wider distribution. In 2007, Dr. Wells was sold to Hedinger Brands in Jasper, Indiana, and it was then licensed to The Dad's Root Beer Company, also in Indiana.
Frostie
"You'll Love It!"

Frostie Old Fashion Root Beer was introduced in Catonsville, Maryland in 1939. The president of The Frostie Company was George Rackensperger, who rented an abandoned jailhouse outside Baltimore in which to start his soft drink bottling operation.
According to the story, the bottling equipment was placed in the garage that had housed the police wagon and the storeroom for sugar and bottle crowns was made from the former cells. Originally, Rackensperger made several flavors of soft drinks, but this had to be whittled to one—Root Beer—in order for him to meet the customer demand. In addition, the plant had to be moved to a newly constructed larger and more modern building to accommodate the booming business.

Before 1947 Frostie became franchised and was available across the entire country by the 1950's. At its height, this brand was being bottled at 300 licensed plants in the US. Frostie sodas originally were sweetened with cane sugar, but today they use high fructose corn syrup, giving it a slightly different taste.

Leading Edge Brands
4001 Central Pointe Parkway
Temple, Texas
Nehi
The Chero-Cola company added Nehi Cola to its line of sodas in 1924 in order to offer more variety of soda flavors. It offered orange, grape, root beer, peach, and other flavors of soda. Nehi was instantly successful and outsold Chero-Cola entirely. The company changed its name to Nehi Corporation in 1928. The Nehi Corp. was listed on the New York Curb Exchange. Business went well until 1930, when a major crisis occurred. Reflecting the Great Depression, which followed with the stock market crash of October 1929, sales of Nehi Corp. dropped one million dollars in 1930 from a high of $3.7 million in the previous year. Sales continued downward until the bottom was reached in 1932, the only year in which the company had ever lost money. Almost every Nehi bottling plant in the organization was in the red during the years 1931 and 1932.

By 1933, the low point had been passed and the business was just beginning to stabilize when another tragedy struck. Claude Hatcher, the company's president and guiding light from its formation, died suddenly December 31, 1933. Hatcher was soon replaced by H. R. Mott. Mott was faced with the grim depression as he took office in 1934. Mr. Mott had been vice president of the Nehi Corporation for several years, and had been associated with the company since 1920. As new president he was greeted with a great amount of debt, and his consuming ambition was to make the company free of debt as quickly as possible and keep it that way. He updated operations, obtained extensions of credit, cut expenses and within a year had reached his goal. The Nehi Corporation was debt-free and ready to move ahead once more.

In the early 20th century, the advertising logo of Nehi was a picture of a seated woman's legs, in which the skirt was high enough to show the stockings up to the knee, suggesting the phrase "knee-high." This was referenced in Jean Shepherd's story, "My Old Man and the Lascivious Special Award That Heralded the Birth of Pop Art," as published in the book In God We Trust, All Others Pay Cash, as well as in his film, "A Christmas Story," which was adapted from the book.

Robert Ripley helped the Nehi Corporation, when he advertised for them on his radio show "Ripley's 'Believe It Or Not!'" By 1940, Nehi products were available in forty-seven of the forty-eight states. In 1946, the pace for the Corporation accelerated tremendously. The company began to enhance its advertising by using entertainment celebrities. Bing Crosby, Joan Crawford (before inheriting Pepsi), Bob Hope and many others joined in selling the products of Nehi Corporation. When World War II was over, the company and its bottlers joined whole-heartedly in a progressive program of expansion and improvement that made 1947 one of the great years in the history of the enterprise. In that year, glamorous Hedy Lamarr was pictured in point of purchase advertising signs. At that time, Nehi Corporation offered over ten flavors. Those included Dr. Nehi, Nehi Chocolate, Nehi Root Beer, Nehi Lemonade, Nehi Wild Red, Nehi Blue Cream, and of course the classics Nehi Orange, Nehi Grape, and Nehi Peach.

The fame of Nehi Cola lived on until Nehi Corp reformulated Chero-Cola, naming it Royal Crown Cola. RC sold extremely well, so the company changed its name to Royal Crown Cola Co.
Fanta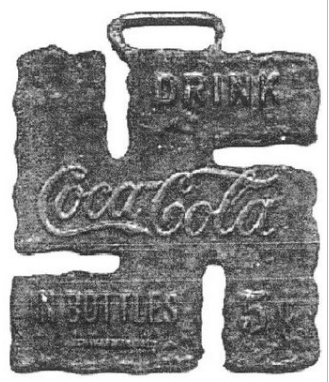 In 1940 Fanta was created by the German Nazi chemist Schetelig during World War II in Germany, for the German Coca-Cola bottling company in Essen. Due to wartime restrictions on shipping between Nazi Germany and the United States, the Nazi bottling plant could not get Coca-Cola syrup. The CEO of the plant, Max Keith, needed a product to keep the plant in operation and devised a fruit flavored drink made from available ingredients.

Using apple fiber remaining from cider pressing and whey, a byproduct from cheese manufacture, Fanta was created and became quite popular. The original German Fanta had a yellow color and a different flavor from that of Fanta Orange. The flavor varied throughout the war, depending on the ingredients used.

The name 'Fanta' was coined during an employee contest to name the new beverage[citation needed]. Keith told them to let their Fantasie (German for "imagination") run wild. On hearing that, salesman Joe Knipp spontaneously arrived upon the name Fanta.

After World War II, Fanta was introduced to the United States by Coca-Cola, and in 1960 they bought the trademark. What had been known as Fanta Klare Zitrone ("Clear Lemon Fanta") in Germany, was introduced to the United States as Sprite in 1961 to compete against 7-Up. Fanta Orange is the most popular Fanta flavor, available in 180 countries. In terms of volume, Brazil is the largest consumer of Fanta in the world, followed by India[citation needed]. Fanta remains more popular in Europe and South America than in the United States.
Dr. Pepper
In 1885, in Waco, Texas, a young pharmacist called Charles Alderton invented the soft drink "Dr Pepper".

Alderton worked at a place called Morrison's Old Corner Drug Store and carbonated drinks were served at the soda fountain. Alderton invented his own recipes for soft drinks and found one of his drinks was becoming very popular. His customers originally asked for the drink by asking Alderton to shoot them a "Waco".

Morrison, owner of the drug store is credited with naming the drink "Dr Pepper" after a friend of his, Dr. Charles Pepper. Later in the 1950s the period was removed from the "Dr Pepper" name.

As demand grew Alderton and Morrison had trouble manufacturing enough "Dr Pepper" for their customers. Then in stepped, Robert S. Lazenby, Lazenby owned The Circle "A" Ginger Ale Company in Waco and was impressed with "Dr Pepper". Alderton did not want to pursue the business and manufacturing end of soft drinks and agreed that Morrison and Lazenby should take over and become partners.

In 1891, Morrison and Lazenby formed the Artesian Mfg. & Bottling Company, which later became the Dr Pepper Company.

In 1904, the company introduced Dr Pepper to 20 million people attending the 1904, World's Fair Exposition, in St. Louis. That same world's fair introduced hamburger and hot dog buns and ice cream cones to the public.

The Dr Pepper Company is the oldest major manufacturer of soft drink concentrates and syrups in the United States