Concept Cars
Gotta remember the 50's!!! These were the most futuristic cars ever known! We went to the Los Angeles Car Shows and always came to see what the car designers had to show!
Buick Le Sabre
One of the first postwar one-off dream cars was the 1951 GM LeSabre. Designed by GM's styling chief, Harley Earl (behind the wheel), it had an aluminum and magnesium body, heated seats, built-in hydraulic jacks and a moisture sensor which raised the top if it started to rain.
This concept car is currently on loan to and on display at the Henry Ford Museum in Michigan.

Mercury XM Turnpike Cruiser
The 1956 Mercury XM Turnpike Cruiser was only 52 inches high and was surrounded by glass - the compound-curve windshield wrapped into the roof and the roof section over each door was covered a clear glass panel which raised to facilitate entry and exit.
Styling foretold the look of the 1957 production Mercury. This concept car is now in private hands, awaiting restoration.
First made only as a hardtop, Mercury was so pleased with the special convertible they made to be Pace Car for the 1957 Indianapolis 500 that they added the model to the line. In all 1265 convertibles were sold at $4103 each.

Futuristic it certainly was. Based on Mercurys XM Turnpike Cruiser Dream Car, its "Quadri-Beam" lights were so bright and advanced they were banned in Tennessee and South Dakota. The Turnpike Cruiser featured pronounced headlight brows, huge bumpers and "flying-V" taillights. The body was part of Mercurys horizontal plane styling-longer, lower and wider.

Lincoln Futura
The Lincoln Futura was introduced in 1955. Fully operational, it was built by Ghia for Ford at a cost of over $250,000.
It featured a Plexiglas bubble top and a 300 horsepower V-8 engine. It was featured in the '50s movie It Started With A Kiss starring Glenn Ford.
In the early 1960s, it was sold to California car-customizer George Barris who converted it into the first Batmobile.

BAT
The wild-looking B.A.T. 5 (Berlina Aerodynamica Technica) was an Alfa Romeo one-off designed and built by Italian coachbuilder/stylist Bertone in 1954.
Remarkably aerodynamic and futuristic-looking, especially for 1954, the car was capable of speeds up to 125 miles per hour. Based on the Alfa Romeo 1900 sedan , the car still exists in a museum in Turin. Note the 'folded batwing' fins.

Pontiac Club De Mar
Very low and very swoopy, the Pontiac Club de Mer debuted at the 1956 GM Motorama.
This two passenger sports car had twin-bubble Plexiglas café racer windscreens, stood a mere 38" high and had an aluminum body, a 300 horsepower modified Pontiac V-8 engine and a DiDion independent rear suspension.
The front nacelle rotates 180 degrees to expose the headlamps.
So, how do you dream up a car???

Packard Predictor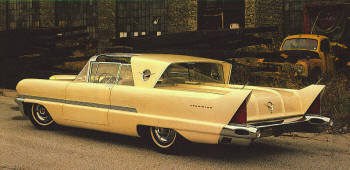 The Packard Predictor was introduced at the 1956 Chicago Auto Show.
It had brushed aluminum tambor roof panels which slid up into the roof, swivel seats, a compound-curve wrapover windshield and a reverse-slope rear window.

Packard Predictor
Designed to 'predict' the look of the large series '57 Packards (which were never built), it's now in the Studebaker Museum in South Bend, Indiana.
The Predictor had a 300-hp Packard engine and has electronic push button Ultramatic transmission, electric trunk (like Lincolns now!) reversible cushions leather on one side fabric on the other.. the panels above the doors slide into the roof over the doors to ease getting in and out.. and could be left open for ventilation like T tops on a Trans Am years later.

That rear window (Backlight as designers call it) was retractable. It was built by none other then Ghia of Turin (the same ones from Karmann-Ghia VWs and Ghia is now part of the Ford family) This car would have been a HUGE influence on the cars of Packard had the company survived.
The cars styling was a bit different and hard to say if it might have had the same problems as the Ford Edsel with the Vertical grille which is suppose to give the cars that "classical " look of the 20s and 30s but which was really out of the norm for the 50s and most didn't care for that... the shape is VERY similar to the Edsels "industrial espionage"? nah.. just designers thinking like they do.. that upright vertical is classical and just happen to be by chance that both cars looked a bit alike. the back window though WAS to influence the '58 Continental though! and a few other styling exercise cars at FORD during that! time.

Firebird
The most radical concept car of the 1950s was the GM Firebird III from 1958. It was powered by a 225 horsepower gas turbine engine mated to a modified Hydra-Matic transmission. The car featured a twin bubble cockpit and ultrasonic key entry, but the most radical feature was a joystick controller to accelerate, brake & steer.
The third design, the Firebird III, was built in 1958 and first shown at Motorama in 1959. It is another extravagant prototype with titanium skin, and no less than seven short wings and tail fins that were tested extensively in a wind tunnel. It is a two-seater powered by a 225 hp Whirlfire GT-305 gas turbine engine, and a two cylinder 10 hp gasoline engine to run all the accessories. Its exterior design features a double bubble canopy, and more technical advancements to make it more practical, such as cruise control, anti-lock brakes, and air conditioning.
It also featured "space-age" innovations, such as special air drag brakes, like those found on aircraft, which emerged from flat panels in the bodywork of the car to slow it from high speeds, an "ultra-sonic" key which signaled the doors to open, and an automated guidance system to avoid accidents and "no hold" steering. The steering was controlled by a joystick positioned between the two seats. This gave the car a more futuristic feel and simulated the experience of flying a plane