Time To Celebrate Connor's Birthday (Page One)
When Connor was younger, he loved the teppan room at Kobe Steakhouse so we decided it was time to try it again! Kobe Steakhouse, here we come!

With a grandson like you, all our wrinkles feel worth it. Happy Birthday.
Did You Know? - Teppanyaki (鉄板焼き teppan-yaki) is a style of Japanese cuisine that uses an iron griddle to cook food. The word teppanyaki is derived from teppan (鉄板), which means iron plate, and yaki (焼き), which means grilled, broiled, or pan-fried. In Japan, teppanyaki refers to dishes cooked using an iron plate, including steak, shrimp, okonomiyaki, yakisoba, and monjayaki.
Modern teppanyaki grills are typically propane-heated flat surface grills and are widely used to cook food in front of guests at restaurants. Teppanyaki grills are commonly confused with the hibachi barbecue grill, which has a charcoal or gas flame and is made with an open grate design. With a solid griddle type cook surface, the teppanyaki is more suitable for smaller ingredients, such as rice, egg, and finely chopped vegetables.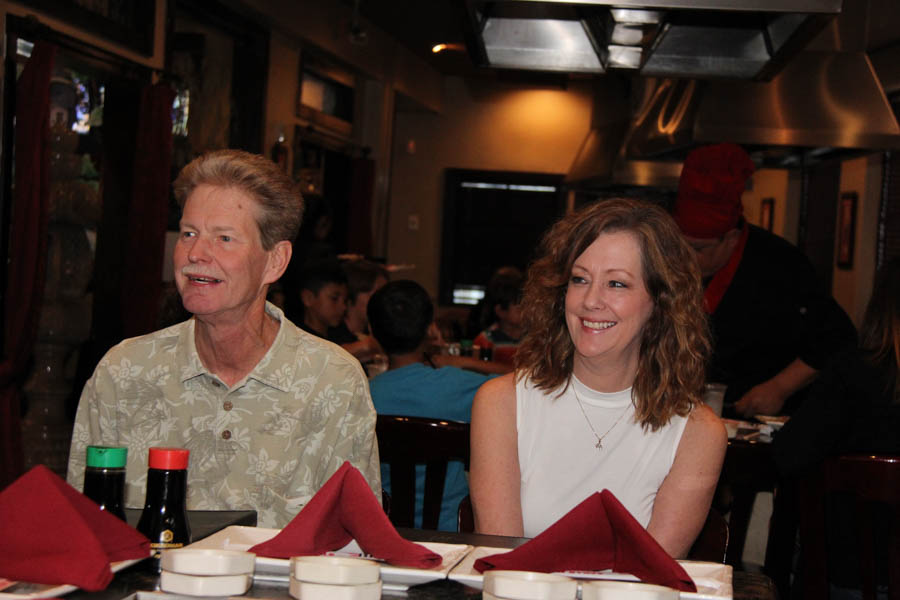 Mitch and Penny get ring-side seats!

Zack, Noah, and Laura... Always a smile!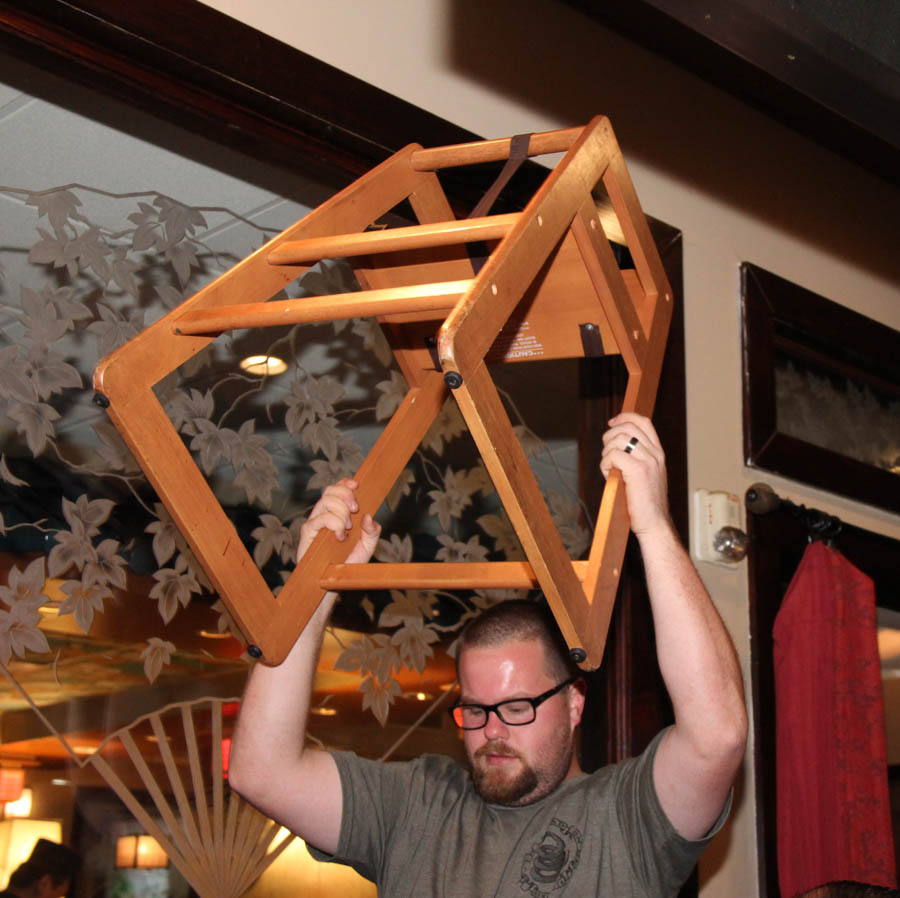 Daddy saves the day... Lilly now has a seat!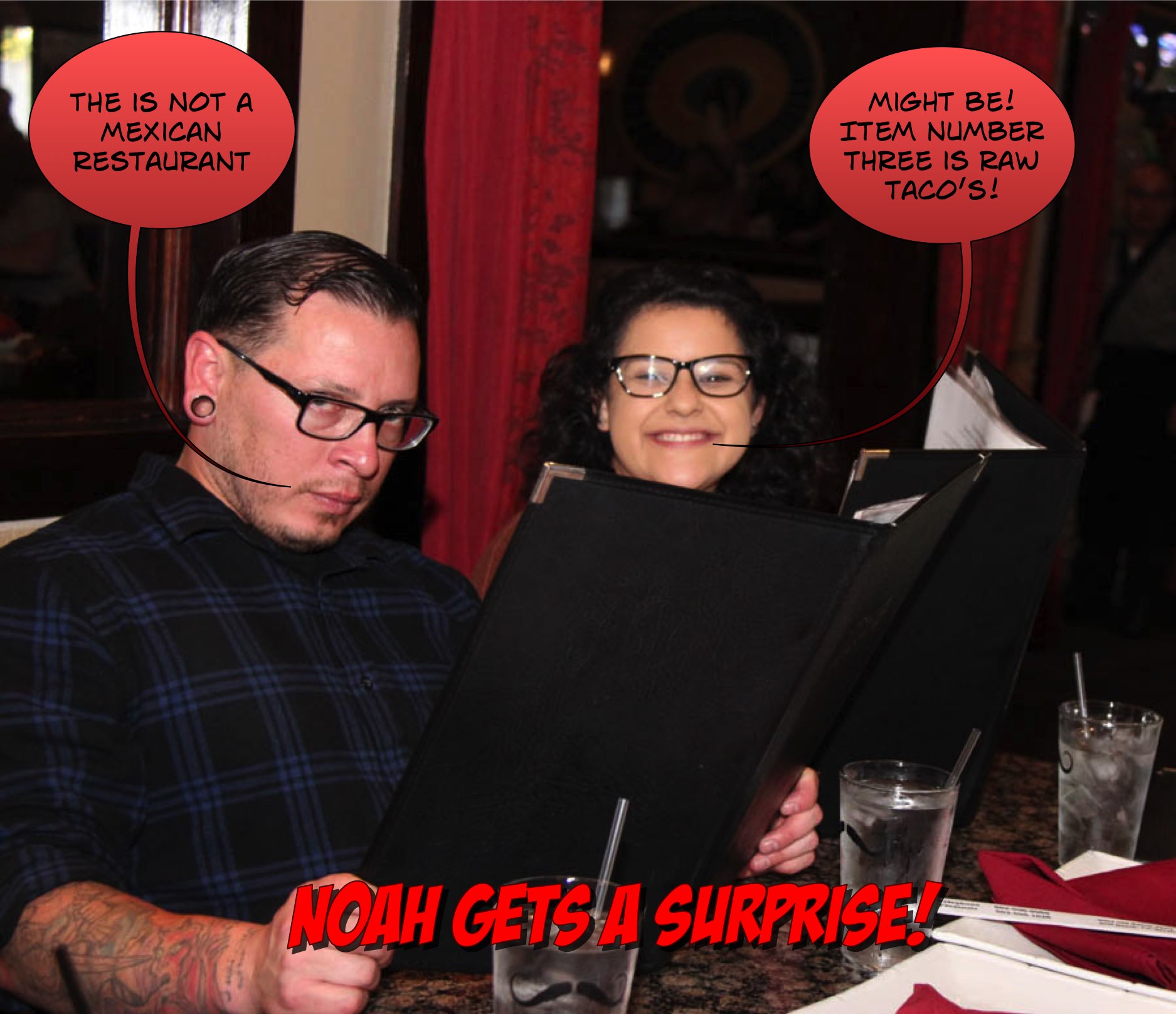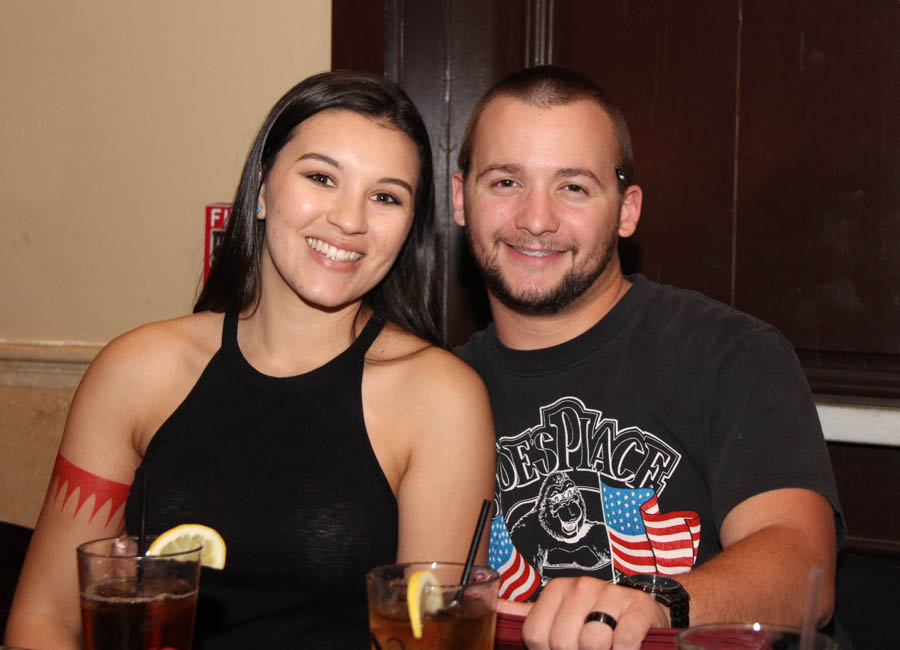 Welcome to the celebration... Chelsee and Kelsey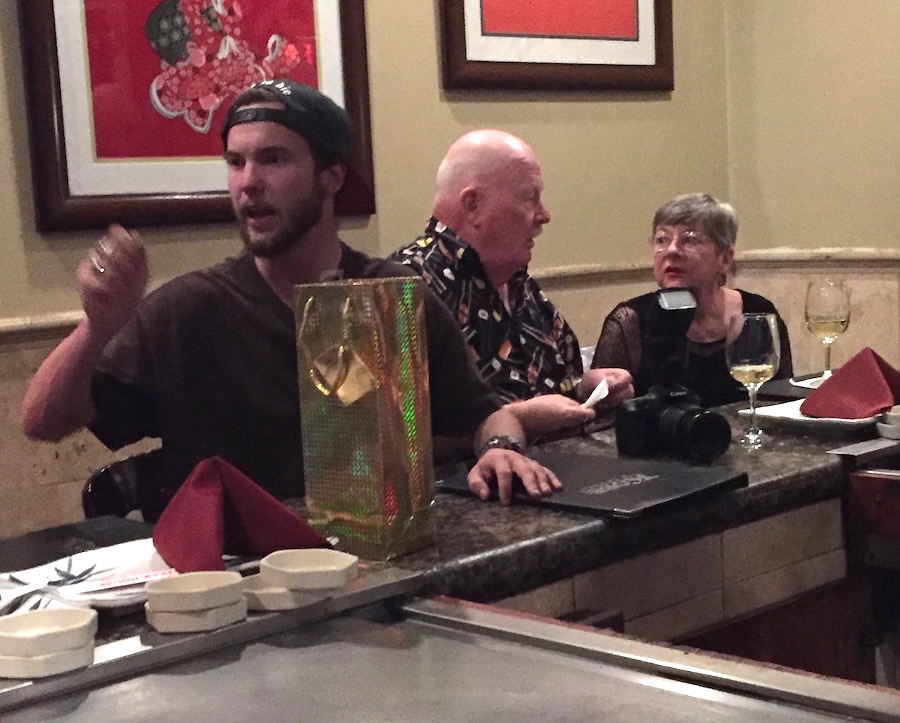 Connor, Grandpa Paul and Grandma Sue at the head of the table
Quotation To Remember: Just remember, once you're over the hill you begin to pick up speed. - Charles M. Schulz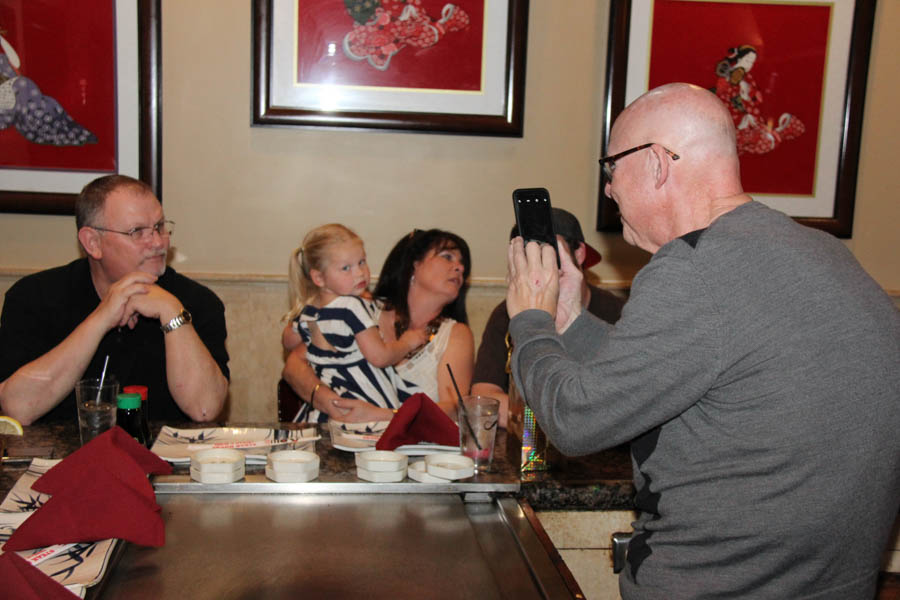 Greg gets his camera going... Capturing the moments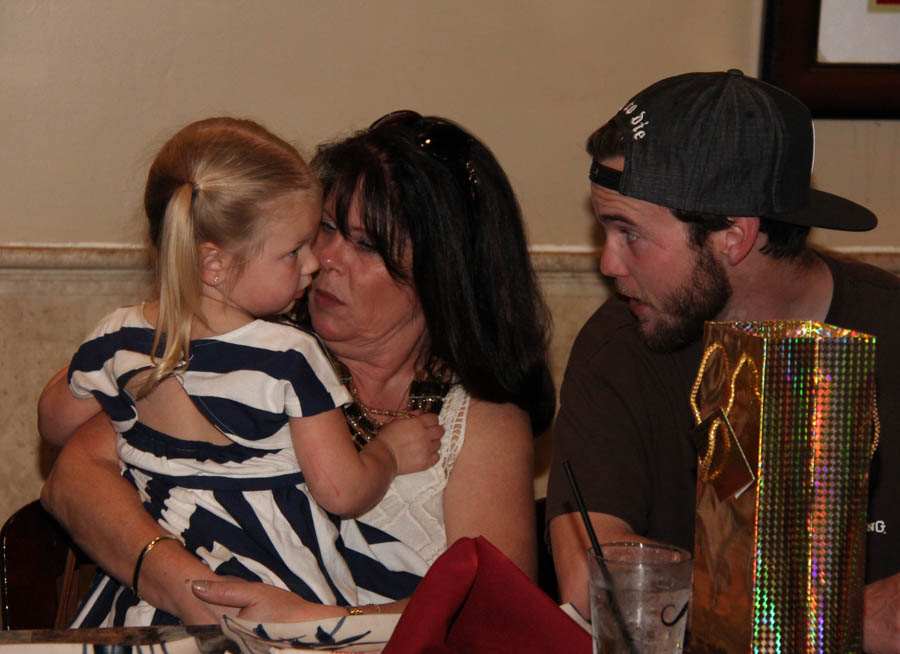 Lilly and Grandma Jeanette have a serious conversation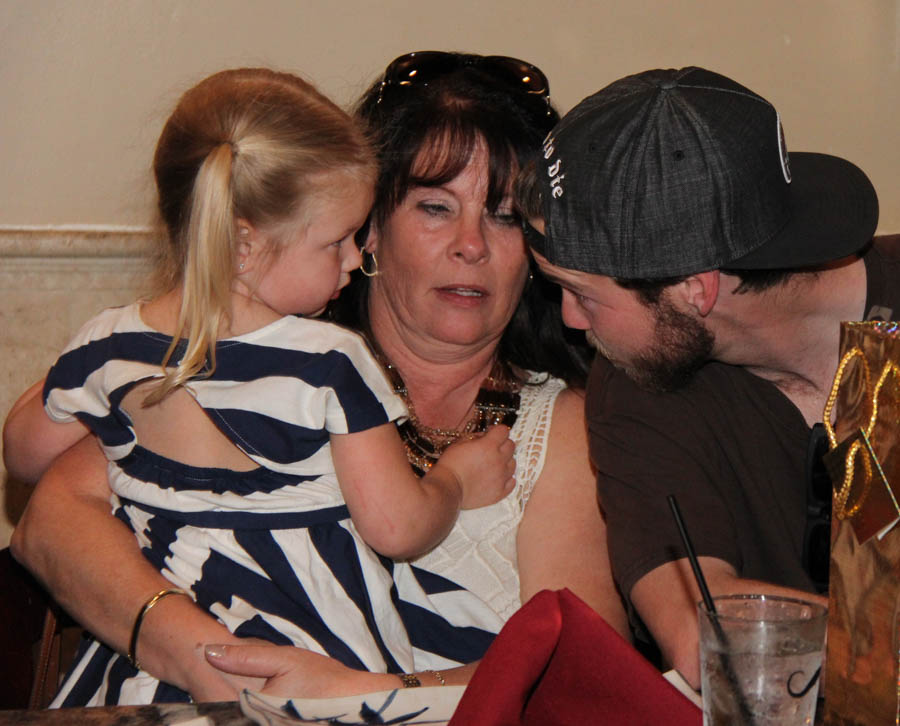 We are about to reach an agreement
Quotation To Remember: Birthdays are nature's way of telling you to eat more cake. - Jo Brand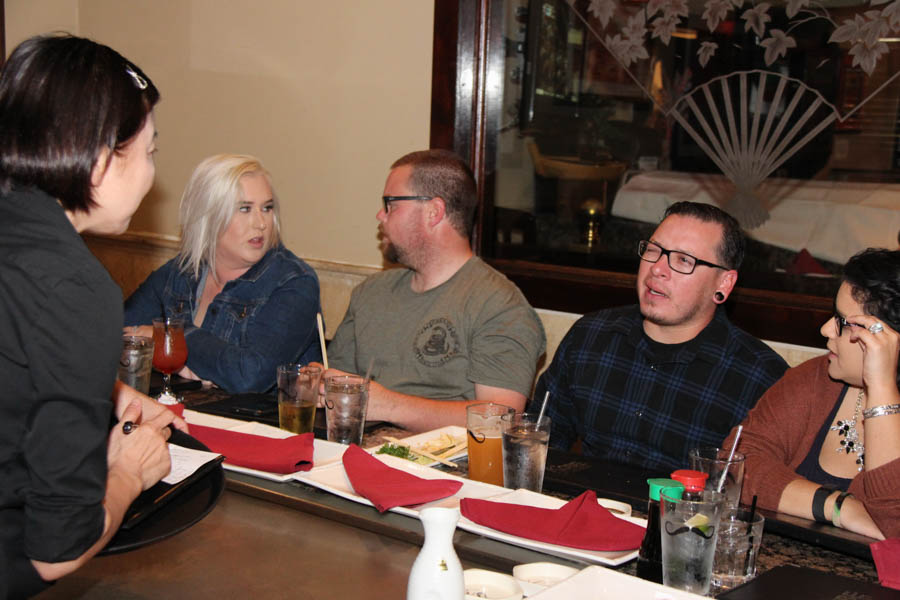 "Hold on there... Is that a trick question?"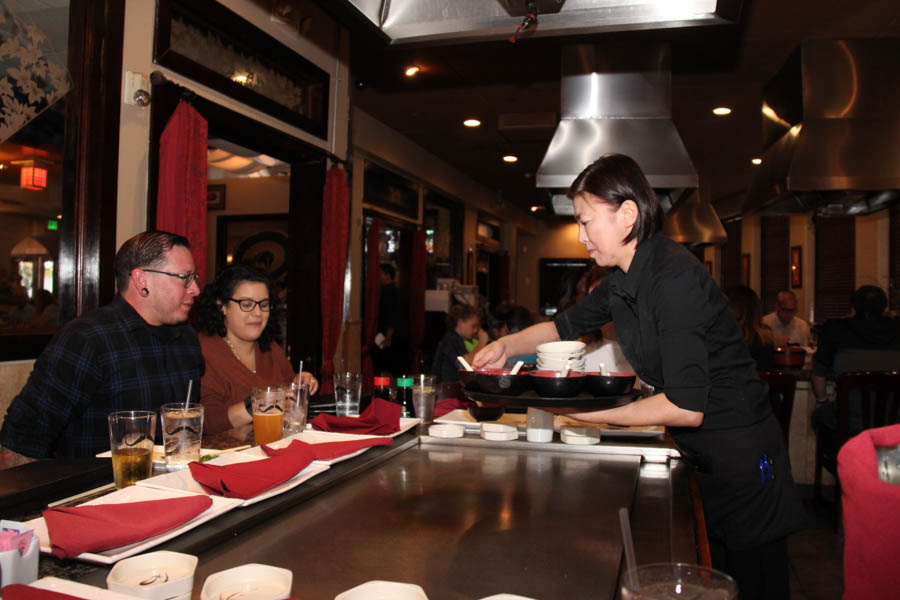 Here comes the miso soup!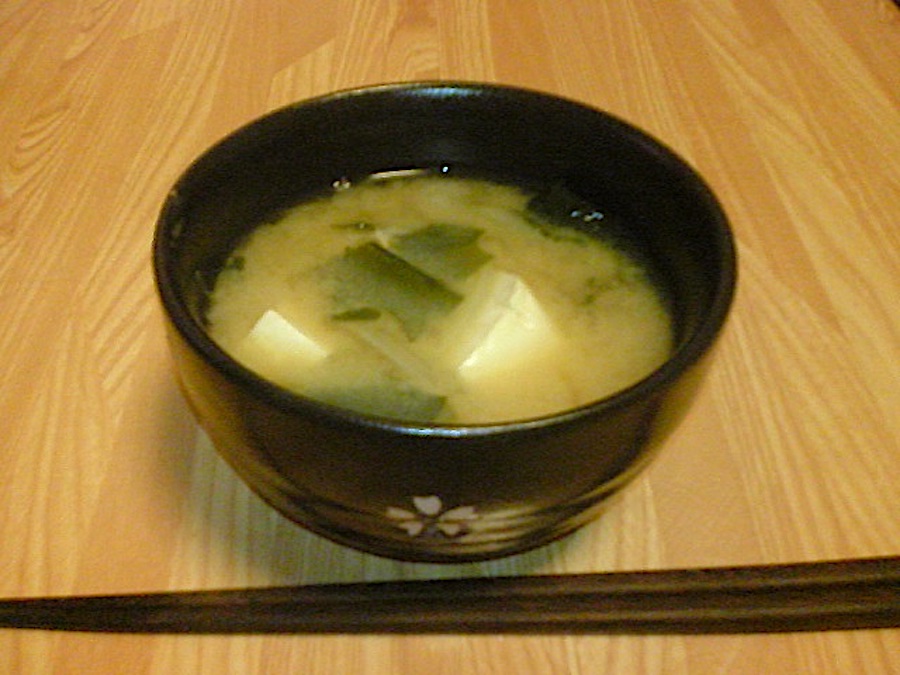 Did You Know? - Miso soup (味噌汁 misoshiru) is a traditional Japanese soup consisting of a stock called "dashi" into which softened miso paste is mixed. Many ingredients are added depending on regional and seasonal recipes, and personal preference.

David (Greg's dad) joined the fun... He is turning 93 next month!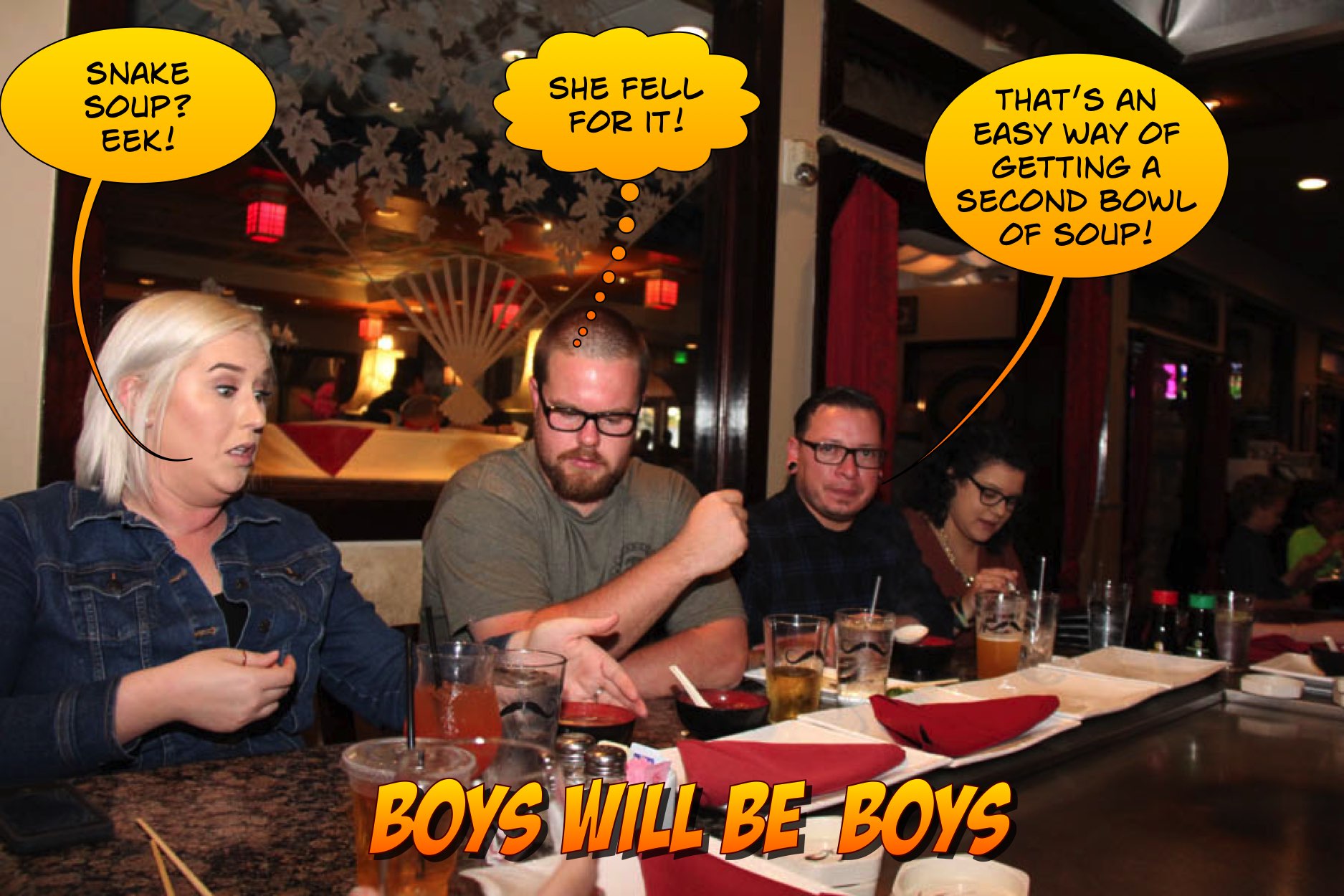 "Oh dear!"

We can assist with the big words

Greg does the Tea Pot Song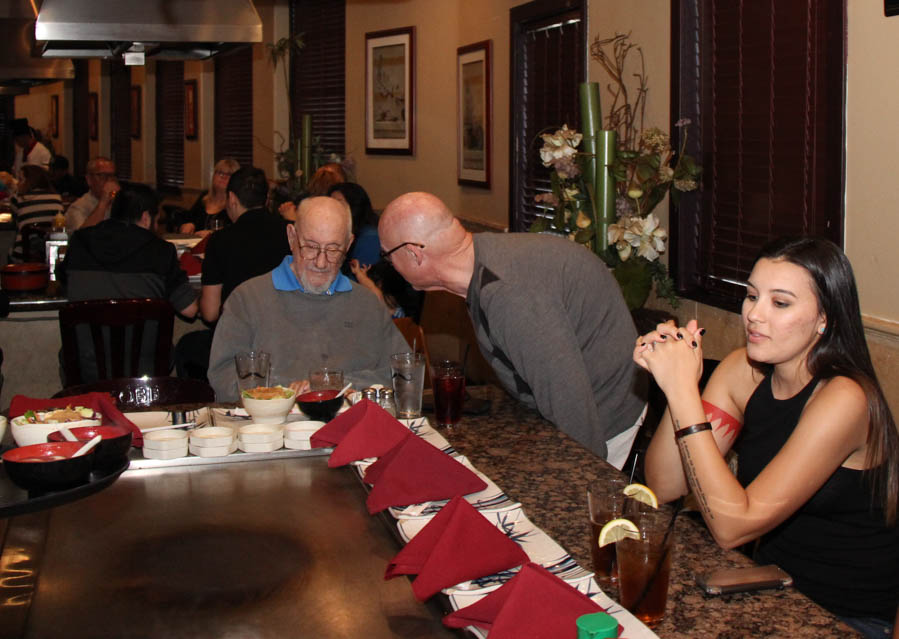 David is happy as a clam!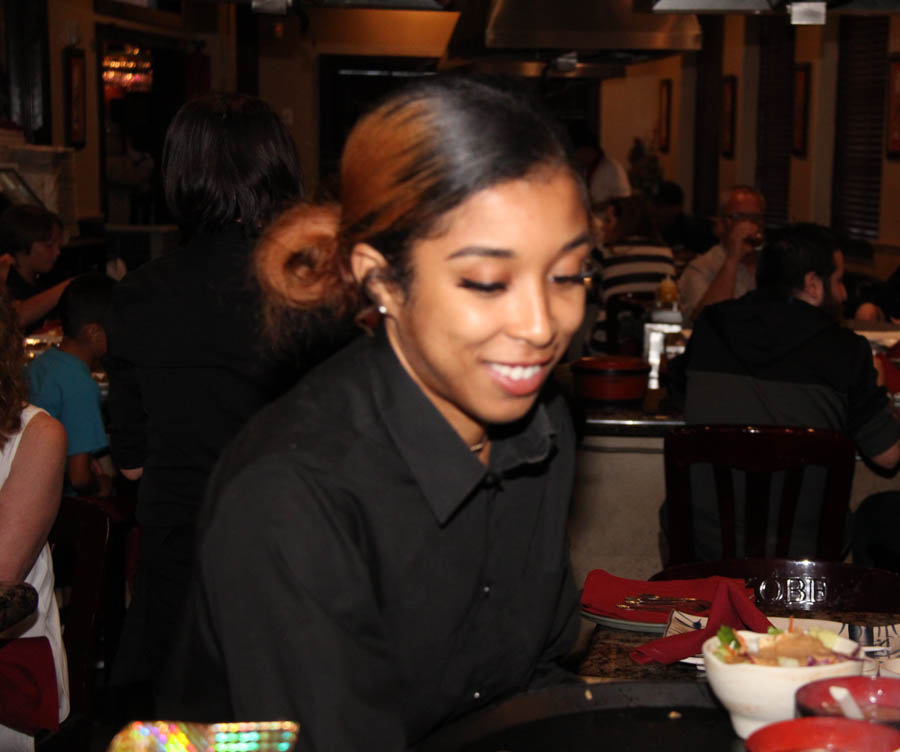 She is enjoying all the kibitzing going on!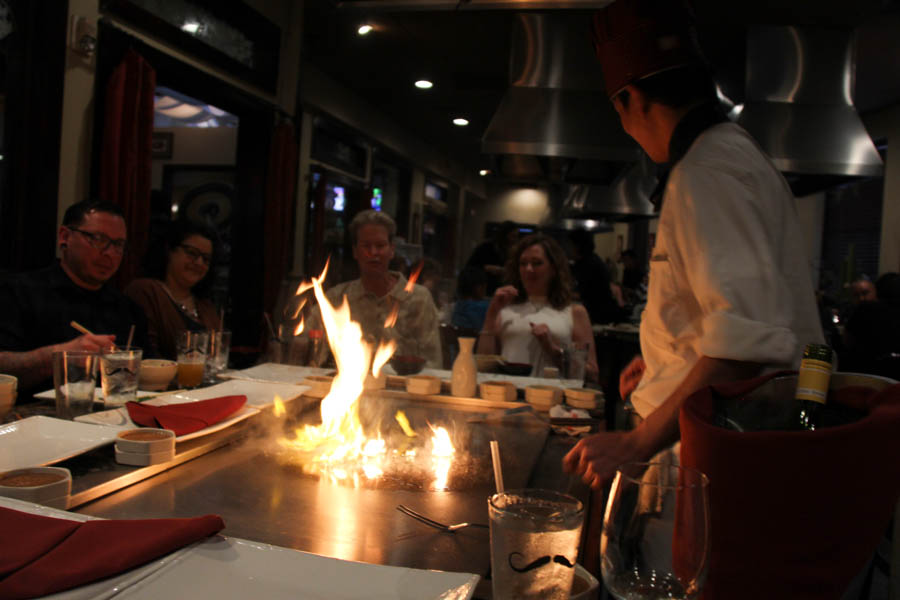 Just getting started!

Keep it going!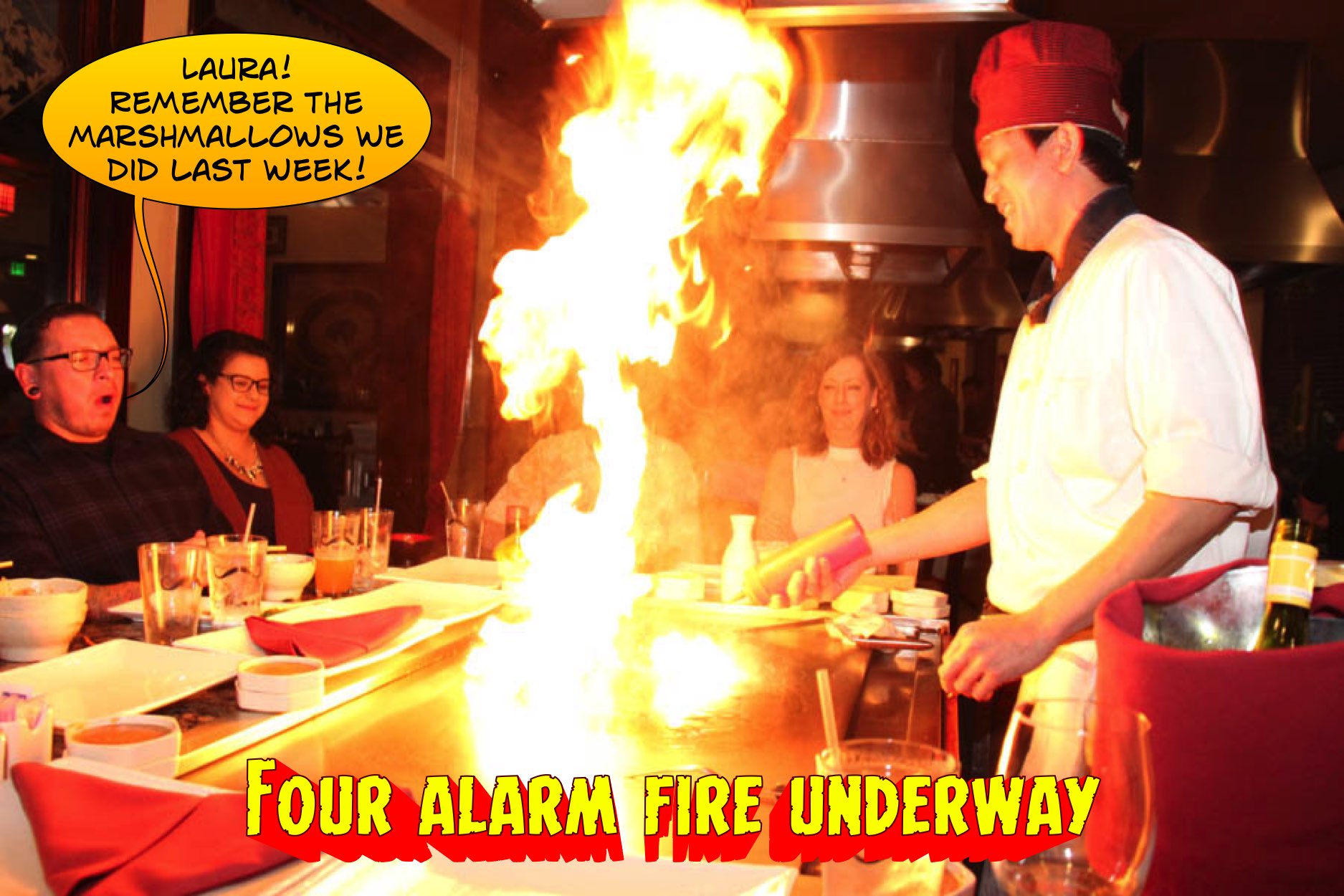 "Please do not pour alcoholic beverages on the fire"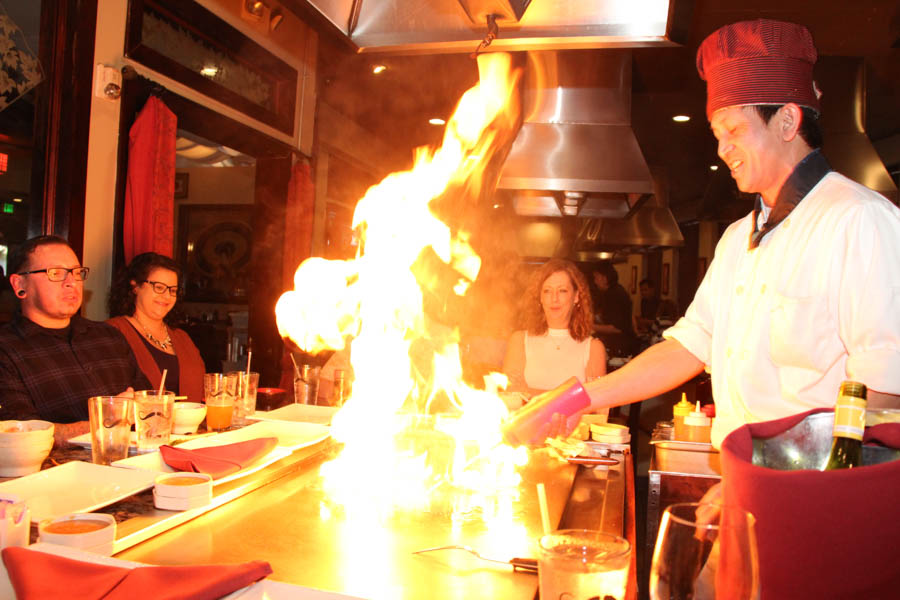 "Is he kidding... I'm drinking mine!"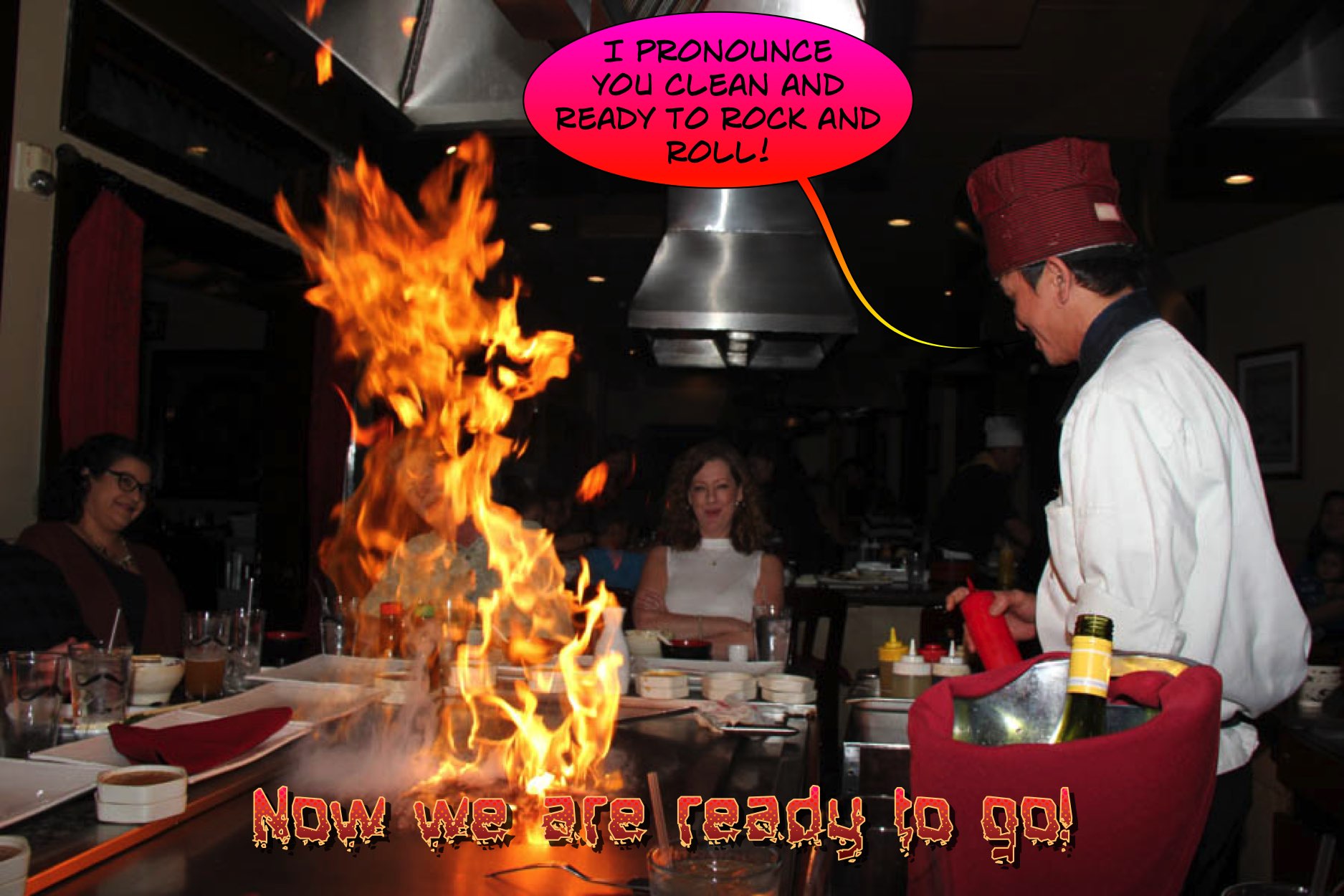 Quotation To Remember: You have one chance, one life and what you do with it is up to you. - Peyton Sawyer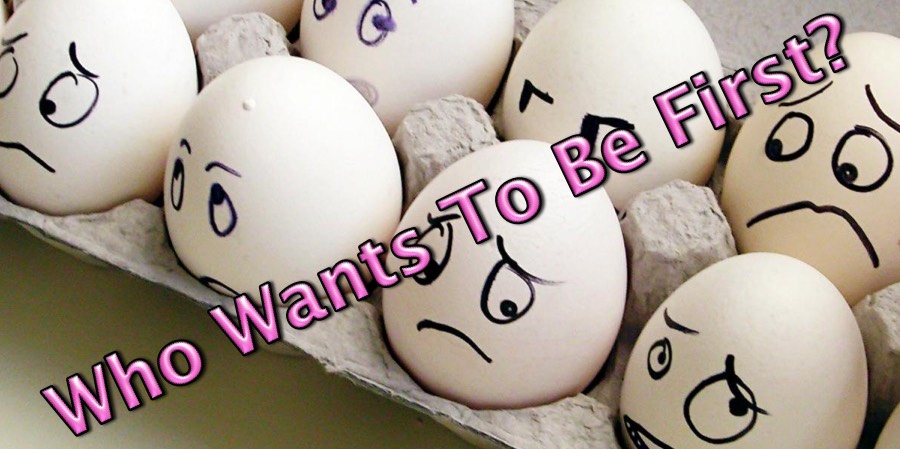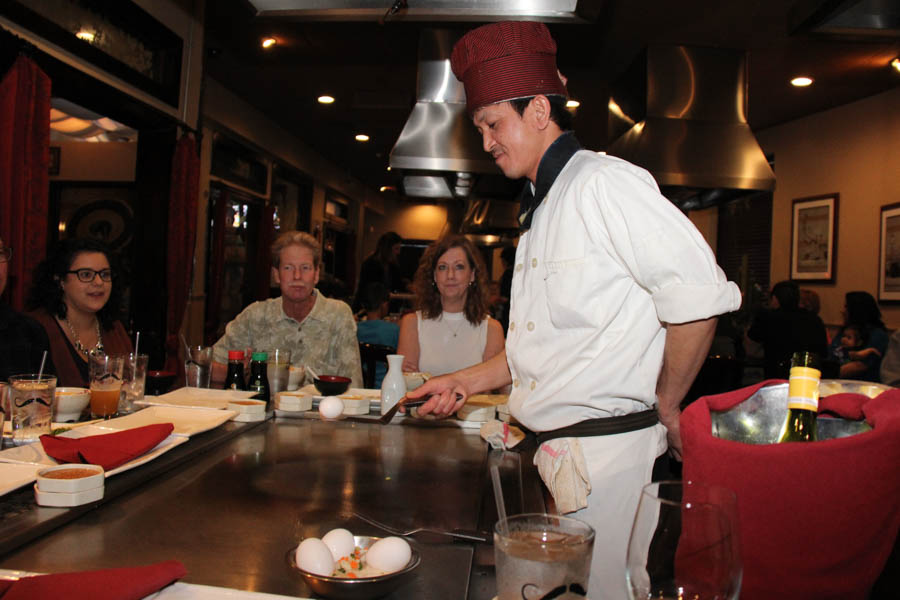 "What carefully... My hand does NOT leave my arm!"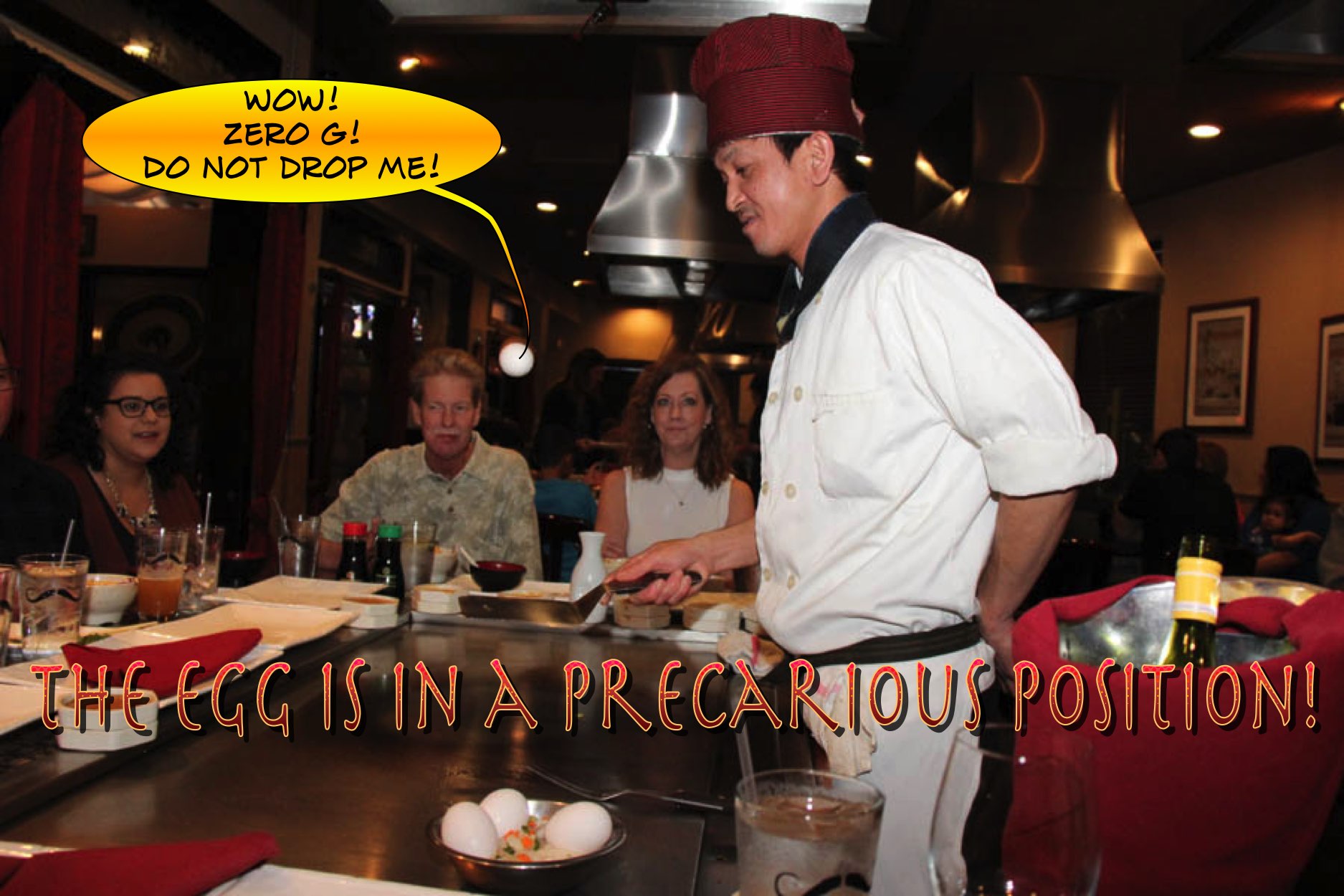 Mid air... What happens next?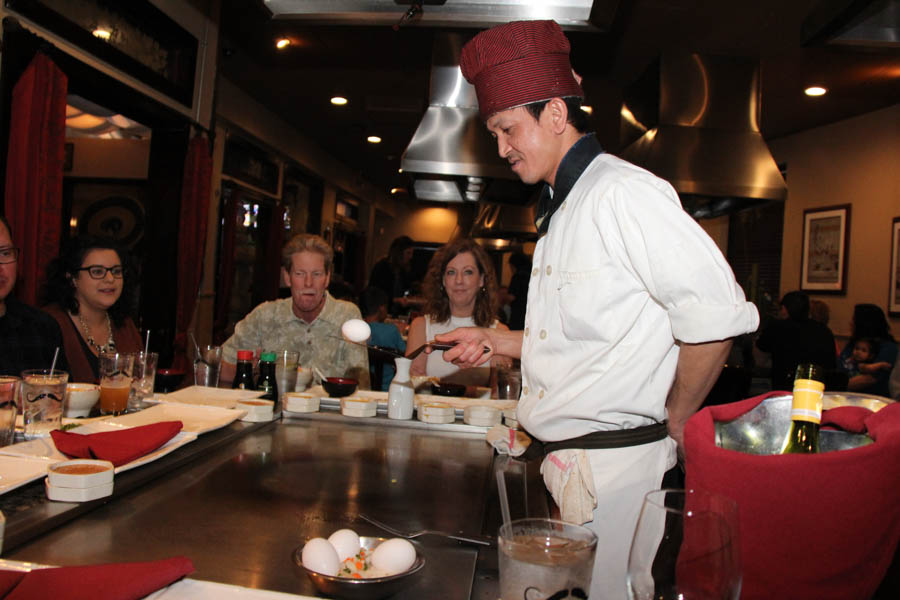 Good catch!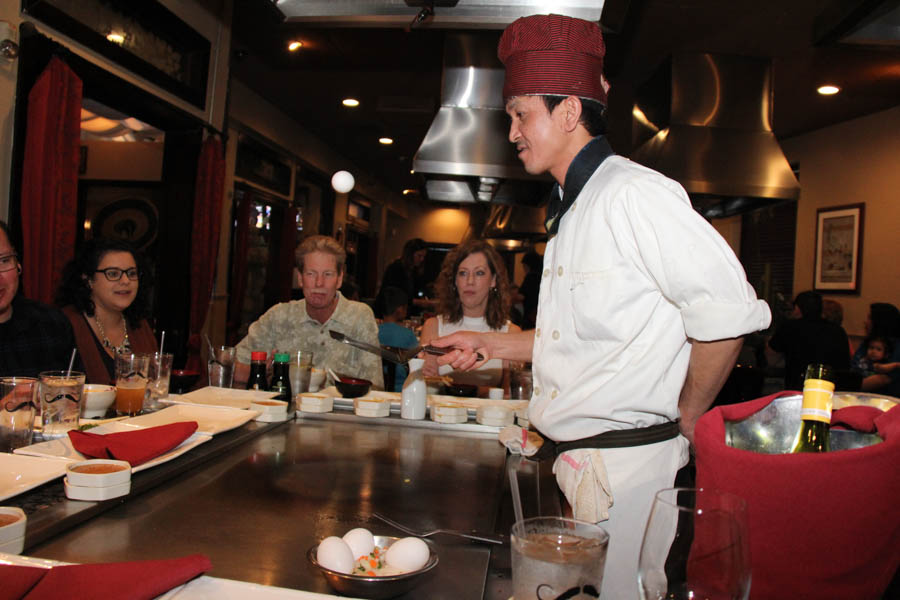 "Oh no... Not again!"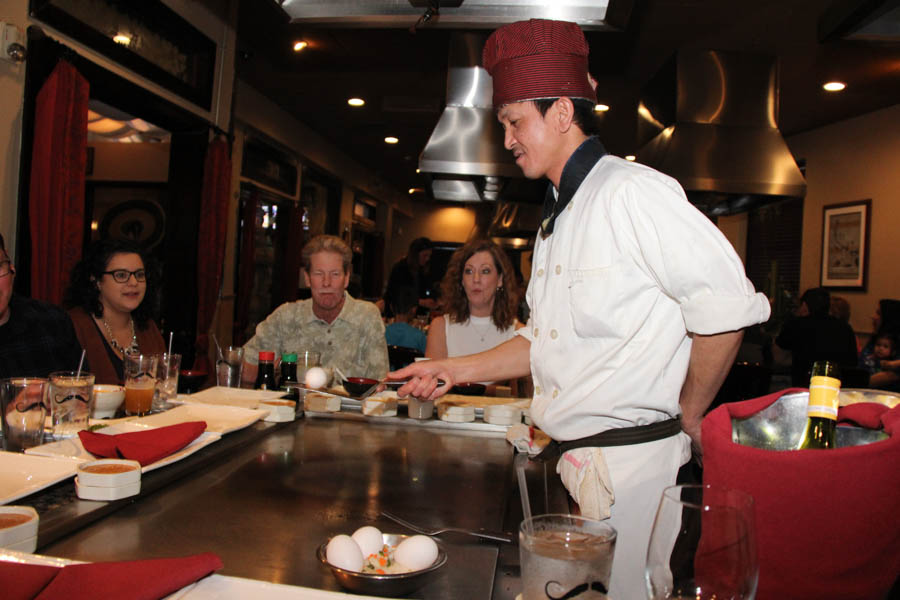 Caught again!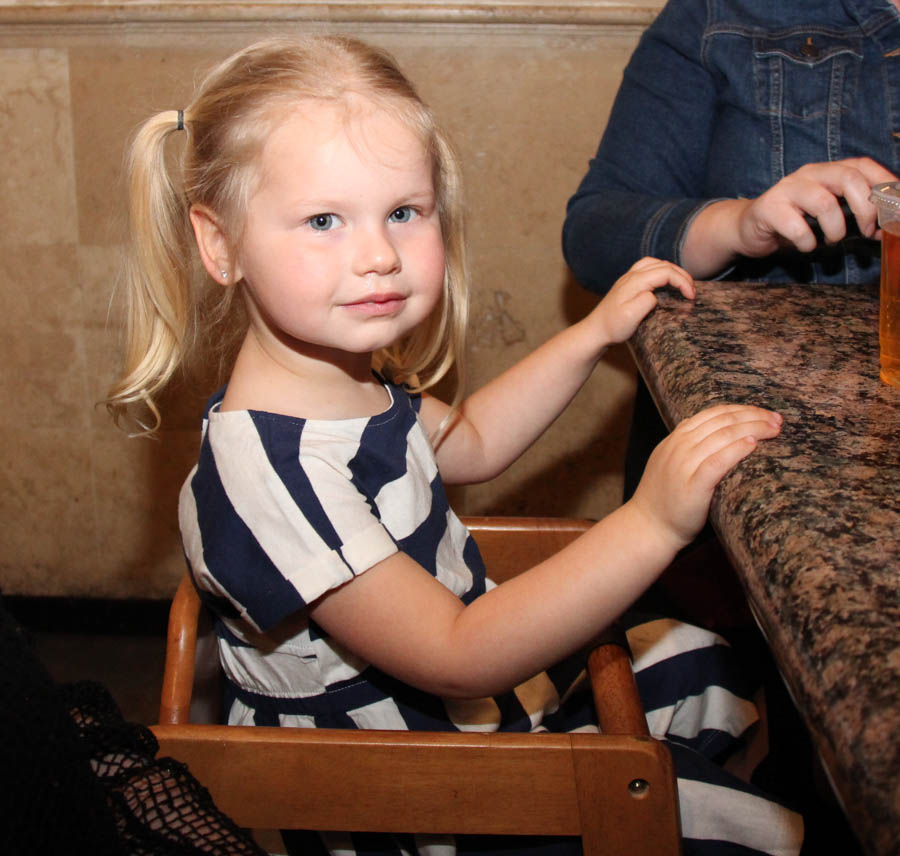 "I am going to try that when I get home!"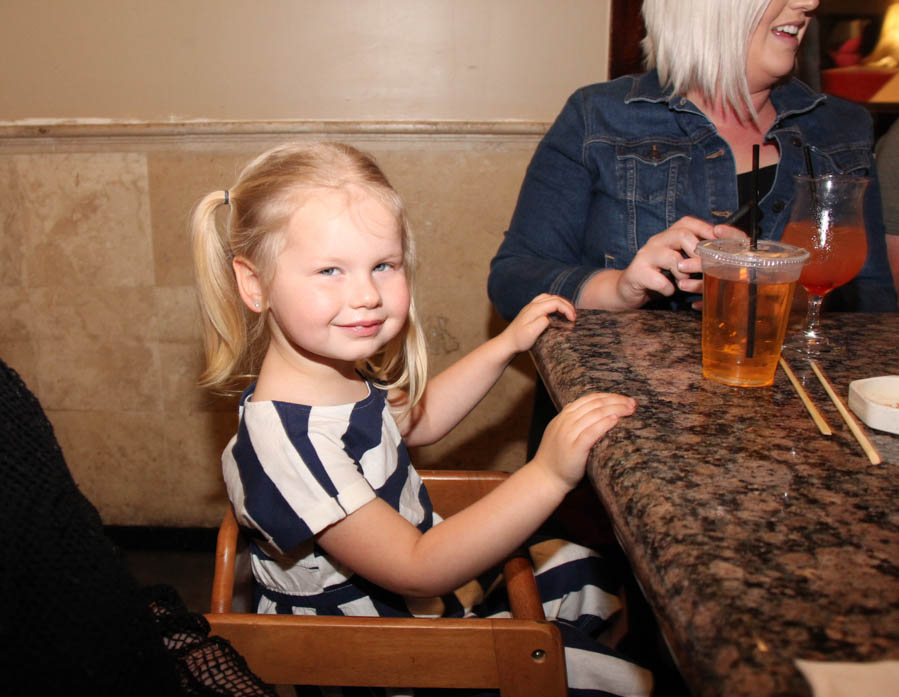 "No... It is not a beer!"

No pictures, please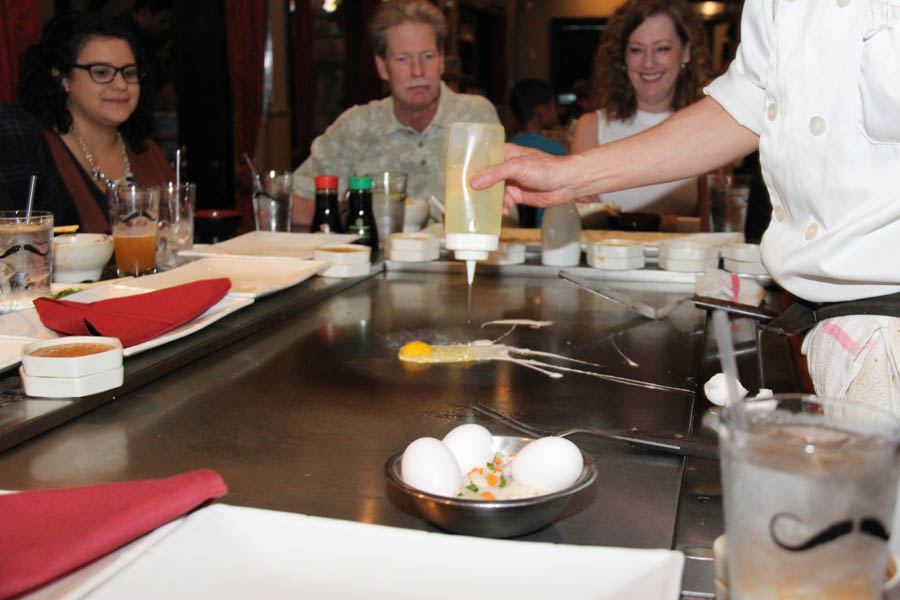 Splat! You only live once!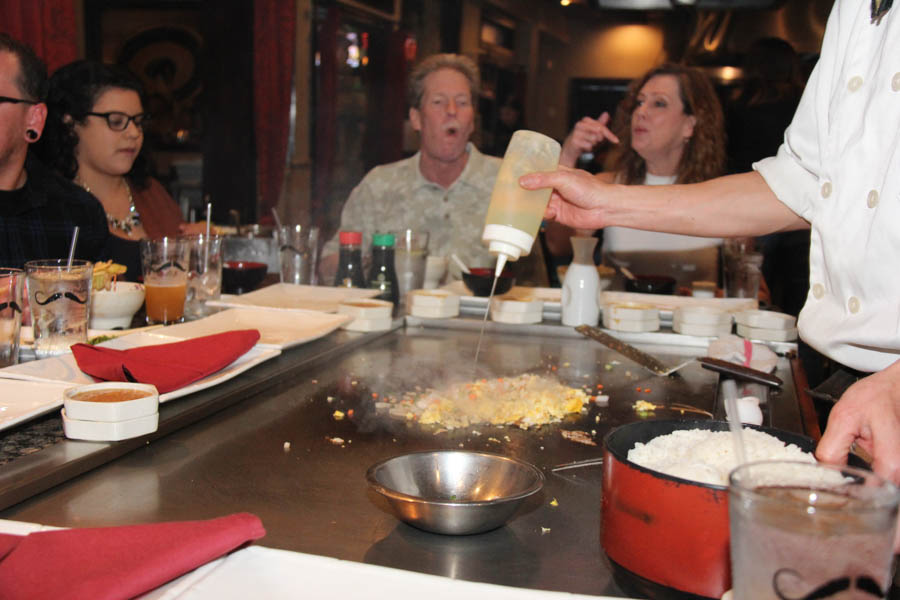 All the eggs now join the pile!

Mommy says "Watch the chef"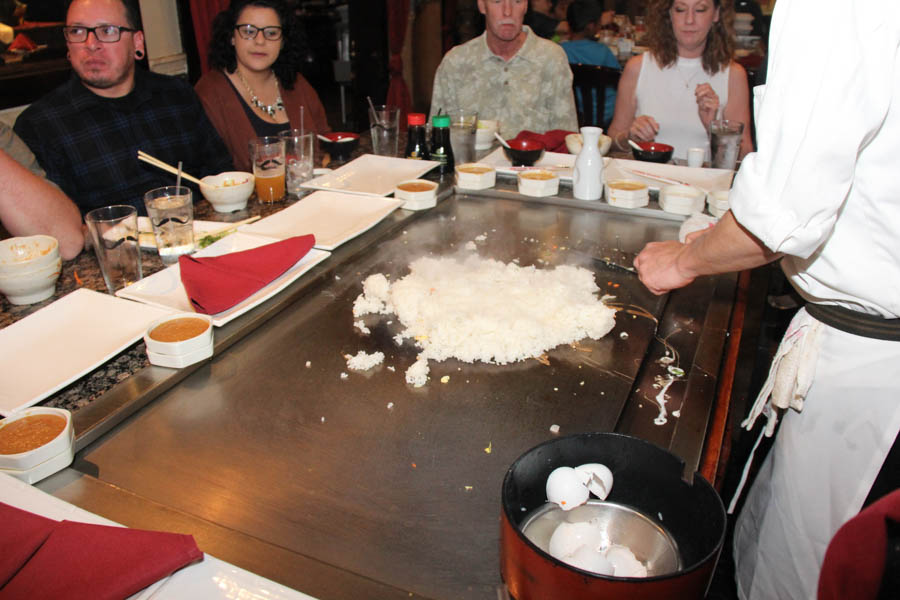 Rice is added to the eggs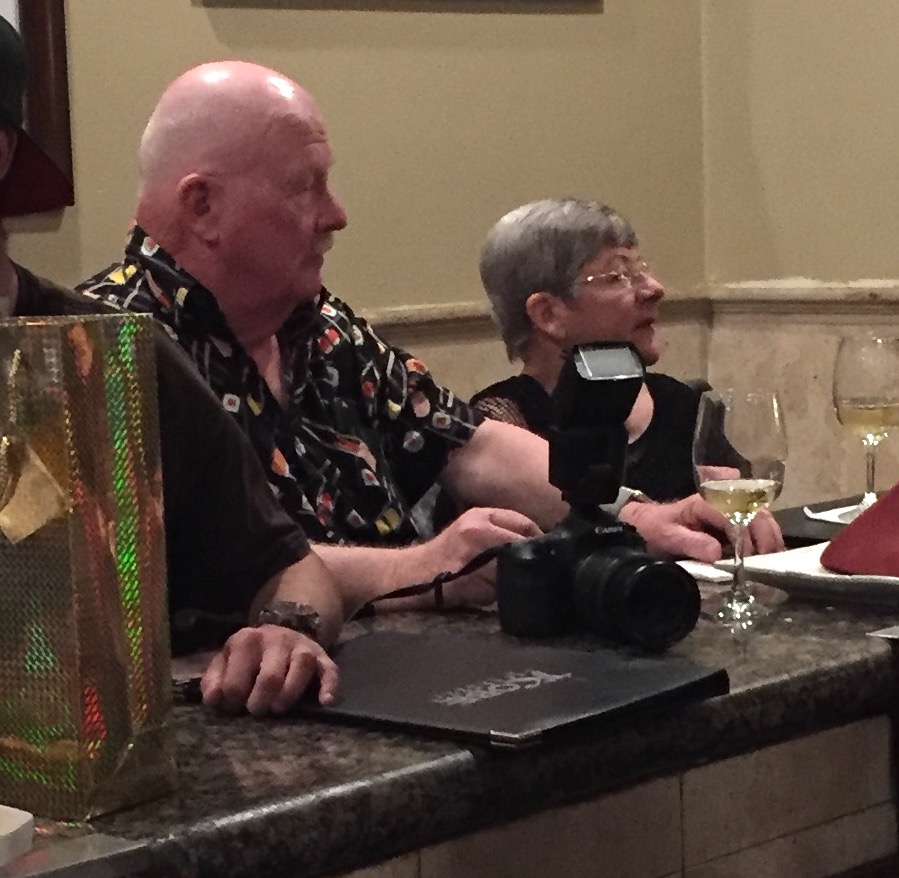 Have the camera ready at all times
Quotation To Remember: Let us celebrate the occasion with wine and sweet words. - Plautus

On the other side of the teppan area the second chef gets underway

"We are ready!"

Josept and Jeanette pace their orders... Enchilada?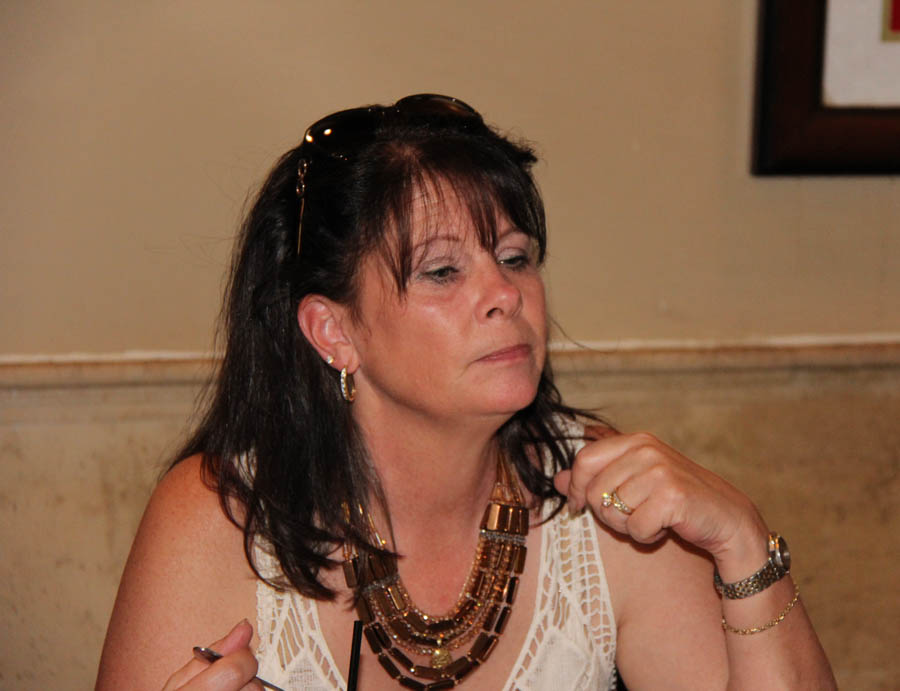 Jeanette gives her seal of approval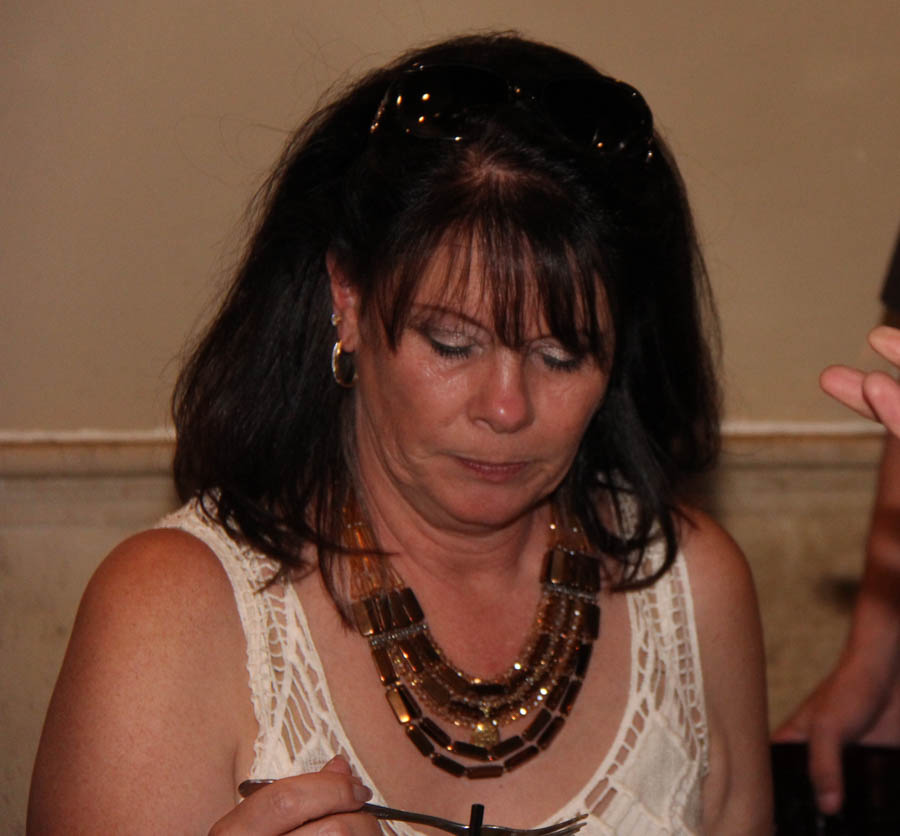 These chopsticks look like a fork!

Connor knows exactly what he wants... Without seeing the menu!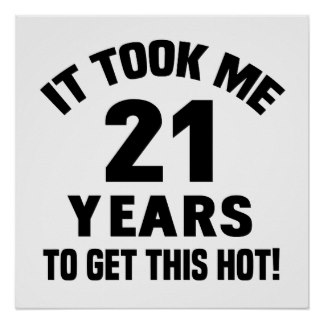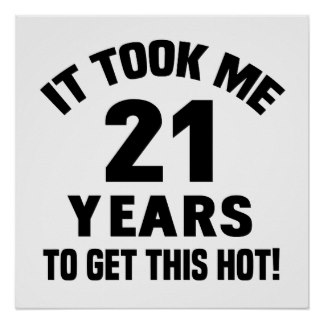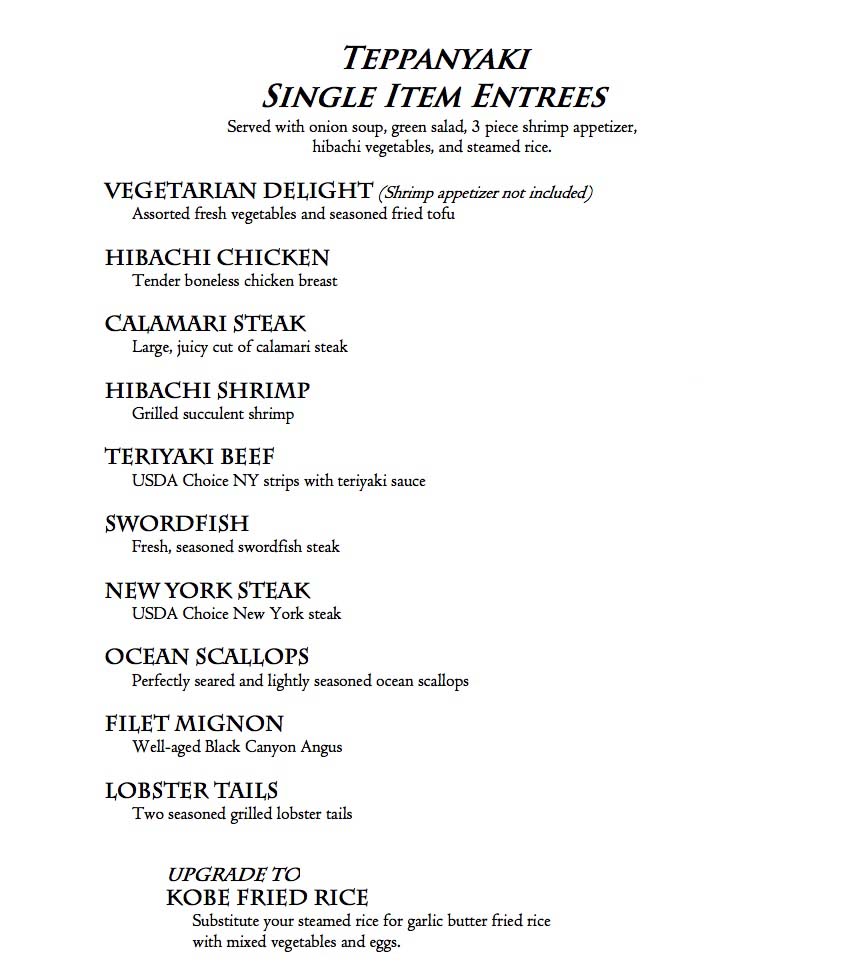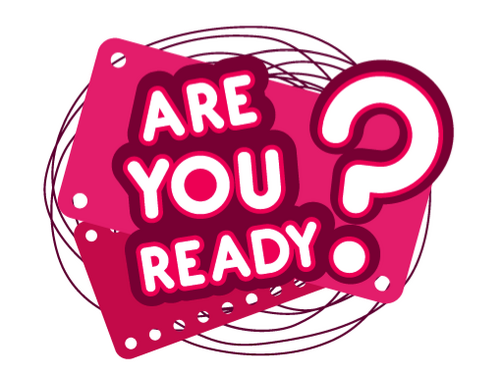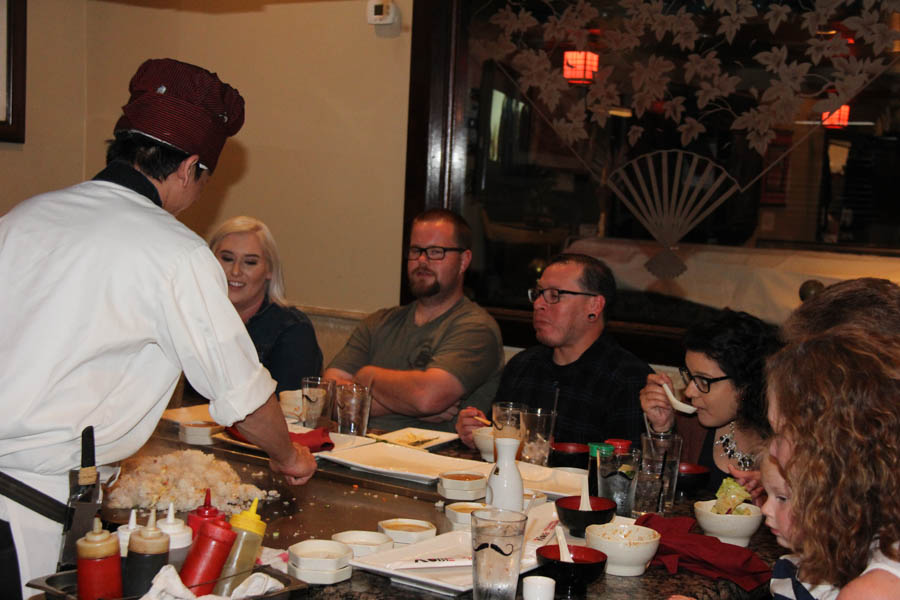 Turning the vegetables

Greg attempts his Japanese...
" 私は夕食の準備ができている"

The boys are studying the chef carefully
Quotation To Remember: It's your 21'st birthday, now you can do all the things you were already doing, but weren't supposed to be.

Lilly wants to see this up close!

The magic ingredients is added... Mitch watched carefully!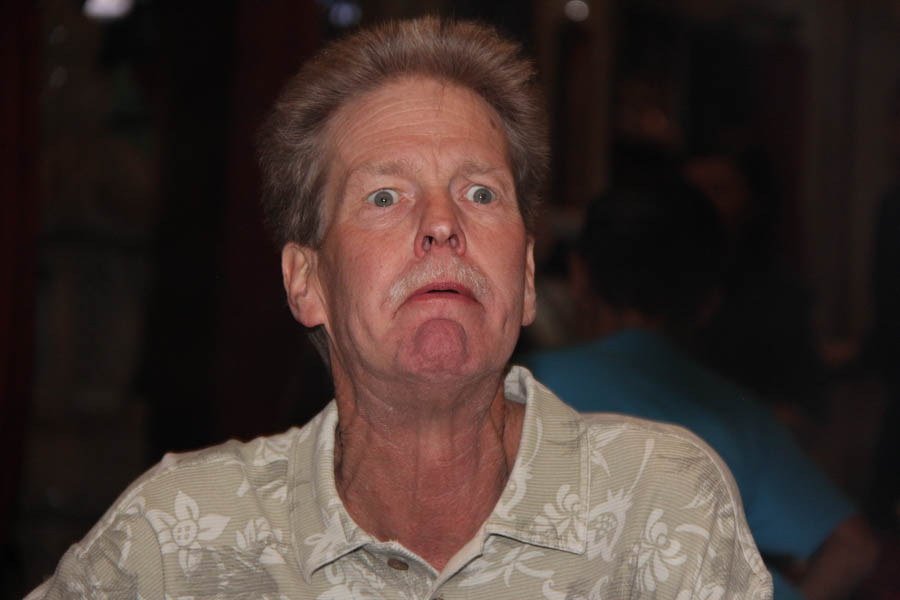 "What!!! I now know what the magic ingredients is!"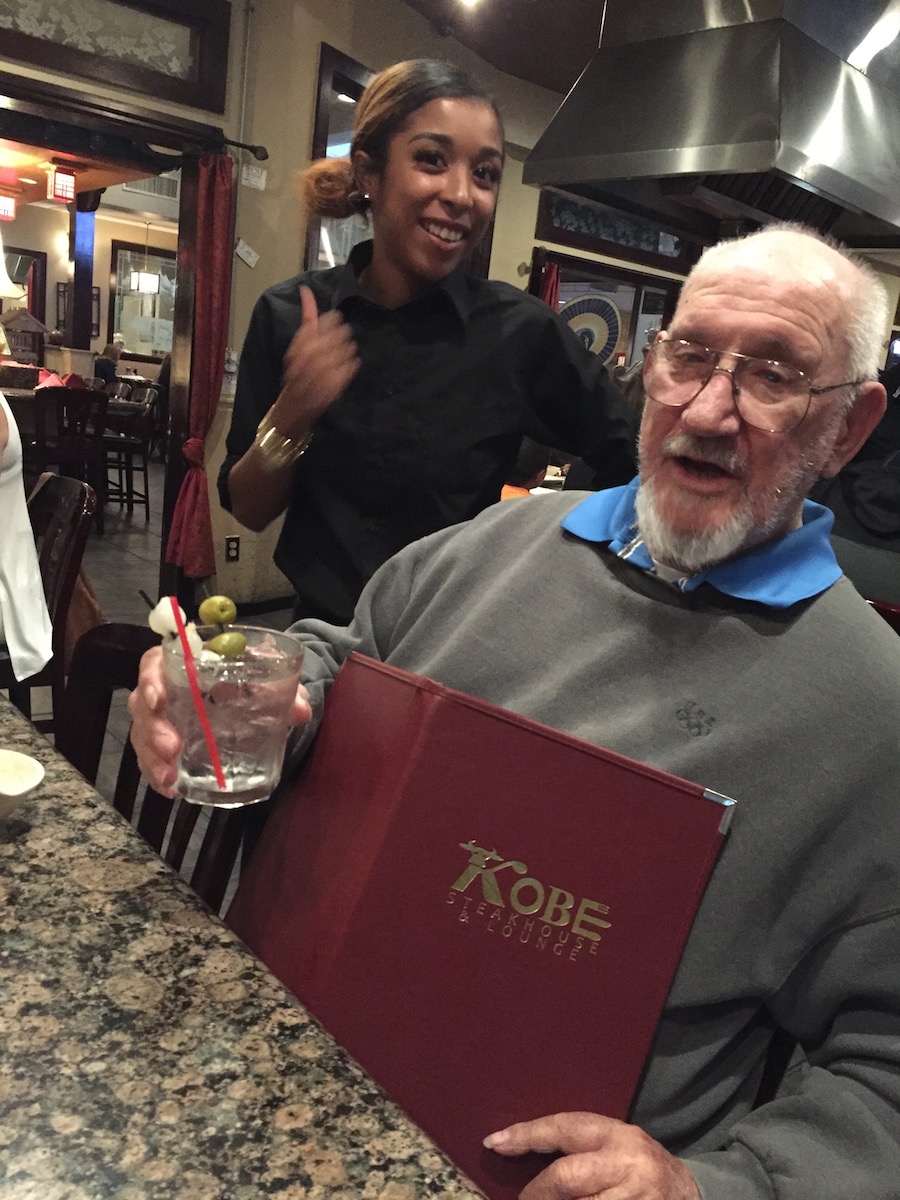 "I have my martini... All is going to be well!"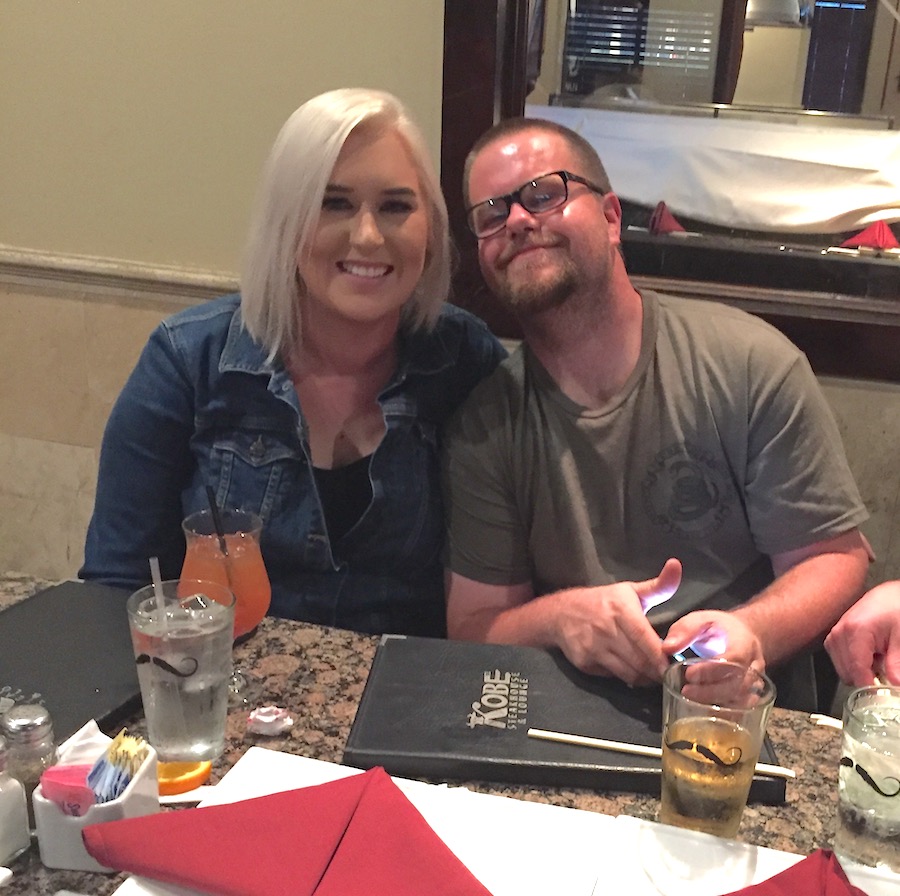 Awe... So cute

We have made our selections!

Checking out the guests