A Wonderful Aunt And Great Friend
It is with great sadness that Aunt Edith Parchman passed on September 9th, 2005. She was a "Great Aunt" and a friend of our family. Here are a few of the snapshots of her at different family events over the past several years. Born in McRae Arkansas January 19th, 1905 she graced us for 34,567 days bringing happiness and wit to all. Aunt Edith would have been of age today!.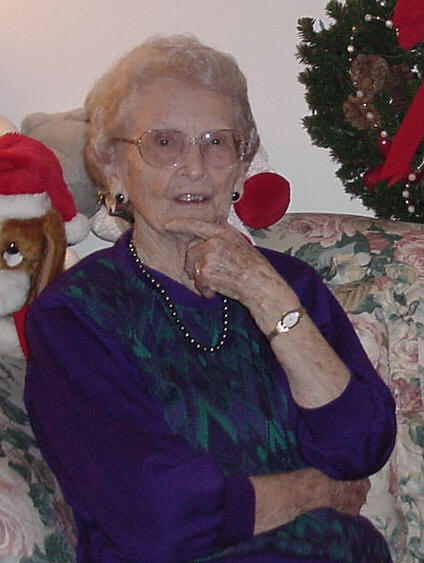 Christmas Day 2003
For many years Aunt Edit (and cousin Kat and uncle Otis) would come over for Christmas dinner. They always brought something... Usually she brought her famous chocolate and lemon pies! She was a good cook and a pie-ologist.

Easter 2001
Funny story time... Edit, Kat, Sue and I go to the Caribbean on CRUISE SHIP during Dodger Season. But we can't get the scores easily so Aunt Edith gets to know the crew and by the second day, every time we walked on deck some crew member would give her the score update! She was invited to the radio room to listen to shortwave radio, In the evenings at diner the waiter would pass he a slip of paper with the scores on it!
Aunt Edit, Kat, Sue and I went to Santa Catalina for Halloween. We went on Friday night and stayed over night to go to the masquerade ball at the Casino. We decided to meet in the lobby of our hotel, in costume, and walk to the Casino. Sue and I and Kat meet and begin to talk. No one else is in the lobby except a Mexican lady with deep black hair, comb in he hair and a red dress. She was reading the newspaper. So, Sue and I are off again to find "E". We check he room, no "E". We walk the halls thinking she got lost, no "E". We walk around outside, no "E". We lost her. When we approached the front desk clerk to complain "We lost our aunt", "E" drops the newspaper and yells "SURPRISE!". WE were surprised; flabbergasted; amazed; and all the other emotions! She had bee sitting three feet from us the whole time and we did not recognize her! "E" has a good laugh on us!
---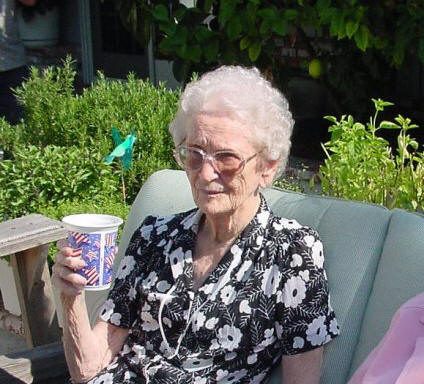 July 4th 2001
---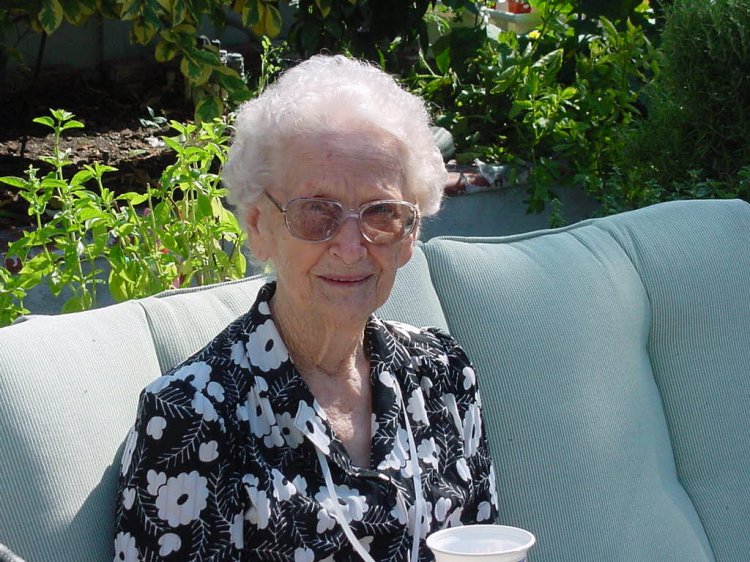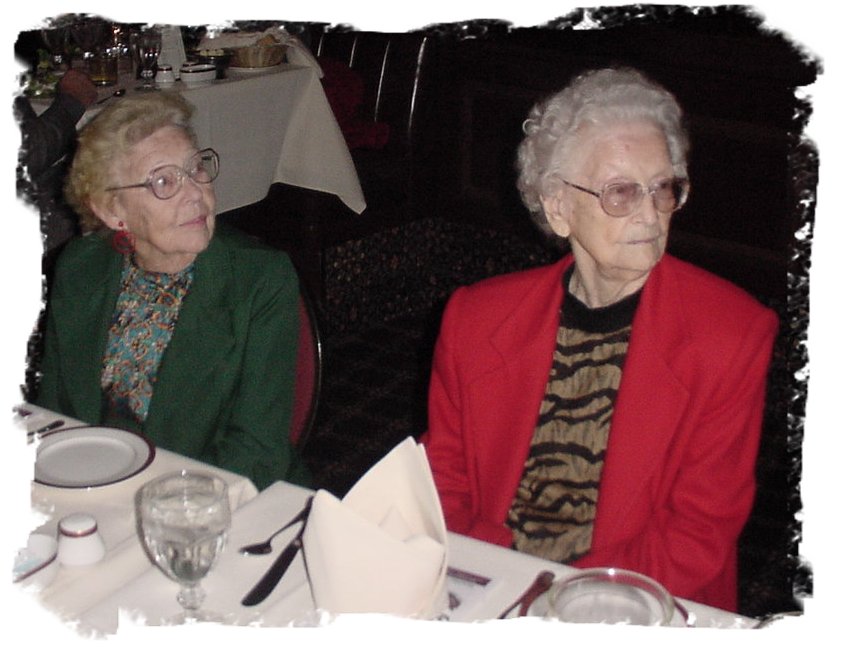 Christmas time and the Christmas Play was a tradition for the family. For many many years, Kat and Edith would join us for the play... Always bringing smiles and stories of Christmas for the family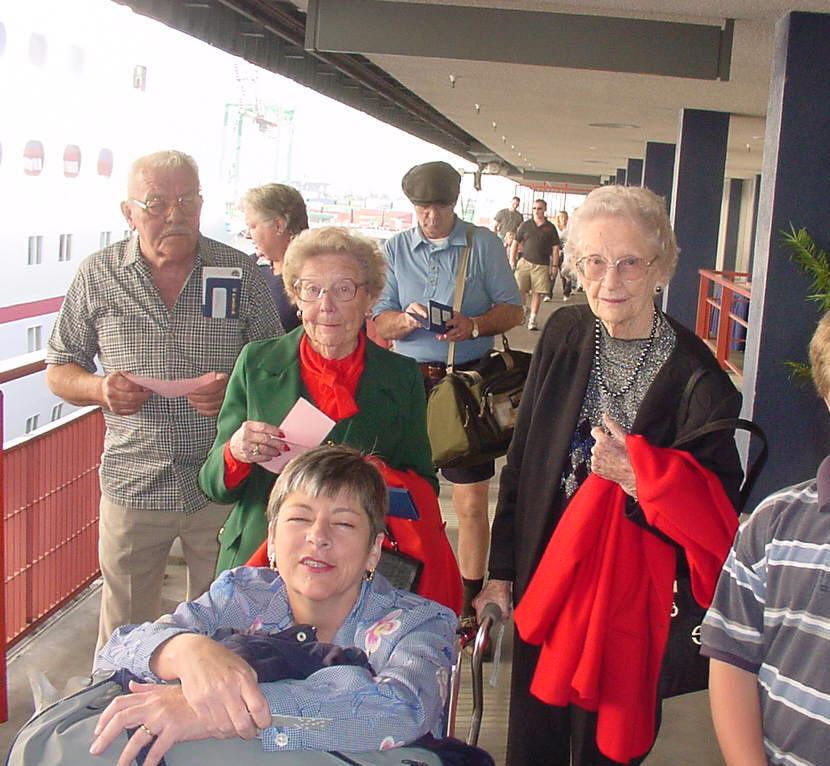 She was amazing.. Read about her vacation in Mexico
Story: So we arrive in Ensenada, Mexico the next morning and all plan to get off the ship a visit Ensenada except Aunt Edith, Kat, Sue and Paul.
We have a little bite for breakfast and then sit back and enjoy the rest.
Around 10:00 am, Sue and Paul decide to find Kat and "E" and go to an on-board activity.
No Kat! No "E"! We searched the ship top to bottom. Claudia is going to shoot us, we lost her Mom!
Finally, we are going to the Captain to report the missing ladies and we see, out of the corner of our eye, Kat and "E" walking up the gangplank wearing sombrero's! "
WHERE HAVE YOU BEEN???", we yelled!! Aunt Edith says, "Oh, we decided to go shopping so we caught a cab and bought a new purse and these hats!"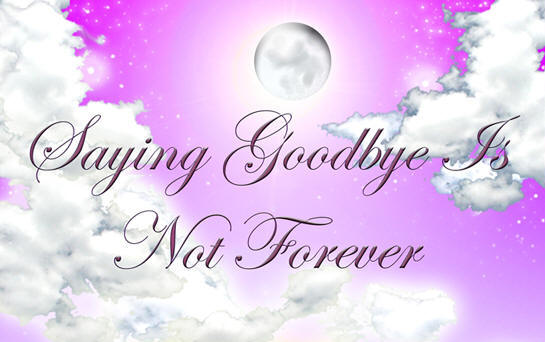 Story: Aunt Edith, Cousin Kat, Sue and Paul were walking a Caribbean island looking for a place to eat and we saw a nice restaurant with a pirates decor! It was hot and bright outside and dark inside. We sat down and talked, ordered and began to eat out meal. Paul looked up and we were being looked at by a beautiful pirate. We mentioned it to Aunt Edith and you can see the expression on her face! We always giggled about tis little adventure!