Heading Home (Page Nine)
No One Was Moving Fast!

A magnificent sunrise was awaiting us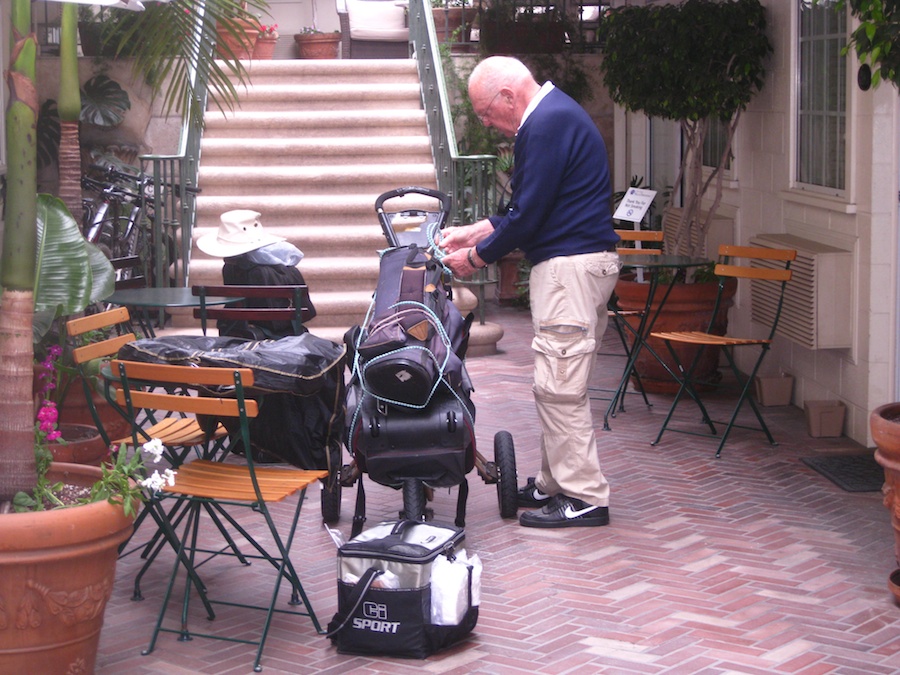 Herbie packing up
Did You Know? - contraption (plural contraptions) - A machine that is complicated and precarious or (figuratively) Any object referred to with irony, derision, or contempt.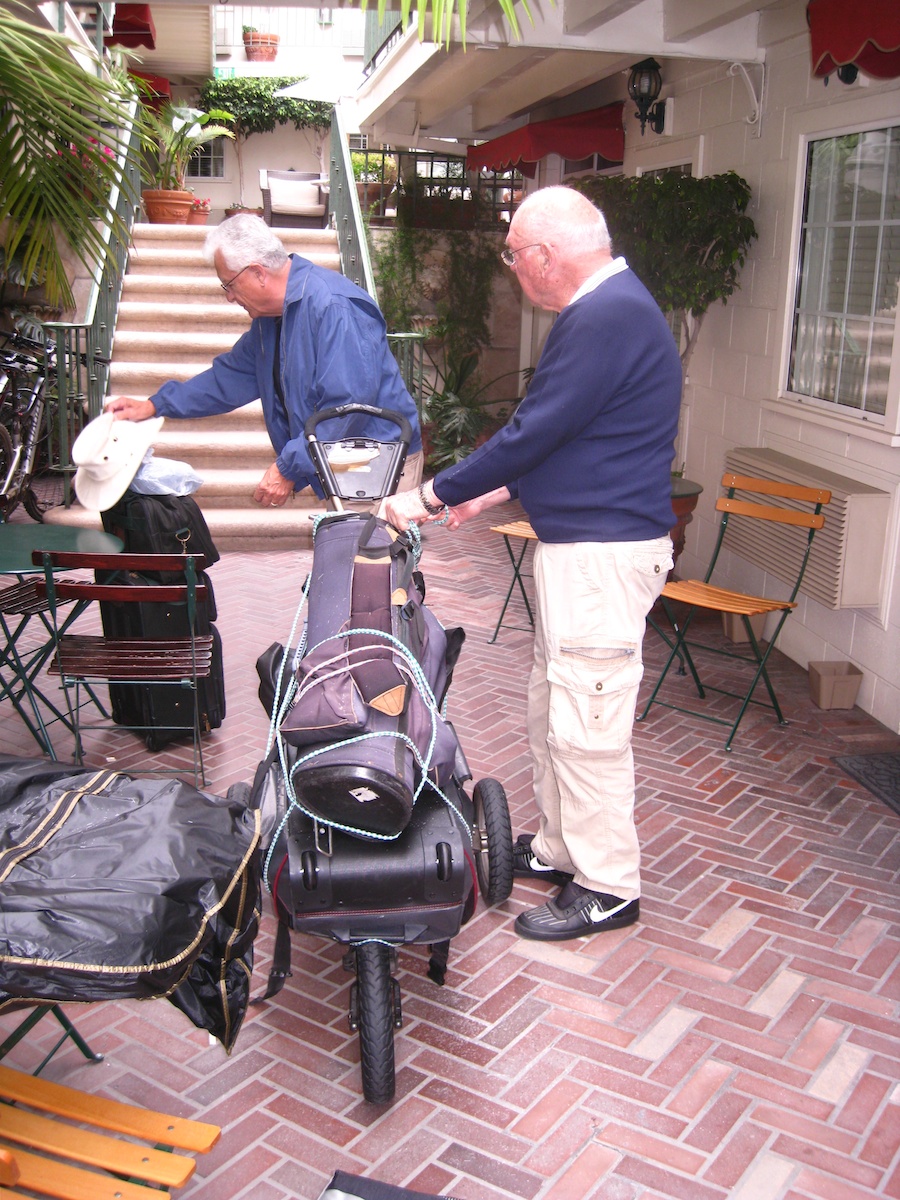 Herbie asked if Guy wanted to be tied up but the answer was no...

Herbies new idea for next year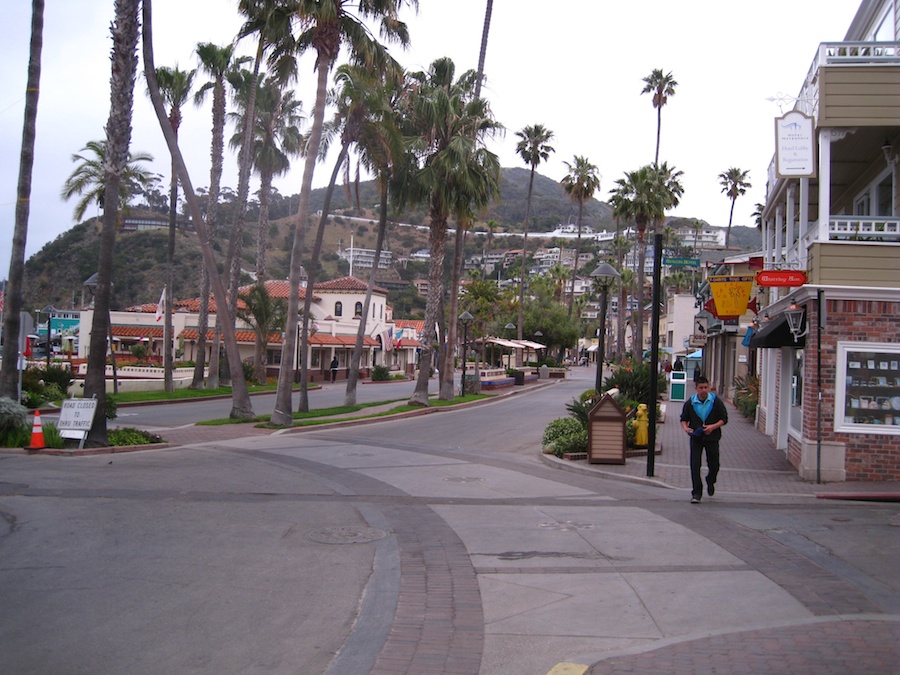 The streets were empty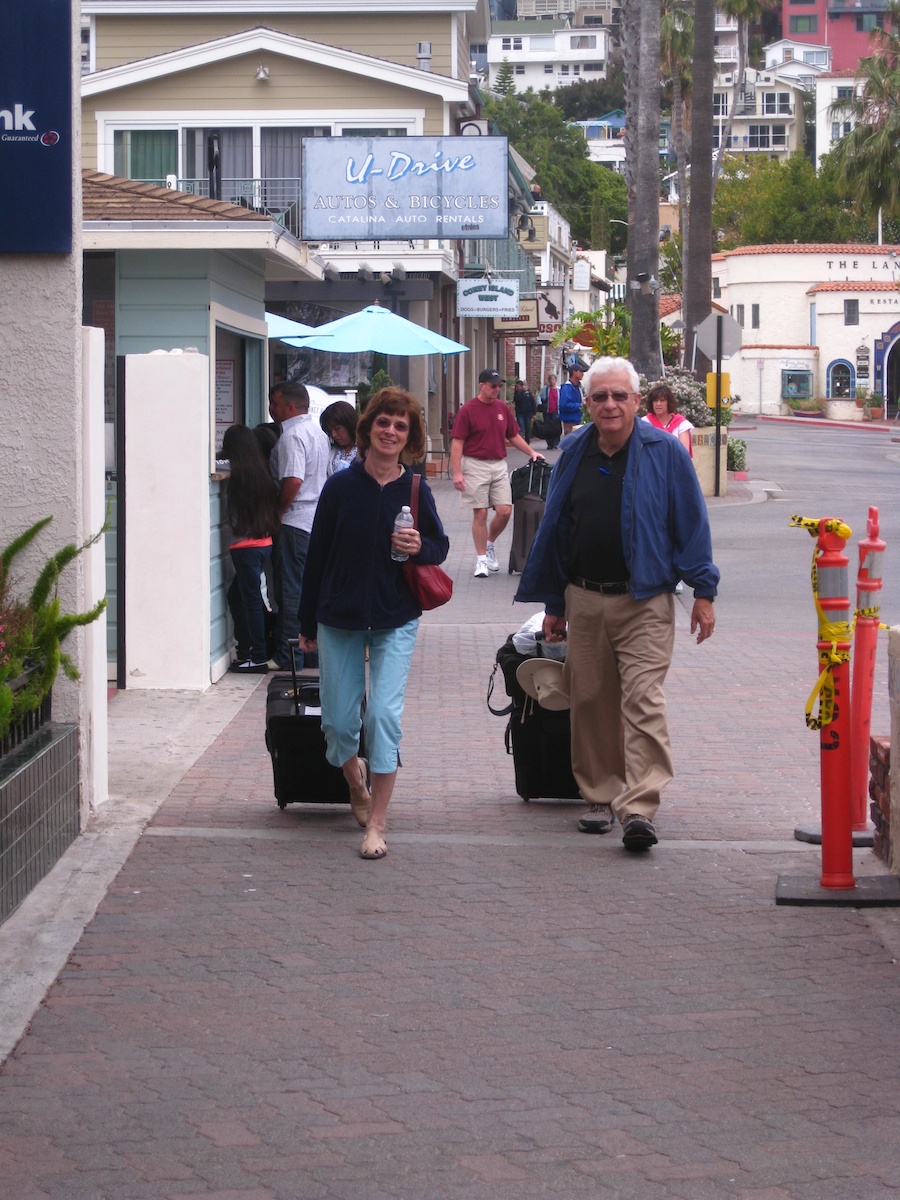 On our way
Did You Know? - A suitcase is a general term for a distinguishable form of luggage. It is often a somewhat flat, rectangular-shaped bag with rounded/square corners, either metal, hard plastic or made of cloth, vinyl or leather that more or less keeps its shape. It has a carrying handle on one side and is used mainly for transporting clothes and other possessions during trips. It opens on hinges like a door. Suitcases lock with keys or a combination.
Originally, suitcases were made of wool or linen. Leather also became a popular material for suitcases. It was used to cover wood suitcases or just on its own for collapsible suitcases. It is difficult to document all the materials suitcases have been made out of. Like all produced consumer goods the materials chosen to construct suitcases are truly a product of their time. Wool, wood, leather, metal, plastic, fiber composite even recycled materials are all common suitcase materials. During covered wagon times trunks were a popular form of transporting goods. The ride was rough, so the luggage had to be strong.

Donna does her last monute shopping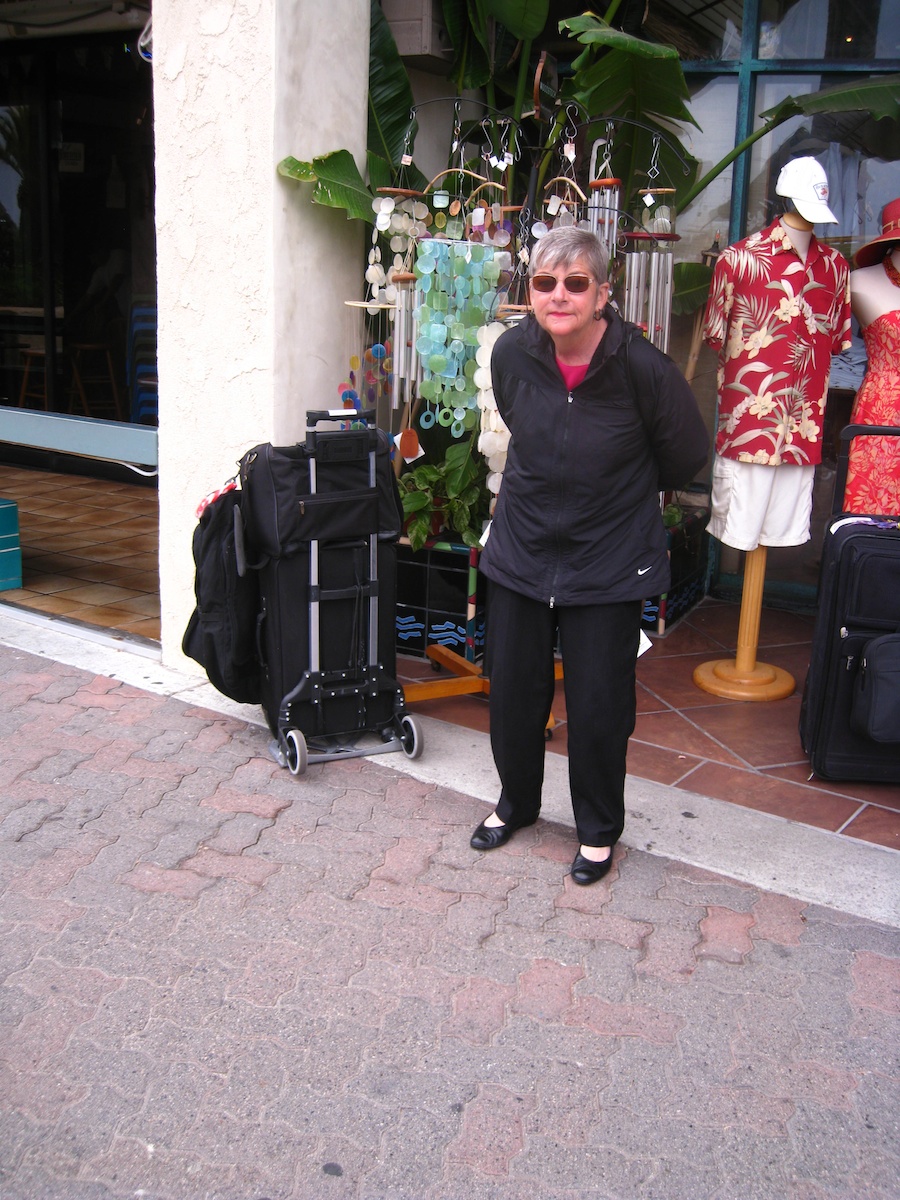 Sue stands guard
At The Dock
Did You Know? - A dock (from Dutch dok) is a human-made structure or group of structures involved in the handling of boats or ships, usually on or close to a shore.
The world's oldest known dock at Lothal (2400 BCE) was located away from the main current to avoid deposition of silt. Modern oceanographers have observed that the Harappans must have possessed great knowledge relating to tides in order to build such a dock on the ever-shifting course of the Sabarmati, as well as exemplary hydrography and maritime engineering.
This was the earliest known dock found in the world, equipped to berth and service ships. It is speculated that Lothal engineers studied tidal movements, and their effects on brick-built structures, since the walls are of kiln-burnt bricks.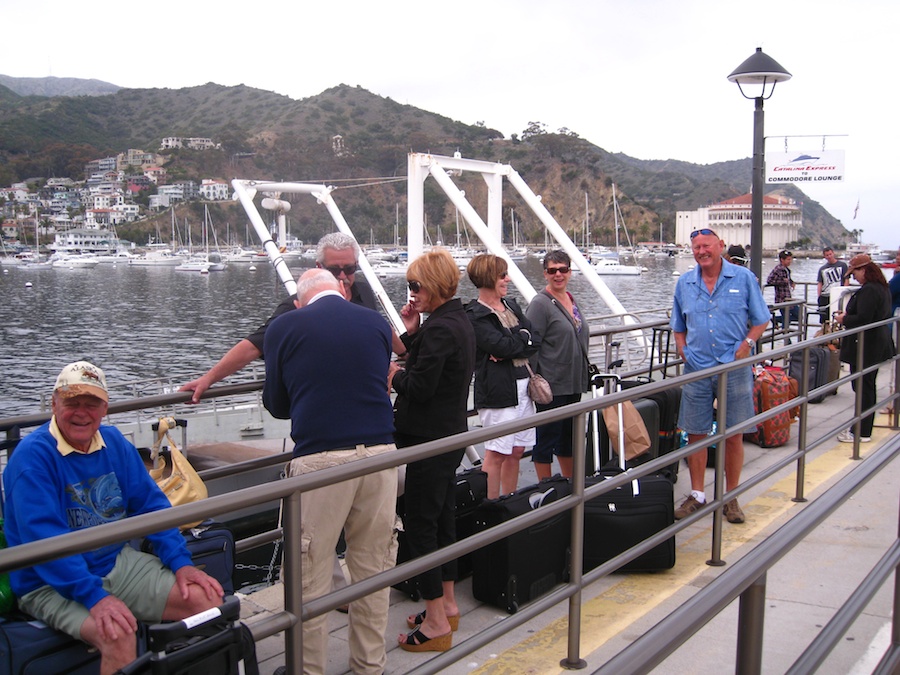 Lined up but no ship???

They look so rested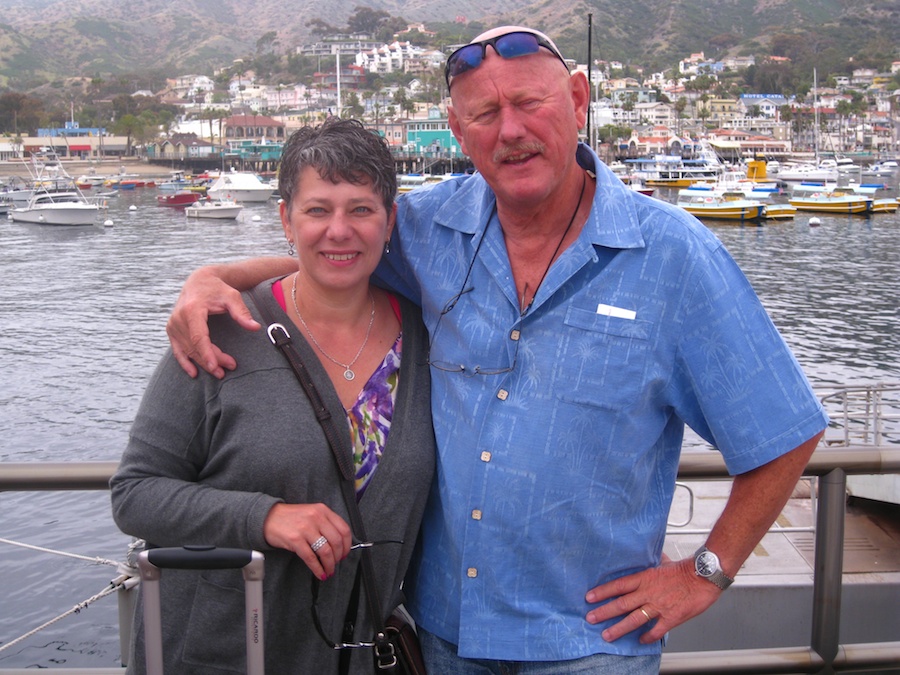 Kathy is tapping her toe.... Where is my ship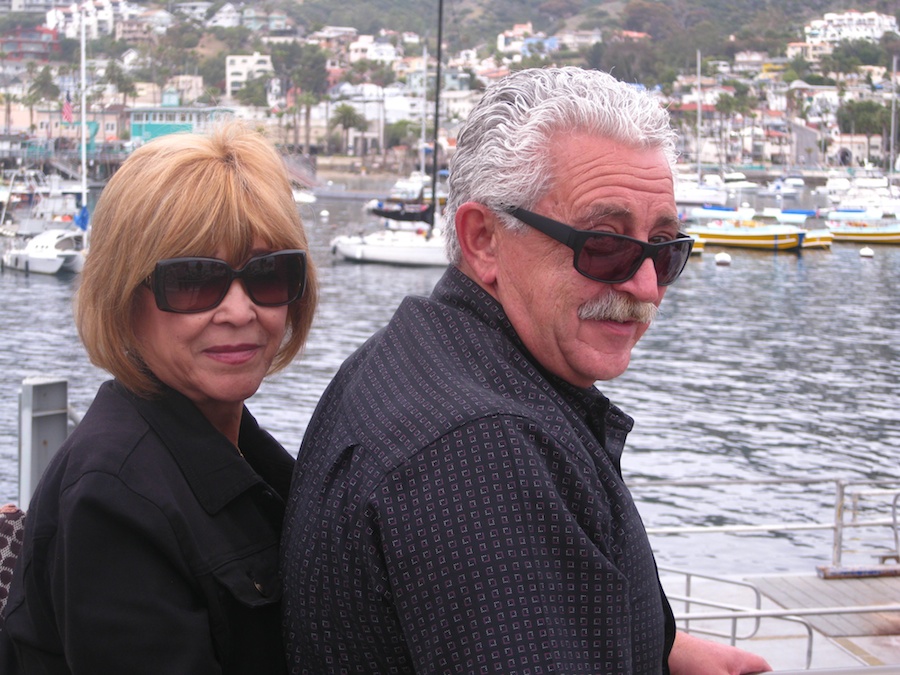 Hey... We did good!
Quotation To Remember: celebrity is a person who works hard all his life to become well known, then wears dark glasses to avoid being recognized. ~Fred Allen

Irene has the magic food container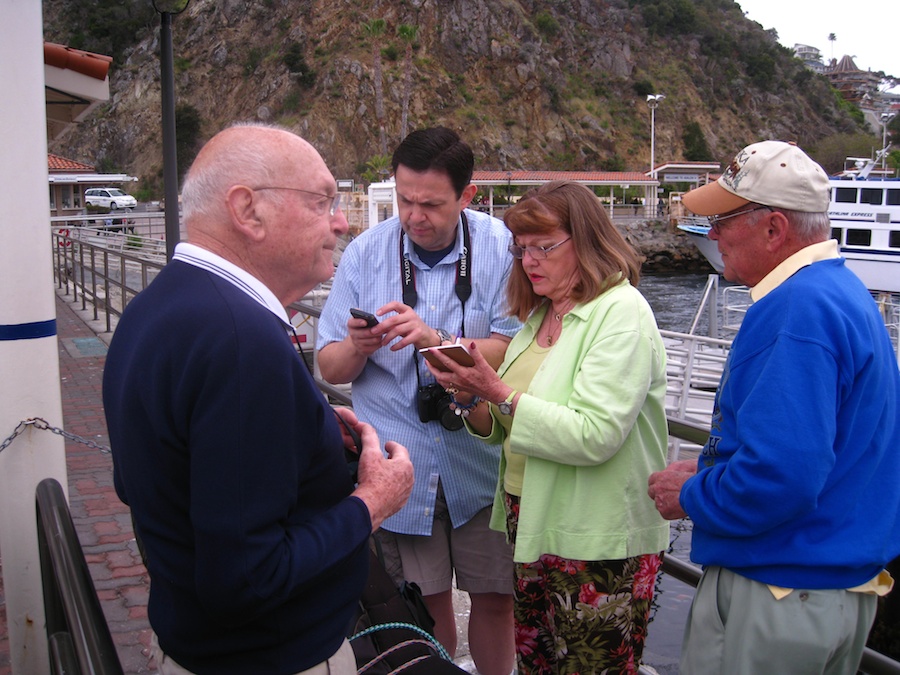 Taking notes

Coordinating with the mainland

You're welcome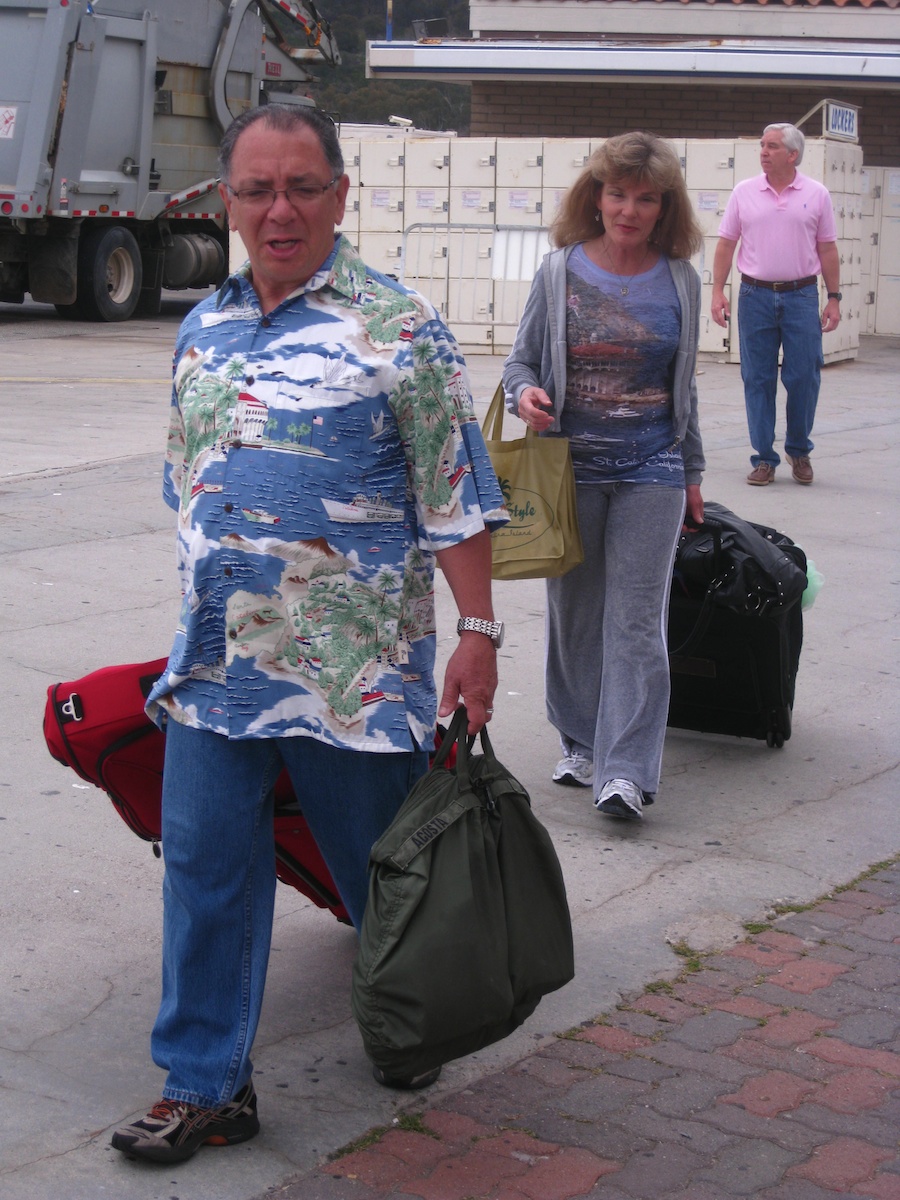 What? No beach party??

Dressed for the occasion

The only way to travel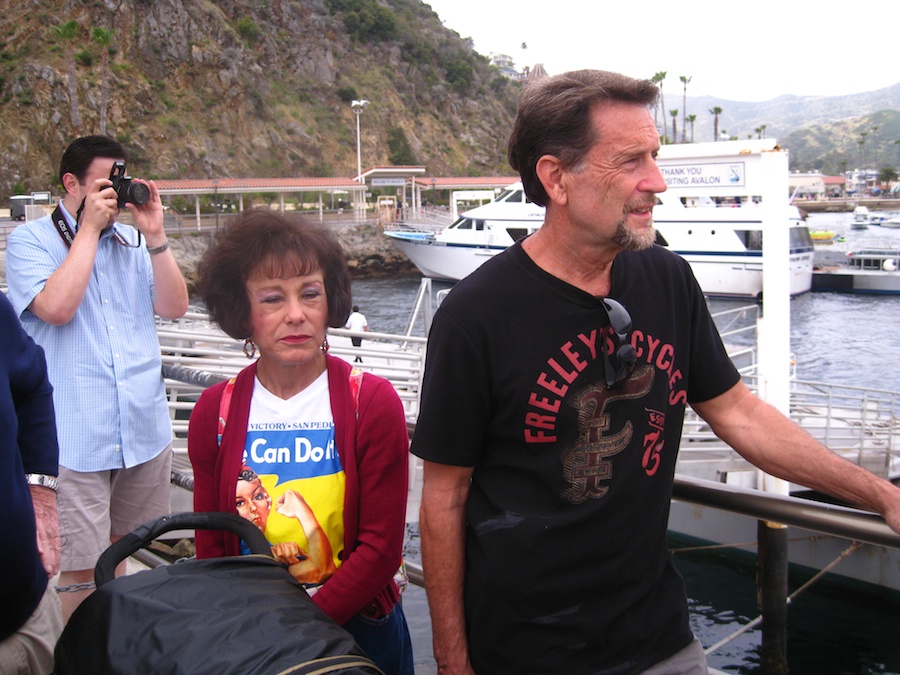 As Donna says....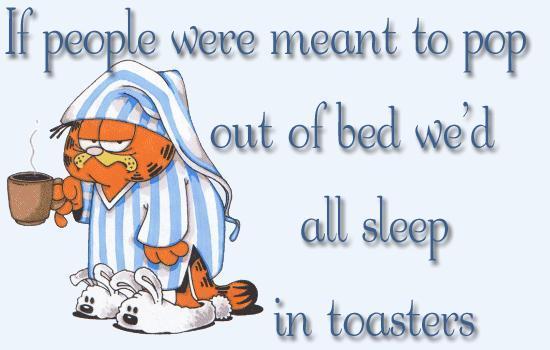 ...for the morning after

This has been known to work also

Our ride is here

Mountain bike weekend for many
Did You Know? - A mountain bike or mountain bicycle (abbreviated MTB) is a bicycle created for off-road cycling. This activity includes traversing of rocks and washouts, and steep declines, on dirt trails, logging roads, and other unpaved environments—activities usually called mountain biking. These bicycles need to be able to withstand the stresses of off-road use with obstacles such as logs and rocks.
Wheels used on mountain bikes usually use wide, knobby tires for good traction on uneven terrain and shock absorption. Since the mid-1990s, front wheel suspension has become the norm and since the late 1990s, full front and rear suspension has become increasingly common. Some mountain bikes are also fitted with bar ends on the handlebars to give extra leverage for hill-climbing.
The history of the mountain bike includes contributions from cyclo-cross in Europe and the Roughstuff Fellowship[1] in the UK. The name "mountain bike" first appeared in print in 1966 as "mountain bicycle". The mountain bike was a modified heavy cruiser bicycle used for freewheeling down mountain trails. The sport became popular in the 1970s in Marin county, California, USA.

Z-z-z-z-z-z-z-z-z-z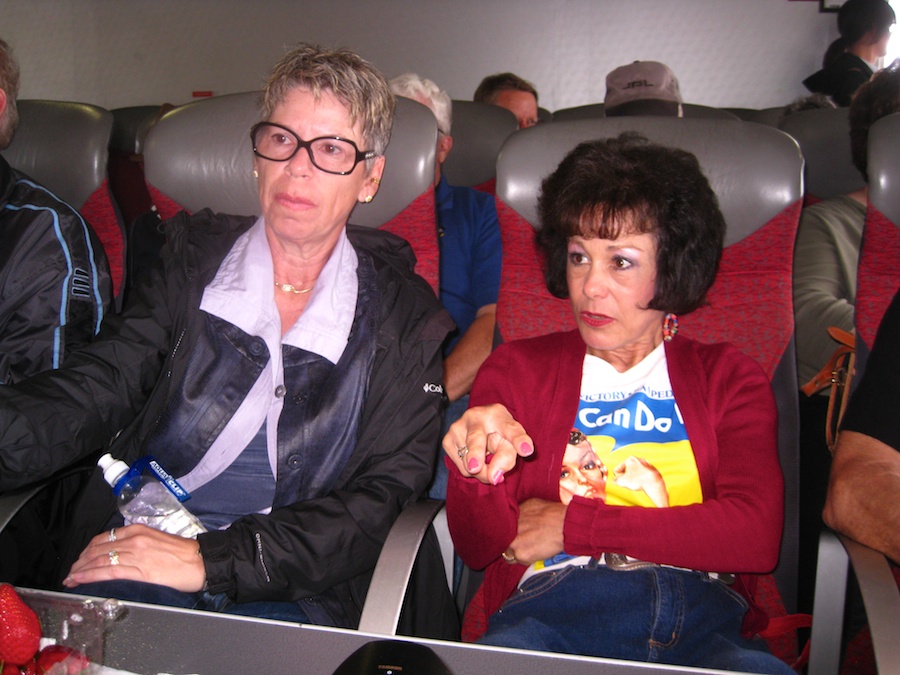 Hold on, she is awake

Champagne and Bloody Mary's ... Great way to stat the day!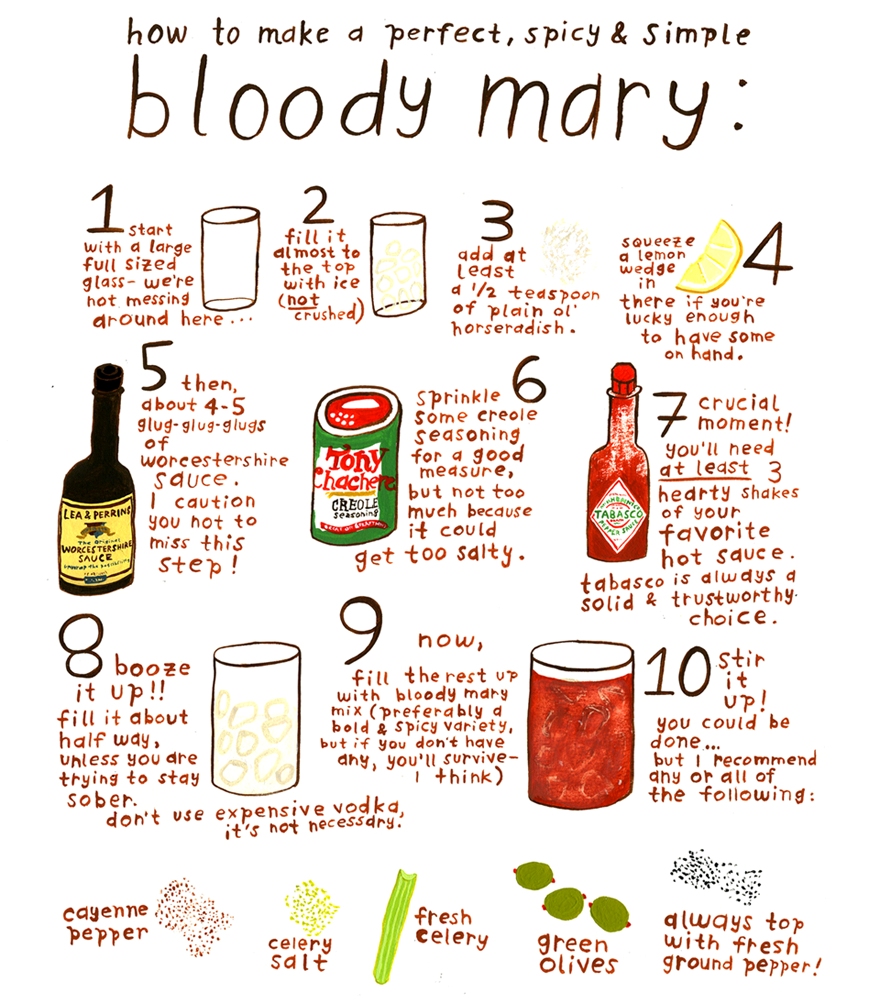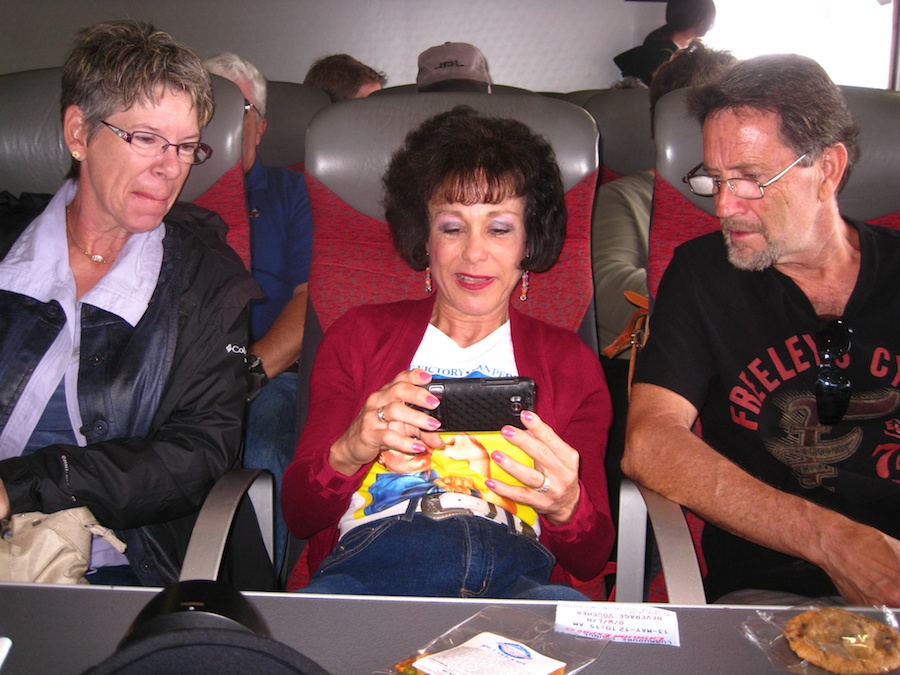 Mary goes skydiving....

OMG... Coffee and bottle water???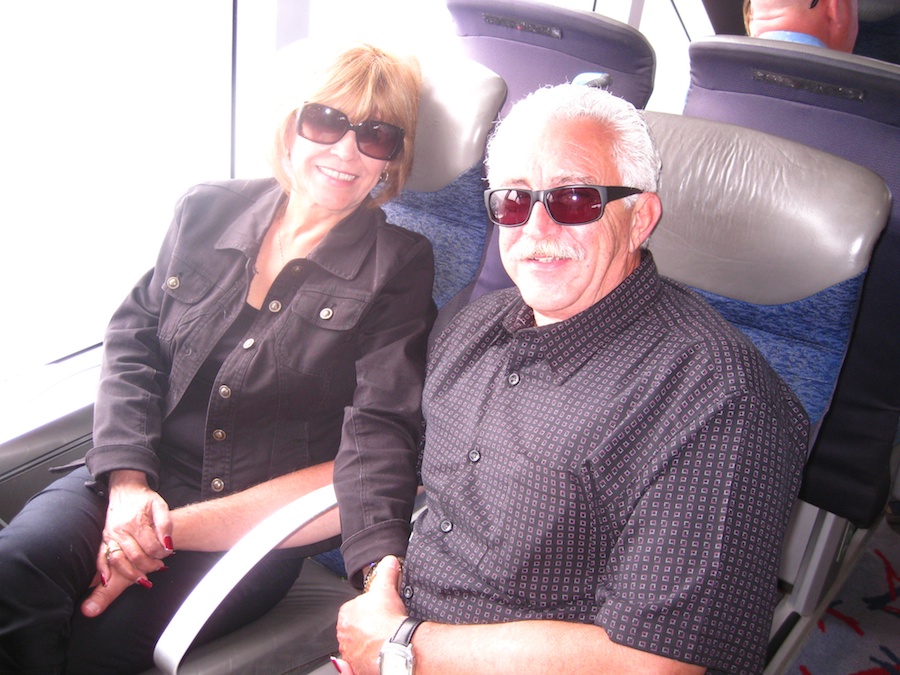 Fasten your seat belts....
Did You Know? - Early modern Europe's first documented catamaran was designed by the polymath and Royal Society member William Petty in 1662. It was designed to sail faster, in shallower waters, with less wind & crew than other vessels of the time, but the unusual design met with scepticism and was not a commercial success.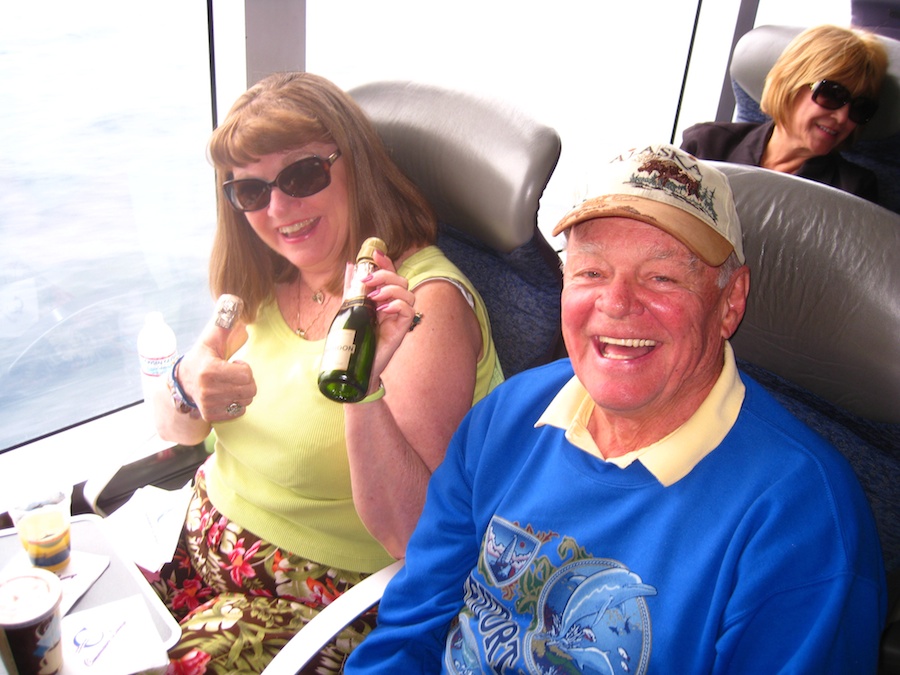 The champagne still flows....

All smiles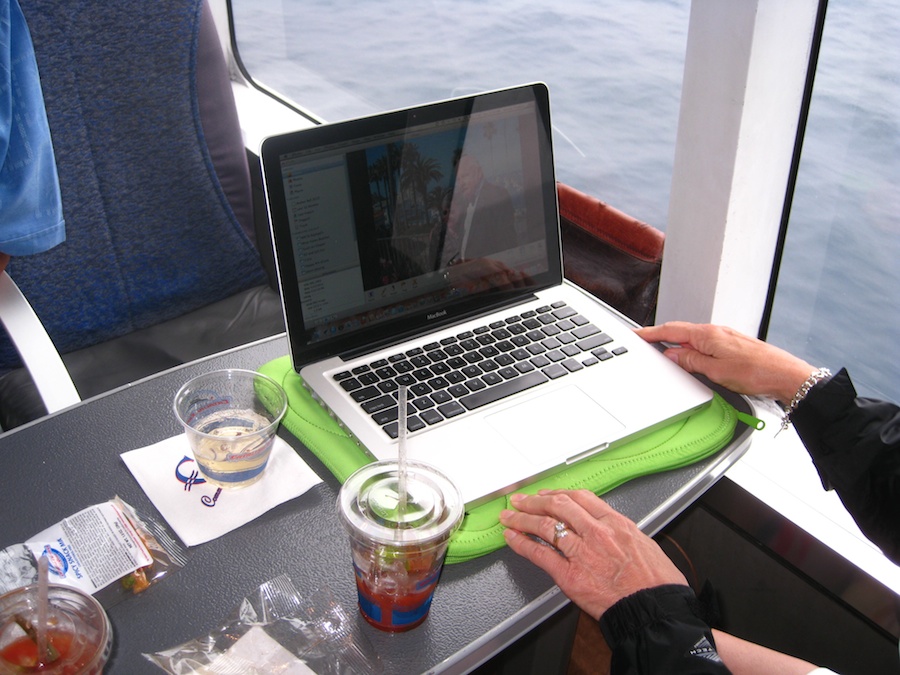 Kerstin brought the MacBook so we vould get the pictures early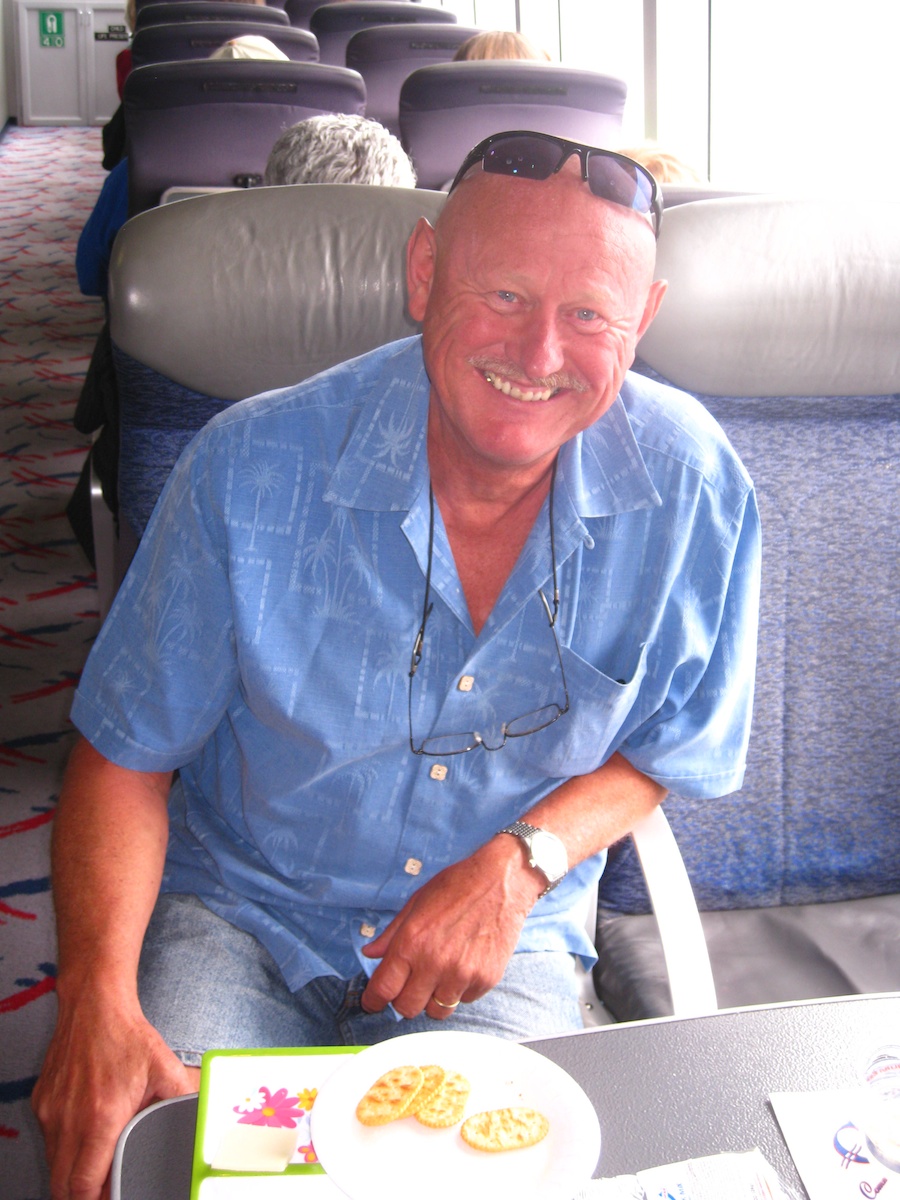 Hans is on a diet after this weekend
Quotation To Remember: A diet is the penalty we pay for exceeding the feed limit. ~Author Unknown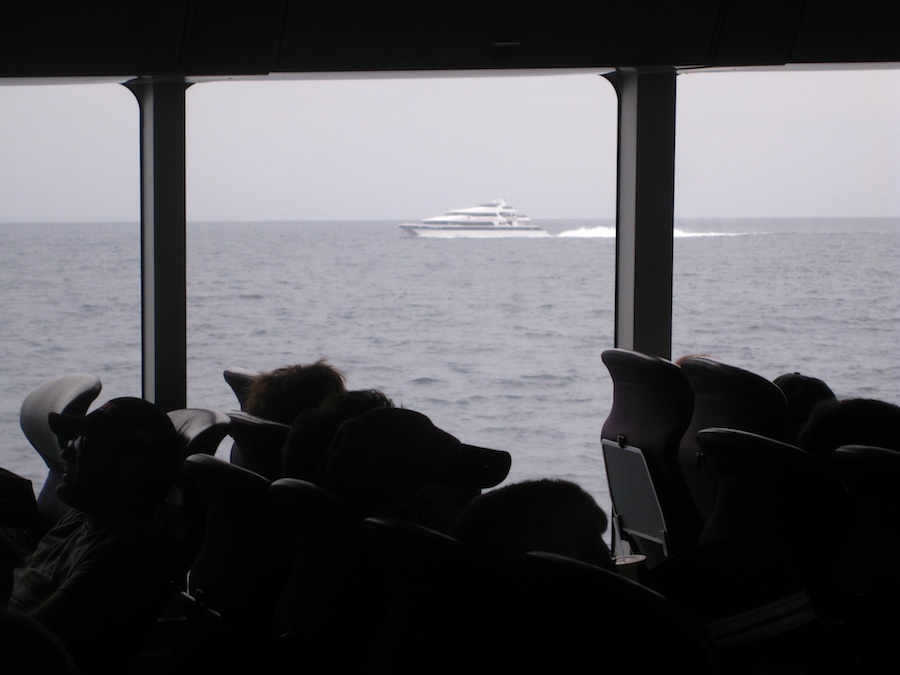 Looking into the mirror

You cannot hide from the camera

Much better...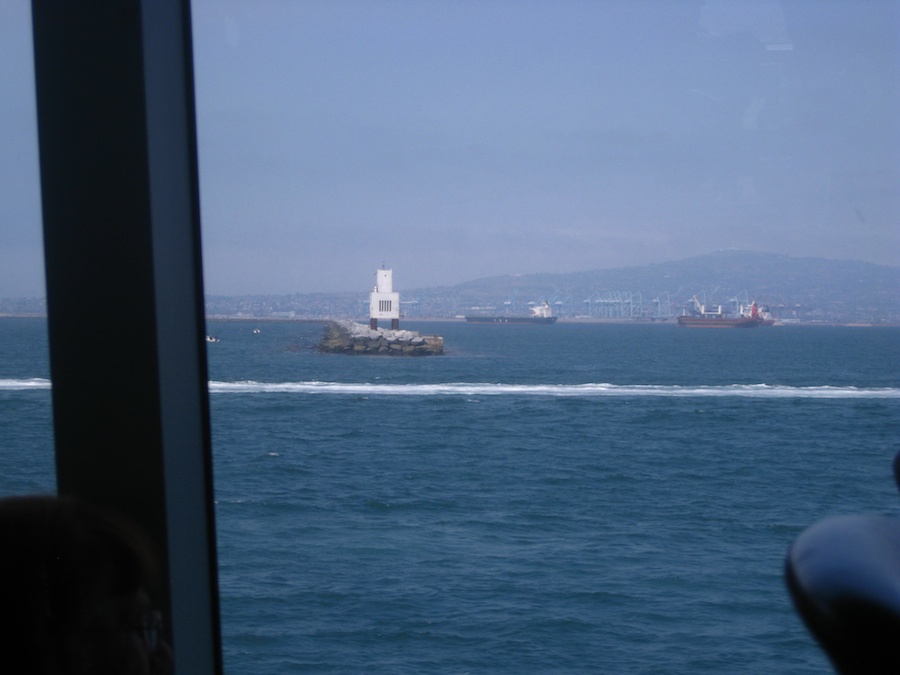 The breakwater has now been passed
Did You Know? - A 13.6-kilometer (8.5 mi) long breakwater stretches across most of the bay, with two openings to allow ships to enter the port areas behind it. The initial western section of the breakwater, called the San Pedro Breakwater, was constructed between 1899 and 1911 at San Pedro; the Middle breakwater was completed over the next twenty-five years, and the Long Beach breakwater was finished after World War II.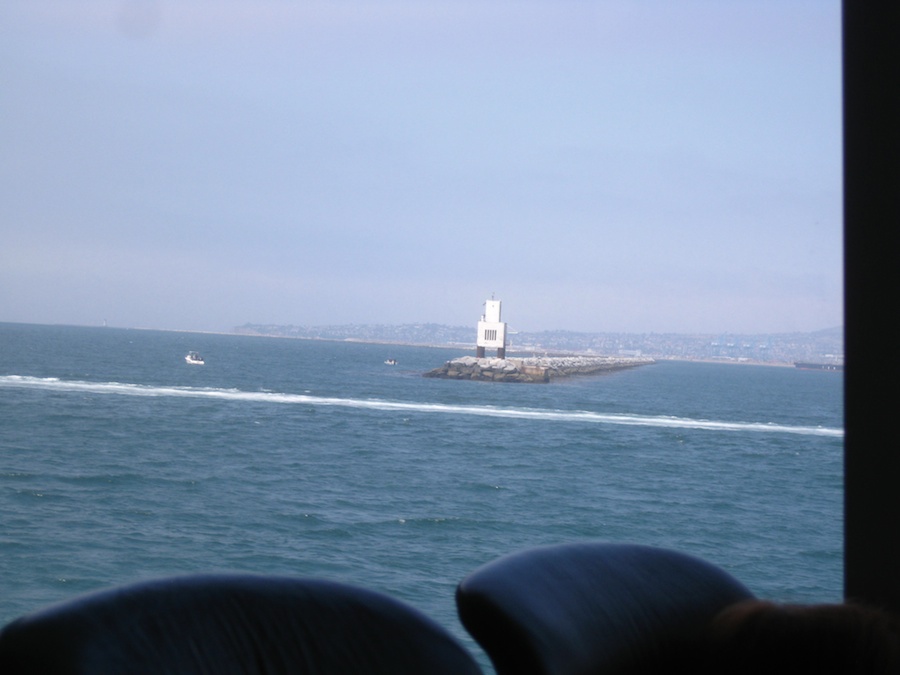 Inside the breakwater

Time for hide and seek