It's Dance Time (Page Six)
Did You Know? - The 1930s, or the Thirties, was the decade that started on January 1, 1930 and ended on December 31, 1939. It was the fourth decade of the 20th century.
After the Wall Street Crash of 1929, the largest stock market crash in American history, most of the decade was consumed by an economic downfall called The Great Depression that had a traumatic effect worldwide. In response, authoritarian regimes emerged in several countries in Europe, in particular the Third Reich in Germany.
Weaker states such as Ethiopia, China, and Poland were invaded by expansionist world powers, ultimately leading to World War II by the decade's end. The decade also saw a proliferation in new technologies, including intercontinental aviation, radio, and film.
In Comic Form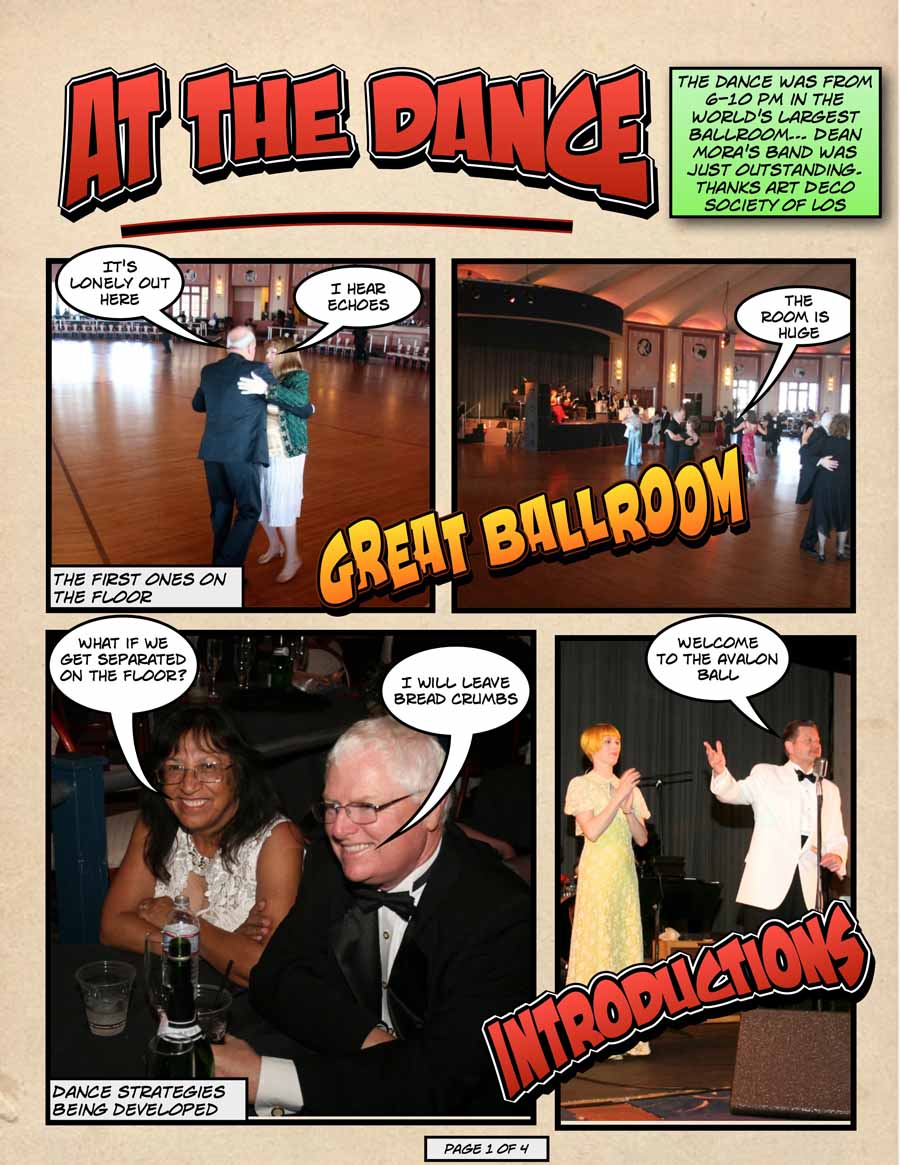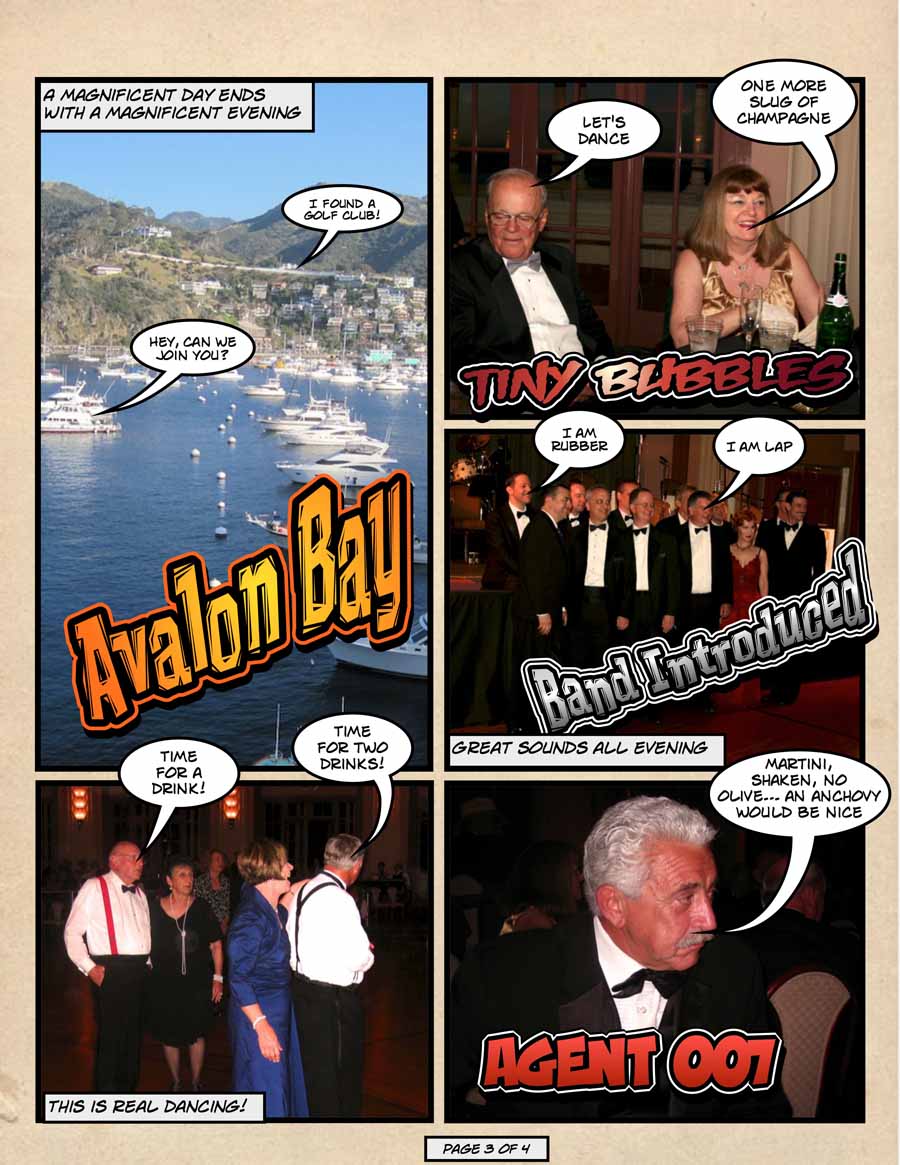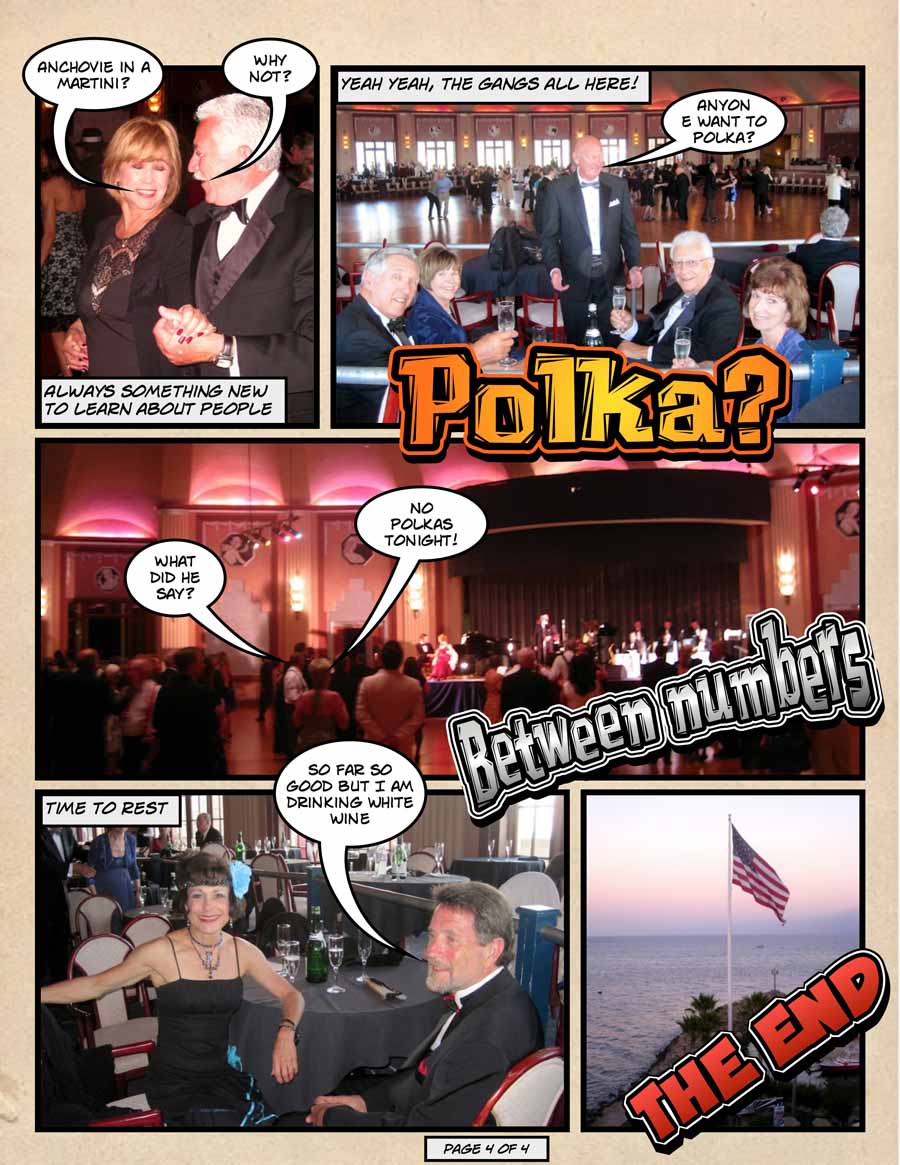 And In Detail...

First impressions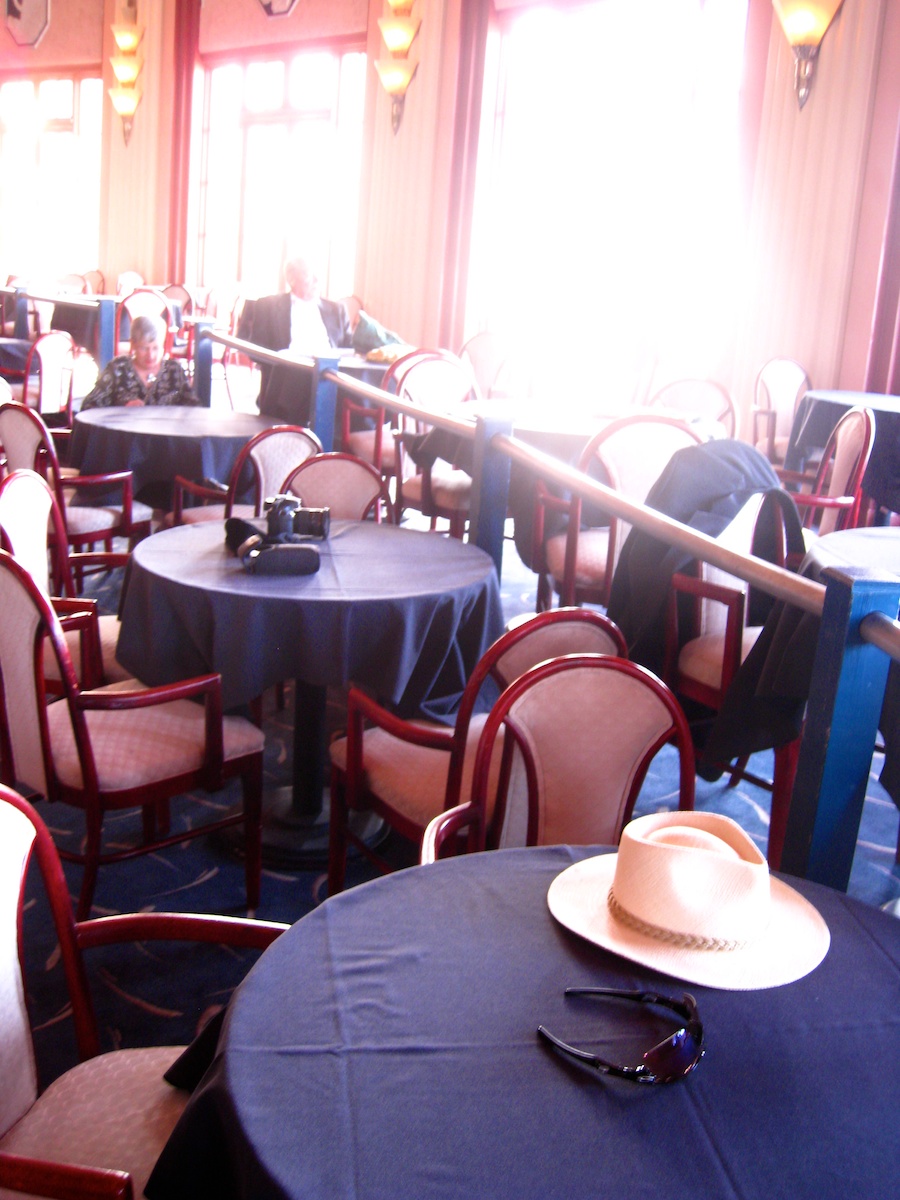 We threw everything on the tables to hold them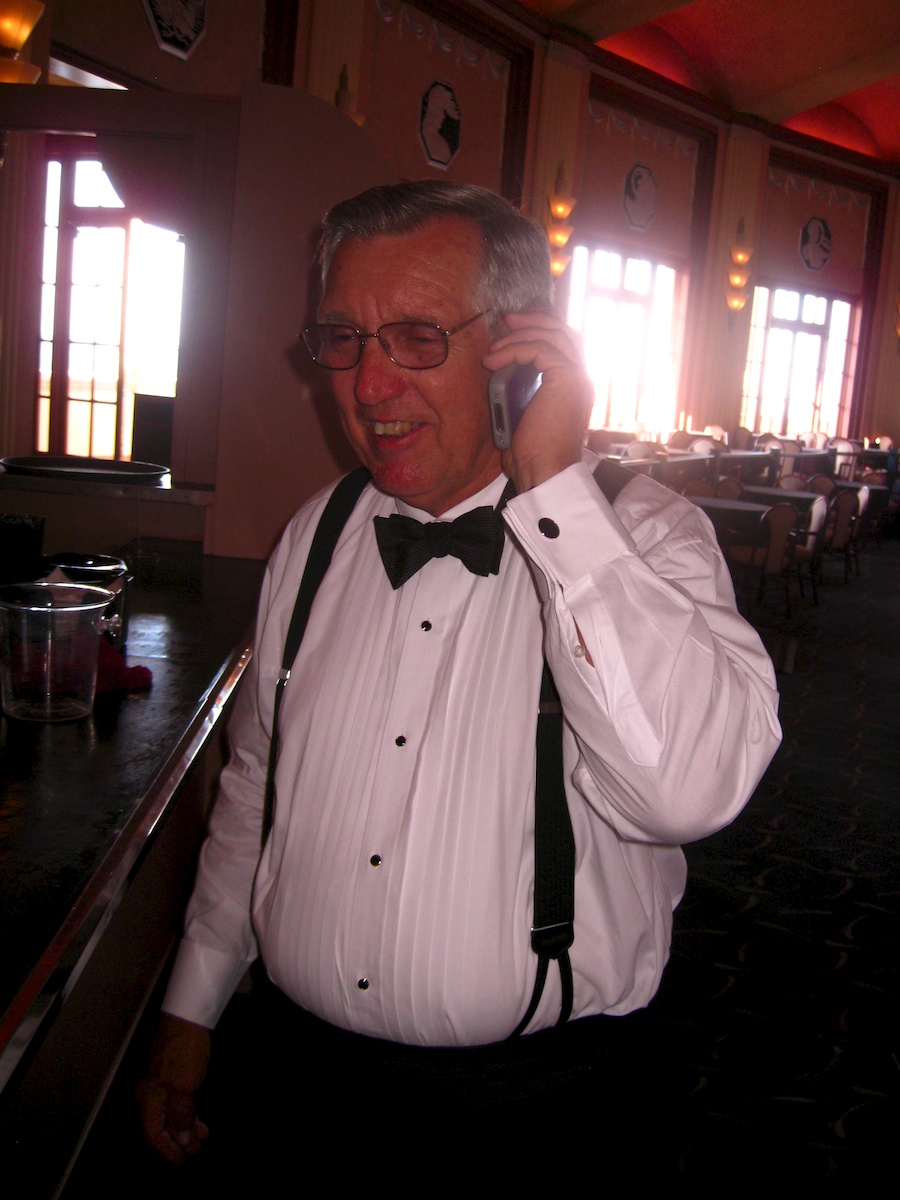 Looking for Kathy

A short walk around the balcony is revealing

The sun is setting in the skies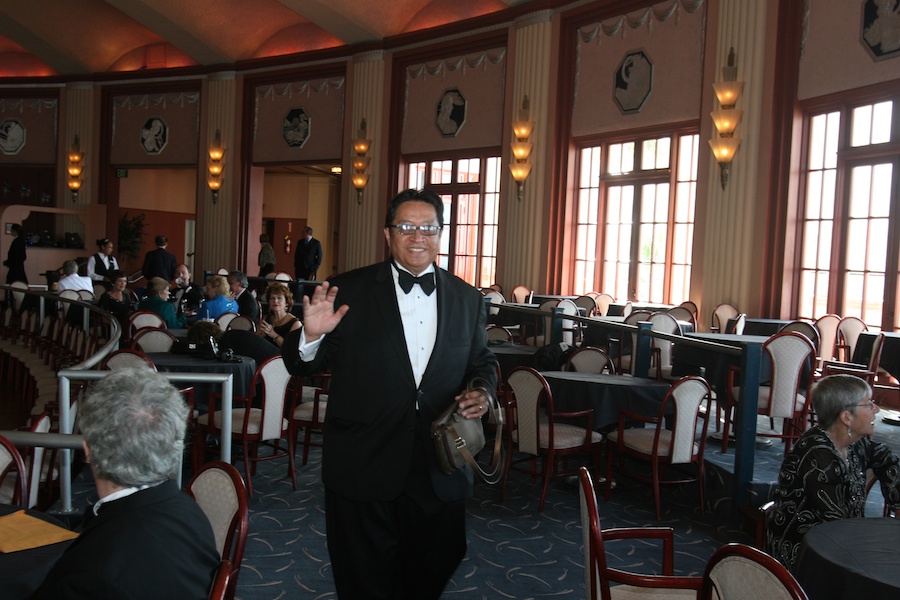 Jose made it this year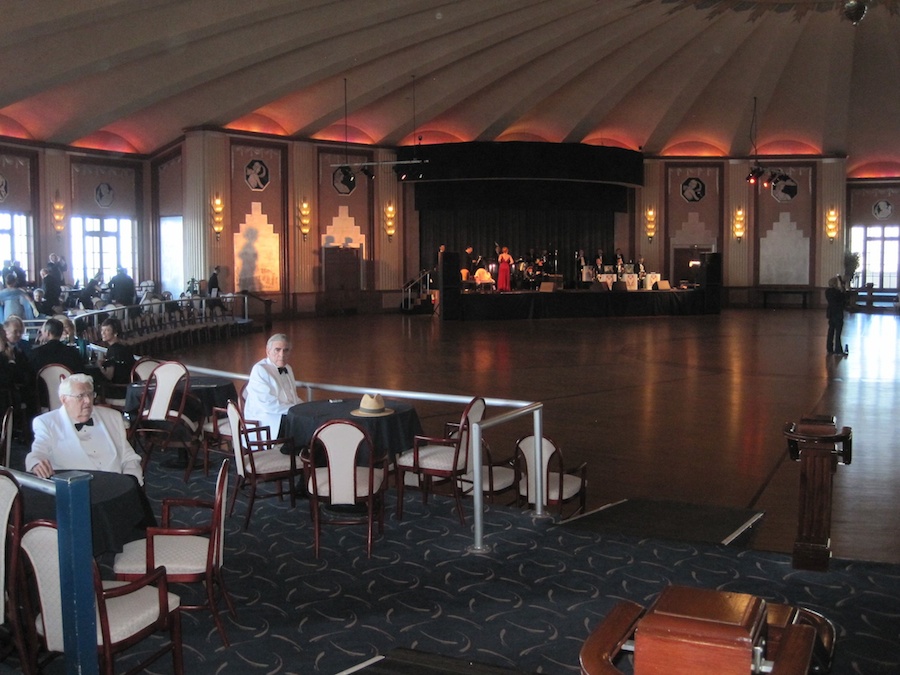 The floor was empty at first (Courtesy of Hans)

Our group was first in the floor ... Bob and Gail get the prize

The dance floor is huge!

With hundred's on the floor it seems empty
Did You Know? - A ballroom is a large room inside a building, the designated purpose of which is holding formal dances called balls. Traditionally, most balls were held in private residences; many mansions contain one or more ballrooms. In other large houses, a large room such as the main drawing room, long gallery, or hall may double as a ballroom, but a good ballroom should have the right type of flooring, such as hardwood flooring or stone flooring (usually marble).
Ballrooms are generally quite large, and may have ceilings higher than other rooms in the same building. The large amount of space for dancing, as well as the highly formal tone of events have given rise to ballroom dancing. The largest balls are now nearly always held in public buildings, and many hotels have a ballroom. They are also designed large to help the sound of orchestras carry well throughout the whole room.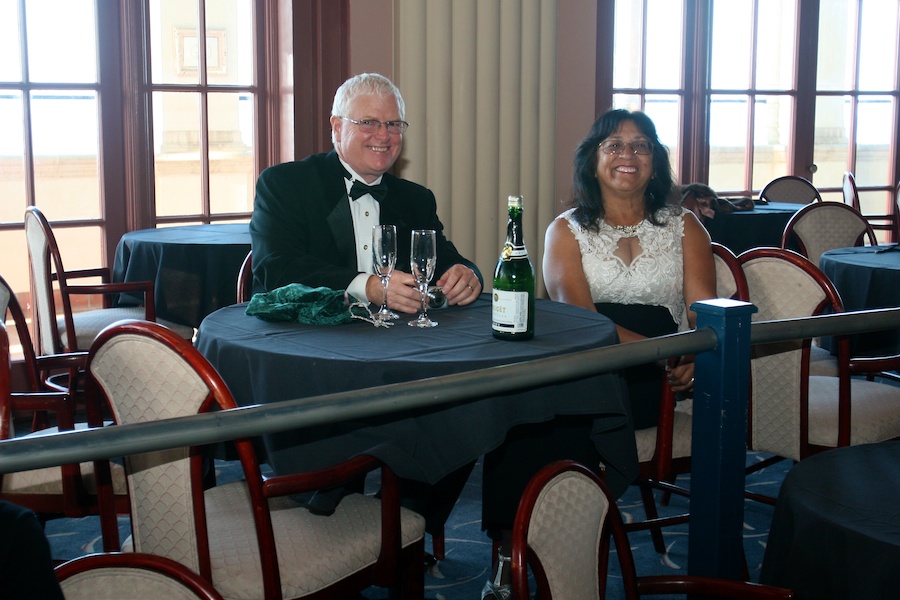 Pour that champagne

The view from the balcony was super (Courtesy of Hans)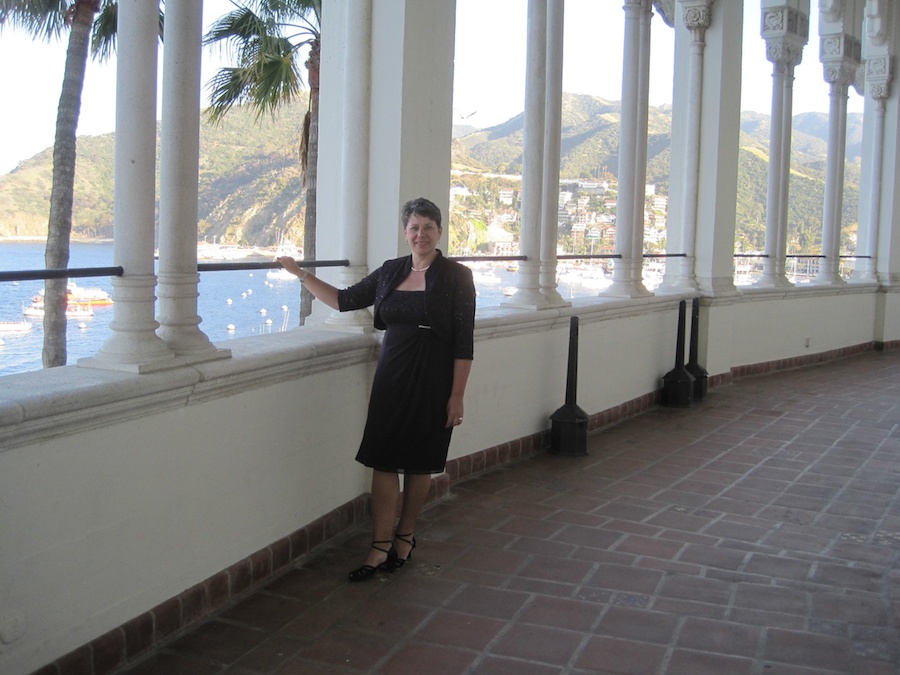 Miss Kerstin enjoyed the view (Courtesy of Hans)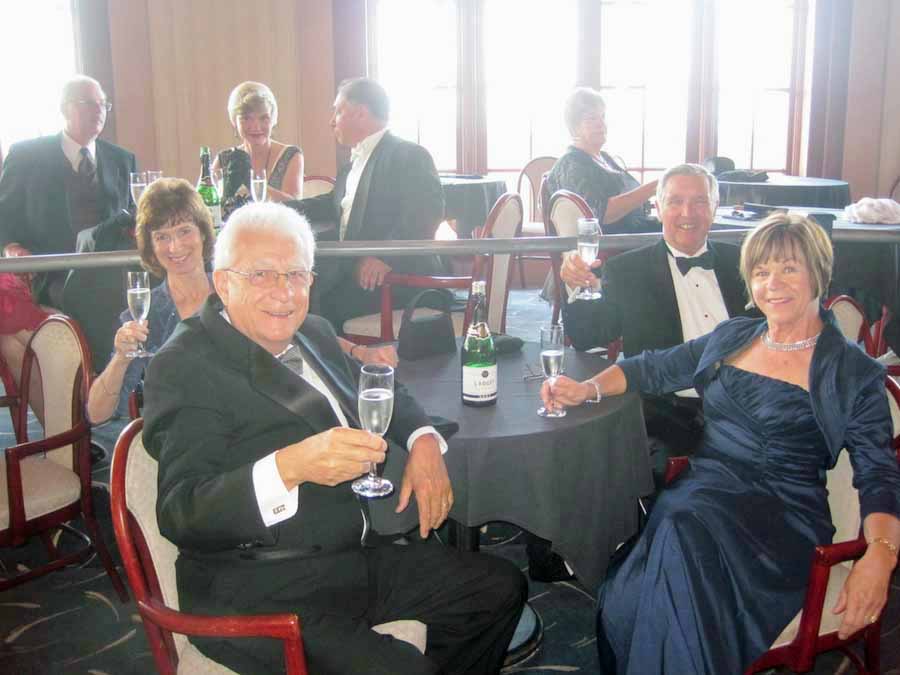 A toast to the weekend (Courtesy of Hans)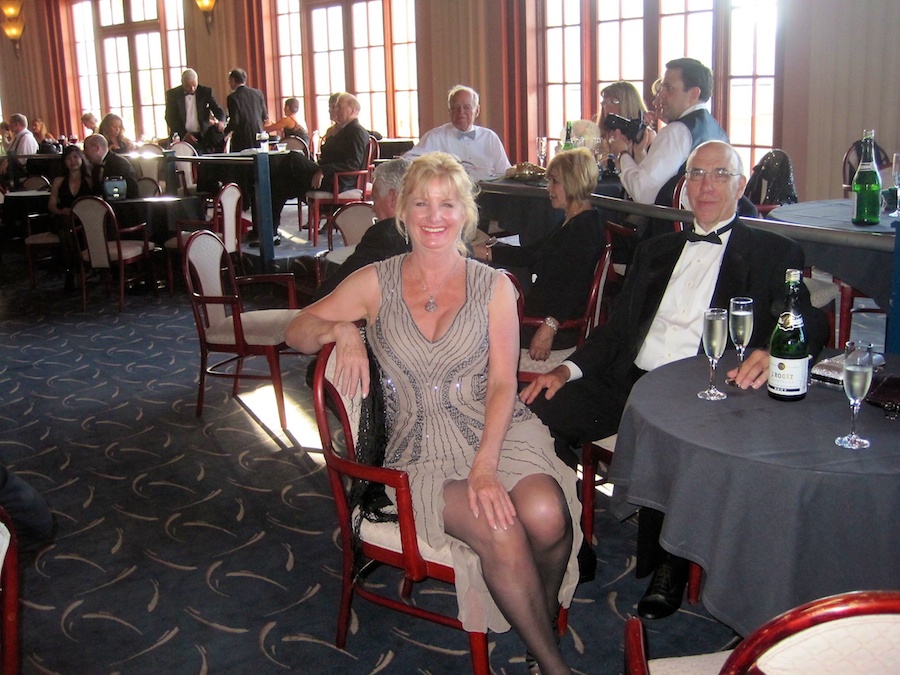 Ready to dance (Courtesy of Hans)

The champagne is flowing (Courtesy of Hans)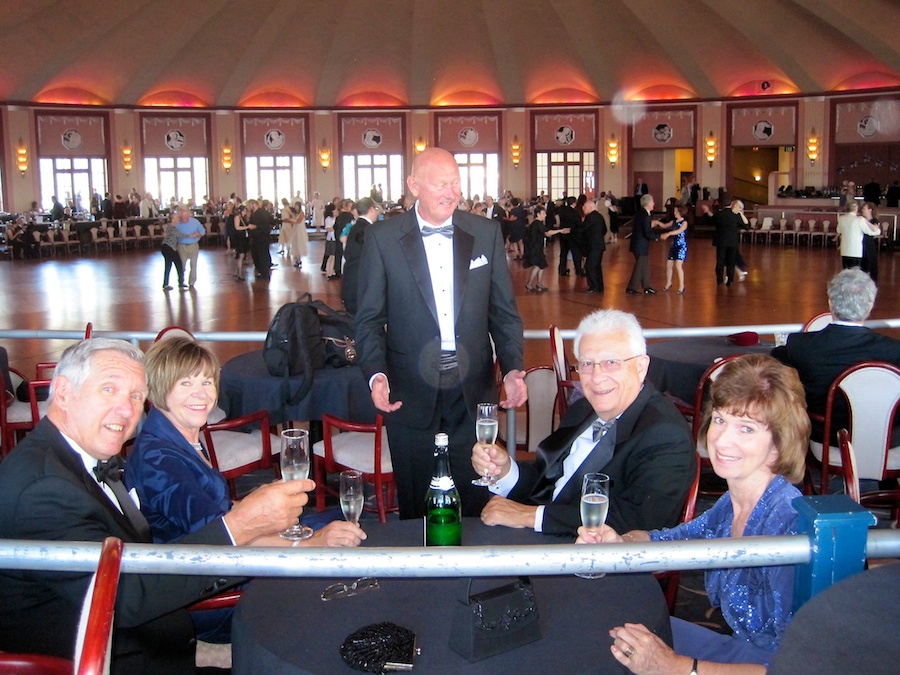 Hans is out visiting everyone (Courtesy of Hans)

Champagne for all....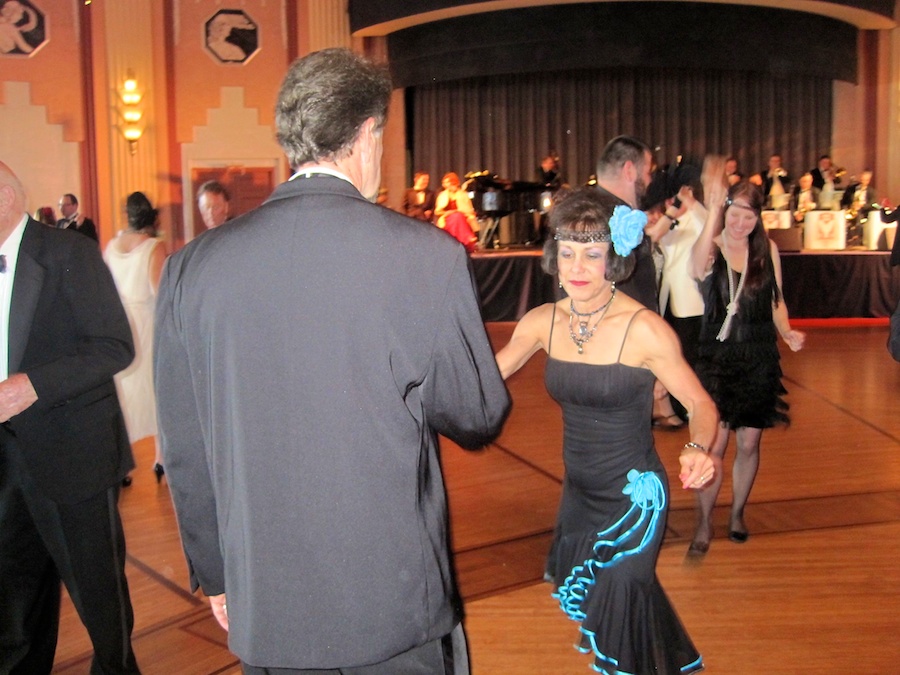 Go Zaitz Go (Courtesy of Hans)

Coming in from a dance around the floor (Courtesy of Hans)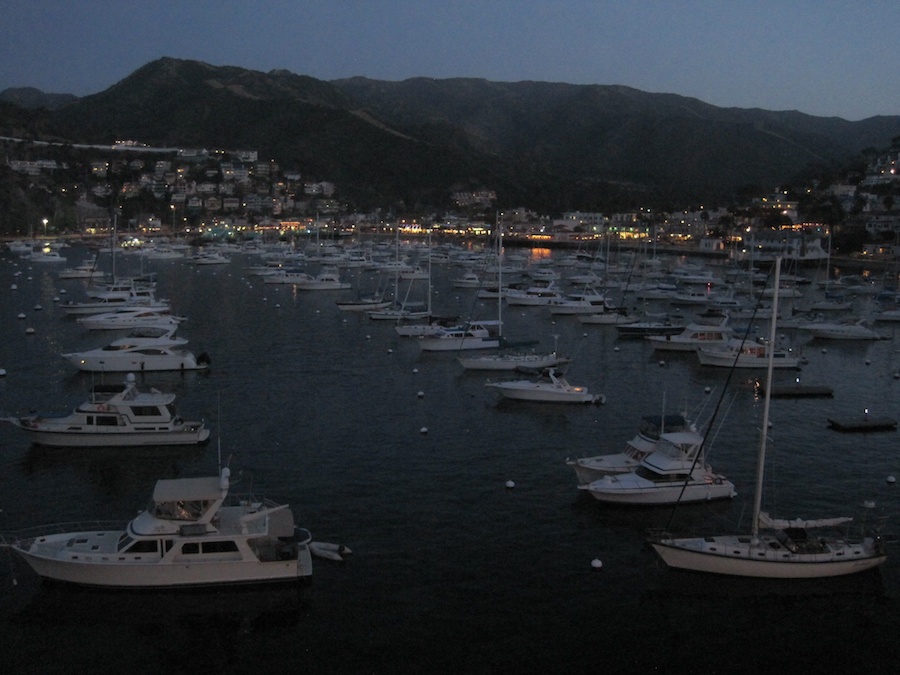 The sun has set and the lights go on (Courtesy of Hans)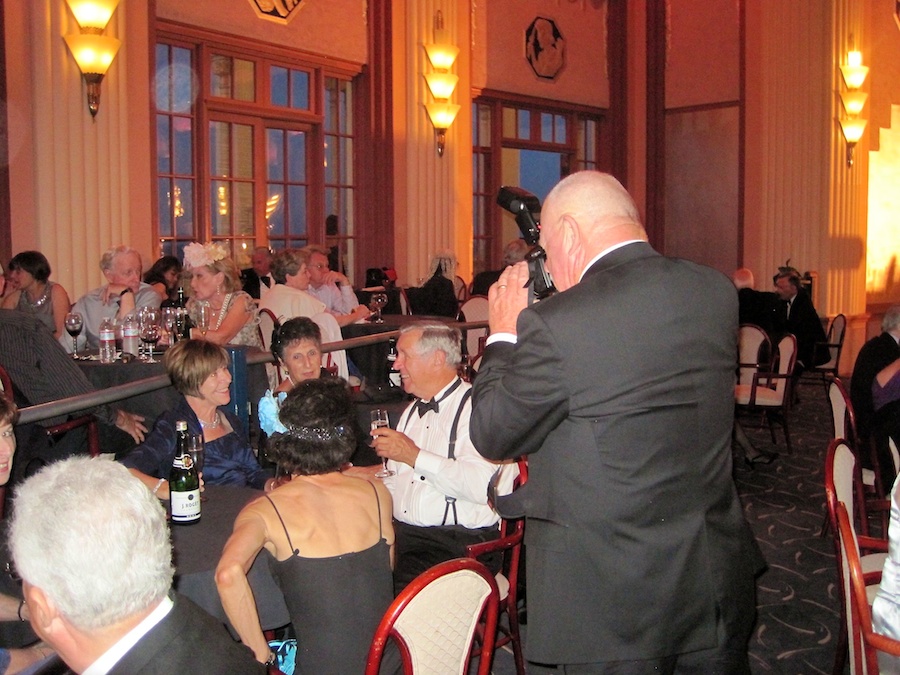 The cameraman takes the cameraman (Courtesy of Hans)

Resting between sets (Courtesy of Hans)
Quotation To Remember: Dancing is like dreaming with your feet!  ~Constanze


Announcements...
The ADSLA President and Vice President

We are just about ready to dance
Quotation To Remember: Dancing faces you towards Heaven, whichever direction you turn.  ~Terri Guillemets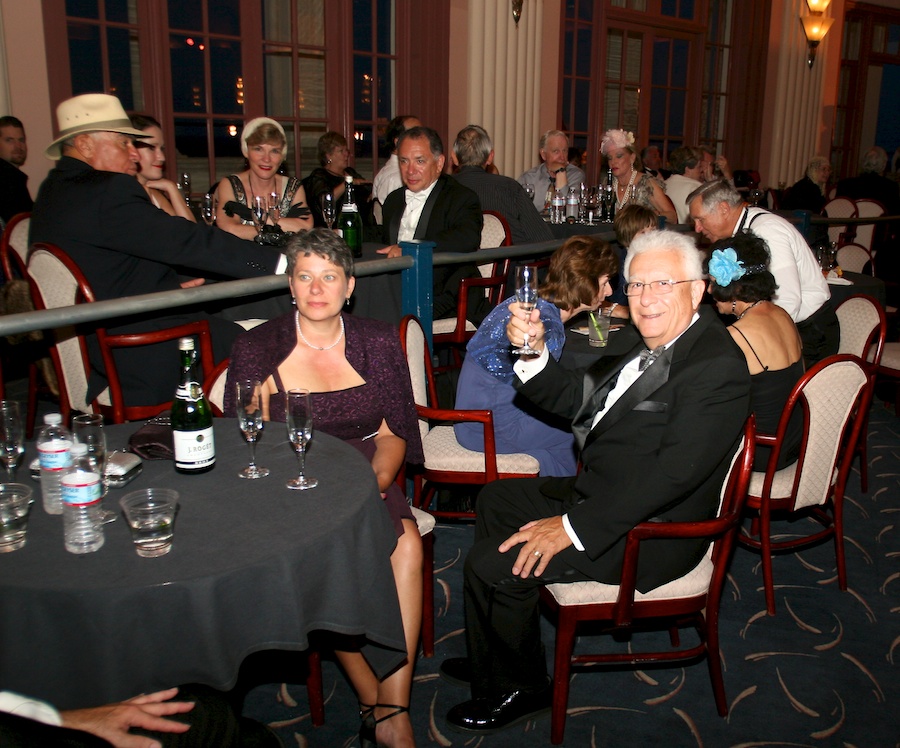 Glasses high
Toast To Remember:

"There are good ships,
and there are wood ships,
The ships that sail the sea.
But the best ships, are friendships,
And may they always be."

I will drink to that
Quotation To Remember:
"May you have the hindsight to know where you've been,
The foresight to know where you are going,
And the insight to know when you have gone too far."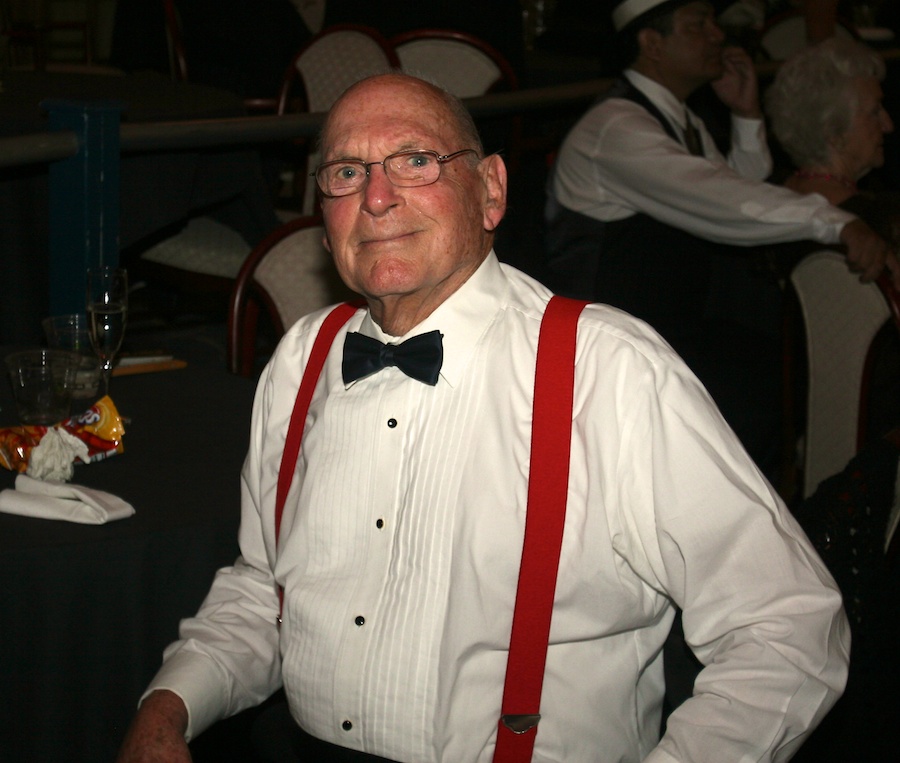 Oh oh... He is smiling... A thought is working its way forward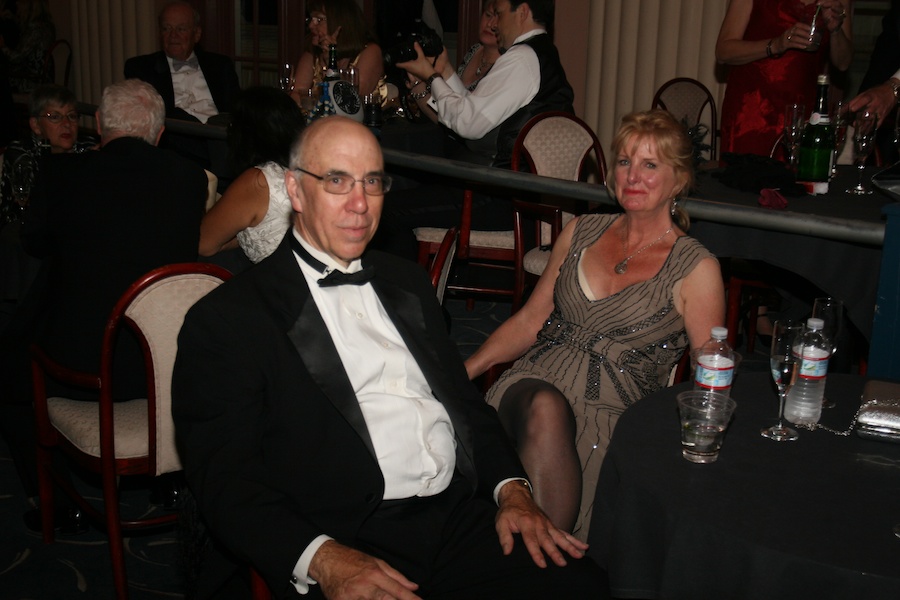 Champagne with a water chaser... GREAT idea

If you put the do-hicky next to the thing-a-magig and turn the snanobbler it ought to work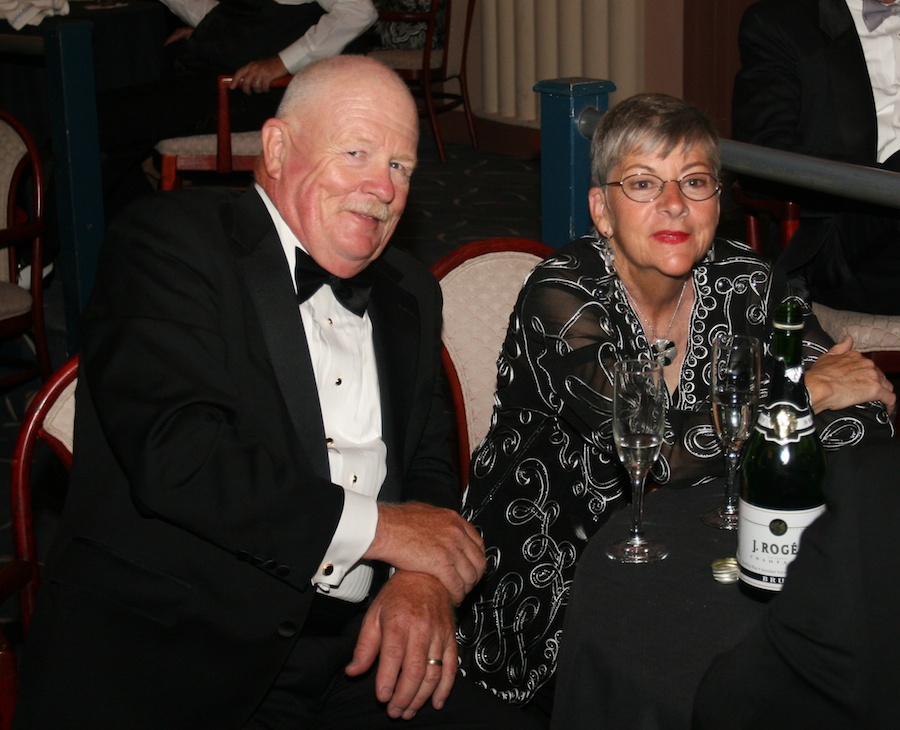 Oh oh... Like Herbie... I thought is being developed

"Should I or should I not say it???"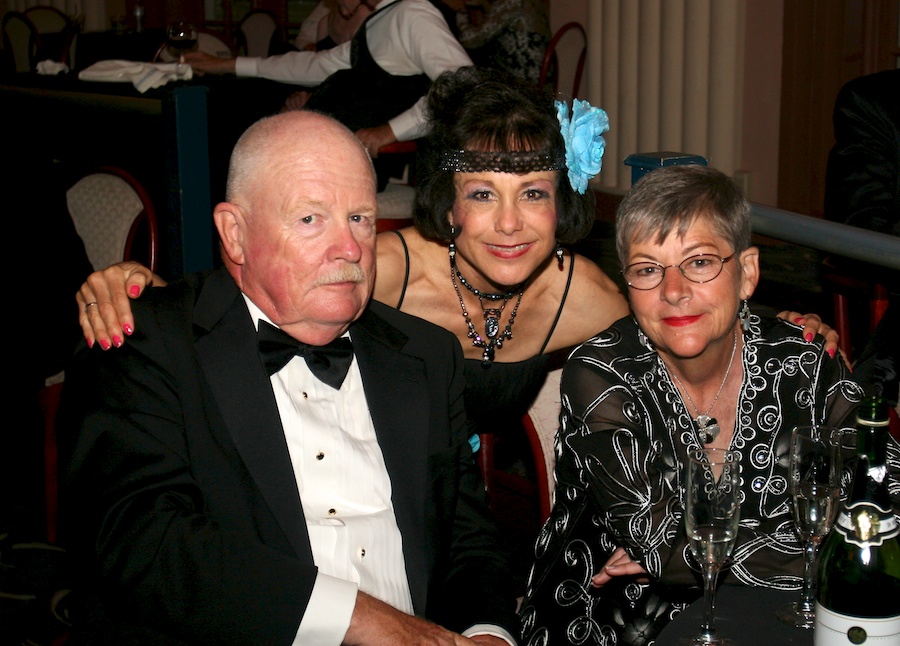 Saved by Donna
Quotation To Remember: May you have warm words on a cool evening, a full moon on a dark night, and a smooth road all the way to your door. ~Irish Toast

Bob provides so much to target....
Quotation To Remember: At the height of laughter, the universe is flung into a kaleidoscope of new possibilities.  ~Jean Houston


They are still laughing....
Quotation To Remember: The most wasted of all days is that in which we have not laughed.  ~Nicolas Chamfort, translated from French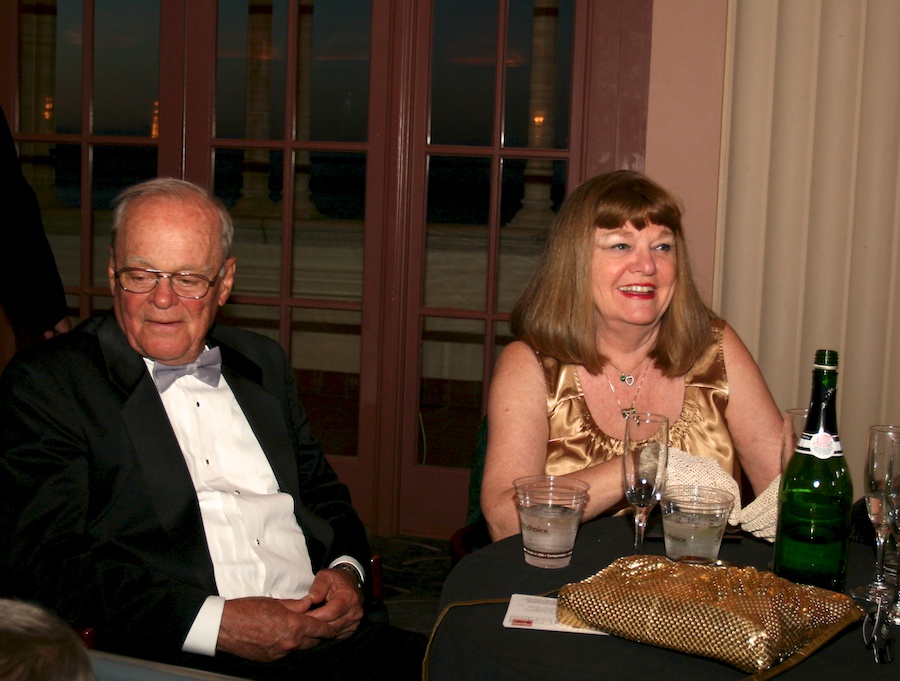 Nuts for a quick energy boost?
Did You Know? - A nut is a hard-shelled indehiscent fruit of some plants. While a wide variety of dried seeds and fruits are called nuts in English, only a certain number of them are considered by biologists to be true nuts. Nuts are an important source of nutrients for both humans and wildlife.
Nuts are a composite of the seed and the fruit, where the fruit does not open to release the seed. Most seeds come from fruits, and the seeds are free of the fruit, unlike nuts such as hazelnuts, hickories, chestnuts and acorns, which have a stony fruit wall and originate from a compound ovary.
Culinary usage of the term is less restrictive, and some nuts as defined in food preparation, like pistachios and Brazil nuts, are not nuts in a biological sense. Everyday common usage of the term often refers to any hard-walled, edible kernel as a nut.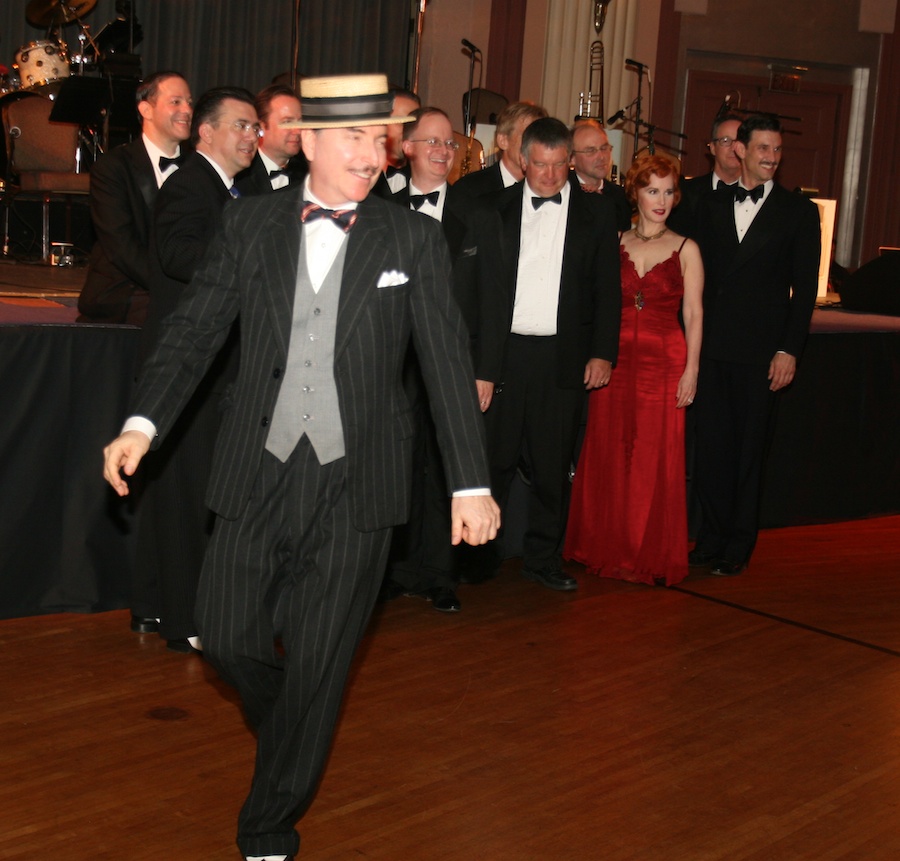 Introductions... Maxwell De Mille

The Avalon Ball Orchestra
Did You Know? - This magical night features Master of Ceremonies Maxwell DeMille and an evening of dancing to music from the 1920s and 30s performed by Dean Mora & the Avalon Ball Dance Orchestra. Immerse yourself in glorious Deco opulence gliding across the 10,000 square foot dance floor surrounded by romantic ocean views.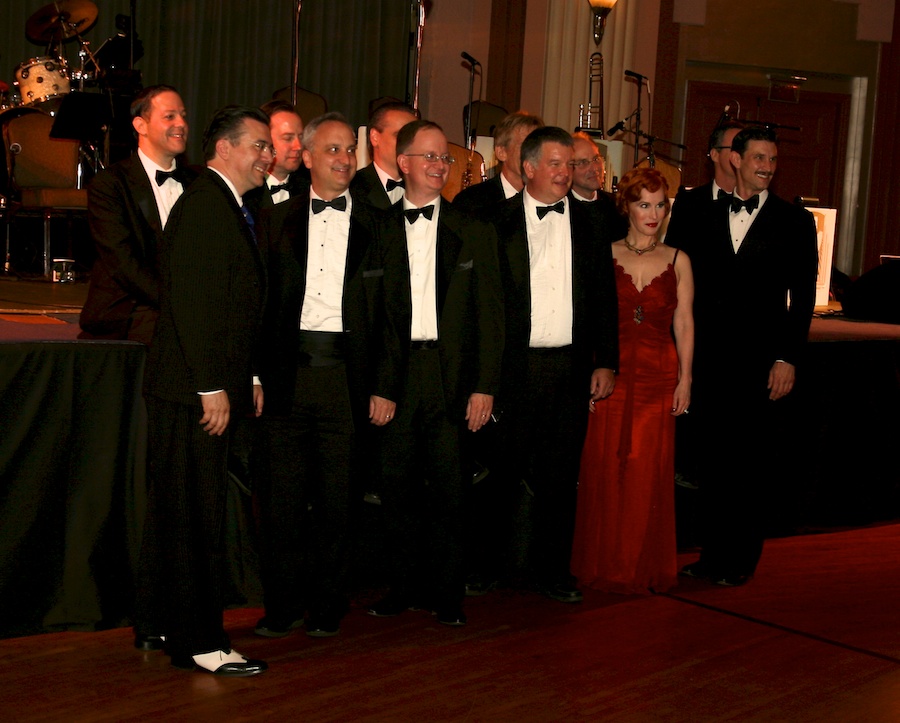 The band gets their photo taken

Our singer was fantastic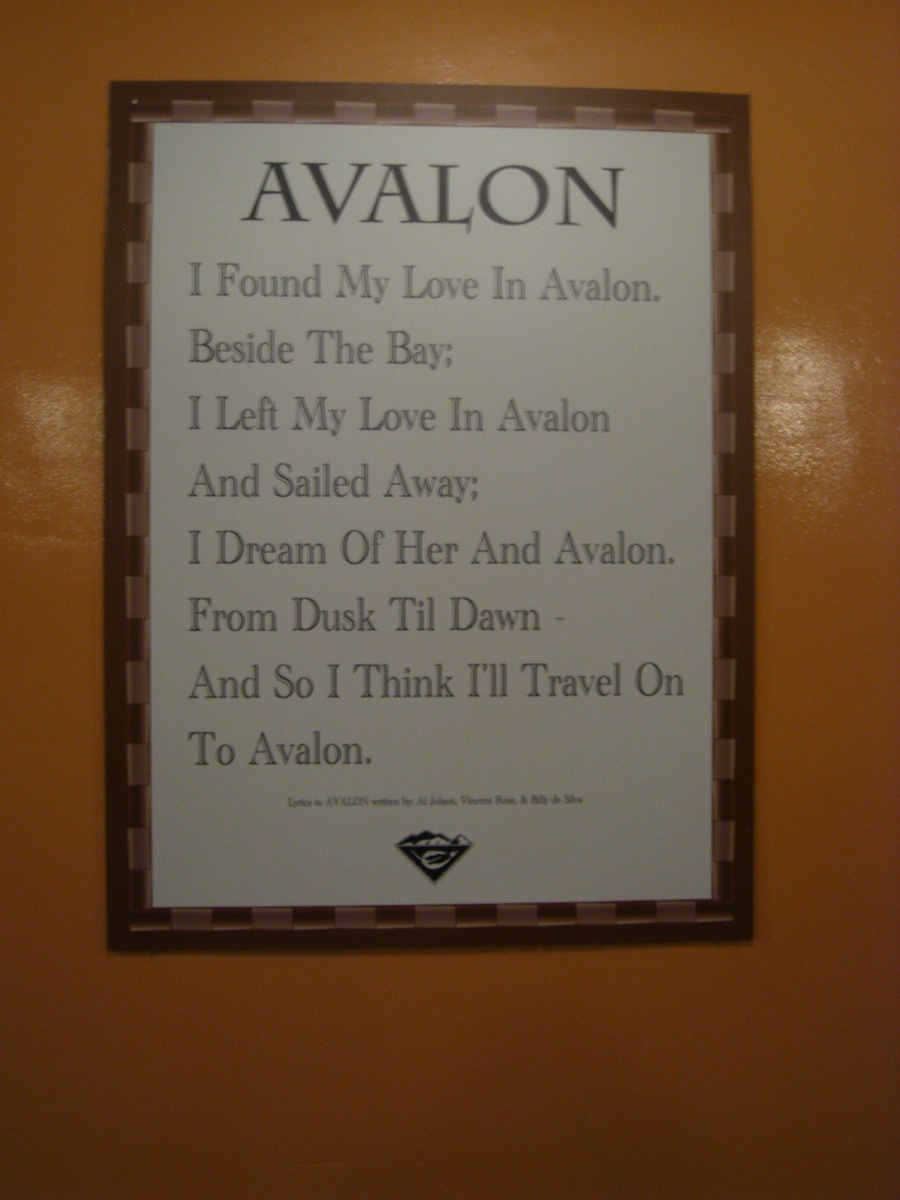 Sing along with us....

The original sheet music
Did You Know? - "Avalon" is a 1920 popular song written by Al Jolson, Buddy DeSylva and Vincent Rose. It was introduced by Jolson and interpolated in the musicals Sinbad and Bombo. Jolson's recording rose to number two on the charts in 1921.
The song was possibly written by Rose, but Jolson's popularity as a performer allowed him to claim composer co-credit.
Originally, only Rose and Jolson were credited, and DeSylva's name was added later.
A popular jazz standard, the song has been recorded by many artists, including Cab Calloway (1934), Coleman Hawkins (1935) and Eddie Durham (1936).
The Benny Goodman Quartet played the song in their famous 1938 Carnegie Hall concert.
The song was included in the biographical films The Jolson Story (1946) and The Benny Goodman Story (1956), and is also being noodled by Sam (Dooley Wilson) at the piano right before he plays As Time Goes By in the movie Casablanca (1942).

"OK, we are now organized... What should we do??"

Ta Dah

Oh you handsome devil

Herbie holds the balcony up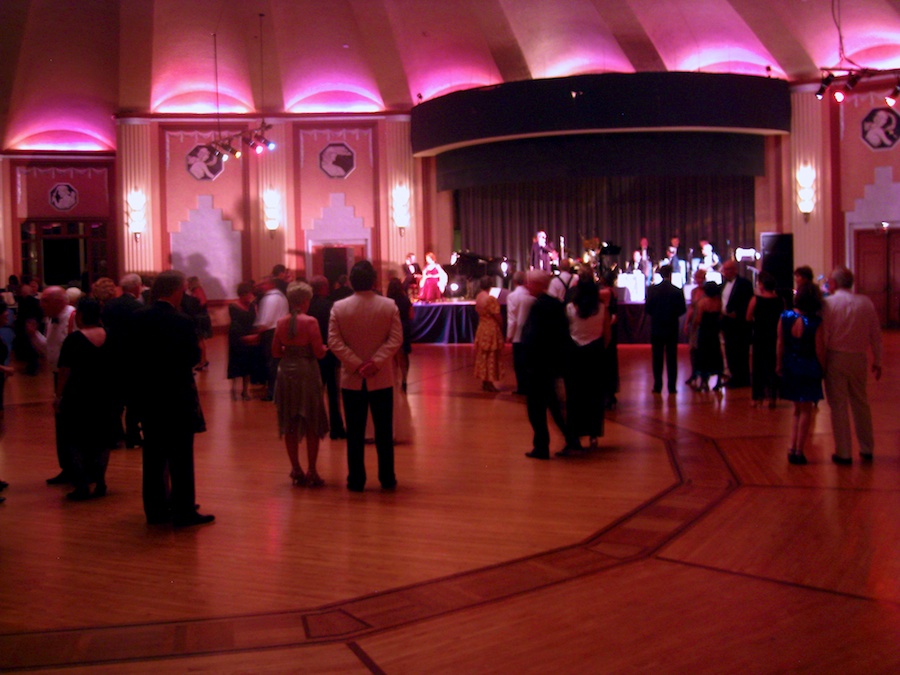 Time for an announcement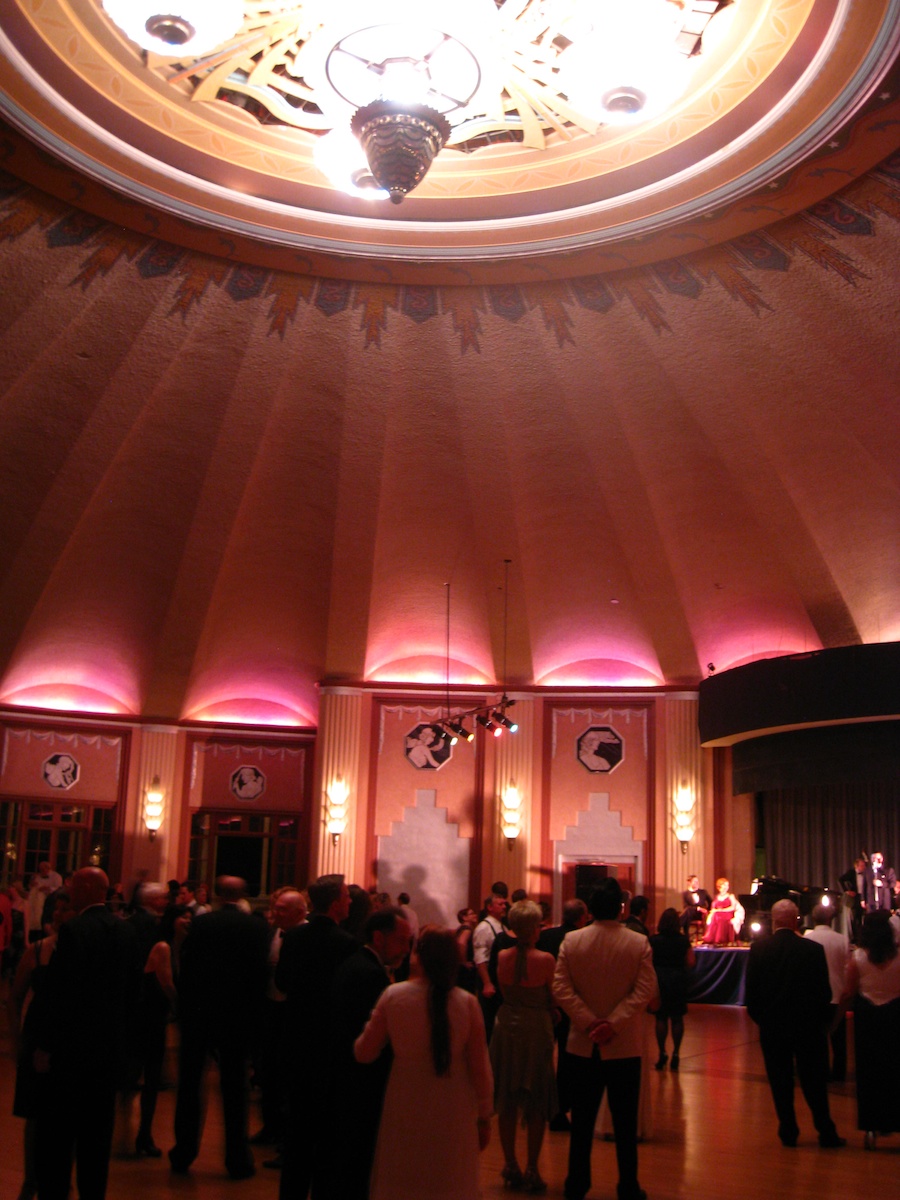 Eighty-five feet to the ceiling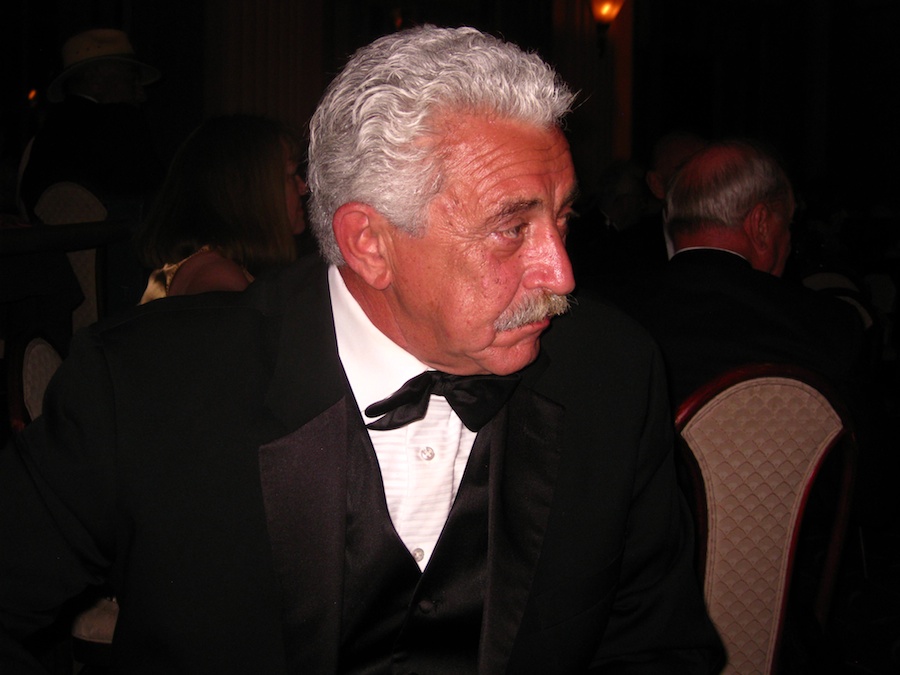 James Bond 007 look alike