Let's Dance! (Page Three)
(3/15/2013) Last Updated: 09/11/2019 10:38:AM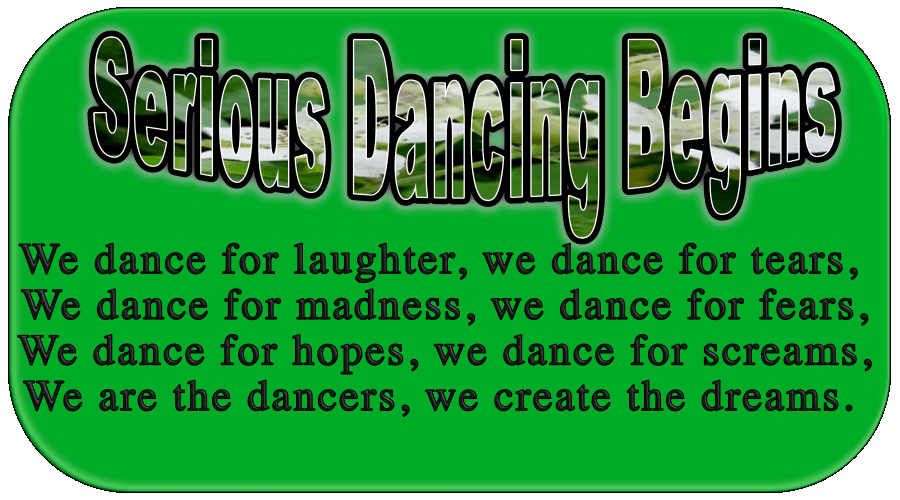 Dinner was so good they are going to move into the empty chairs and dine again!!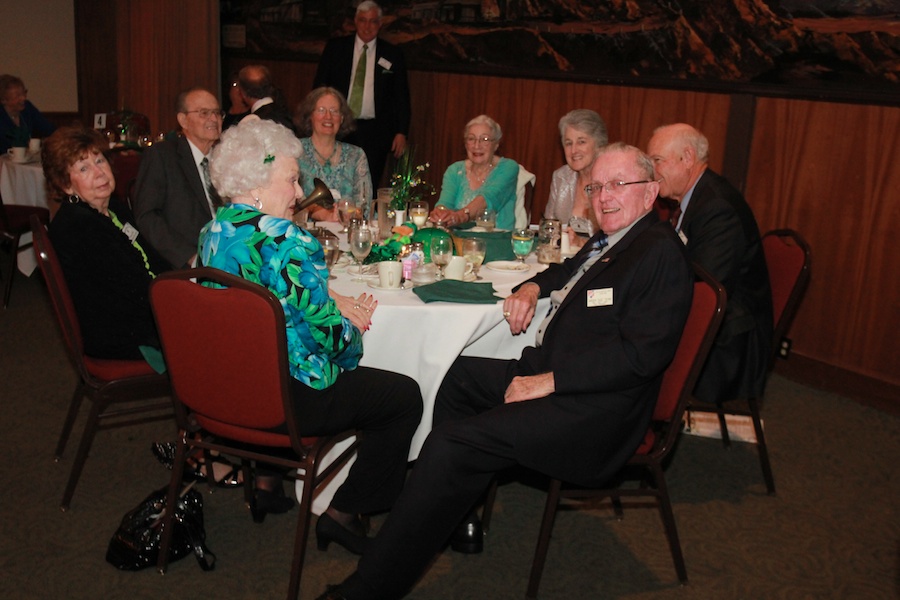 Coffee and dessert is served

Ace and Martha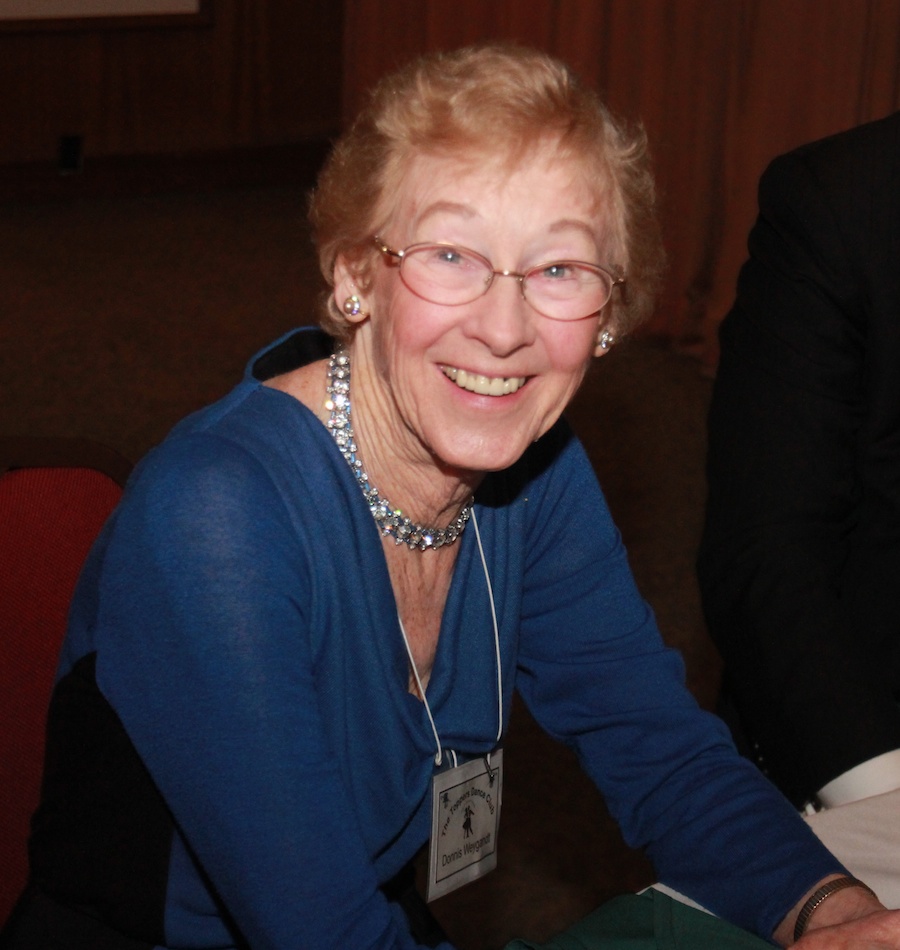 Donnis is ready to dance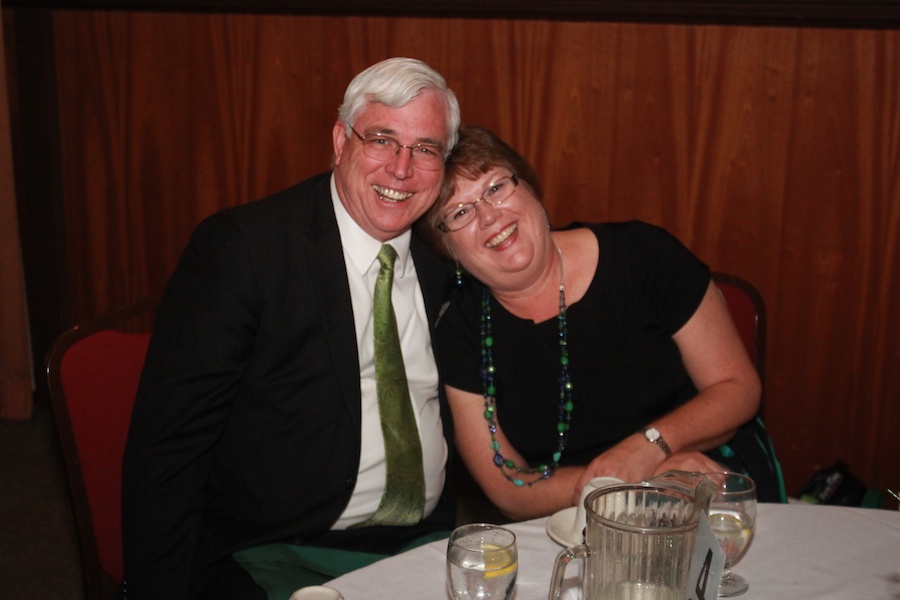 Romance is in the air

The music is beginning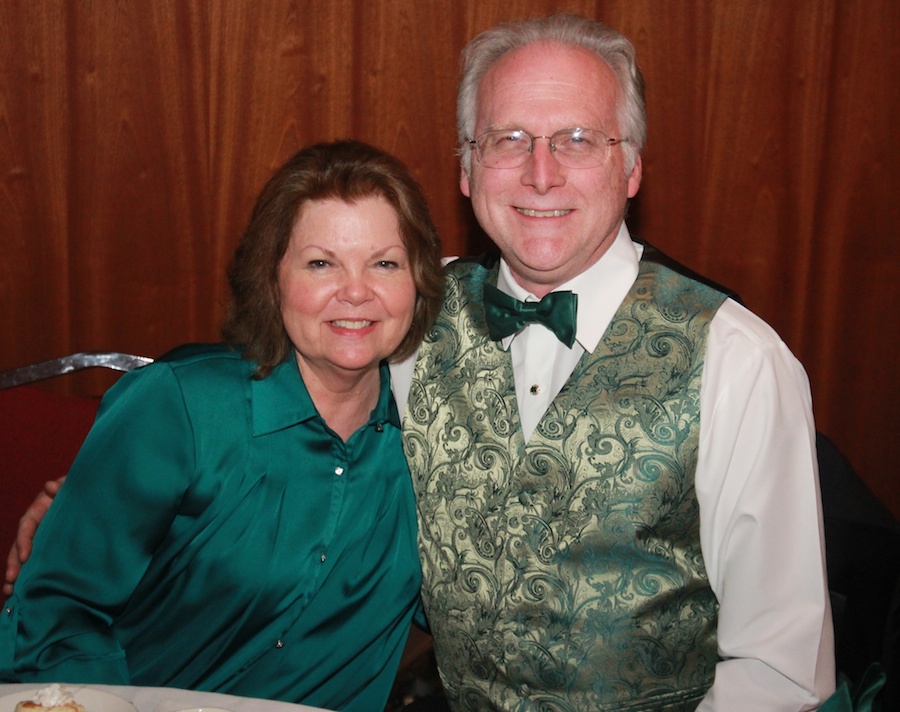 The Colby's are dressed in the green... All is well
Did You Know? - Originally, the color associated with Saint Patrick was blue. Over the years the color green and its association with Saint Patrick's Day grew.
Green ribbons and shamrocks were worn in celebration of St. Patrick's Day as early as the 17th century.
Saint Patrick is said to have used the shamrock, a three-leaved plant, to explain the Holy Trinity to the pagan Irish, and the ubiquitous wearing and display of shamrocks and shamrock-inspired designs has become a feature of the day.
In the 1798 rebellion, to make a political statement, Irish soldiers wore full green uniforms on 17 March in hopes of catching public attention.
The phrase "the wearing of the green", meaning to wear a shamrock on one's clothing, derives from a song of the same name.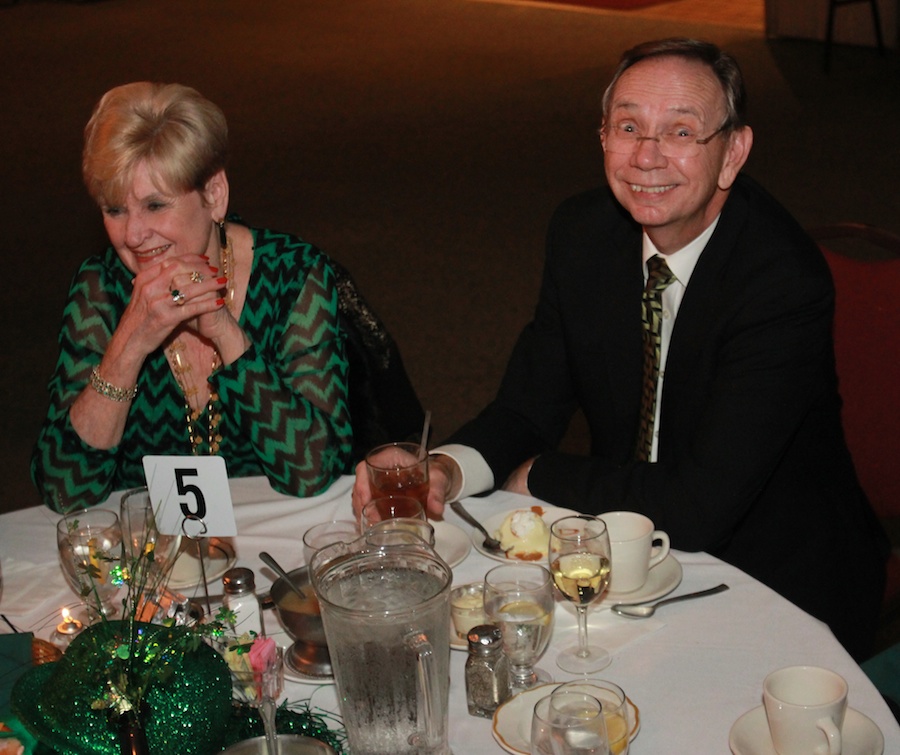 What is Tom thinking about???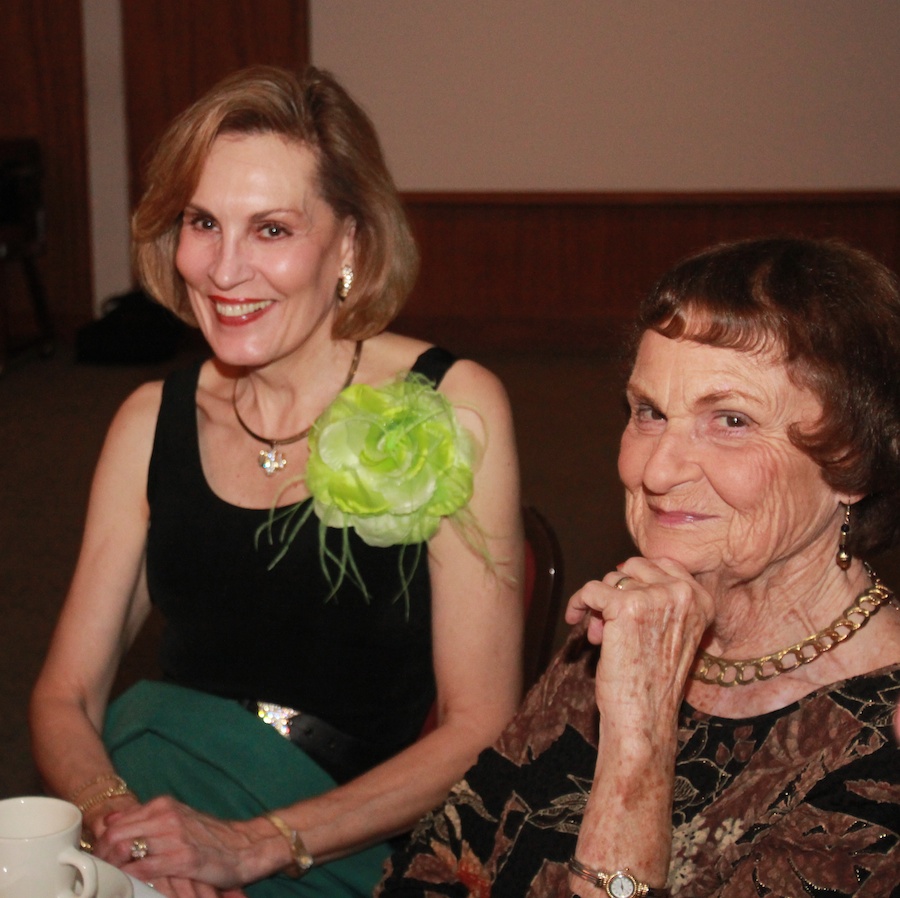 They will never tell...

Our treasurer looks puzzled

"I think I have it now!"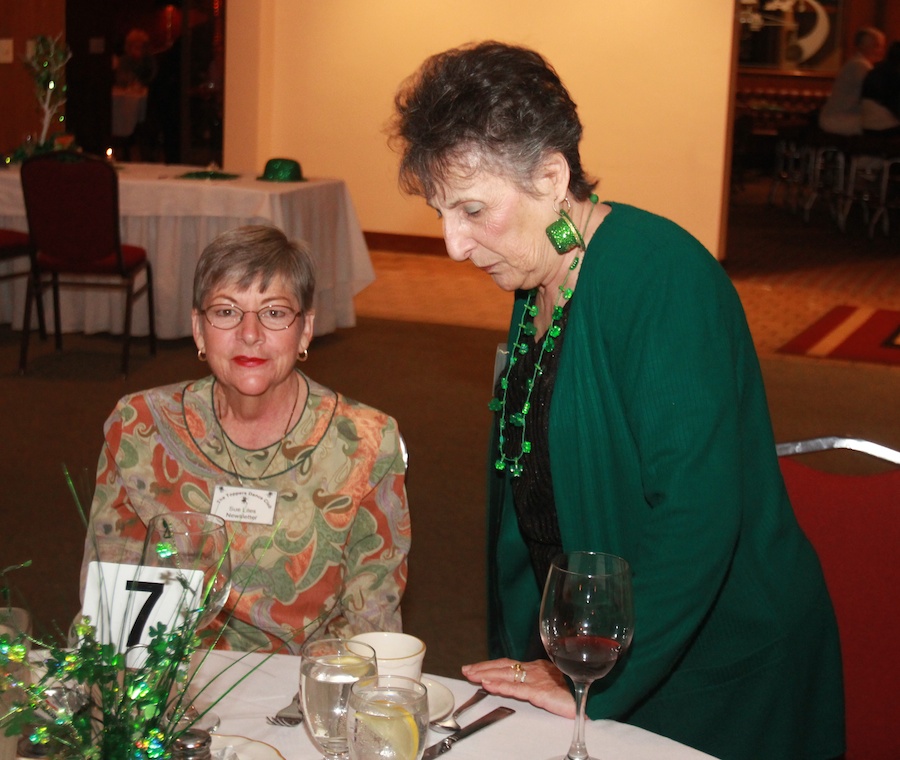 Irene checks in with Sue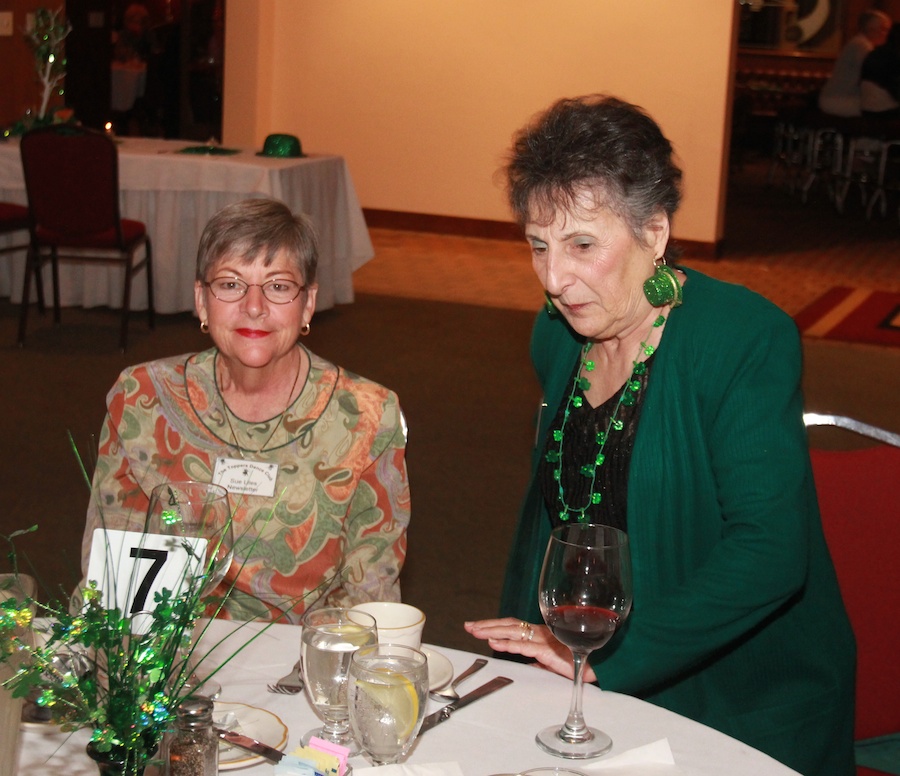 Time to sit a spell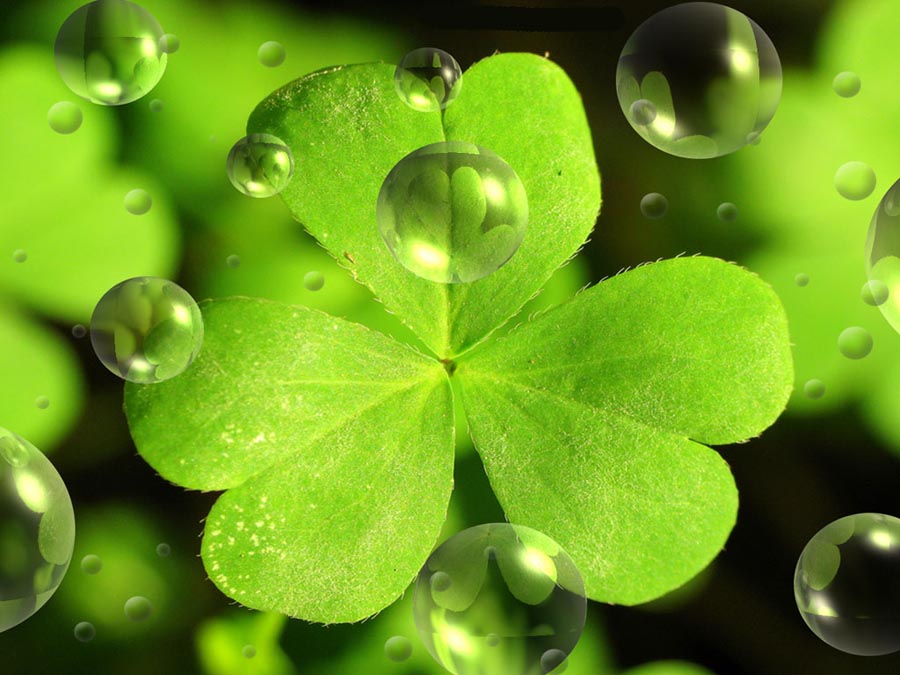 Announcements Time....

Our Veep makes the important announcements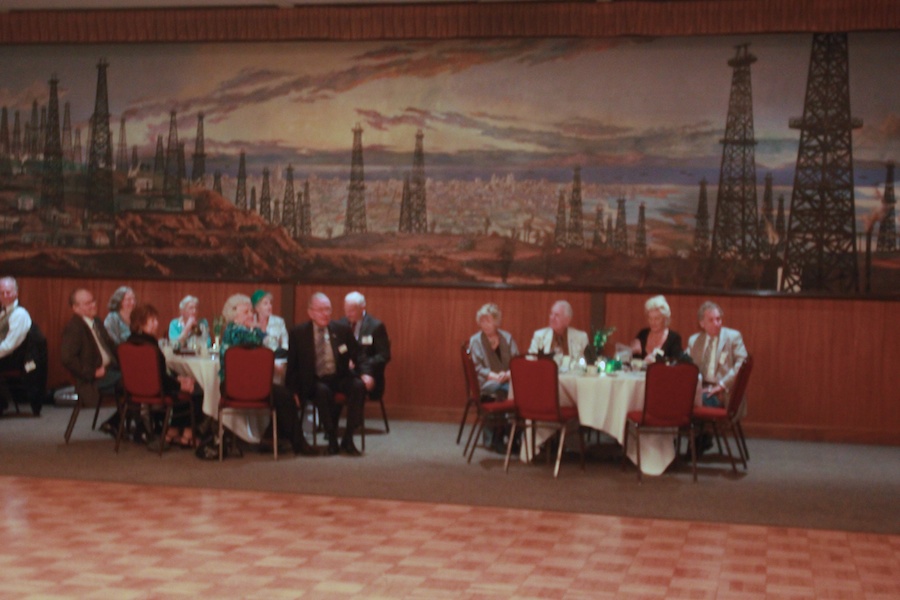 The audience is in awe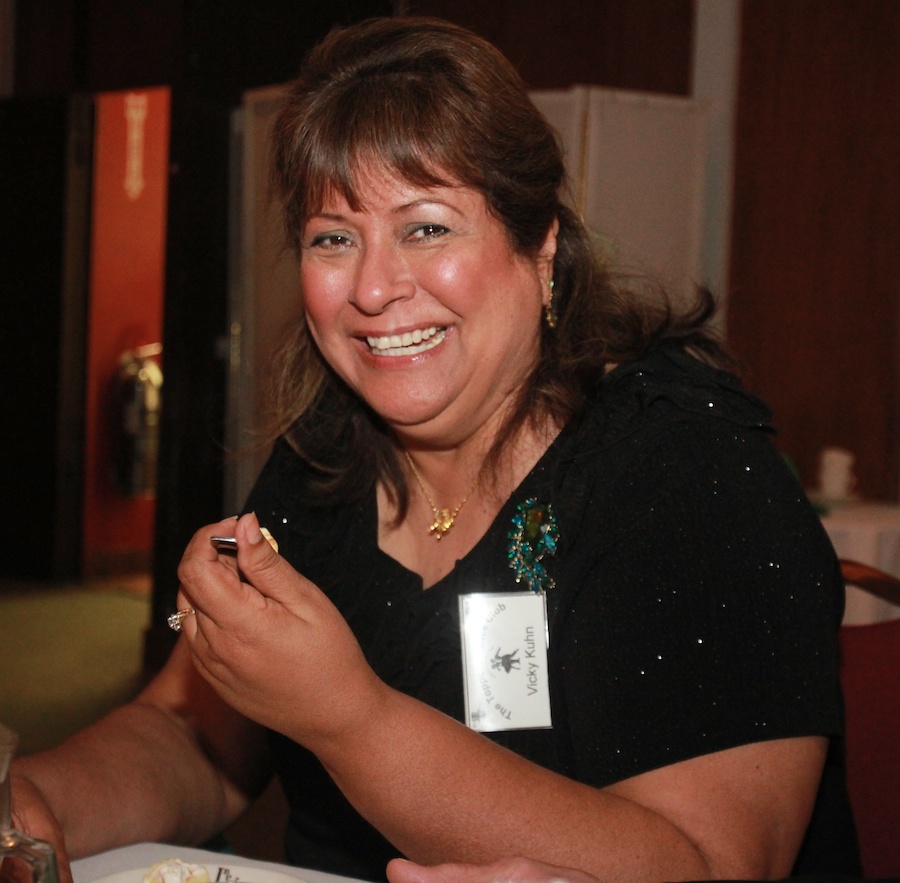 Vicky has a Class-A smile going!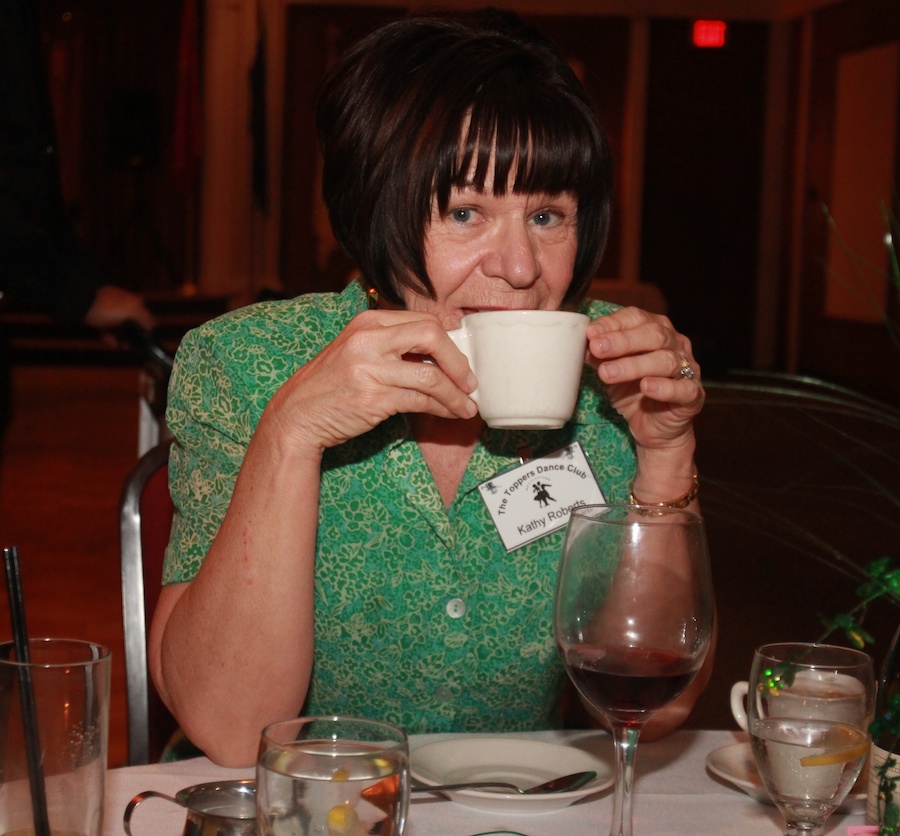 "I hid my wine in the coffee cup!"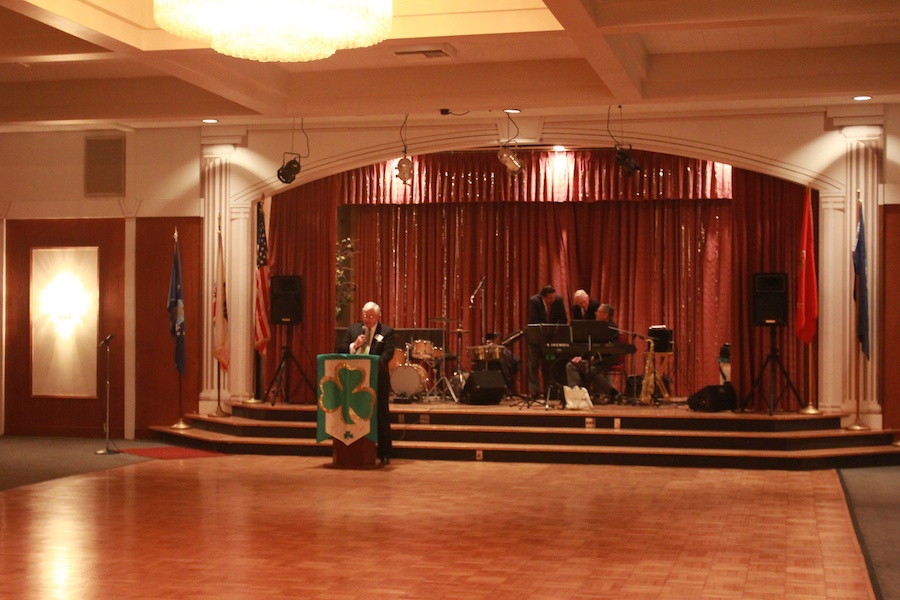 The band gets a few minutes to rest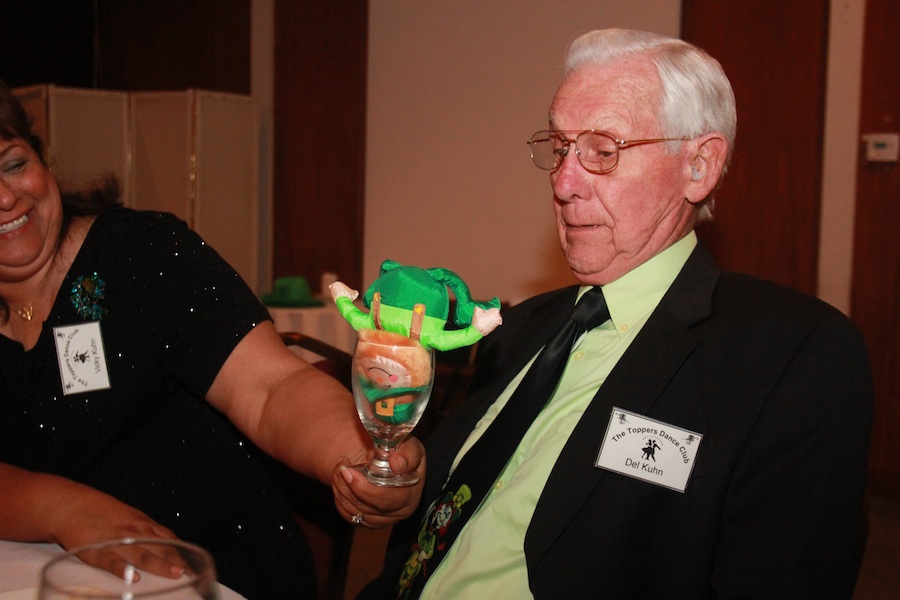 Glass of Leprechaun?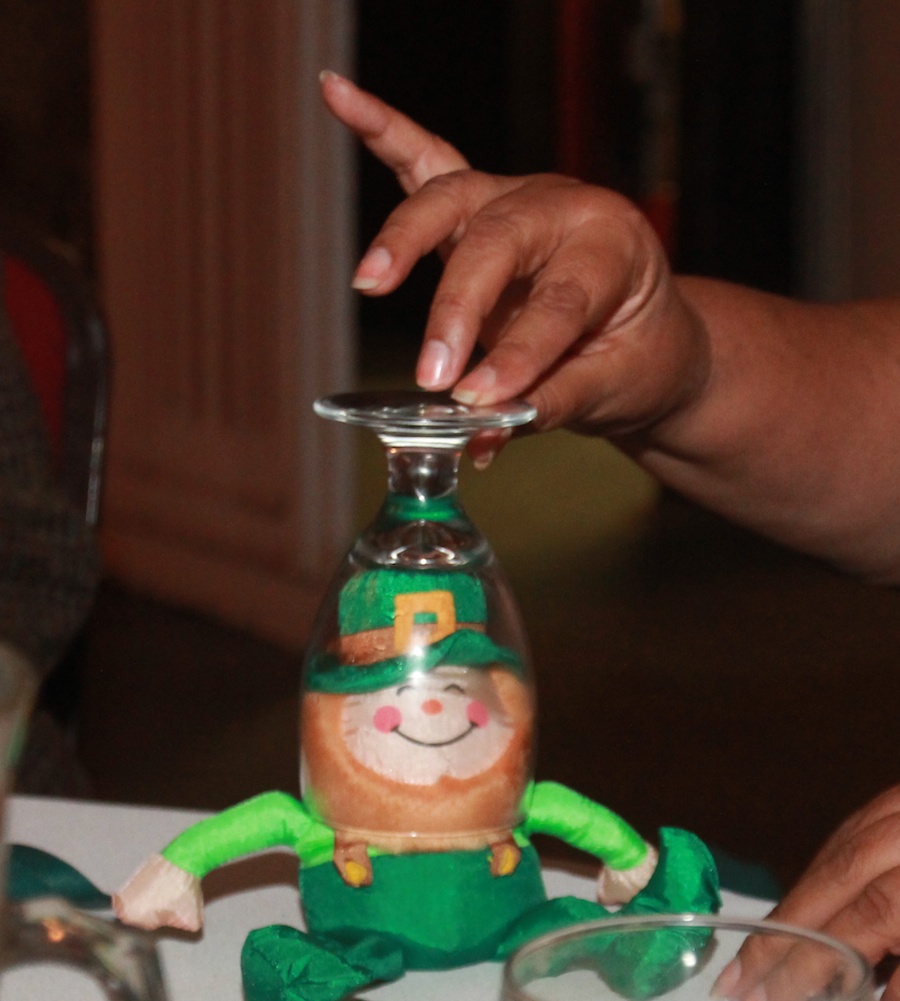 This will keep him out of trouble
Irish Sayings...
"The Irish don't know what they want and are prepared to fight to the death to get it."
Sidney Littlewood
"A man in love is incomplete until he has married, then he is finished."
"An Irishman is never drunk as long as he can hold onto one blade of grass to keep from falling off the earth."
"A hair on the head is worth two on the brush." - Oliver Herford
"The Irish gave the bagpipes to the Scotts as a joke, but the Scotts haven't seen the joke yet."
"Don't talk about a rope in the house of someone whose father was hung." - Colin Farrell
New Members and Birthdays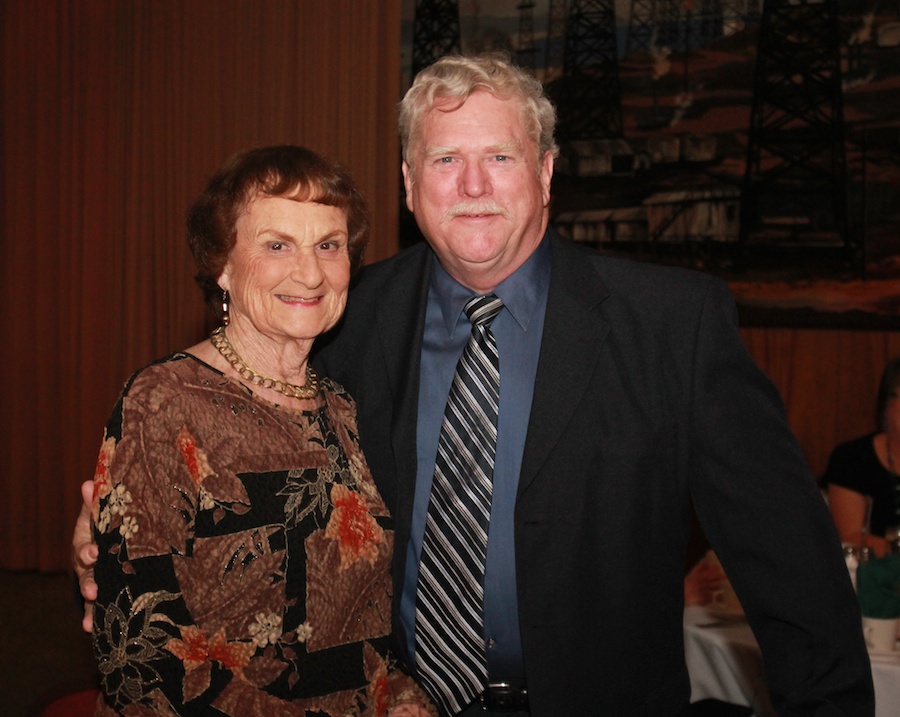 New Members - Marion and Gary Grey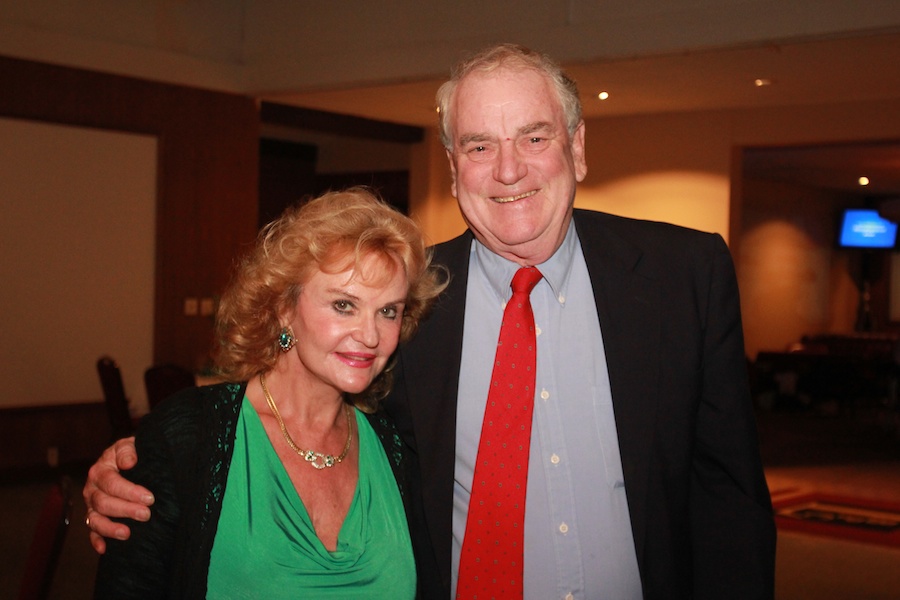 New Members - Ghislaine and Wally Rodecker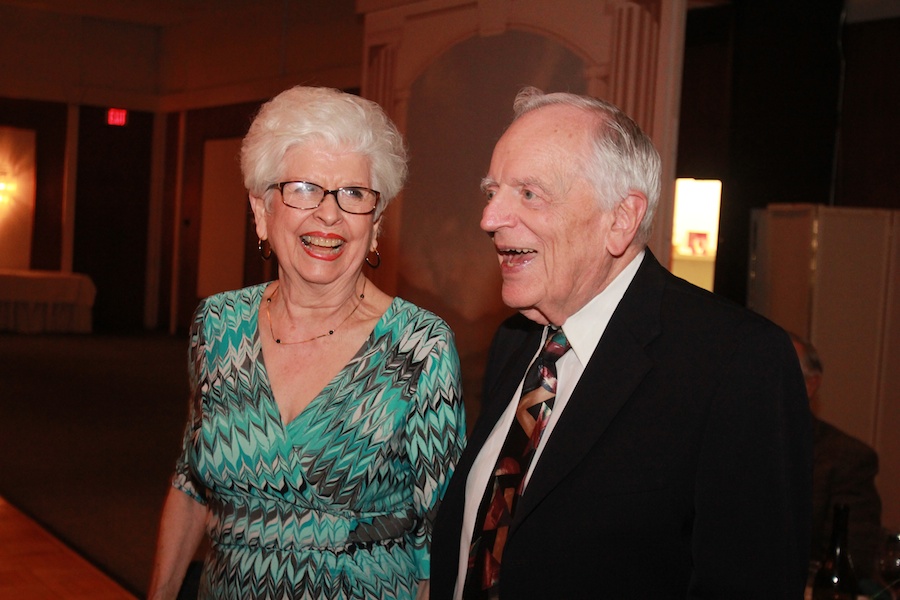 Guests - Carmen and Tracy Wells

Leader of the Tracy Wells Big Band
Did You Know? - One of the busiest big bands in Southern California, the Tracy Wells Big Swing Band has developed an enthusiastic following of fans from Santa Barbara to San Diego. Corporate events, private parties, public dances, summer concerts in parks and malls, and winter holiday celebrations augment the regular bookings of the band in hotels and clubs.
In addition to the extensive programming variety that includes the best big band literature of today, the repertoire features hundreds of exciting re-creations of the Big Band Era's "Great Moments in Swing" as performed by Count Basie, Harry James, Glenn Miller and others. The band's roster is filled with impressive resumes and national reputations, making the Tracy Wells Big Swing Band one of the very few authentic, top-calibre big band organizations in Southern California.

Tracy Wells – A Long Beach resident,Tracy is a transplanted Midwesterner from Quincy, Illinois. In earlier years he led big bands at the U.S. Naval Academy and at the University of Missouri. Later in Southern California he was featured with the Johnny Ricardo Latin band, free-lanced with jazz groups, vocal groups, and led other bands. Tracy is a trumpeter, vibraphonist, vocalist and arranger.

Guest Iris, Sister of Shirley

Martha tells us about the table decorations... Thank You Petroleum Club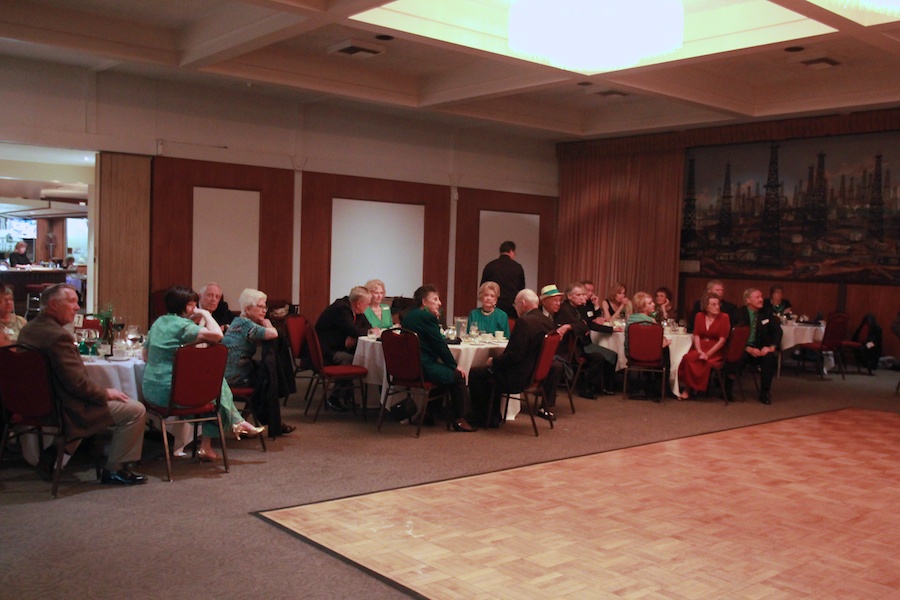 Almost ready to dance but...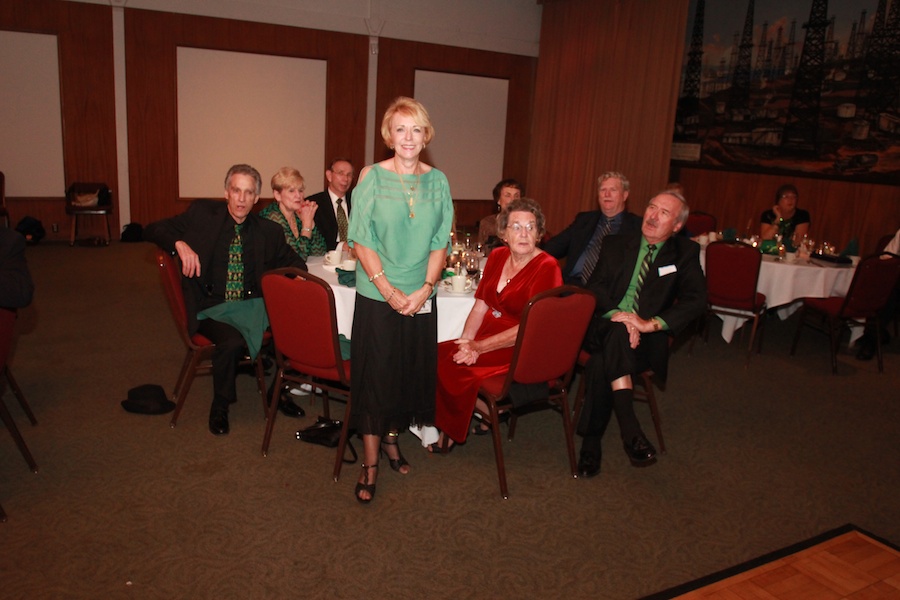 We have a birthday.... Shirley Skeggs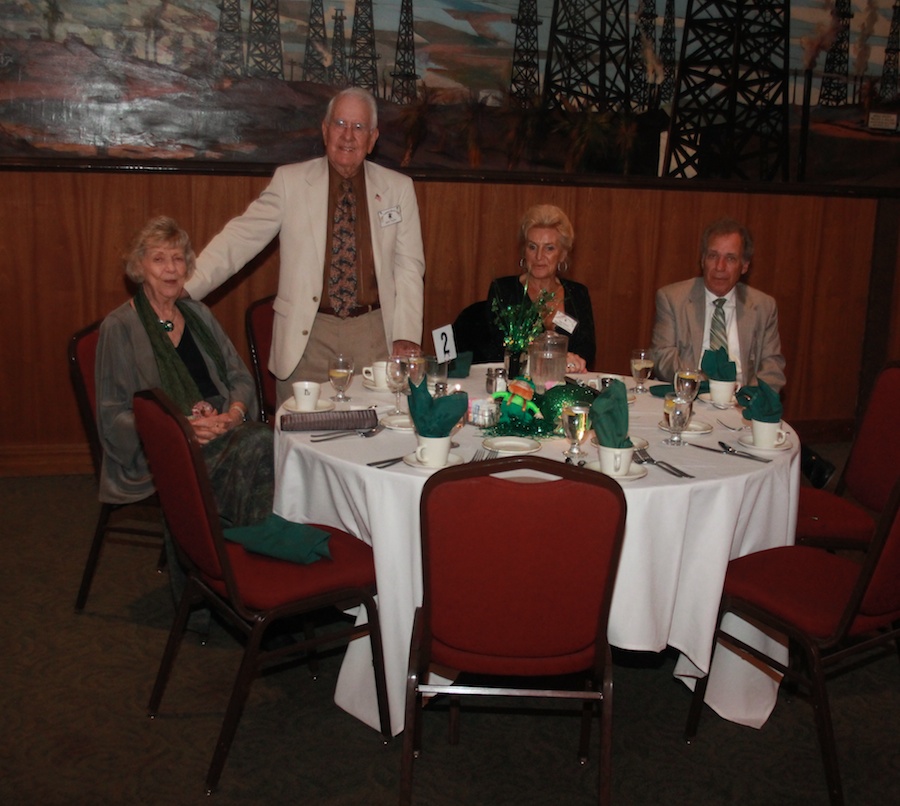 ...and a birthday Jack Taylor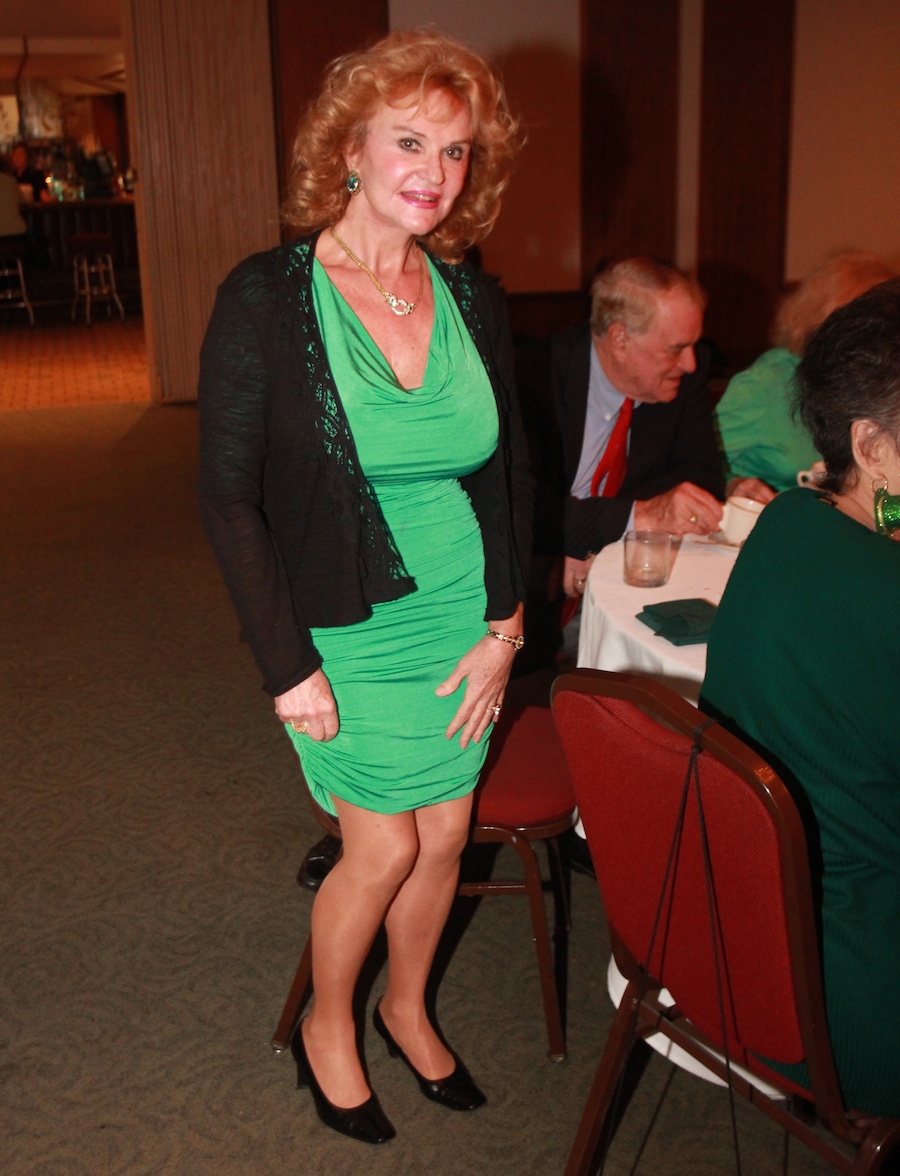 ...and a birthday Ghislaine Rodecker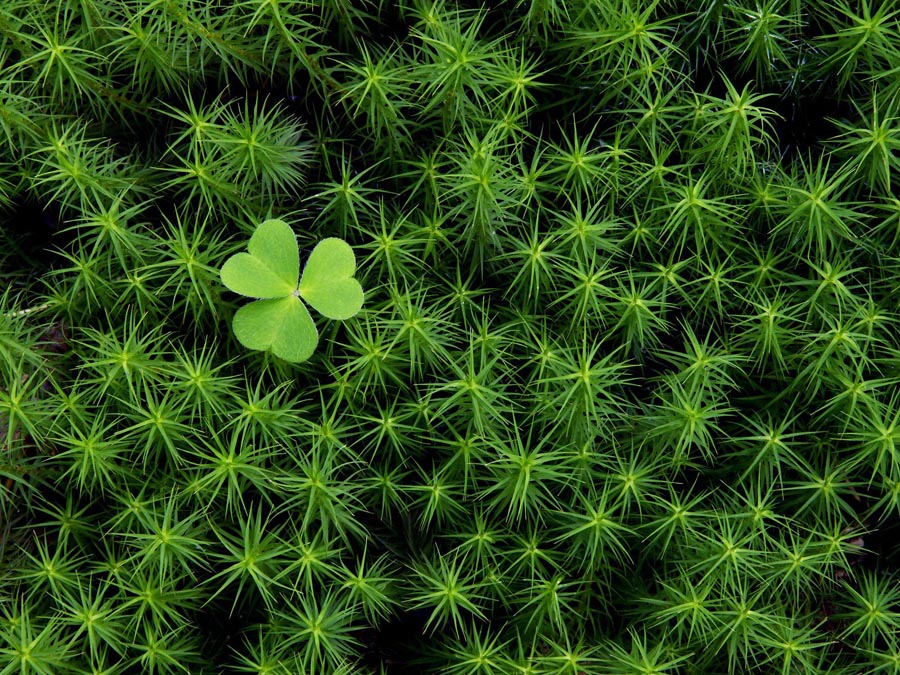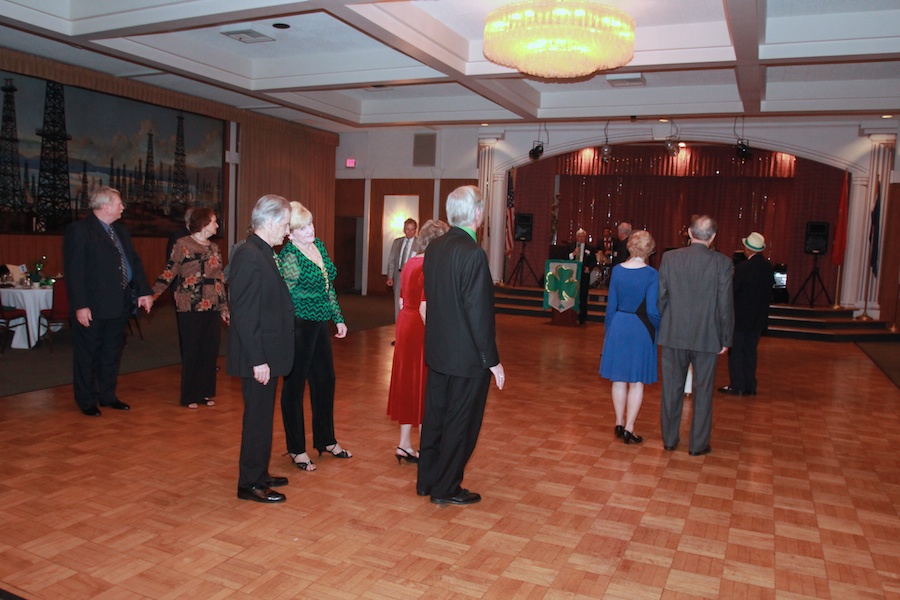 Standby.... We are ready to begin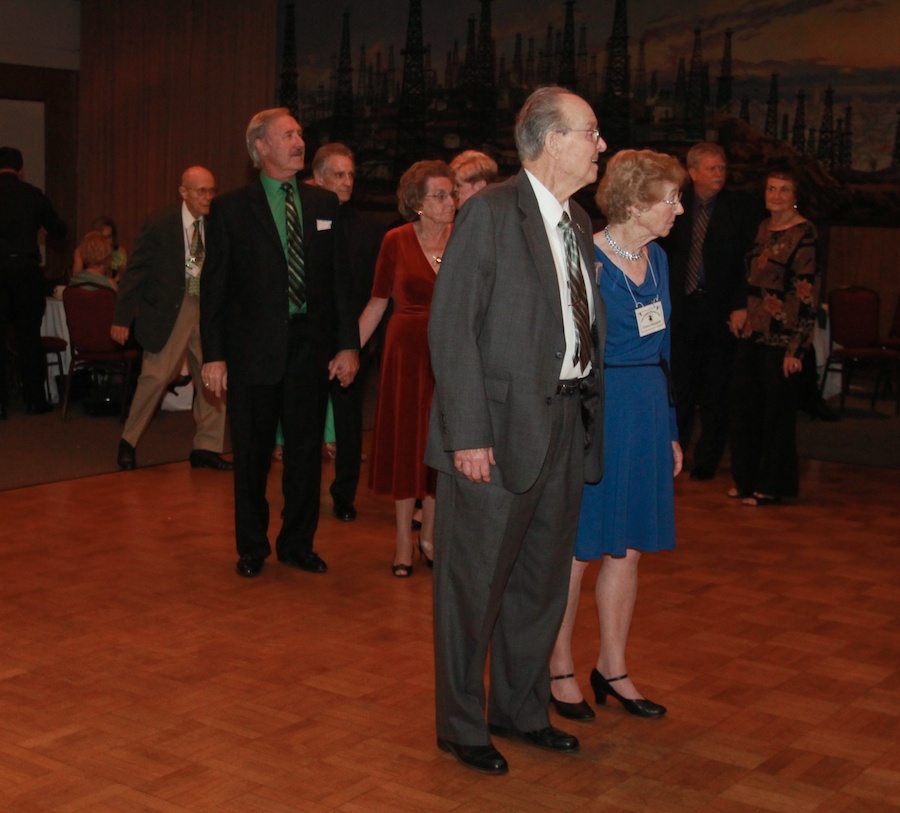 What dance will it be this time???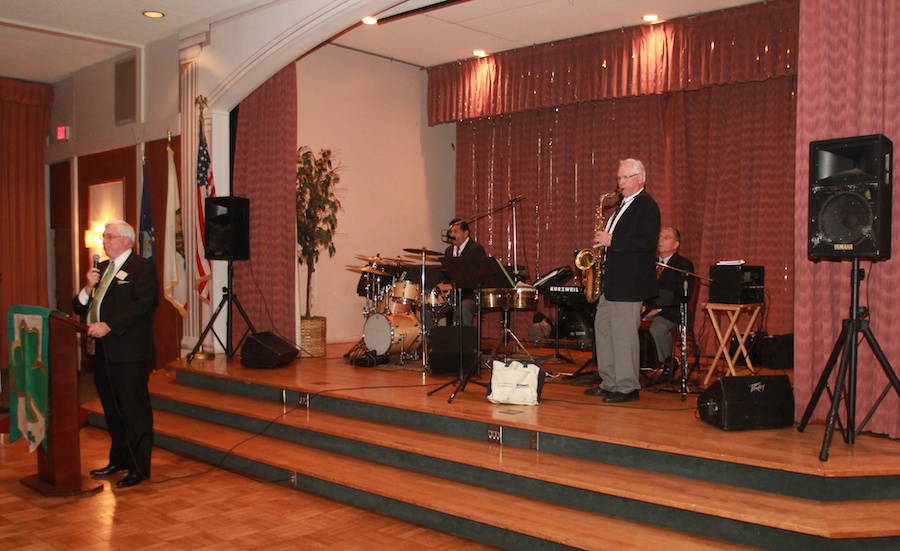 The band has a load of fun with this one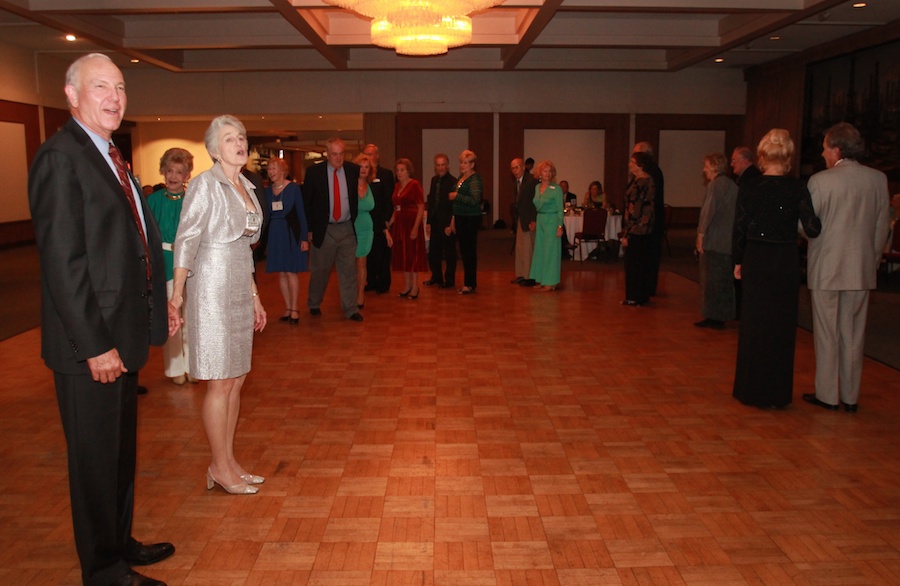 The floor was crowded!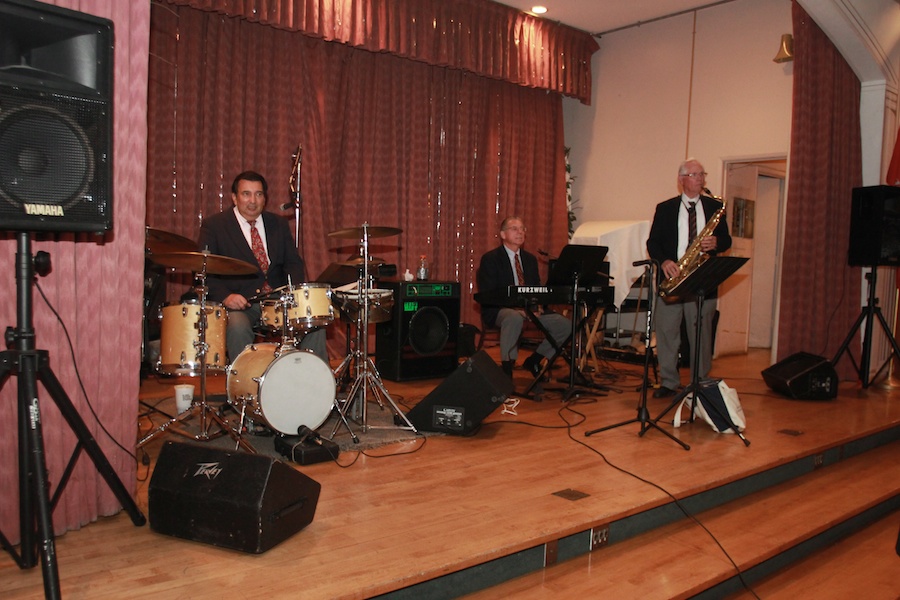 The music goes round and round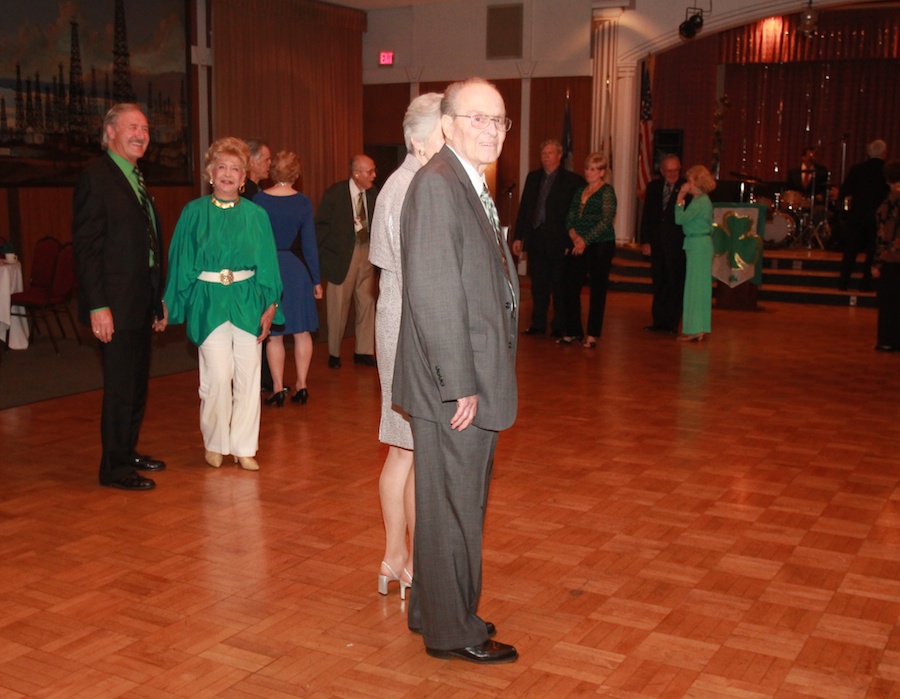 One more time....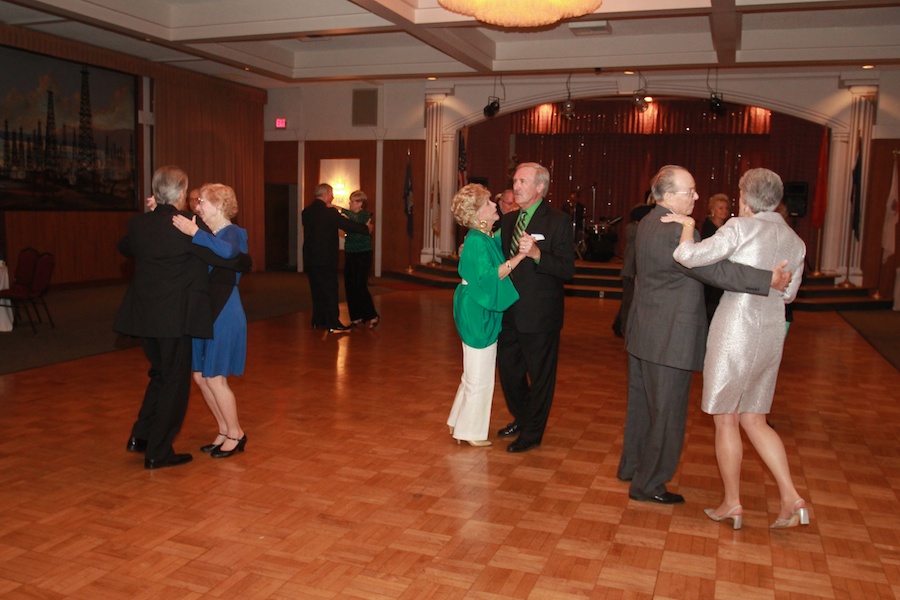 Last mixer
OZ (Ok, Leroy) ... The Man Behind The Curtain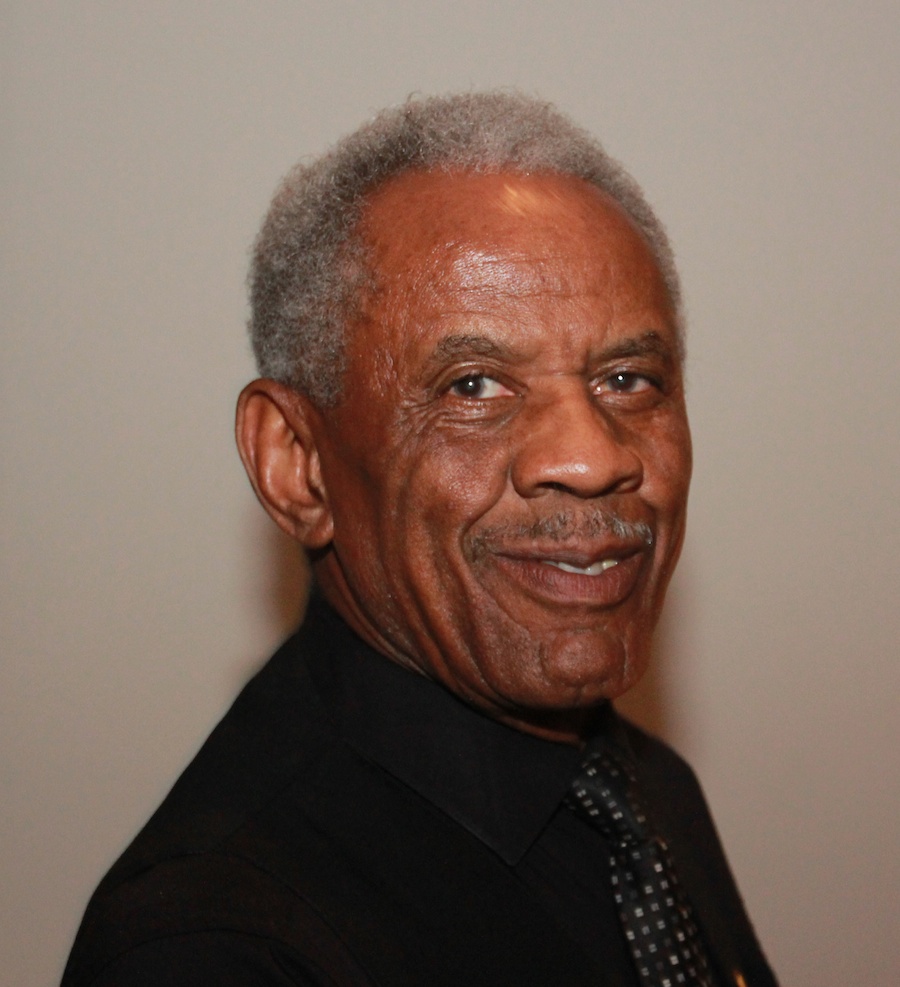 "Ask me... I may grant you your wish!"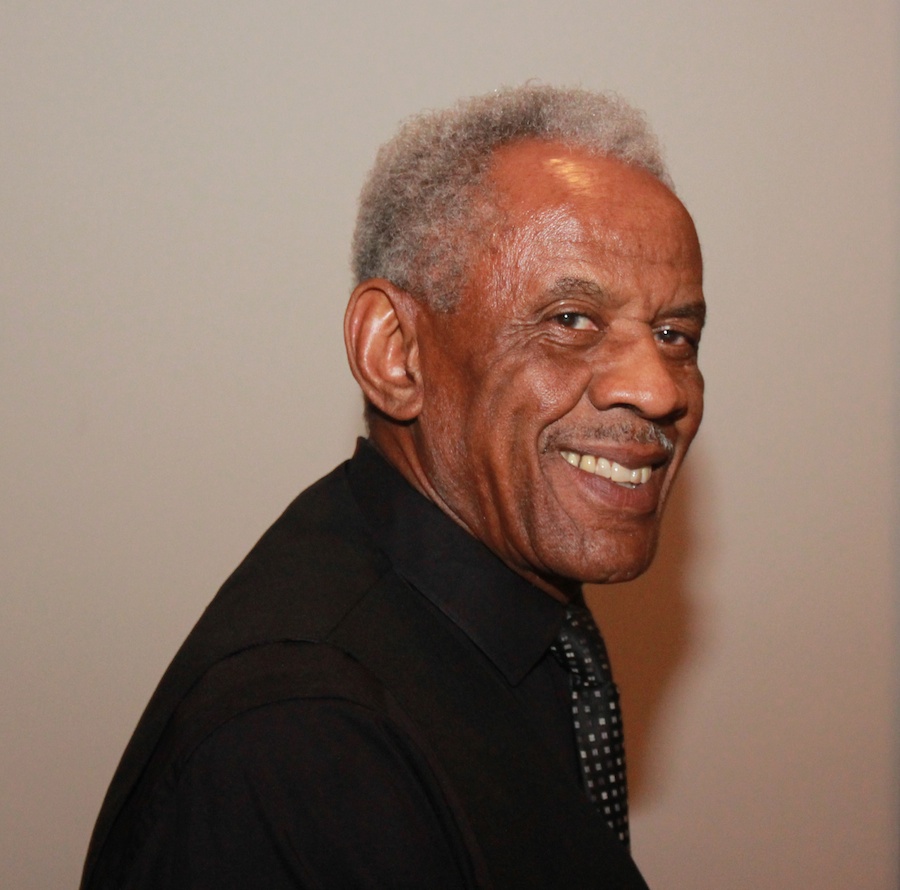 "See you next month!!"

Irish Sayings...
"God is good to the Irish, but no one else is; not even the Irish"
"My mother's menu consisted of two choices: Take it or leave it."
"Only Irish coffee provides in a single glass all four essential food groups: alcohol, caffeine, sugar, and fat."
"Sometimes I think I am a genius. Then I realize I've already seen this episode of Jeopardy."
Back To The Dance....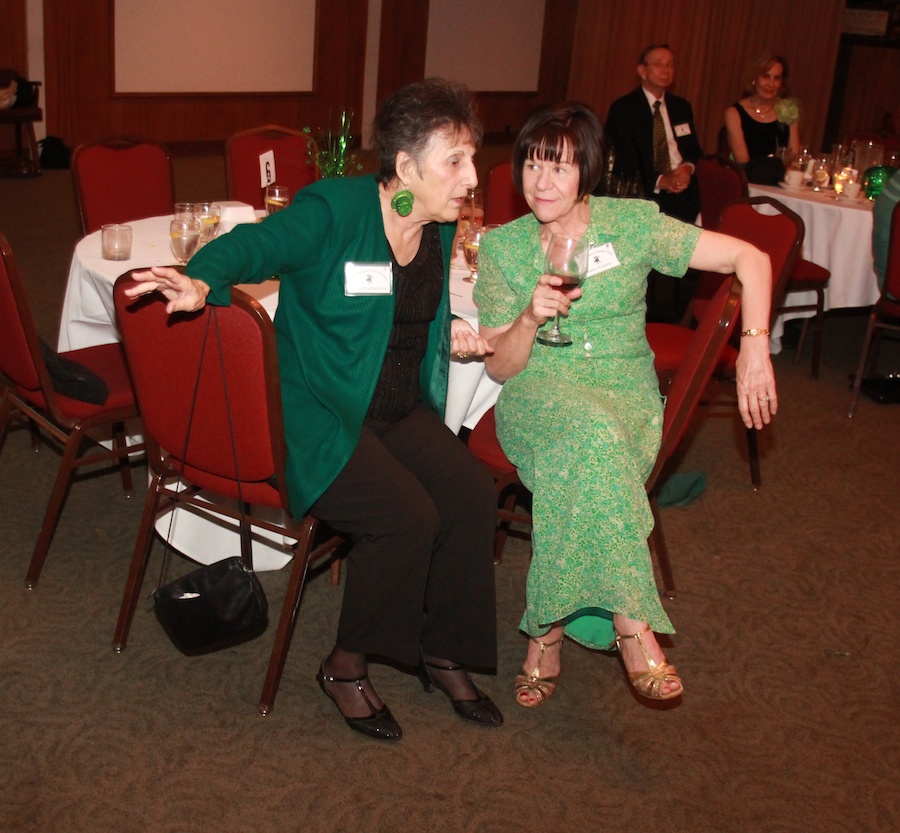 Irene and Kathy resting between dances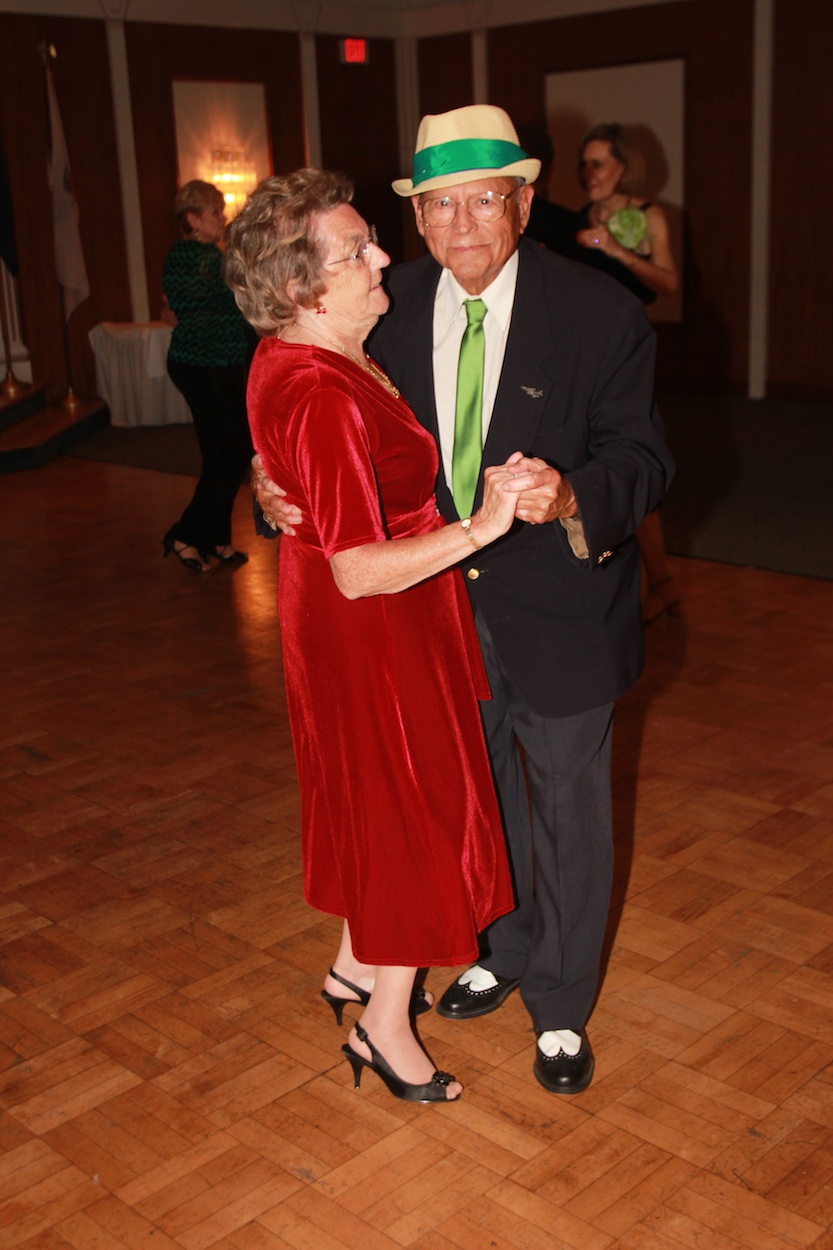 Al and our guest hit the floor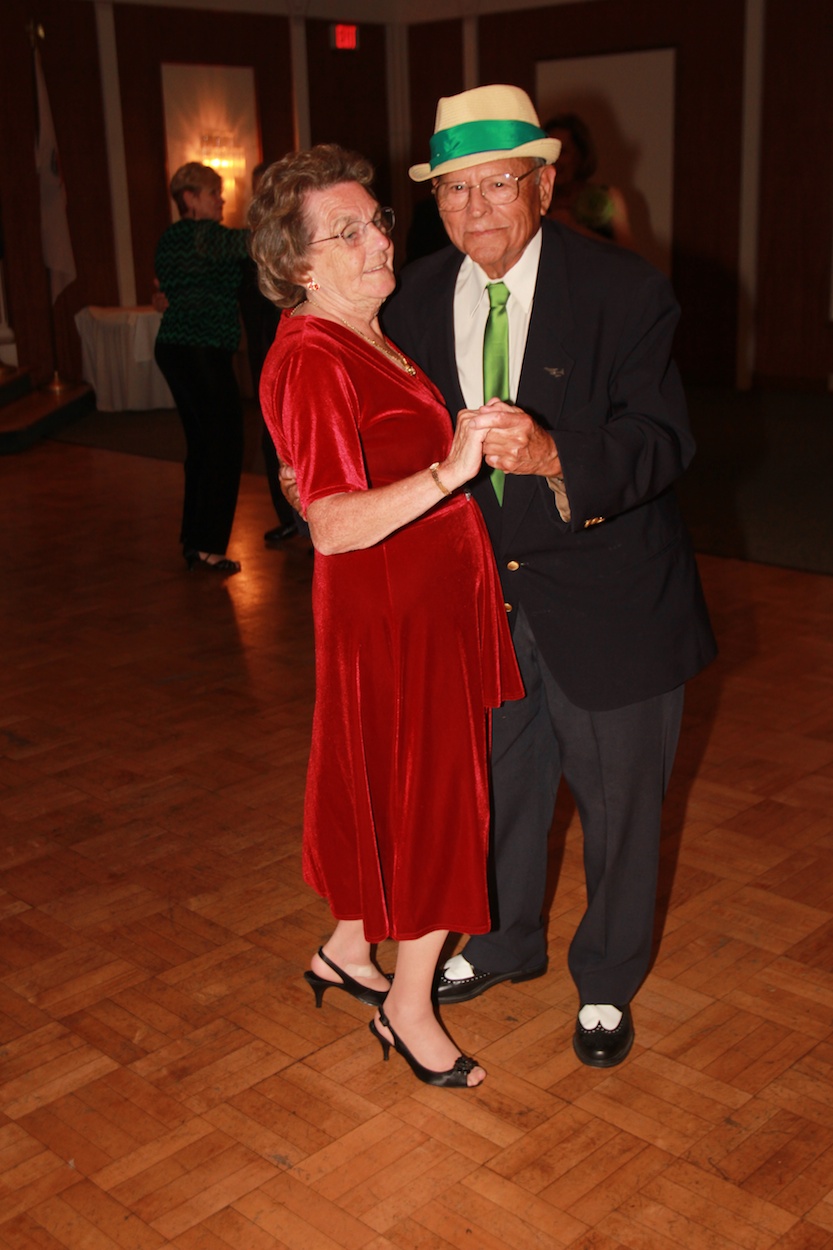 The fan dance....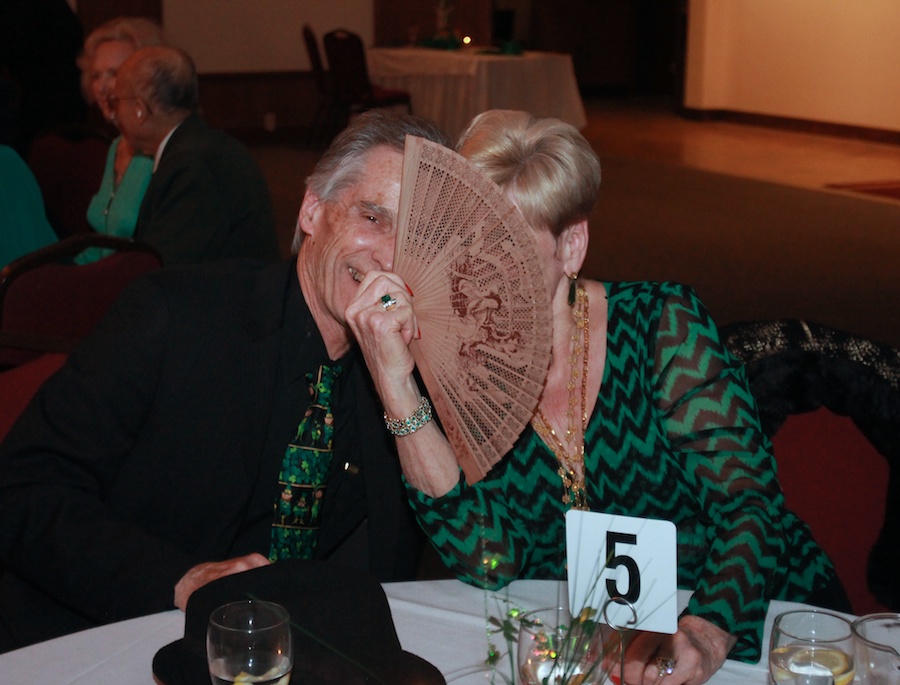 Careful... There are kids in the building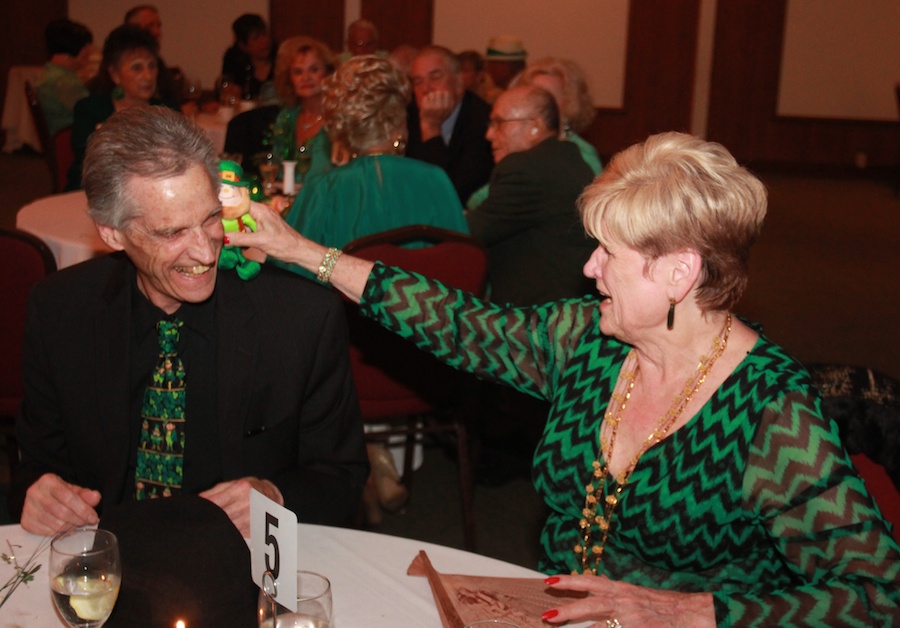 Lucky... Meet Mr.. Leprechaun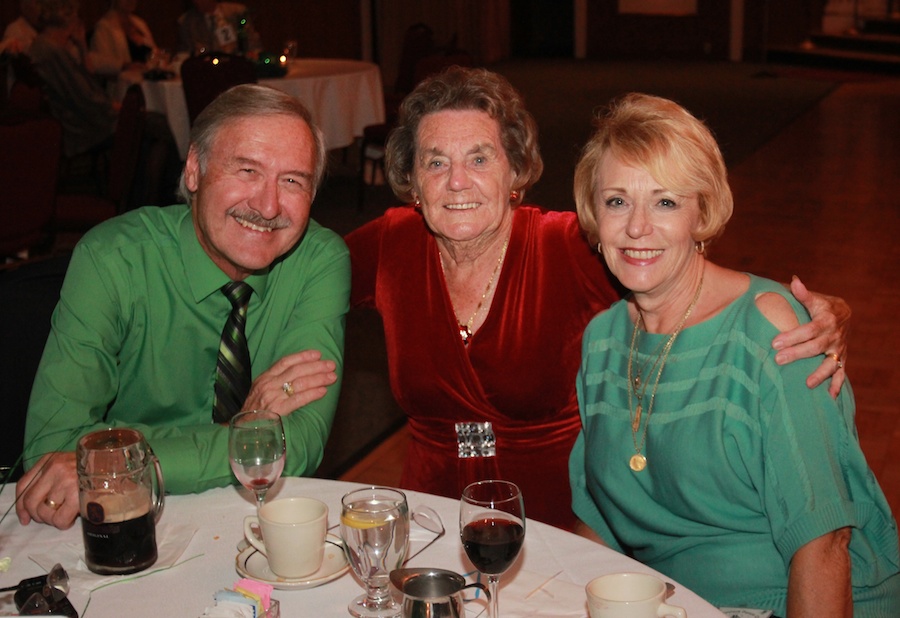 The Skeggs and Shirely's sister Iris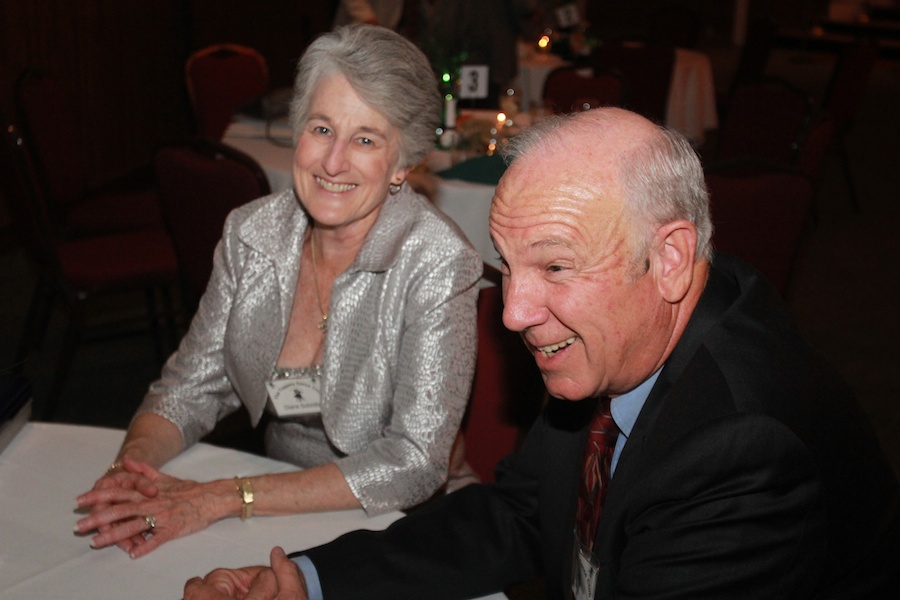 Laughs and giggles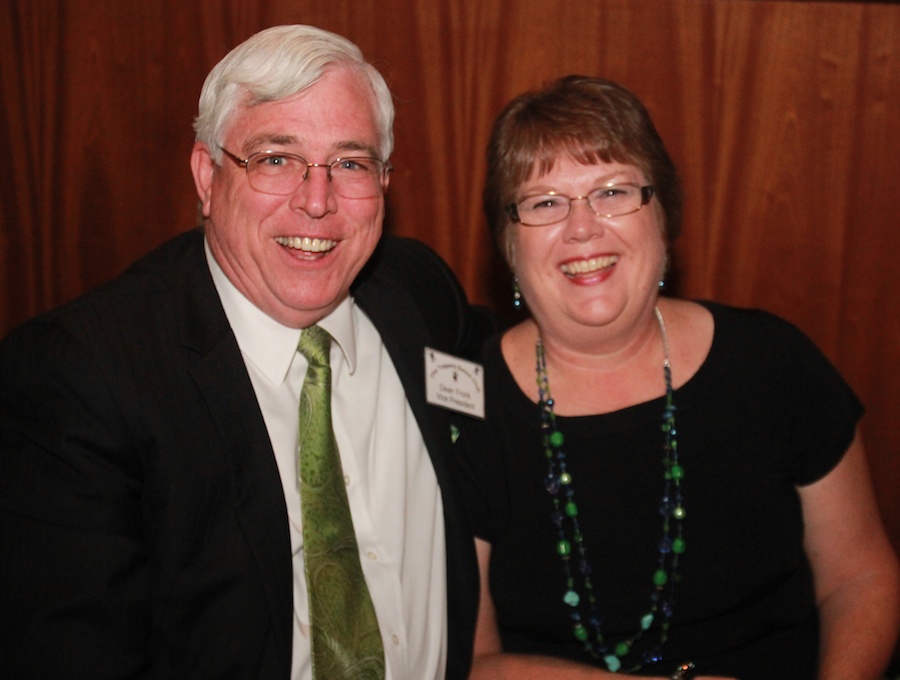 "OK dear... Time to hit the dance floor!"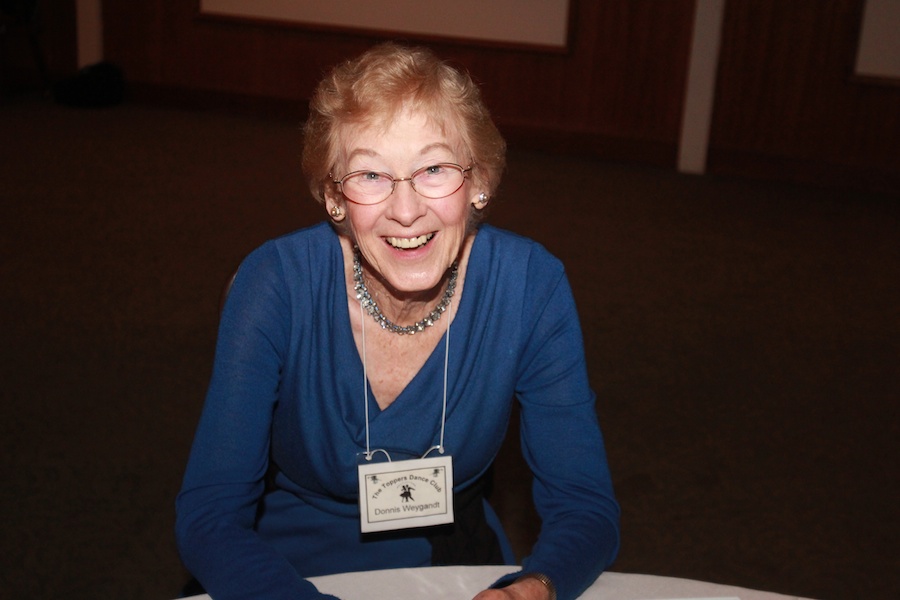 Donnis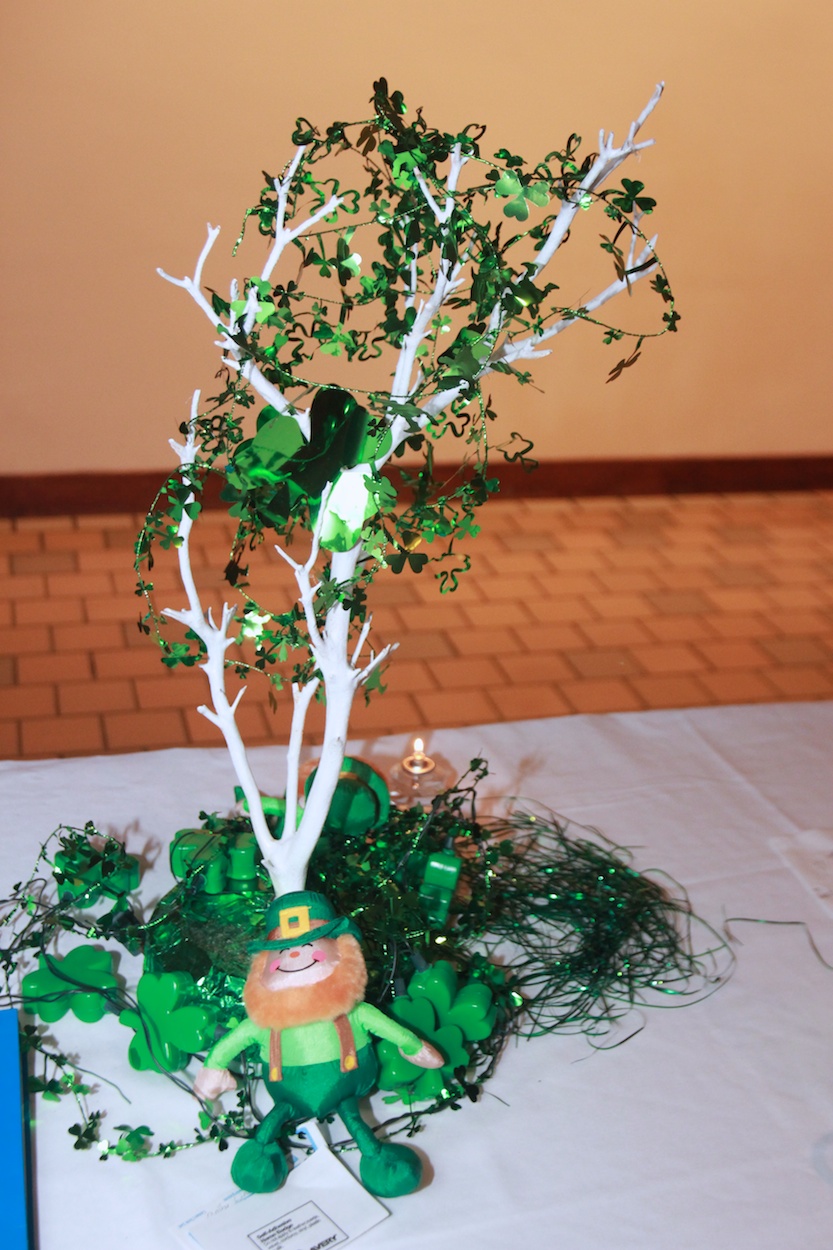 The Leprechaun was busy tonight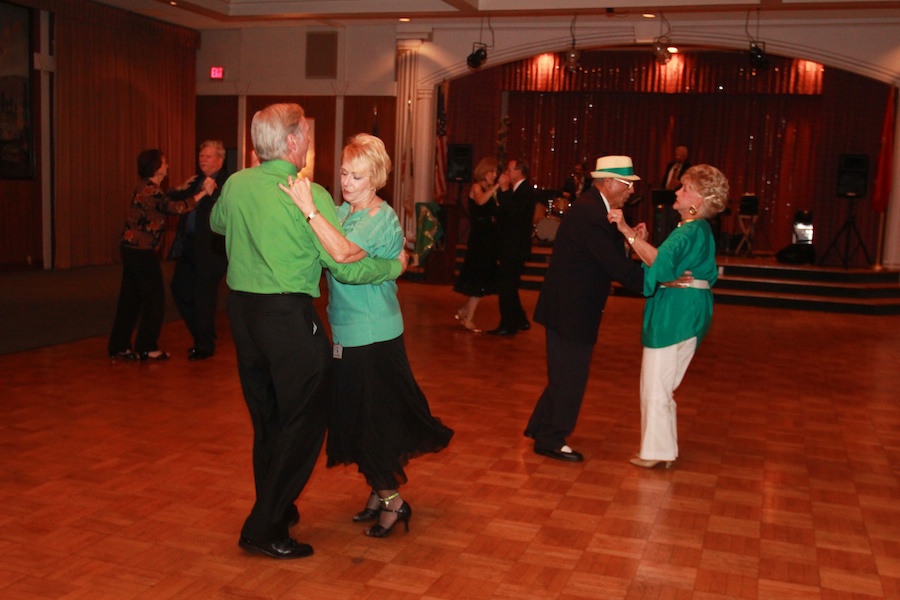 A blur of green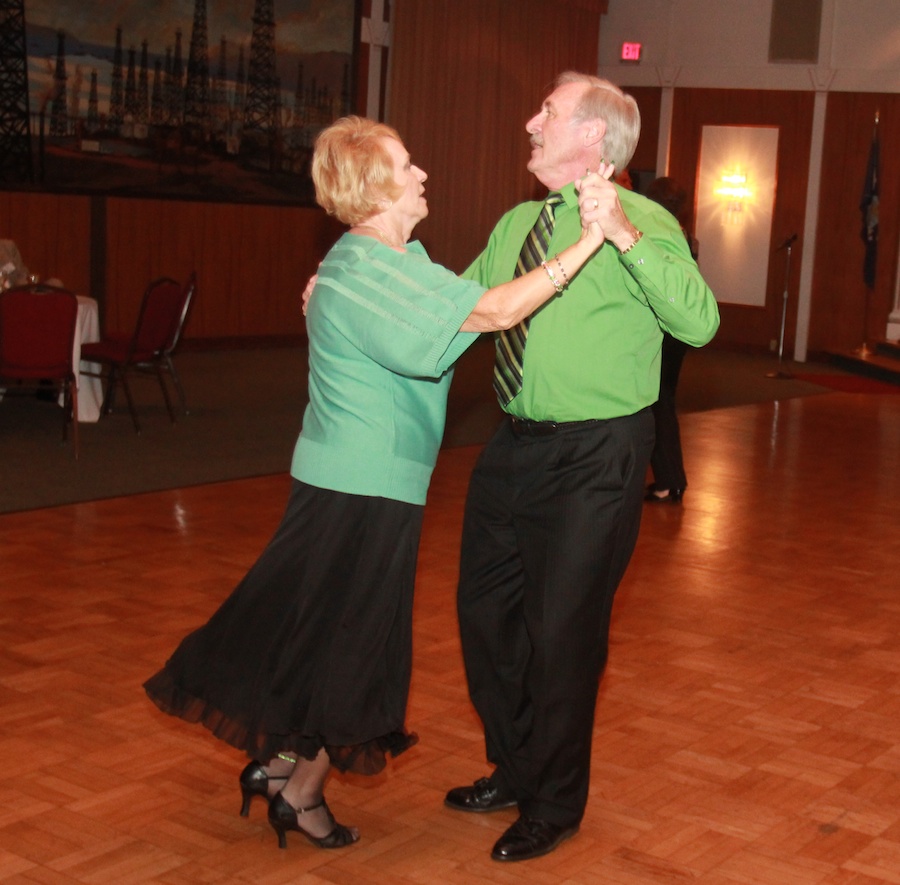 "Did someone say SAMBA???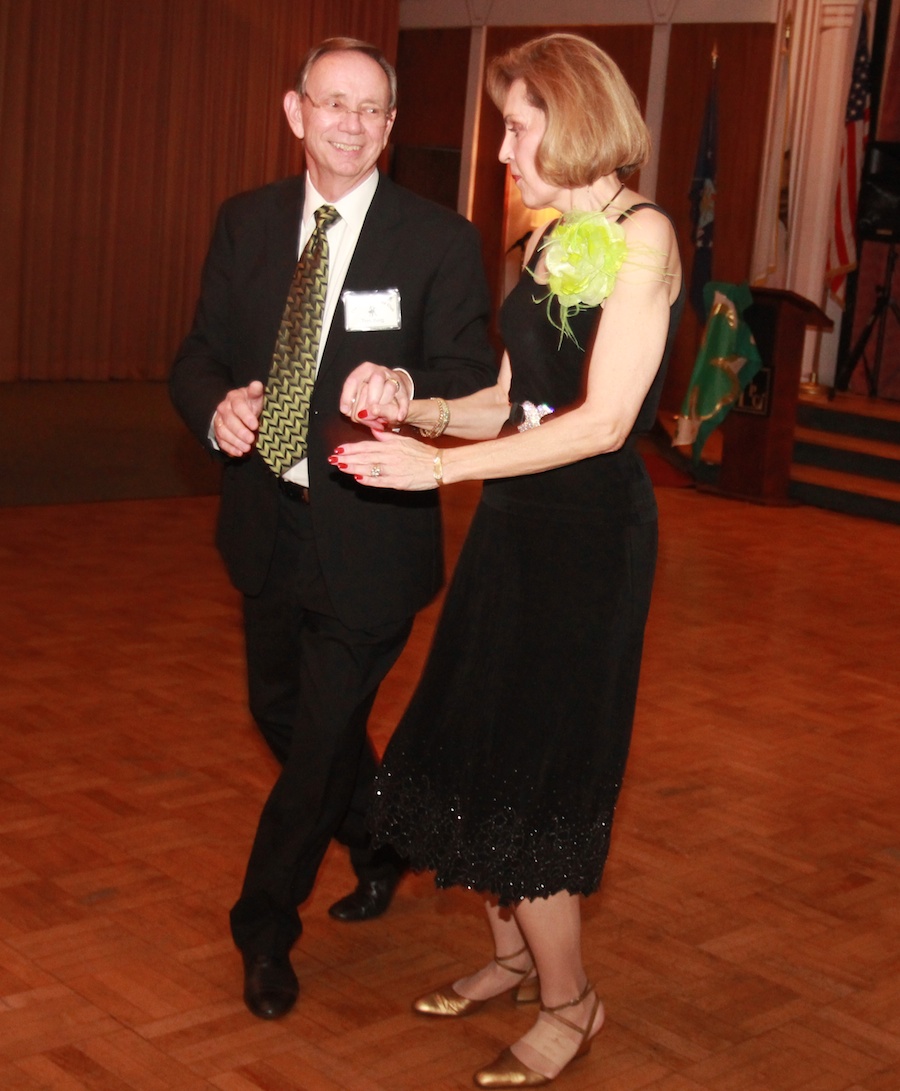 "OK... You turn right...."

"..and then left!"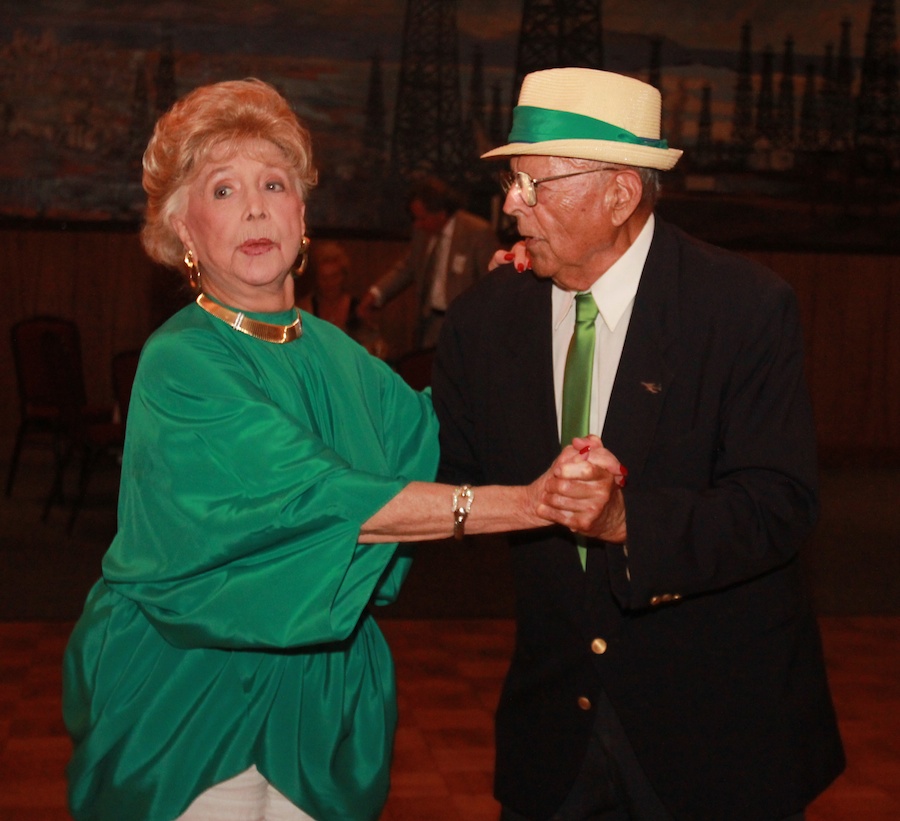 Matching green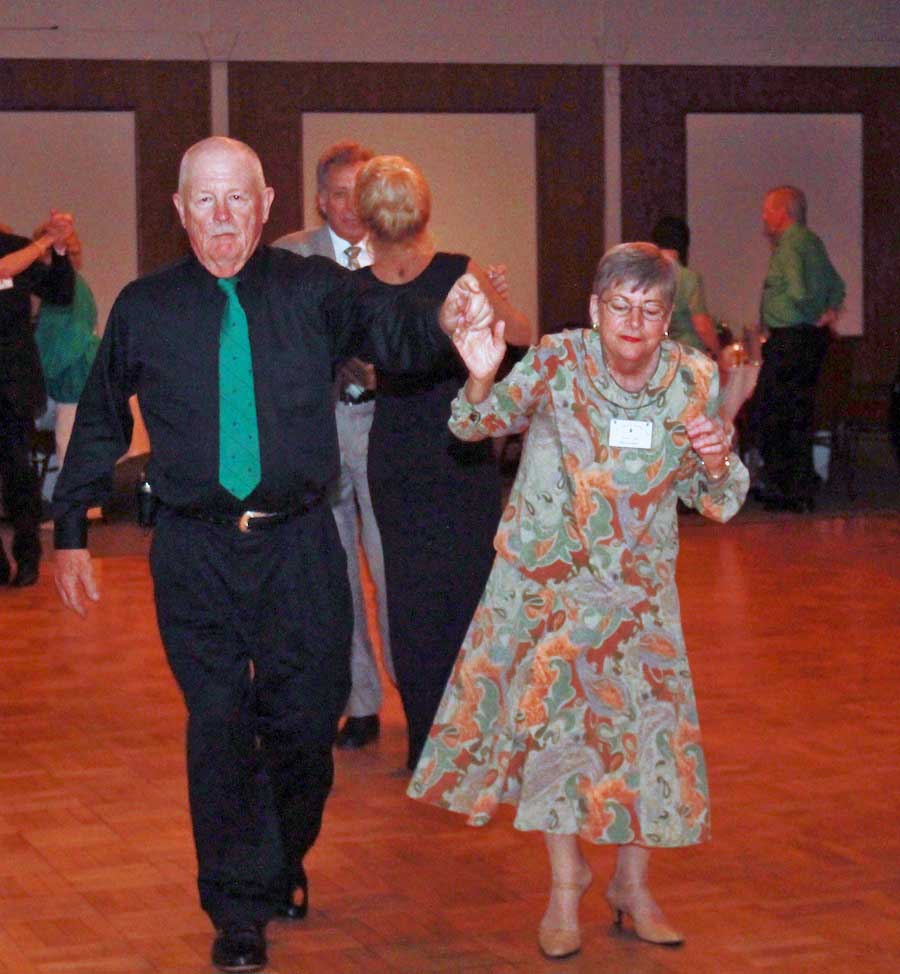 Your photographers escape the camera - Thank you Ed Roberts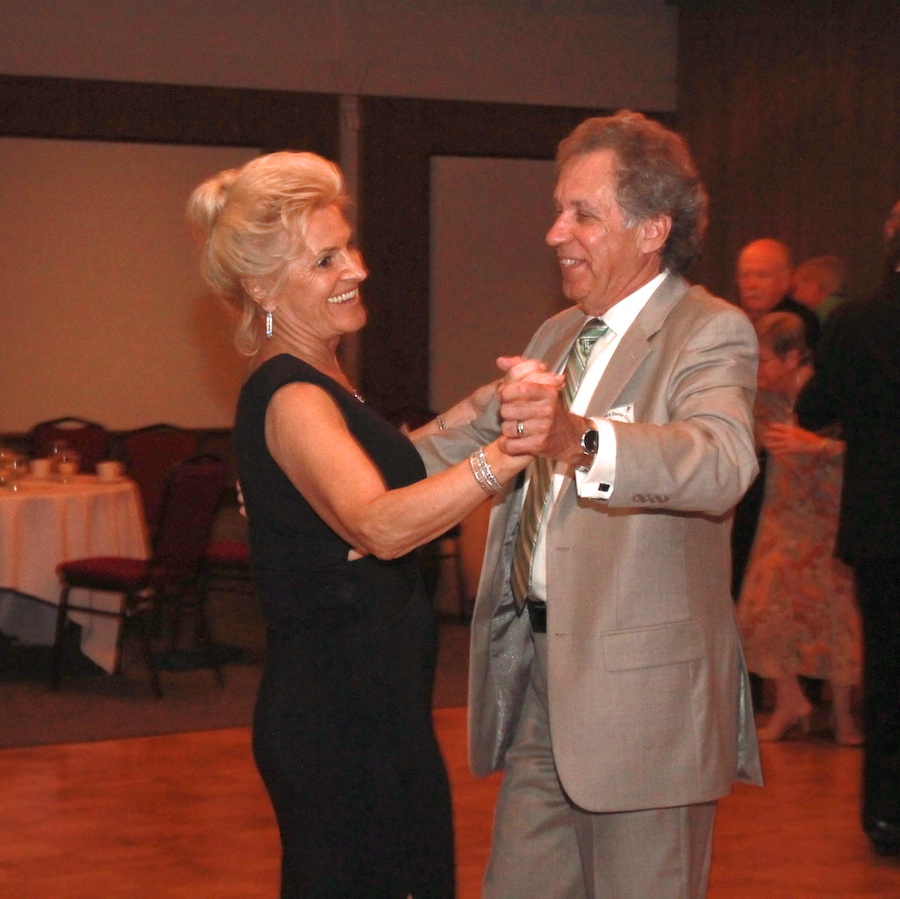 Whirl and twirl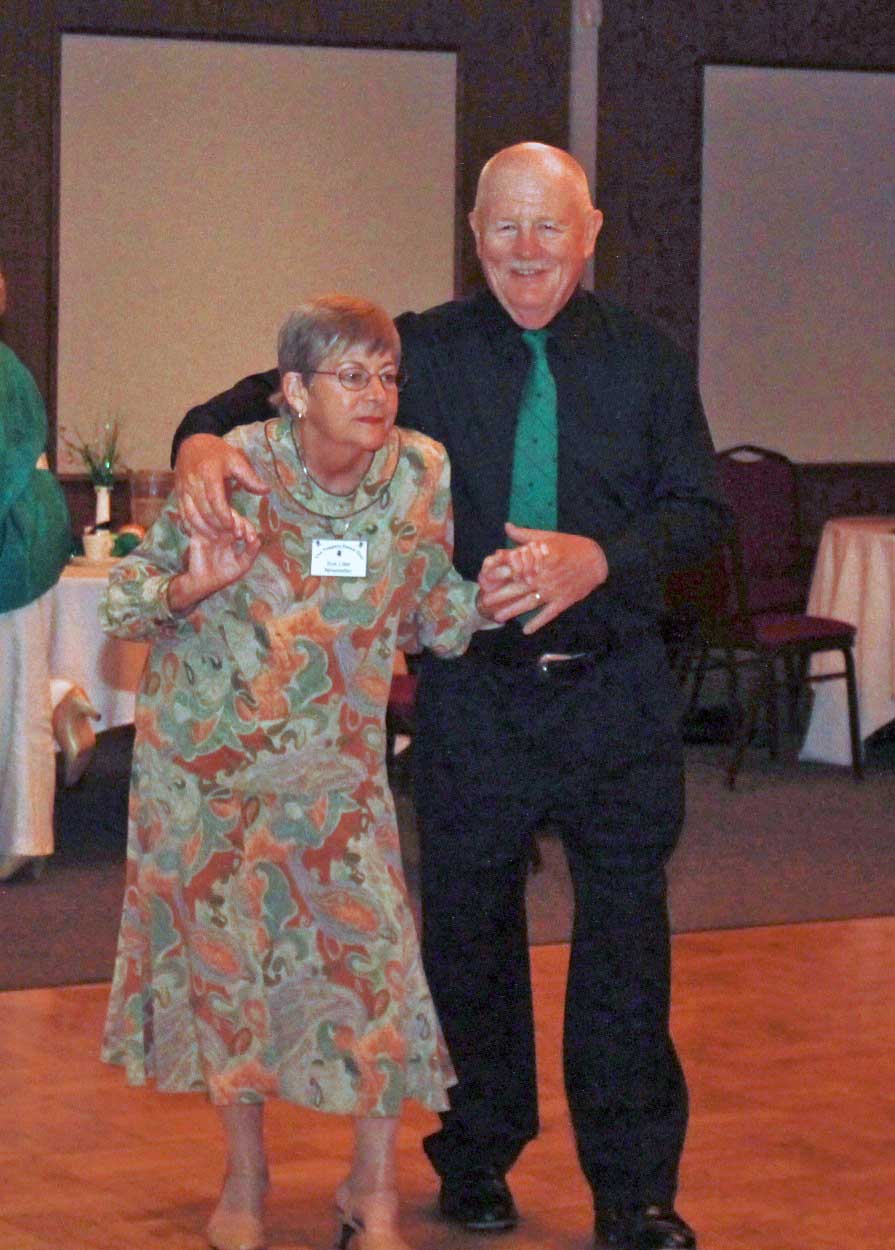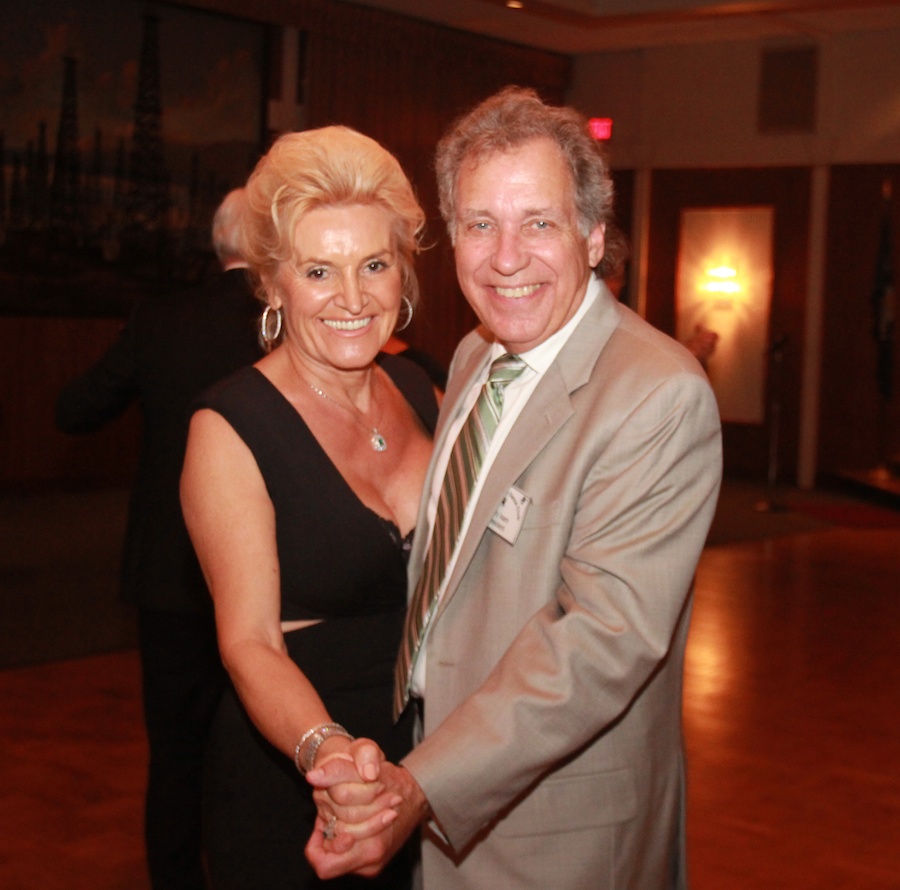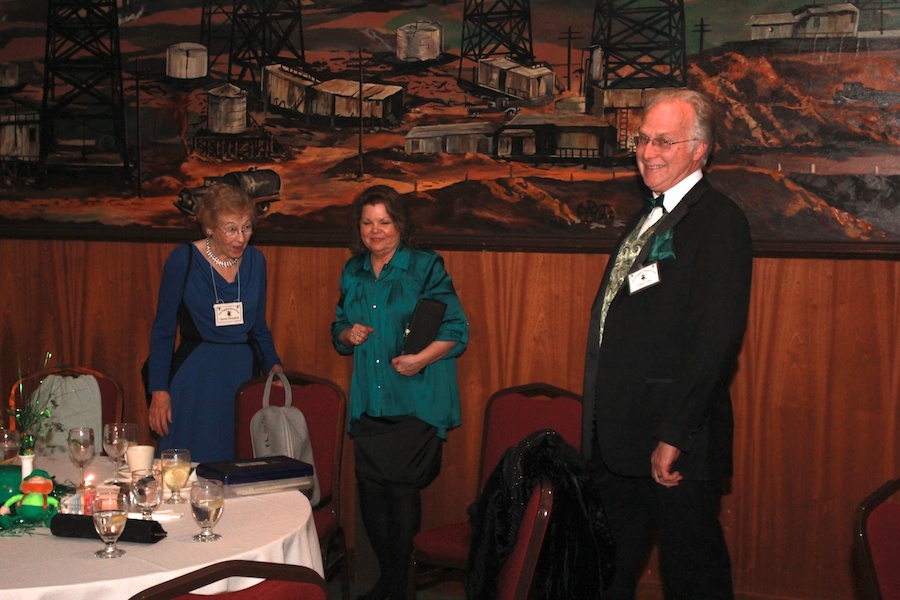 Gotta head out this evening...

Tom makes a decision... One more dance?
Irish Sayings...
"Being Irish is very much a part of who I am. I take it everywhere with me."
"We have always found the Irish a bit odd. They refuse to be English."
Winston Churchill quotes (British Orator, Author and Prime Minister during World War II. 1874-1965)
"If ignorance is bliss, why aren't there more happy teenagers?"
Unknown
"The Irish ignore anything they can't drink or punch."
James Boswell
"The Irish are a very fair people, they never speak well of one another."
"I like work: it fascinates me. I can sit and look at it for hours."
Jerome K Jerome