The San Diego Fair 2014 (Page One)

We Have Arrived After An 80 Minute Drive

Except for people changing tires and drivers slowing to watch, it was uneventful!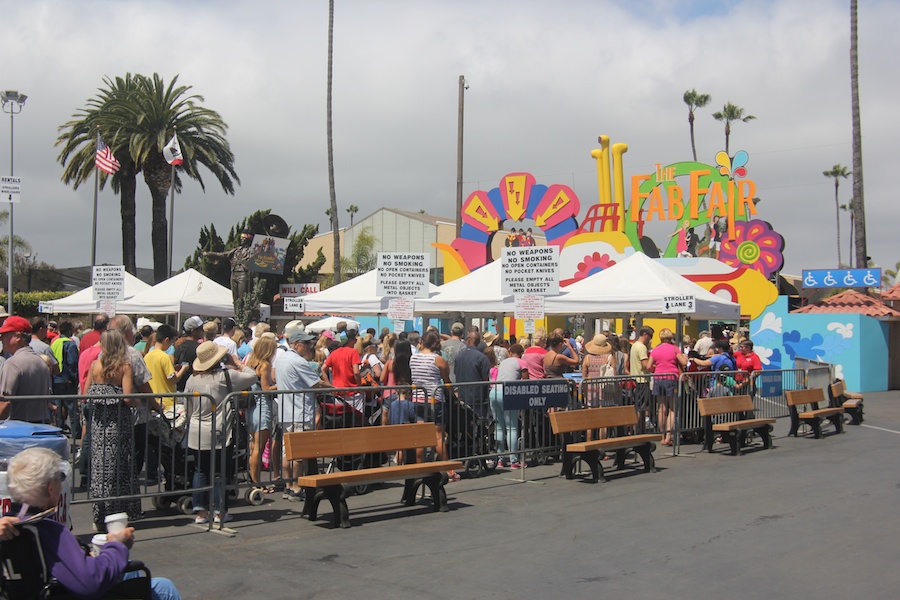 We arrived at 11:00 and got into line and the crowd was moving fast
We Made It Inside!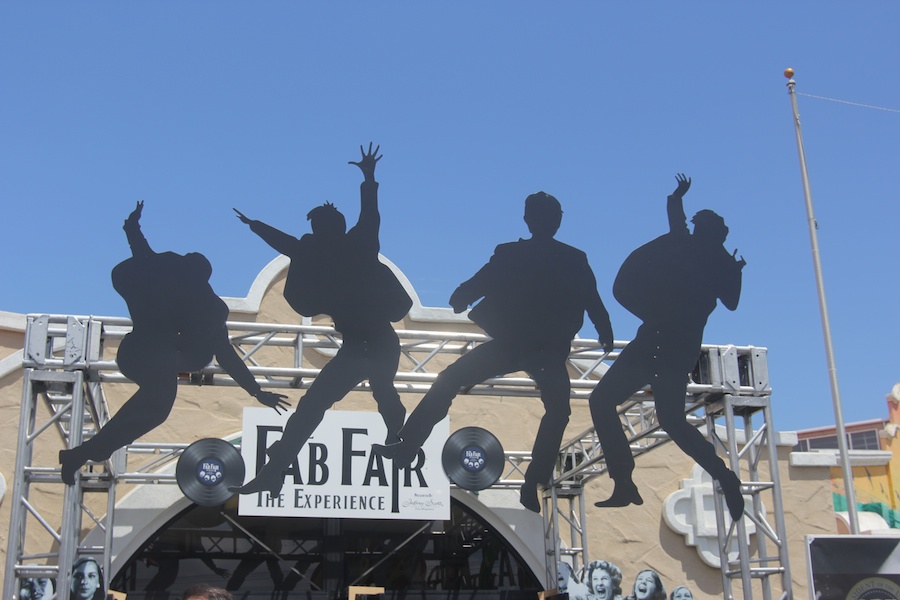 The theme was interesting... "Fab Fair"
The place was full of Beatles!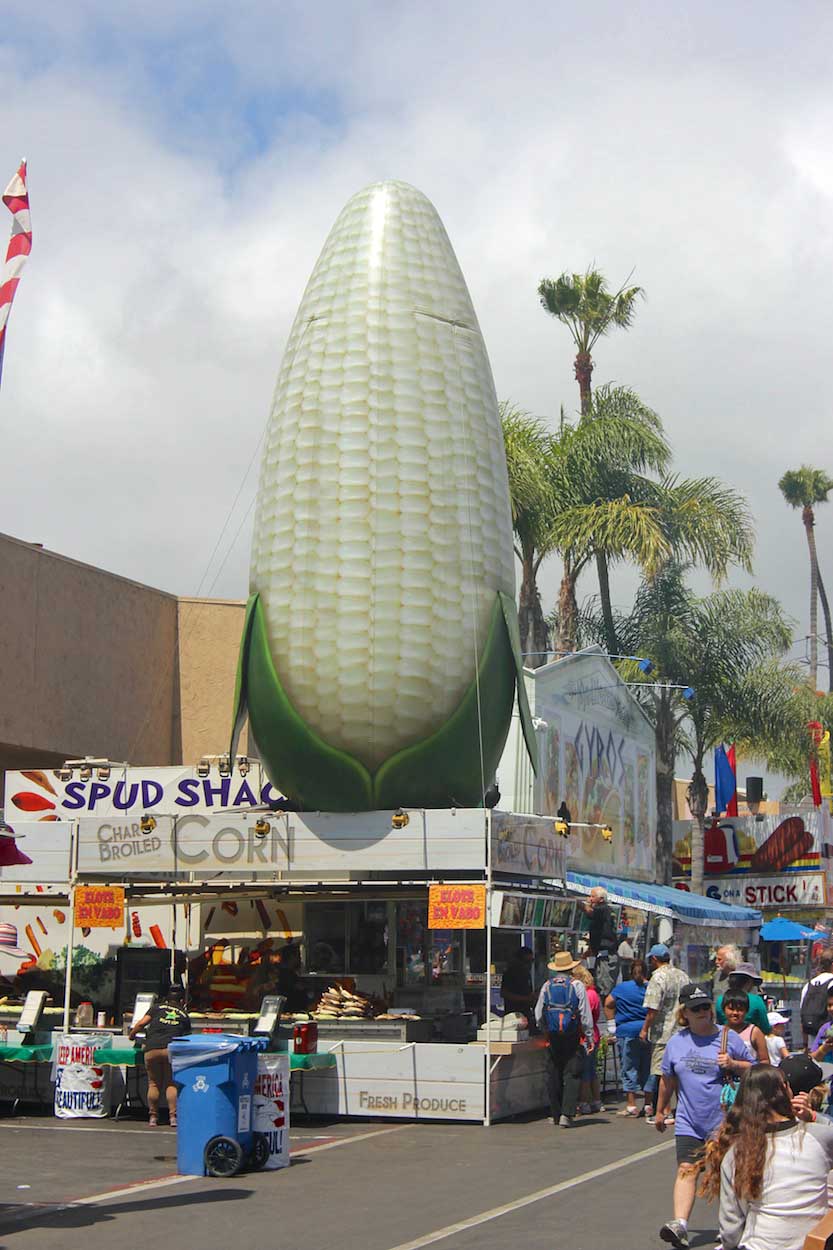 Now that is a piece of corn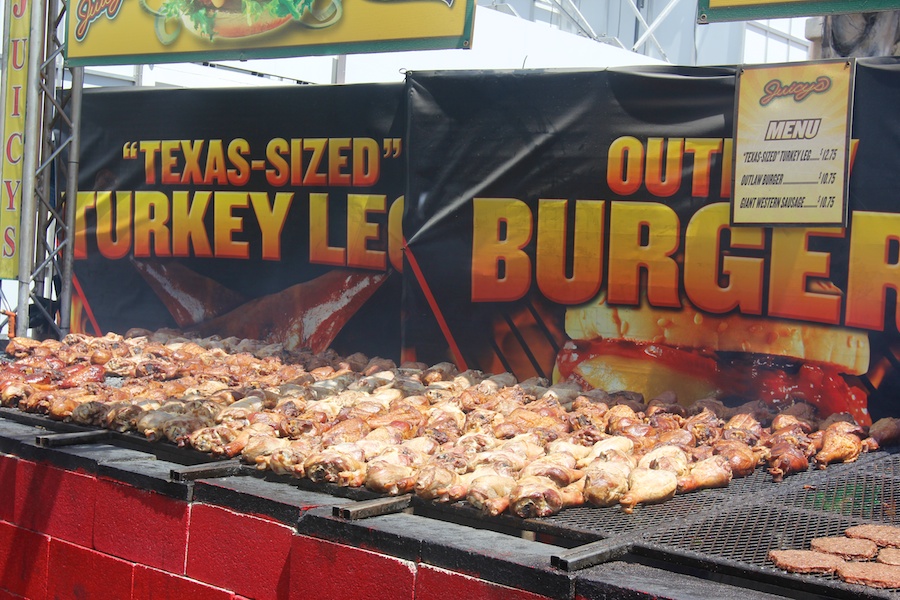 You could smell the "Fair Food" from the parking lot
We First Walked Through The Buildings Containing "Fair Stuff"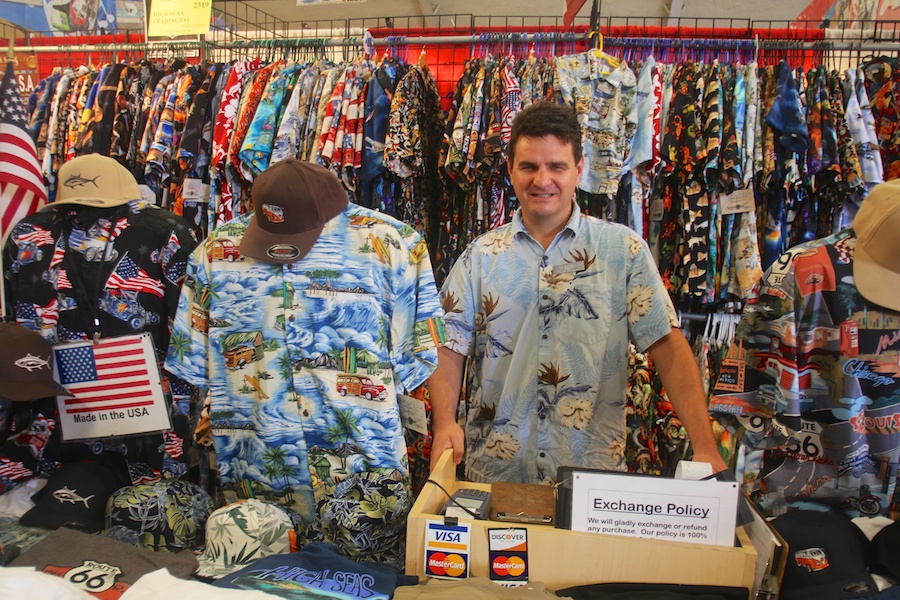 Guess where we went first? Paul now has seven additional shirts in the collection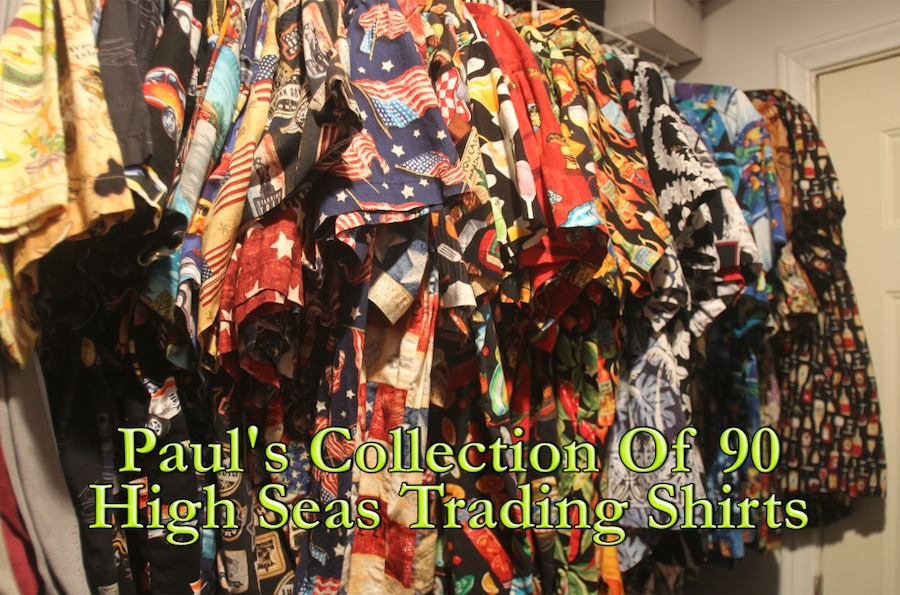 Oops... Make that Ninety-Seven

Paper lamps... Amazing

We stopped for a glass of wine at the paddock
Gave time for Sue to study the maps and schedules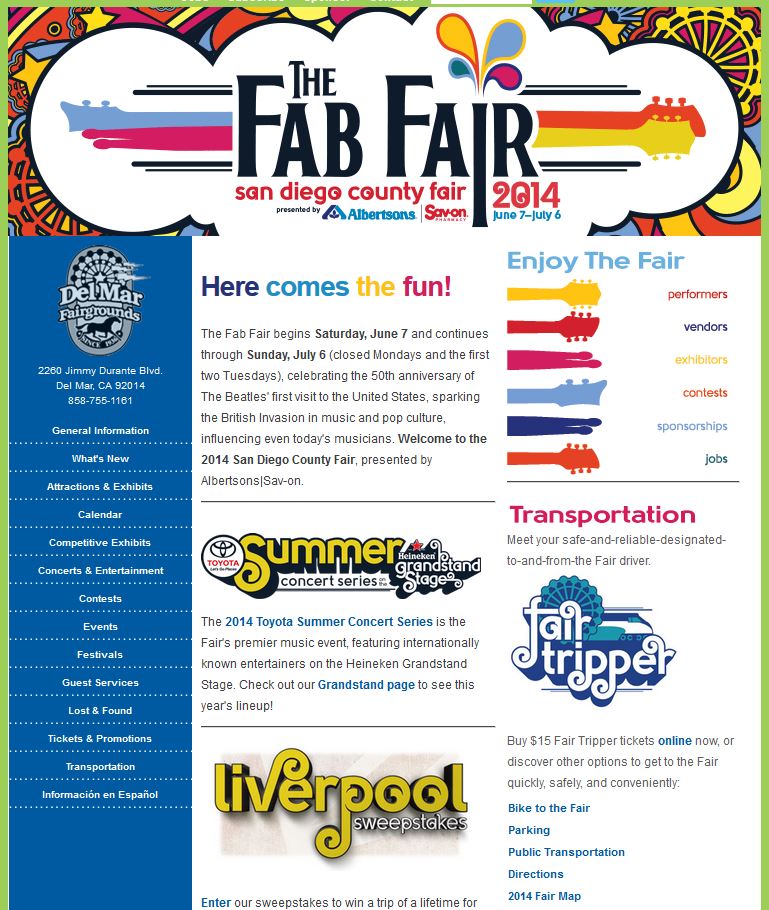 Study materials....

Time To Go Flying Sixty Feet In The Air...

Here comes the seat...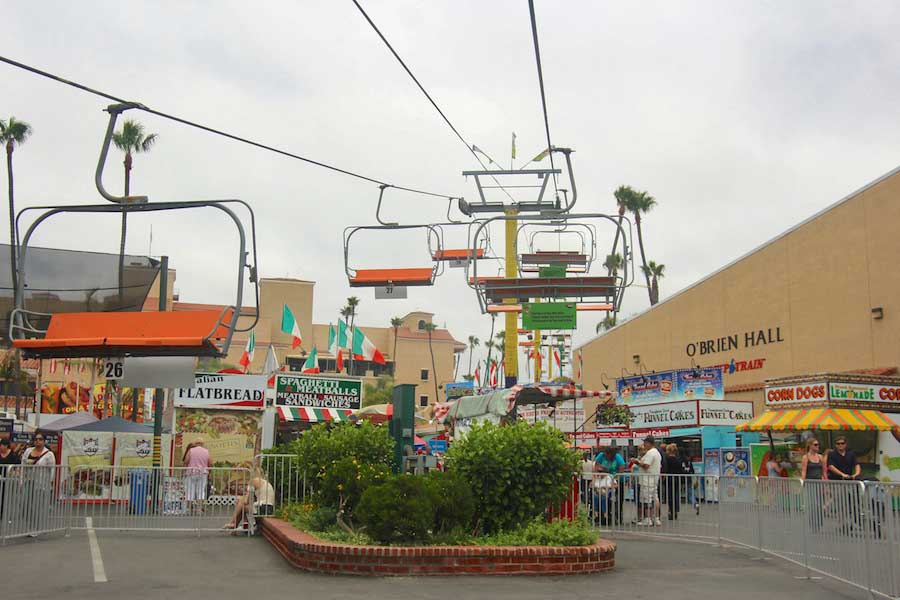 Not a lot of people here yet... It's about 11:30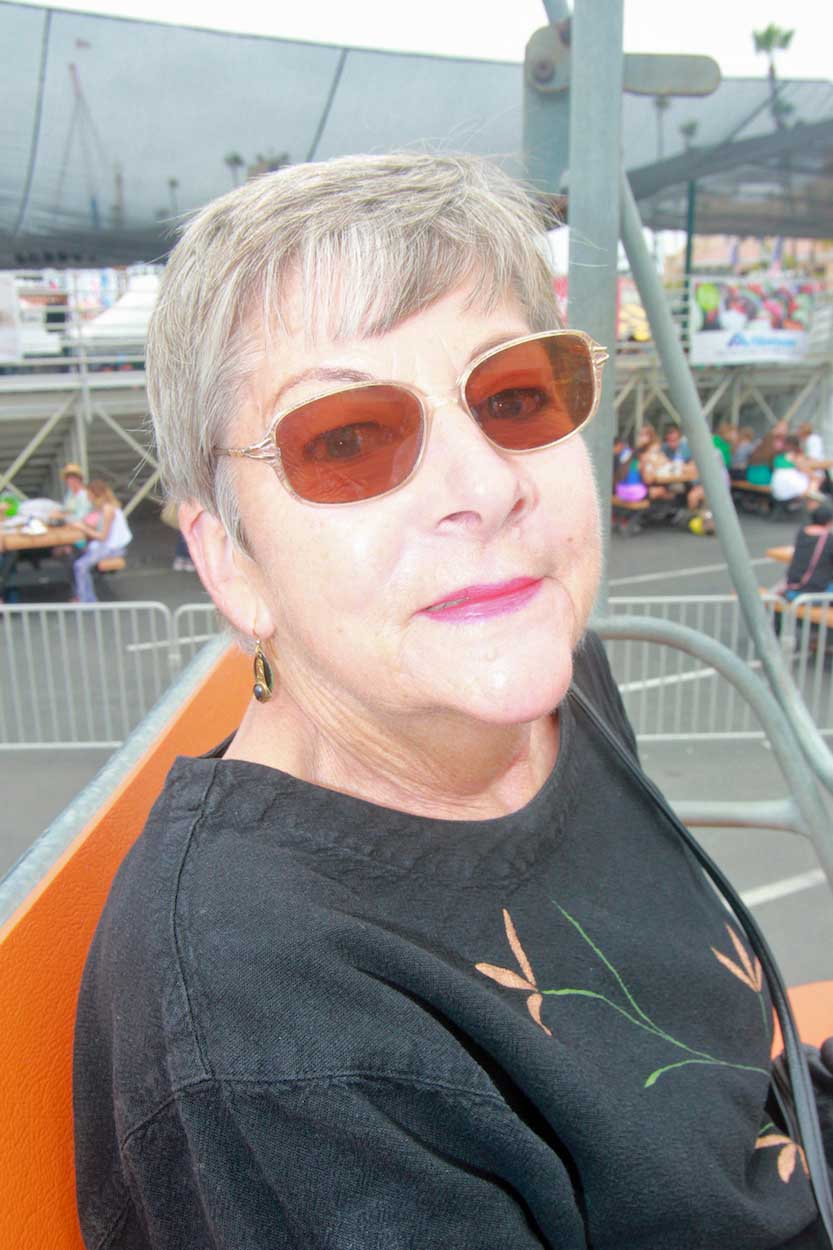 Guess who is happy.... Sixty feet up hanging by a thin wire

Up up and away

Sue is here to save the day

What would Pat think now??
Did You Know? - Del Mar Fairgrounds features six exhibit halls totalling 219,380 square feet (20,381 m2) of space. The largest is Pat O'Brien Hall with 68,680 square feet (6,381 m2) of space and seating up to 6,800; its ceiling height is 35 feet (11 m).
William Joseph Patrick "Pat" O'Brien (November 11, 1899 ? October 15, 1983) was an American film actor with more than one hundred screen credits. Of Irish descent, he often played Irish and Irish-American characters and was referred to as "Hollywood's Irishman in Residence" in the press.
One of the best-known screen actors of the 1930s and 1940s, he played priests, cops, military figures, pilots, and reporters. He is especially well-remembered for his roles in Knute Rockne, All American (1940), Angels with Dirty Faces (1938), and Some Like It Hot (1959).
He was frequently paired onscreen with Hollywood legend, James Cagney. O'Brien also appeared on stage and television.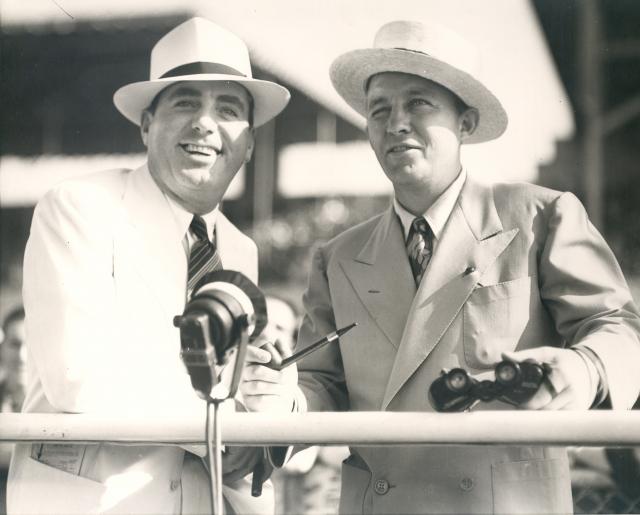 Pat O'Brien At Del Mar in the 1930's with Bing Crosby

The food stands were quite colorful
Did You Know? - Food also is a feature of the fair, with more than 100 food booths. There are many fair classics as well as other interesting or outrageous creations such as beef sundaes, fried Twinkies, and apple fries. Something new is added every year, such as fried cola in 2007, chocolate bacon in 2009, and fried butter.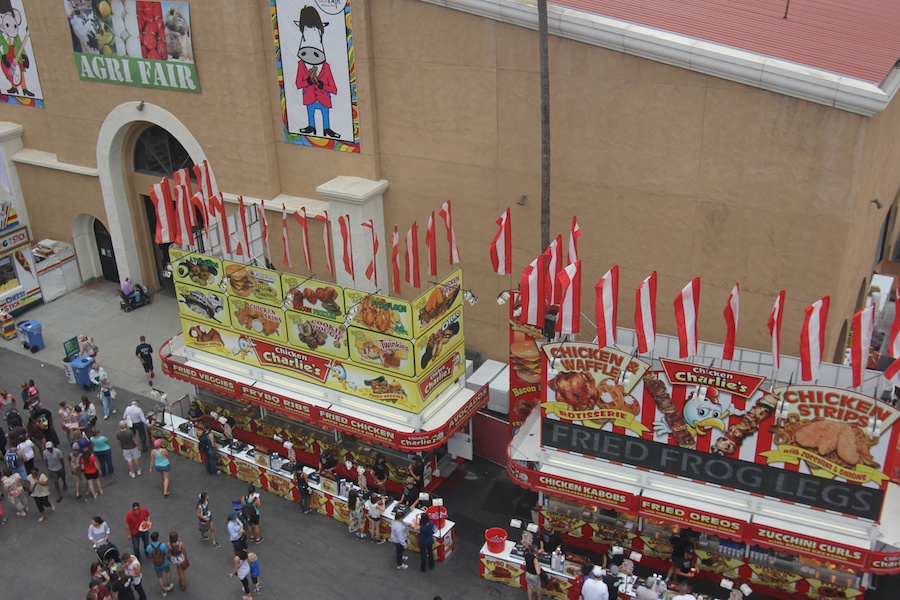 Chicken Charlies was already busy

Great "Health Food".... Not!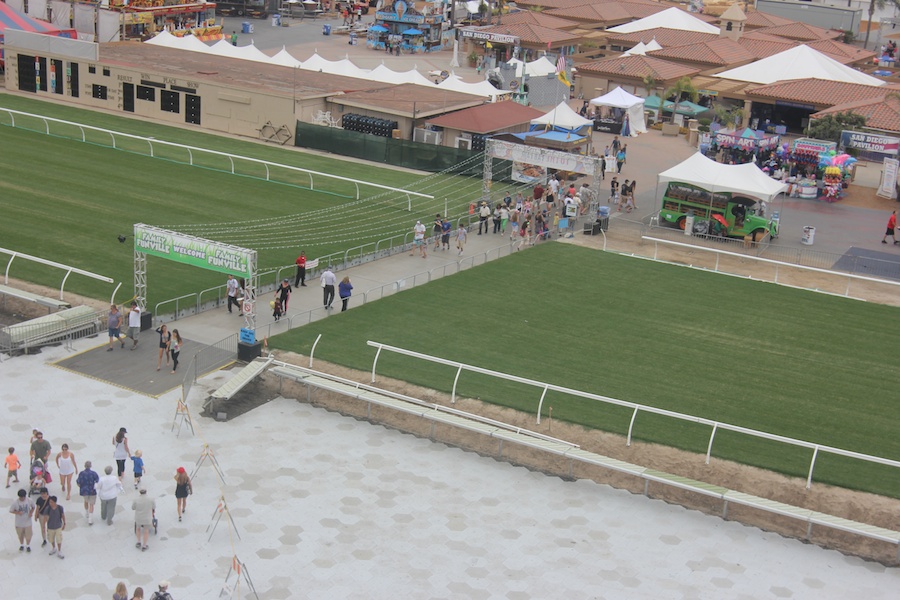 No bridge this year... You can walk to the center of the racetrack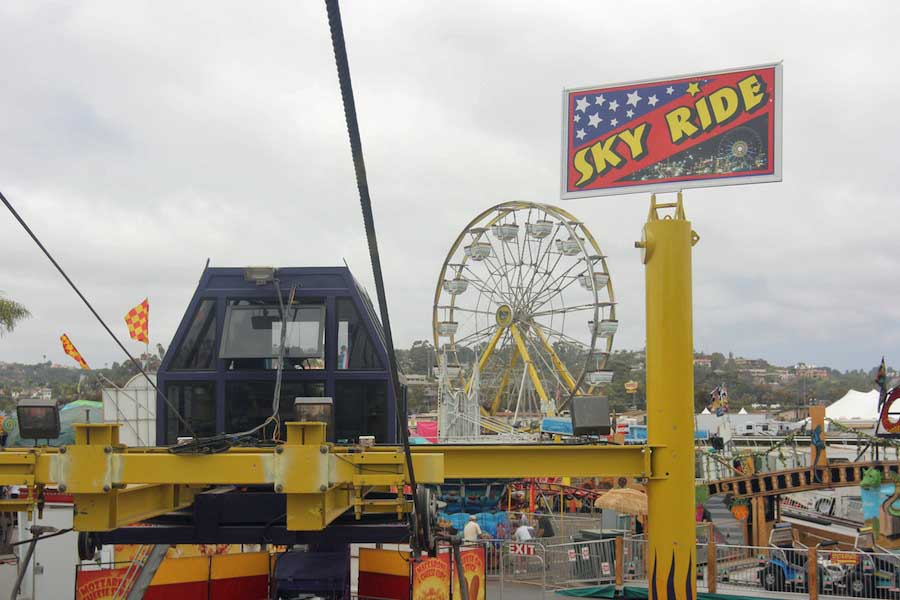 Paul's size Ferris wheel....


Sue has choices of healthy vegetarian "Fair Food" this year
At The Center Of The Racetrack... The Infield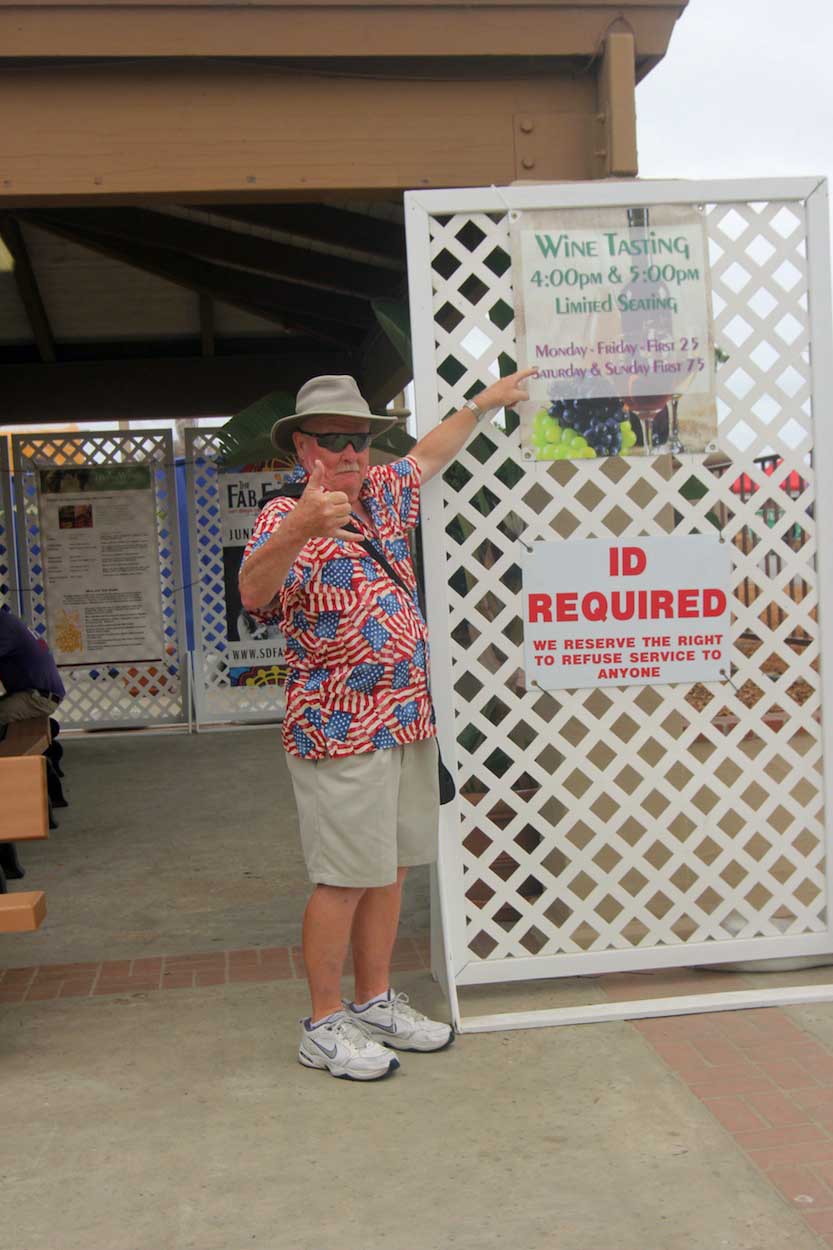 Wine tasting... You bet
ID needed? Not a chance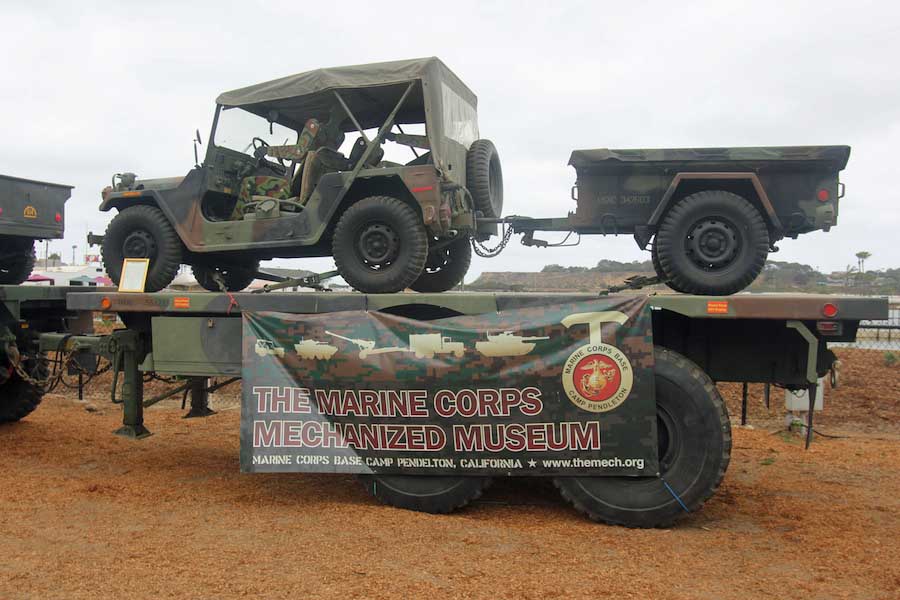 Great displays and write ups

The Marines had some equipment on display

Another trip is in the planning...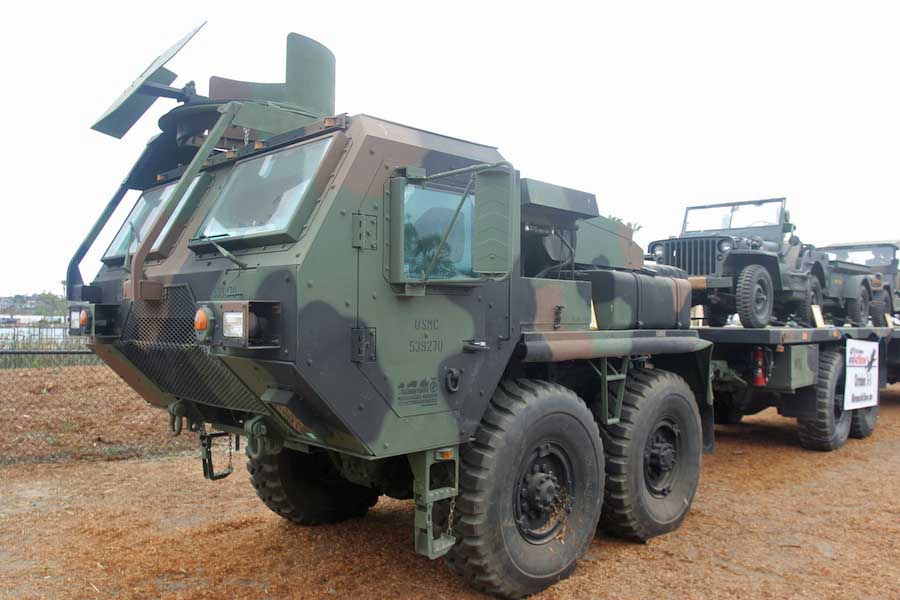 Amazing equipment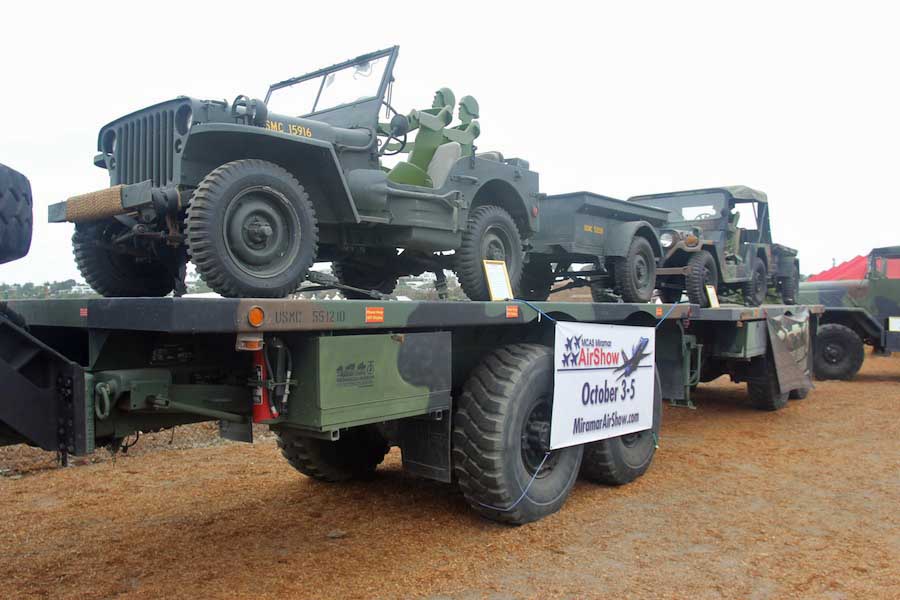 It was called a train... The trailers were active (connected to the engine
via flexible joints!)

To The Farm And See What The Latest Display Look Like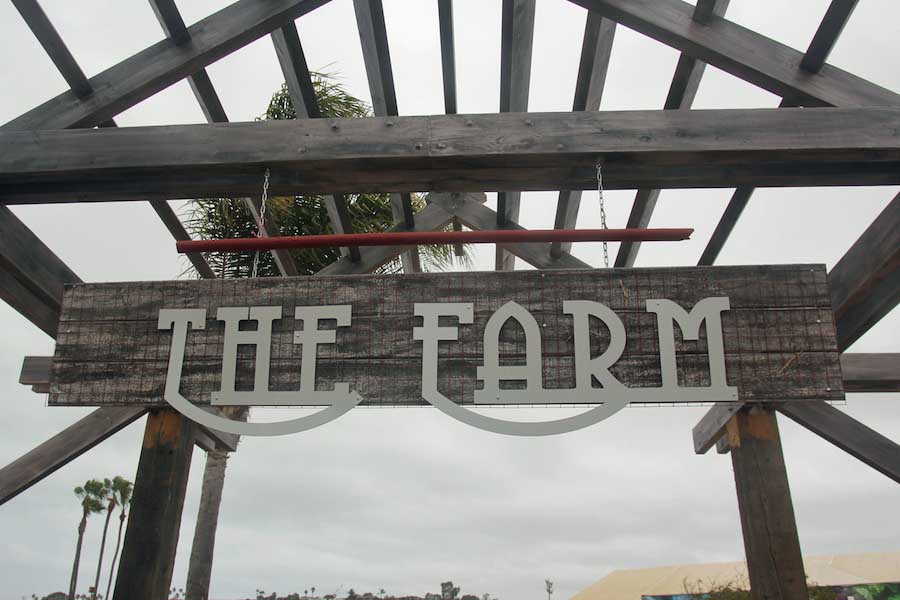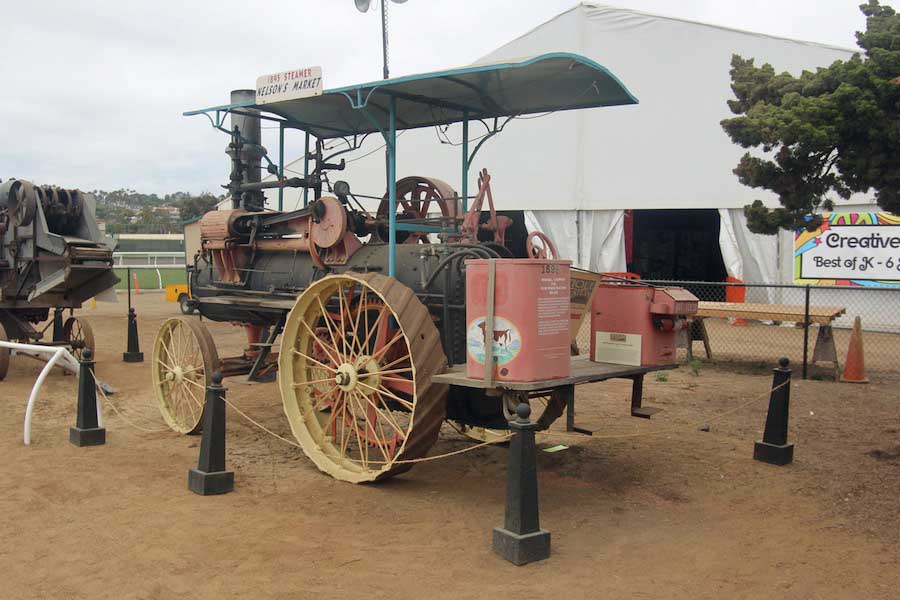 Amazing what was used to farm 100 years ago...
Steam powered
Did You Know? - The first steam tractors that were designed specifically for agricultural uses were portable engines built on skids or on wheels and transported to the work area using horses. Later models used the power of the steam engine itself to power a drive train to move the machine and were first known as "traction drive" engines which eventually was shortened to "tractor".
These drive mechanisms were one of three types: chain, shaft, and open pinion. The open pinion became the most popular design due to its strength. Later improvements included power steering, differentials, compounded engines, and butt-strap boiler design.
The steam engine was gradually phased out by the mid-1920s as the less expensive, lighter, and faster-starting internal combustion (kerosene, petrol or distillate) tractors fully emerged after World War I.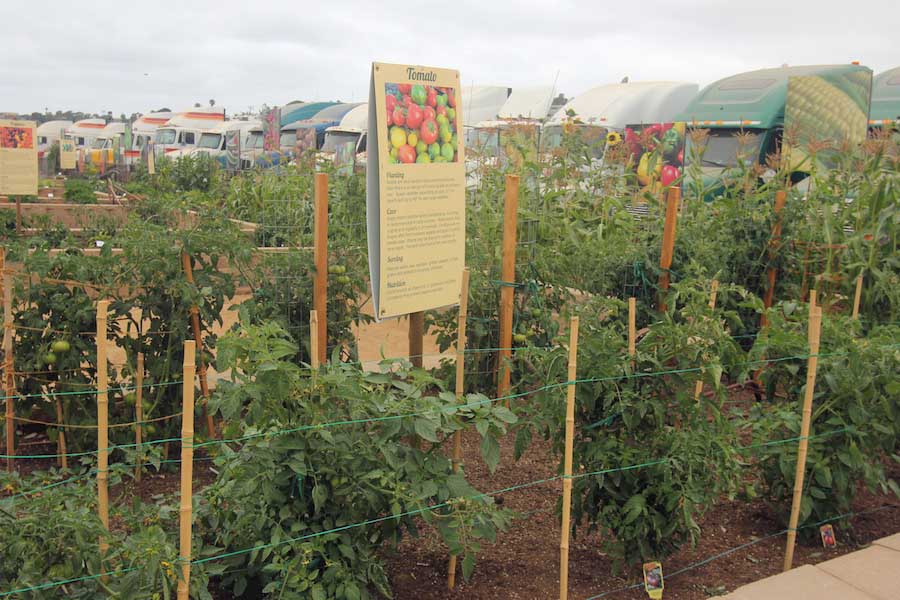 Tomatoes galore

Need way to make a retaining wall
Did You Know? - A gabion (from Italian gabbione meaning "big cage"; from Italian gabbia and Latin cavea meaning "cage") is a cage, cylinder, or box filled with rocks, concrete, or sometimes sand and soil for use in civil engineering, road building, and military applications. For erosion control, caged riprap is used. For dams or in foundation construction, cylindrical metal structures are used. In a military context, earth- or sand-filled gabions are used to protect artillery crews from enemy fire.

Functional and pretty to look at

1953 tractor by Ford
Did You Know? - The Ford N-Series tractor was a range of farm tractors produced by Ford between 1939 and 1954 spanning the 9N, 2N, 8N and NAA models.
The Fordson Model N replaced the Fordson Model F. Production of the Model N started in Cork in 1927. Production of the Fordson Model N was transferred from Cork to Dagenham in 1933.
The Model N featured a 27 HP engine, standard rear fenders (mudguards), a higher voltage ignition system, and optional pneumatic tires. In 1935 power take-off (PTO) was available as an option on the Model N.

Straw is a versatile material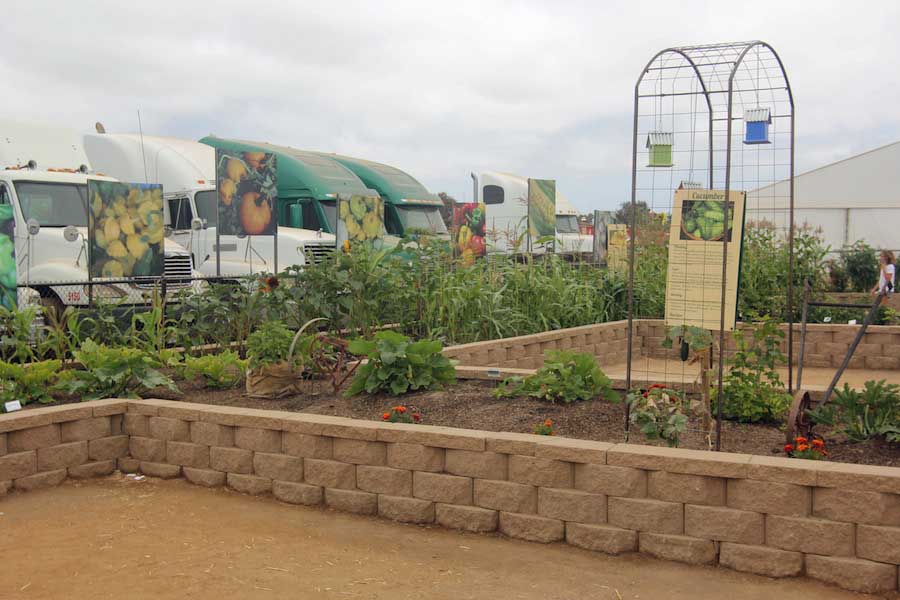 Can't beat concrete building blocks


Speciality designs allow for easy cornering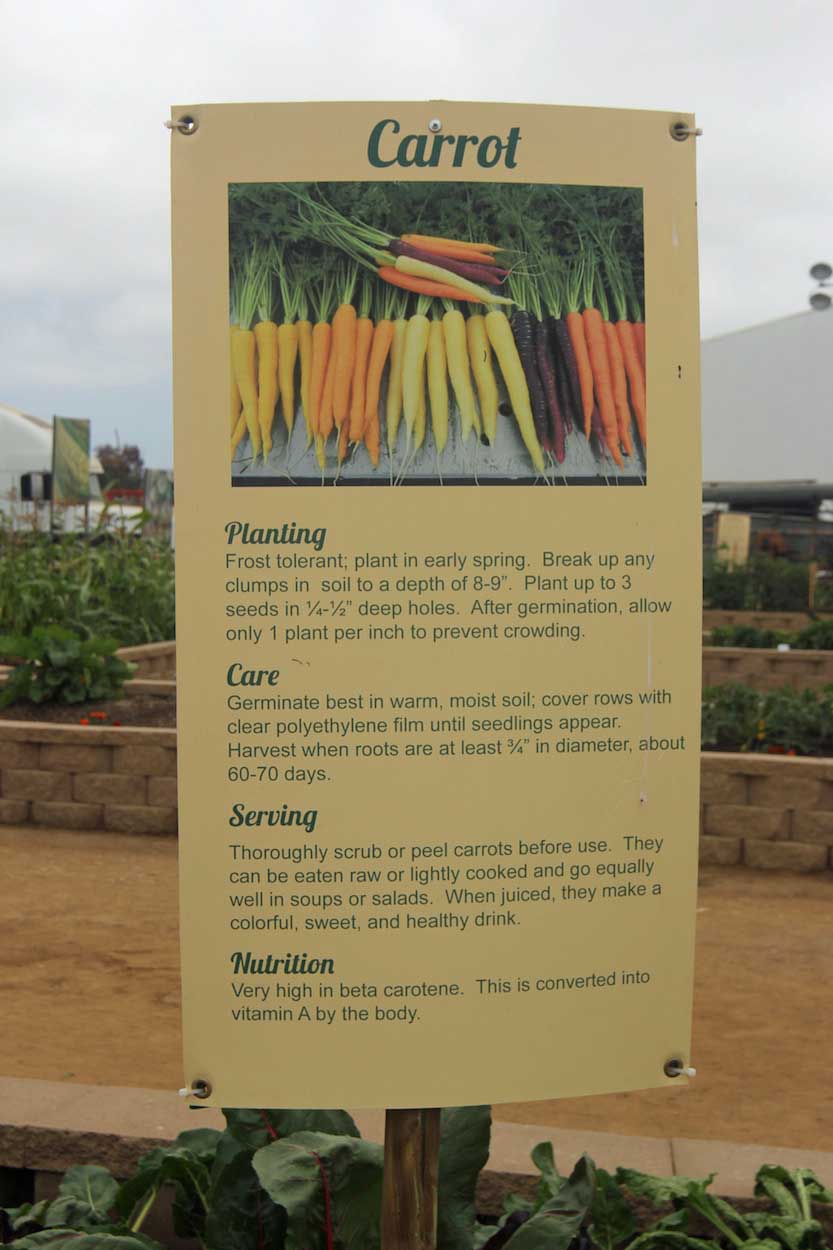 The signage was well done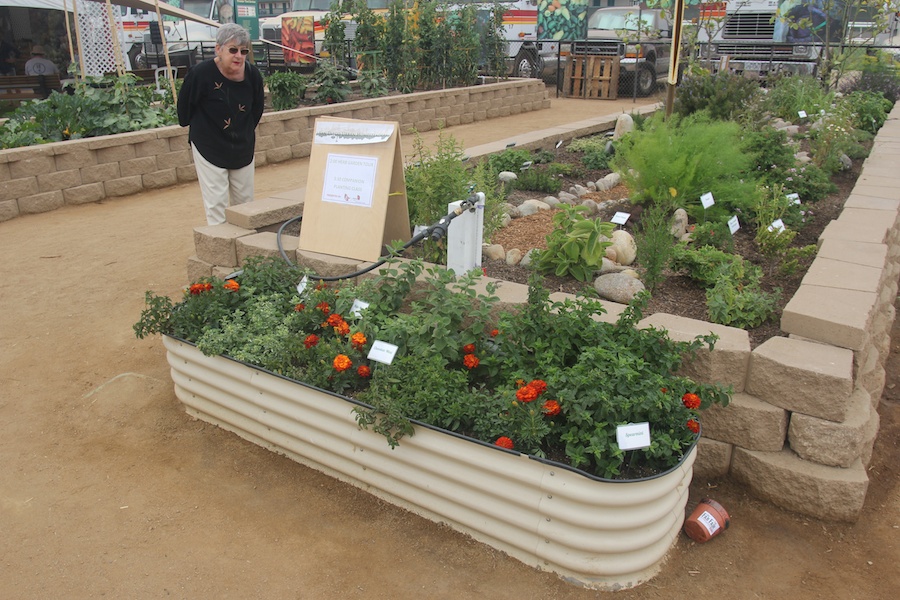 Sue found the herbs....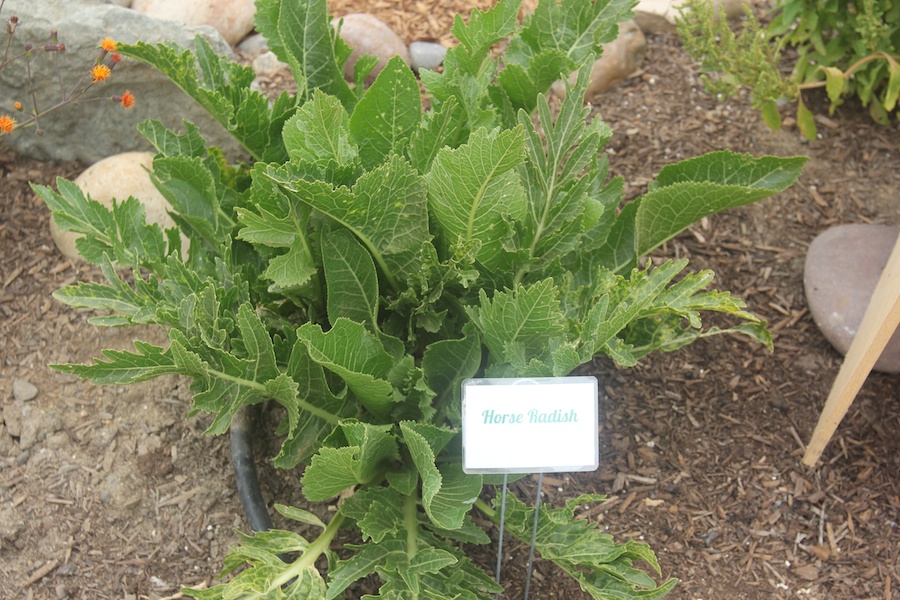 Where is the horse???
Did You Know? - Horseradish (Armoracia rusticana, syn. Cochlearia armoracia) is a perennial plant of the Brassicaceae family (which also includes mustard, wasabi, broccoli, and cabbage). The plant is probably native to southeastern Europe and western Asia. It is now popular around the world. It grows up to 1.5 meters (4.9 feet) tall, and is cultivated primarily for its large, white, tapered root.
The intact horseradish root has hardly any aroma. When cut or grated, however, enzymes from the now-broken plant cells break down sinigrin (a glucosinolate) to produce allyl isothiocyanate (mustard oil), which irritates the mucous membranes of the sinuses and eyes. Grated mash should be used immediately or preserved in vinegar for best flavor. Once exposed to air or heat it will begin to lose its pungency, darken in color, and become unpleasantly bitter tasting over time.

Interesting design and worm container
Did You Know? - Vermicompost is the product or process of composting using various worms, usually red wigglers, white worms, and other earthworms to create a heterogeneous mixture of decomposing vegetable or food waste, bedding materials, and vermicast. Vermicast, also called worm castings, worm humus or worm manure, is the end-product of the breakdown of organic matter by an earthworm.
These castings have been shown to contain reduced levels of contaminants and a higher saturation of nutrients than do organic materials before vermicomposting.
Containing water-soluble nutrients, vermicompost is an excellent, nutrient-rich organic fertilizer and soil conditioner. This process of producing vermicompost is called vermicomposting.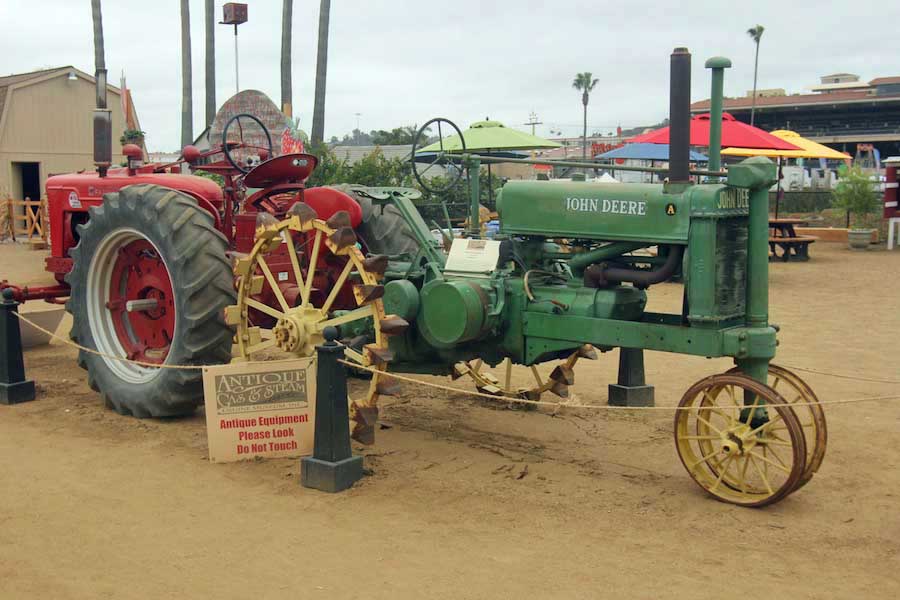 Metal wheels don't wear out
Did You Know? - The company's slogan is "Nothing Runs Like a Deere" and has a picture of a leaping deer as a logo, a word play pun on "nothing runs like a deer". Bob Wright, a copywriter at the Gardner Agency in St. Louis, Missouri, coined the phrase "Nothing Runs Like a Deere" for a marketing campaign to sell snowmobiles. The company's products are also identifiable by its distinctive shade of green paint, usually augmented by yellow trim.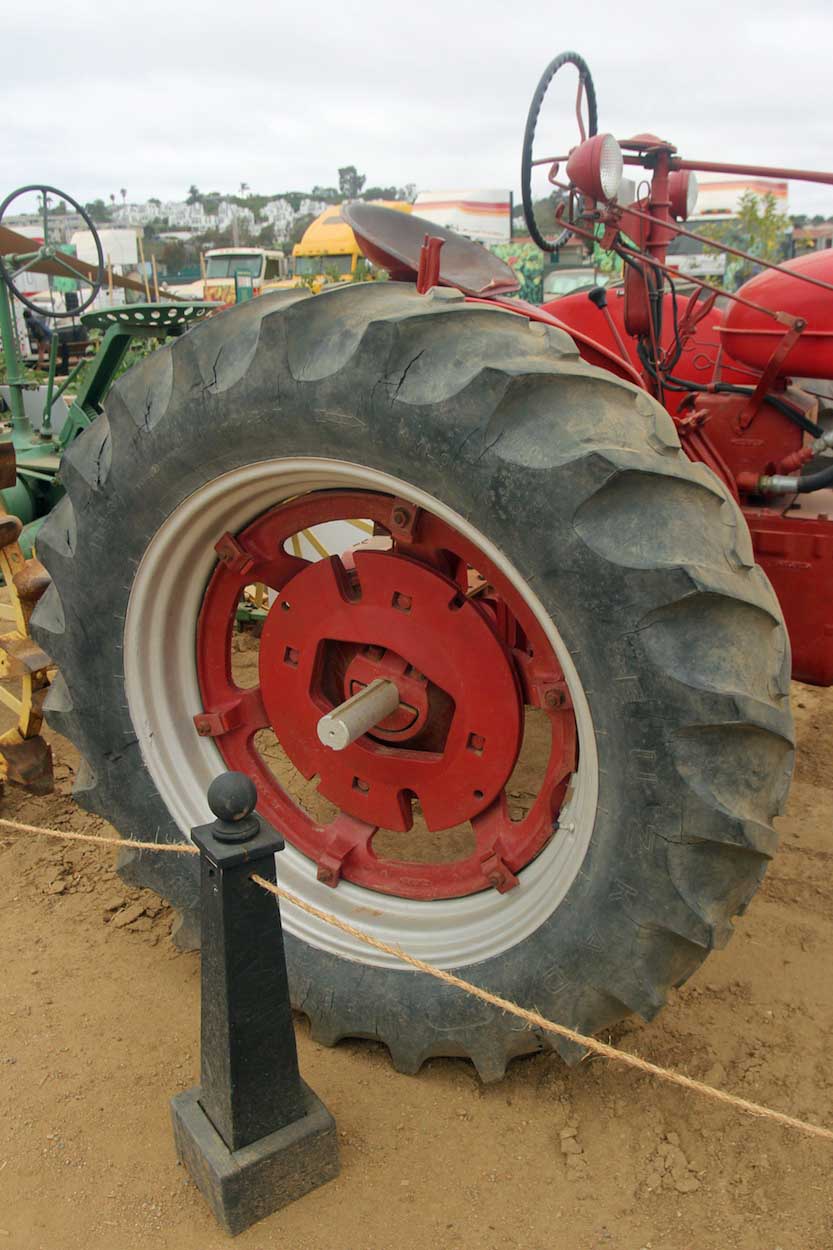 Check the axel... Always wondered how they farmers could drive down
their rows of veggies and not squish them

25 tones per acre... Wow!

Straw is in use again

Great place to stop and look around
On Our Way Back To The Main Fairground Area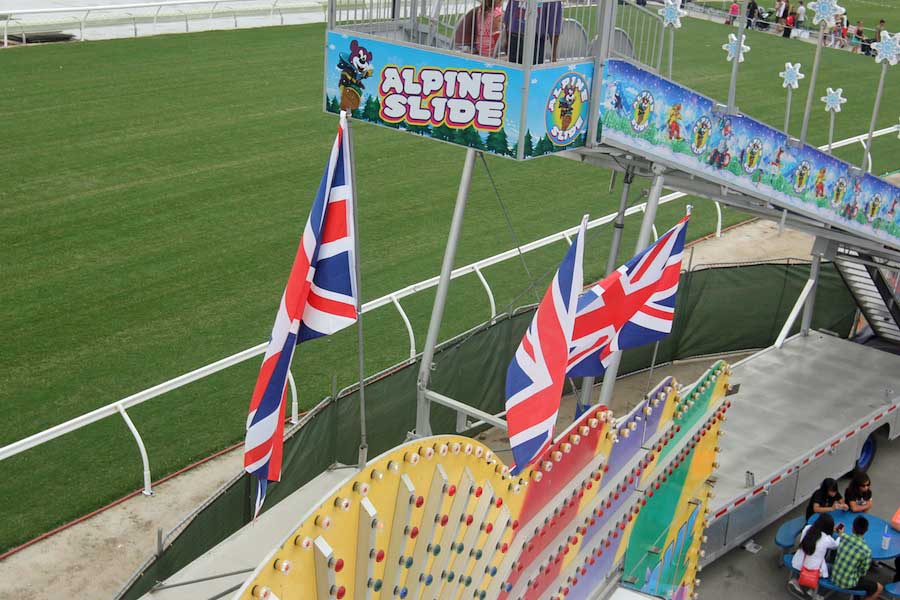 Where is Brian and Jan?

Looks funny without a bridge

The stands were full of concert goes last night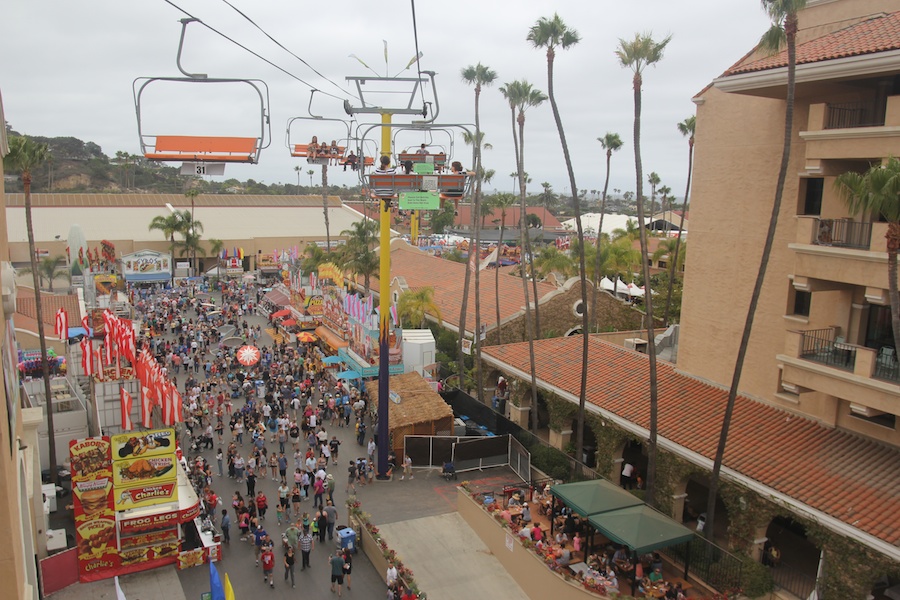 Flying over the crowds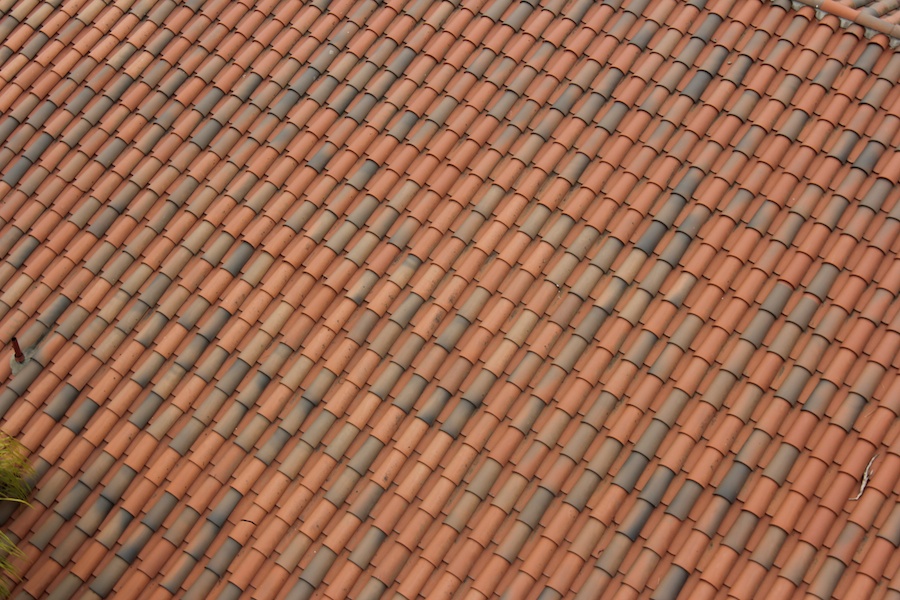 Load of tile....
Did You Know? - Mission or barrel tiles ? semi-cylindrical tiles laid in alternating columns of convex and concave tiles. Originally they were made by forming clay around a curved surface, often a log or the maker's thigh. Today barrel tiles are mass-produced from clay, metal, concrete or plastic.

It's starting to get crowded

Attacked by the British....
Did You Know? - The cloth caps worn by the original grenadiers in European armies during the 17th century were frequently trimmed with fur. The practice fell into disuse until the second half of the eighteenth century when grenadiers in the British, Spanish and French armies began wearing high fur hats with cloth tops and, sometimes, ornamental front plates.
The purpose appears to have been to add to the apparent height and impressive appearance of these troops both on the parade ground and the battlefield.
During the nineteenth century, the expense of bearskin caps and difficulty of maintaining them in good condition on active service led to this form of headdress becoming generally limited to guardsmen, bands or other units having a ceremonial role.

Looking for a victim to tease...

Looking sharp
Time To Dine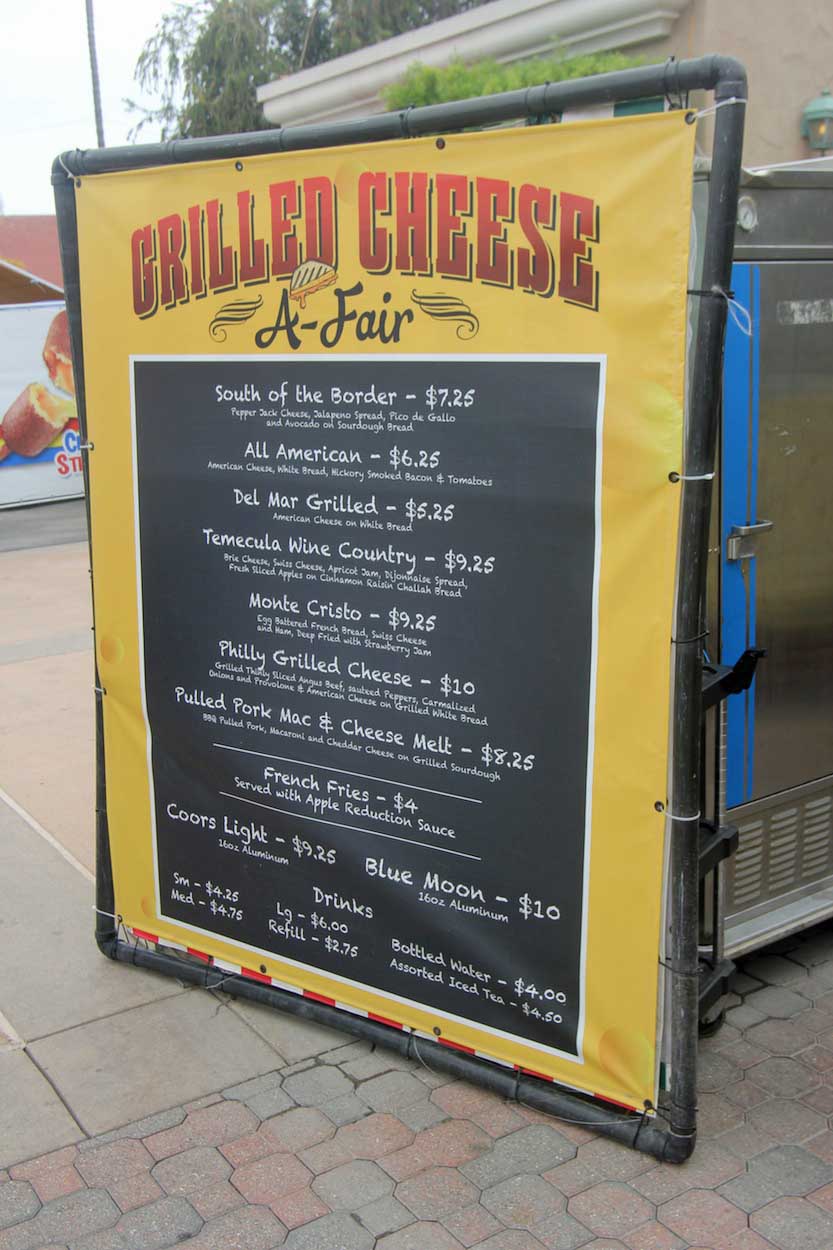 Great sandwiches! We share the "South Of The Border"
Mr. Ferris Here We Come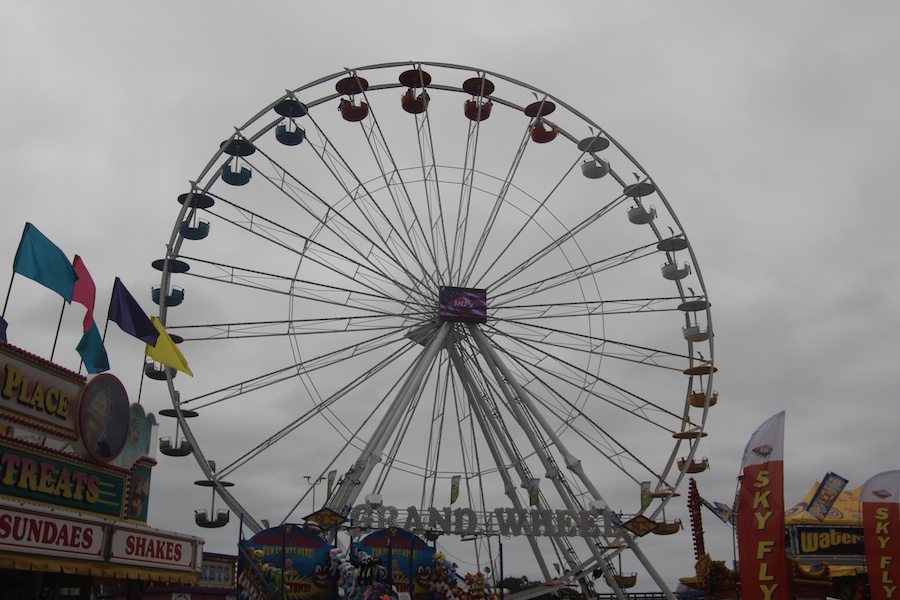 The Grand Wheel was moving quickly today!
Quotation To Remember: Treat life like a ferris wheel ride....you must get past the fear to enjoy the view. - Linda Poindexter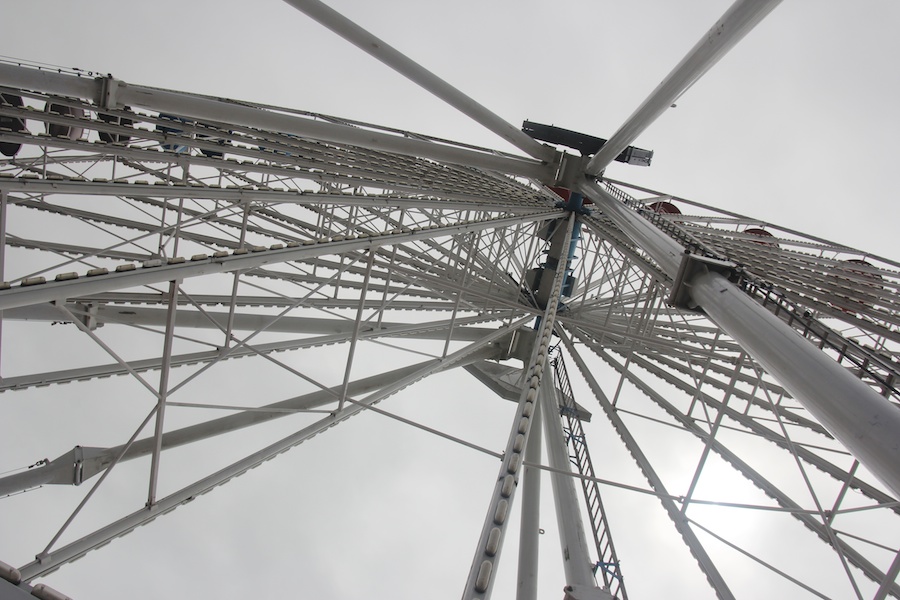 Help up by little pipes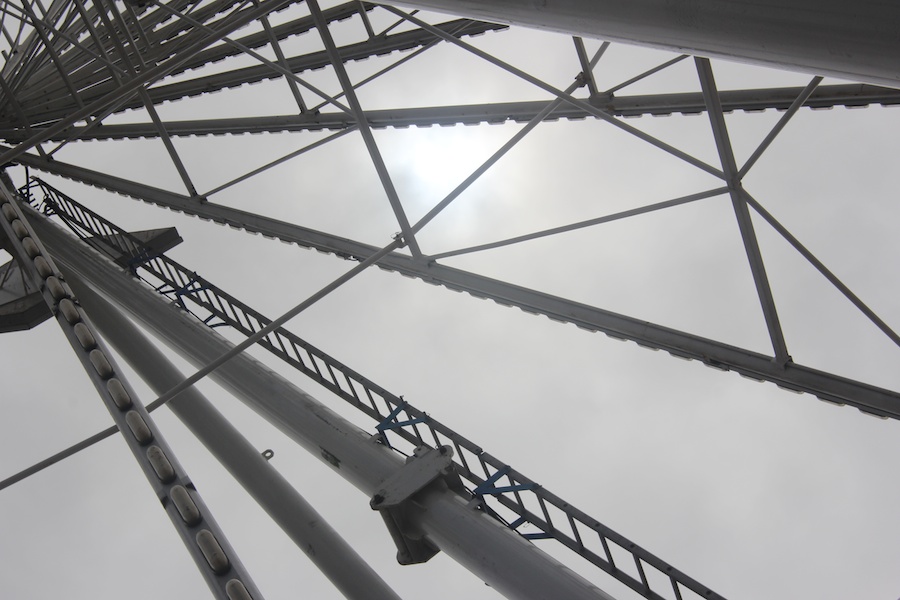 The sun is attempting to shine through the clouds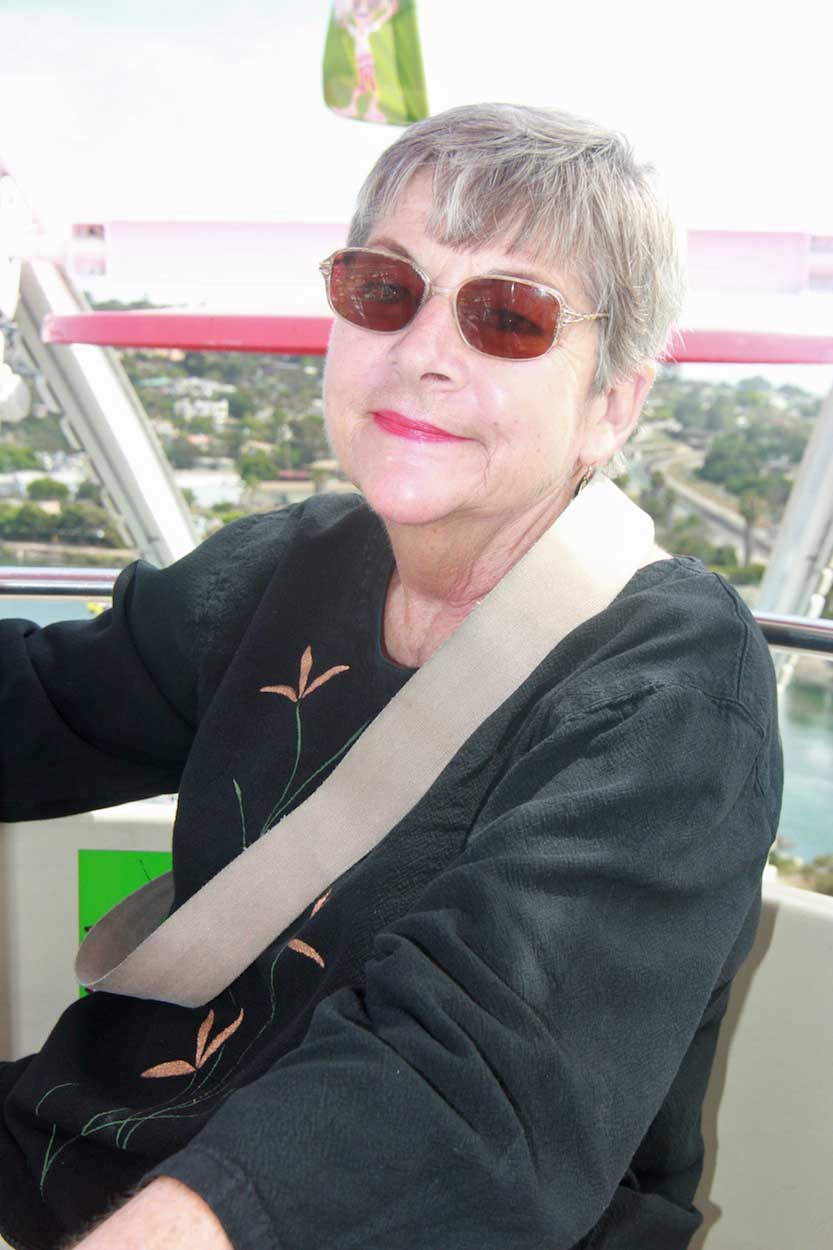 She is happy... Up in the air
Paul is terrified... Up in the air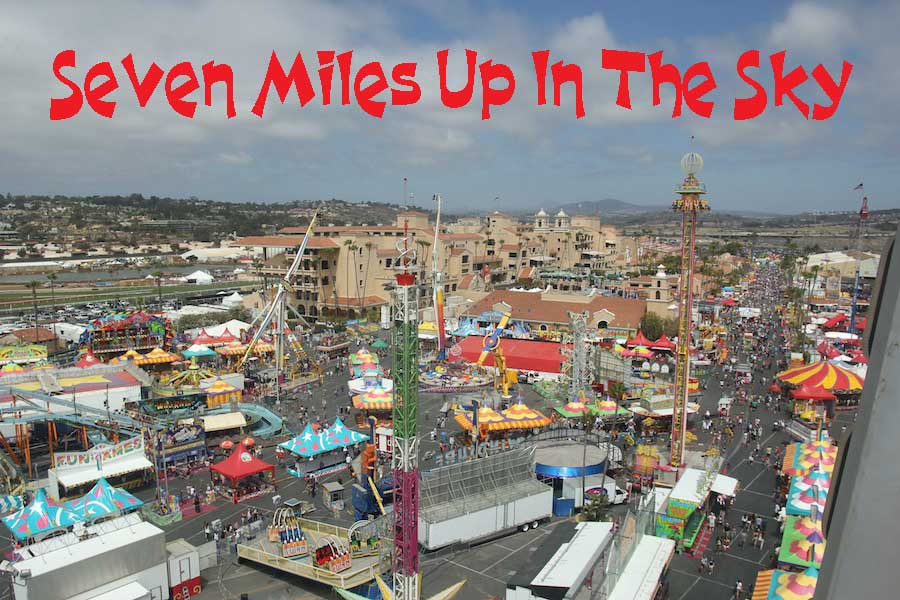 The ocean is a hop-skip-and-a-jump away
Pssssst - That is Hawaii in the distance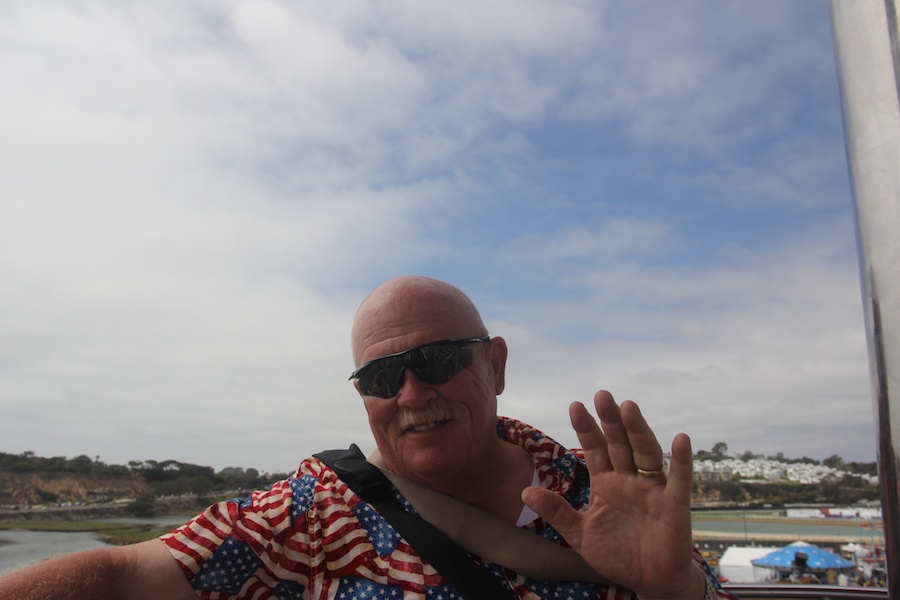 Notice... Always one hand holding on to dear life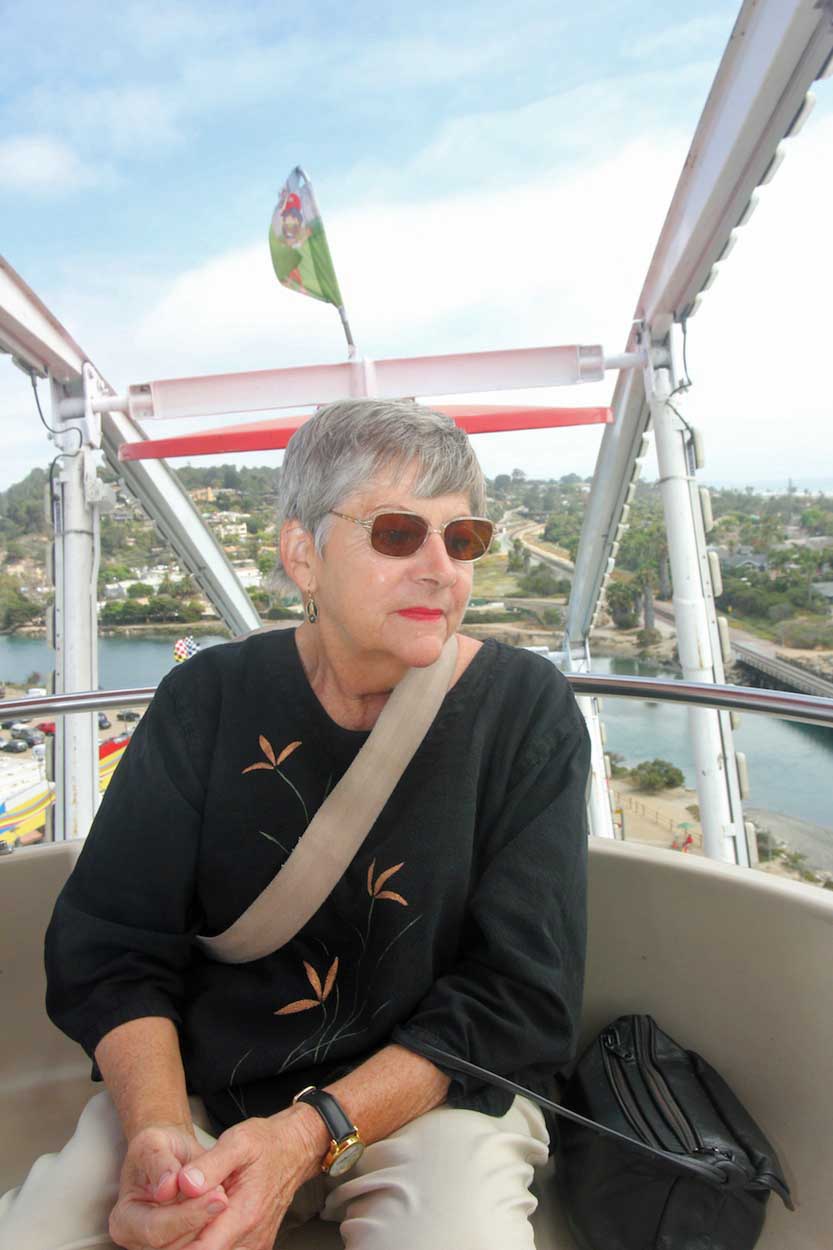 Unflappable....

Goes without saying

Baseball in the mud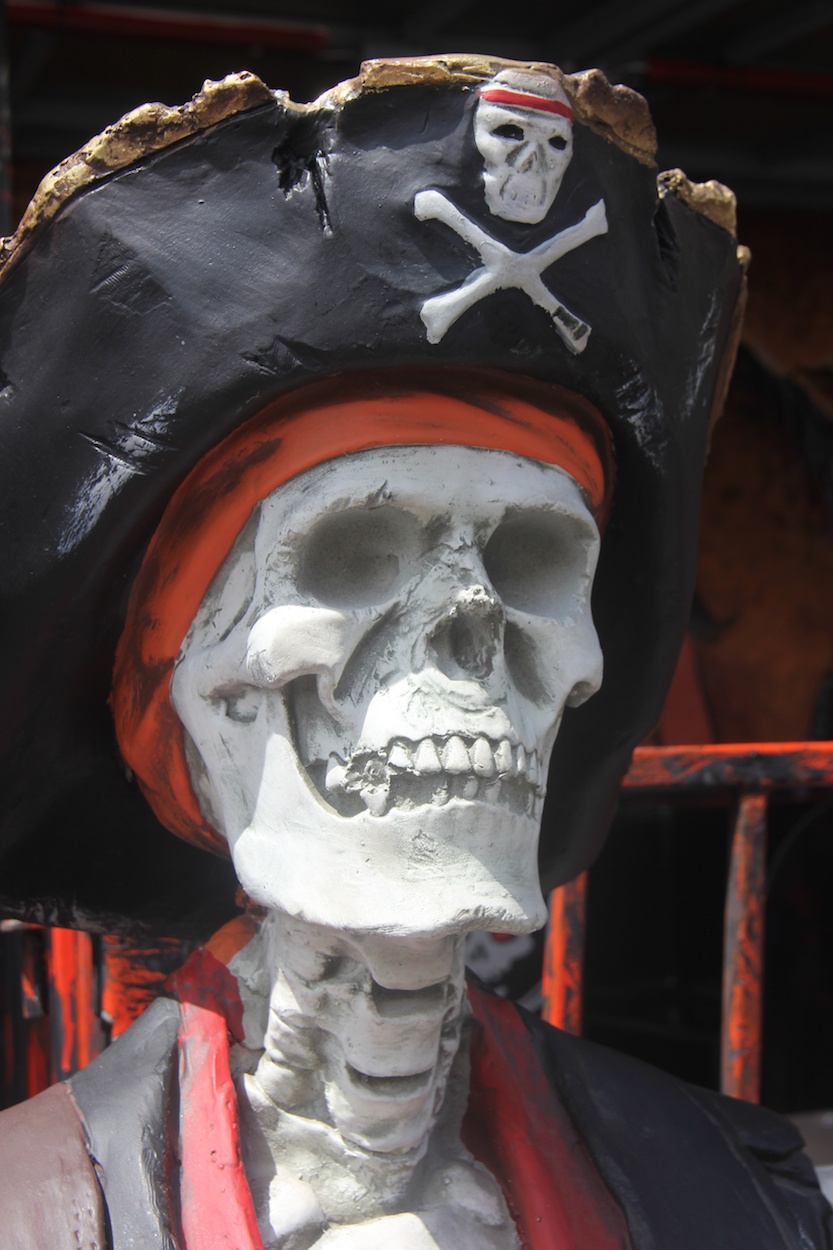 Shiver me timbers matey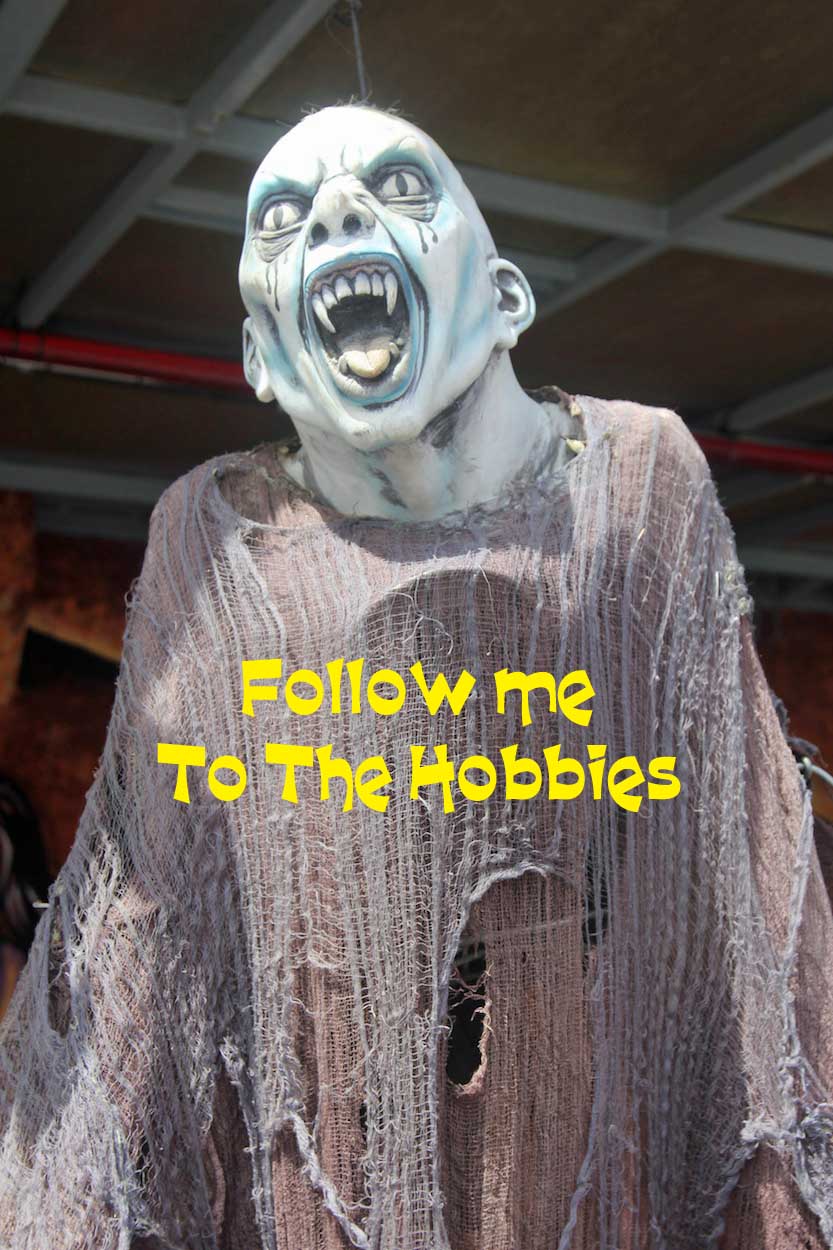 Paul is looking for something to eat