2011 And It Just Gets Better
Vicky and Del were the coordinators this evening and arranged for 24 of us to see the pageant. We began with a walk around the local area and then met up at Tivoli on the grounds at 5:00. After a few bottles of wine and a nice dinner we again headed out in search of our favorite artworks.

An interesting theme this year....

Play the video and see the previews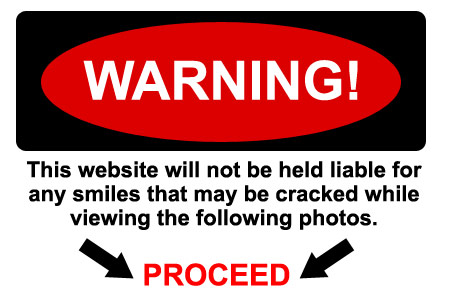 We Is Arrived

The gang is all here
Arrival & Walking Laguna
x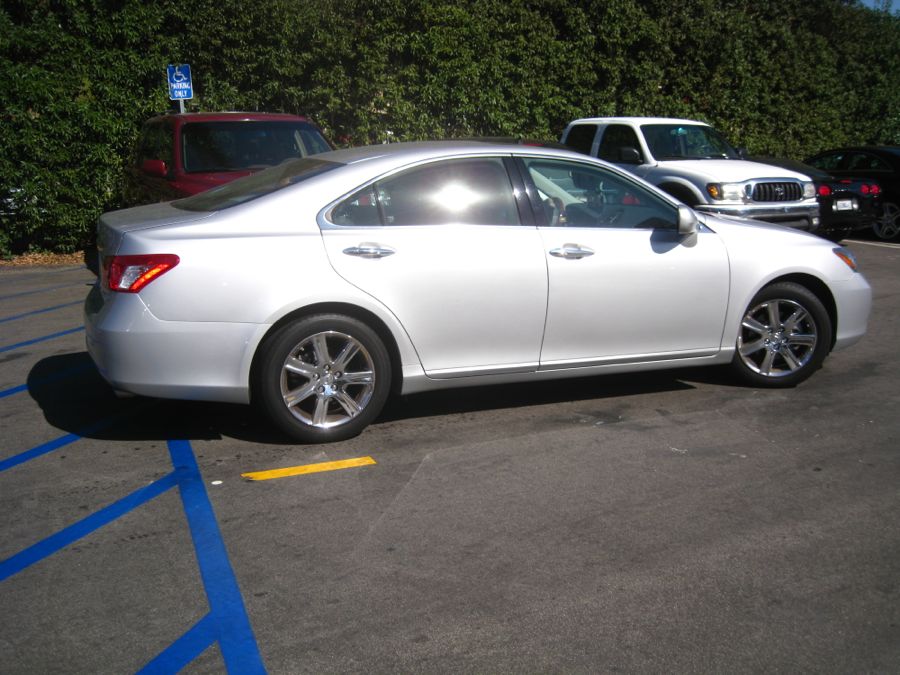 Leon and Marcia arrive in style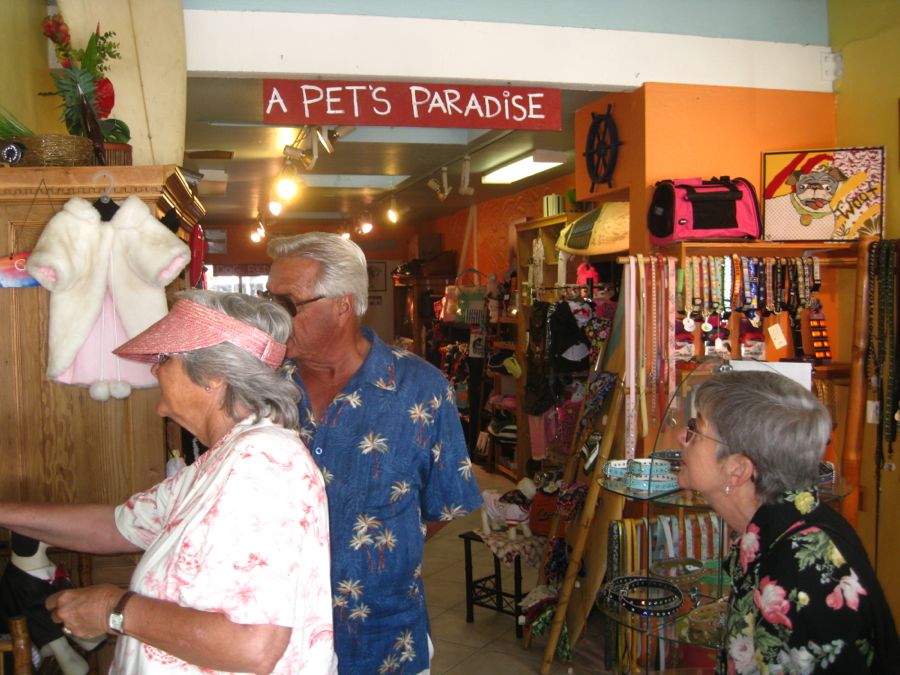 We found a doggie supply store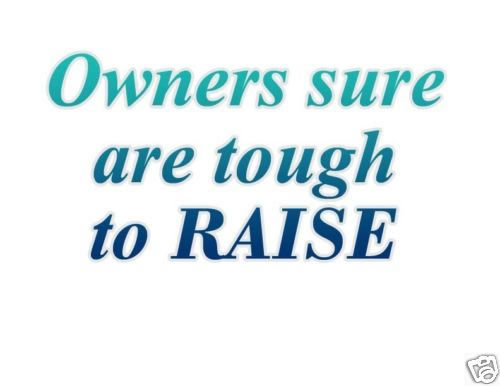 When In Laguna Do As The Lugunan's Do... Be Artistic!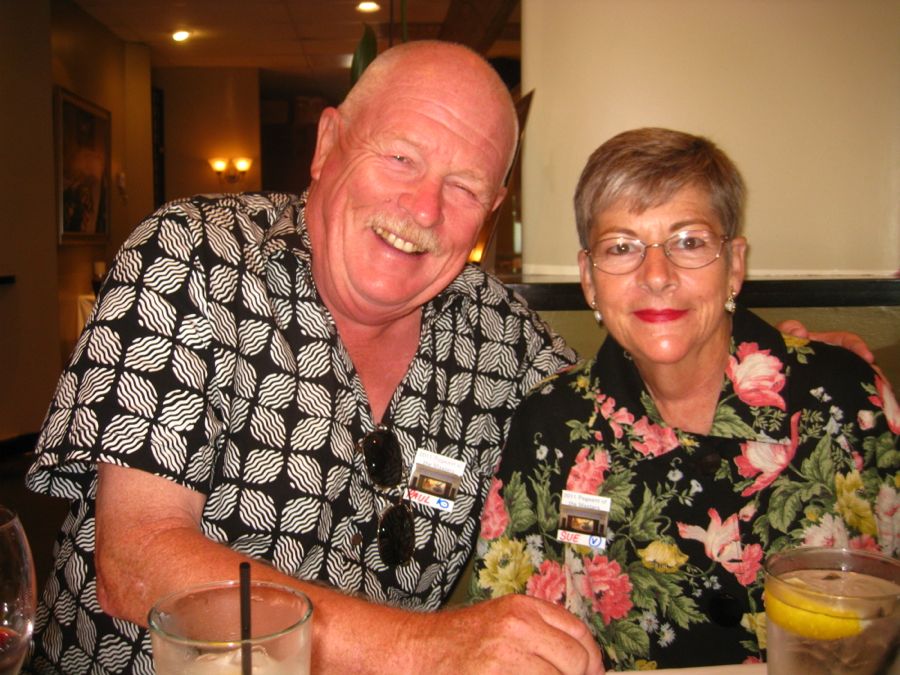 The wine was excellent so we brought out the charcoals and.....

We are now in black and white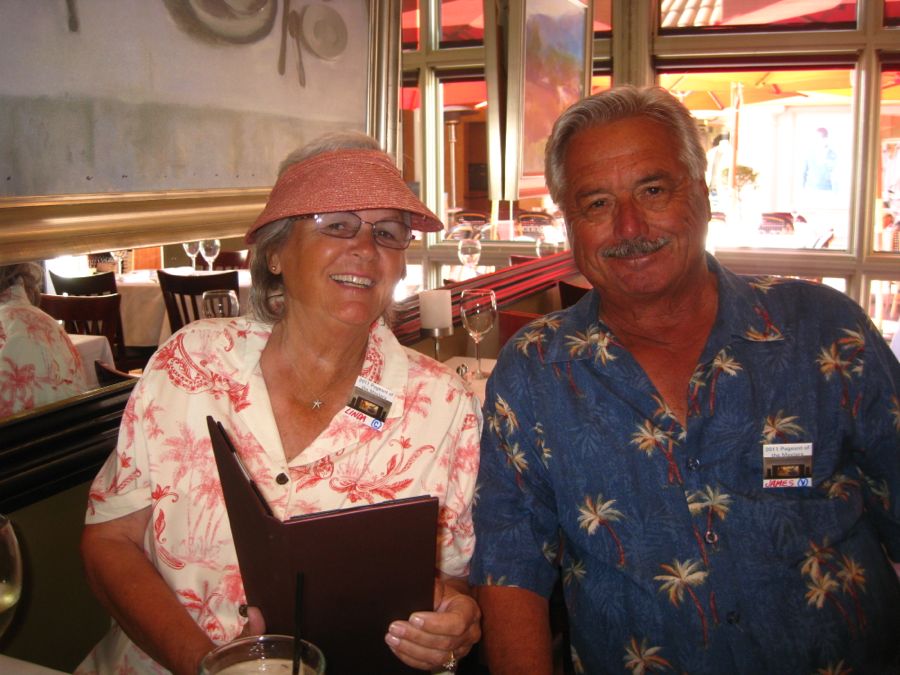 Never to be out done, James brought out his crayolas and ...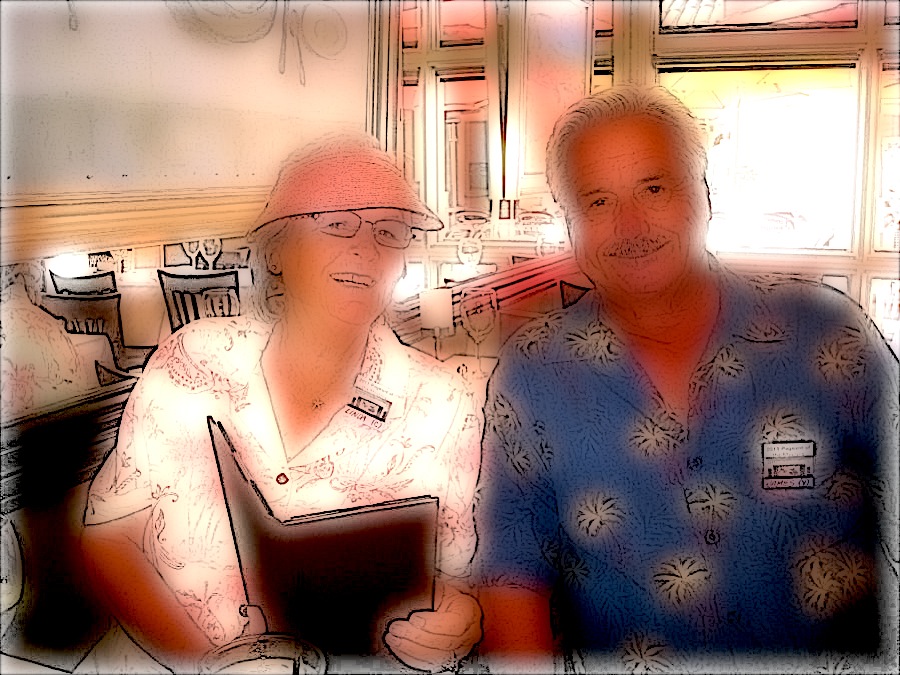 James and his crayolas win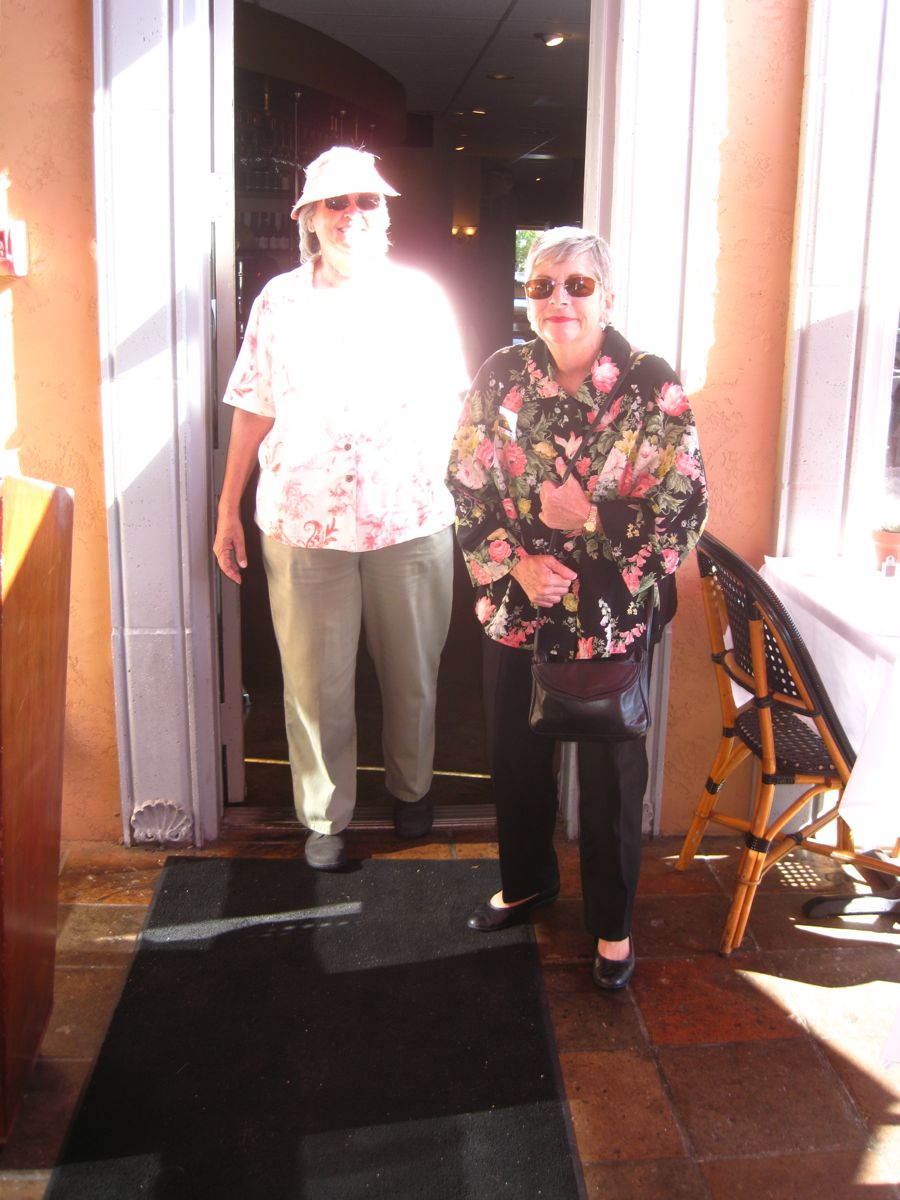 Linda had an afterglow

No Linda... do NOT jump into the water to cool off!

We guessed that meant clothes $29, naked free! James wanted some "free"
Did You Know? - A mannequin (also called a dummy, lay figure or dress form) is an often articulated doll used by artists, tailors, dressmakers, and others especially to display or fit clothing. During the 1950s, mannequins were also used in nuclear tests to help illustrate the effects of nuclear weapons on human beings.
The term is also used for life-sized dolls with simulated airways used in the teaching of first aid, CPR, and advanced airway management skills such as tracheal intubation and for human figures used in computer simulation to model the behavior of the human body. Mannequin is also used in English in the sense of fashion model.
Mannequin comes from the French word mannequin, which had acquired the meaning "an artist's jointed model", which in turn came from the Middle Dutch word mannequin, meaning "little man, figurine".
On The Grounds Again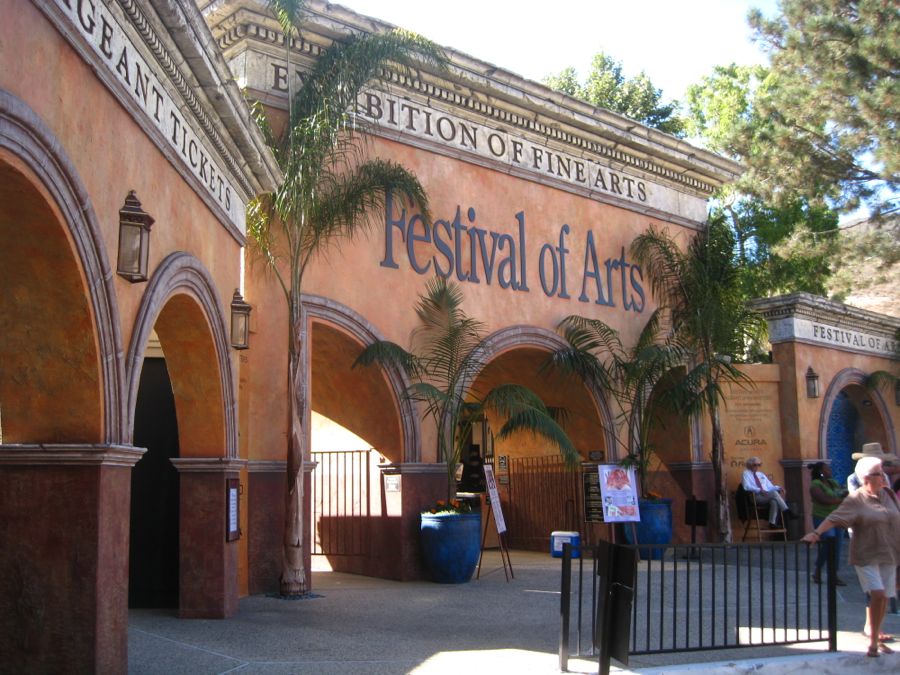 The Grand Entrance

Soooo.... Why this sign if....

... the rest room sign allows dogs???
Dinner Time At Tivoli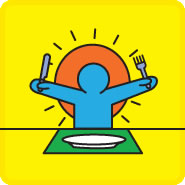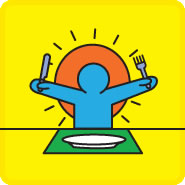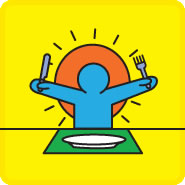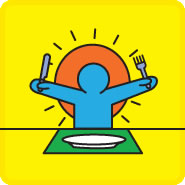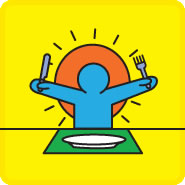 Over the teeth and through the gums, watch out tonsils here it comes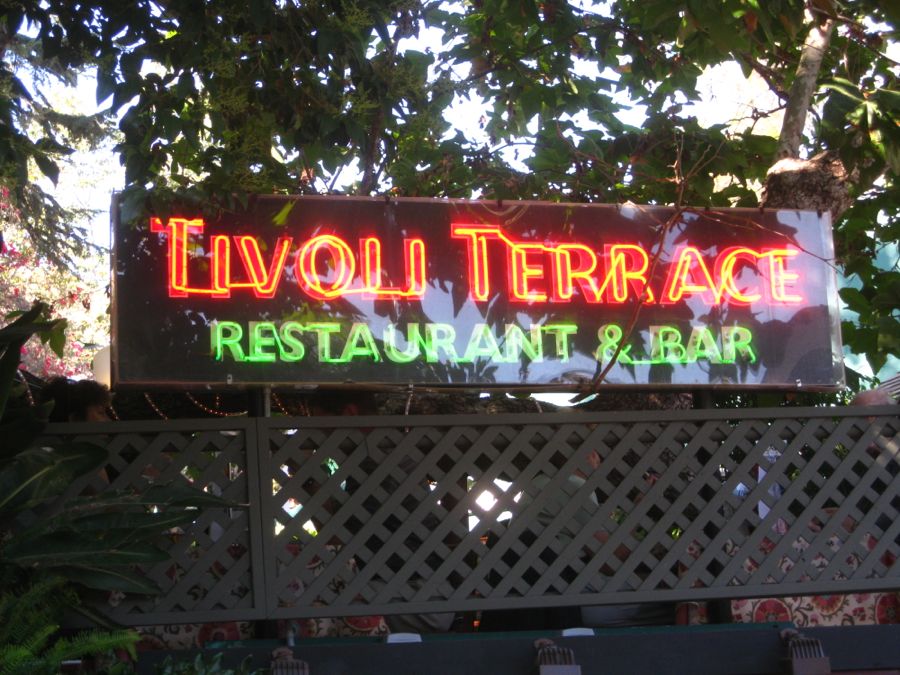 Great and convenient pre-show dining
Did You Know? - The name Tivoli originally indicates the town of Tivoli in the Lazio region of central Italy, founded a few centuries before Rome.

Follow Vicky to our tables...

Beautiful summertime table arrangements

We checked, they were right on

Vicky and Sue are first to arrive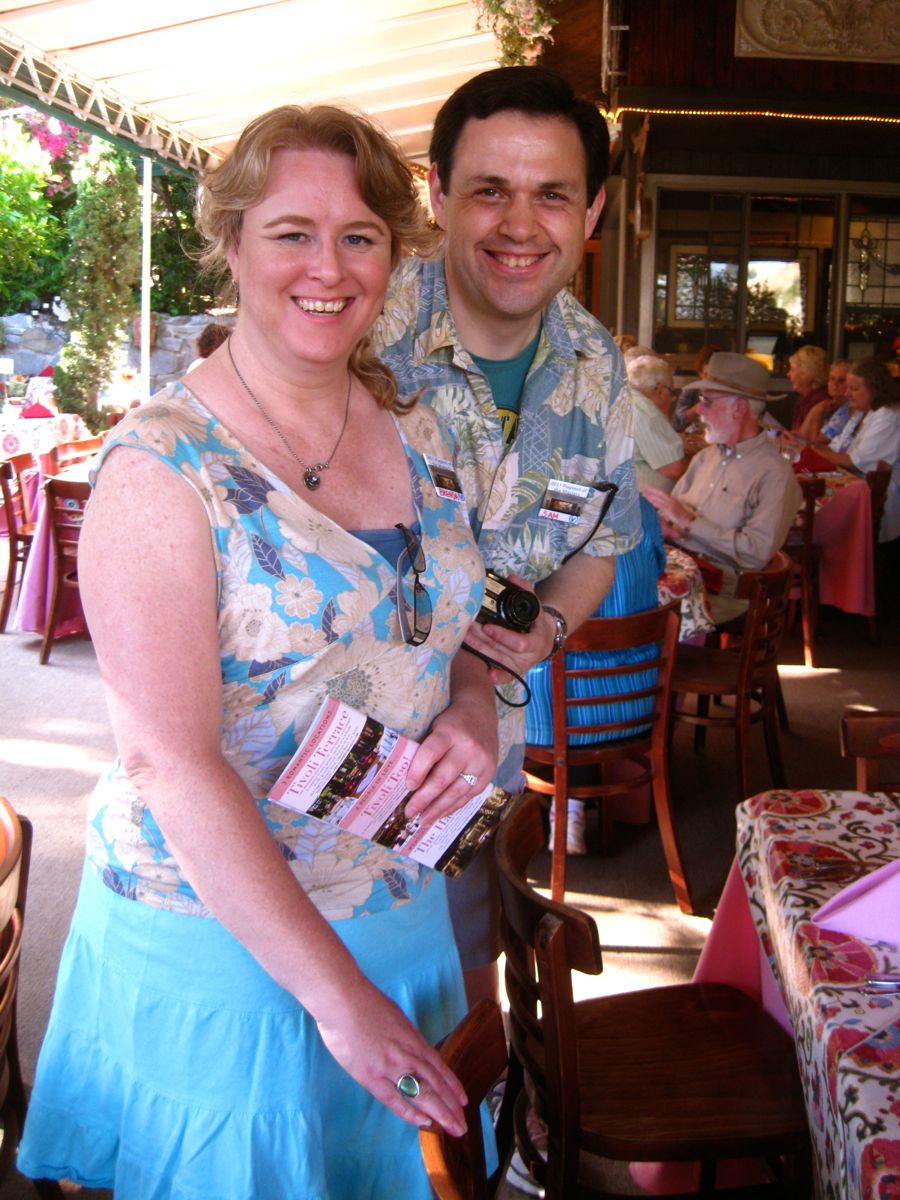 Brenda and Sam remind us that love is in the air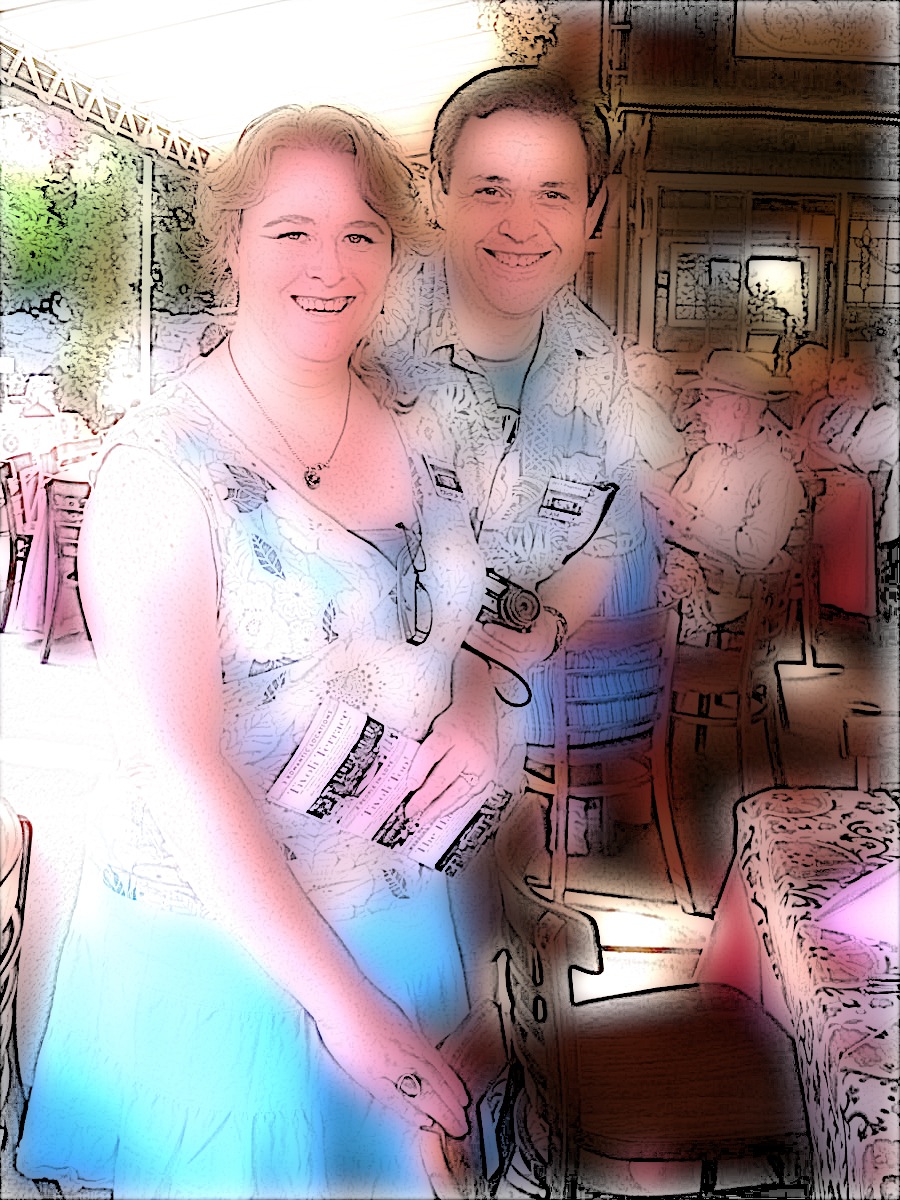 Love makes them look so.... In love!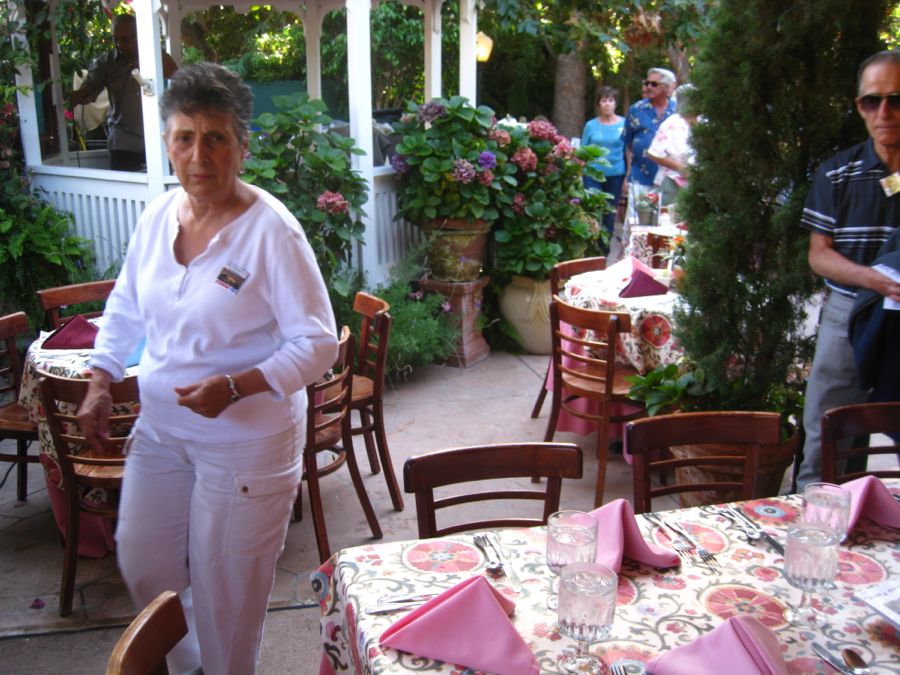 Irene looks quite determined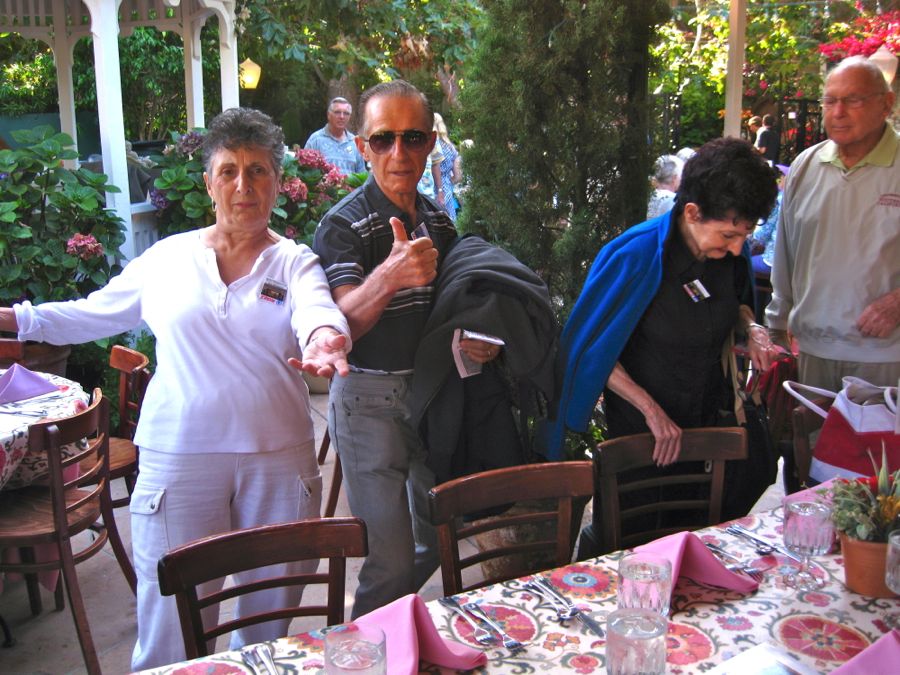 Ta Da! She has arrived! Lee gives te thumbs up sign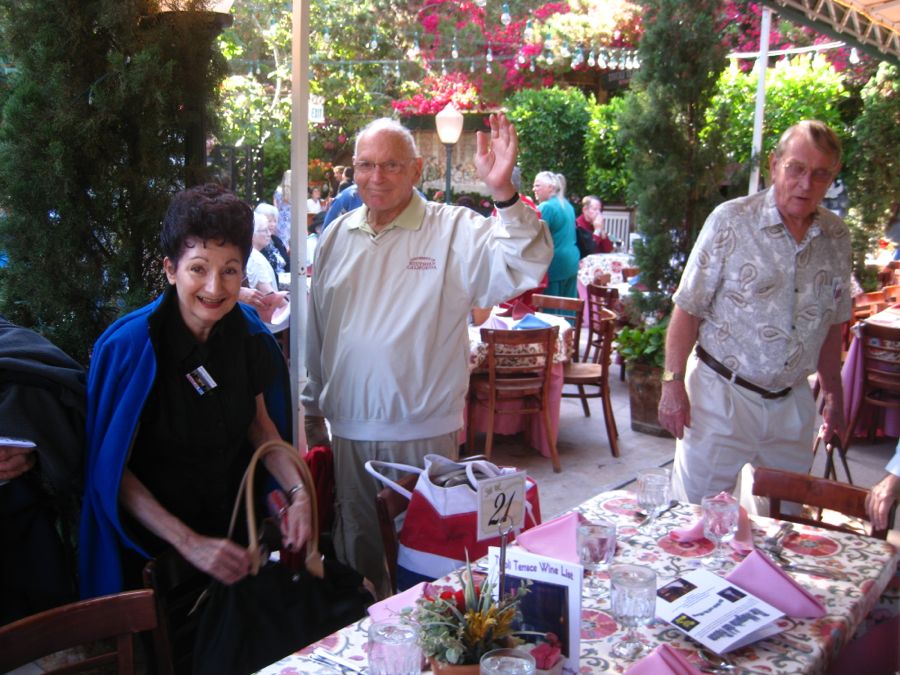 Marcia, Herb, and Neal

Neal, is that a "carpetbag?"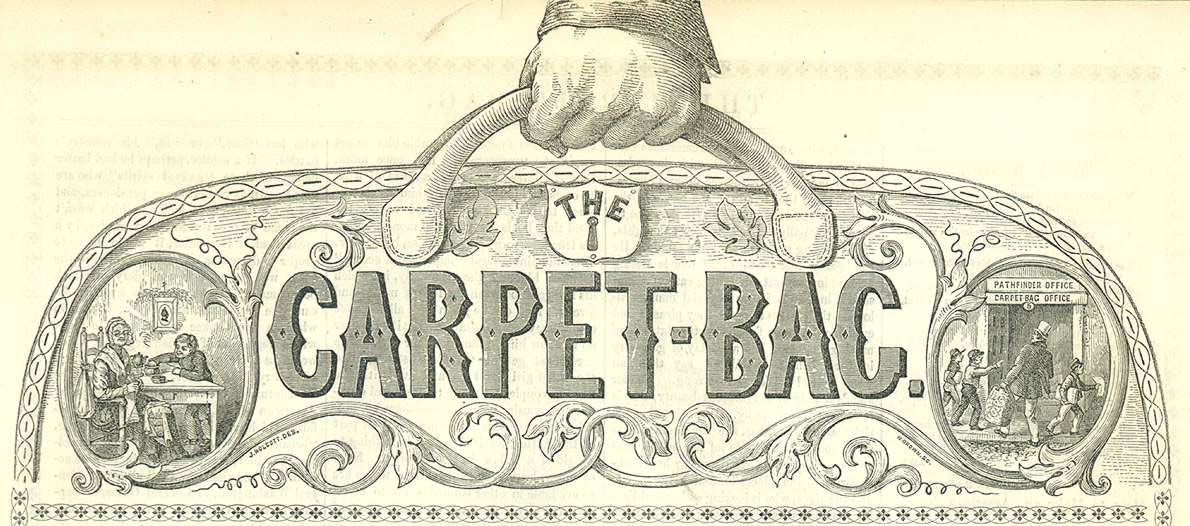 Did You Know? - A carpet bag is a traveling bag made of carpet, commonly from an oriental rug, ranging in size from a small purse to a large duffel bag.
Such bags were popular in the United States and Europe during the 19th century. They are still made to this day, typically as women's decorative small luggage and purses, although typically no longer out of old carpets.
The carpetbaggers of the Reconstruction era following the American Civil War were given their name from this type of luggage which they carried.
From the Scientific American Supplement, No. 561, October 2, 1886 "The old-fashioned carpet bag (Fig. 1) is still unsurpassed by any, where rough wear is the principal thing to be studied. Such a bag, if constructed of good Brussels carpeting and unquestionable workmanship, will last a lifetime, provided always that a substantial frame is used.
Meanwhile At The Other Table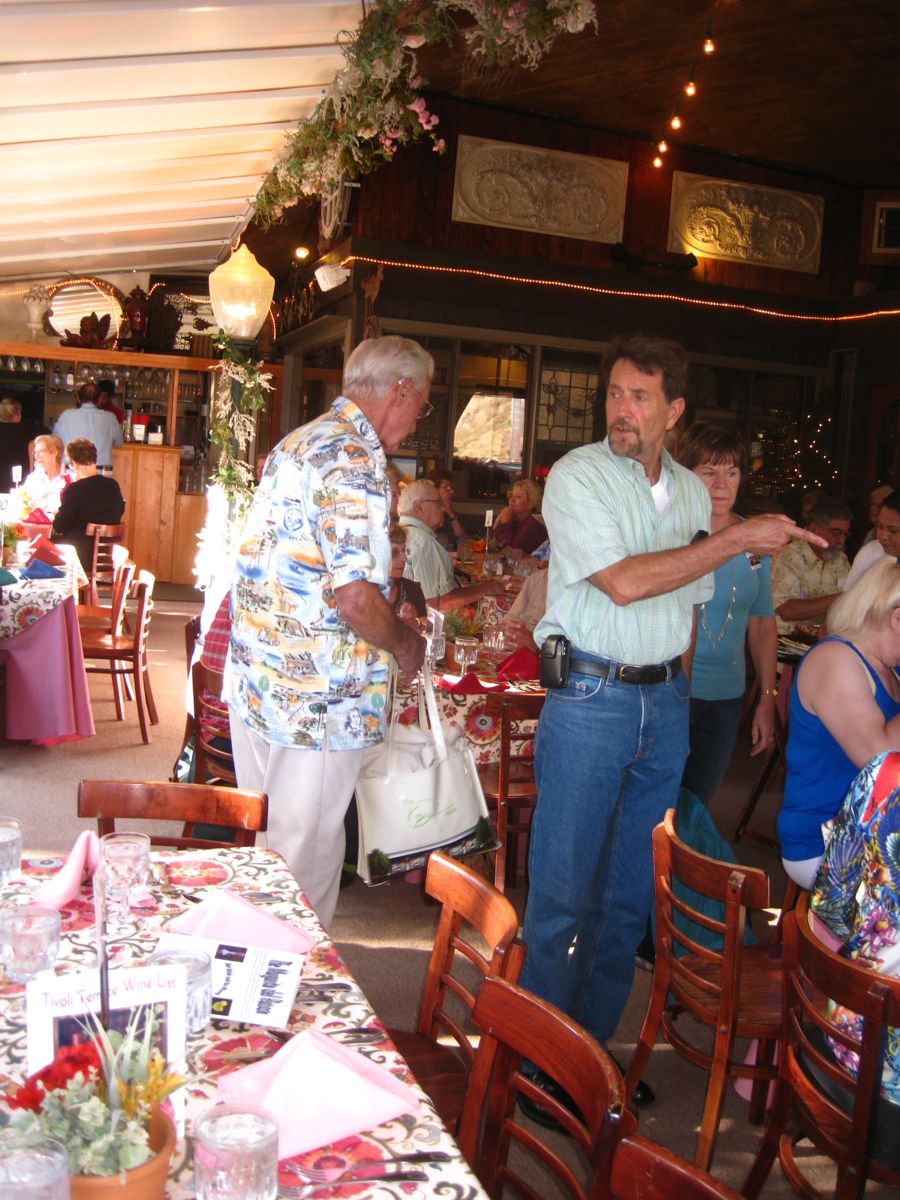 Bob tells Del where to go.... Wow! Bob in jeans?????
Did You Know? - The word "jeans" comes from the French phrase bleu de Gênes, literally the blue of Genoa. Jeans fabric, or denim, originated in the French town of Nîmes, from which 'denim' (de Nîmes) gets its name.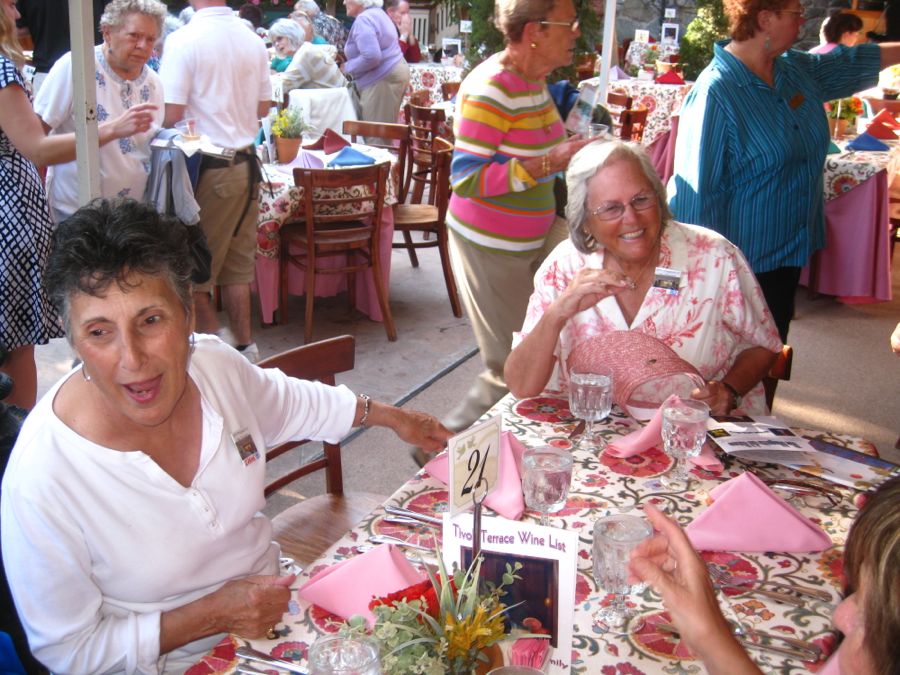 Laughs and giggles are heard from the next table over...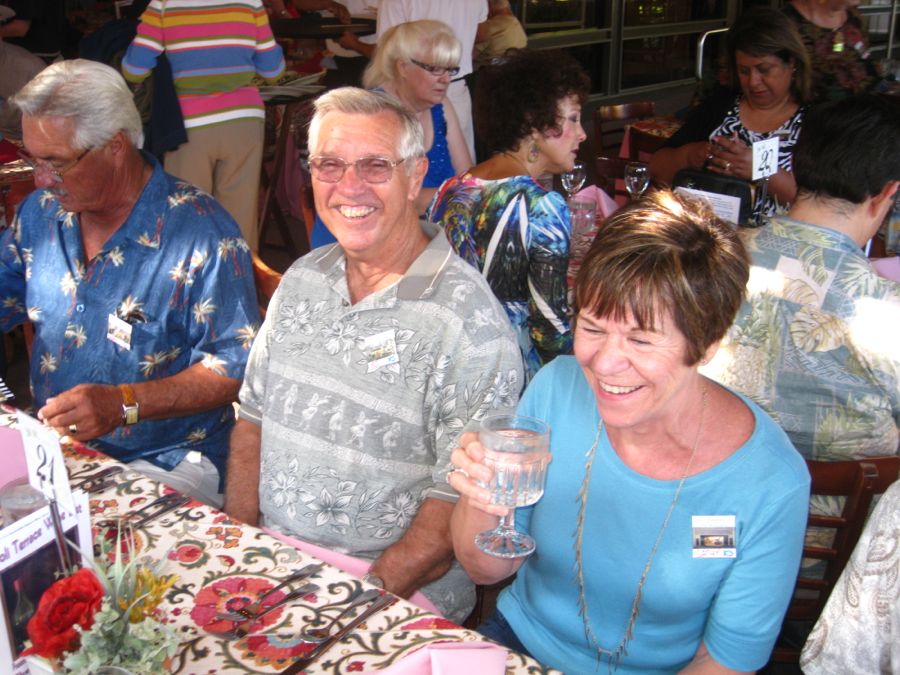 Ed and Kathy ... We told Kathy that her drink was "white wine"
Did You Know? - The color of the wine mainly depends on the color of the drupe of the grape variety. Since pigments are localized in the exocarp (skin) of the grape drupe, not in the juice, the color of the wine depends on the method of vinification and the time the must is in contact with those skins, process called maceration.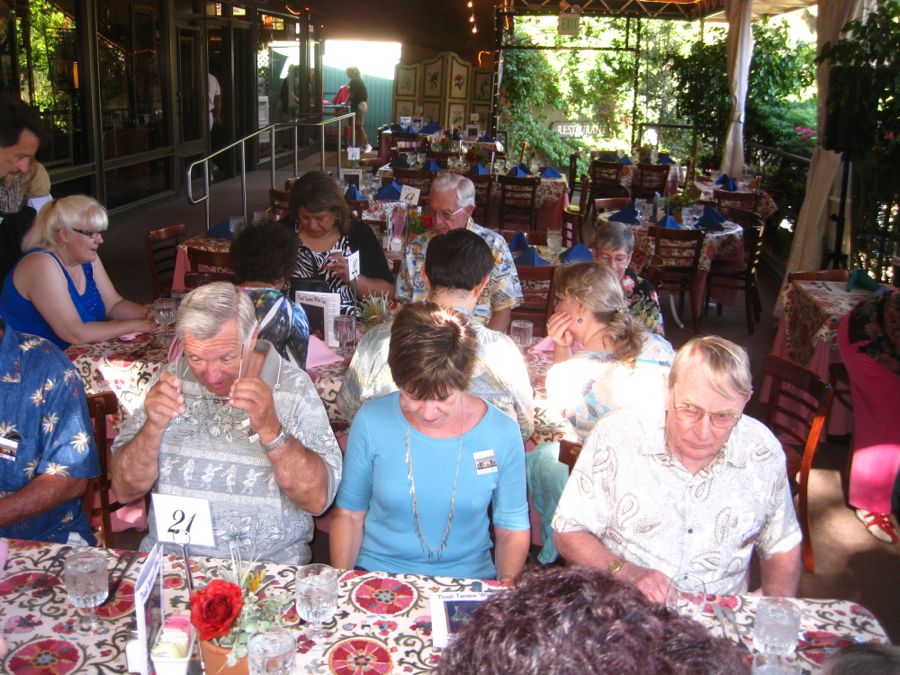 We had two tables this evening... Glad no one yelled "Food Fight"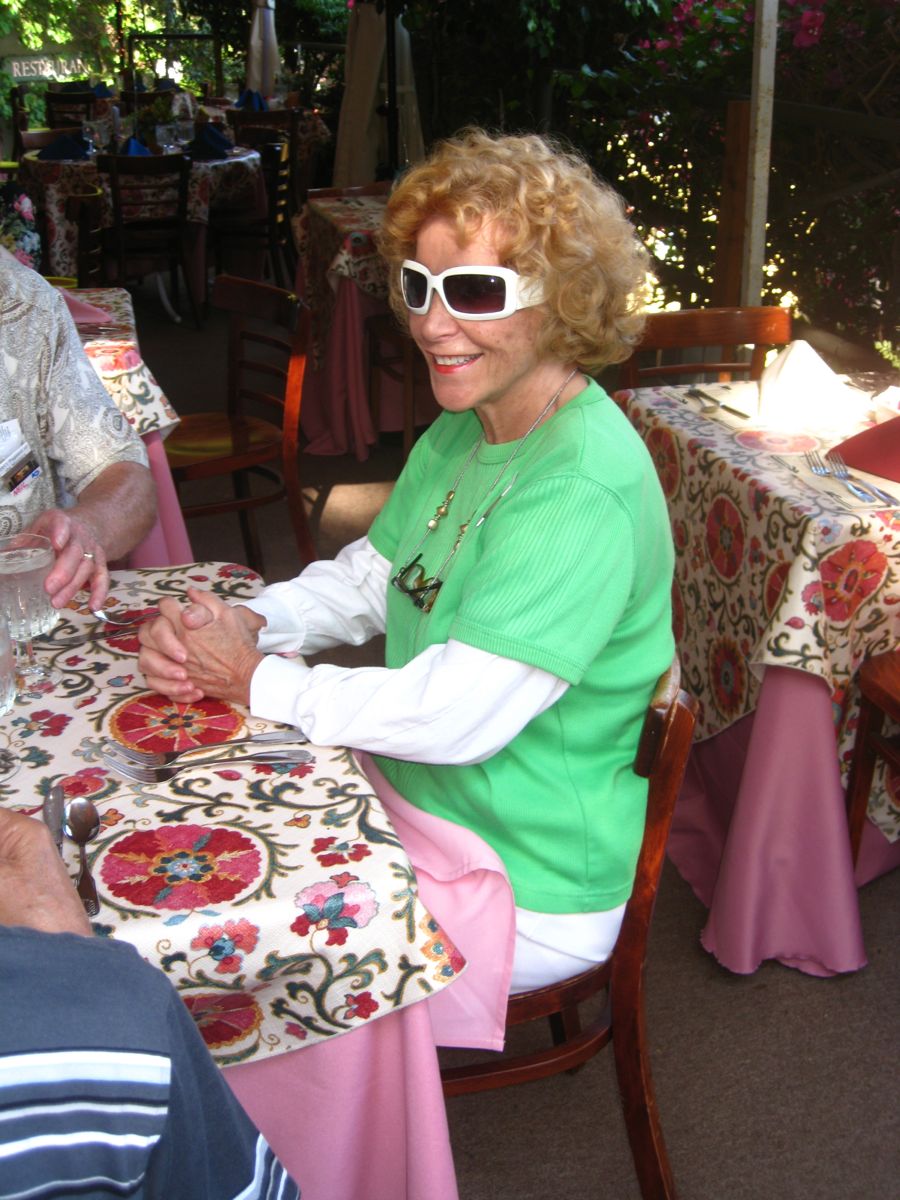 Nita (Hollywood) Woolston joined the group for a delightful evening

We were all glad she didn't wear any of her other glasses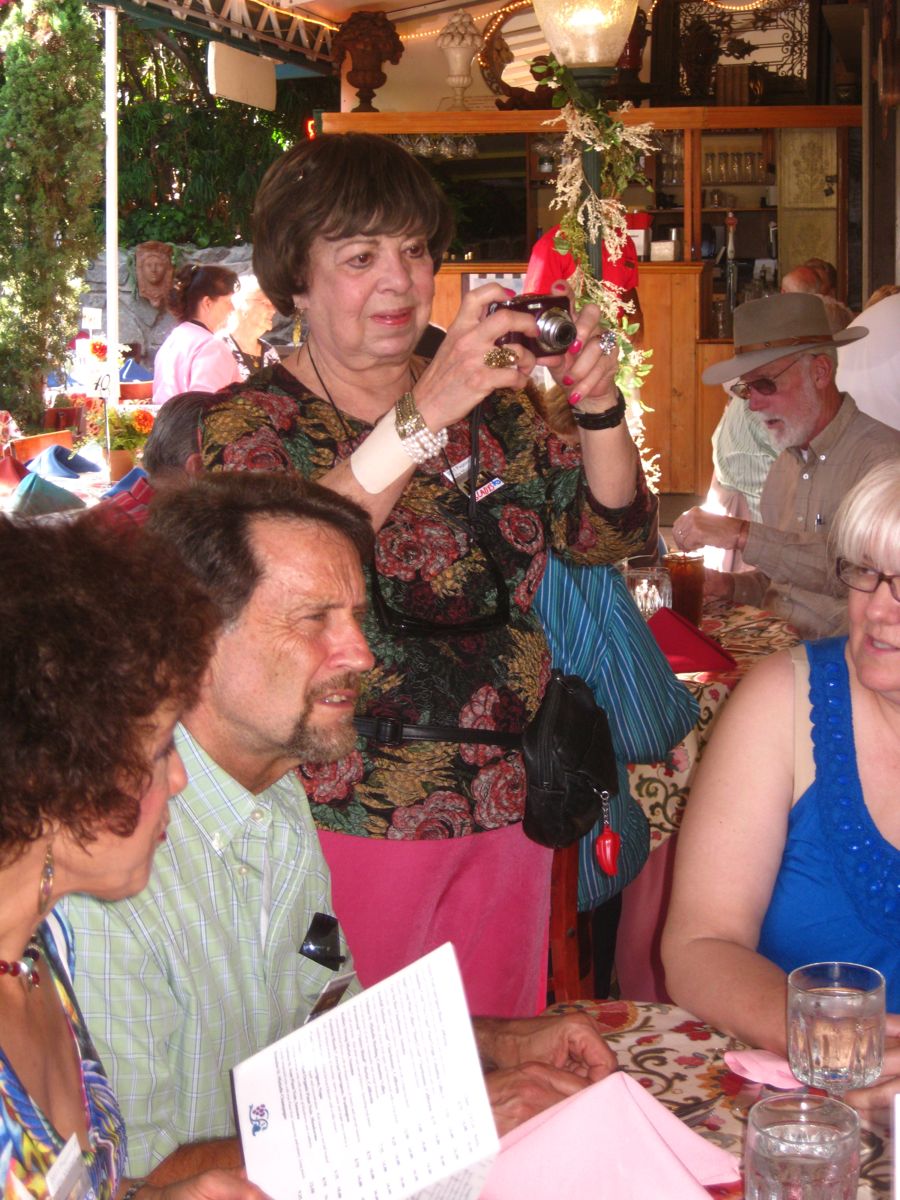 Camera were working overtime

Gladys gets artistic

Someone is happy... She found the wine list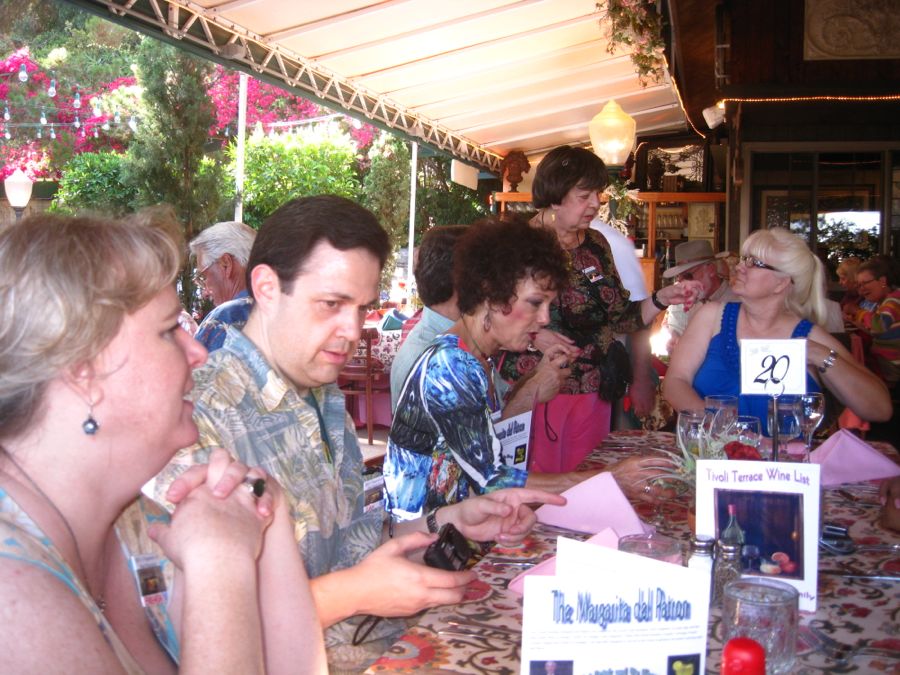 Sam checks out his camera
Be Serious... It Is Time For Dinner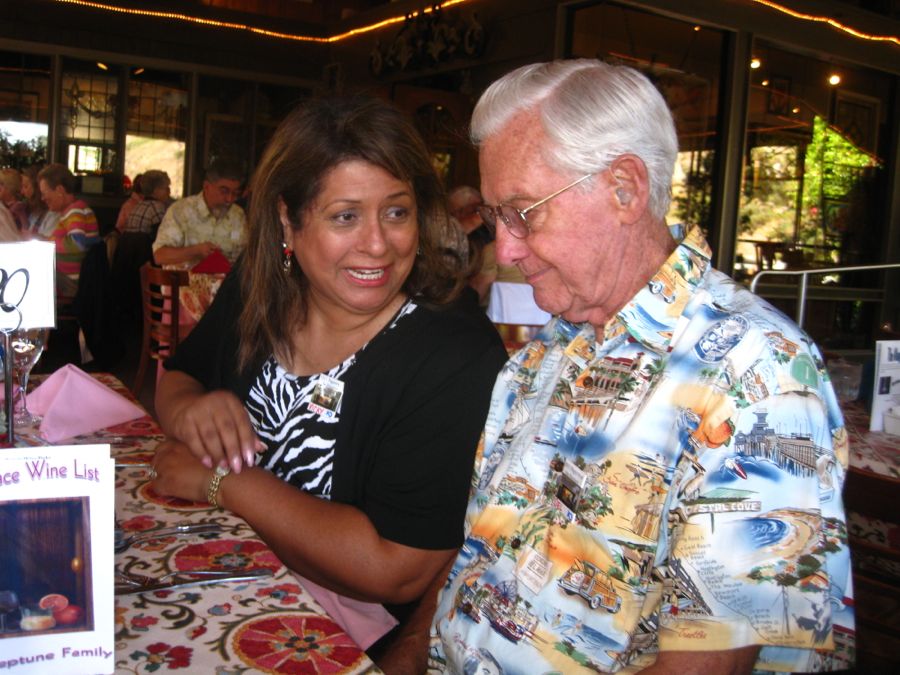 Vicky tries to 'splain...

"It was about this big"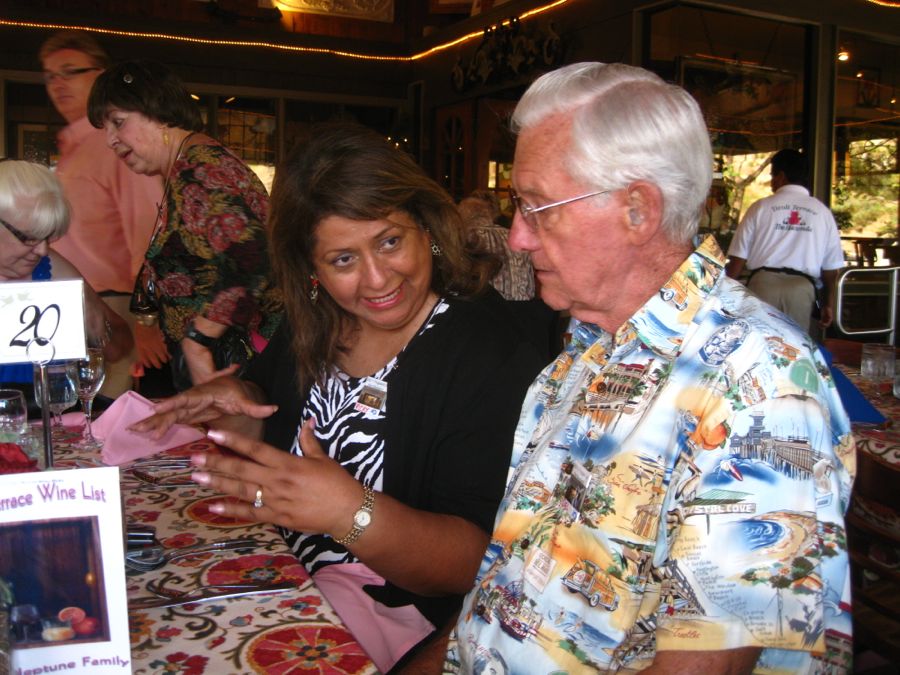 Vicky believes that if she uses her beautiful smile all will be understood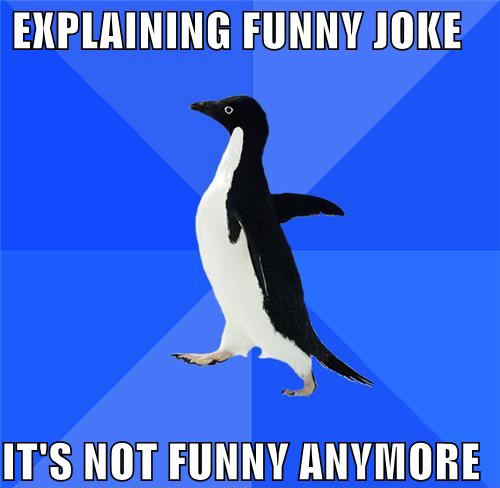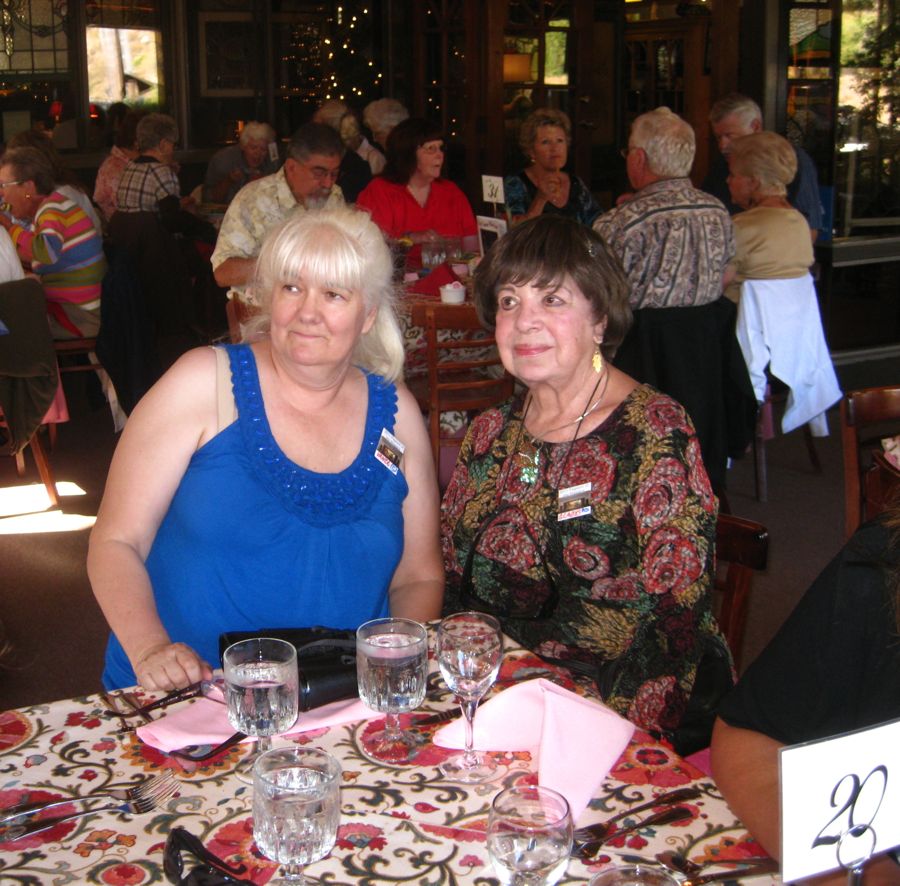 Being patient before dinner

The cameraman surprised them... Irene is reading the brochure to Herb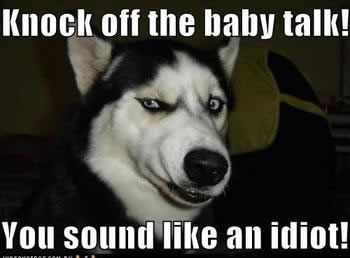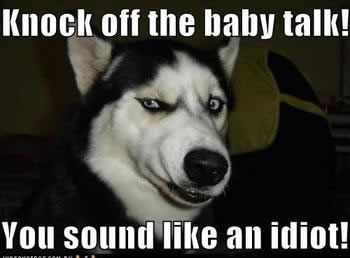 Wall to wall smiles... Wonder what they did or are going to do???
It's Wear Your Food Time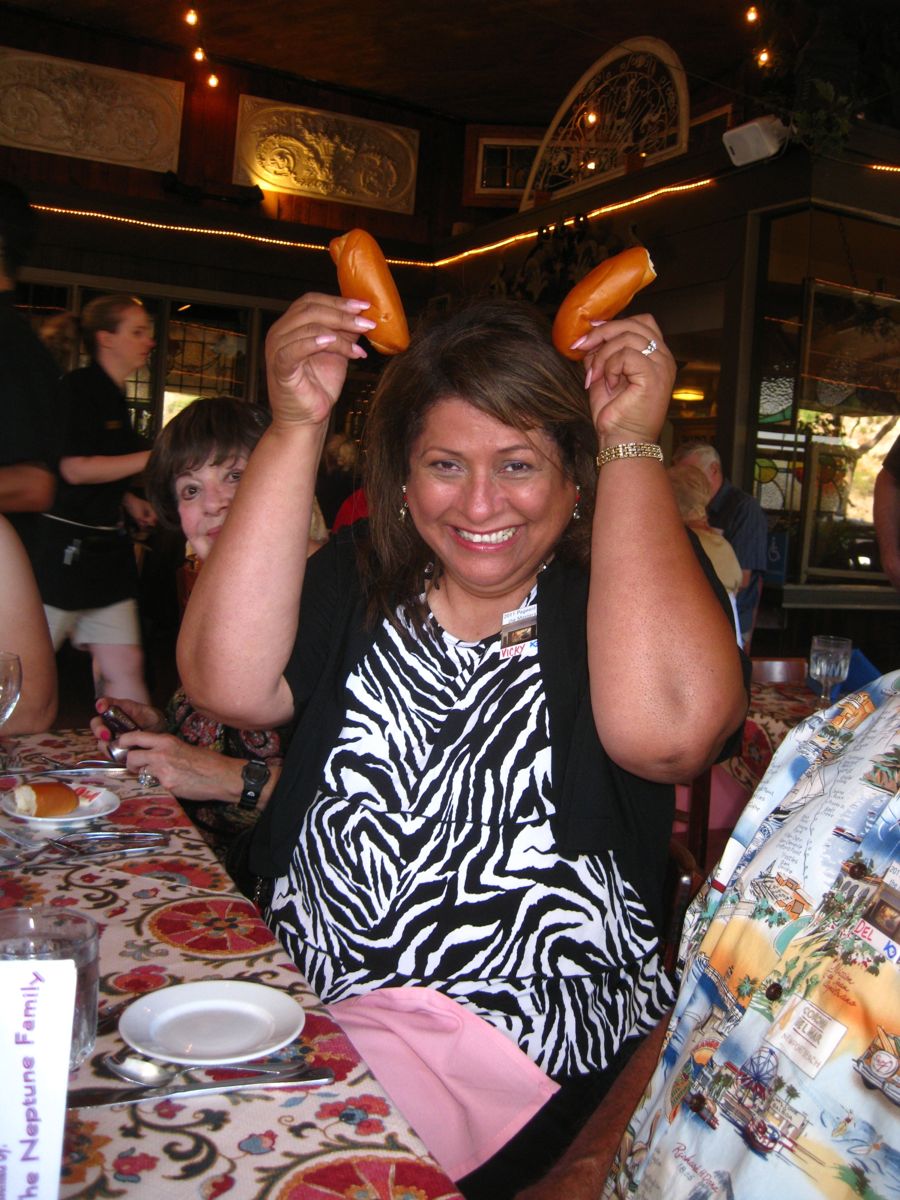 Horns or ears.... Good question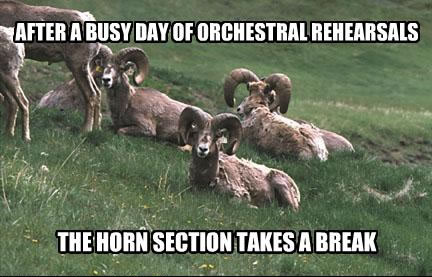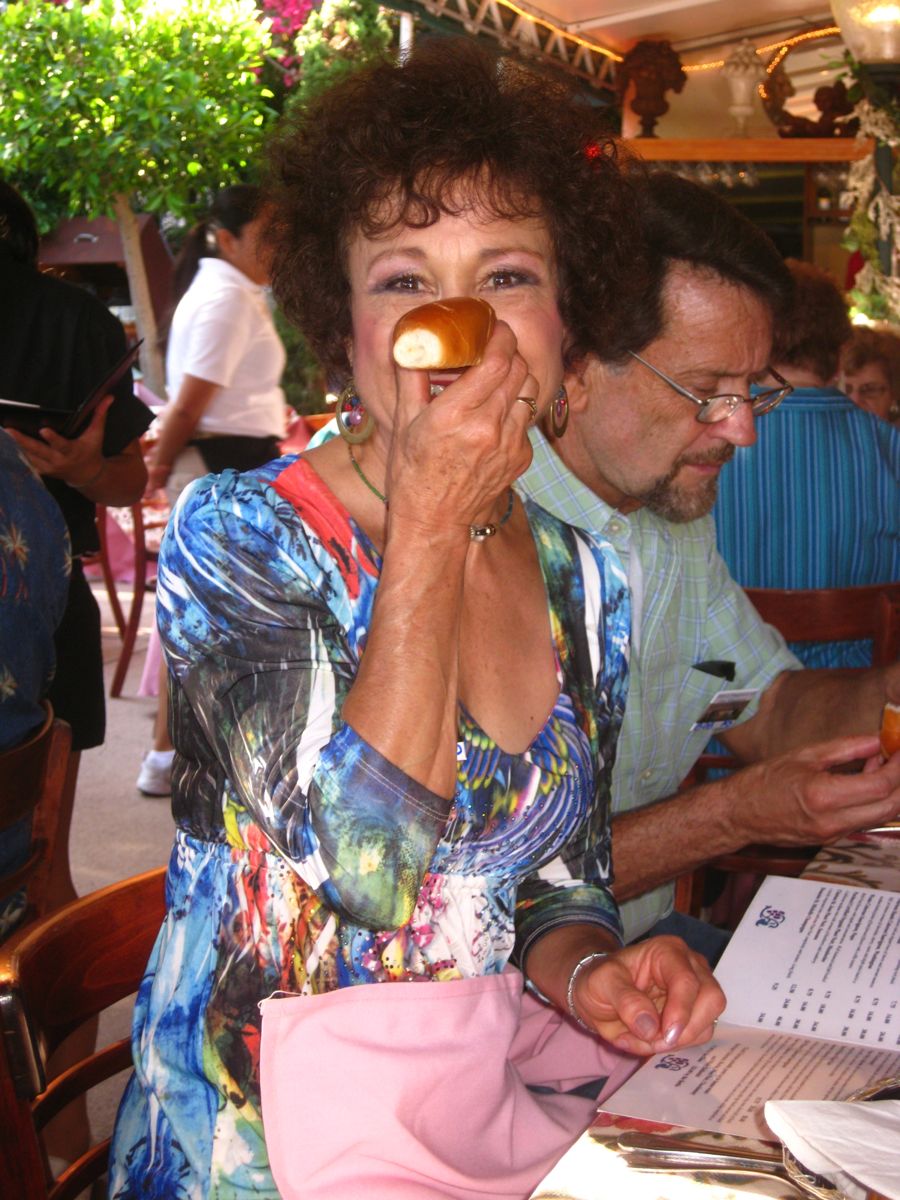 Donna does Pinnochio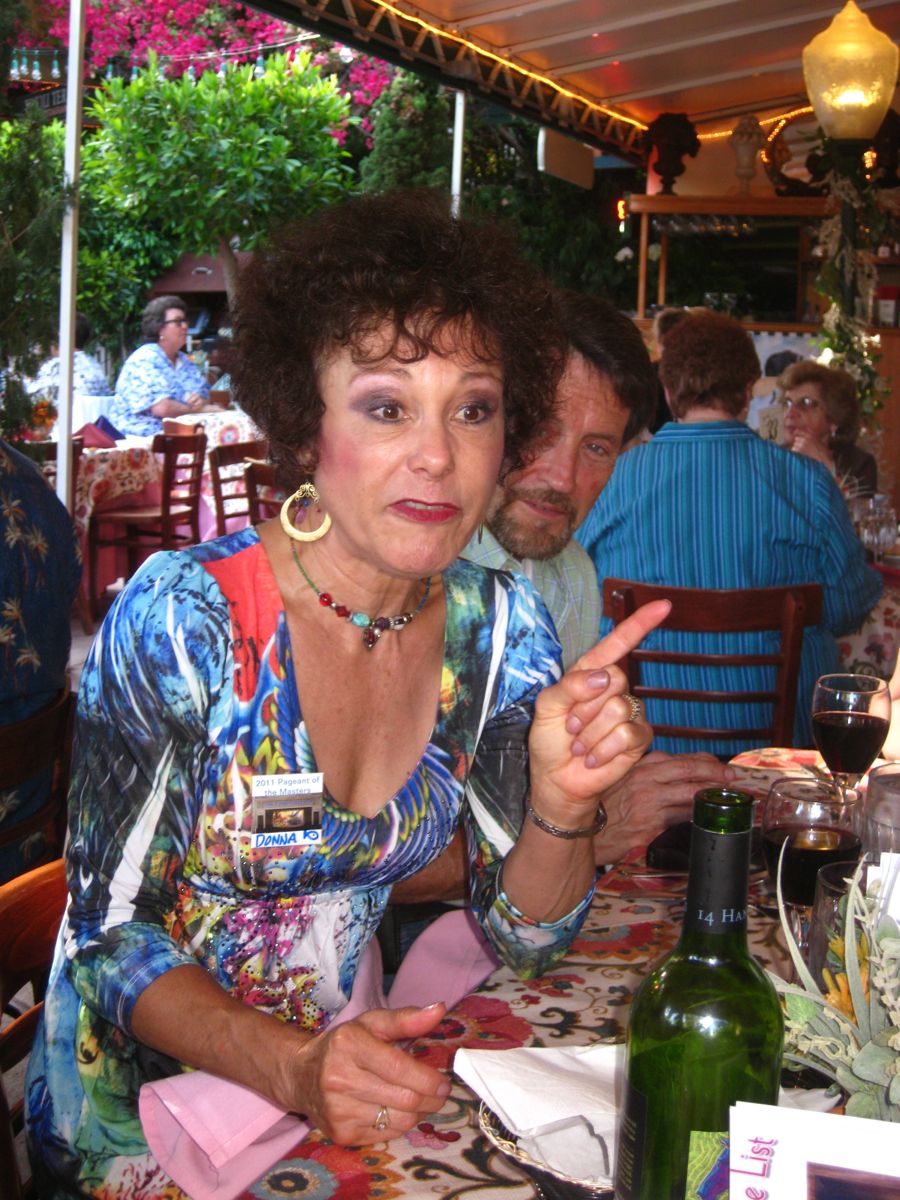 Pinnochio's nose was as long as my finer... No, really

Step right over here Pinnochio

Sam does not believe those are chopsticks

Perfect weather and loads of time to visit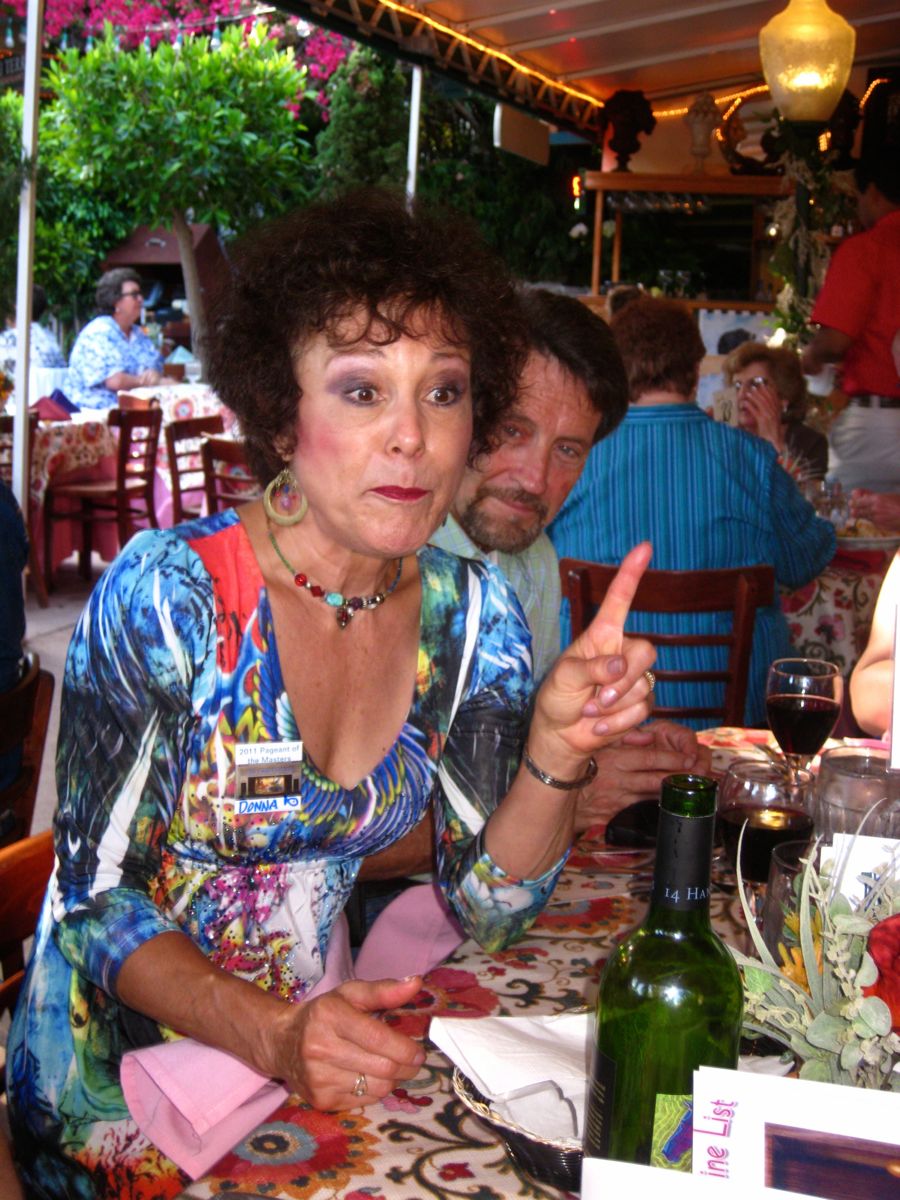 "One more glass of wine"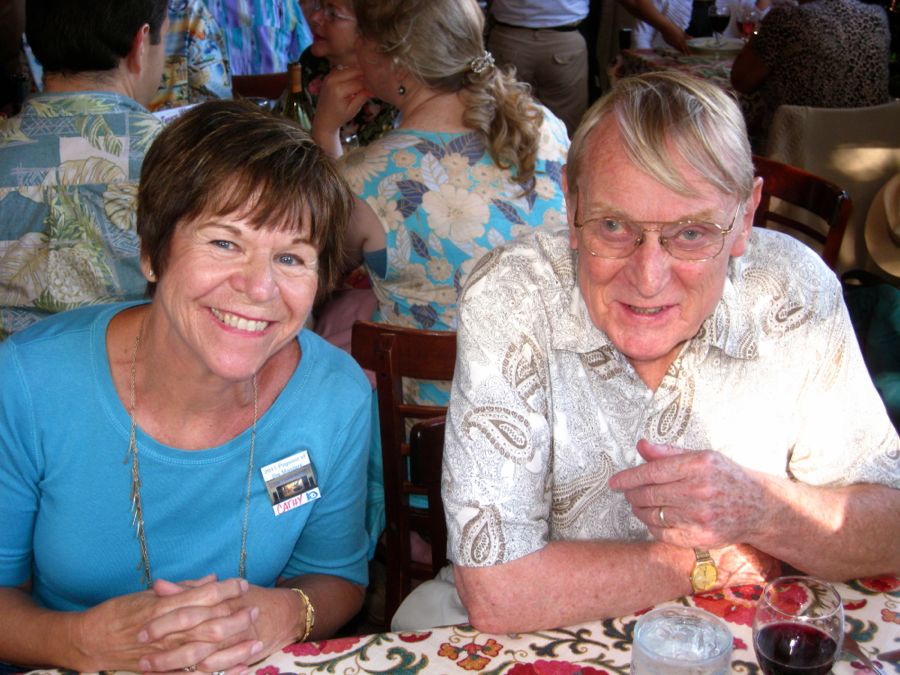 Kathy and Neal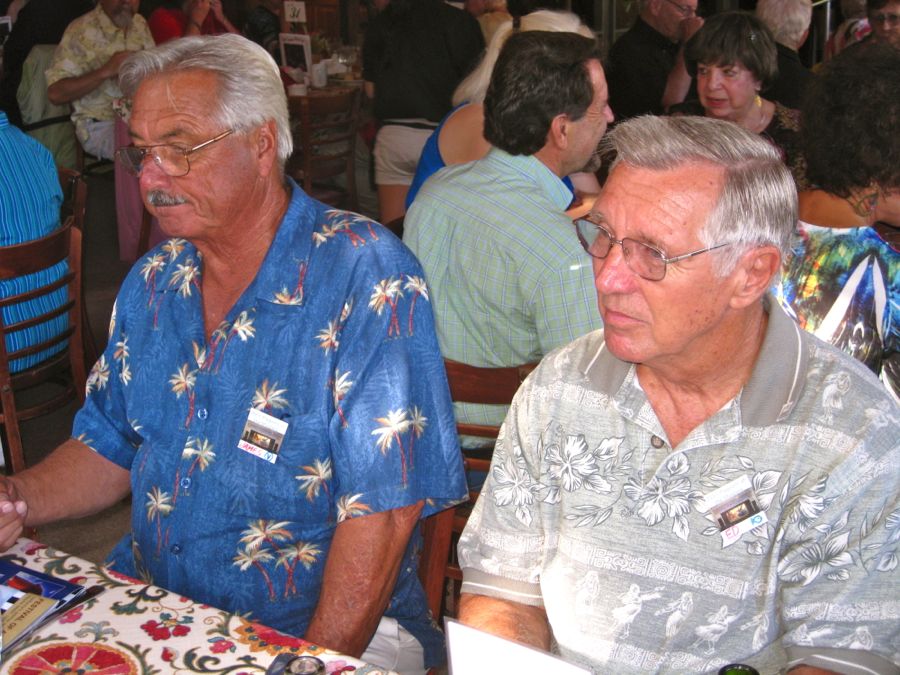 In serious contemplation ... Hopeful not about work tomorrow!

When you retire there are no more sunrises UNLESS you really want to see them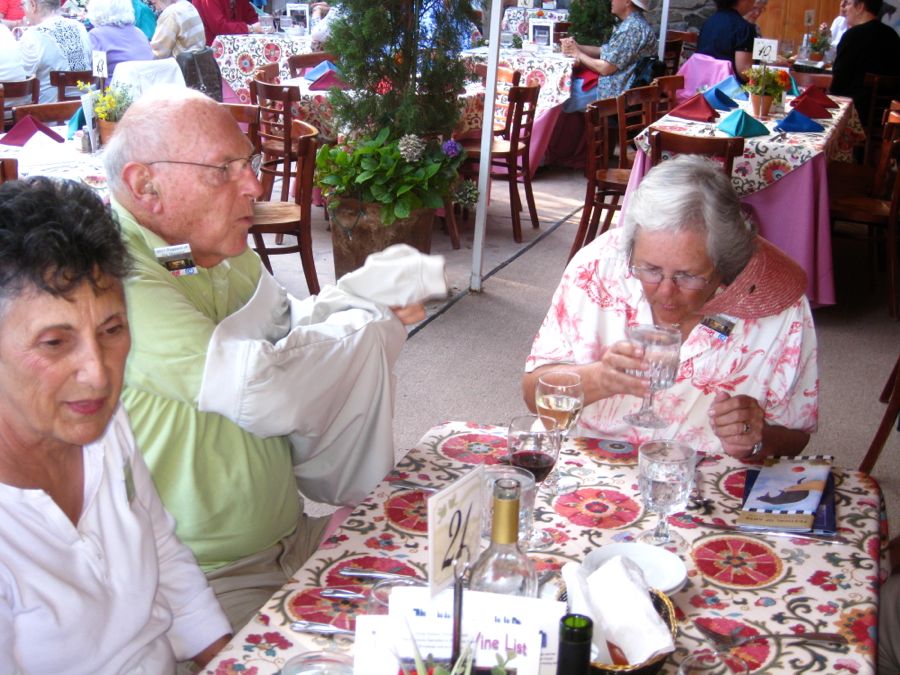 Must be getting cold...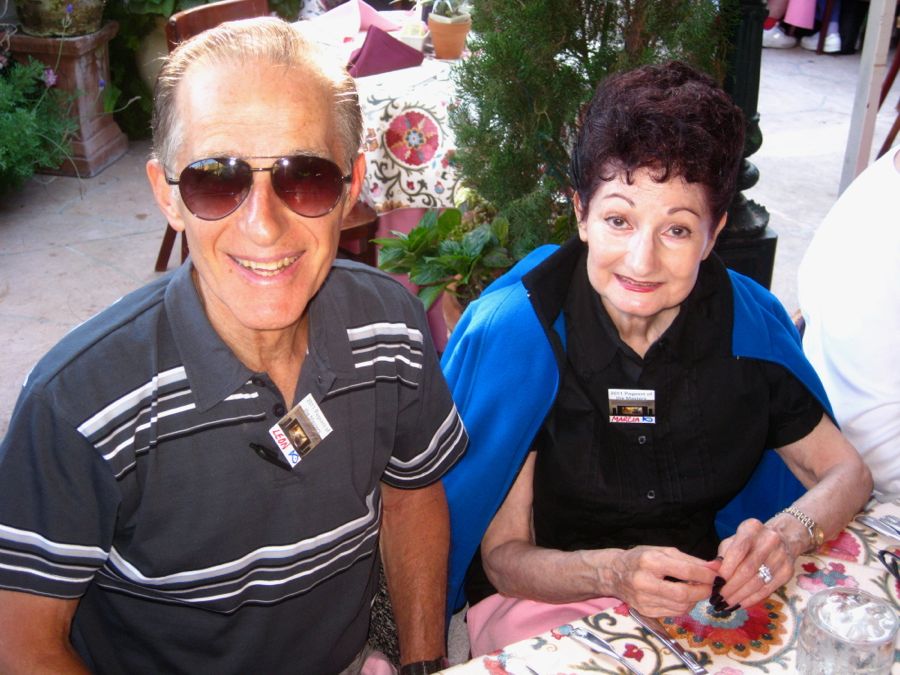 Hollywood Leon

"I like Hollywood and black and white movies!"

Yes... Thanks to Bob we proved we were here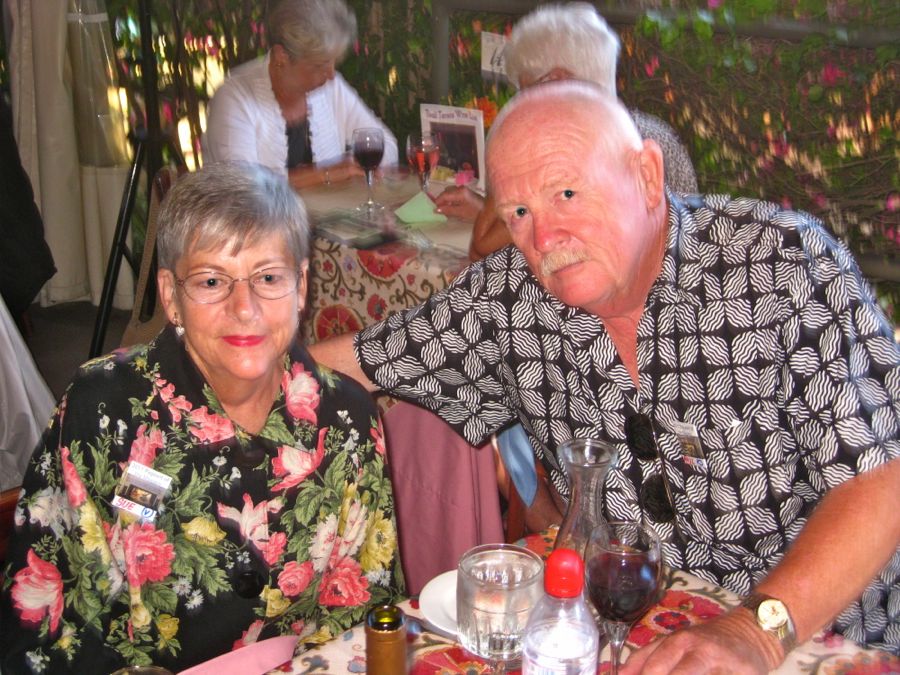 Psssst.... Food is on it's way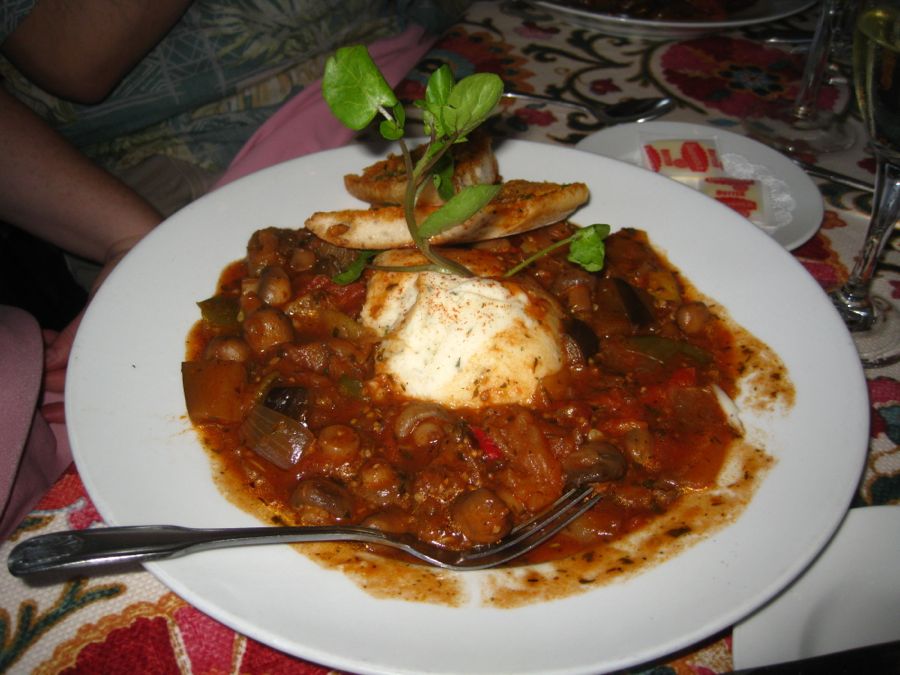 Ratatouille
Did You Know? - Ratatouille (pronounced /ˌrætəˈtuːiː/ rat-ə-too-ee; French: [ʁatatuj]) is a traditional French Provençal stewed vegetable dish, originating in Nice. The full name of the dish is ratatouille niçoise.
Did You Know? - A high-starch (amylopectin), low-amylose round medium- or short- grain rice is usually used to make risotto. Such rices have the ability to absorb liquids and to release starch and so they are stickier than the long grain varieties. The principal varieties used in Italy are Arborio, Baldo, Carnaroli, Padano, Roma, and Vialone Nano.[1] Carnaroli and Vialone Nano are considered to be the best (and most expensive) varieties, with different users preferring one over the other. They have slightly different properties. For example, Carnaroli is less likely than Vialone Nano to get overcooked, but the latter, being smaller, cooks faster and absorbs condiments better.


"Oh dang... I want Ratatouille instead of fishies"
Did You Know? - The word ratatouille comes from Occitan ratatolha and the recipe comes from Occitan cuisine. The French touiller means to toss food. Ratatouille originated in the area around present day Occitan Provença (French: Provence) and Niça (French: Nice); the Catalan "xamfaina" and the Majorcan "tombet" are versions of the same dish.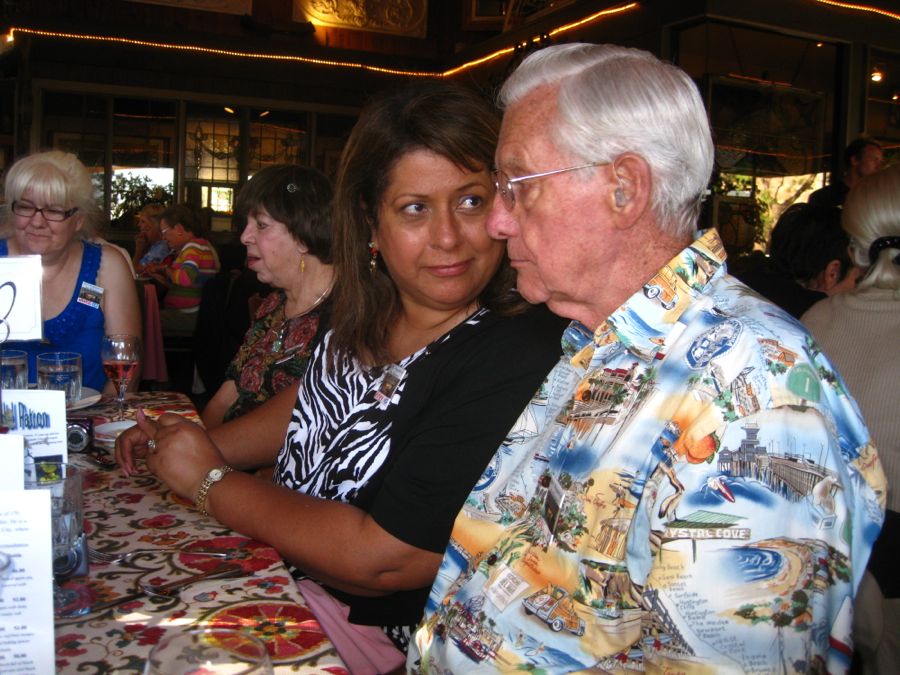 "Del... You ordered fishies two weeks ago!"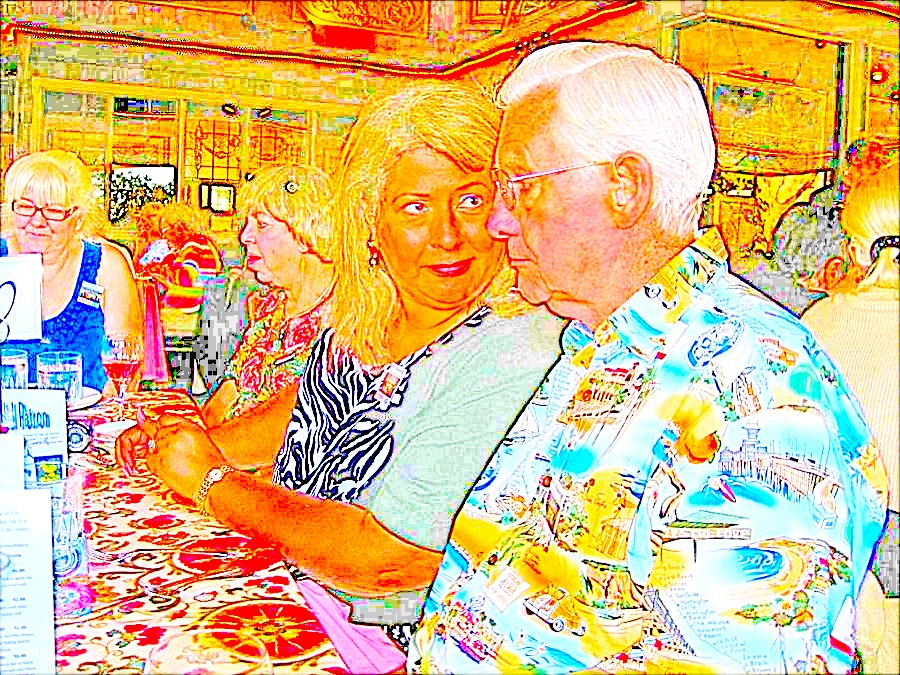 "See what happens when you change your mind!"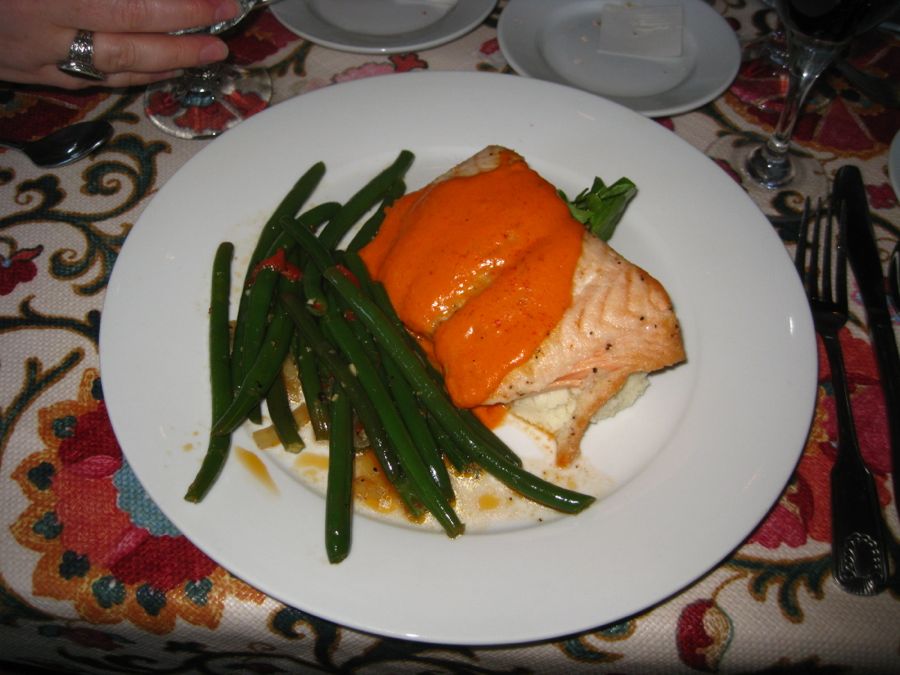 Salmon is served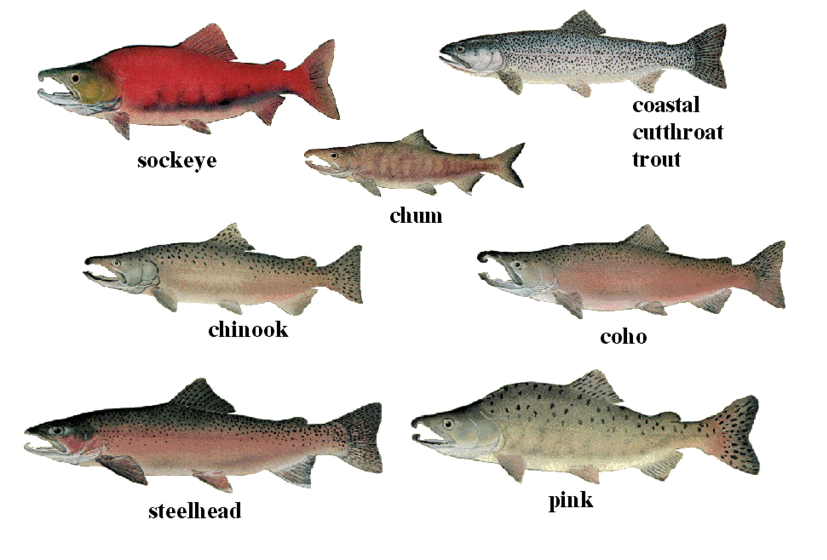 Which one did I get????

Dessert

Poor Ruby

Calories are flowing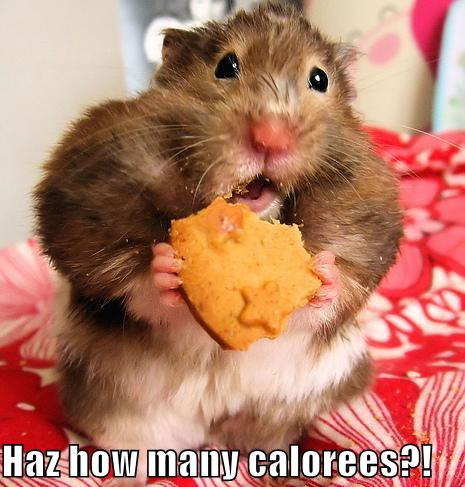 Here's mud in your eye

I feel different now
Did You Know? - Mud In Your Eye - It comes from the Gospel of John 9:6-7. This is the story of Jesus healing the man born blind...by putting mud, made from spittle and dust, in his eyes and telling him to go wash it off in the Pool of Siloam.

Love is still in the air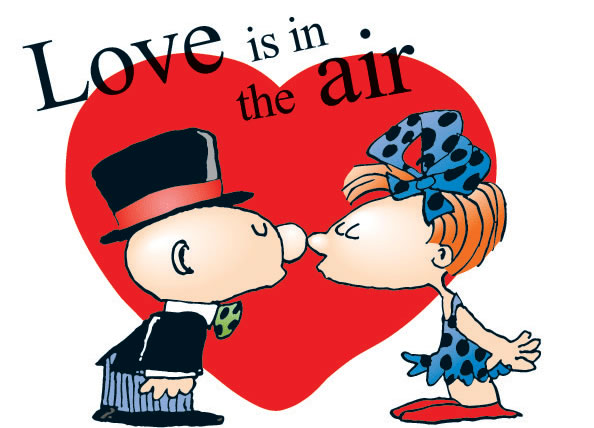 Time To 'Splain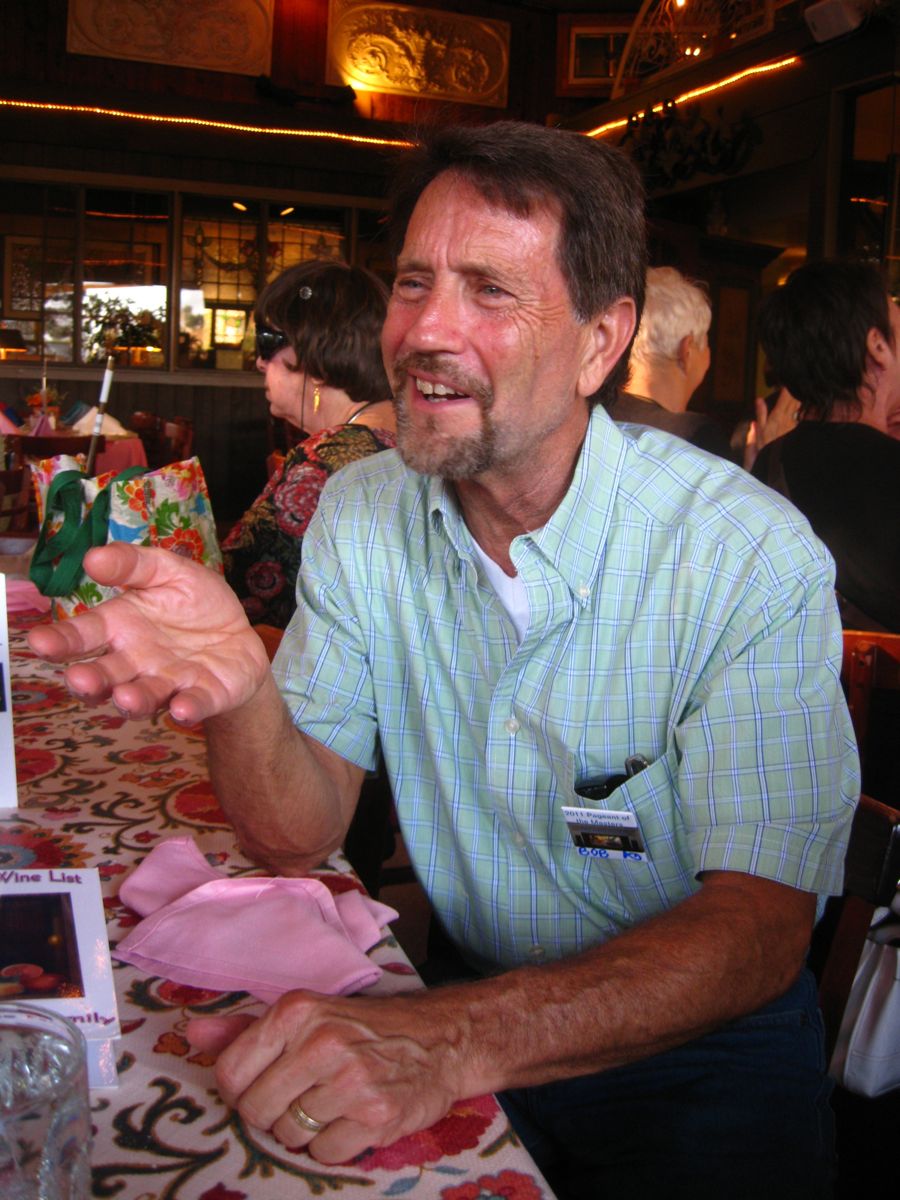 Bob now 'splains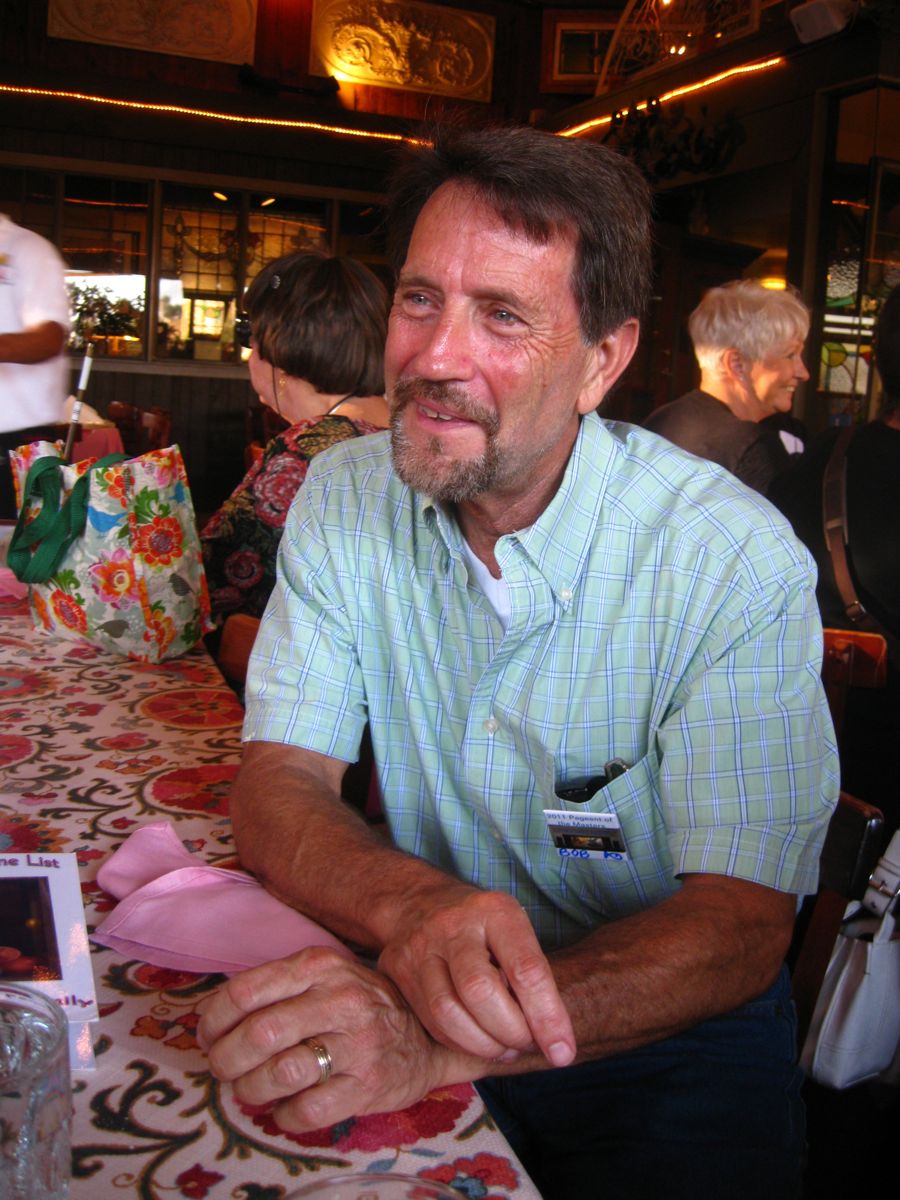 "What did I say????"

Kathy attempts to assist Bob in 'splaining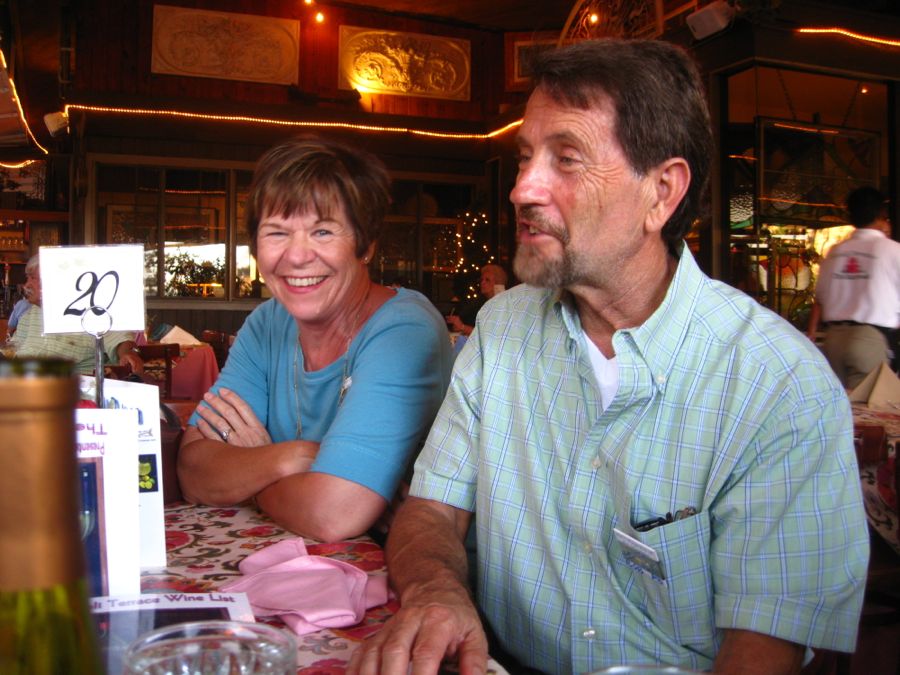 Now they are both confused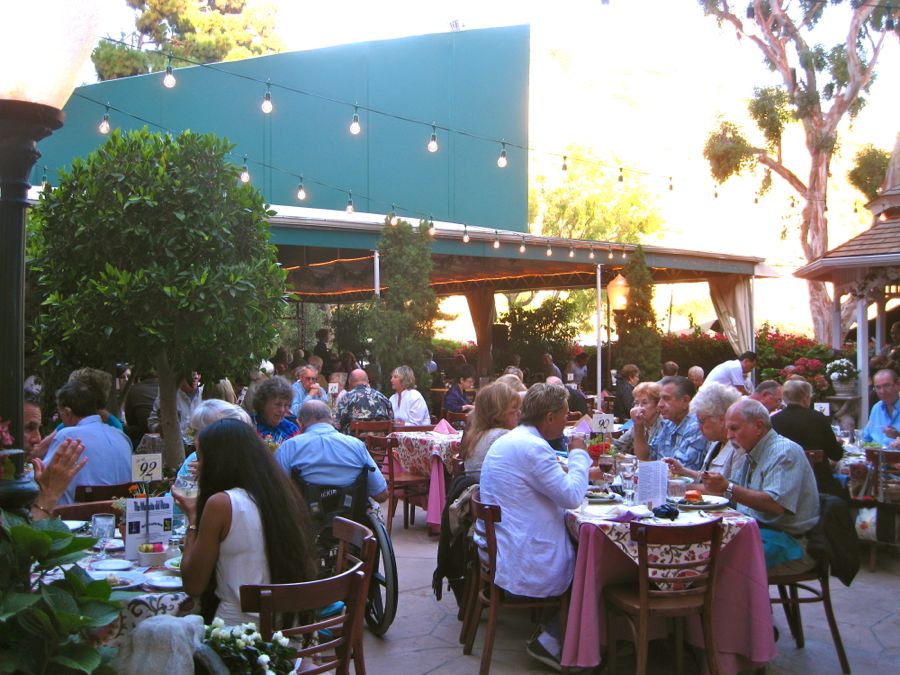 We head out to see the show....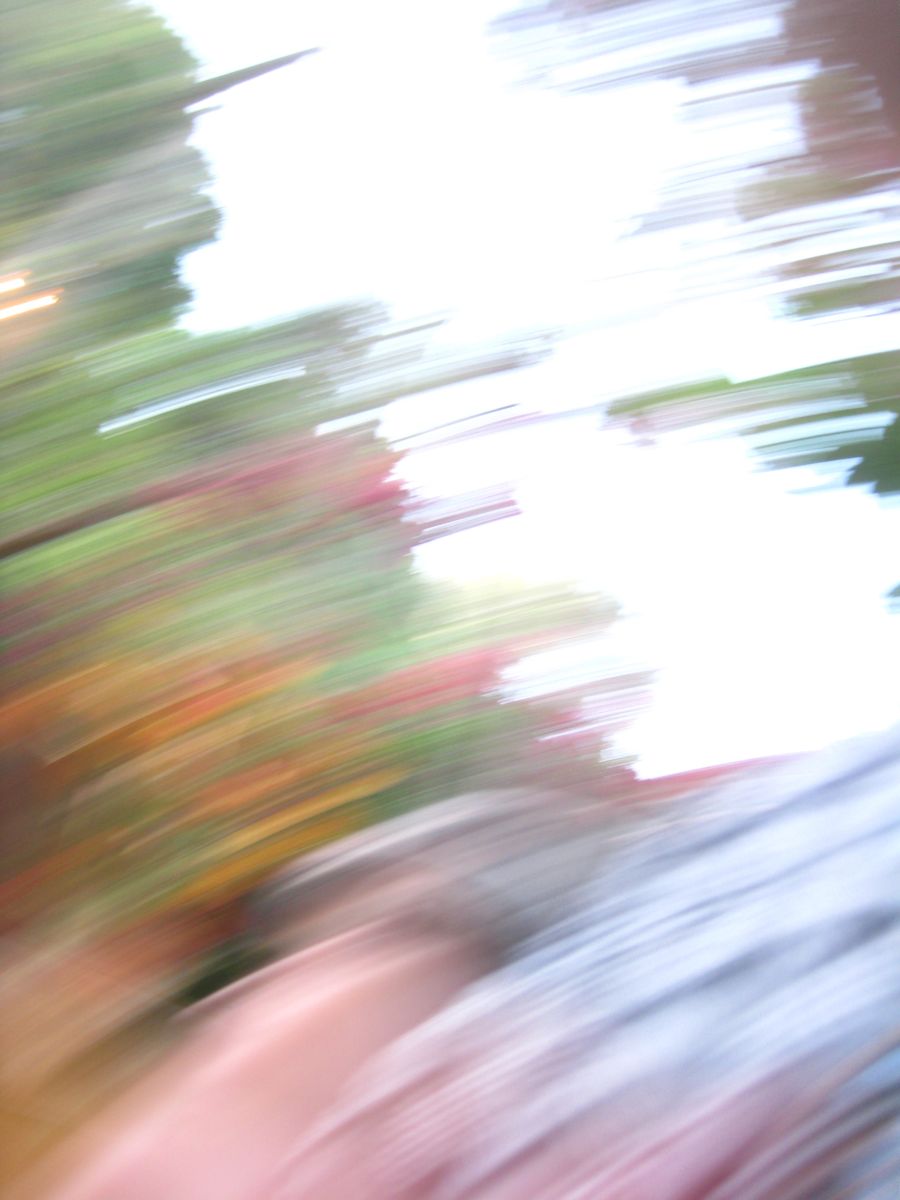 Is this the first piece of art OR did Paul sneeze while taking a picture?
Entertainment In The Post Dinner Period

The band played on....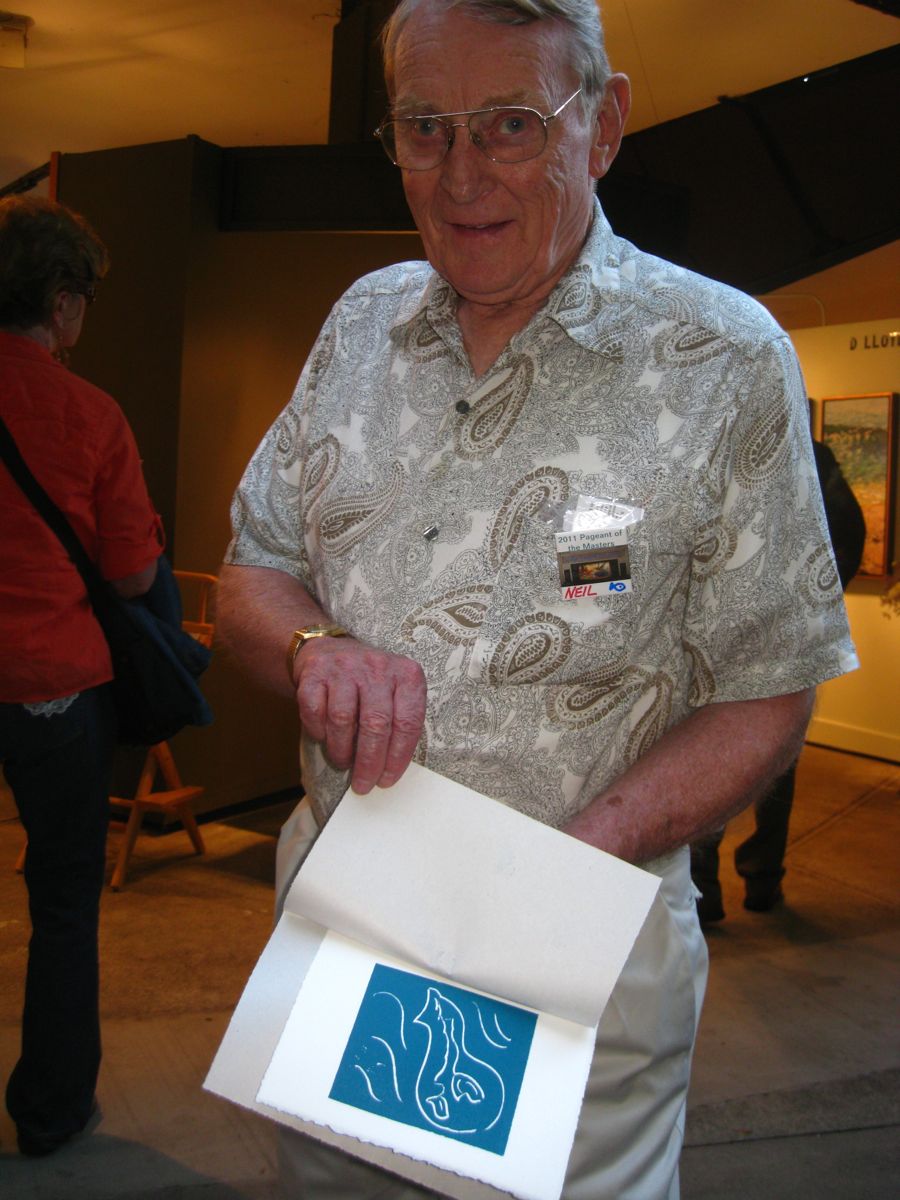 Neal made is own artwork by going to the childrens are and begging for a crayon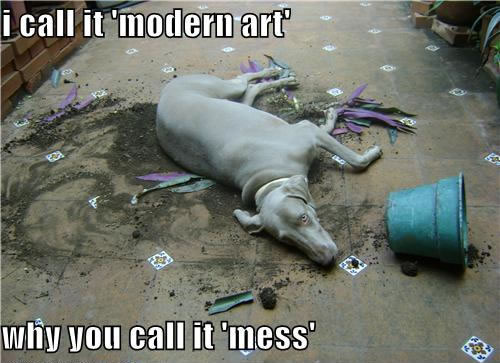 A Short After Dinner Stroll To The Beach
Did You Know? - Laguna Beach is the second oldest city in Orange County, second to Anaheim.
Settlers arriving after the American Civil War found scarce amounts of land available for homesteading, and one such tract, known then simply as "the public lands" was the coastal strip from Laguna Canyon to Three Arch Bay. During the 1870s, a small community named Arch Beach had been started at the mouth of Bluebird Canyon. By the early 1880s most of the land around its small Post Office and general store had been subdivided. At about the time that Orange County separated from Los Angeles County and became independent in 1889, the community was caught in an economic downturn.
When the economy renewed itself, the decision was made to relocate the town to the mouth of Laguna Canyon. This was possible because a dispute with the Irvine ranch over the public right to traverse Laguna Canyon had been resolved in the courts, allowing an additional means of access to the coast. The streets were laid out in a grid plan despite the location's hilly nature, which has resulted in some streets having extremely steep inclines.

Tivoli Terrance to the beach was about 0.6 miles

Laguna has artwork all over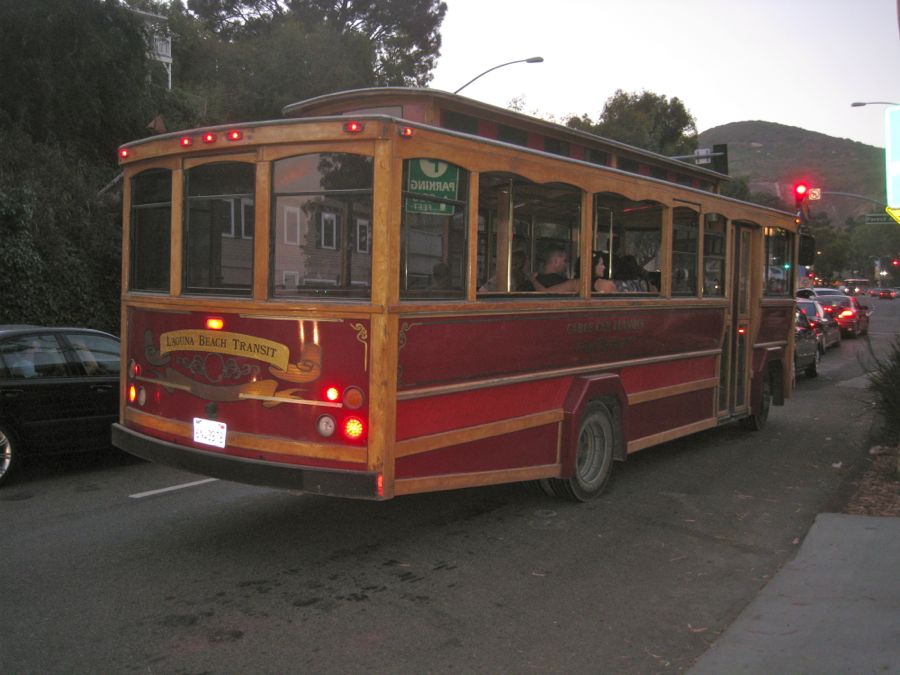 Busses run all the time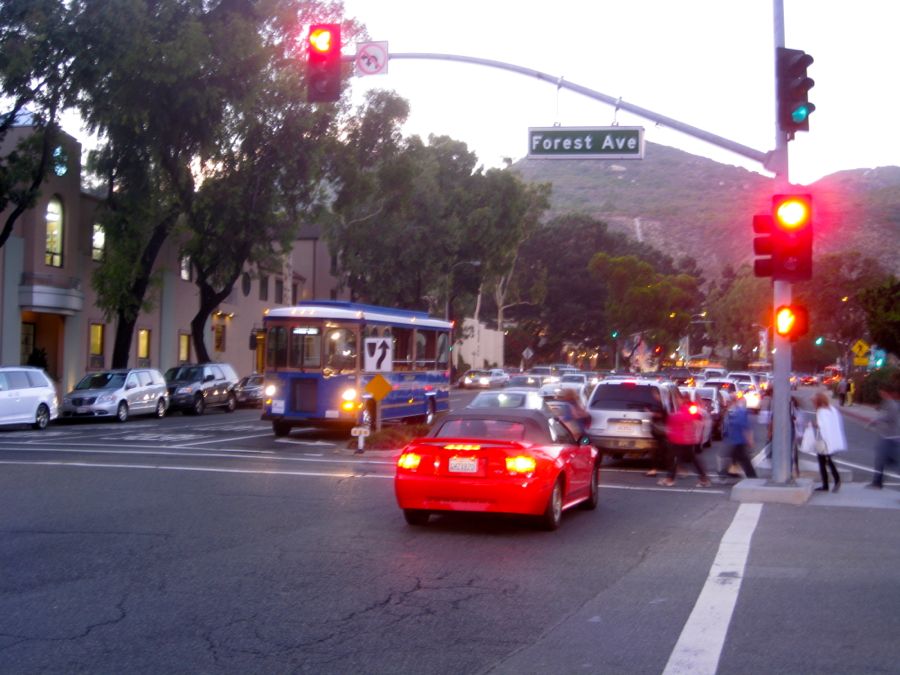 Must be show time
Time For The Show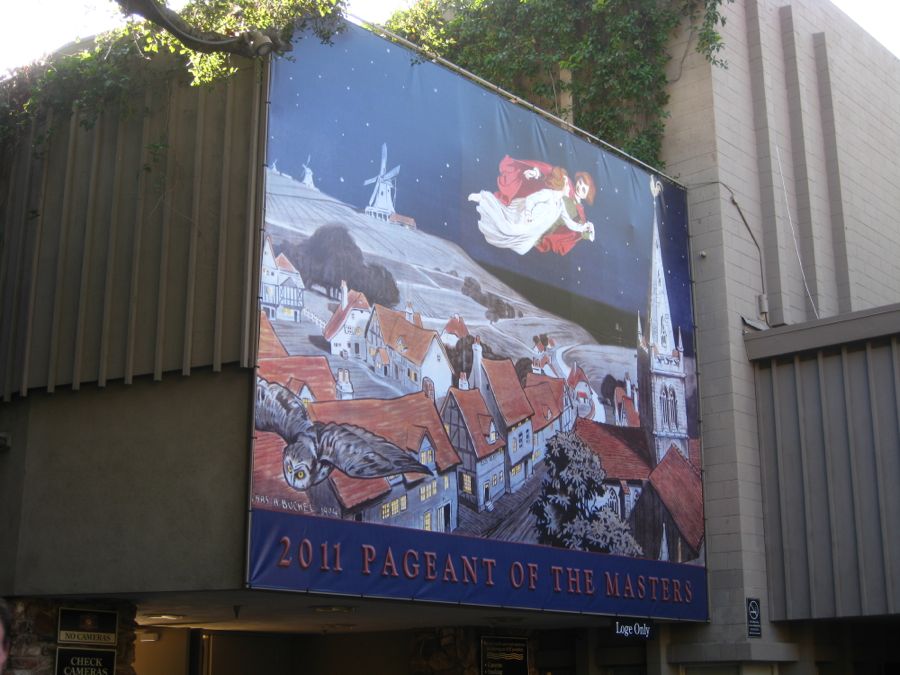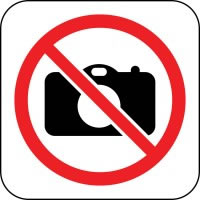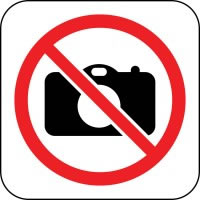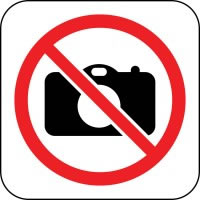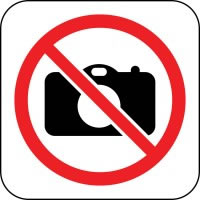 We honor their NO CAMERAS request so.....
Details On The First Six Presentations....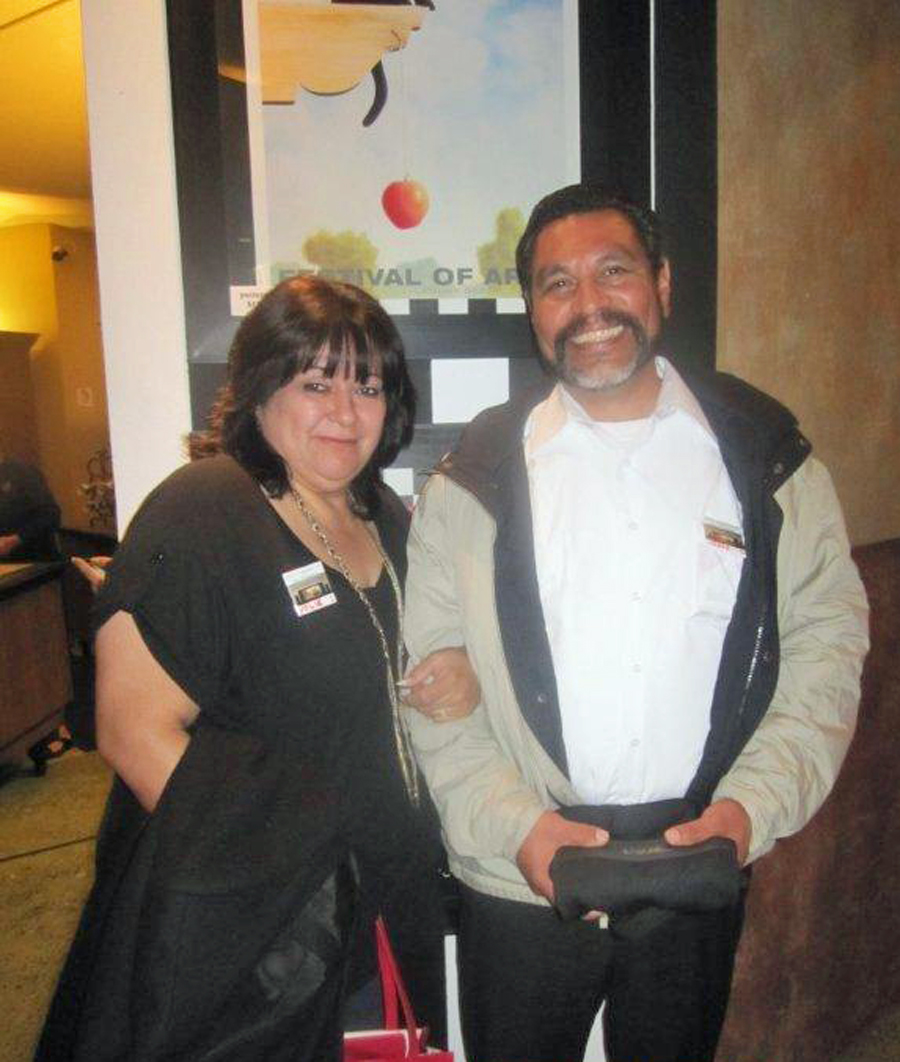 Yolie and Jesse joined us immediately after dinner

#1 - Peter Pan and Wendy by Charles Buchel in 1904
Did You Know? -Charles Buchel (1872-1950, born Karl August Büchel) was the artist who may have produced the first visual depiction of Peter Pan. He painted a poster (65x90cm) to promote the first production of Peter Pan, or The Boy Who Wouldn't Grow Up in 1904.
He was a theatre enthusiast, and painted numerous actors of the late Victorian and early Edwardian era, often in stage costume. Some of his oil paintings can today be found at the National Portrait Gallery in London. He illustrated theatre programs, posters, and stage magazines. His poster illustrations were published as advertising postcards for the associated stage production.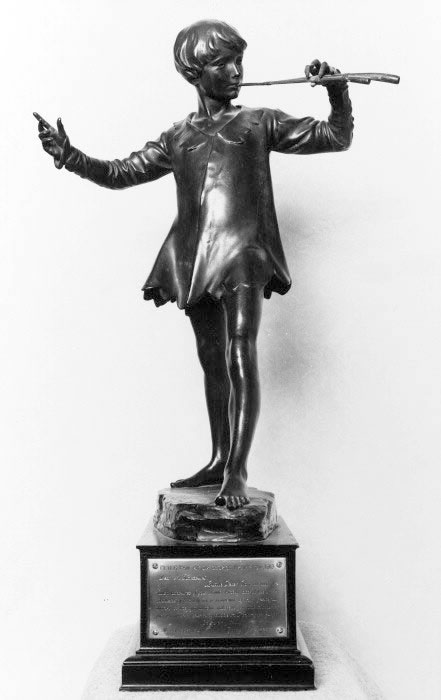 #2 - Peter Pan Memorial by Frampton 1912
Did You Know? -Sir George James Frampton, RA (18 June 1860 – 21 May 1928) was a notable British sculptor and leading member of the New Sculpture movement.
Among Frampton's notable public sculptures are the figures of Peter Pan playing a set of pipes, the lions at the British Museum and the Edith Cavell monument that stands outside the National Portrait Gallery, London.[4] There are seven casts of the Peter Pan statue, following an original commission by J. M. Barrie.

#3 - The Meeting of Oberon and Titania, 1905 - Arthur Rackham
Did You Know? - Rackham was born in London as one of 12 children. At the age of 18, he worked as a clerk at the Westminster Fire Office and began studying part-time at the Lambeth School of Art.
In 1892 he left his job and started working for The Westminster Budget as a reporter and illustrator. His first book illustrations were published in 1893 in To the Other Side by Thomas Rhodes, but his first serious commission was in 1894 for The Dolly Dialogues, the collected sketches of Anthony Hope, who later went on to write The Prisoner of Zenda. Book illustrating then became Rackham's career for the rest of his life.
In 1903 he married Edyth Starkie, with whom he had one daughter, Barbara, in 1908. Rackham won a gold medal at the Milan International Exhibition in 1906 and another one at the Barcelona International Exposition in 1912. His works were included in numerous exhibitions, including one at the Louvre in Paris in 1914. Arthur Rackham died in 1939 of cancer in his home in Limpsfield, Surrey.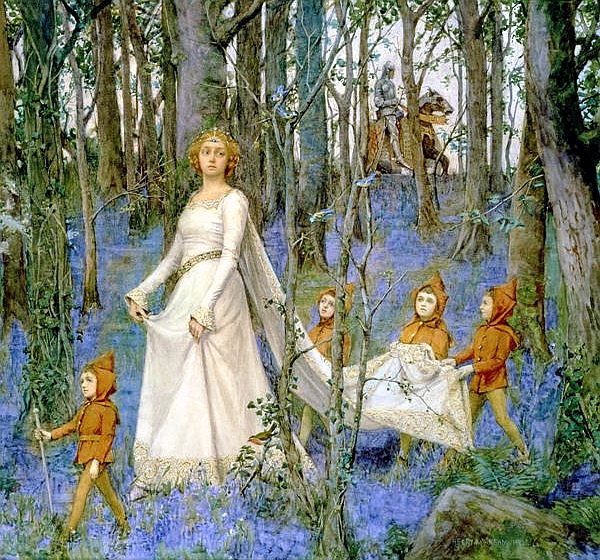 #4 - The Fairy Wood by Henry Rheam in 1908
Did You Know? - Henry Meynell Rheam. (1859-1920). English Pre-Raphaelite painter and associated with the Newlyn School of painters. Rheam painted mostly in watercolour. He specialised in romantic paintings in the Pre-Raphaelite style. He can be compared to Eleanor Fortescue Brickdale and John Byam Shaw. Born in Birkenhead, Rheam first exhibited in London in 1887. He studied in London, Paris and Germany and was primarily a watercolourist. Rheam first settled in Polperro but moved to Newlyn in 1890.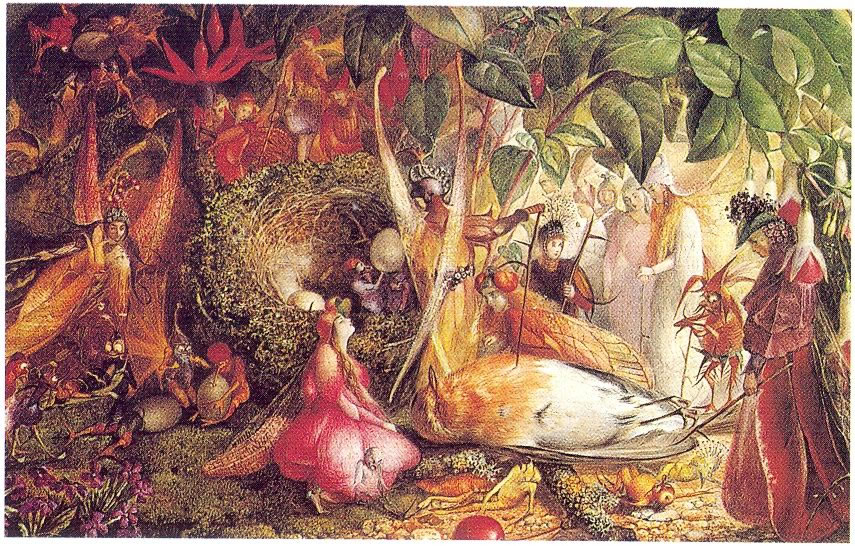 #5 - Who Killed Cock Robin by John Fitzgerald 1860
Did You Know? - John Anster Christian Fitzgerald (1819? – 1906) was a Victorian era fairy painter and portrait artist. He was nicknamed "Fairy Fitzgerald" for his main genre. Many of his fairy paintings are dark and contain images of ghouls, demons, and references to drug use; his work has been compared to the surreal nightmare-scapes of Hieronymus Bosch and Pieter Brueghel.
The year of his birth, in Lambeth Surrey, has been variously given, though 1819 is the likeliest. He was of Irish ancestry, the son of the minor poet William Thomas Fitzgerald.
In 1849 Fitzgerald married Mary Ann Barr and they raised at least four sons and a daughter.
As an artist, Fitzgerald appears to have been largely self-taught. His work was first shown at the Royal Academy of Arts, London, in 1845; he also exhibited at the British Institution, the Society of British Artists, and the Watercolour Society. In the late 1850s he created a series of Christmas fairies for The Illustrated London News.
Fitzgerald gave his works titles that often gave little clear indication of their subjects; art dealers and collectors frequently re-named them, causing great confusion in his artistic canon. Some of Fitzgerald's titles, like The Pipe Dream and The Captive Dreamer, suggest that "Fitzgerald was familiar with the opium dens which, with choral and laudanum, represented the Victorian drug scene."
Fitzgerald created "remarkable fairy pictures of pure fantasy, rarely based on any literary theme." His paintings often use brilliant colors, especially reds, blues, and purples, as in The Captive Robin shown here. He produced a major series of paintings on the Cock Robin theme—among others, Who Killed Cock Robin?, Cock Robin Defending his Nest, and Fairies Sleeping in a Bird's Nest (the last furnished with a frame made out of twigs)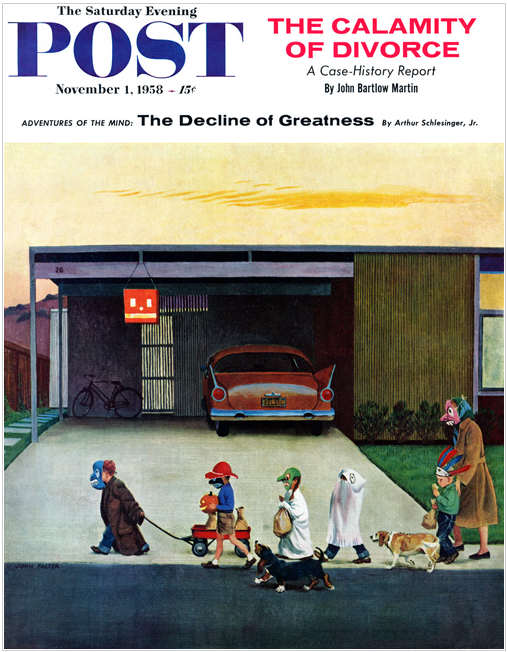 #6 - Saturday Evening Post from 1958
The Program Was About Two Hours In Length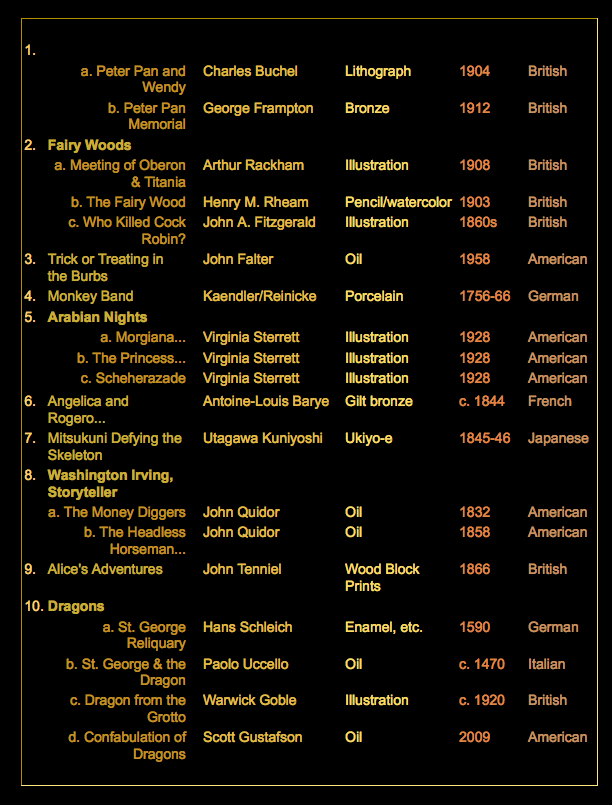 Thank You Vicky & Del for making this evening so nice!