Los Angeles Natural History Museum (10/20/2009)
Museum Page One - Museum Page Two - Museum Page Three - Museum Page Four
Did you know? - The Natural History Museum of Los Angeles County opened in Exposition Park, Los Angeles, California, USA in 1913 as the Museum of History, Science, and Art. The moving force behind it was a museum association founded in 1910. Its distinctive main building, with fitted marble walls and domed and colonnaded rotunda, is on the National Register of Historic Places. Additional wings opened in 1925, 1930, 1960, and 1976.
The museum was divided in 1961 into the Los Angeles County Museum of History and Science and the Los Angeles County Museum of Art (LACMA). LACMA moved to new quarters on Wilshire Boulevard in 1965, and the Museum of History and Science was renamed the Los Angeles County Museum of Natural History. Eventually, the museum renamed itself again, becoming the Natural History Museum of Los Angeles County.
The museum is the largest in the western United States, and its collections include nearly 33 million specimens and artifacts and cover 4.5 billion years of history.


Last time we were here was when Valentine was about one year old... 14+ years ago!

Not too far away!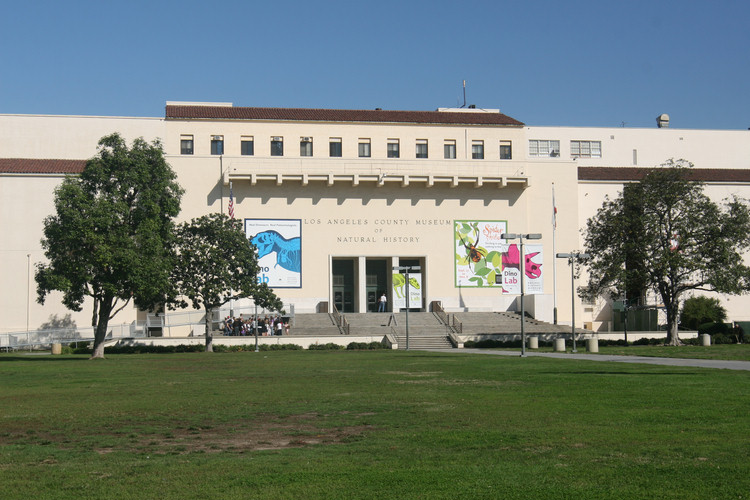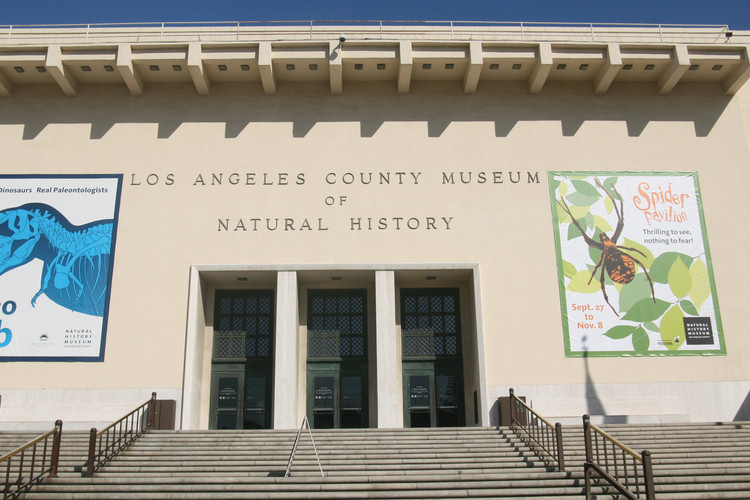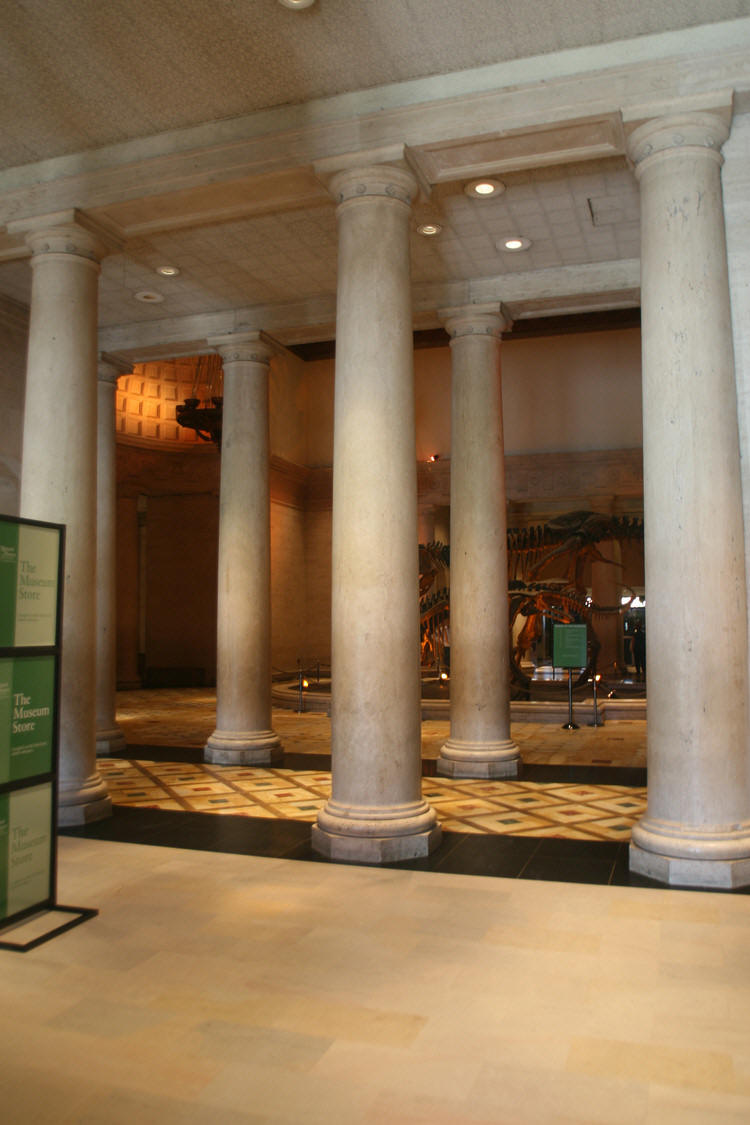 Dinosaurs Are Mandatory
Did you know? - The term "dinosaur" was coined in 1842 by Sir Richard Owen and derives from Greek δεινός (deinos) "terrible, powerful, wondrous" + σαῦρος (sauros) "lizard". Through the first half of the 20th century, most of the scientific community believed dinosaurs to have been sluggish, unintelligent cold-blooded animals. Most research conducted since the 1970s, however, has supported what has since become the scientific consensus view: that dinosaurs were active animals with elevated metabolisms and numerous adaptations for social interaction.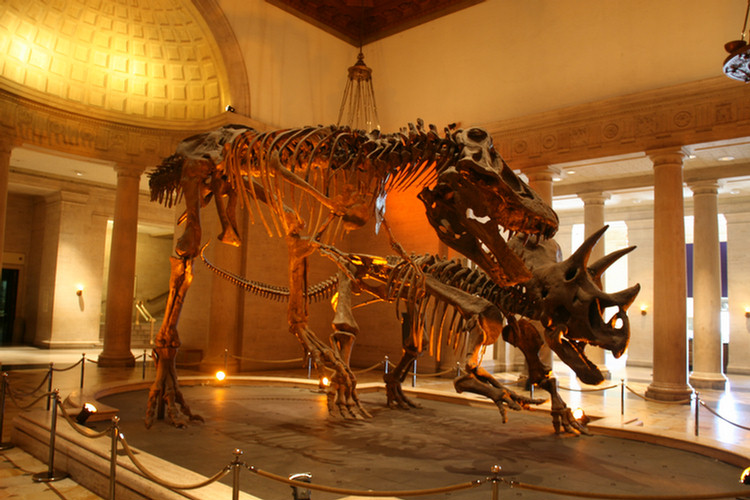 The first thing one sees when entering the museum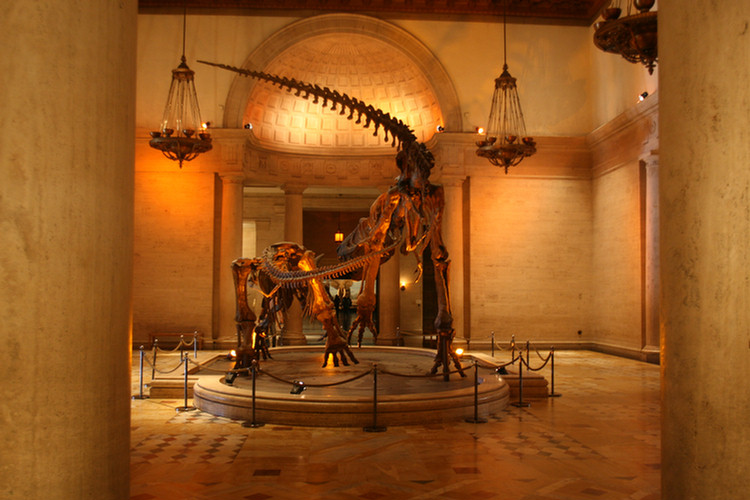 Our First Stop Was The Discovery Center And Insects And Insect Zoo
Did you know? - The Insect Zoo has been a permanent, year-round fixture at the Museum since 1992. Its mission: to educate and inspire wonder about the world of insects and other bugs. With 30 terrariums and aquariums that are frequently updated with new specimens, there's always some new and fascinating creature at the Insect Zoo with an intriguing story waiting to be told. Learn about spiders that can spin silk so strong that humans could produce bulletproof vests from the material and meet beetles that create their own waterproof barriers out of wax.

Located on the ground floor of the museum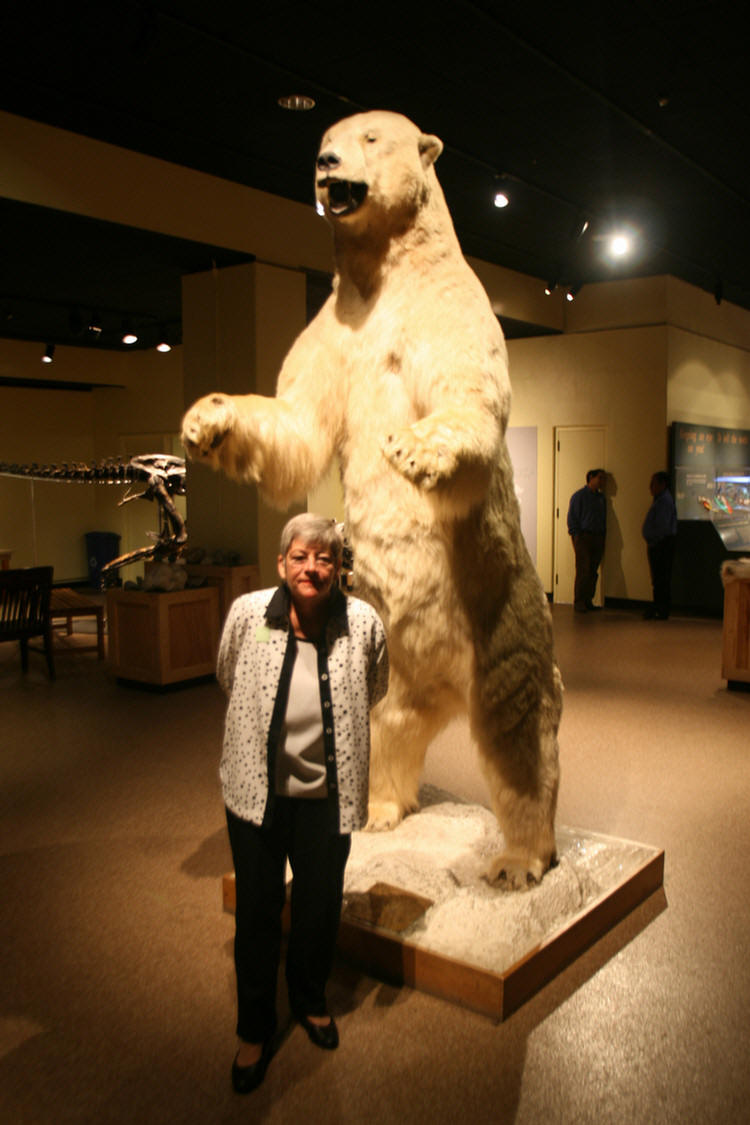 Look out Sue!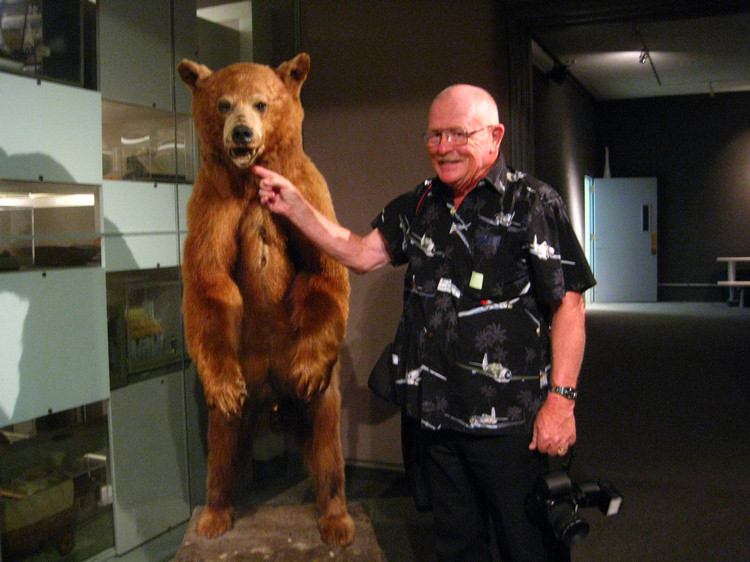 We like bears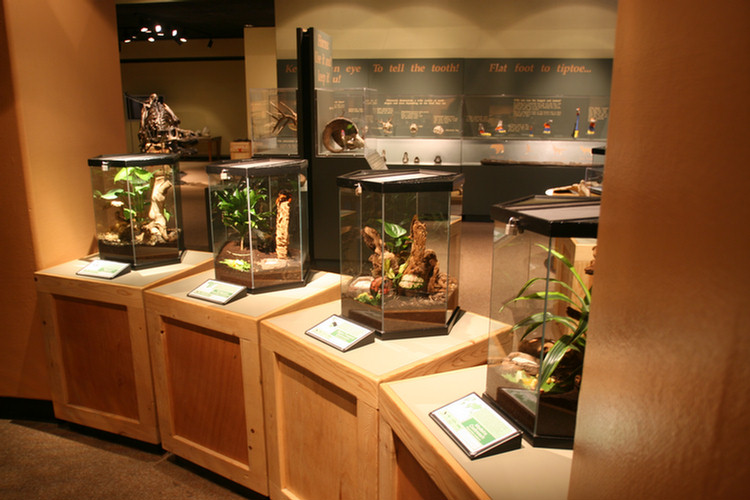 Terrariums are located all over the "Zoo"
Did you know? - A vivarium (Latin, literally for "place of life"; plural: vivaria or vivariums) is a usually enclosed area for keeping and raising animals or plants for observation or research. Often, a portion of the ecosystem for a particular species is simulated on a smaller scale, with controls for environmental conditions.
A vivarium may be small enough to sit on a desk or table, such as a terrarium or an aquarium, or may be a very large structure, possibly outdoors. Large vivaria, particularly those holding organisms capable of flight, typically include some sort of a dual-door mechanism such as a sally port for entry and exit, so that the outer door can be closed to prevent escape before the inner door is opened.

Animal eye locations defined if it is a hunter or a prey!

They even had some fish in the displays

The turtle was interesting to see... The ribs actually join into the shell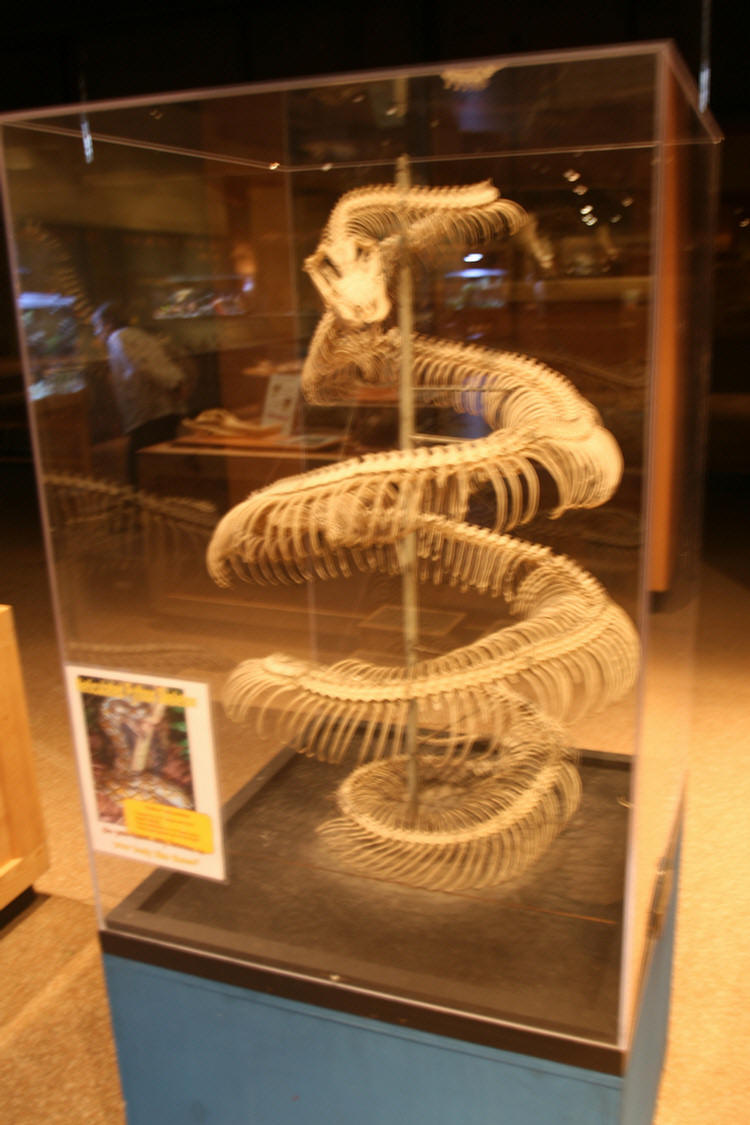 You get the idea... It was dark in this section of the zoo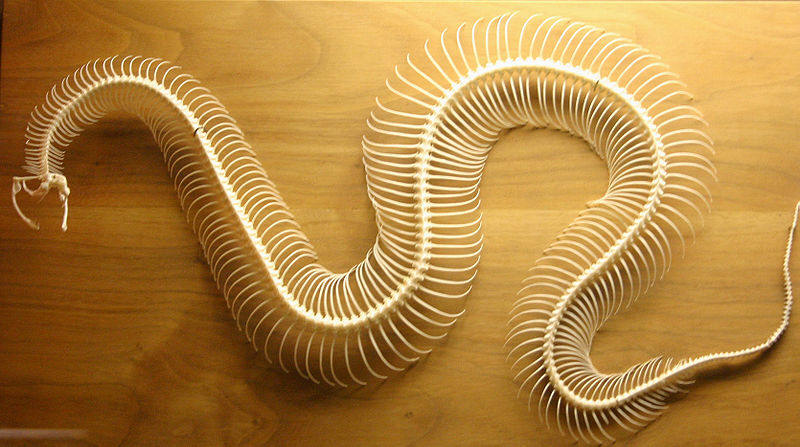 Sue was looking for the millipedes
Did you know? - Millipedes, known as shongololos in South African English, are arthropods that have two pairs of legs per segment (except for the first segment behind the head which does not have any appendages at all, and the next few which only have one pair of legs). Each segment that has two pairs of legs is a result of two single segments fused together as one. Most millipedes have very elongated cylindrical bodies, although some are flattened dorso-ventrally, while pill millipedes are shorter and can roll into a ball, like a pillbug.
Millipedes are detritivores and slow moving. Most millipedes eat decaying leaves and other dead plant matter, moisturizing the food with secretions and then scraping it in with the jaws. However they can also be a minor garden pest, especially in greenhouses where they can cause severe damage to emergent seedlings. Signs of millipede damage include the stripping of the outer layers of a young plant stem and irregular damage to leaves and plant apices.
The examination of natural history doesn't focus on plants, animals, and fossils alone, but also encompasses the activities of people and cultures and the ongoing relationship between human activity and cultural and natural environments.
Start at the entrance and zigzag through the gallery and you'll see that the exhibit is organized chronologically and marks changes in human settlement of the region, focusing first on open and unsettled spaces and then concentrating on the modern industrial society of the 20th century, with the City of Los Angeles as a final focal point.
The exhibit's 12 themes are: Native Americans, New World Exploration, Spanish Outpost, International Competition, Mexican Territory, War with the U.S., 31st State, Craftsman Style, Agriculture, Land, Sea & Air, Motion Pictures, City of Los Angeles. In this hall the history of the past appears in both artifacts and the records of the people who lived there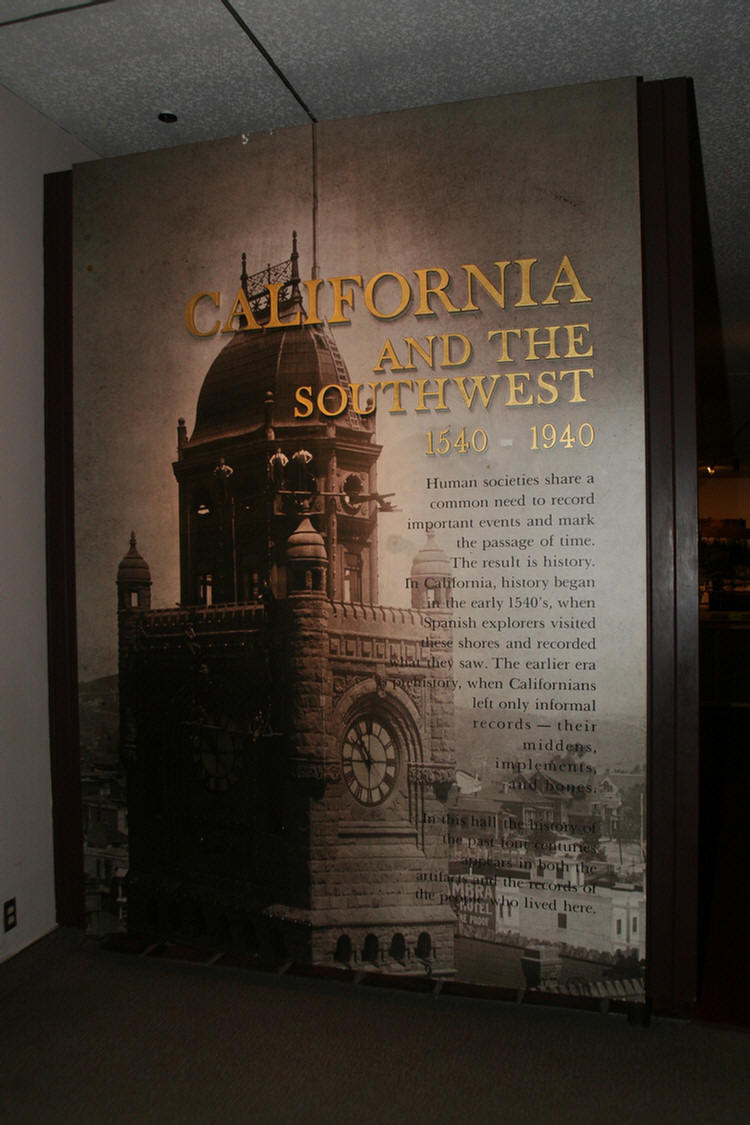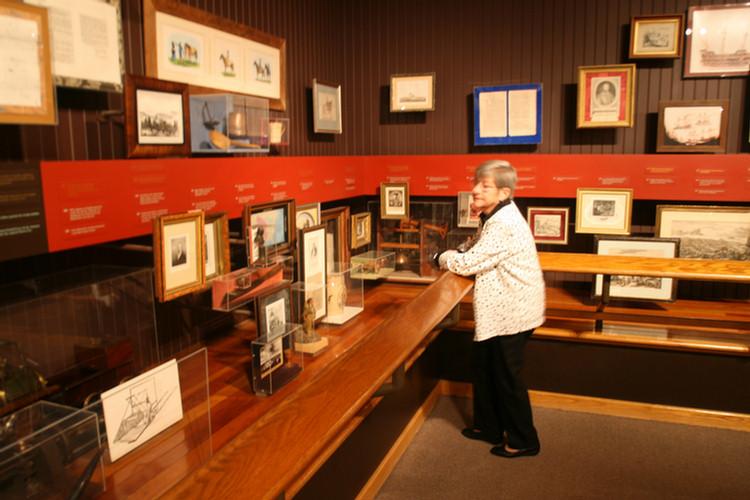 An amazing timeline of our history is laid out on the walls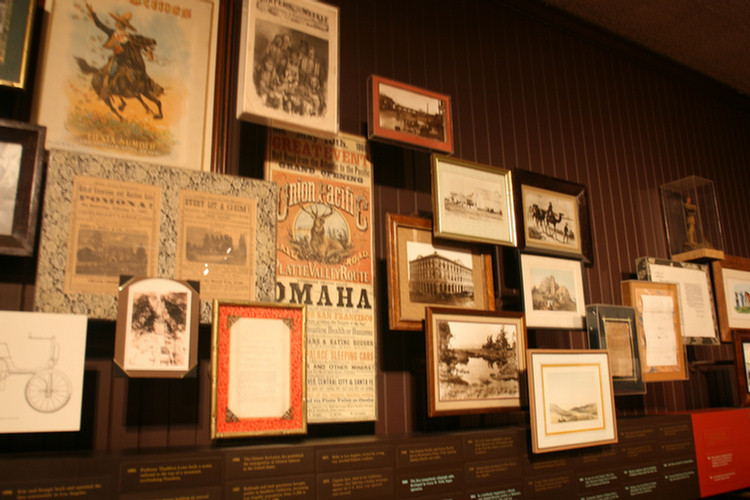 It was great to read each and every entry as we moved along the wall

Real newspapers

Kids came to study the displays (they had assignments)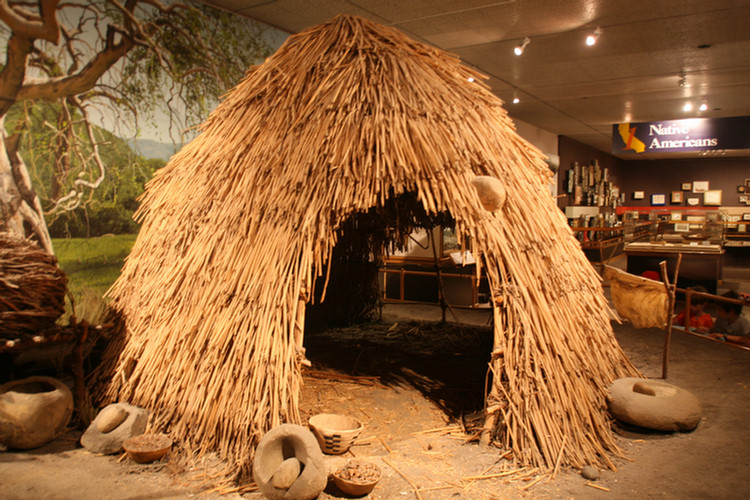 Chain mail of the Spanish warriors
Did you know? - Mail (also maille, often given as chain mail or chain maille or chainmaille) is a type of armor consisting of small metal rings linked together in a pattern to form a mesh.
The word chainmail is of relatively recent coinage, having been in use only since the 1700s; prior to this it was referred to simply as mail.
The word itself refers to the armor material, not the garment made from it. A shirt made from mail is a hauberk if knee-length, haubergeon if mid-thigh length, and byrnie if waist-length. Mail leggings are called chausses, mail hoods coif and mail mittens mitons. A mail collar hanging from a helmet is camail or aventail. A mail collar worn strapped around the neck was called a pixane or standard.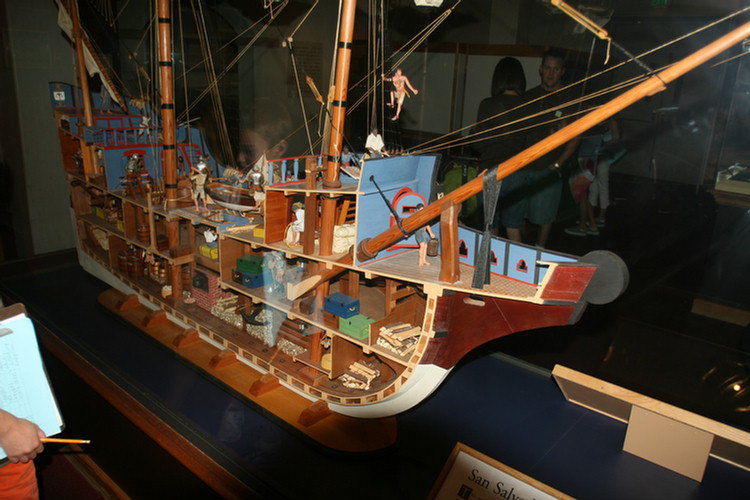 The ships had to have everything on board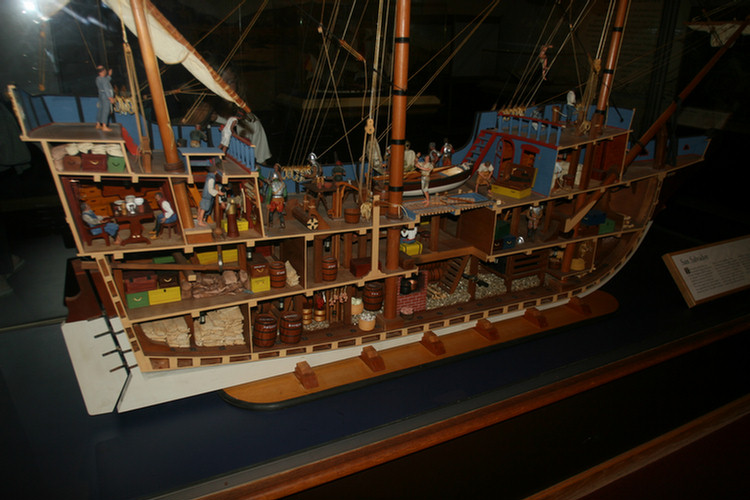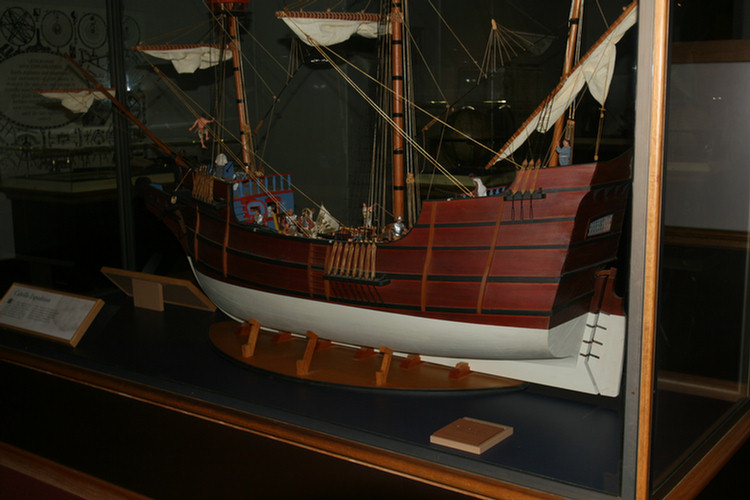 Jed Smith came overland to California
Did you know? - Smith was born in Jericho, New York (now known as Bainbridge) on January 6, 1799. His early New England ancestors include Thomas Bascom, constable of Northampton, Massachusetts, who came to America in 1634. Thomas Bascom was of Huguenot and French Basque ancestry.
Jedediah Strong Smith (born January 6, 1799 — presumed date of death May 27, 1831) was a hunter, trapper, fur trader, trailblazer and explorer of the Rocky Mountains, the American West Coast and the Southwest during the nineteenth century. He was the fourth of twelve children. Jedediah Smith's explorations were significant in opening the American West to expansion by white settlers. According to Maurice Sullivan:
Smith was the first white man to cross the future state of Nevada, the first to traverse Utah from north to south and from west to east; the first American to enter California by the overland route, and so herald its change of masters; the first white man to scale the High Sierras, and the first to explore the Pacific hinterland from San Diego to the banks of the Columbia River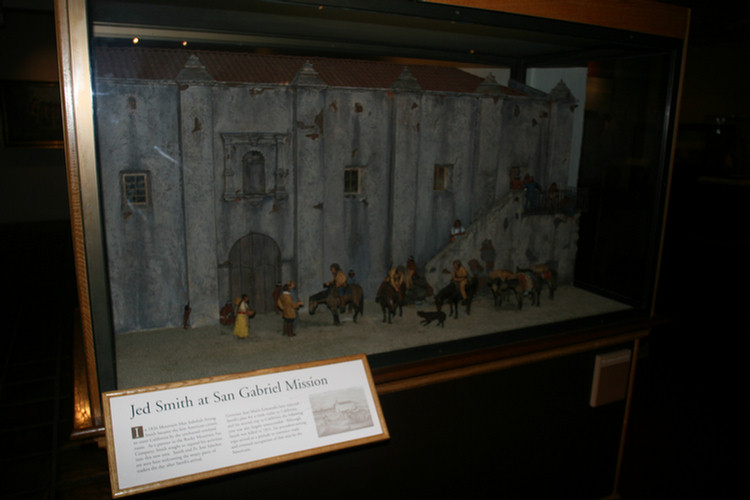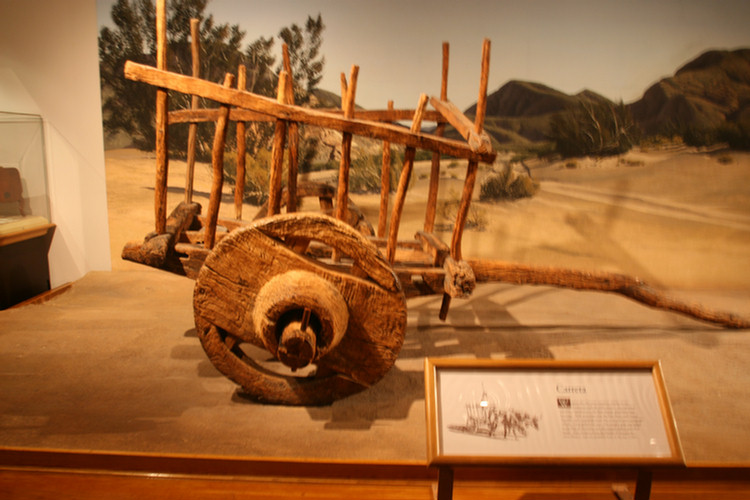 Wooden carts were used all over California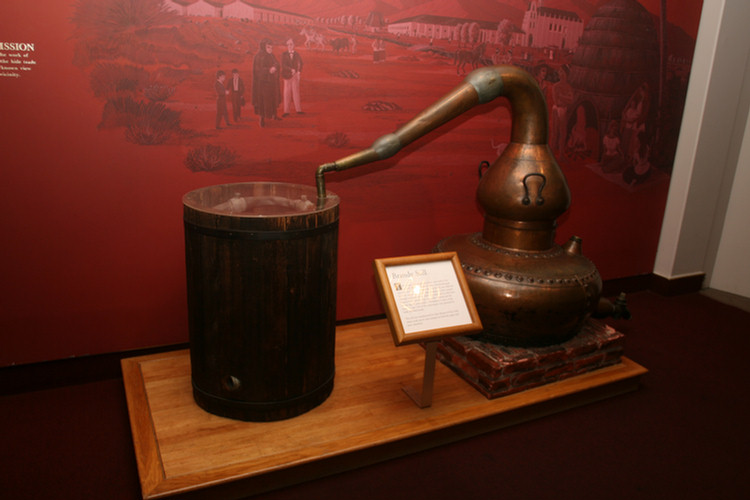 This was a brandy still
Did you know? - Wine with an alcohol concentration of 8% to 12% ABV and high acidity is boiled in a pot still. Vapors of alcohol, water, and numerous aromatic components rise upward and are collected in a condenser coil, where they become a liquid again.
Because alcohol and the aromatic components vaporize at a lower temperature than water, the concentration of alcohol in the condensed liquid (the distillate) is higher than in the original wine.
After one distillation, the distillate, called "low wine," will contain roughly 30% alcohol (ethanol) by volume. The low wine is then distilled a second time. The first 1% or so of distillate that's produced, called the "head," has an alcohol concentration of about 83% and an unpleasant odor, so it is discarded (generally, mixed in with another batch of low wine for future use).
The distillation process continues, yielding a distillate of approximately 70% alcohol (called the "heart"), which is what will be consumed as brandy. The portion of low wine that remains after distillation, called the "tail," will be mixed into another batch of low wine for future use.
Distillation does not simply enhance the alcohol content of wine. The heat under which the product is distilled and the material of the still (usually copper) cause chemical reactions to take place during distillation.
This leads to the formation of numerous new volatile aroma components, changes in relative amounts of aroma components in the wine, and the hydrolysis of components such as esters.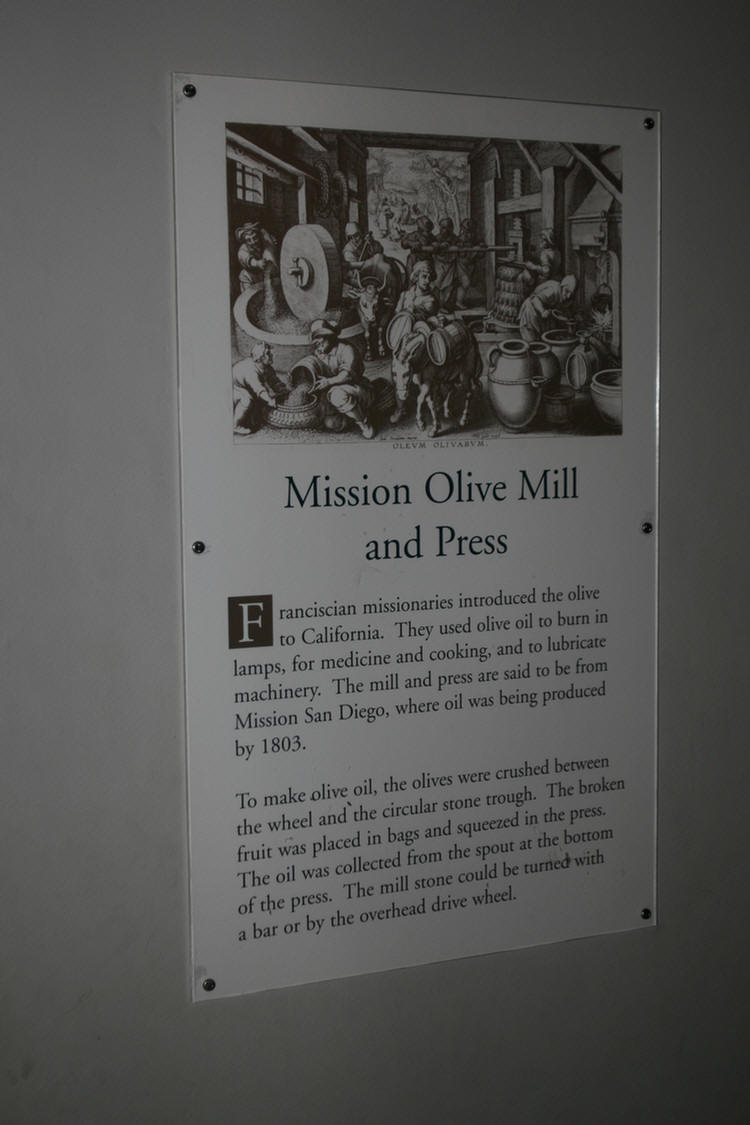 Did you know? - People have used olive presses since Greeks first began pressing olives over 5000 years ago.[citation needed] Extant Roman era olive presses survive to the present time, with a notable collection present at Volubilis in Morocco.[2] An olive press works by applying pressure to olive paste to separate the liquid oil and vegetation water from the solid material. The oil and vegetation water are then separated by standard decantation.
This basic method is still widely used today, and it's still a valid way of producing high quality olive oil if adequate precautions are taken.
First the olives are ground into an olive paste using large millstones. The olive paste generally stays under the stones for 30 to 40 minutes. This has three objectives:
to guarantee that the olives are well ground
to allow enough time for the olive drops to join to form the largest droplets of oil
to allow the fruit enzymes to produce some of the oil aromas and taste
Rarely, olive oil mills use a modern crushing method with a traditional press.
After grinding, the olive paste is spread on fiber disks, which are stacked on top of each other, then placed into the press. Traditionally the disks were made of hemp or coconut fiber, but in modern times they're made of synthetic fibers which are easier to clean and maintain.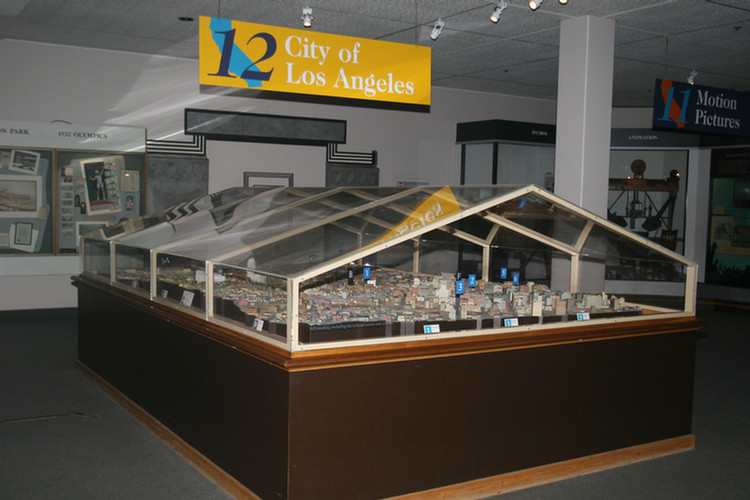 A model of early Los Angeles is still under construction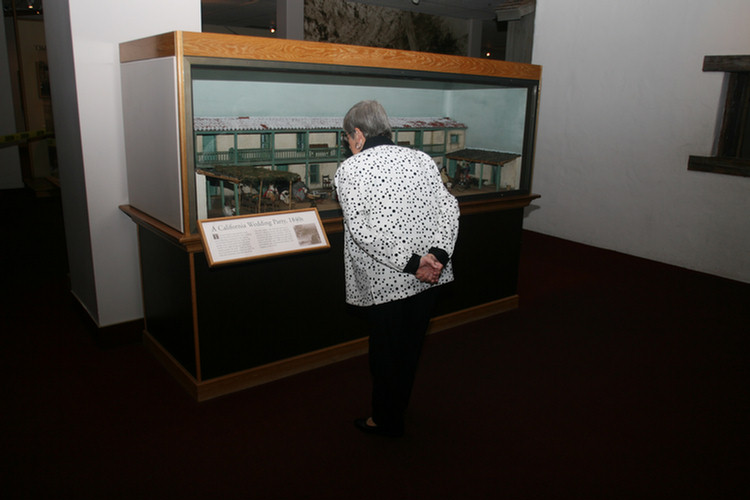 The dioramas are really quite well done
Did you know? - The word diorama can refer either to a nineteenth century mobile theatre device, or, in modern usage, a three-dimensional full-size or miniature model, sometimes enclosed in a glass showcase for a museum. Dioramas are often built by hobbyists as part of related hobbies such as military vehicle modeling, miniature figure modeling or aircraft modeling.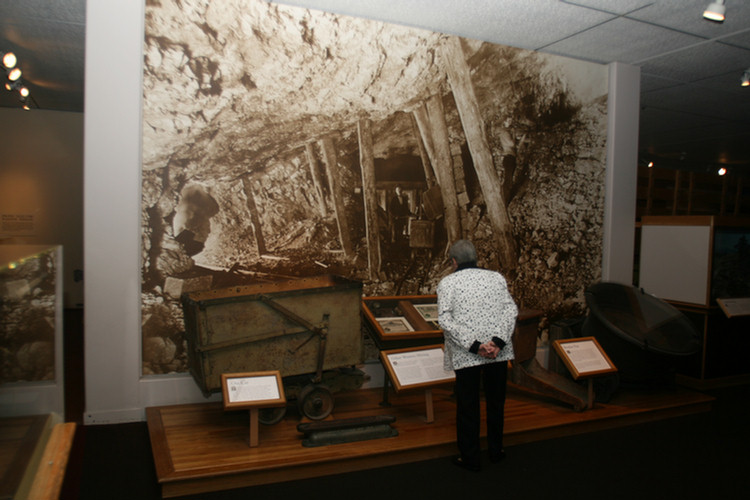 Mining was big in California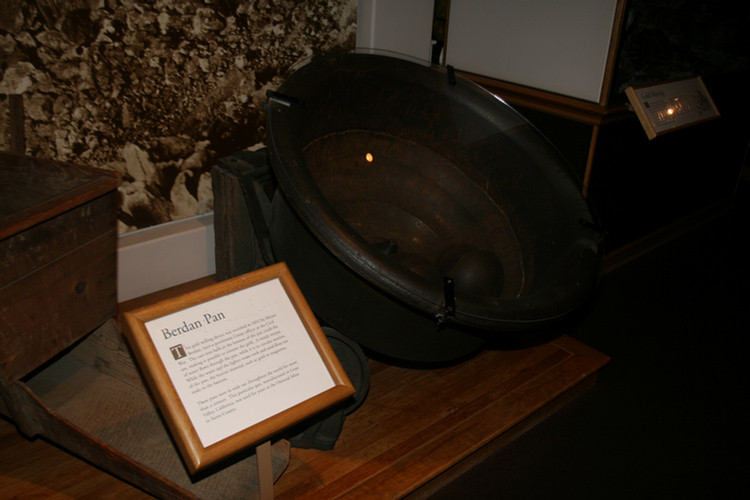 Obtaining gold made people creative
Did you know? - A Berdan pan was a grinding pan. The circular pan was set at an angle, and as the pan revolved, a heavy iron ball rotated in the lowest point, grinding sand or mineral to a fine powder. It was frequently used to grind impurities out of amalgam (gold in mercury), and to grind batch-lots of heavy mineral.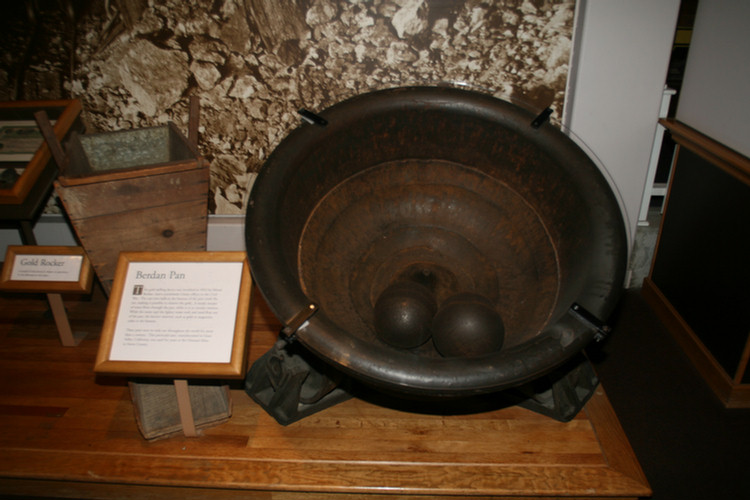 Looks odd but it apparently worked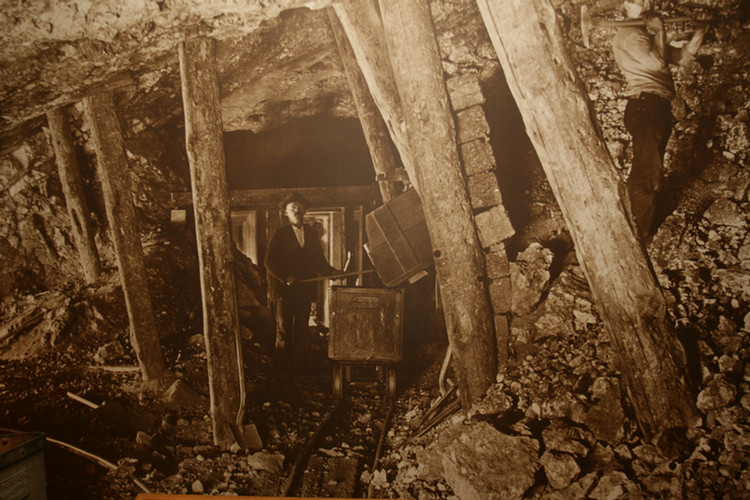 Where was OSHA when you needed them?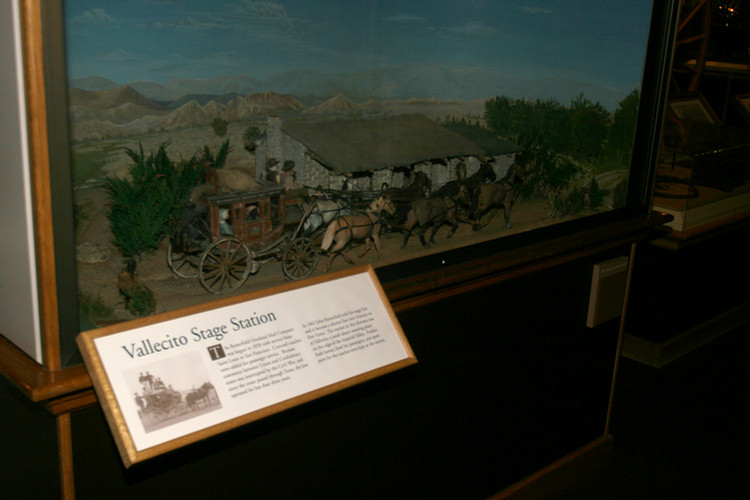 Did you know? - Highlights for Vallecito Stage Coach Station: The original Butterfield Stage Coach Route provided the first regularly scheduled mail and passenger service across the United States. Following the Gold Rush, San Francisco was a top West Coast destination.
To reach it, the Stage Coach Trail avoided the Rocky Mountains by heading through the Southwestern United States. The Butterfield Route sent passengers through hundreds of miles of desert landscape before heading north to reach San Francisco.
The Vallecito Stage Coach Station was the final desert station where weary travelers could get out to enjoy natural hot springs and view the first signs of forests and vegetation as they glanced up at the San Diego Mountains (now part of the Cleveland National Forest).
You can visit the restored Butterfield Stage Coach Station to appreciate the arduous cross country journey that occurred before the creation of the transcontinental railroad and the inventions of cars and planes.
Soak in the nearby Agua Caliente Hot Springs, look east to the never ending desert and then west to the San Diego Mountains and imagine what it would have felt like to see green vegetation after a long trip through the desert and knowing the Pacific Ocean was almost within their grasp.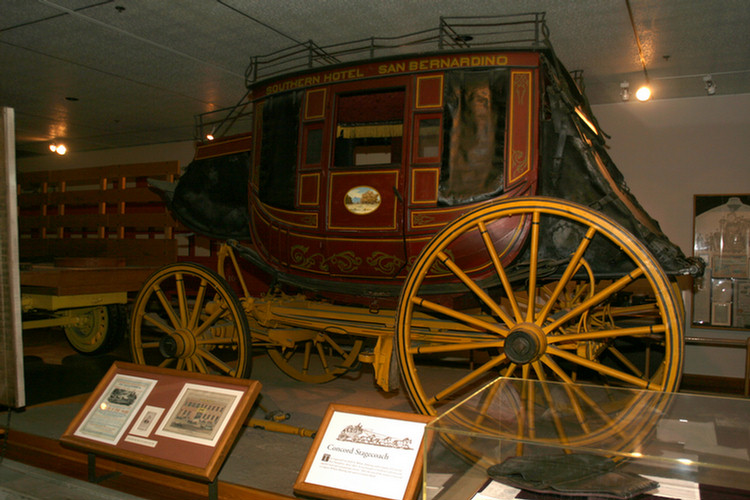 Portable printing presses
Did you know? - The knuckle coupler or Janney coupler was invented by Eli H. Janney, who received a patent in 1873 (U.S. Patent 138,405). It is also known as a "buckeye coupler", notably in the United Kingdom, where some rolling stock (mostly for passenger trains) is fitted with it. Janney was a dry goods clerk and former Confederate Army officer from Alexandria, Virginia, who used his lunch hours to whittle from wood an alternative to the link and pin coupler.
In 1893, satisfied that an automatic coupler could meet the demands of commercial railroad operations and, at the same time, be manipulated safely, the United States Congress passed the Safety Appliance Act. Its success in promoting switchyard safety was stunning.
Between 1877 and 1887, approximately 38% of all railworker accidents involved coupling. That percentage fell as the railroads began to replace link and pin couplers with automatic couplers.
By 1902, only two years after the SAA's effective date, coupling accidents constituted only 4% of all employee accidents. Coupler-related accidents dropped from nearly 11,000 in 1892 to just over 2,000 in 1902, even though the number of railroad employees steadily increased during that decade.
When the Janney coupling was chosen to be the American standard, there were 8,000 patented alternatives to choose from.
Did you know? - The first Roman fire brigade was a group of slaves who were hired by an aedile Marcus Egnatius Rufus. Augustus took this idea from Rufus and then built on it to form the (Vigiles) in AD 6 to combat fires using bucket brigades and pumps, as well as poles, hooks and even ballistae to tear down buildings in advance of the flames.
The Vigiles patrolled the streets of Rome to watch for fires and served as the police force. The later brigades consisted of hundreds of men, all ready for action. When there was a fire, the men would line up to the nearest water source and pass buckets hand in hand to the fire.
Rome suffered a number of serious fires, most notably the fire that started near the Circus Maximus on 19 July AD 64 and eventually destroyed two thirds of Rome. The Emperor Nero was blamed for the conflagration, and may in fact have allowed the fire to burn.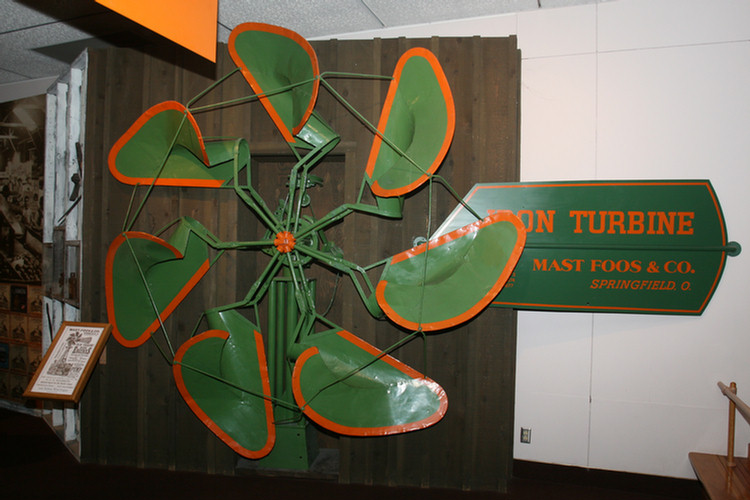 Iron Turbine Windmill is an historic windmill at 415 W. Gurley Street in Prescott, Arizona. It is technically a wind pump, but the American term is windmill.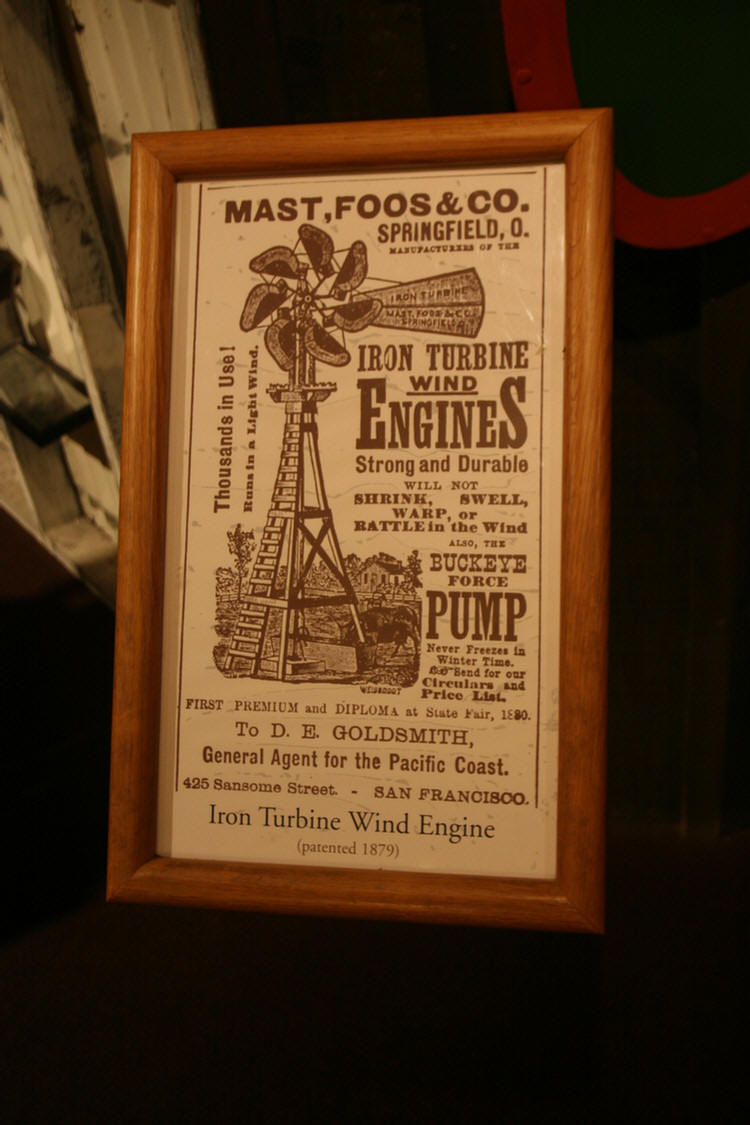 Cornelius Vanderbilt had been awarded a gold medal by the United States government during the American Civil War for donating his steamer S.S.Vanderbilt to the Union forces. Inheritance of this medal became the symbol for the titular head of the Vanderbilt family.

This stage saw a load of history - It served on Catalina Island for years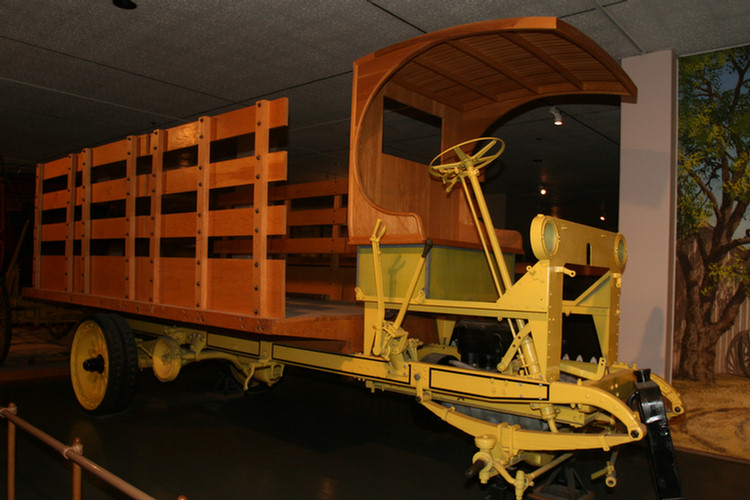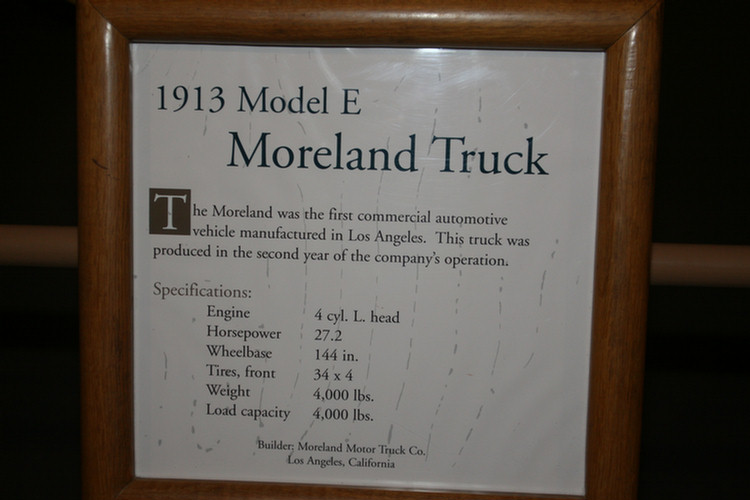 Did you know? - The Moreland Motor Truck Company of California was originally located in Los Angeles.
In 1917 Watt L. Moreland was planning to move his business to Alhambra, California. When Burbank city officials heard about this news they offered Moreland 25 acres (100,000 m2) of land free of cost, located on the corner of San Fernando Blvd. and Alameda Ave. The city of Burbank raised $25,000 to pay for the land, buildings were constructed and the truck company moved in. The factory was still surrounded by acres of farms.
At the opening of the new factory in 1920 Watt Moreland wrote: "As I look back to the little old shack where the first Moreland's were built, all the way it has been a story of co-operation and I want with all the strength and emphasis possible express my appreciation and thanks to all those who, by their encouragement, their faithful work and interest, have helped to put this organization where it now stands."
Moreland had branches in Los Angeles, San Diego, Bakersfield, Stockland, Oakland, Portland, Santa Ana, Fresno, El Centro, Sacramento, San Francisco, Spokane and Salt Lake City.
The company slogan was "Built in the West -- for Western Work". Due to wartime shortages the plant had to close in 1940.

The Fordson Tractor
Did you know? - Fordson was a brand name used on a range of mass produced all-purpose tractors manufactured by Henry Ford and Son from 1917 until 1920 when it was merged into the Ford Motor Company, which used the name until 1964. American engineer, inventor and businessman Henry Ford built experimental tractors from automobile components during the early 1900s, and launched a prototype known as the Model B in August 1915.
He formed Henry Ford and Son in 1910 in Dearborn, Michigan, taking his young son Edsel Ford as a partner, which was later incorporated on July 27, 1917. The first Fordson Model F was completed in 1916 and was the first lightweight, mass produced tractor in the world, making it possible for the average farmer to own a tractor for the first time.
It went into mass production in 1917 and sold for $750. The original Fordson used a 20 horsepower, four-cylinder vaporizing oil engine, a three-speed spur gear transmission (the three forward speeds ranged from approximately 21⁄4 to 61⁄4 mph), and a worm gear reduction set in the differential.
Despite several early design flaws and reliability issues such as engine failure and unbearable heat, the Fordson established a firm foothold on U.S. farms, with more than seventy percent market share in earlier years. By mid-1918, more than 6,000 Fordson tractors were in use in Britain, Canada and the United States.
Annual production reached 36,781 in 1921 and 99,101 in 1926. By 1925, Ford had built its 500,000th Fordson tractor. Ford was the only automotive firm to sell cars, trucks and tractors simultaneously from 1917 to 1928, during which time 552,799 Fordson tractors were built at the Dearborn, Michigan factory. An economic recession and plummeting farm income depressed the market in 1925.
Ford Motor Company ended its U.S. tractor production on February 14, 1928 and transferred manufacture to Cork, Ireland in 1929 and later Dagenham, Essex, England. The Fordson brand was used on several other models manufactured in England including the 9N, 8N and later the Major, Dexta, Power Major, Super Major and Super Dexta until 1964.
Afterwards, the Fordson brand name was discontinued and replaced with the Ford marque. Ford continued to manufacture and sell tractors until it sold the division to Fiat in 1991.

California was great in aviation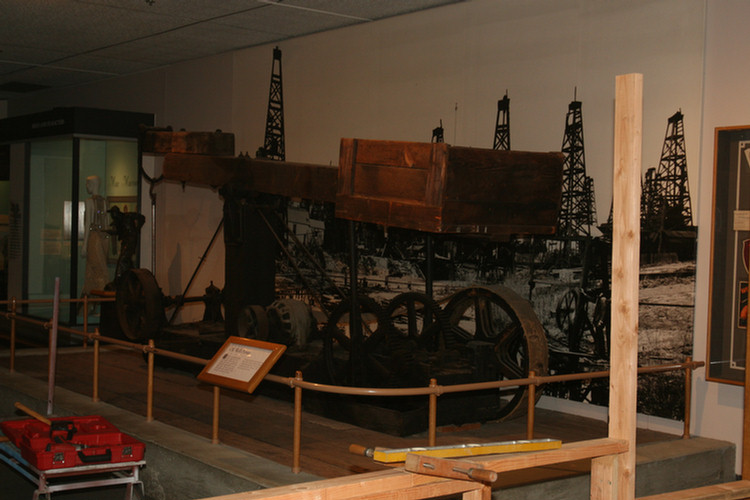 A timeline is a graphical representation of a chronological sequence of events
The Museum Over Time
Did You Know? - Over the years, the museum has built additions onto its original building. Originally dedicated when the Natural History Museum opened its doors in 1913, the Rotunda is one of the Museum's most elegant and popular spaces. Lined with marble columns and crowned by a stained glass dome, the room is also the home of the very first piece of public art funded by Los Angeles County, a Beaux Arts statue entitled "Three Muses," which represents the disciplines of Art, History and Science. This hall is among the most distinctive locales in Los Angeles and has often been used as a filming location.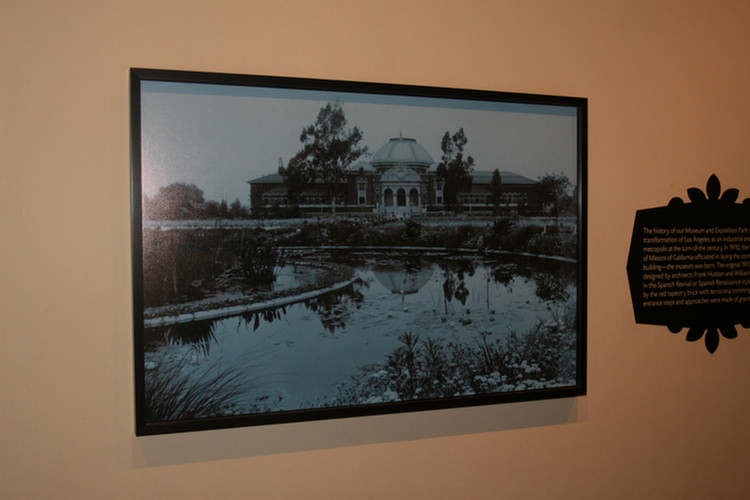 Paul remembers when it looked like this!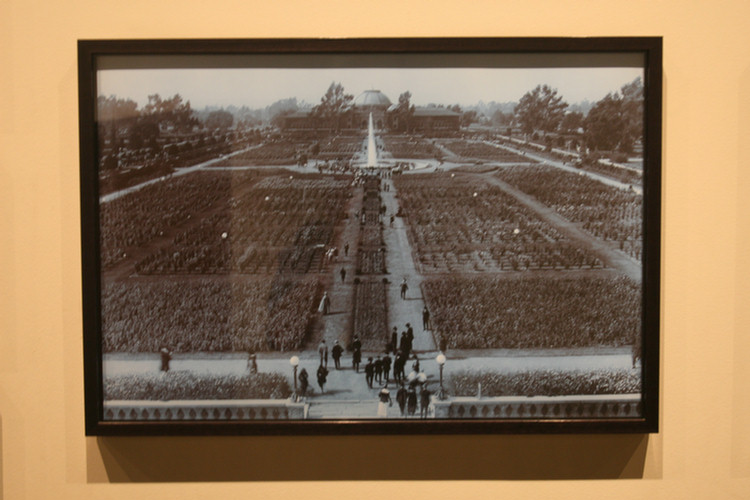 The rose garden in the 1930's
Did you know? - The Exposition Park Rose Garden is a historic 7-acre (28,000 m2) sunken garden located in Exposition Park in Los Angeles, California. It has been called "one of the city's best-kept secrets."[2] It was added to the National Register of Historic Places in 1991.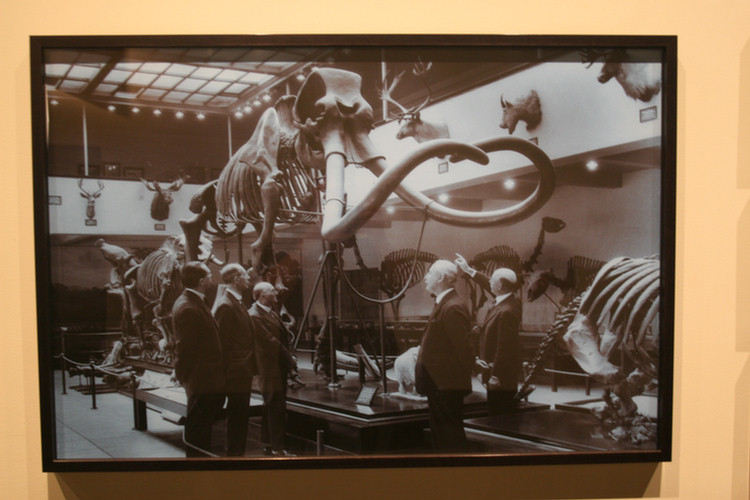 The Docent Quilt
Make No Bones About It!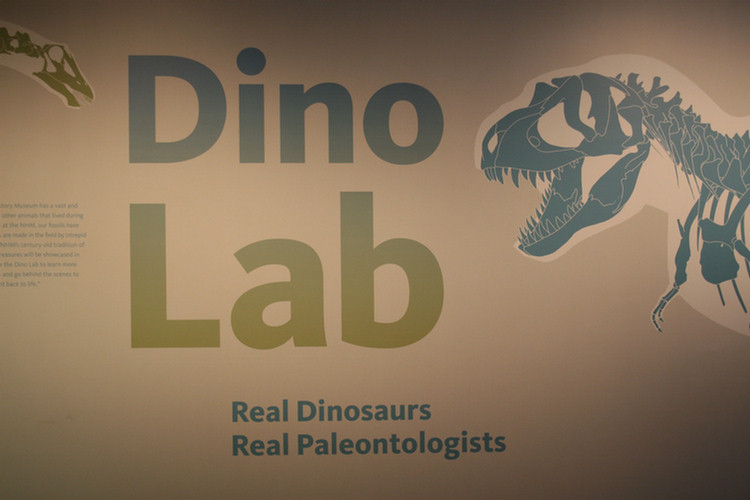 Did you know? - Paleontology (British: palaeontology) is the study of prehistoric life, including organisms' evolution and interactions with each other and their environments (their paleoecology). As a "historical science" it tries to explain causes rather than conduct experiments to observe effects. Paleontological observations have been documented as far back as the 5th century BC.

The science became established in the 18th century as a result of Georges Cuvier's work on comparative anatomy, and developed rapidly in the 19th century. Fossils found in China since the 1990s have provided new information about the earliest evolution of animals, early fish, dinosaurs and the evolution of birds and mammals.
Paleontology lies on the border between biology and geology, and shares with archeology a border that is difficult to define. It now uses techniques drawn from a wide range of sciences, including biochemistry, mathematics and engineering.
As knowledge has increased, paleontology has developed specialized subdivisions, some of which focus on different types of fossil organisms while others study ecological and environmental history, such as ancient climates.

He was grinding away and dust was flying
Did you know? - The hadrosaurs are known as the duck-billed dinosaurs due to the similarity of their head to that of modern ducks. In some genera, most notably Anatotitan, the whole front of the skull was flat and broadened out to form a beak, ideal for clipping leaves and twigs from the forests of Asia, Europe and North America. However, the back of the mouth contained literally thousands of teeth suitable for grinding food before it was swallowed. This has been hypothesized to have been a crucial factor in the success of this group in the Cretaceous, compared to the sauropods which were still largely dependent on gastroliths for grinding their food.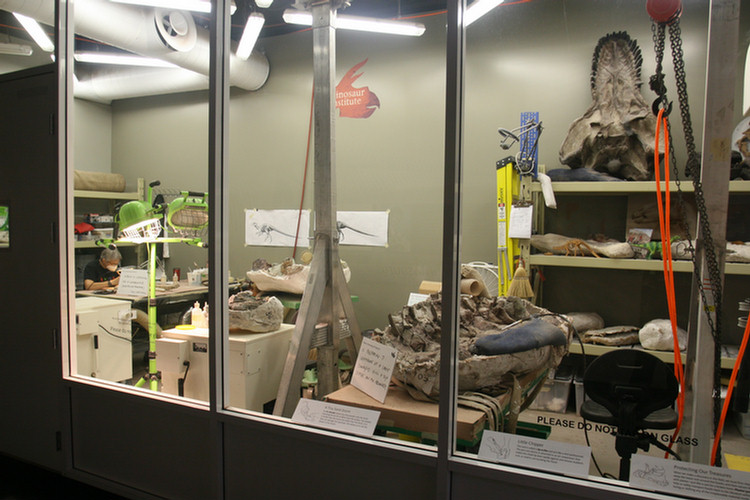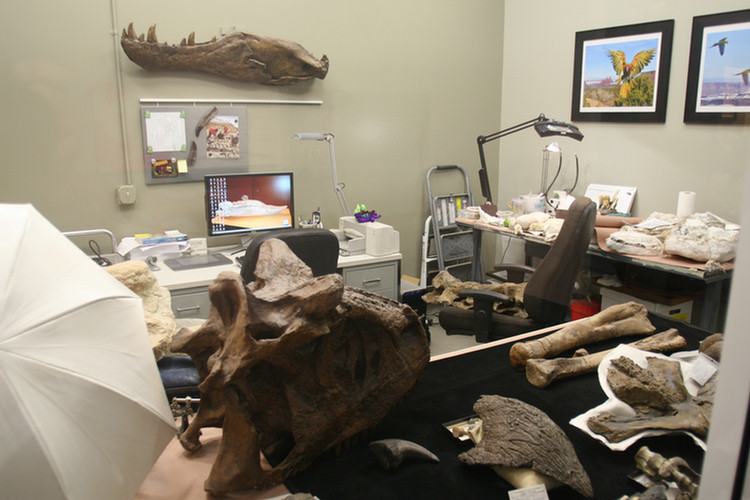 It looked like a bone yard