A Visit To The Choo Choo's 10/15/2015
We wanted something new so we decided to go to Terranea for lunch and then double back to Lomita to visit the Railroad Museum.
Time For Lunch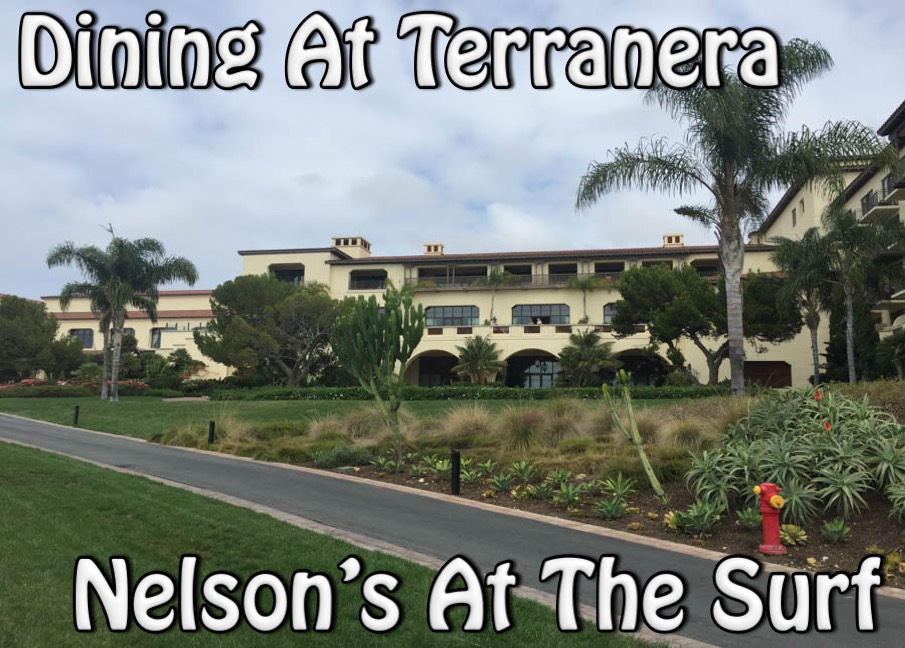 We went to Nelson's and it was a real trek!

Stairs and more stairs!

We could hear the waves crash below the restaurant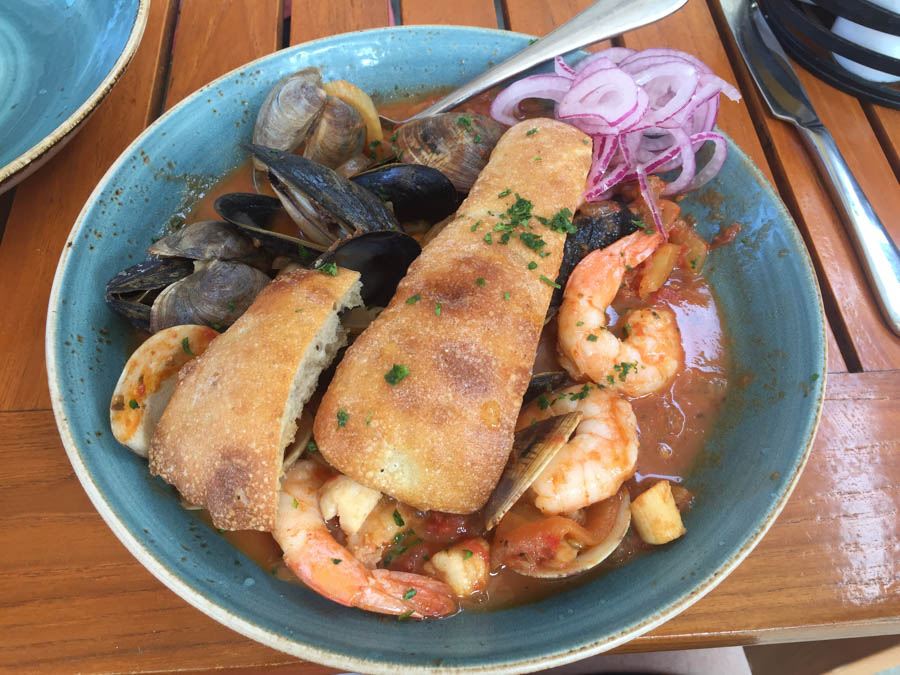 Fish soup for Paul... Cioppino... Magnificent!
Did You Know? - Cioppino is traditionally made from the catch of the day, which in San Francisco is typically a combination of Dungeness crab, clams, shrimp, scallops, squid, mussels, and fish all sourced from the Pacific Ocean. The seafood is then combined with fresh tomatoes in a wine sauce, and served with toasted bread, either local sourdough or French bread.

Cioppino was developed in the late 1800s primarily by Italian fishermen who settled in the North Beach neighborhood of San Francisco, many from the port city of Genoa.
Originally it was made on the boats while out at sea and later became a staple as Italian restaurants proliferated in San Francisco.
The name comes from ciuppin which is the name of a classic soup from the Italian region Liguria, similar in flavor to cioppino but with less tomato and using Mediterranean seafood cooked to the point that it falls apart.

Sue did the salad! It was also delicious!

Ice Cream... Us?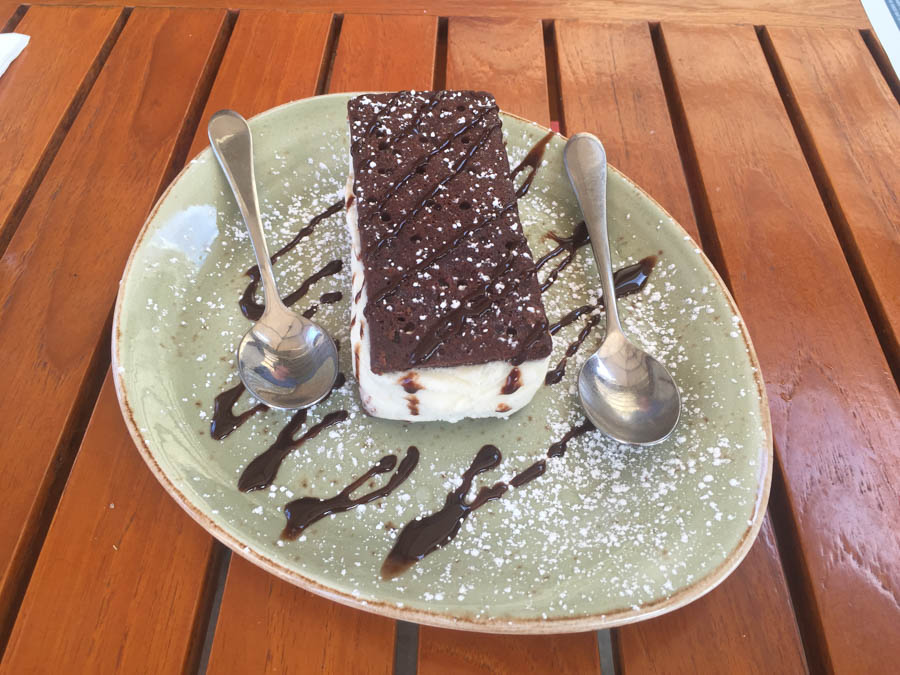 Home made ice cream sandwich
Off To Lomita To Visit The Trains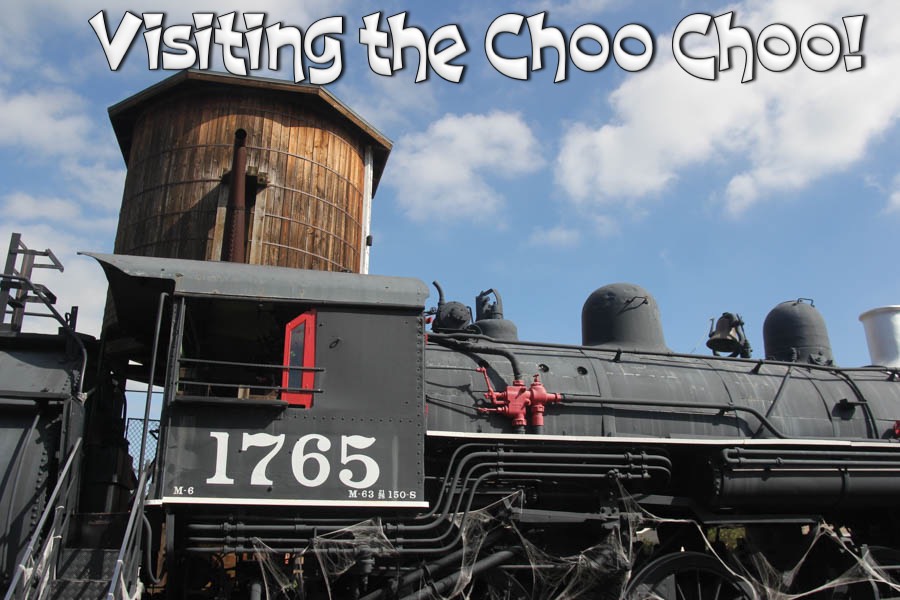 Did You Know? - Lomita is a city in Los Angeles County, California, United States. The population was 20,256 at the 2010 census, up from 20,046 at the 2000 census. The word "lomita" is Spanish for "little knoll."
Lomita was originally part of Rancho San Pedro, granted by the Spanish Empire to Juan Jose Dominguez by King Carlos III of Spain in 1784.
According to the United States Census Bureau, the city has a total area of 1.9 square miles (4.9 km2), all of which is land.
Lomita originally spanned 7 square miles (18 km2). However, over time, much of this area was annexed by neighboring cities.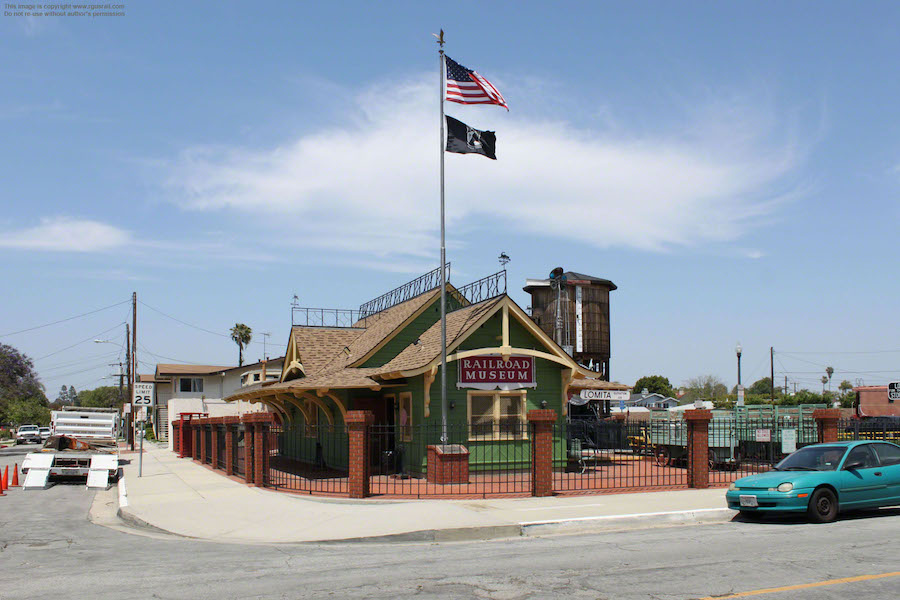 We have arrived!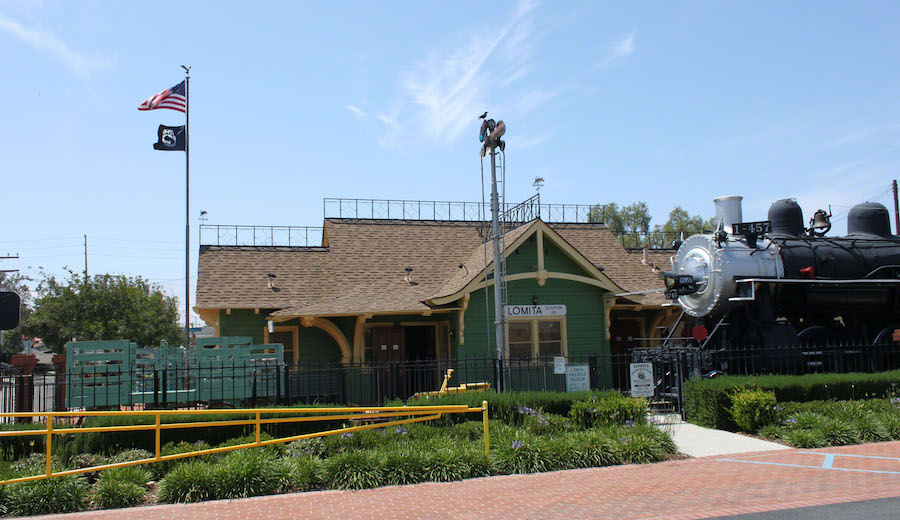 There are some nice displays and great railroad history inside
Did You Know? - Lomita Railroad Museum, opened in 1966 by Irene Lewis, the Lomita Railroad Museum is a small museum in Lomita devoted to the steam engine period of Railroading. Mrs Lewis, along with her husband Martin, operated "Little Engines of Lomita" which sold kits for live steam engine locomotives. Her engines also appeared in movies, including "The Greatest Show on Earth (1952)" and "Von Ryans Express (1965)".
This operation inspired Mrs. Lewis to earn a mechanical engineering degree late in life and to build the museum as a showplace for her products. When built, the museum was the first of its kind west of Denver.
The museum was designed to replicate the Boston & Maine's Greenwood Station in Wakefield, Massachusetts. The Museum was donated by Mrs. Lewis to the City of Lomita in honor of her late husband, Martin Lewis, in 1967.
On display are a 1902 Baldwin Locomotive, a Southern Pacific tender, a 1910 Union Pacific caboose, and a Santa Fe caboose. The Museum also houses a full-size replica of a 1920s water tower that was constructed in 2000.
The museum also incorporates a small public park, which accommodates a Union Pacific boxcar and a Union Oil tank car.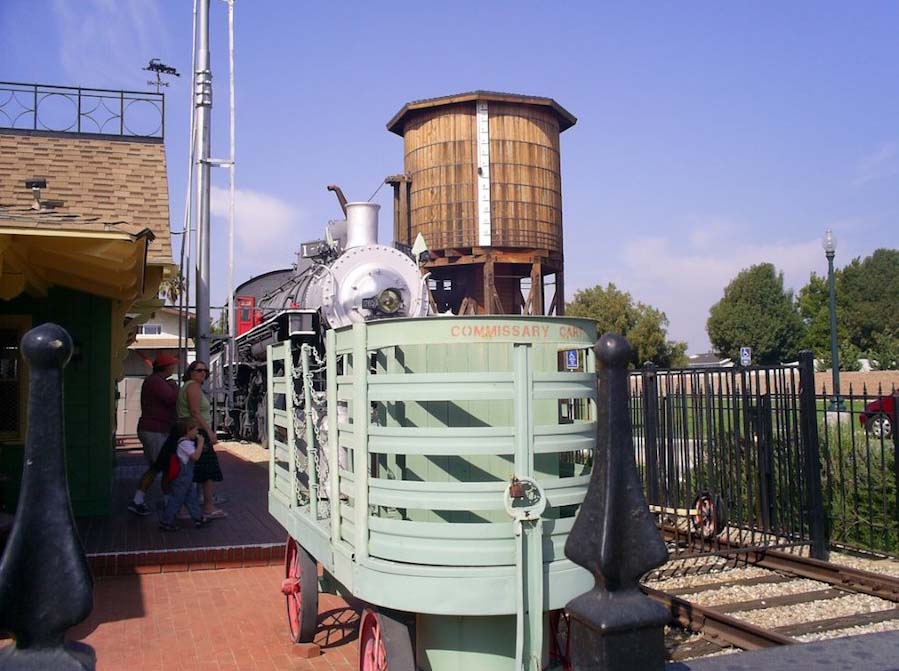 Original carts used at the train station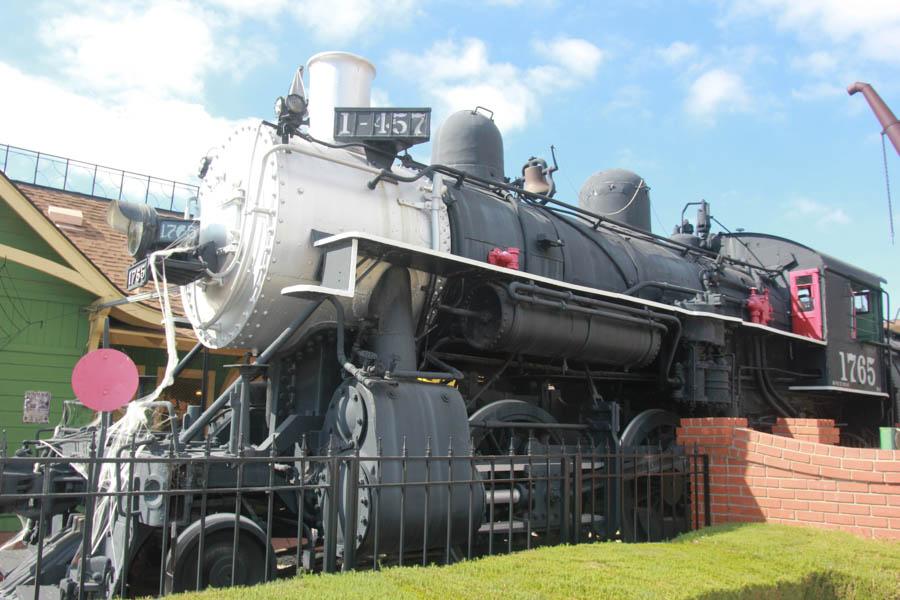 We were the only visitors when we arrived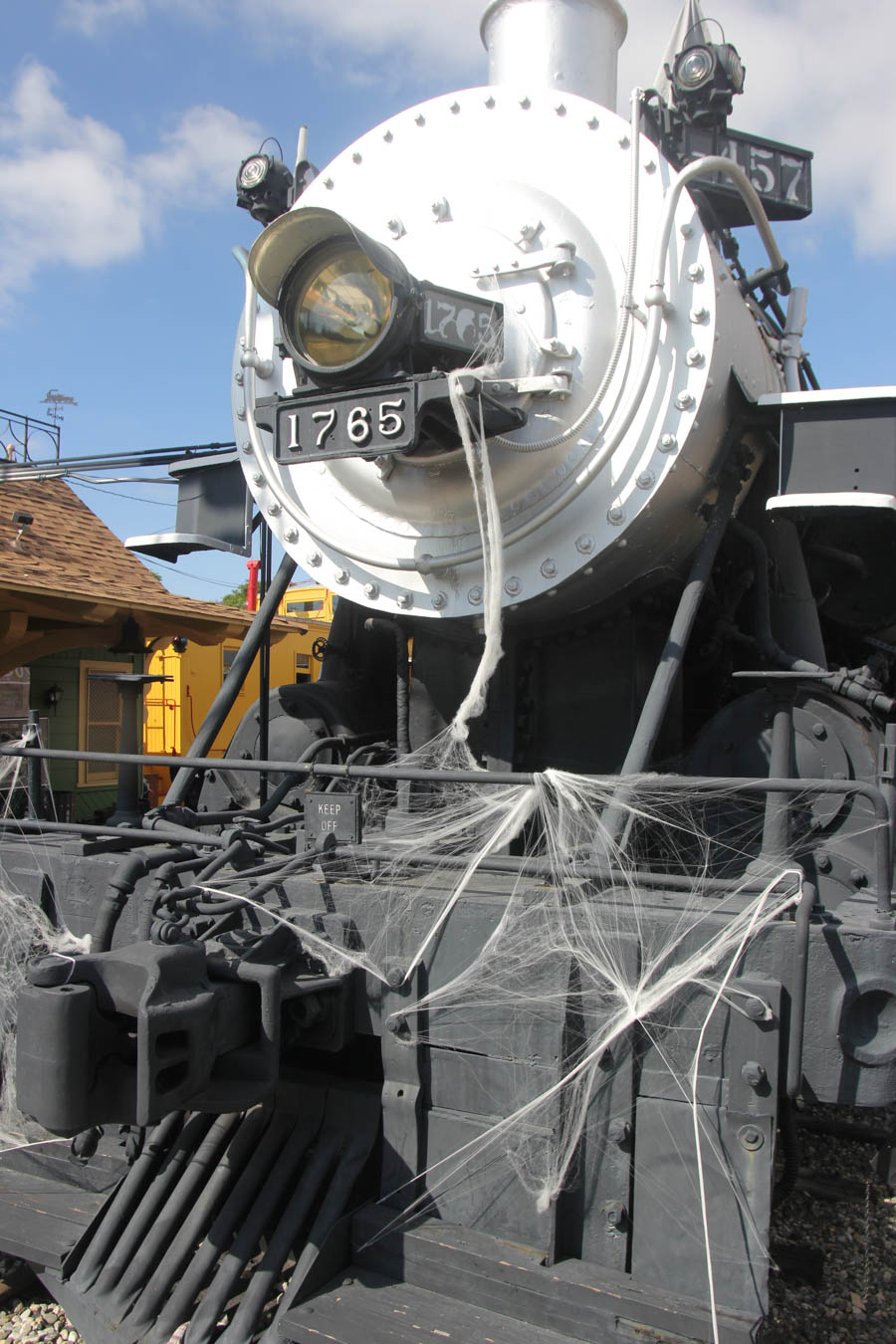 The staff did some decorating
Did You Know? - This Class M-6 Mogul (2-6-0) type locomotive was one of sixty-nine (#1725-#1769 & #1780-#1803) built for the Southern Pacific in 1902 by Burnham, Williams & Co., an early incarnation of the Baldwin Locomotive Works.
Under the Whyte notation for the classification of steam locomotives, 2-6-0 represents the wheel arrangement of two leading wheels on one axle, usually in a leading truck, six powered and coupled driving wheels on three axles, and no trailing wheels. This arrangement is commonly called a Mogul.

The SP was relatively late to start buying Moguls in any number. The type had been popular with many railroads in the mid-late nineteenth century, and SP's predecessor, the Central Pacific owned a small number from the 1860s. By the time the SP started acquiring Moguls at the turn of the century, however, the type had largely fallen out of favour with other railroads, which were starting to invest in larger Consolidation (2-8-0) types. The SP eventually rostered two hundred and fifty-two Moguls.

#1765 mainly hauled freight but also, occasionally, light passenger trains. It was based in the Los Angeles area and was sometimes assigned in helper service over the Soledad Canyon summit to Palmdale. Its last major overhaul, including new tires on the drivers, was in 1953. Retired in 1958, it was sold for scrap to the National Metals Company on Terminal Island until it was bought by the City of Lomita for display at the Lomita Railroad Museum.
Inside The Museum Was Amazing

The museum is on land where small locomotives were manufactured in kit form!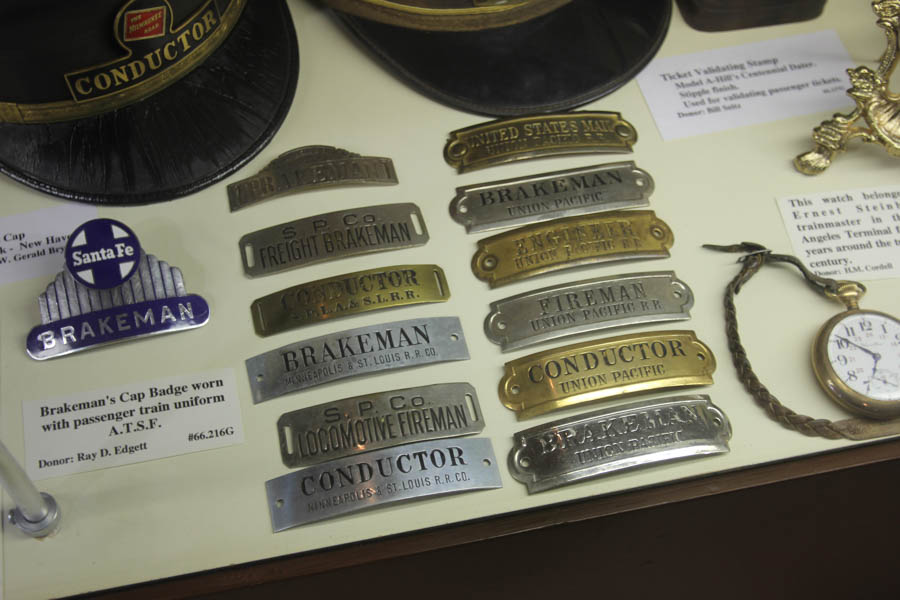 The badges identified the employees!
Silver was a more important person than brass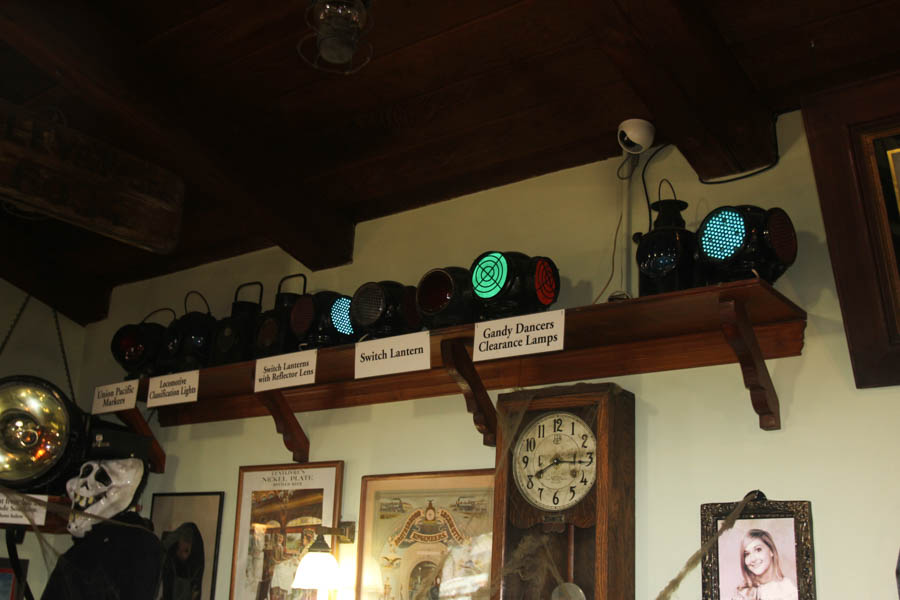 Lamps had many purposes in early railroad days
Did You Know? - Gandy dancer is a slang term used for early railroad workers who laid and maintained railroad tracks in the years before the work was done by machines. The British equivalents of the term gandy dancer are "navvy" (from "navigator"), originally builders of canals or "inland navigations", for builders of railway lines, and "platelayer" for workers employed to inspect and maintain the track. In the U.S. Southwest and Mexico, Mexican and Mexican-American track workers were colloquially "traqueros".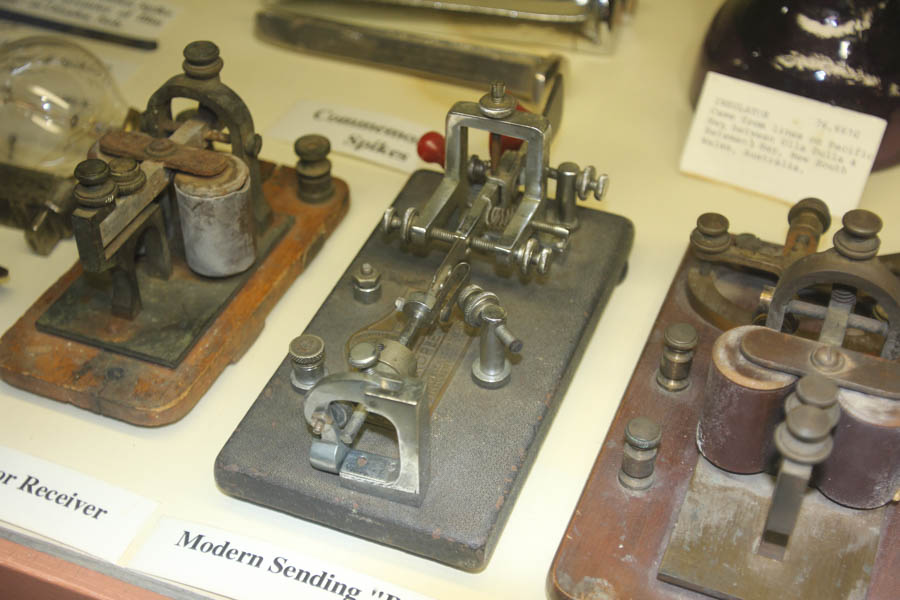 Paul had a Vibroplex "bug" during his ham radio days
Did You Know? - Vibroplex is the brand of side-to-side mechanical, semi-automatic Morse key first manufactured and sold in 1905 by the Vibroplex Company, after its invention and patent by Horace Greeley Martin of New York City in 1904. The original device became known as a "bug", most likely due to the original logo, which showed an "electrified bug".
The Vibroplex Company has been in business continuously for 109 years, as of 2014. Amateur radio operator Scott E. Robbins, also known by the call sign W4PA, became the 8th owner of the Vibroplex Company on December 21, 2009. The company is located in Knoxville, Tennessee.

The most common Vibroplex models have a single lever with a flat thumbpiece, or paddle, on the left side and a fingerpiece, or knob, on the right side.
When the knob is pressed from the right, it makes a continuous contact suitable for sending dashes (or dahs, as most operators call them). When the paddle is pressed from the left, a horizontal pendulum at the opposite end of the lever is set into motion, intermittently closing a set of contacts, sending a series of short pulses (dits) at a speed that is controlled by the position of the pendulum weight. A skilled operator can achieve sending speeds in excess of 40 words per minute with a bug.

The simple sending key was essential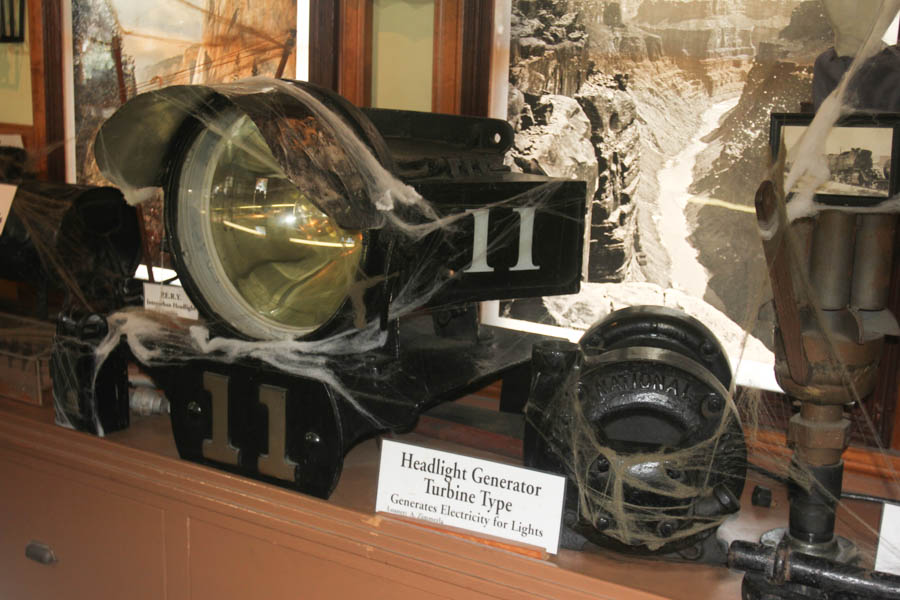 Tied to the drive train, the generator provided electric for the lights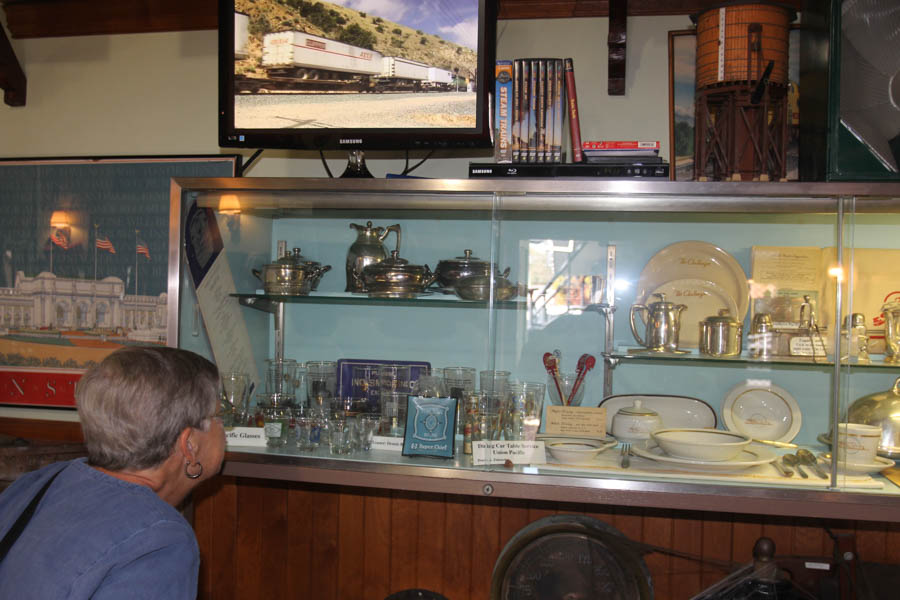 Sue was interested in the silverware and dishes used in the real dining rooms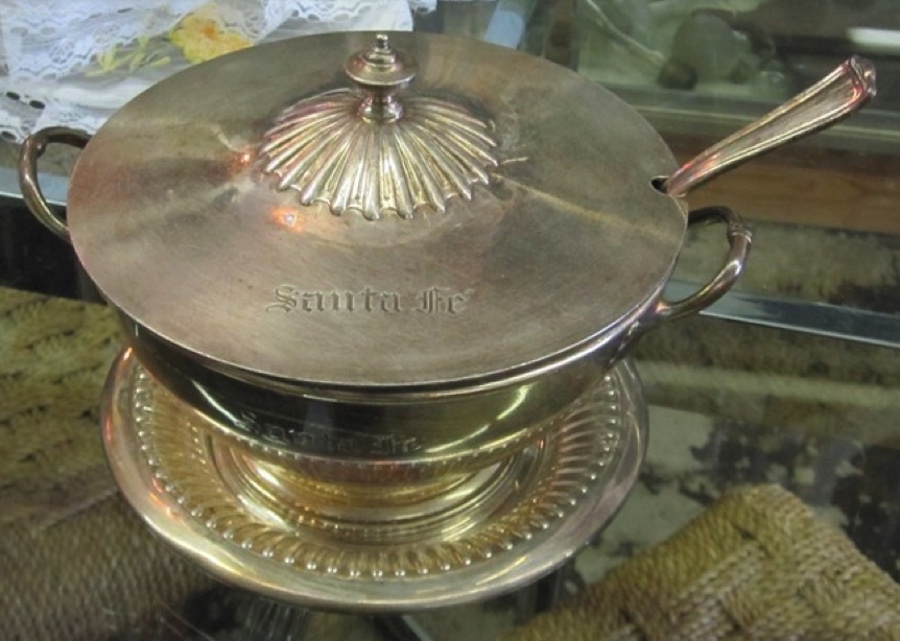 Years ago railroad travel was elegant!

One of the largest engines every made (4-8-8-4)
Did You Know? - 4-8-8-4 Big Boys were only produced for the Union Pacific Railroad. Twenty-five such engines were built between 1941 and 1944, numbered 4000 to 4024. Eight of these locomotives survive, all on static public display at various sites in the United States. Union Pacific has announced plans to restore No. 4014 to operation for use in mainline excursion service. No. 4014 is expected to be operational by 2019.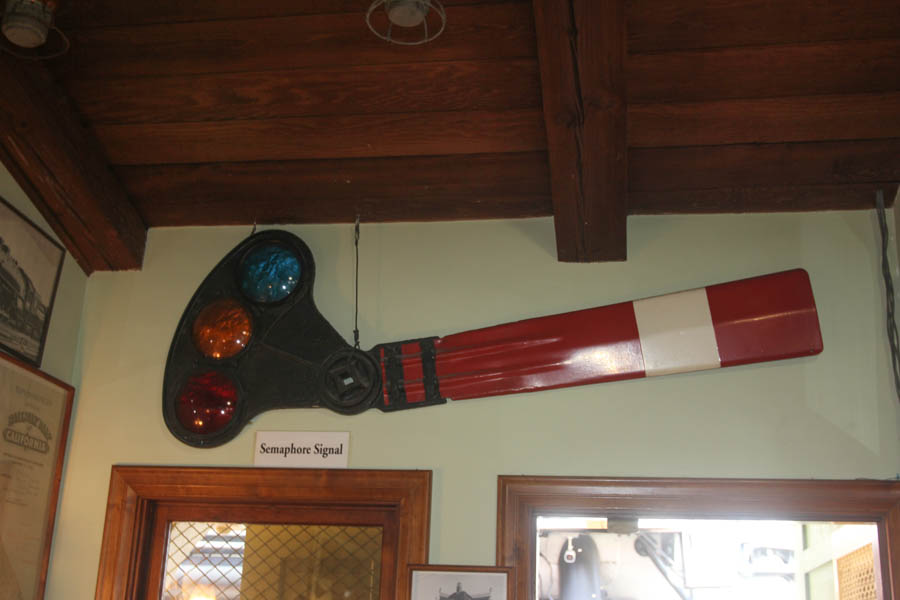 Semaphores are still in use today!
Did You Know? - One of the earliest forms of fixed railway signal is the semaphore. These signals display their different indications to train drivers by changing the angle of inclination of a pivoted 'arm'. Semaphore signals were patented in the early 1840s by Joseph James Stevens, and soon became the most widely used form of mechanical signal. Designs have altered over the intervening years, and color light signals have replaced semaphore signals in some countries, but in others they remain in use.
In the United States, their usage has been almost completely eliminated on main lines.

Lot's of machinery on those wheels

Water and oil made this machine work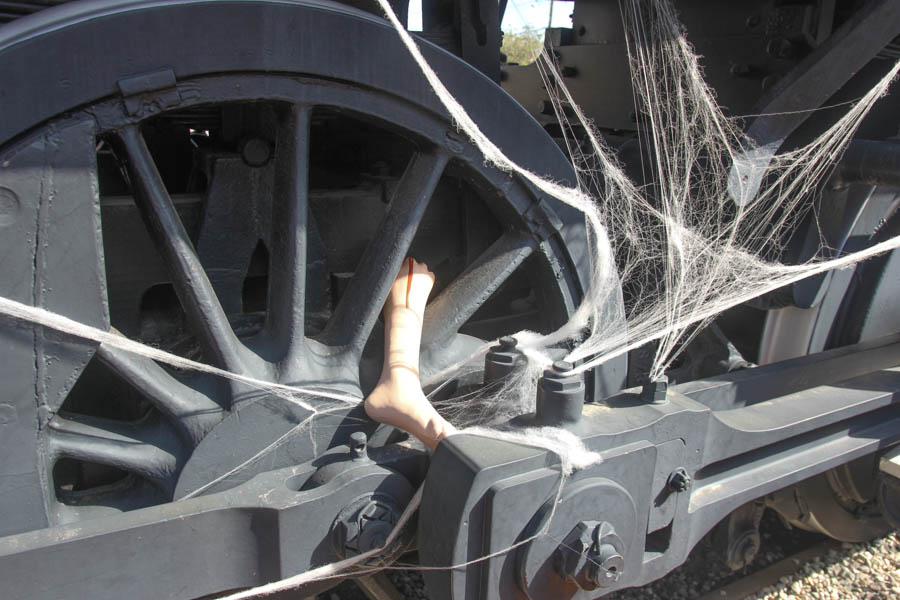 Must be Halloween!

Up we go!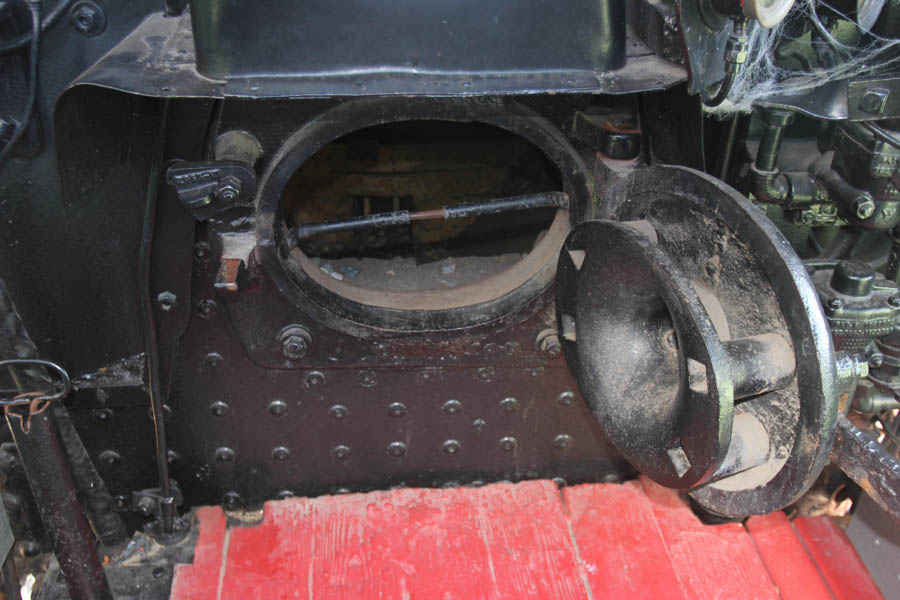 The firebox was open for inspection!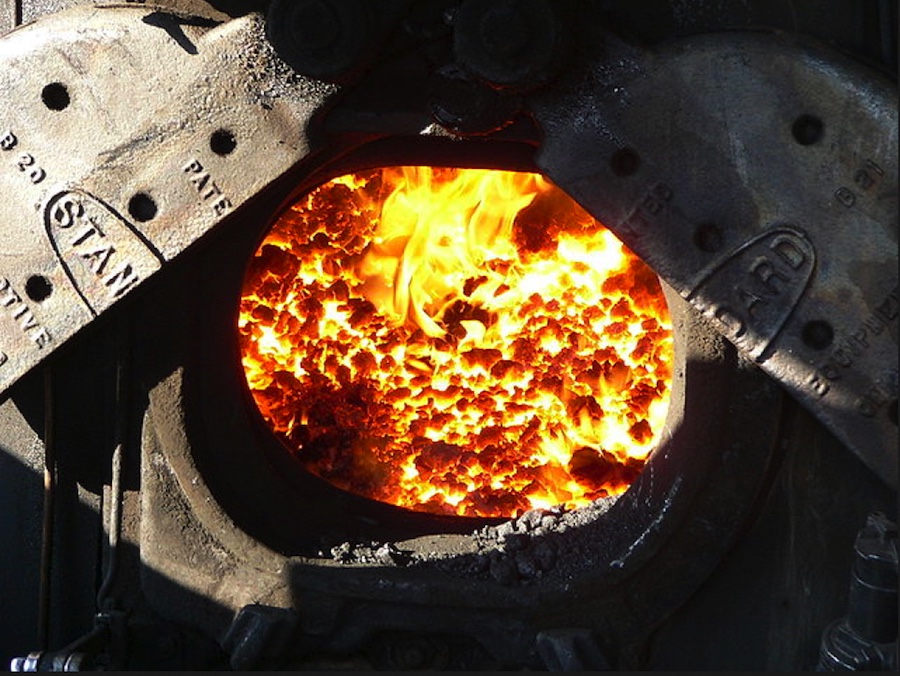 Marshmellows anyone???
Did You Know? - In a steam engine, the firebox is the area where the fuel is burned, producing heat to boil the water in the boiler. Most are somewhat box-shaped, hence the name. The hot gases generated in the firebox are pulled through a rack of tubes running through the firebox boiler.

Like most locomotives... You can't see much out the front!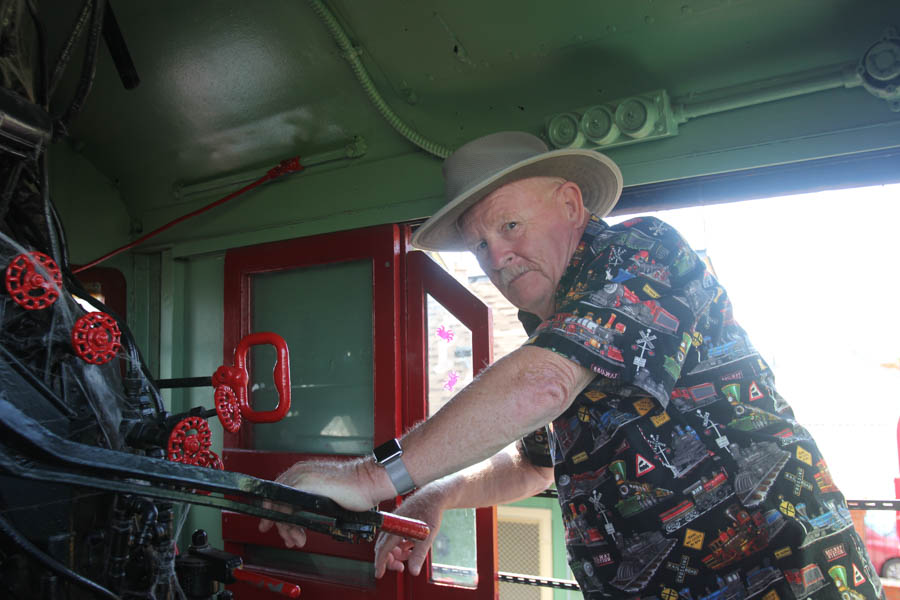 Lookout! Engineer Paul at the helm!

The original tender is unknown... This is an oil tender donated to the museum.
Did You Know? - A tender or coal-car is a special rail vehicle hauled by a steam locomotive containing its fuel (wood, coal, or oil) and water. Steam locomotives consume large quantities of water compared to the quantity of fuel, so their tenders are necessary to keep them running over long distances.
A locomotive that pulls a tender is called a tender locomotive. Locomotives that do not have tenders and carry all their fuel and water on board the locomotive (itself) instead are called tank locomotives.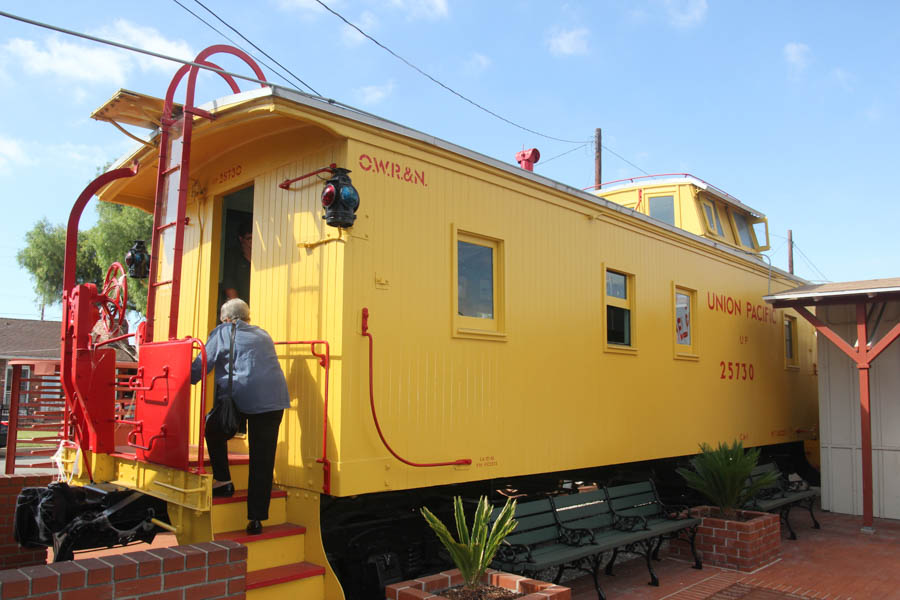 Into the caboose

Time for dinner
Did You Know? - A caboose is a manned North American railroad car coupled at the end of a freight train. Cabooses provide shelter for crew at the end of a train, who were long required for switching and shunting, and to keep a lookout for load shifting, damage to equipment and cargo, and overheating axles.

Originally flatcars fitted with cabins or modified box cars, they later became purpose built with projections above or to the sides of the car to allow crew to observe the train from shelter. The caboose also served as the conductor's office, and on long routes included accommodation and cooking facilities.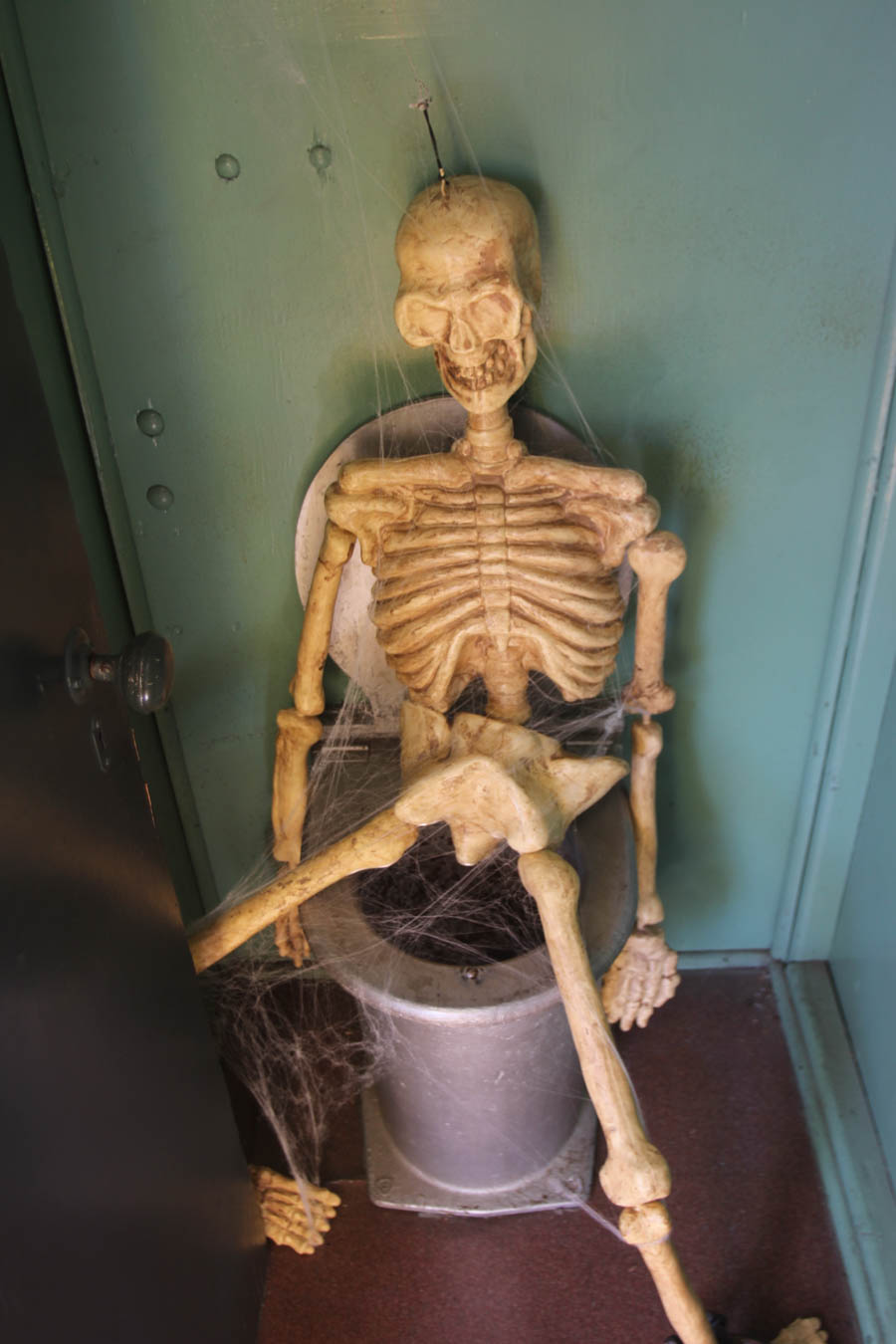 There was no "holding tank"...
You went and it landed on the rails below!
Did You Know? - The traditional method of disposing human waste from trains is to deposit the waste onto the tracks using what is known as a hopper toilet. This ranges from a hole in the floor to a full-flush system (possibly with sterilization). The hole in the floor (also known as a drop chute toilet) system is still in use in many parts of the world, particularly on older rolling stock.
The principal disadvantage is that it can be considered crude or unhygienic and dangerous to health and the environment – it litters the railway lines and can convey serious health risks when the train passes over or under a navigable waterway. Passengers may be discouraged from flushing or using toilets while the train is at a station or standing at a red signal. To enforce this limitation, toilets may be automatically locked when the train pulls into a station or stops at a red signal.
Properly-designed drop chute toilets will draw air like a chimney, pulling air through the lavatory door vents and down and out through the toilet, reducing odor.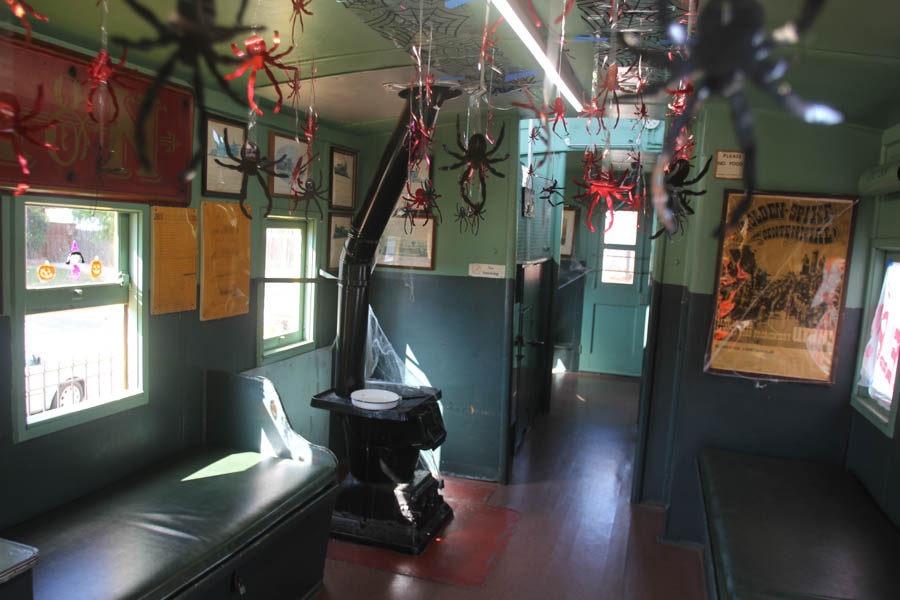 Loved the decorations!

Beautiful sky today!

Water tanks were mandatory
Did You Know? - A water stop or water station on a railroad is a place where trains stop to replenish water. The stopping of the train itself is also referred to as a "water stop". The term originates from the times of steam engines when large amounts of water were essential. Also known as wood and water stops or coal and water stops, since it was reasonable to replenish engines with fuel as well when adding water to the boiler.
During the very early days of steam locomotives, water stops were necessary every 7–10 miles (11-16 km) and consumed much travel time. With the introduction of tenders (a special car containing water and fuel), trains could run 100–150 miles (160–240 km) without a refill.
To accumulate the water, water stops employed water tanks, water towers and tank ponds. The water was initially pumped by windmills, watermills, or by hand pumps often by the train crew themselves. Later, small steam and gasoline engines were used.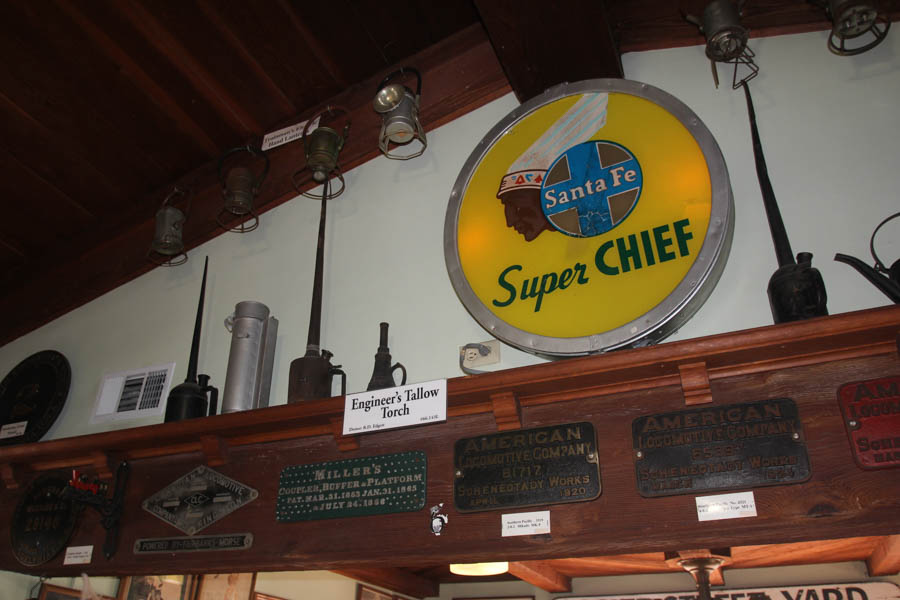 Back inside there were more displays
Did You Know? - The Super Chief (Nos. 17 & 18) was the first Diesel-powered, all-Pullman sleeping car train in America, and it eclipsed the Chief as Santa Fe's standard bearer. The extra-fare ($10) Super Chief left Dearborn Station in Chicago for its first trip on May 12, 1936.
Before starting scheduled service in May 1937, the lightweight version of the Super Chief ran 2,227 miles (3,584 km) from Los Angeles over recently upgraded tracks in 36 hours and 49 minutes, averaging 60 mph (97 km/h) overall and reaching 100 mph (160 km/h).

With one set of equipment, the train initially operated once a week from both Chicago and Los Angeles. After more cars had been delivered the Super Chief ran twice weekly beginning in 1938 and daily after 1948. Adding to the train's mystique were its gourmet meals and Hollywood clientele.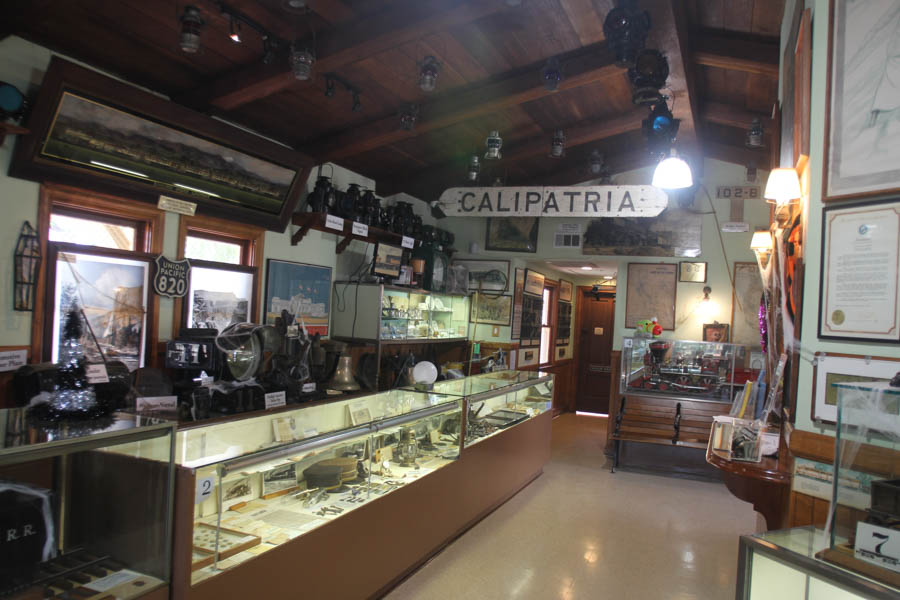 An original top for this locomotive
Did You Know? - Calipatria (formerly, Date City) is a city in Imperial County, California. Calipatria is located 23 miles (37 km) north of El Centro, It is part of the El Centro Metropolitan Area.

Heading home

Bye for now!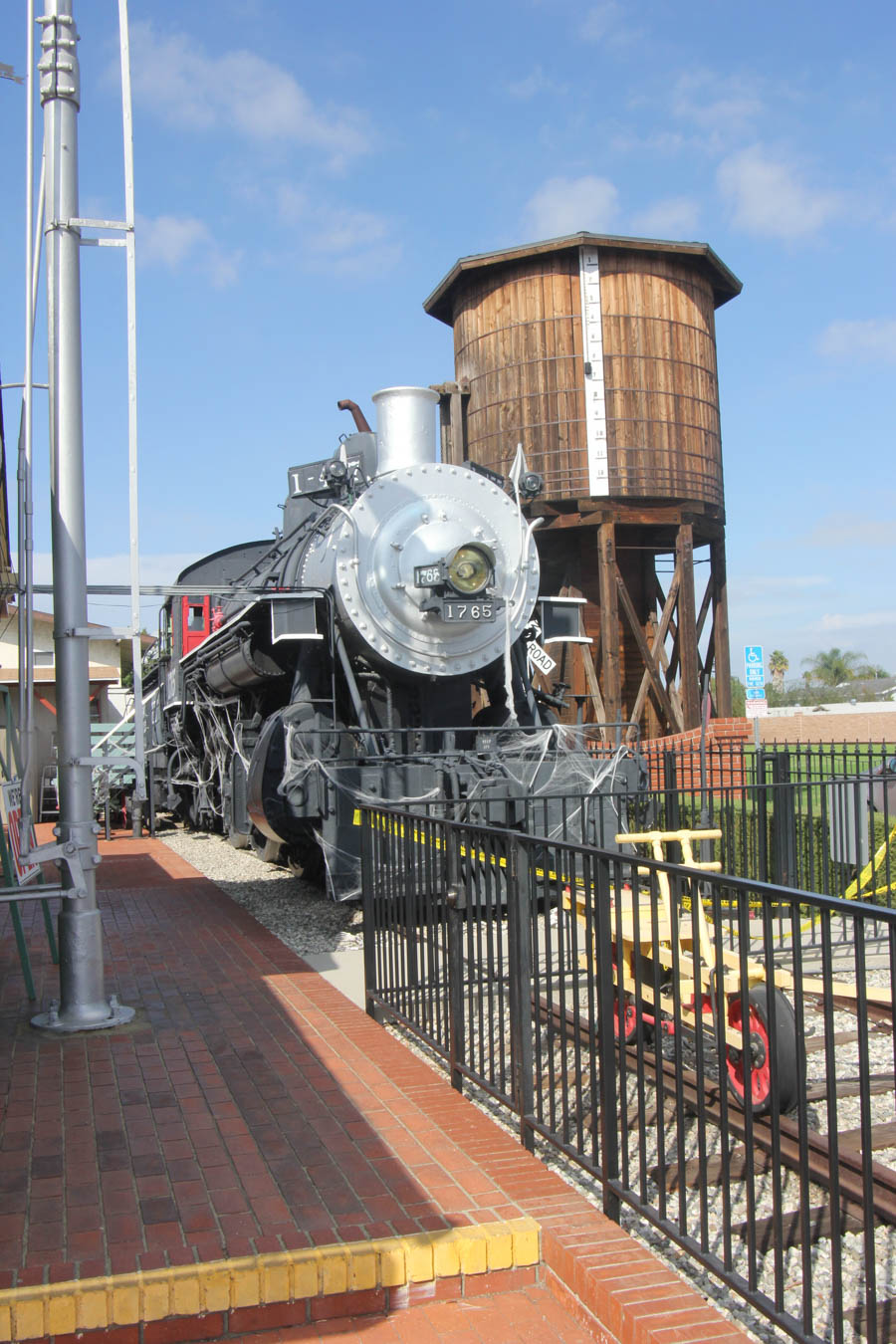 Nice little museum with lots to share!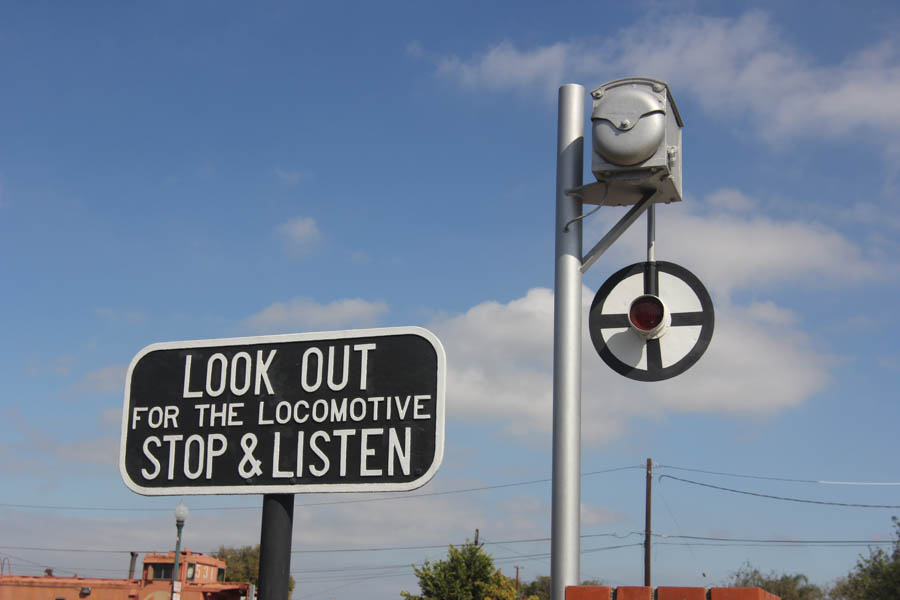 We could hear it....
(They had audio running continuously)

Into the van and off we go!

Goodbye California Limited 1925