Only The Word "Amazing" Would Describe This Ship! (Page One)
We decided it was a beautiful day and it was time to visit the Iowa! We spent three hours walking around, going up and down steep stairways, poking our heads into all the nooks and crannies and constantly being amazing at what we found! It is a remarkable vessel!
You can go on a tour or self-tour using a handy dandy guide provided to you!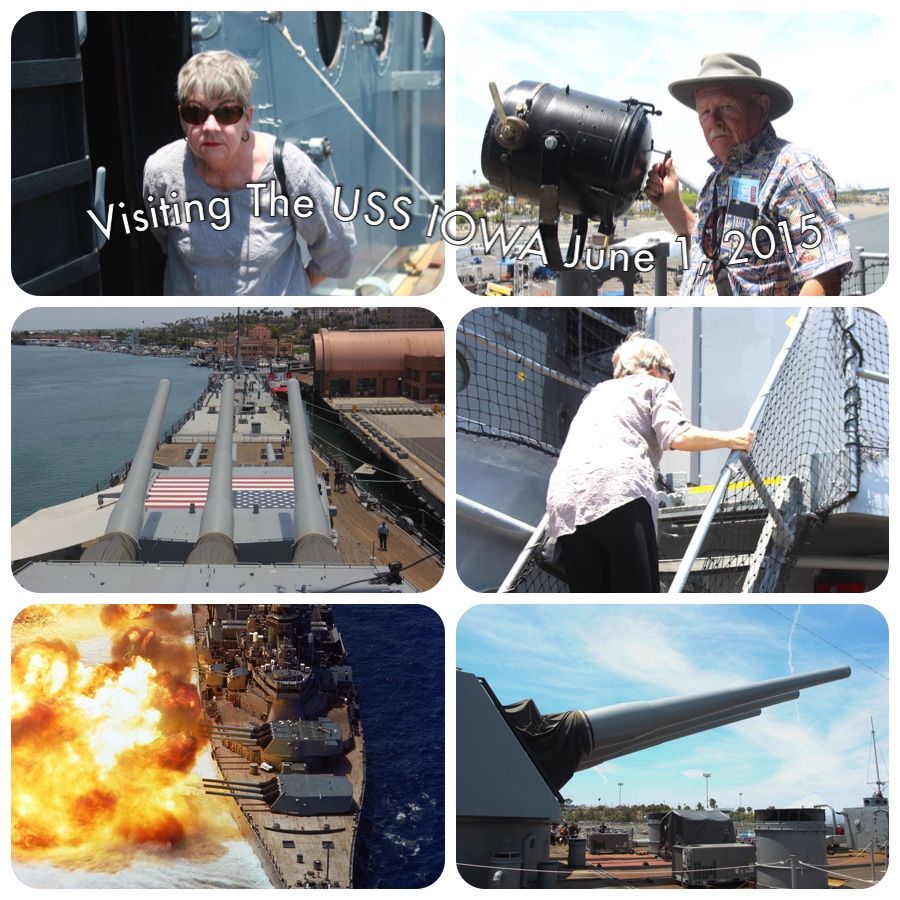 A bow view of the battleship USS IOWA (BB-61) firing its Mark 7 16-inch/50-caliber
guns off the starboard side during a fire power demonstration.
Did You Know? - USS Iowa (BB-61) is the lead ship of her class of battleship and the fourth in the United States Navy to be named in honor of the 29th state. Owing to the cancellation of the Montana-class battleships, Iowa is the last lead ship of any class of United States battleships and was the only ship of her class to have served in the Atlantic Ocean during World War II.
Armor thickness for the Iowa Class (BB-61) :
Face: 17.0 in (43.2 cm) Class B armor over 2.5 in (6.4 cm) STS
Sides: 9.5 in (24.1 cm) Class A armor over 0.75 in (1.9 cm) STS
Rear: 12.0 in (30.5 cm) Class A armor over 0.75 in (1.9 cm) STS
Roof: 7.25 in (18.4 cm) Class A armor over 0.75 in (1.9 cm) STS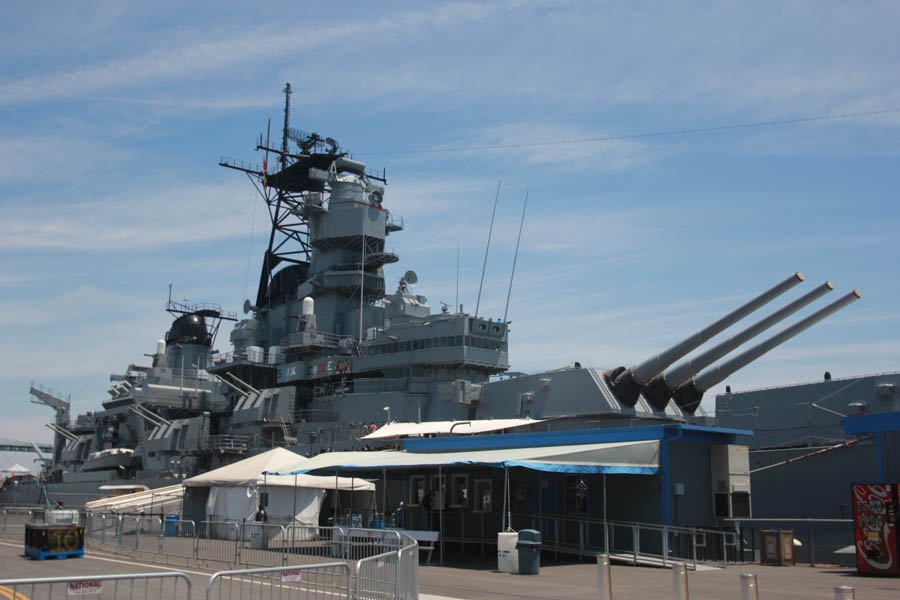 A view from the parking lot is already impressive.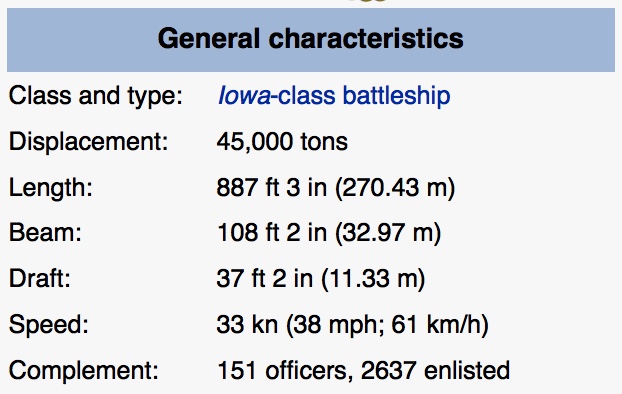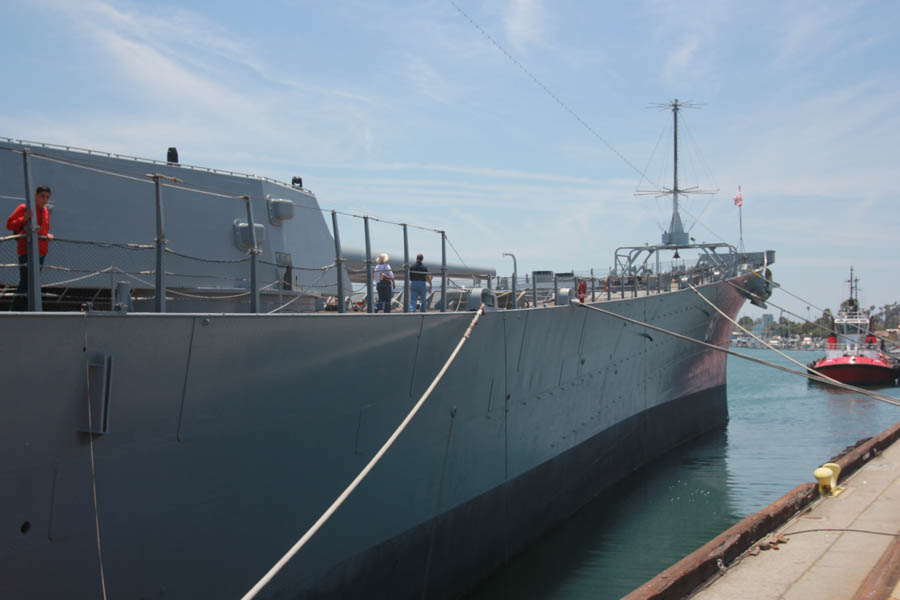 She was long and "narrow" which attributed to her speed of over 35 knots
Did You Know? - She could go through the Panama Canal with 12 inches to spare on either side!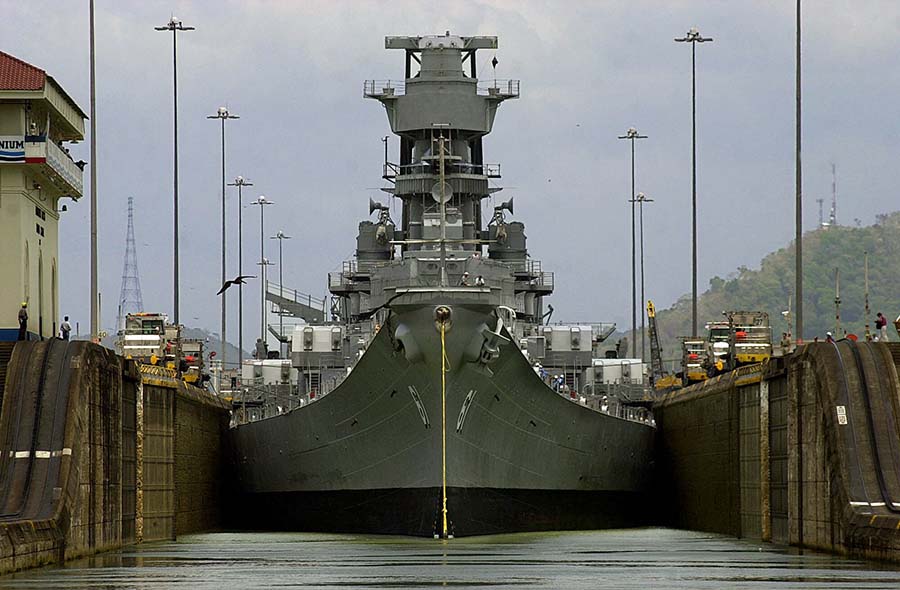 Inches to spare on either side (Click for full sized image)
Let's Start The Tour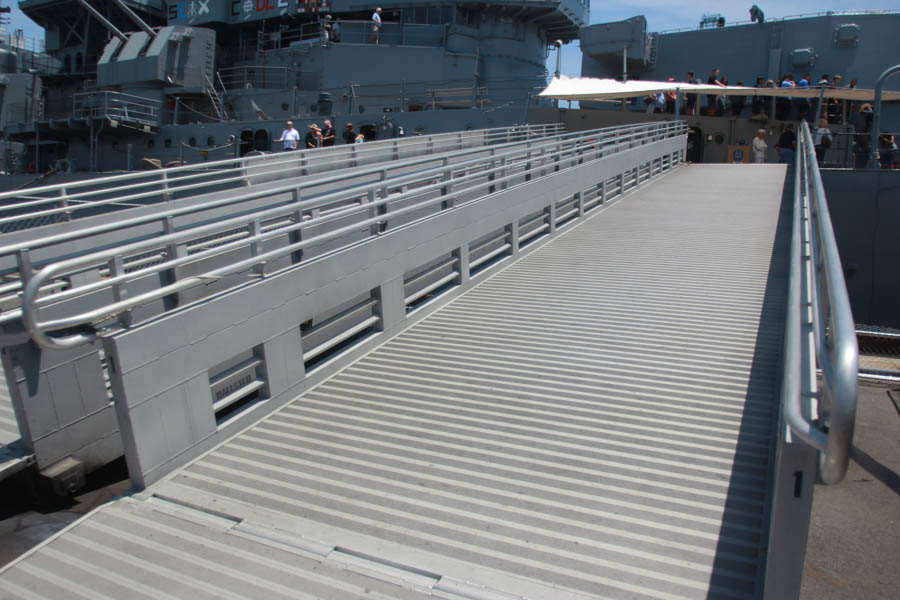 What a gang plank!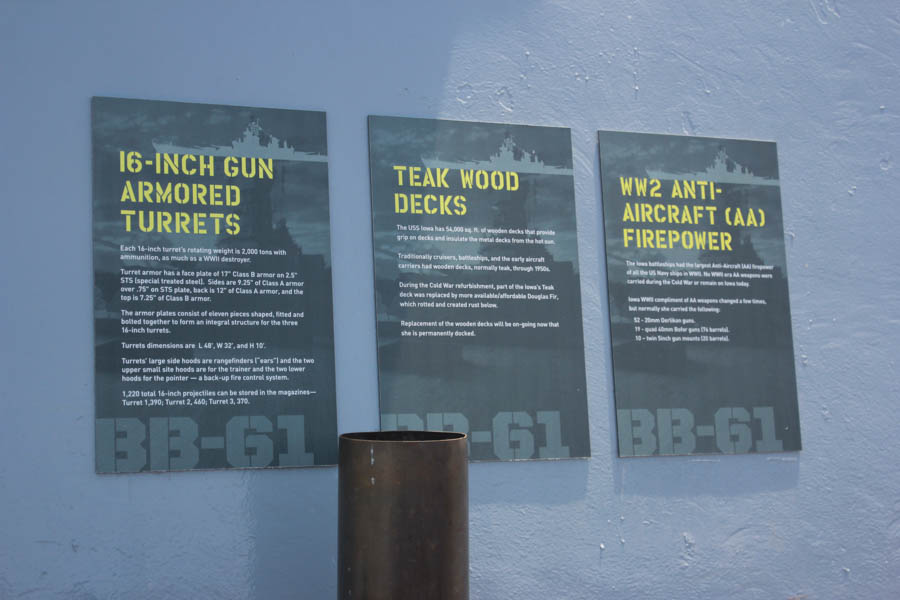 The signage on the ship was well done
Did You Know? - The decks outside are teak for three reasons: 1) less slippery than steel when wet, 2) much cooler than steel on hot days in the tropics, and 3) teak does not "spark" when hit my metal - important when handling explosives.
The Big Sticks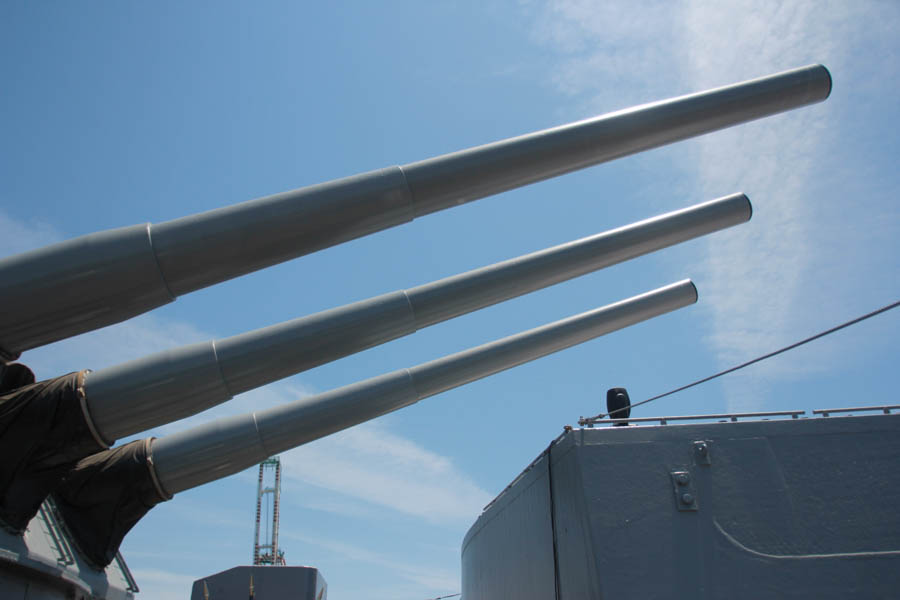 Her nickname was "The Big Stick"... Obviously!
Did You Know? - USS Iowa‍ '​s main battery consisted of nine 16" (406.4mm)/50 caliber Mark 7 guns, which could fire 2,700 lb (1,200 kg) armor-piercing shells 20 nmi (23 mi; 37 km).

There were several decks dedicated to this massive gun!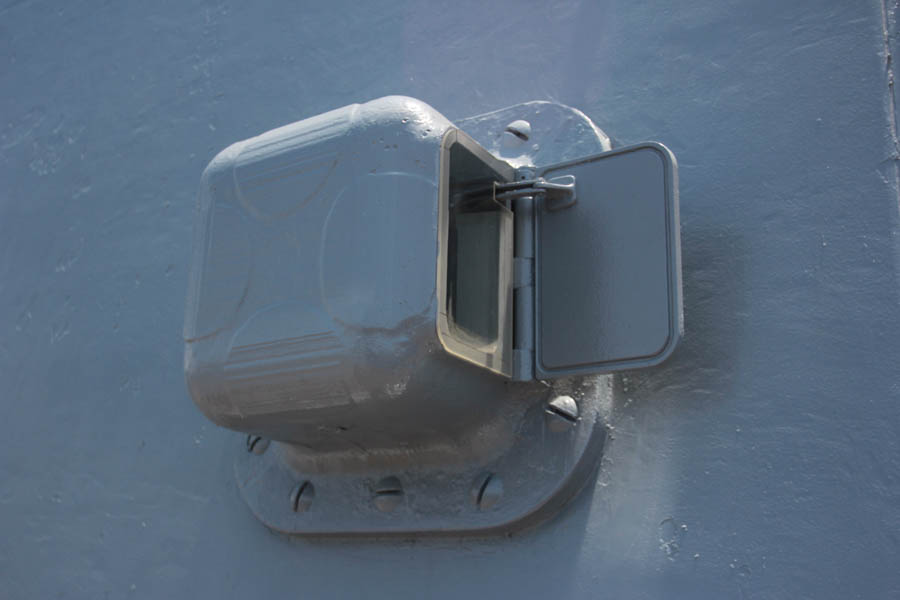 One of the stereo viewers used to point the guns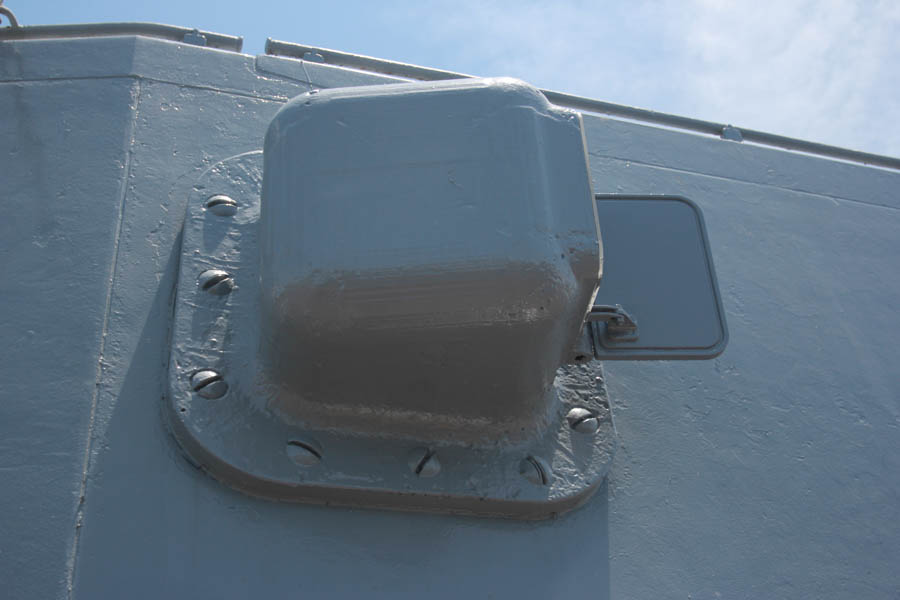 The doors closed right before firing and during bad weather

The turrets could swing 300 degrees at 4 degrees/second
Did You Know? - These guns were 66.6 feet (20 m) long—50 times their 16-inch (406 mm) bore, or 50 calibers, from breechface to muzzle.
Each gun weighed about 239,000 pounds (108,000 kg) without the breech, or 267,900 pounds (121,517 kg) with the breech
They fired projectiles weighing from 1,900 to 2,700 pounds (850 to 1,200 kg) at a maximum speed of 2,690 feet per second (820 m/s) with a range of up to 24 miles (39 km).
At maximum range the projectile spent almost 1½ minutes in flight.
Each turret required a crew of 79 men to operate.
The turrets themselves cost US$1.4 million each, to which the cost of the guns had to be added.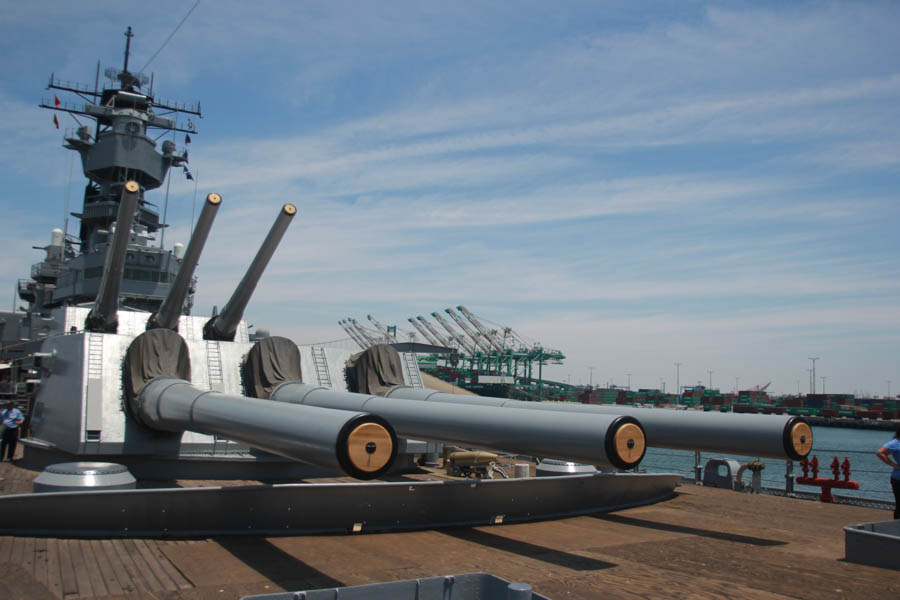 Did You Know? - The guns could be elevated from −5 degrees to +45 degrees, moving at up to 12 degrees per second. The turrets could rotate about 300 degrees at about 4 degrees per second and could even be fired back beyond the beam, which is sometimes called "over the shoulder".

It could fire everything from dummy rounds to nuclear tipped
Did You Know? - The turrets were "three-gun", not "triple", because each barrel could be elevated and fired independently. The ships could fire any combination of their guns, including a broadside of all nine. The turret interiors were subdivided and so designed as to permit the independent loading, elevation and firing of each gun.
Each turret was also installed with an optical range finder and ballistic analog computer. This permitted the turret's gun captain and crew to locally engage targets, should battle damage disrupt communication with the ship's primary or auxiliary fire control centers.
Contrary to popular belief, the ships did not move sideways noticeably when a broadside was fired. With the damping effect of the water around the hull the pressure wave generated by the gunfire was felt much more than the slight change in lateral velocity.

2700 pounds of lethal destruction
Did You Know? - The deck of the ship is covered in teak wood. . The main reason the deck is made of teak wood is because of the large amount of gunpowder that had to be transported on and off of the ship. Needless to say, you would not want a metal container carrying large amounts of gunpowder to be accidentally scraping on a steel floor—creating sparks!

The stereo viewers on the opposite side of turret #1
Did You Know? - The guns could be elevated from −5 degrees to +45 degrees, moving at up to 12 degrees per second. The turrets could rotate about 300 degrees at about 4 degrees per second and could even be fired back beyond the beam, which is sometimes called "over the shoulder".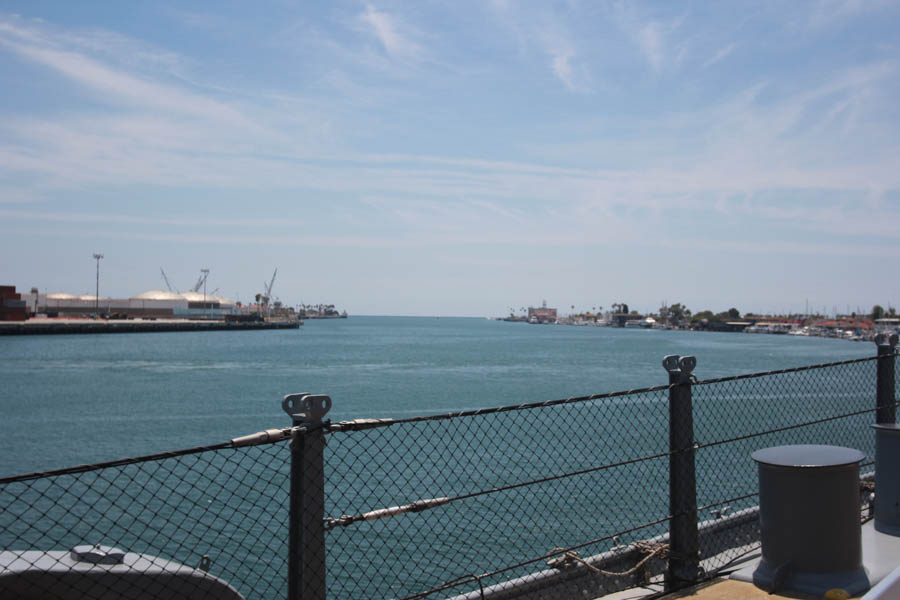 The horizon is 14 miles out... The IOWA could deliver it message
ten miles beyond that! It could shell Catalina from its dock!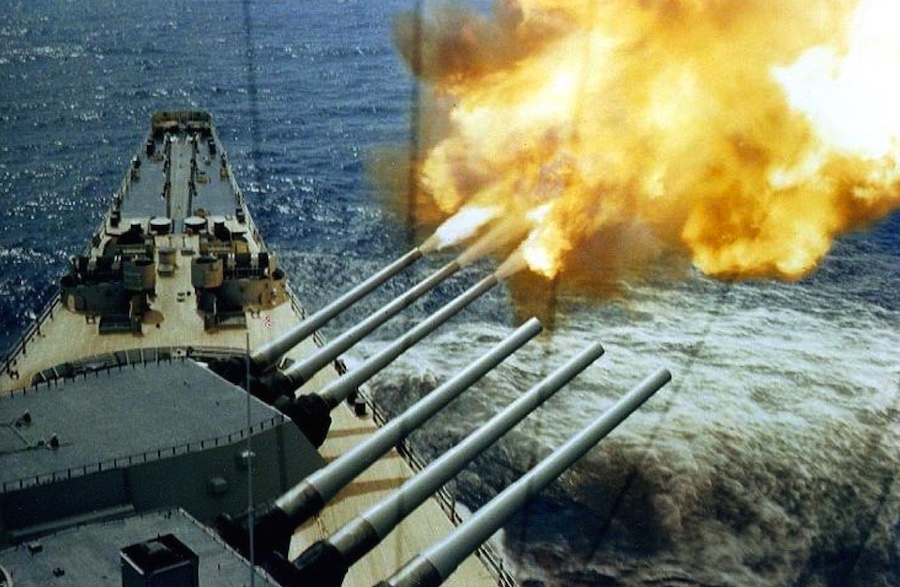 Wow!

We would not want to be on the receiving end of this beast!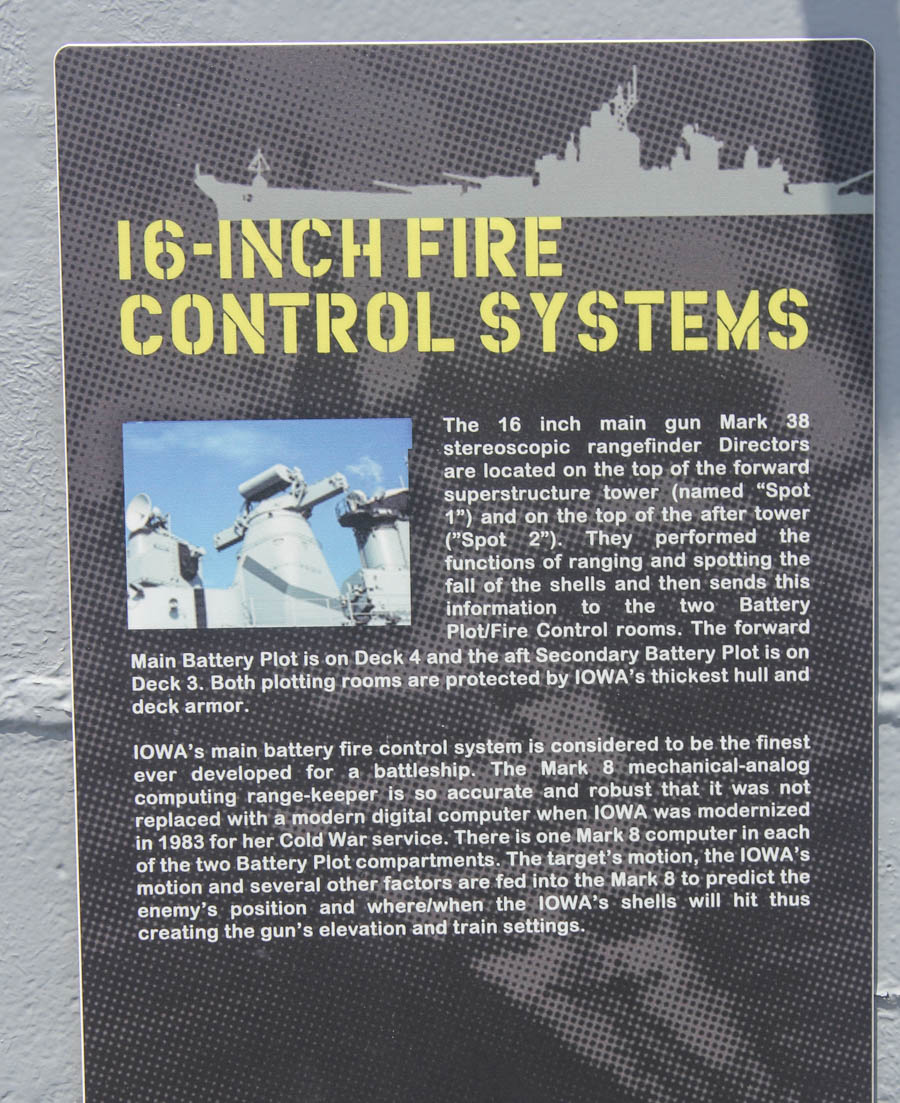 Looking Forward To The Bow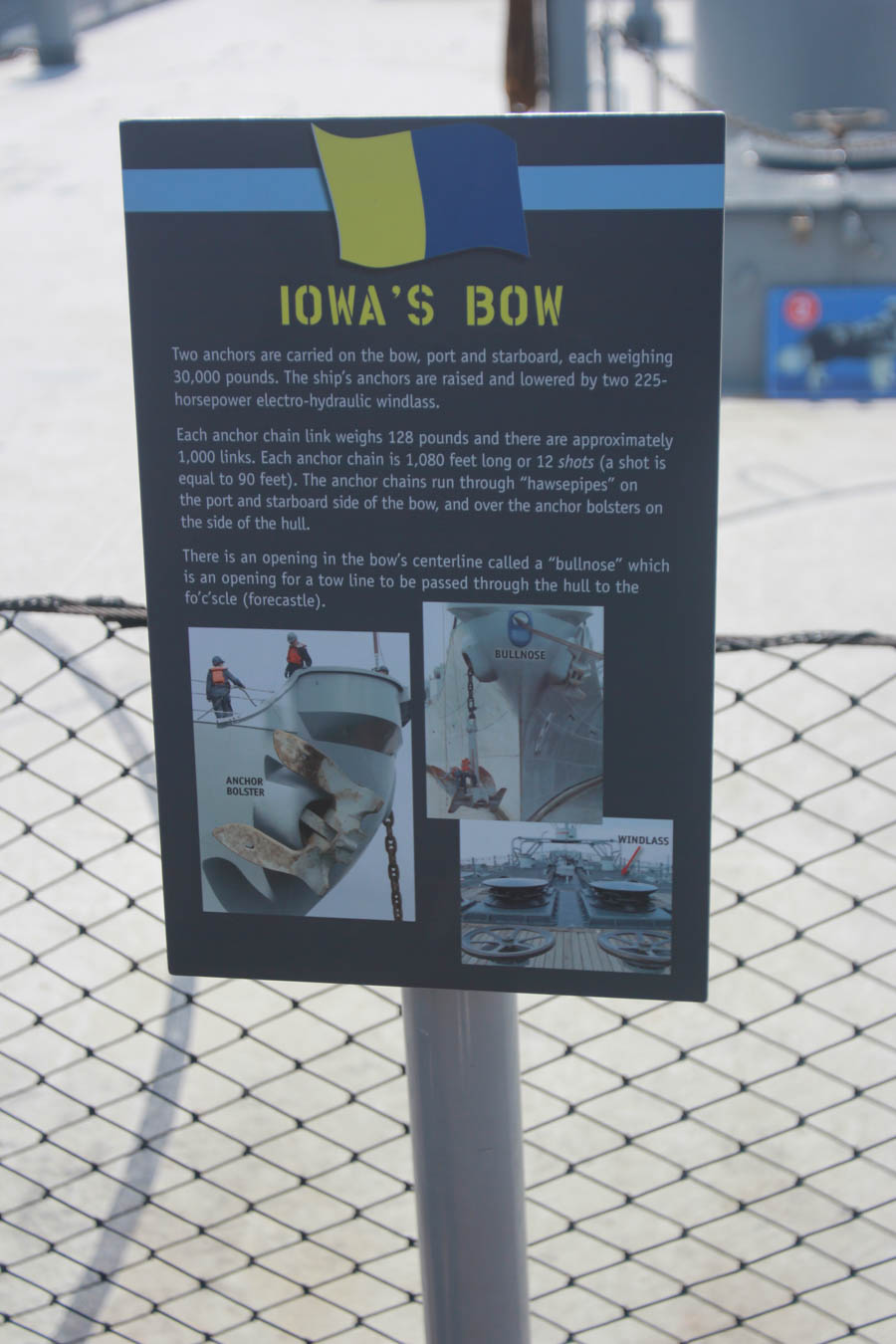 Each anchor chain weighed in at 128,000 pounds!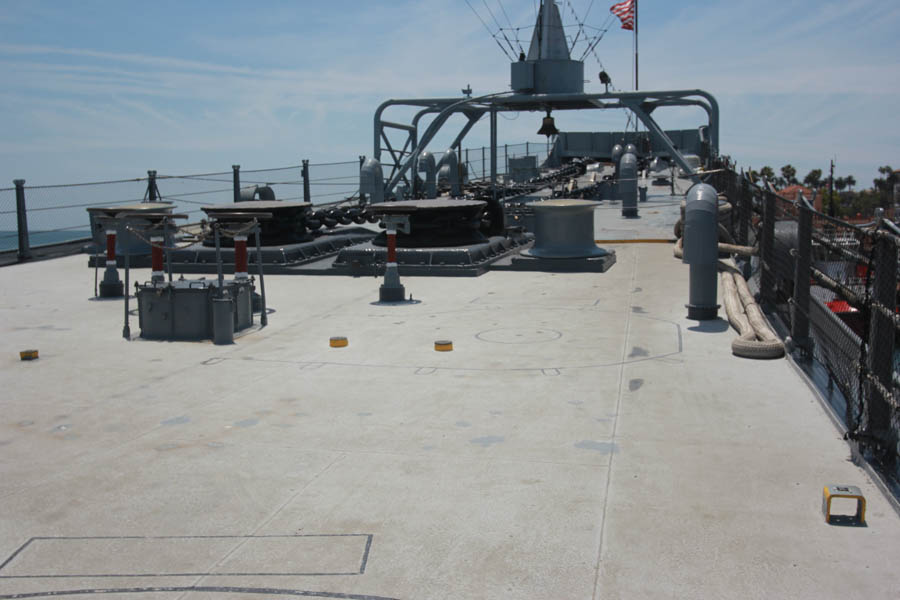 The Bow slid through the water cutting the sea
open for the 108' wide ship to go through
We Follow The Arrows

It's dizzying to look up 174 feet to the top of the ship!
Note the five inch guns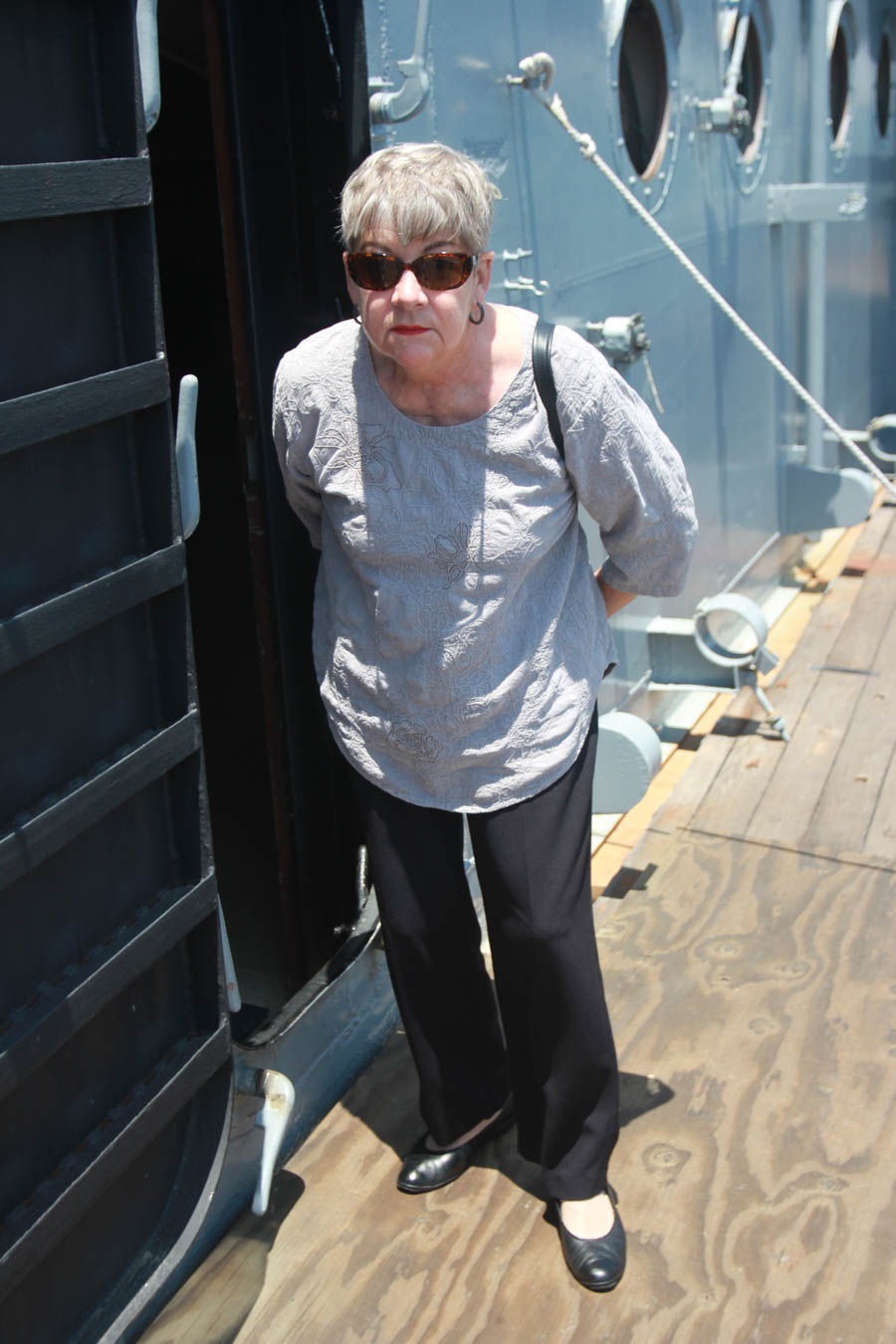 "Come on and follow me, we are going inside"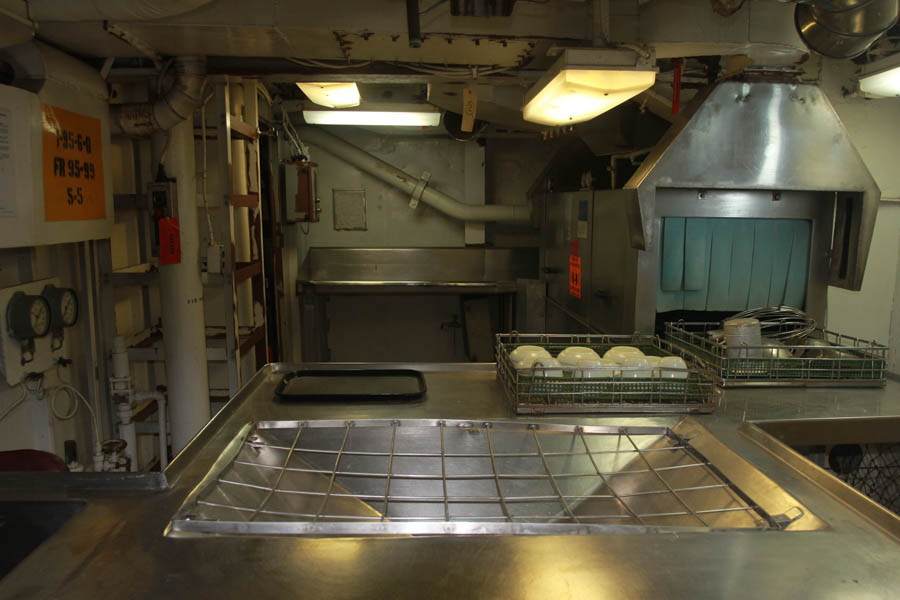 The scullery (Dish washing area)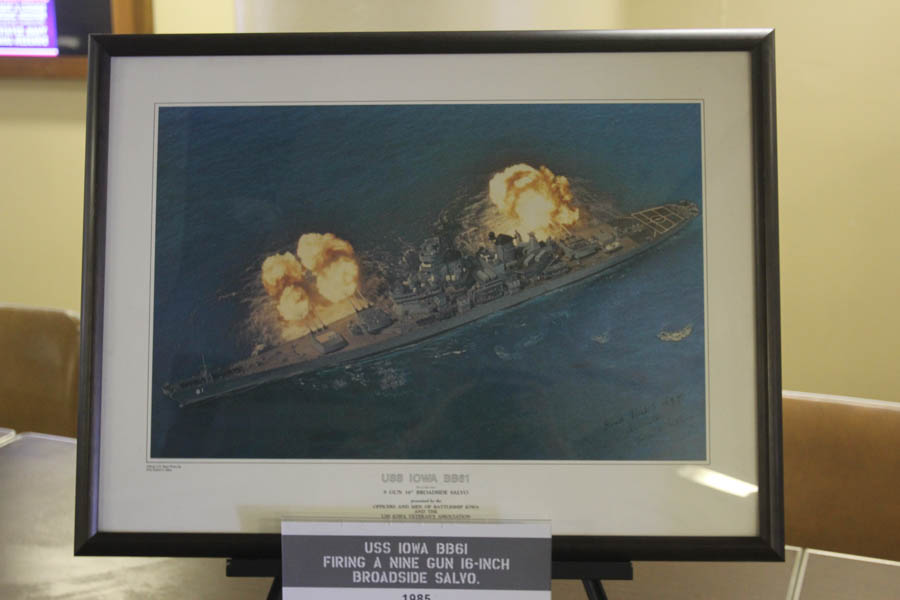 In the officers ward room there were many displays and pictures of the Iowa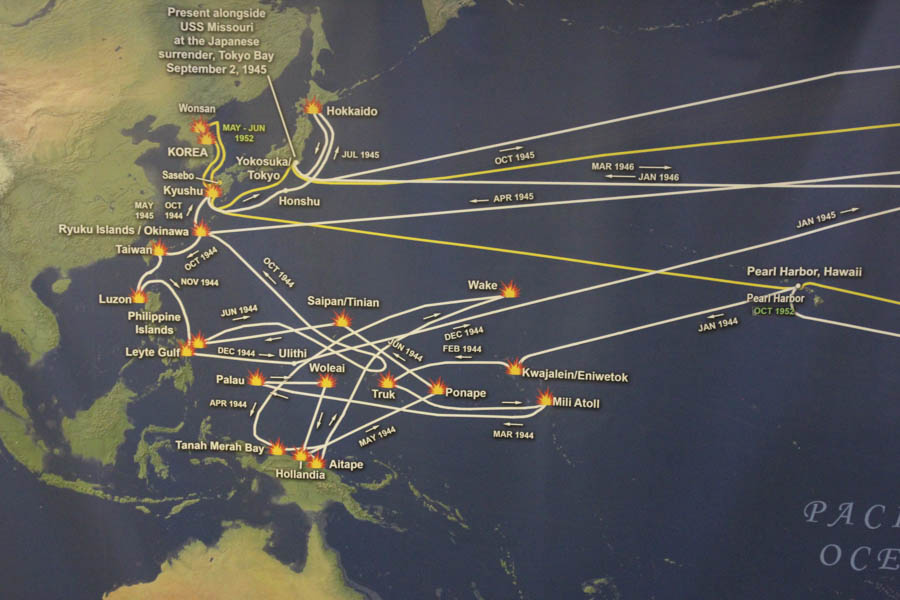 She went everywhere and served in both theaters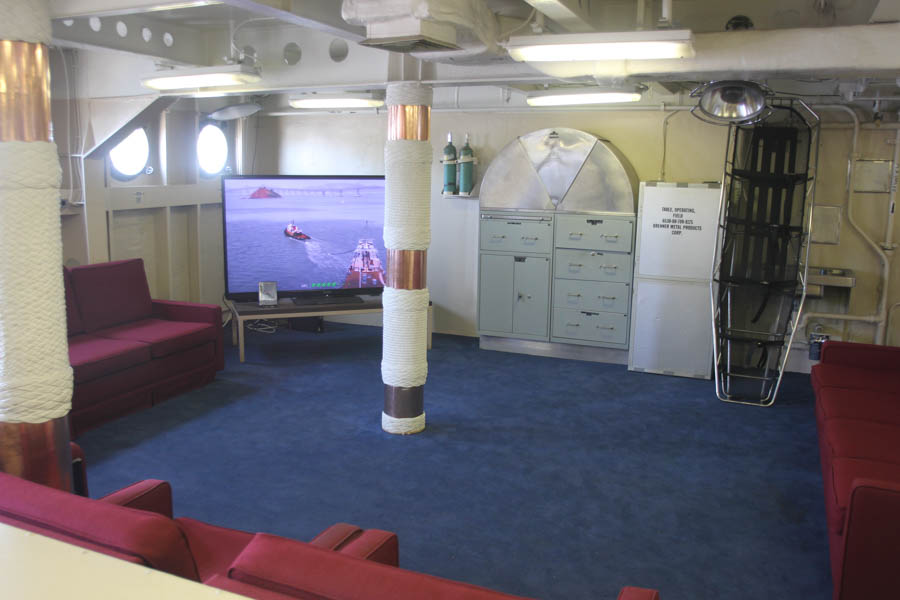 The officers social room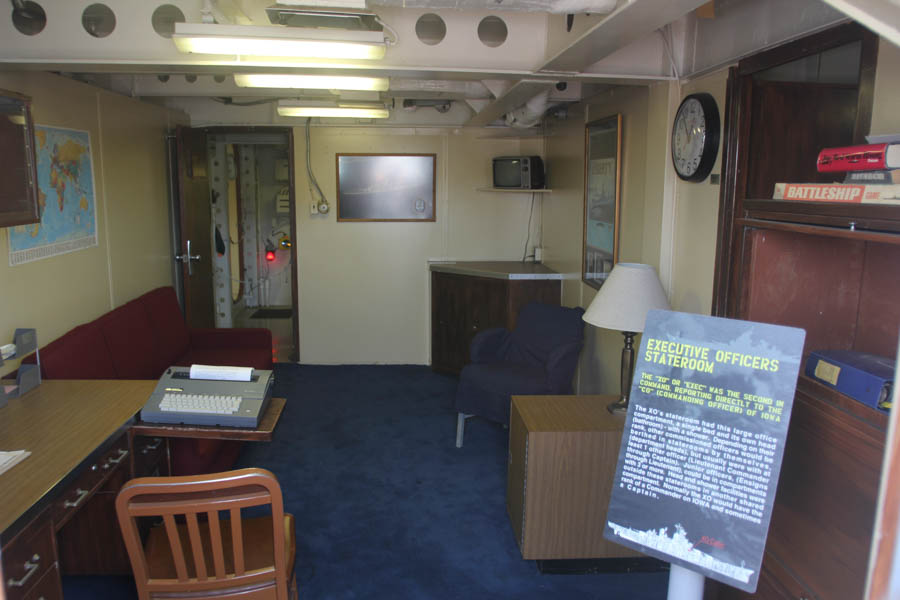 The Executive Officers had nice digs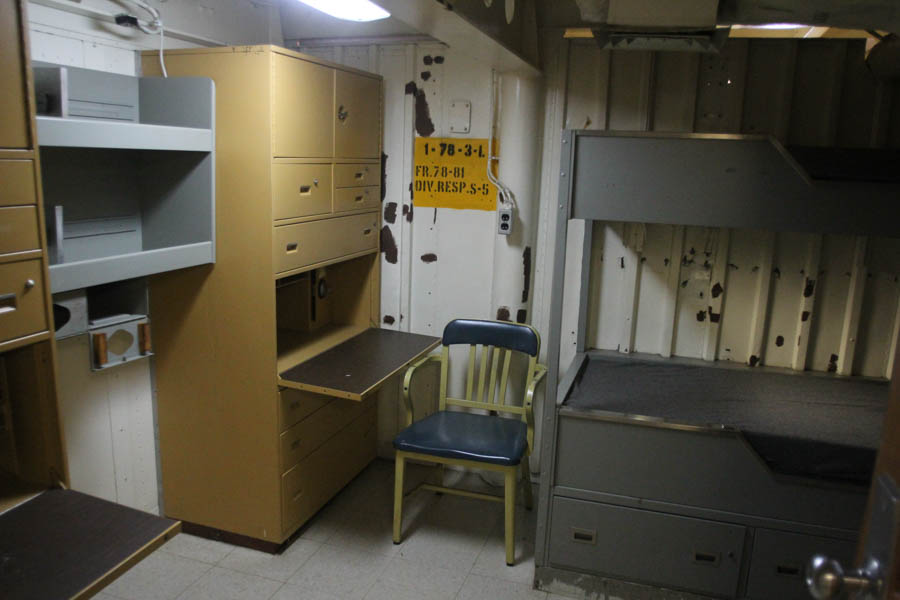 As you were lowered in rank, the accommodations also changed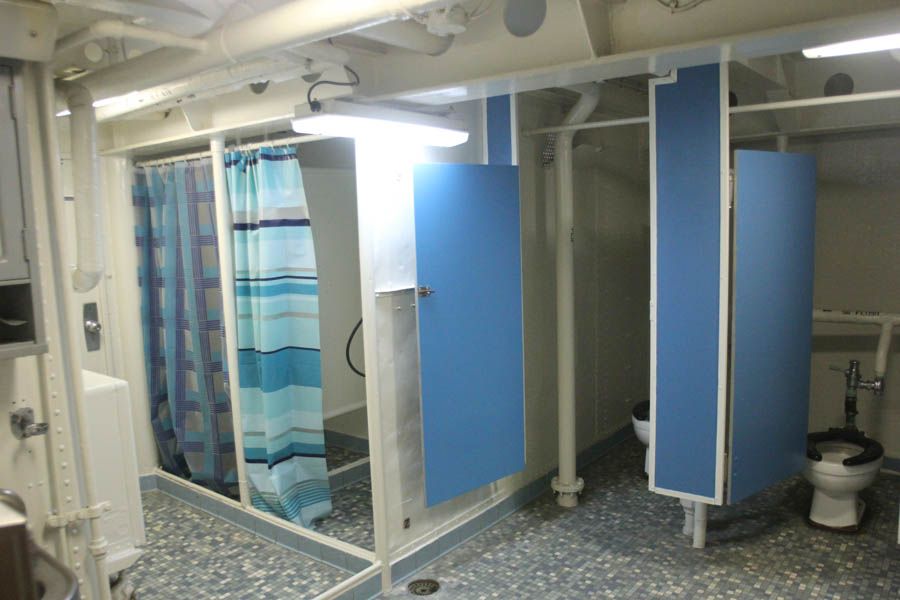 Minimal privacy due to the cramped quarters

Follow Sue... She is the tour guide today!
Back On The Deck... The Port Side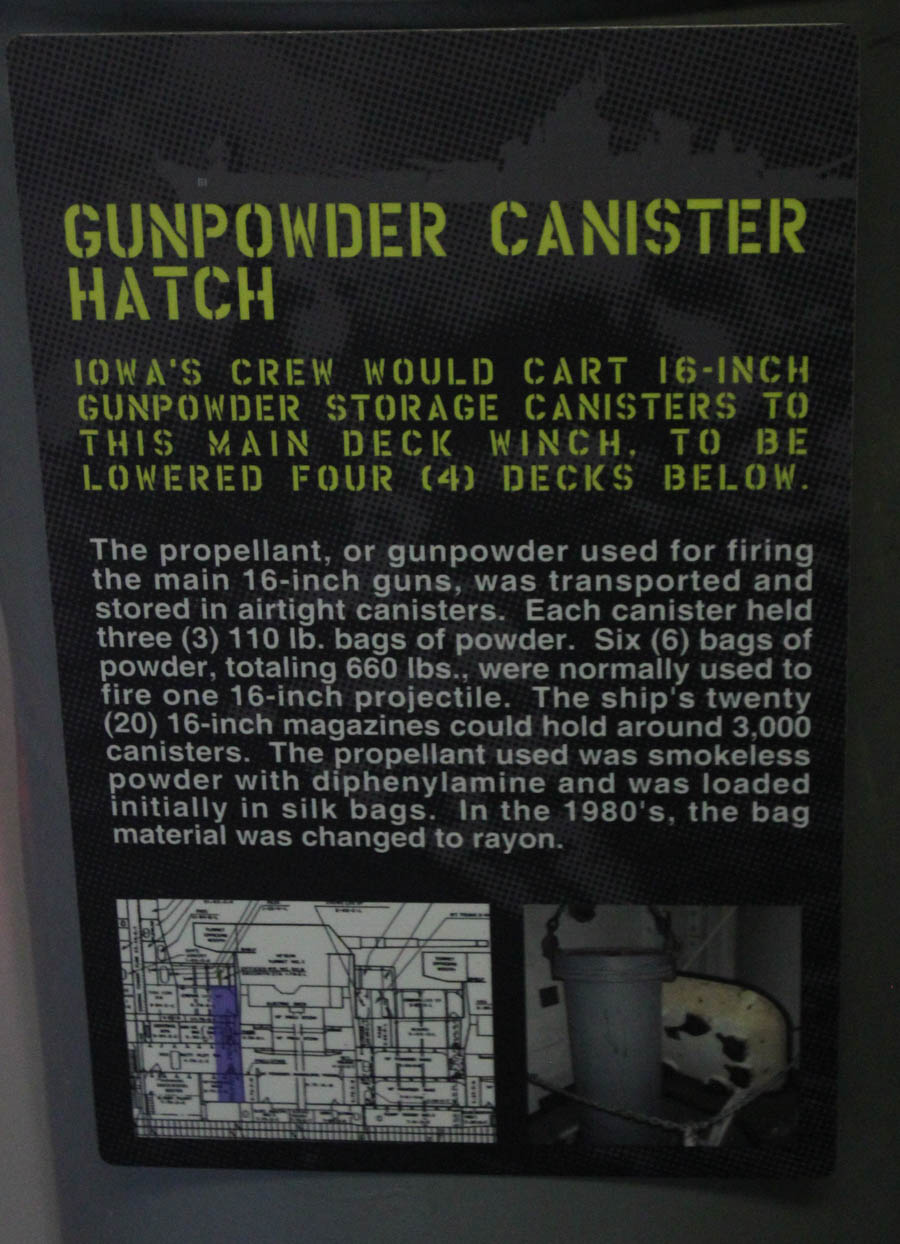 They had to be handled quite careful!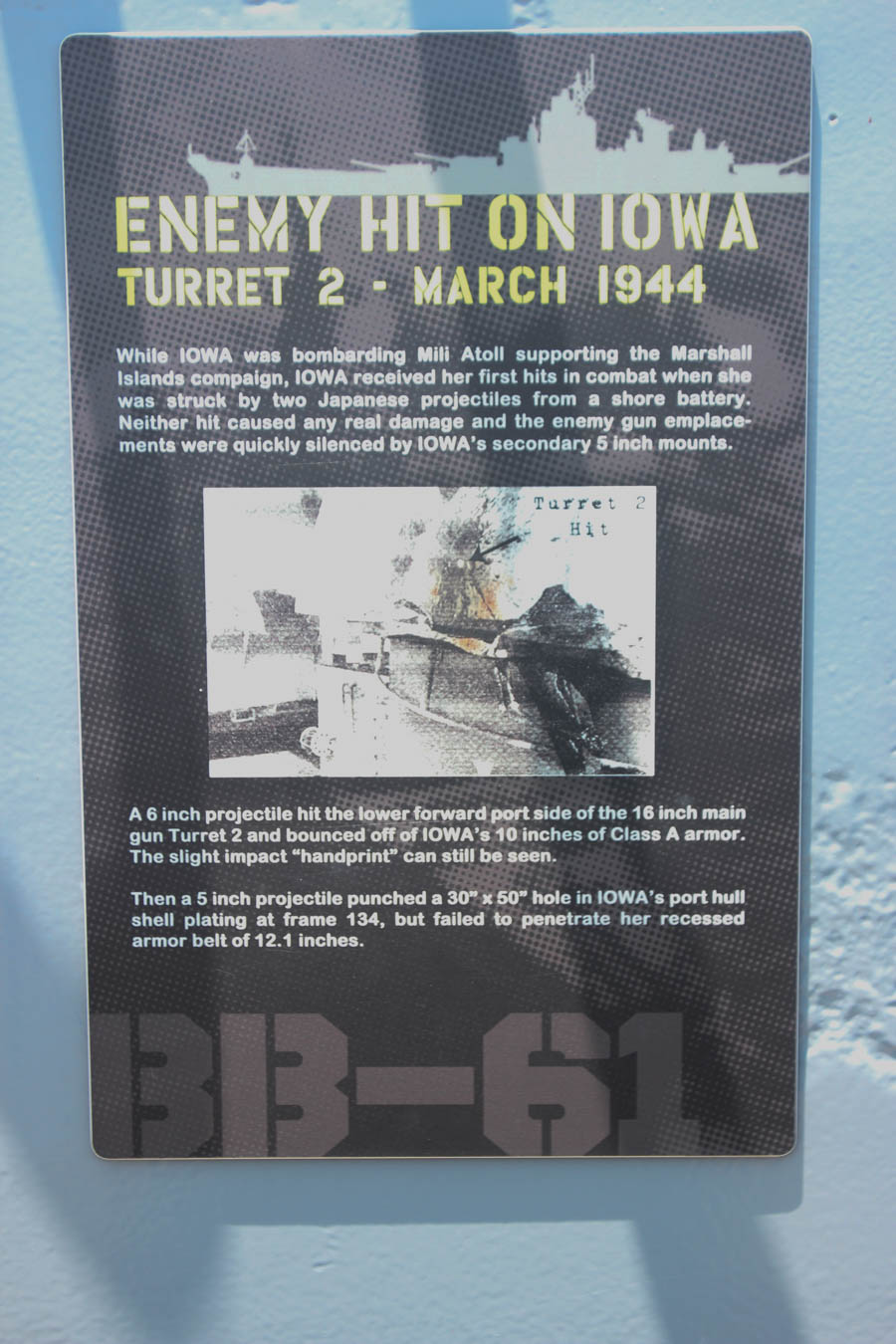 The turrets were protected with several inches of specially designed steel
Did You Know? - The ship was built for punishment. All the systems needed to keep these ship's combat effective such as magazines, engineering spaces, steering, plotting rooms, command & control, weapons, etc. are protected by heavy armor. The armor box, referred to as the citadel, extends from just forward of Turret 1 to just aft of Turret III. The top, sides and ends of the citadel are heavily armored, however the bottom is not ballistically protected. Critical systems located outside the citadel such as the turrets, conning tower, fire control, directors, etc. are armored extensions of the citadel.
Back Inside We Go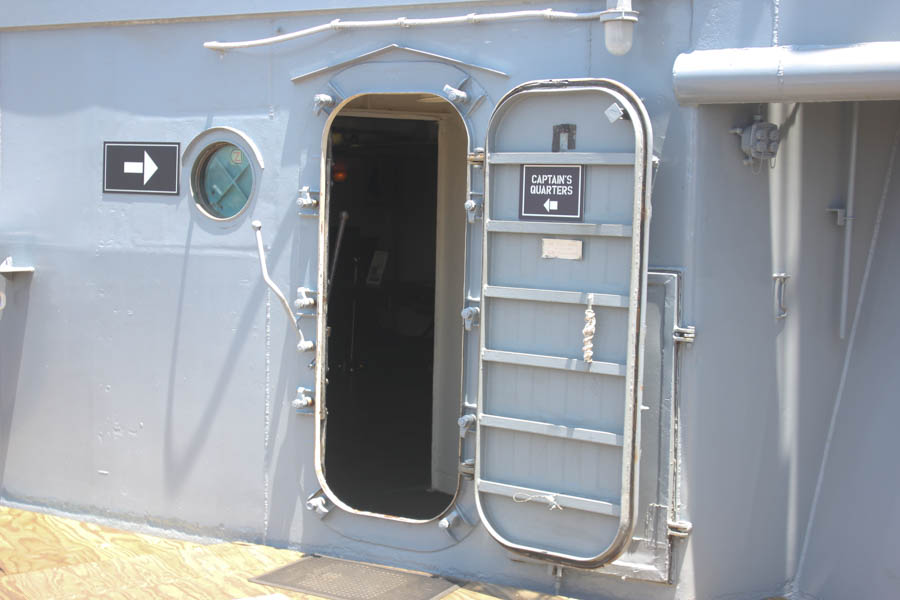 The Captains Quarters were nice digs

Fairly elegant!

The Iowa transported President Roosevelt to Europe
The President occupied the Captains quarters during the voyage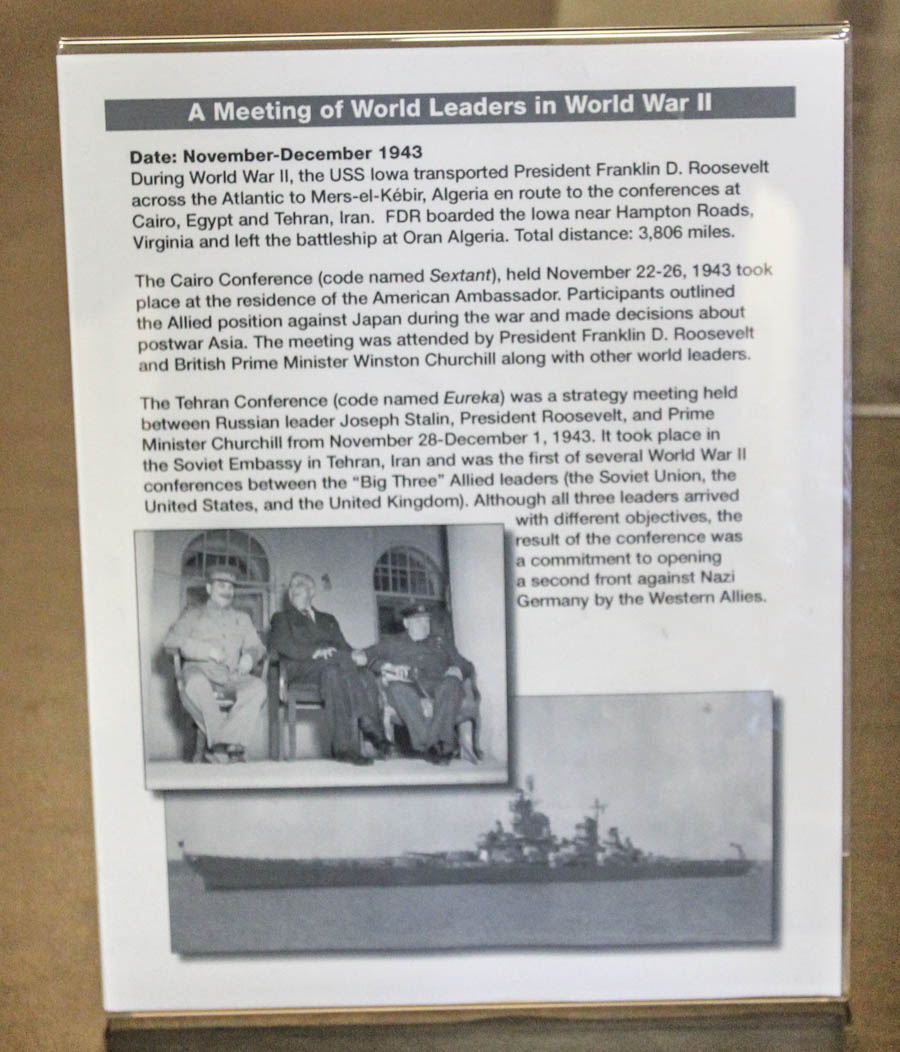 It was an historic meeting with a strategy to defeat the axis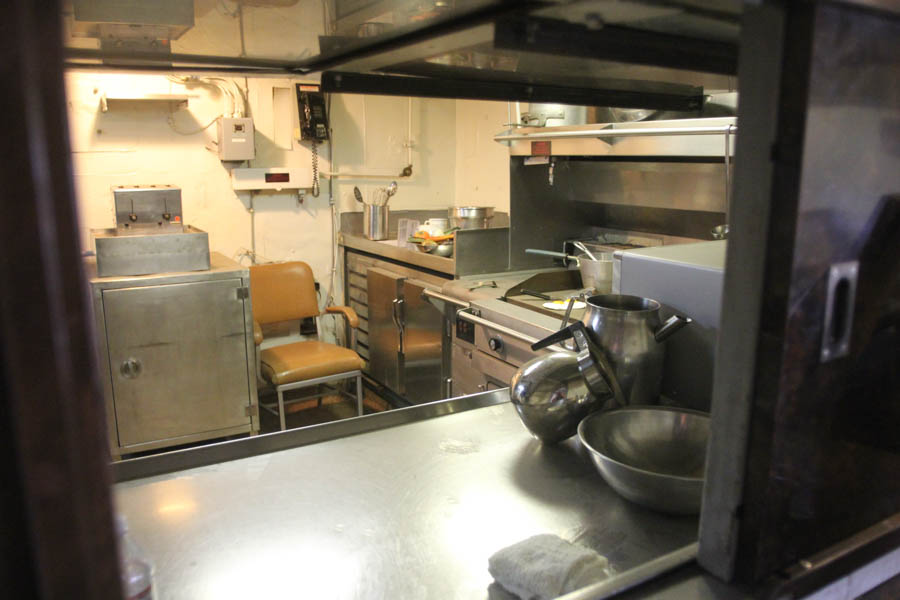 The Captain had his own kitchen (mess)

Nice conference and meeting area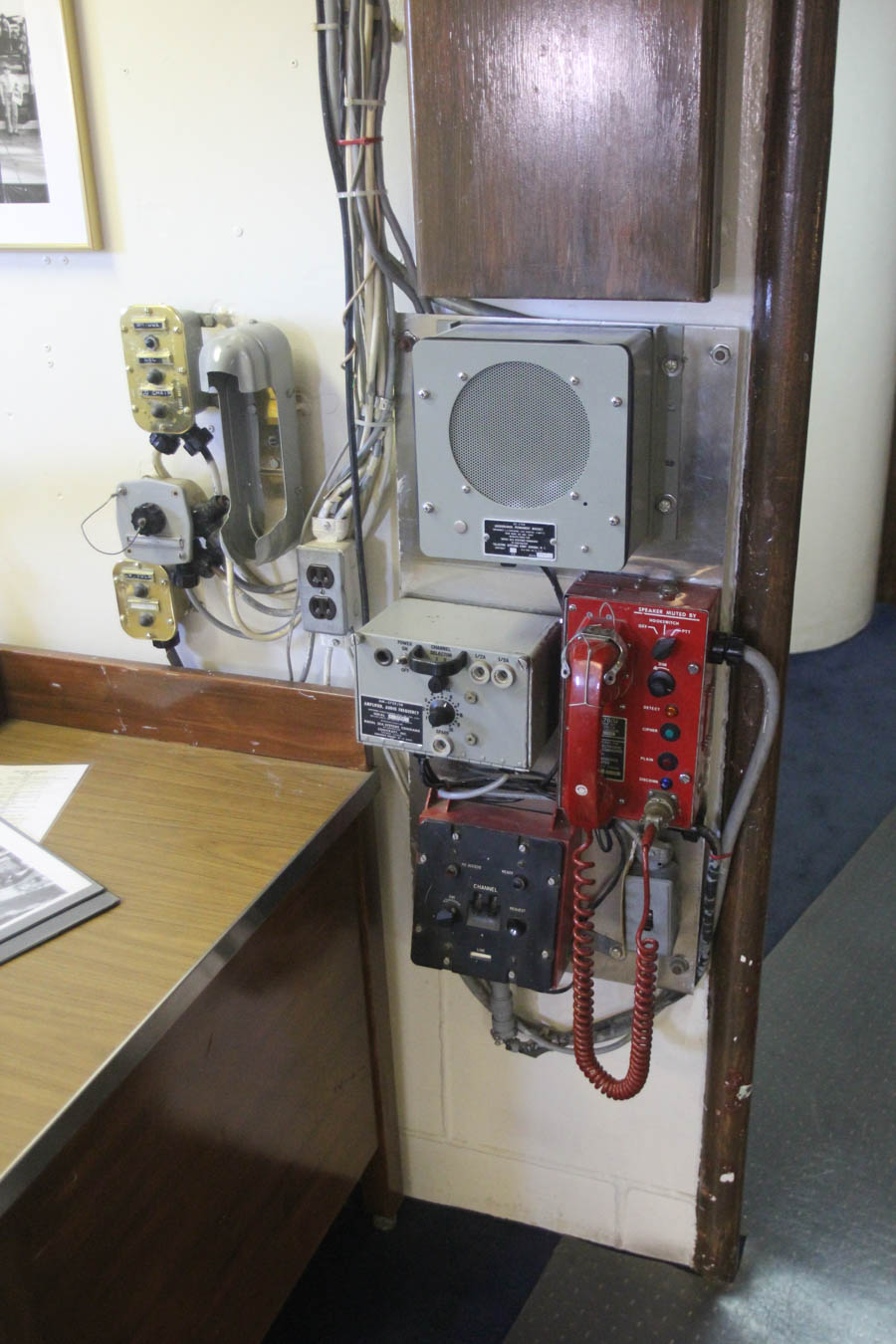 There were comms everywhere on the ship

The Captains bedroom
Back To Normal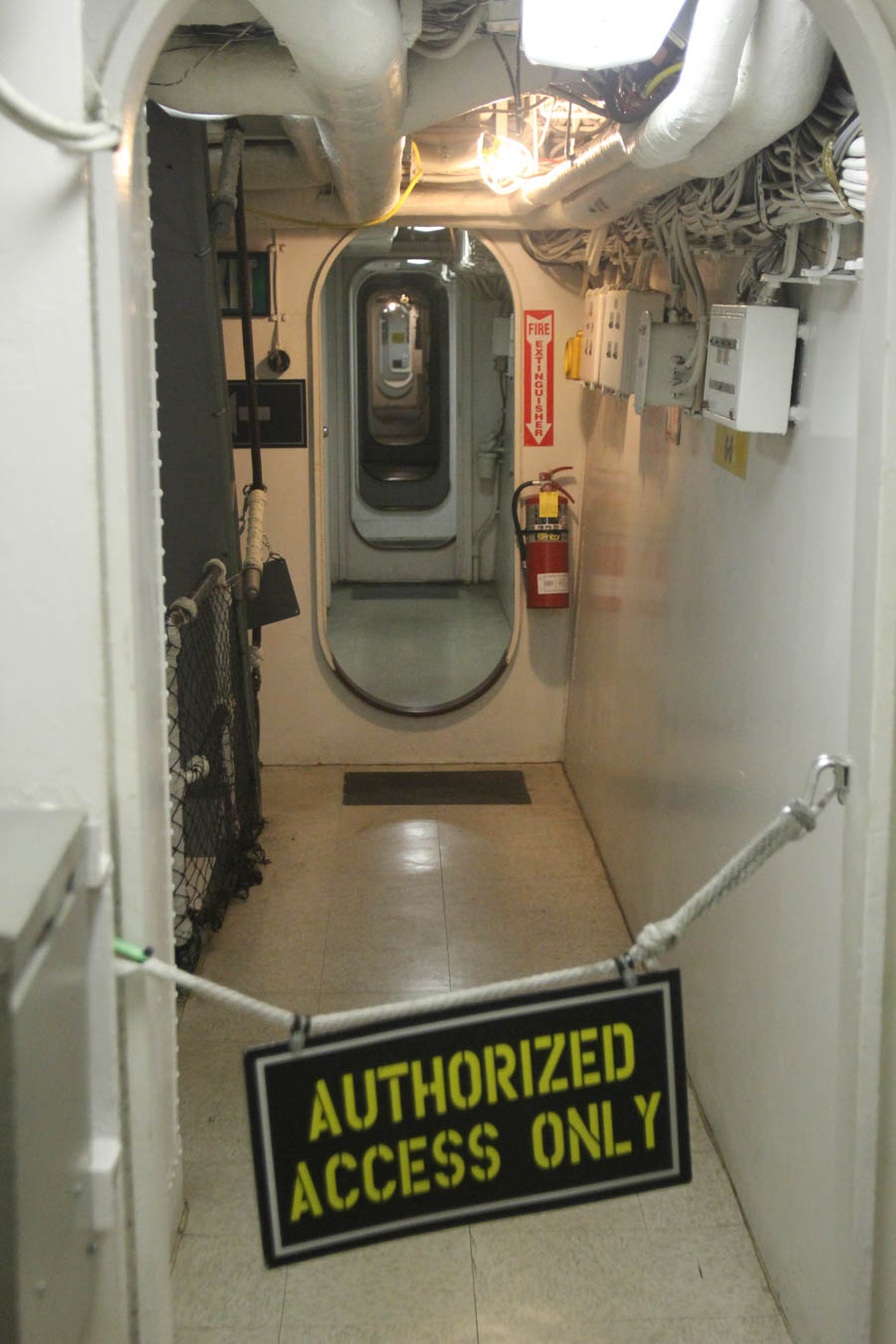 The passageways seemed like they were a mile long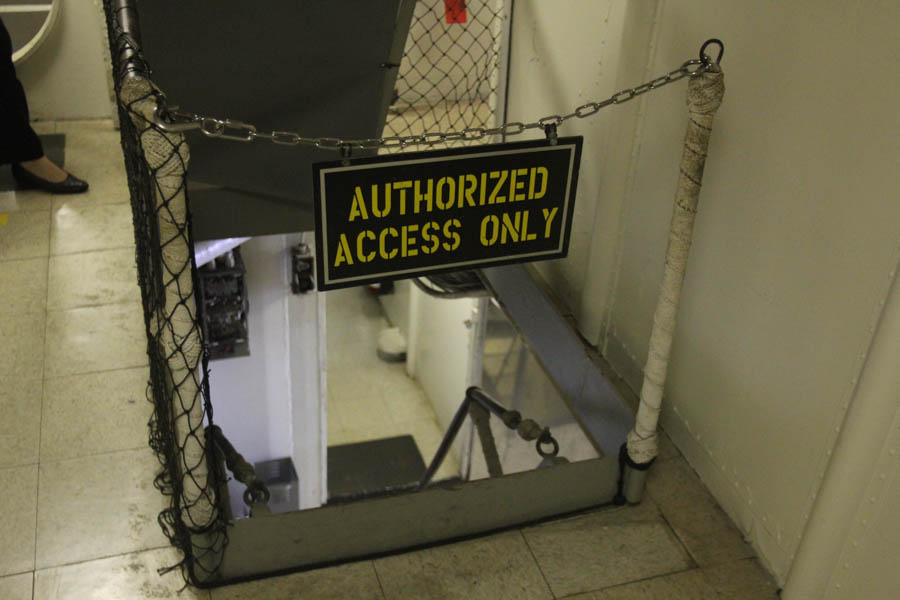 Many passage ways were off limits so far.... Perhaps sometime in the future
On Deck Again With The Five Inch Guns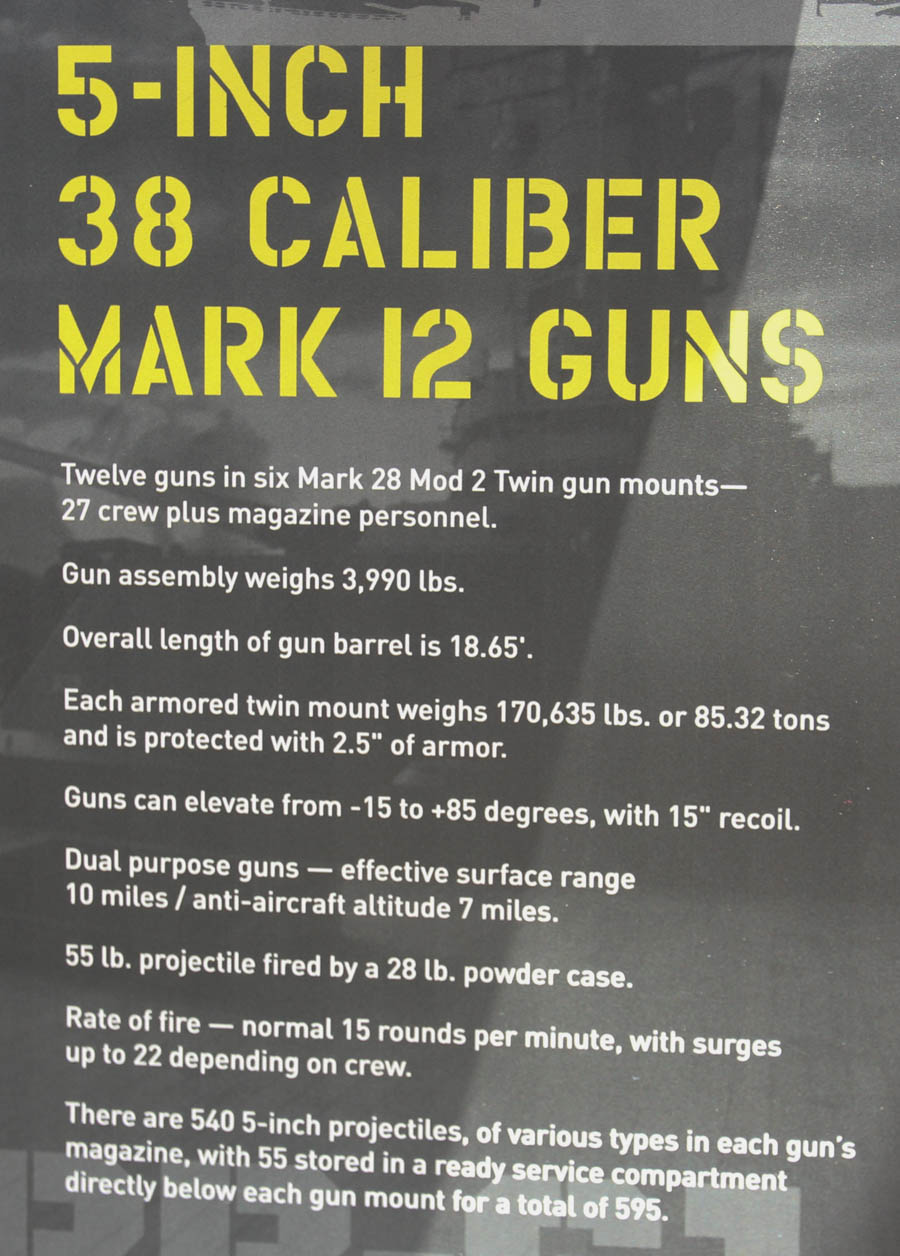 Amazing technology
Did You Know? - Among naval historians, the 5"/38 gun is considered the best intermediate-caliber, dual purpose naval gun of World War II,[5] especially as it was usually under the control of the advanced Mark 37 Gun Fire Control System which provided accurate and timely firing solutions against surface and air targets.
Even this advanced system required nearly 1000 rounds of ammunition expenditure per aircraft kill.
However, the planes were normally killed by shell fragments and not direct hits; barrage fire was used, with many guns firing in the air at the same time.
This would result in large walls of shell fragments being put up to take out one or several planes or in anticipation of an unseen plane, this being justifiable as one plane was capable of significant destruction.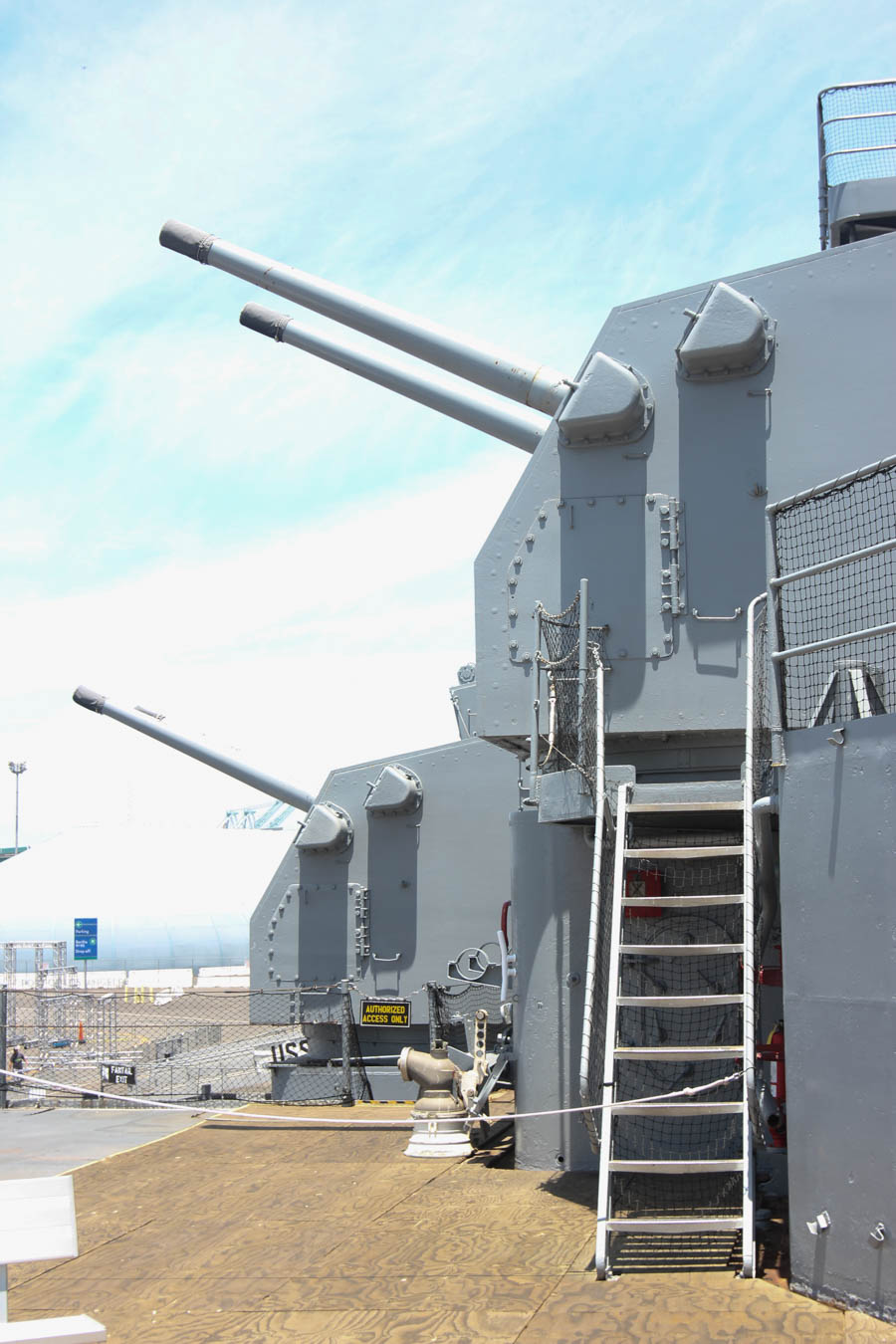 The five inch guns were all over the side of the ship...
They could throw a shell 12 miles!

The turret was manned by 12 people when full battle condition

Note the armor and the thick doors

No kidding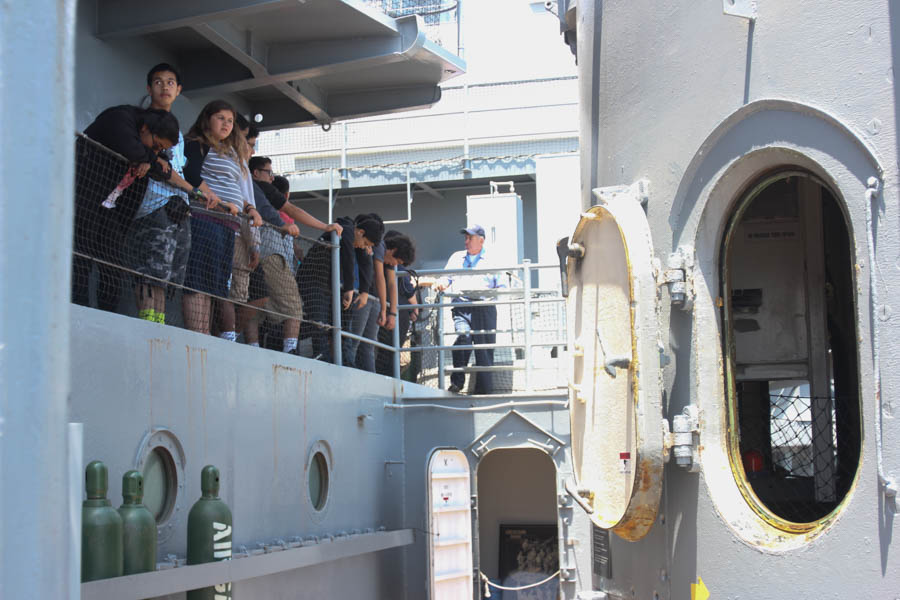 There were a lot of kids on board today from Downey Unified
Did You Know? - Millions of rounds of ammunition were produced for these guns, with over 720,000 rounds still remaining in Navy storage depots in the mid-1980s because of the large number of Reserve Fleet ships with 5"/38 cal guns on board.

What a trooper.... Up and down stairs all day!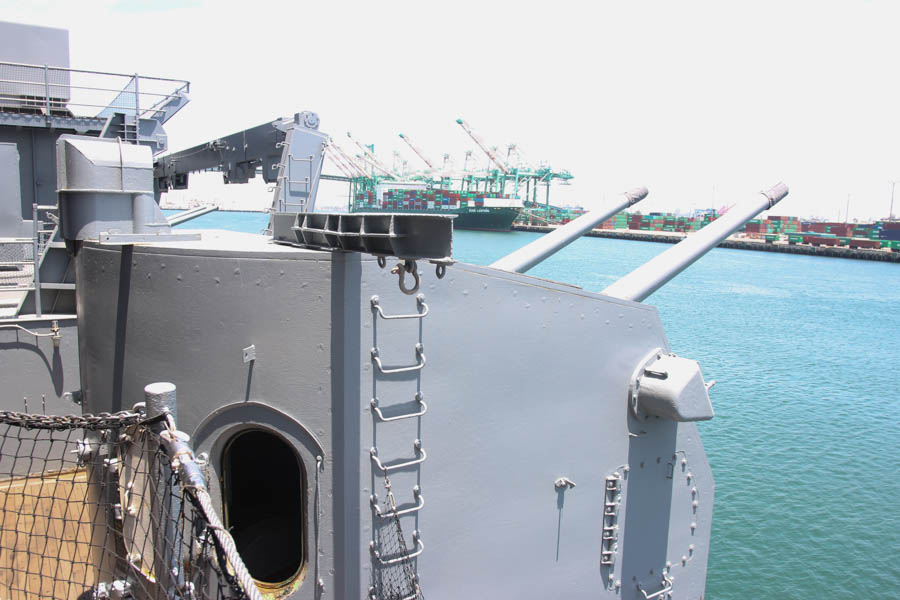 If it were working, it could land shells in Huntington Beach from here

The one on the port side could hit Torrance
More To See - Follow The Arrows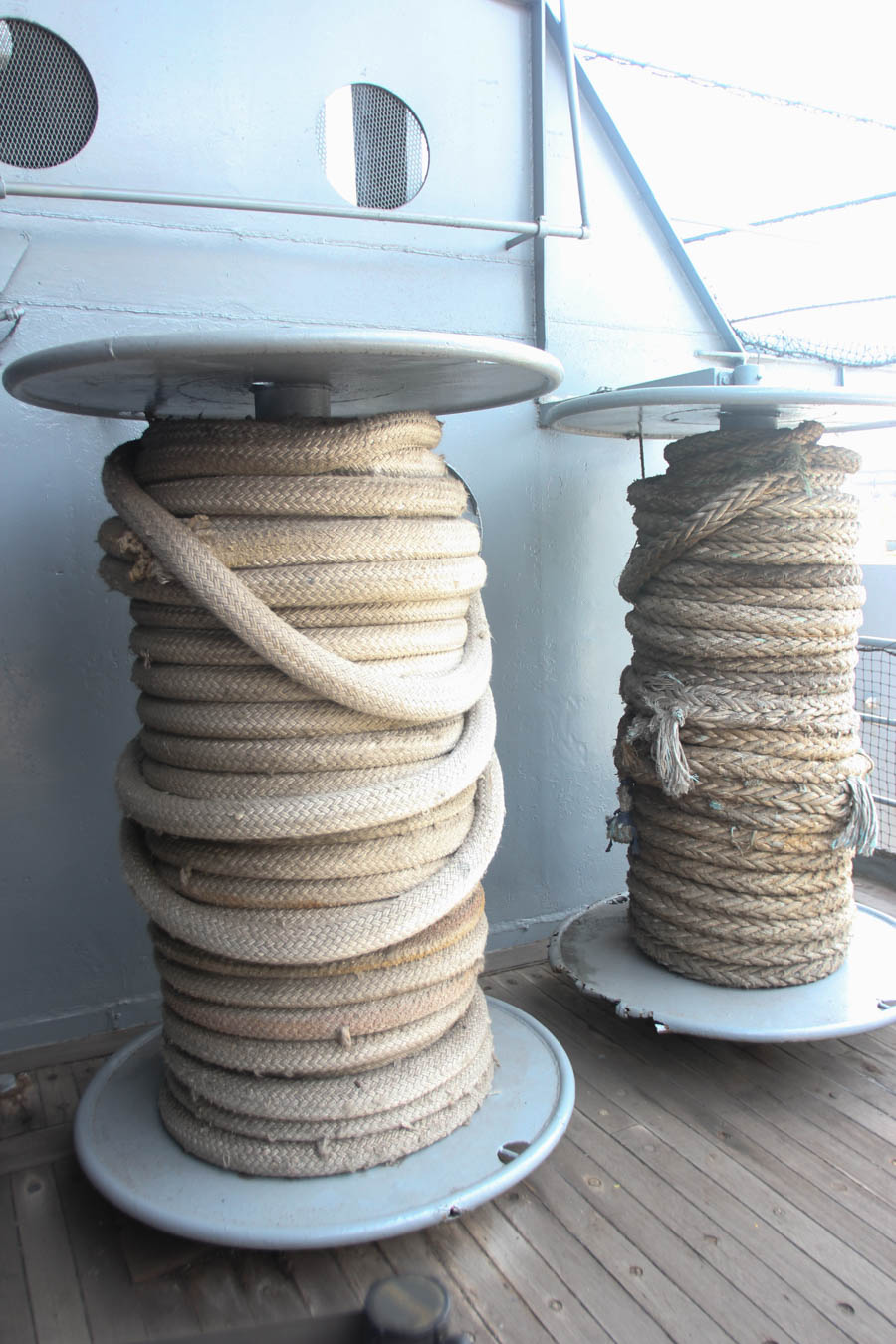 Tiny ropes used to tie the Iowa up!

The stairways were indeed steep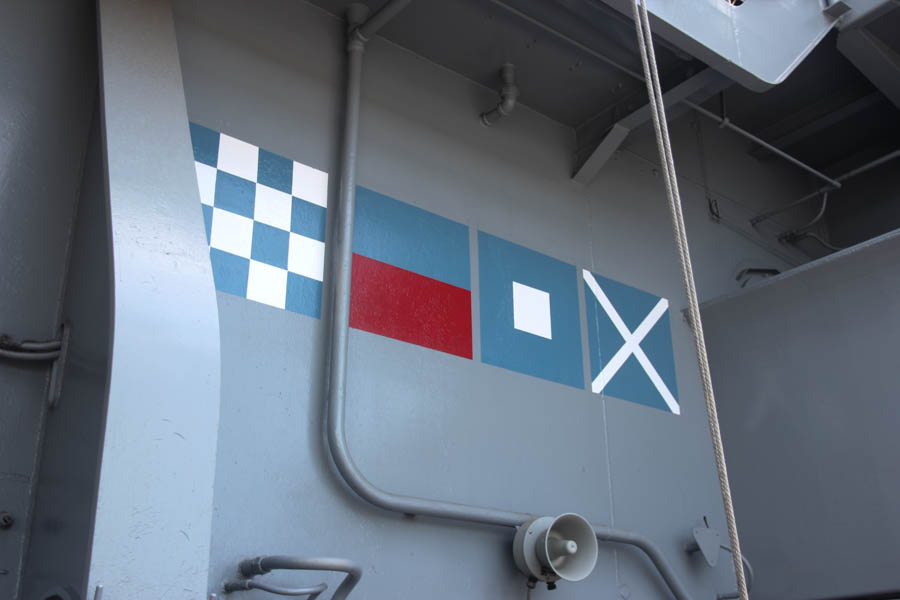 Do you know what it says?
"N E P M"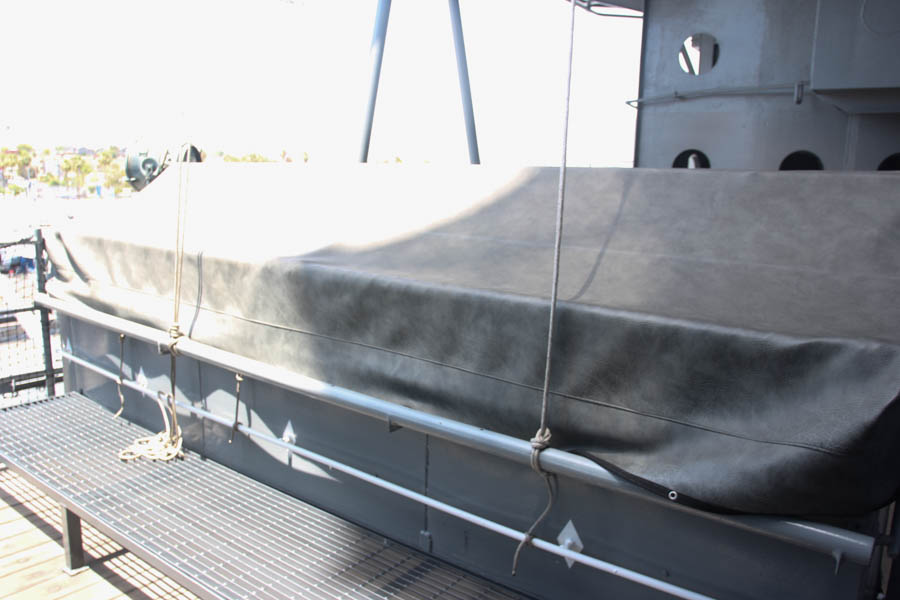 The flag station

The system of international maritime signal flags is one system of flag
signals representing individual letters of the alphabet in signals to or from ships.

Wanna get flashed???
Did You Know? - A signal lamp (sometimes called an Aldis lamp, named after Arthur Cyril Webb Aldis who invented a widely used design) is a visual signaling device for optical communication (typically using Morse code).
Modern signal lamps are a focused lamp which can produce a pulse of light. In large versions this pulse is achieved by opening and closing shutters mounted in front of the lamp, either via a manually operated pressure switch or, in later versions, automatically.
With hand held lamps, a concave mirror is tilted by a trigger to focus the light into pulses.
The lamps were usually equipped with some form of optical sight, and were most commonly used on naval vessels and in airport control towers (using color signals for stop or clearance).
Aldis lamps were pioneered by the British Royal Navy in the late 19th century, and continue to be used through the present day on naval vessels. They provide handy, secure communications during periods of radio silence as well as other times and were particularly useful for convoys operating during the Battle of the Atlantic.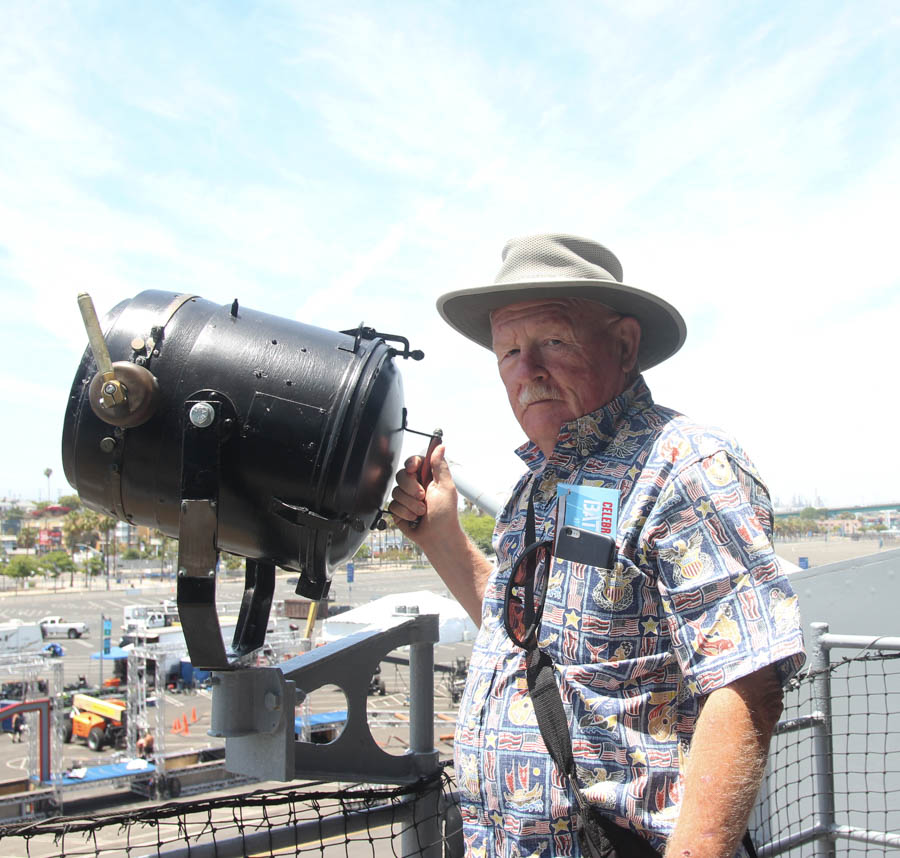 Paul remembers Morse code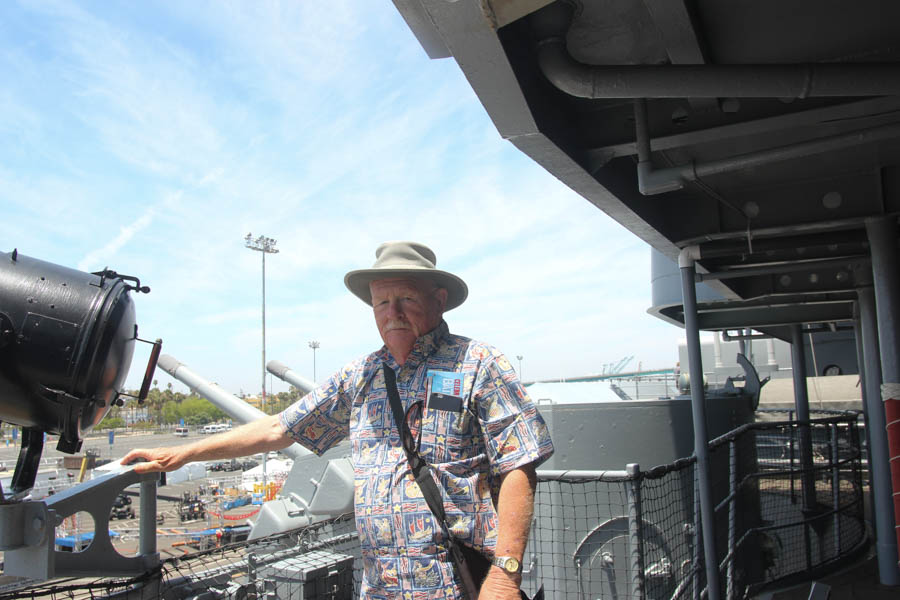 We are so high up Paul grabs the rails

You can find compasses all over the ship!
Sound: Victory At Sea
Victory at Sea is a documentary television series about warfare in general during World War II, and naval warfare in particular, as well as the use of industry in warfare. It was originally broadcast by NBC in the USA in 1952–1953.
It was condensed into a film in 1954. Excerpts from the music soundtrack, by Richard Rodgers and Robert Russell Bennett, were re-recorded and sold as record albums. The original TV broadcasts comprised 26 half-hour segments—Sunday afternoons at 3pm (EST) in most markets—starting on October 26, 1952 and ending on May 3, 1953.
The series, which won an Emmy award in 1954 as "best public affairs program", played an important part in establishing historic "compilation" documentaries as a viable television genre.