The Great Soda Pop Adventure 11/28/2008
Soft drink is a beverage that does not contain alcohol. Carbonated soft drinks are commonly known as soda, soda pop, pop, or tonic (northeastern USA) in the United States, soda or pop in Canada, fizzy drinks or pop in the United Kingdom and sometimes minerals in Ireland. The name "soft drink" specifies a lack of alcohol by way of contrast to the term "hard drink".
The term "drink", while nominally neutral, sometimes carries connotations of alcoholic content. Beverages like colas, sparkling water, iced tea, lemonade, squash, and fruit punch are among the most common types of soft drinks, while hot chocolate, hot tea, coffee, milk, tap water, juice and milkshakes do not fall into this classification. Many carbonated soft drinks are optionally available in versions sweetened with sugars or with non-caloric sweeteners.
So we are off to the Soda PopStop in Los Angeles, where else??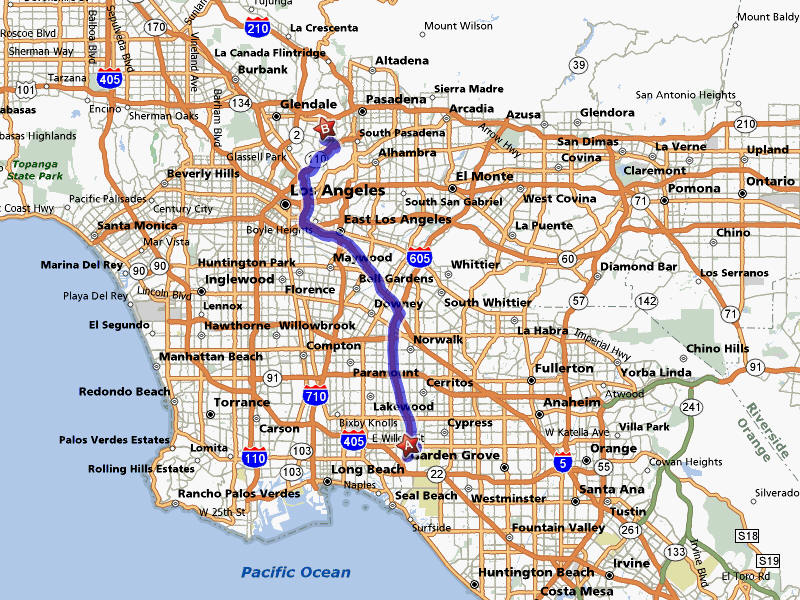 We Ended Up In Eagle Rock, California

Total Estimated Distance: 29.57 miles
The Pictures Provide The Proof Of This Adventure

Arrival means Vicky trying to figure out how to close the doors!

It's been around for over 100 years!
Only in LA would you have the BevMo for old-time pop drinks. There are hundreds of obscure sodas, ades, juices, and root and ginger beers available, some straight out of the 50's, all in a beat up old supermarket.

Can't miss the signs along York Street

Look's like Paul is getting ready to go in!
It's A Veritable Playground For Old People!

Candy from years gone bye

Eek! I remember most of these little gems!
Do You Remember These? - A few years back perhaps but....
Charleston Chew is a candy bar consisting of flavored taffy covered in imitation chocolate. (Since the "chocolatey coating" uses vegetable fats instead of cocoa butter, it cannot legally be called chocolate.) Created in 1922 by the Fox-Cross Candy Company, the candy was named for the Charleston, a popular dance at that time. The company was purchased in 1957 by Nathan Sloane who doubled the size of the production line before he sold the company to Nabisco in 1980. Although he did not invent the Charleston Chew, he did change the candy's original blueprint, chocolate-covered vanilla taffy. In the 1970s, he introduced such new flavors as chocolate and strawberry. Tootsie Roll Industries purchased Charleston Chew from the Warner-Lambert Company in 1993.
Rocky Road candy is a chocolate candy, which combines chocolate, marshmallow and nuts (usually almonds or English walnuts) United States. The flavor is claimed to have been created in 1929 by William Dreyer when he cut up walnuts and marshmallows with his wife's sewing scissors and added them to his chocolate ice cream during the Great Depression. The company claims it was then so named "to give folks something to smile about in the midst of the Great Depression." Another host says the flavors were created by a Milton Ainbinder, while owning an ice cream toppings factory.
Nut Goodie is a candy bar manufactured by Pearson's Candy Company of Saint Paul, Minnesota. It is a concoction of chocolate, maple, and peanuts and is distantly related in construction to Pearson's Bun candy bars. 93 years after its 1912 debut, the Nut Goodie is known as "A Minnesota Classic
Sky Bar is an American candy bar produced since 1938 by NECCO. Each Sky Bar has four sections with four fillings: caramel, vanilla, peanut and fudge, all covered in milk chocolate. In 1938, the Sky Bar was first announced to the public by means of a dramatic skywriting advertising campaign. Necco was the first candy manufacturer in the United States of America to introduce a molded chocolate bar having four distinctly different centers enrobed in chocolate. The originator of the Sky Bar was a candy maker working for Necco named Joseph Cangemi. In 1945, the blackout and curfew in Times Square, NY was lifted on VE Day after three years of darkness. Only six display signs had their lighting equipment ready for operation and Necco's Sky Bar was one of them.
Careful, Professional Shopper Loose In The Store

"I'll have one of those and one of those and one of those...."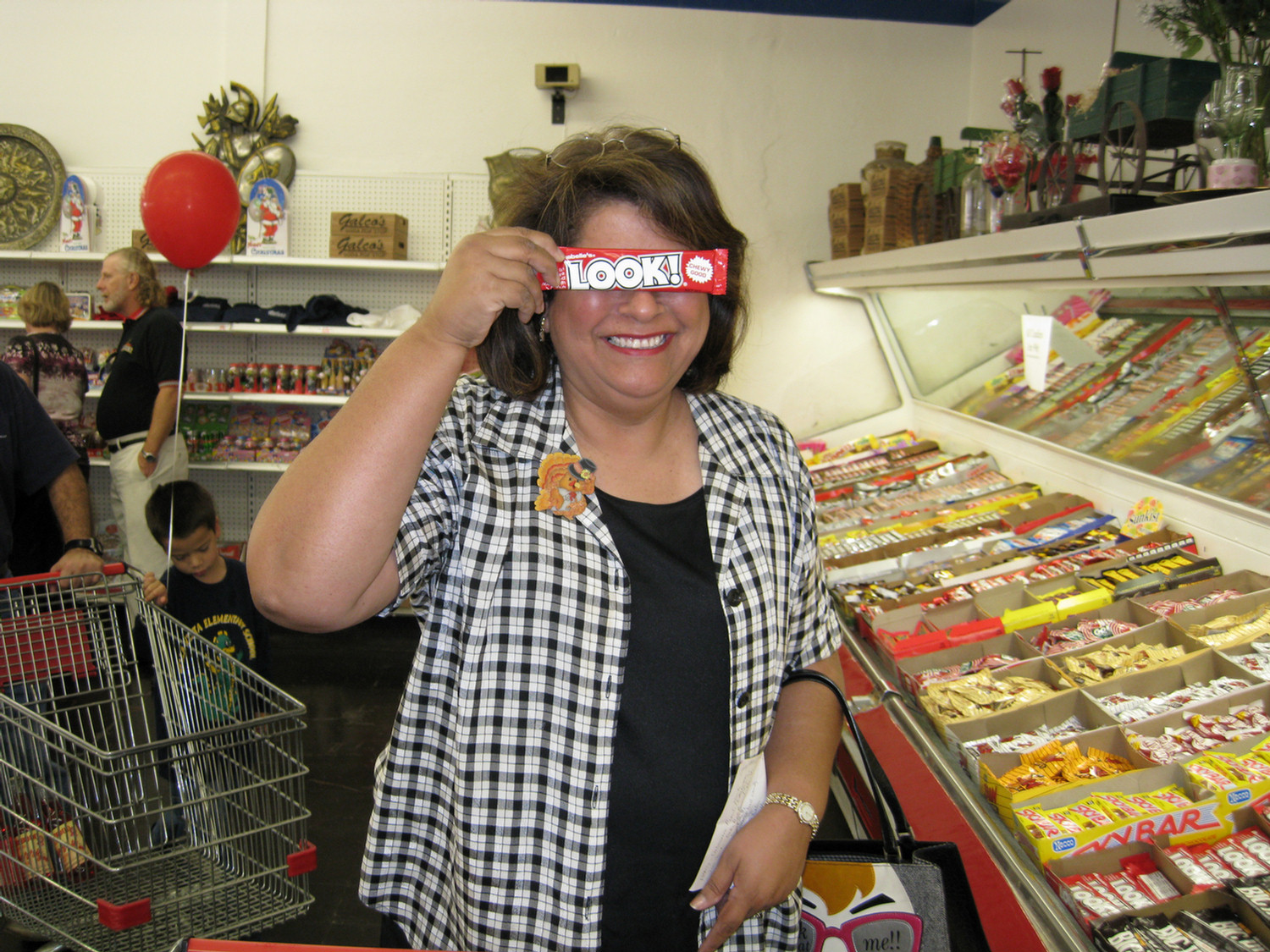 Vicky wanted Paul to do something with a BIG HUNK candy bar... Paul resisted!

Bump, crash, bash!
Everything You Could Imagine!

Drinks we have not seen in years

The Manager knew his stuff... He could describe every drink, its history, and the subtle differences between thirty different root beers!
Did You Know? - Root beer, also known as sarsaparilla, is a carbonated beverage originally created from sassafras. Root beer, popularized in North America, comes in two forms: alcoholic and soft drink. The soft drink version of root beer is generally made using extracts or flavored syrups diluted into carbonated water. It is not as widely popular as other soft drinks, such as cola, and constitutes only 3% of the U.S. soft drink market.
Root beer flavor may contain a variety of flavors, coming from the wide range of ingredients. Bark from the roots of the sassafras tree was the typical flavor in root beer historically, and is the primary flavor most individuals associate with the beverage. It is slightly red at times. Sassafras bark was banned by the FDA in 1960 because of the carcinogenic properties of its constituent chemical safrole. A safrole-free variety is now used, with some claiming that it has a weaker flavor than the pre-1960 variety. Acacia is also used. There are hundreds of root beer brands in the United States, produced in every U.S. state, and there is no standardized recipe. The primary ingredient, artificial sassafras flavoring, is complemented with other flavors, common ones being vanilla, wintergreen, cherry tree bark, liquorice root, sarsaparilla root, nutmeg, anise, molasses, cinnamon and clove.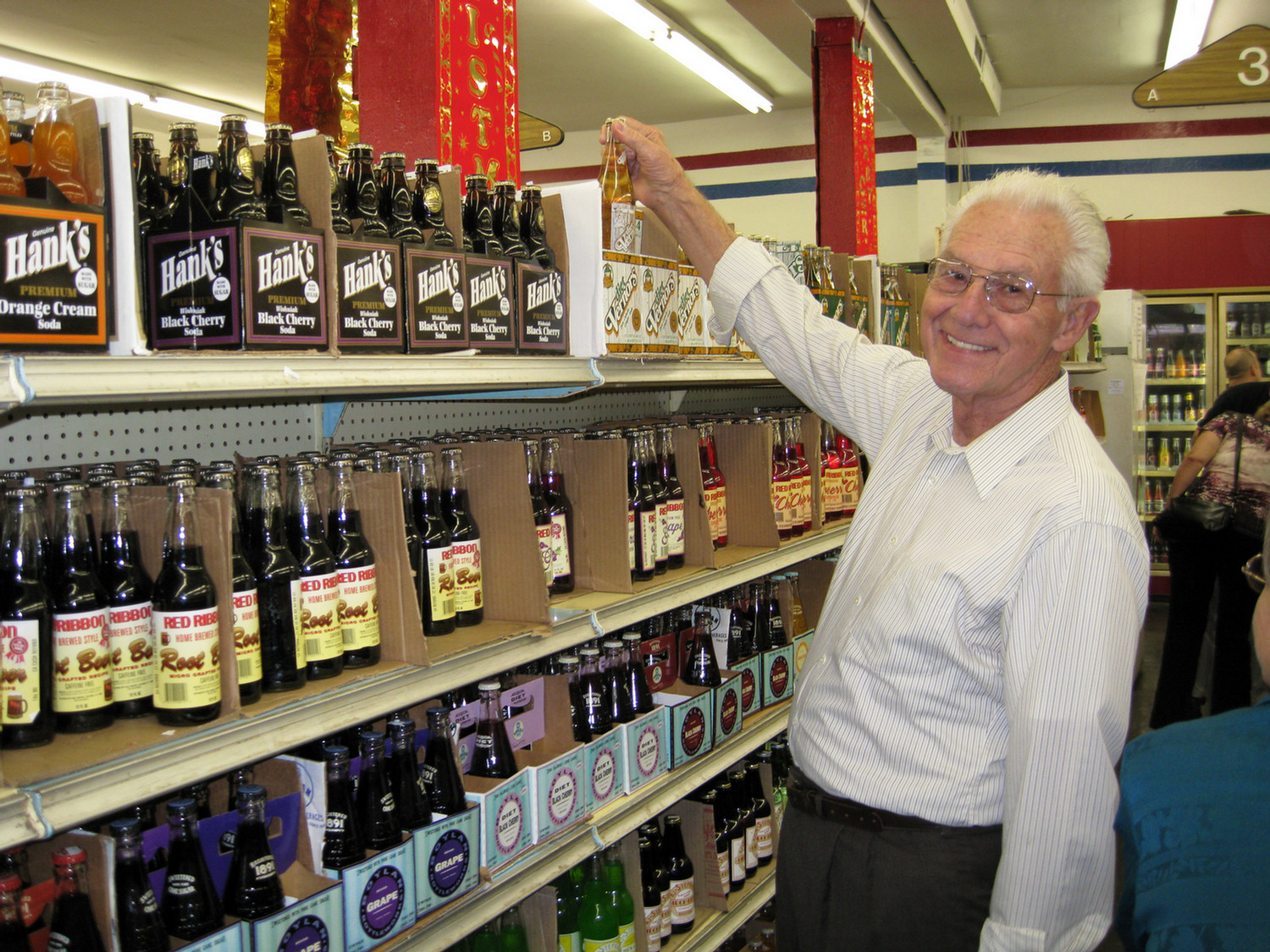 Del found items he had not seen in many many moons

Nesbitts was a major drink in the 1940's and 1950's
Did You Know? - The Nesbitt's Fruit Products Company was founded in 1924, named after its founder Hugh S. Nesbitt. The Nesbitt's brand debuted in 1927, initially as part of the company's line of soda fountain-products. Nesbitt's began bottling Nesbitt's orange in either 1938 or the following year, putting it in direct competition with established market-leader Orange Crush.

Nesbitt's became the U.S. market leader of orange soda pop during the late 1940s and 1950s, with advertisements featuring a then-unknown model named Marilyn Monroe (1946) and proclaiming itself to be the "Largest selling bottled orange drink in the world".

Nesbitt's own brand of orange beverage was surpassed in popularity by Fanta in the 1960s and faded in popularity. In 1972, the company was sold to The Clorox Company, and in April 1975, the bottling operation was sold to Moxie Industries, Inc. (now Monarch Beverage) of Atlanta.
Very Interesting Names

INGREDIENTS: Filtered Carbonated Water, Cane Sugar, Natural Cucumber Flavor, Citric Acid, Blue 1 and Yellow 5. Pasteurized.

INGREDIENTS: Filtered Carbonated Water, Cane Sugar, Citric Acid, Natural Elderflower Flavor, Caramel Color and Elderflower Extract. Pasteurized.

Thought this ale is 8% ABV you will likely not notice until you drink your fair share of it because the lightly caramelized malts and robust but balanced dark fruit flavors completely overpower any alcohol flavor that could be present.

You got to love the names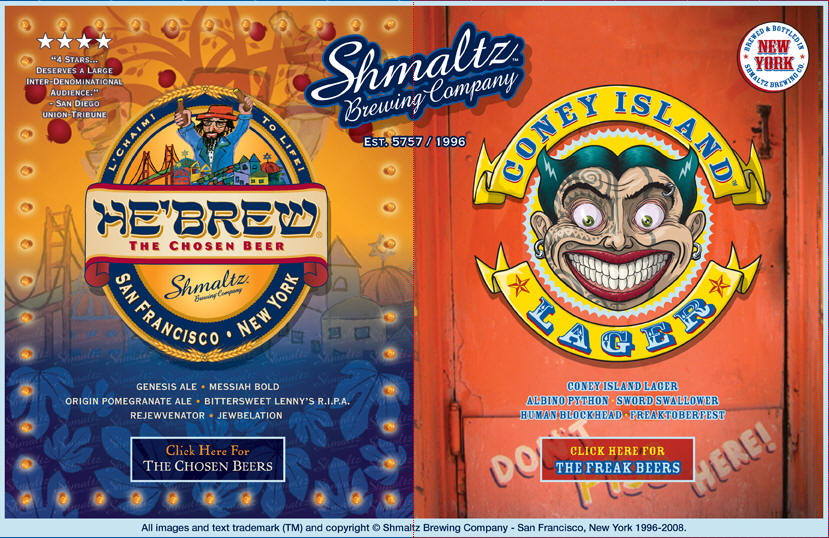 The Store Went on And One

The had a great collection of specialty ale's

Makes one want to go to Coney Island
Did You Know? - Coney Island is a peninsula, formerly an island, in southernmost Brooklyn, New York City, USA, with a beach on the Atlantic Ocean. The neighborhood of the same name is a community of 60,000 people in the western part of the peninsula, with Seagate to its west; Brighton Beach and Manhattan Beach to its east; and Gravesend to the north.
Great Deli In The Back Of The Store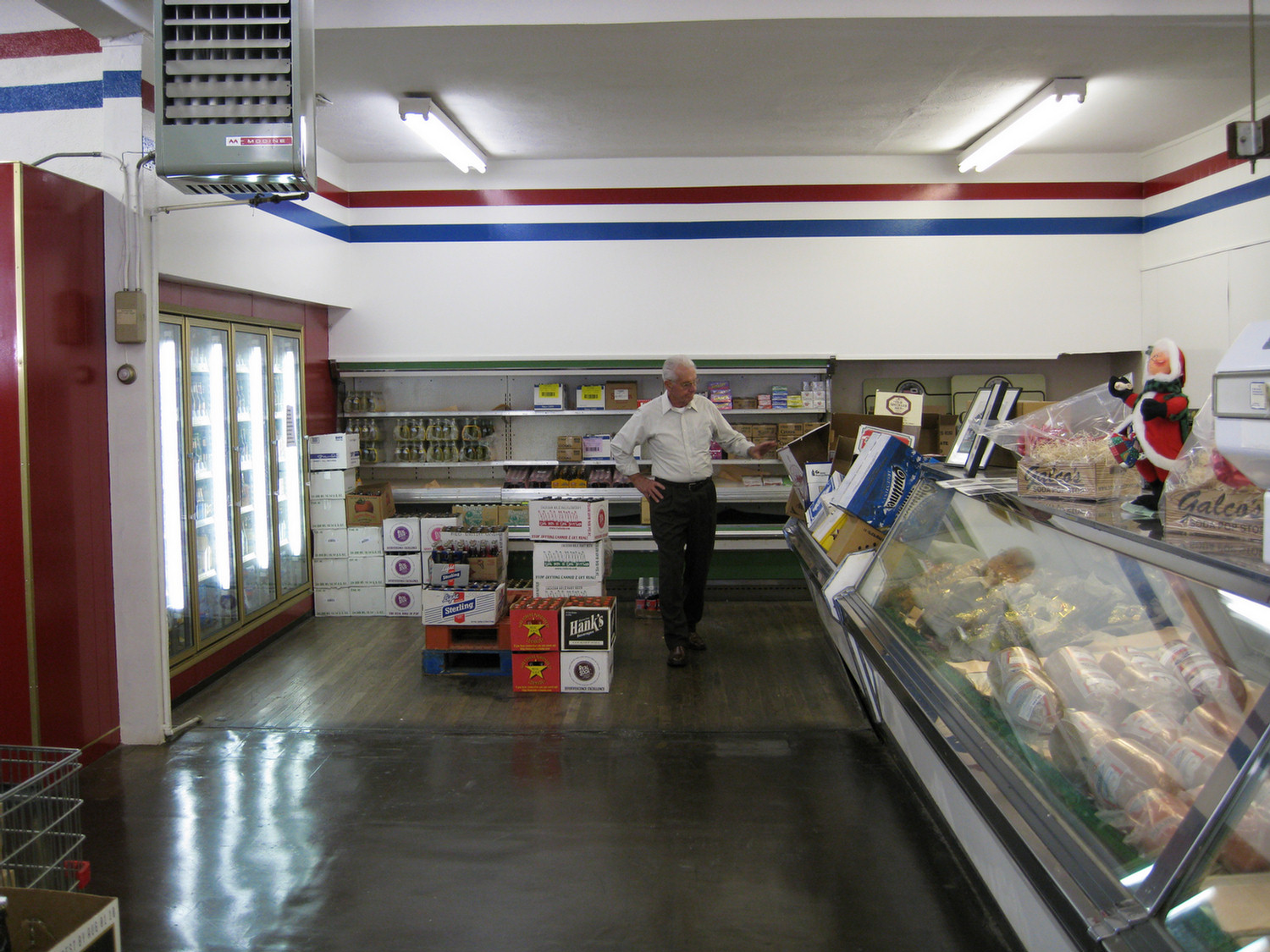 Del found some old photos

Sue found Paul

The easy way.... Buy a case of vintage drinks
Time To Check Out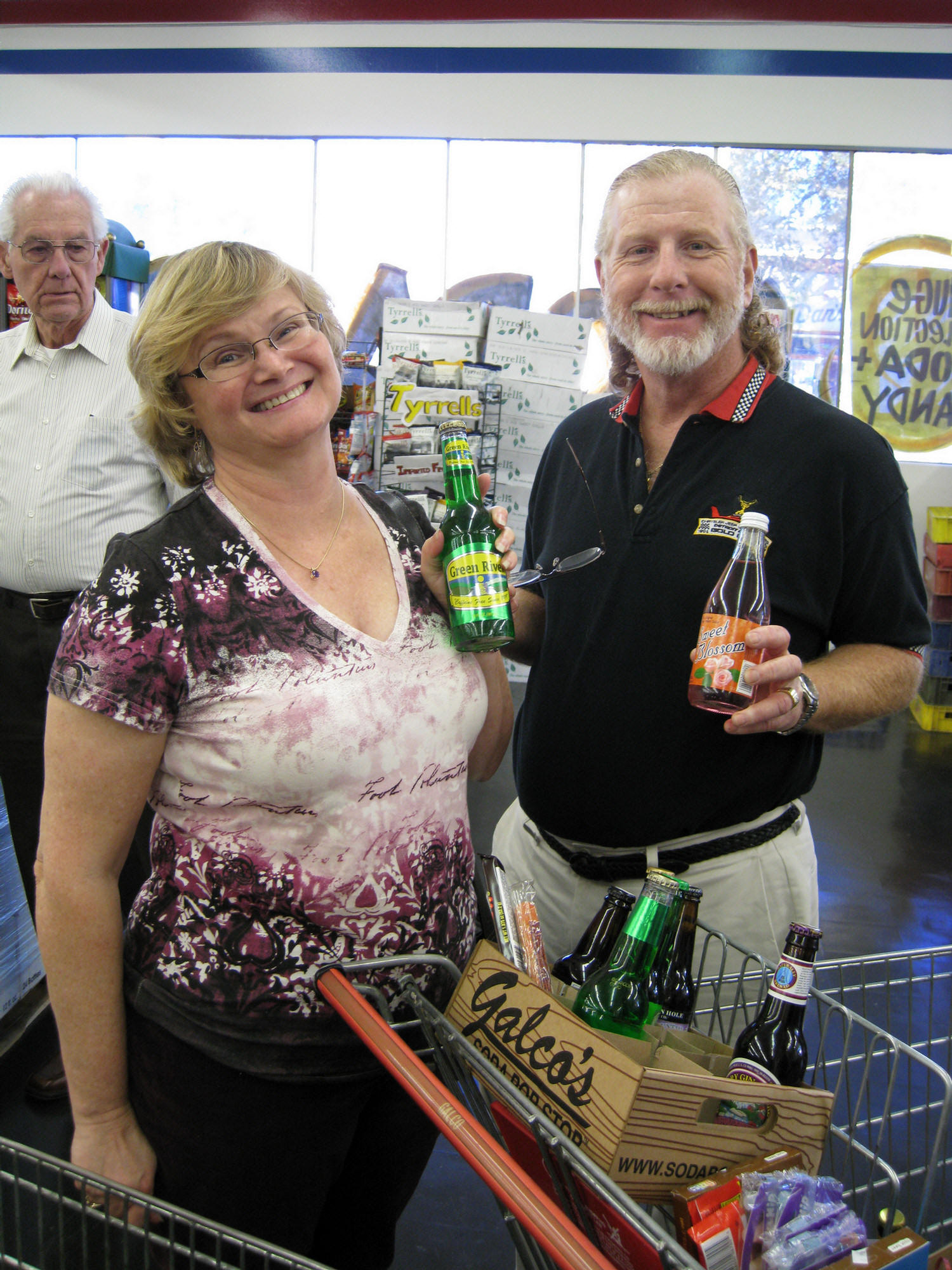 Displaying their treasures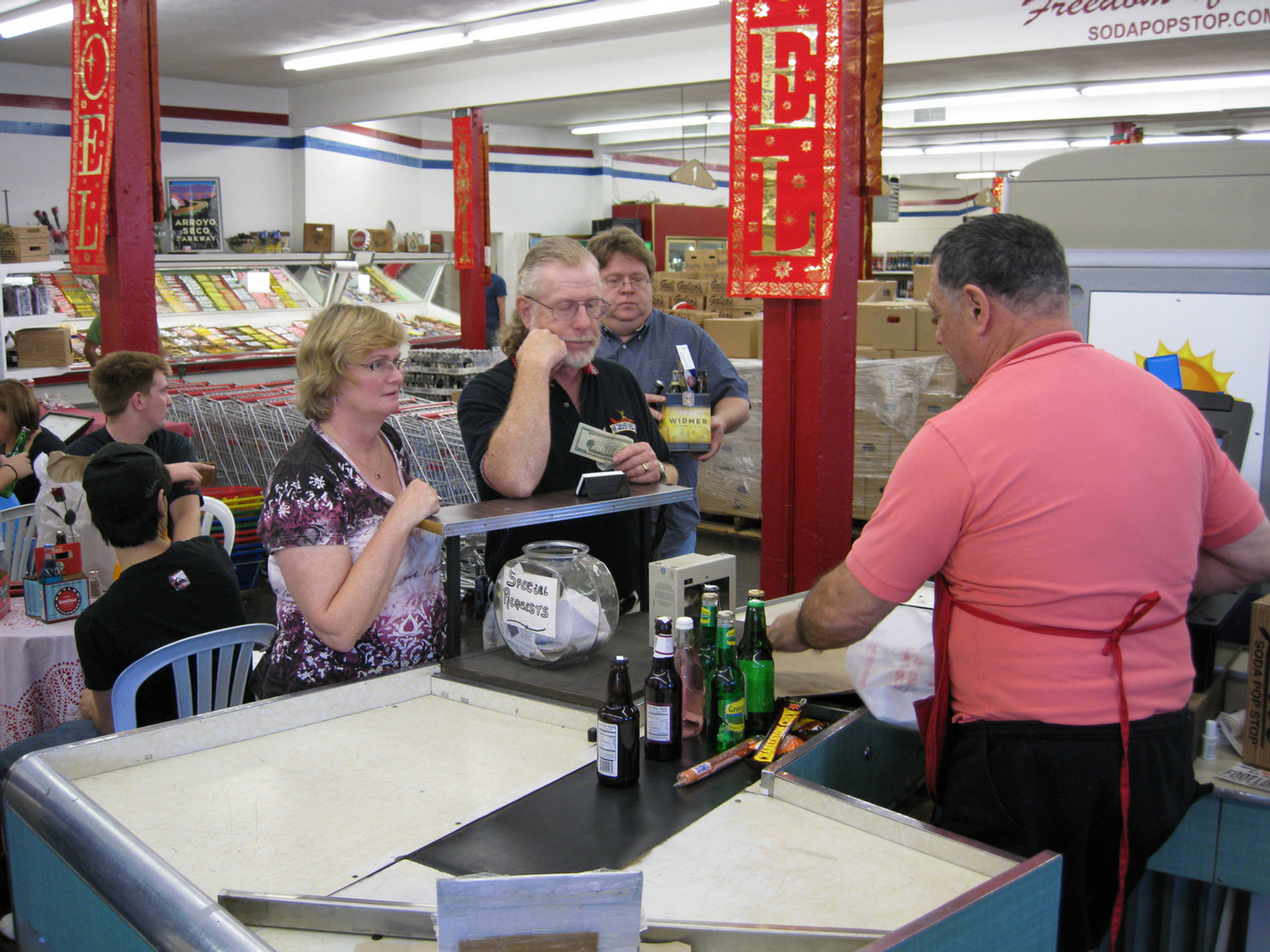 Oh oh... Time to settle up!

The happy shopper!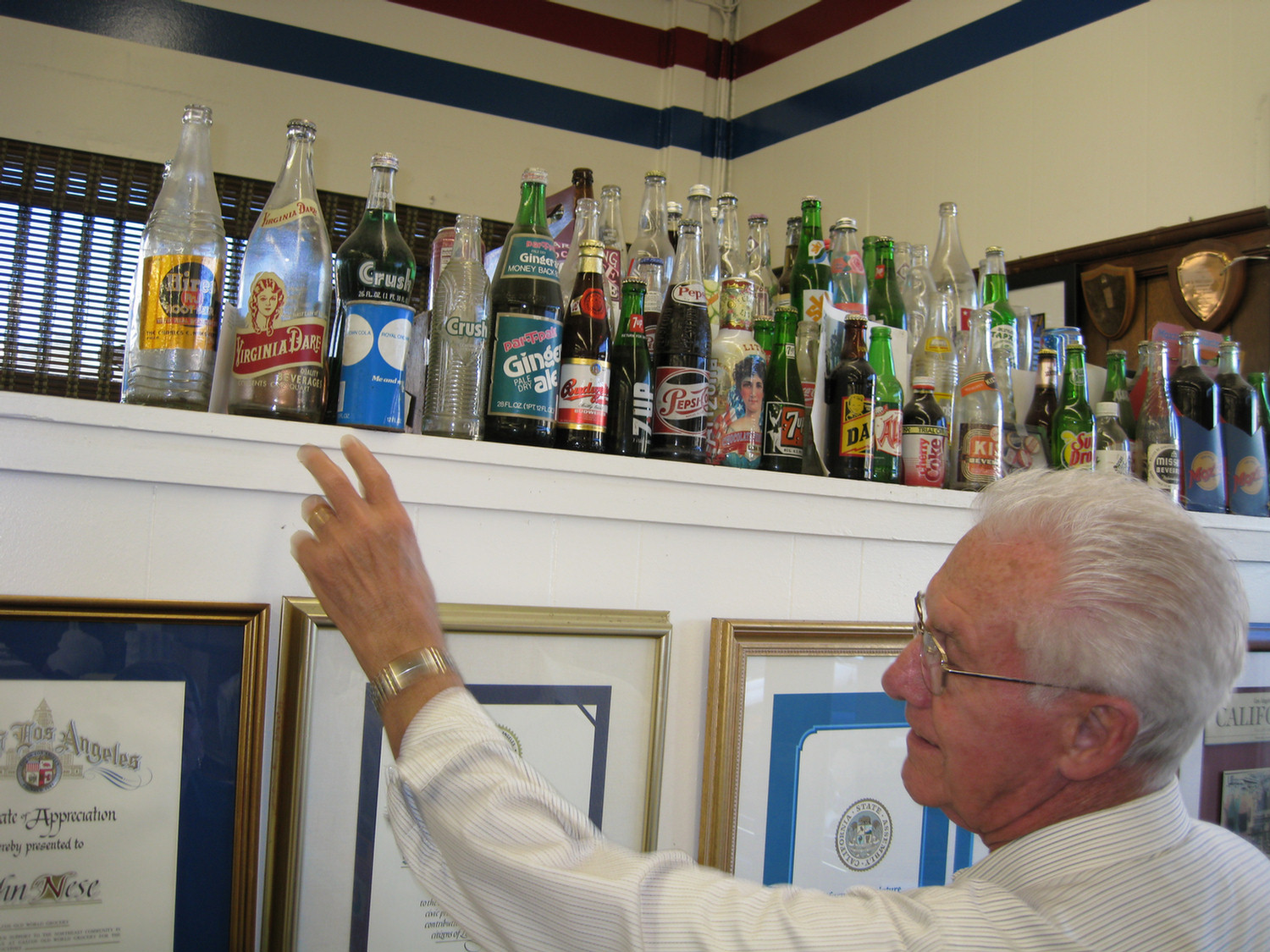 Del finds some real oldies

These should be in a museum

Bye bye until next time
Off To Pasadena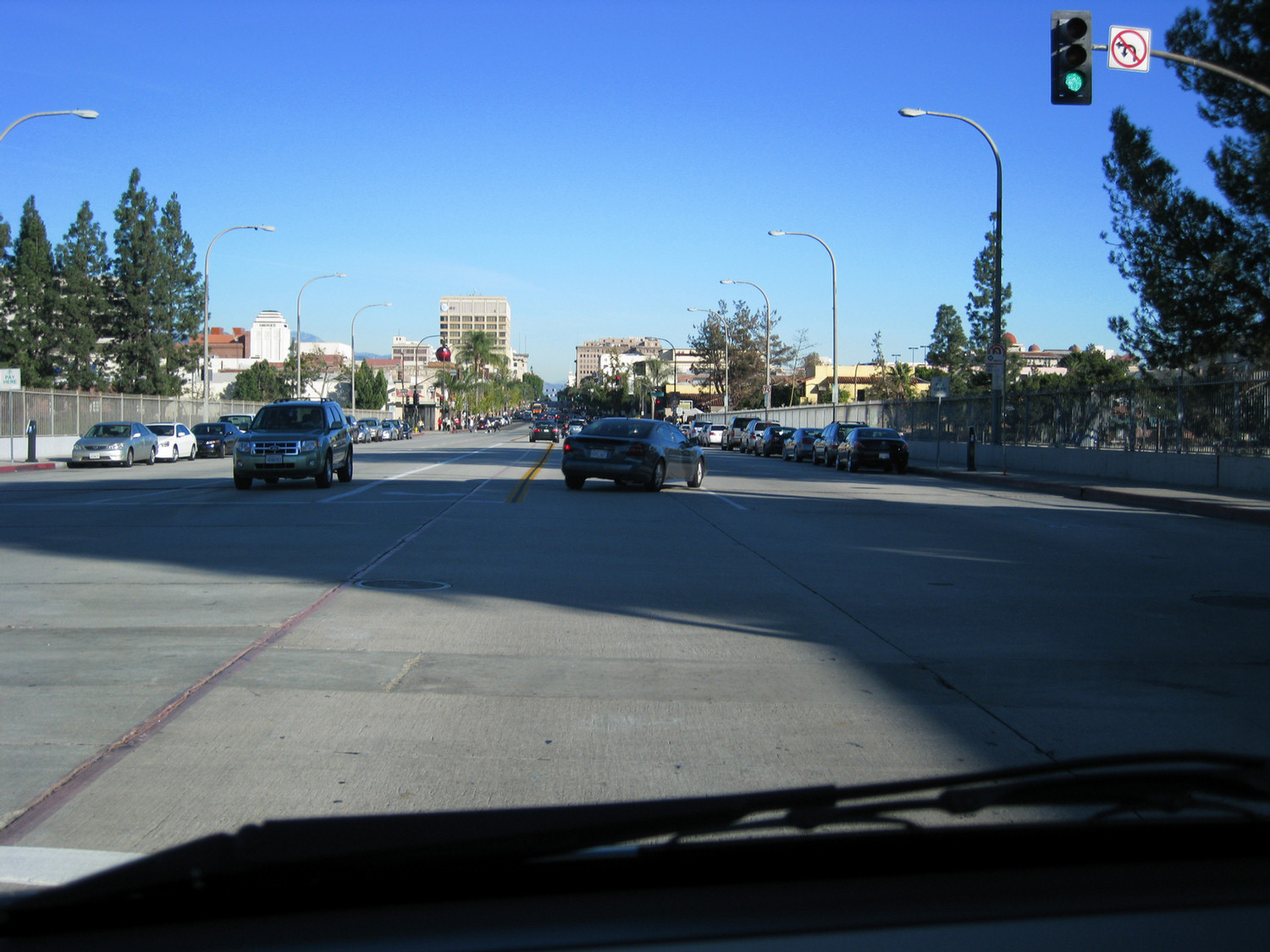 Down Colorado Blvd we went

Downtown Pasadena is very nice these days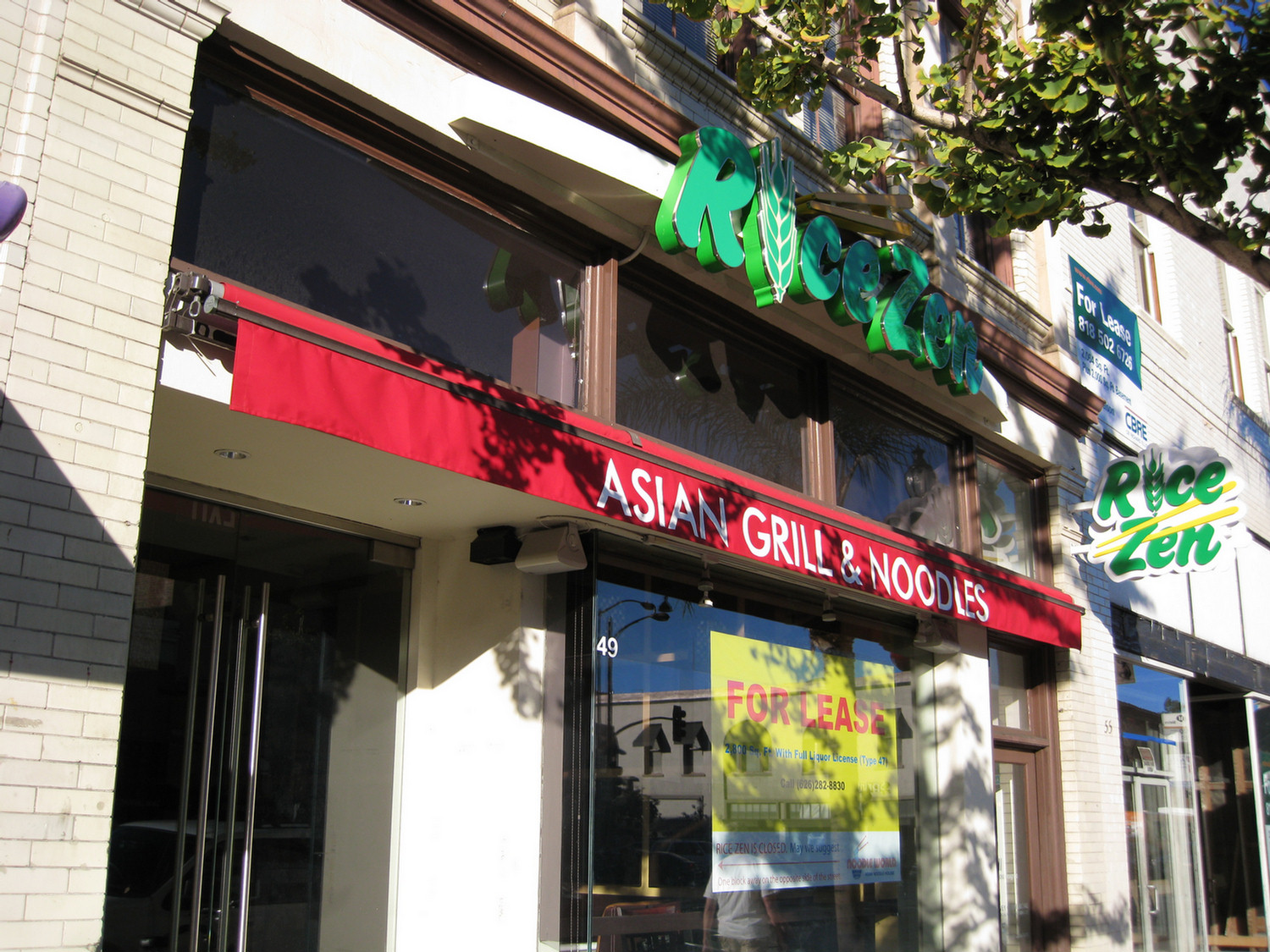 Thaitalian was gone... So we ate Italian

Nice places to walk and shop

Time to eat! Vicky and Del are ready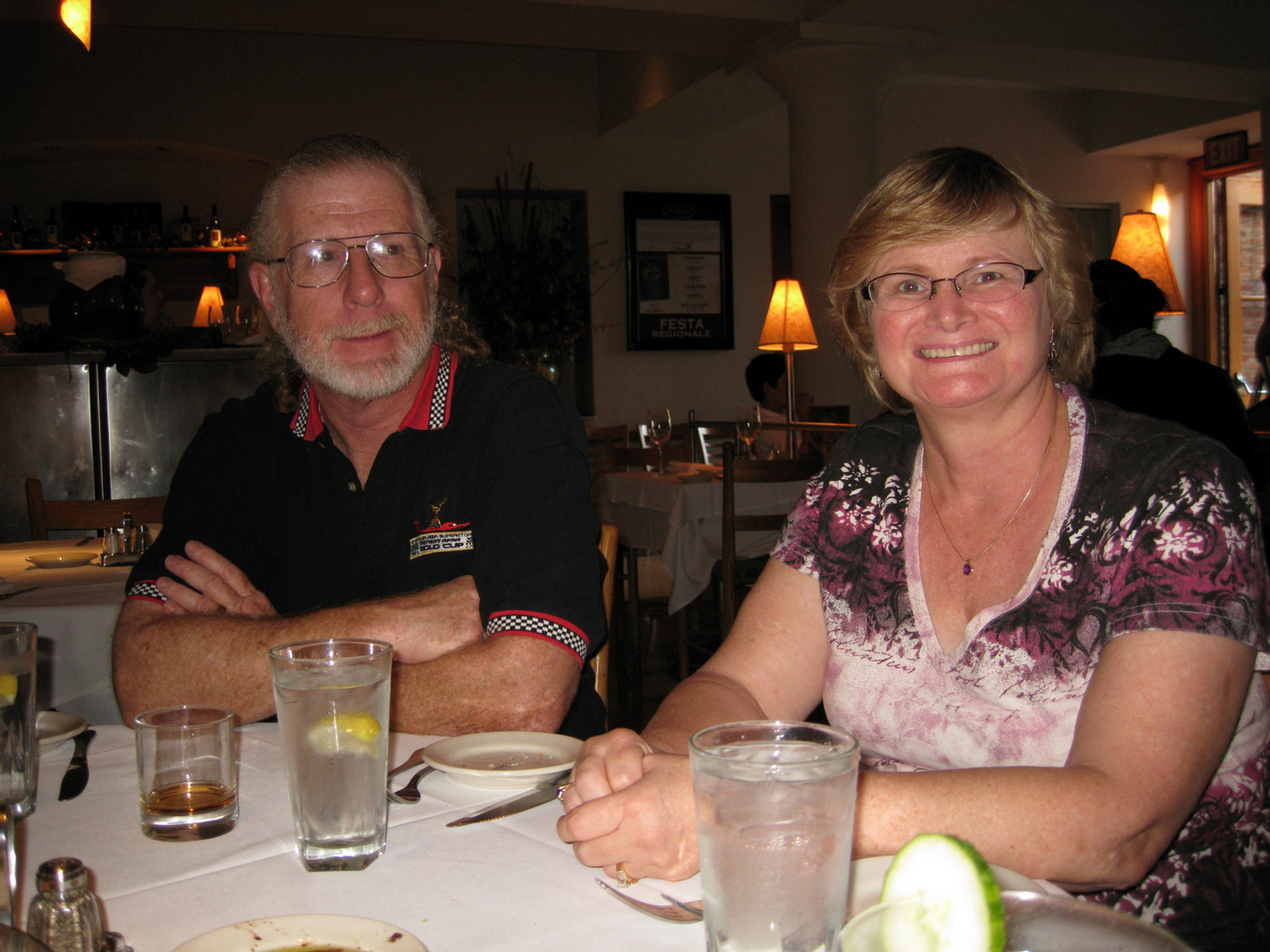 Russ and Geraldine shared a great meal with us

Proof that Paul & Sue were really there!

All five of us! Including the cook!

We were very very good and skipped dessert

Geraldine

Vicky wanted us to take this home... We resisted it!

Dusk was setting in and we left for home
On The Way Home We Were Treated With The Moon, Venus and Jupiter

From Tasmania

From the 605 Freeway...28 miles to go home... We are on our way!