Peter Is Retired And Bunny Is Tired... Time To Celebrate 8/25/2011
We had a day off from golf and decided to ask Pete to come up and enjoy a day of relaxation now that he is retired. Bunnaford was at home preparing ofr trips, visitors so we enticed her to join us for the afternoon. We had a ball!
Gladstones For Lunch

Clink and more clinks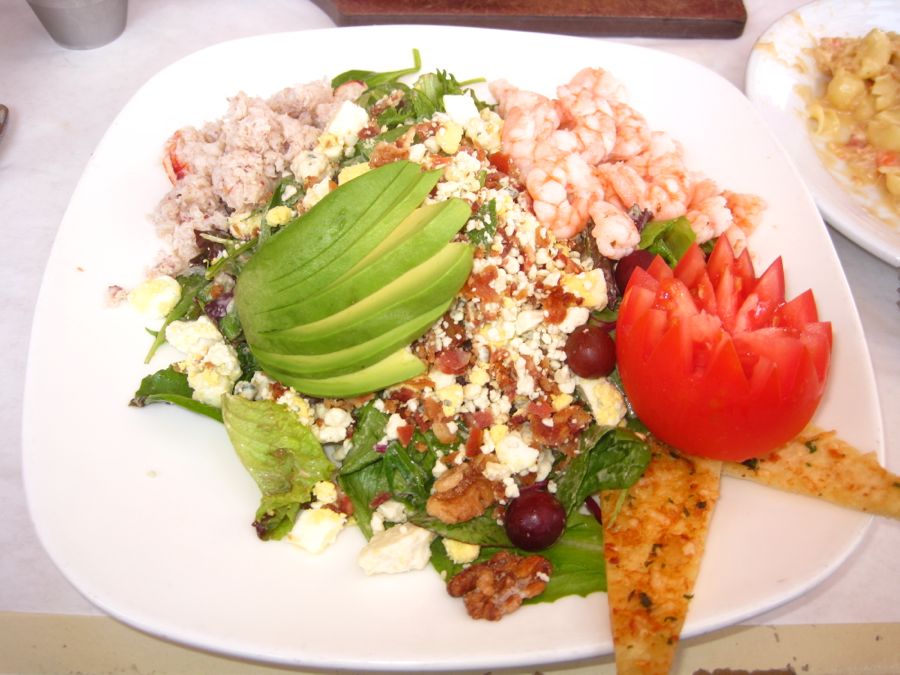 A salad for Paul!

Pete gets his standard fish and chips and Bunnaford get wine
Did You Know? - Fish and chips is a popular take-away food that originated in the United Kingdom in 1858 or 1863. It typically consists of battered (or sometimes breadcrumbed) fish (traditionally cod or in Australia, flake, but sometimes haddock or plaice), which is deep-fried and accompanied by deep-fried 'slab-cut' chips.
Popular tradition associates the dish with the United Kingdom and Ireland. The dish remains very popular in the UK and in areas colonised by British people in the mid 19th century, when the dish originated, such as Australia, New Zealand and Canada. The United States has more recently developed it as a staple derived from Canadian and Irish expatriates, but the dish is not considered common outside Lent. It has been popular in the Faroe Islands since the 1940s, when it was introduced during the British occupation of the Islands during World War II.
Fish and chips became a stock meal among the working classes in Great Britain as a consequence of the rapid development of trawl fishing in the North Sea, and development of railways connecting ports to cities during the second half of the 19th century. In 1860, the first fish and chip shop was opened in London by Jewish proprietor Joseph Malin. Cod and chips in Horseshoe Bay, British Columbia, Canada Fish and chips in a kebab shop in Helsinki, Finland Deep-fried chips (slices or pieces of potato) as a dish may have first appeared in Britain in about the same period: the Oxford English Dictionary notes as its earliest usage of "chips" in this sense the mention in Dickens' A Tale of Two Cities (published in 1859): "Husky chips of potatoes, fried with some reluctant drops of oil". (Note that Belgian tradition, as recorded in a manuscript of 1781, dates the frying of potatoes carved into the shape of fish back at least as far as 1680.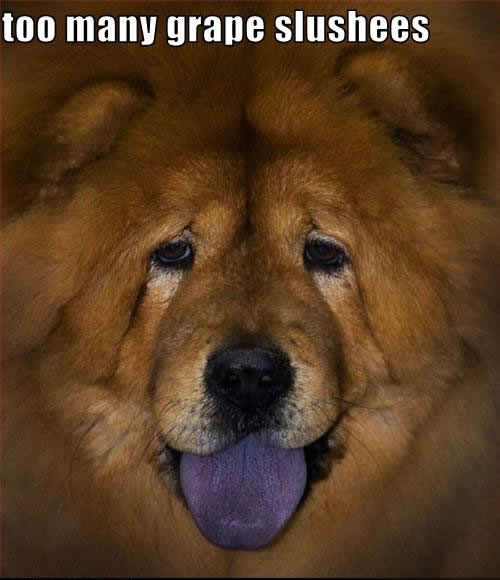 Time For A Sea Cruise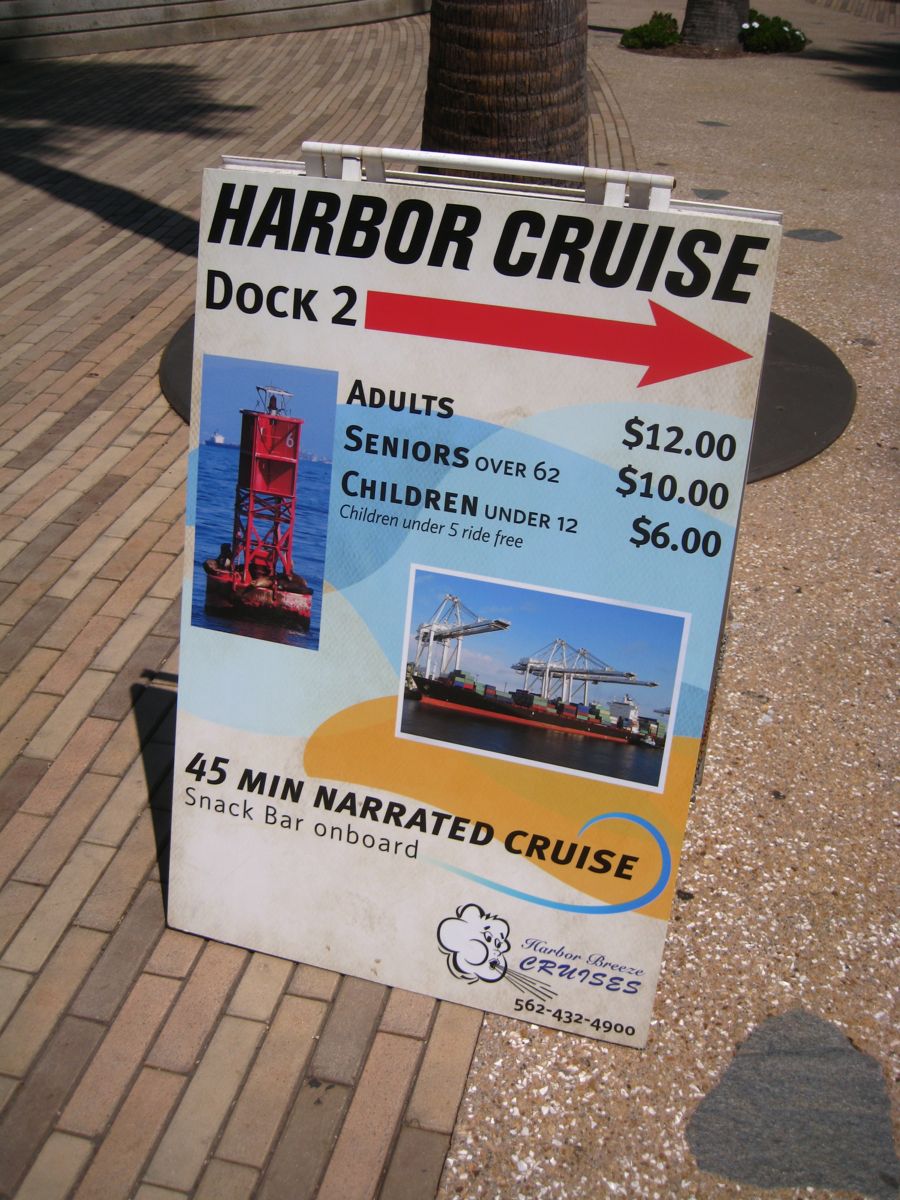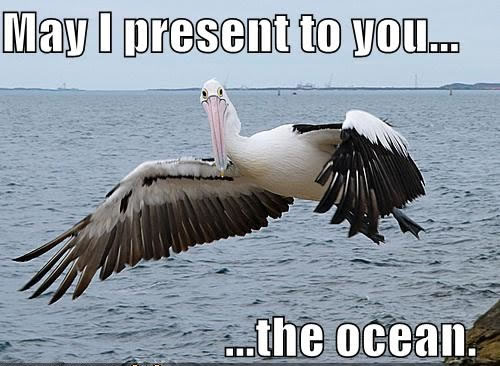 Let's go on a sea cruise...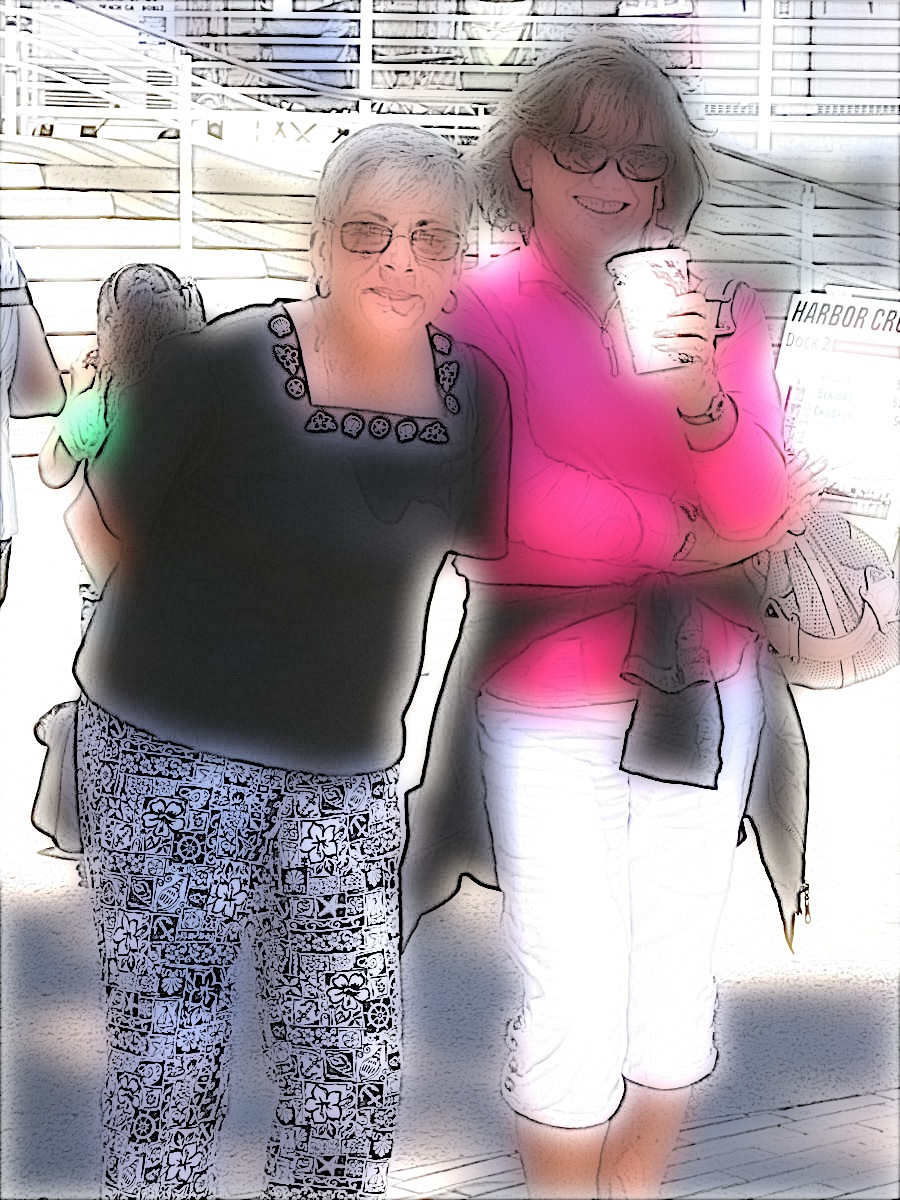 With an artistic touch

They bring color to everything - Waiting in line can be fun especially with friends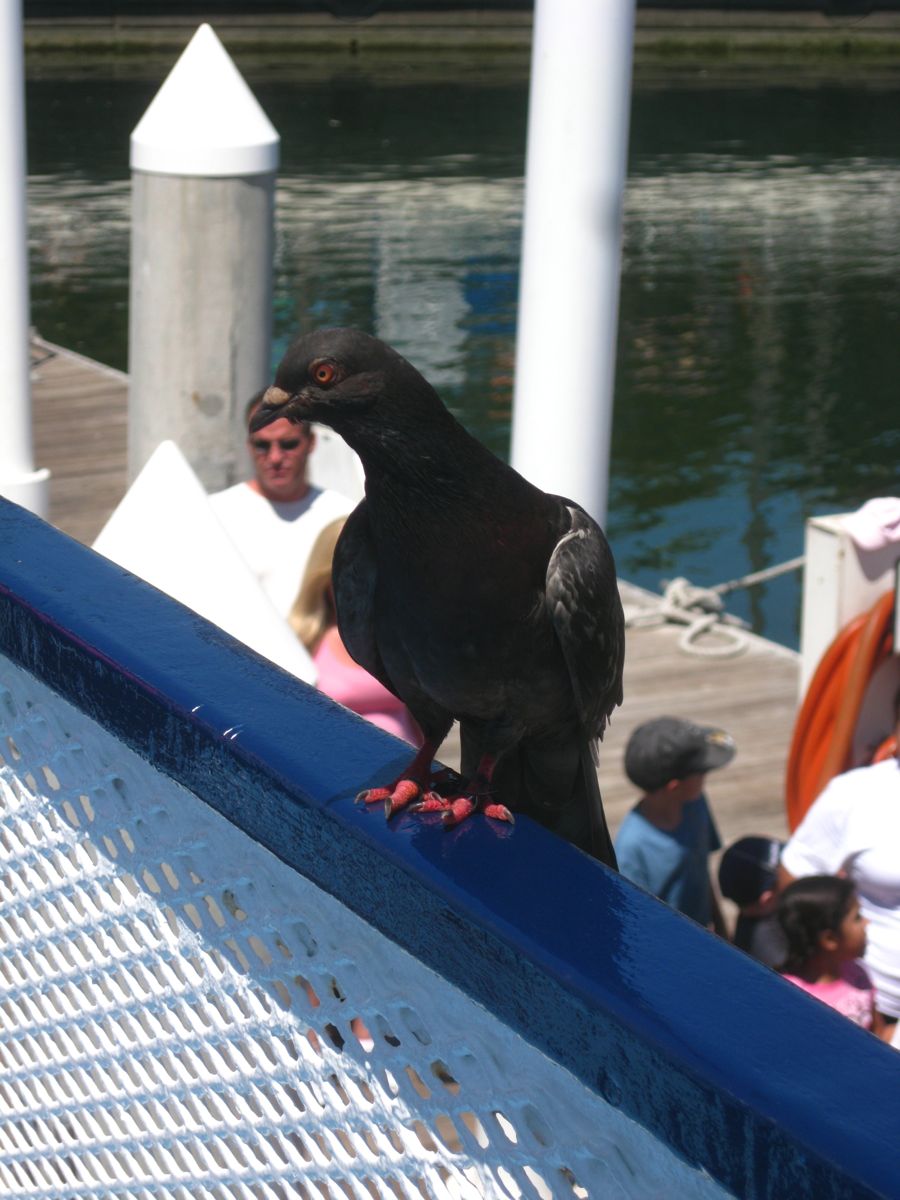 "I'm watching you! I love to swoop down and grab a bunny! Oops, I'm a piegon, not a hawk!"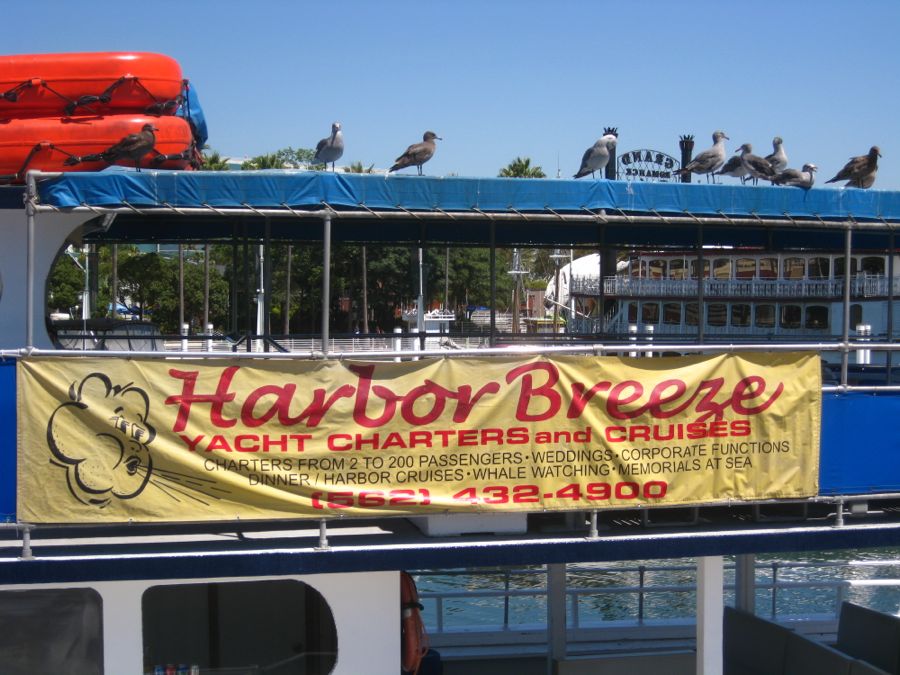 We ran to the top of the ship for the best view

Pete distracts Paul as Bunnaford provides the TV ears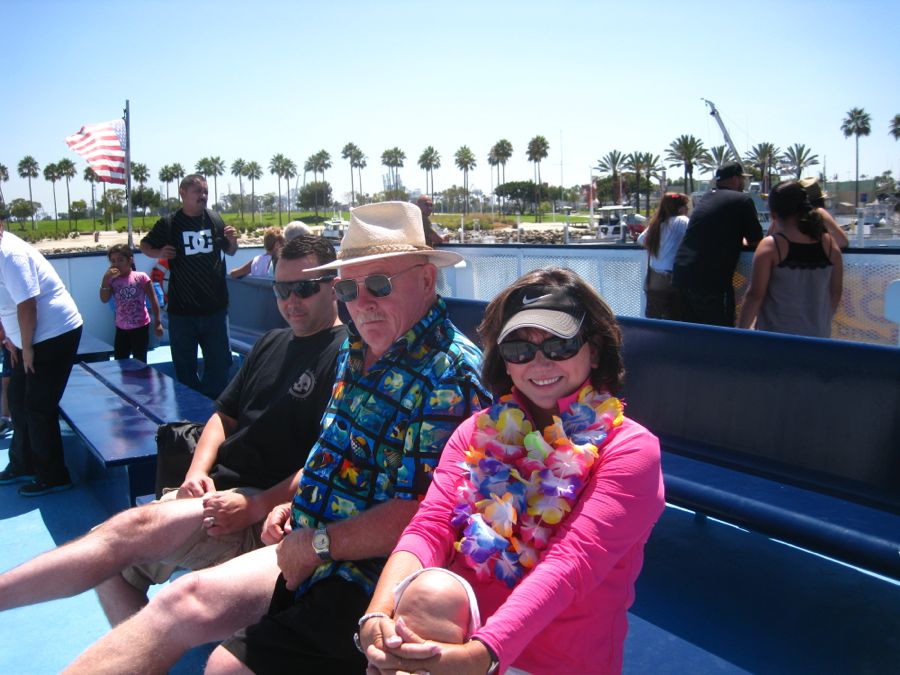 OMG! Look at the legs on those people
We Sneeked A Peek Iinside The Wheel House
Did You Know? - A pilothouse or pilot-house is a glass-enclosed room from which a ship is controlled by the ship's pilot. The pilothouse also is known as the wheelhouse. It usually is located on top of the largest deck (the texas deck) or highest deck. The steering wheel or helm, compass, engine order telegraph, and chart table are located here. On many ships, especially military and cruise ships, the pilothouse is considerably larger and combined with a number of other control structures as part of the ship's bridge. Pilothouses may also be a feature of smaller vessels.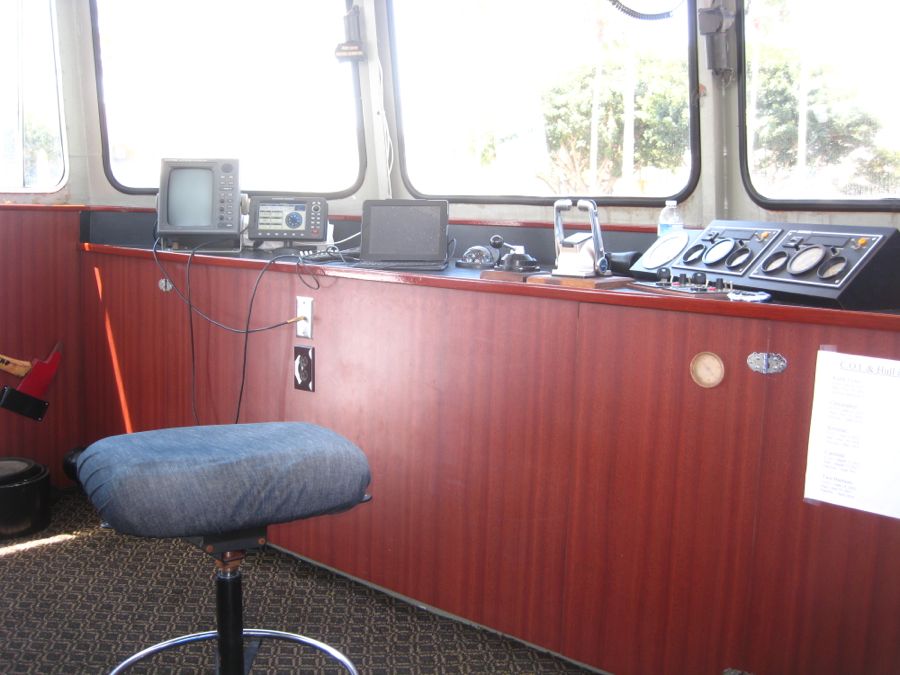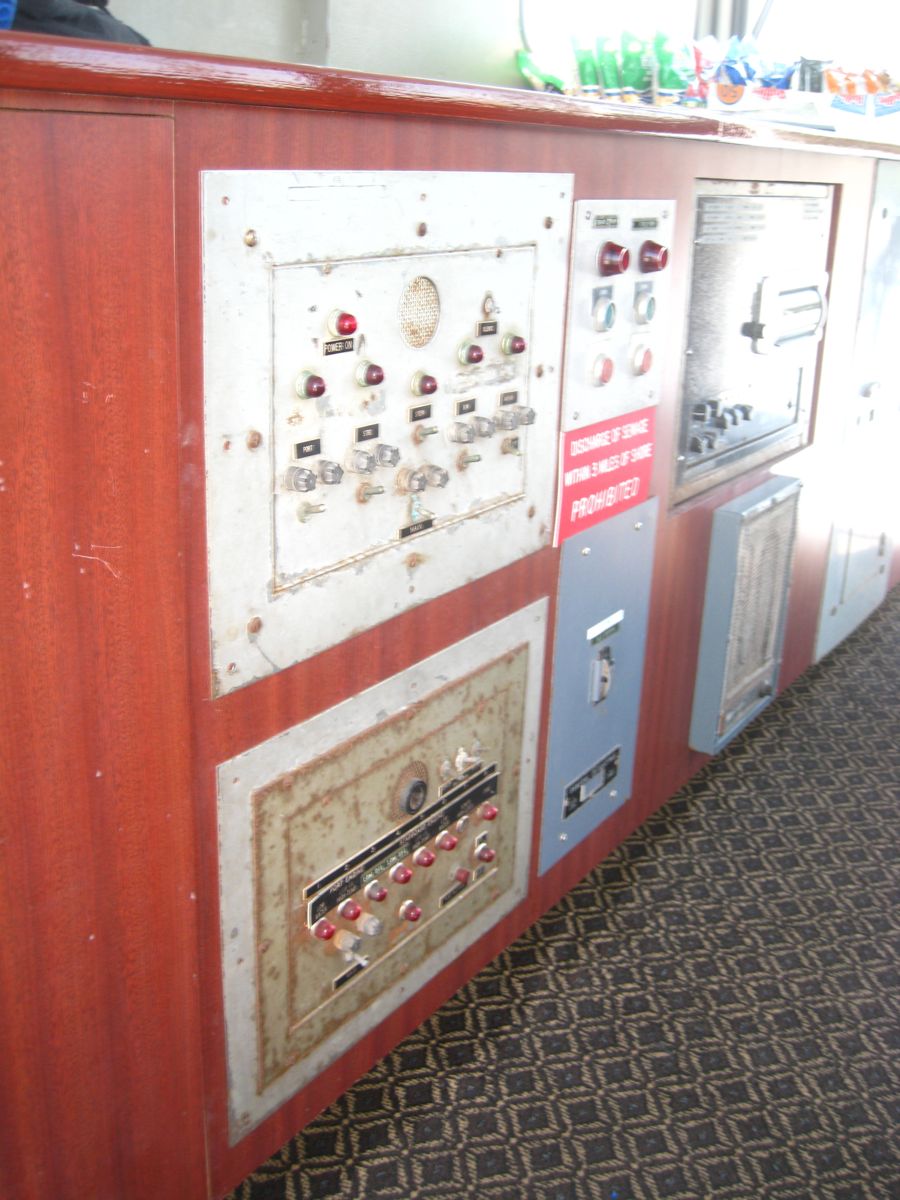 The Sternwheeler Was Readying For An Evening Voyage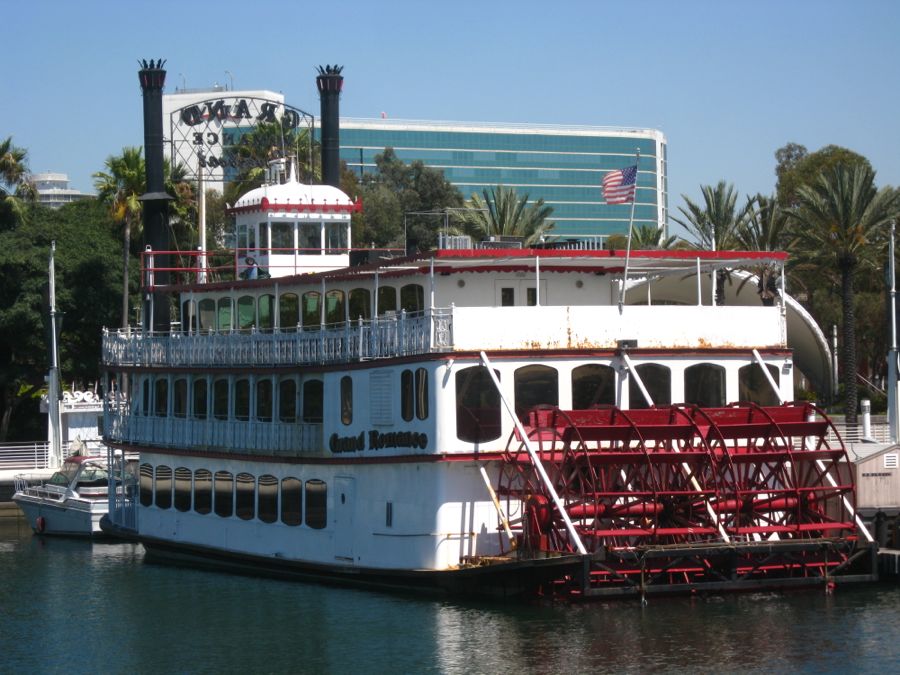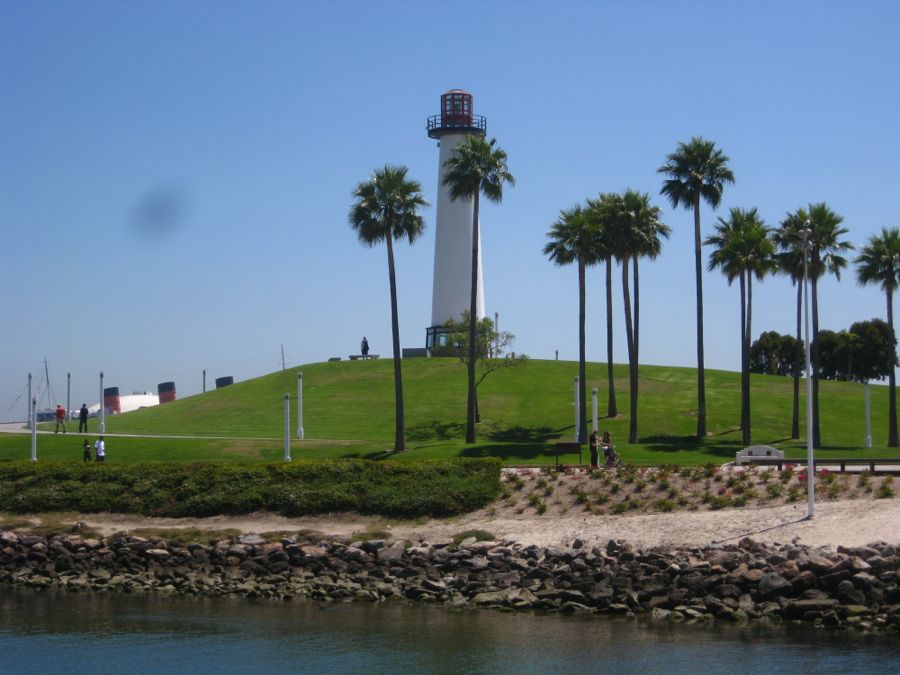 The Rainbow Harbor Lighthouse

The bathouse circa 1907
Did You Know? - The Pike became a world famous Long Beach, California amusement zone in 1902 along the shoreline south of Ocean Boulevard with several independent arcades, food stands, gift shops, a variety of rides and a grand bath house. It was most noted for the Cyclone Racer (1930-1968), a large wooden dual track roller coaster, built out on pilings over the water.
The Pike operated under several names. The amusement zone surrounding the Pike, "Silver Spray Pier", was included along with additional parking in the post World War II expansion, it was all renamed Nu-Pike via a contest winner's submission in the late 1950s, then renamed Queens Park in the late 1960s in homage to the arrival of the Queen Mary ocean liner in Long Beach. The Pike museum is located in Looff's Lite-A-Line at 2500 Long Beach Blvd, Long Beach, CA 90806.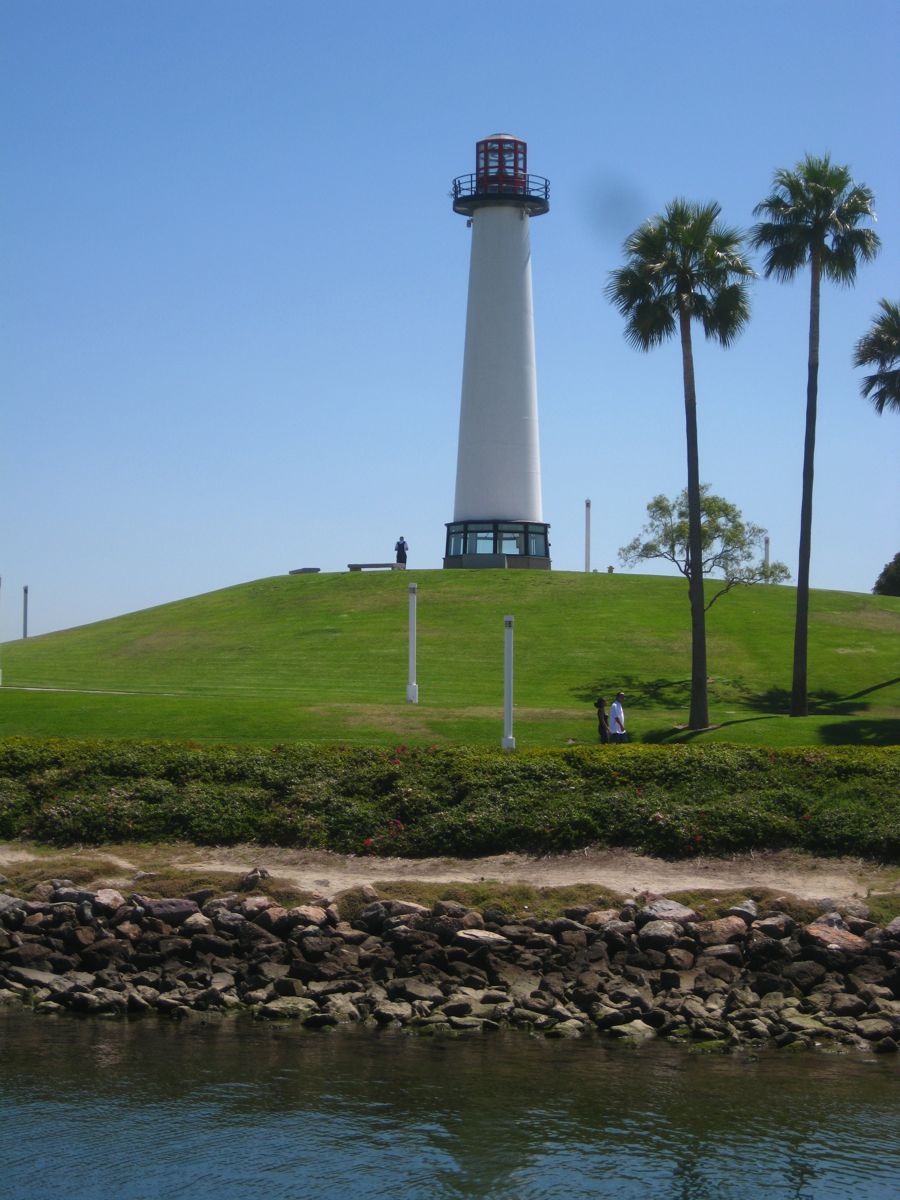 The lighthouse was donated by a local club in the 1990's

The Melodrama Theater
Did You Know? - The term melodrama refers to a dramatic work which exaggerates plot and characters in order to appeal to the emotions. It may also refer to the genre which includes such works, or to language, behavior, or events which resemble them. It is also used in scholarly and historical musical contexts to refer to dramas of the 18th and 19th centuries in which orchestral music or song was used to accompany the action. The term originated from the early 19th-century French word mélodrame, which in turn is derived from Greek melos (music) and French drame (drama).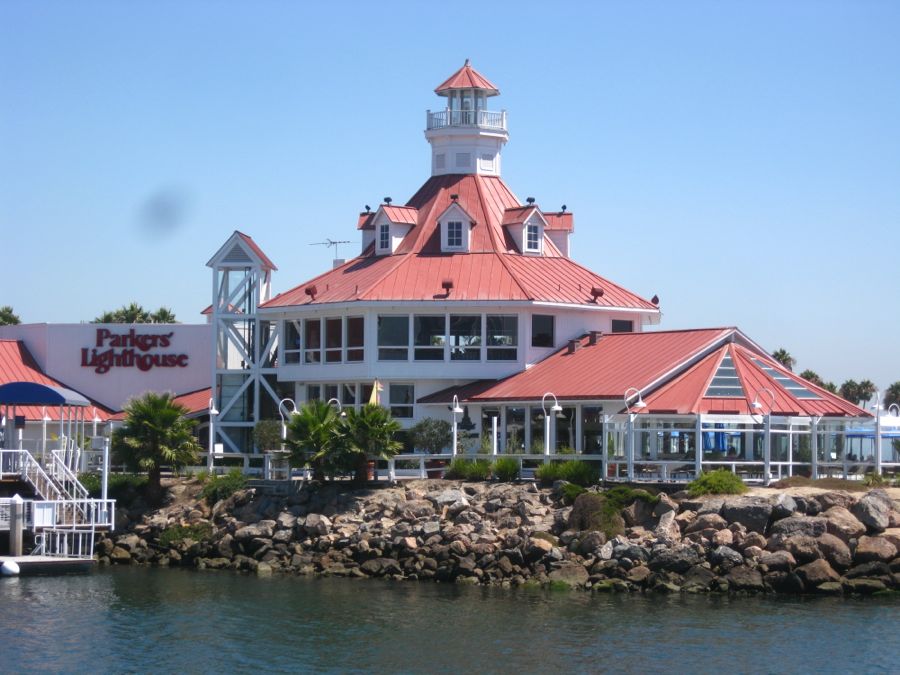 Leaving Rainbow Harbor

Hello Queen
We Are Now At Sea... Sorta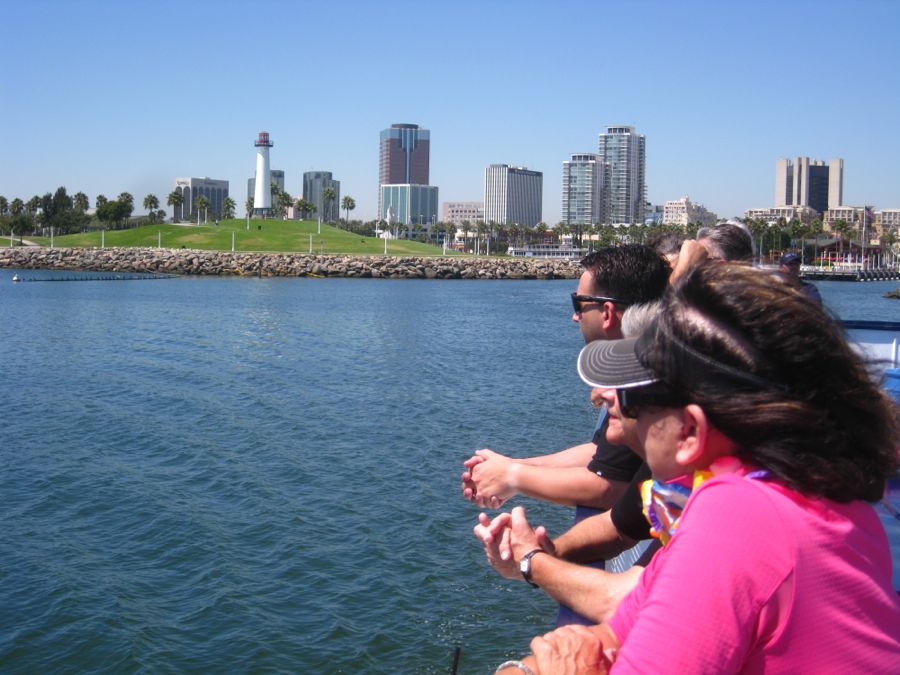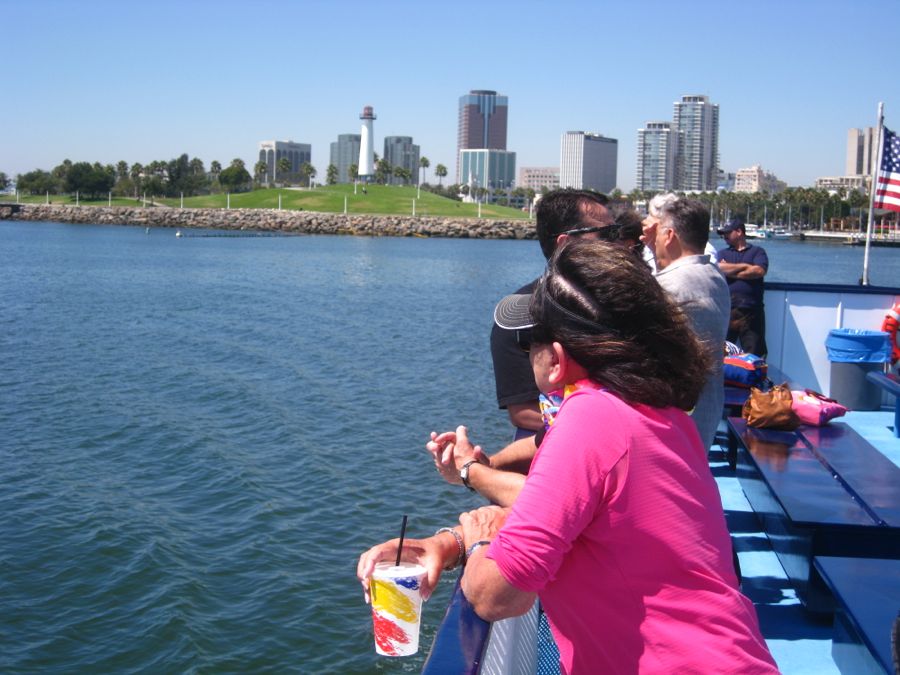 Oh Oh! A Submarine?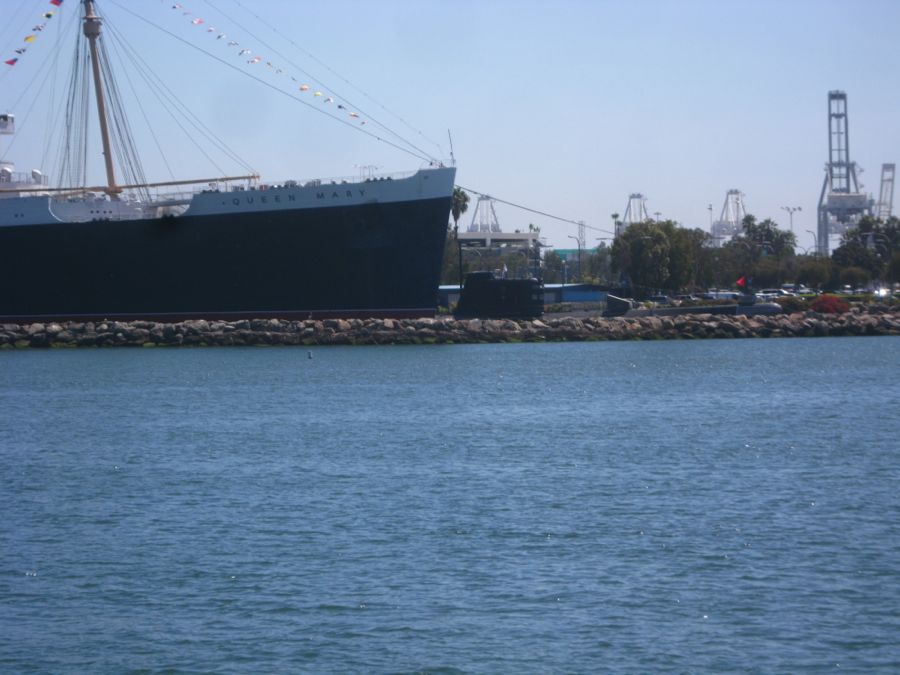 Check out the submarine
Did You Know? -B-427 was a Project 641 (Foxtrot-class) diesel-electric attack submarine of the Soviet Navy. The "B" (actually "Б") in her designation stands for большая (bolshaya, "large"). Foxtrots are among the largest non-nuclear submarines ever built. Commissioned in 1971, the submarine operated with the Russian Pacific Fleet until decommissioning in 1994. The boat was sold to a group of Australian buisnessmen, who converted her into a museum vessel and placed on display at the Australian National Maritime Museum (under the name Foxtrot-540) from 1995 until 1998, then at Long Beach, California (under the name Povodnaya Lodka B-427 Scorpion) in 1998. The submarine is still on display as of 2011.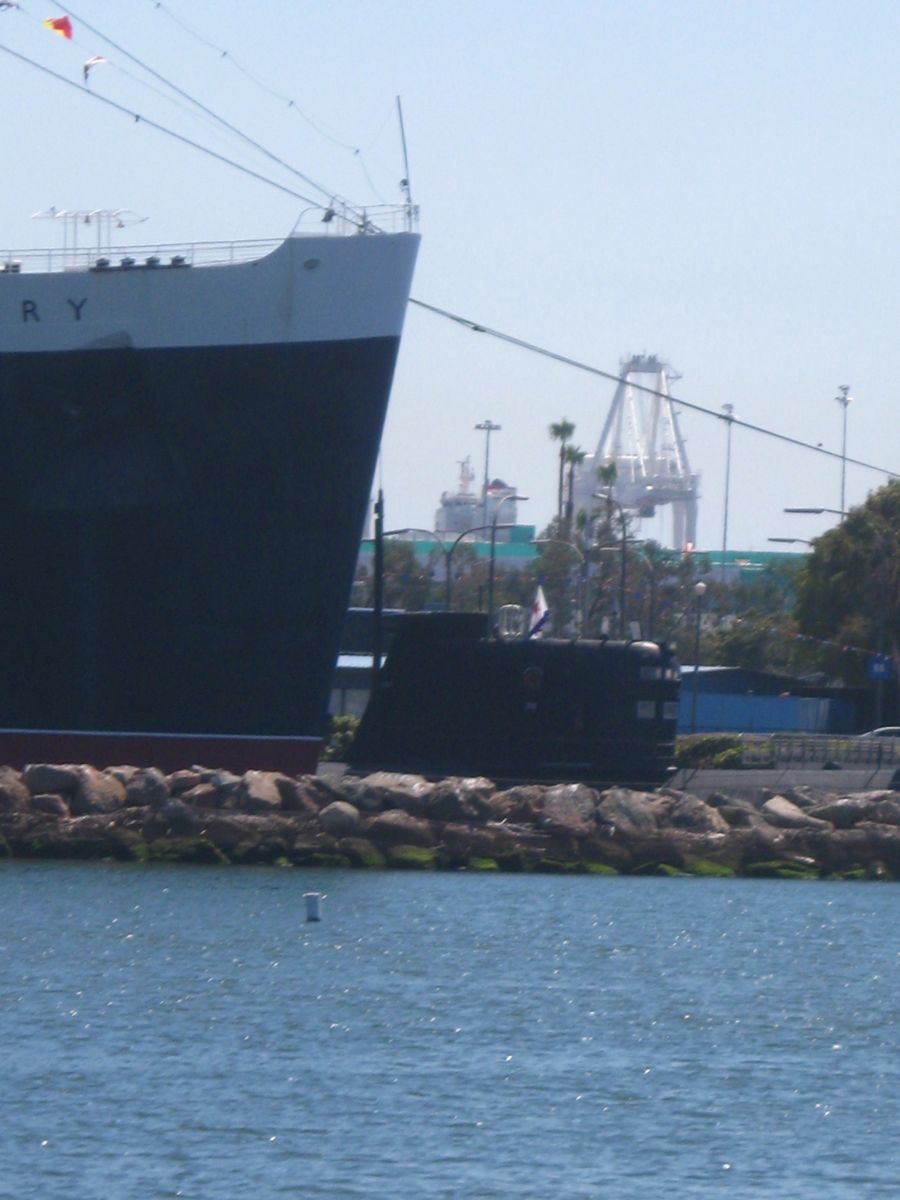 Sir Winston's for dinner anyone??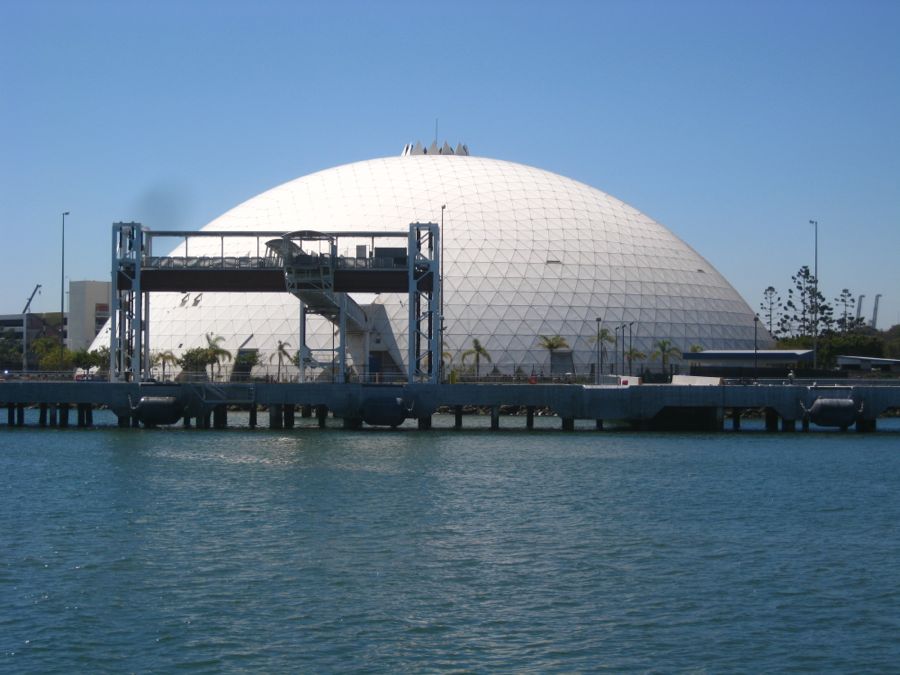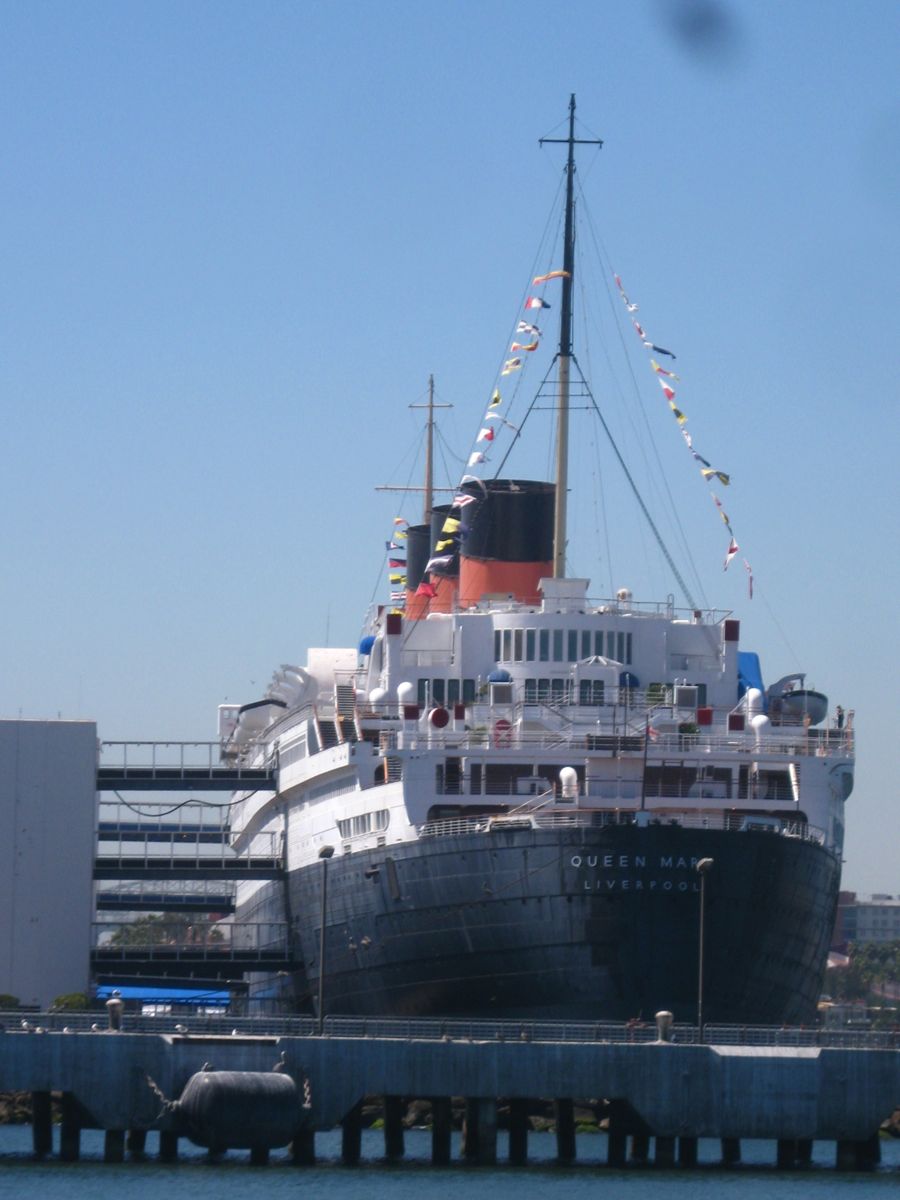 It's A Bouy
Did You Know? - The pun, also called paronomasia, is a form of word play which suggests two or more meanings, by exploiting multiple meanings of words, or of similar-sounding words, for an intended humorous or rhetorical effect. These ambiguities can arise from the intentional use and abuse of homophonic, homographic, metonymic, or metaphorical language.
A pun differs from a malapropism in that a malapropism uses an incorrect expression that alludes to another (usually correct) expression, but a pun uses a correct expression that alludes to another (sometimes correct but more often absurdly humorous) expression. Henri Bergson defined a pun as a sentence or utterance in which "two different sets of ideas are expressed, and we are confronted with only one series of words". Puns may be regarded as in-jokes or idiomatic constructions, given that their usage and meaning are entirely local to a particular language and its culture. For example, camping is intense (in tents).
Puns are used to create humor and sometimes require a large vocabulary to understand. Puns have long been used by comedy writers, such as William Shakespeare, Oscar Wilde, and George Carlin. The Roman playwright Plautus is famous for his tendency to make up and change the meaning of words to create puns in Latin.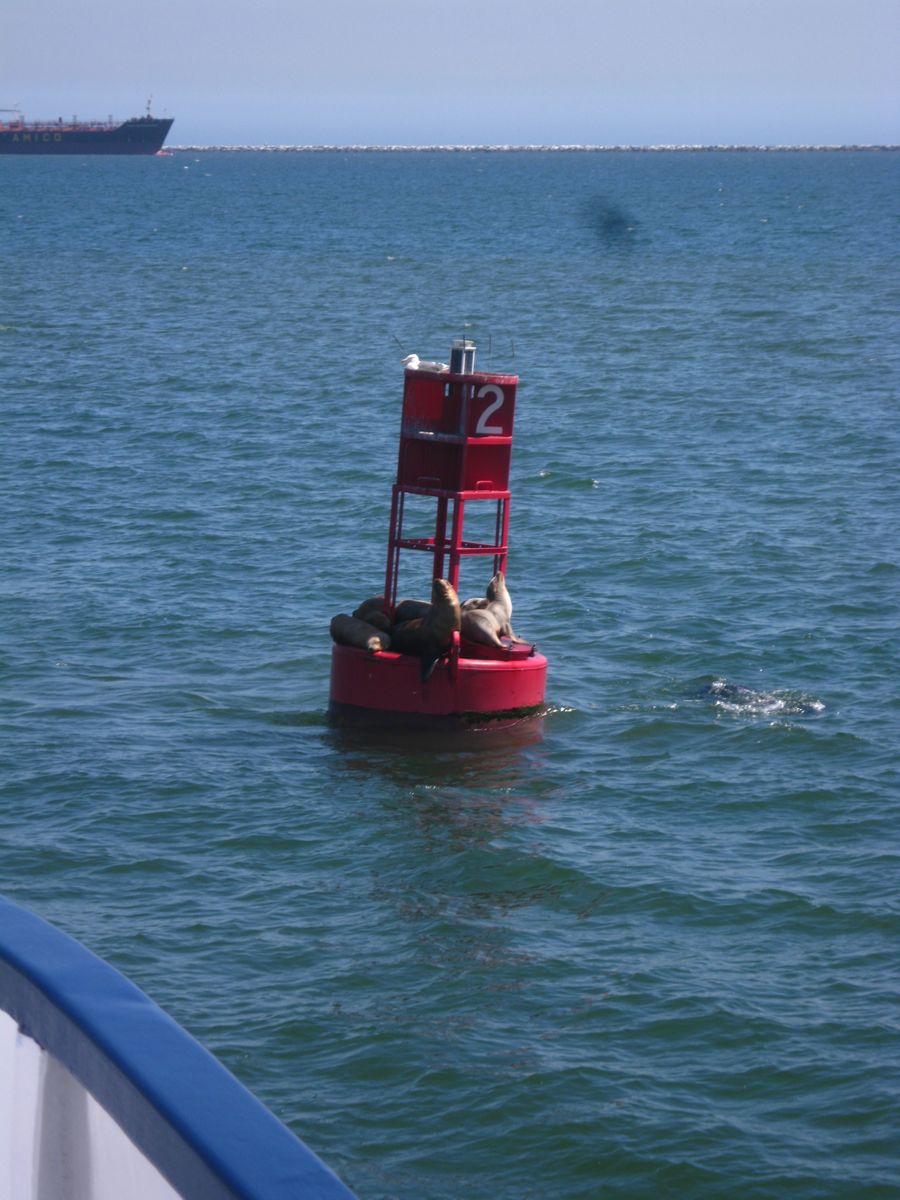 The worlds longhest breakwater is ion the background
Did You Know? - A 13.6 kilometer (8.4 mile) long breakwater stretches across most of the bay, with two openings to allow ships to enter the port areas behind it. The initial western section of the breakwater, called the San Pedro Breakwater, was constructed between 1899 and 1911 at San Pedro; the Middle breakwater was completed over the next twenty-five years, and the Long Beach breakwater was finished after World War II.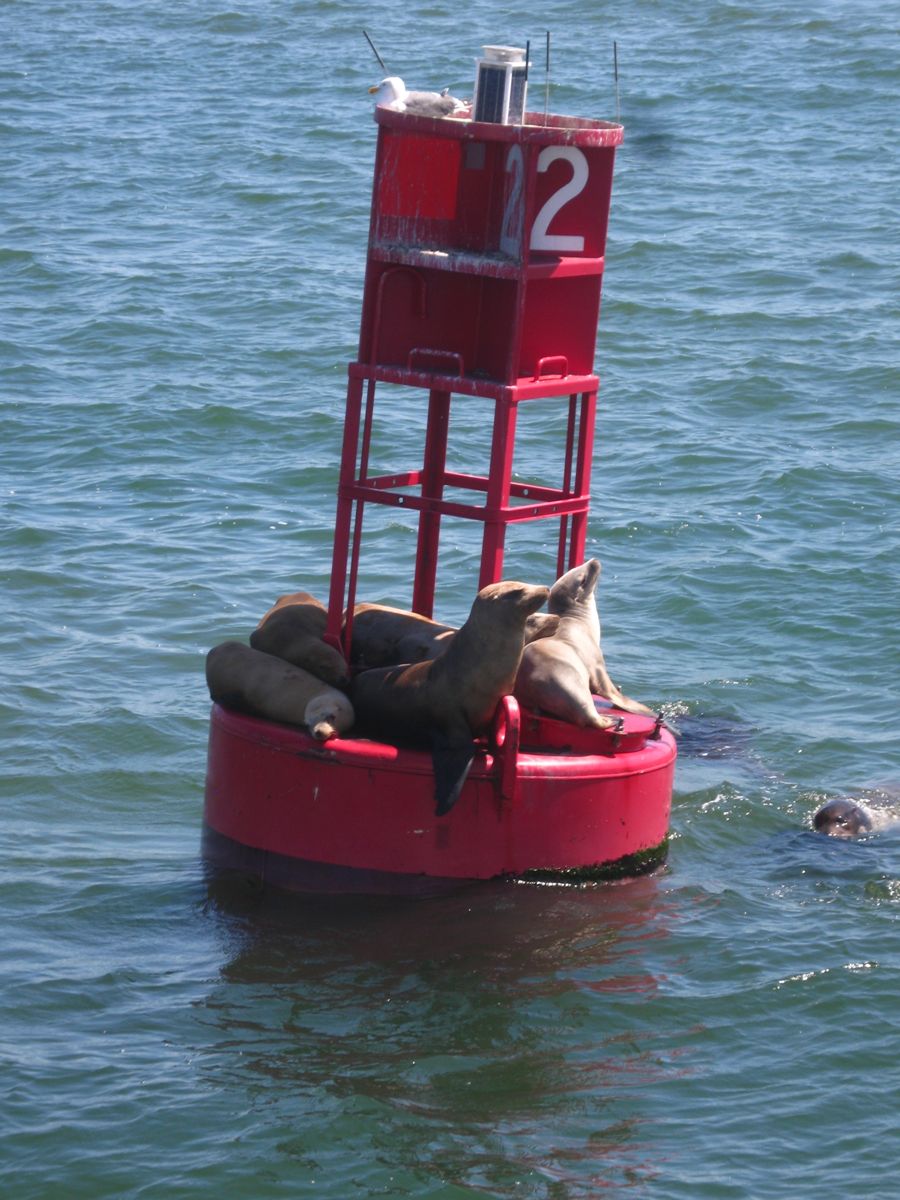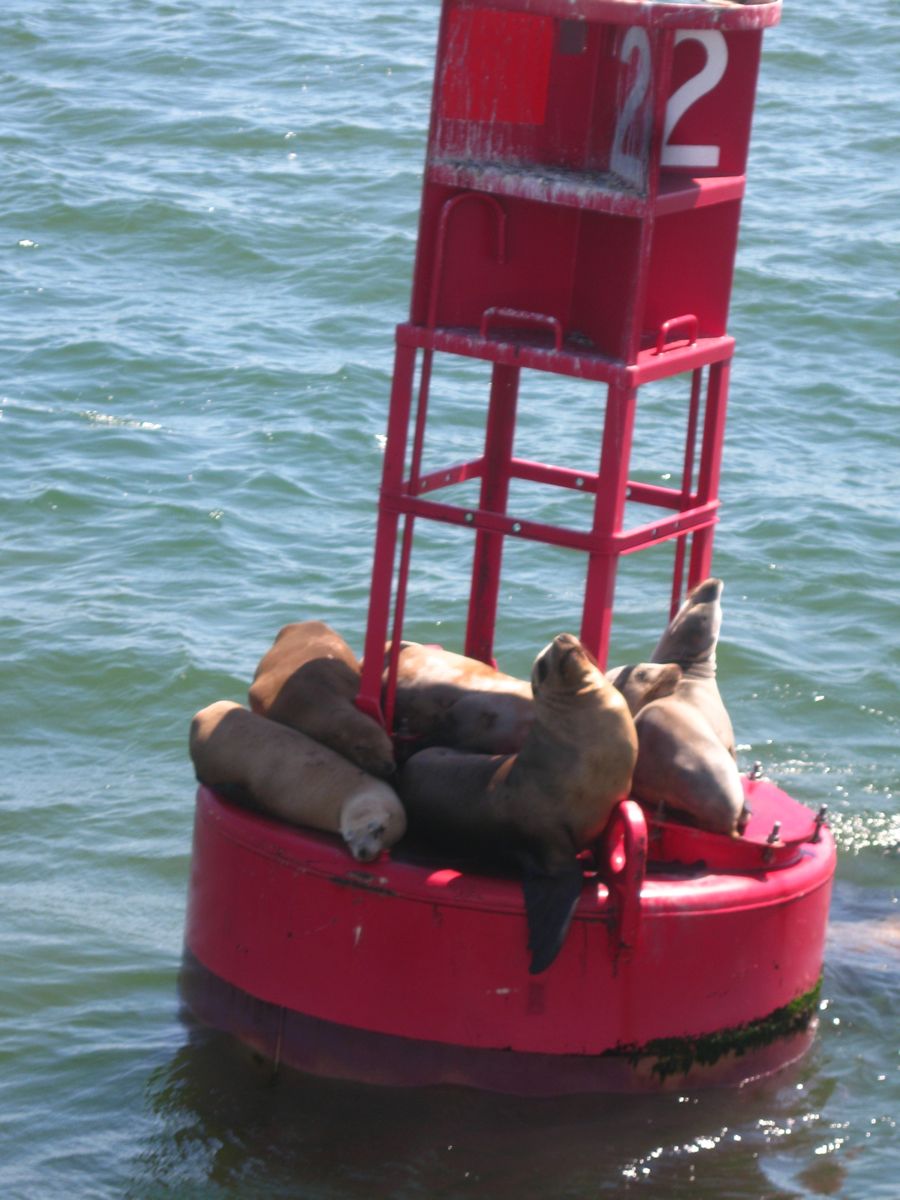 "What do you mean 'Smile'... This is my smile!"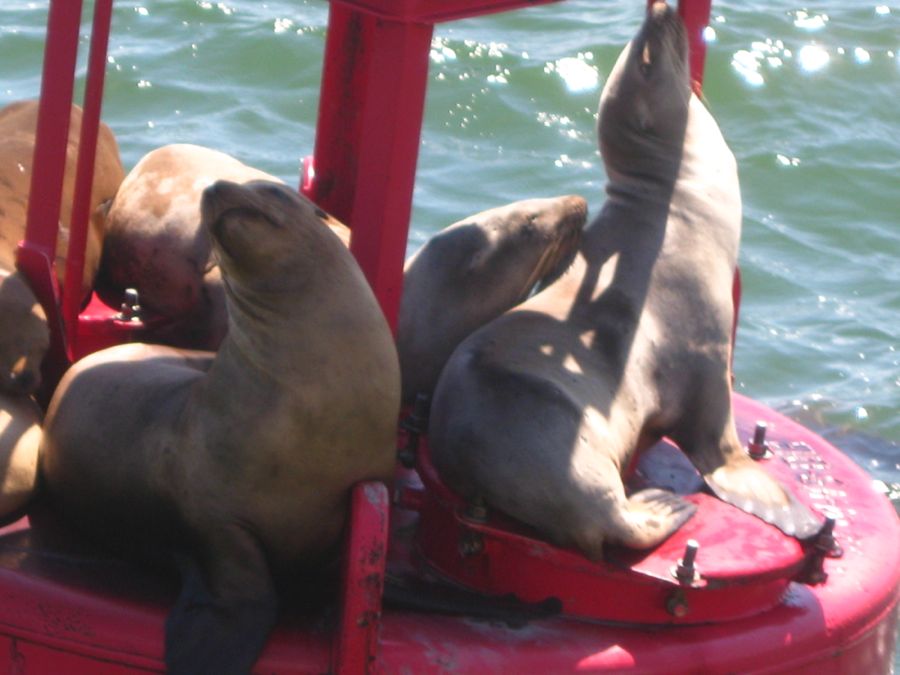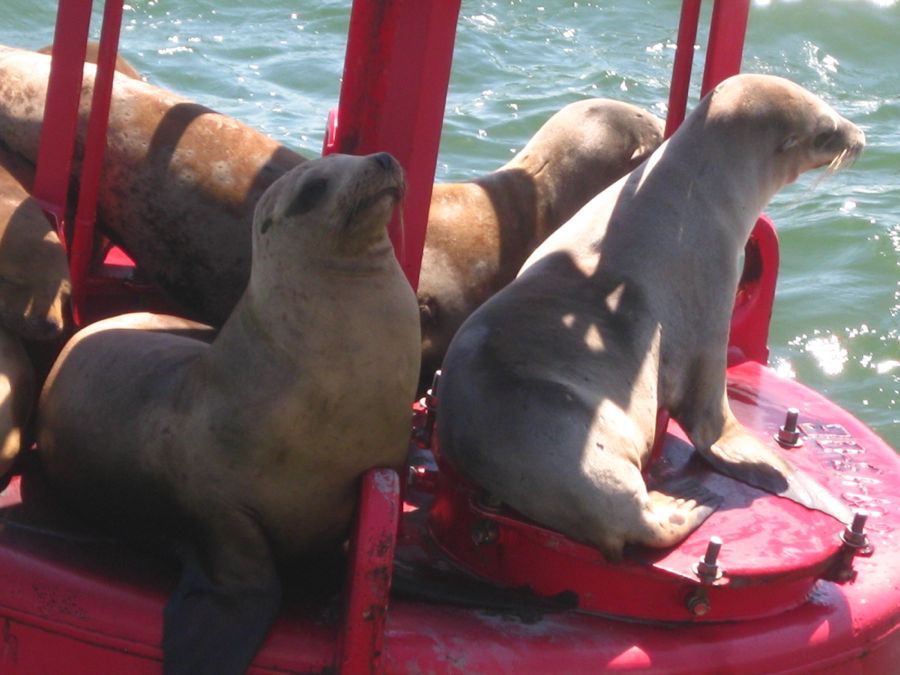 Back To Lounging Around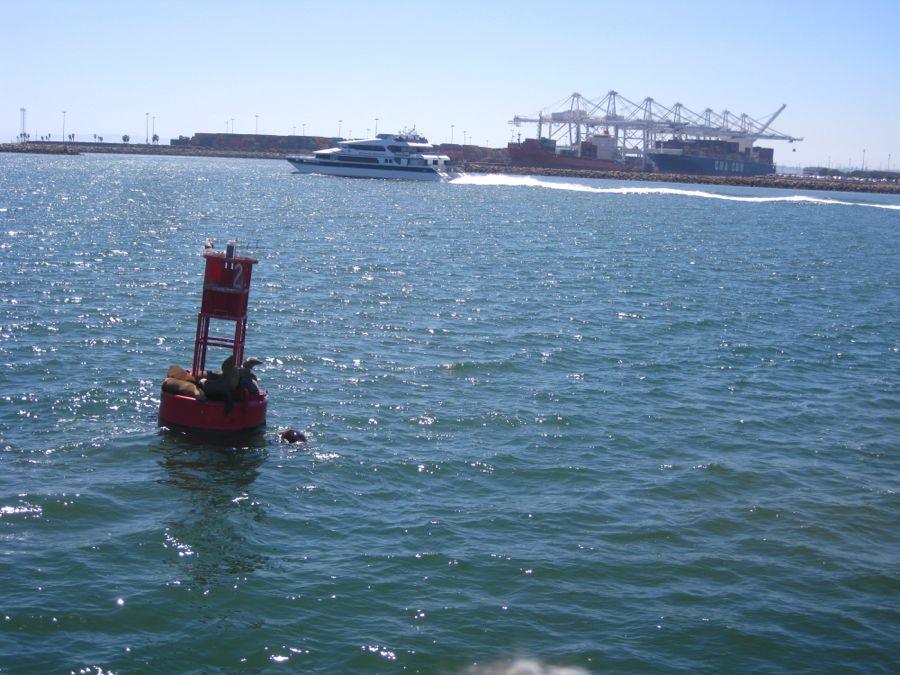 Pete and Bunny enjoyhing the trip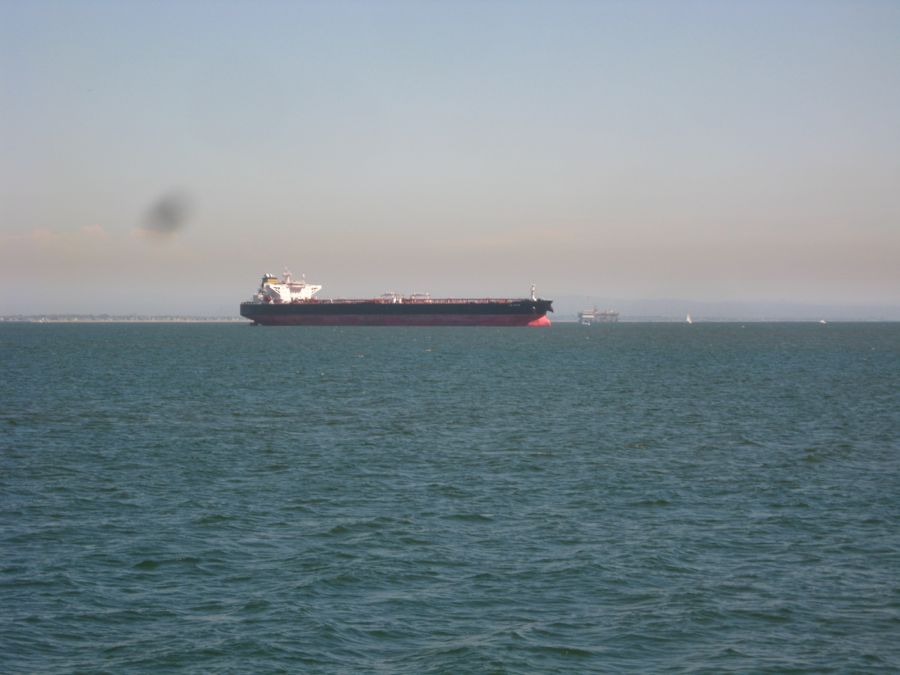 There were many tankers in the harbor today
Did You Know? - Tankers can range in size of capacity from several hundred tons , which includes vessels for servicing small harbours and coastal settlements, to several hundred thousand tons, for long-range haulage. Besides ocean- or seagoing tankers there are also specialized inland-waterway tankers which operate on rivers and canals with an average cargo capacity up to some thousand tons. A wide range of products are carried by tankers, including:
Tankers are a relatively new concept, dating from the later years of the 19th century. Before this, technology had simply not supported the idea of carrying bulk liquids. The market was also not geared towards transporting or selling cargo in bulk, therefore most ships carried a wide range of different products in different holds and traded outside fixed routes. Liquids were usually loaded in casks—hence the term " tonnage ", which refers to the volume of the holds in terms of the amount of tuns of wine (casks) that could be carried. Even potable water, vital for the survival of the crew, was stowed in casks.
Pete Spotted The Chopper As It Flew Over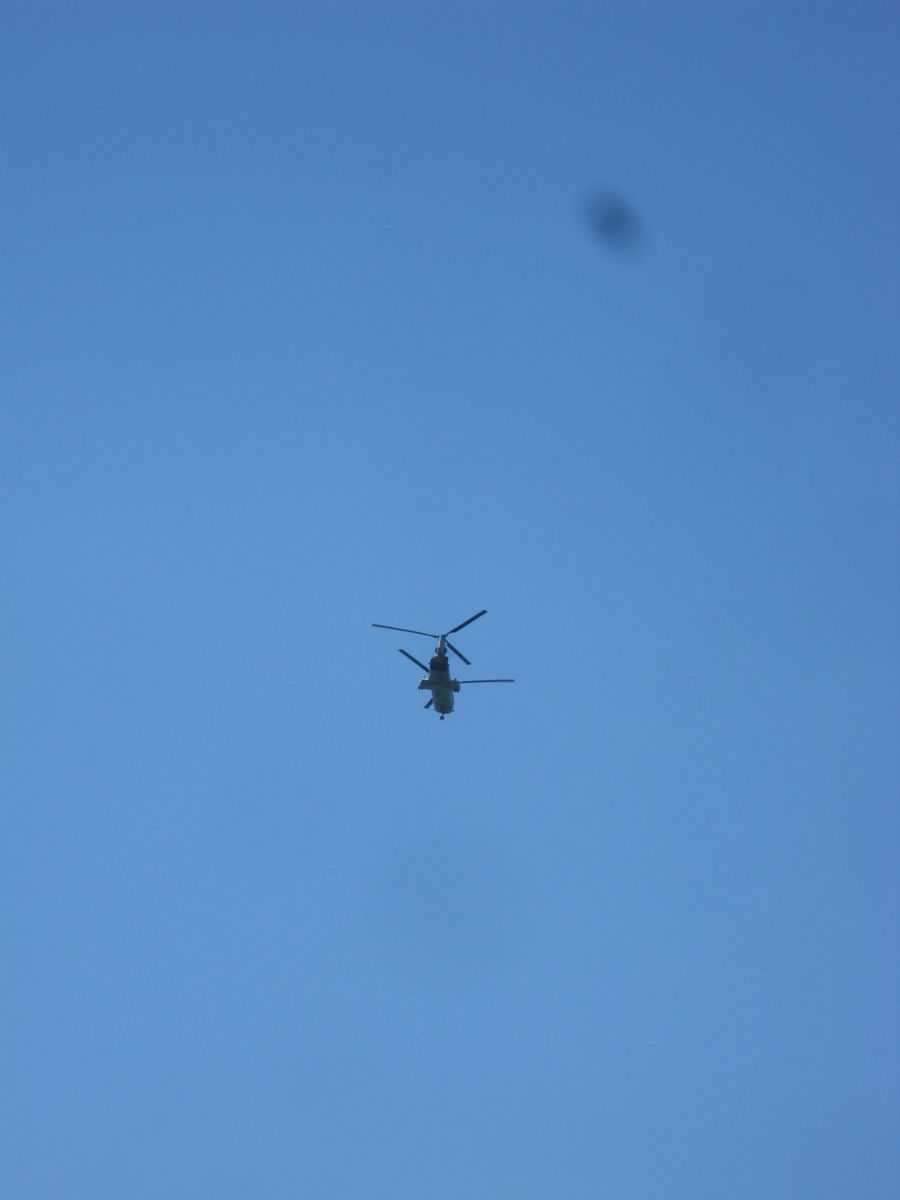 Refueling Barges
The Oil Islands And Other Islands
Did You Know? - Natural islands in San Pedro Bay include Terminal Island (actually an augmented mudflat), the site of much of Los Angeles' and Long Beach's port facilities, and Mormon Island, the site of an abortive settlement attempt by San Bernardino-based Mormon pioneers in the 1850s. Land reclamation operations by Los Angeles have considerably enlarged Terminal Island, as well as linking Mormon Island to the mainland. The historic Deadman's Island sat at a landmark at the foot of the Bay, but was removed in 1928 as part of the effort to enlarge the harbor.
Four small artificial islands containing oil wells are scattered around the bay near Long Beach. The oil drilling equipment itself is masked by brightly-colored walls in an attempt to improve their appearance from shore. These islands, named Oil Islands Freeman, Grissom, White, and Chaffee, are named for Theodore Freeman, the first United States NASA astronaut to die during flight, and for Virgil I. Grissom, Ed White, and Roger B. Chaffee, who were killed by a fire during the Apollo One mission.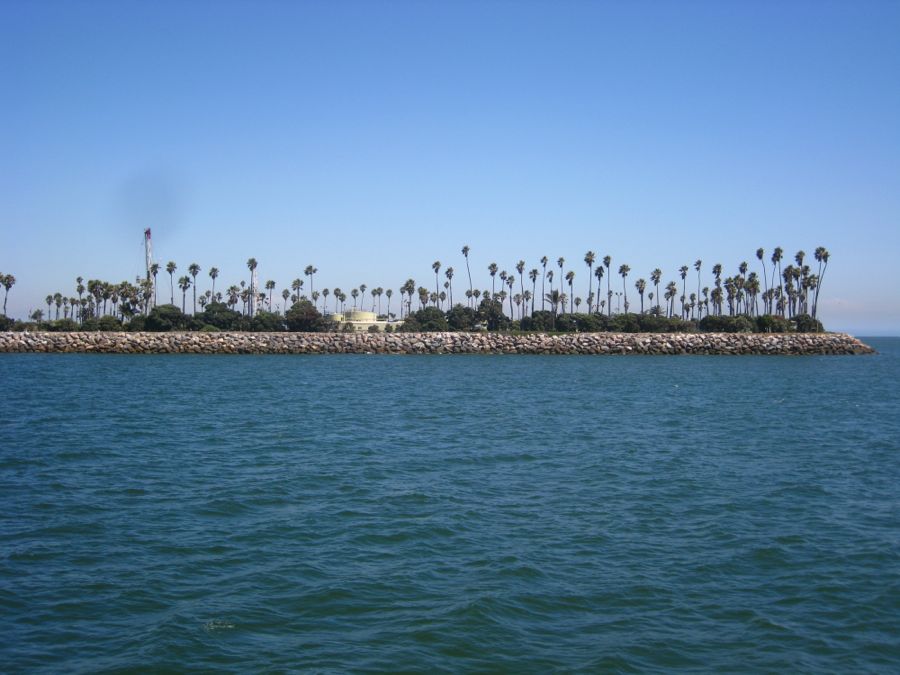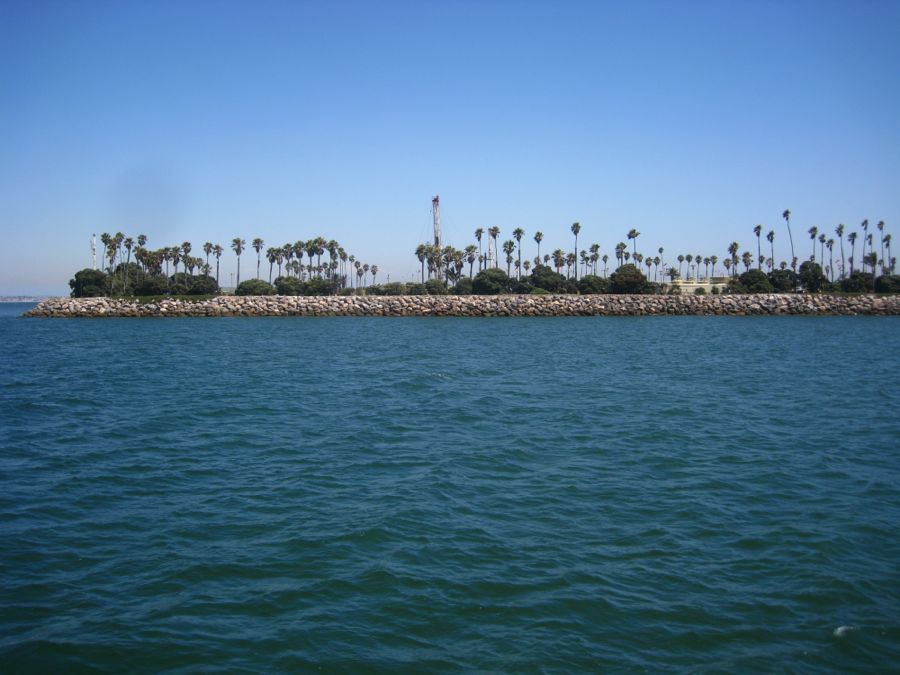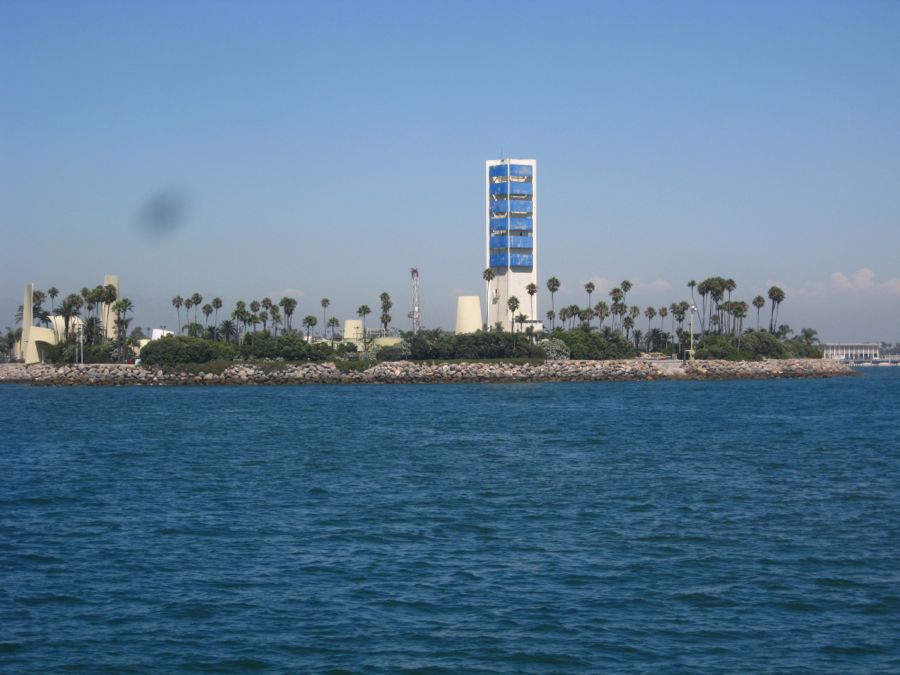 Disney helped disguise the islands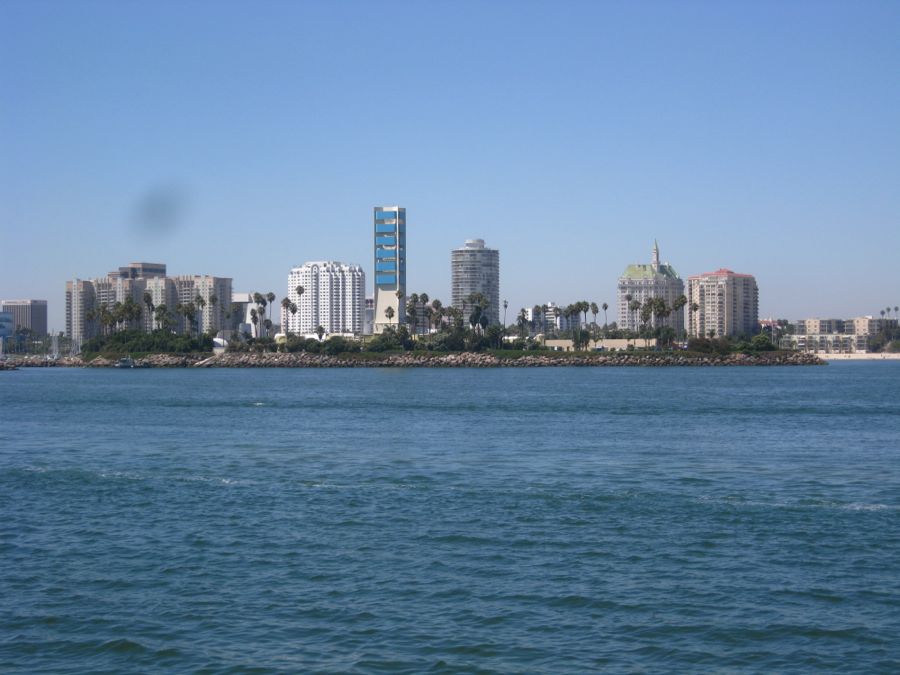 This island drills underneath the city of Long Beach
Did You Know? - The Long Beach Oil Field is a large oil field underneath the cities of Long Beach and Signal Hill, California, in the United States. Discovered in 1921, the field was enormously productive in the 1920s, with hundreds of oil derricks covering Signal Hill and adjacent parts of Long Beach; largely due to the huge output of this field, the Los Angeles Basin produced one-fifth of the nation's oil supply during the early 1920s. In 1923 alone the field produced over 68 million barrels of oil, and in barrels produced by surface area, the field was the world's richest.
The field is eighth-largest by cumulative production in California, and although now largely depleted, still officially retains around 5 million barrels of recoverable oil out of its original 950 million. 294 wells remained in operation as of the beginning of 2008, and in 2008 the field reported production of over 1.5 million barrels of oil. The field is currently run entirely by small independent oil companies, with the largest operator in 2009 being Signal Hill Petroleum, Inc.

Detail of the Long Beach field, on an aerial photograph base, showing its position within Long Beach and surrounding communities.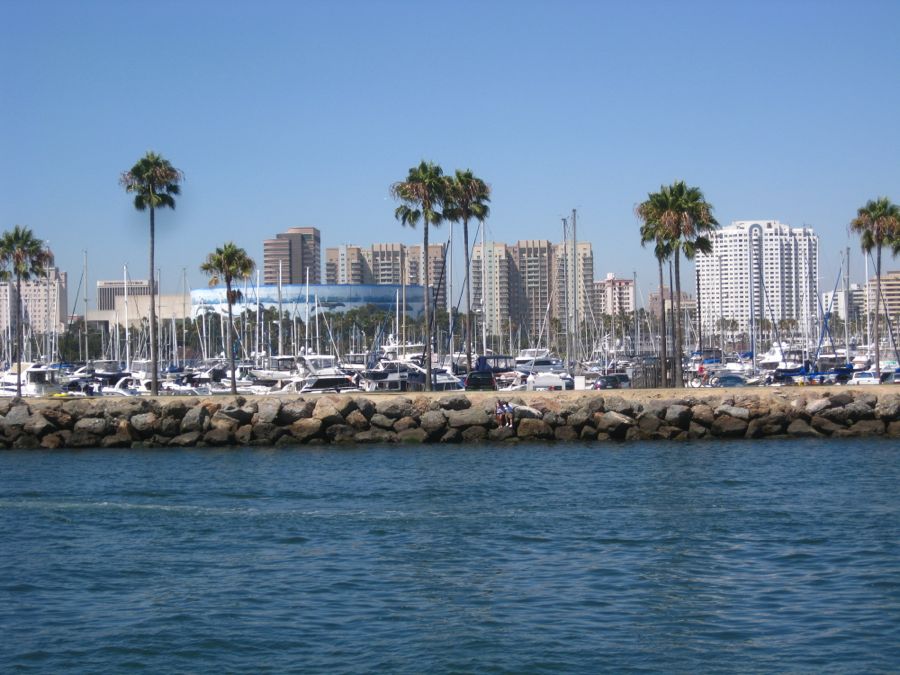 The sports arena has the worlds largest "continuous panorama mural"
Did You Know? - A mural is any piece of artwork painted or applied directly on a wall, ceiling or other large permanent surface. A particularly distinguishing characteristic of mural painting is that the architectural elements of the given space are harmoniously incorporated into the picture.
Back Into Port

The romance of the seas... A three masted ship and the water taxi... I'll take the three master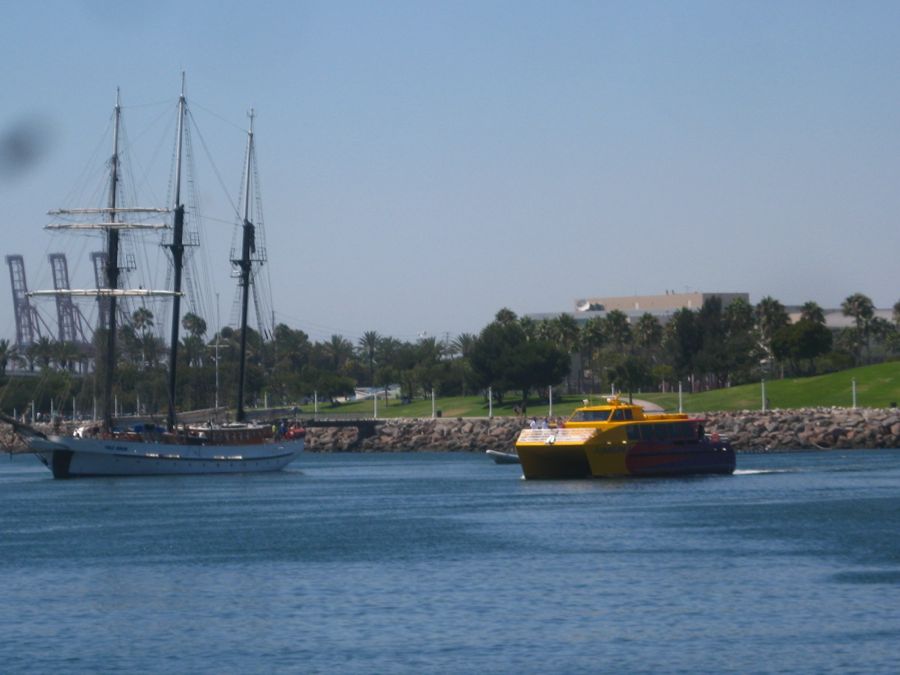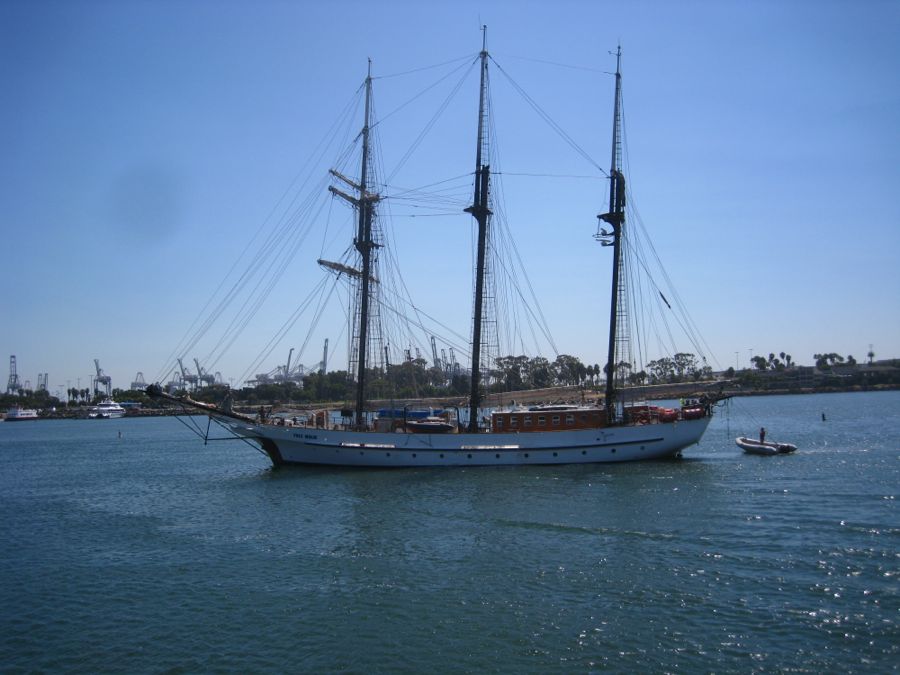 Back Into Rainbow HArbor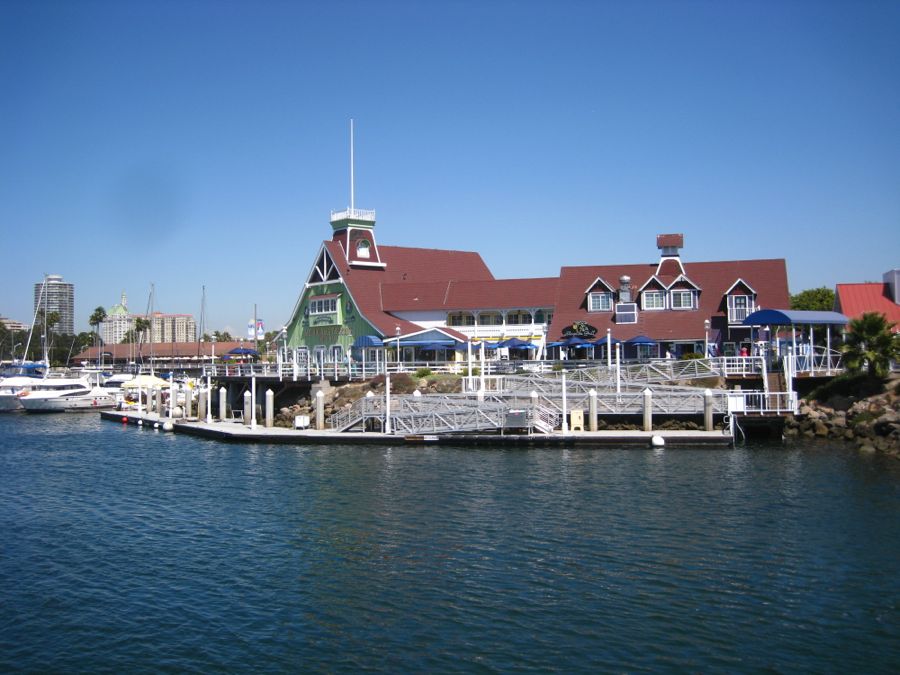 It was 91 degrees today but the wind kept it cool

Gladstones is under the flag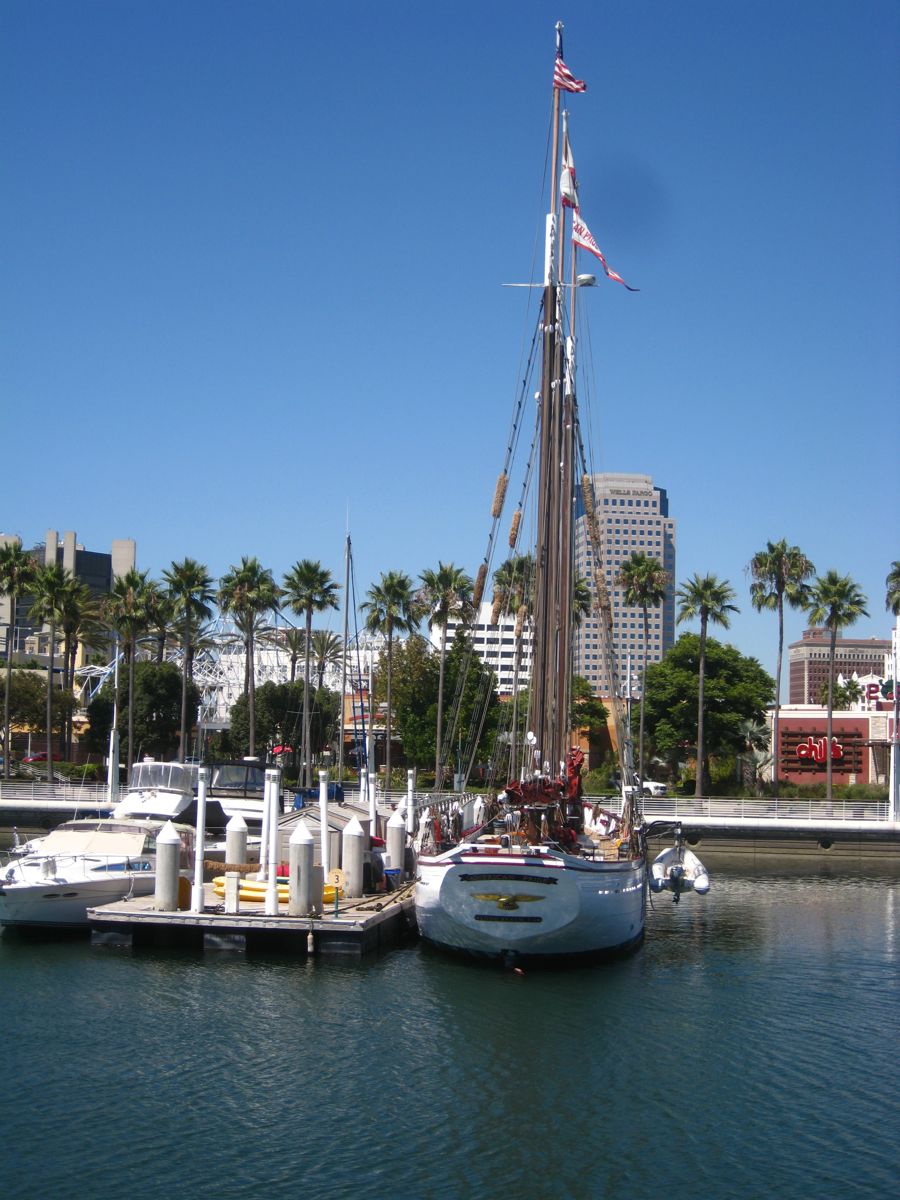 Back On Terra Firma
Did You Know? - Terra firma is a Latin phrase meaning "solid earth" (from terra "earth" and firma "solid"). The phrase refers to the dry land mass on the earth's surface and is used to differentiate from the sea or air.
Poof! Do We Really Have To Go Home Already????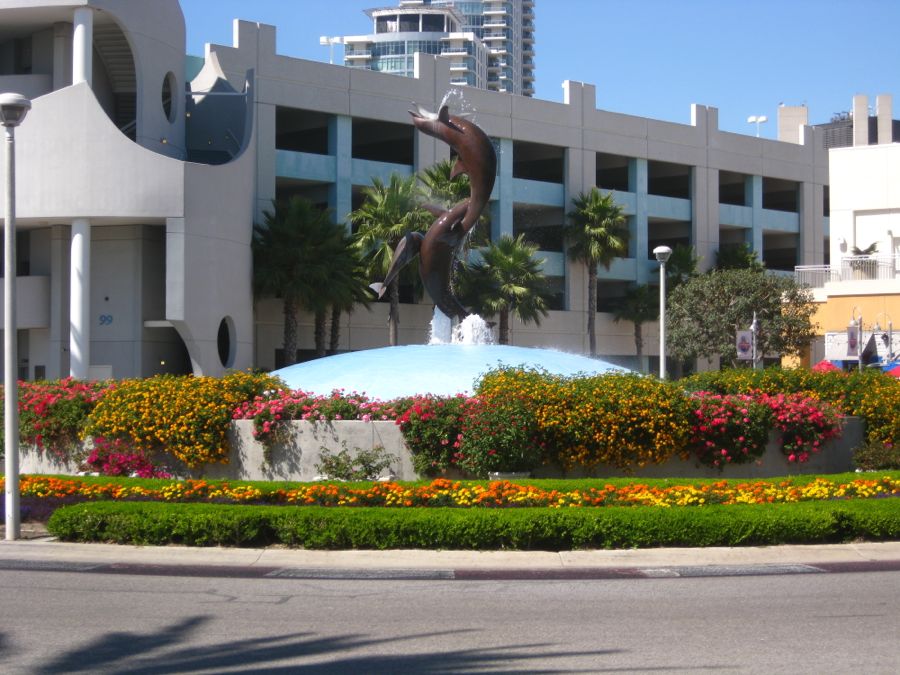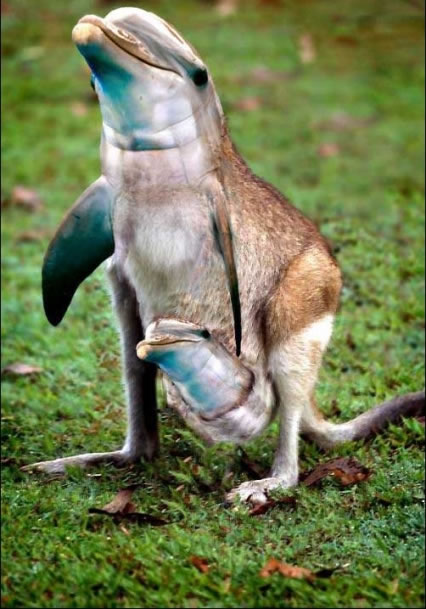 We had one too many wines... This is a dolpharoo

Pete and Bunny trying to catch up