Introduction
Dad liked to travel and Mom would only go in a car! Airplanes were out ad boats made her sick so off Dad and I go. We went to Europe for a few weeks in 1961 just after the 11th grade was complete. We had a ball traveling to New York City and staying a few days before boarding a ship to Italy for a visit with my uncle.
Dad, What Is A Subway?
I had only heard about these amazing underground trains since I was born and raised in Los Angeles!
We Visited Pearl Schwartz, An Old friend Of The Family
Third Class, I Think Not!
We are now on our way to Europe on the Vulcania, an Italian liner of the 1950's. We had no knowledge of sailing so when Dad booked the tickets we bought what seemed to be reasonable. When we got on board, we were in the same class as the Titanic folks. One room and the can down the hall. Dad put a quick stop to that.
While I was begging to go first class (I saw their area as we were walking around), Dad said "No way will I put on a suit for dinner, and you my young son have no suit!". So he booked "Cabin Class". Nice room but bunk beads. I got the top, naturally!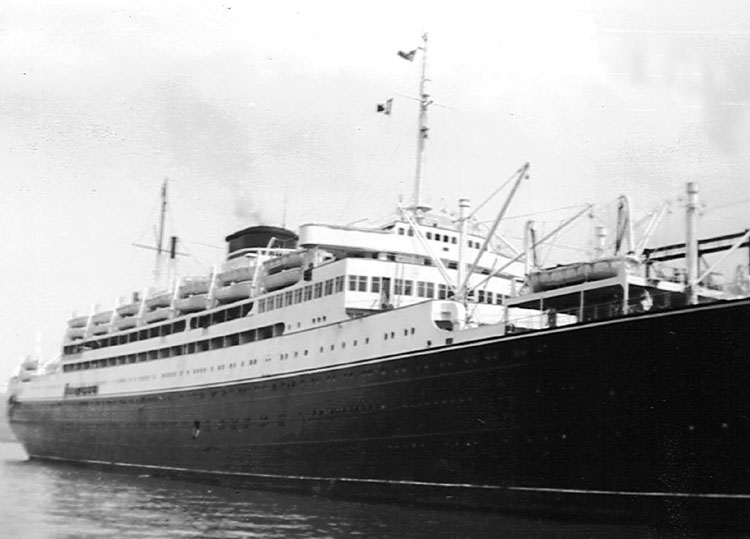 Food was good and the crossing both coming and going was just fine. We stayed in Europe about three weeks and caught the same ship on the return voyage.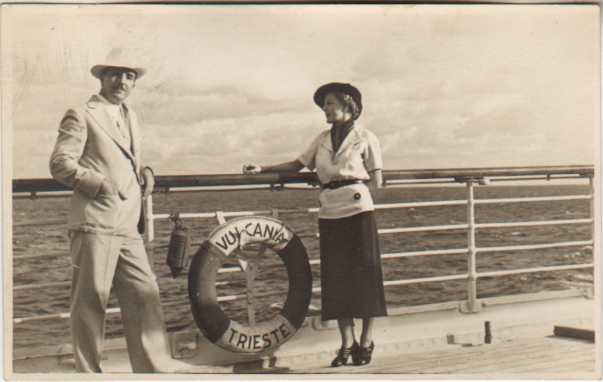 The second of three near-sister ships built for Italy's Cosulich Line (the others were Saturnia and Urania), Vulcania is considered one of the most successful passenger ships ever built. During her career she carried more passengers than any other Italian-flag ship. In the prewar years she had four classes and regularly called at ten ports: Trieste, Venice, Patras, Messina, Palermo, Naples, Gibraltar, Lisbon, Halifax, and New York; in the mid-1930s she also undertook Caribbean cruises. In 1937, she was given new engines, then the most powerful diesel machinery ever fitted in a ship, which increased her service speed to twenty-one knots.
Vulcania's wartime service began with special trooping duties during the Italian-Ethiopian war in 1935. She resumed her transatlantic sailings until Italy entered World War II in June 1940. Requisitioned as a troop transport, she sailed in support of Italy's North African campaign, and in 1942, under charter to the Red Cross, she repatriated refugees from East Africa. Italy surrendered in 1943 and Vulcania later saw duty as a U.S. troopship. Formally requisitioned after the war, she made six voyages for American Export Line before reverting to Italia. Vulcania made one voyage to South America in 1947 before entering express service between Genoa, Naples, and New York. When Andrea Doria and Cristoforo Colombo joined the fleet in 1955, Vulcania and Saturnia resumed their prewar schedule until 1965.
Sold to Grimaldi-Siosa Line and renamed Caribia, she ran as an immigrant ship between Southampton, Vigo, and Lisbon, and various Caribbean islands, before being put into Mediterranean cruise service. After stranding near Nice, France, she was sold to three different ship breakers in turn Italian, Spanish, and Taiwanese and arrived at Kao-Hsiung for scrapping on July 20, 1974.
Chuck Is Stationed In Italy
Off To Venice
Driving Through Europe
Our visit to Europe was for sightseeing and we were fortunate as Mom's brother was in Italy with the US Army. He took two weeks off and my two cousins and I, he and his wife, and Dad drove from Italy into Germany, France, Luxemburg, Spain, and back to Italy. We saw a lot of Europe from the back of the VW Van. Not quite hippies but almost!
VW Bus
Honeybucket, Yuck!
A honey bucket is a bucket that is used in place of a flush toilet in communities that lack a water-borne sewage system.The honey bucket sits under a wooden frame affixed with a toilet seat lid. The honey bucket gets its name from the actual five–gallon (19 liter) buckets which were once used as containers for honey. These are the same type of plastic buckets used for shipping many paints, cleaners, and solvents, as well as institutional quantities of food products. We got behind several of these honey bucket trucks transporting the materials and just had to stop until we got a good distance away!
Dirty Postcards
Eaglesnest
Hitler's "Eagle's Nest" was designed and built for Adolf Hilter's 50th Birthday by his personal secretary and Head of the Nazi Party Chancellery Martin Bormann. The monument is called "Kehlsteinhaus" in German because of it was originally intended to be a "Teahouse" for the head of the Third Reich. The allied bombing and battles of World War II left building intact and today the Eagle's Nest remains in its original state. In the years after the war, the Eagle's Nest and the surrounding area of Berchtesgaden remained a part of US Armed Forces property in southeastern Germany. The US military set up a recreation center where service members could hike in the summer and ski in the winter. The US military returned the area to Germany in the 1990s
Salt Mine
Fridays On The Ship
We went to Europe via trans-Atlantic steamer in 1961. Dad wanted to take a boat because he really didn't like flying and cruising was slower and more relaxing.
Dad, always the tease, and I sat next to a Catholic priest for the six day trans-Atlantic crossing!
Wow did Dad give him heck! Seems that he was ordering meat on Friday for lunch and dinner! When Dad asked him about it, the good priest informed Dad that he was allowed to eat mean when he was "under hardship".
Hardship was a teene-weenie bit more than Dad could swallow since we were on a ship with 800+ passengers and a dinner menu containing fish, pasta, etc.
Dad found a target and the arrows flew.
Grosse Grandpa
We were in Europe where elevators were unknown. Dad wasn't in the best of health and after a day of hard travel through Belgium we finally stopped in a small village and requested a hotel room. We wanted on the first floor because dad could not do stairs... the Inn Keeper did not understand. Finally, in my best High School French I explained that dad was a "Grosse Grand Pa Pa".... The Inn Keeper finally understood want we wanted!
class="inWork"I Found A Girl! class="inWork"New York 50 Floors Up
She Had Green Hair
Amazing but I knew Sharon Tate as a high school girl in Italy where she was stationed with her parents. That summer we would go to the base swimming pool and she would always be there.
As I remember, her hair had tinges of green in it from the chlorine chemicals they put into the pool.
She was a very nice kid who didn't put her looks above all else. She was pleasant to me and asked about things happening back home in the states.
I along with most of the world was shocked to find out how she was brutally murdered by Charles Manson and his band of sicko's!
SS Vulcania Of The Italian Lines
In 1961, dad and I took a trip to Europe to visit my Uncle. We went via ship both ways. I cannot remember the voyage to Europe but we returned on the SS Vulcania which sailed from Trieste to New York.
The "Vulcania" was built by Cantiere Navale Triestino, Monfalcone, Italy in 1926 for the Italian company, Cosulich Line. She was a 23,970 gross ton ship, length overall 631.4ft x beam 79.8ft, one funnel, two masts, twin screw and a speed of 19 knots. There was accommodation for 310-1st, 460-2nd, 310-intermediate class and 700-3rd class passengers. Launched on 18/12/1926, she sailed from Trieste on her maiden voyage to Patras, Naples and New York on 19/12/1928. In 1930 her accommodation was altered to 1st, 2nd, tourist and 3rd class, and in 1934 to 1st, tourist and 3rd class only.
In 1930 she was fitted with new diesel engines which gave her a speed of 21 knots and was rebuilt to a tonnage of 24,469 tons. In Dec.1936 she commenced her last Trieste - New York voyage for Cosulich Line and in 1937 went to the newly formed Italia Line. In March 1937 she commenced running from Trieste to New York and in March 1940 commenced her last sailing Trieste - Naples - New York - Trieste. She was requisitioned by the Italian government in 1941 to carry troops to North Africa and in 1942-3 was used on three special missions to repatriate women and children, Genoa - East Africa via S.Africa. In Oct.1943 she became a US Troopship and on 29/3/1946 was chartered to American Export Line to run between New York - Naples - Alexandria. She commenced her last voyage on this service on 4/10/1946 after 6 round voyages and was returned to Italia Line on 15/11/1946.
She then sailed New York - Naples - Genoa where she was reconditioned to carry 240-1st, 270-cabin and 860-tourist class passengers. In July 1947 she made a single voyage from Genoa to S.America and then, on 4/9/1947 resumed the Genoa - Naples - New York service. On 21/9/1955 she commenced her last voyage on this run and on 28/10/1955 was transferred to run between Trieste, Venice, Patras, Naples, Palermo, Gibralter, Lisbon, Halifax and New York.
On 5/4/1965 she commenced her last voyage on this service and was sold to the Siosa Line who renamed her "Caribia". On 18/9/1973 she arrived at Barcelona under tow to be scrapped and departed under tow for Kaohsiung for scrapping on 15/3/1974. [Posted to The ShipsList by Ted Finch - 31 October 1997]

The VULCANIA (1928) Cosulich line, Italia Line. Tonnage 23,970. Dimensions 601' x 79'. Twin screw. 19 knots. Motorship. 2 masts and 1 funnel. Launched Dec. 18, 1926. Maiden voyage Trieste-New York Dec. 19, 1928. 1700 passengers in 4 classes.
I received an email after someone read about the SS Vulcania and it said:
Dear Paul and Sue,

I read your account of the SS Vulcania with fascination. My family sailed on the Vulcania from New York to Naples to Alexandria in October, 1946 on our way to Saudi Arabia. I was 2 and half years old at the time. I am trying to establish the exact date the Vulcania sailed from New York in October 1946. Do you have any idea how I could go about it? Do you think the owner company retains passenger lists from that far back? I would very much appreciate any suggestions you could make, as it is of some urgency that I find out.

Thank you very much.

Paul Lunde (eMAIL 12/8/2002)
Close To The Communists