One Day At Sea And Then The Falkland Islands (Page Four)
Sailing for a day gets us familiar with the ship which is always good. Finding the dining room and bar is essential!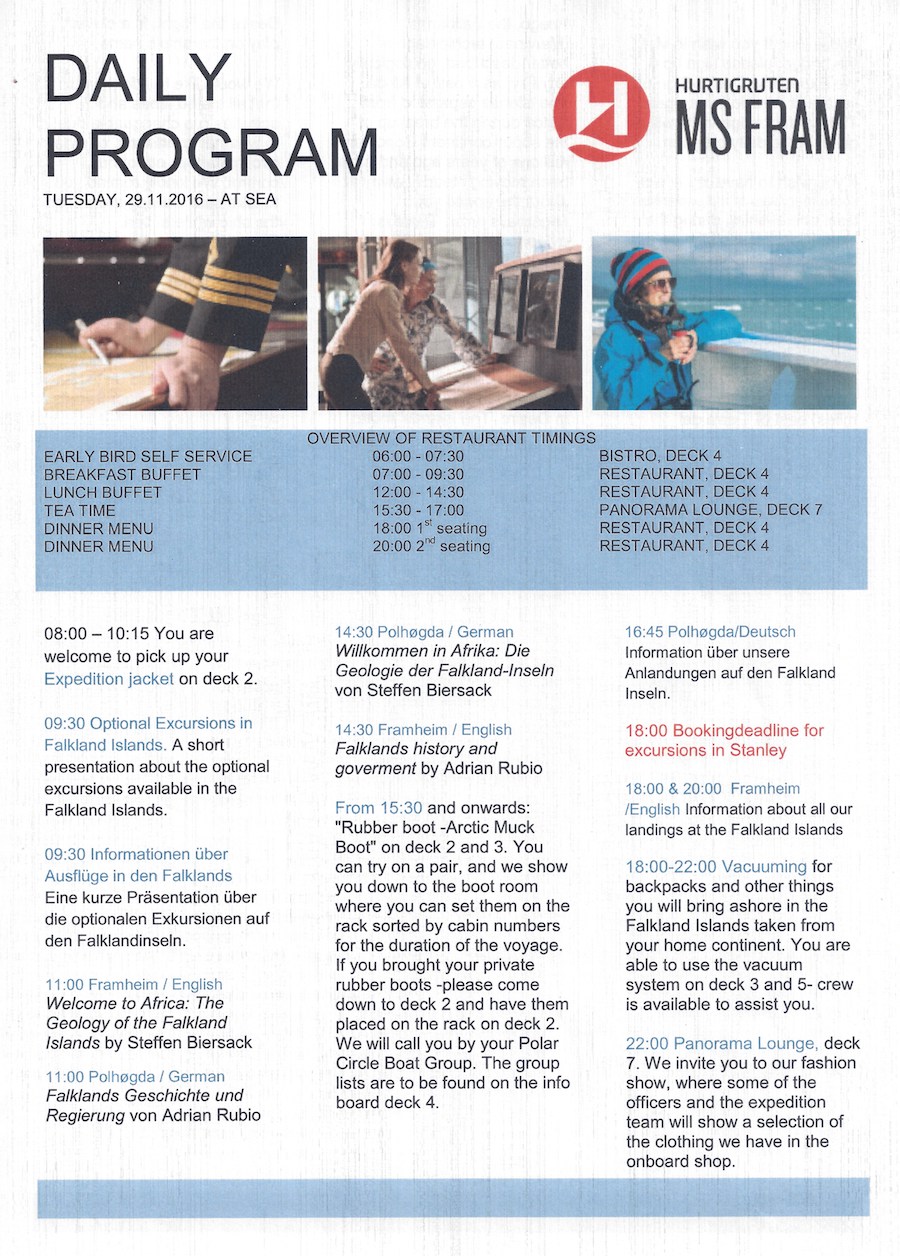 After sailing a day, we are ready to get off and stretch out legs. The Falkland Islands offer a great opportunity to "jump ship" and see the countryside.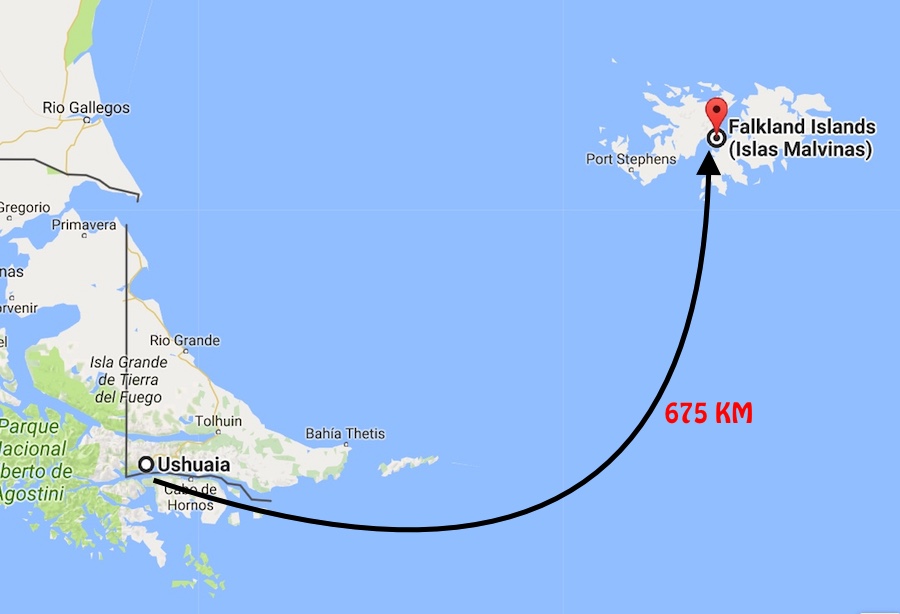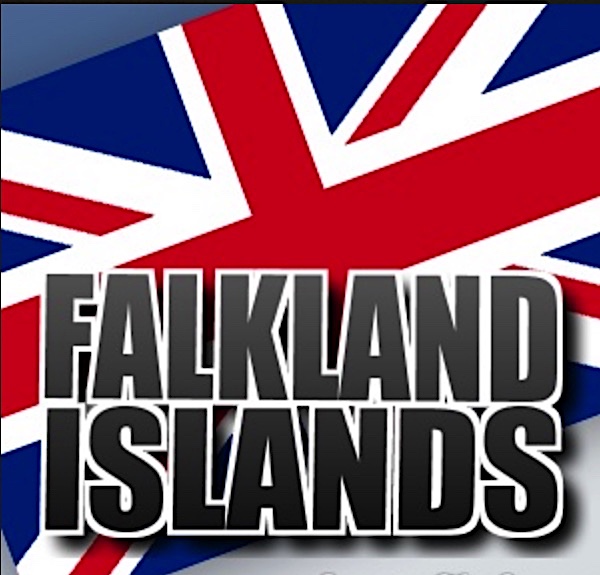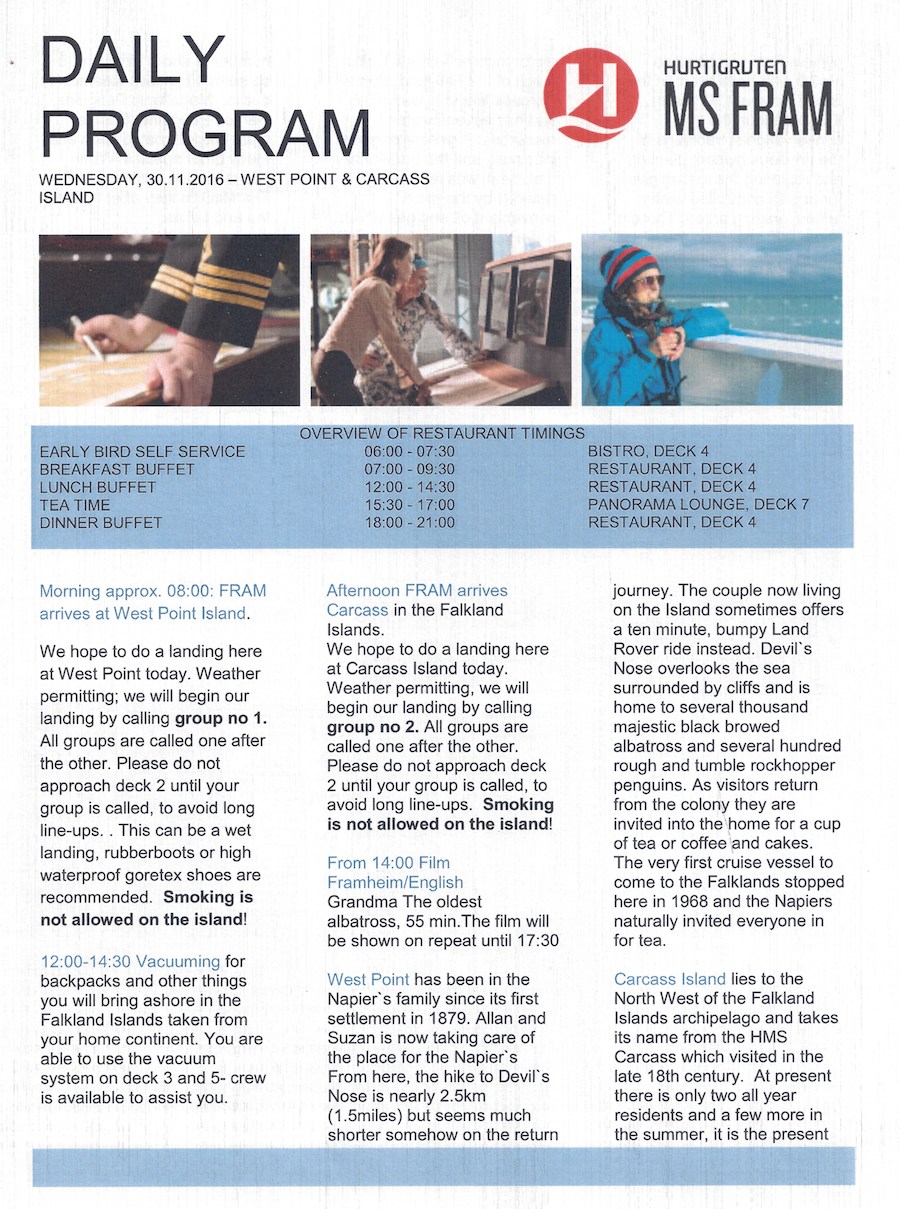 Now you know where they are!
Did You Know? - The Falkland Islands are an archipelago in the South Atlantic Ocean on the Patagonian Shelf. The principal islands are about 300 miles (483 kilometers) east of South America's southern Patagonian coast, at a latitude of about 52°S.
The archipelago, with an area of 4,700 square miles (12,000 square kilometers), comprises East Falkland, West Falkland and 776 smaller islands.
As a British overseas territory, the Falklands have internal self-governance, and the United Kingdom takes responsibility for their defense and foreign affairs. The islands' capital is Stanley on East Falkland.

Straight ahead

Looks a little barren

Click to see the panorama image

We are a little worried about the crew!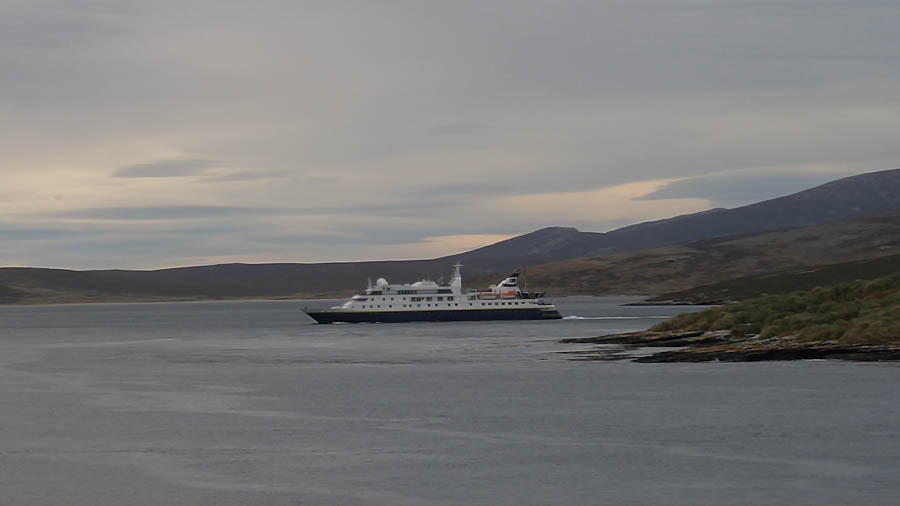 The smaller boats can get in close to shore

Blue jackets provided to assure we stay warm!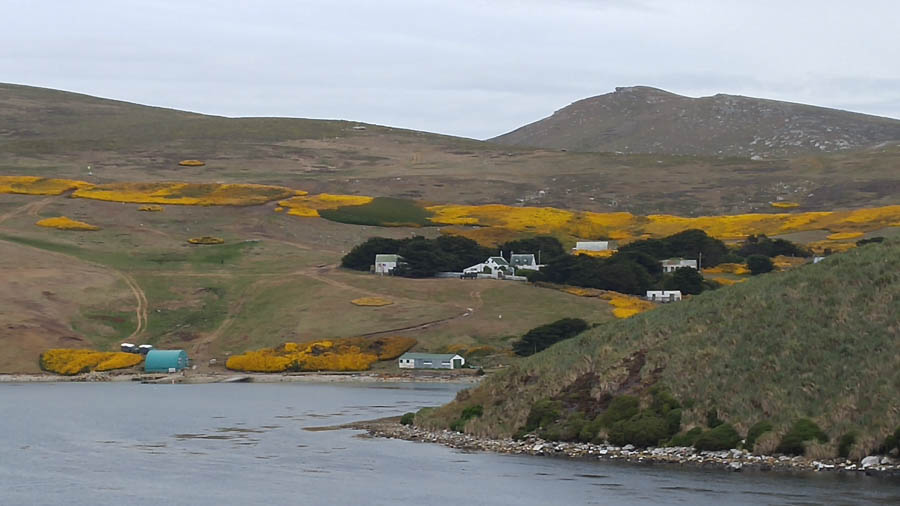 Hello there... We are coming for a visit!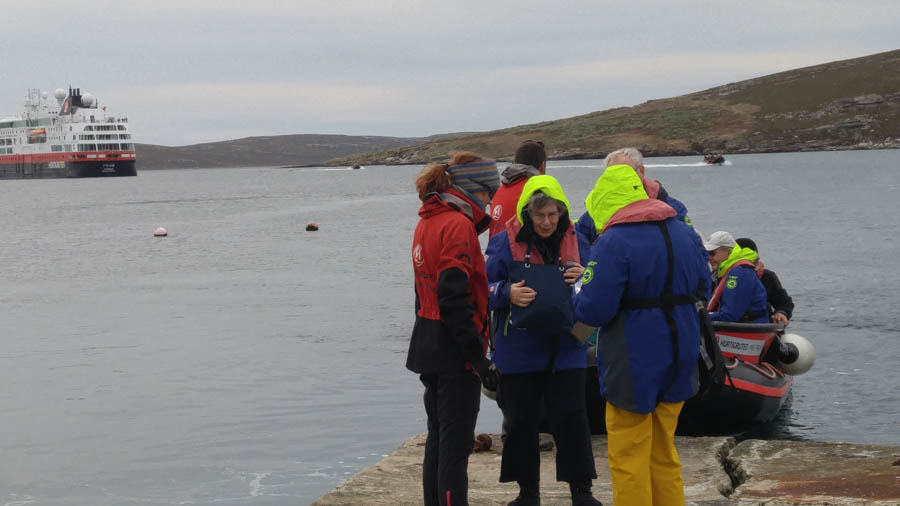 No dock so we take the runabouts

It takes several runs to get everyone onto the shore

Yes it is cold!

"The coat is blue and so am I"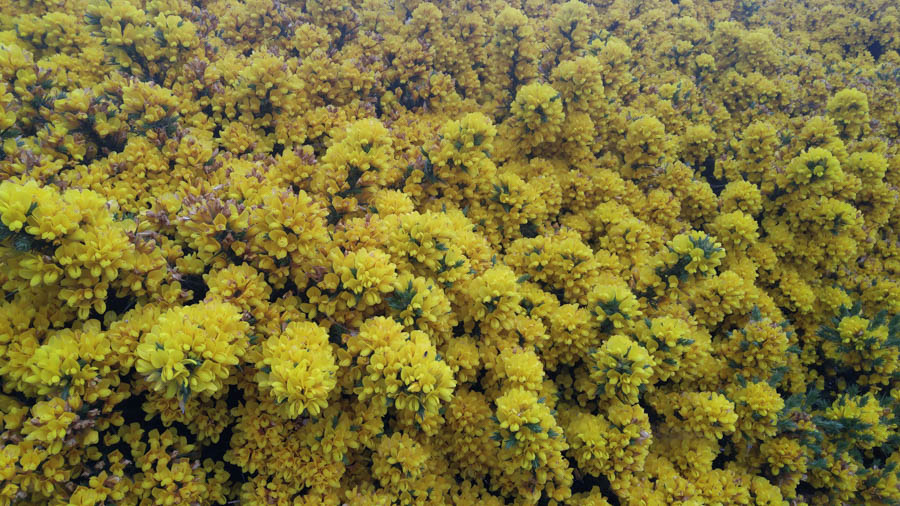 The flowers are all ewer the island
Did You Know? - The population (2,932 inhabitants in 2012)[A] primarily consists of native-born Falkland Islanders, the majority of British descent. Other ethnicities include French, Gibraltarian and Scandinavian. Immigration from the United Kingdom, the South Atlantic island of Saint Helena, and Chile has reversed a population decline. The predominant (and official) language is English. Under the British Nationality (Falkland Islands) Act 1983, Falkland Islanders are British citizens.

We are ready for a stroll!

Walking stick in hand!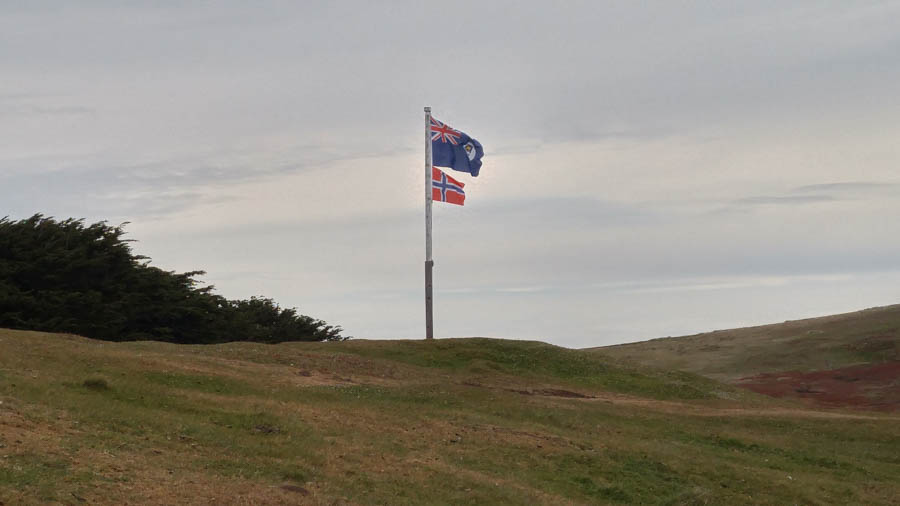 The Falkland Flag flies proudly

Wind power is just beginning

The things you see when you don't have a gun!

Our ship takes off for a bit and will pick us up later

"Tip Toe Through The Tulips"

The ocean is always nearby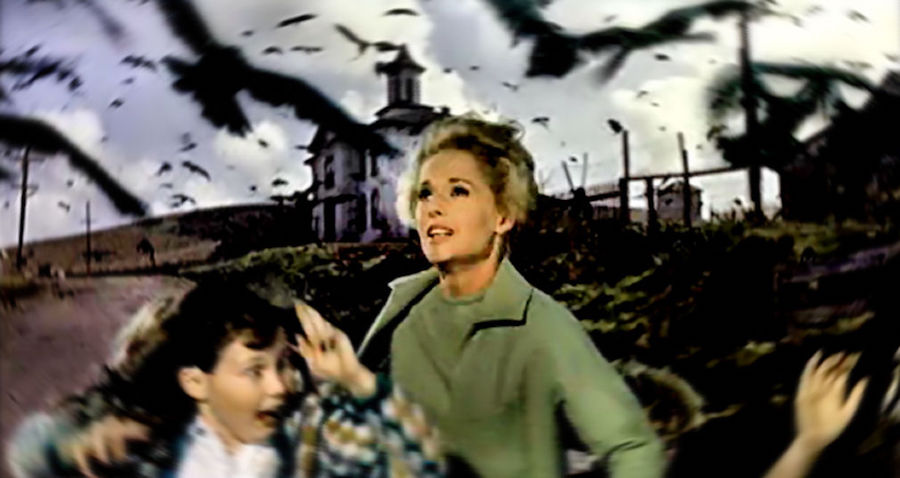 "The Birds... The Birds"

Birds by the thousands!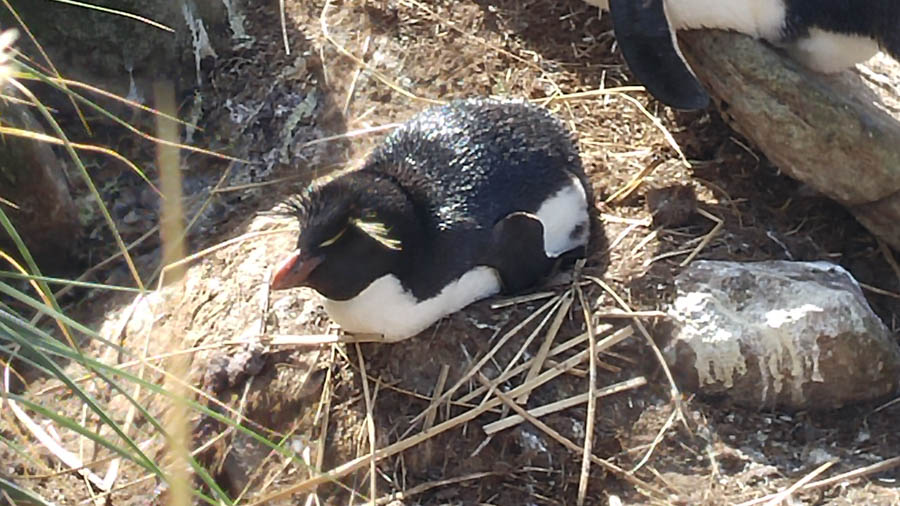 Cute little guys
Did You Know? -
Southern Rockhopper Penguin
Eudyptes chrysocome chrysocome
Breeding Range: Falkland Islands, Chile and Argentina
Length: 52cm.
Falklands Population: 280,000 breeding pairs
World Population: 500,000 breeding pairs
Rockhoppers nest in colonies on rocky slopes at 36 sites around the Falklands, with this subspecies breeding only in the Falklands, Chile and Argentina. Two eggs of unequal size are laid in early November, but only the larger egg is generally successful.
Chicks form small creches at 4 weeks of age, and fledge at 10 weeks in early February. Adults generally remain within 40km of the nest site during the breeding season, feeding on small fish, squid and crustaceans at depths of up to 100 metres. Breeding sites are abandoned between April and October as birds migrate northwards.
Adults do not begin breeding until 4 years of age, but can live to over 25 years. Sexes are similar in appearance. The Falklands population crashed during the 1980s and early 1990s, probably due to over-fishing, and now stands at around 10% of its former size. The South American population was unaffected.

Must make myself beautiful

"Amazing... Just amazing!"

" I will second that!"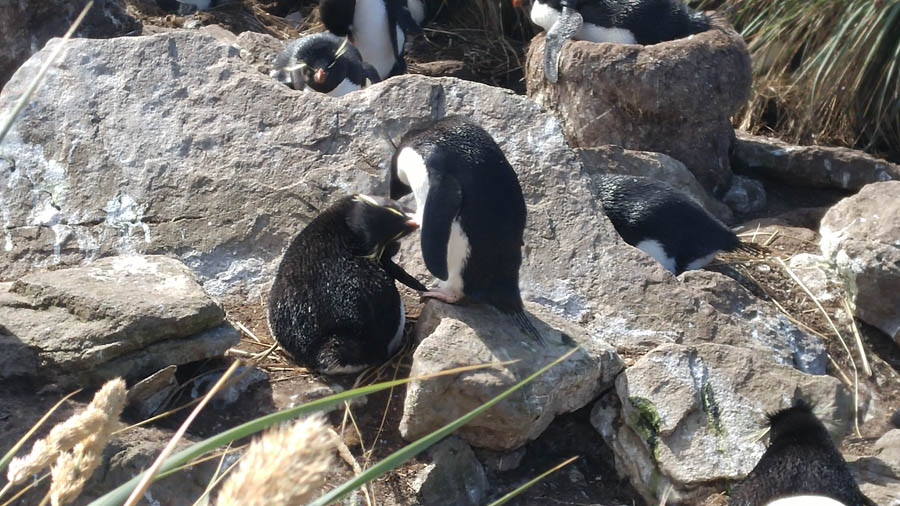 "Why do they call us 'Rockhoppers'?
Did You Know? - Their common name refers to the fact that, unlike many other penguins which get around obstacles by sliding on their bellies or by awkward climbing using their flipper-like wings as aid, rockhoppers will try to jump over boulders and across cracks.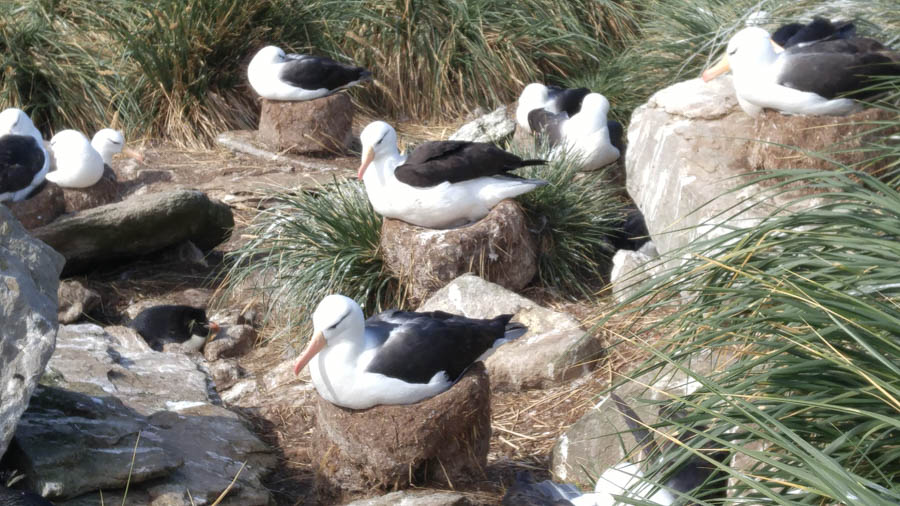 They live side by side with the gulls

Sitting on a nest

Their white plumage is very bright in the sunlight

Living near the sea gives them access to food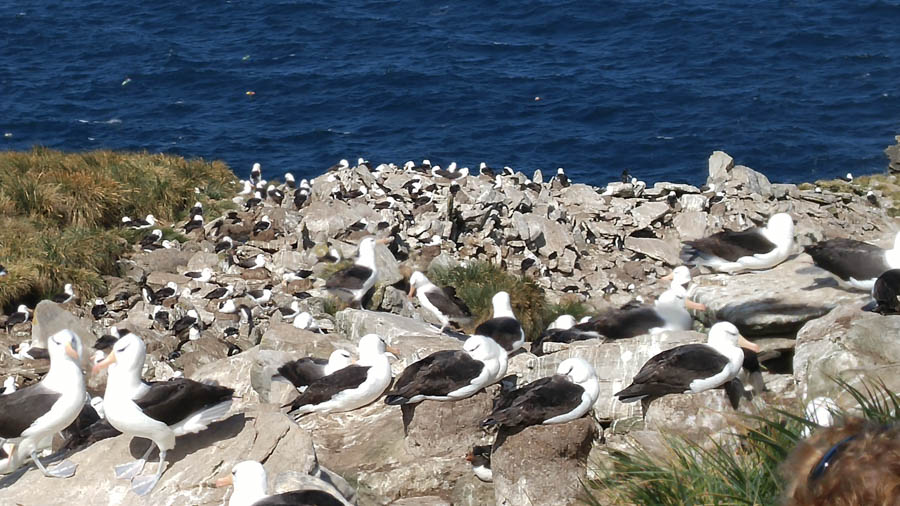 They prefer rocks to the grasslands

Looks pretty serious

We are getting the evil eye!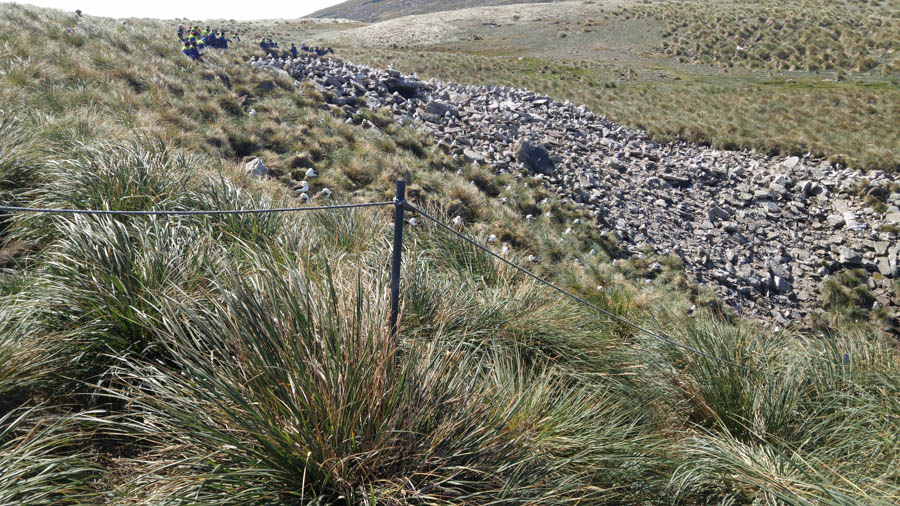 The nesting and breeding areas are marked off limits to humans

Our ship did not sail away... Still moving people back and forth

"I'm keeping an eye on it"

We get to drop in on some locals

...an keep and eye on our ship!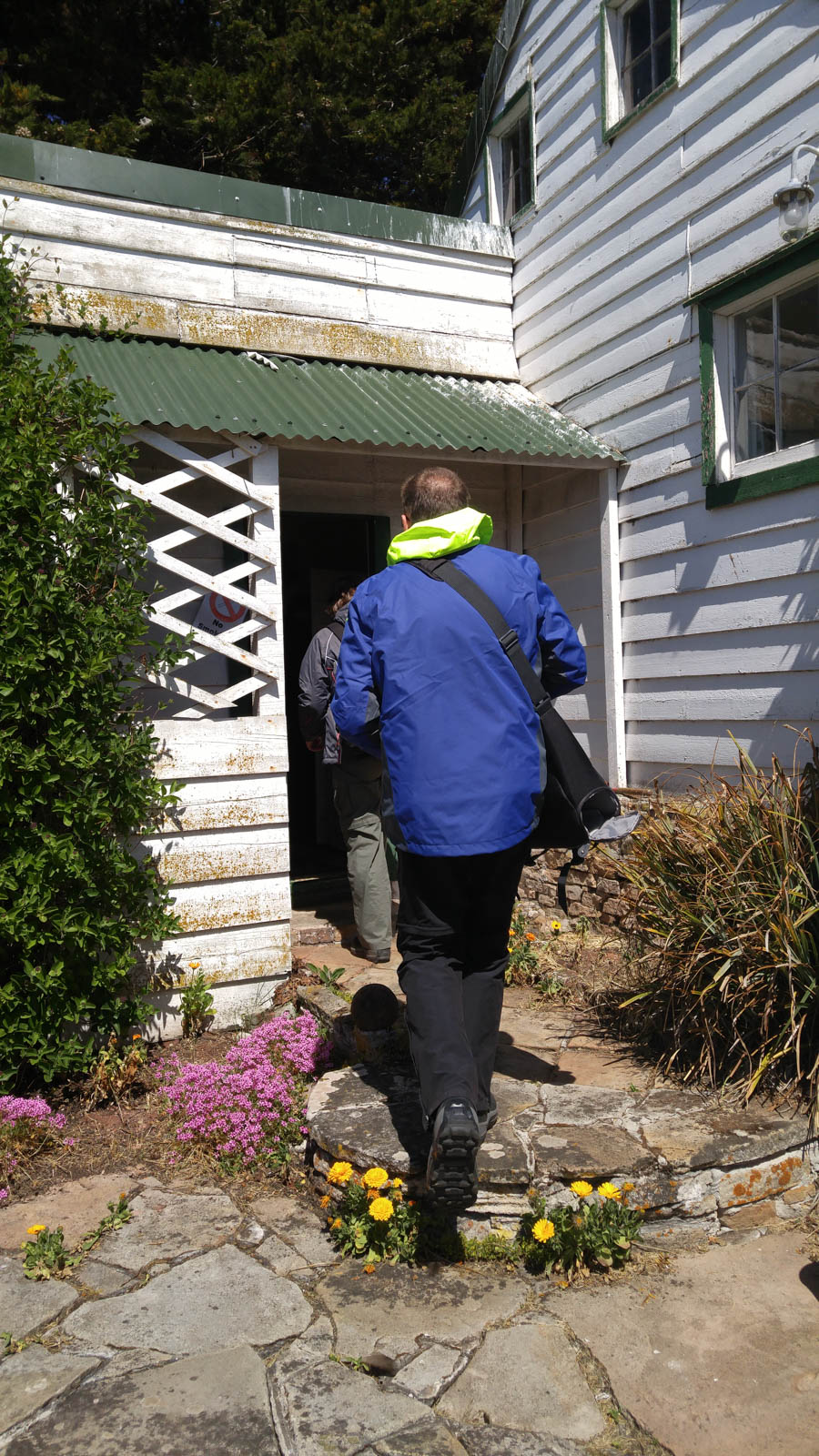 Come on inside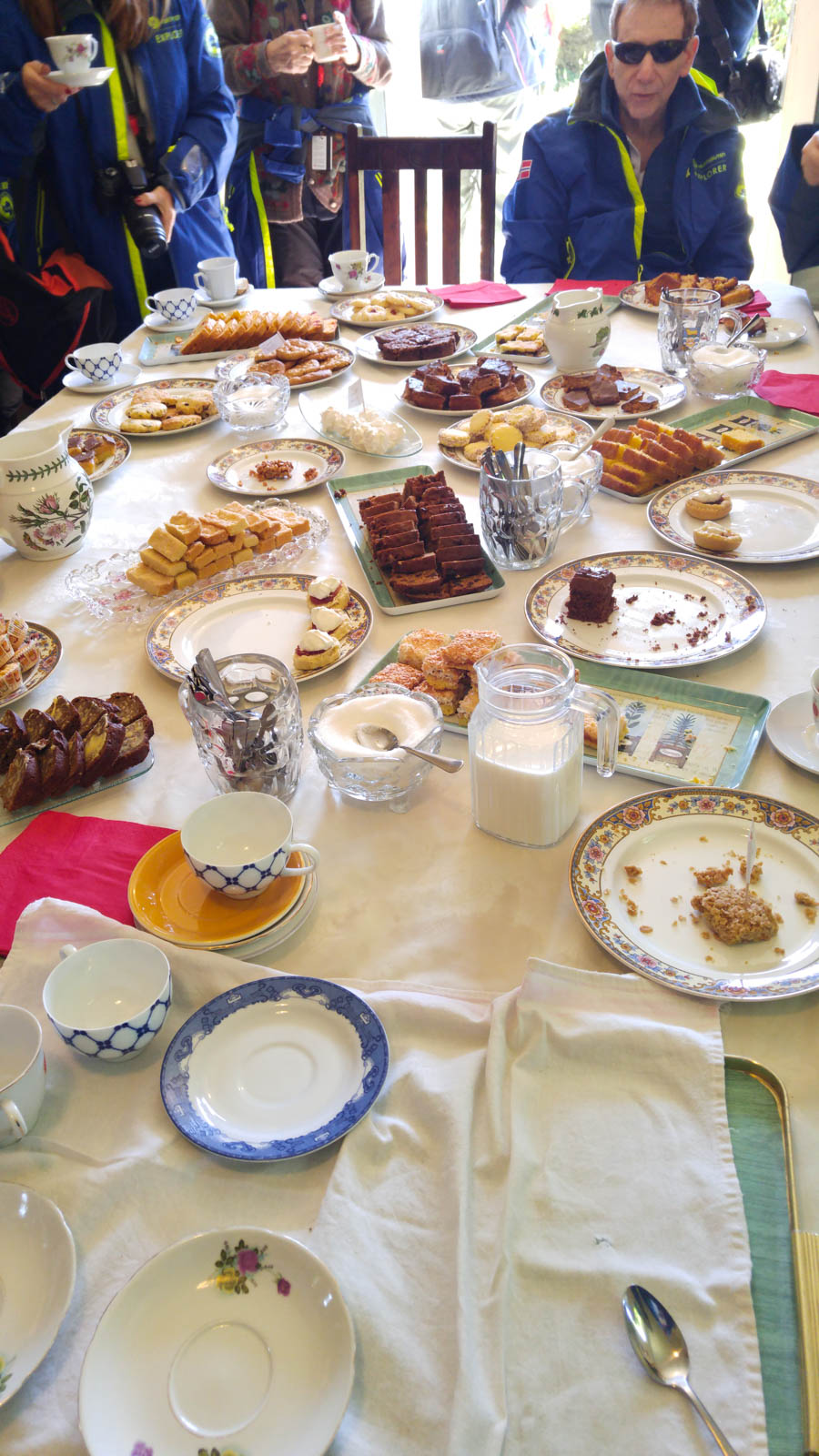 11:30 AM and goodies are served! WOW!

Our hostess greeted us with a big smile and hot tea

What a spread!

Picture time and then to the ship!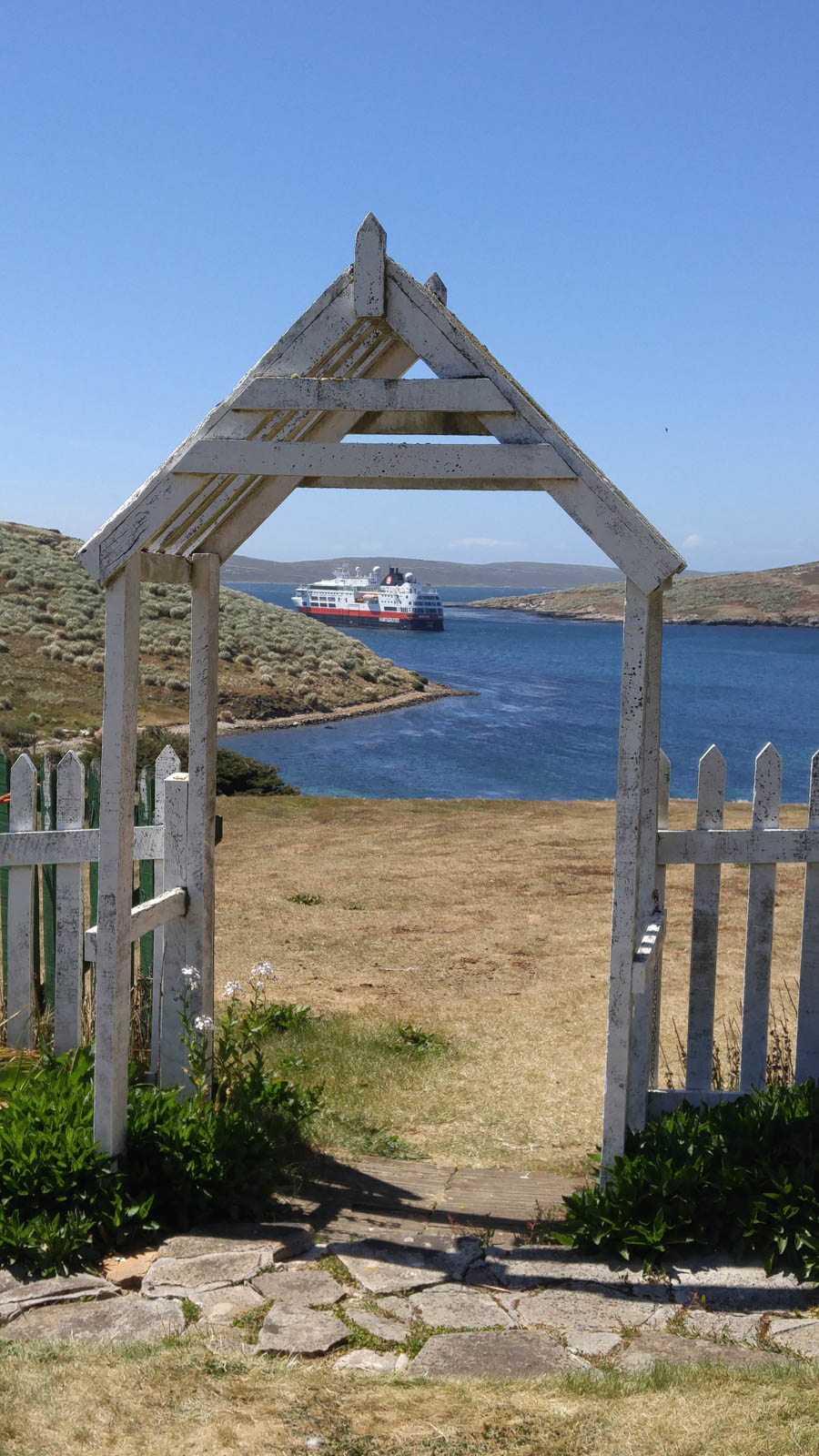 The ship awaits our return... The kitchen is fixing dinner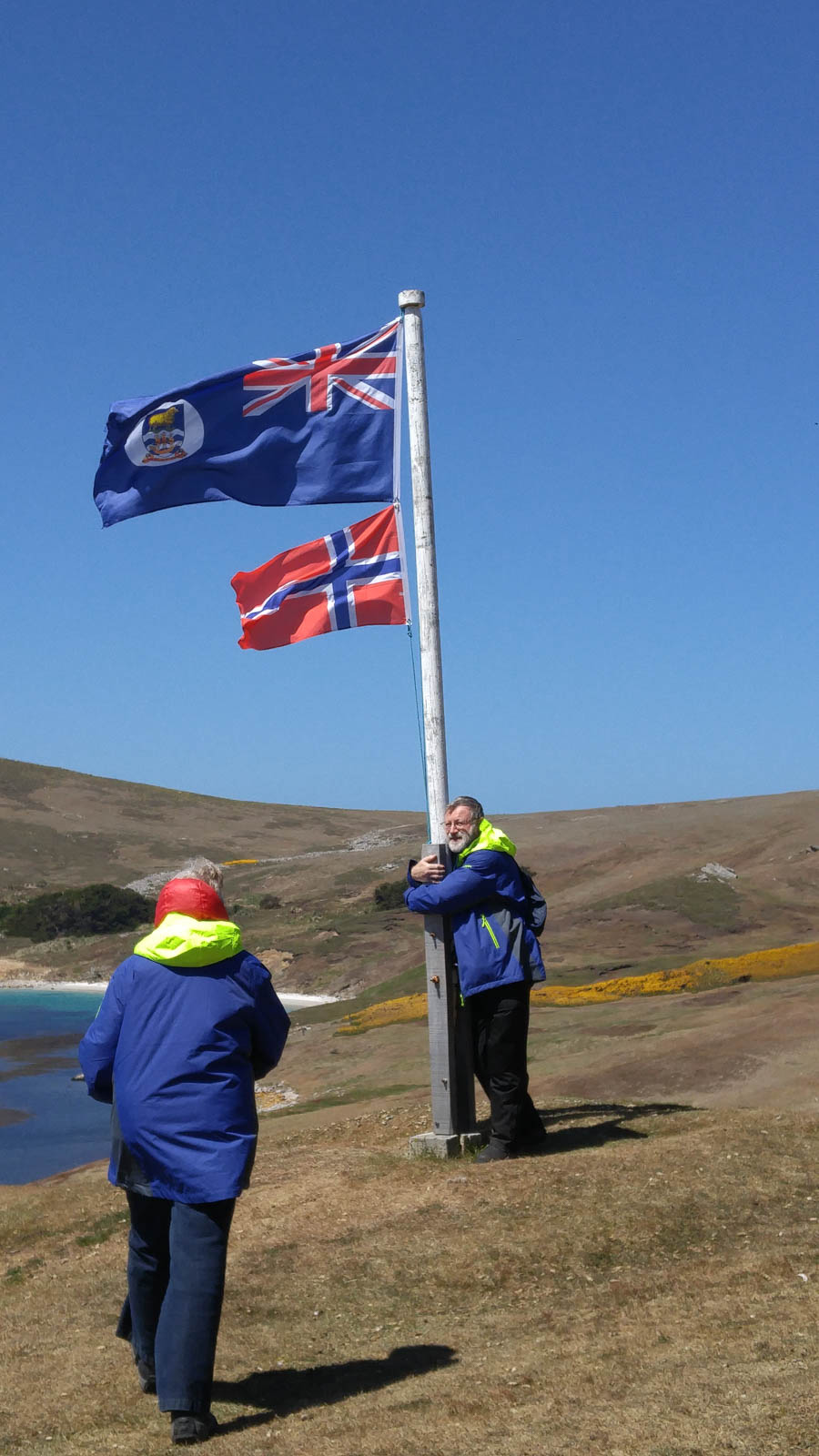 "Had to hold on.. The winds were whipping up a storm!"

Smile!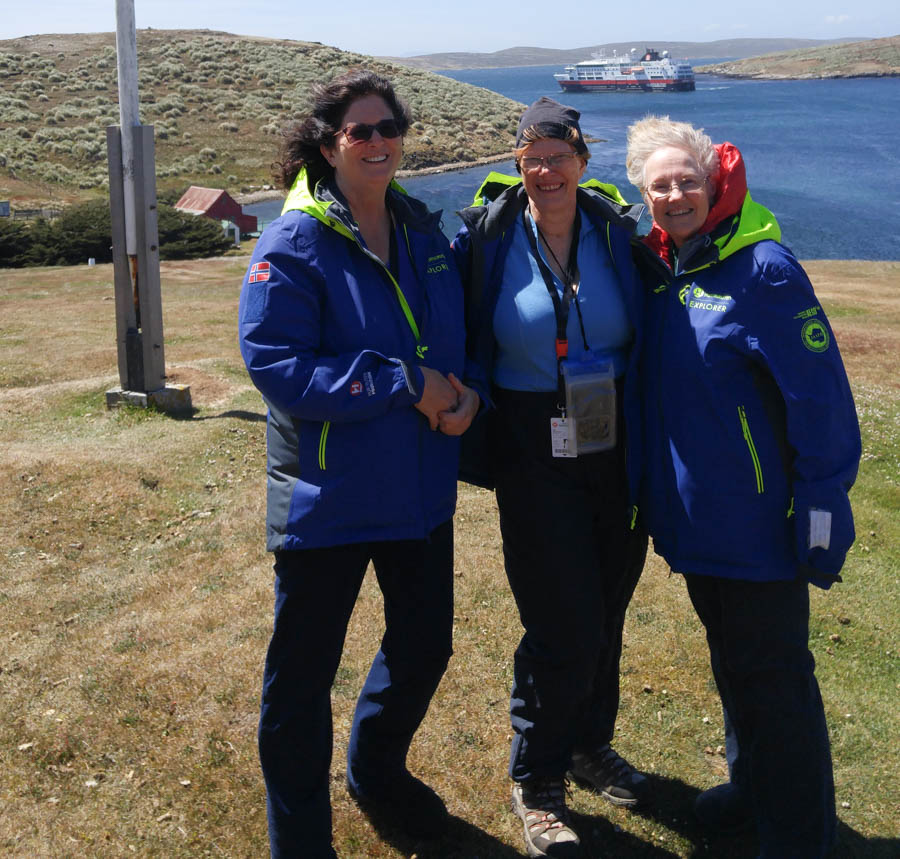 Hold on!

Our taxi's are waiting! Watch that first step!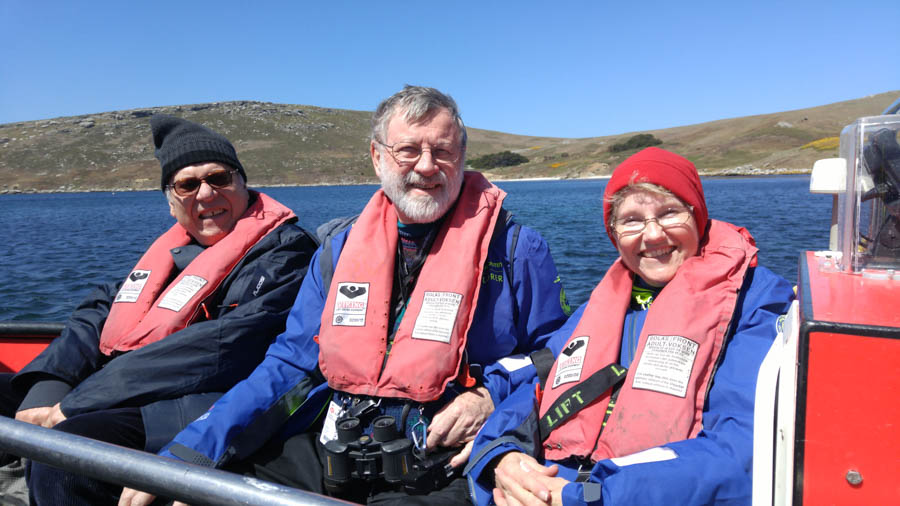 "Quite a walk and a treat"

The Fram is ready for pickup

Port side doors are down and ready to receive

We have lunch and land again in three hours

We have a ride at this drop off point.. We don't have to walk
"Civilization" is fairly close-by

Cactus in the Falklands?

Glad it is summertime in November down here

Little hike down the yellow brush road

The colors were bright

A little romance in the bushes?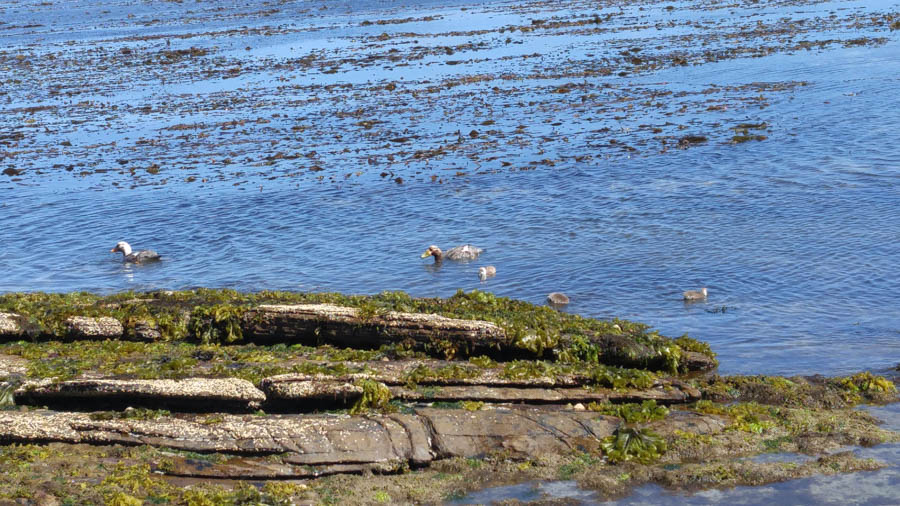 They are looking for their dinner

Our ship moves out into the wider open area

Fantastic flowers get to enjoy the 60 days of summer

Off the beaten path there is a lot of bio-diversity

Just a little bit further
Did You Know? - The island's grim-sounding name comes from the ship HMS Carcass, which surveyed the island in 1766. Its accompanying vessel, HMS Jason, gave its name to the nearby Jason Islands, and its captain, John McBride, gave his name to MacBride Head.
It has been run as a sheep farm for over a century and is owned by R. P. McGill.

Red flag means stay away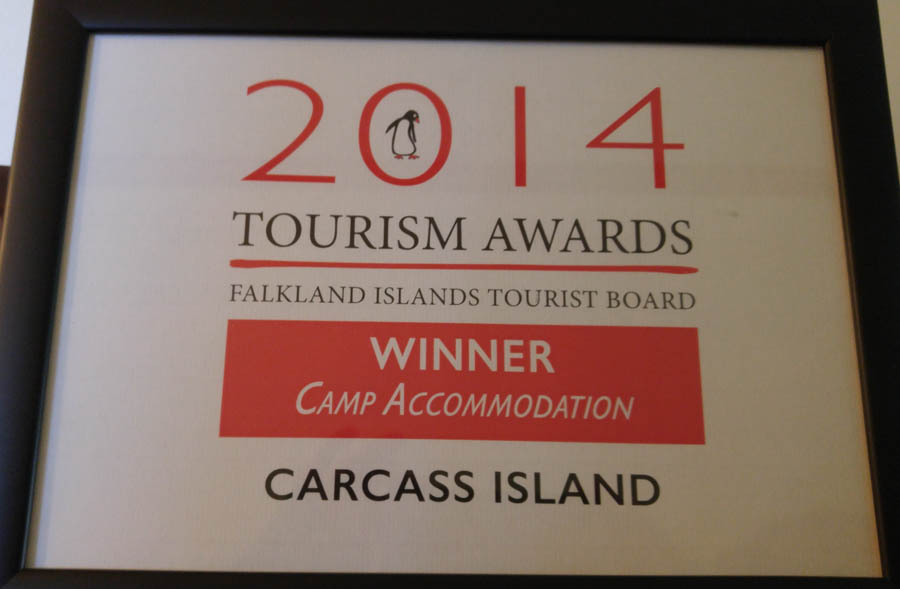 Did You Know? - Carcass Island lies north-west of West Falkland and south-east of the Jason Islands. It is 10 km (6.2 mi) in length, has a maximum width of 2.5 km (1.6 mi), and is 19 km2 (7.3 sq mi) in area.
The highest points of the island are Stanley Hill and Mount Byng at 220 m (720 ft). The north-eastern coast has cliffs and slopes while there are large sand bays and a tidal rocky point to the north-west. There are also stretches of duneland. Leopard Beach is often used as a landing point.

More afternoon delights

Our hosts...

Says it all!

A Falkland Falconer... Say that twice

The falcon was amazing...

Ron has him well trained... Or is it the other way around?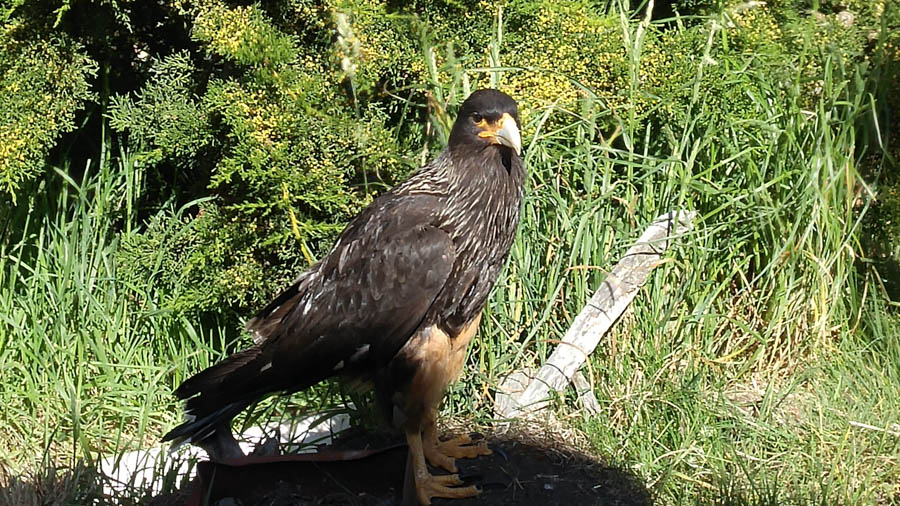 Keeping an eye on things

Count your fingers before and afterwards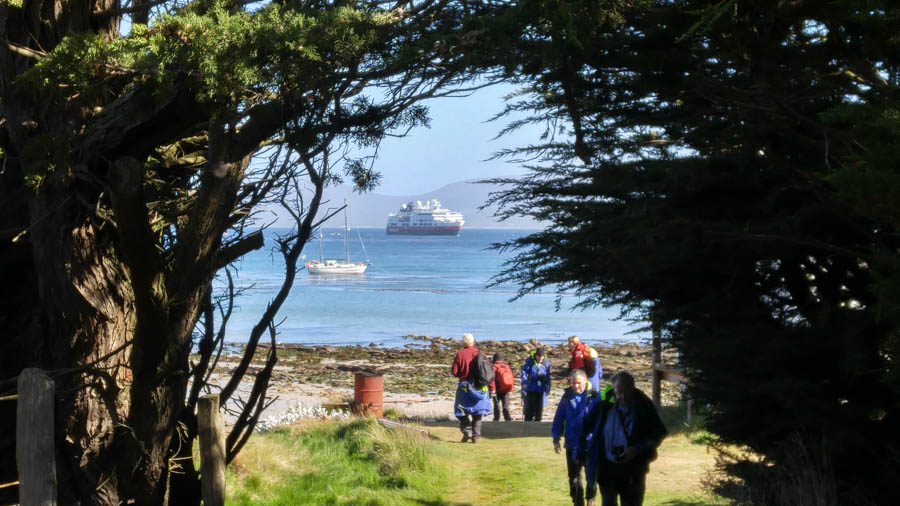 Our ship returns, time to go out and sail away

The water taxi's are working hard

We will miss the bright flowers

Off To Bluff Cove Lagoon (Page Five)