To The Art Deco Ball 9/4/2010 (Page One)
The event of the weekend, the Grand Art Deco Ball is an evening of cinematic perfection—the perfect representation of the Queen Mary's golden age. Following a cocktail reception, guests will enjoy a splendid four-course meal in the Grand Salon, followed by dancing until midnight to the music of Dean Mora and the Queen Mary Orchestra, playing big band music from the era between the World Wars. (Proceeds from the ball will be used for the conservation and restoration of the Birds of the Old World/Birds of the New World artwork, located in the Grand Salon.)
Sunday Tea Dance: Don't miss the perfect finish to your holiday cruise—a genuine afternoon tea dance in the Queen's Salon, featuring the song styling's of Grammy-award-winning artist Ian Whitcomb and his Bungalow Boys. Wear your dancing shoes and take a turn or two around the dance floor, while enjoying complimentary tea and other light refreshments.
The Merry Makers Are...
This year Kathy & Ed (Mr. Zoot Suit) Roberts, Leon & Marcia Brander, Vicky & Del Kuhn, and Paul and Sue Liles created havoc! We missed the Zaitz but sailing the Mediterranean Sea is a good choice also!
See 2010's celebrations
Allow The Cavorting To Begin By Shopping The Bazaar!

Leon gets "Shopped Out" easily!

Vicky finds a swimsuit for Del!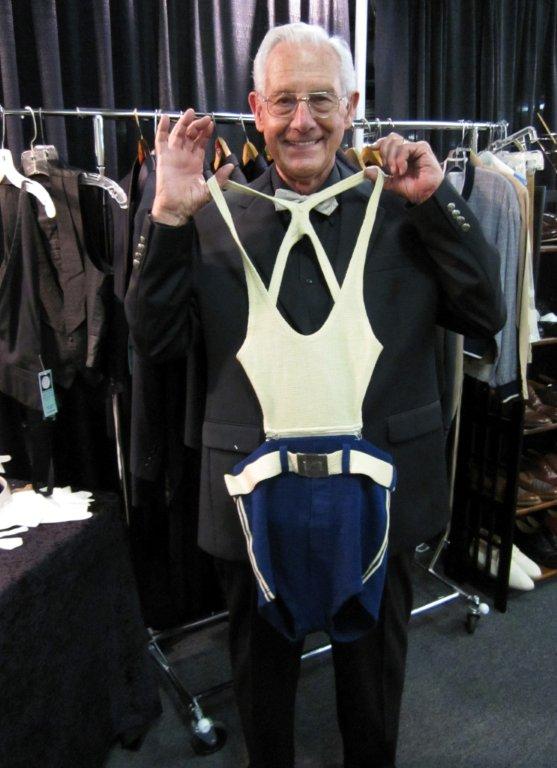 Mr. Macho refused to try it one for us... This is the best we could get!
Did you know? - A bazaar (Persian: بازار, Turkish: panzer, Hindi: बाज़ार, Greek: παζάρι (pazari), Cypriot Greek: pantopoula[1]) is a permanent merchandising area, marketplace, or street of shops where goods and services are exchanged or sold. The word derives from the Persian word bāzār, the etymology of which goes back to the Middle Persian word baha-char (بهاچار), meaning "the place of prices".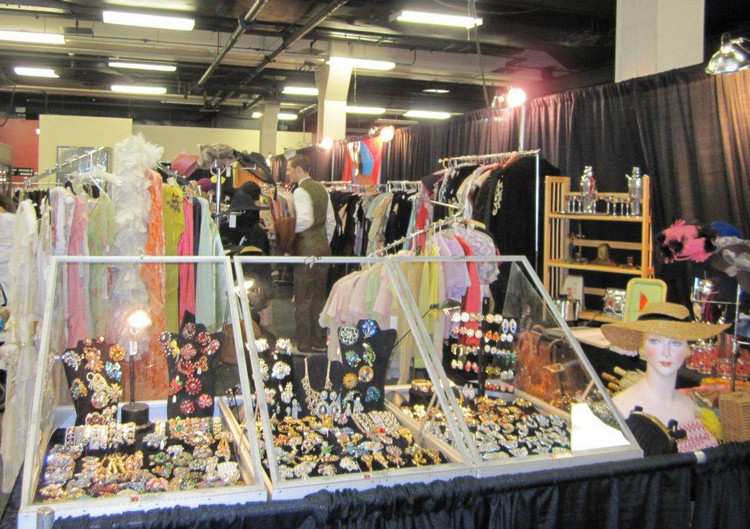 Bobbles , bangles, and beads abound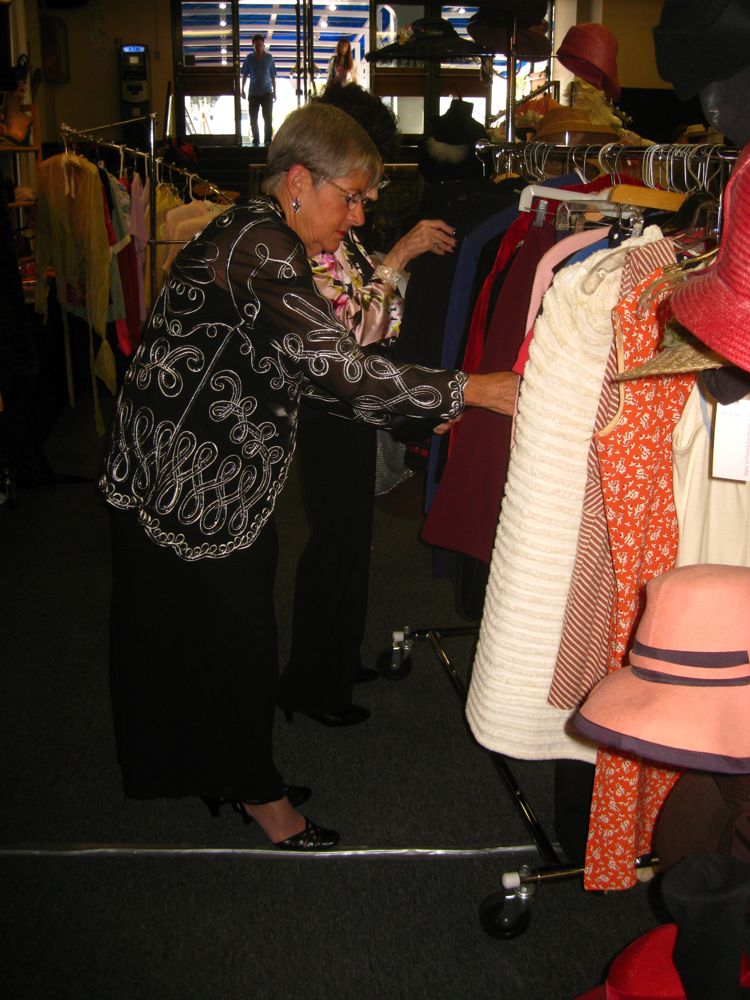 Looking for a treasure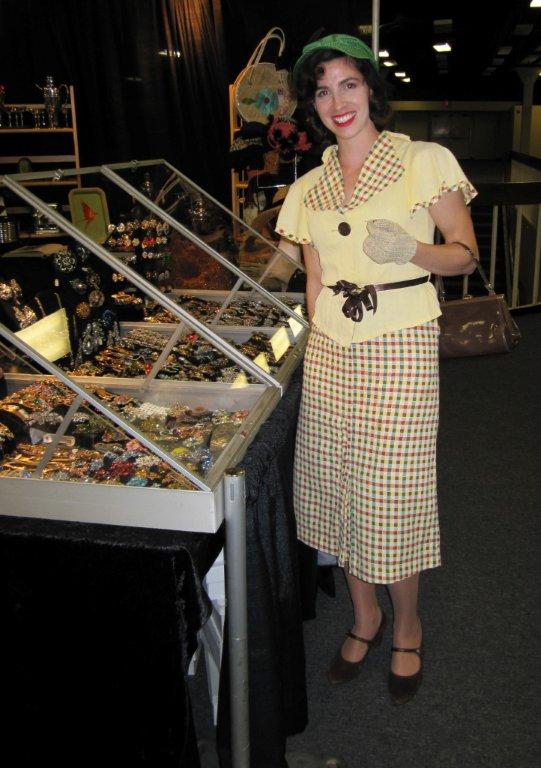 A shopper decked out in the attire of the day

"No Mommy, I don't want to go in there!"
We Head To The Observation Lounge (The Bar)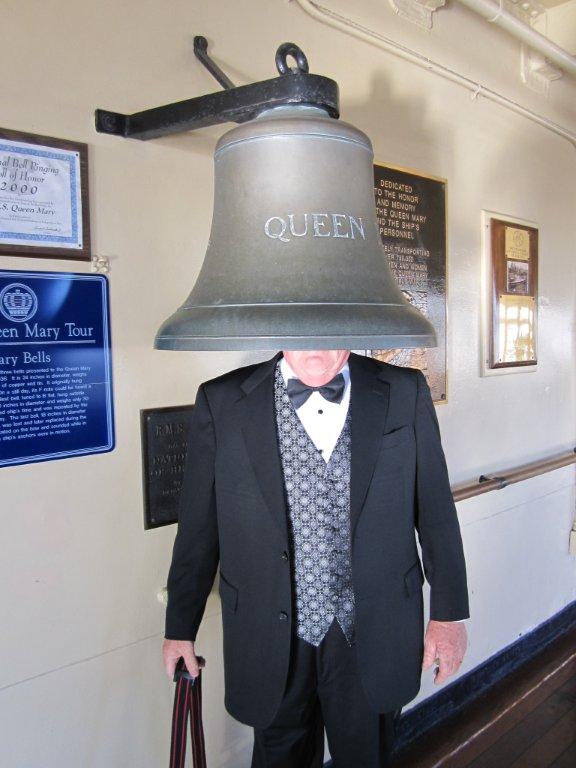 The traditional photo of Mr. Bell (What a ding-a-ling!)
We are way up front of this majestic ship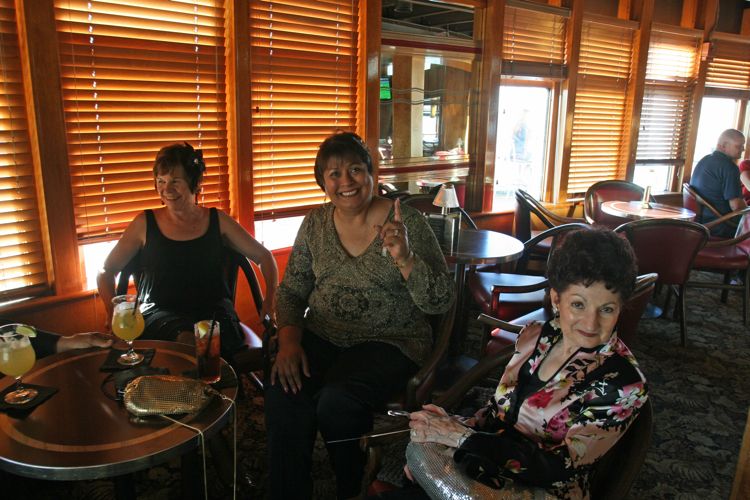 Ah... Time to unlax
Did you know? - This area was once part of the promenade deck so passengers could walk all the way around inside the ship! The bar was extended and enclosed in 1967!

Oops! Leon and Paul did NOT get the memo!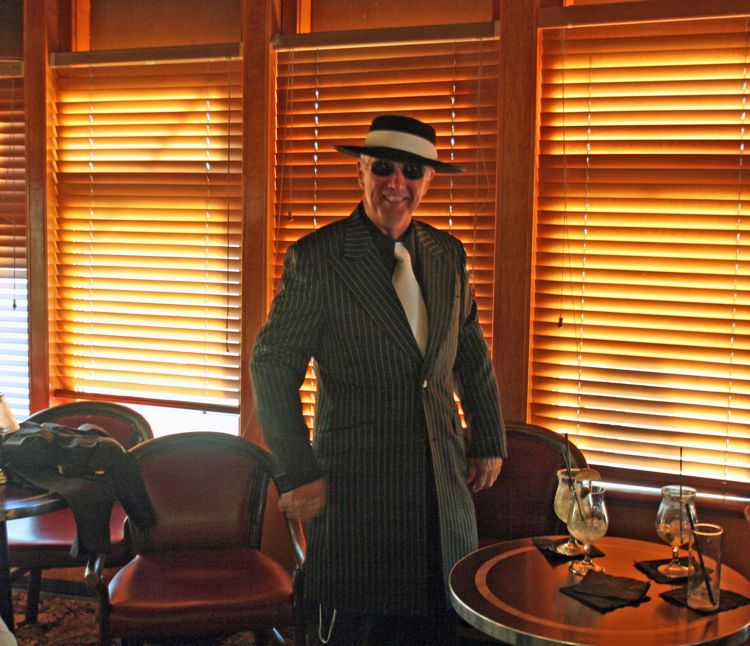 A man in style....
Did you know? - A zoot suit (occasionally spelled zuit suit) is a suit with high-waisted, wide-legged, tight-cuffed, pegged trousers, and a long coat with wide lapels and wide padded shoulders. This style of clothing was popularized by African Americans, Latino Americans, and Italian Americans during the late 1930s and 1940s.
A zoot suit has high-waisted, wide-legged, tight-cuffed pegged trousers (Spanish: tramos), and a long coat (Spanish: carlango) with wide lapels and wide padded shoulders. Often zoot suiters wear a felt hat with a long feather (Spanish: tapa or tanda) and pointy, French-style shoes (Spanish: calcos). A young Malcolm X described the zoot suit as: "a killer-diller coat with a drape shape, reet pleats and shoulders padded like a lunatic's cell". Zoot suits usually featured a watch chain dangling from the belt to the knee or below, then back to a side pocket.
Zoot suits were for special occasions, such as a dance or a birthday party. The amount of material and tailoring required made them luxury items, so much so that the U.S. War Production Board said that they wasted materials that should be devoted to the World War II war effort. This extravagance during wartime was a factor in the Zoot Suit Riots.[6] Wearing the oversized suit was a declaration of freedom and self-determination, even rebelliousness.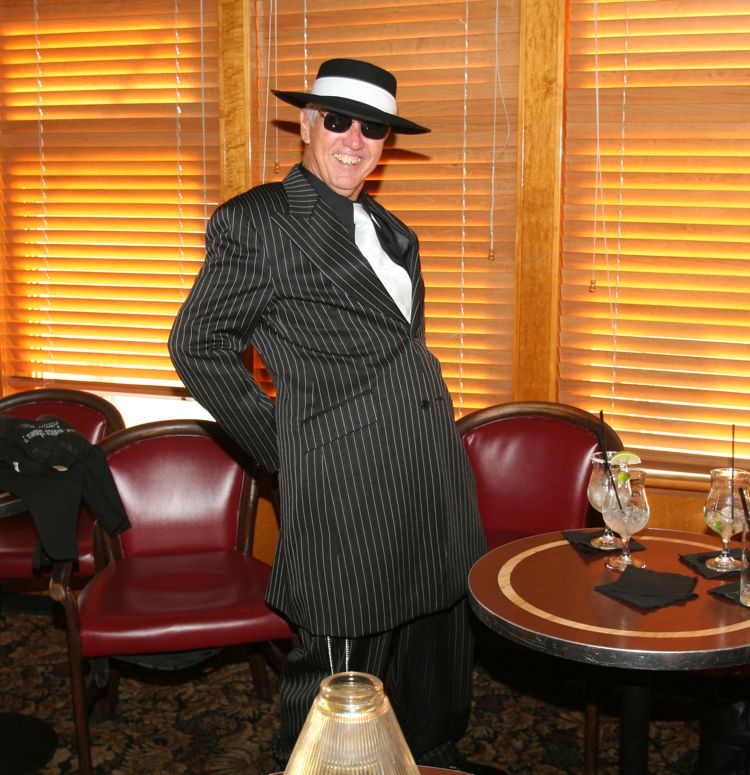 Call the Chiropractor, quick!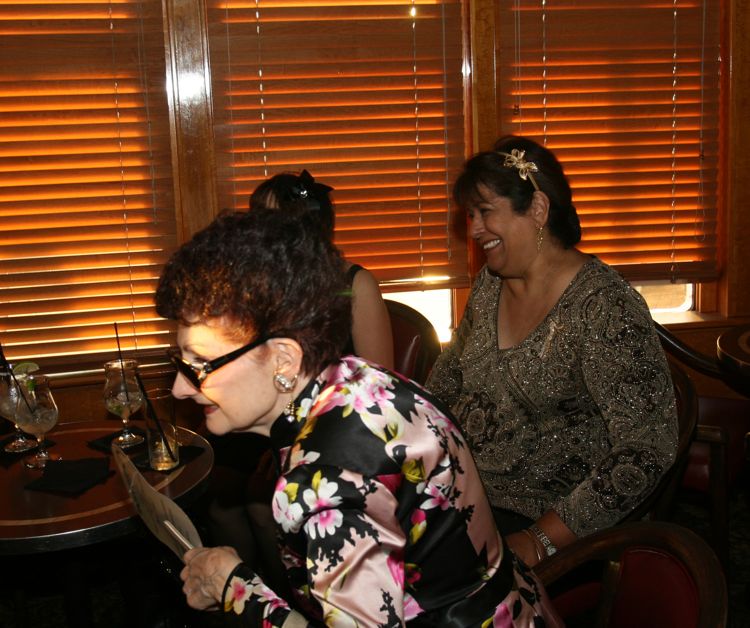 The ladies enjoy the "fashion show"
Step Out Into The Cool Air Of The Harbor

We found a volunteer to get our picture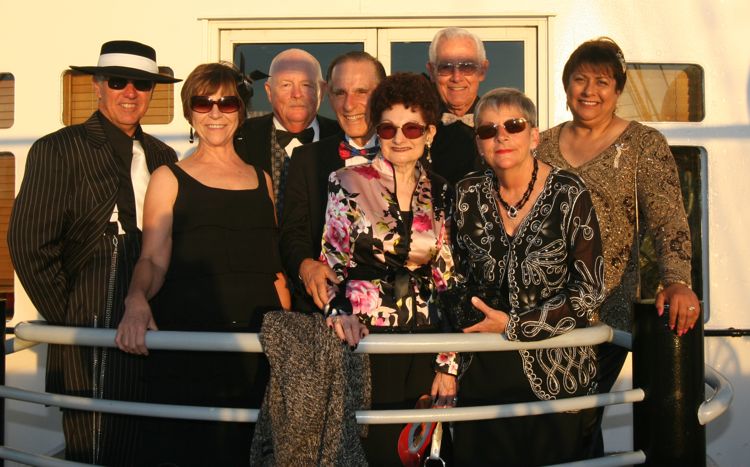 Say cheese!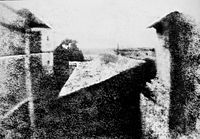 Did you know? - The first permanent photograph was made in 1822 by a French inventor, Joseph Nicéphore Niépce, building on a discovery by Johann Heinrich Schultz (1724): that a silver and chalk mixture darkens under exposure to light. Niépce and Louis Daguerre refined this process. Daguerre discovered that exposing the silver first to iodine vapor, before exposure to light, and then to mercury fumes after the photograph was taken, could form a latent image; bathing the plate in a salt bath then fixes the image. These ideas led to the famous daguerreotype.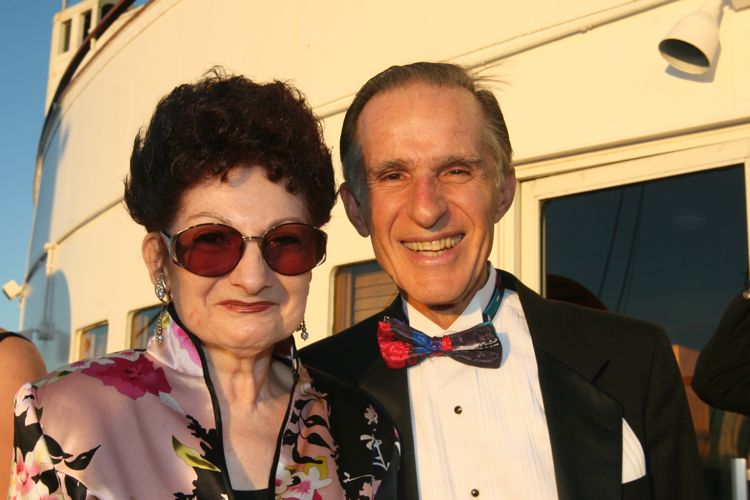 Leon and Marcia

Del and Vicky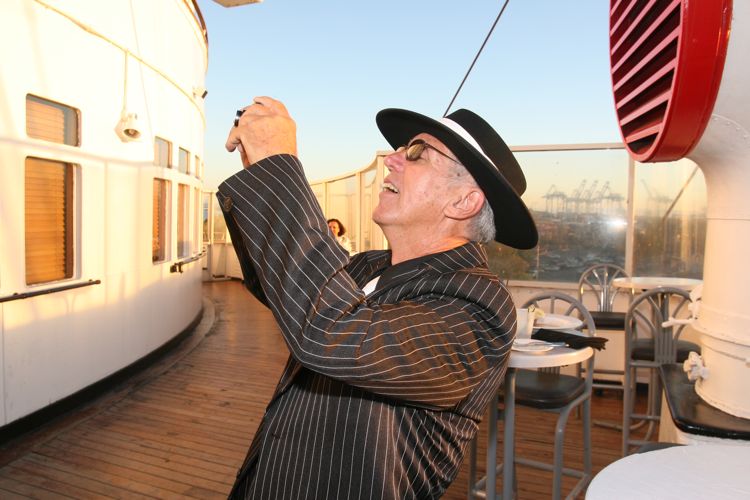 Photographers everywhere... Or is this guy a papa-rats-zee
Did you know? - Due to the reputation of paparazzi as a nuisance, some states and countries (particularly within Europe) restrict their activities by passing laws and curfews, and by staging events in which paparazzi are specifically allowed to take photographs. In Norway, Germany and France, photographers need the permission of the people in their photographs in order for them to be released (see model release).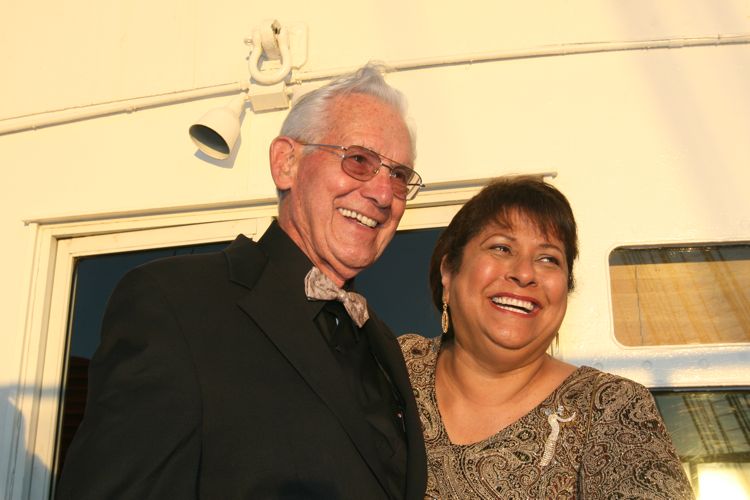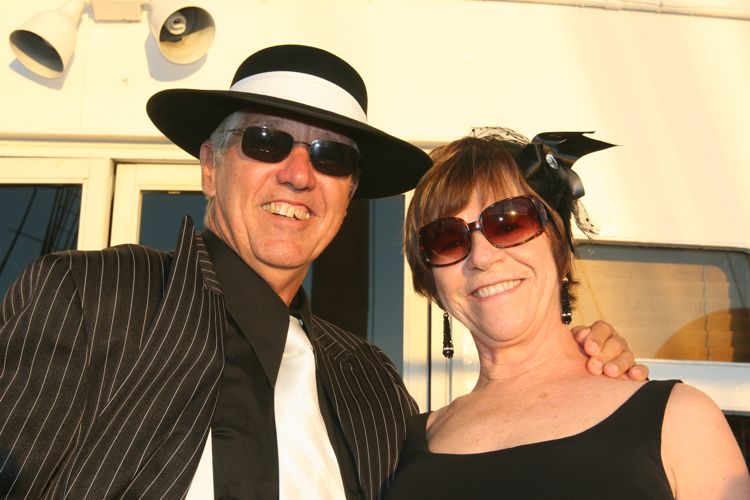 Ed and Kathy

We now expect a Zoot-Gown for Kathy!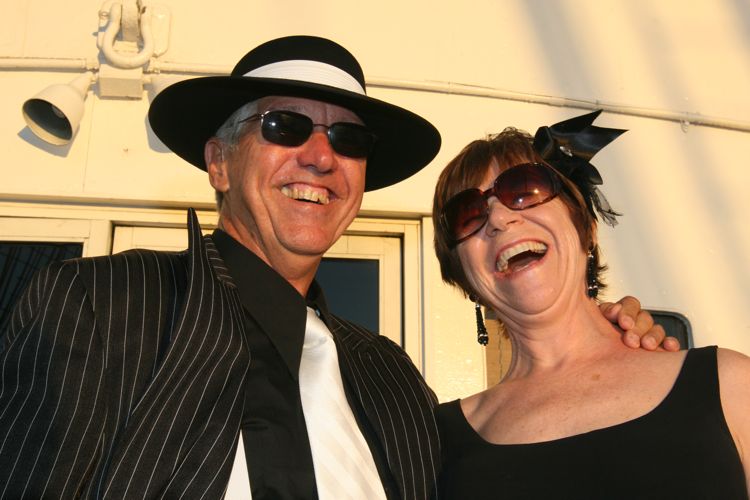 Glad she thought that was funny... Her side-kick looks rough!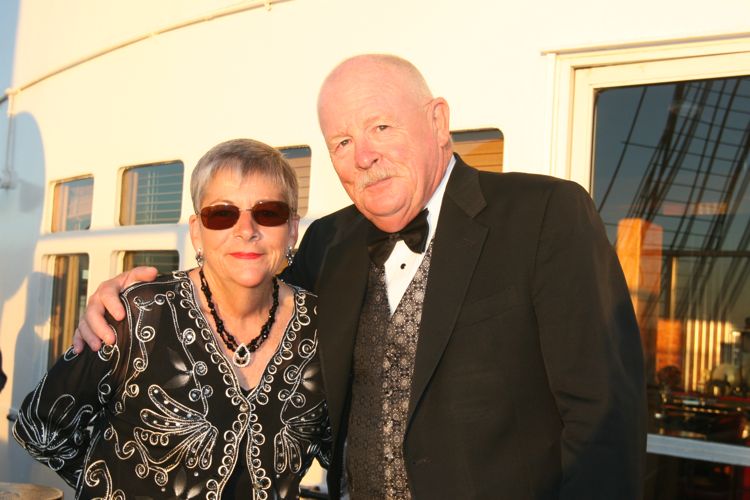 Paul and Sue

He is tickled about something!