Seal Beach Car Show 2009
This year it was just us, Sue and Paul, as Dave chose to go with his daughter and Jeanette (our daughter) was busy. We ate dinner at the Chart House as they have a menu that contains everything from Chinese to German food 24 hours a day! After breakfast, we headed across the street for a three block walk through Old Town Seal Beach where the car enthusiasts display their wares. Please join us.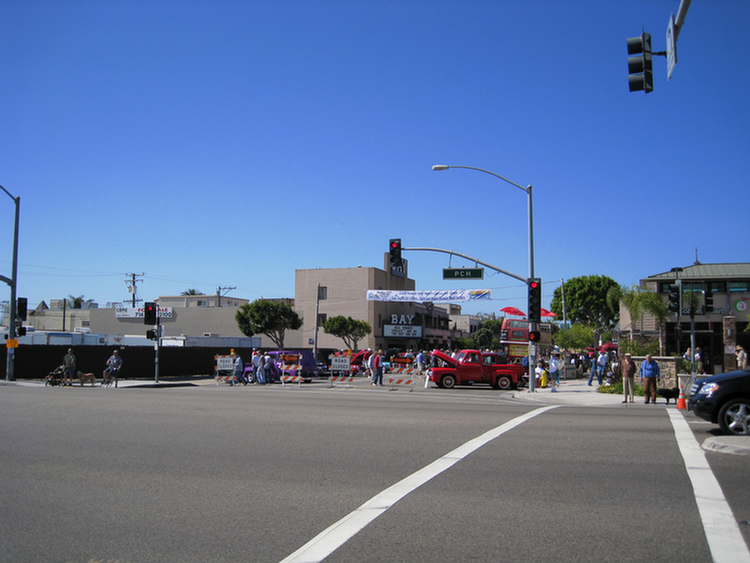 We walked across Pacific Coast Highway onto Main Street
Did you know? - State Route 1, often called Highway 1, is a state highway that runs along much of the Pacific coast of the U.S. state of California. It is famous for running by some of the most beautiful coastlines in the world, leading to its designation as an All-American Road. It is 655.843 miles in length and was numbered in 1934.
Route 1 then enters Newport Beach, where its name changes to simply Coast Highway. It passes through several affluent neighborhoods, including Newport Coast and Corona Del Mar, and spans the entrance to the Upper Newport Bay. Upon entering Huntington Beach, Route 1 regains the designation of Pacific Coast Highway. It passes Huntington State Beach and Bolsa Chica State Beach, and passes through the Bolsa Chica Ecological Reserve. It continues along the coast into Seal Beach, the final city in Orange County.

Old Town was transformed overnight
Did you know? - Seal Beach is a quaint seaside community on the northern most border of Orange County. Located at the mouth of Alamitos Bay, it provides access for boats and yachts entering the Pacific Ocean from Huntington Harbor. Old Town Seal Beach features shady, tree-lined Main Street, a beautiful beach and pier. Fishing is permitted from the pier. Visitors can stroll along several city blocks of Main Street beginning at the pier and enjoy restaurants, gift shops, foreign films, surf, kite and bicycle shops and a tea room.

I had not seen one of these for 50 years... We used them all across New Mexico
and Texas when we went to Arkansas for the summer vacation!
Did you know? - From 1908 until 1961, Sears, Roebuck & Company sold a wide variety of sporting goods and recreational equipment, including bicycles, rifles and shotguns, under the brand name "J. C. Higgins." These products were well made and were popular with the company's historical core of rural and working-class consumers. Many of the more durable J.C. Higgins products are still available as second hand items.
The brand name, J. C. Higgins, was based on a real person, John Higgins, a Sears employee from 1898 until his retirement as head bookkeeper in 1930. Higgins died in 1950.

Music everywhere... Sometimes a little loud and not 40's or 50's.
Down by the pier a real 50's group entertained the crowds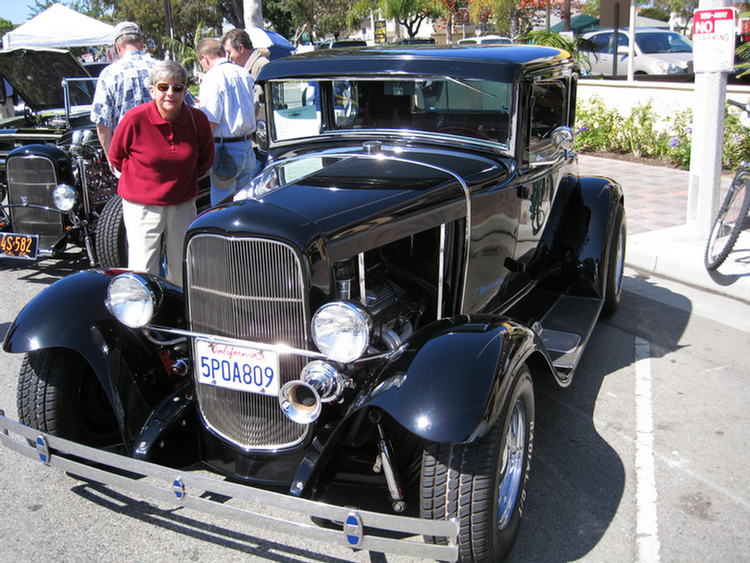 A work of art... and the car also!
Did you know? - Hot rods are typically American cars with large engines modified for linear speed. Nobody knows for sure the origin of the term "hot rod." One explanation is that the term is a contraction of "hot roadster," meaning a roadster that was modified for speed. Open roadsters were the cars of choice to modify because they were light. Hot Rod may also refer to the connecting rods, cam, or pushrods inside the engine or to the exposed frame rails of such an automobile. It has also been noted that burning out the connecting rod bearings was a very common failure mode for souped up four-cylinder Fords, particularly the Model T, and "hot rod" could refer to that phenomenon. It was adopted in the 1930s or 1940s as the name of a car that had been "hopped up" by modifying the engine in various ways to achieve higher performance.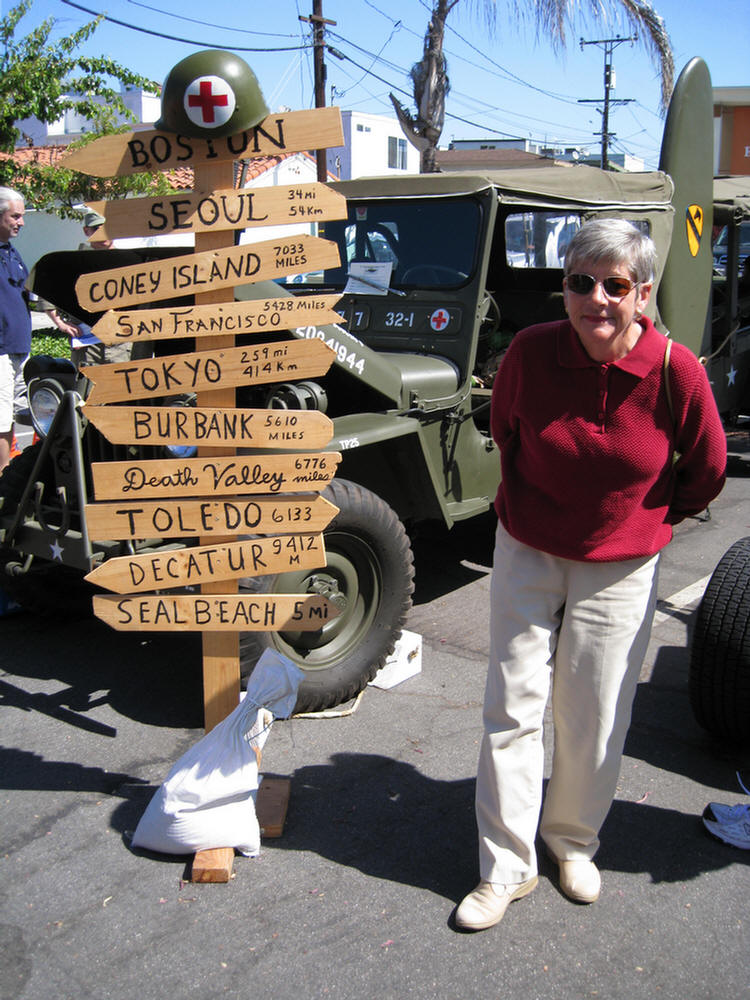 The sign in front of a fully restored Willys Jeep
Did you know? - One account of the origin of the term "jeep" begins when the prototypes were being proven at military bases. The term "jeep" was used by soldiers for any untried or untested piece of personnel or equipment. In early 1941, Willys-Overland staged a press event in Washington, D.C., having the car demonstrate its prowess by driving up the Capitol steps. Irving "Red" Hausmann, a test driver on the Willys development team, who had accompanied the car for its testing at Camp Holabird, had heard soldiers there referring to it as a jeep. He was enlisted to go to the event and give a demonstration ride to a group of dignitaries, including Katherine Hillyer, a reporter for the Washington Daily News. When asked by the reporter, Hausmann too called it a Jeep. Hillyer's article appeared in the newspaper on February 20, 1941, with a photo showing a jeep going up the Capitol steps and a caption including the term 'jeep'. This is believed to be the most likely cause of the term being fixed in public awareness. Even though Hausmann did not create or invent the word Jeep, he very well could be the one most responsible for its first news media usage.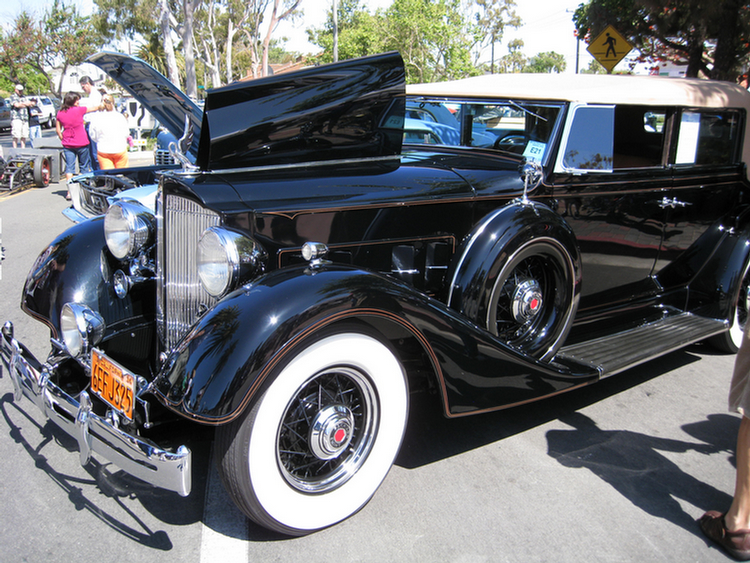 What a car... The Packard was a great machine
Did you know? - Packard was an American luxury automobile marquee built by the Packard Motor Car Company of Detroit, Michigan, and later by the Studebaker-Packard Corporation of South Bend, Indiana. The first Packard automobiles were produced in 1899 and the last in 1958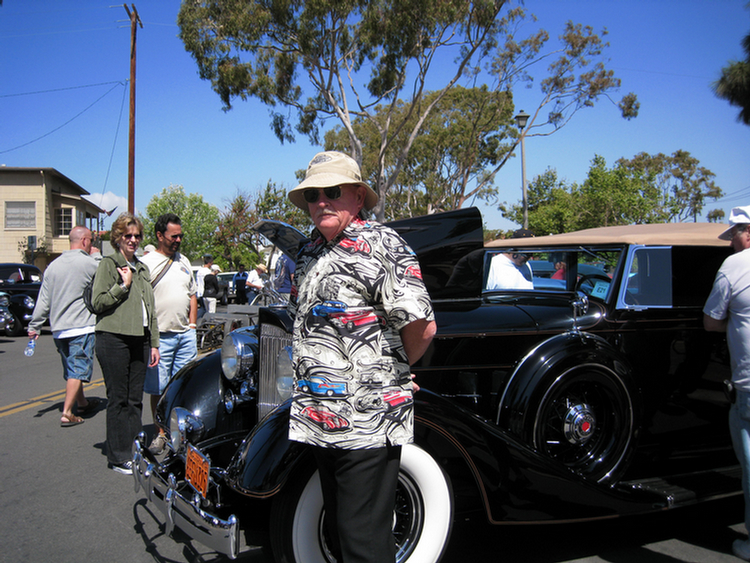 Suck it in tubby!

Look at the wind vanes on the car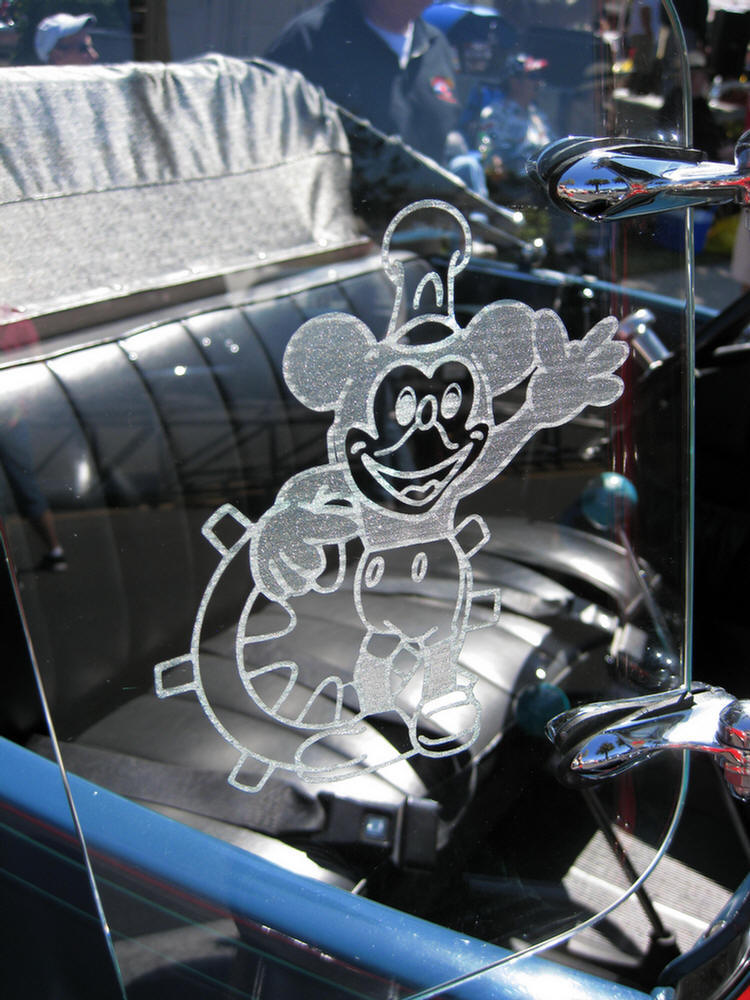 Why Steamboat Willy? Duh! The car is a 1928!
Did you know? - Steamboat Willie (1928) is an animated cartoon featuring Mickey Mouse released on November 18, 1928. It was the first Mickey Mouse sound cartoon (Mickey had appeared in two earlier cartoons, Plane Crazy and The Gallopin' Gaucho). It was also the first Disney cartoon to feature synchronized sound.
The cartoon was written and directed by Walt Disney and Ub Iwerks. The title is a parody of the Buster Keaton film Steamboat Bill Jr. Music for Steamboat Willie was put together by Wilfred Jackson, one of Disney's animators — not, as sometimes reported, by Carl Stalling — and comprises popular melodies including "Steamboat Bill" and "Turkey in the Straw".
It is noted in the history books as the first animated short feature film with a completely post-produced soundtrack of music, dialogue, and sound effects, although other cartoons with synchronized soundtracks had been exhibited before, notably by Max Fleischer's series Song Car-Tunes made in DeForest Phonofilm starting in May 1924, including My Old Kentucky Home (1926), and Paul Terry's Dinner Time (released September 1, 1928).

The PEP Boys
Did you know? - The original Pep Boys were Emanuel "Manny" Rosenfeld, Maurice "Moe" Strauss, Graham "Jack" Jackson and Moe Radavitz. Four friends who pooled $800 in 1921 to open a single auto parts store. They dubbed it "Pep Auto Supplies" after noticing a shipment of Pep Valve Grinding Compound on the shelves.
That name was first changed because of a policeman who worked near the store. Apparently every time the officer stopped a car at night, for not having an oil wick burning, he'd tell the driver to go see the "boys at Pep" for a replacement. That advice turned into the name Pep Boys, and it stuck, until Moe Strauss took a trip to California around 1923. While there, he noticed that many successful West Coast businesses used their owner's first names. One he liked in particular was a dress shop called Minnie, Maude and Mabel's. As soon as he returned to Philadelphia, they officially changed the store's name to "The Pep Boys - Manny, Moe & Jack" and commissioned the Manny, Moe and Jack caricatures that still serve as the company's logo.
By the early 1930s Moe Radavitz had left the business, Pep Boys had 40 stores in Philadelphia and Manny's brother, Murray Rosenfeld, had opened the first West Coast Pep Boys store.
In 1946, Pep Boys went public and Manny Rosenfeld became the company's first corporate president, a position he held until his death in 1959. Moe Strauss served as president from 1960 to 1973 and remained a member of the board of directors until his death in 1982. In 1986, Mitch Leibovitz became the first non-founding family member to be named company president. Manny's grandson, Stuart Rosenfeld, Pep Boys Vice President of Distribution, is the only founding family member actively involved in company management.

Matching colors?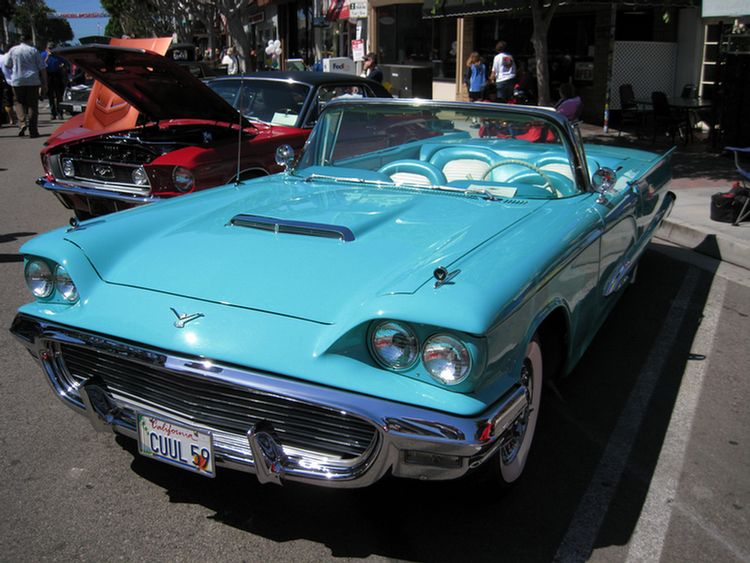 The license plate gives away the cars year

1954 Buick station wagon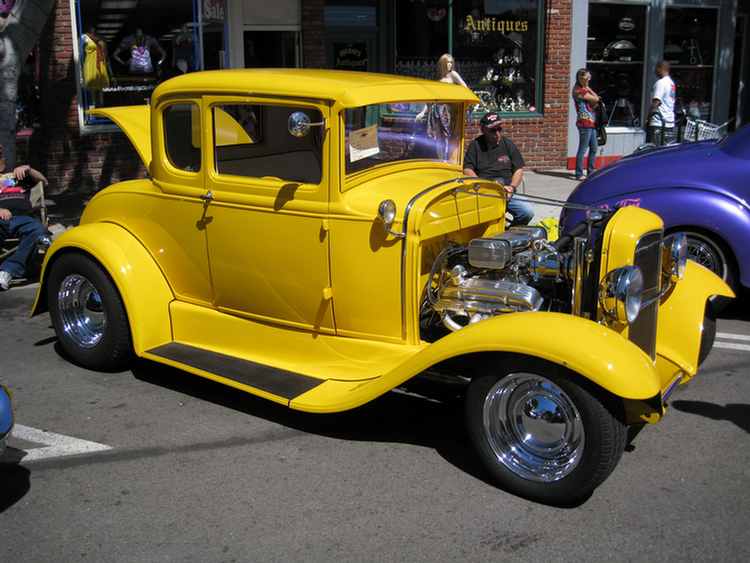 This is yellow!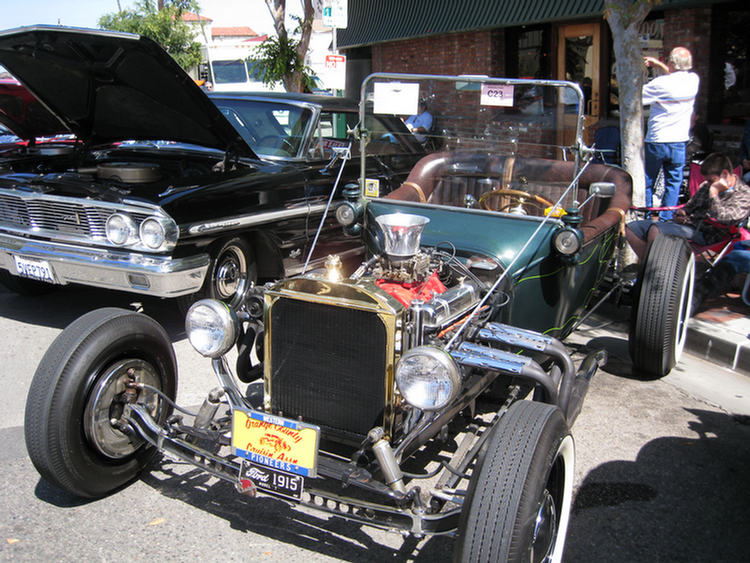 What would Henry say about his 1915 Ford now?

Not very aerodynamic but it was certainly functional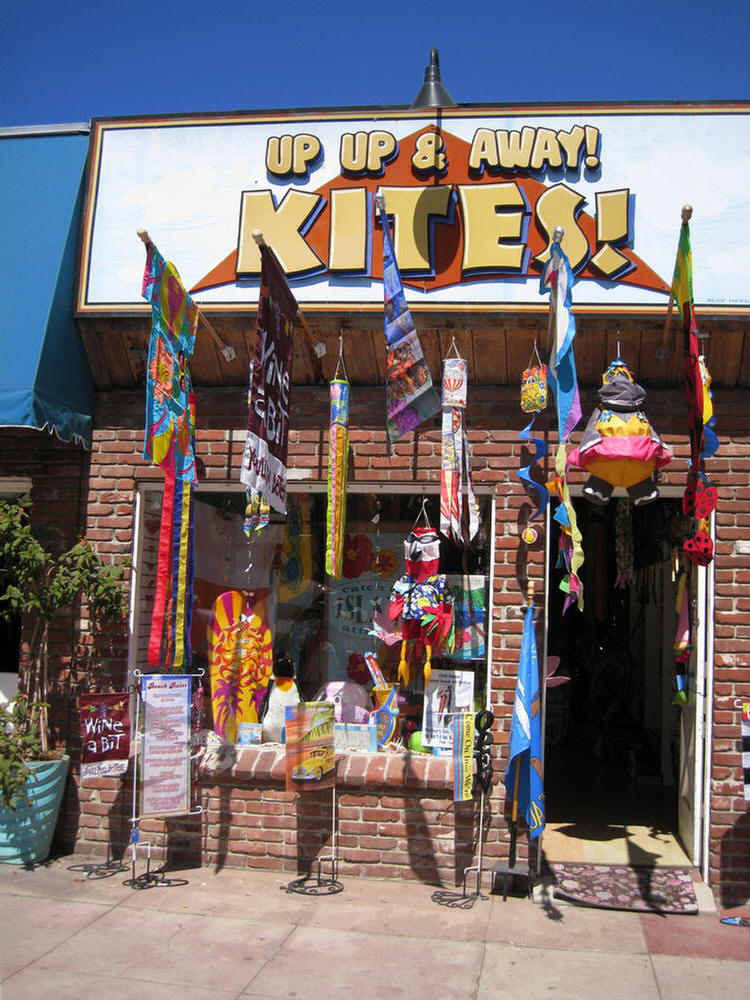 The stores of Main Street were doing well

1856 Buick Roadmaster
Did you know? - The Roadmaster was an automobile built by the Buick division of General Motors. Buick first used the Roadmaster name between 1936 and 1958. In 1991, Buick again applied the Roadmaster name to its full-size rear-wheel drive sedan and station wagon models as a replacement for the Buick Estate.
The origins of the Roadmaster name date to 1936 when Buick renamed its entire model lineup to celebrate the engineering improvements and design advancements over their 1935 models. Buick's Series 40 model range became the Special, the Buick Century took the place of the Series 60 and the Series 90 — Buick's largest and most luxurious vehicles — became the Limited. Buick's Series 80 became the Roadmaster.

Roadmasters produced between 1936 and 1958 were built on Buick's longest wheelbase and shared its basic structure with senior Oldsmobiles. Between 1946 and 1957, the Roadmaster was Buick's premium and best appointed model, and was offered in sedan, coupe, convertible and station wagon bodystyles between 1936 and 1948. In 1949 a hardtop coupe, designated "Riviera" joined the model line up; a four-door hardtop joined the model range in 1955.

The 1953 Buick Roadmaster station wagon, Model 79-R, was the last wood-bodied station wagon mass-produced in the United States. Its body was a product of Iona Manufacturing which built all Buick station wagon bodies between 1946 and 1964. Priced at US$4,031, the wagon was second in price to the Buick Skylark. Only 670 of these final woody wagons were produced for 1953.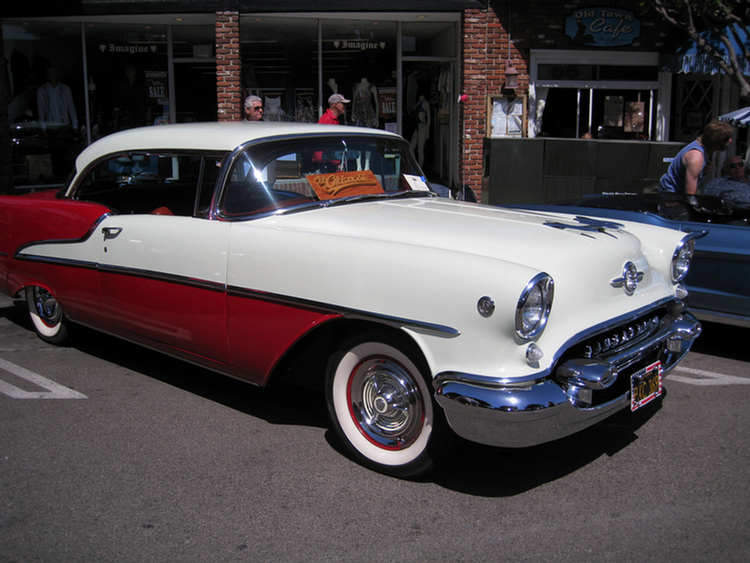 No more Oldsmobiles
Did you know? - Oldsmobile was a brand of automobile produced for most of its existence by General Motors. It was founded by Ransom E. Olds in 1897. In its 107-year history, it produced 35.2 million cars, including at least 14 million built at its Lansing, Michigan factory. When it was phased out, Oldsmobile was the oldest surviving American automobile marquee, and one of the oldest in the world, after Daimler and Peugeot.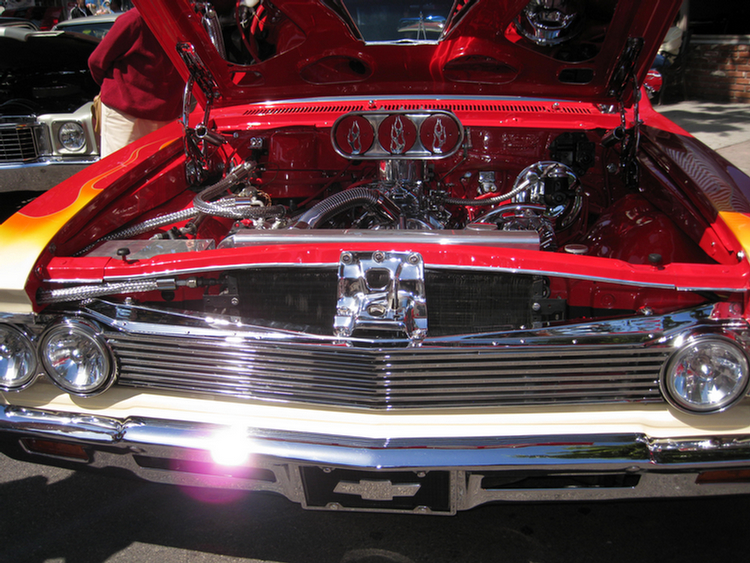 572 cubic Inches displacement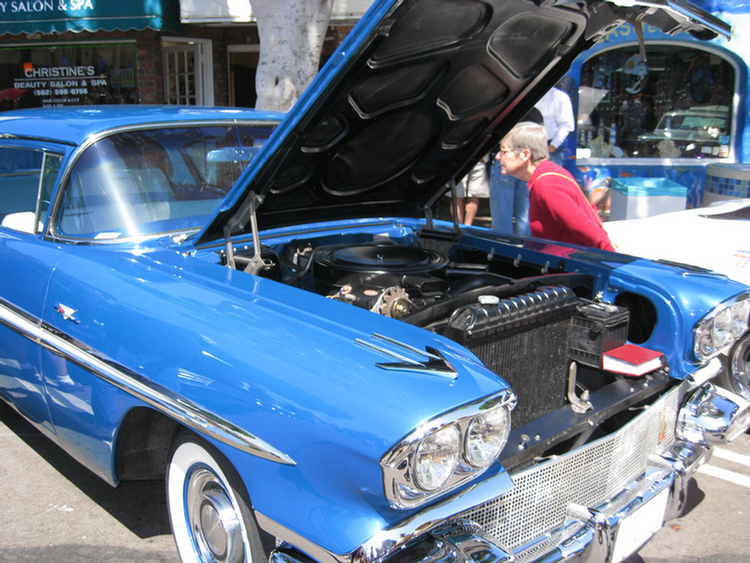 Pontiac Chieftain

Check the gas economy in the city for a 1957 car!

$2,800 out the door

Time for lunch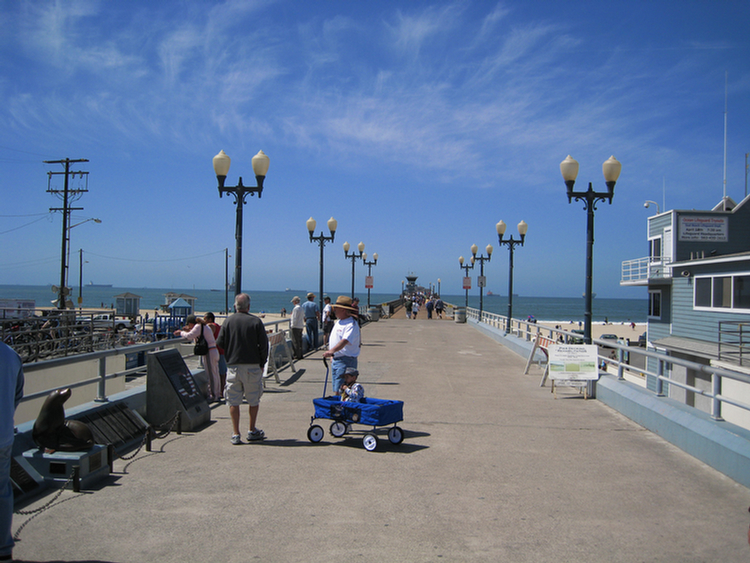 What a perfect day

The hood ornament lighted up when the lights went on!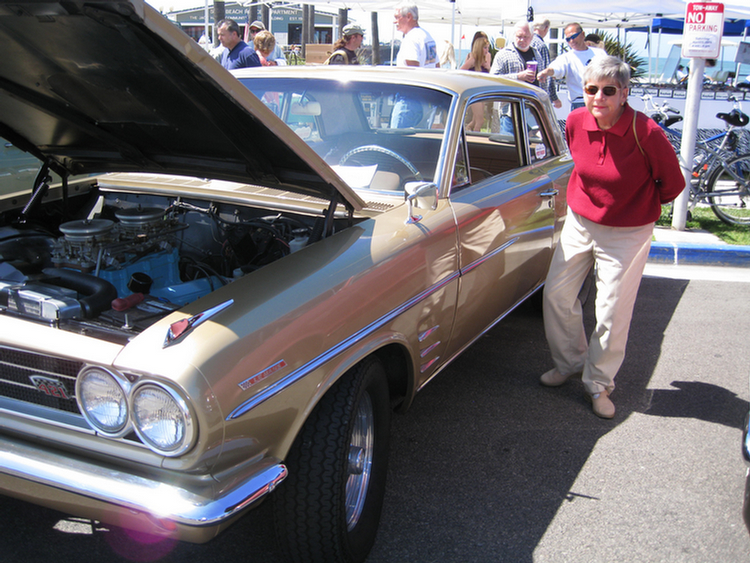 Sue owned this car but hers was a convertible

Muscle written all over it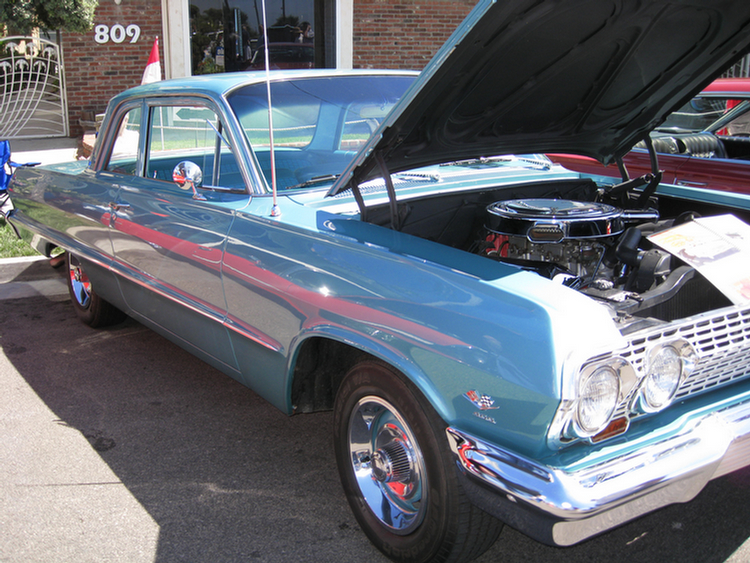 My cousin Claudia's husband owned a 409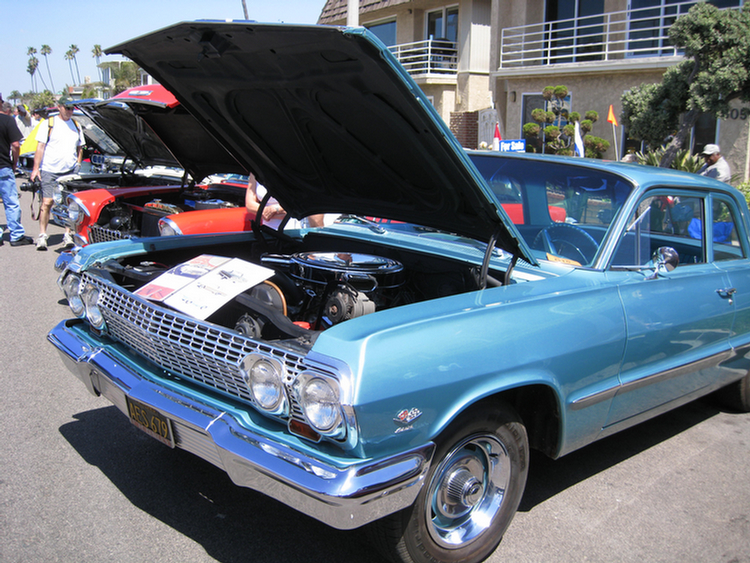 Hey Doug... Want one of these today?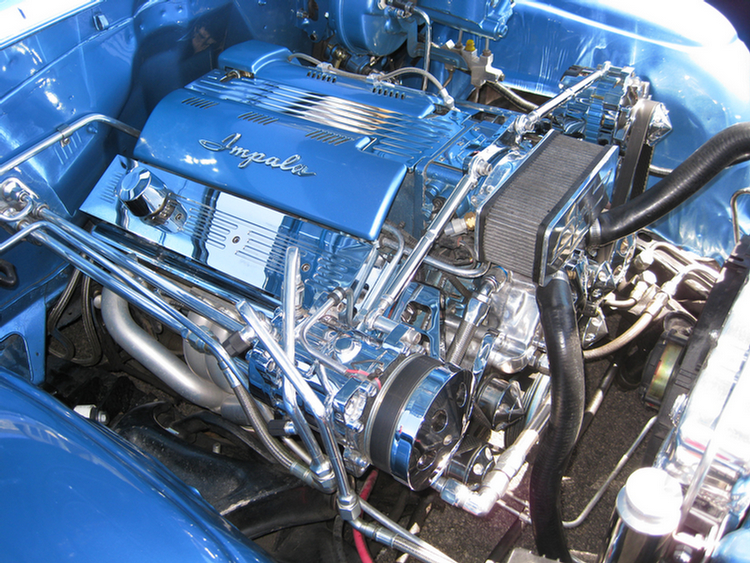 You could eat off the engine

This is more Sue's style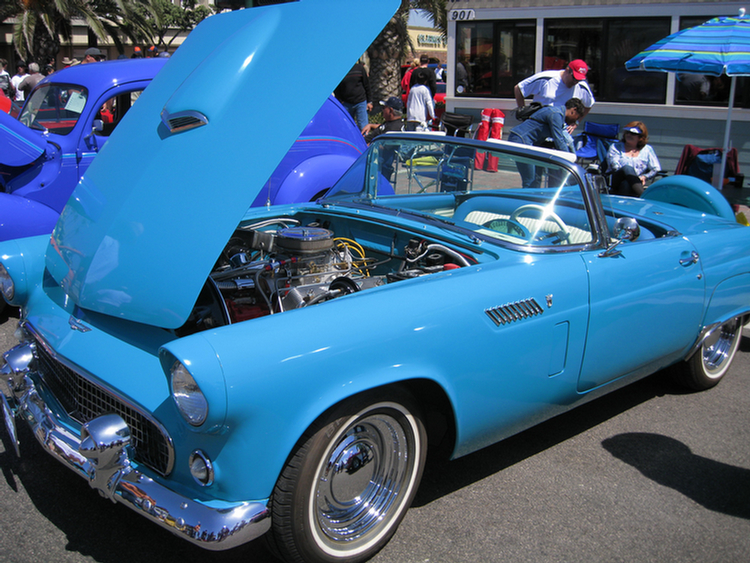 The sun made the color's jump out at you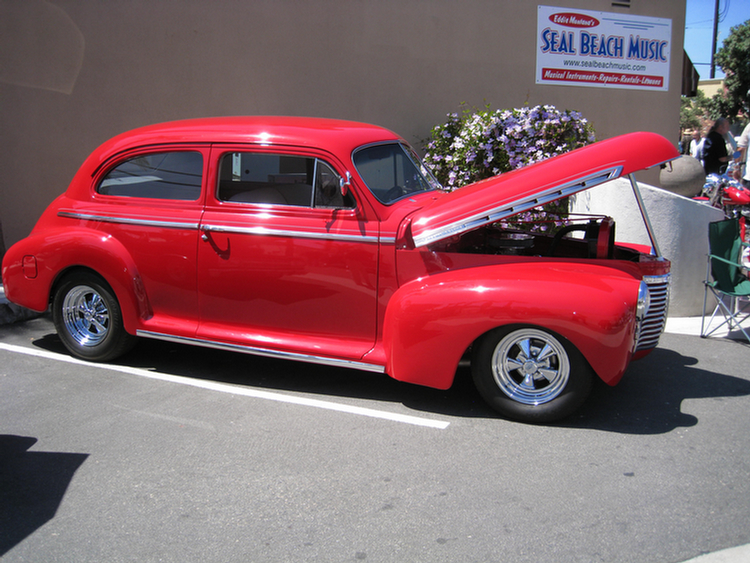 All engine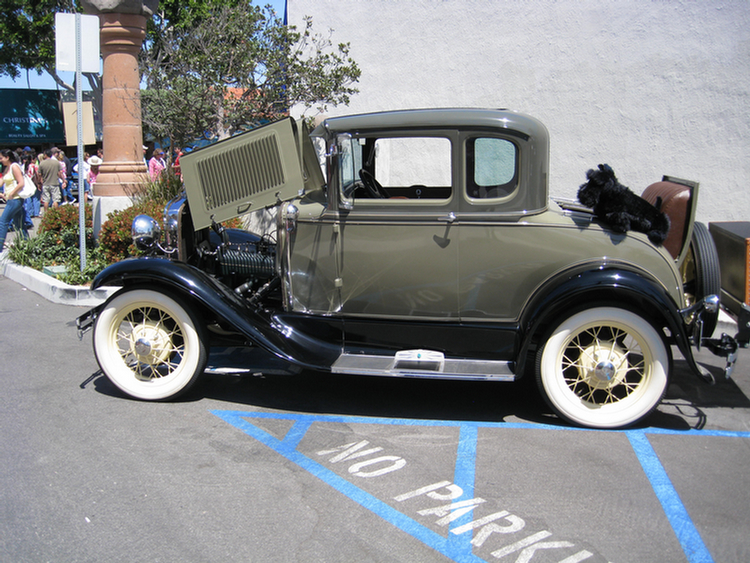 1928 with a rumble seat
Did you know? - A rumble seat, dicky seat, dickie seat or dickey seat is an upholstered exterior seat which hinges or otherwise opens out from the rear deck of a pre-World War II automobile, and seats one or more passengers. In a carriage, a rumble (short for "rumble-tumble") was a seat behind the body used by servants. Roadster, Coupe and Cabriolet auto body styles were offered with either a luggage compartment or a rumble seat in the deck. Models equipped with a rumble seat were often referred to as a sport coupe or sport roadster.

In America, this type of seating became largely obsolete in the mid-1930s when cars became too fast and streamlined for the comfort of passengers in such a seat. Their popularity was further diminished by the frequent injuries, including decapitation that sometimes occurred in accidents. Rumble seat passengers were essentially seated out in the elements, and received little or no protection from the regular passenger compartment top. Folding tops and side curtains for rumble seats were available for some cars (including the Ford Model A) but never achieved much popularity. It is possible that the last American-built car with a rumble seat was the 1939 Ford convertible coupe.

Prior to World War I, a single, center-mounted rumble seat was sometimes referred to as a mother-in-law seat.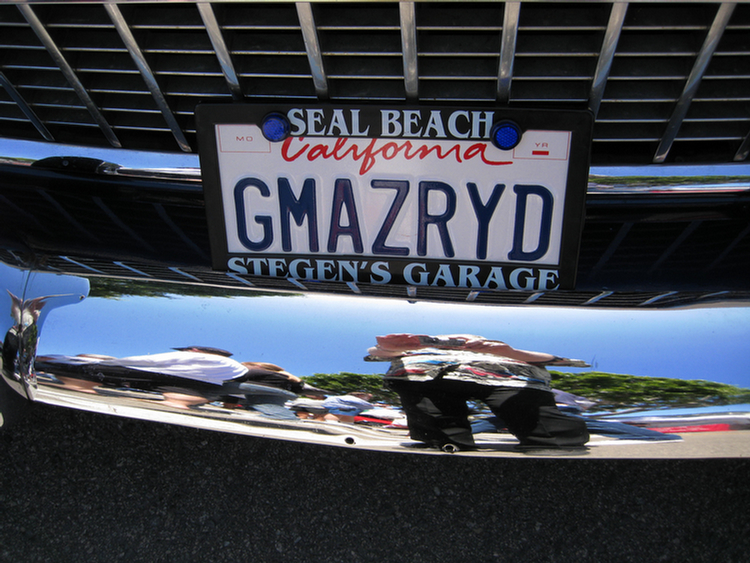 Grandma's Ride (Check out the image in the bumper)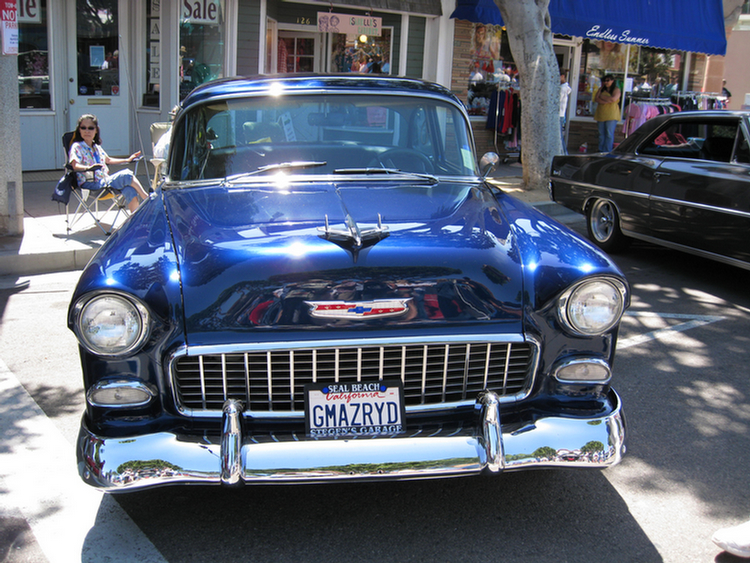 572 cubic inches

Sue loves the Phaetons
Did you know? - Phaeton is the early 19th-century term for a sporty carriage drawn by a single horse or a pair, typically with four extravagantly large wheels, very lightly sprung, with a minimal body, fast and dangerous. It usually had no sidepieces in front of the seats. The rather self-consciously classicizing name refers to the disastrous ride of mythical Phaëton, son of Helios, who set the earth on fire while attempting to drive the chariot of the sun.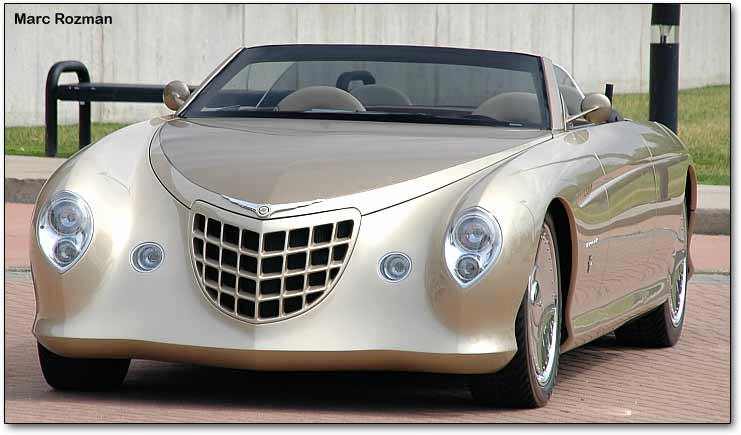 Sue fell in love with this car at the 1997 OC Car Show

What is more amazing... the engine or the paint job?

Look at the parking brake and the gear shift on this DeSoto Fireflight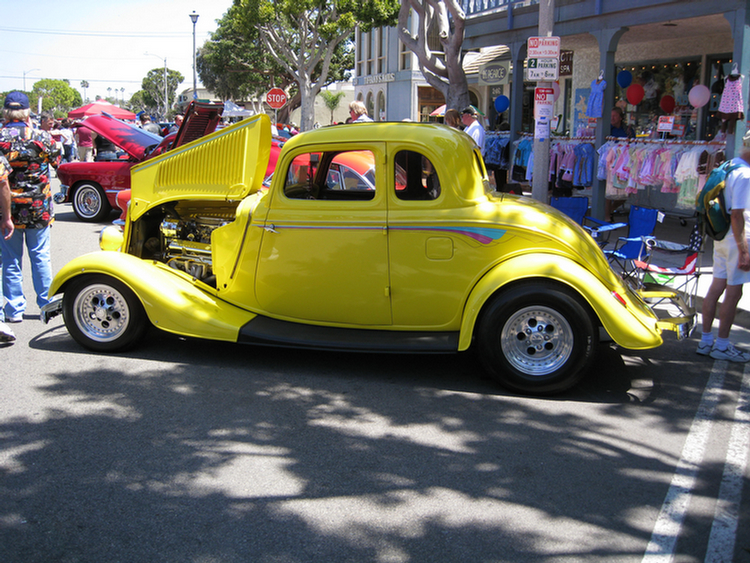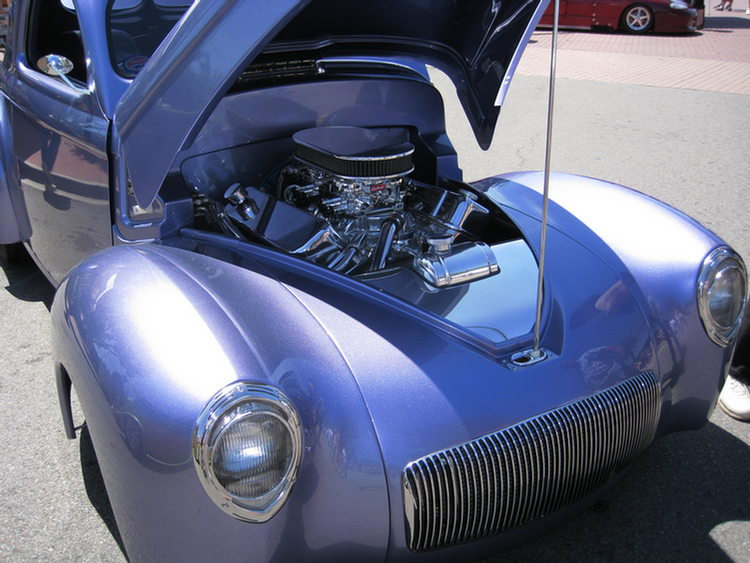 Willy's with attitude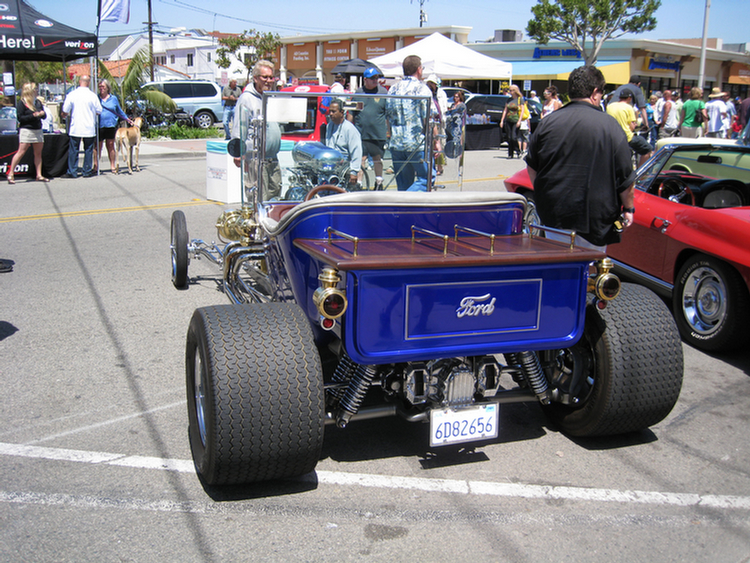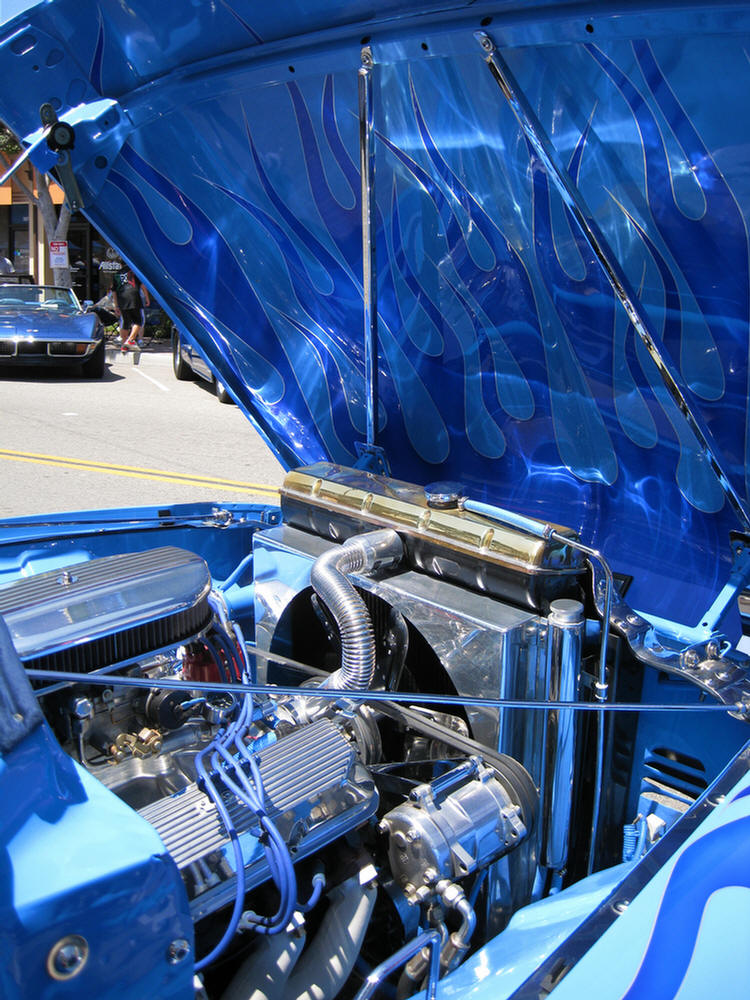 Even the inside of the hood matches the rest of the car


Remember the "snake catchers" who drove around giving tickets
Good bye until next year