Los Angeles In The 1950's
How was life back in the 50's?

What did stuff cost? What new things were invented? Lets travel back in time to 1955. Wow what a year it was!

The Average Family income was $4,421 with men earning $3,400 and Woman $1,100. Sounds like a little but look at what you could buy with that money:
Bacon was 66¢ a lb.
Bread was only 18¢ a lb. can you believe?
A Chuck Roast was 50¢ a lb. and Coffee was 93¢ per lb.
Eggs were 61¢ doz. and flour was 54¢ a lb. & Margarine was 29¢ a lb.
Milk was 46¢ for a 1/2 gal. and Oranges were 53¢ a doz.
Pork Chops were 79¢ a lb. and a 10 lb. bag of Potatoes was only 56¢
Sugar was 52¢ for a 5 lb. bag and Tomatoes were only 15¢ a can.

Woman's Clothing: Bra $3.95, Girdle $4.95, Nylons $1.00
Baby Food (4 jars) 87¢, Bath Towel 95¢, Baseball Glove $9.95, Camera Film 43¢, Cat Food (3 8-oz. cans) 39¢,
Chocolate Cherries (13 oz. box) 55¢, Flashlight Battery 14¢, Home Permanent $1.50, Lipstick 49¢, Electric Washing Machine $69.95

Simple things were fun!
Tommy's - On May 15, 1946, a young Tommy Koulax introduced Los Angeles to a hamburger with gusto. Sixty two years later, L.A.'s love affair with his chili-topped creation is still going strong. Beginning with a ramshackle little stand on the corner of Beverly and Rampart Boulevards in Los Angeles, Tommy has fed an estimated fifty million Southern Californians. The original stand today serves as the company logo and for good reason. Although there are now many Tommy's locations throughout Los Angeles, Orange, San Bernardino, Riverside and San Diego counties in California and Clark County in Nevada, none compare with the huge popularity of the original Beverly location. Alone, it serves thousands of customers each week.
Gilmore Drive-in - The Gilmore Drive-In was located near the Farmers Market in the Fairfax area in Los Angeles. The Gilmore lasted til the mid 70's. It sat for the next 5 years, before being razed. Near the Gilmore was a few other walk-in theaters. The Fairfax @ Fairfax and Beverly Blvd., the Pan Pacific Theatre on Beverly, The Esquire on Fairfax (now Canters Deli), and the Silent Movie 3 blocks up Fairfax near Melrose. Also in the area was the Pan Pacific Auditorium and one of Los Angeles early sports areas called Gilmore Field.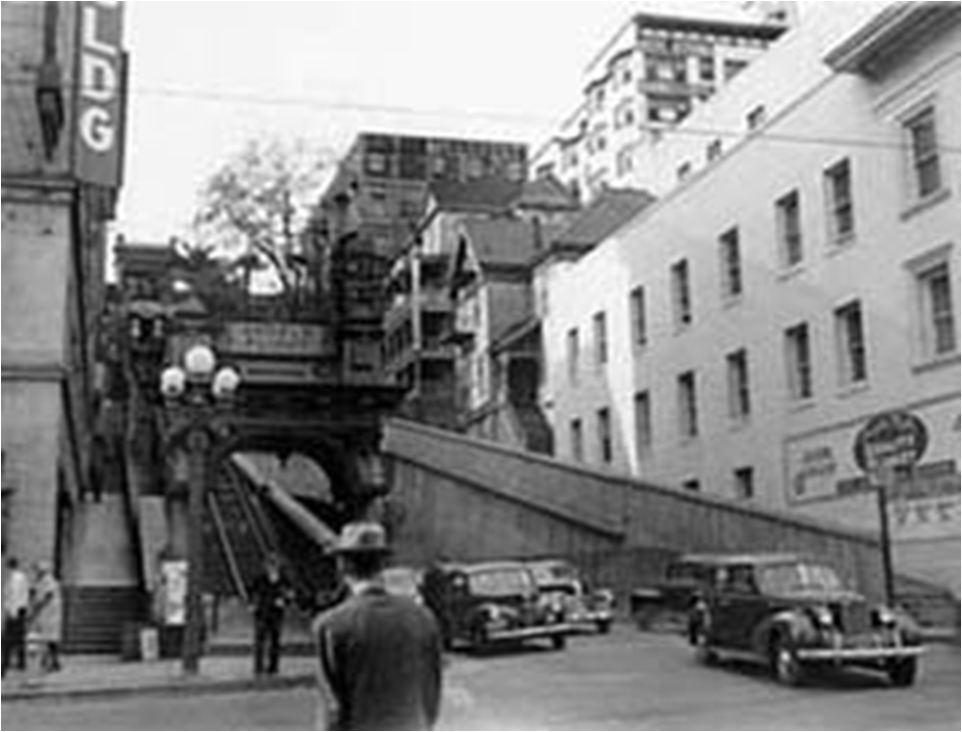 I rode Angel's Flight with my parents in the 1950's
Angel's Flight - Built in 1901 as the Los Angeles Incline Railway, running northwest from the west corner of Third and Hill Streets, Angels Flight consisted of two carriages pulled up a steep incline by metal cables powered by engines at the top of the hill. As one car ascended, the other descended, carried down by gravity. The two cars were named Sinai and Olivet.

The first Angels Flight was a conventional funicular, with both cars connected to the same haulage cable. Unlike most more modern funiculars it did not have track brakes for use in the event of a cable breaking, but it did have a separate safety cable which would come into play in case of breakage of the main cable. It operated for 68 years with a good safety record.

The railway was closed in 1969 when the Bunker Hill area underwent a total redevelopment which transformed it from a declining community of mostly transients and working-class families renting rooms in run-down buildings to a modern mixed-use district of high-rise commercial buildings and modern apartment complexes. All the components of Angels Flight were placed in storage in anticipation of the railway's restoration and reopening.

Ate at all of these places... Remember Tiny Naylor's Coffee Shops, Biff's Coffee Shops, Ship's Coffee Shops,
Coffee Dan's Coffee Shops, and Carolina Pines, Jr. Coffee Shops.
Phil's Diner - There was great mourning and moaning and gnashing of teeth (and more than a few carb-withdrawals) when Phil's Diner, a quintessential greasy spoon housed in a charming but crumbling wood-paneled dining car, closed down in the 1990s. Now, with a new owner and some help from L.A.'s Community Redevelopment Agency, the much-loved diner (someone even stole the sign) is headed back to life. Downtown NoHo was one of the first with the news:
The CRA Board approved a plan for a new modern office building, a luxurious Laemmle's eight-screen theater, and a restored and operating Phil's Diner. The diner will be moved to the corner of Lankershim and Weddington –- across from the El Portal Theater -– where it will be restored to its 1920's condition and reopen as a restaurant, and to become the centerpiece of the theater courtyard.
Bob's Big Boy - The chain is best known for its trademark chubby boy in red- and white-checked overalls holding a Big Boy sandwich (double-decker cheeseburger). The inspiration for Big Boy's name, as well as the model for its mascot, was Richard Woodruff (1932-1986), of Glendale, California. When he was six years old, he walked into the diner Bob's Pantry as Bob Wian was attempting to name his new hamburger. Wian said, "Hello, Big Boy" to Woodruff, and the name stuck.

Big Boy is a restaurant chain started in 1936 by Bob Wian in Glendale, California, as Bob's Big Boy. Marriott Corporation bought the chain in 1967. One of the larger franchise operators, Elias Brothers, purchased the chain from Marriott in 1987, moving the headquarters of the company to Warren, Michigan, and operating it until declaring bankruptcy in 2000. Following the bankruptcy, the chain was sold to investor Robert Liggett, Jr., who took over as Chief Executive Officer (CEO), renamed the company Big Boy Restaurants International and kept the headquarters in Warren. The company is the franchiser for more than 455 Big Boy restaurants in the United States and Canada.

Fountains and cafeteria's everywhere
Canter's - Canter's Deli is a famous Jewish delicatessen in the Fairfax District of Los Angeles, California, near the border of West Hollywood.

The Canter family originally opened up a delicatessen in Jersey City in 1924. They came west along with many Jews from the northeastern United States in the early 1940s, and opened a delicatessen in the Boyle Heights neighborhood, which at that time had a substantial Jewish population. After World War II, the Jewish population of Boyle Heights left en masse for the Fairfax District, West Hollywood, and other West Side neighborhoods (as well as the San Fernando Valley) and Canter's followed the influx of Jewish businesses west, converting a movie theater which had previously shown Yiddish-language films to a delicatessen much larger than its previous spaces.

Canter's quickly became a hangout for show business personalities, given its location and its late hours. It has remained such ever since. In the 1960s, Canter's became a late night hang out for hippies, rock musicians, and other countercultural types, partially for the same reasons. Also, many rock musicians had grown up in Fairfax and West Hollywood, and the Sunset Strip was only half a mile away. Canter's has remained a favorite of rock musicians to the present day, and is still open 24 hours as always. Canter's is open every day of the year except for the Jewish holidays of Rosh Hashanah and Yom Kippur.
Clifton's - Clifton's Cafeteria, once part of a chain of Clifton's restaurants, is the oldest surviving cafeteria style eatery in Los Angeles, California, and the largest public cafeteria in the world. Founded in 1931 by Clifford Clinton, the name was created by combining the first half of "Clifford" and the last half of "Clinton" to produce the name "Clifton's".

The Clinton family's five generations as California restaurateurs began when David Harrison Clinton came to Los Angeles from Missouri in 1888 and purchased the Southern Hotel and its dining room in downtown Los Angeles. David's son Edmond settled in San Francisco, where he and his wife Gertrude became co-owners of a group of cafeteria-style restaurants named Dennets.

Clifford, one of Edmond's five children, learned the restaurant trade while working in his father's restaurants. Along with 2 partners, he bought his father's interest in Dennets. Due to differences in opinion over business practices, he relinquished ownership to his partners and moved to Los Angeles in 1931.

Establishing his restaurants during the height of the Great Depression, and using knowledge gained from working in his family's cafeteria chain in San Francisco, Clinton made a point to never turn anyone away, even if they had no money, seeking to average only a half-cent profit per customer.[ During one 90-day period, 10,000 people ate free before he was able to open an emergency "Penny Caveteria" in a basement (hence the modified name) a few blocks away to feed two million patrons during the next two years.

High School will never be the same as in the 1950's
Studio Drive-In - Opened in the 1940's with a capacity of 1047 cars, this single screen drive-in was operated by Pacific Drive-In Theaters. It closed permanently in 1993 and was demolished in 1998.
Studio Drive-In was also know as "The Heart of Screenland". I spent many evening their watching old movies with friends.

Go Drive-In's!
Good Humor Ice Cream - He would come down the street every afternoon about two o'clock and all the kids would run out and buy the latest ice cream!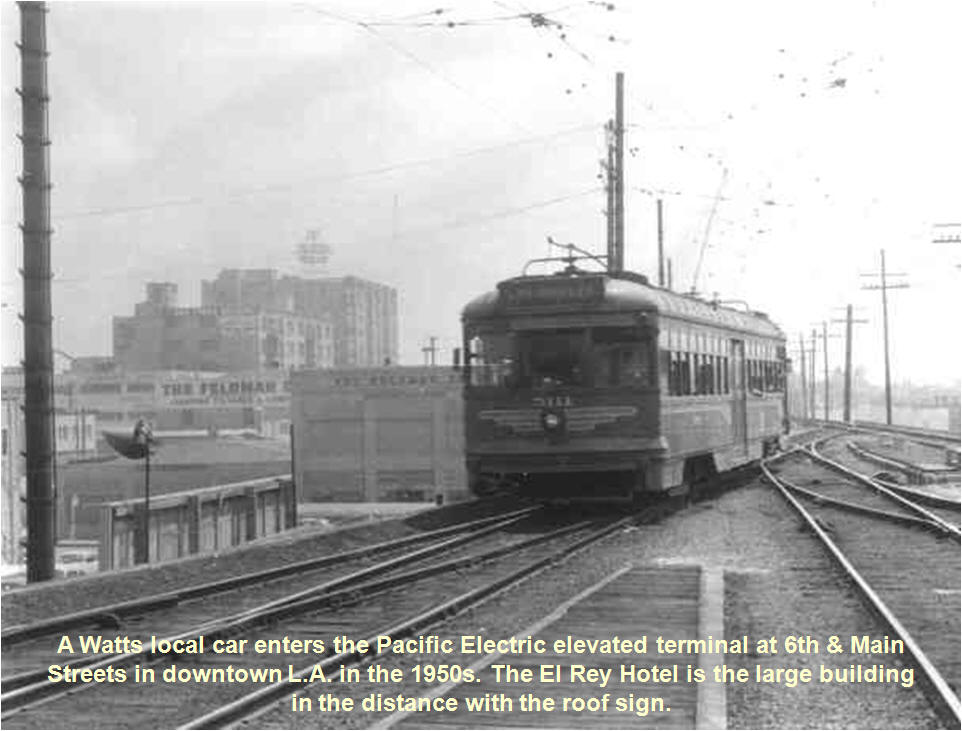 I used to watch them go bye on Venice Blvd... They were big and noisy!
Red Car's - The Pacific Electric Railway (reporting mark PE), also known as the Red Car system, was a mass transit system in Southern California using streetcars, light rail, and buses. At its greatest extent, around 1925, the system interconnected cities in Los Angeles and Orange Counties and also connected to Riverside County and San Bernardino County in the Inland Empire.

Electric trolleys first traveled in Los Angeles in 1887.:208 The Pasadena and Pacific Railway was an 1895 merger between the Pasadena and Los Angeles Railway and the Los Angeles Pacific Railway (to Santa Monica.) The Pasadena and Pacific boosted Southern California tourism by living up to its motto "from the mountains to the sea."

During this time, by consolidation of many smaller railroads, the Pacific Electric Railway was established by railroad and real estate tycoon Henry Huntington in 1901. Henry's uncle, Collis P. Huntington, was one of the founders of the Southern Pacific Railroad and had bequeathed Henry a huge fortune upon his death. Only a few years after the company's formation, most of Pacific Electric stock was purchased by the Southern Pacific Railroad, which Henry Huntington had tried and failed to gain control of a decade earlier. In 1911, Southern Pacific bought out Huntington except for the Los Angeles Railway, the narrow gauge street car system known locally as Yellow Cars, and SP also purchased several other passenger railways that Huntington owned in the Los Angeles area, including the Pasadena and Pacific. This resulted in what was called the "Great Merger" of 1911. At this time the Pacific Electric became the largest operator of interurban electric railway passenger service in the world with over 1,000 miles (1,600 km) of track. The system ran to destinations all over Southern California, particularly to the south and east.

I lived on Venice Blvd near Culver City!
Major 1920s PE business was "taking the Red Car" for inland folks, such as in the Pasadena area, to the beaches at Santa Monica, Del Rey, Manhattan/Redondo/Hermosa Beach, Long Beach in Los Angeles County and to Newport Beach and Huntington Beach in Orange County. On weekends, extra service beyond the normal schedules was provided, particularly in the late afternoon when everyone wanted to return at the same time. It was good times for residents of the region and good times for profits for the PE as this was the Roaring Twenties. Comedian Harold Lloyd highlighted the popularity and utility of the system in an extended sequence in his 1924 film, Girl Shy, where, after finding one Red Car too crowded, he commandeers another and drives at breakneck speed through the streets of Culver City and Los Angeles.

Zooming around the city!

I remember seeing this years ago when we had visitors in town
Grand Central Produce Market - Nowhere else in Los Angeles today can you taste the richness of yesterday. The landmark Grand Central Market dates back to 1917, when well to do Angelinos rode the Angels Flight Railway for a penny down to the best open-air shopping in town. At the Market, they could find an entire world of treats for all the senses and all the family. Today, you still can. Step back over 80 years as you explore aisle after aisle of exciting sights, scents, flavors, historic neon signs - and values. The Grand Central Market is located in the ground floor of the stately Homer Laughlin Building, which once housed an office for American architect Frank Lloyd Wright, forming the centerpiece of L.A.'s Historic Core District.

Through the years Grand Central Market has undergone many interior cosmetic changes, mostly as a means of keeping up with the mode of the day. The exterior facade, however, has remained true to its heritage and is still a prime example of the architecture of a bygone era.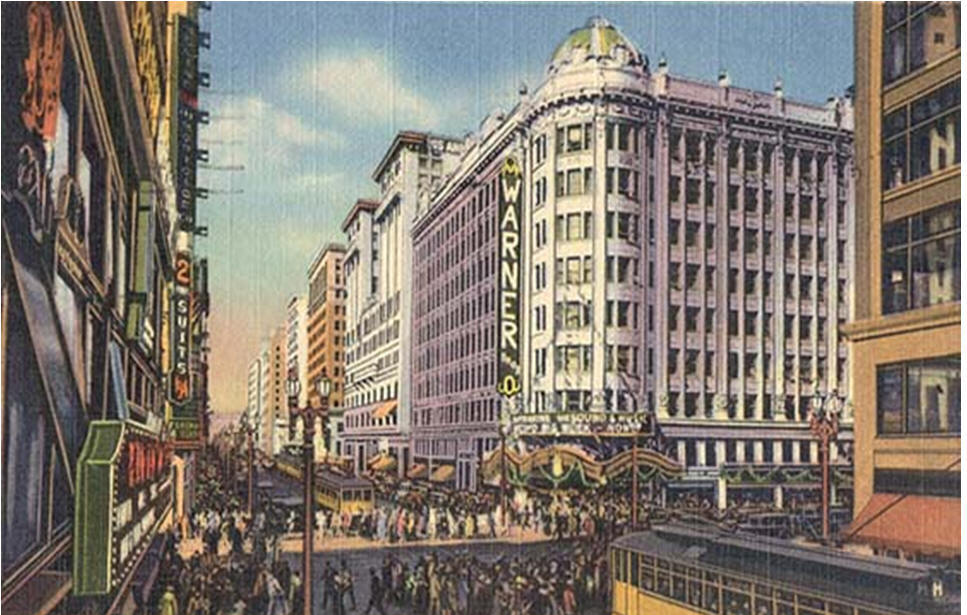 We went to the Pantages recently
Pantages Theater - The Pantages Theatre, formerly known as RKO Pantages Theatre, is located at Hollywood and Vine (6233 Hollywood Boulevard), Hollywood, California in the United States of America. Designed by architect B. Marcus Priteca, it was the last theatre built for the impresario Alexander Pantages. The palatial Art Deco theatre opened on June 4, 1930, as part of the Pantages Theatre Circuit.

The Pantages Theatre Circuit had been built on Vaudeville, and the new Hollywood theatre programmed first-run movies alternating through the day with Vaudeville acts for its first two years. But like other theatres during the Great Depression, it was forced to economize and thereafter operated primarily as a movie theatre, though live entertainment was presented occasionally.

Pantages sold the Hollywood landmark in 1932 to Fox West Coast Theaters. In 1949, Howard Hughes acquired the Pantages under his RKO Theatre Circuit and moved his personal offices to the building's second floor. From 1949 through 1959, the theatre hosted the American motion picture industry's annual Academy Award Ceremonies.[1] It continued to be a major venue for Road show movies into the 1970s. From 1965, it was operated by Pacific Theatres. The Pantages closed as a movie theatre in January, 1977, and re-opened the following month with Bubbling Brown Sugar, the first of the many stage productions that have since become its regular fare.