Gale Storm Was The Cats Meow In The 1950's!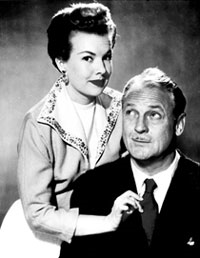 Gayle Storm and Charles Farrell
Josephine Owaissa Cottle (April 5, 1922 - June 27, 2009), better known as Gale Storm, was one of my favorites growing up. Gale Storm was not only one of the most popular tv comediennes of her time and an extremely successful recording artist, but for more than a decade, she enjoyed a flourishing motion picture career, with credits totaling 33 films. I remember Gale Storm as Margie on the hit television show, MY LITTLE MARGIE ran June 16, 1952 - August 24, 1955.

Margie Albright: Gale Storm
Vern Albright: Charles Farrell
Freddy Wilson: Don Hayden
Roberta Townsend: Hillary Brooke
George Honeywell: Clarence Kolb
Mrs. Odetts: Gertrude Hoffman
Mr. Todd: George Meader
Charlie, elevator operator

How About The Details?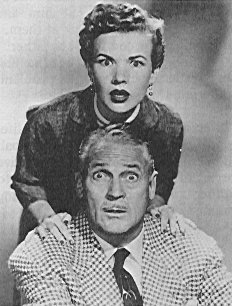 Gayle Storm and Charles Farrell
Do you remember this?

Programming History inlcuded 126 episodes
June 1952-September 1952 Monday 9:00-9:30
January 1953-July 1953 Thursday 10:00-10:30 NBC
October 1952-November 1952 Saturday 7:30-8:00
September 1953-August 1955 Wednesday 8:30-9:00
It happened in New York City; The Carlton Arms Hotel, Apartment 10-A, the residence of the Albrights: Vernon, widower, vice president of the investment firm of Honeywell and Todd; and his beautiful twenty-one-year-old daughter, Margie. Margie was determined to save her father from the machinations of various women.
Vern was trimly athletic at age 50, and was most often romantically linked with Roberta Townsend. Margie, who shared her father's Fifth Avenue apartment, was always scheming with old Mrs. Odetts, the next door neighbor, to make Dad more sedate, as well as to circumvent the parental control he vainly tried to maintain over her.
Also recruited to help with various subterfuges were Margie's boyfriend, Freddy, and Charlie, the combination handyman and elevator operator in the Albright's apartment building.
The Song
My little Margie,
I'm always thinking of you, Margie!
I'll tell the whole wide world I love you;
Don't forget your promise to me,
You know, I bought the home, ring and everything,
So, my little Margie,
Margie, oh, you've been my inspiration,
Darling, you're the only one!
After all is said and done,
There is really only one,
Margie, Margie, it's you!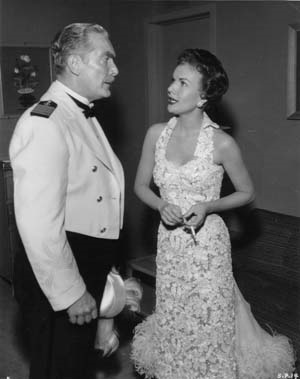 Gayle Storm was a beautiful lady. Gale Storm has
four stars on the Hollywood Walk of Fame for her
contributions to Radio, Music,Television and Motion Pictures