Let's Go Sailing And Dining!
It's a beautiful California Wednesday, the golf course is closed, and we have time! Let's go to Malarkey's and then take a taxi to Rainbow Harbor in Long Beach and have lunch, and then return to Malarkeys! Great idea... Let's go!
What Is A Water Taxi?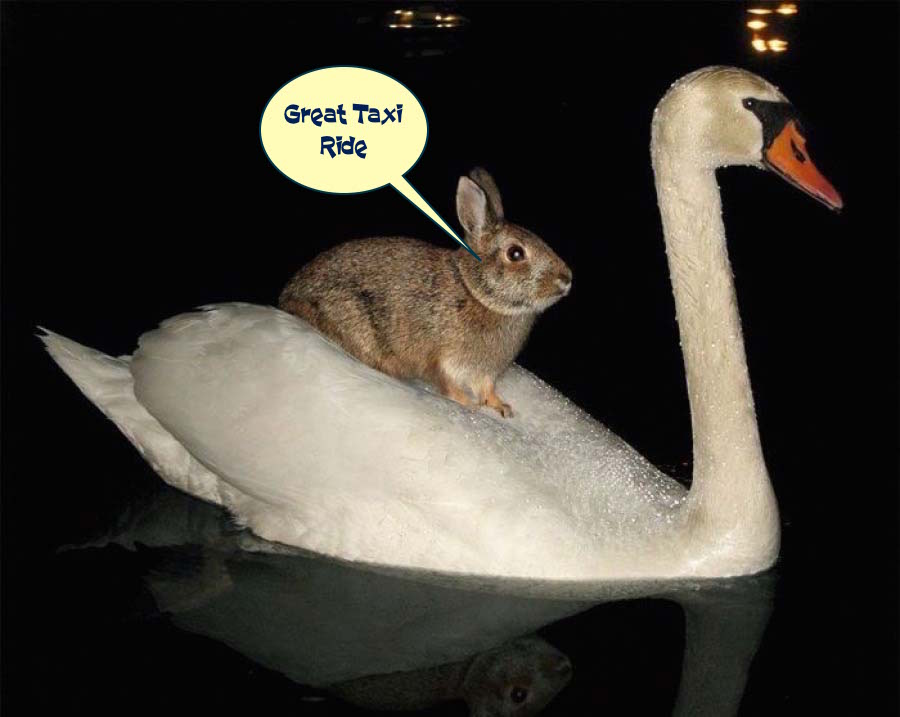 We decided to take a more normal taxi ride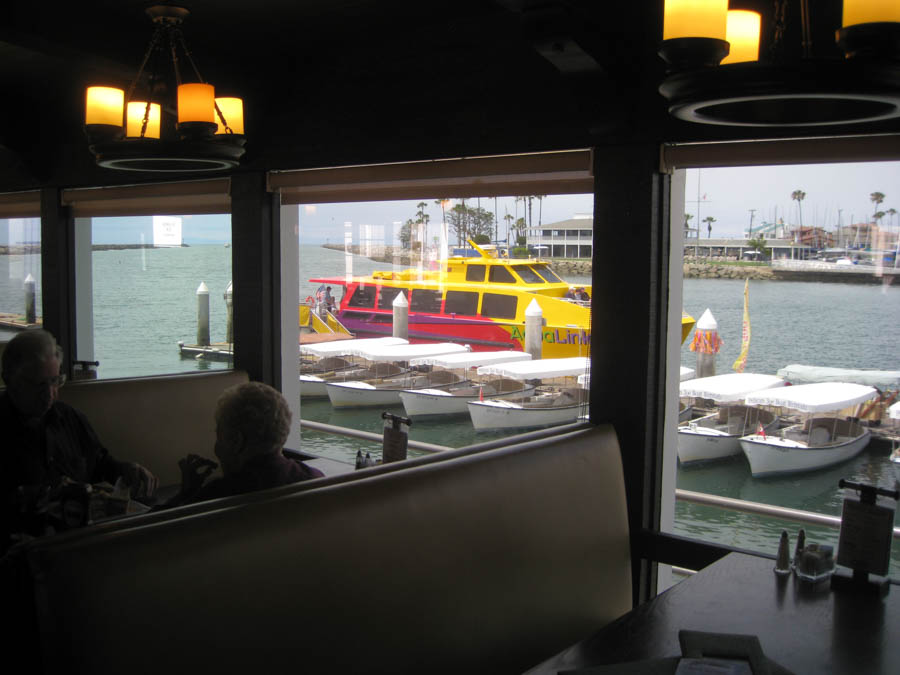 We are inside Malarkey's awaiting the arrival of the taxi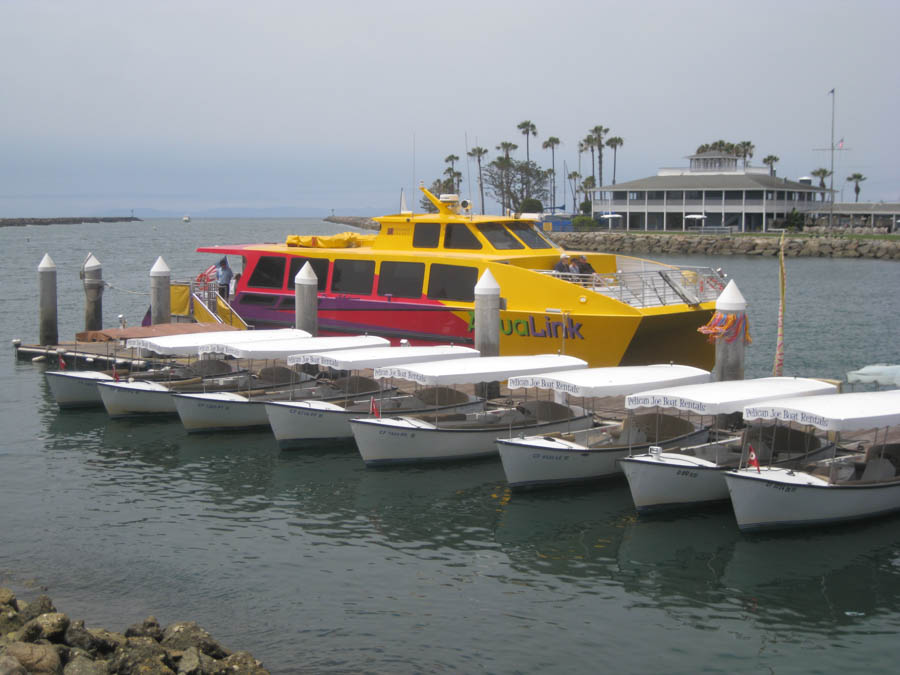 Our taxi is here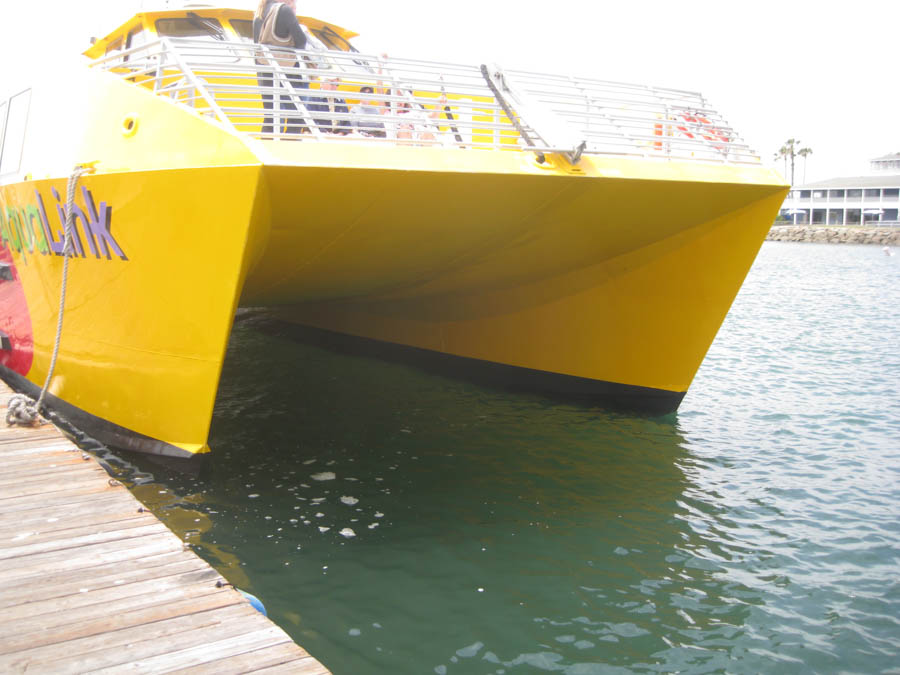 The cat has arrived
Did You Know? - A catamaran ("cat" for short) is a multihulled vessel consisting of two parallel hulls of equal size.
A catamaran is geometry-stabilized, that is, it derives its stability from its wide beam, rather than having a ballasted keel like a monohull. Being ballast-free and lighter than a monohull, a catamaran can have a very shallow draught. The two hulls will be much finer than a monohull's, the reduced drag allowing faster speeds in some conditions, although the high wetted surface area is detrimental in lower wind speeds.
A sailing multihull will heel much less than a sailing monohull of the same length, so on a windward course its sails spill less wind and are more efficient. The limited heeling means the ride may be more comfortable for passengers and crew, although catamarans can exhibit an unsettling "hobby-horse" motion and have a violent unsettling diagonal pitching motion that is unpredictable and makes moving around hard in rougher conditions, the noise is also much more than a monohull experiences.

Up we go!
Departing Alamitos Bay At 12:05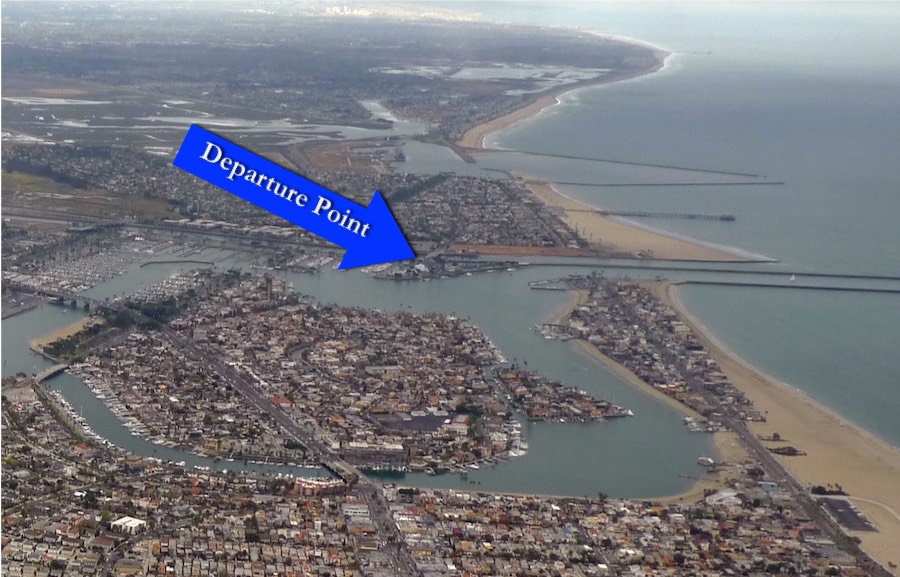 Click for full sized image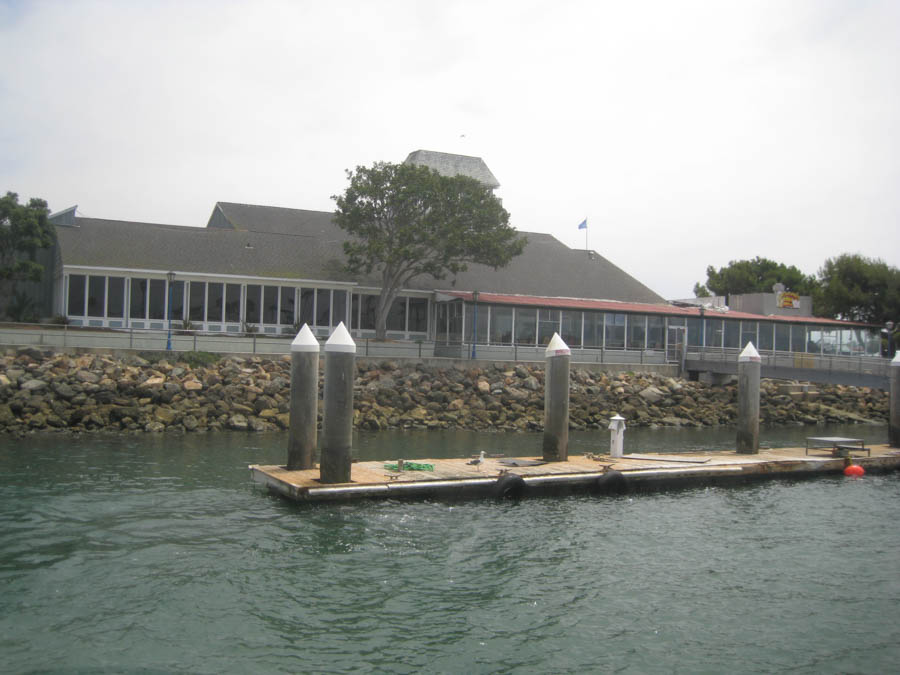 The water was smooth...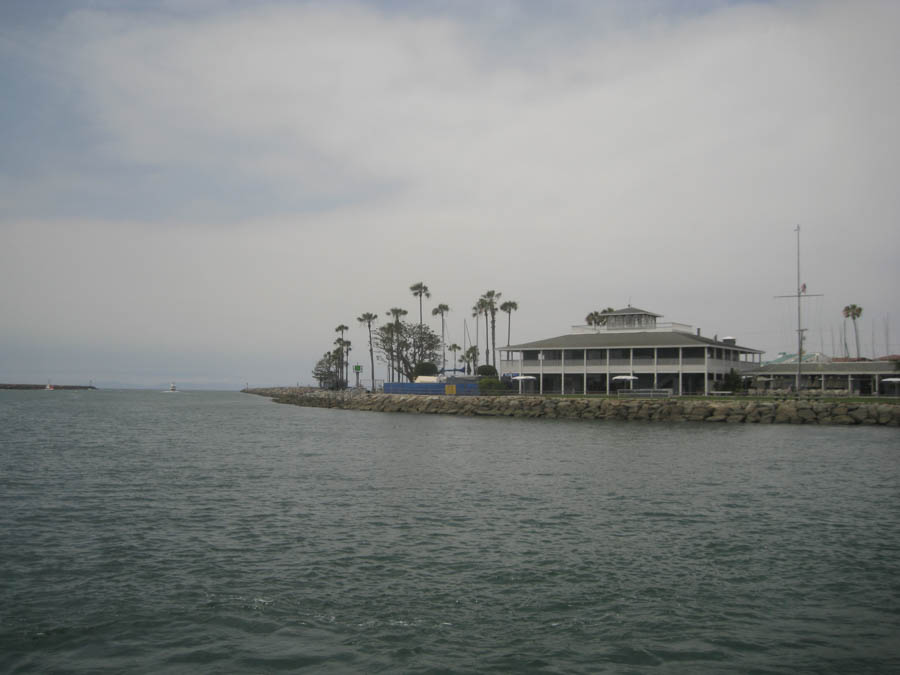 Passing by the Yacht Club
Did You Know? - Long Beach Yacht Club was created when in 1929 as the result of an inquiry from the Associated Boating Industries of Northern California regarding the possibility of a powerboat race between Long Beach and San Francisco.
The building in which you see was designed and built in 1960. In 1985 Morris Group Architects Project Manager Brian Corntassel orchestrated the current building configuration for Randy Morris with its addition to the upstairs dining area, lengthening of the upstairs bar, the addition of Lava rock Wall bathrooms and Boat steering wheel lighting all standing on 4 columns and glass.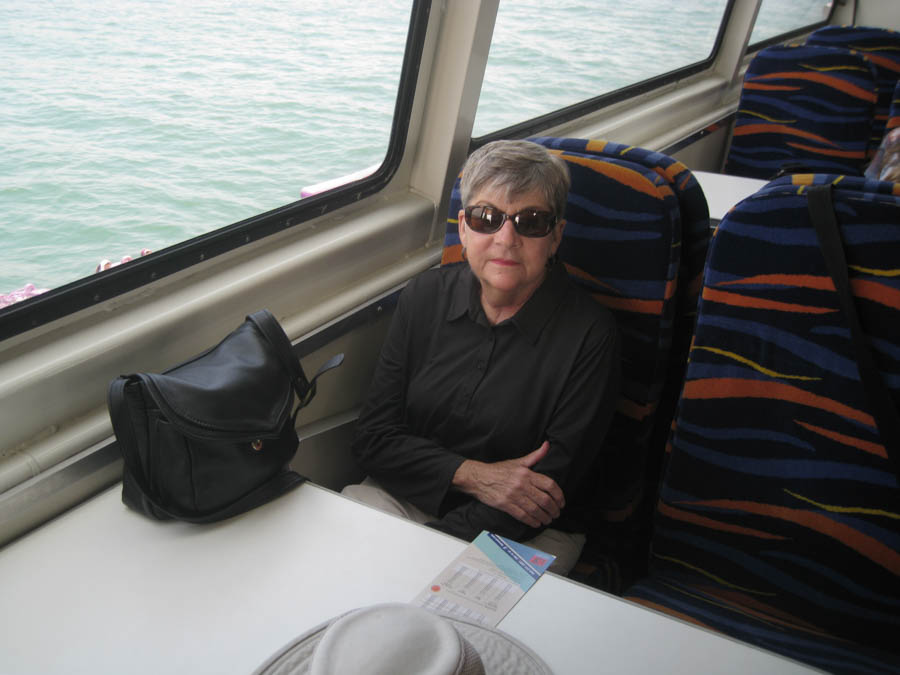 Enjoying the ride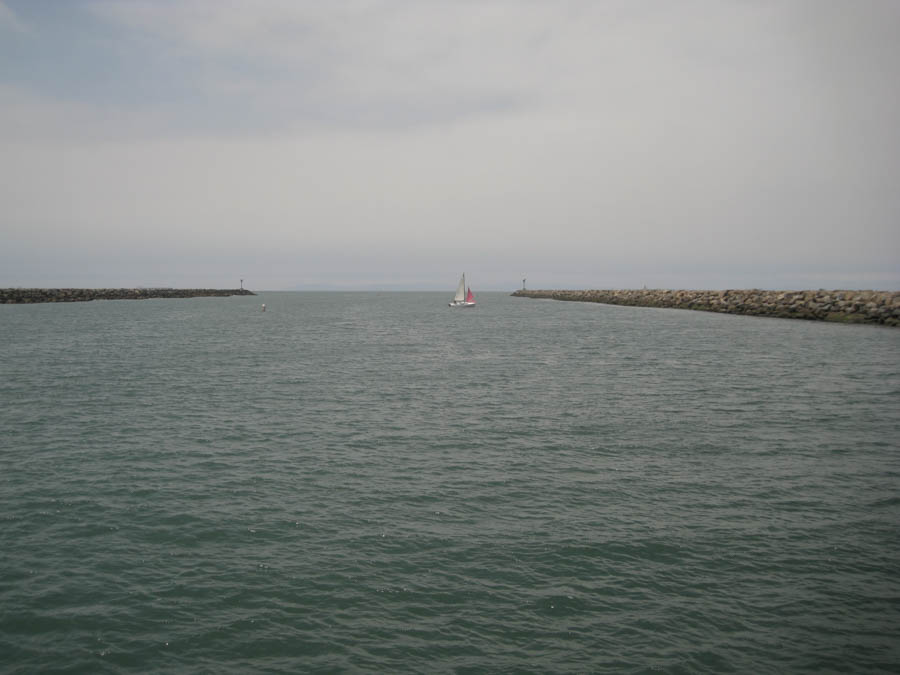 Lookout... Here we come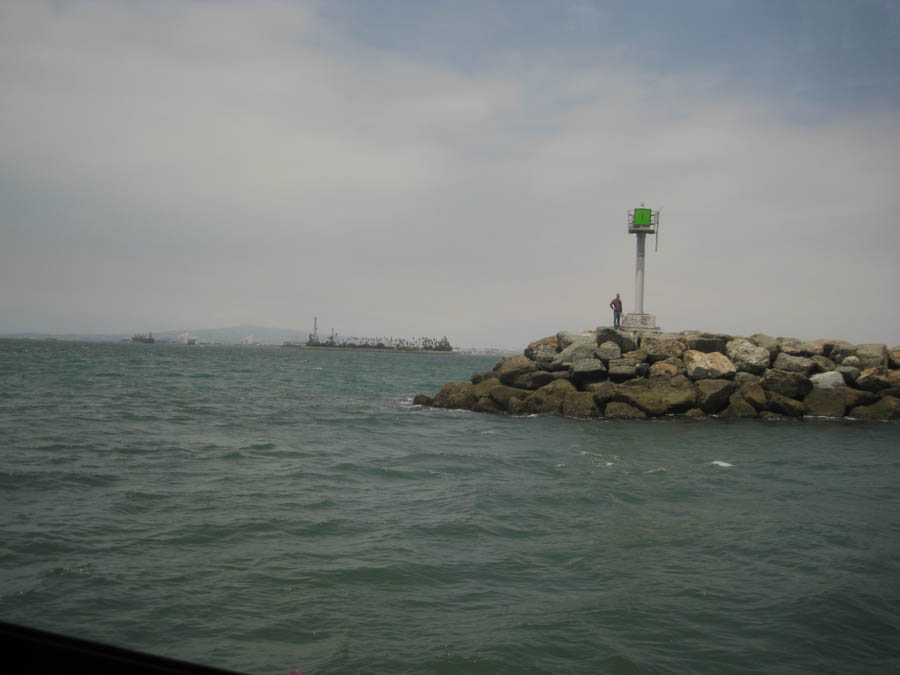 Now the water gets slightly choppy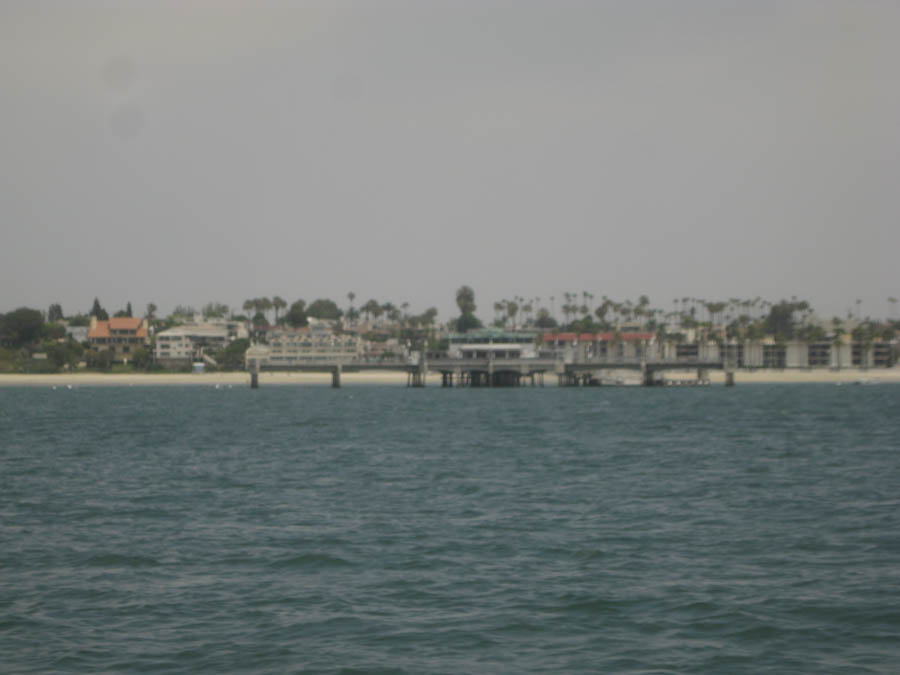 No pier today... The gate is broken on the Belmont pier..
We changed dining plans! Worked out very well!!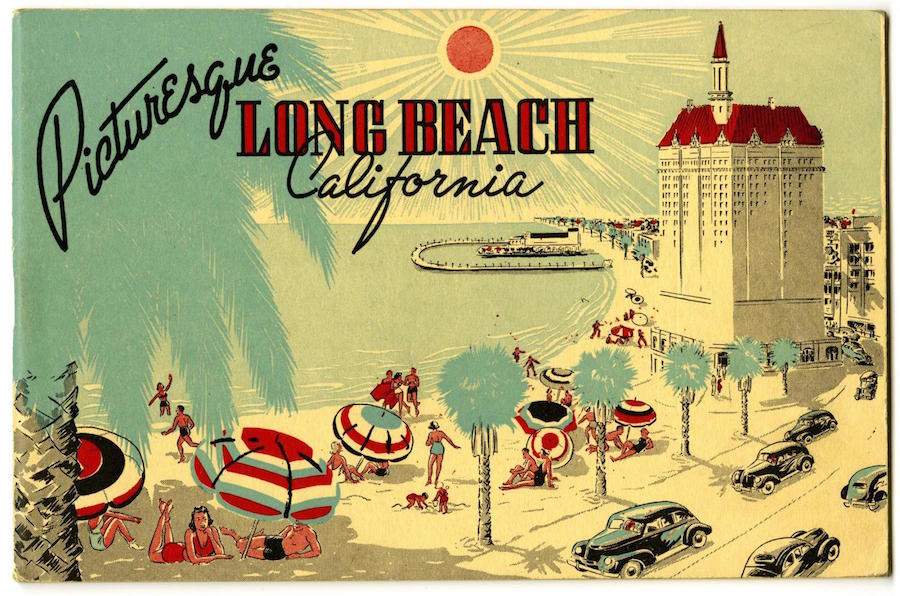 We are off and running

Passing the first of two oil islands
Did You Know? - The THUMS Islands are a set of four artificial islands in San Pedro Bay off the coast of Long Beach, California. They were built in 1965 to tap into the East Wilmington Oil Field. The landscaping and sound walls were designed to camouflage the operation and reduce noise, and they are the only decorated oil islands in the United States.
After a 1964 court case that gave the state of California mineral rights to the area, the islands were built at an estimated cost of $22 million in 1965, the islands were operated by THUMS, a consortium named after the parent companies who bid for the island contract: Texaco, Humble Oil (now Exxon), Union Oil, Mobil Oil, and Shell Oil.
The rim of the islands are made of 640,000 tons of boulders from Catalina Island, and the islands were then filled with 3.2 million cubic yards of dredged material from the bay.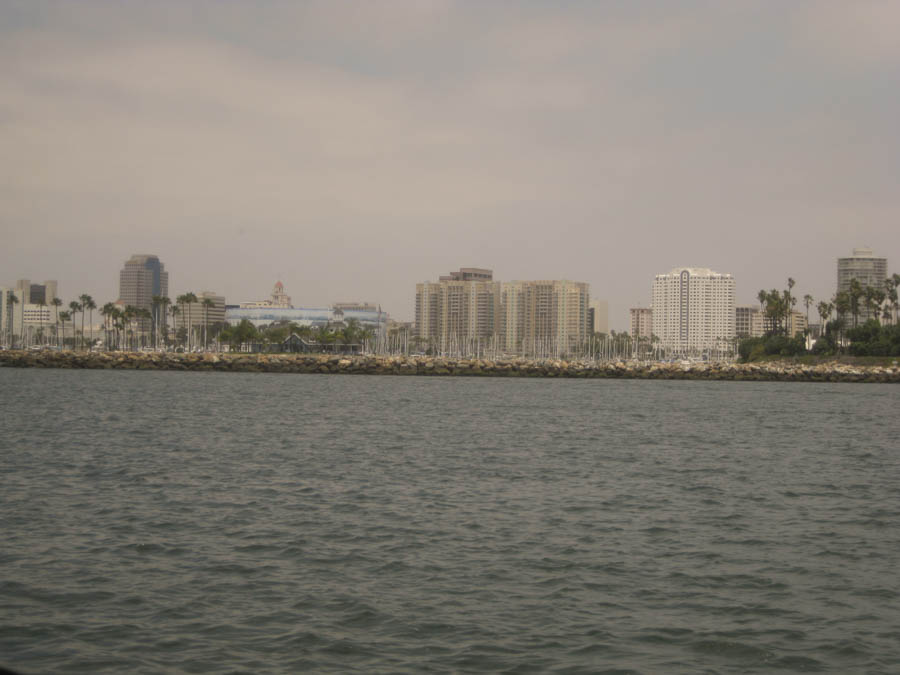 The skyline of Long Beach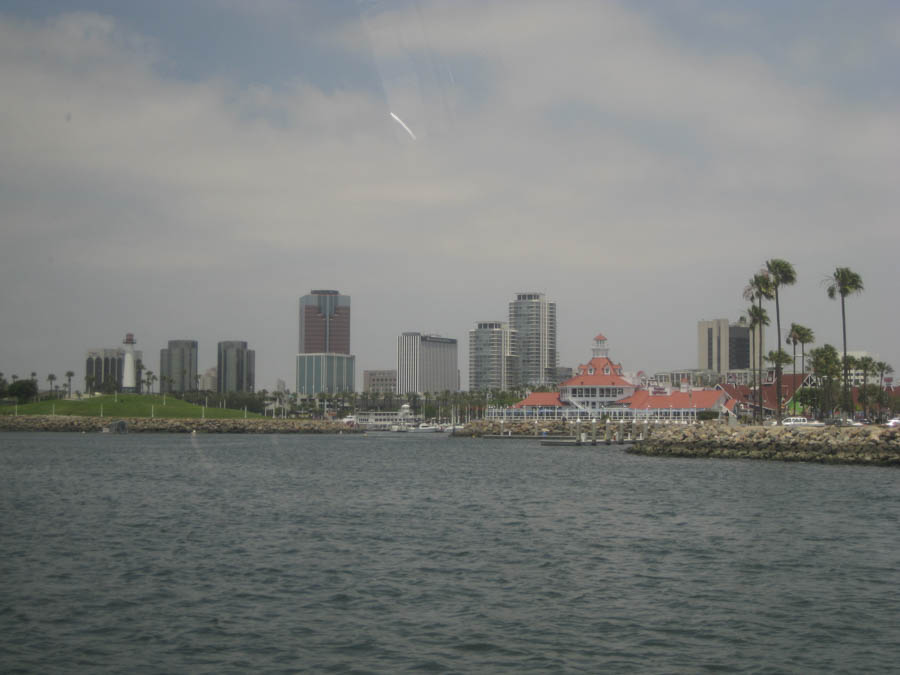 Coming in to Rainbow Harbor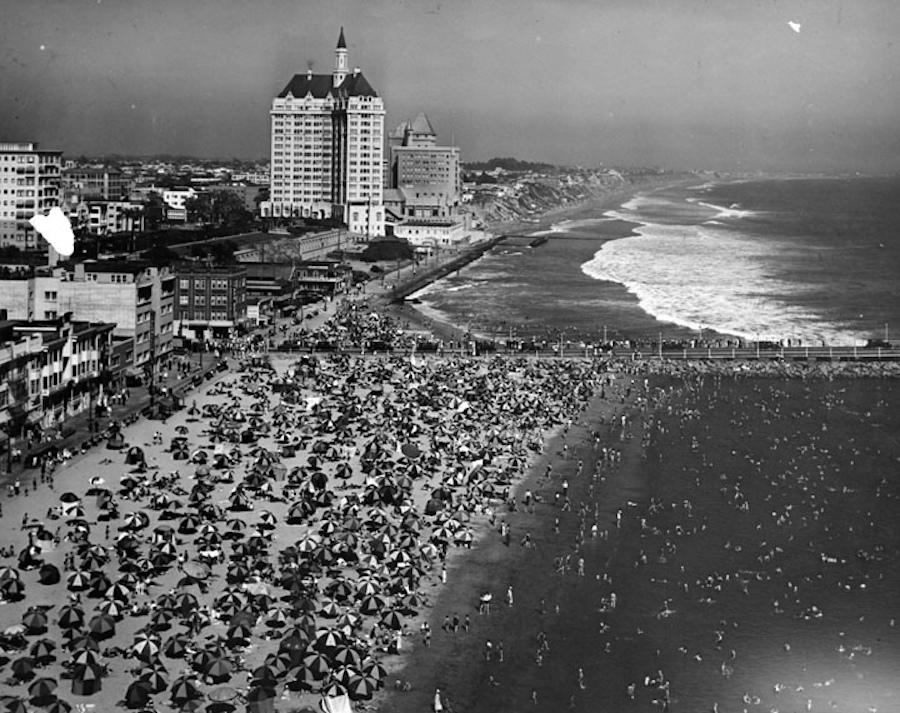 Rainbow harbor was not there 50 years ago!

Docking near Gladstone's Restaurant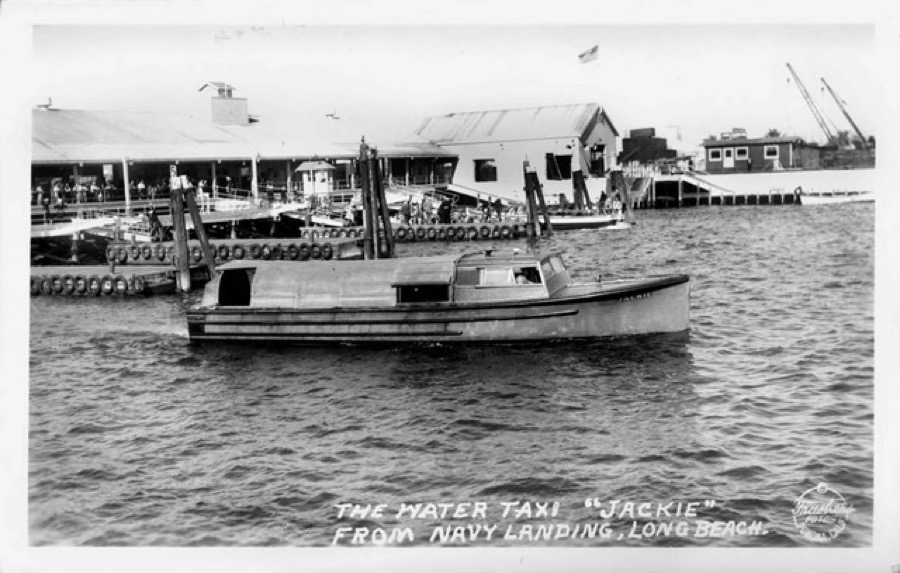 A few years ago it was different...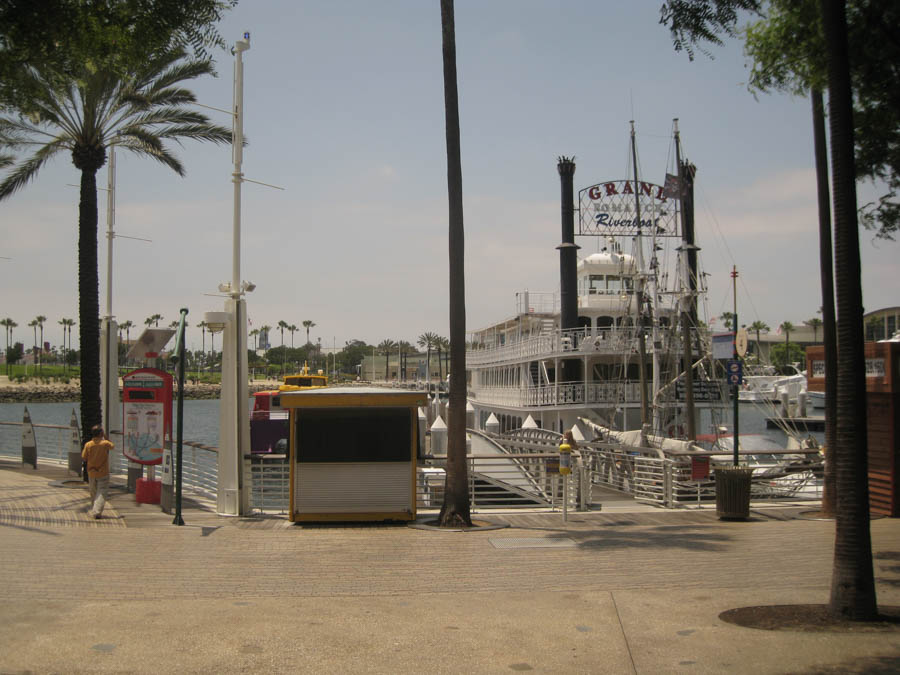 Where to dine... That is the question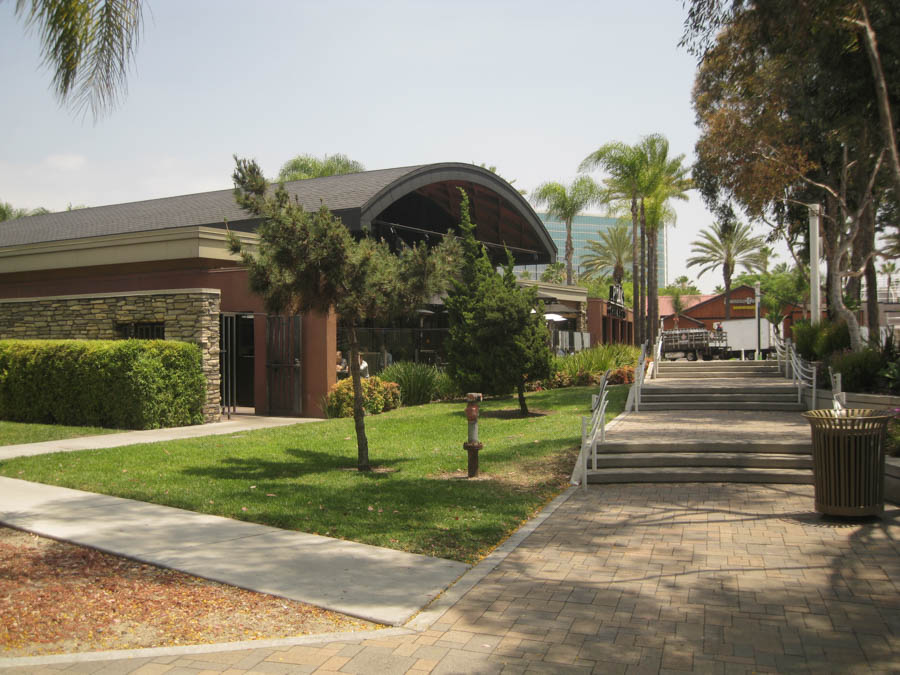 There are restaurants everywhere

The Pike used to be located where we landed

Did You Know? - Father and son team, George and Demitri Loizides proprietors, wish to welcome you to "A little piece of Greece in Southern California." George's experience encompasses 48 years in the deli and market area and son Demitri has spent over 28 years in the restaurant business – A winning combination.
Demitri cooks exactly like his mom, Rodou. He uses no shortcuts, exhibiting the greatest care and experience in preparing fresh, delicious, tender and healthy food for your enjoyment. Only the highest quality products are employed to produce these healthy, traditional, fresh, homemade Greek dishes, which are prepared daily from scratch. Demitri uses top quality Greek products, such as Extra-Virgin Olive Oil, in preparing these traditional Greek Salads, Sandwiches, Specialty Plates, and exquisite Greek Desserts.
You are welcome to taste any of our wines before ordering, and are encouraged to use your fingers whenever possible while dining here. Please feel free to walk through and visit, or invite us to sit with you and have a friendly chat.
The iPhone Tells All

The iPhone kept track of our journey to the cafe in detail!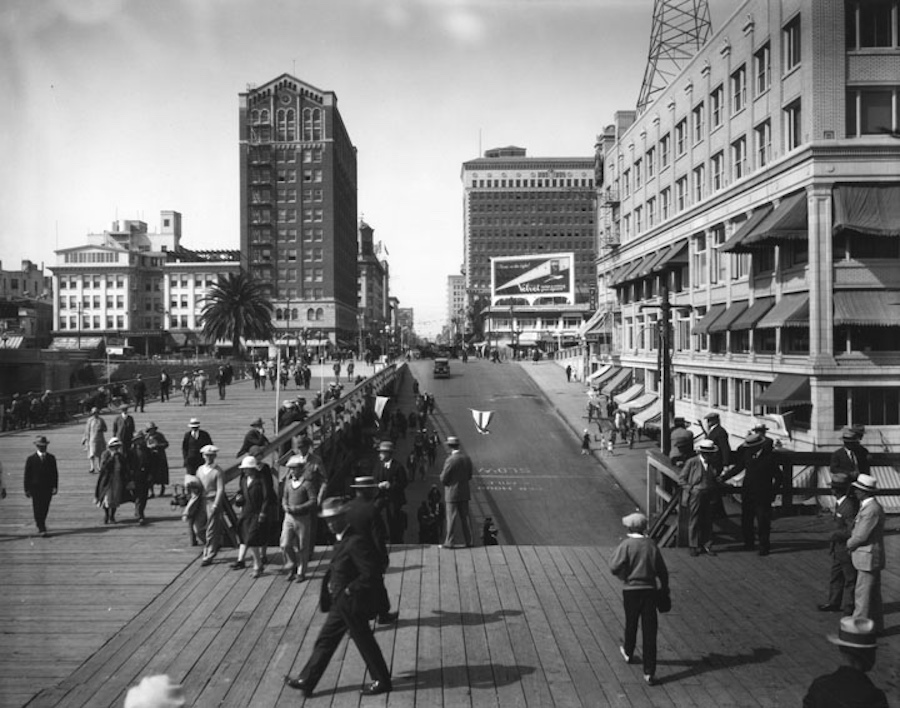 Pine Street in the 1930's... Things have changed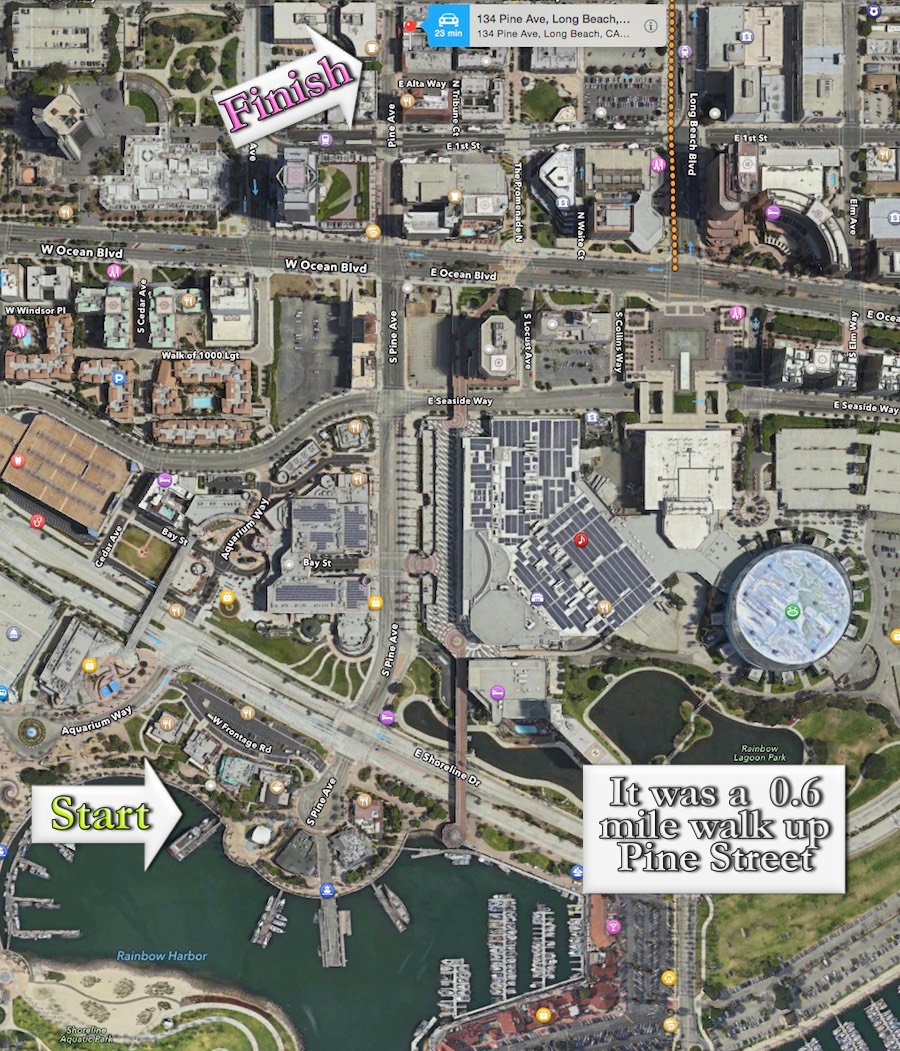 Nice little walk and great food
Check out their menu for lunch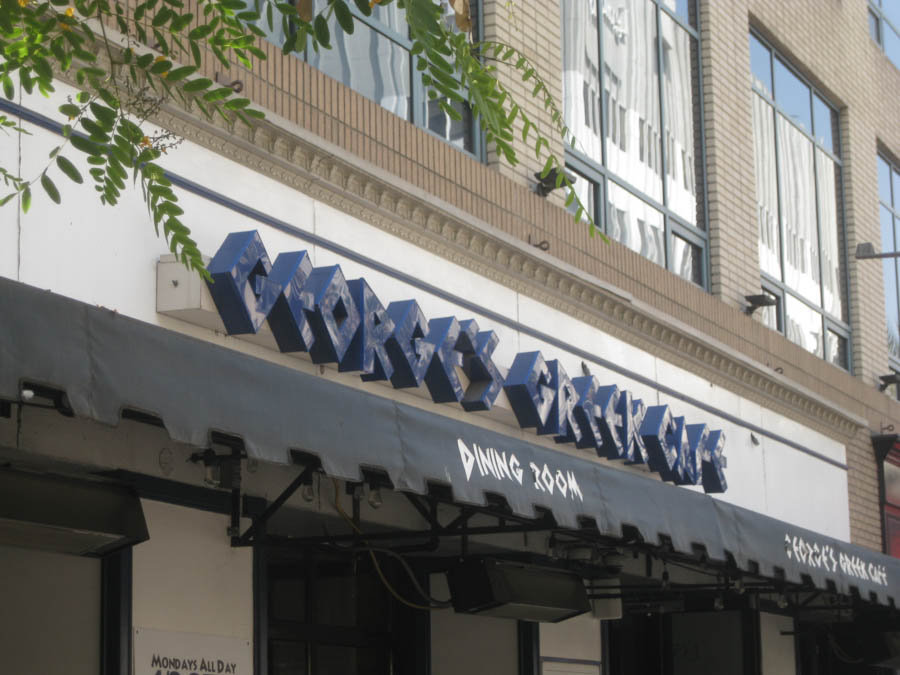 It is a large establishment and was quite busy

The outside dining area was just right for today!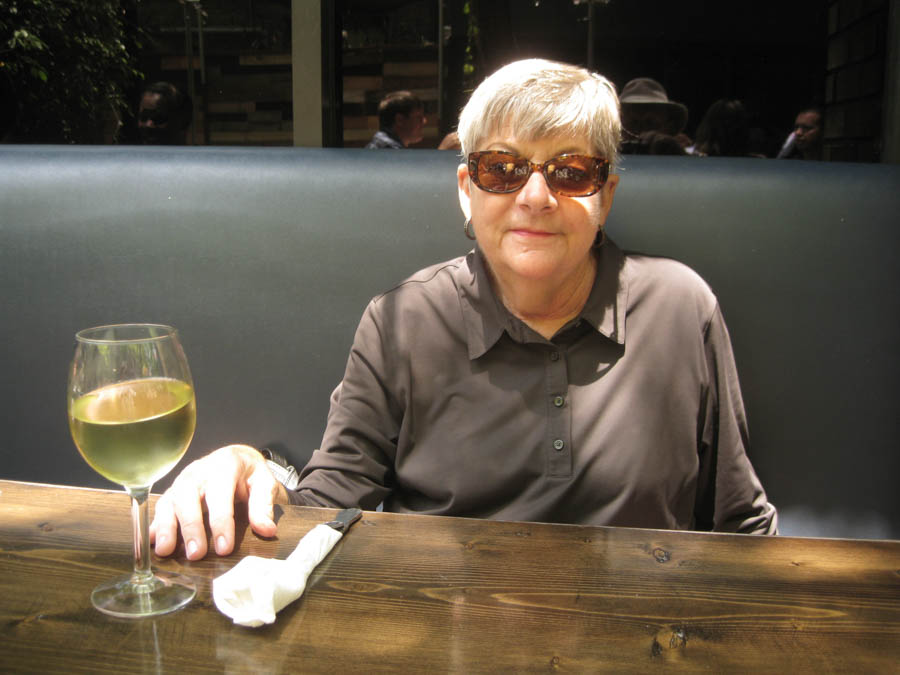 We dined outside and it was perfect... In the shade with a padded back
and a waiter who delivers wine quickly

Indeed... Great wines

Paul ordered four lamb chops... One was was devoured before the camera came out!
Did You Know? - A meat chop is a cut of meat cut perpendicularly to the spine, and usually containing a rib or riblet part of a vertebra and served as an individual portion. The most common kinds of meat chops are pork and lamb. A thin boneless chop, or one with only the rib bone, may be called a cutlet, though the difference is not always clear. The term "chop" is not usually used for beef, but a T-bone steak is essentially a loin chop, and a rib steak a rib chop.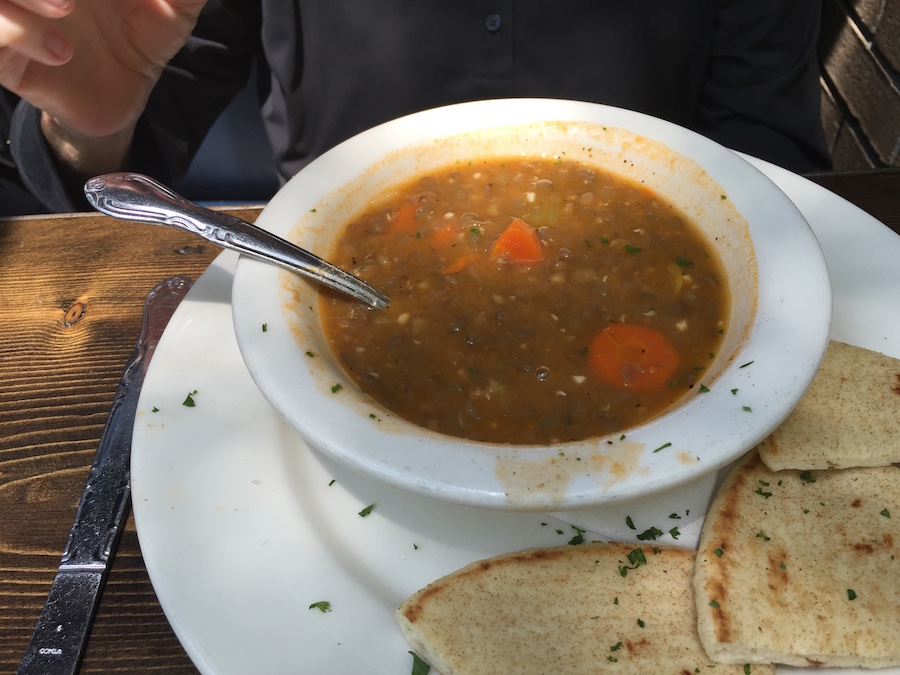 Sue tried the lentil soup... Excellent
Did You Know? - Lentils have been part of the human diet since aceramic (before pottery) Neolithic times, being one of the first crops domesticated in the Near East. Archeological evidence shows they were eaten 9,500 to 13,000 years ago.
Lentil colors range from yellow to red-orange to green, brown and black. Lentils also vary in size, and are sold in many forms, with or without the skins, whole or split.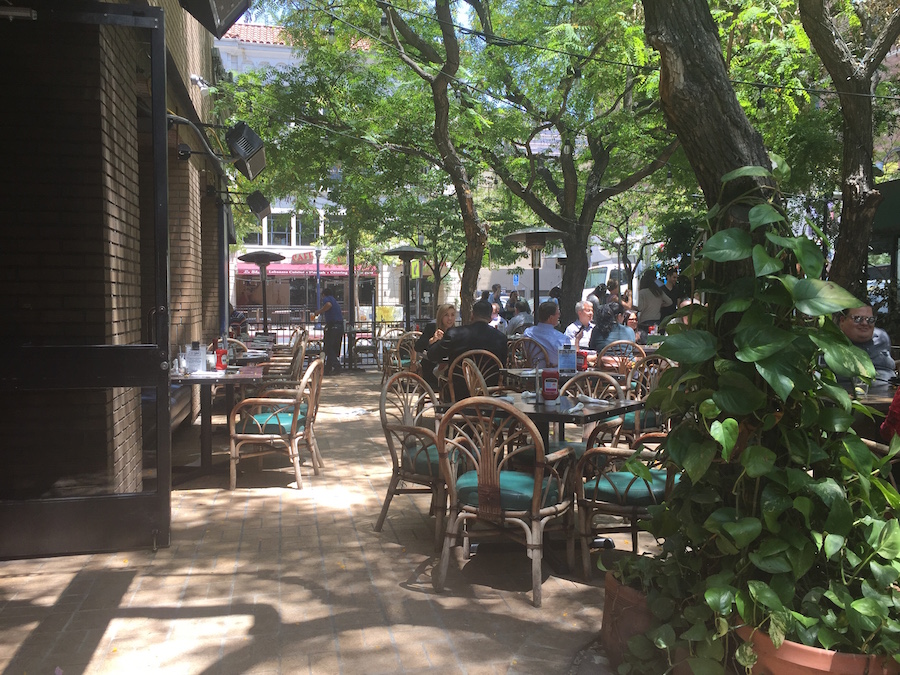 The view from our table was perfect!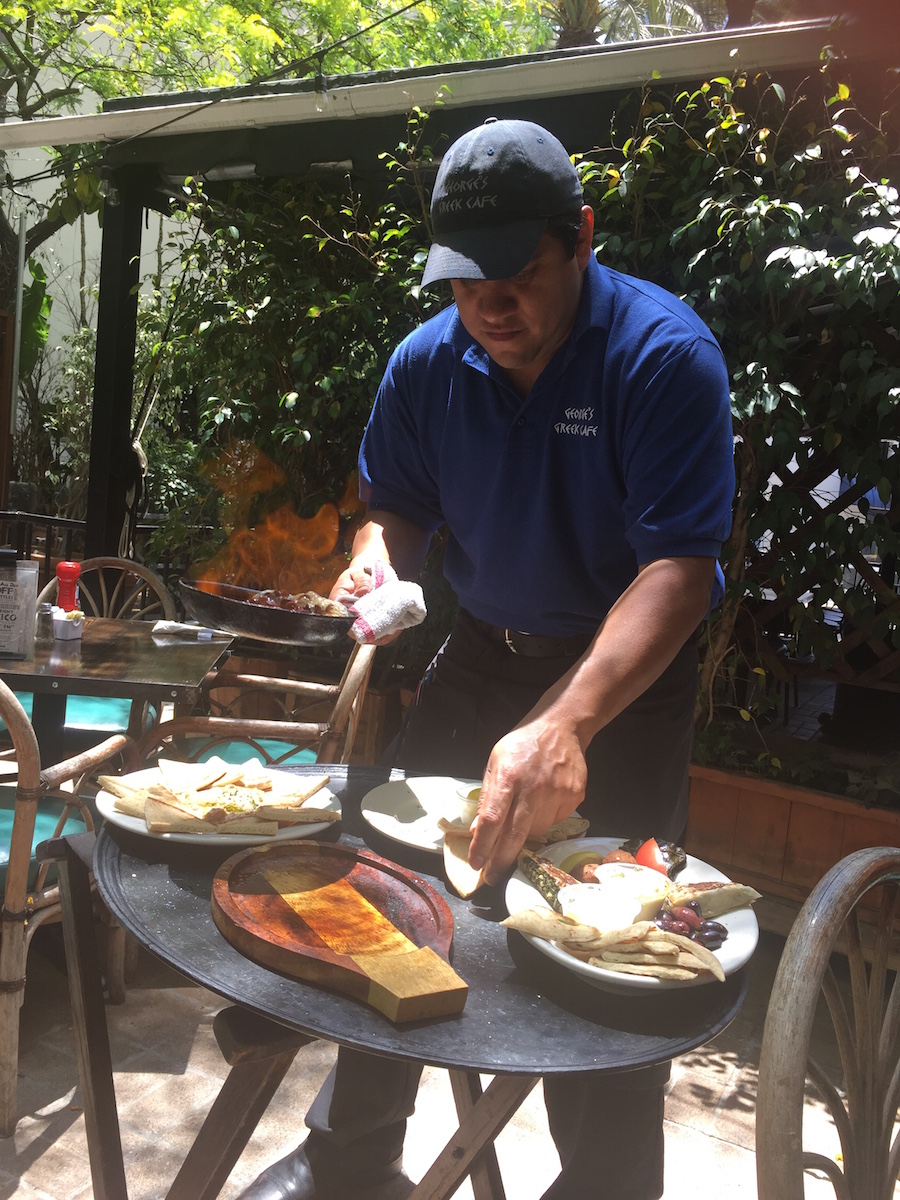 Check out the flames! Good groceries

The cheese was so very crusty... Perfect!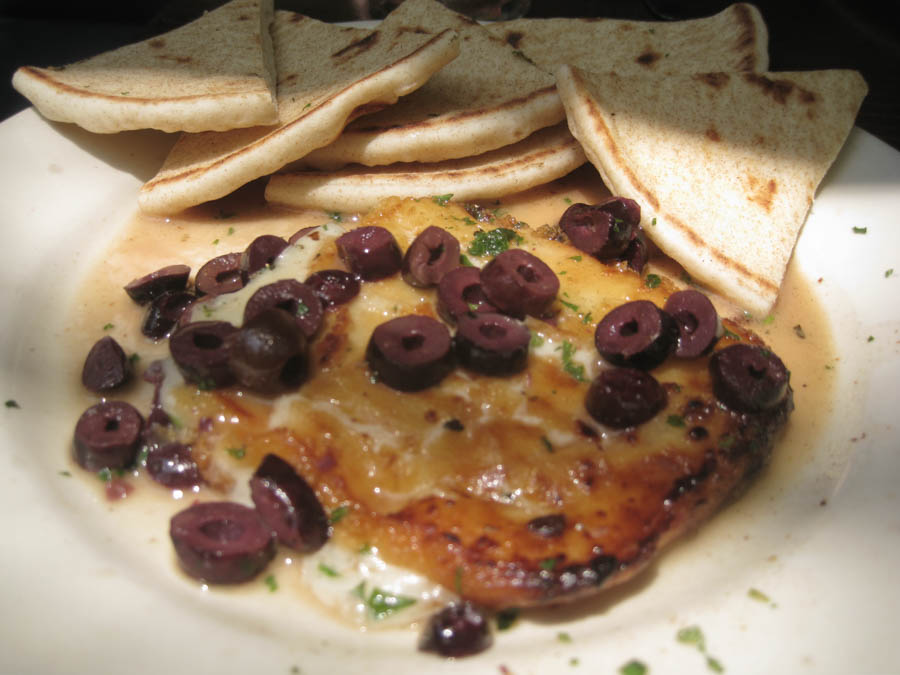 A twist on saganaki - Kalmata olive slices
Did You Know? - There are two methods of preparing Kalamata olives, known as the long and short methods. The short method debitters the olive by packing them in water or weak brine for around a week. Once complete, they are then packed in brine and wine vinegar with a layer of olive oil and slices of lemon on top. The olives are often slit to decrease the processing time. The long method involves slitting the olives and placing them in salted water in order to debitter them, a process that can take as long as three months. Levels of polyphenol remain in the olives after processing, giving them their slightly bitter taste.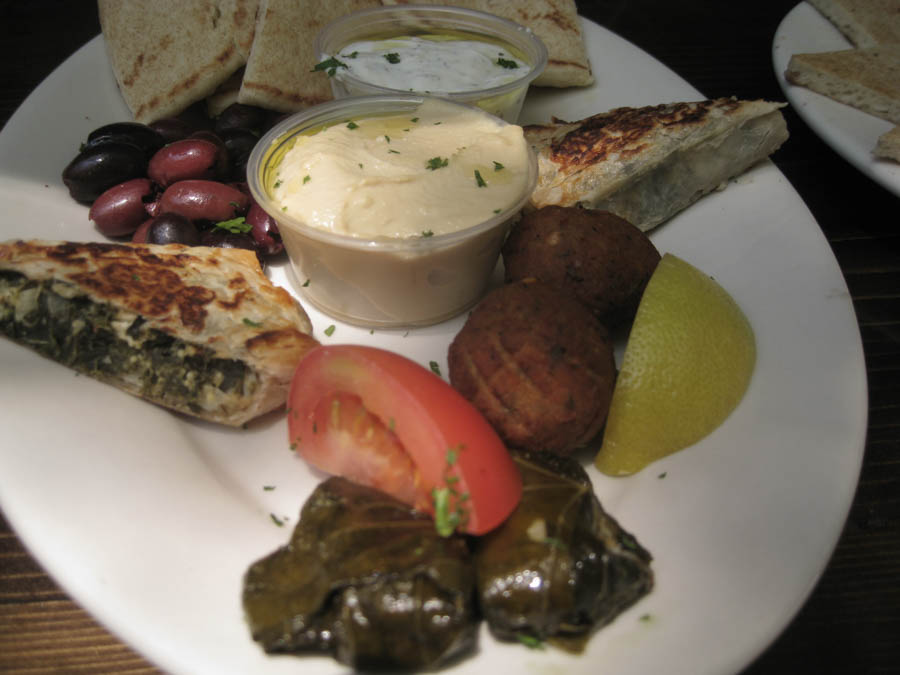 The veggie sampler was outstanding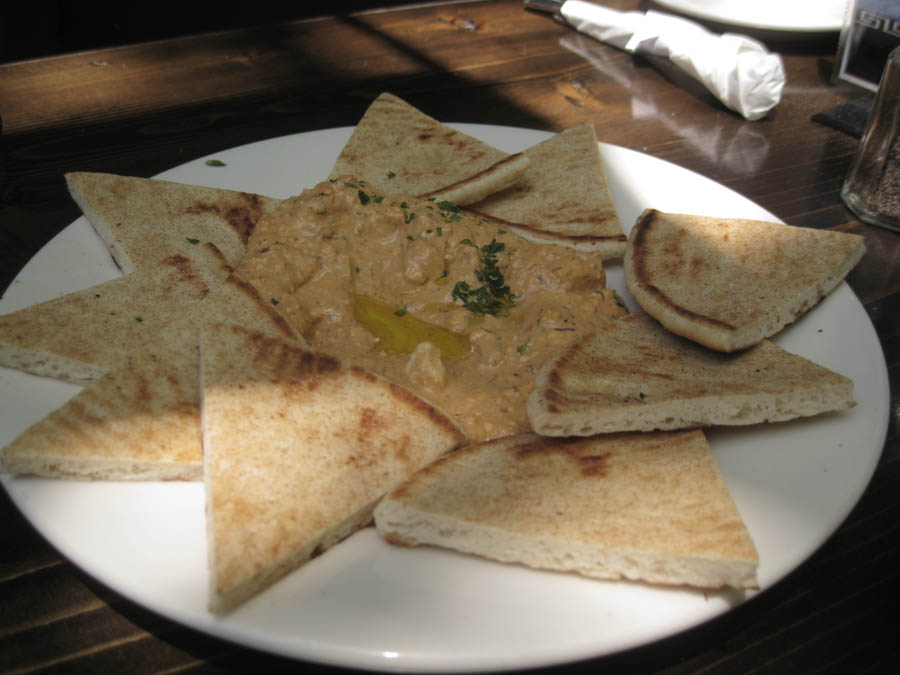 When they said spicy, they were NOT kidding!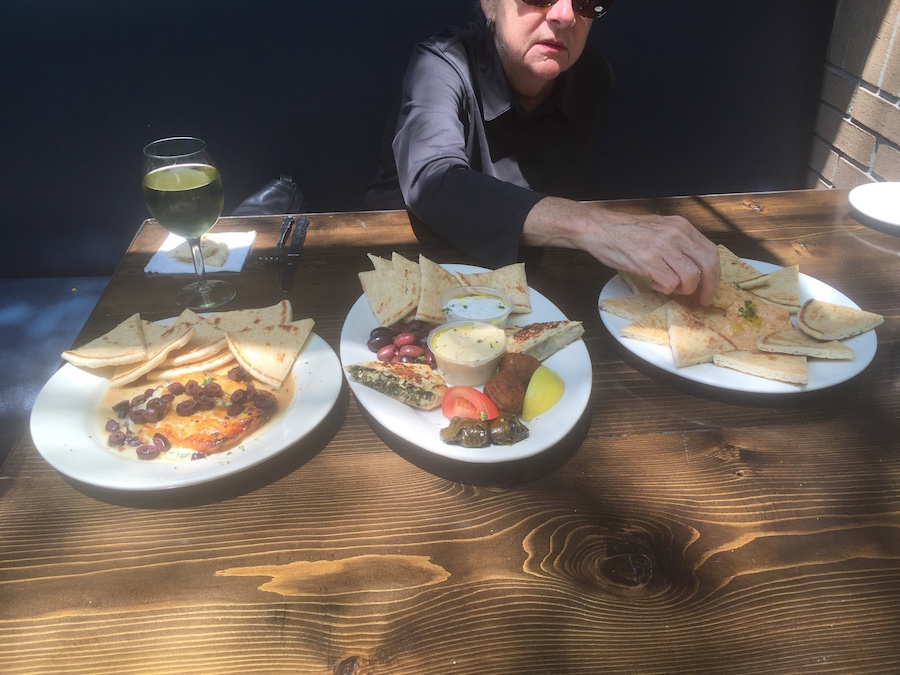 Time to feast!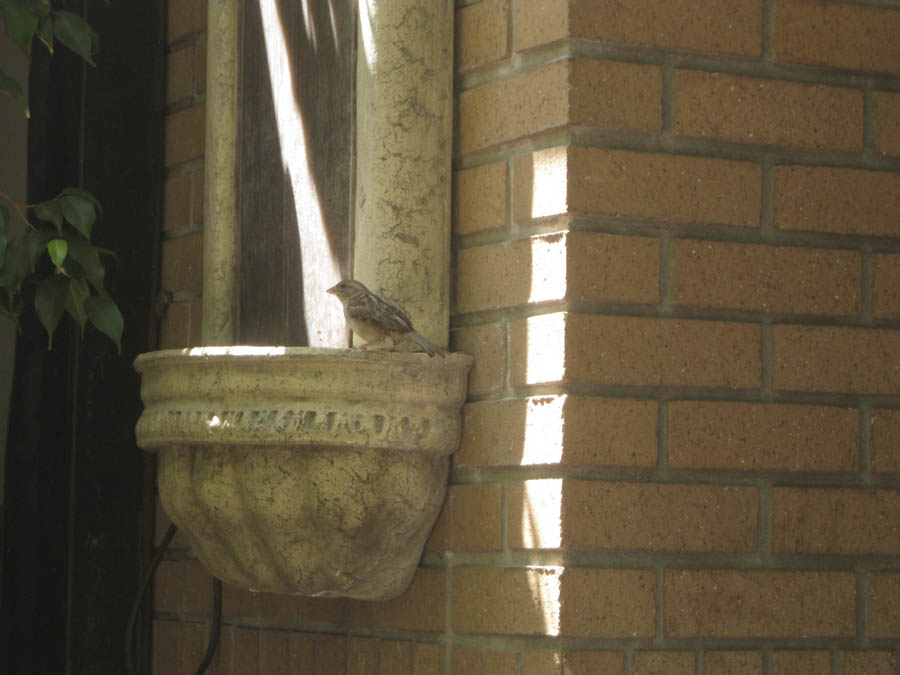 We had a small visitor
Back To The Harbor

We walked back to Rainbow Harbor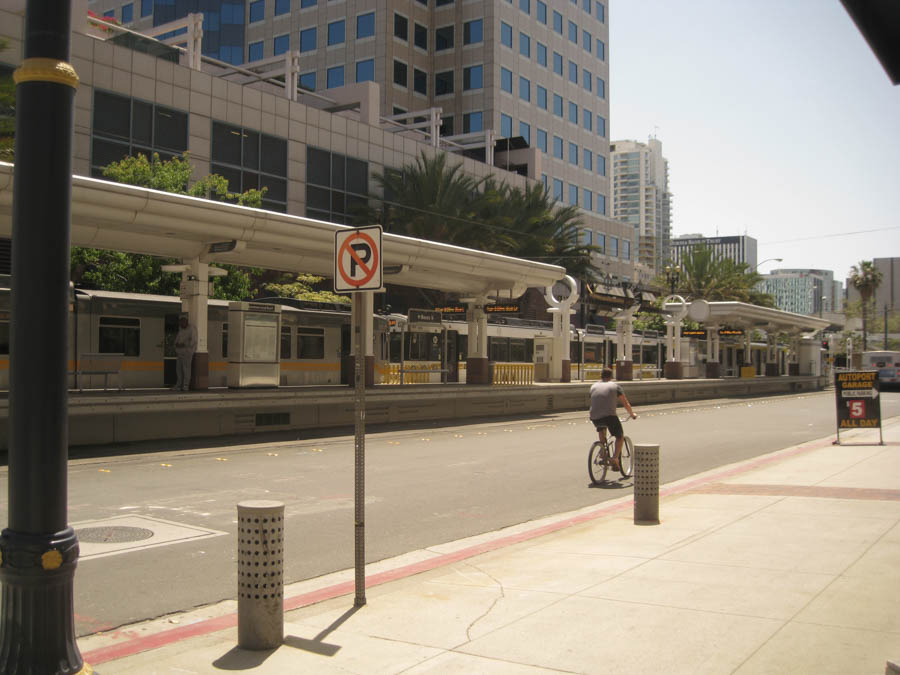 The metro was in full swing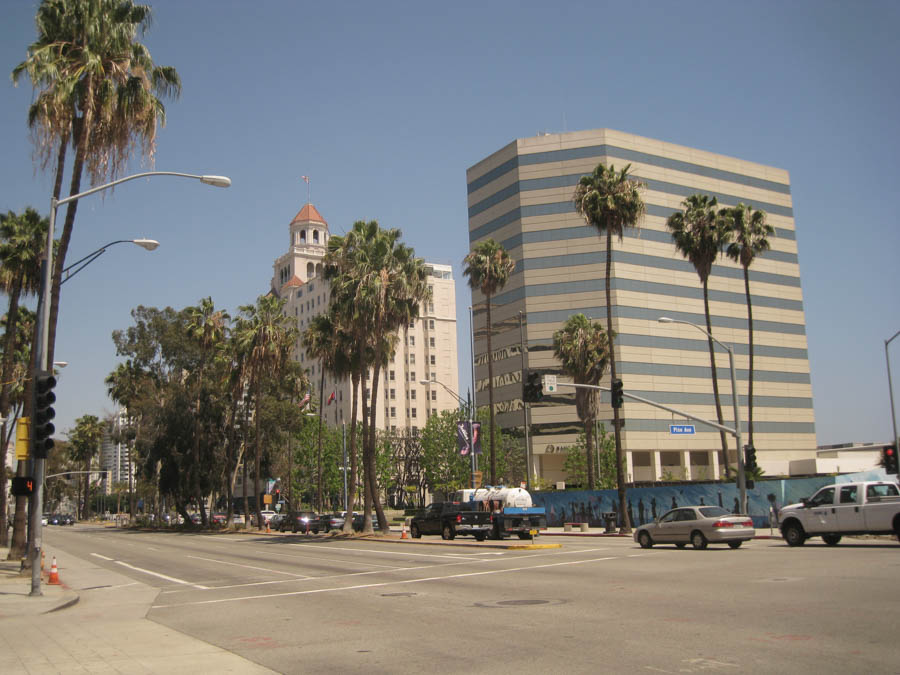 We will be at the Breakers Friday 5/29 to assist Bernie move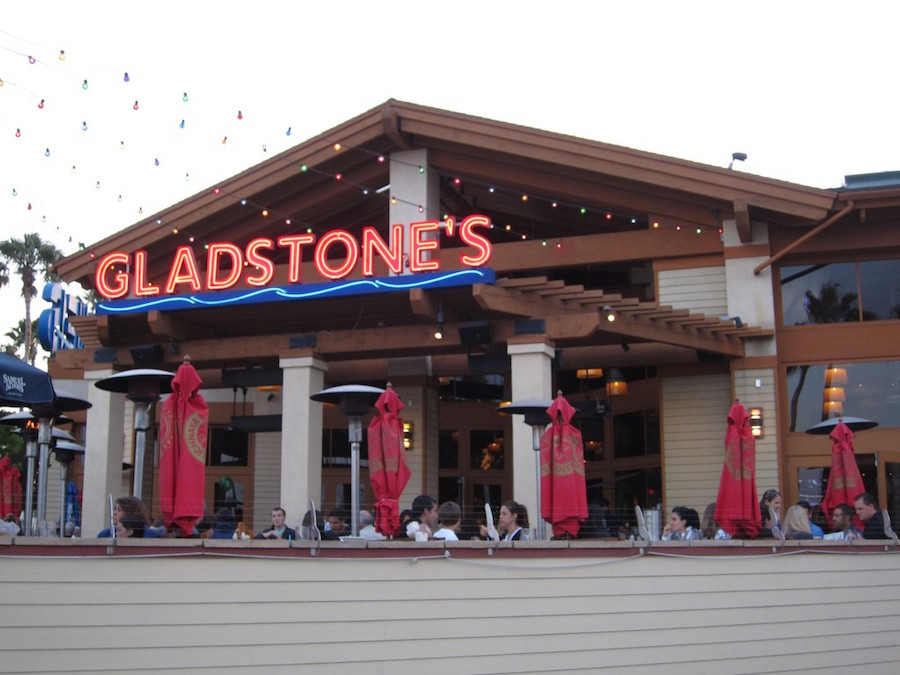 We decided a pre-flight drink was in order

The taxi has yet to show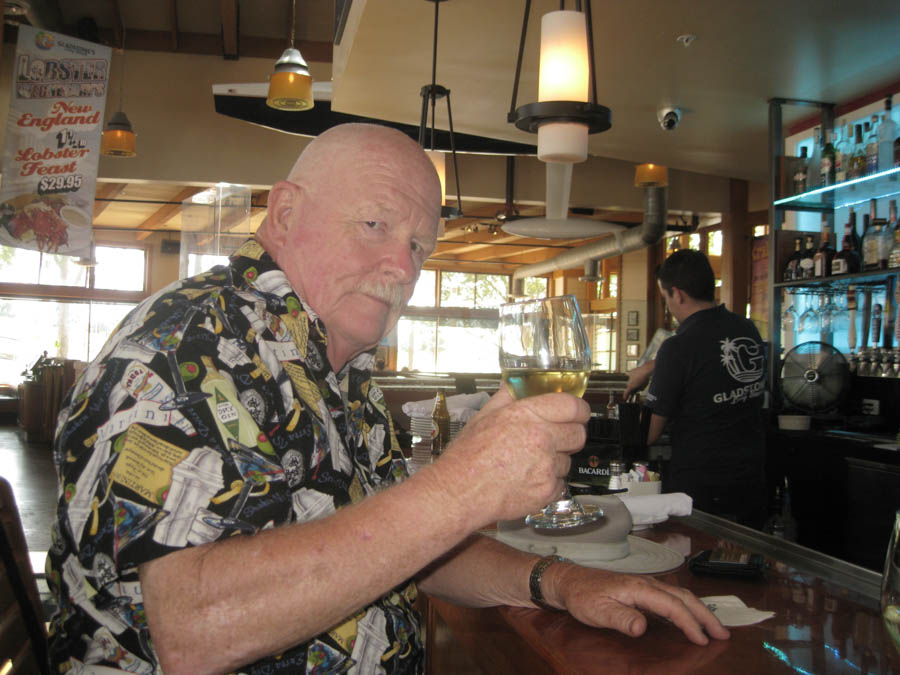 "Yes, I did have to show my ID"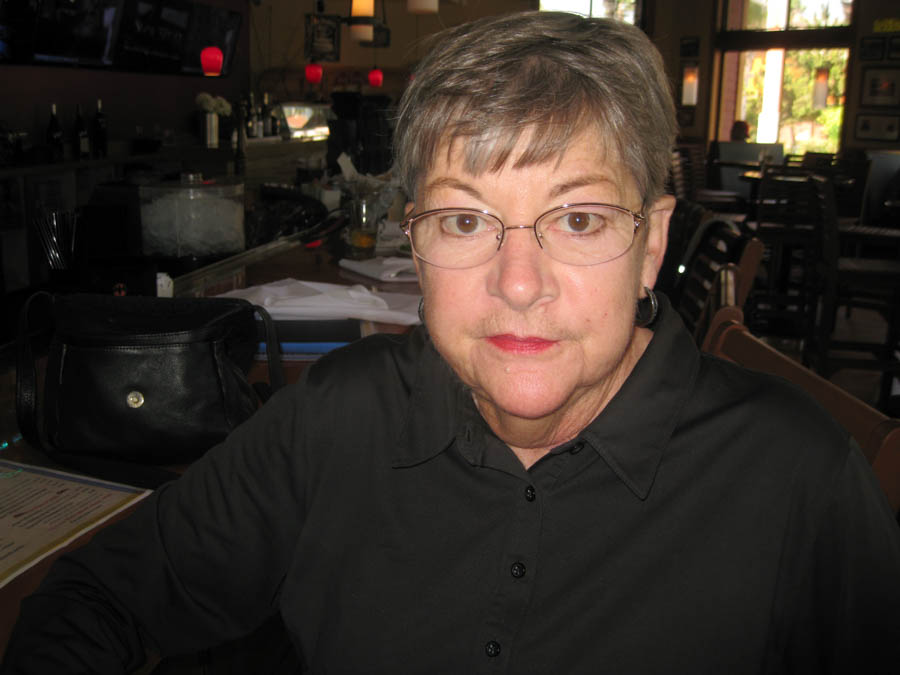 "I am as stuffed as a tick"

We are ready to head out and find a taxi!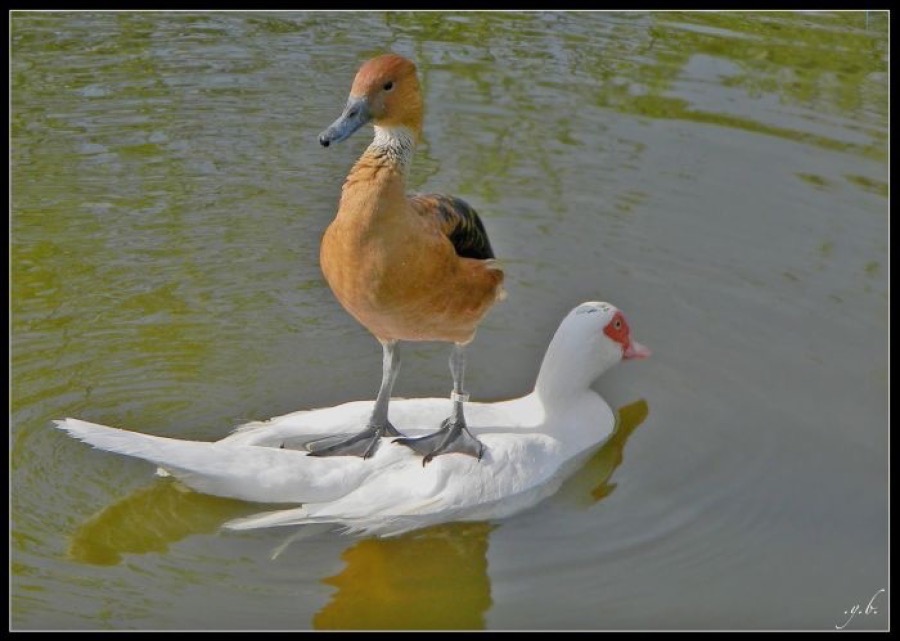 No no no.... A real water taxi

One last sip before we head to the dock
Heading Back To Alamitos Bay

Our ship has come in!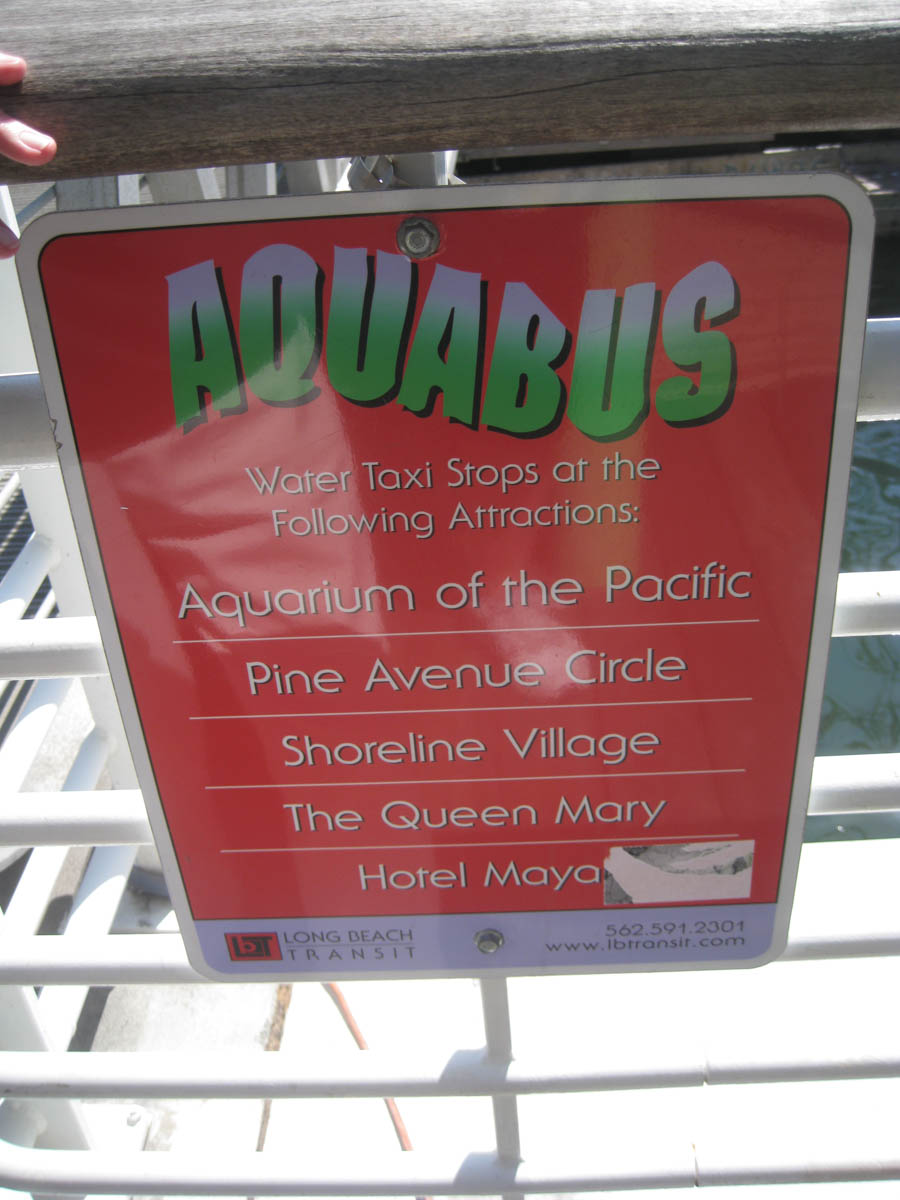 It goes all over!

We have to wait for about ten minutes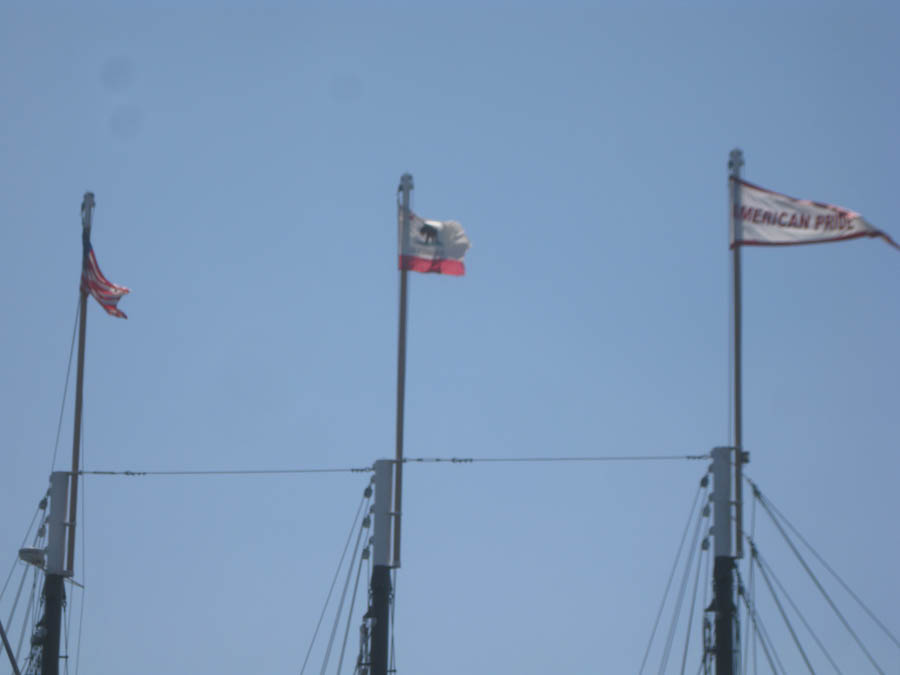 Loved seeing "American Pride"

The three mast ship was getting ready to go out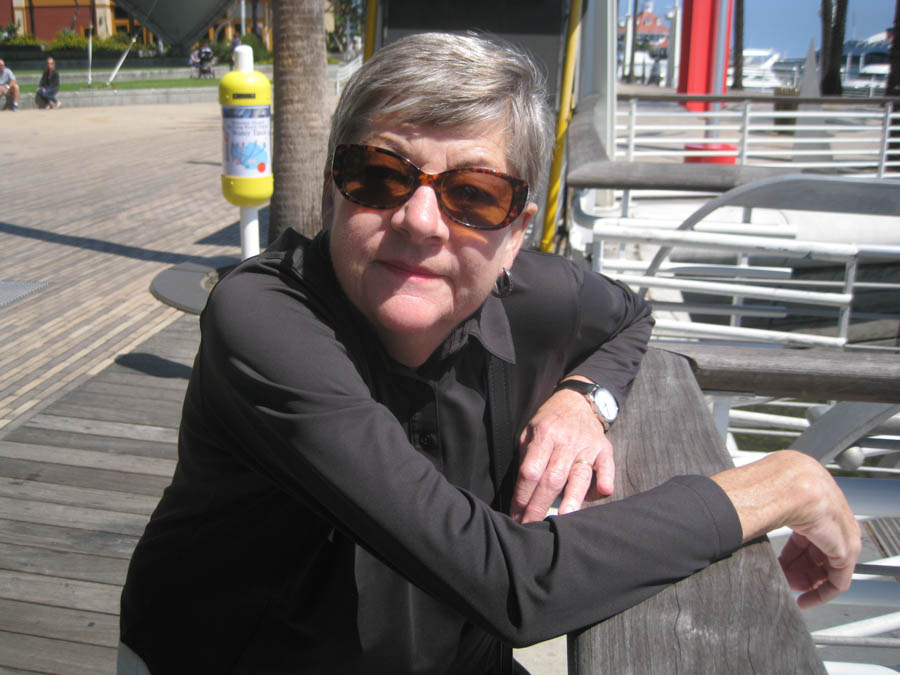 "I am ready to go back to Malarkeys"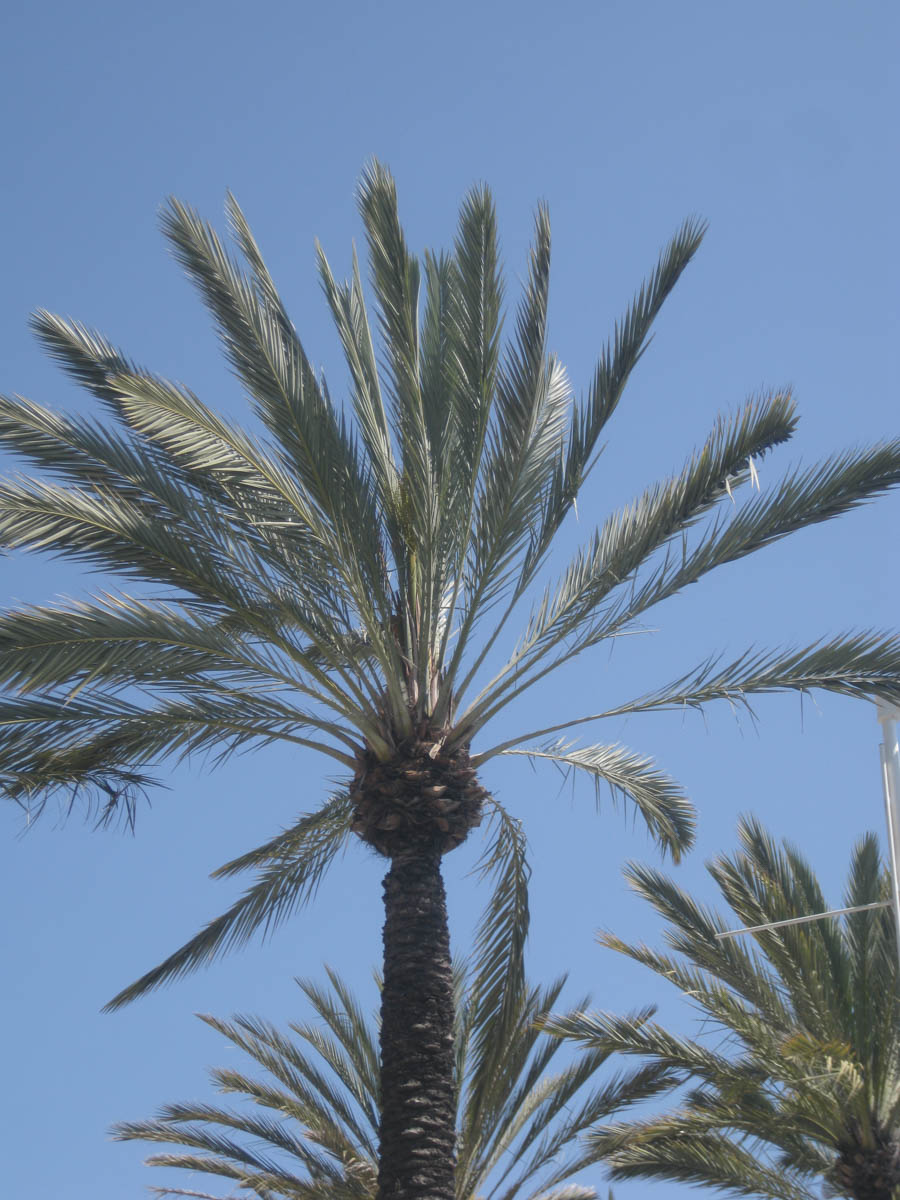 Beautiful day
Sailing Sailing Over The Bounding Main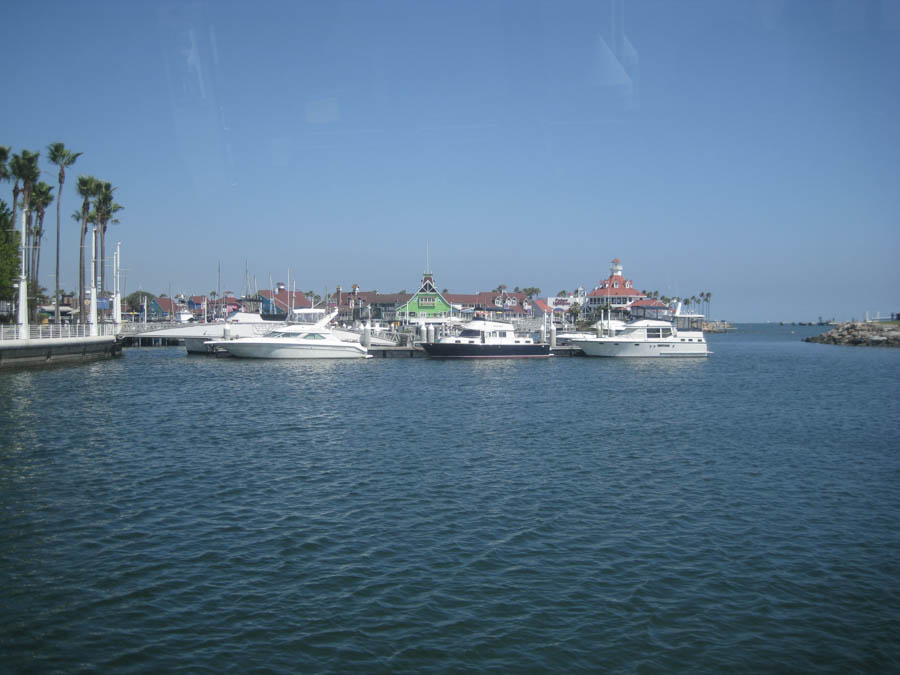 Parker's Lighthouse in the distance

We are off again!

We pass by the Queen Mary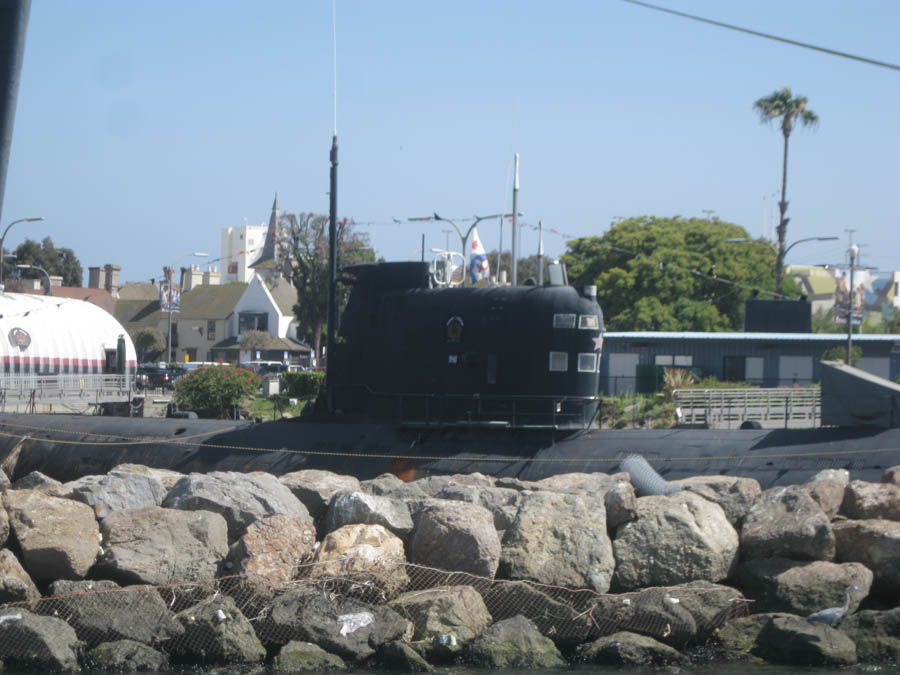 The Russian Sub is still docked adjacent to the Queen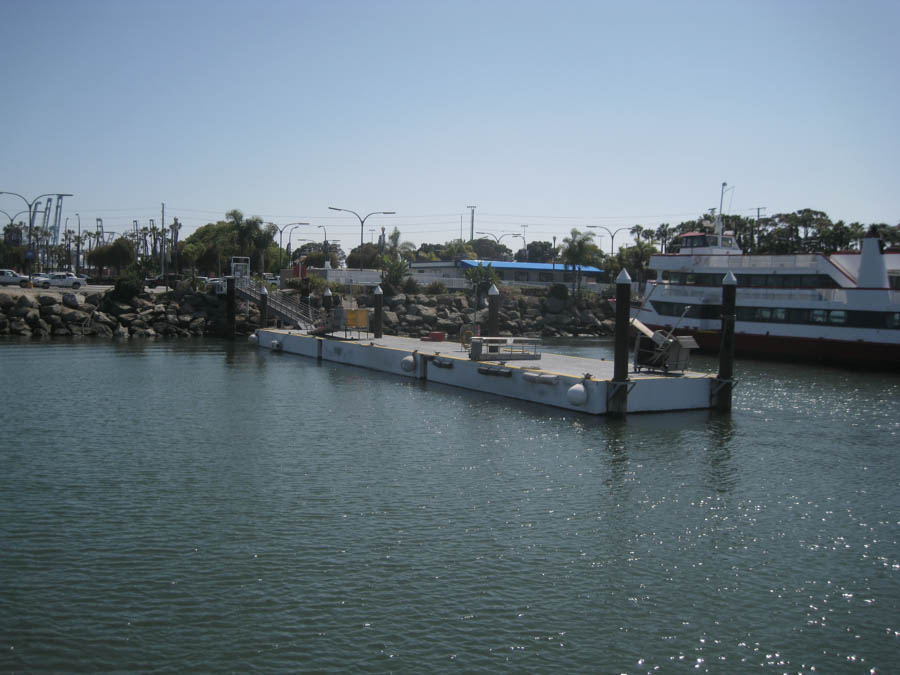 We didn't even dock... No passengers on/off at the Queen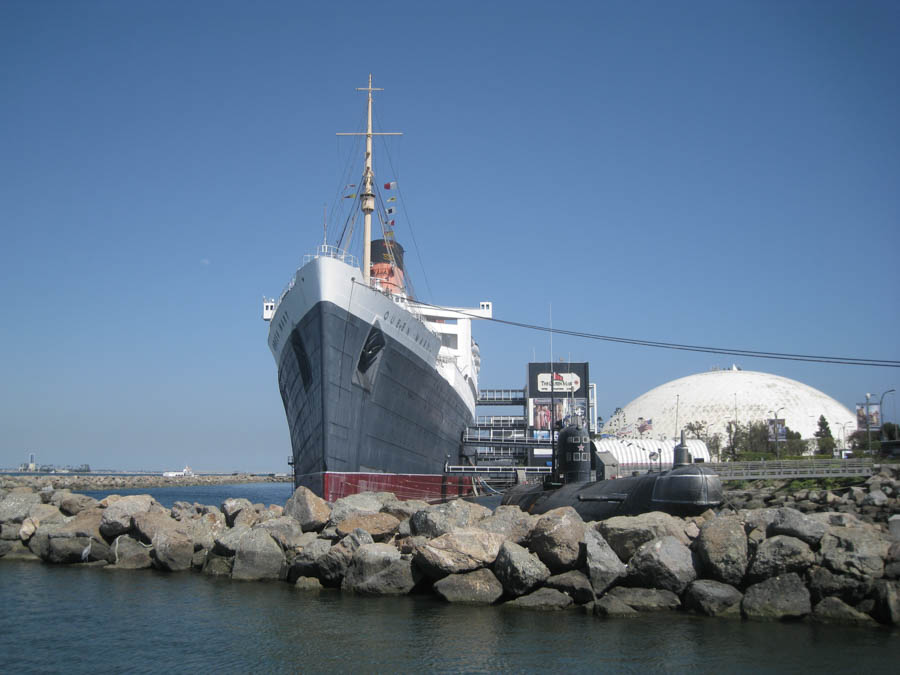 What a sleek ship!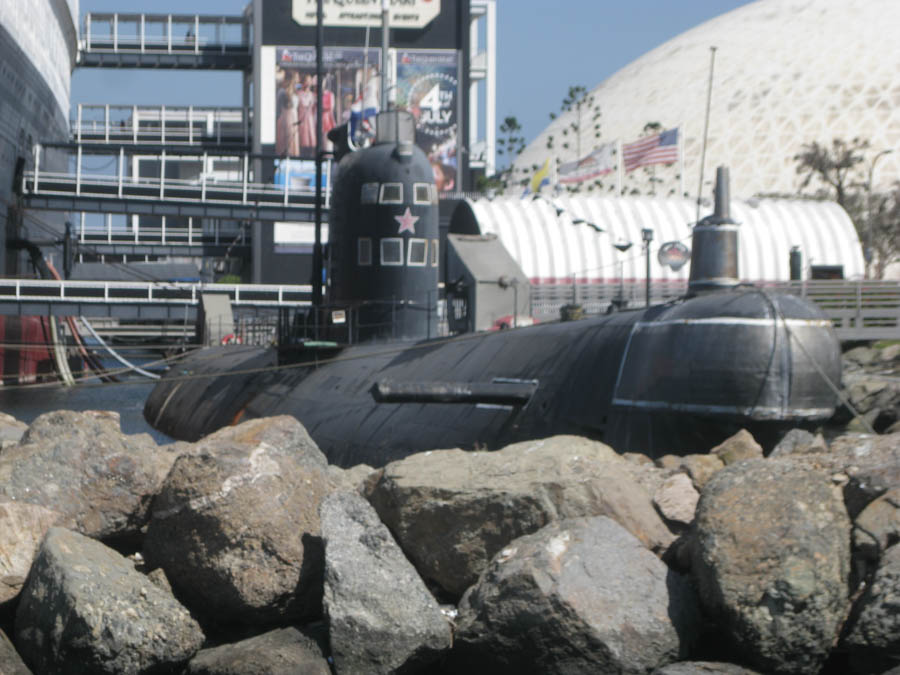 On the other hand, the sub look stubby!
Did You Know? - B-427 was a Project 641 (Foxtrot-class) diesel-electric attack submarine of the Soviet Navy. The "B" (actually "Б") in her designation stands for большая (bolshaya, "large"). Commissioned in 1971, the submarine operated with the Russian Pacific Fleet until decommissioning in 1994. The boat was sold to a group of Australian businessmen, who converted her into a museum vessel, which was placed on display at the Australian National Maritime Museum (under the name Foxtrot-540) from 1995 until 1998, then at Long Beach, California (under the name Podvodnaya Lodka B-427 Scorpion) in 1998. The submarine is still on display as of 2015.

No wonder she cut the destroyer in half during WWII
Did You Know? - On 2 October 1942 about 60 km north of the coast of Ireland she was escorting the ocean liner RMS Queen Mary carrying 10,000 American troops of the 29th Infantry Division ] to join the Allied forces in Europe.
Queen Mary was steaming an evasive zig-zagging course. At 2:15 PM the Queen Mary started the starboard turn for the first leg of her zig-zag, cutting across the path of the Curacoa with insufficient clearance, striking her amidships at a speed of 28 knots and cutting her in two. The Curacoa sank in six minutes, about 100 yards from the Queen Mary.
Acting under orders not to stop due to the risk of U-boat attacks, the Queen Mary did not assist in rescue operations and instead steamed onward with a damaged bow. Hours later, the convoy's lead escort, consisting of HMS Bramham and one other ship, returned to rescue 99 survivors from the Curacoa's crew of 338, including her captain John Wilfred Boutwood.
The incident occurred as the result of several factors. The captain of the Queen Mary made the assumption that her escort ship would track her course change and adjust accordingly.
Meanwhile, Captain Boutwood on board the Curacoa assumed the standard seafaring rule that an overtaking ship must yield. The resulting convergent courses were reported on board both ships and the Queen Mary's First Officer issued a correction, but both the reports and correction were dismissed by the respective ship's captains.
The loss was not reported until after the war ended, whereupon the Navy immediately pressed charges against the Queen Mary's owners, Cunard White Star Line.
The High Court of Justice subsequently ruled mostly in favour of the latter, assigning two-thirds of the blame to the Admiralty and one third to Cunard White Star.
This ruling would become important in the civil lawsuits subsequently filed against Cunard White Star Line by relatives of the Curacoa's deceased. It also prompted significant revisions in Royal Navy policy, including the suspension of escorts for passenger liners indefinitely.

10,000 US Troops were on the Queen when the accident occurred

We were buzzed by a drone? Odd looking thing!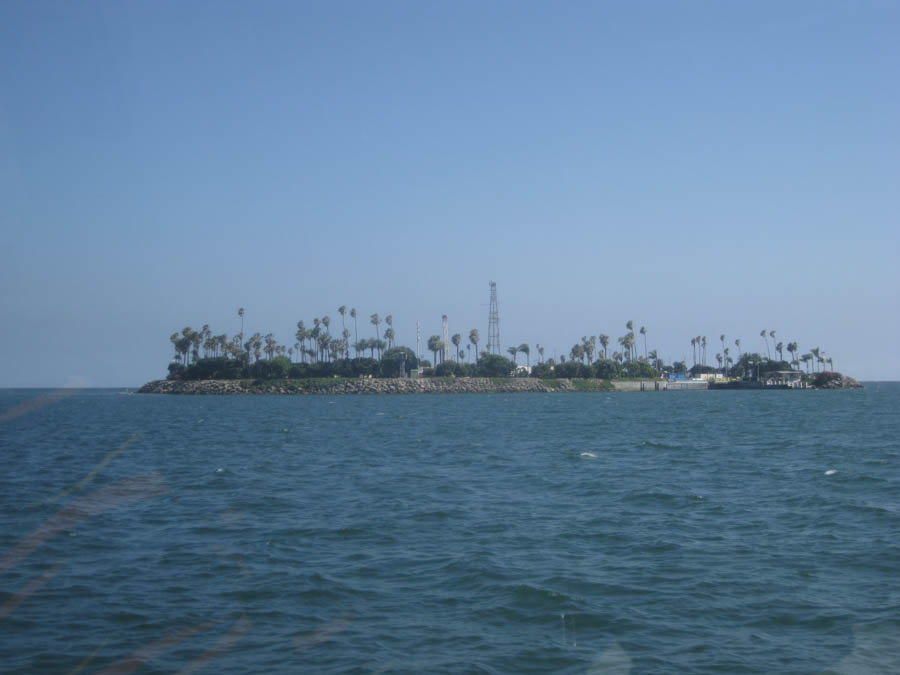 Back past the oil islands

To the entrance to Alamitos Bay... Home Sweet Home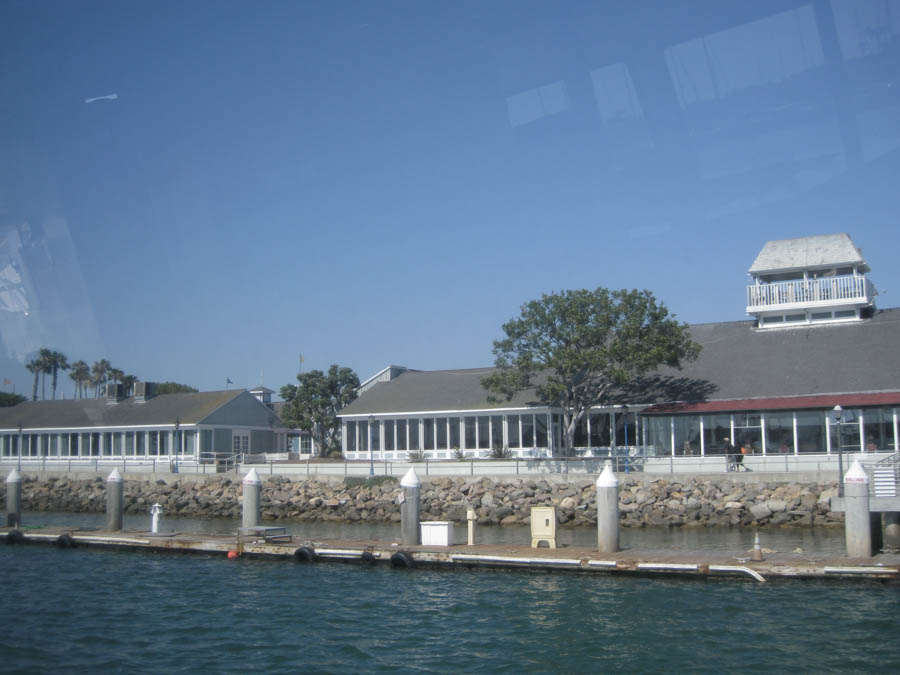 Time to dock and.... of course... have a drink