The Bolsa Chica Wetlands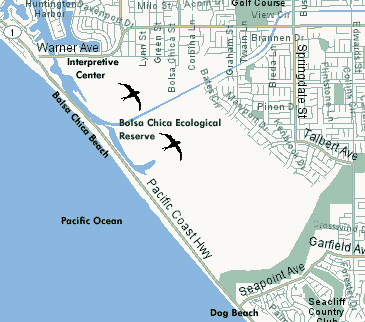 Bordered on one side by Pacific Coast Highway and oil fields and houses on the other, Bolsa Chica Ecological Reserve wetlands is a 300 acre coastal sanctuary for wildlife and migratory birds.
There's a wooden bridge crossing over a tidal inlet and a 1.5 mile loop trail providing spectacular wildlife viewing.
Over 8,000 years ago, Native American Indians lived on bluffs overlooking these wetlands Much has changed since then. In the more recent past, Southern California once counted 53,000 acres of wetland areas. It is down to 13,000 acres now.
Progress and growth has taken its toll to the tune of a 91% loss of wetlands in California, more than any other state. Many migratory birds are dependent on the remaining wetlands, with 20% of North America's migratory birds using the Pacific Flyway.
Birds wintering in California's wetlands have declined from 60 million to 2 million, largely because of destruction of this habitat.