Mariachi's 2009 At The Balboa Bay Club 4/18/2007
Vicky had an idea (Oh Oh!) Off to the Balboa Bay Club for an evening of Mariachi music? We went and wow, what an evening!
Did you know? - Formed by Jóse Hernàndez in 1981,Sol de México® was created to reflect the vision of an inspiring, artistic mariachi ensemble. As true representatives of a treasured cultural heritage, Sol de México® are a cohesive, dynamic team who have accepted the vision to live on as the Nation's Premier Mariachi. Individually, each musical artist of Sol de México® brings a refined talent of expertise. Together, they are mesmerizing, animating the voice of their culture. With their joyful pulse this 14 member orchestrated mariachi group personify the moods of the land and people—reminiscent of your land, your people. Why is Sol de México® an elite mariachi? To mirror the romance, serenity and cultural tradition, Sol de México® offers traditional mariachi sounds embellished with fresh contemporary passion and powerful new rhythms. It is a deep love of mariachi and a passion for it that has brought them to a superlative level of note.
We listened to great music, had great food, and enjoyed the boats moving slowly back and forth during the evening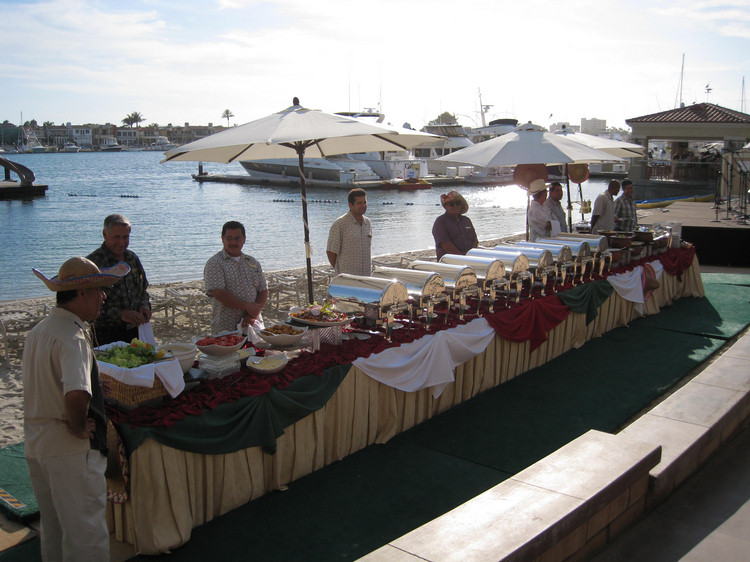 Food anyone? Paul gained five pounds!

Our table was up front!
Did you know? - Mariachi is a type of musical group, originally from Guadalajara, Jalisco, Mexico. Usually a mariachi consists of at least three violins, two trumpets, one Spanish guitar, one vihuela (a high-pitched, five-string guitar) one guitarrón (a small-scaled acoustic bass) and occasionally a harp. They dress in silver studded charro outfits with wide-brimmed hats. The original Mariachi were Mexican street musicians or buskers.
Although mariachis are hired to play at events such as weddings and other formal occasions, such as a quinceañera (a girl's fifteenth birthday celebration), they are very often used to serenade women because many of the songs in a typical repertoire have as a theme the desire to touch the heart of the opposite sex. Trios of mariachis can be found for hire in different places at night (the best known venues are Plaza de los Mariachis in Guadalajara and Plaza Garibaldi in Mexico City) for the purposes of serenading. Mother's days are also another popular occasion for mariachis. Hiring prices can vary immensely and are normally not cheap.

Very talented musicians!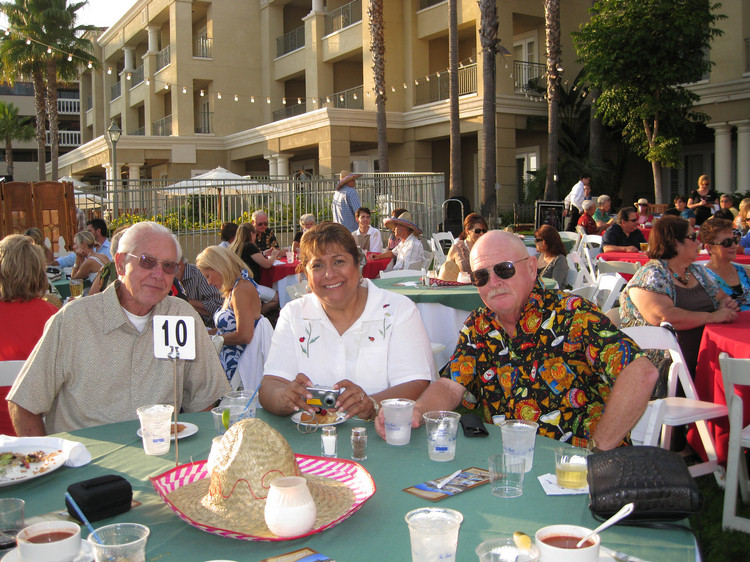 Sue got to the camera first

The Four Amigos!
Did you know? - The Balboa Bay Club & Resort, a world-class destination along the California Riviera. Reminiscent of an Italian villa in grace and charm, our amenity-filled accommodations beckon after days at our four-diamond hotel resort. Designed to take full advantage of the setting, our restaurants and rooms open up to the bay at every opportunity, with breathtaking views and sea breezes abounding throughout. Stylish Newport Beach accommodations suggest an aura of a tropical hideaway - a quiet haven for rest and relaxation.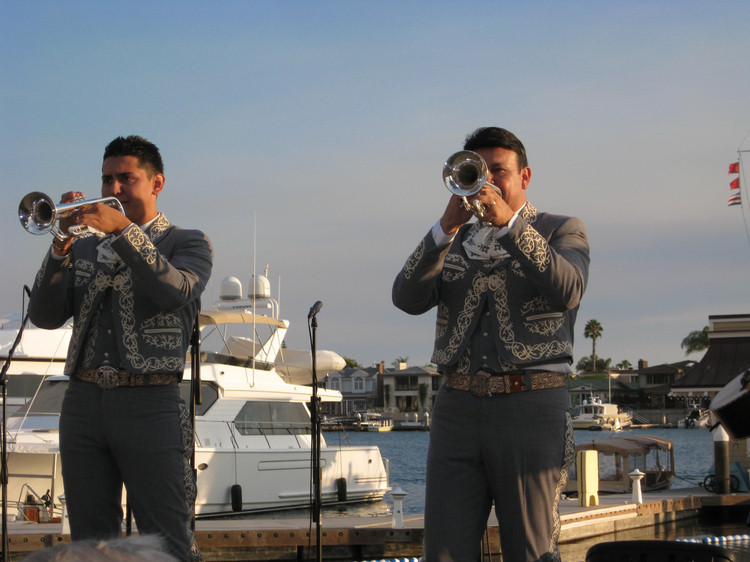 These guys were goooooood! Great musicians and great singers!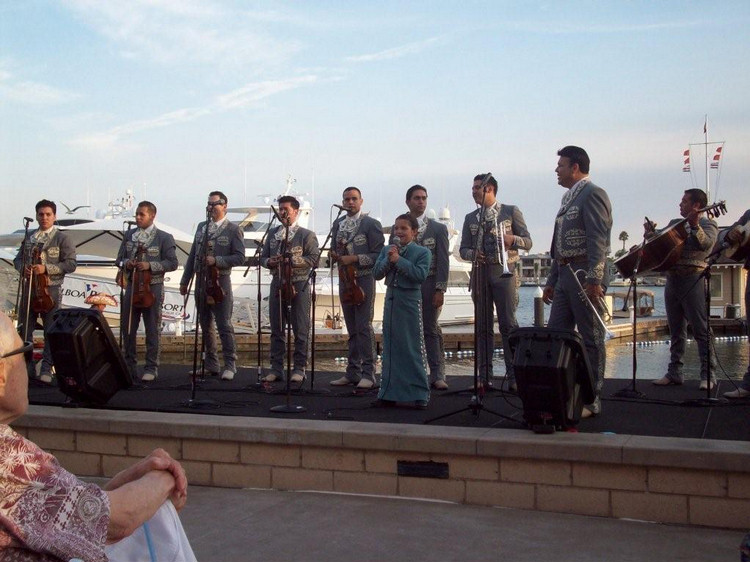 Crystal Hernandez sang for us! What a voice for an eleven ye
Vicky Disappeared, Oh Oh!

Vicky and Mr. Hernandez

Resting at the break!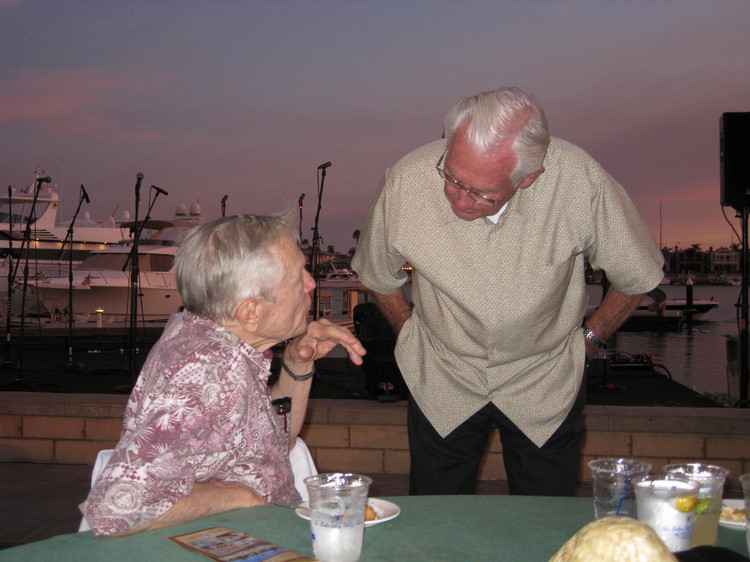 Del meets a WWII Navy man and they chit and chat about the South Pacific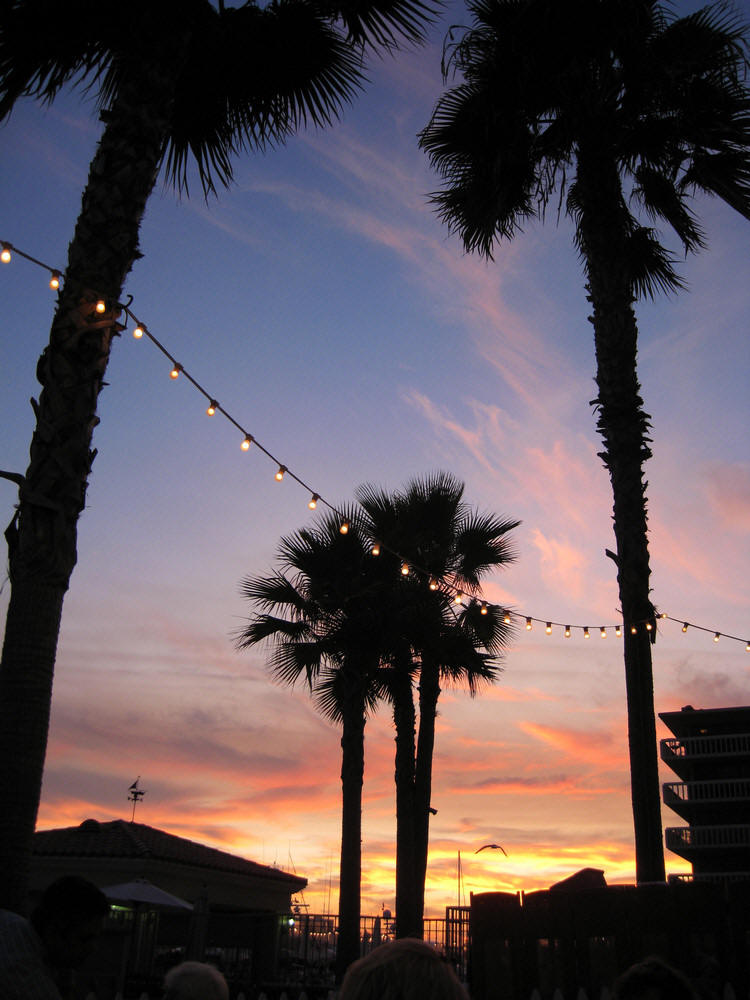 Thanks to the wild fires, the sky is beautiful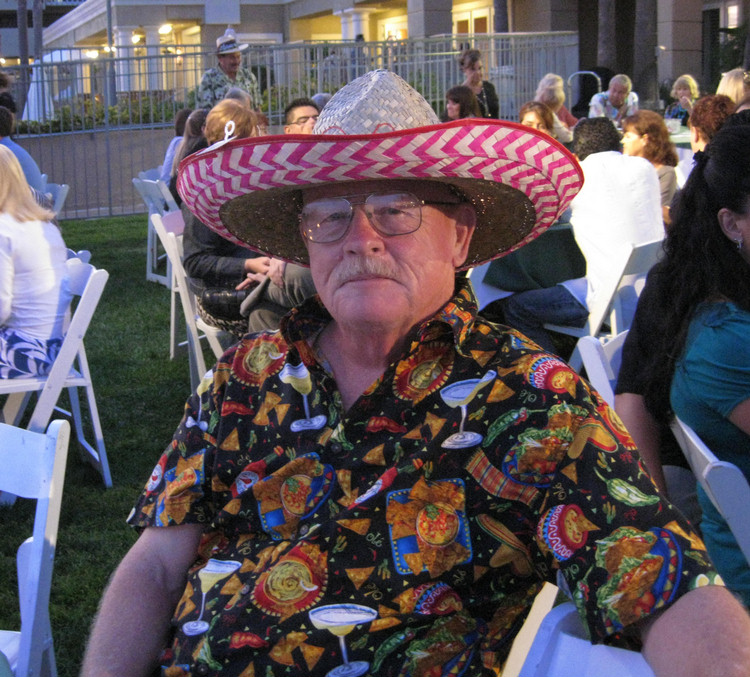 The official Mexican for the evening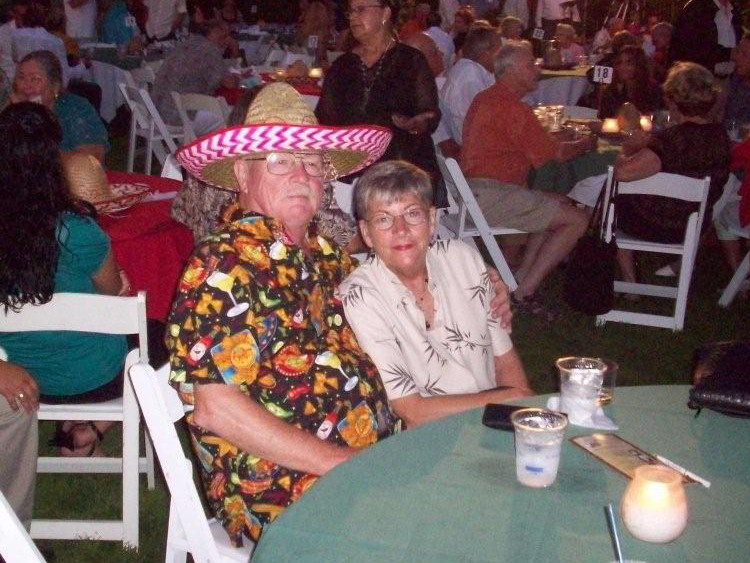 Did you know? - The English word sombrero, a loan word from Spanish, typically refers to a type of hat originating in Mexico.
The Mexican sombrero is used for protection from the hot sun. It usually has a somewhat high pointed crown, an extra-wide brim (broad enough to cast a shadow over the head, neck and shoulders of the wearer, and slightly upturned at the edge), and a chin string to hold it in place. Cowboys generalized the word to mean just about any wide broad-brimmed hat.
In Mexico, peasant sombreros are usually made of straw, while wealthier Hispanics wear sombreros made of felt. They come in many designs with different colorings, woven patterns, and decorations. They are rarely seen in modern urban settings, except as part of folkloric outfits worn in certain festivities. The Mexican sombrero has become a national and cultural symbol, and is often used in traditional Mexican celebrations, especially by communities outside Mexico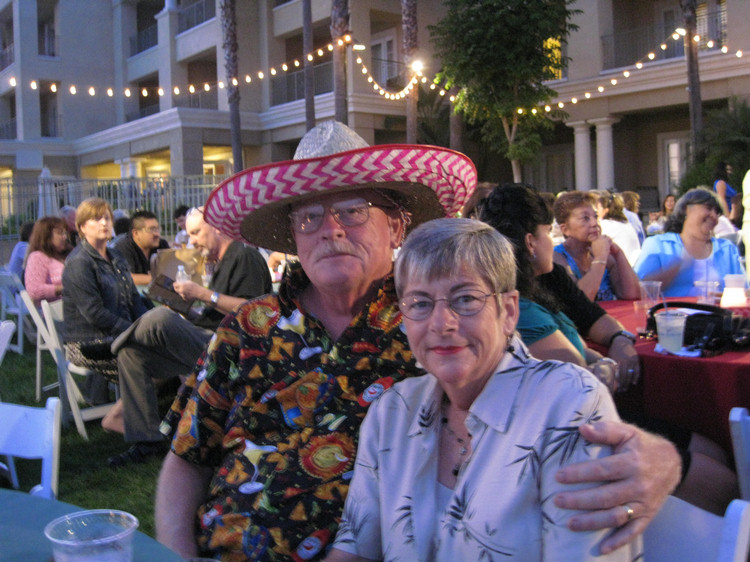 Someone was cold

How does she do that???
Did you know? - Vicky is making Paul into a Pizza! Yes a Paparazzi is a plural term (paparazzo being the Italian singular form) for photographers who take unstaged and/or candid photographs of celebrities caught unaware. Paparazzi take photos of celebrities at moments when the subjects do not expect to be photographed, such as when they shop, walk through a city, eat at a restaurant, or swim or lie on the beach. This contrasts with press photography, or photojournalism, that is undertaken at press conferences, red carpet affairs and other events where there is an expectation and desire that the subjects will be photographed.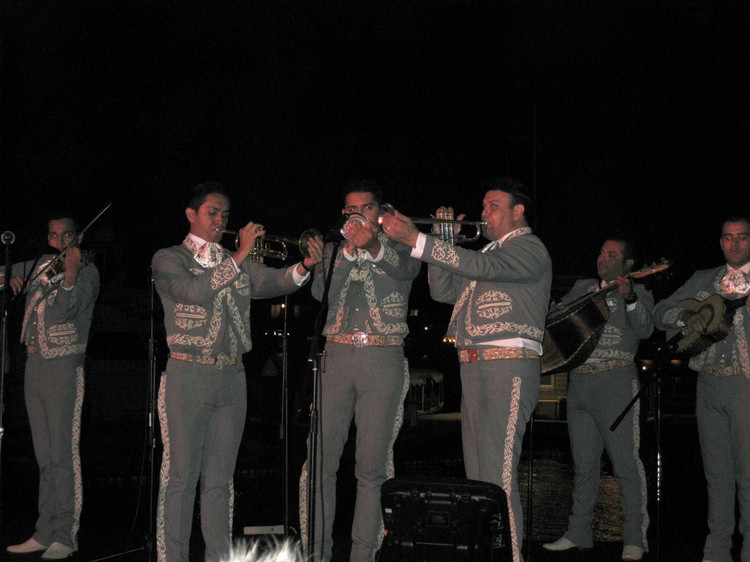 When they broke out in big-band music the crowd went wild!

Music in the moonlight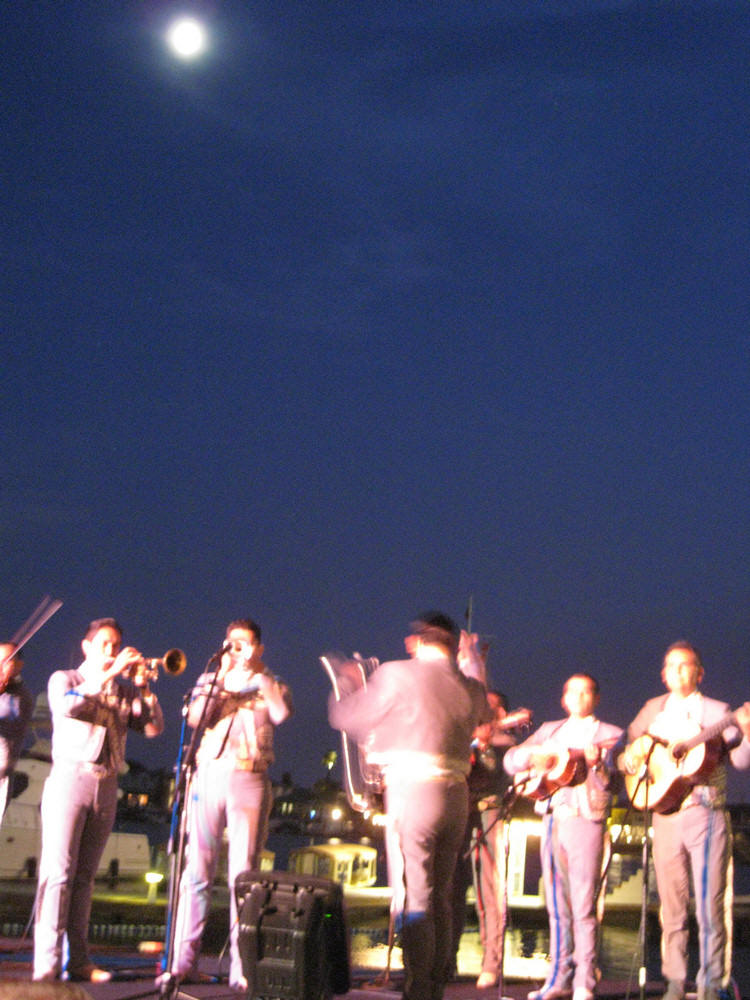 They were moving fast and the moon was moving slow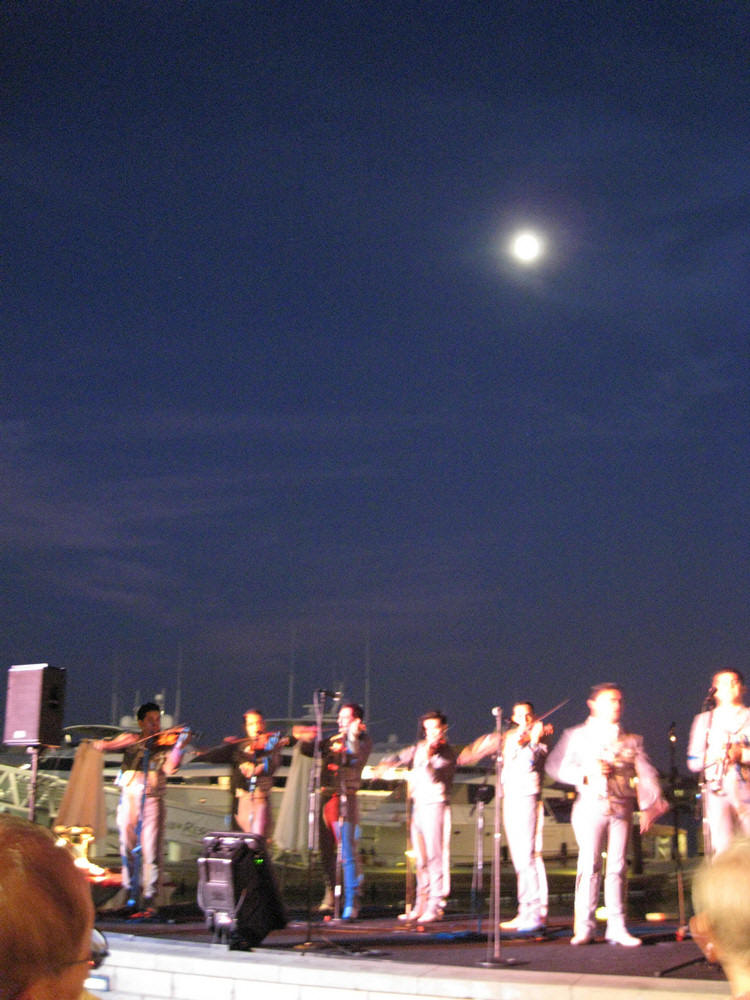 One more try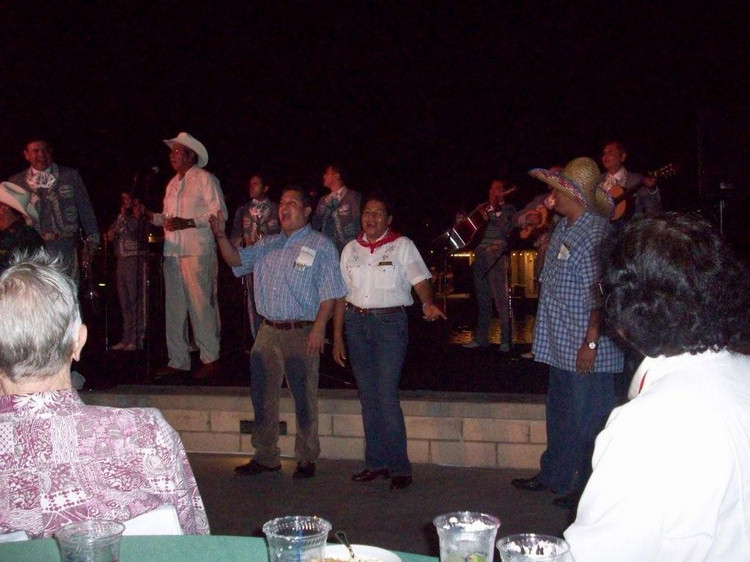 The servers joined in the fun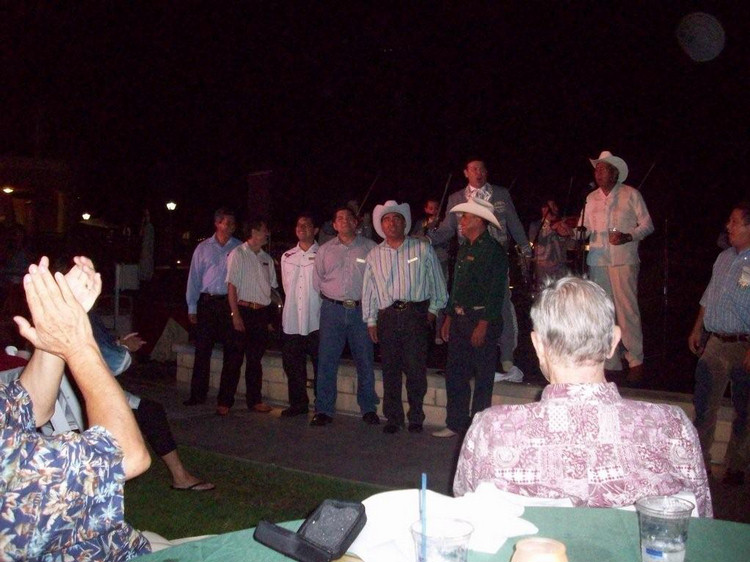 And they had fun!

They came out into the audience making the experience even better

The ladies seemed to enjoy this band for some reason??
A Tribute To America
Did You Know? - At the end of the performance, the leader said to the audience "Many people think that people from Mexico that come to American come here to take. It is not true, we come legally to share with Americans. We are proud to be Americans and love our country." They broke into a super rendition of "God Bless America" and "The Star Spangled Banner". The audience all stood and applauded! A super end to a super evening!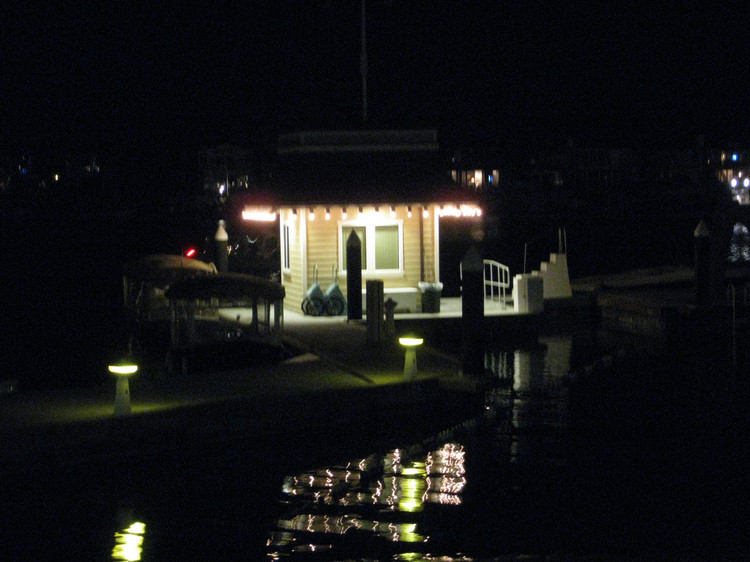 The boathouse