November 1st 2014 And We Are Off To Santa Barbara With The Art Deco Socitey
The Art Deco Society Of Los Angeles has a special event.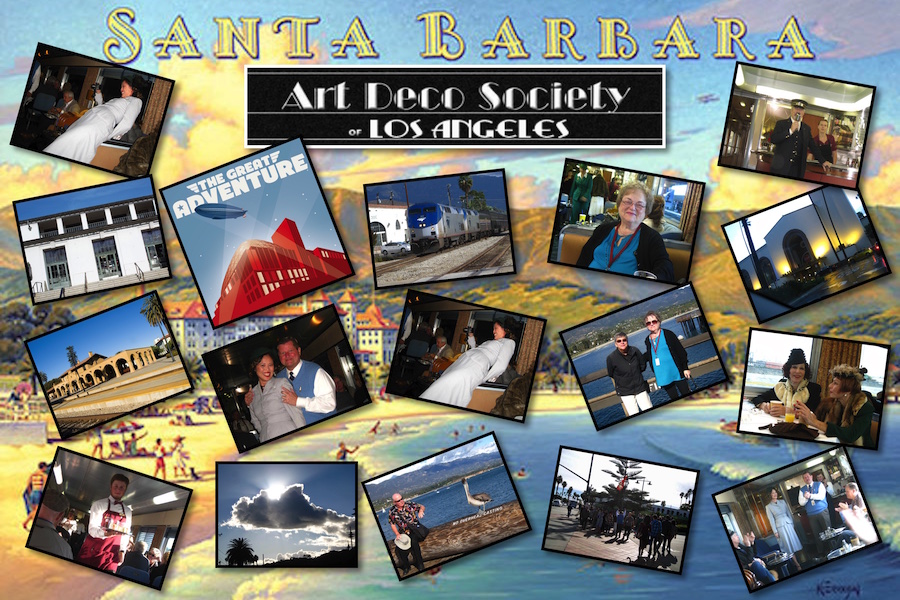 We are going on a train trip in vintage railcars to see Santa Barbara and the Art Deco Post Office. We have done that trip before so Angie, Sue, and Paul just had a leisurely day in paradise. Join the fun!
We Departed Our Home At Oh Dark Thirty!

It had rained that night and wind was blowing.... The day turned out fantastic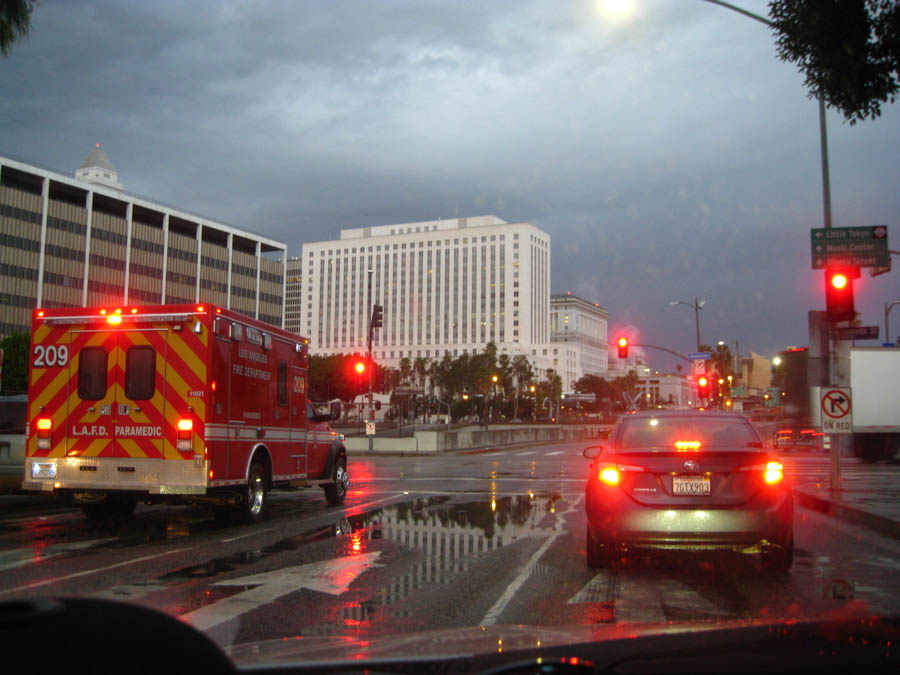 30 minutes and we were in downtown.... The skies seems threatening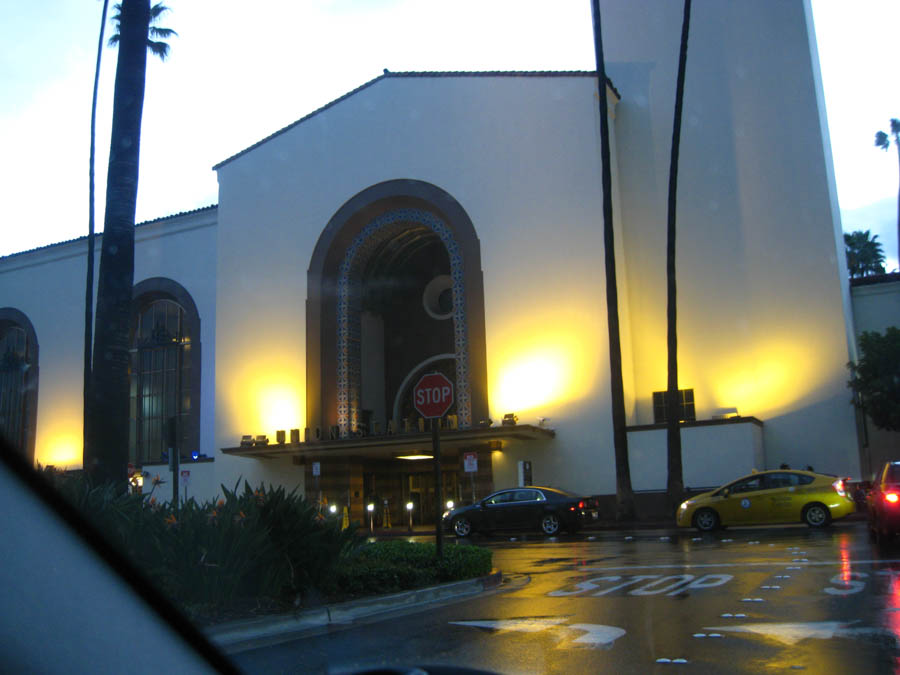 The Union Station was beautiful at 7:00 am!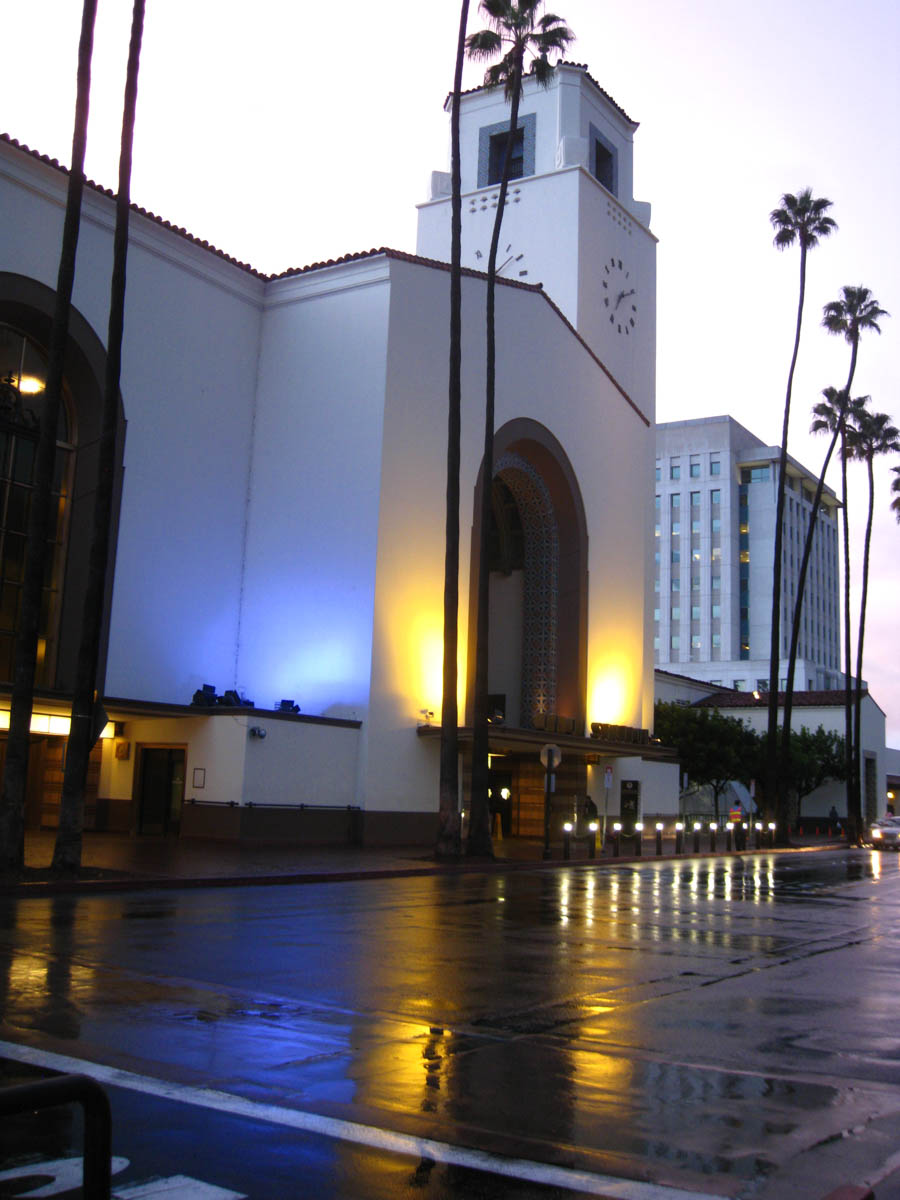 The air was fresh... Streets were clean... Great start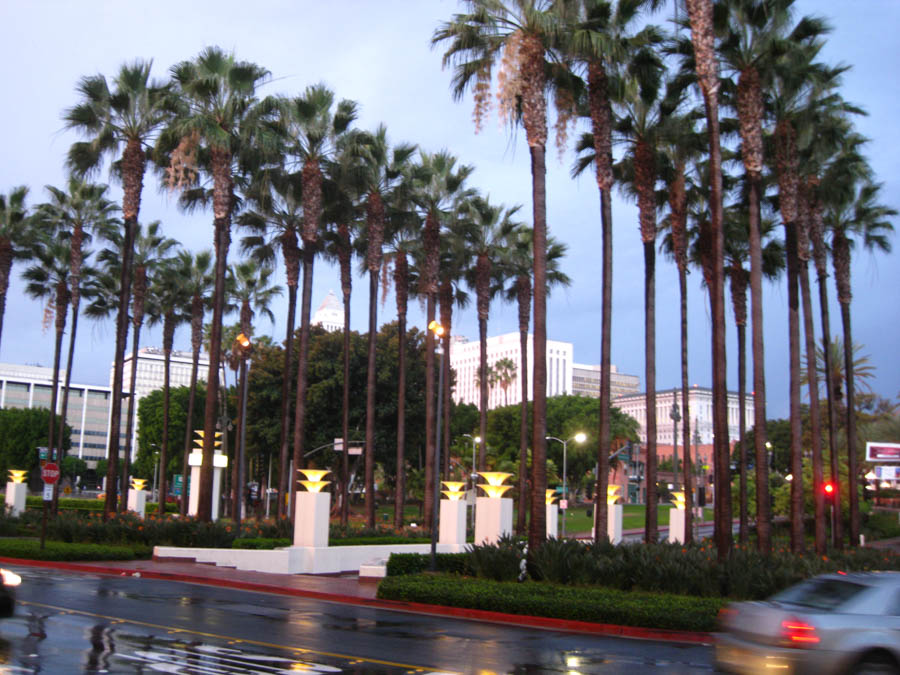 The sun is rising and skys are turning blue
Did You Know? - Ever notice how train travel always looks so romantic in old movies, with lovers joyfully greeting or tearfully saying goodbye as a train whistle blows? Perhaps it's those grand old railway stations that set the stage for drama, with few as grand as Union Station, a paradigm of Art Deco artistry.
Arguably L.A.'s most recognizable landmark, it positively exudes a sense of excitement. Completed in 1939, this Spanish Revival masterpiece has ceilings that can soar to 50 feet and decorative touches that tempt even the most harried modern commuter to stop for a moment and admire them. Even better, some of the station's most amazing sites are reserved exclusively for weddings, events and film shoots.
The main terminal, marked by its distinctive tower, opens onto a concourse with various waiting rooms stretching out in front of you. But directly to your left is the original Main Ticketing Concourse, blocked off to the general public these days. Majestic in feel, this great room has a Moorish influence with tall windows lining one wall and magnificent ironwork chandeliers suspended from the crossbeam ceiling, painted in green and black and rising more than five stories.
Opposite the windows, there's an antique wooden ticket counter, which runs the length of the room and can double as a bar or cocktail area. Hidden behind the counter are several spacious back rooms where the bride and groom can get ready. This palatial-sized space can easily seat 500 with a dance floor or accommodate 1,000 for cocktails in an unforgettable setting.
The Phone Rang... It Was Angie
We were lucky becuase when the phone rang, two LA County Sherriff officers were passing Paul by and they were stopped. We turned on the speaker phone and Angie descrobed where she was. The officers knew it exactly abd guided her to the station. She made it with minutes to spare!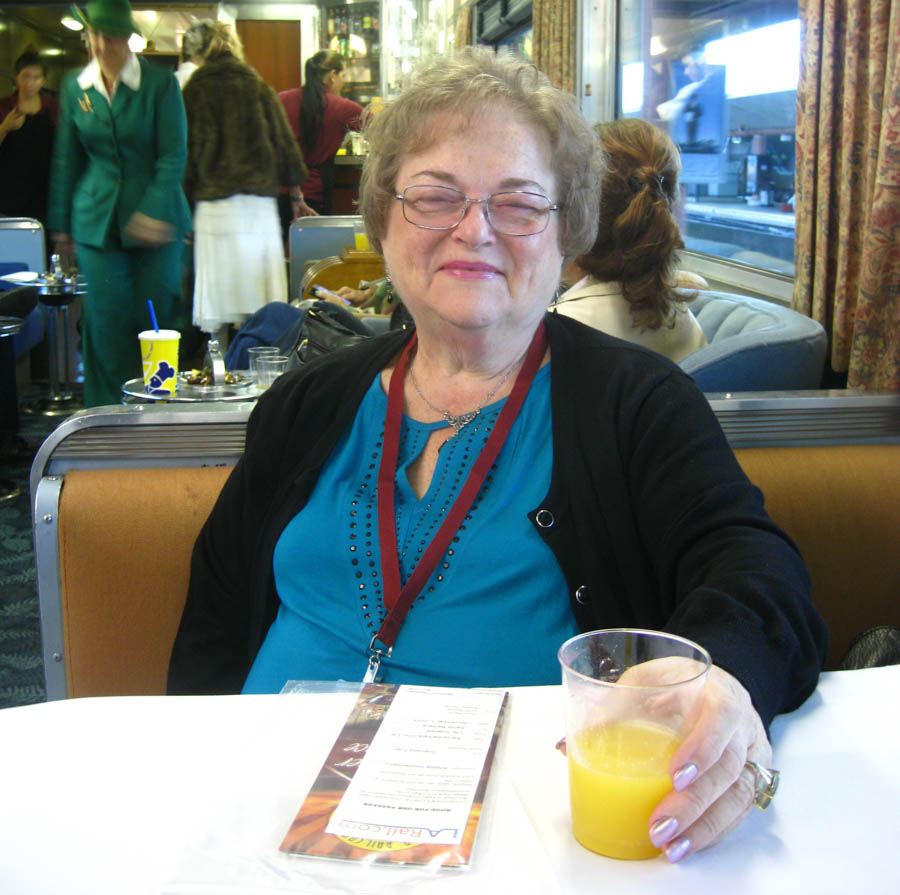 Please a Mimosa to begin the day!
(We met Angie at the Queen Mary Art Deco Ball this year and told her
about the train ride - She joined us for the day! Great fun!)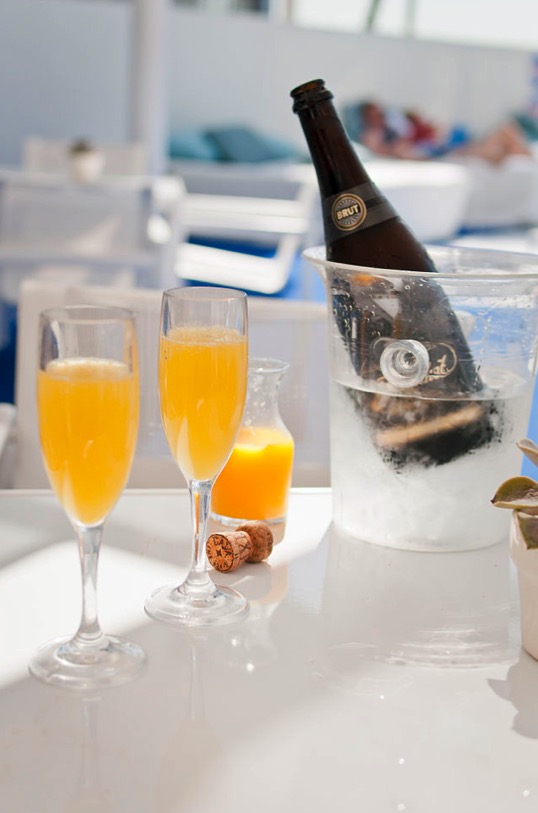 Did You Know? - A Mimosa is a cocktail-like drink composed of one part champagne (or other sparkling wine) and one part thoroughly chilled citrus fruit juice, usually orange juice unless otherwise specified (e.g. "grapefruit [juice] mimosa").
It is traditionally served in a tall champagne flute with a morning brunch as hair of the dog or to guests at weddings.

It is believed to have been invented circa 1925 in the Hôtel Ritz Paris by Frank Meier
Alcohol Being Consumed... We Can Start The Trip

Everything was wet outside... There was some serious drizzle going on

"The Garden" is where the vintage cars are stored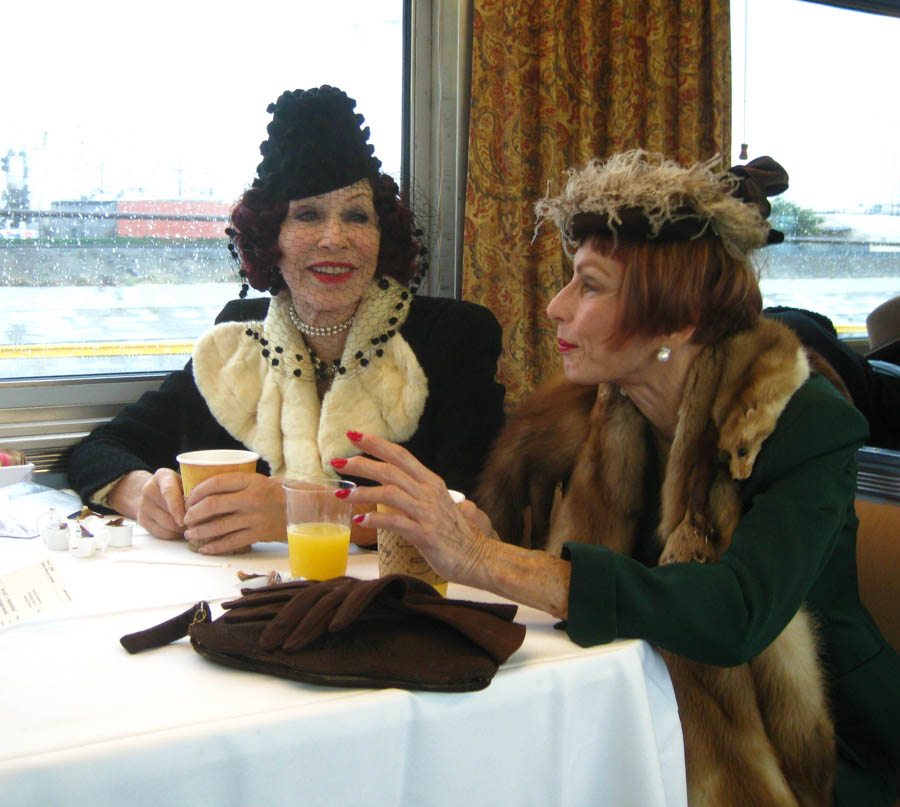 Ladies from San Francisco joined the party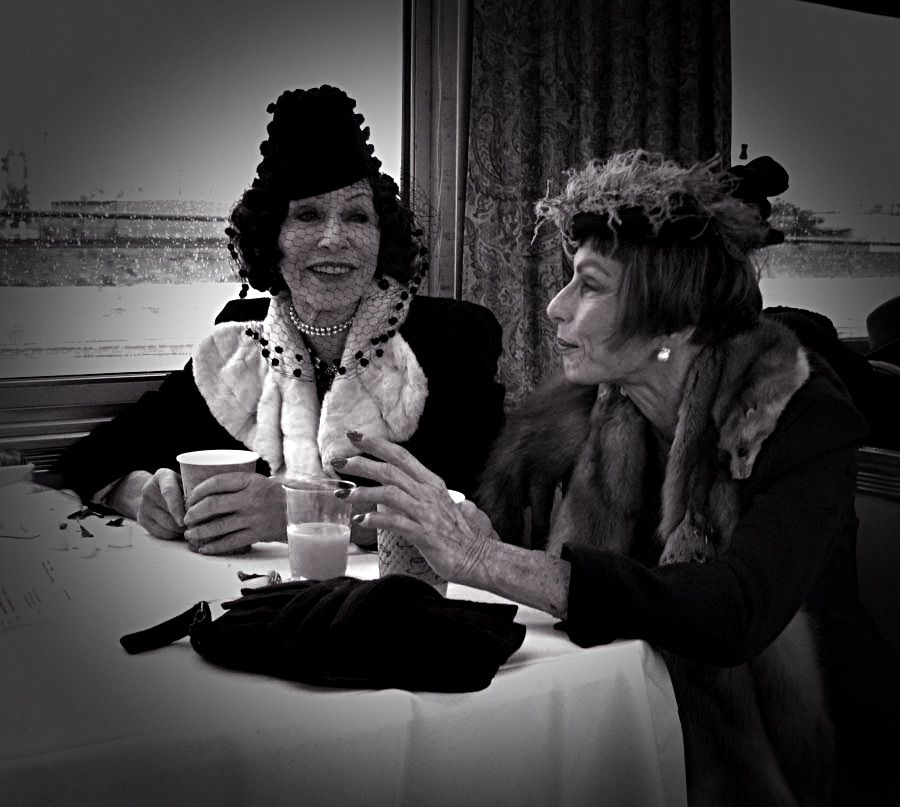 Black & White is elegant.. But the ladies make the color version special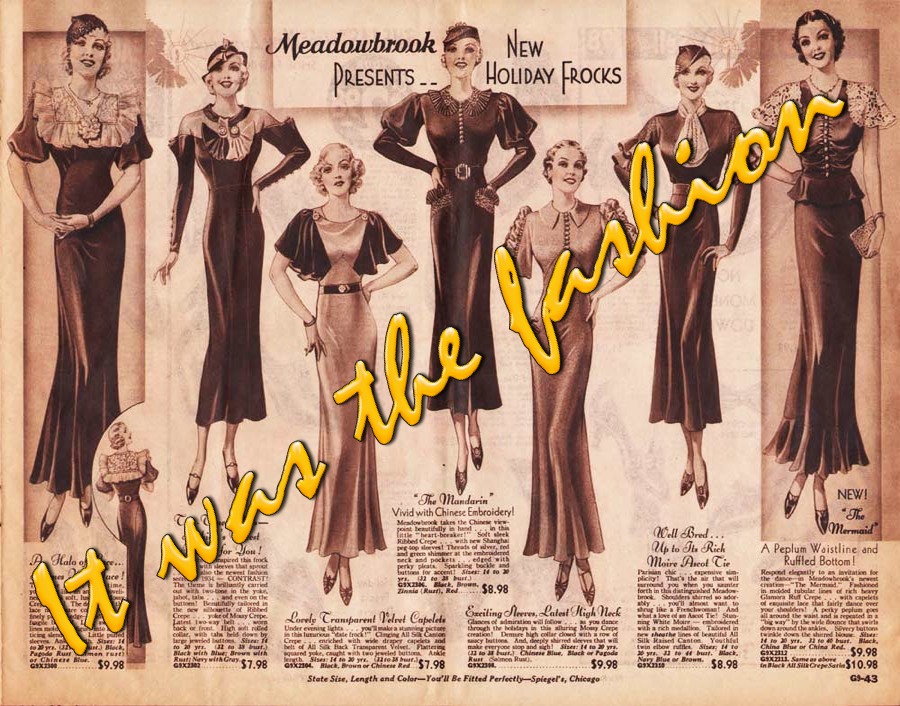 We had a 30 minute hold.. We watched the trains come and go!

Ladies and gentlemen... May I have your attention?

Conductor Bill explains the "Bad News - Good News"
Bad News - We have a 45 minute delay due to down powerlines...
Good News - You can eat breakfast with the train NOT moving!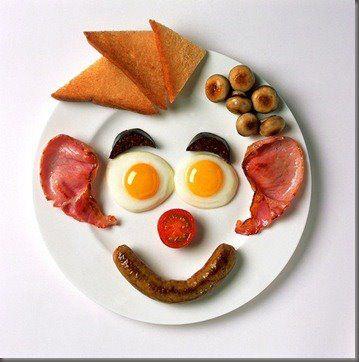 Breakfast is served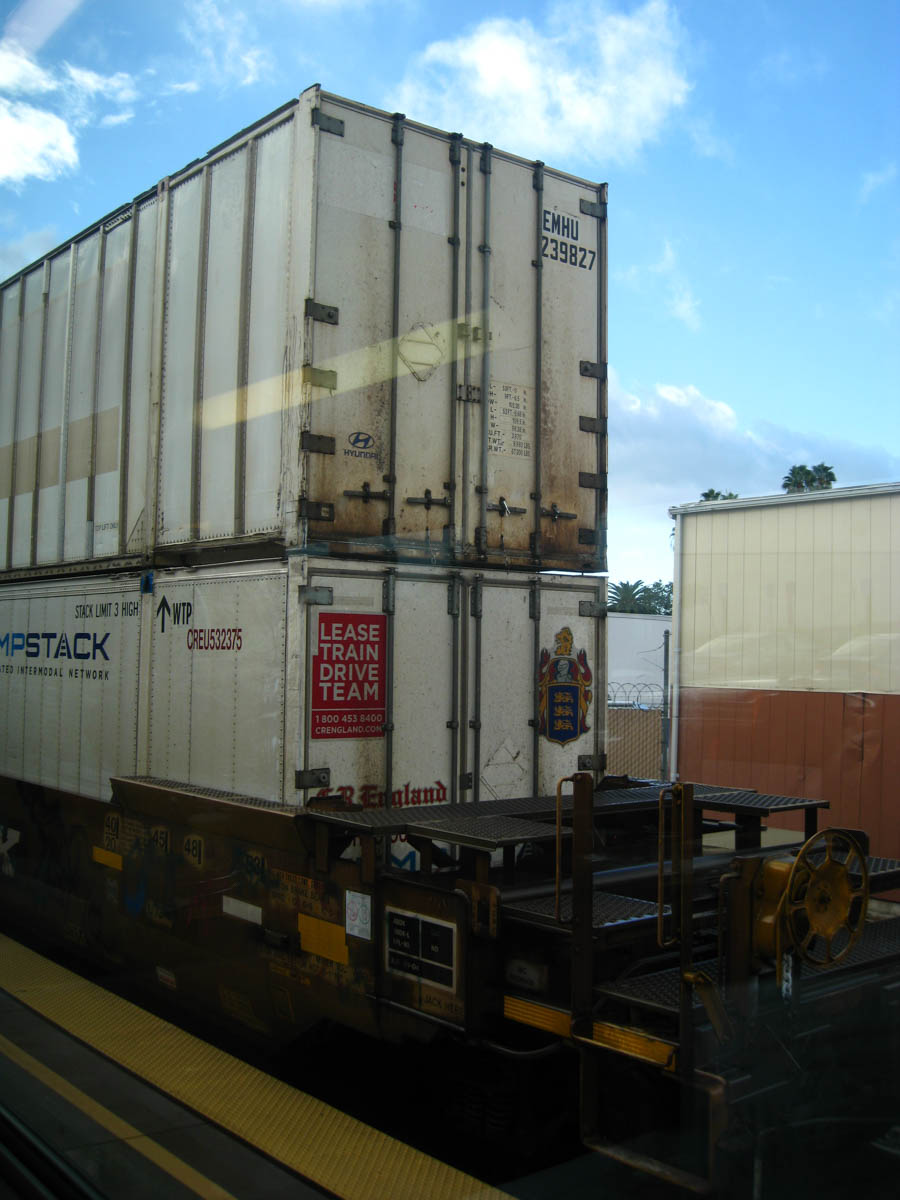 Thousands of freight cars come through this corridoor every month!

Heading north... Some rails are used more than others!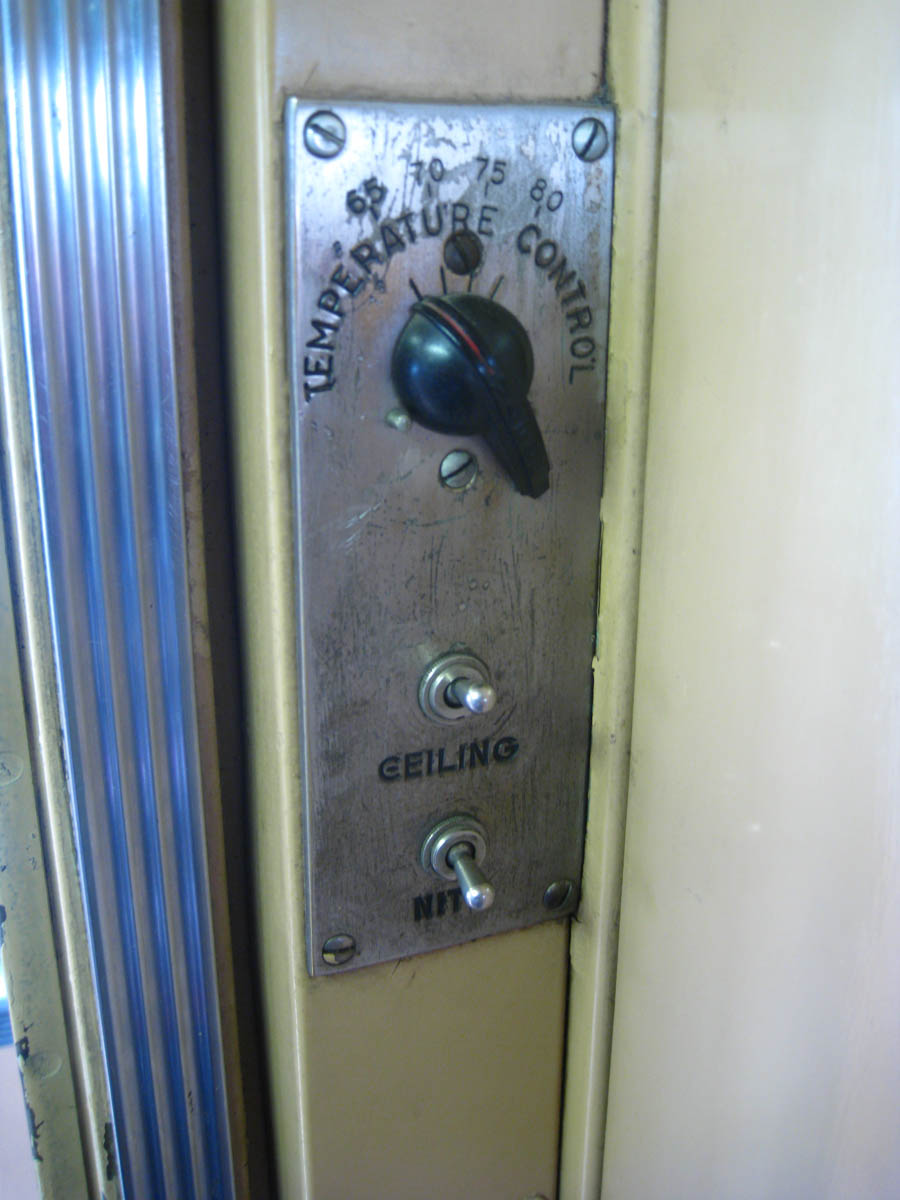 In the barber shop there was original controls for the car
We Are Off Through The Valley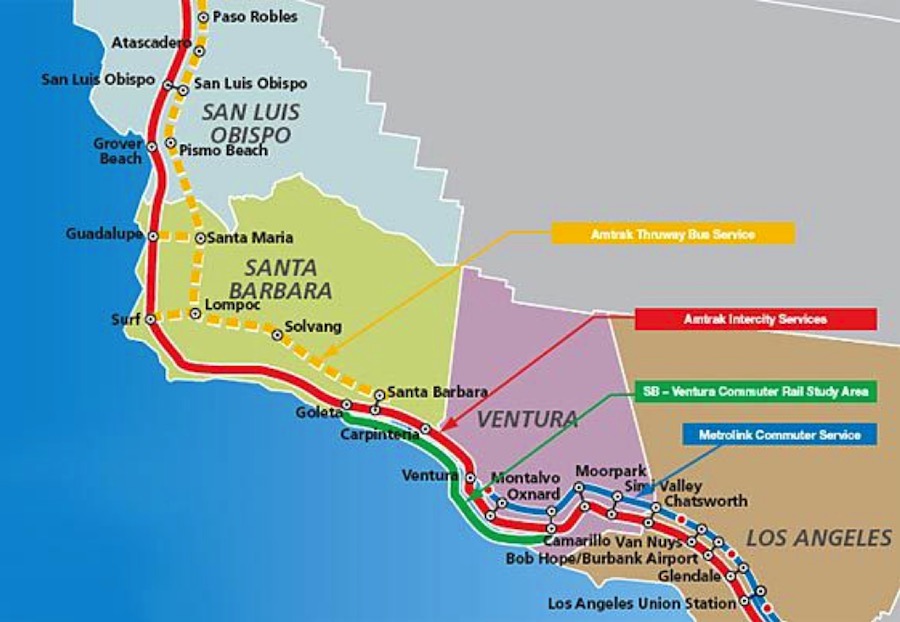 Through the valley we go... We had a 40 minute wait at
Glendale because of downed powerlines...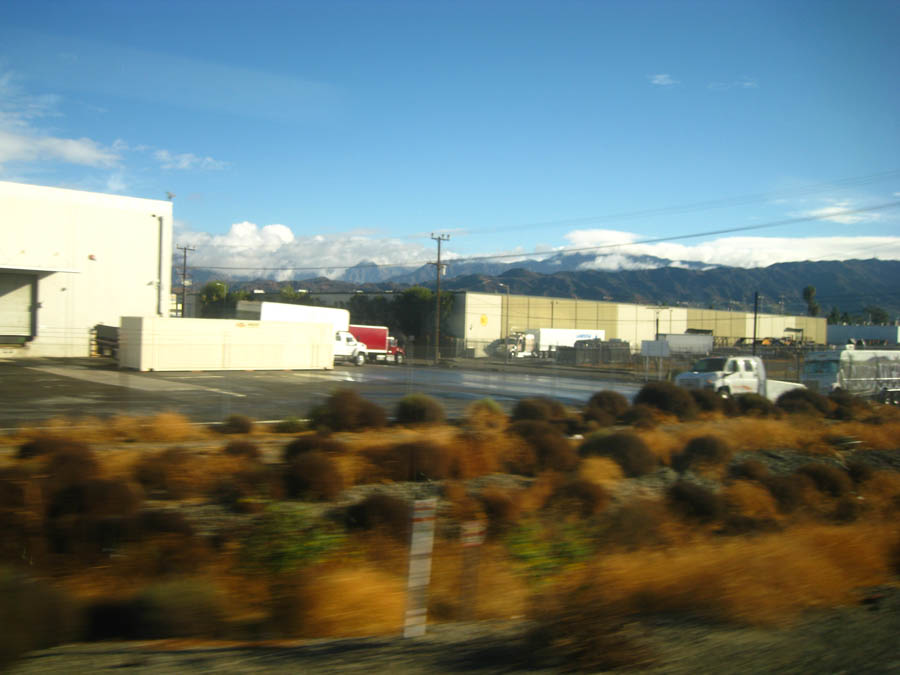 Fantastic cloud formatins in the distance

Zooming through the city at 50 miles an hour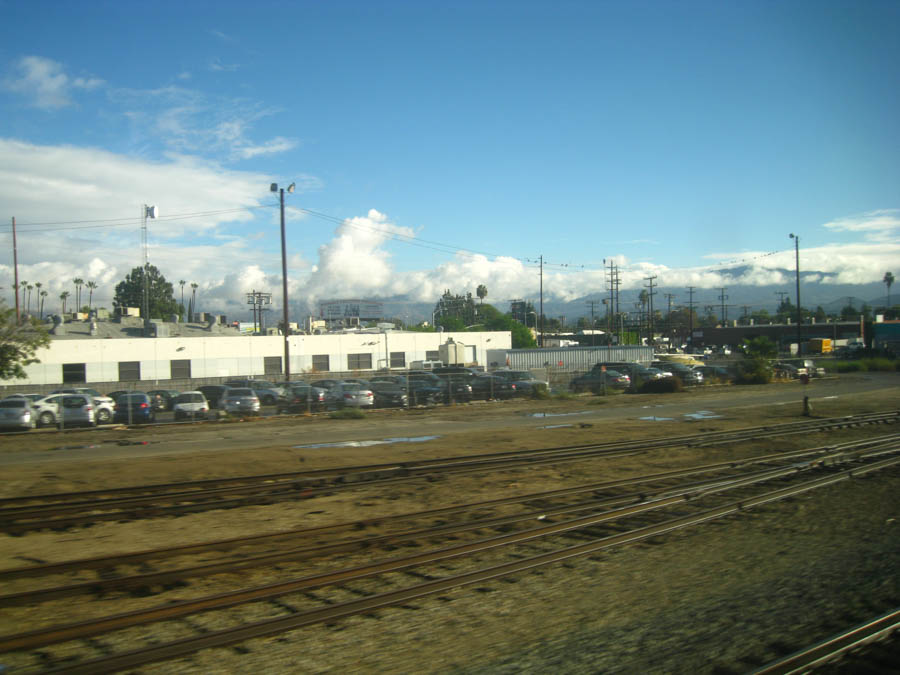 The clouds could not quite get over the mountains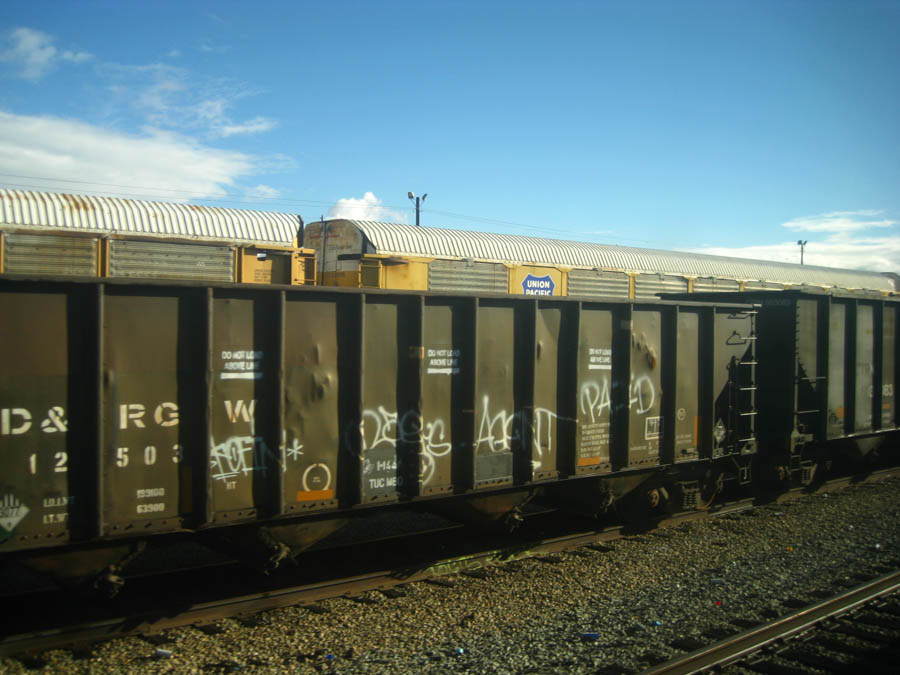 Someone needs to take their paint cans away
Did You Know? - Graffiti is writing or drawings that have been scribbled, scratched, or sprayed illicitly on a wall or other surface, often in a public place.
Graffiti ranges from simple written words to elaborate wall paintings, and it has existed since ancient times, with examples dating back to Ancient Egypt, Ancient Greece, and the Roman Empire.
In modern times, paint (particularly spray paint) and marker pens have become the most commonly used graffiti materials. In most countries, marking or painting property without the property owner's consent is considered defacement and vandalism, which is a punishable crime.

The clouds changed every few minutes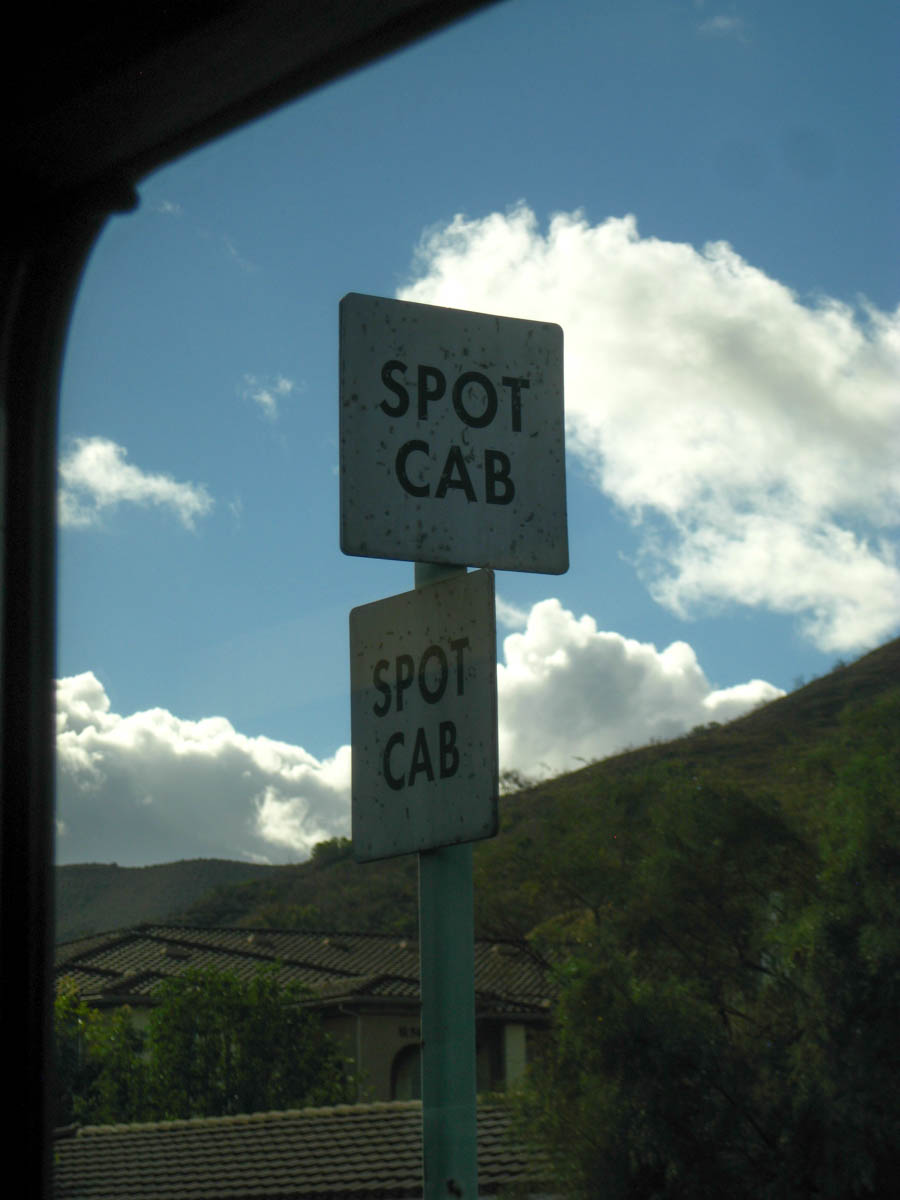 We had never seen this sign before... What is a "Spot Cab"
Did You Know? - That is the location the cab should be to ensure that the train is aligned with ramps and entrance makings.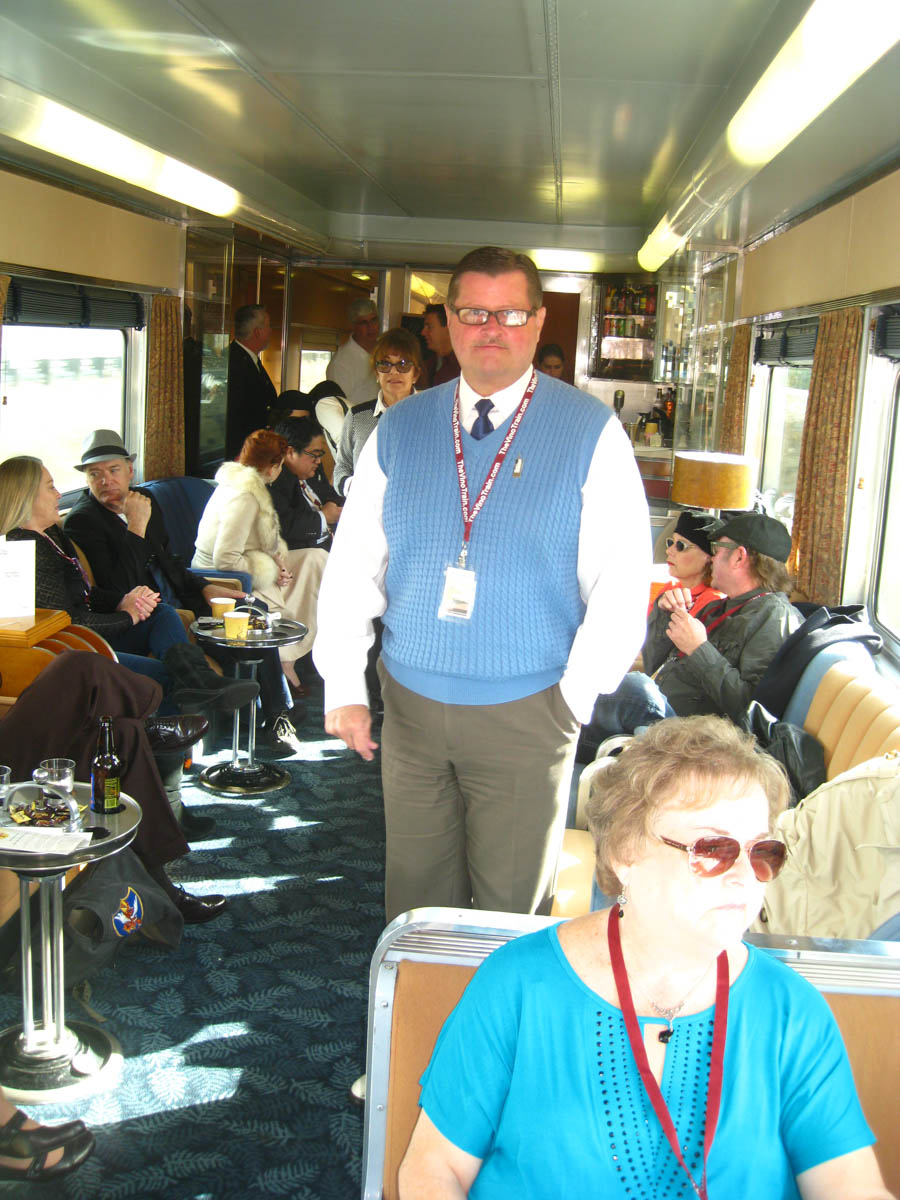 Our Fearless Leader visits everyone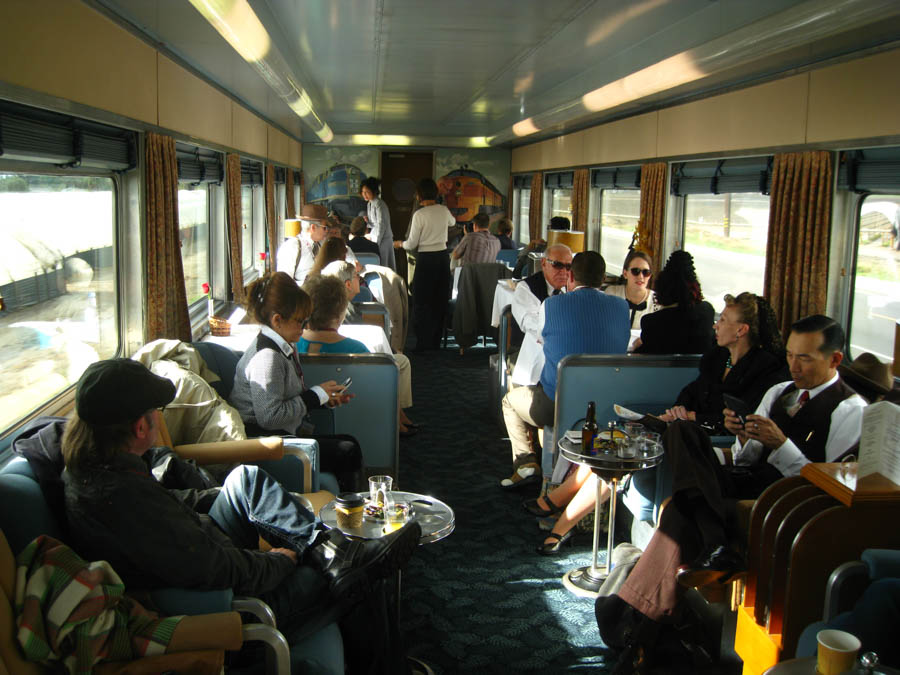 Serious conversations are underway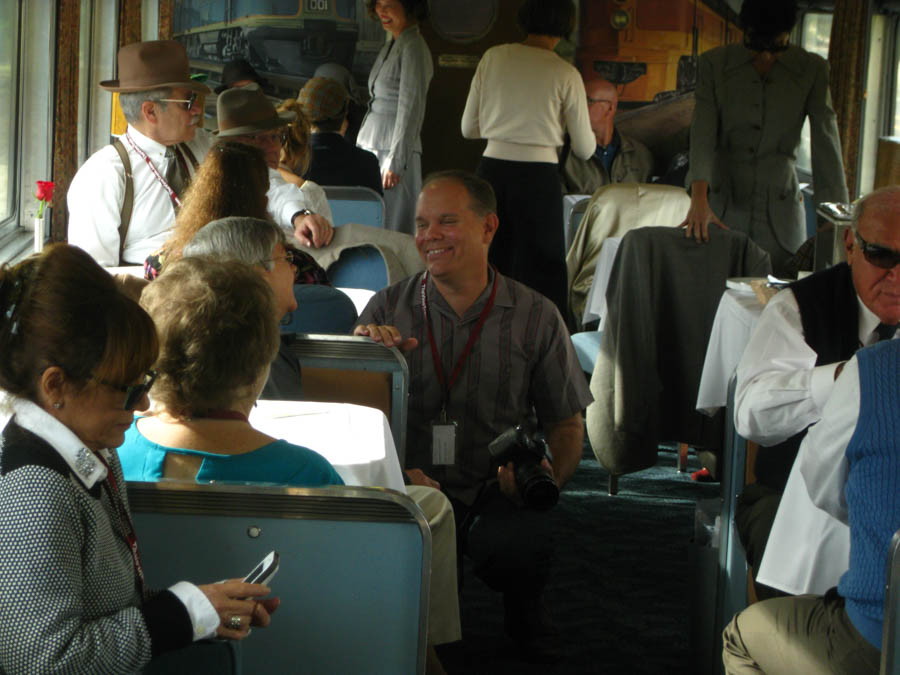 Chris stopped by to visit with Sue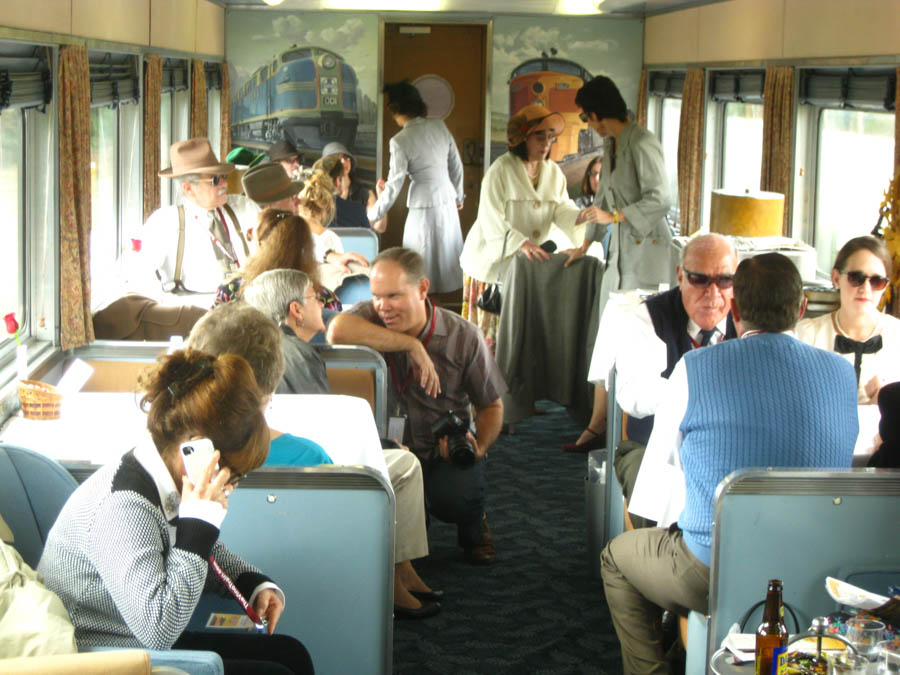 Chris... You better share some of those photos with us!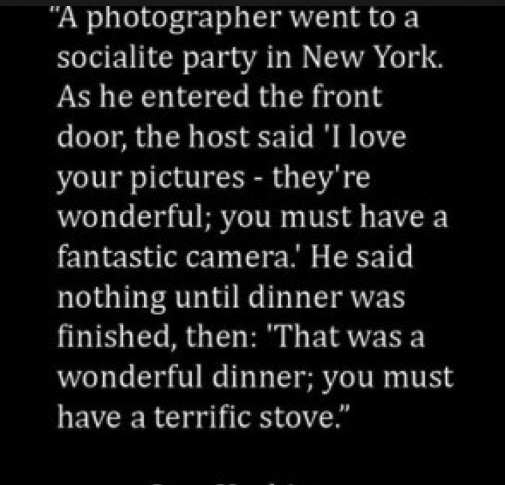 Chris... We could not pass this one up!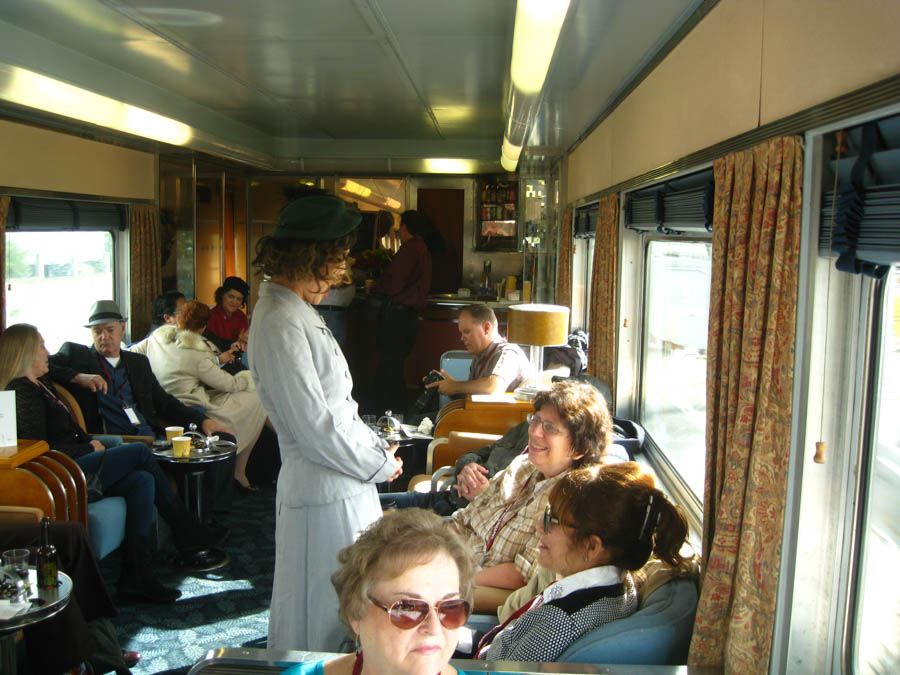 Sharlene has mastered standing up on a moving train...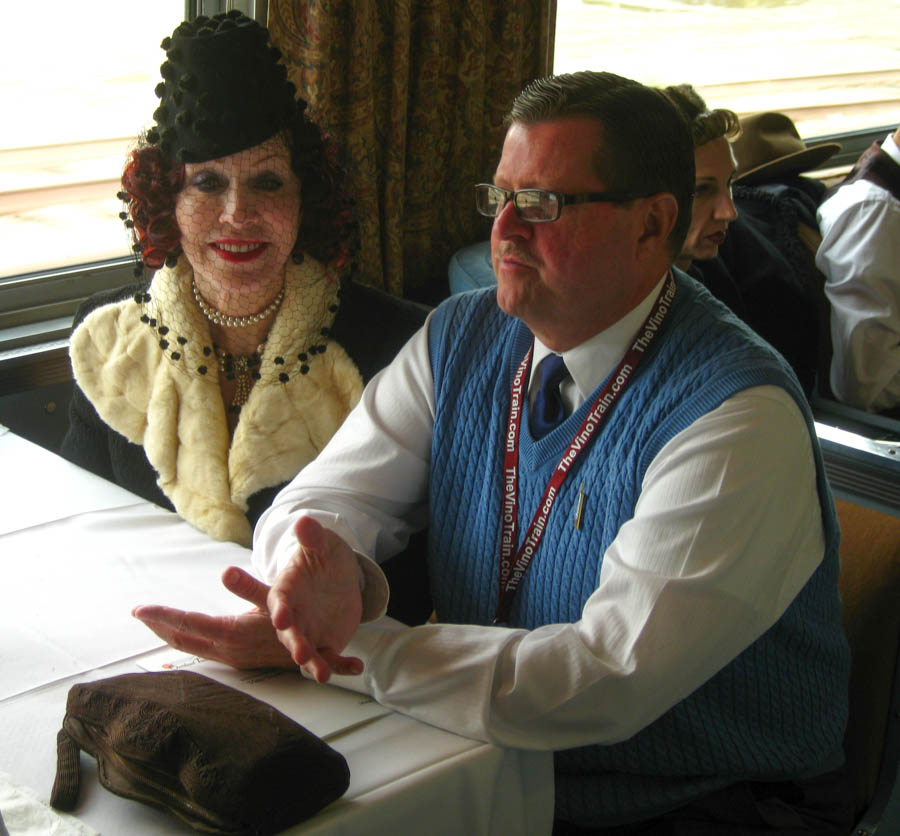 Sharing Art Deco ideas with friends from San Francisco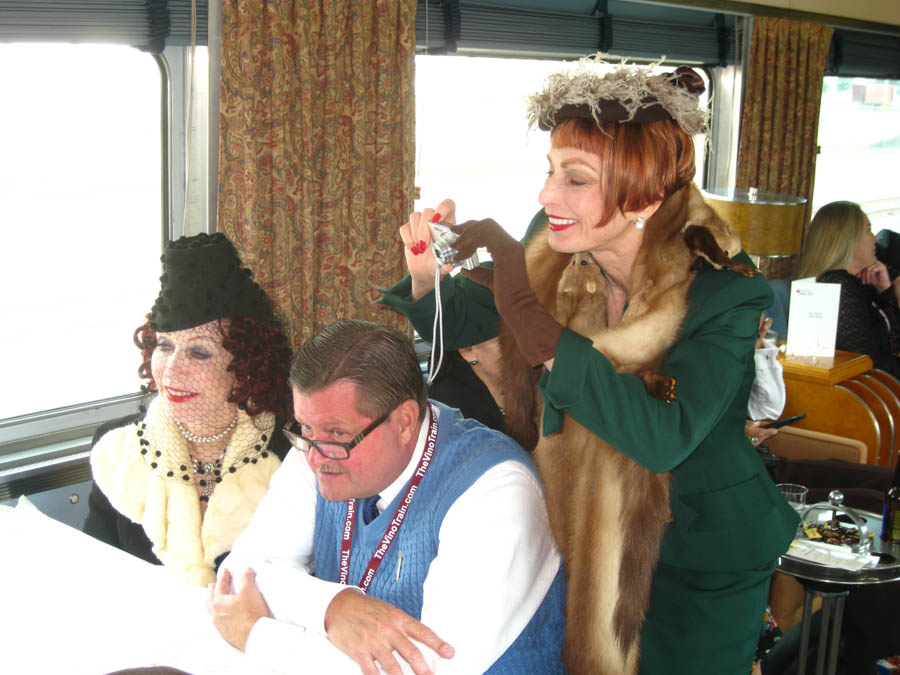 Click Buzz Whirr - Cameras everywhere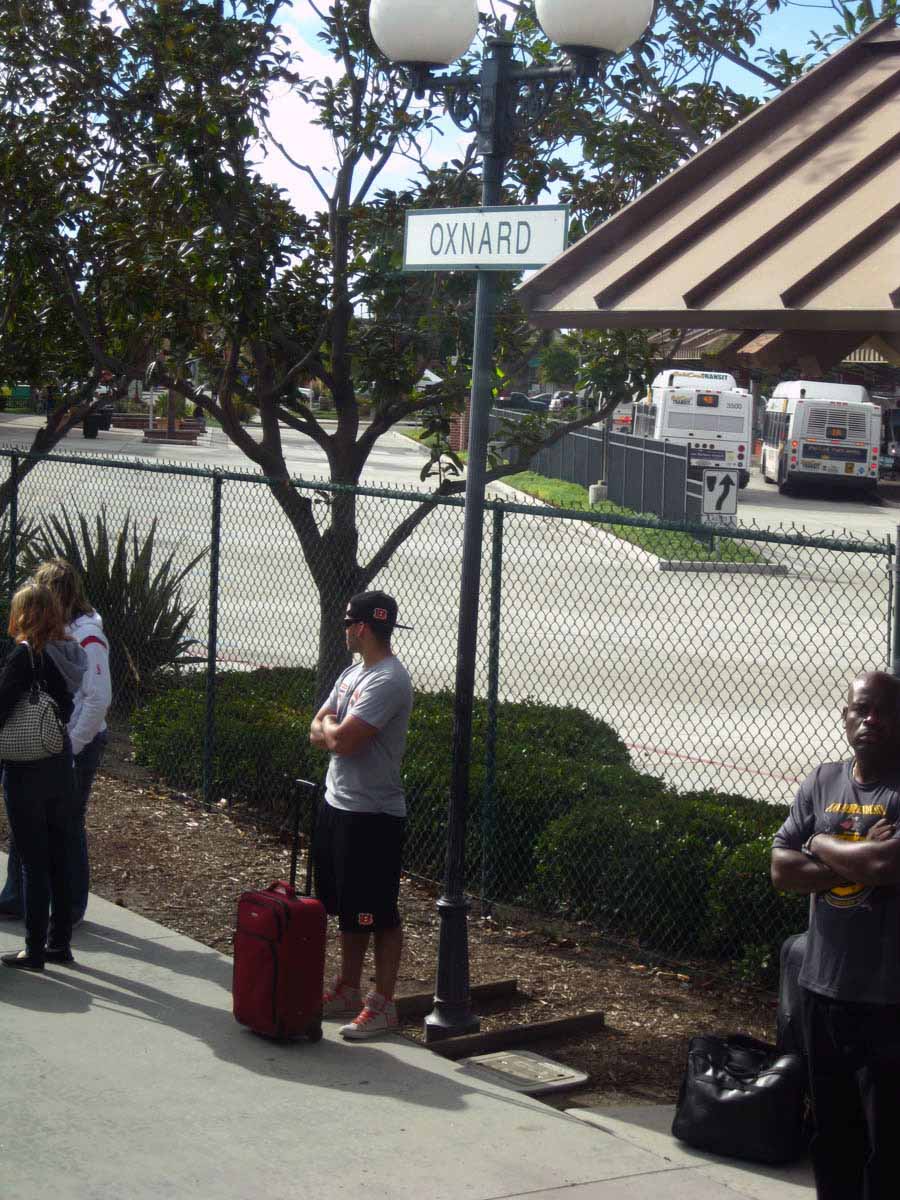 Oxnard - A great place to live
Did You Know? - Oxnard /ˈɒksnɑrd/ is a city in the United States, located along the coast of Southern California. It is the 19th most populous city in California and the most populous in Ventura County.
The city lies approximately 35 miles west of the Los Angeles city limits, and is part of the larger Greater Los Angeles area. The population of Oxnard is 203,585 as of the 2012 Financial Report.
Oxnard is the most populous city in the Oxnard-Thousand Oaks-Ventura, CA Metropolitan Statistical Area, which is listed as one of the wealthiest areas in America, with its residents making well above the average national income.
In 2013, Oxnard was ranked as one of the safest cities in America with violent crime rates well below the national average.

Not quite up in the mountains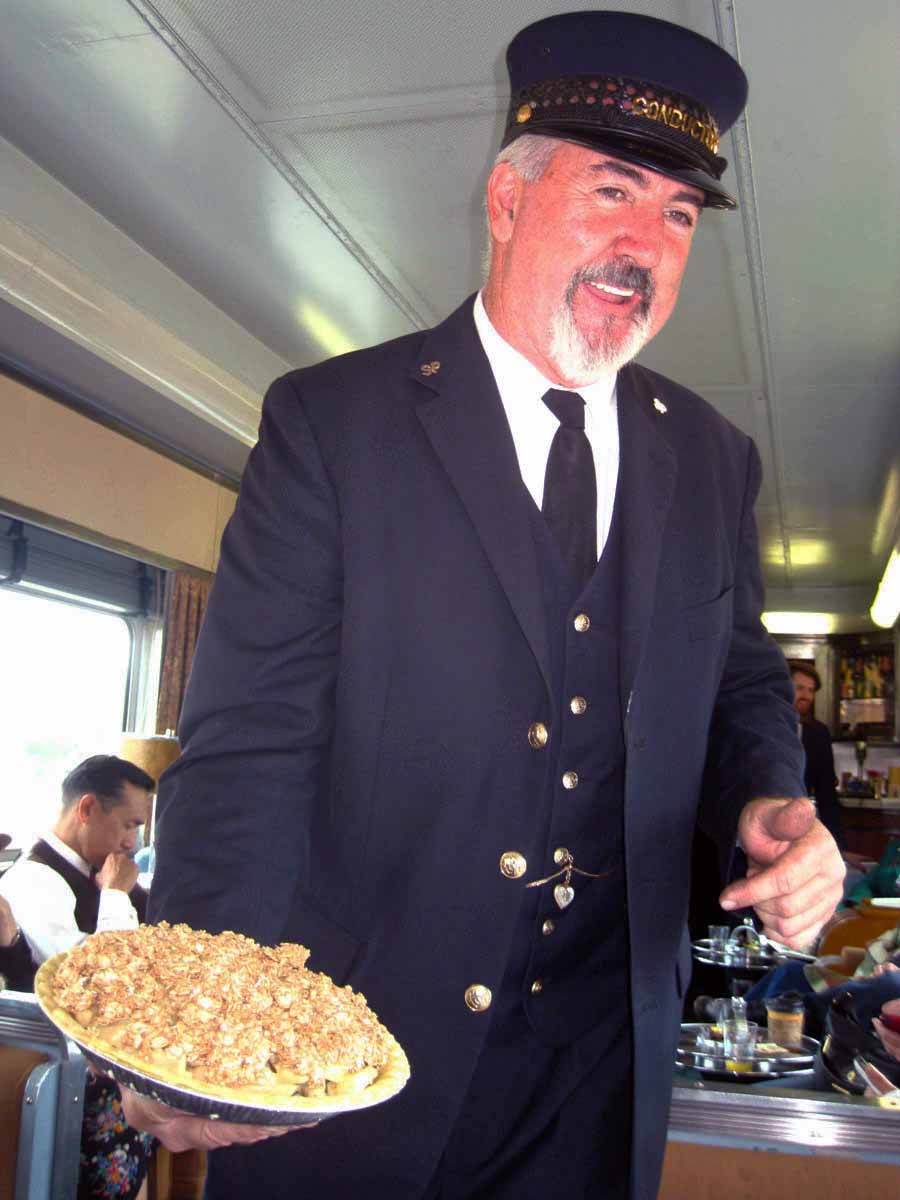 The girls went to Oak Glen and Rileys Farm and picked fresh apples!
You are in for a treat! Apple pie for dessert!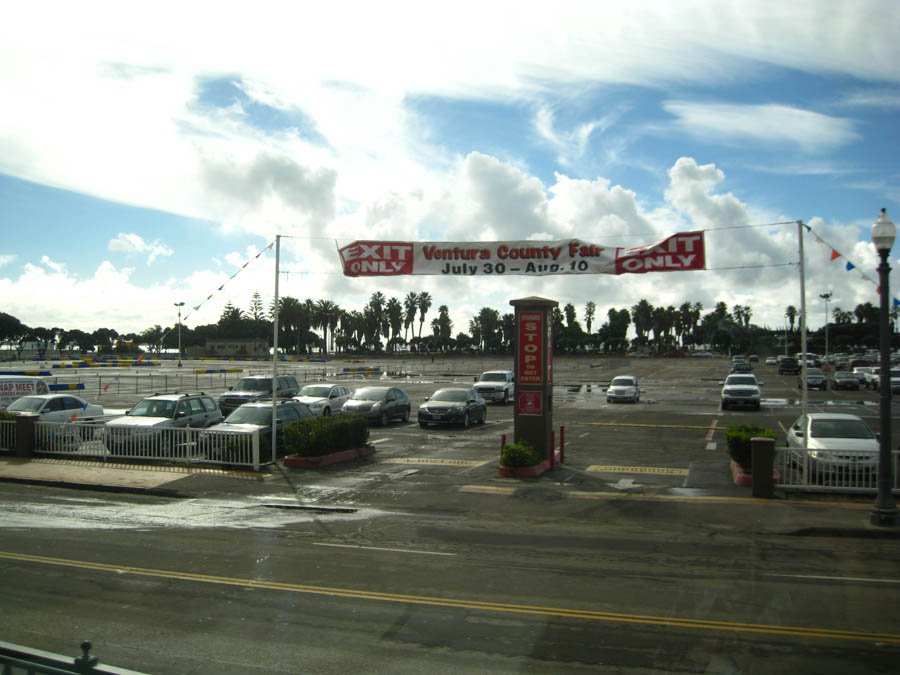 We fly by Ventura and their County Fair Grounds

Checking in with the kids... OR...
Do the kids want to make sure she is behaving?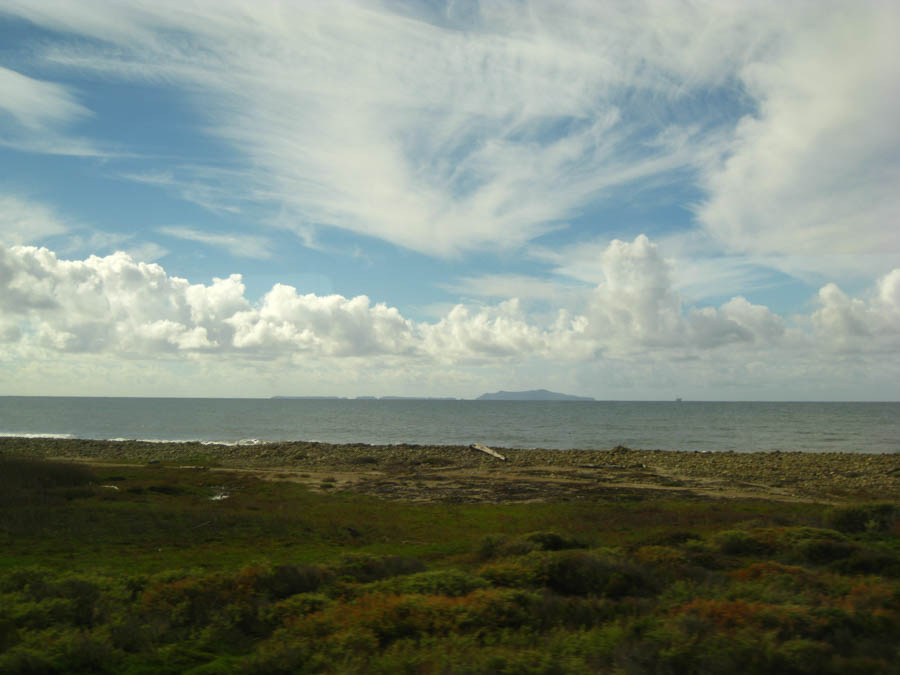 The Channel Islands were clearly visible today
Did You Know? - The eight islands are split among the jurisdictions of three separate California counties: Santa Barbara County (four), Ventura County (two), and Los Angeles County (two).
Did You Know? - The archipelago extends for 160 miles (257.51 kilometers) between San Miguel Island in the north and San Clemente Island in the south. Together, the islands' land area totals 221,331 acres (89,569 ha), or about 346 square miles (900 km2).

The islands are about 40 miles from the coast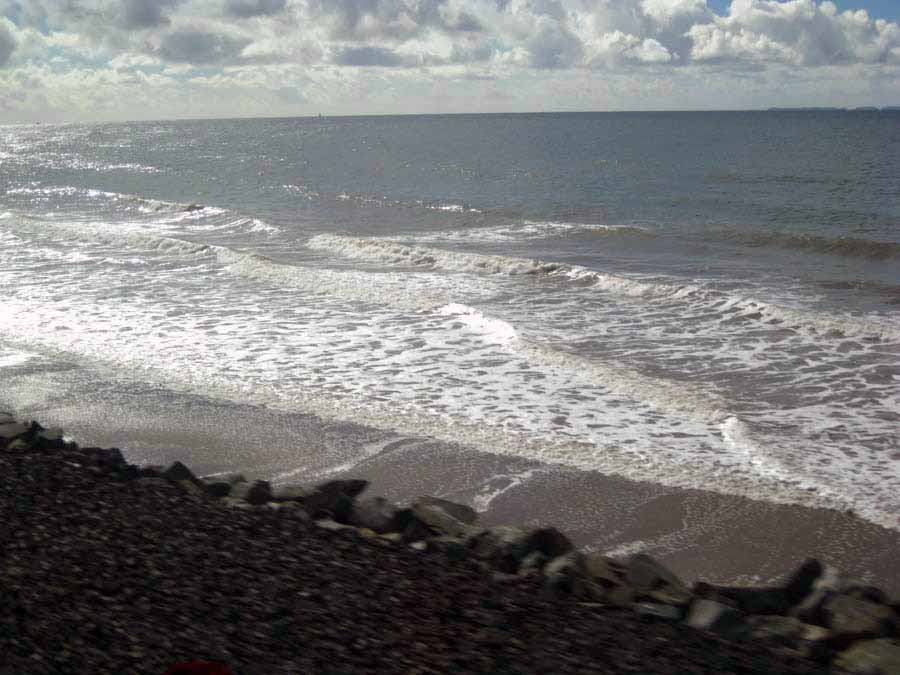 There were surfers in the water... Must have bumped their heads on something!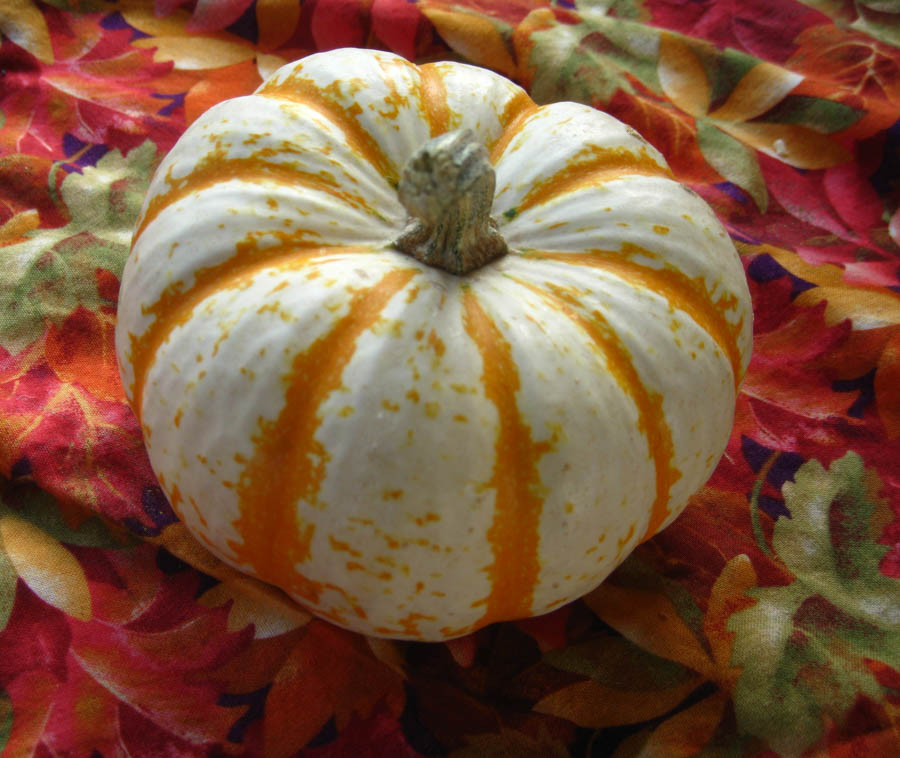 The tables were decorated after breakfast was removed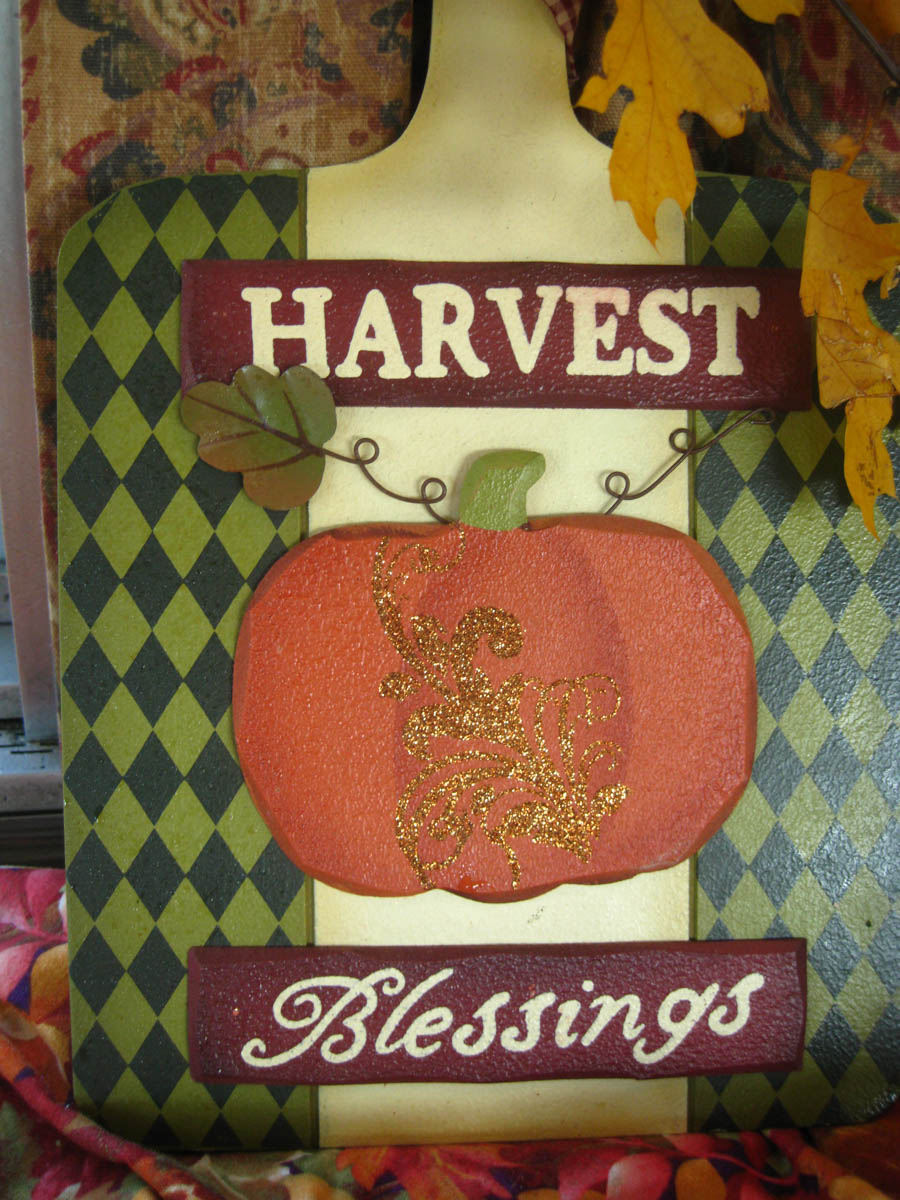 ...and we have them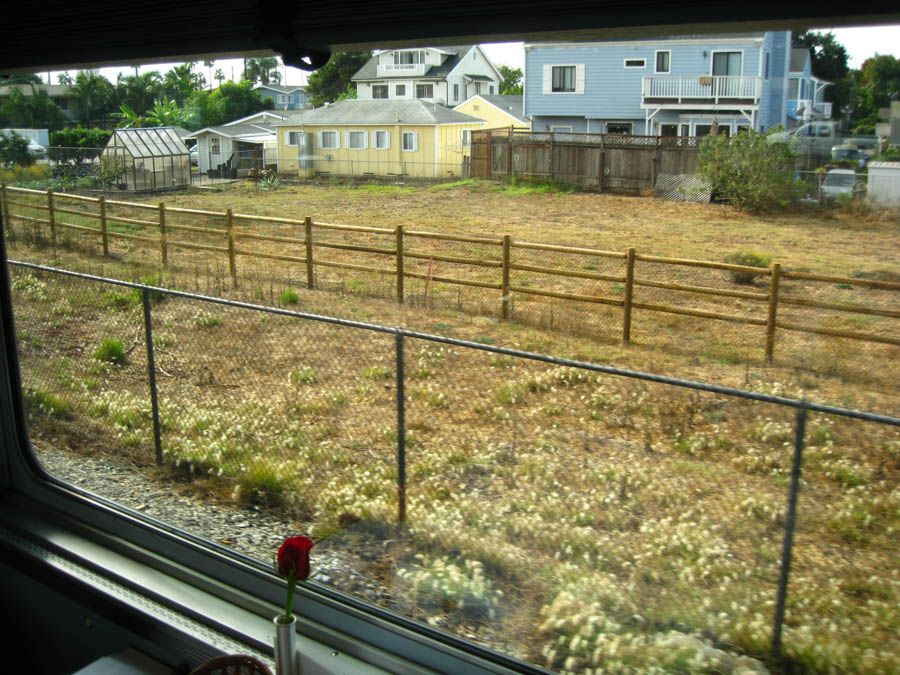 Back inland be a few blocks we are sneaking up on Santa Barbara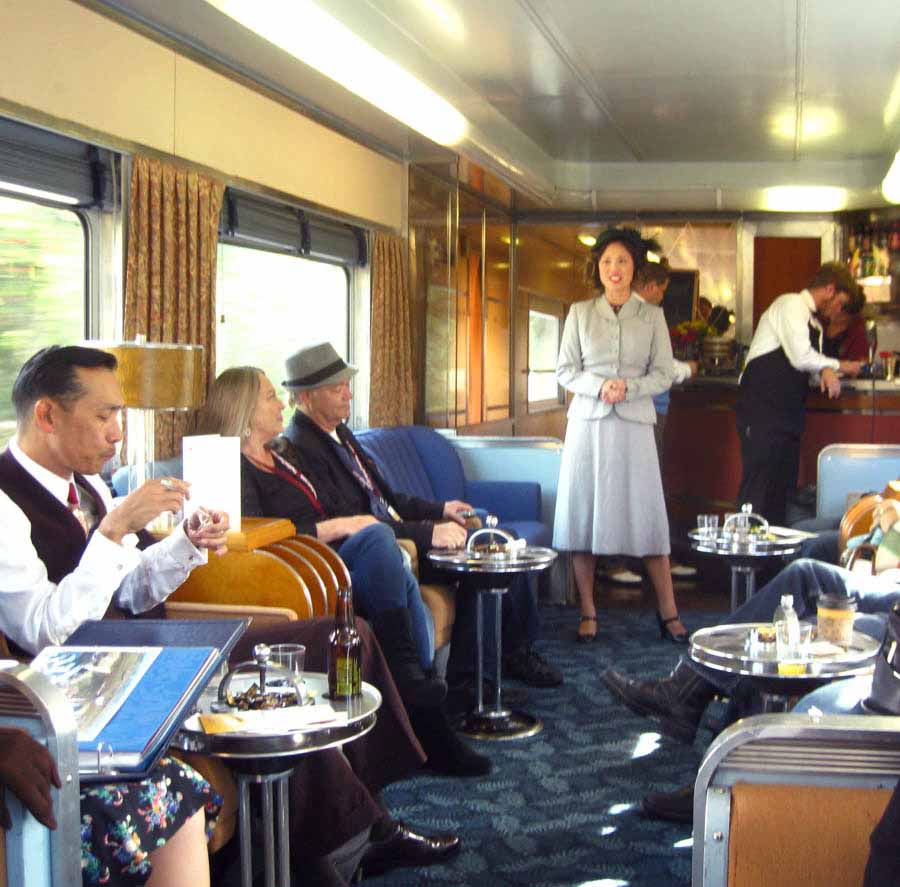 Sharlene addresses the members of the adventre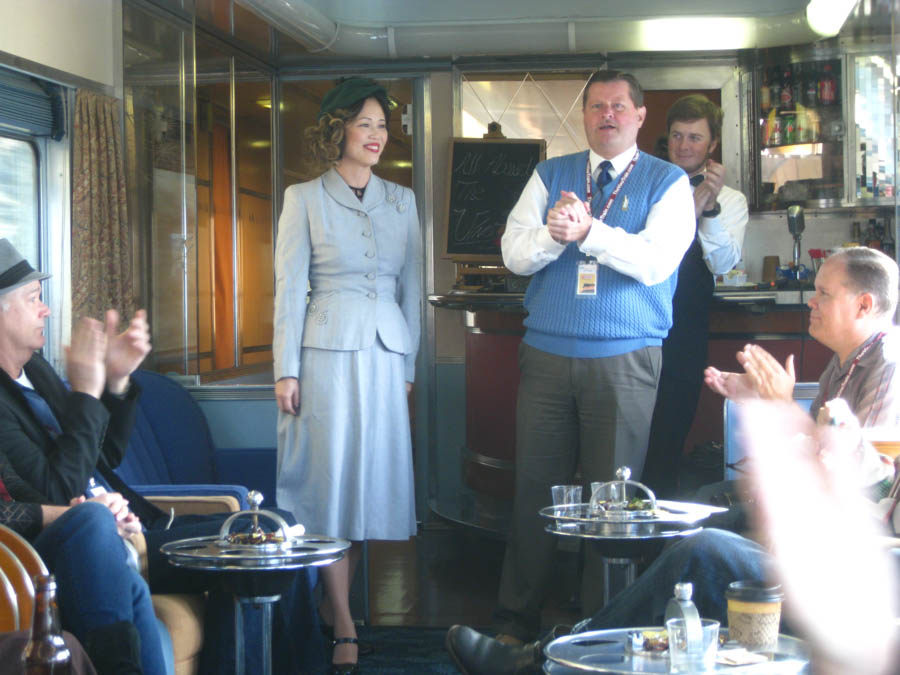 A formal intruction and applause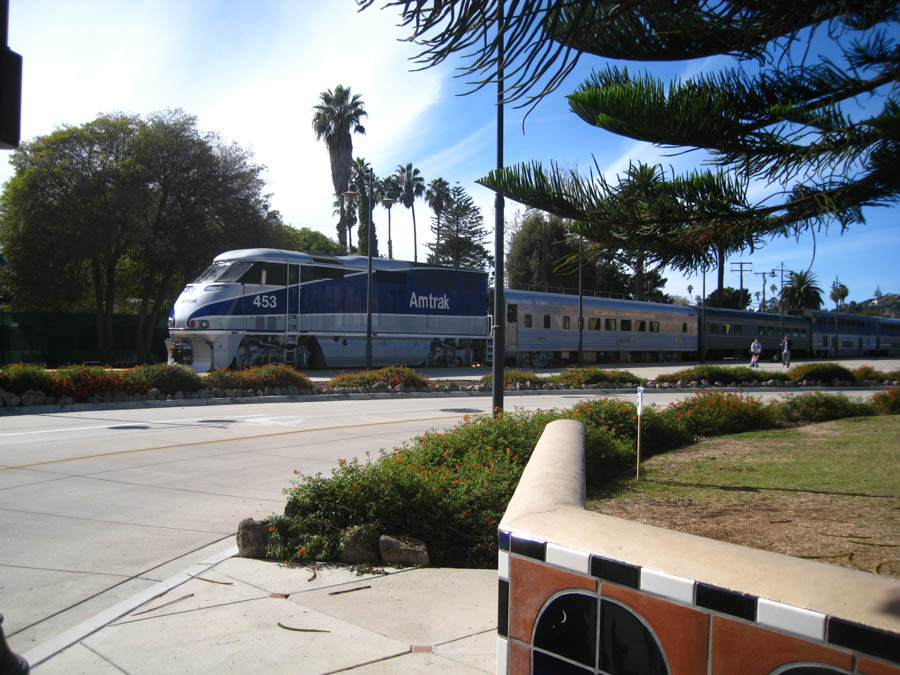 The train leaves immediately for San Luis Obispo and will return on or around 4:30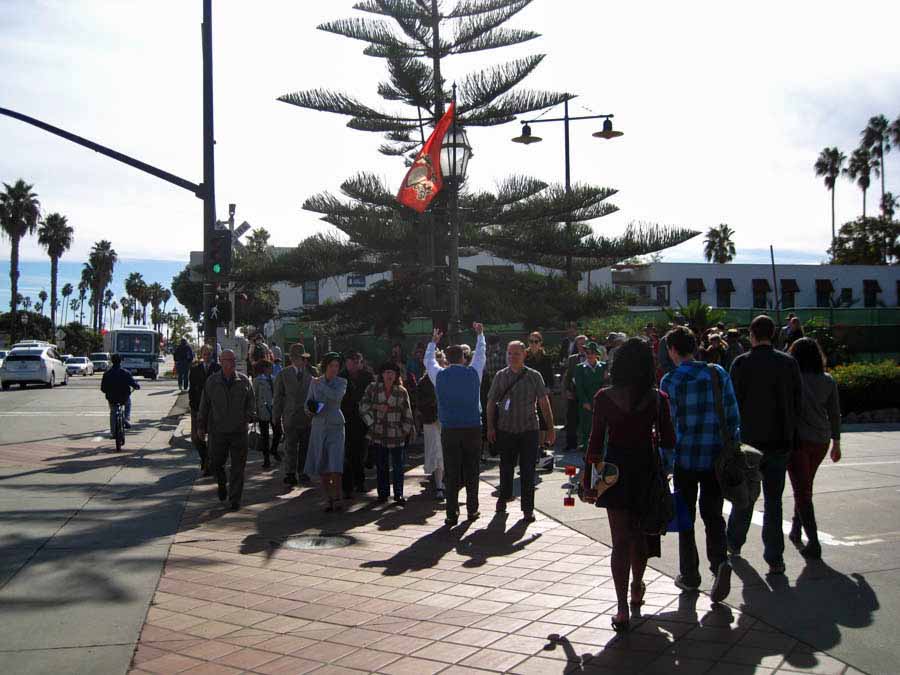 They are off to the post office... We headed in another direction!
But let's take a quick gander at what they saw
The Art Deco Post Office
You can visit our 2013 Art Deco Adventure for details...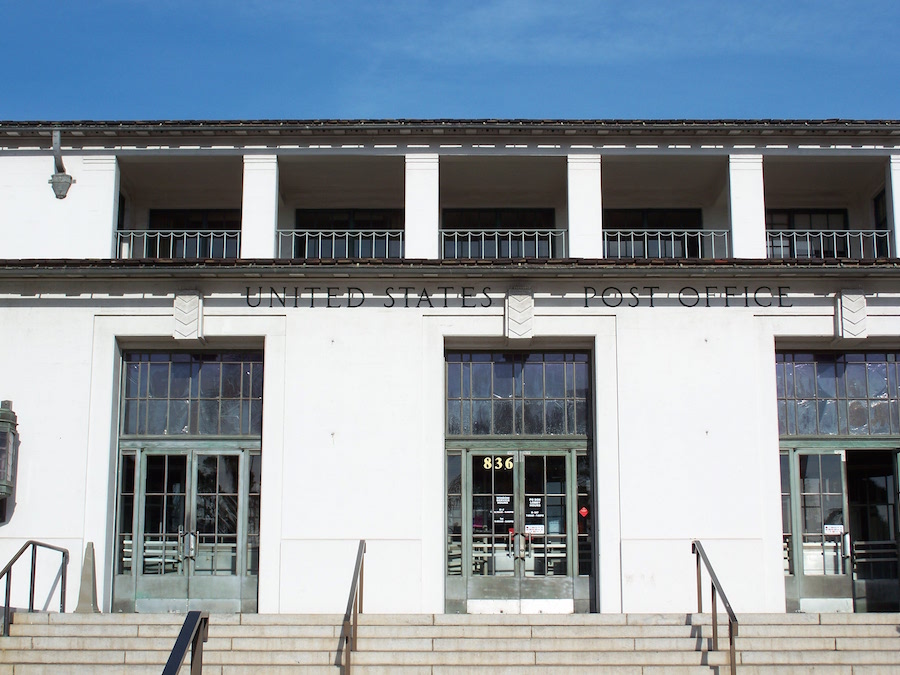 The ond 1936 post office is still in excellent shape
Did You Know? - The U.S. Post Office in Santa Barbara, California is a combined post office-federal office building in Santa Barbara, California. The post office is a prominent example of Mission Revial-influenced Art Deco design and is a significant building in the historic core of Santa Barbara.
It was designed by Pasadena architect Reginald Davis Johnson in the mid-1930s, and was completed in 1937. The building retains a high degree of architectural integrity, with minimal changes to the interior and no changes to the exterior, which retains its original landscaping.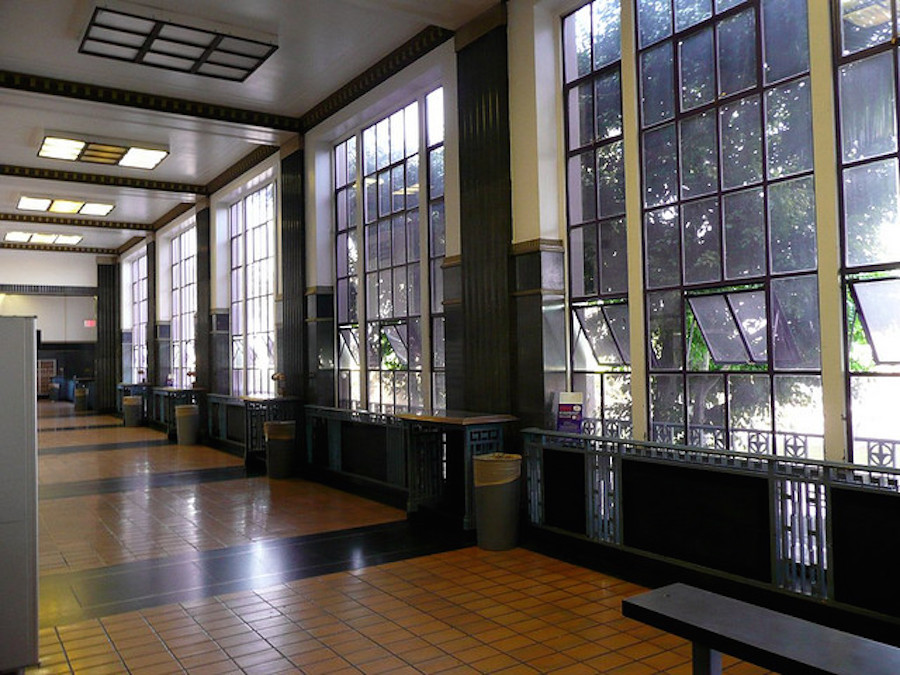 Simply beautiful elegant designs