November 1st 2014 And We Are Off To Santa Barbara With The Art Deco Society
The Art Deco Society Of Los Angeles group headed for a great tour with John Thomas to the Post Office. We had seen it before and decided to meander around town on our own! First we did State Street and then we headed for the pier... Oh yes.. We did do some wise tasting also!
Prepare for serious meandering!
We Did A Quick Visit To The Santa Barbara Winery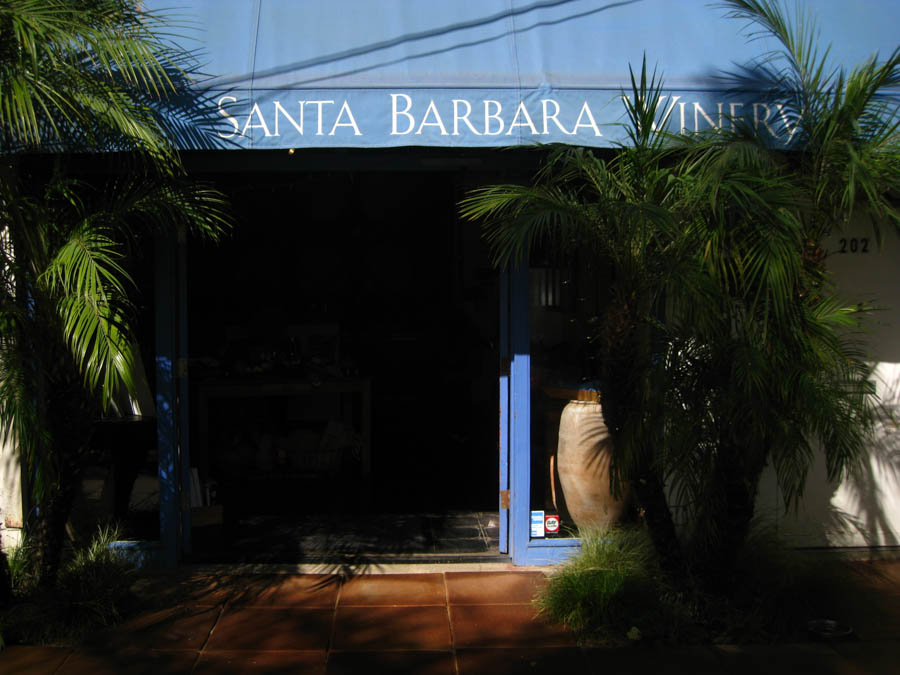 Just a hop, skip and a jump from the train station
Quotation To Remember: I drink wine because I don't like to keep things bottled up. ~Author Unknown

On the last trip up Sue found some amazing olive oils with fantastic flavors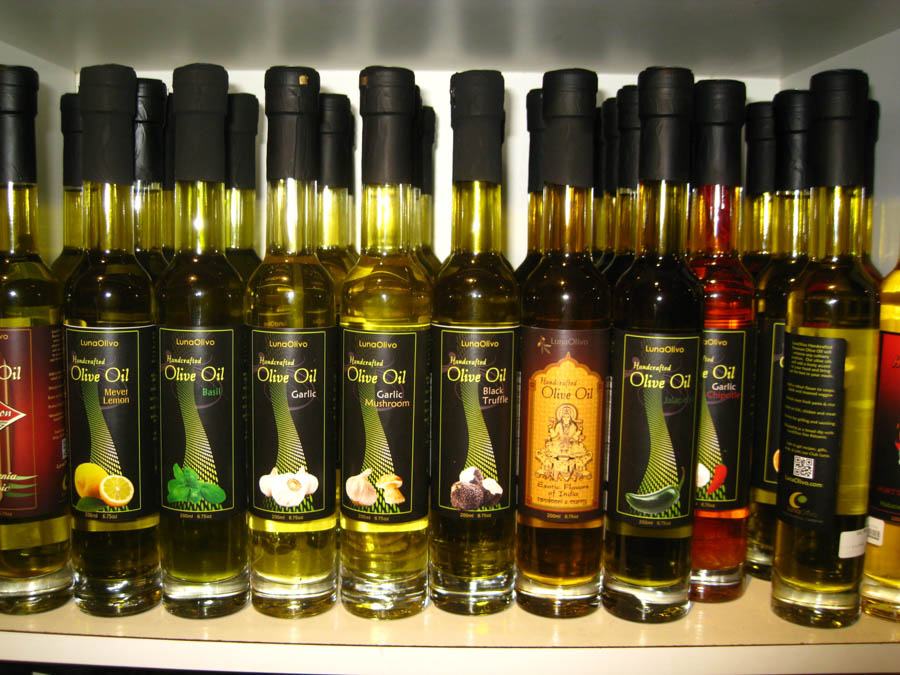 Lemon, Mushroom, Garlic, Basic, Black Truffle, and Hot Pepper
Did You Know? - It is possible to make excellent infused oil at home using dried wild herbs. The intensity of the flavor varies with the season, whether the herbs are wild or domestic, how the local growing conditions have been, etc.
It takes a lot of trial and error. It is more art than science and the people who are good at it are reluctant to share their trade secrets.
The oil will pick up the flavor fairly quickly, in the first few weeks, and then slowly intensify. It is fine to leave the herbs in for a long time; eventually all the flavor leaves the herbs and the oil flavor stabilizes.

"I found it! Yeah!"
A Walk Up And Down State Street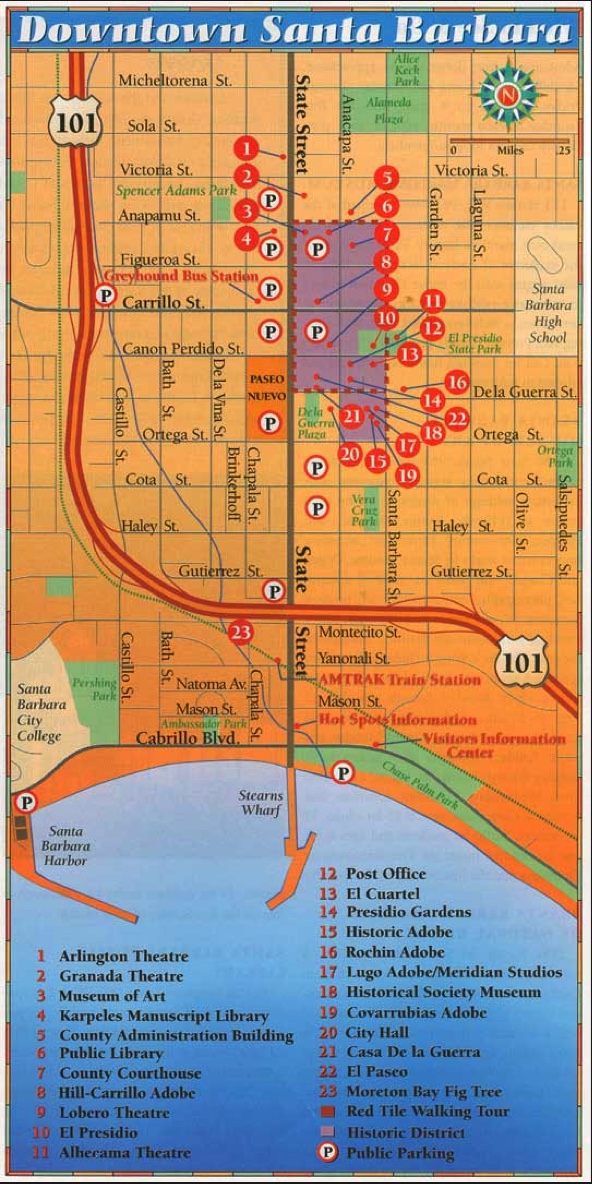 We walked and walked and talked and walked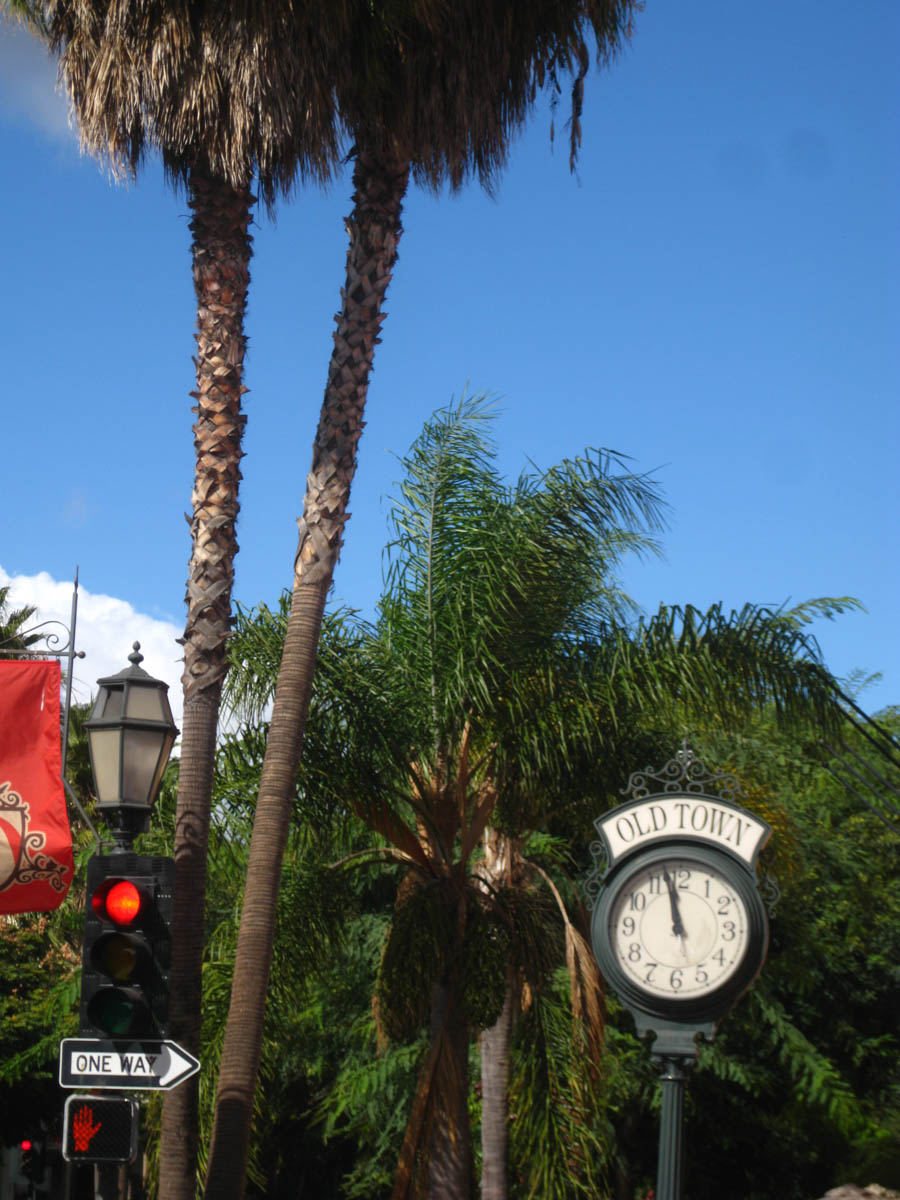 Perfect timing... Walk for an hour and then eat

The town was "empty" today.... Not like summer time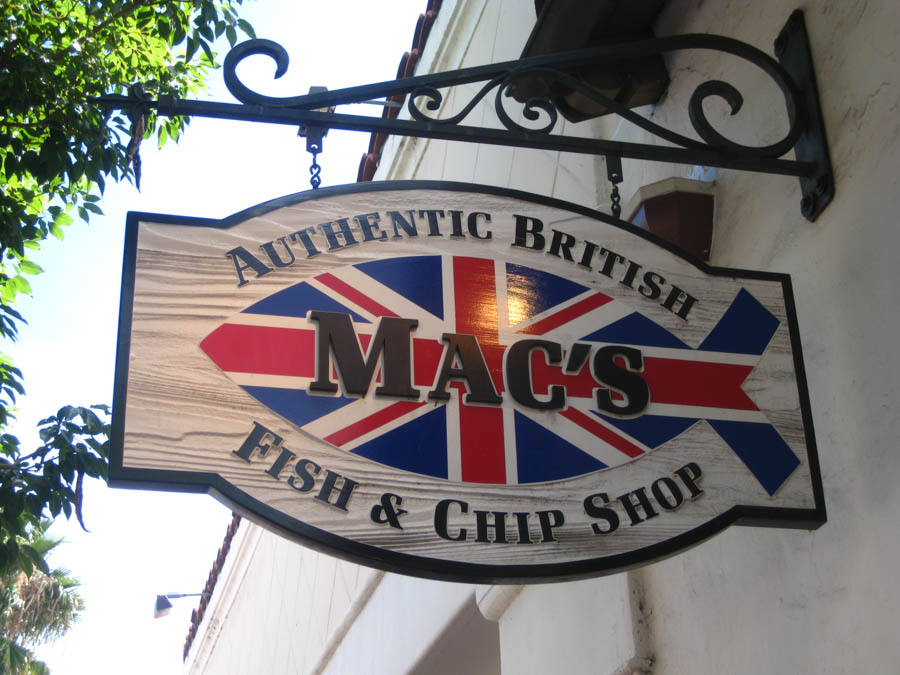 Neat restaurants on every block.... We got good recommendations on this one
Did You Know? - Mac's is run by the husband and wife team of Grant and Kate MacNaughton.
Grant is a classically trained French chef having graduated from the French Culinary Institute in New York in 2008. He most recently worked at Bouchon here in Santa Barbara before opening Mac's, the fulfillment of a childhood dream from his formative years in Blackpool, England. His hobbies include eating, drinking and shouting.

Kate is originally an Essex girl (insert your own gag here) and quit her investment banking job in search of something more personally rewarding and ended up with Sam, our son...that'll teach her for quitting. This is the THIRD version of her portrait that has appeared in this spot thanks to a combination of negative feedback and misplaced vanity.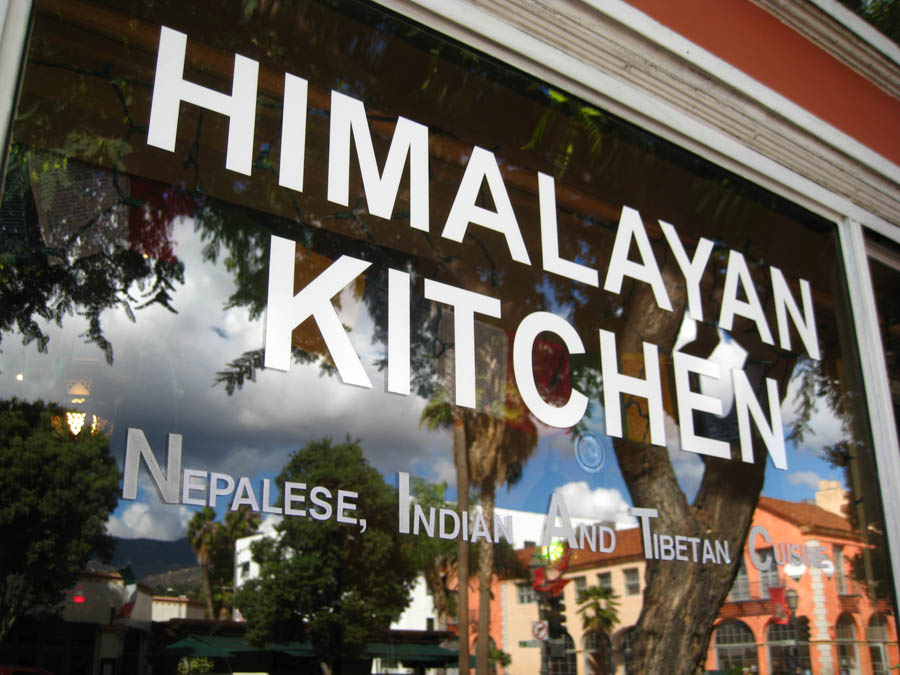 Must try on the next visit.... We love Himalayan dining
Did You Know? - The Himalayan Kitchen brings the authentic flavors of the top-of-the-world region of Tibet, Nepal, and India. We serve traditional Tibetan dishes like Mo-mo (dumplings) and Thukpa, Nepali dishes Dhaal-Bhaat-Tarkaari (lentil, rice, and curry) and Sekuwa (tandoor-oven roasted vegetable and meat dishes) and Indian dishes in various flavors. We also feature a large variety of vegetarian dishes.

Looks amazing...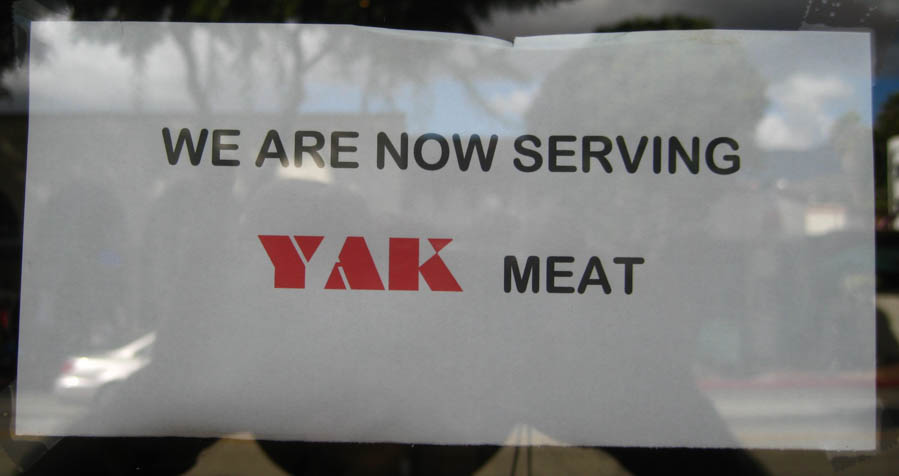 Yeah Yak!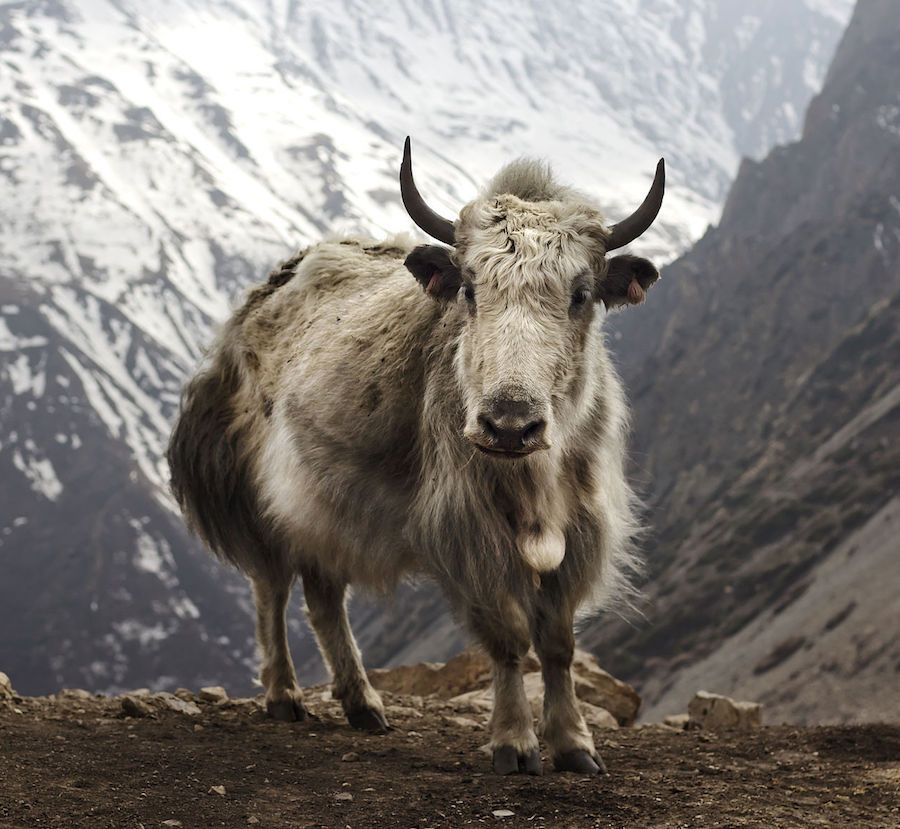 Questions? If there were two of them would they be a "Yakkaty Yak"?
Did You Know? - Domesticated yaks have been kept for thousands of years, primarily for their milk, fibre and meat, and as beasts of burden. Their dried droppings are an important fuel, used all over Tibet, and are often the only fuel available on the high treeless Tibetan Plateau.
Yaks transport goods across mountain passes for local farmers and traders as well as for climbing and trekking expeditions.
"Only one thing makes it hard to use yaks for long journeys in barren regions. They will not eat grain, which could be carried on the journey. They will starve unless they can be brought to a place where there is grass."

Too bad we are headed for sea food today...
Heading For Stearns Wharf
Did You Know? - Stearns Wharf is located in the harbor in Santa Barbara, California, United States. When completed In 1872, it became the longest deep-water Wharf between San Pedro and San Francisco. Named for its builder, local lumberman John P. Stearns, the wharf served the passenger and freight shipping needs of California's South Coast for over a quarter century.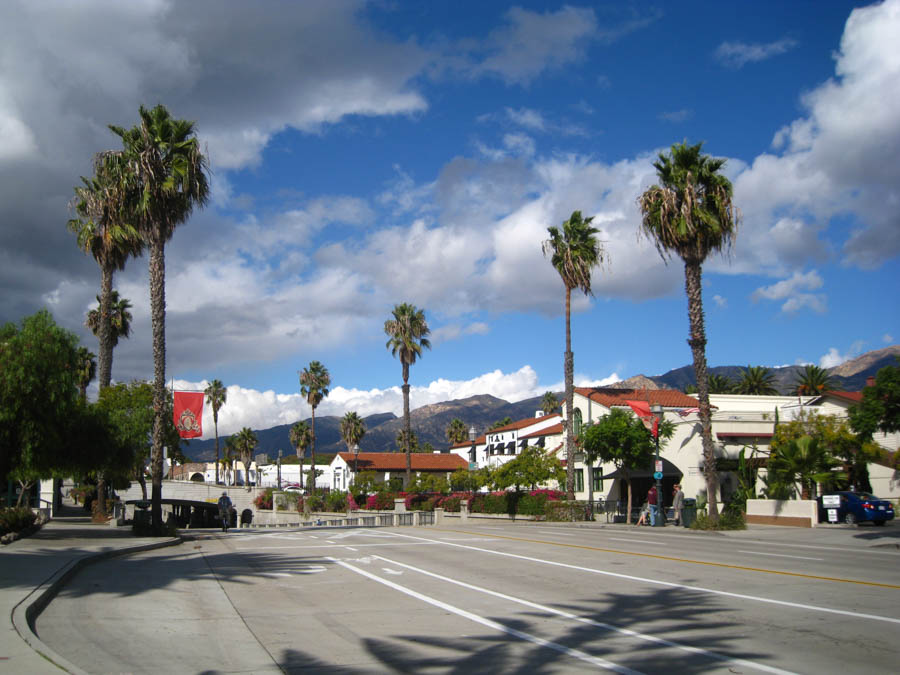 Looking back toward the mountains they were magnificent. What a day!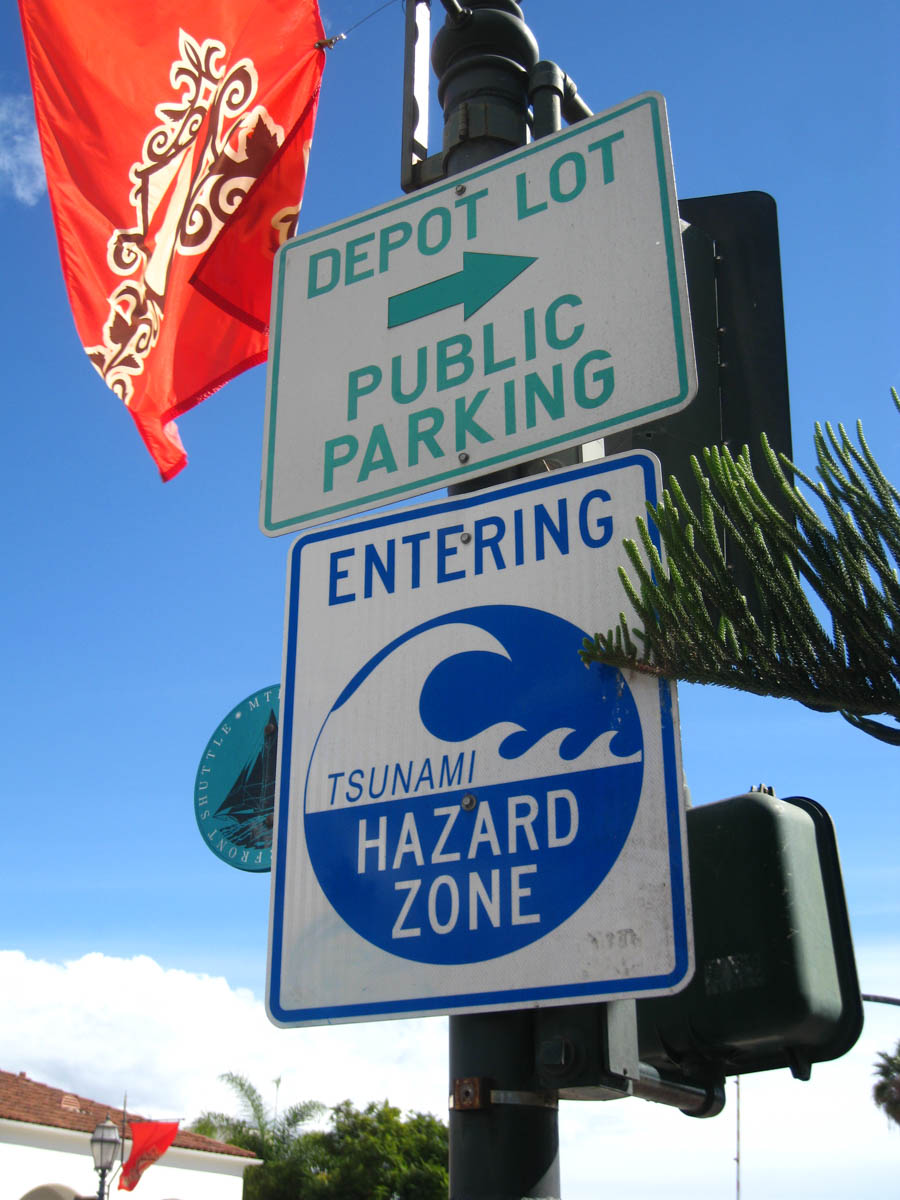 Tsunami? Can't be afraid of something we can't pronounce!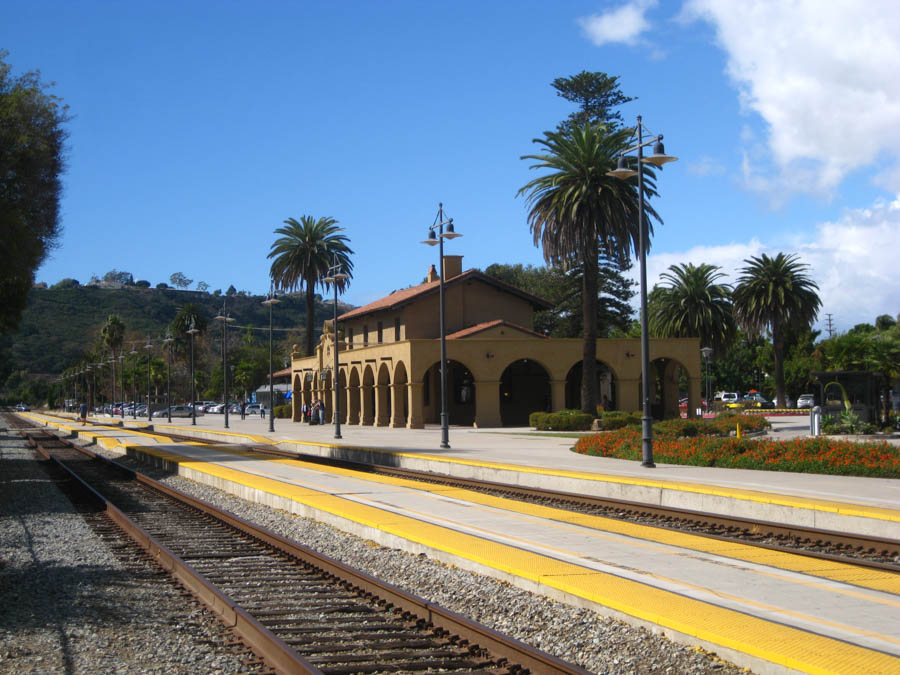 We had to pass by the railroad station on our way to the wharf
See you in a couple of hours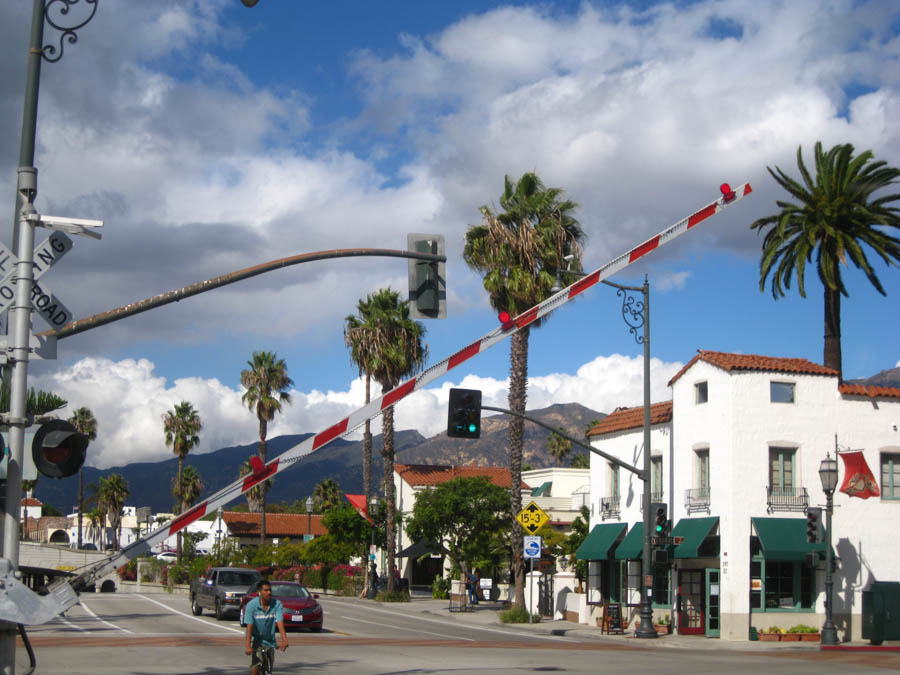 Oh oh... I hear a horn and the arms are going down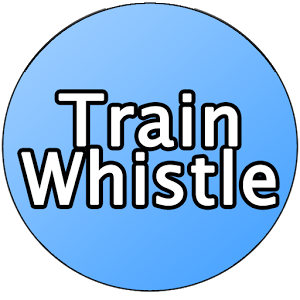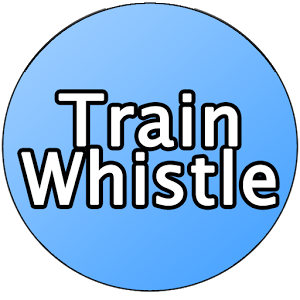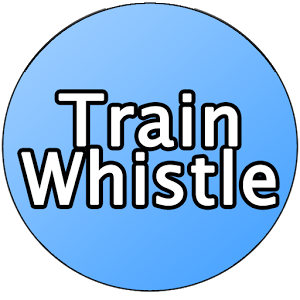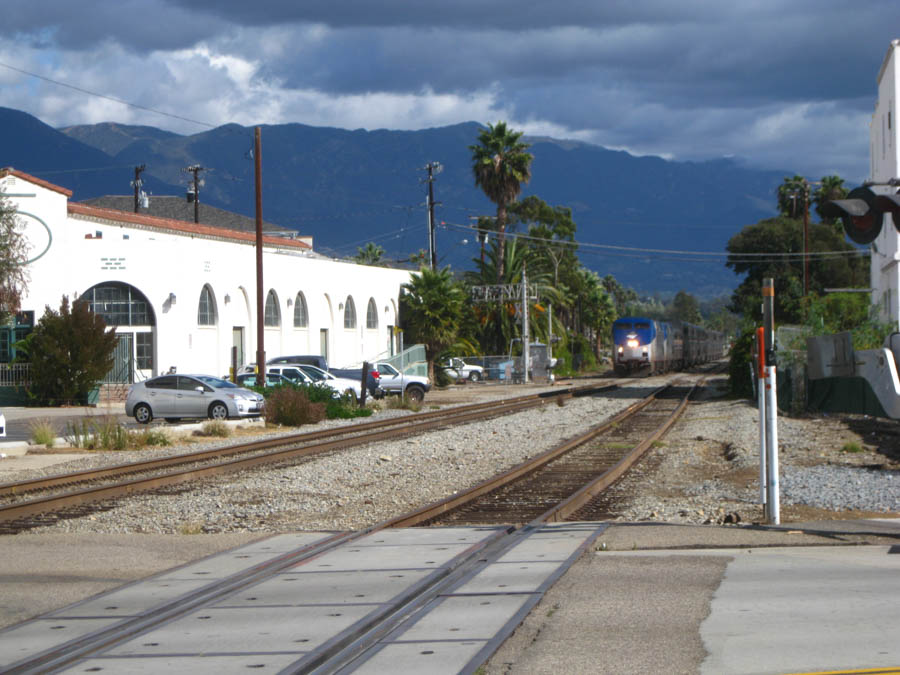 Here it comes....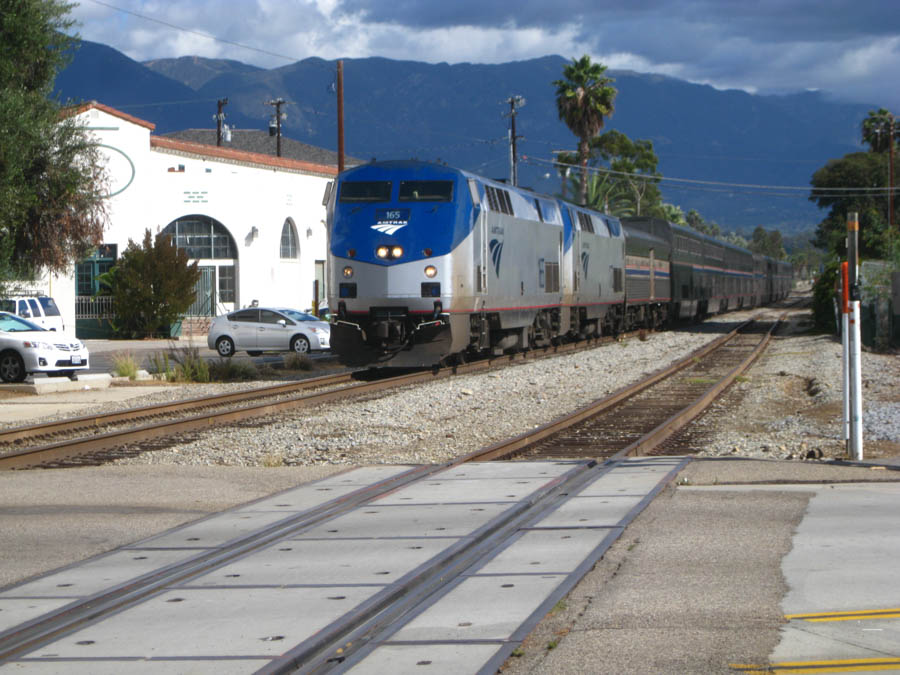 Moving right along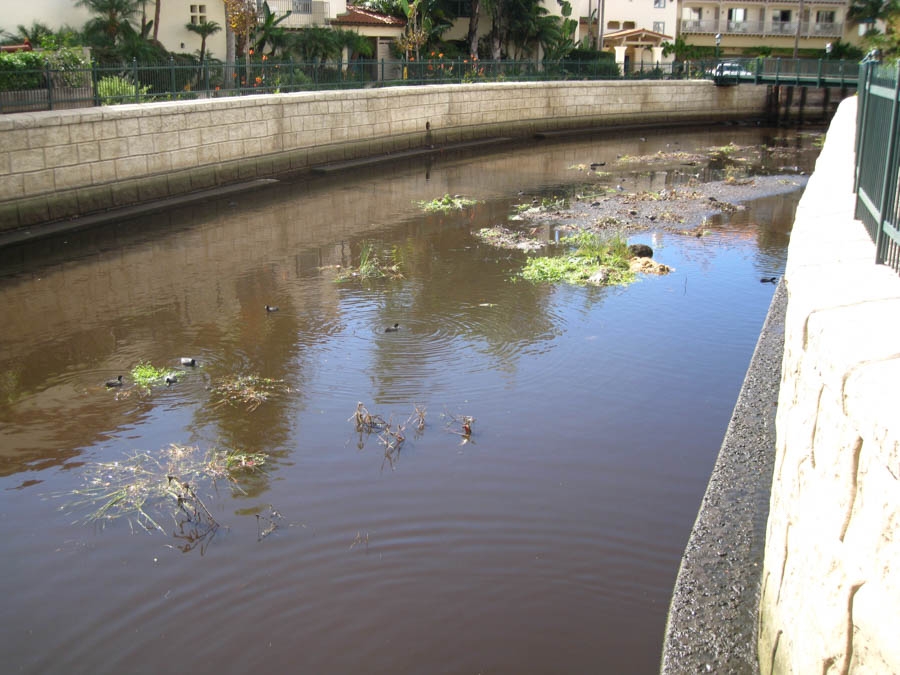 The birds found a great place to stay
At The Wharf... Time To Walk Over Water
Did You Know? - Stearns Wharf is a pier in the harbor in Santa Barbara, California, United States. When completed In 1872, it became the longest deep-water pier between Los Angeles and San Francisco.
Named for its builder, local lumberman John P. Stearns, the wharf served the passenger and freight shipping needs of California's South Coast for over a quarter century. Before the wharf, passengers and cargo had to be rowed ashore through the breakers and kelp.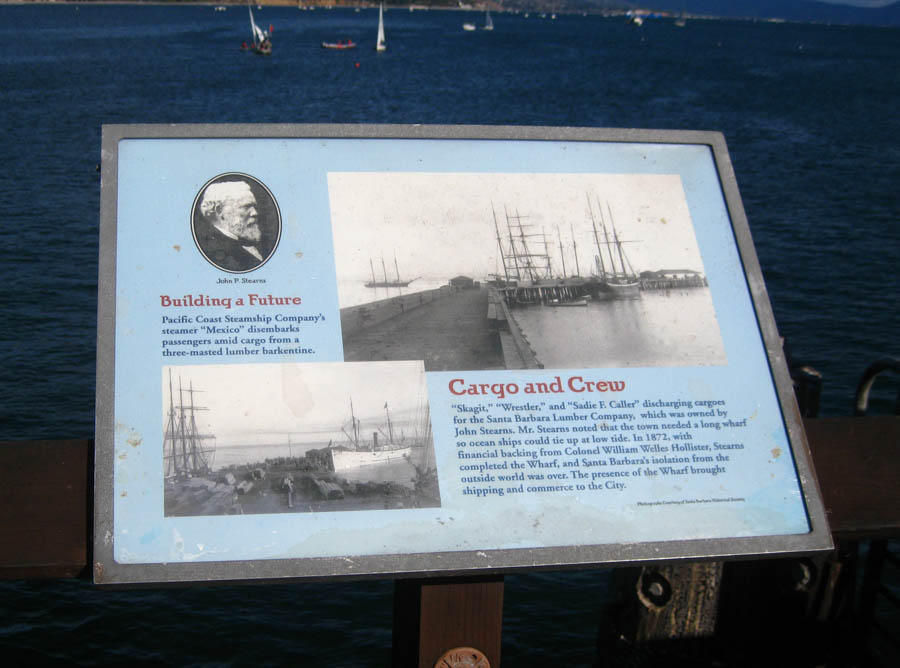 Historical education... All you have to do is read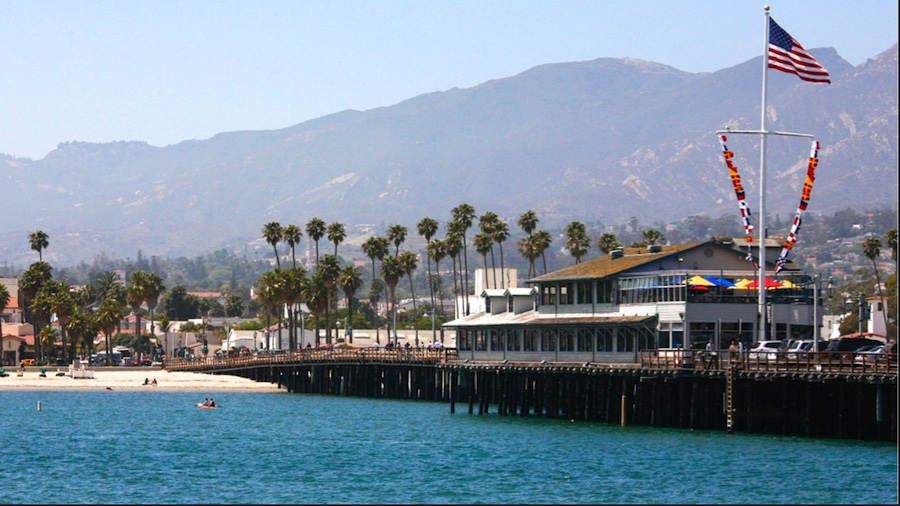 Our restaurant has a prominent location on the wharf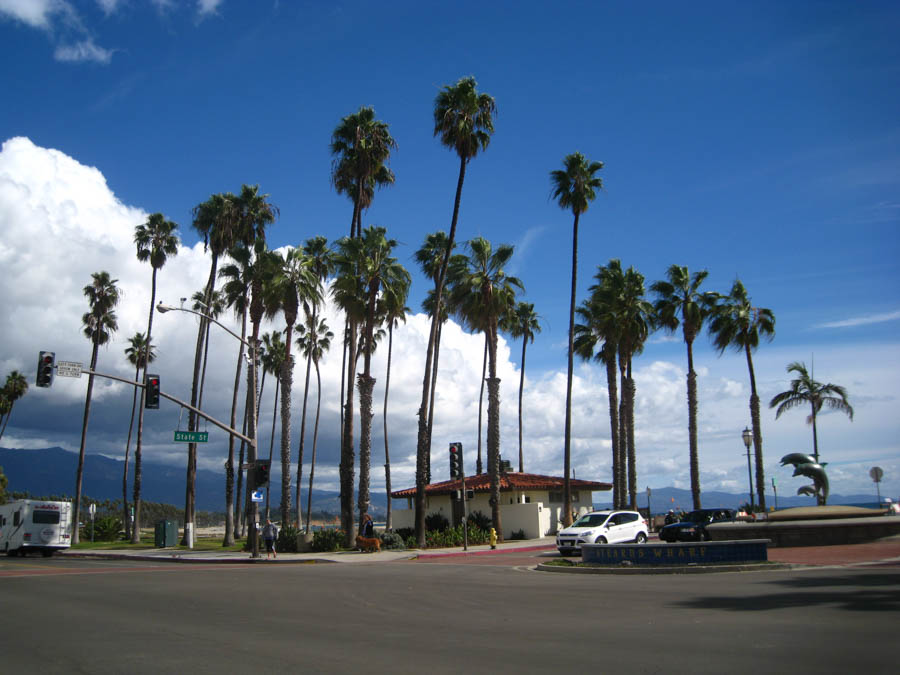 Entering the wharf... You can drive out there... You cannot take your train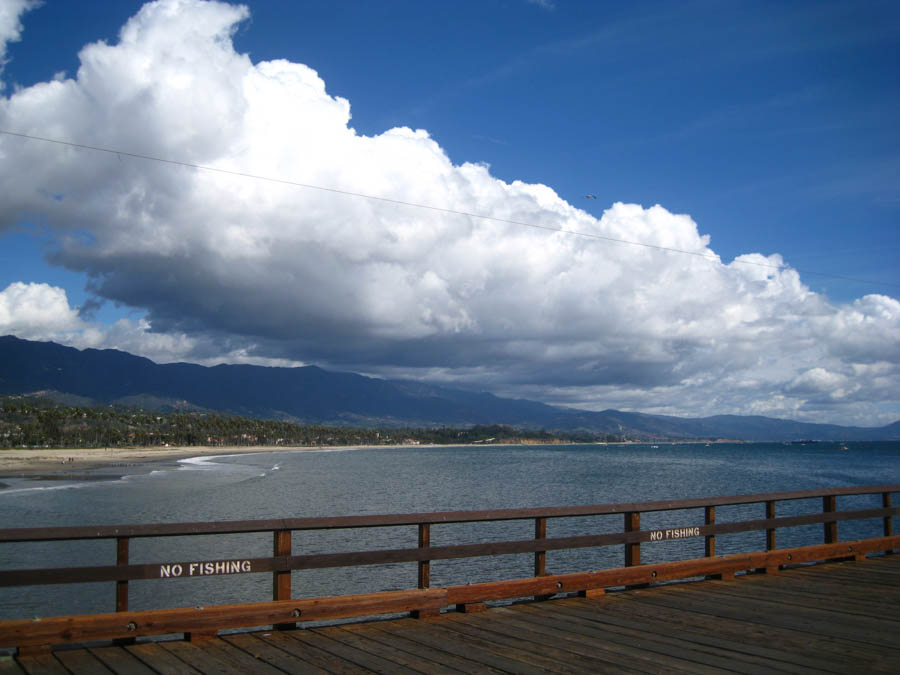 Beautiful clouds bouncing up against the mountains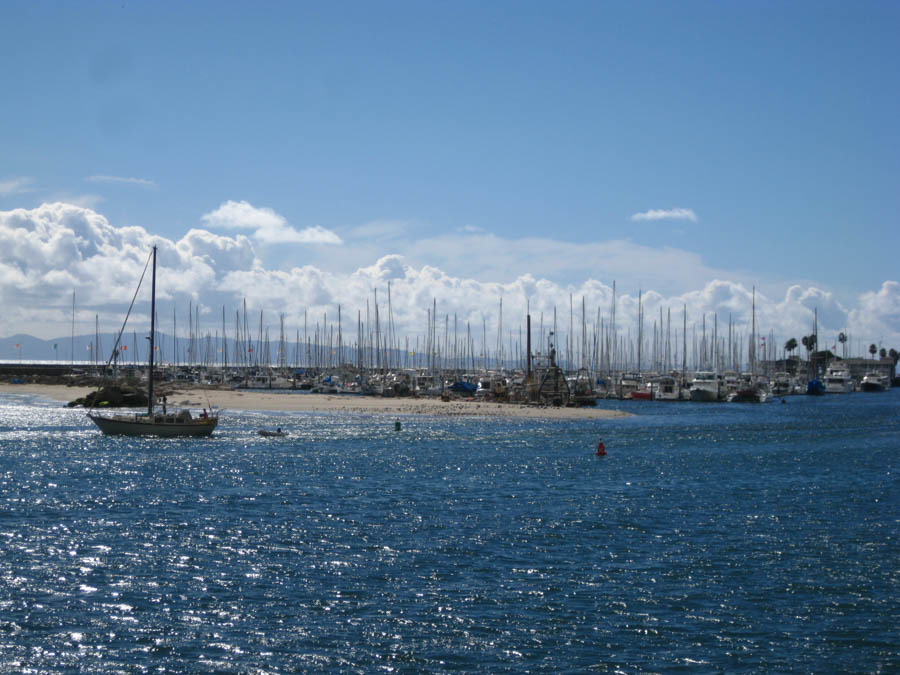 There was a fair breeze.. The little sailboats were active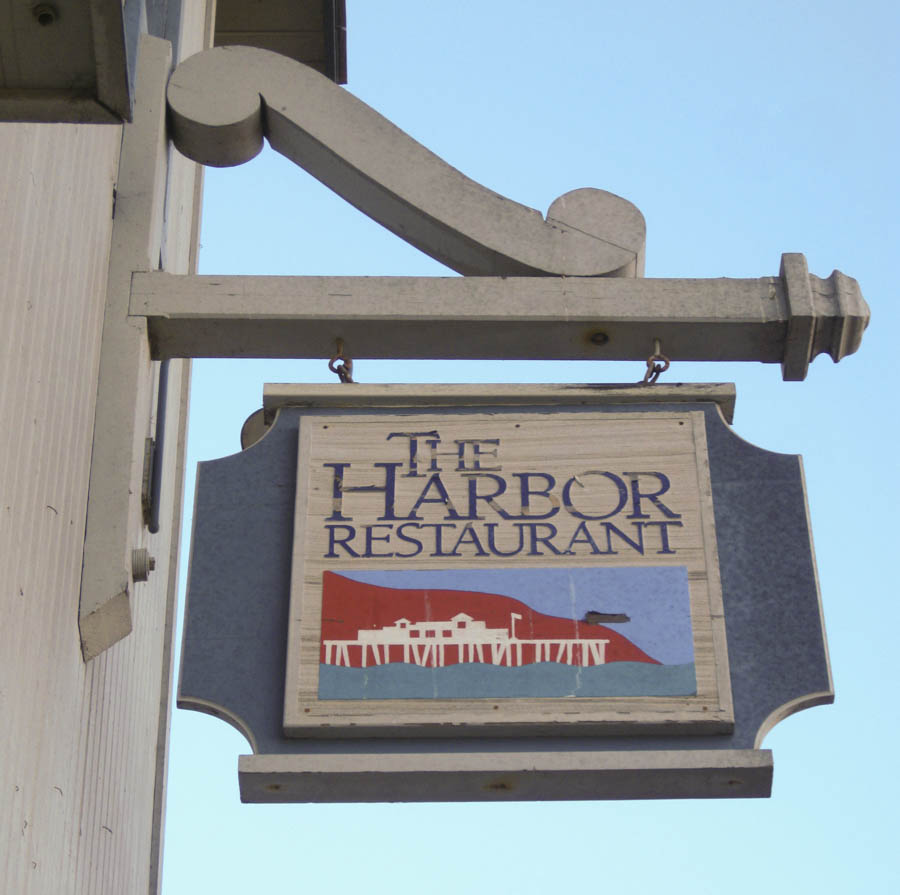 A great place to dine... Good groceries.. Excellent service... Beautiful view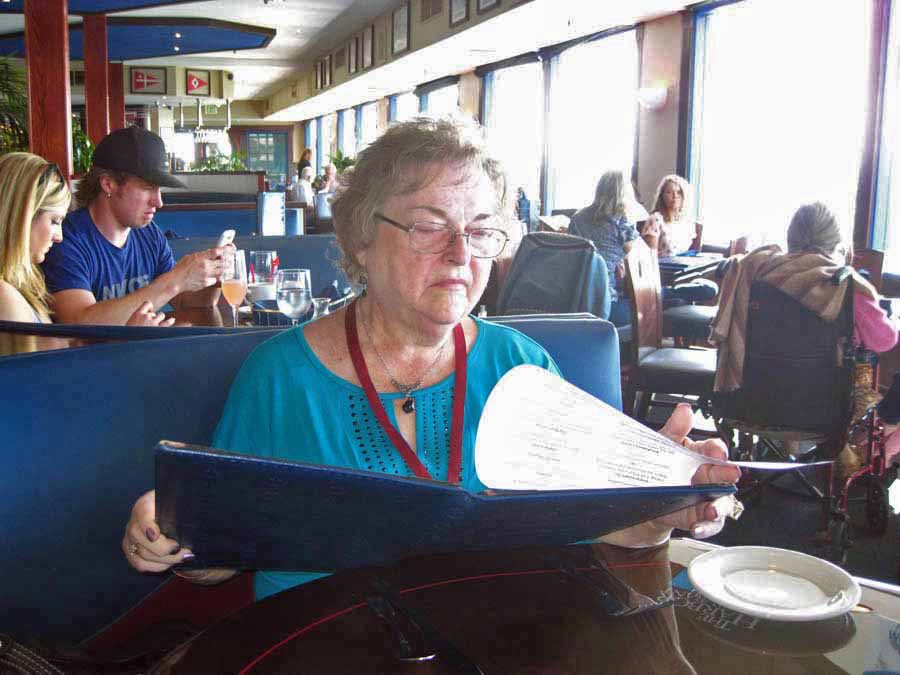 Checking the list once and checking it twice...
To see if she will be naughty or nice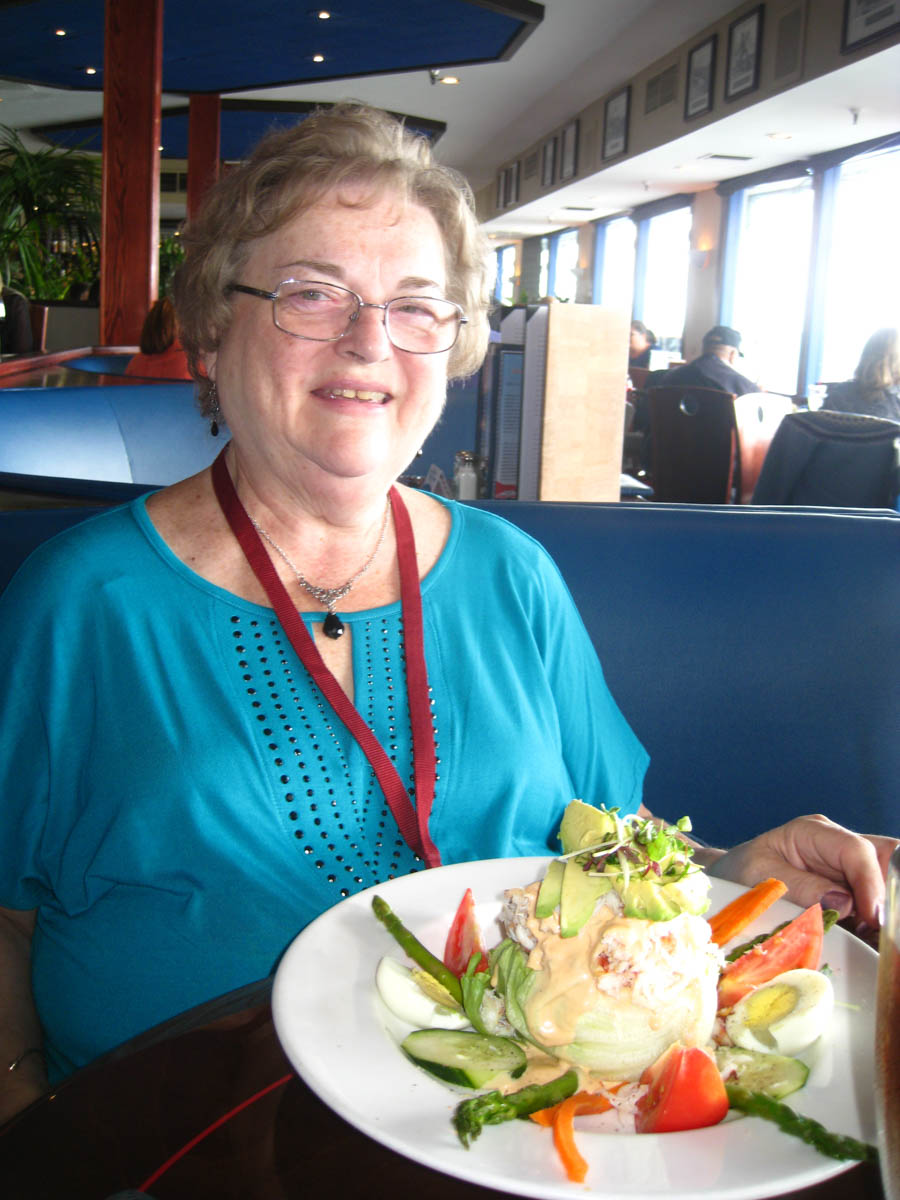 "OMG... They delivered the entire farm!"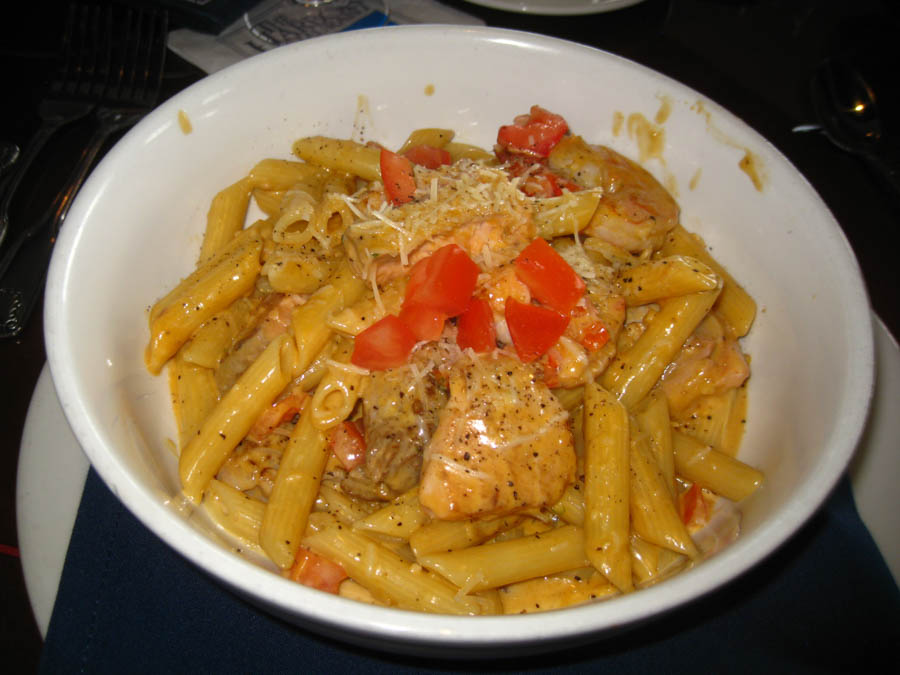 Seafood Penne Pasta... Delicious and very filling!
Did You Know? - Penne (Italian pronunciation: [ˈpenːe]) is a type of pasta with cylinder-shaped pieces. Penne is the plural form of the Italian penna, deriving from Latin penna (meaning "feather" or "quill"), and is a cognate of the English word pen.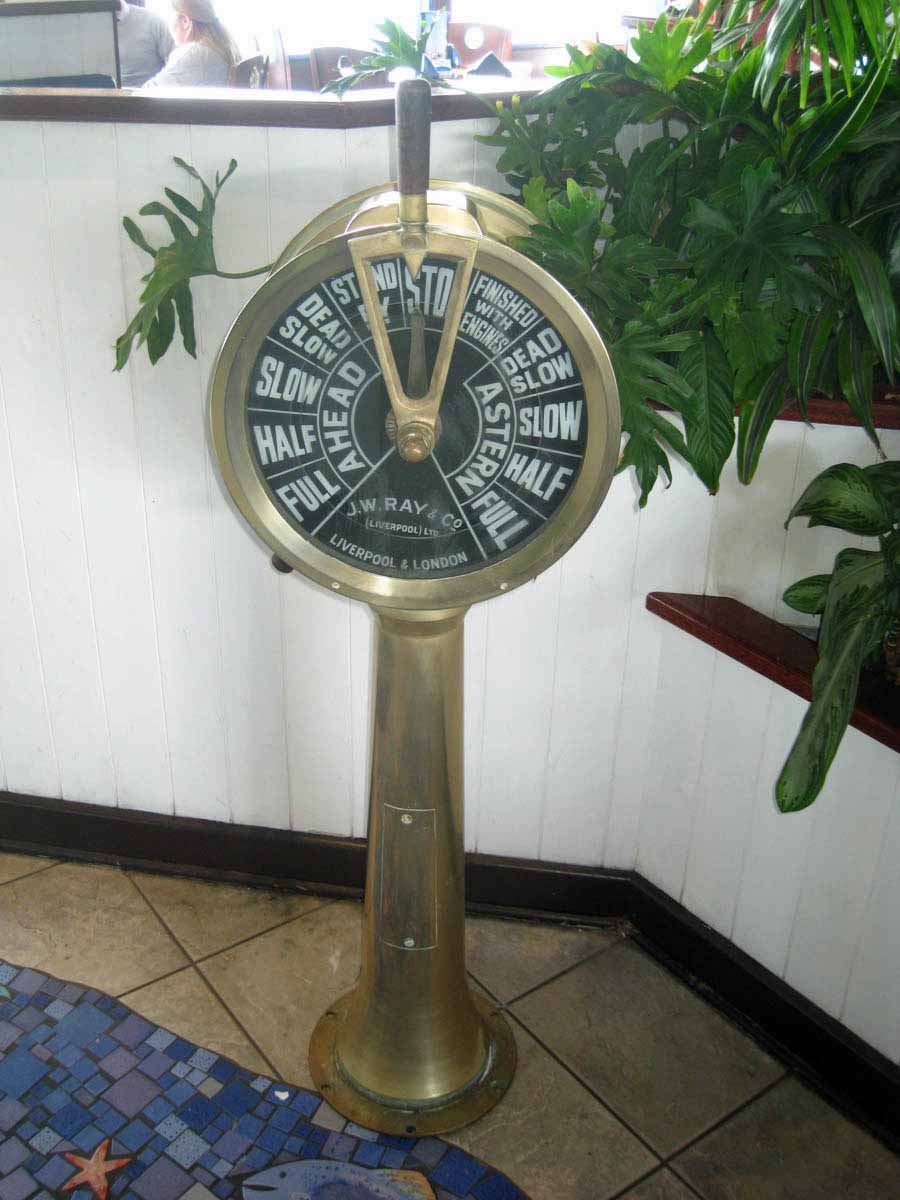 Just us... Full Speed Ahead
More Walking And Exploring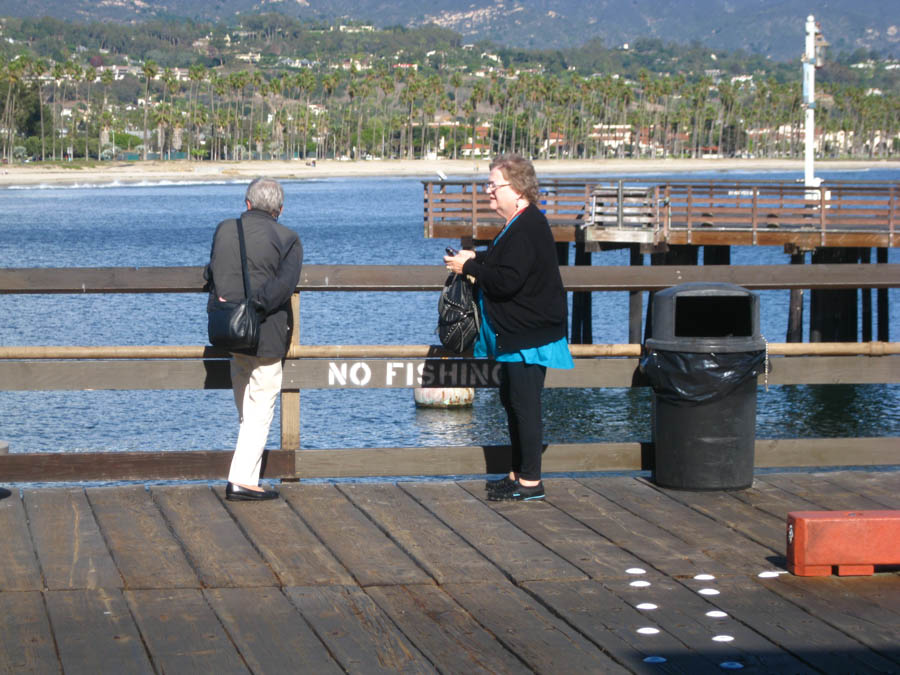 Coats are on... Breeze is stiff...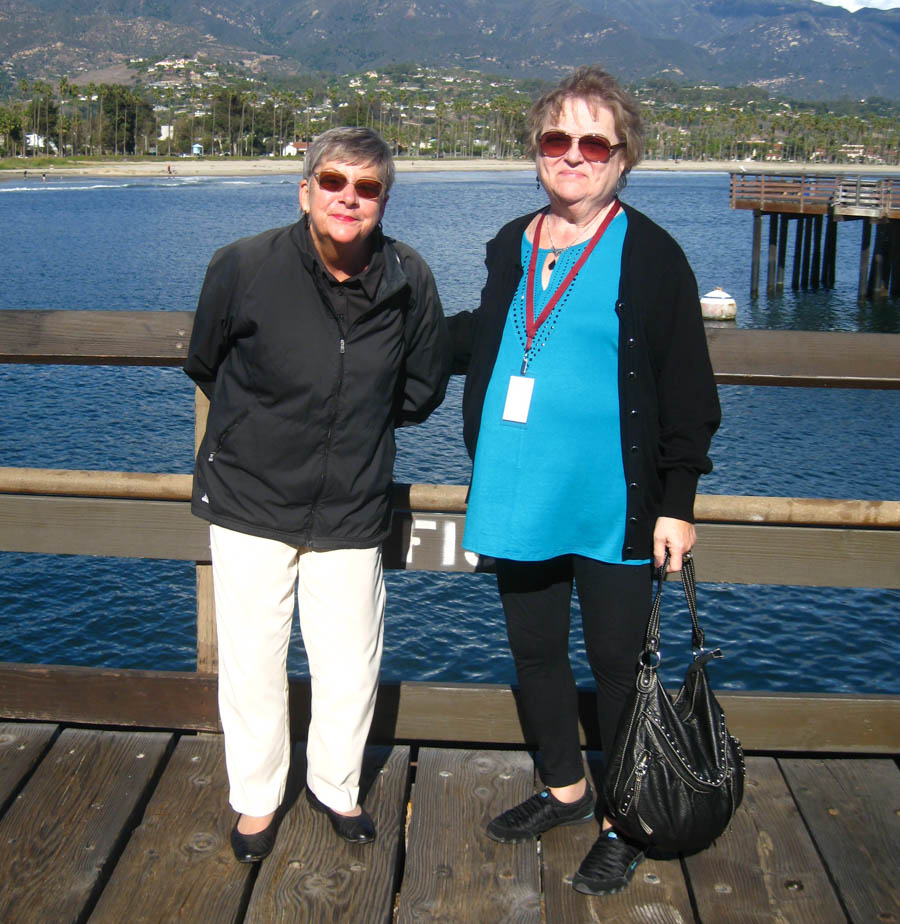 Enjoying life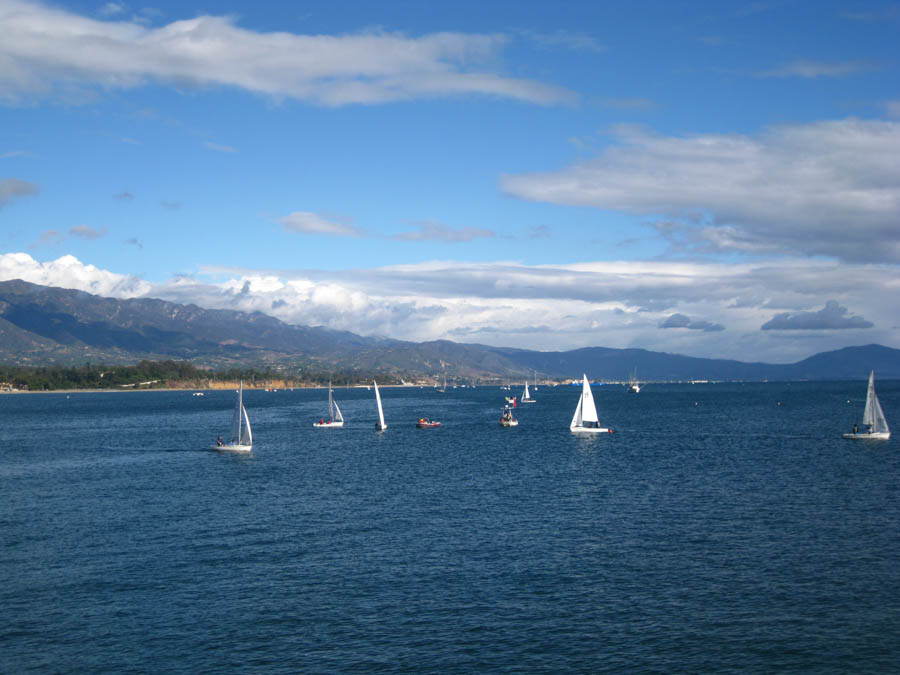 The little boats were having fun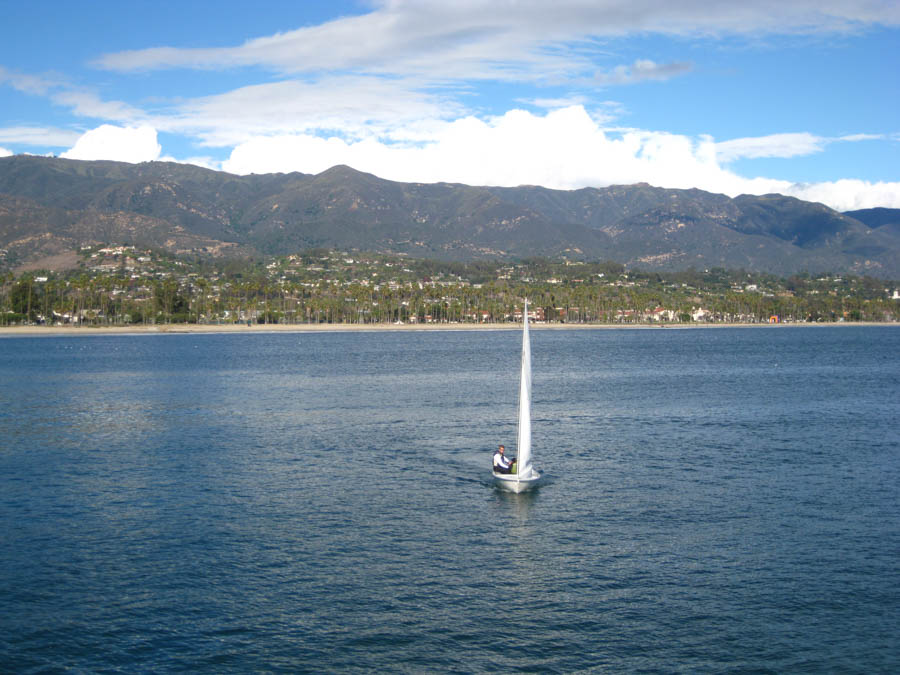 "Look out you guys on the wharf... I can't seem to turn the boat"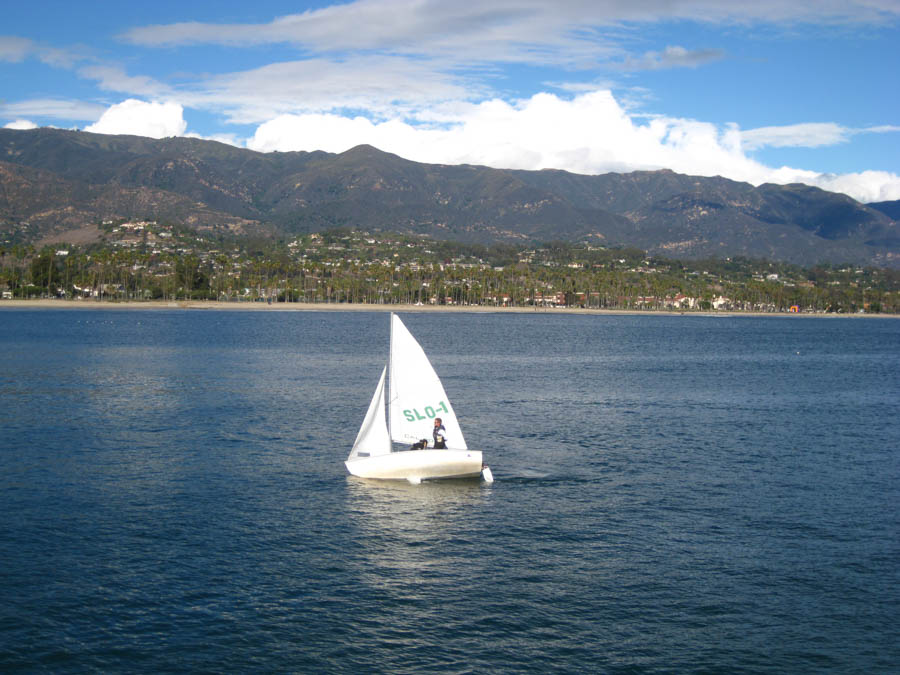 Almost went over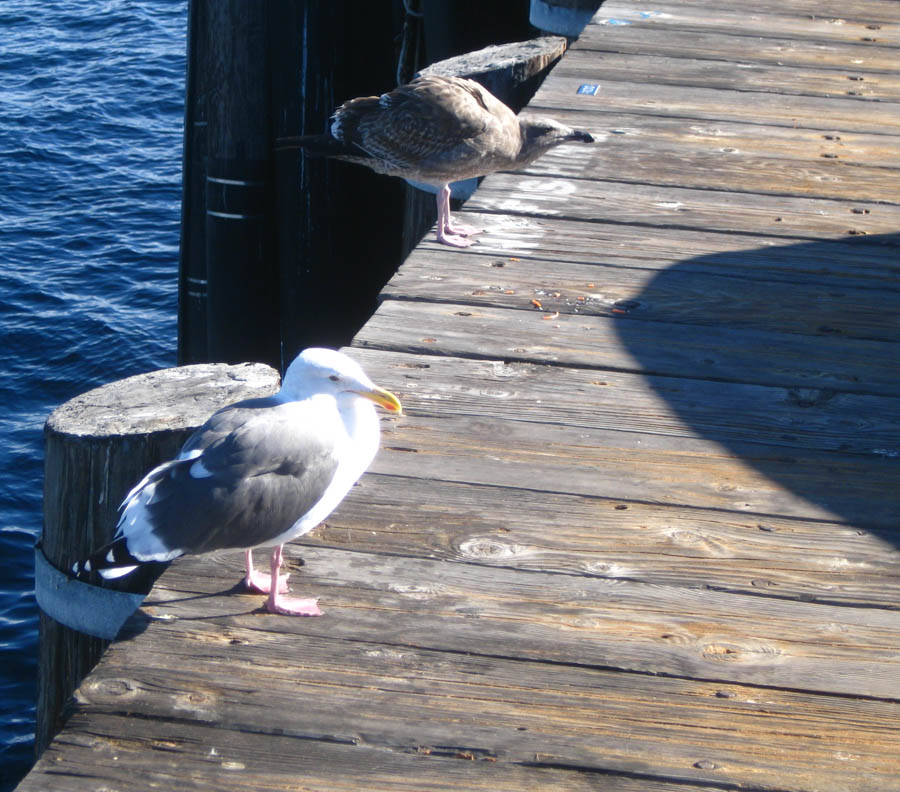 "We are not afraid of hoomans! We be seagulls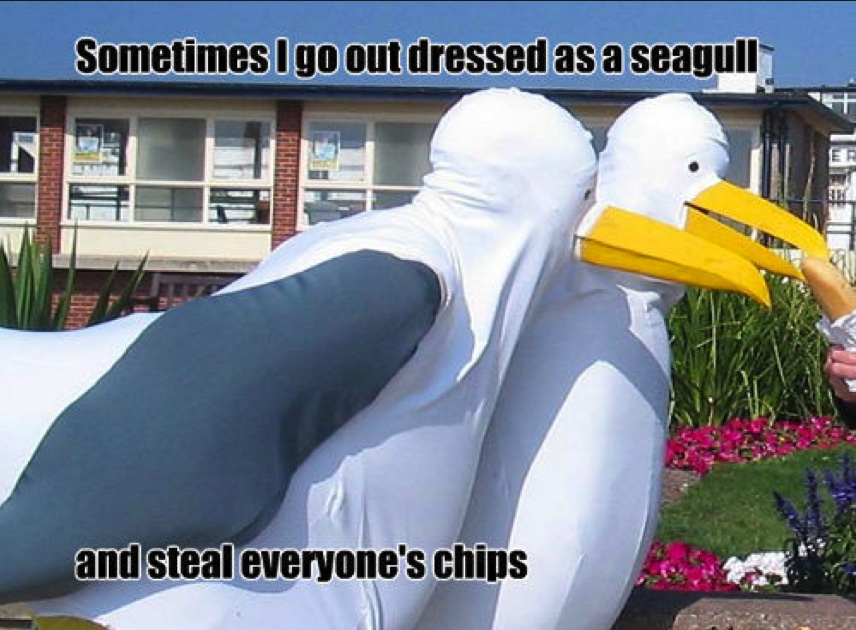 We really did not want to know Angie's secret... Seagull costume??

"Can't you read the sign... DO NOT DISTURB"

"Now I know I put that food somewhere!"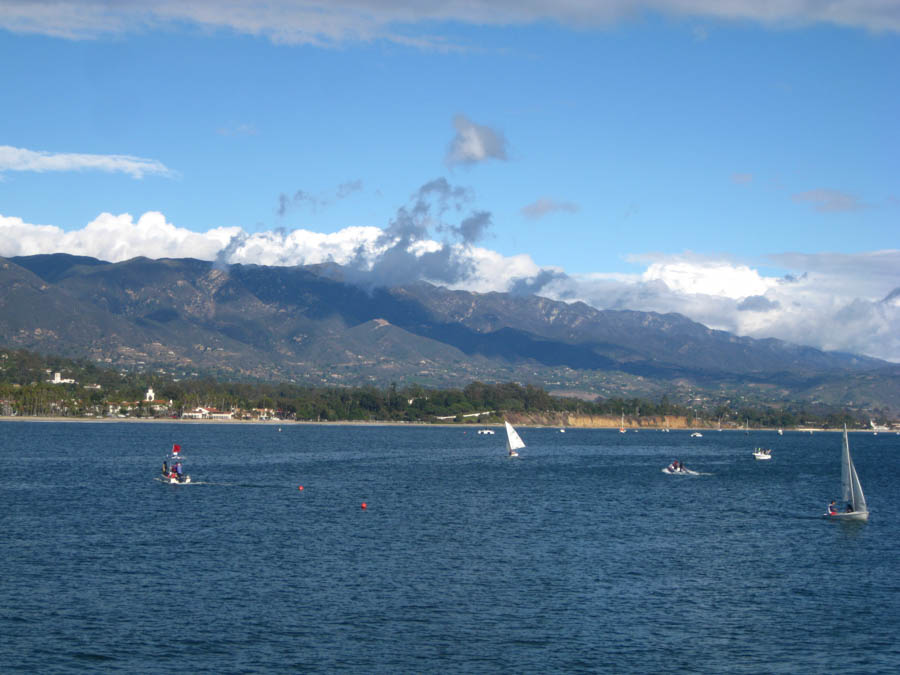 One could sit on the wharf all day and watch the beauty of nature
Did You Know? - A Wharf is a man-made structure on a river or by the sea, which provides an area for ships to safely dock. Some are very intricate, with multiple types of berth over a large area, and navigable channels, and others (like this one, below, from Australia) are more straightforward.
A Wharf can contain quays and piers and will normally have buildings within it to service the ships (often warehouses and offices). Because of their abundance of unusual buildings and ready-made water features, unused wharfs are often converted into expensive retail and housing areas.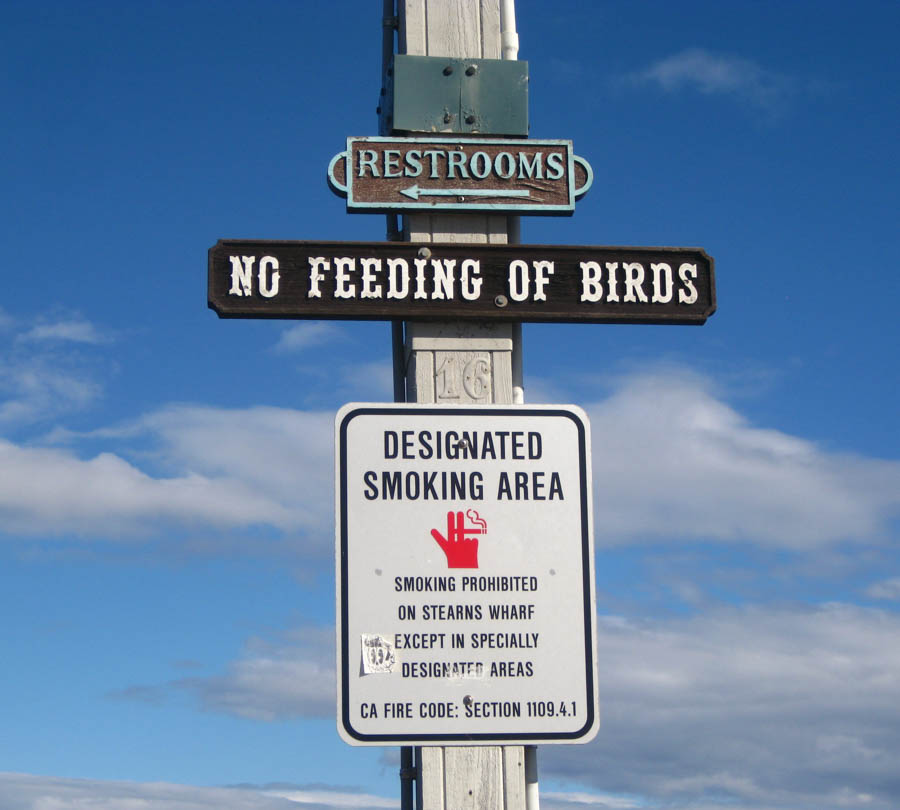 Feed them the smokers!!!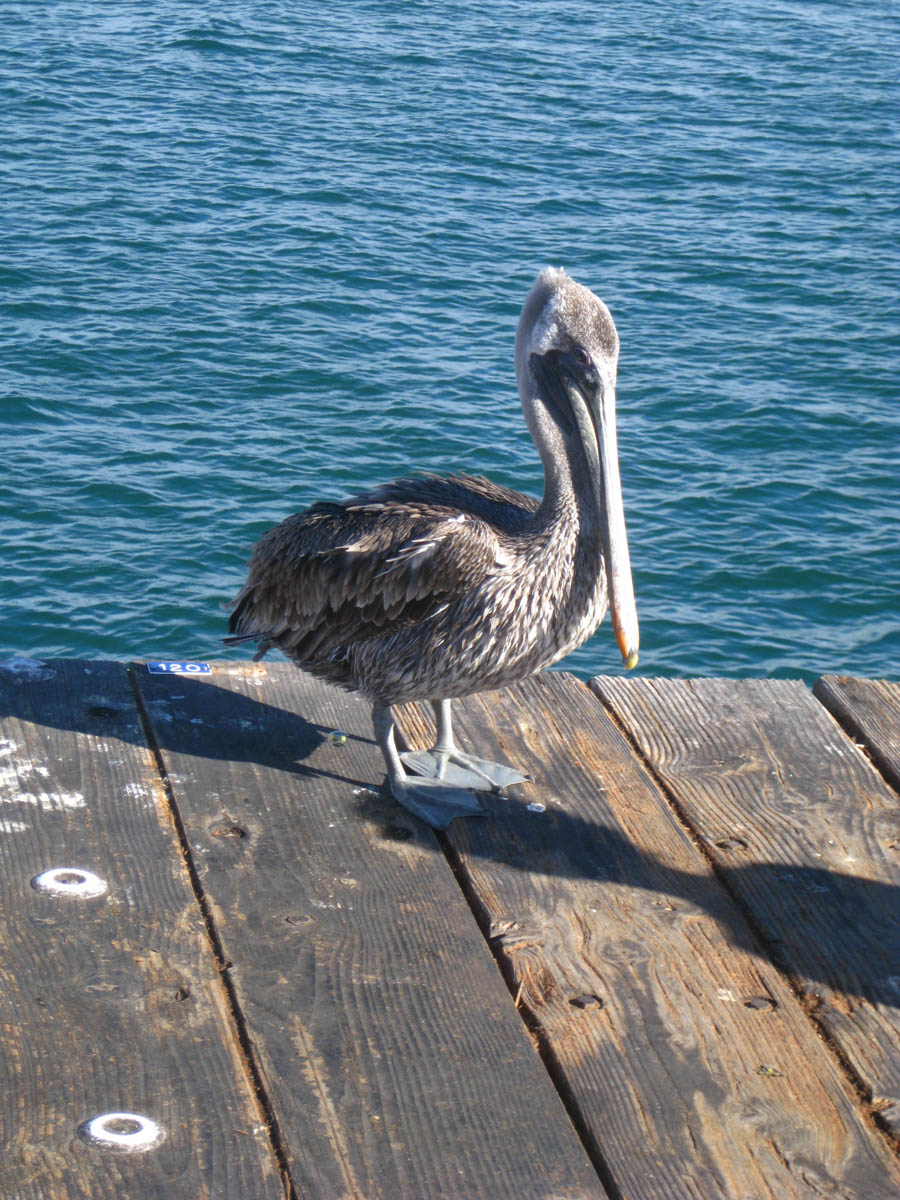 "My name is Mr. Pelican to you sir! "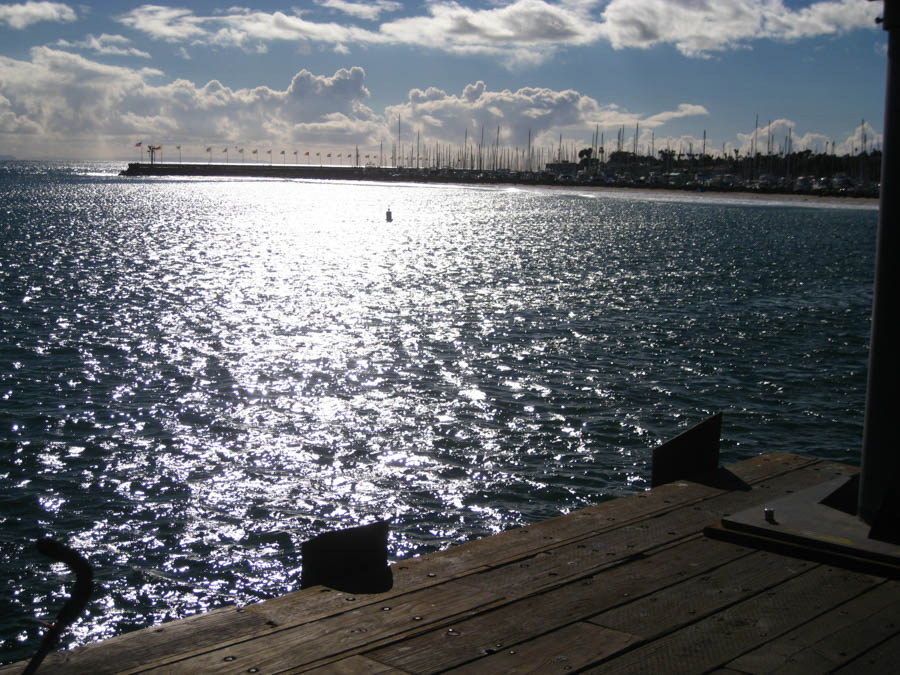 The sun made the water glimmer like a box of diamonds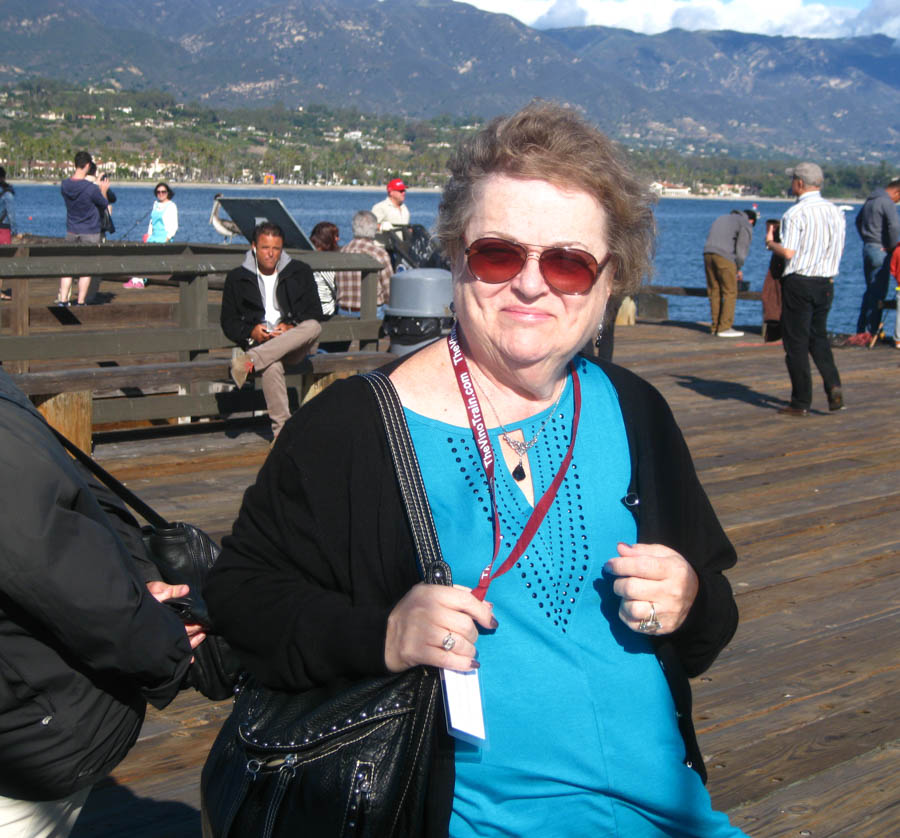 "This is my bestest smile"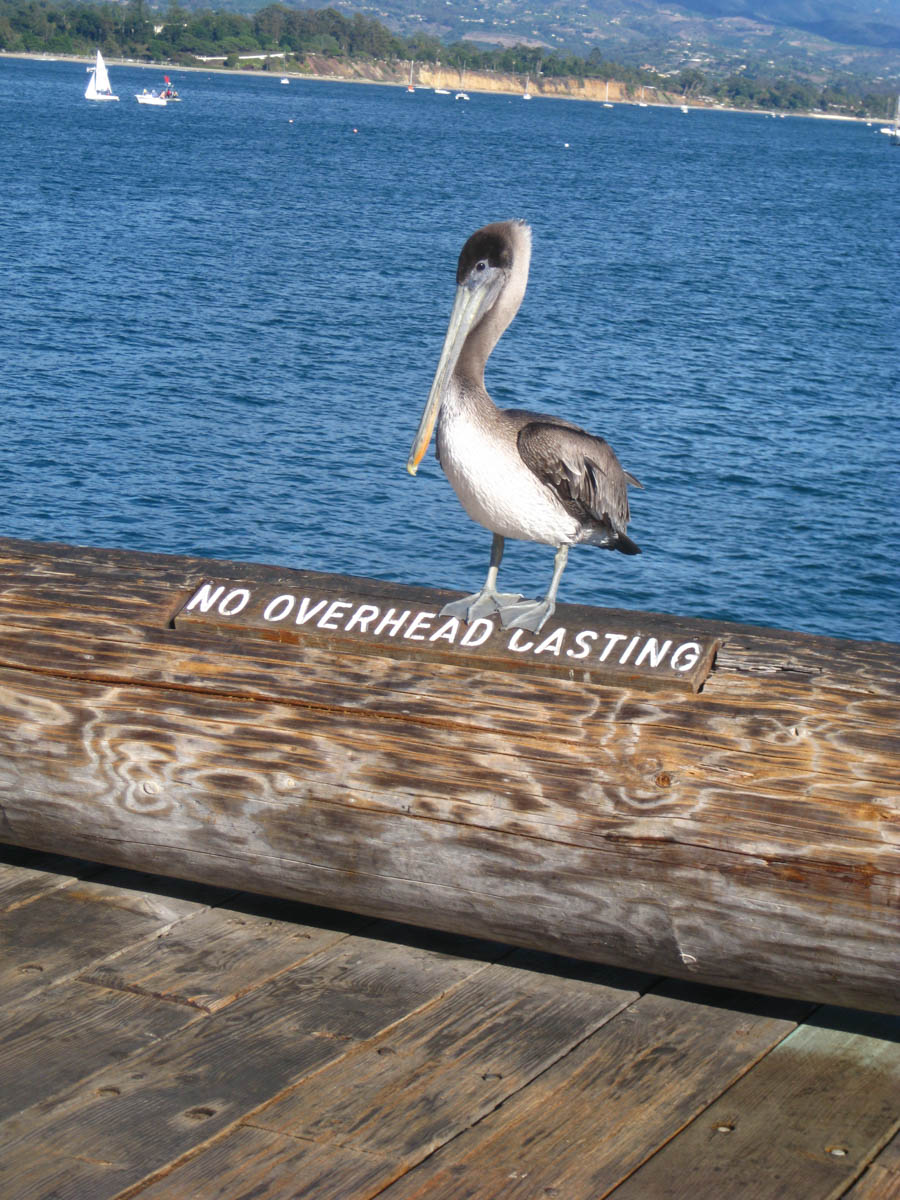 "S-h-h-h-h I am trying to read the sign"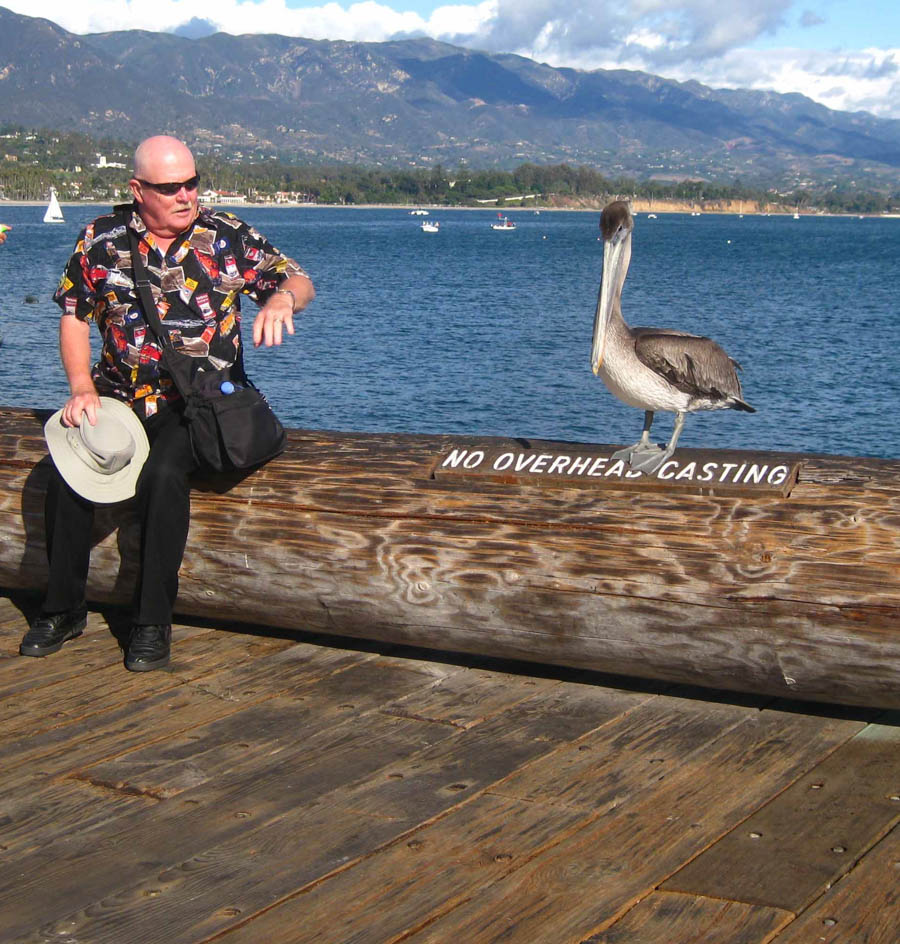 "Hey baldy... Put on your hat... You skin is scaring me!"

Thought bubbles should not be seen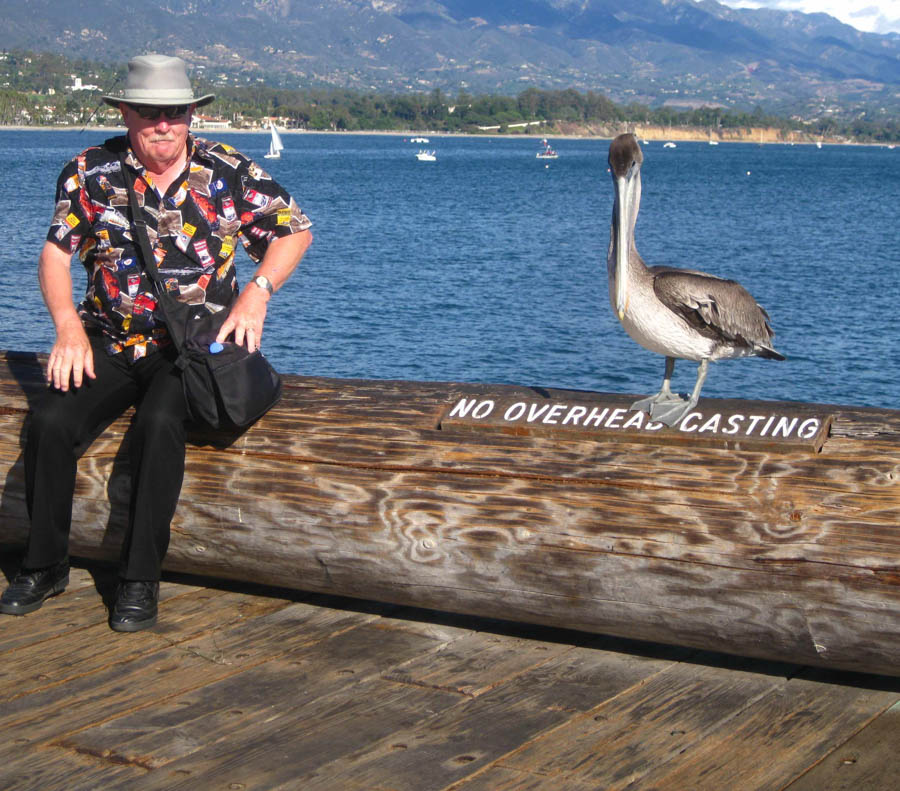 "Thank you... That is mucho better"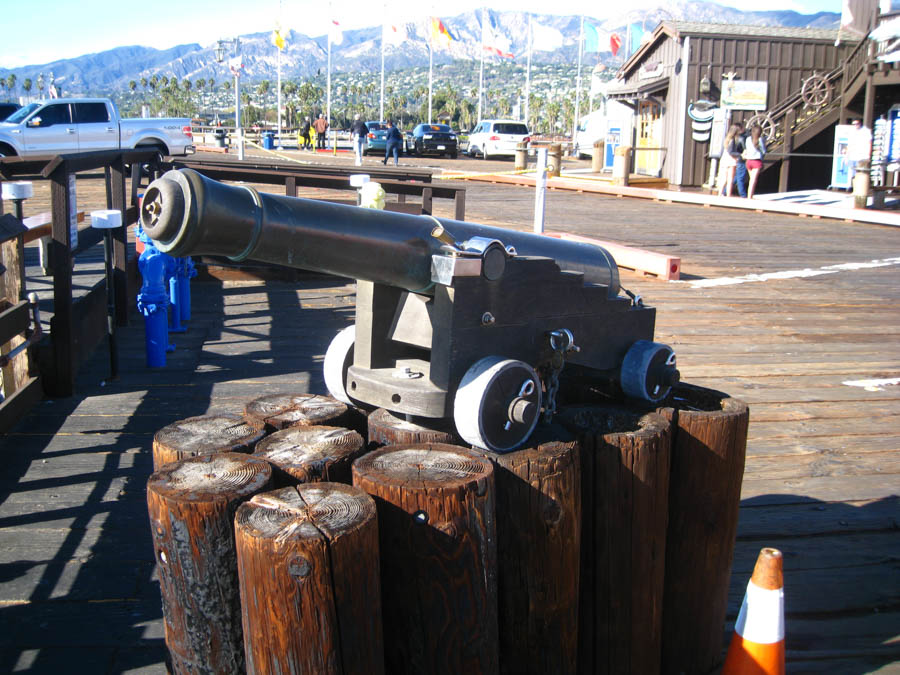 Protection from pirates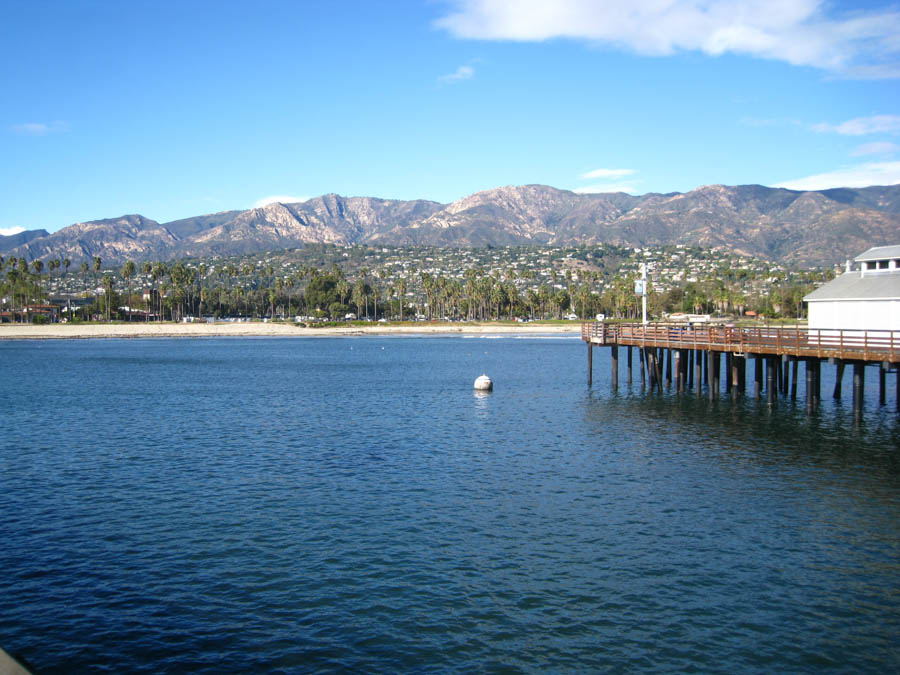 OK... Back to the wineries... Must taste

One stiff breeze

Goodbye wharf...
Time For Walking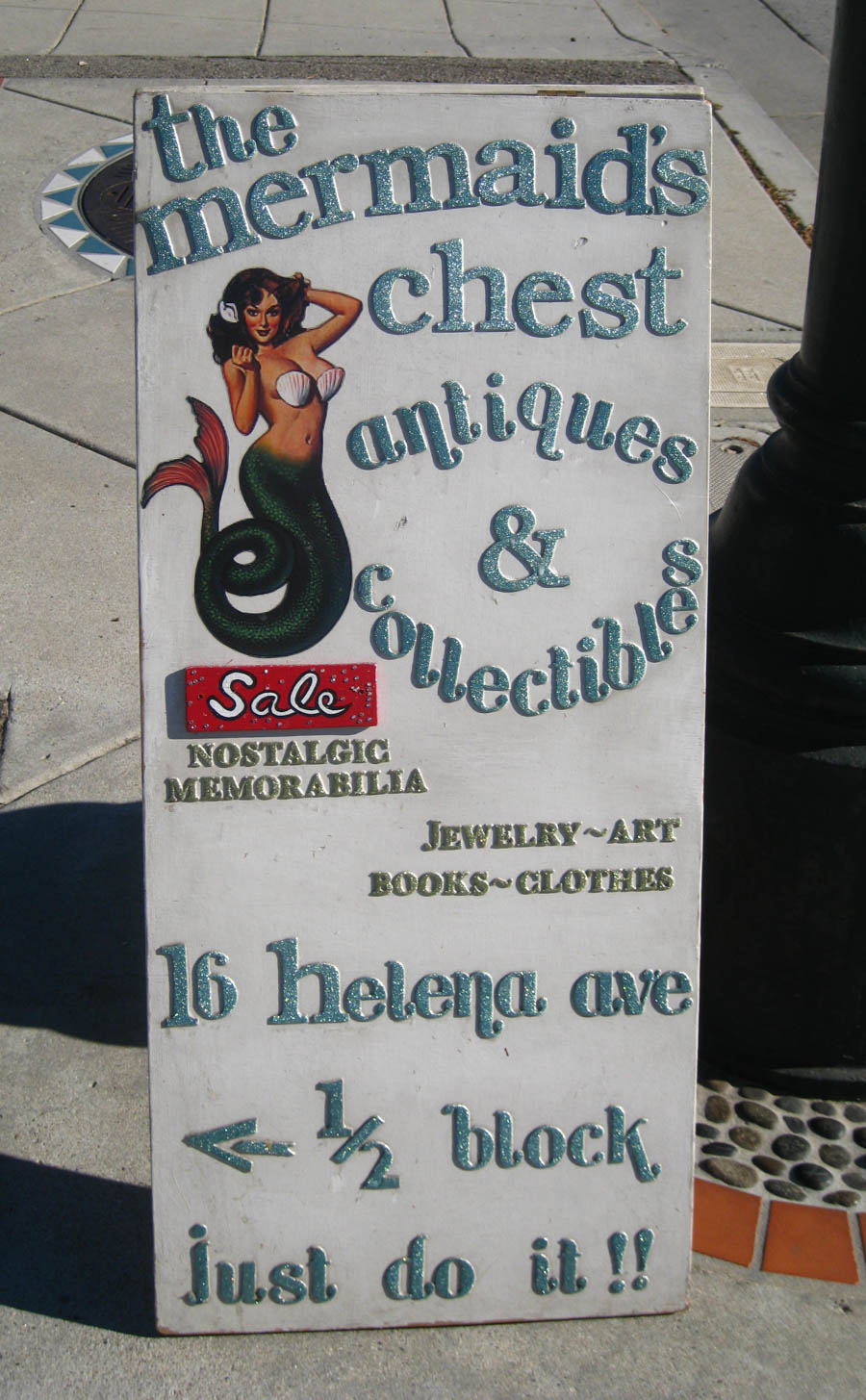 The sign caught Paul's eye... Wonder why??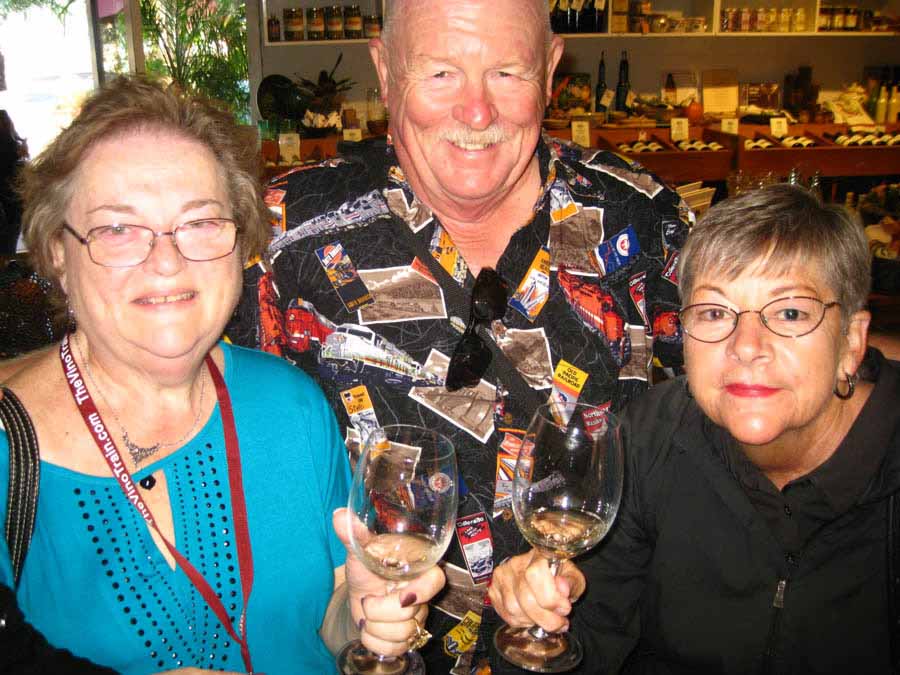 Angie is introduced to wine tasting...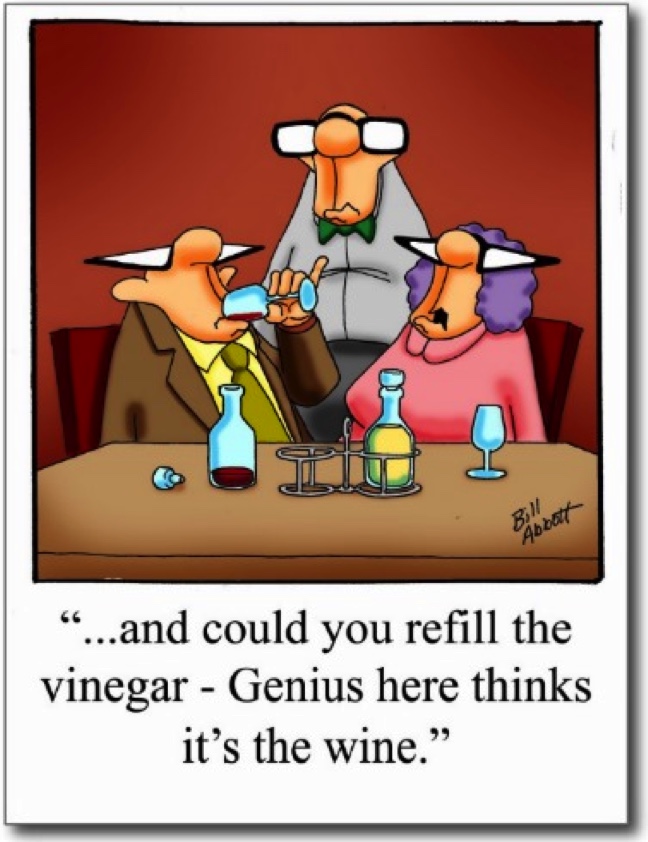 "Angie... All we need now is bridge to sit under and drink from our bags!"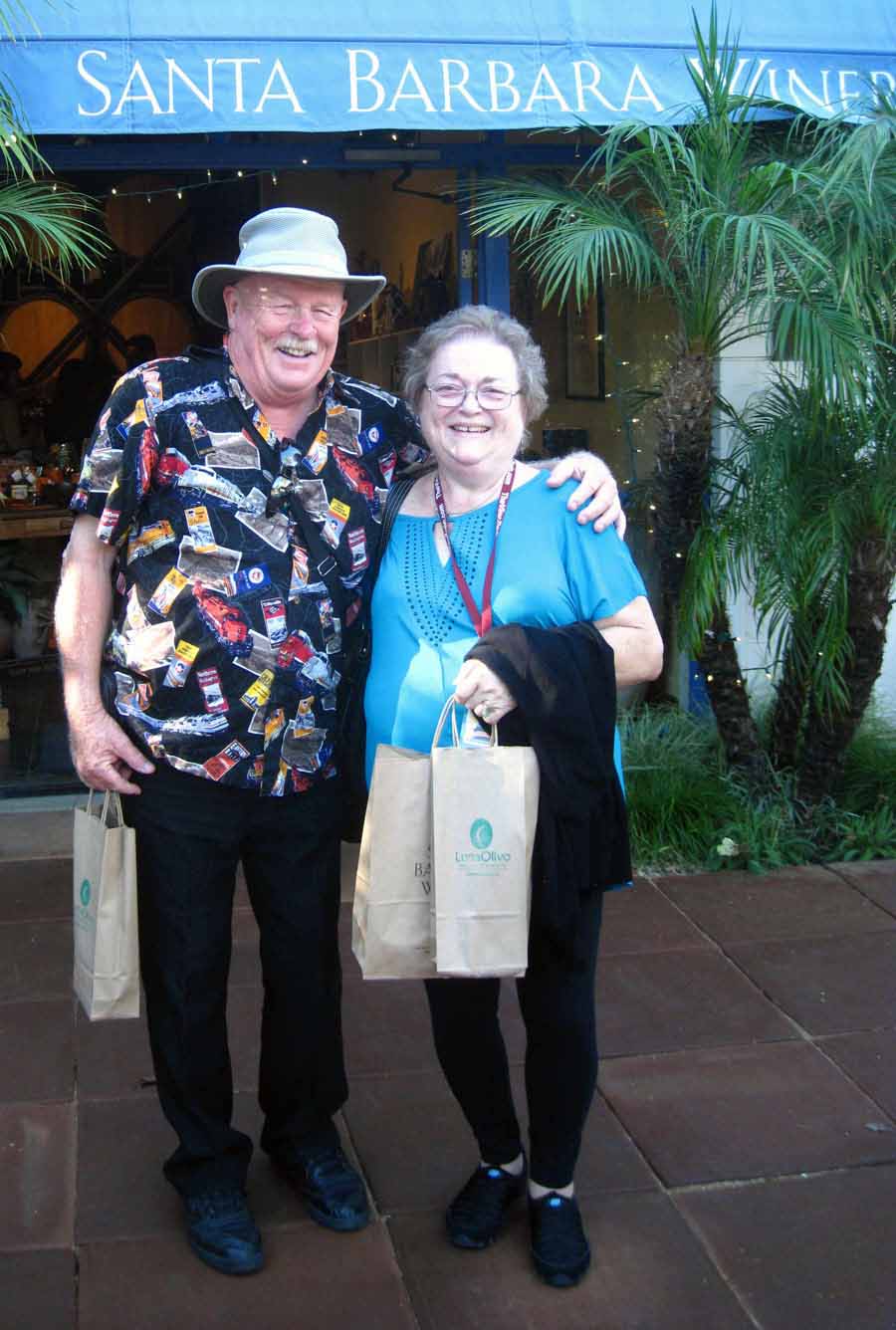 "What do you mean... It's olive oil... Not wine!"

Paul asked the ladies to stand still for a picture...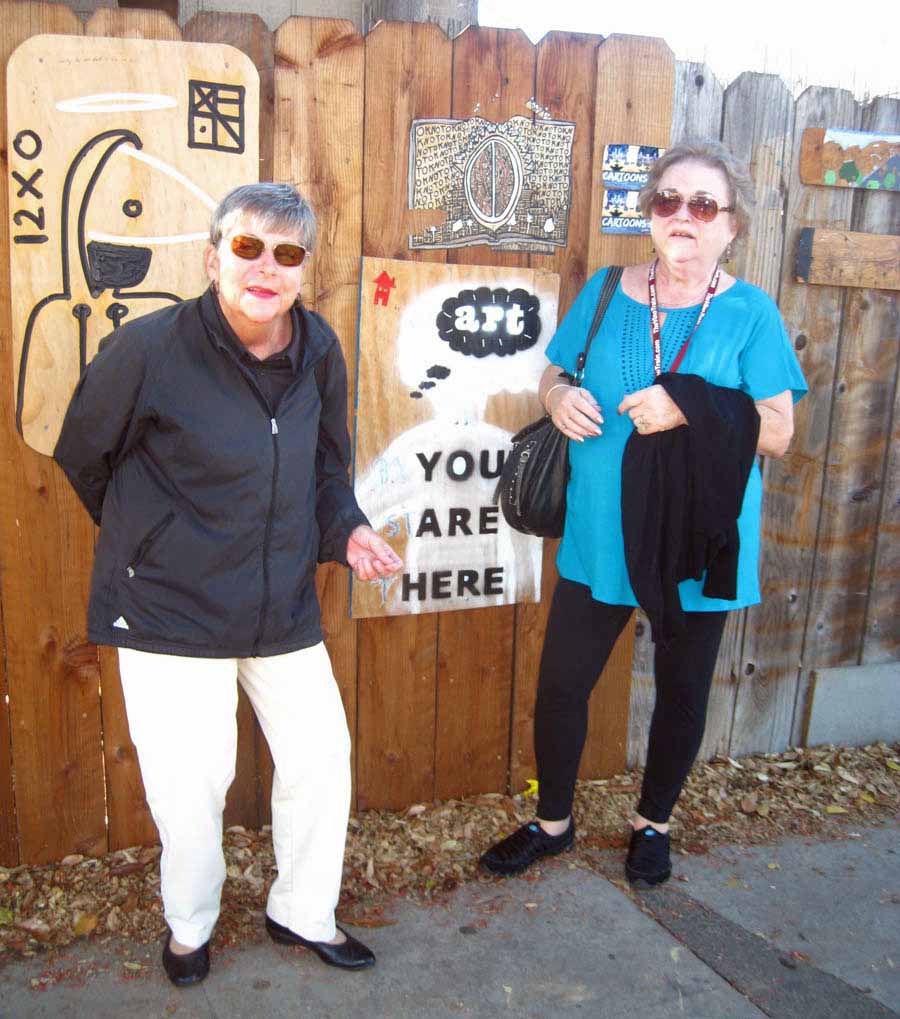 Forgot to say "Face The Camera"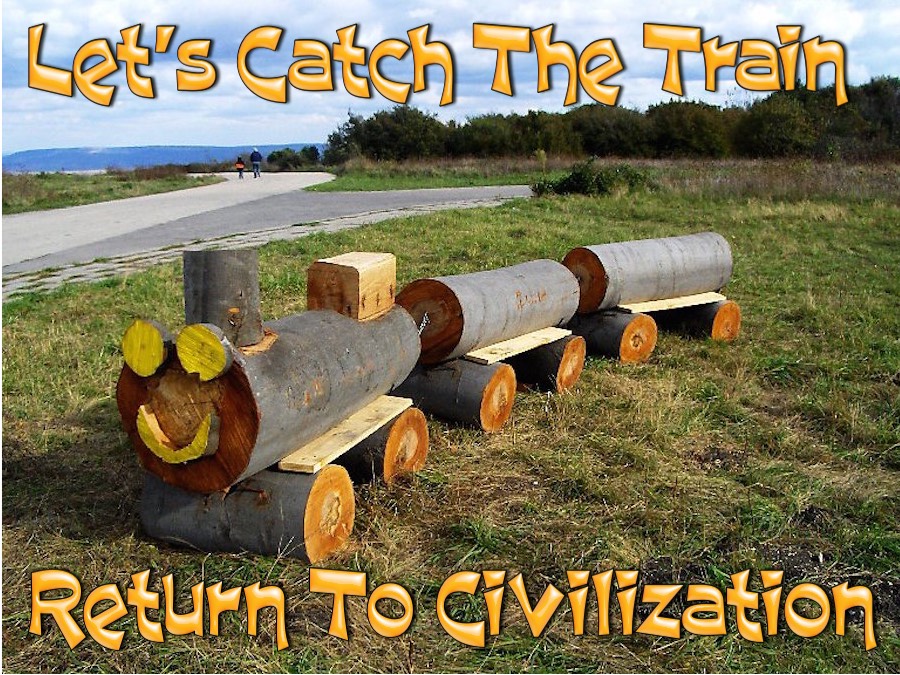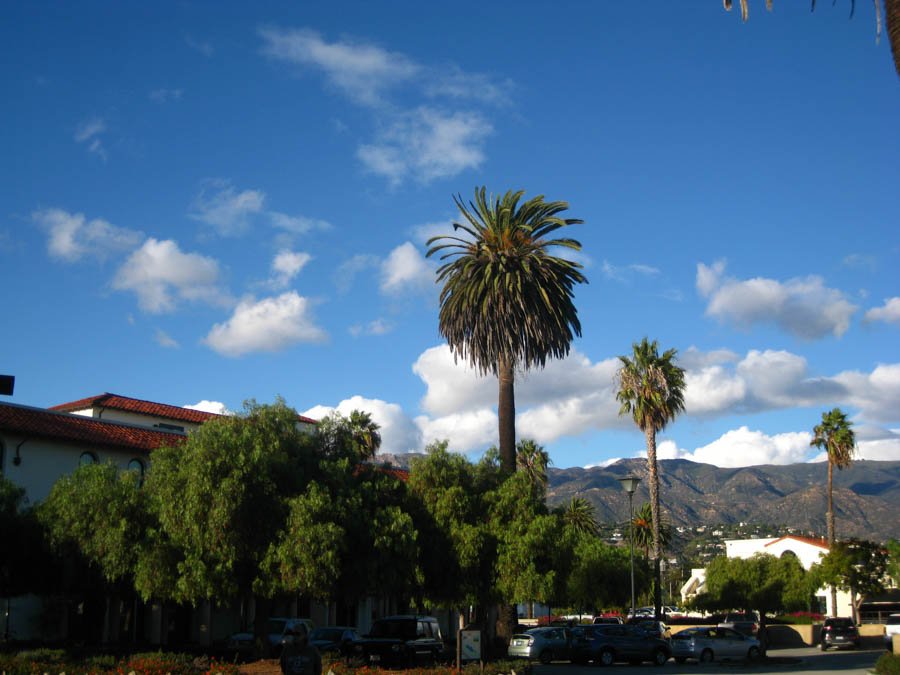 A truly magnificent day!

Angie scans the horizon for the train...
Sue knows the train will be here after 5:00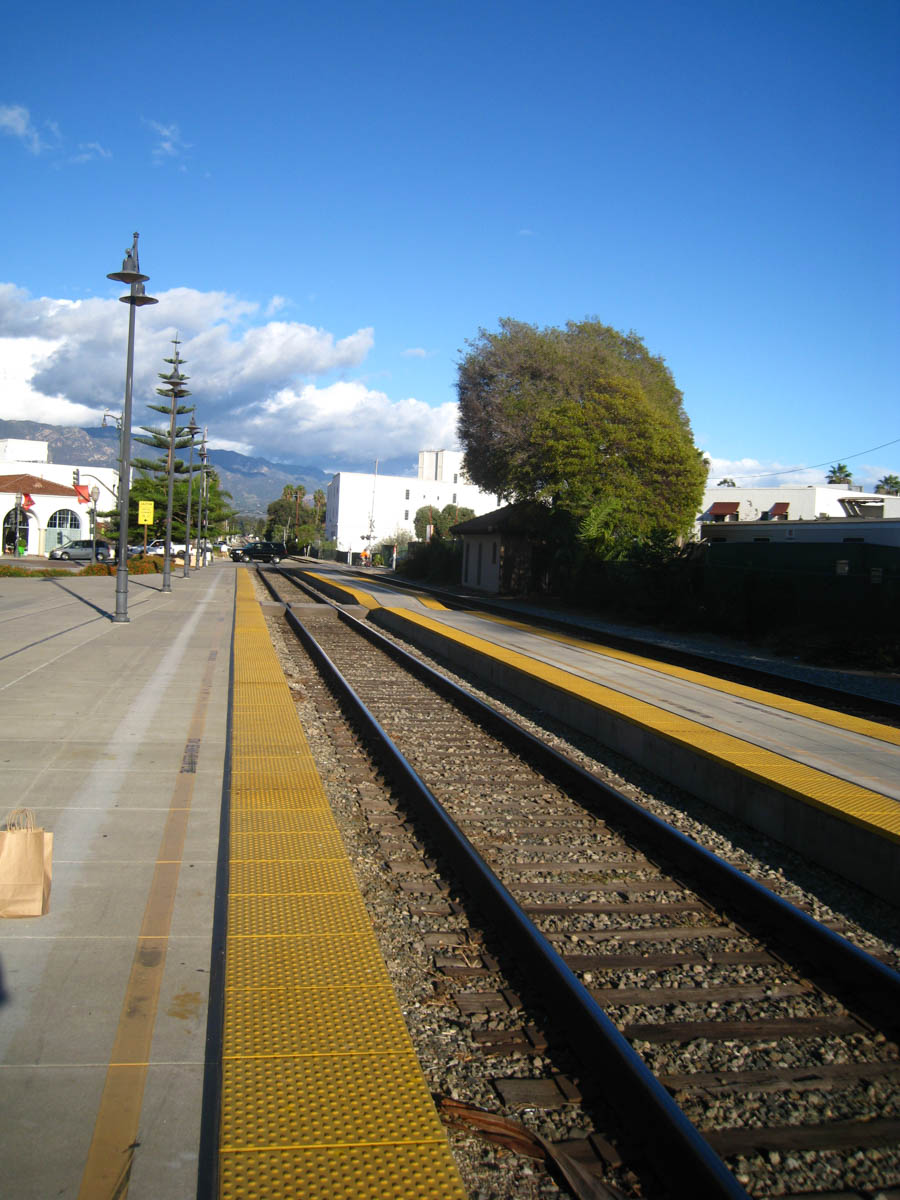 Pointing toward home...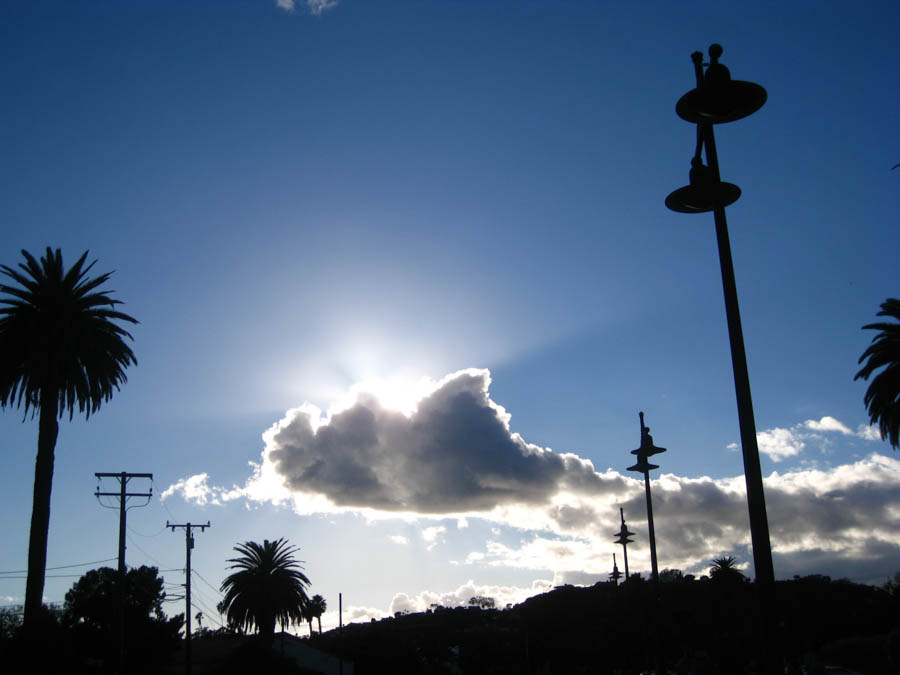 Silver linings in the sky
Did You Know? - A silver lining is a metaphor for optimism in the common English-language idiom "Every cloud has a silver lining.

The Sun us trying to peek through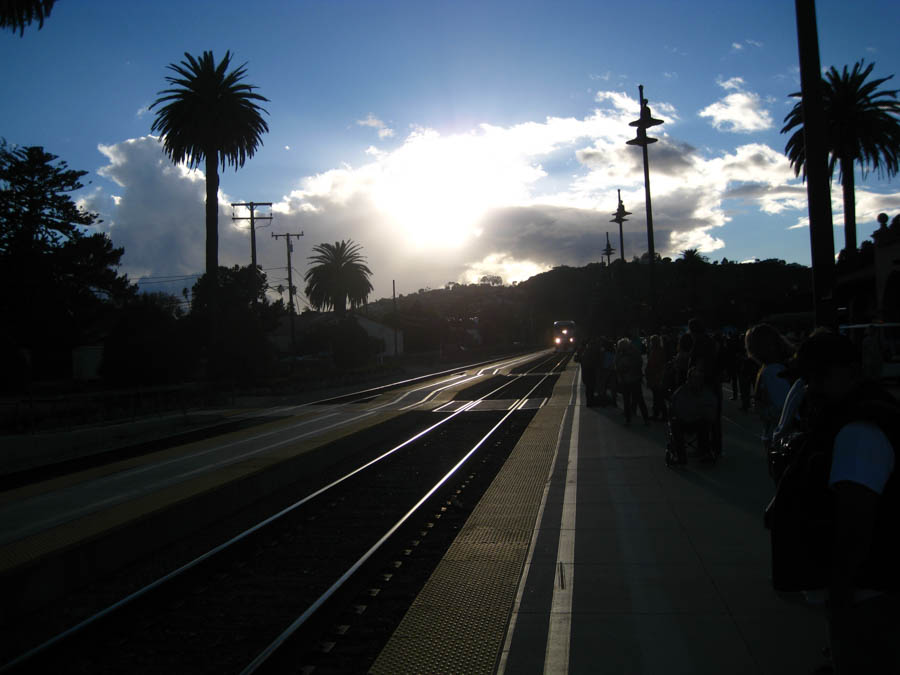 Our train shows his nose...

"Sorry I am a little late"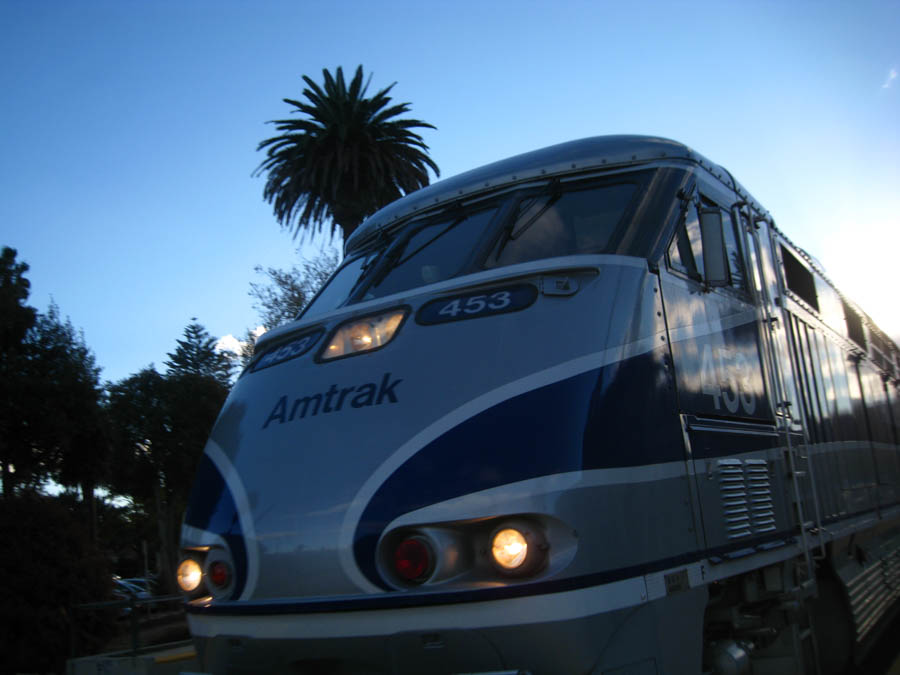 "I will make up for it"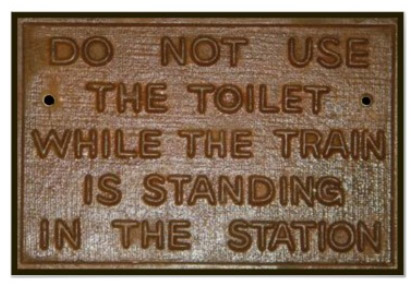 Does anyone remember these signs???

We are off... and running

"Do you recognize me with by Hollywood shades on??"

Sitting down feels good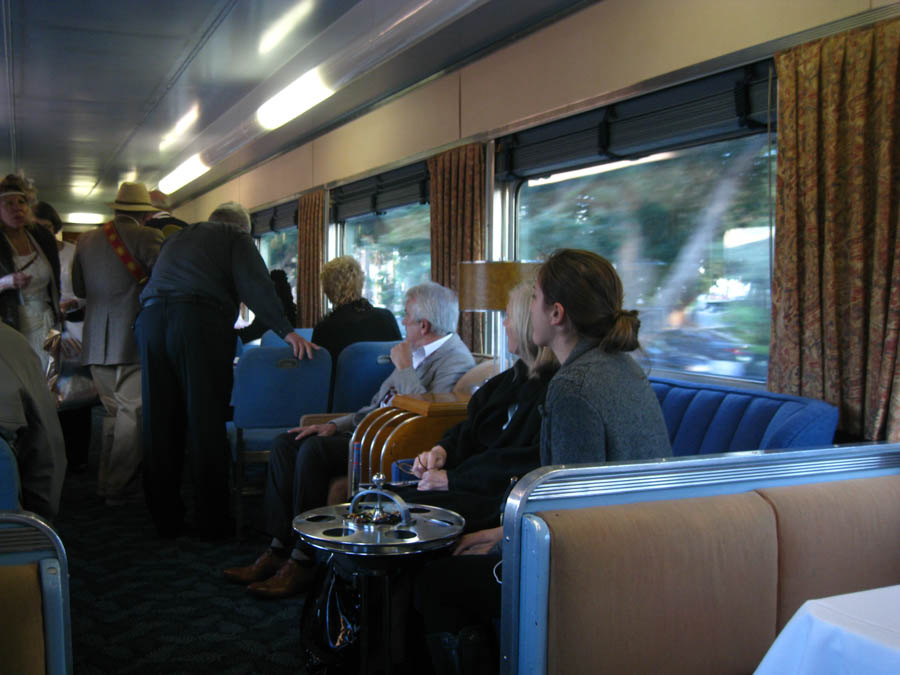 We must be passing the nudist beach...

""Hey guys... I was looking ahead and I am worried"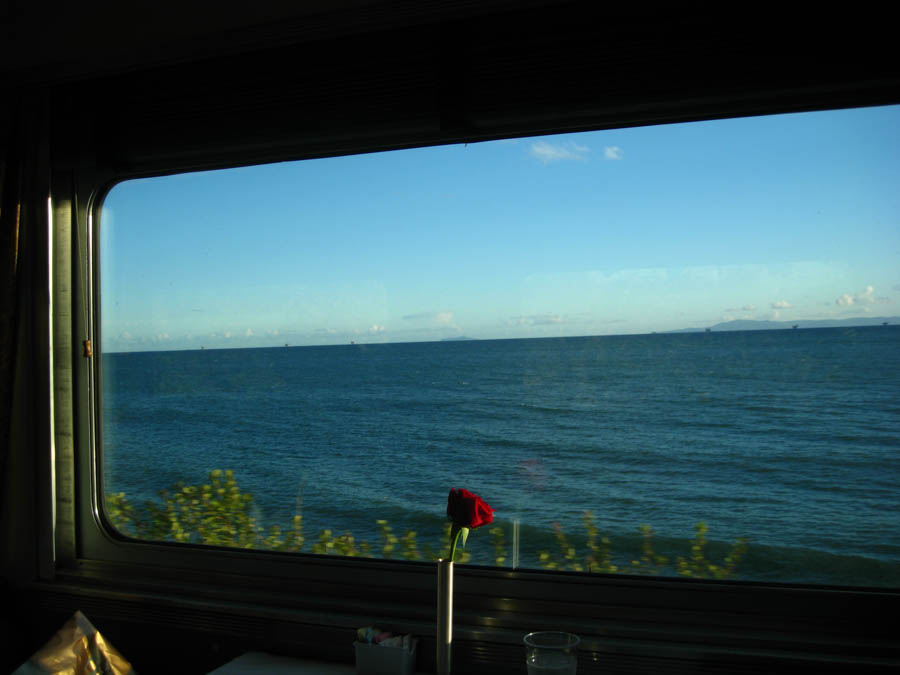 The view was fantastic at 60 miles per hour

The clouds painted a beautiful picture on our window... Even with the reflections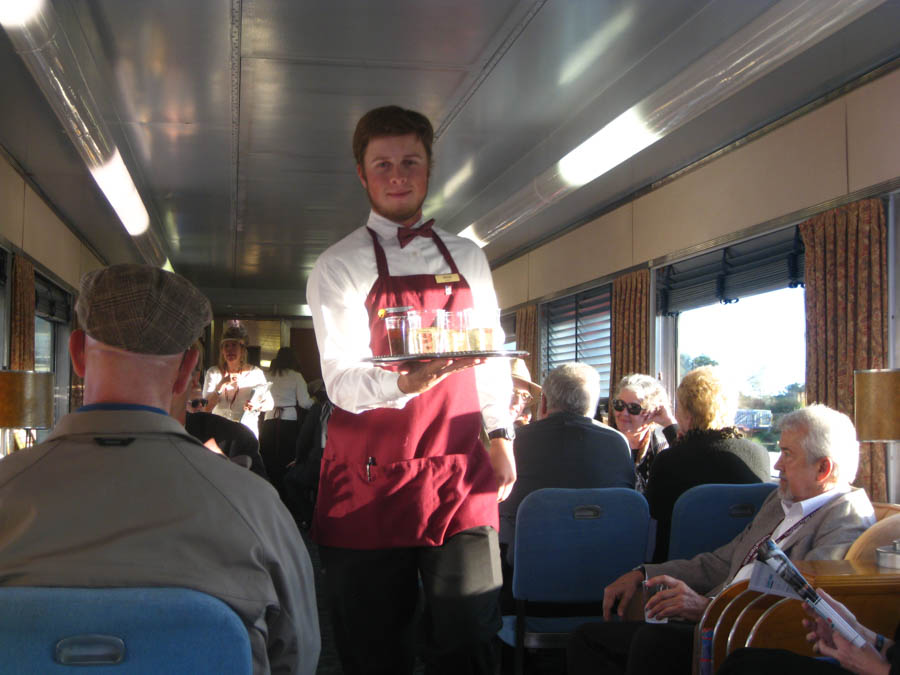 Ah ha... The "Wine Man" arrived!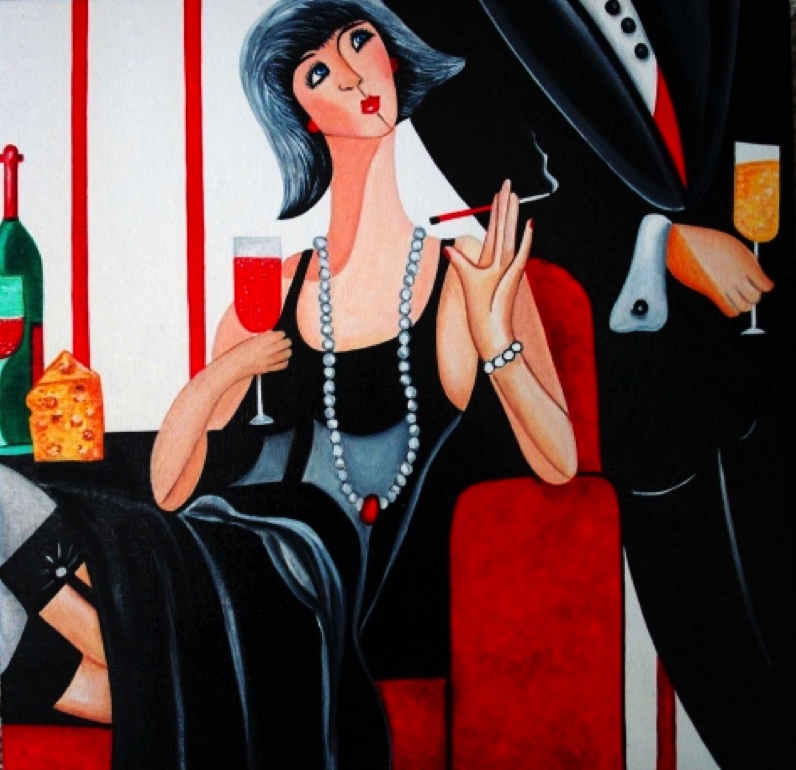 Back to the Art Deco era

The Sun is setting... Night is coming... Wine is flowing...

A perfect November evening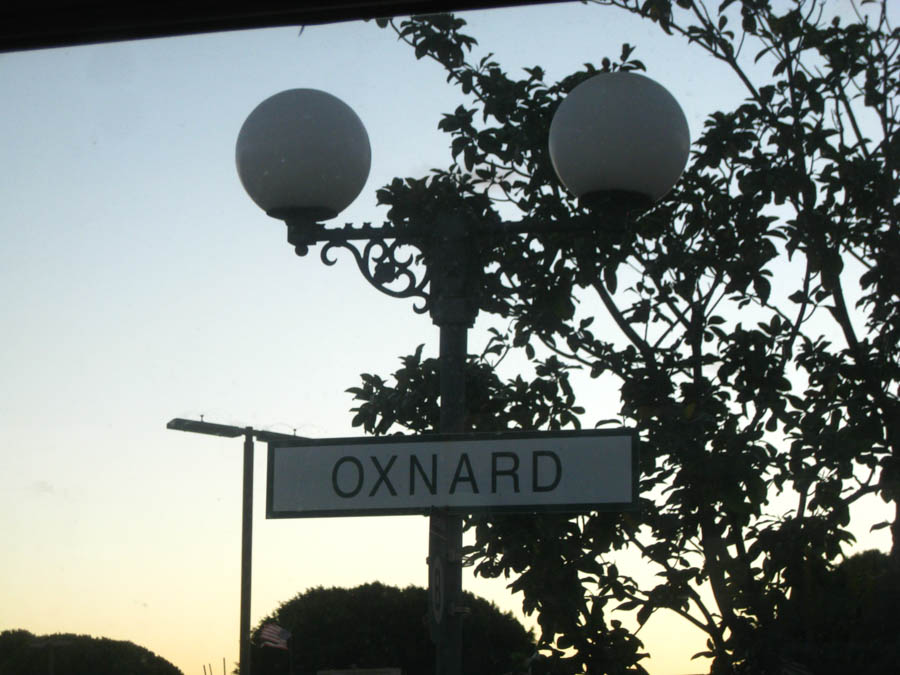 Oxnard means we are nearly home

Sharlene gets everybody in the picture no matter what it takes


Sharlene and John, our heroes of the day!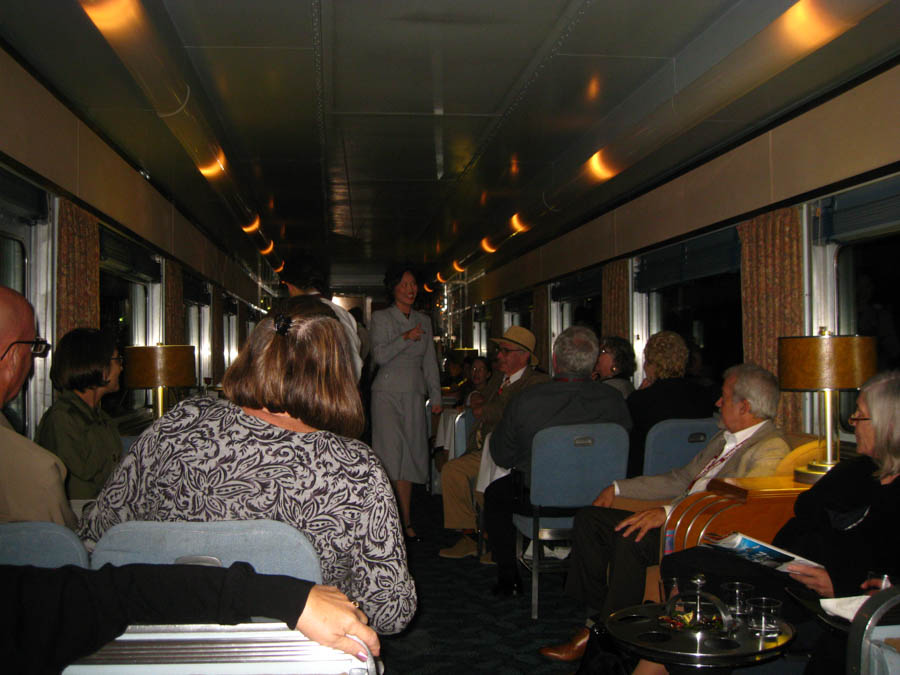 TRADITION: Remembering everyone's name... Second year in a row and zero mistakes

After twelve hours on the train and visiting friends... This can happen

"I got it.. I got it!"
Just A Little Note: Having organized trips like this one, we sure appreciate all the work to make it a success. Coordination, lists, collections, support, organizing, rechecking.... The work goes on! Sharlene is a magnificent job!