Time For A Train Ride To San Diego With The Art Deco Society (Page One)
Once a year the Los Angeles Art Deco Society, of which we are members, plans a train trip on vintage rail cars to visit an art deco building in San Diego or Santa Barbara. This year we went south to San Diego. We headed for Little Italy for lunch and then went on the harbor cruise before returning back to the train station.
Did You Know? - Turn back the clock to the 1930's and voila... You are in the Art Deco era! Art Deco, or Deco, is an influential visual arts design style that first appeared in France just before World War Iand began flourishing internationally in the 1920s, 1930s and 1940s before its popularity waned after World War II.
During its heyday, Art Deco represented luxury, glamour, exuberance and faith in social and technological progress.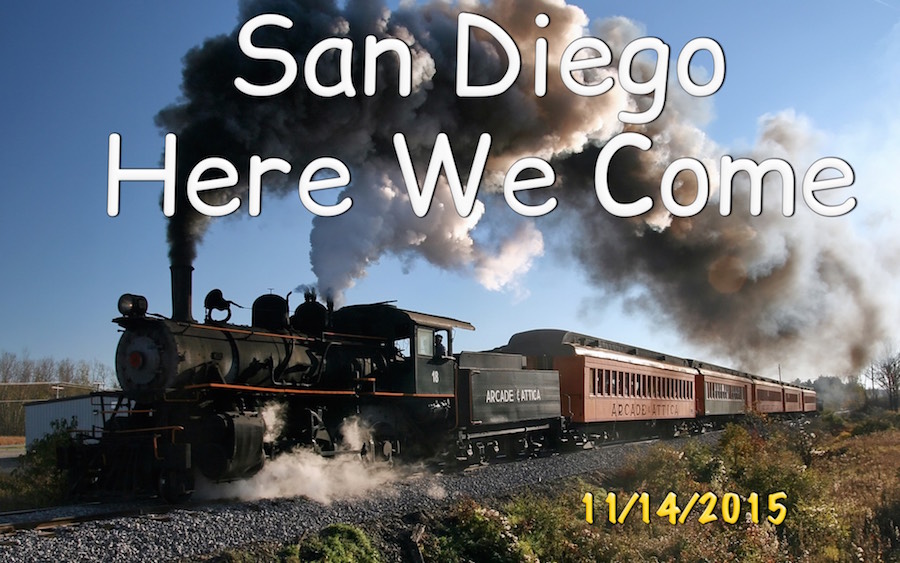 Did You Know? - San Diego County has the largest number of farms (almost 7,000) in the U.S. and ranks first in the nation for value of floriculture, nursery, greenhouse and sod products. San Diego County also produces the most avocados of any region in the country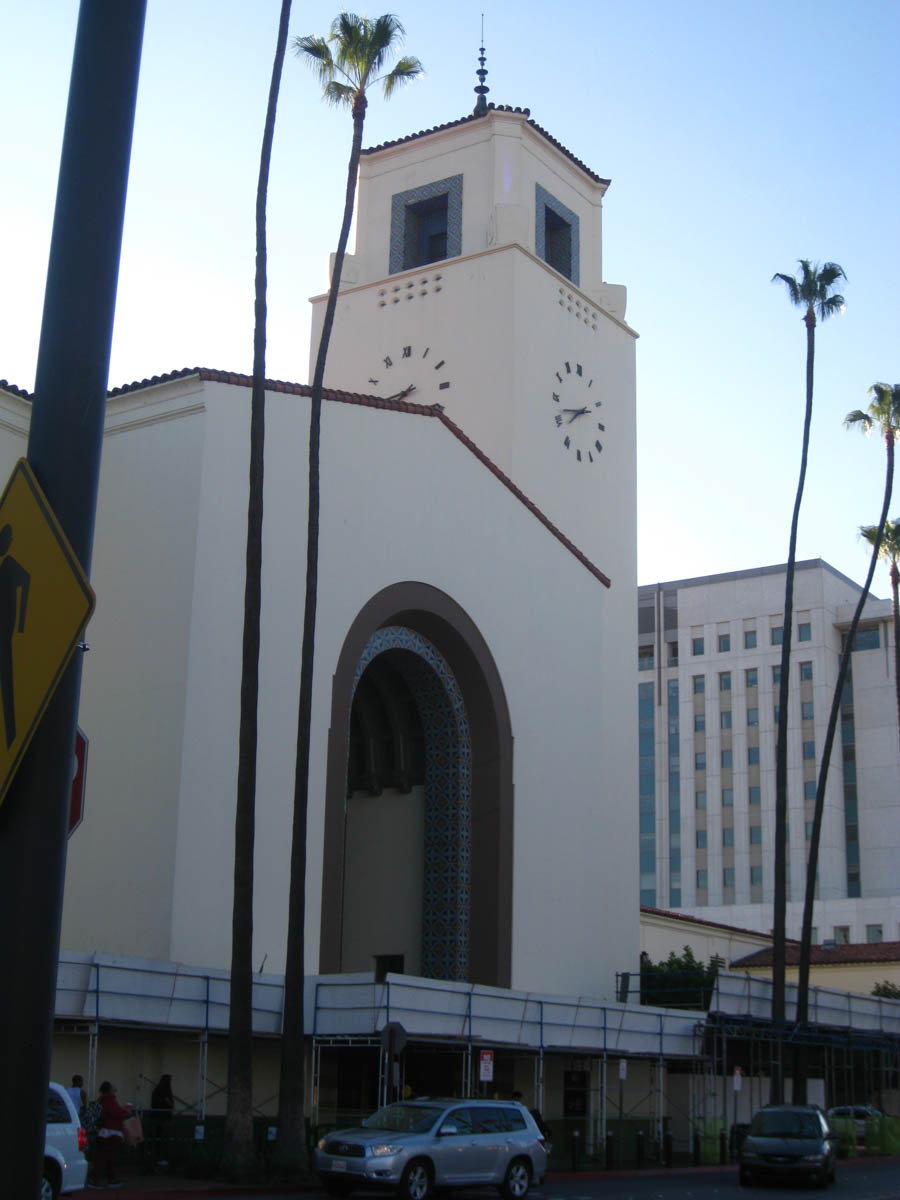 It's not even 8:00 am and we are up and moving...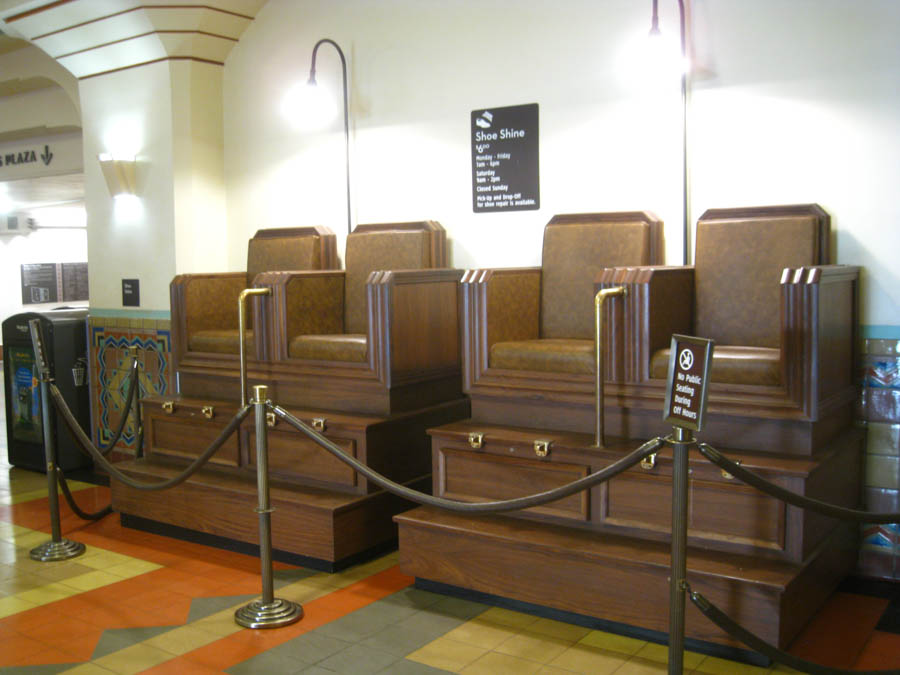 We tried to get a shine but alas, no workeee until 9:00 am
Did You Know? - Shoeshiner or boot polisher is an occupation in which a person polishes shoes with shoe polish. They are often known as shoeshine boys because the job is traditionally that of a male child. Other synonyms are bootblack and shoeblack. While the role is deprecated in much of Western civilization, shining shoes is an important source of income for many children and families throughout the world. Some shoeshiners offer extra services, such as shoe repairs and general tailoring. Many well-known and high profile people started their working life as shoeshiners, including singers and presidents.

Platform 9B here we are!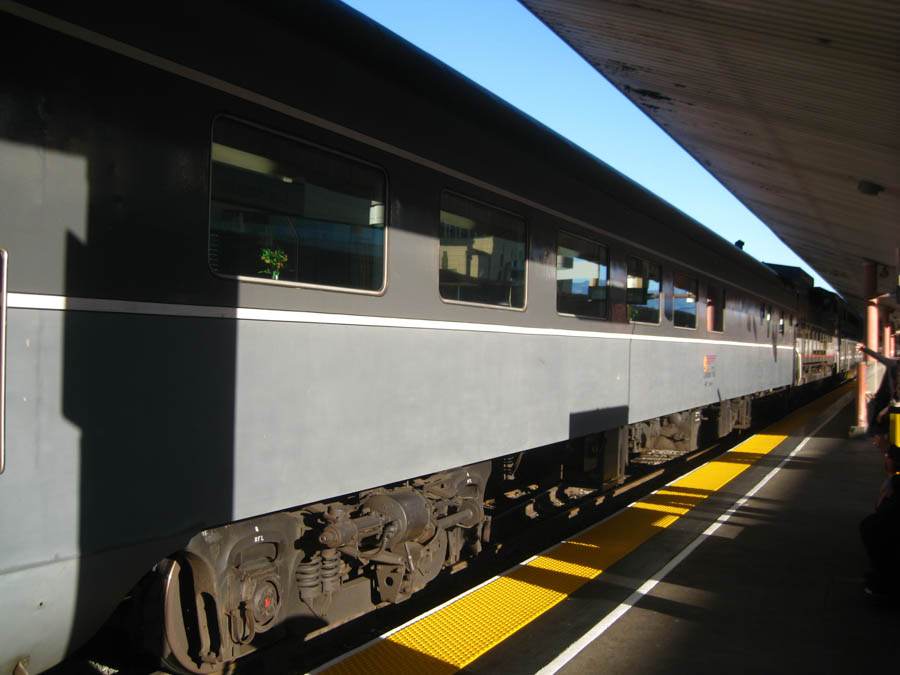 Our ride was ready to go!

The Acoma was attached for the Art Deco Society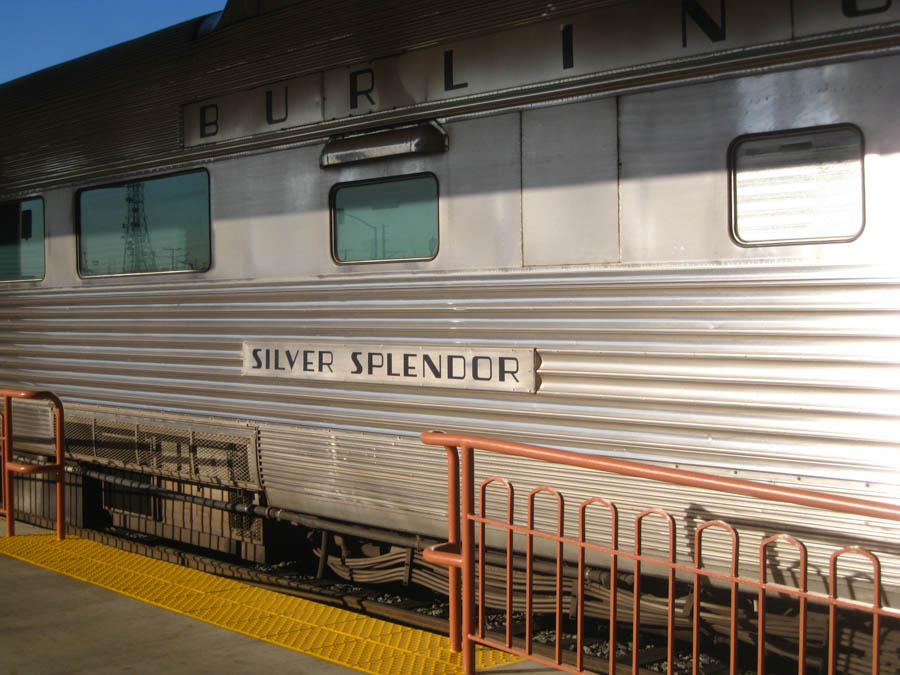 The Silver Splendor had it own private group

Bill has the ticket packages ready to go!
"Come on aboard the Overlad Trail"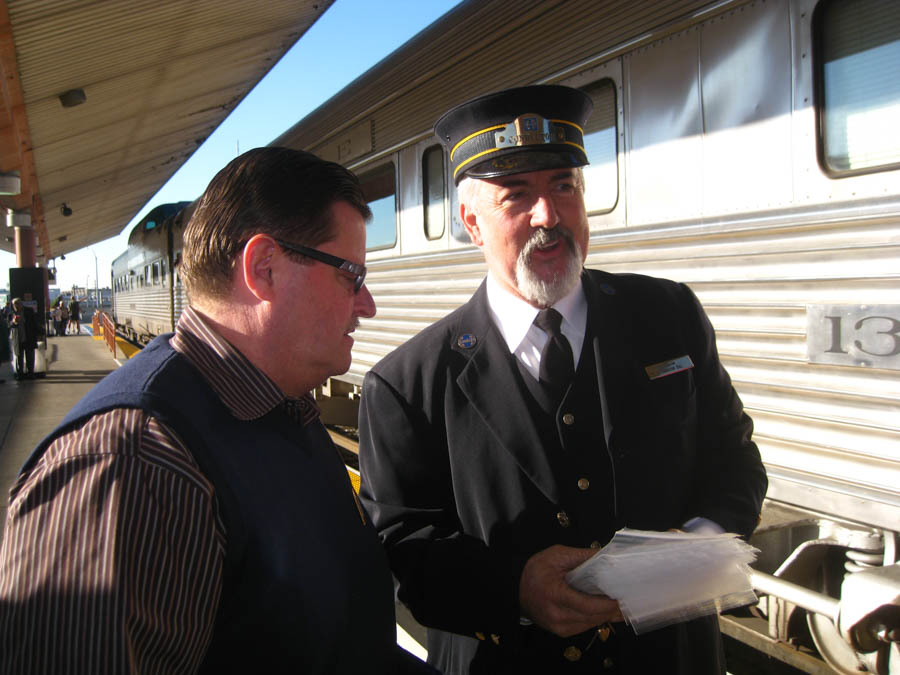 John Thomas checks in!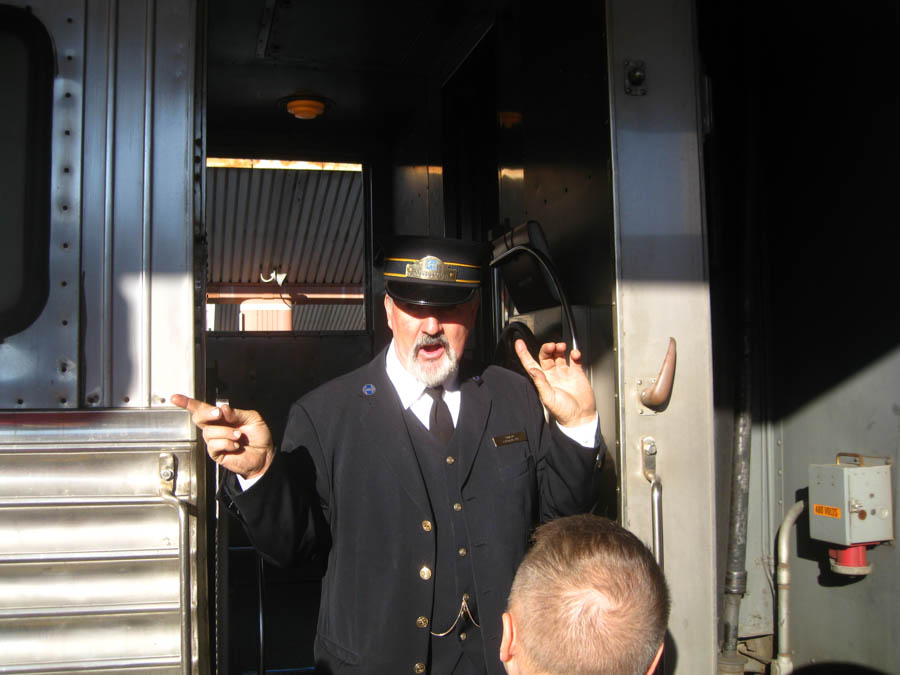 "Come on aboard!

We got the best seat in the house...

Heading out of the yard...
Did You Know? - A rail yard, railway yard or railroad yard is the US term for a complex series of railroad tracks for storing, sorting, or loading/unloading, railroad cars and/or locomotives. Railroad yards have many tracks in parallel for keeping rolling stock stored off the mainline, so that they do not obstruct the flow of traffic. Railroad cars are moved around by specially designed yard switchers, a type of locomotive. Cars in a railroad yard may be sorted by numerous categories, including railroad company, loaded or unloaded, destination, car type, or whether they need repairs. Railroad yards are normally built where there is a need to store cars while they are not being loaded or unloaded, or are waiting to be assembled into trains. Large yards may have a tower to control operations.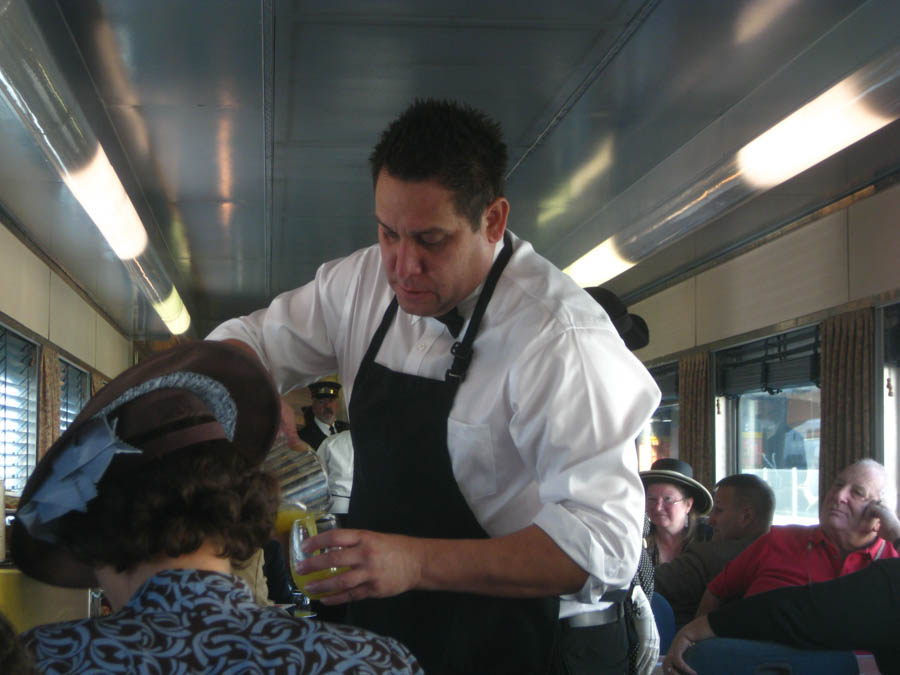 Mimosa's being served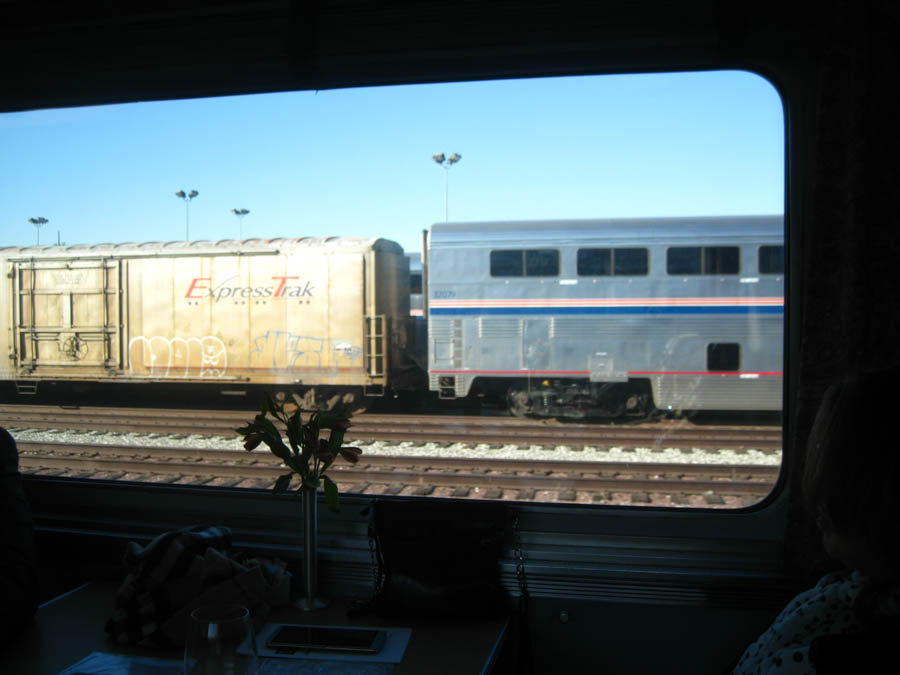 Train cars are everywhere as we leave the yard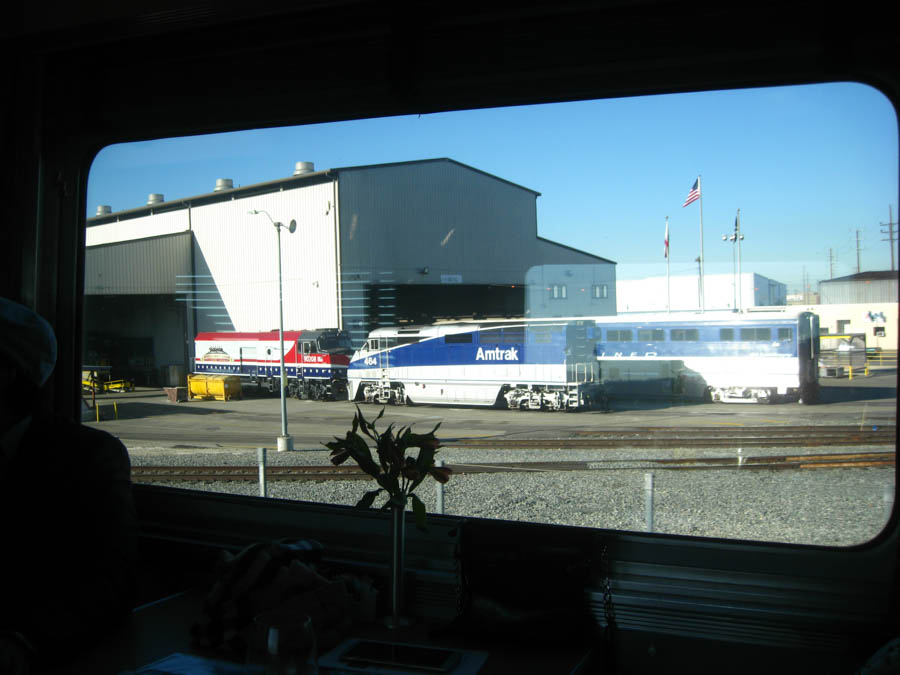 Where the engines get serviced!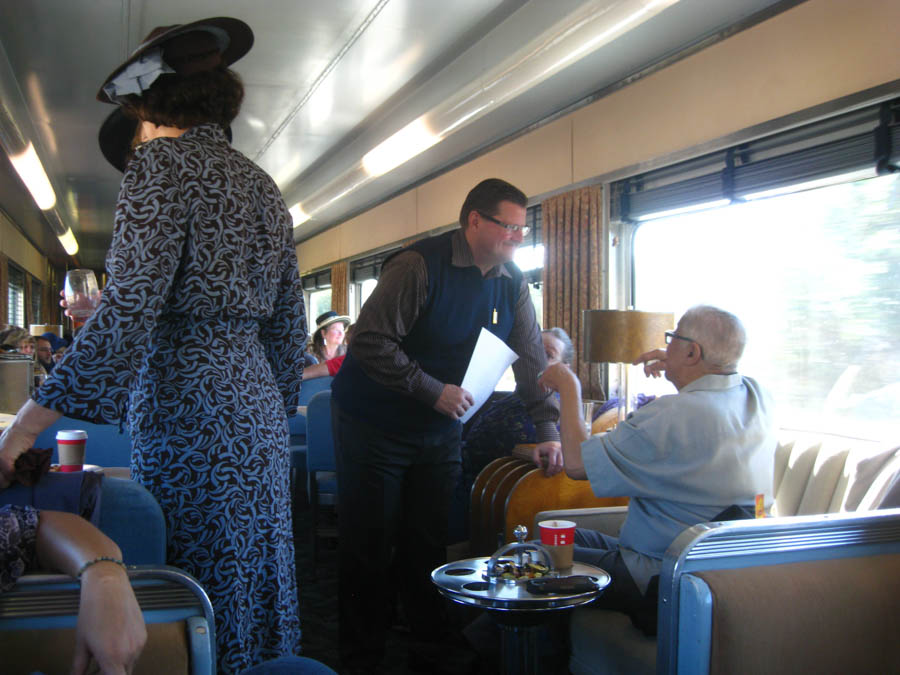 Vintage clothes of course... It is an Art Deco event!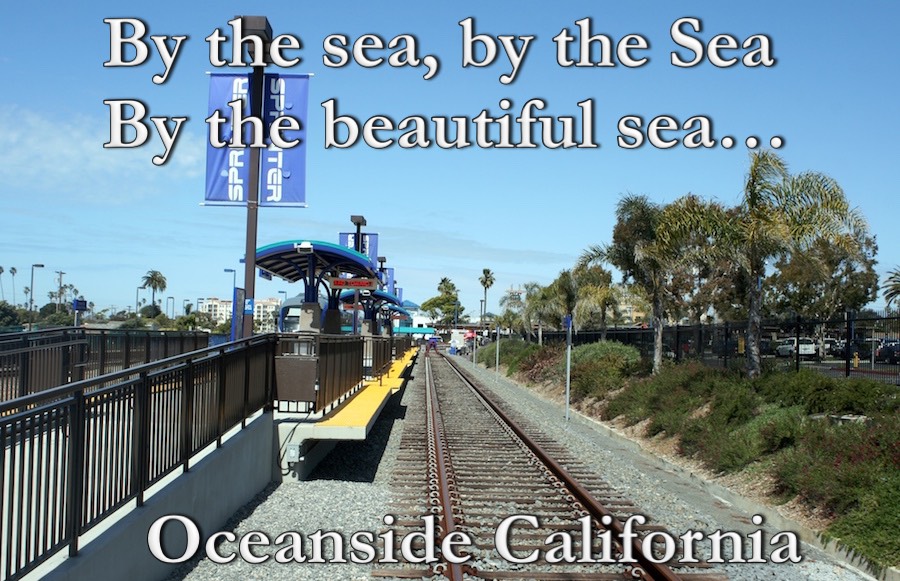 We were so close we could throw out a pole!

OK... That is close enough

The train is moving right along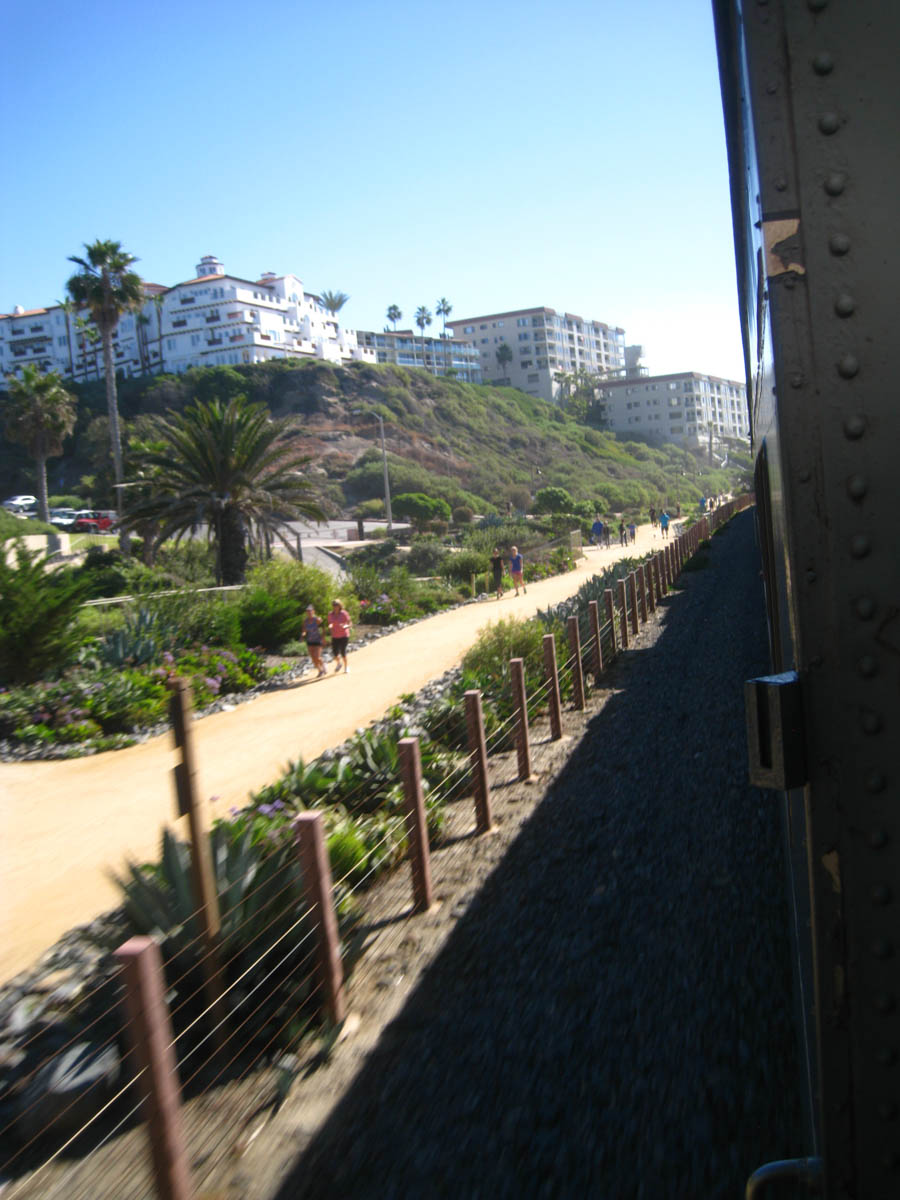 The fences show the motion!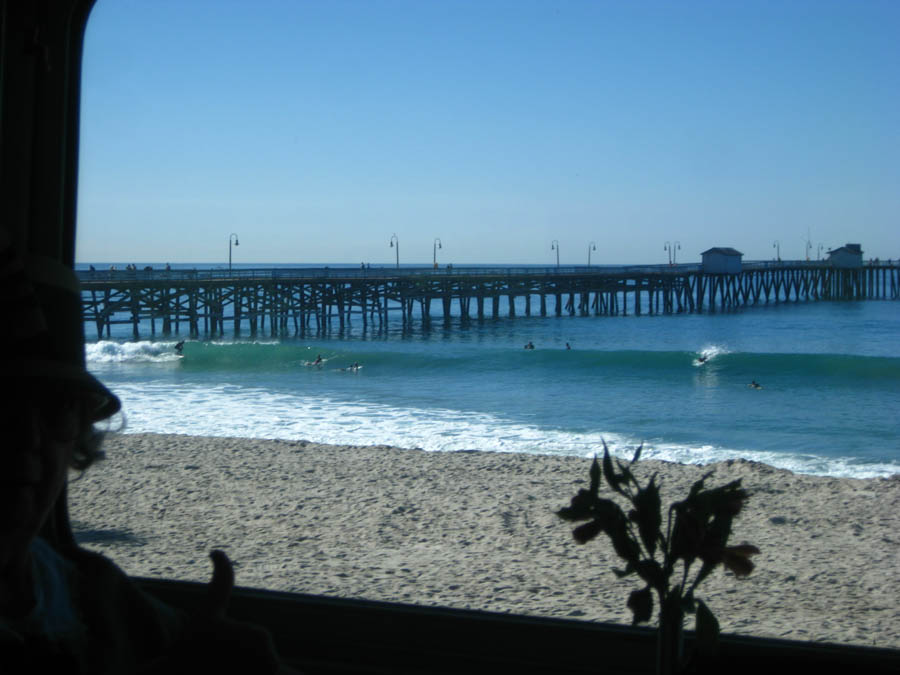 The pier appears

Conductor Bill is unphased!

The red eye looks in to see if we are ok!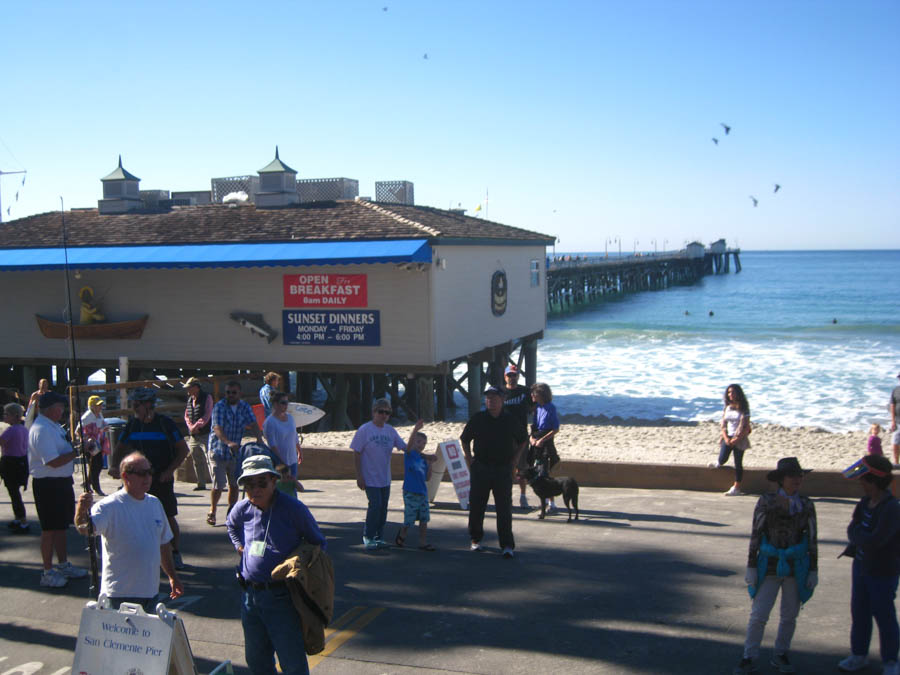 We stopped at the end of the pier
Did You Know? - San Clemente Pier is a station on Amtrak's Pacific Surfliner passenger train route and Metrolink's Orange County Line and Inland Empire-Orange County Line located in San Clemente, California, United States. The station is lightly used – only a few Amtrak trains per day stop at the station, while Metrolink only serves the station on weekends.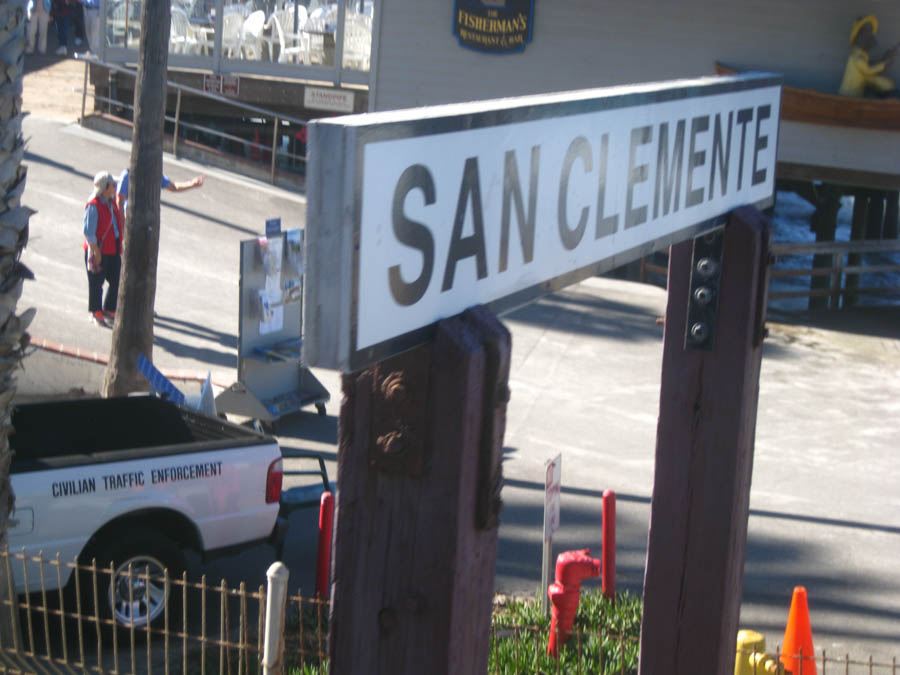 San Diego is coming up soon!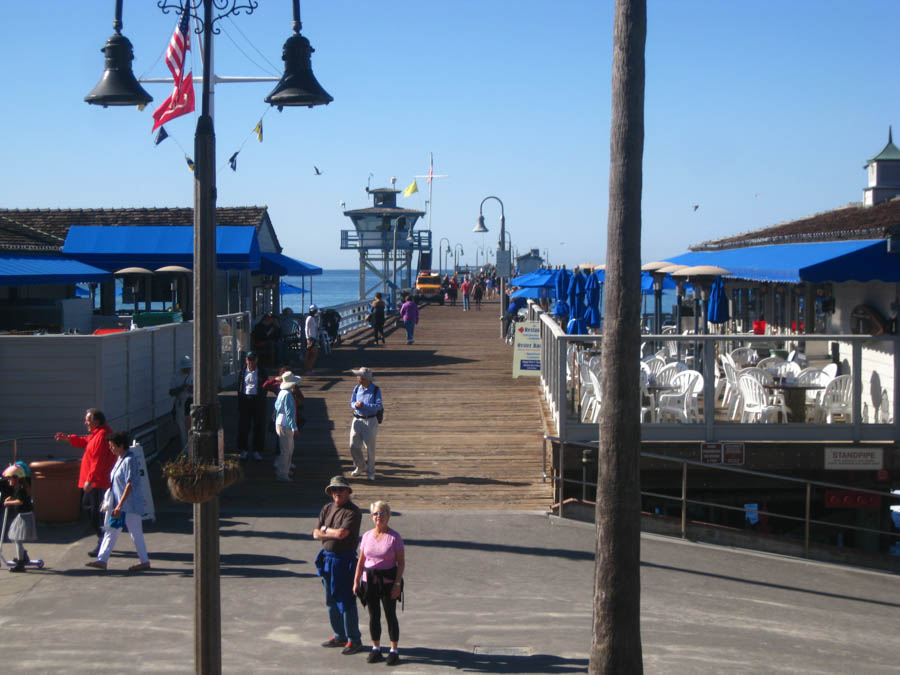 It's a fairly long pier
Did You Know? - The San Clemente Pier is a 1,296-foot long pleasure pier featuring spectacular Pacific Ocean views. In addition to offering free fishing, the pier has indoor/outdoor restaurant dining and offers a wonderful location to watch surfing competitions, sports activities and the beach fun.

Originally built in 1928 at no cost to local citizens. In 1939, and again in 1983, strong storms damaged the pier requiring it to be rebuilt.
The San Clemente Pier was once one of Orange County's entry points (Seal Beach was another) for smuggling of liquor during the U.S. prohibition era of the early 1900's.

Whizzing along in leisure

Old Town San Diego
Did You Know? - When California was admitted to the United States in 1850, San Diego (still largely limited to the Old Town area) was made the county seat of San Diego County, even though the town's population was only 650.
The Old Town area remained the heart of the city of San Diego until the 1860s, when a newcomer to San Diego named Alonzo Horton began to promote development at the site of present-day Downtown San Diego.
Residents and businesses quickly abandoned "Old Town" for Horton's "New Town" because of New Town's proximity to shipping. In 1871, government records were moved from Old Town to a new county courthouse in New Town, and Downtown permanently eclipsed Old Town as the focal point of San Diego.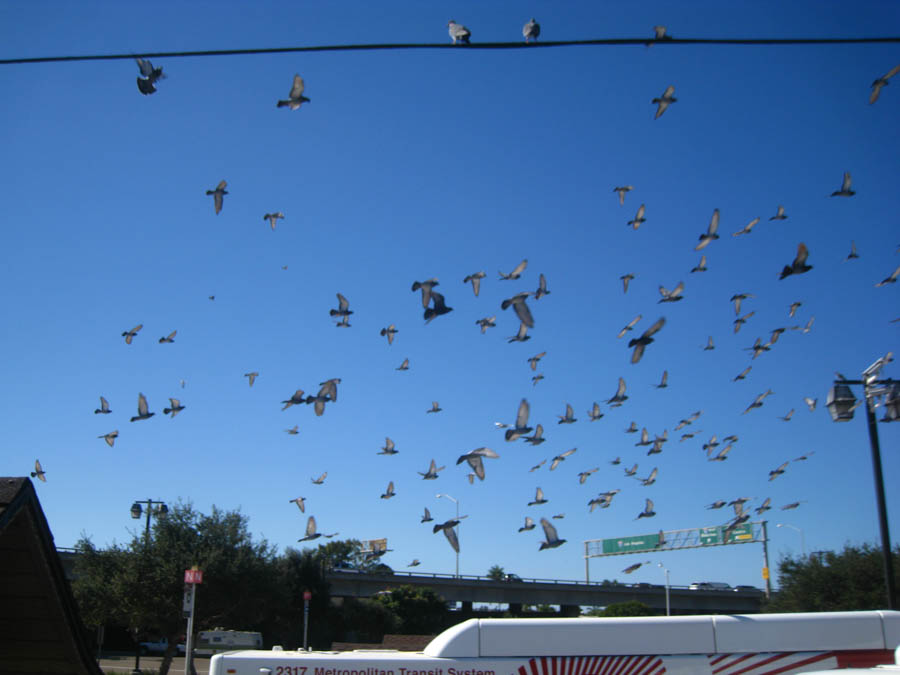 The train scared the birds...
Looked like the Alfred Hitchcock movie

Off they go but they will return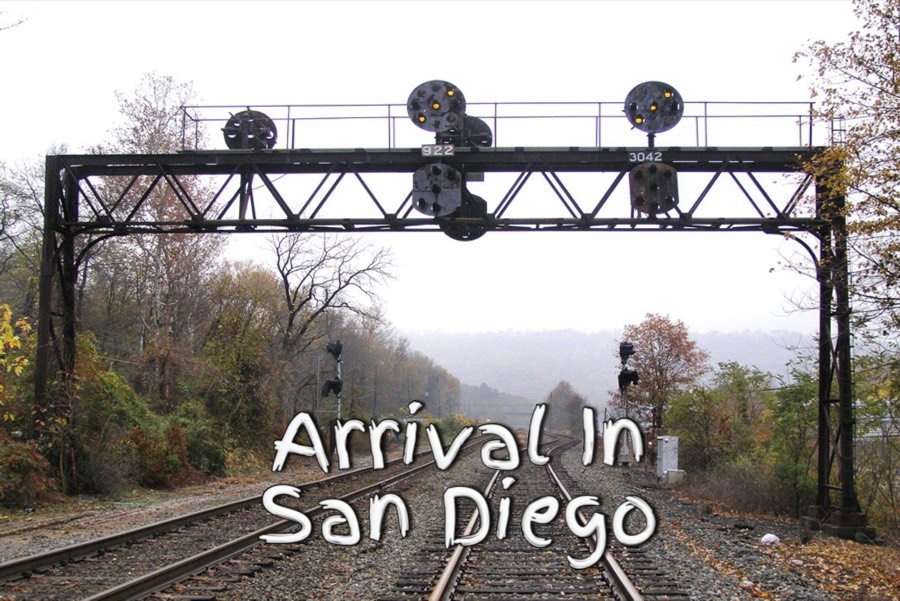 Did You Know? - San Diego is the birthplace of California. The first European exploration of the West Coast was by Juan Rodriguez Cabrillo, a Portuguese navigator sailing for Spain, who landed in San Diego on September 28, 1542.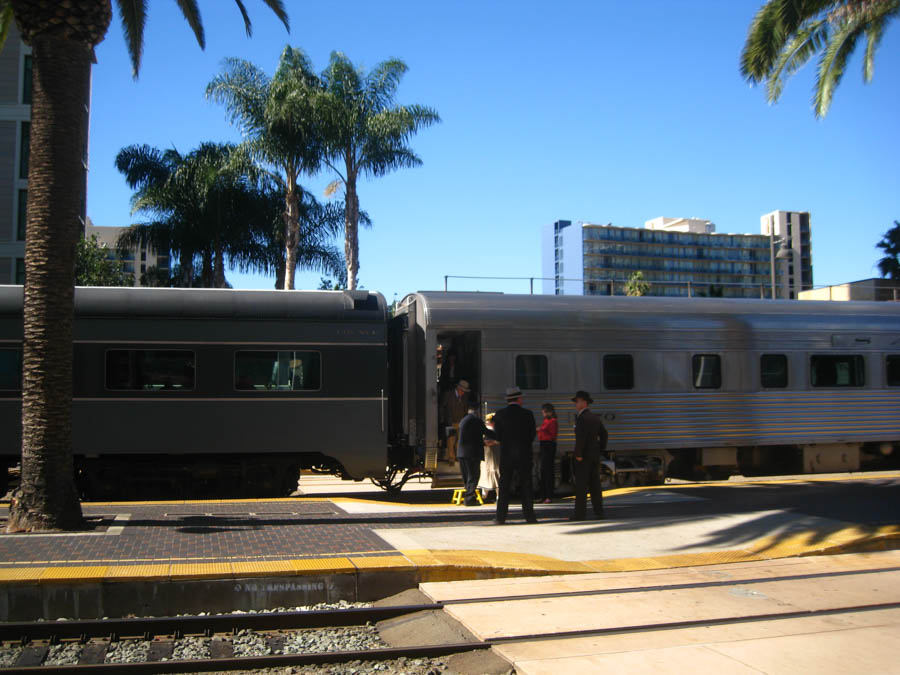 We have arrived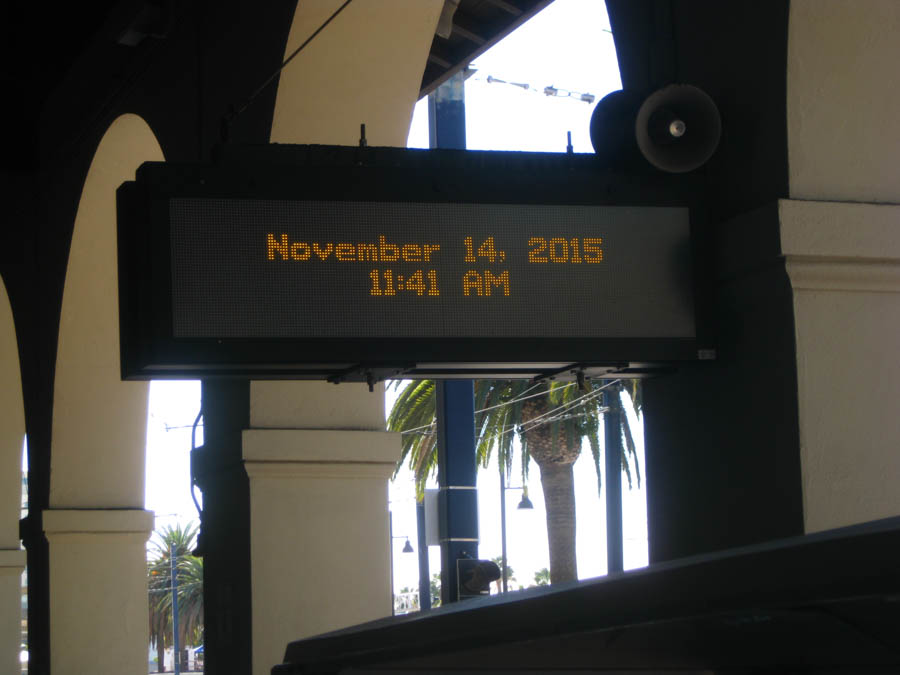 Time to head to Little Italy
Did You Know? - San Diego County has the most missions in the state, with four in all: Mission San Diego de Alcala, Mission San Luis Rey, Mission San Antonio de Pala and Mission Santa Ysabel.

Follow the sign to lunch in Little Italy