Meanwhile Back At The Ranch... A Little Play On Words

Keeping the golfers moving is a full time job in the garage

They know the course and are chuckling to themselves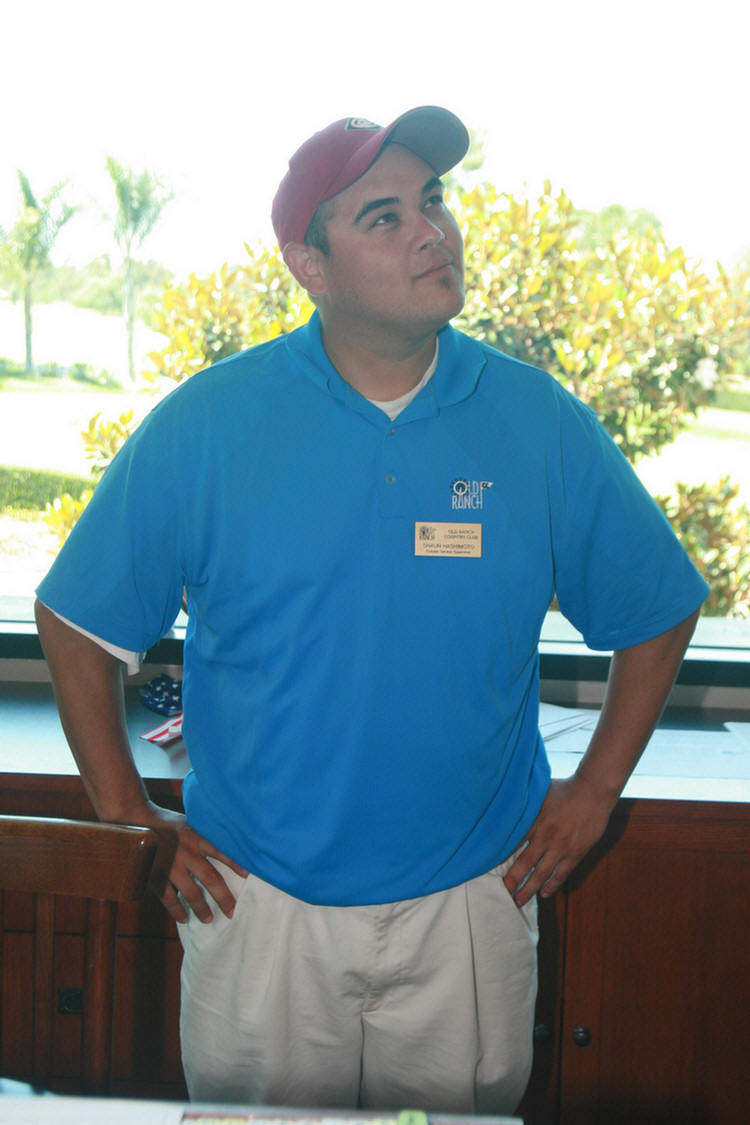 A striking pose
Food Preparations Are Underway

Baby Let Me Light Your Fire
Did You Know? - Barbecue or barbeque (common spelling variant) (with abbreviations BBQ, Bar-B-Q and Bar-B-Que; diminutive form of barbie, used chiefly in Australia & New Zealand; and called Braai in South Africa) is a method and apparatus for cooking food, often meat, with the heat and hot gases of a fire, smoking wood, or hot coals of charcoal or a propane gas grill, and may include application of a marinade, spice rub, or basting sauce to the meat.

The term as a noun can refer to the cooking apparatus itself, or to a party that includes such food. The term as an adjective can refer to foods cooked by this method. The term is also used as a verb for the act of cooking food in this manner. Barbecue is usually cooked in an outdoor environment heated by the smoke of wood or charcoal. Restaurant barbecue may be cooked in large brick or metal ovens specially designed for that purpos.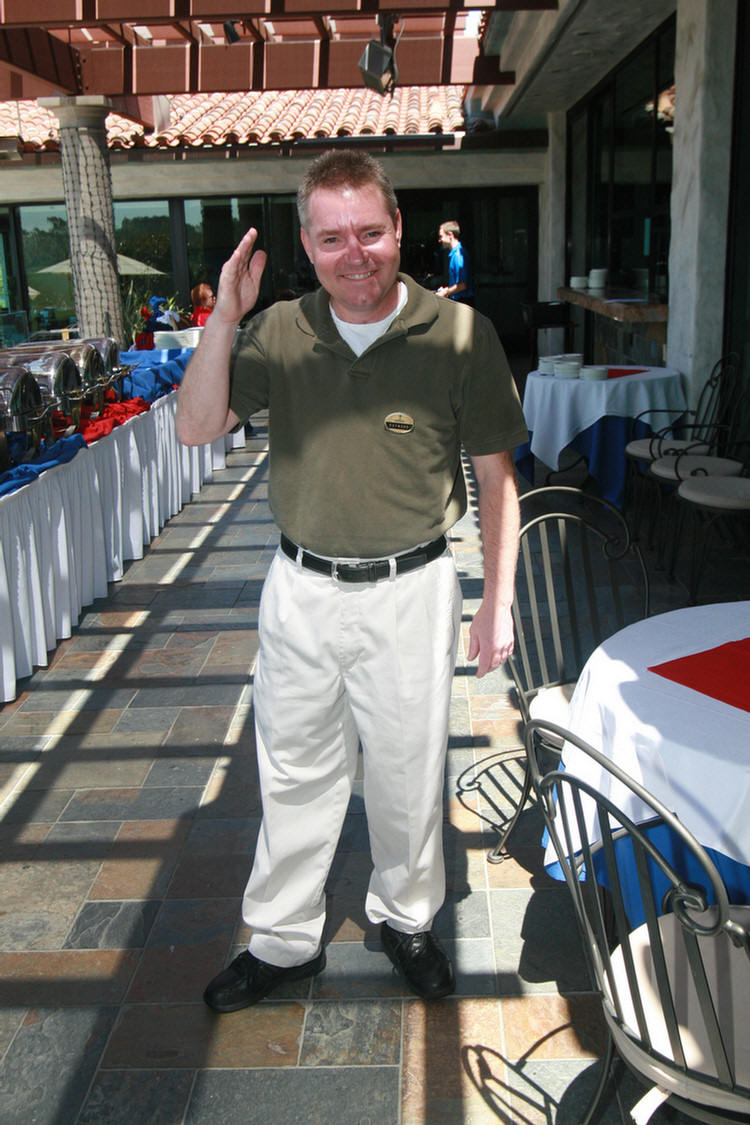 What, no suit? We didn't recognize him! Looking good Raymond

The Sous Chef handles the difficult tasks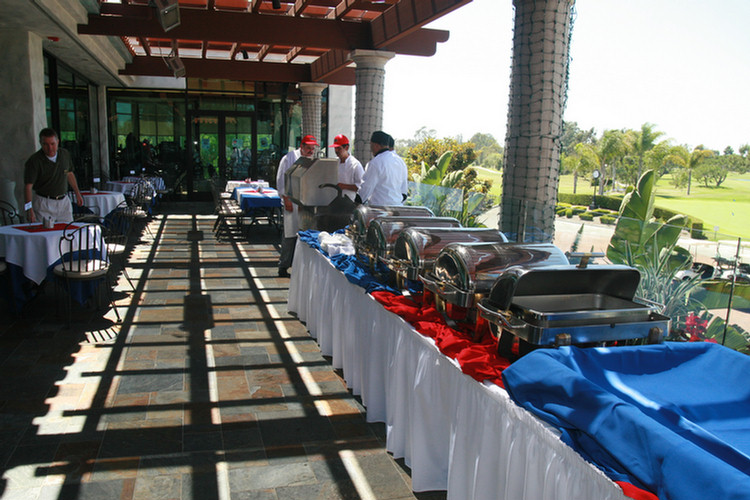 The patio is starting to take shape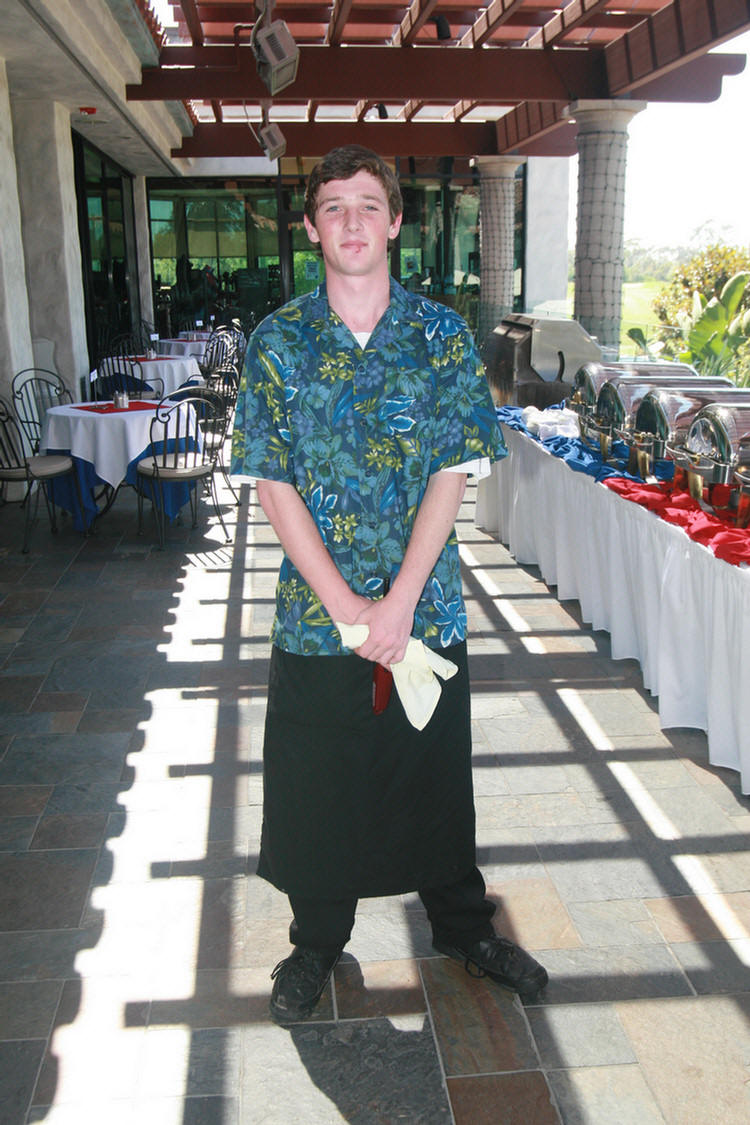 Scores Will Be Posted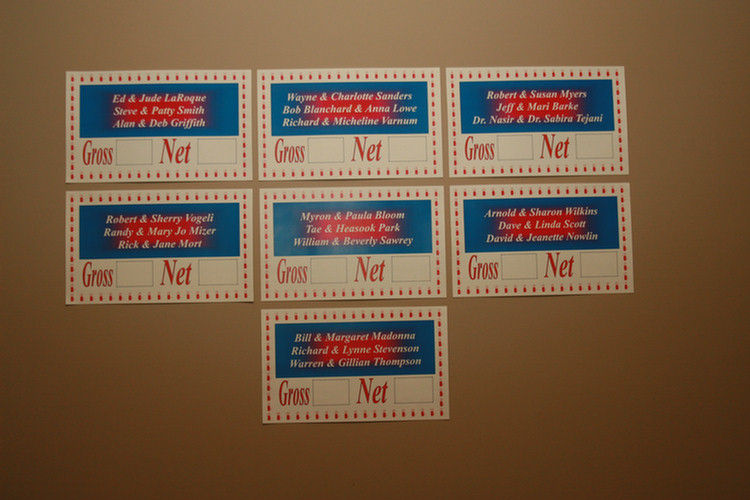 Tables are set for the brave teams who are doing battle on the links

Shirley is on duty this afternoon

Shirley and Hank are decorated for the holiday

Reception is always a bright spot in the Old Ranch main hallway

Happy to assist, they are setting up for a 175 person wedding reception this afternoon

The food pours out of the kitchen

Hamburger and hot dog fixings
Did You Know? - 1209- Genghis Khan's crowned the "emperor of all emperors," and his army of fierce Mongol horsemen, known as the "Golden Horde," conquered two thirds of the then known world.

The Mongols were a fast-moving, cavalry-based army that rode small sturdy ponies. They stayed in their saddles for long period of time, sometimes days without ever dismounting. They had little opportunity to stop and build a fire for their meal. The entire village would follow behind the army on great wheeled carts they called "yurts," leading huge herds of sheep, goats, oxen, and horses.

As the army needed food that could be carried on their mounts and eaten easily with one hand while they rode, ground meat was the perfect choice. They would use scrapings of lamb or mutton which were formed into flat patties. They softened the meat by placing them under the saddles of their horses while riding into battle. When it was time to eat, the meat would be eaten raw, having been tenderized by the saddle and the back of the horse.

They are in for a delightful afternoon

A view from th wedding reception patio

Mary is readying for some serious business moment
Did You Know? - A bar (also called a pub, tavern or taproom) is a business that serves drinks, especially alcoholic beverages such as beer, liquor, and mixed drinks, for consumption on the premises. Bars provide stools or chairs for the patrons along tables or raised counters. Some bars have entertainment on a stage but at Old Ranch we get to see the 18th hole so there is all sorts of entertainment... splashing balls, flying clubs, etc.

Bars that are part of hotels are sometimes called long bars or hotel lounges. The term "bar" is derived from the specialized counter on which drinks are served and is a synecdoche applied to the whole of the drinking establishment. The "back bar" or "gantry" is a set of shelves of glasses and bottles behind that counter. In some bars, the gantry is elaborately decorated with woodwork, etched glass, mirrors, and lights. When food is served elsewhere in the establishment, it may also be ordered and eaten at the bar

Final inspection is underway. Lynne seems happy!

Unwrap and put salt on the ice, final checks

The beverage crew is ready to go!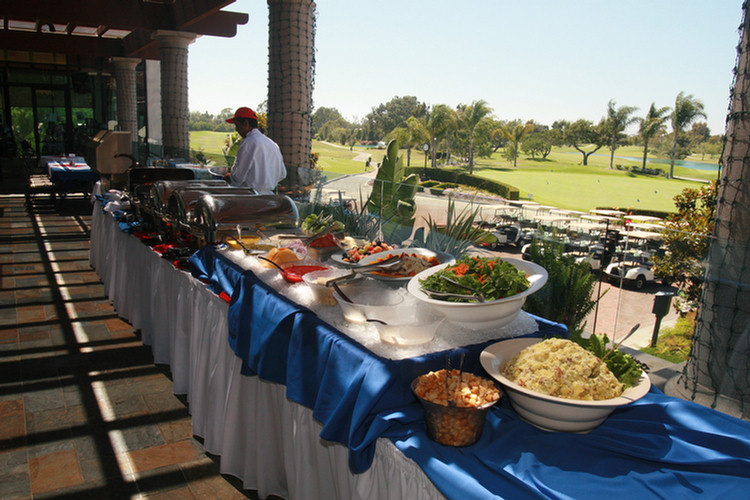 A beautiful patio

The enire patio smells sooooooo good!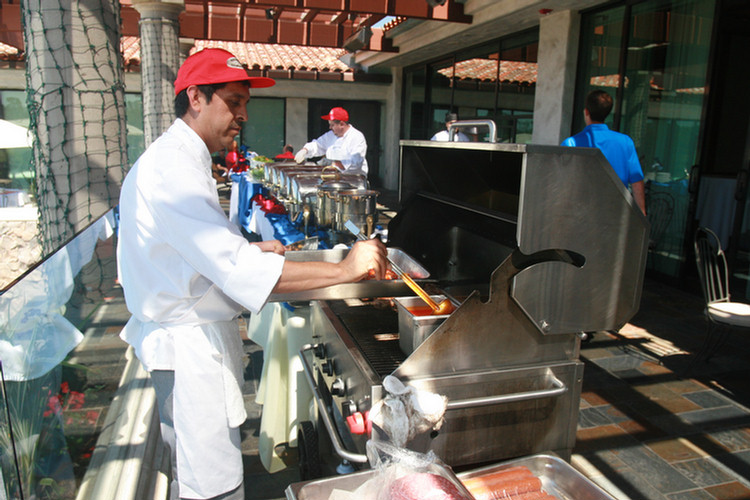 The smell alone contains a hundred calories

Smart.... Close to the grill!

OK, ready to go!

Oh oh! Tookies for the tired

Popcorn is popping thanks to expert popcornologists
The Onslaught Begins.. They Have Been Waiting PAtiently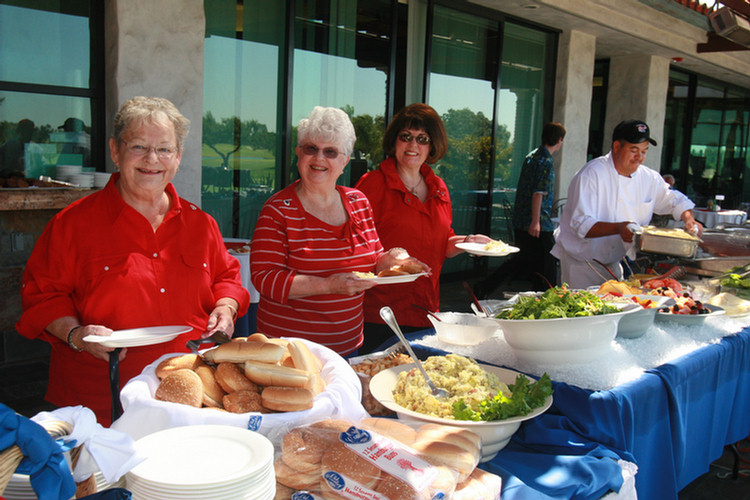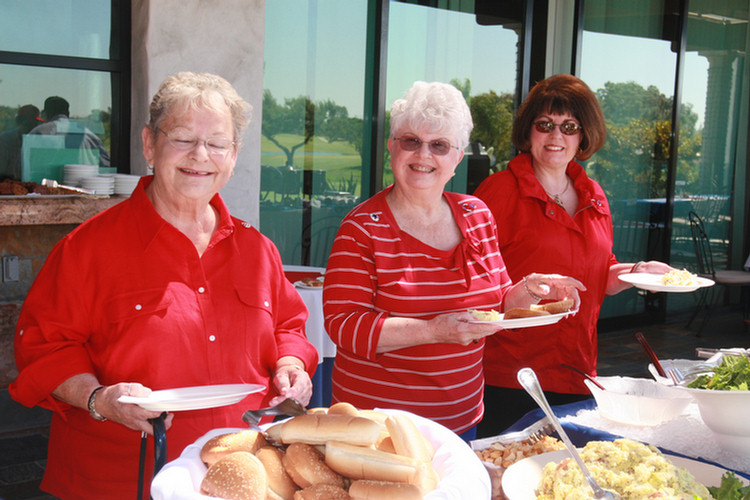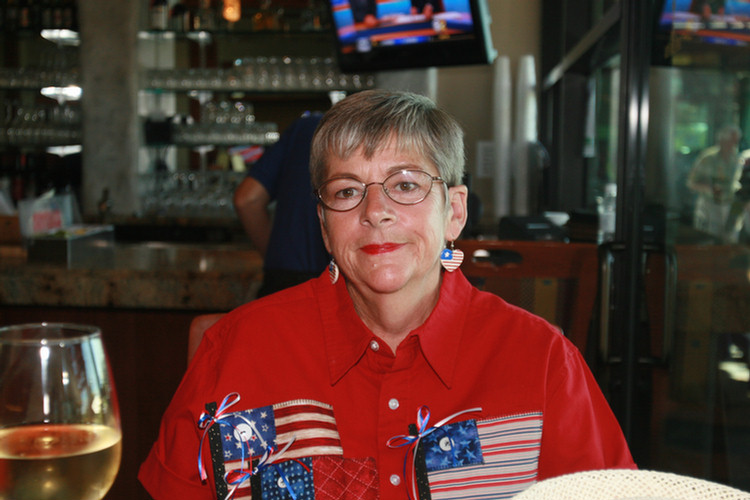 Sue makes photo suggestions

Mary Jo just came in from the treacherous course

Robert is checking the scores

Two fisted drinker (Characterized by great vigor, energy, or enthusiasm)

Serious conversation underway

Charlotte and visiting nephew enjoyed the game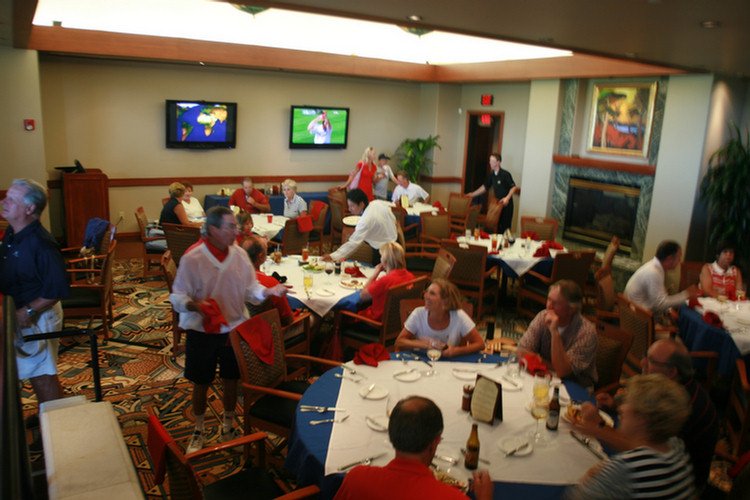 The room is filling up

The boss is here.

Food is disappearing in front of our eyes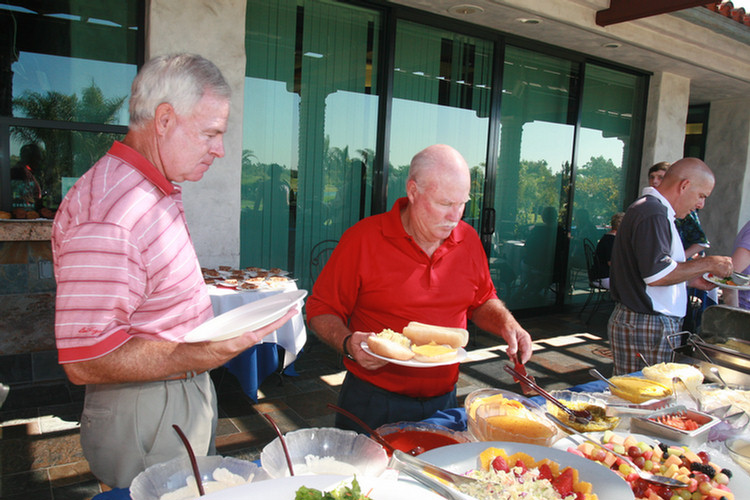 Decisions decisions

Not a single calorie here!
Did You Know? - In the English colonies the apple pie had to wait for carefully planted pips, brought in barrels across the Atlantic, to become fruit-bearing apple trees, to be selected for their cooking qualities, as apples do not come true from seeds. In the meantime, the colonists were more likely to make their pies, or "pasties", of meat rather than of fruit; and the main use for apples, once they were available, was in cider. But there are American apple-pie recipes, both manuscript and printed, from the eighteenth century, and it has since become a very popular dessert.

A mock apple pie made from crackers was apparently invented by pioneers on the move during the nineteenth century who were bereft of apples. In the 1930s, and for many years afterwards, Ritz Crackers promoted a recipe for mock apple pie using its product, along with sugar and various spices.

Although apple pies have been eaten since long before the discovery of America, "as American as apple pie" is a common saying in the United States, meaning "typically American".[2] The dish was also commemorated in the phrase "for Mom and apple pie" - supposedly the stock answer of American soldiers in WWII, whenever journalists asked why they were going to war.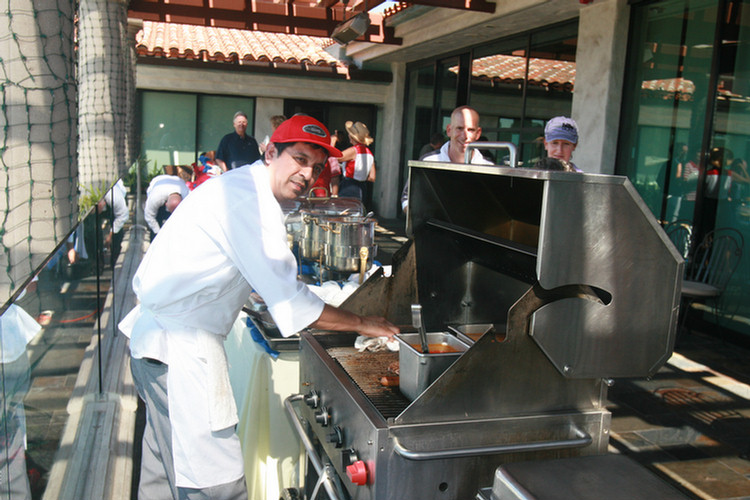 Searing heat from the grill keeps him nice and warm... How does he do it?

A little of this and a litle of that...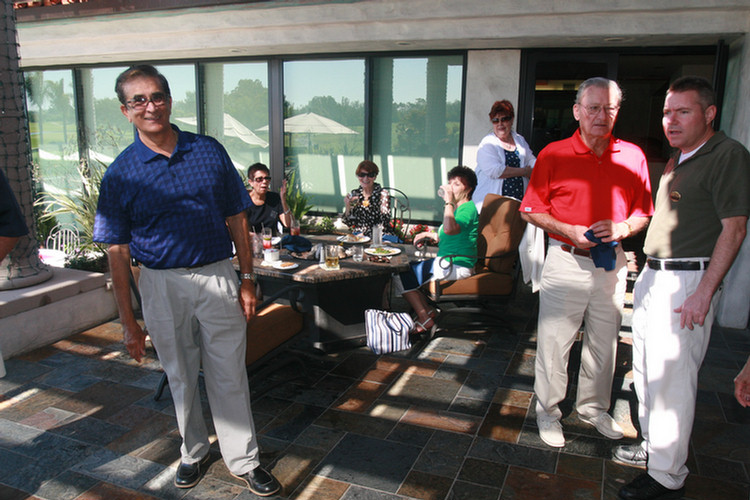 Back for seconds!

Toasting the afternoon! Wine and chili, a California favorite

Discussing the game

The truth comes out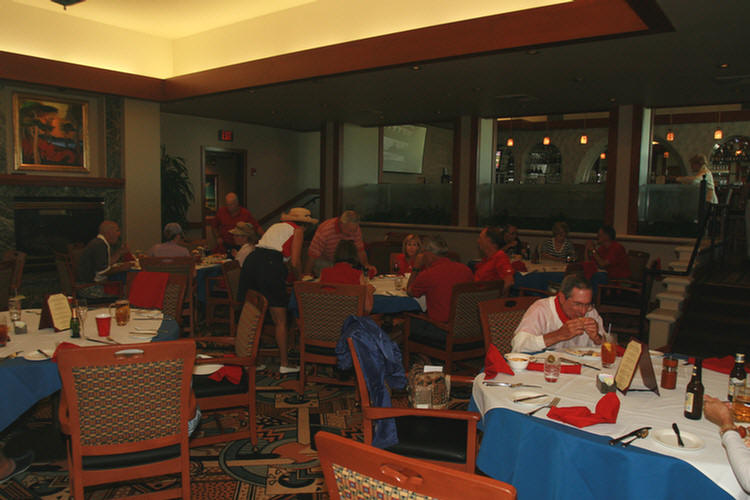 We leave knowing all is going well

The photographers is happy... Hot sauce and wine!