Time To Sail Back Unto History On The Lane Victory 9/24/2011 (Page Two)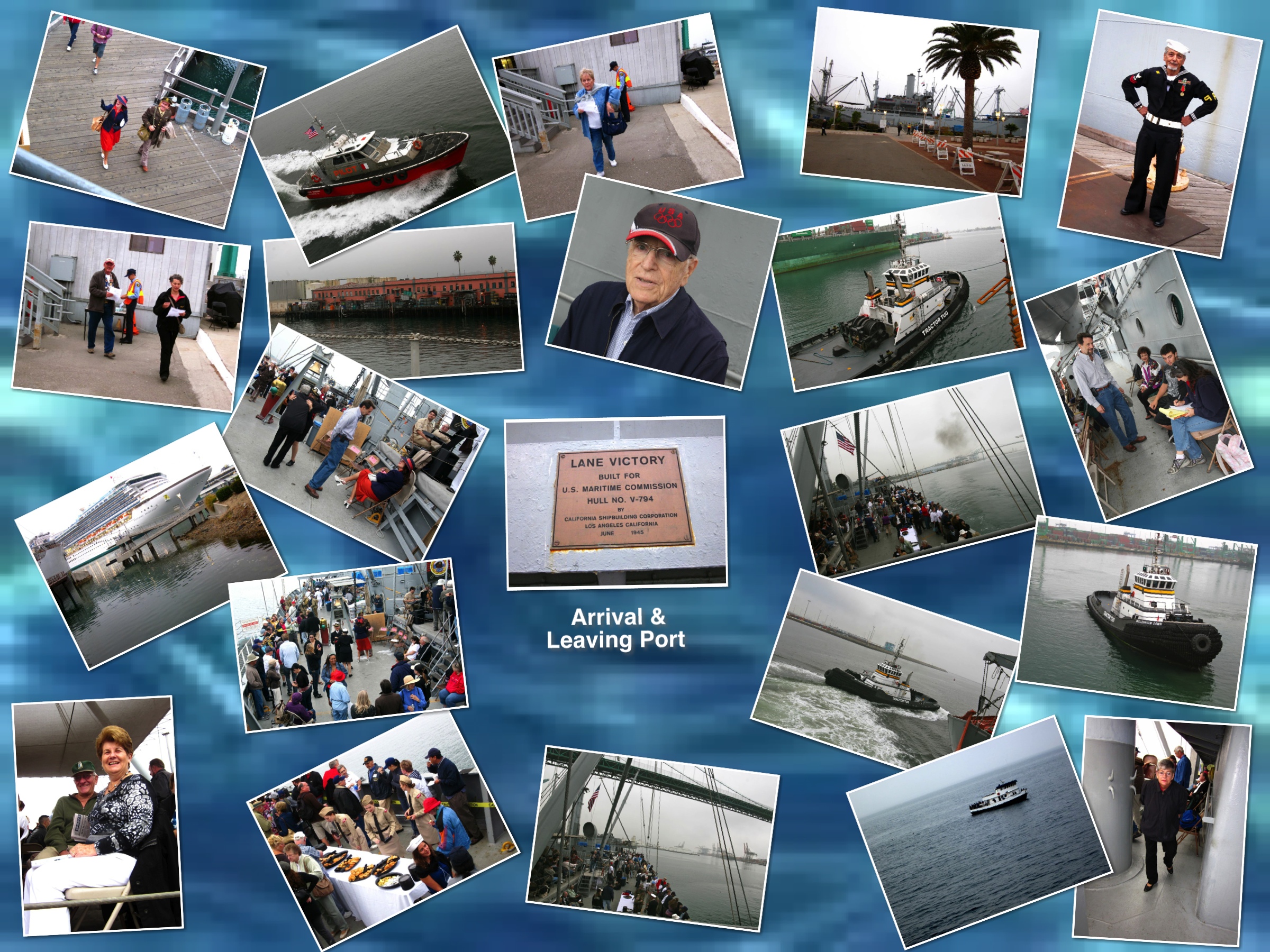 Click for full sized collage

In the wee small hours of the morning we arrive and so does the Sapphire Princess
Did You Know? - In the Wee Small Hours is an album by Frank Sinatra. Released in 1955, it was the seventh studio album Sinatra recorded, and is generally regarded as one of the first concept albums.


Our cruise ship awaits
Did You Know? - The boiler was lit off at 9:00 pm the night before in order to develop enough steam to start the voyage. A boiler or steam generator is a device used to create steam by applying heat energy to water. Although the definitions are somewhat flexible, it can be said that older steam generators were commonly termed boilers and worked at low to medium pressure (1–300 psi/0.069–20.684 bar; 6.895–2,068.427 kPa) but, at pressures above this, it is more usual to speak of a steam generator.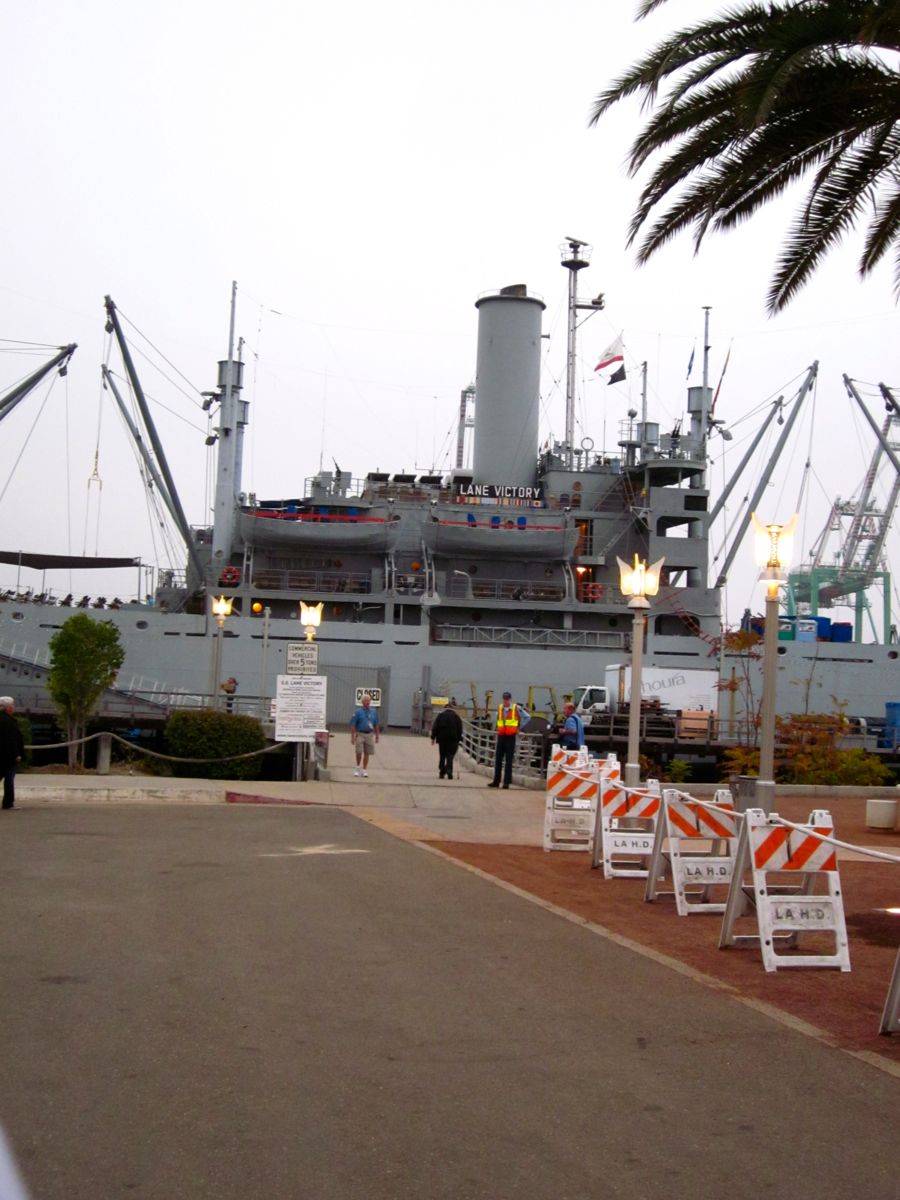 The gates are about to open and hundreds of landlubbers will fill the decks
(nautical) A pejorative term for someone unfamiliar with the sea or seamanship, especially a novice seaman.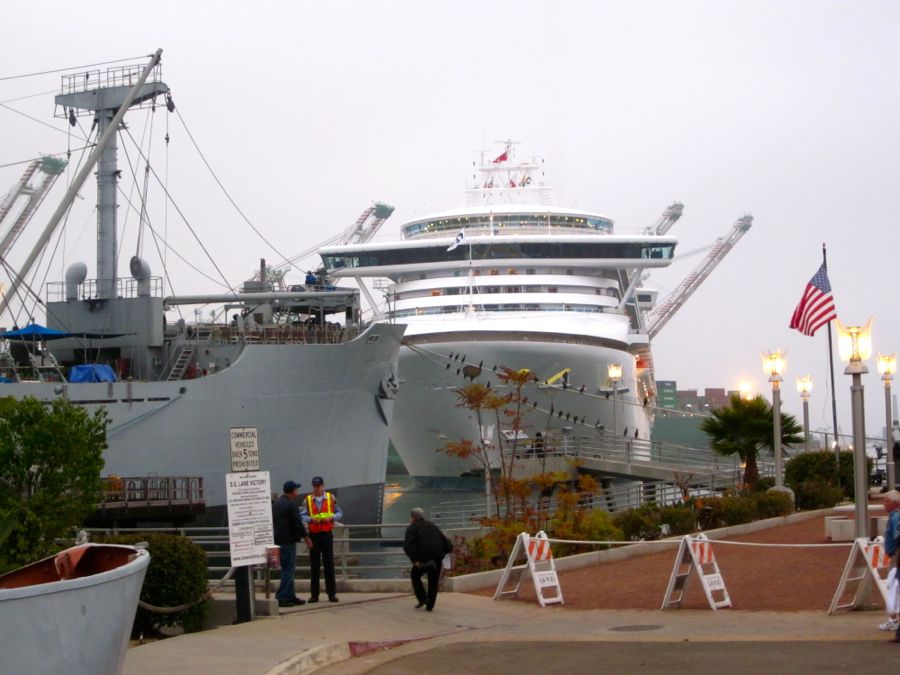 Sue was one of the first on board... The computer decided NOT to take my ticket....

After a reboot the computer got happy again

The Sapphire Princess pulls into port unaided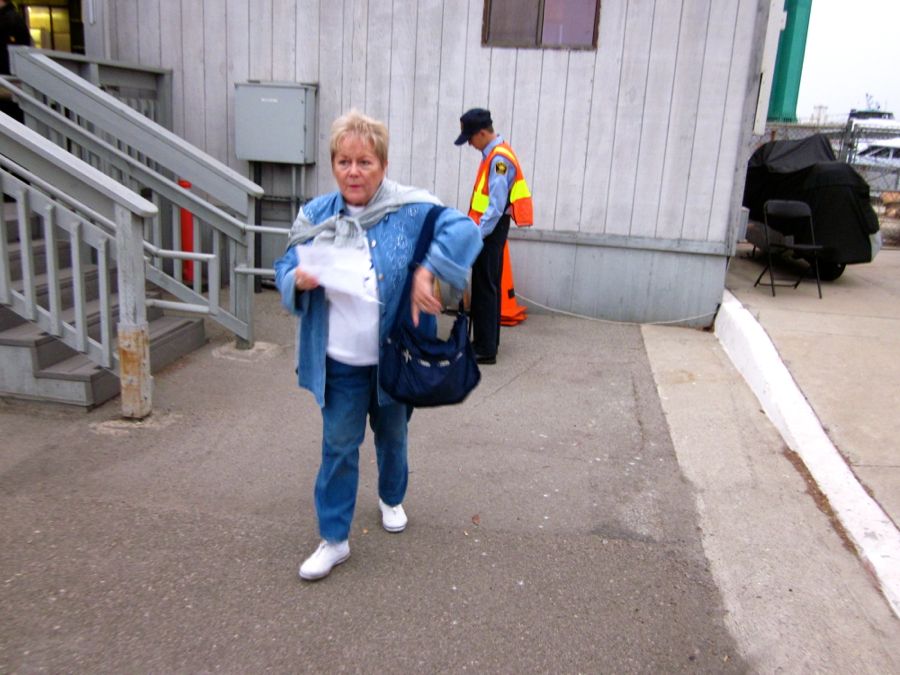 Carri gets through the gate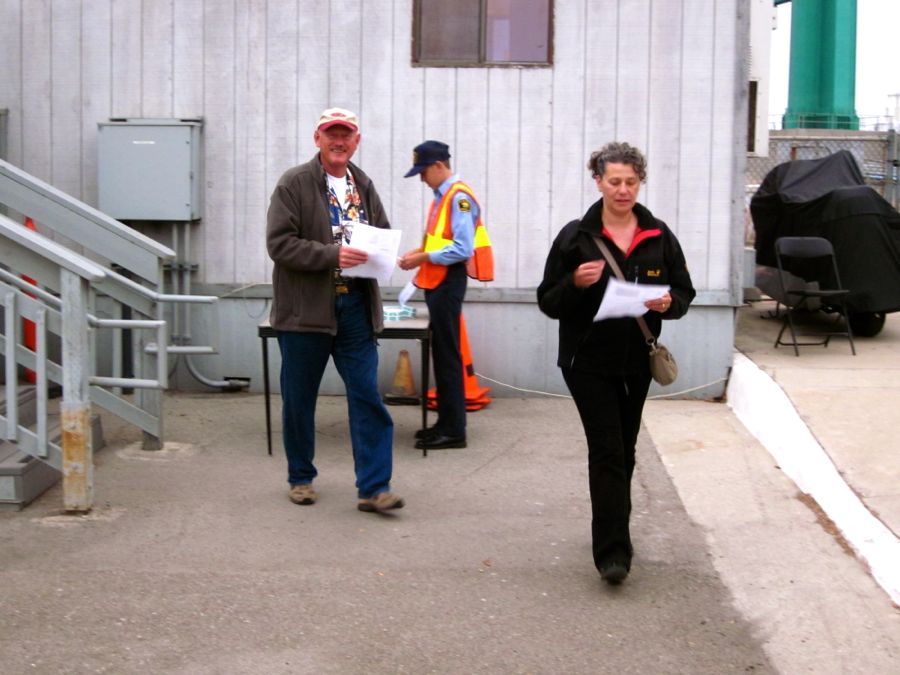 Hans and Kirsten are on their way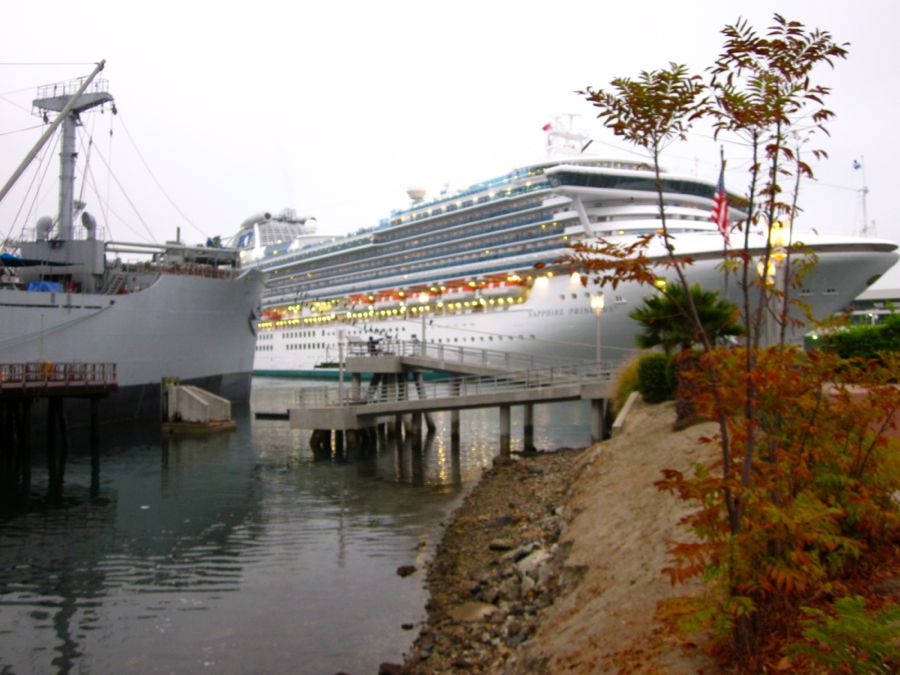 Amazing... It did a 90 degree turn using its bow thrusters

A typical bow thruster.... The Sapphire had three in the front and three in the back
Did You Know? - Large vessels usually have one or more tunnels built into the bow below the waterline. An impeller in the tunnel can create thrust in either direction which makes the ship turn. Most tunnel thrusters are driven by electric motors, but some are hydraulically powered. These bow thrusters, also known as tunnel thrusters, may allow the ship to dock without the assistance of tugboats, saving the costs of such service. Ships equipped with tunnel thrusters typically have a sign above the waterline over each thruster on both sides, a big white cross in a red circle.

Careful there big guy
The Gang Plank Was Guarded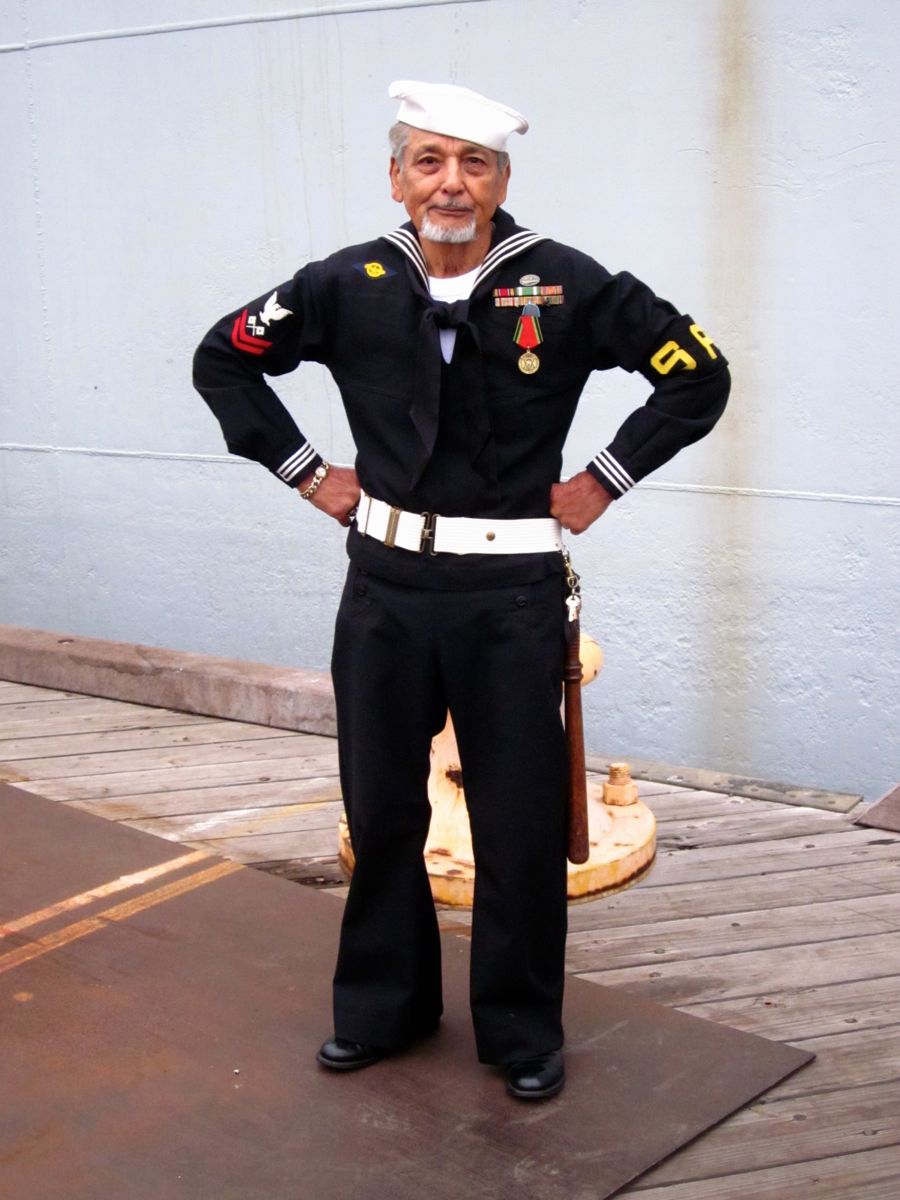 The Shore Patrol keeps an eye on routy sailers AND landlubbers
Did You Know? - Shore patrol are service members that are provided to aid in security for the U.S. Navy, United States Coast Guard, United States Marine Corps, and the British Royal Navy while on shore. They are often temporarily assigned personnel who are untrained in law enforcement and may be armed only with a baton, if at all, and whose primary function is to make certain that sailors on liberty do not become too rowdy. They will also provide assistance for sailors in relations with civil courts and police

Breakfast snacks were already out on the tables... We took advantage of that situation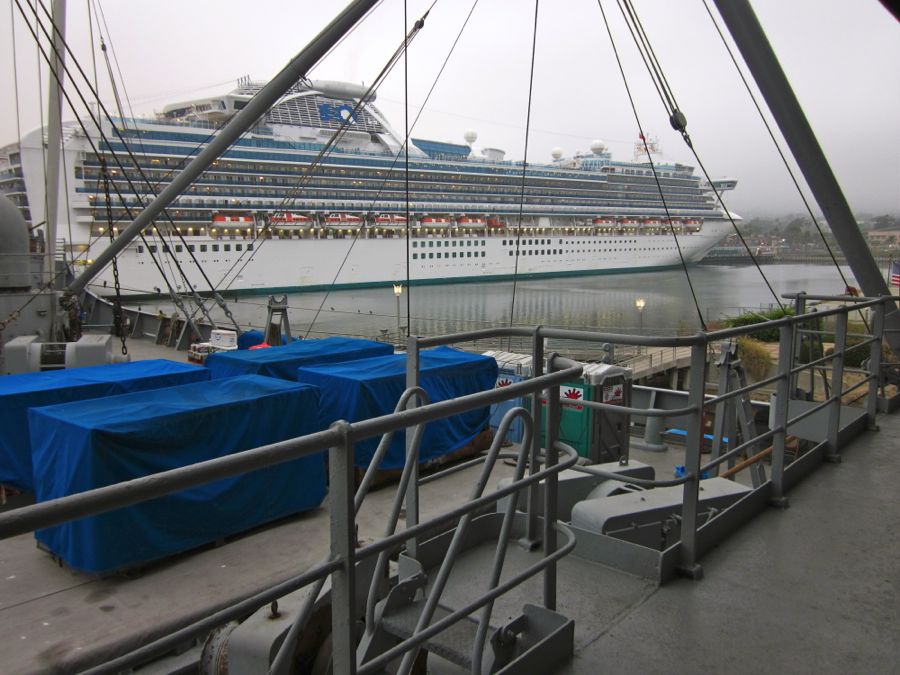 We checked and she was docked....

The decks were empty but NOT for long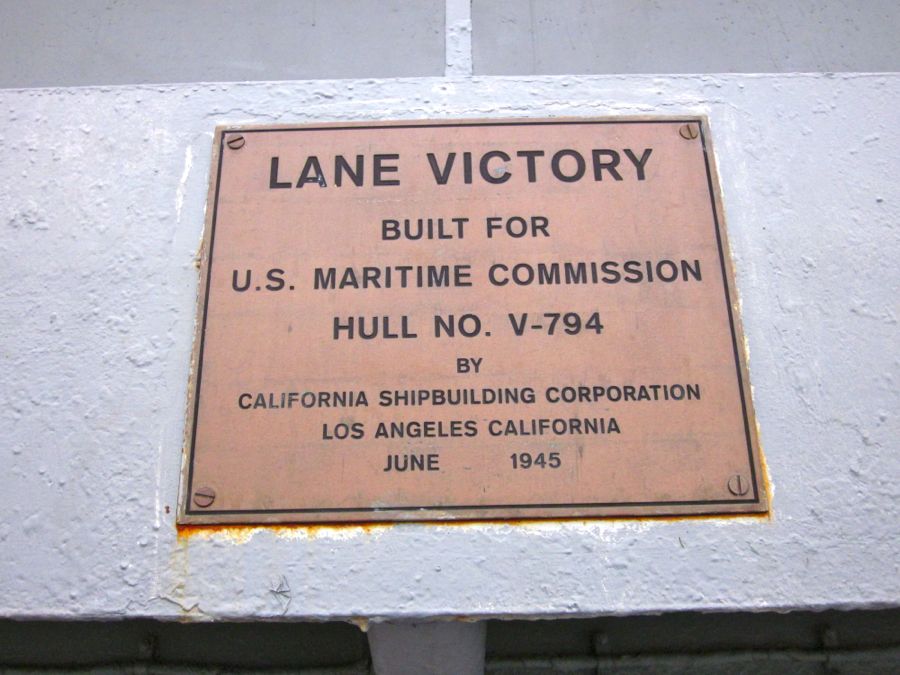 The lady is currently 66 years old....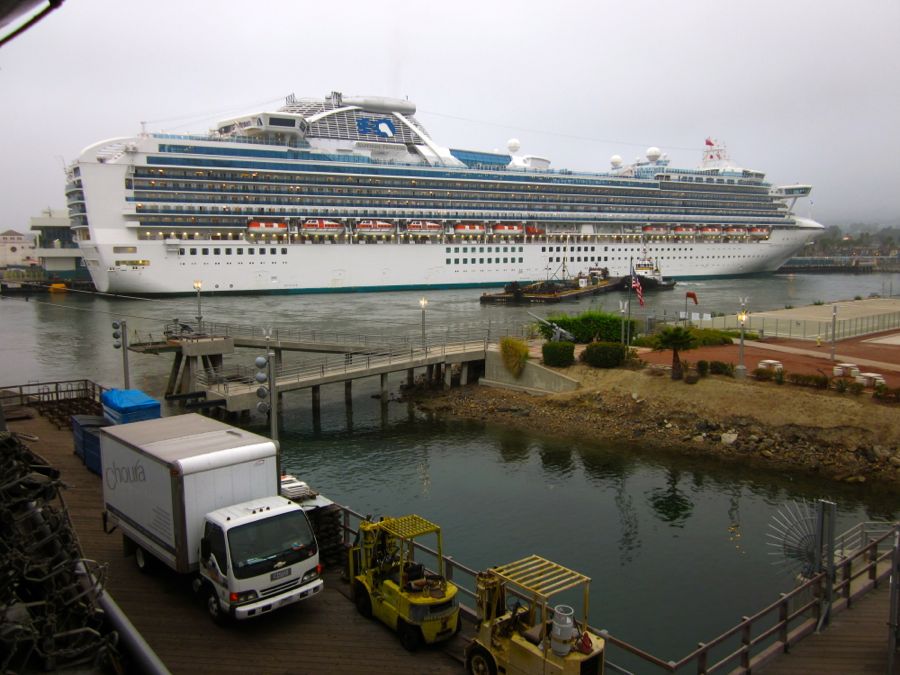 They waste no time in turning it around.... The barge is already moving fluids in and out of the ship
Did You Know? - A barge is a flat-bottomed boat, built mainly for river and canal transport of heavy goods. Some barges are not self-propelled and need to be towed by tugboats or pushed by towboats. Barge is attested from 1300, from Old French barge, from Vulgar Latin barga. The word originally could refer to any small boat; the modern meaning arose around 1480.
Barges are used today for low-value bulk items, as the cost of hauling goods by barge is very low. Barges are also used for very heavy or bulky items; a typical barge measures 195 by 35 feet (59.4 m × 10.6 m), and can carry up to 1,500 tons of cargo.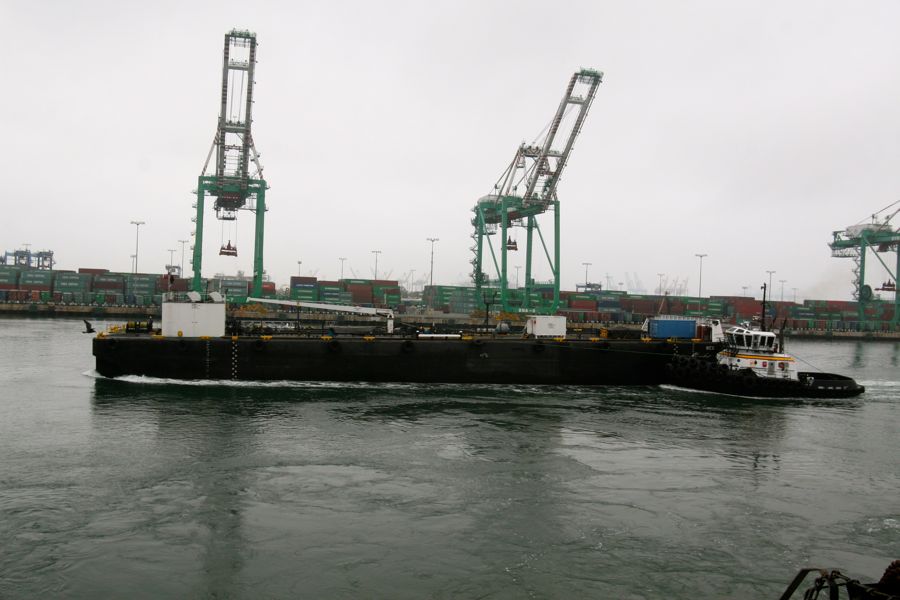 Out in the main channel another barge comes by.... This one looks like it does fuel.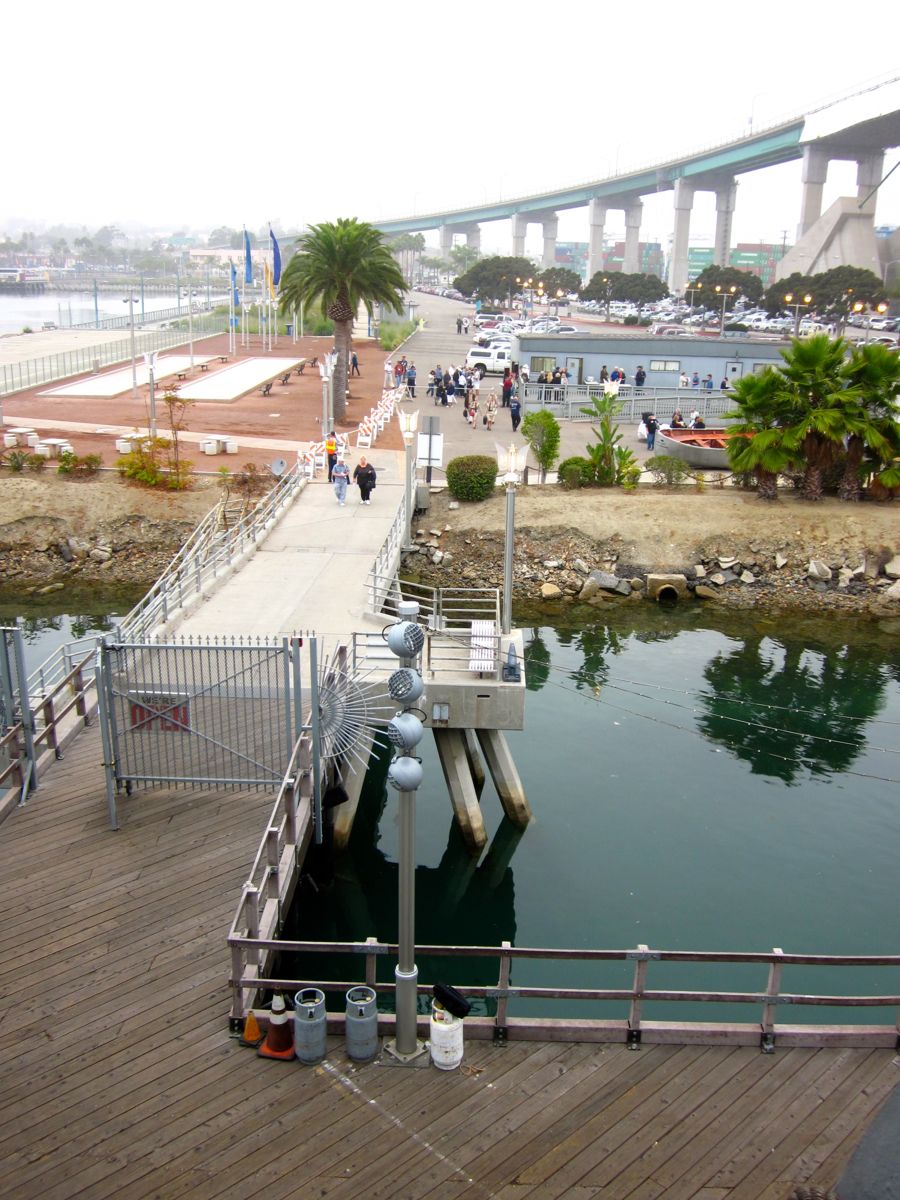 People are beginning to arrive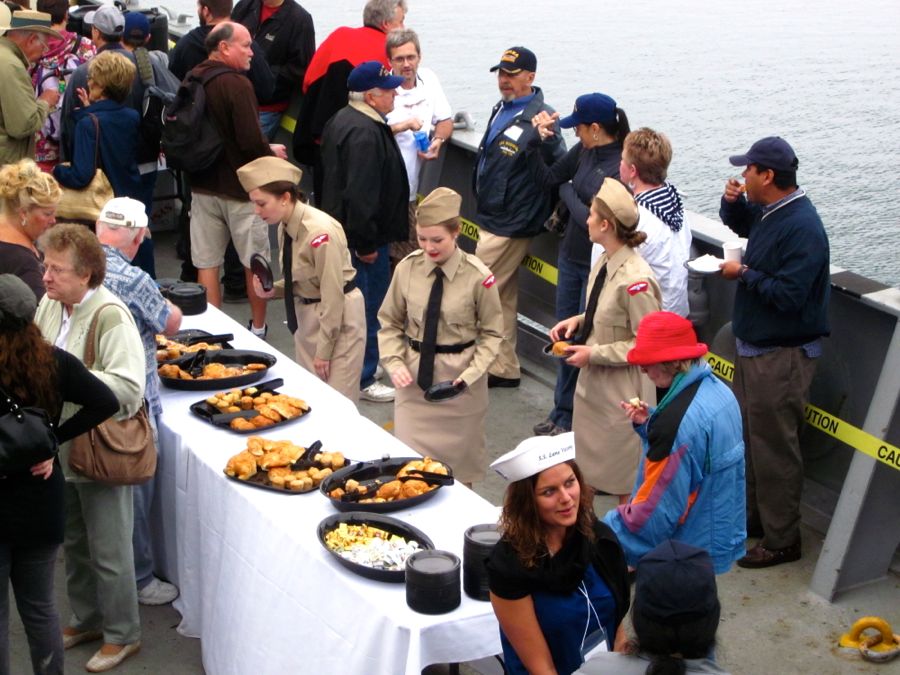 The Andrews Sisters power up for a long day of entertaining the passengers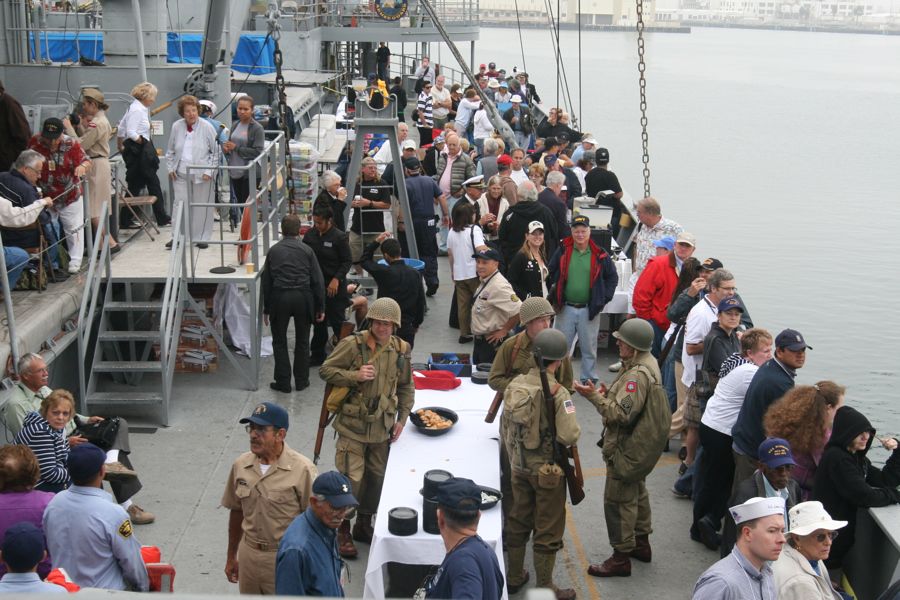 Watch the food disappear

We found our favorite location on the ship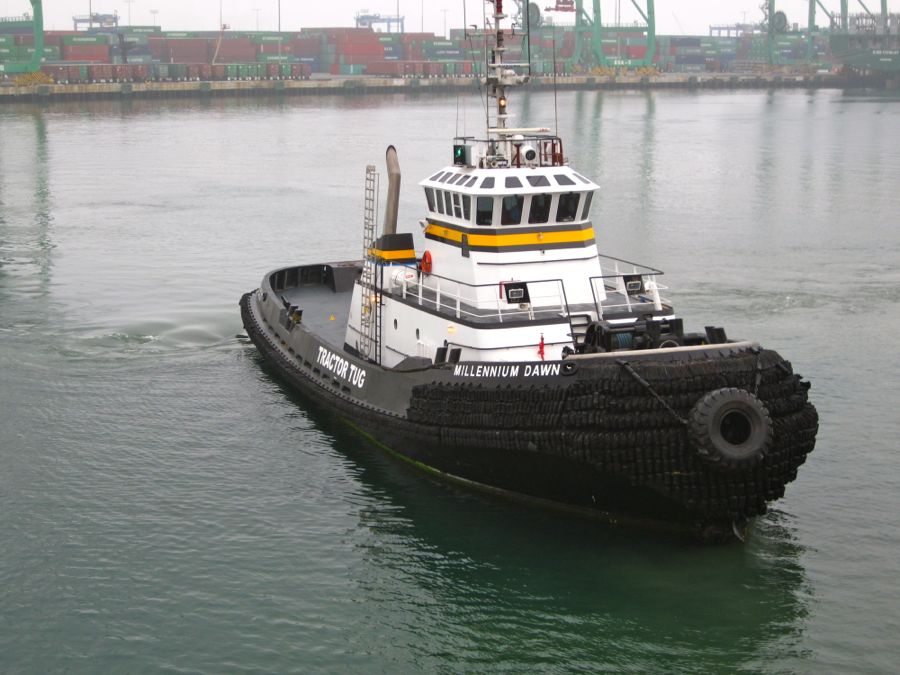 The "Happy Tug" arrives to assist us out of port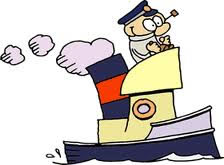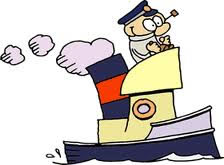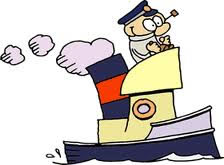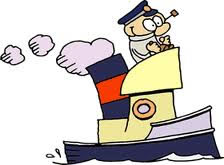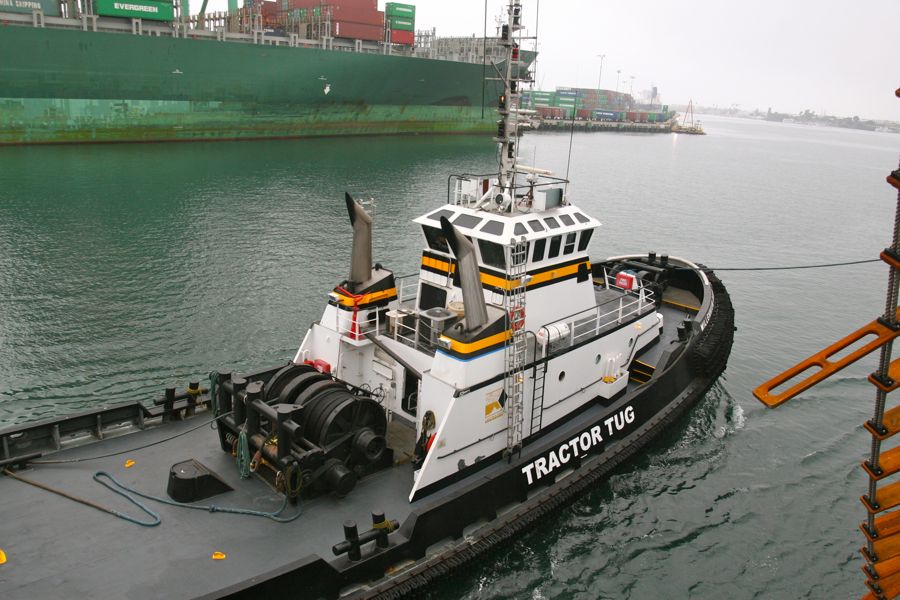 He cables up to our ship mostly to supply emergency steering
Did You Know? - Since 1980, an annual tugboat ballet has been held in Hamburg harbour on the occasion of the festival commemorating the anniversary of the establishment of a port in Hamburg. On a weekend in May, eight tugboats perform choreographed movements for about an hour to the tunes of waltz and other sorts of dancing music.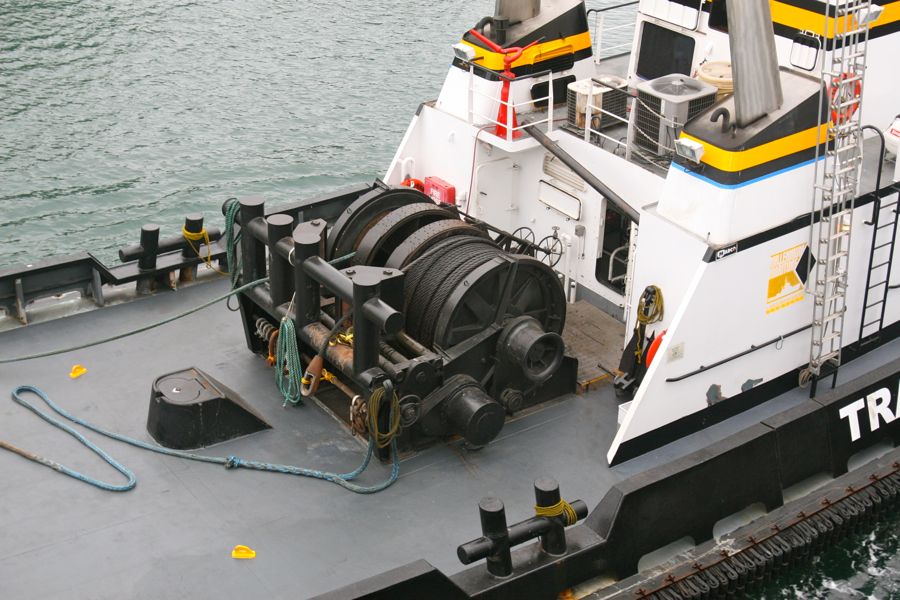 Checkout the winches and cables on the aft deck....

The winch is readied so the gangplank can be moved
Did You Know? - A winch is a mechanical device that is used to pull in (wind up) or let out (wind out) or otherwise adjust the "tension" of a rope or wire rope (also called "cable" or "wire cable"). In its simplest form it consists of a spool and attached hand crank. In larger forms, winches stand at the heart of machines as diverse as tow trucks, steam shovels and elevators.
The spool can also be called the winch drum. More elaborate designs have gear assemblies and can be powered by electric, hydraulic, pneumatic or internal combustion drives. Some may include a solenoid brake and/or a mechanical brake or ratchet and pawl device that prevents it from unwinding unless the pawl is retracted.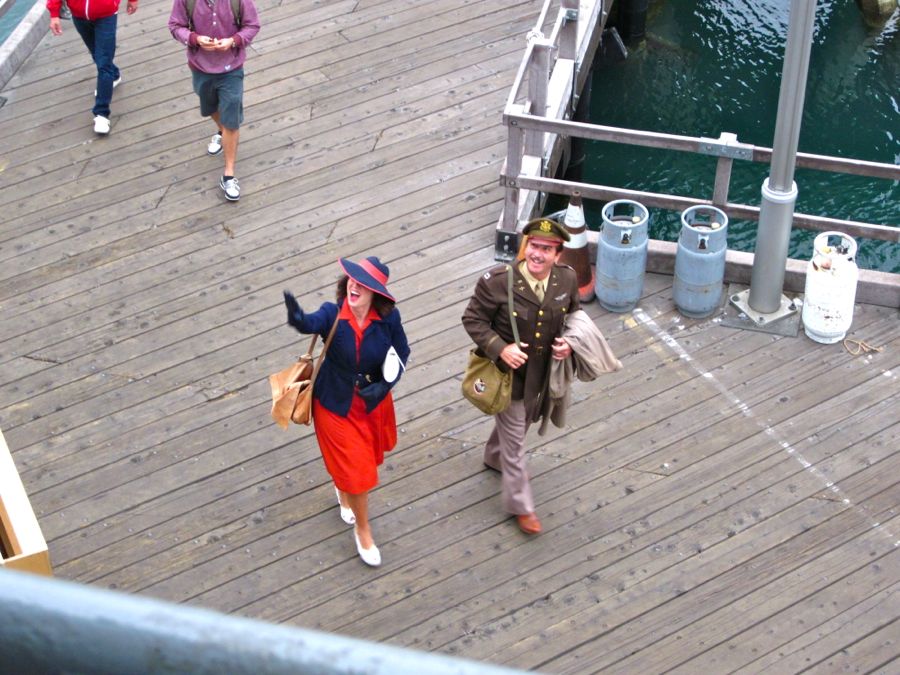 "Yo... Wait for us!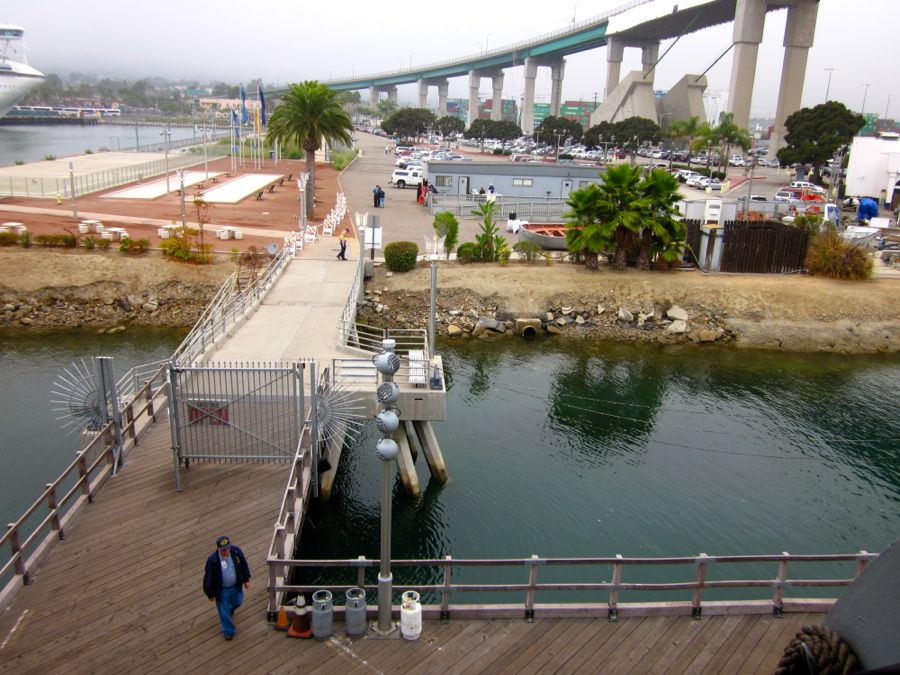 The parking lot is full and it is about time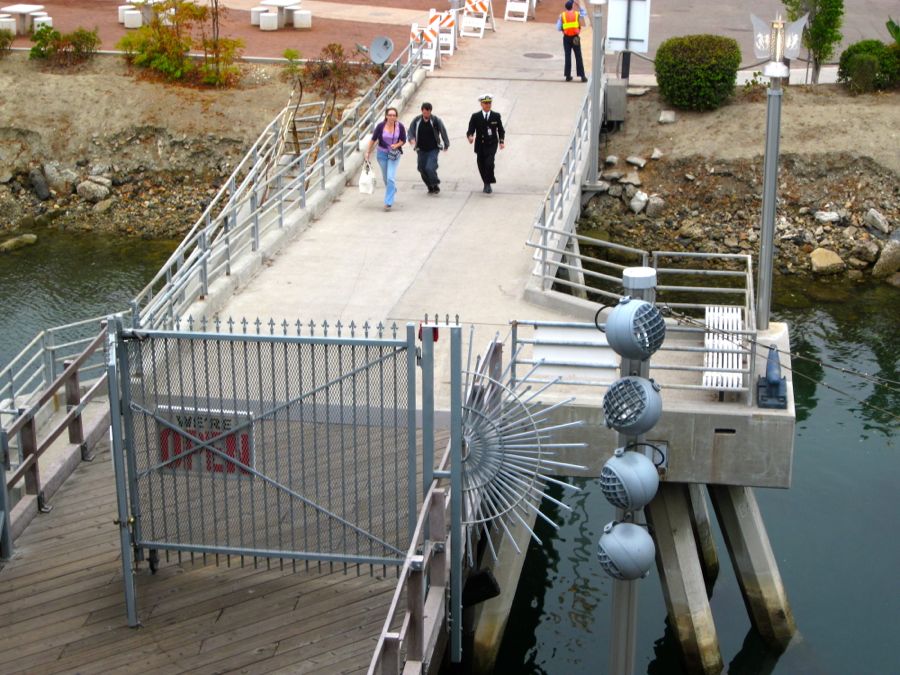 Cornell brings in the last two members of the entertainment staff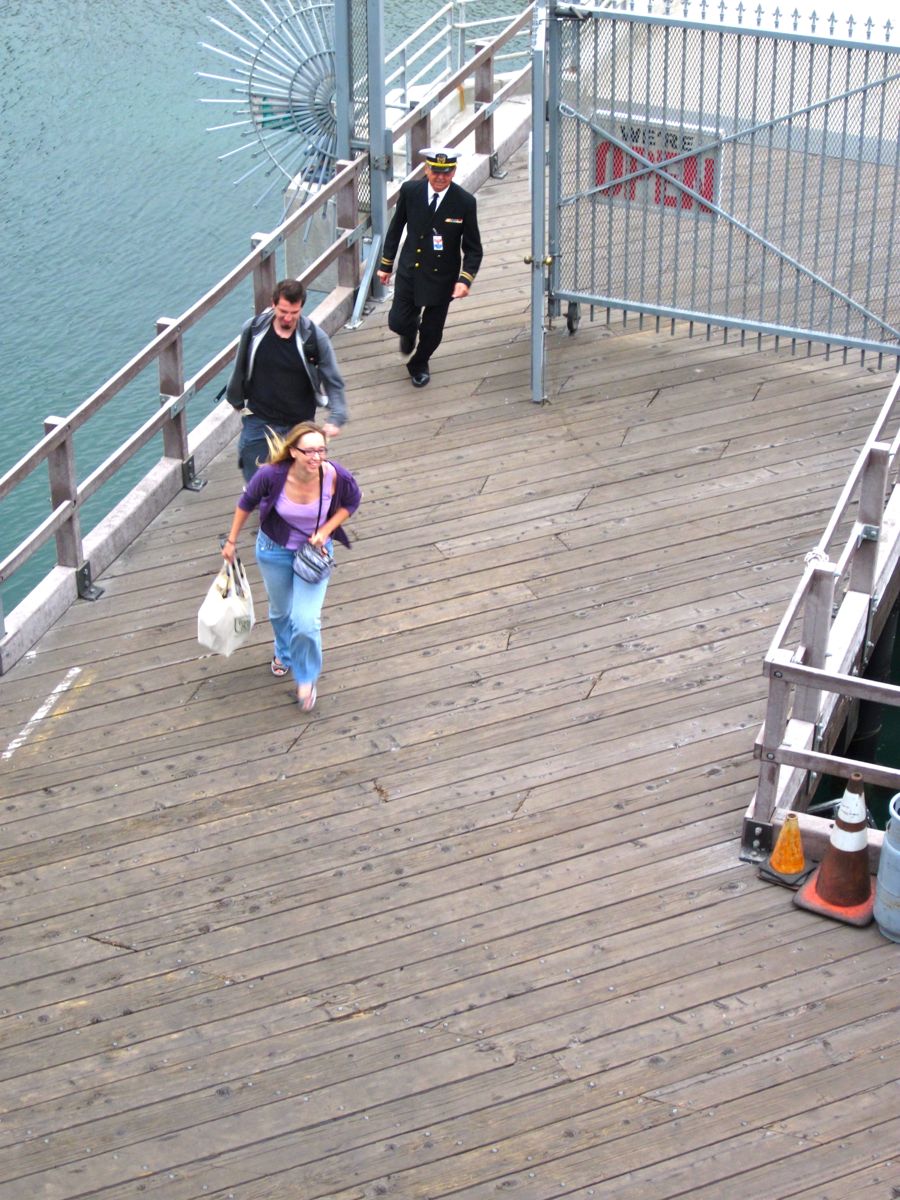 Running to catch the ship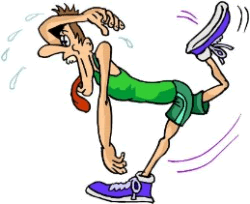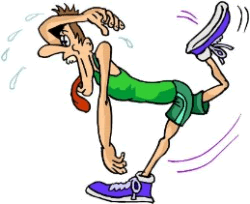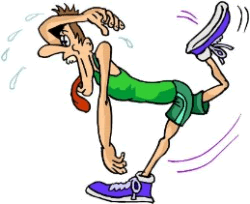 The gangplank is beginning to move
(Transport / Nautical Terms) Nautical a portable bridge for boarding and leaving a vessel at dock side


The signal has been sent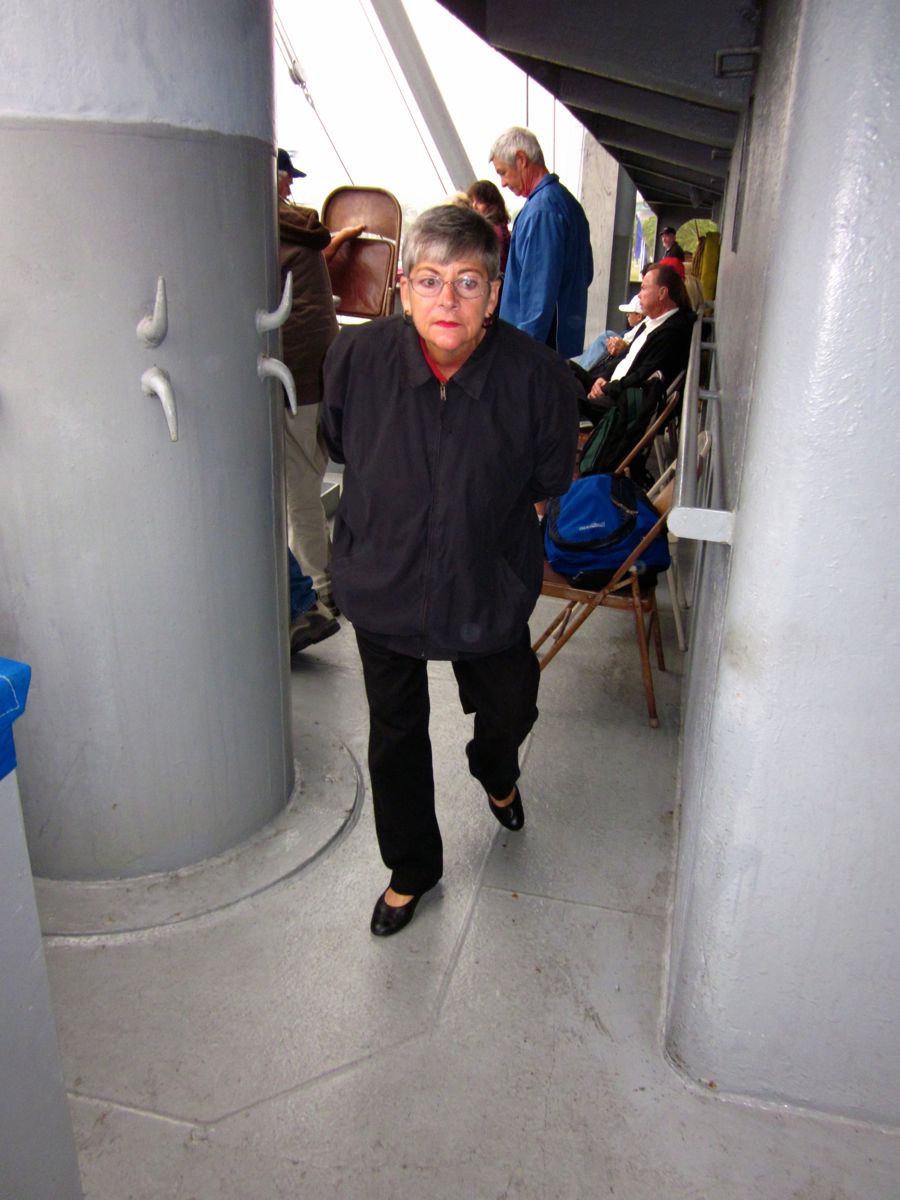 We take a short lap around the ship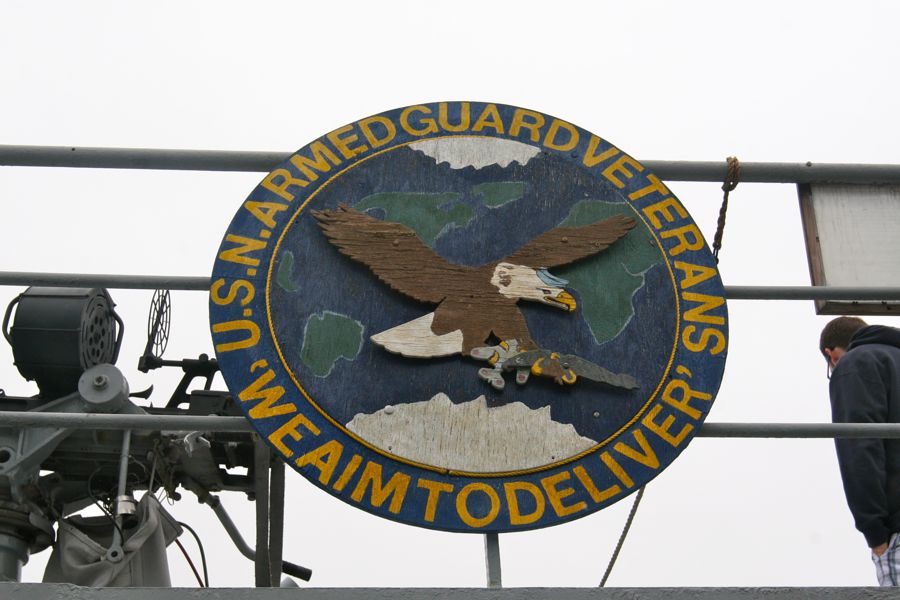 We will be safe today
Did You Know? - The U.S. Navy Armed Guard was a service branch of the United States Navy that was responsible for defending U.S. and Allied merchant ships from attack by enemy aircraft, submarines and surface ships during World War II. The men of the Armed Guard served primarily as gunners, signal men and radio operators on cargo ships, tankers, troop ships and other merchant vessels. Disbanded following the end of the war, the Armed Guard is today little known or remembered by the general public, or even within the Navy. But without the courage and sacrifice of the men of the Armed Guard, victory in World War II would have been much more difficult and taken much longer.
We Are On Our Way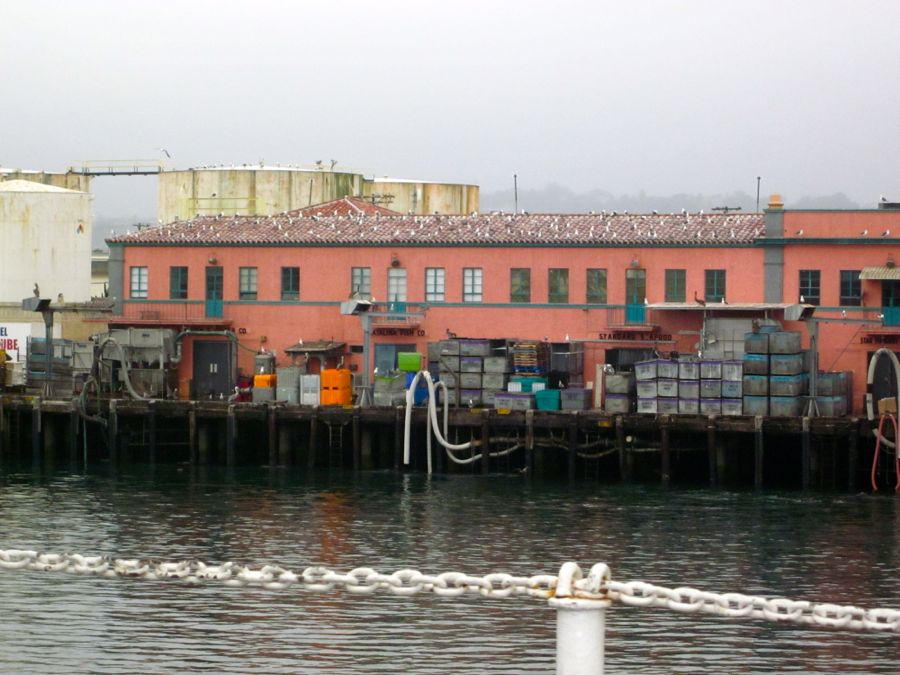 The fish house is visited by a few birdies

A few minutes and we will be out at sea

Funny meeting you here

The wonderful entertainment begins....
Did You Know? - The Andrews Sisters were a prolific and highly successful close harmony singing group of the swing and boogie-woogie eras, consisting of three actual sisters: LaVerne, Maxene and Patty – LaVerne Sophia, contralto and redhead (July 6, 1911 – May 8, 1967); Maxene Angelyn, soprano and brunette (January 3, 1916 – October 21, 1995); and Patricia Marie "Patty" Andrews, mezzo-soprano, lead singer, and blonde (born February 16, 1918).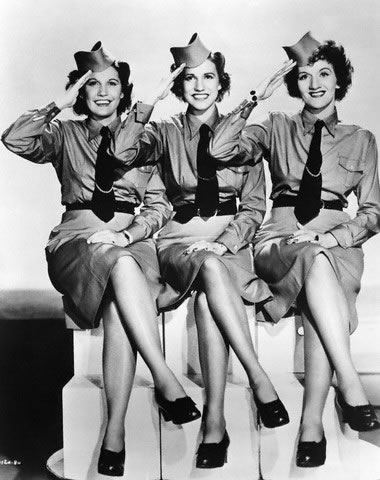 The Andrews Sisters circa 1943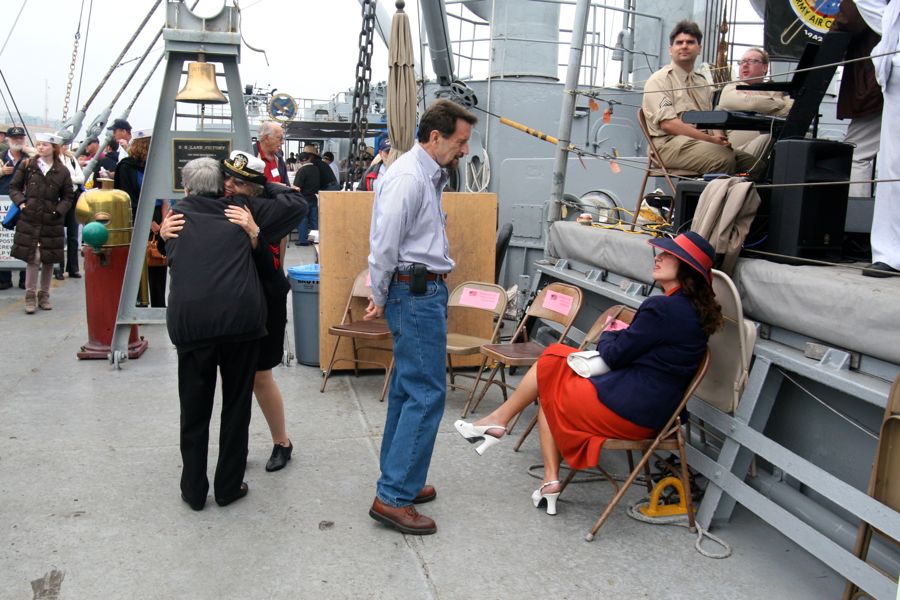 We met some dancing friends... Helen is the "Officer Of The Day"

It was a overcast day with a bit of drizzle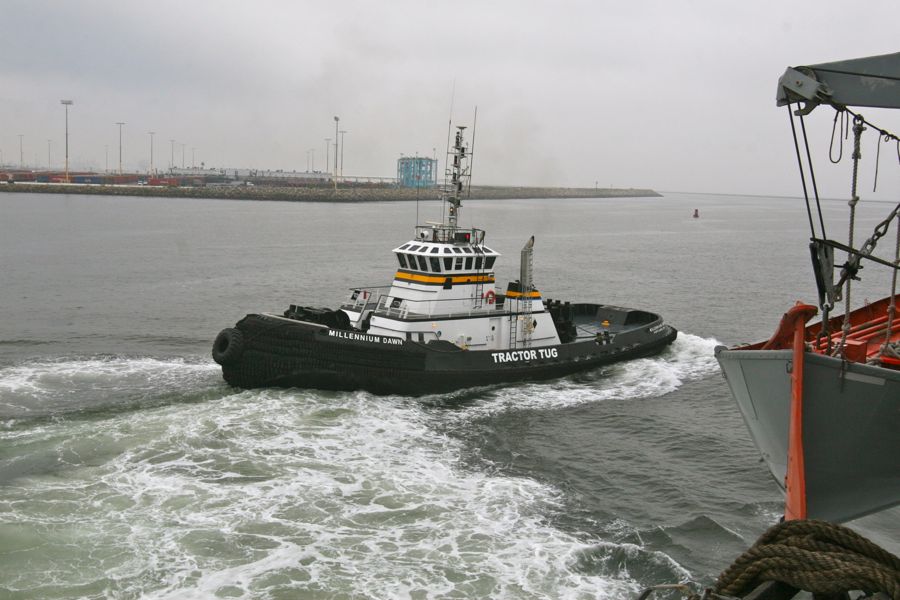 The tug does an amazing ballet
Did You Know? - The Voith Schneider propeller (VSP), also known as a cycloidal drive (CD) is a specialized marine propulsion system (MPS). It is highly maneuverable, being able to change the direction of its thrust almost instantaneously. It is widely used on tugs and ferries.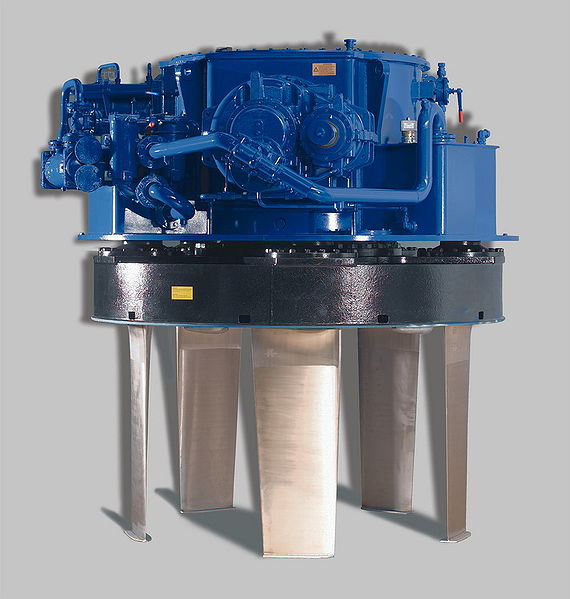 An amazing piece of machinery

Voith Schneider Propeller animation, showing a top-down schematic view of a six-bladed Voith Schneider propeller. The approximate force on the water of each blade is shown by a blue arrow. The net force on the water is vertically upwards, indicating that the propeller itself is moving vertically downwards relative to the water.
The Harbor Pilot Leaves Our Ship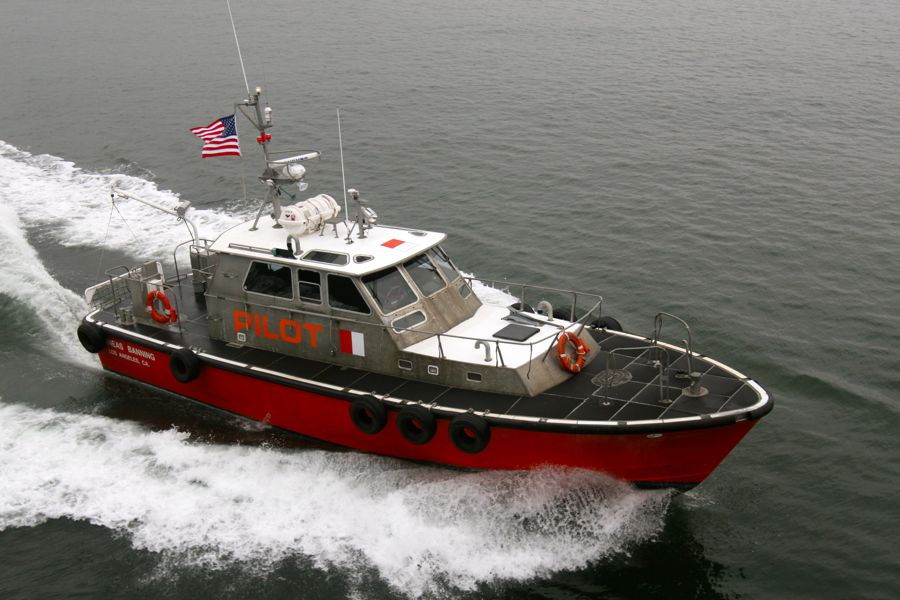 "Where is my Captain?"
Did You Know? - A pilot is a mariner who guides ships through dangerous or congested waters, such as harbours or river mouths. However, the pilot is only an advisor, as the captain remains in legal, overriding command of the vessel.
Pilotage is one of the oldest, least-known professions, yet it is one of the most important in maritime safety. The economic and environmental risk from today's large cargo ships makes the role of the pilot essential.
The work functions of the pilot go back to Ancient Greece and Roman times, when locally experienced harbour captains, mainly local fishermen, were employed by incoming ships' captains to bring their trading vessels into port safely. Eventually, in light of the need to regulate the act of pilotage and to ensure pilots had adequate insurance, the harbours themselves licensed pilots.
Normally the pilot joins an incoming ship at sea via helicopter or pilot boat and climbs a pilot ladder sometimes up 40 feet (~12 metres) to the deck of the largest container and tanker ships. With outgoing vessels, a pilot boat returns the pilot to land after the ship has successfully negotiated coastal waters.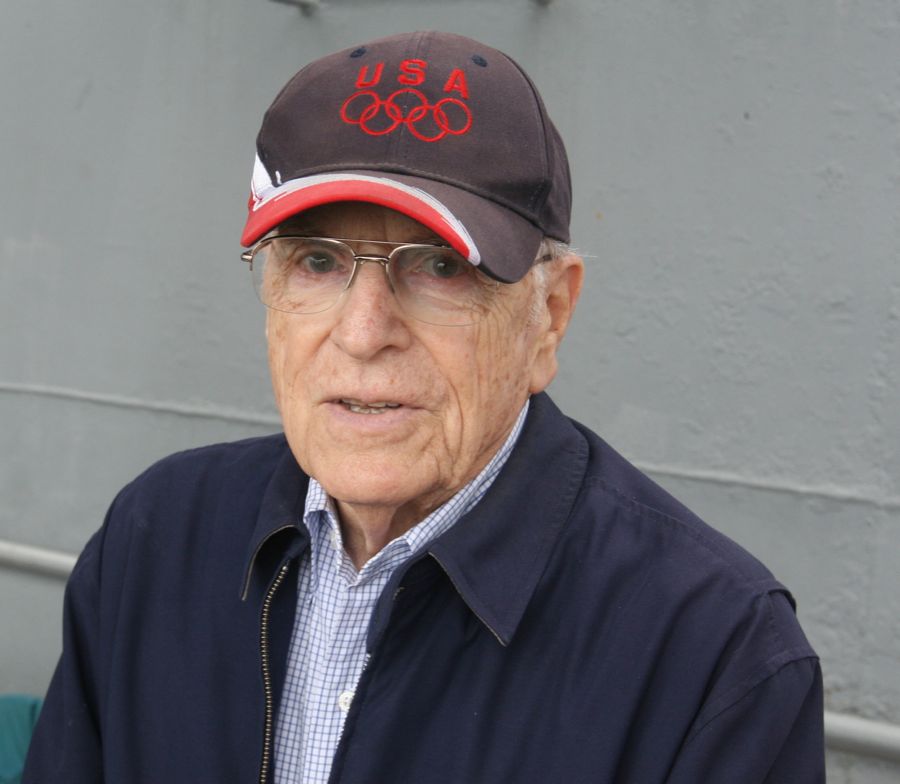 Jim tells about the Harbor Pilots....

Ready to jump?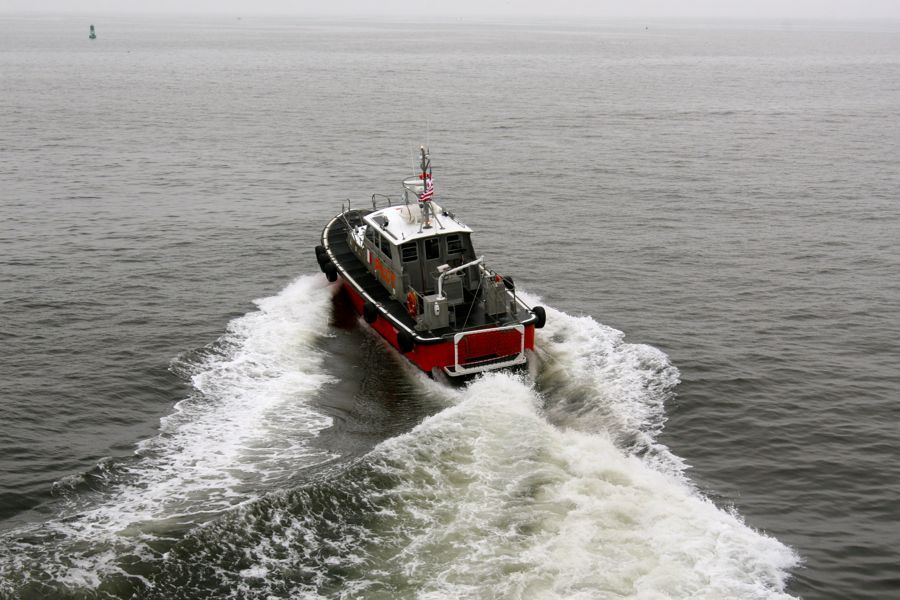 Off he goes in a cloud of water and a "Hi Yo Silver"
Let The Dancing Begin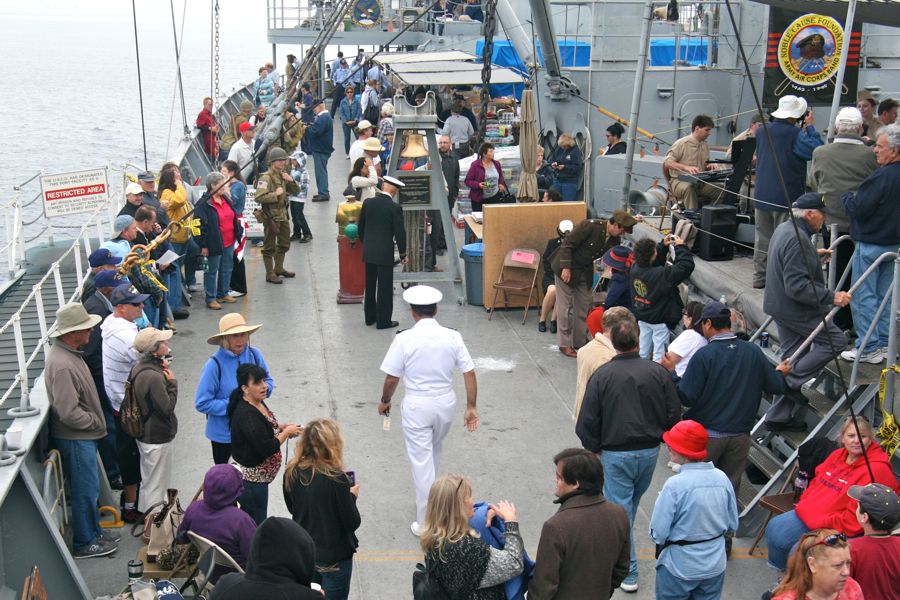 The decks are steel so dancing powder is a mandatory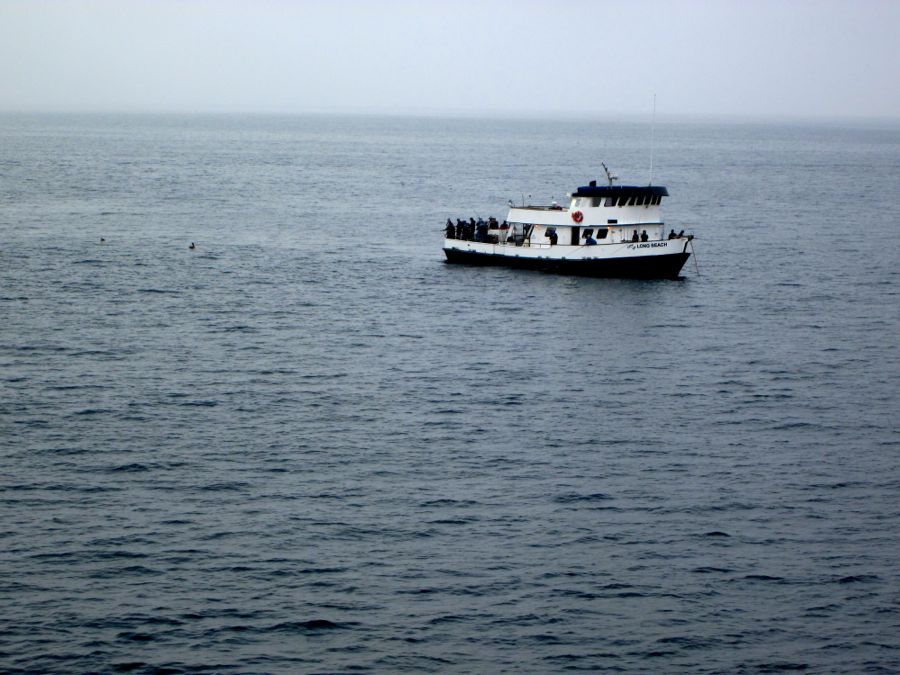 This day boat moors at Khoury's Restaurant as we see it every Thursday