Our 2010 Adventure Has Many New Sailors With Us (Page One)
On this voyage we have something new... Two gentlemen that actually sailed in WWII. We had Del Kuhn (who was in the South Pacific on US Navy transports) and Jim Mongell (who sailed in the Atlantic for the US Navy on a Merchant Marine ship).
Did you know? - The United States Merchant Marine refers to the fleet of U.S. civilian-owned merchant ships, operated by either the government or the private sector, that are engaged in commerce or transportation of goods and services in and out of the navigable waters of the United States. The Merchant Marine is responsible for transporting cargo and passengers during peace time. In time of war, the Merchant Marine is an auxiliary to the Navy, and can be called upon to deliver troops and supplies for the military.
The merchant marine is a civilian auxiliary of the U.S. Navy, but not a uniformed service, except in times of war when, in accordance with the Merchant Marine Act of 1936, mariners are considered military personnel. In 1988, President Ronald Reagan signed a bill into law granting veteran status to merchant mariners who served in war. Prior to such legislation, they were considered civilians and did not receive any of the veteran's benefits given to members of the U.S. armed forces.
We Arrived About 6:45 And Were First In Line

We had great parking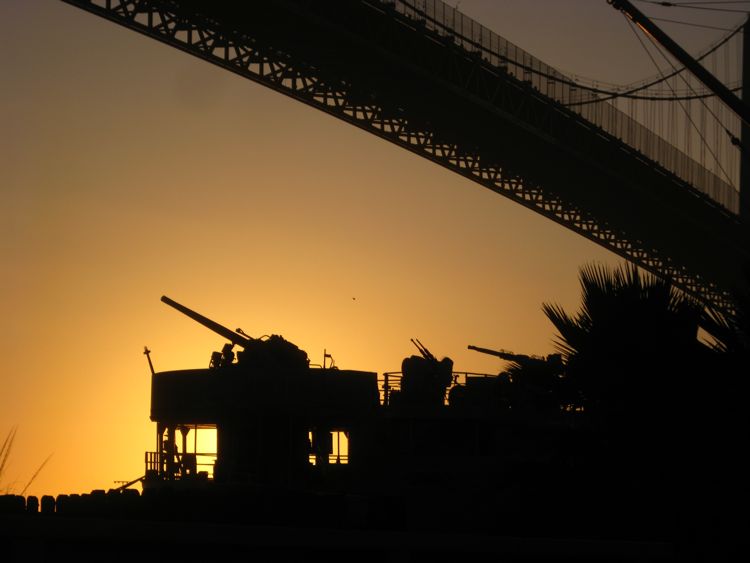 The 5" gun was ready to rock and roll
Did you know? - The VC2-S-AP2,VC2-S-AP3, and VC2-M-AP4 were armed with a 5 inch (127 mm) stern gun for use against submarines, a bow-mounted 3 inch (76 mm) anti-aircraft gun and eight 20 mm cannon, also for use against aircraft.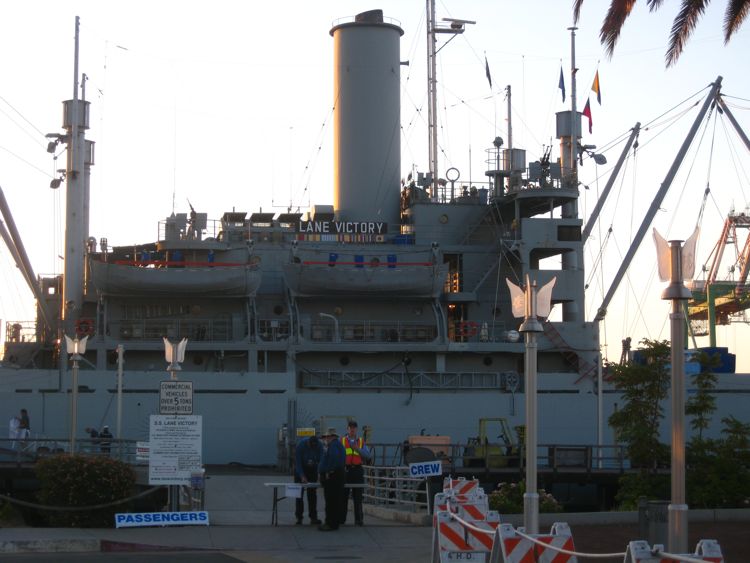 The crew and support staff were already onboard
The Lines Opened Promptly At 7:40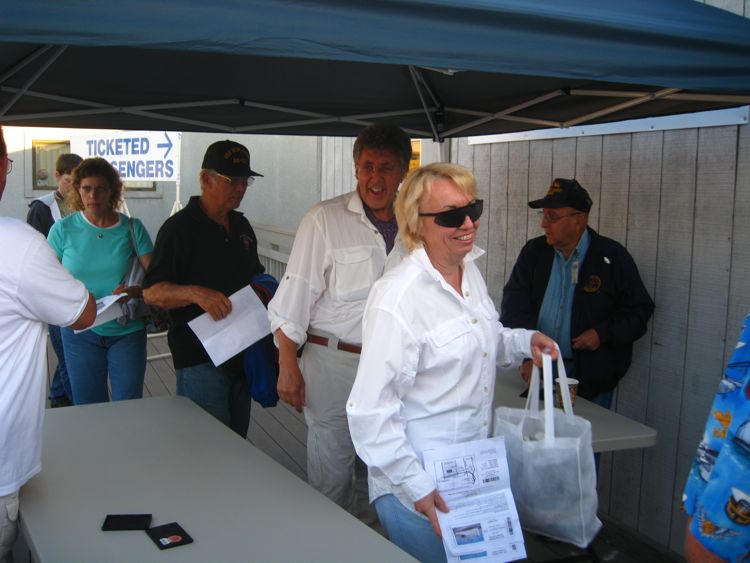 Briand and Jan are ready to sail!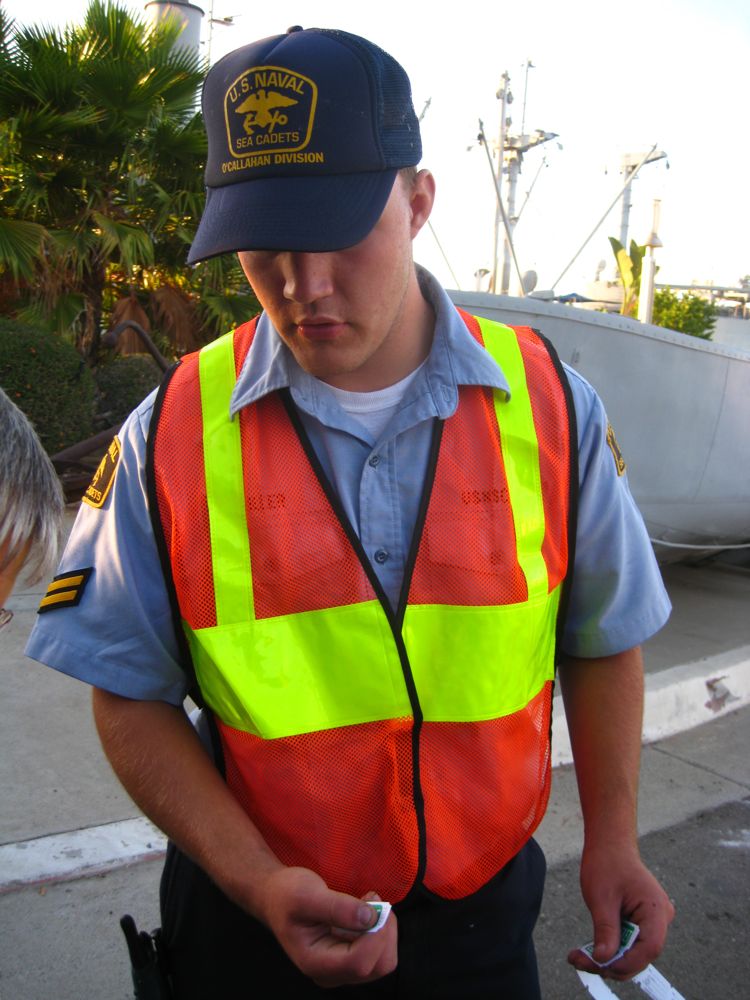 The staff had many "Sea Cadets"
Did you know? - Sea Cadets are generally members of a Sea Cadet Corps, a formal cadet organization of young people with an interest in their national navy. The organization may be sponsored by the Navy or Naval supporter's organization, such as a Navy League in the UK, or similar organizations in other nations.
The United States Naval Sea Cadet Corps (USNSCC or NSCC) is a U.S. Navy-based youth organization that serves to teach persons 13 to 17 years old about the sea-going military services, community service, citizenship, and an understanding of discipline and teamwork.
The NSCC was founded in 1958 by the Navy League of the United States at the request of the Department of the Navy. In 1962, the USNSCC was chartered under Title 36 of the United States Code as a non-profit youth organization with an emphasis towards the sea-going services of the United States. The law was amended in 1974 to allow female participation in the USNSCC.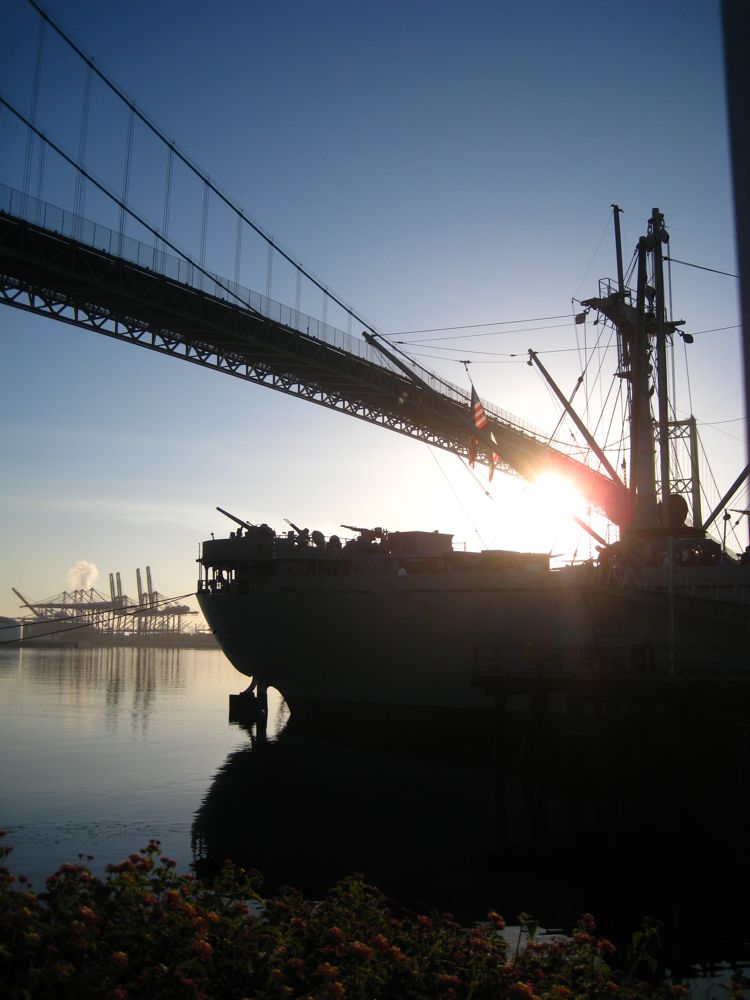 The Sun finally made it up
The Shore Patrol Met Us With Smiles
Did you know? - Shore patrol are service members that are provided to aid in security for the U.S. Navy, United States Coast Guard, United States Marine Corps, and the British Royal Navy while on shore. They are often temporarily assigned personnel who are untrained in law enforcement and may be armed only with a baton, if at all, and whose primary function is to make certain that sailors on liberty do not become too rowdy. They will also provide assistance for sailors in relations with civil courts and police.

We found our spot!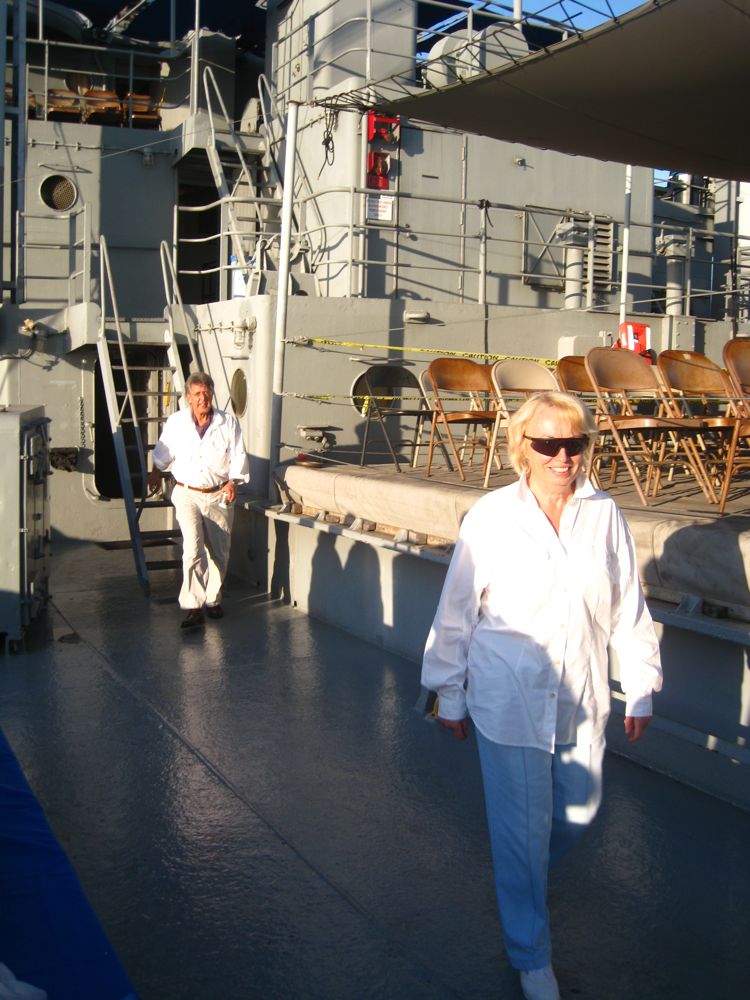 Brian and Jan spotted the donuts and rolls... Look out!
Exploring The Ship Begins

Sue begins the many hours of exploring the ship!

20 mm anti-aircraft guns were in eight locations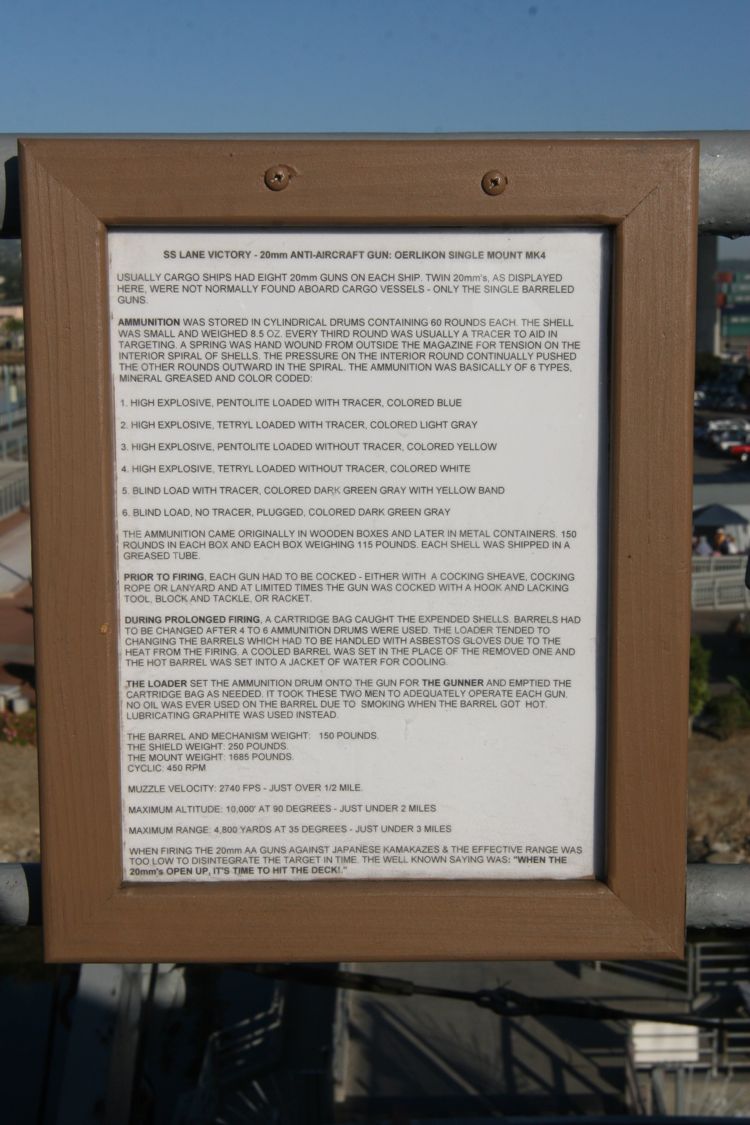 Wow!!

We were looking for the spa!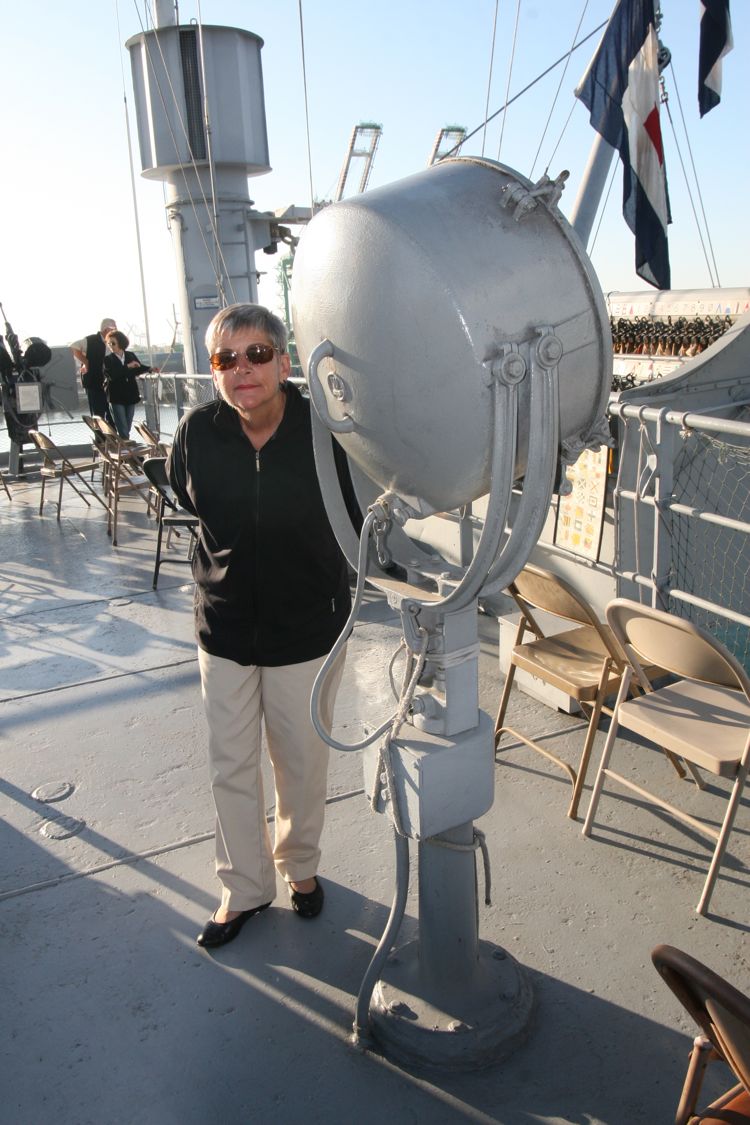 The signal lights were huge
Did you know? - A signal lamp (also called an Aldis lamp, named for its inventor Arthur C. W. Aldis) is a visual signaling device for optical communication (typically using Morse code) – essentially a focused lamp which can produce a pulse of light. This pulse is achieved by opening and closing shutters mounted in front of the lamp, either via a manually-operated pressure switch or, in later versions, automatically. The lamps were usually equipped with some form of optical sight, and were most commonly used on naval vessels and in airport control towers (using color signals for stop or clearance).
Aldis lamps were pioneered by the British Royal Navy in the late 19th century, and continue to be used through the present day on naval vessels. They provide handy, secure communications during periods of radio silence as well as other times and were particularly useful for convoys operating during the Battle of the Atlantic. There were several types.
Some signal lamps were mounted on the mastheads of ships, some small hand-held versions were also used ('The Aldis lamp') and other more powerful ones were mounted on pedestals. These larger ones used a carbon arc lamp as their light source with a diameter of 20 inches (50 cm). These could be used to signal to the horizon, even in conditions of bright sunlight. Although it was originally thought that it was only possible to communicate by line-of-sight, in practice it was possible to illuminate cloud bases both during the night and day which allowed for communication beyond the horizon. A maximum transmission rate possible by using flashing lights is no more than 14 wpm.

No Sh.....
Did you know? - Ship's whistles must be very loud for safety on the seas. Modern ship's whistles can be electrically or steam driven. RMS Queen Mary was originally equipped with three electric Tyfon whistles in 1932. They could be heard at least ten miles away and were tuned to 55 Hz, a low bass A note that was chosen for maximum passenger comfort despite the high sound pressure level.
One of the three whistles was taken back to Kockum Sonics in Malmö, Sweden, where it was refurbished for a new life of service aboard the RMS Queen Mary 2. Modern IMO regulations specify ships' whistle frequencies to be in the range 70-200 Hz for vessels that are over 200 metres in length. Traditionally, the lower the frequency, the larger the ship. The Queen Mary 2, being 345 meters long, was given the lowest possible frequency (70 Hz) for her regulation whistles which means she carries both 70 Hz modern whistles and a single vintage 55 Hz whistle. ~Wikipedia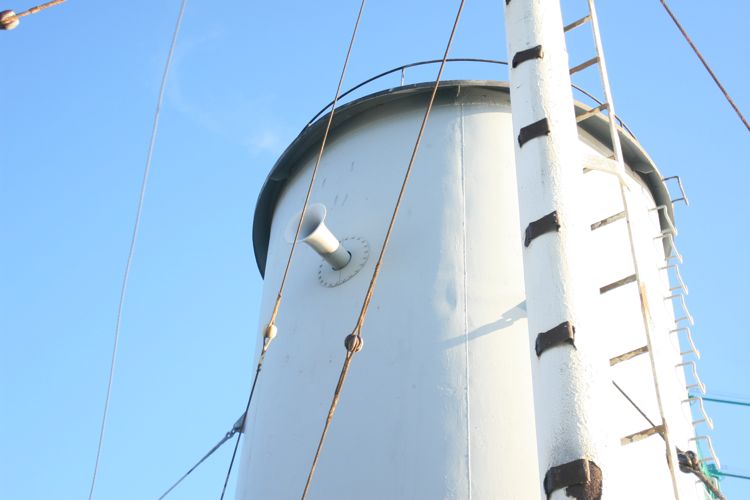 "Toot Toot"

"Please, can I fire the little gun! Please"

M-m-m-m Each one holds 40 people and there are four! Let me do the math!

Hey... What do the tuba's do?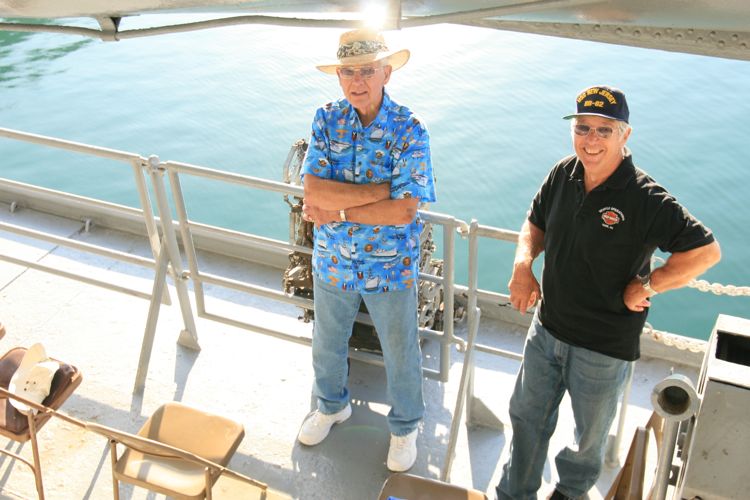 "OK, we are ready to go!"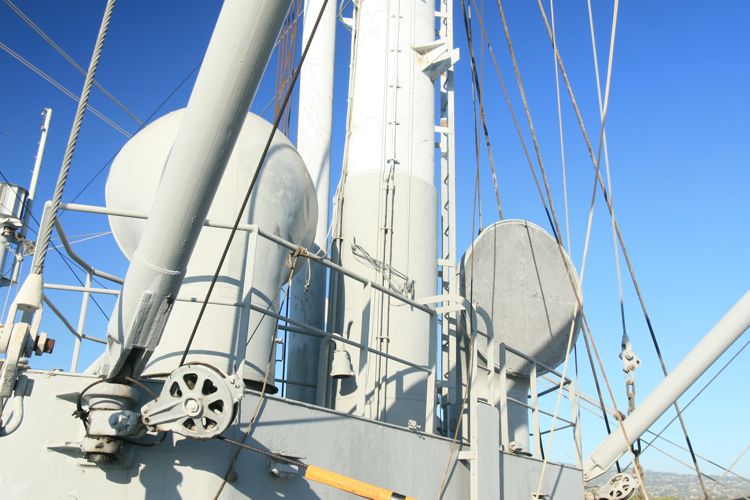 The Flag Locker Was On The Signal Bridge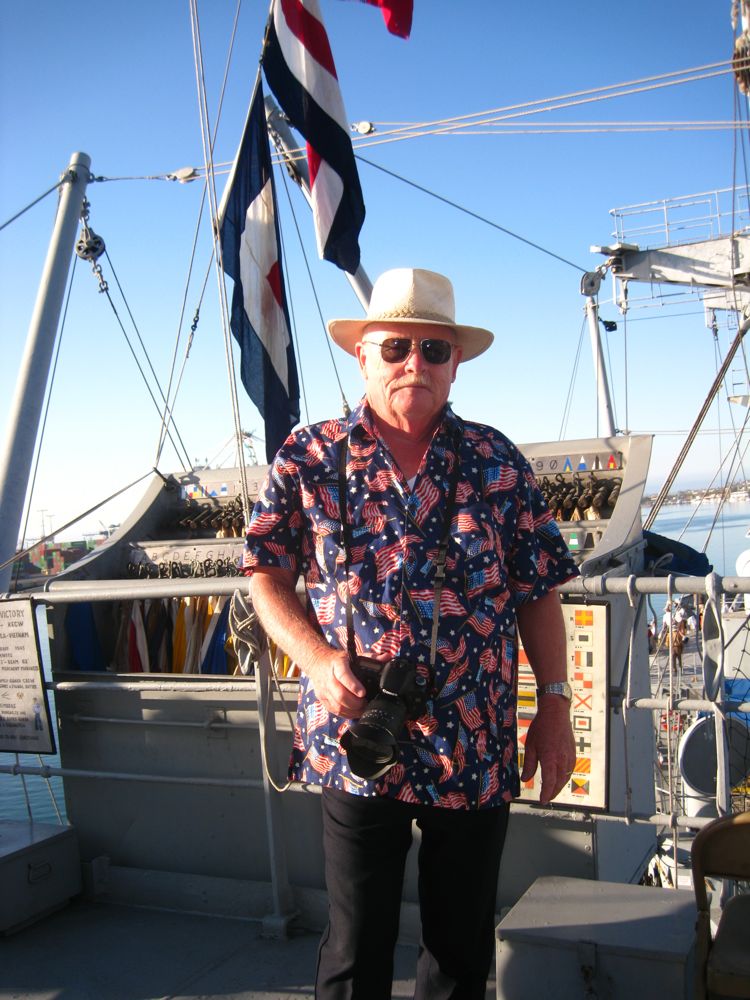 Paul was wearing a signal flag!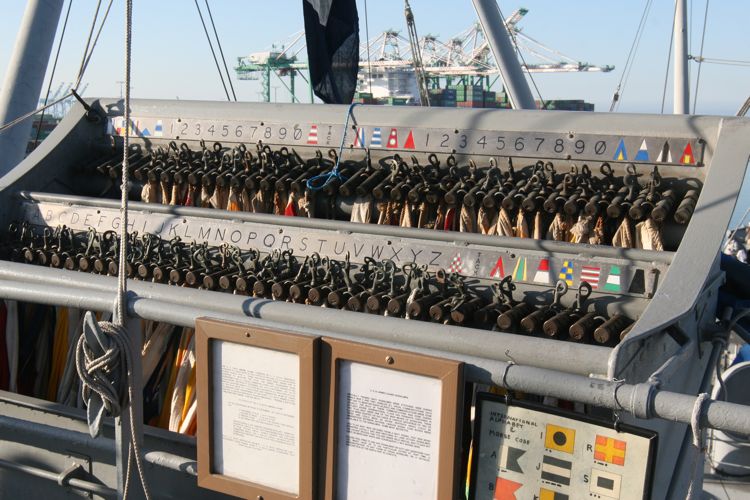 Did you know? - The system of international maritime signal flags is a way of representing individual letters of the alphabet in signals to or from ships. It is a component of the International Code of Signals (INTERCO).

Our tugboat arrives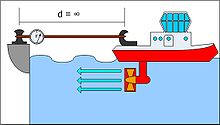 Did you know? - Bollard pull (A bollard is a short vertical post generally on a quay or wharf) is a value that allows the comparison of the pulling force of watercraft, particularly tugboats. Unlike in ground vehicles, the statement of installed horsepower is not sufficient to understand how strong a tug is - this is because other factors, like transmission losses, propulsion type, propulsion system efficiency, have an influence as well. Bollard pull values are stated in tons. They are an indication of the maximum pulling force that a ship can exert on another ship or an object.

Faster transportation was available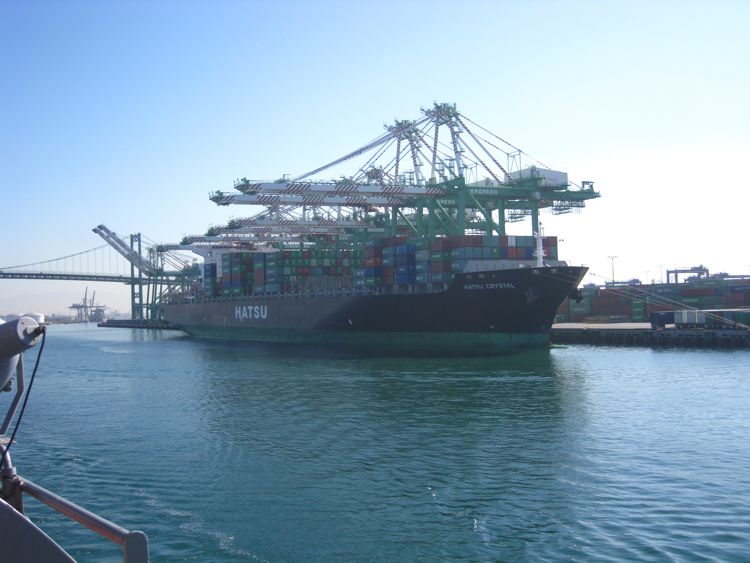 We passed her up like she was standing still.... Actually, she was!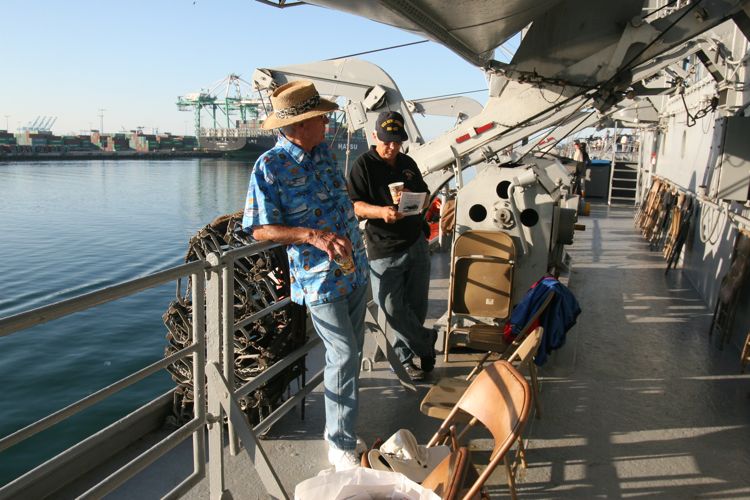 Ed reads the program

Down the channel we go

The harbor plan in the year 1900!
Did you know? - Natural islands in San Pedro Bay include Terminal Island (actually an augmented mudflat), the site of much of Los Angeles' and Long Beach's port facilities, and Mormon Island, the site of an abortive settlement attempt by San Bernardino-based Mormon pioneers in the 1850s. Land reclamation operations by Los Angeles have considerably enlarged Terminal Island, as well as linking Mormon Island to the mainland. The historic Deadman's Island sat at a landmark at the foot of the Bay, but was removed in 1928 as part of the effort to enlarge the harbor.~Wikipedia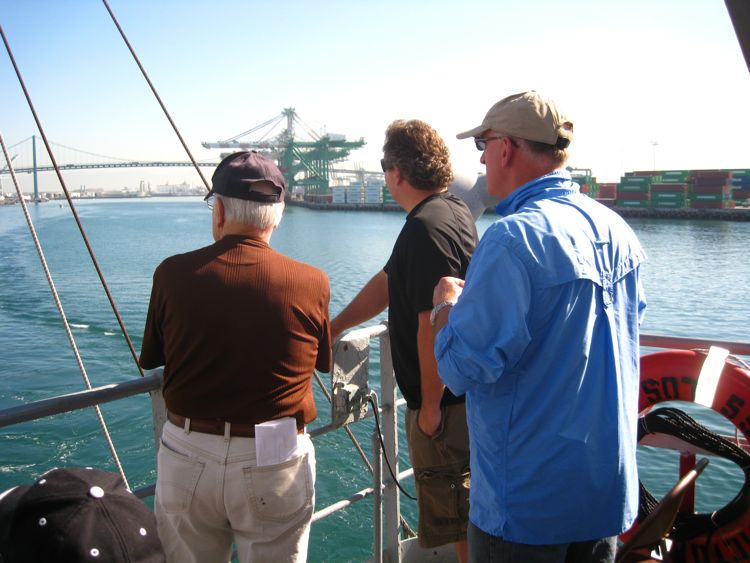 Ah guys.... If you are going to steer you ought to be looking forward!

Captain Jim, at your service

Old Glory is always a pretty sight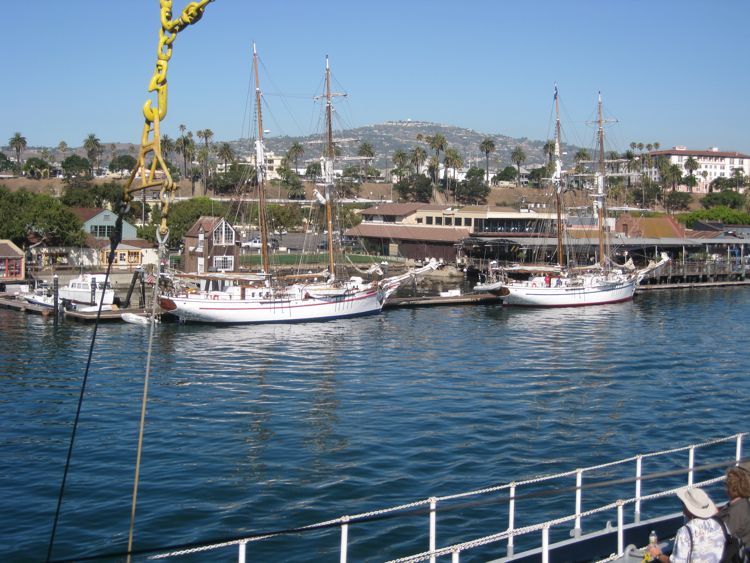 There was a lot of waving going on!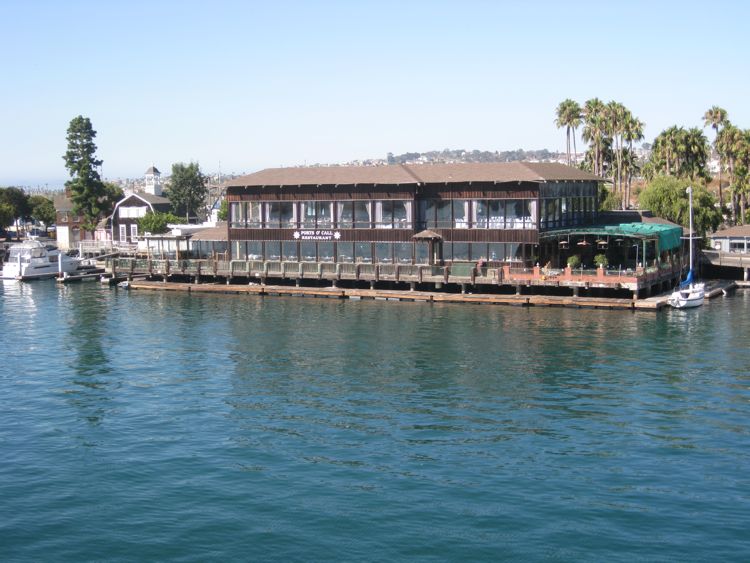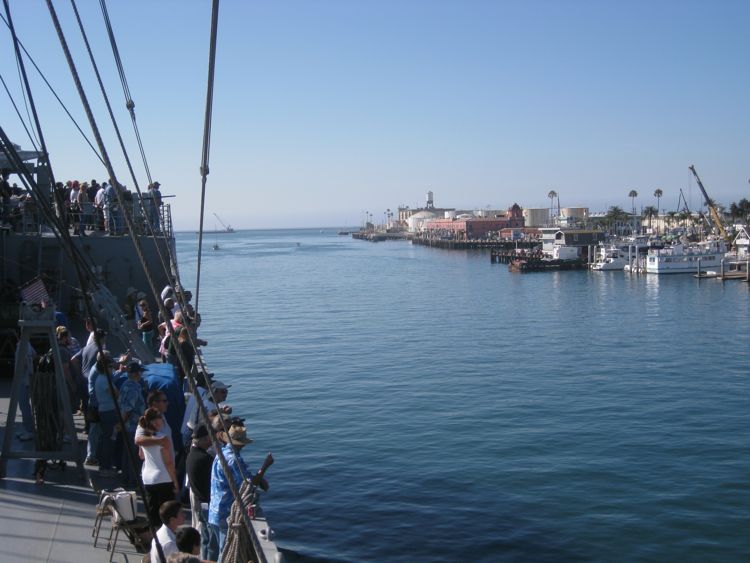 Breakwater ahead
Did you know? - A 13.6 kilometer (8.4 mile) long breakwater stretches across most of the bay, with two openings to allow ships to enter the port areas behind it. The initial western section of the breakwater, called the San Pedro Breakwater, was constructed between 1899 and 1911 at San Pedro; the Middle breakwater was completed over the next twenty-five years, and the Long Beach breakwater was finished after World War II.

The tug says good bye

Feel small?

Very interesting!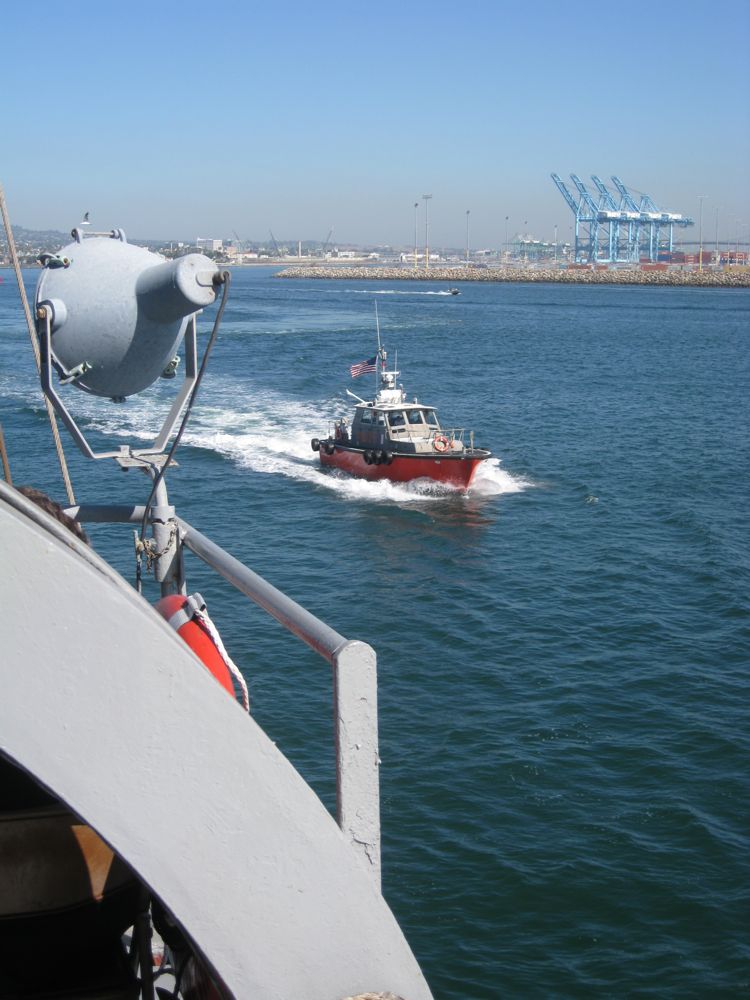 The Harbor Pilot (Maritime Pilot) gets picked up


"H" means Pilot
On Board
Did you know? - A pilot is a mariner who guides ships through dangerous or congested waters, such as harbors or river mouths. However, the pilot is only an advisor, as the master remains in legal, overriding command of the vessel.

However, the work functions of the pilot go back to Ancient Greece and Roman times, when locally experienced harbor captains, mainly local fishermen, were employed by incoming ships' captains to bring their trading vessels into port safely. Eventually, in light of the need to regulate the act of pilotage and to ensure pilots had adequate insurance, the harbors themselves licensed pilots.
Although licensed by the harbor to operate within their jurisdiction, pilots were generally self-employed, meaning that they had to have quick transport to get from the port to the incoming ships. As pilots were often still dual-employed, they used their own fishing boats to reach the incoming vessels. But fishing boats were heavy working boats, and filled with fishing equipment, hence a new type of boat was required.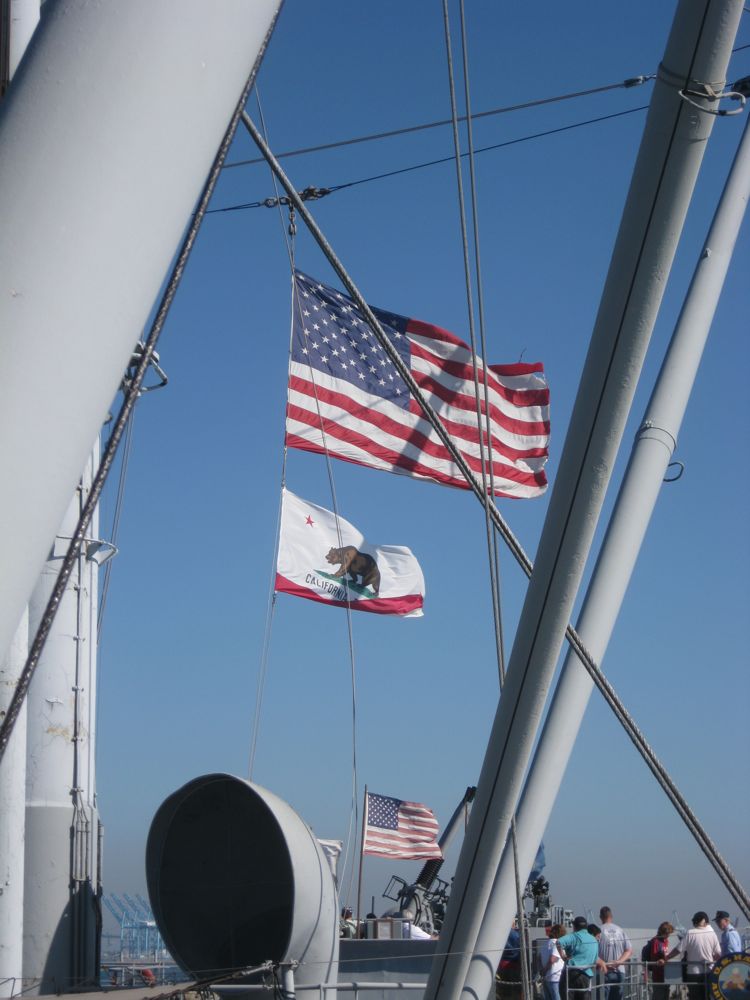 God Bless America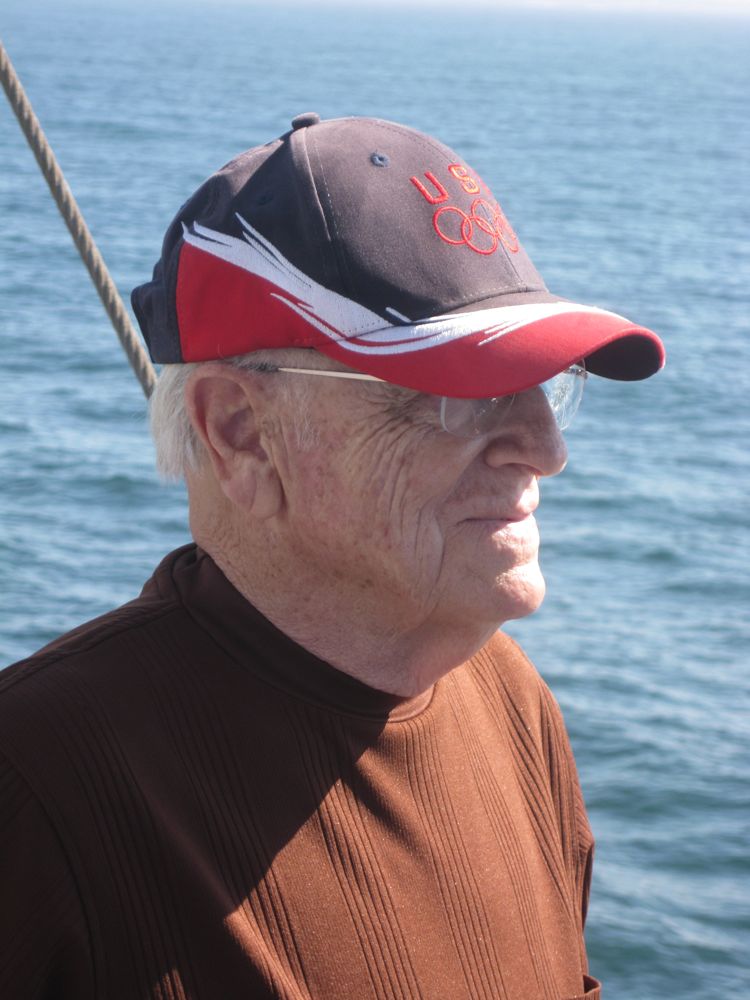 The Ancient Mariner stands watch
Did you know? - The Rime of the Ancient Mariner' relates the events experienced by a mariner who has returned from a long sea voyage. The Mariner stops a man who is on the way to a wedding ceremony and begins to recite a story. The Wedding-Guest's reaction turns from bemusement to impatience and fear to fascination as the Mariner's story progresses'

Beyond the breakwater the ship begins to move a bit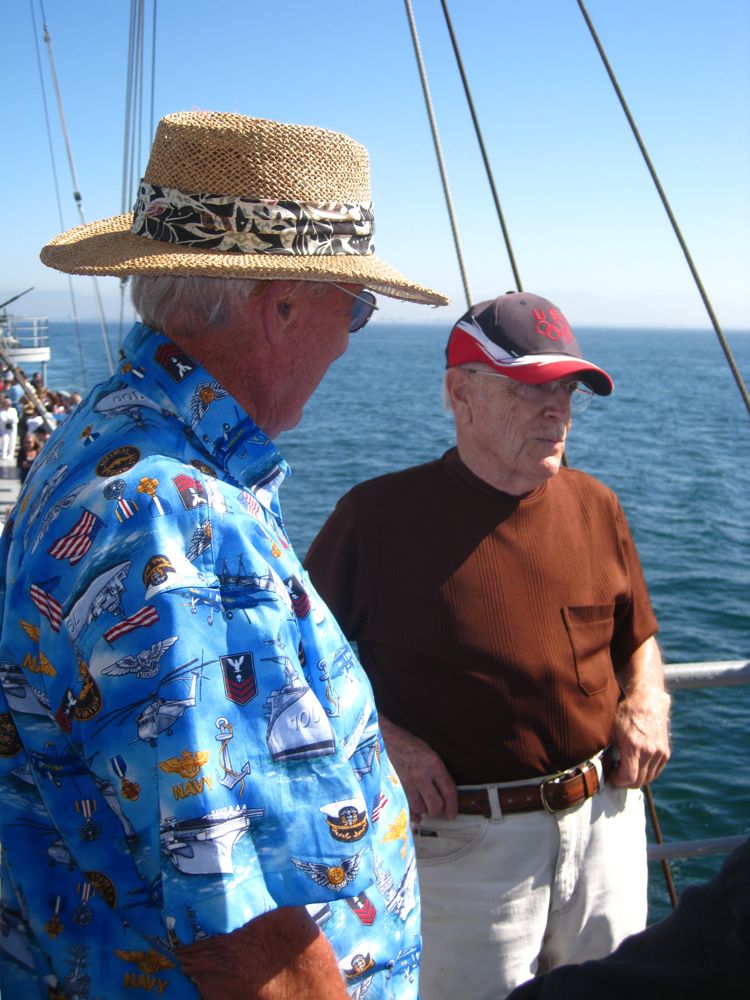 Swapping stories!
The Passageways A Full Of Terrible Stories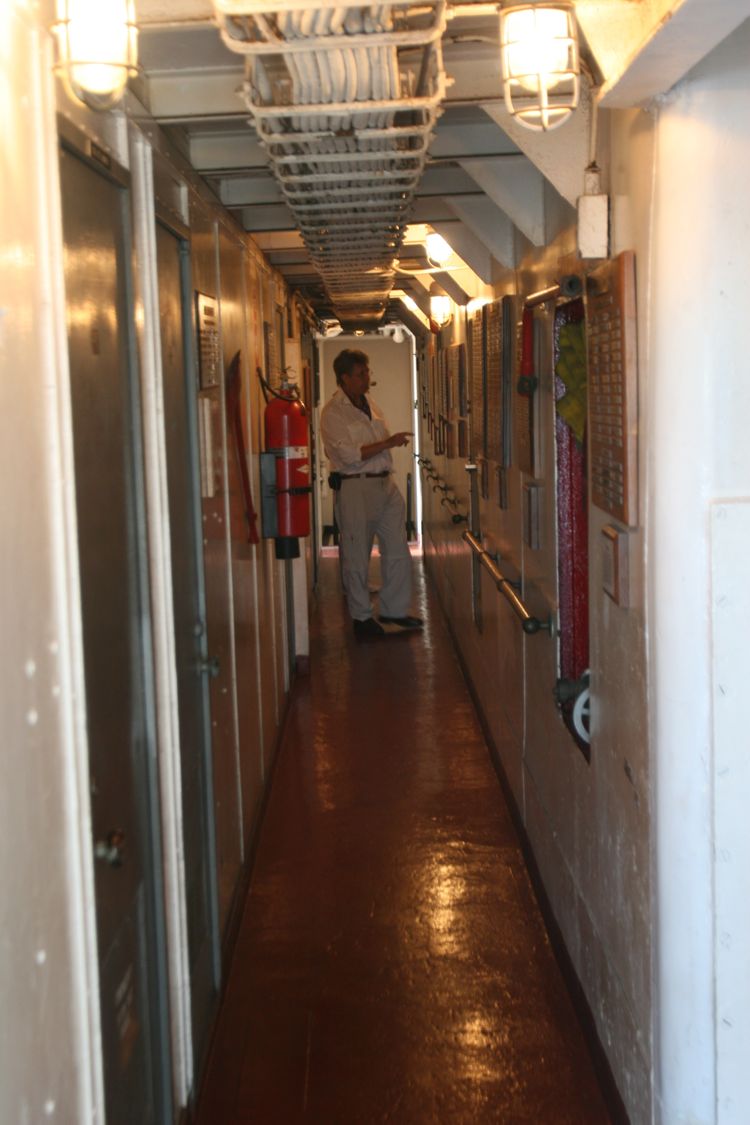 Brian reads many of the tributes to these brave men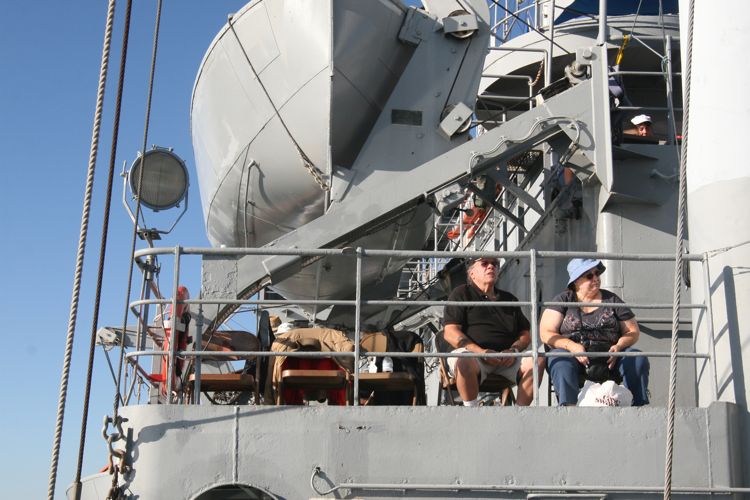 Our spot!

The signal bridge was directly about the command bridge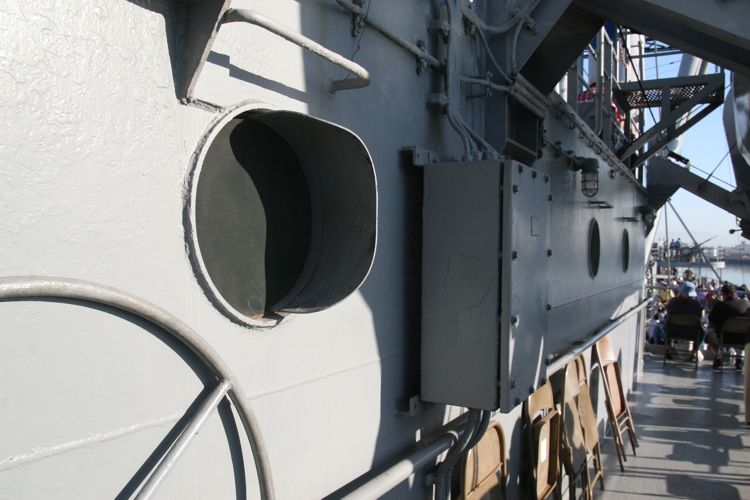 Necessity is the mother of invention

"Now Paul, tell me more about those California Jumping Sharks"
The Memorial Service
Once past the breakwater, there was a ceremony held honoring another Victory Ship that was not so lucky. Each man's name was read out loud and a red, white, or blue carnation was sent to the sea.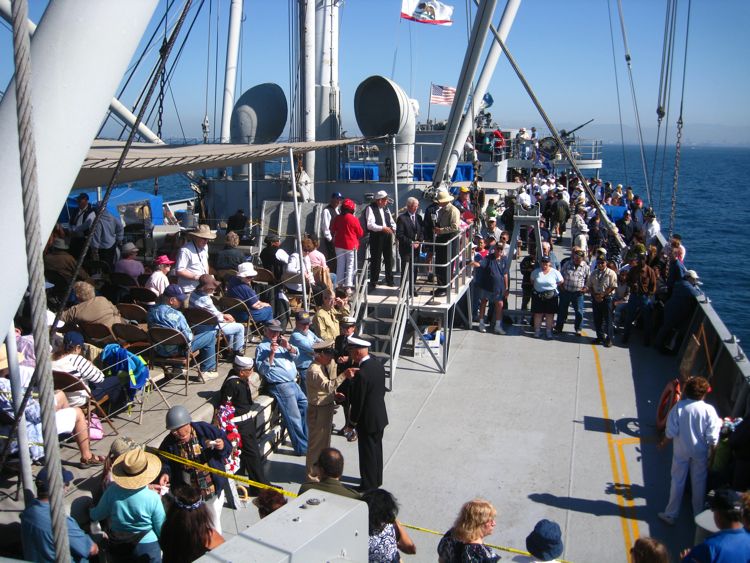 Preparing for the ceremony

The colors are presented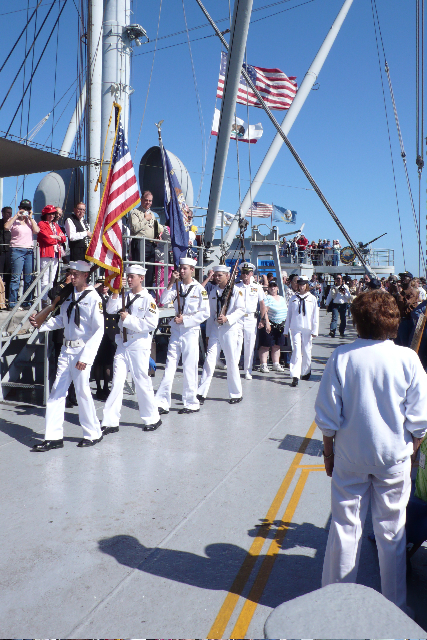 The names are read...

God Bless America and the United Kingdom!

The Sea Cadet does a nice job

A solemn time to remember

We were treated to "Amazing Grace"
Did you know? - "Amazing Grace" is a Christian hymn written by English poet and clergyman John Newton (1725–1807), published in 1779. With a message that forgiveness and redemption are possible regardless of the sins people commit and that the soul can be delivered from despair through the mercy of God, "Amazing Grace" is one of the most recognizable songs in the English-speaking world.

There were a fair number of tears in the audience