We Arrive At The Lane Victory 2008 (Page One)
Everything begins with a line but we got to visit some nice people and a group from Australia was interesting to talk to.

Paul was even patient while awaiting of turn to board the vessel

We were trying to figure out where to roost for the
voyage making sure we had shade, a view, and air!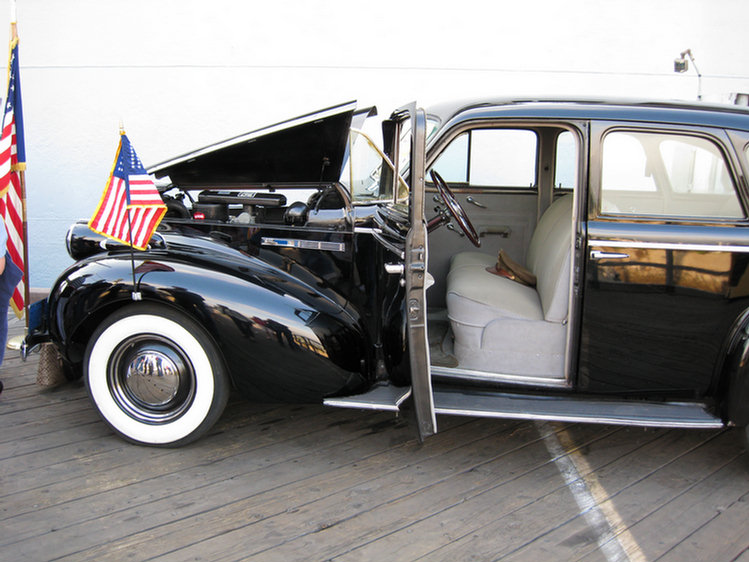 Great car on the dock reminding us of WWII

We arrived at 7:00 to a throng of people! Full contingent of 800 today!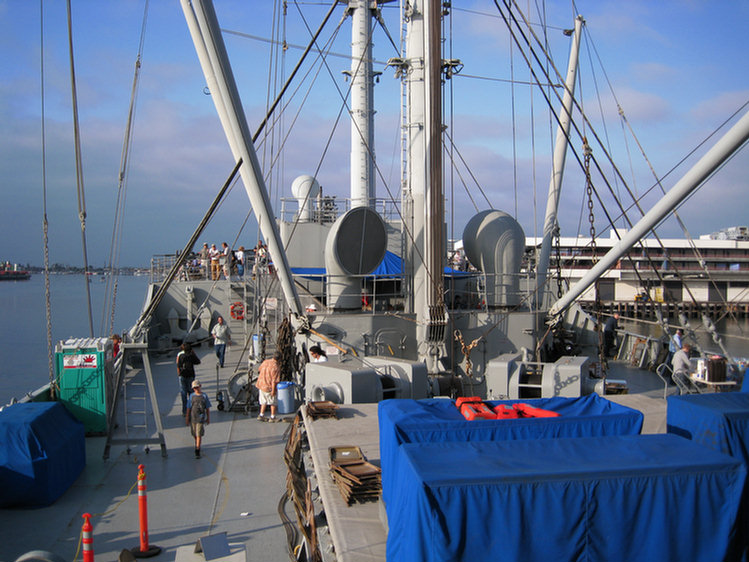 We are on and doing a quick walk-about finding
the facilities and other important locations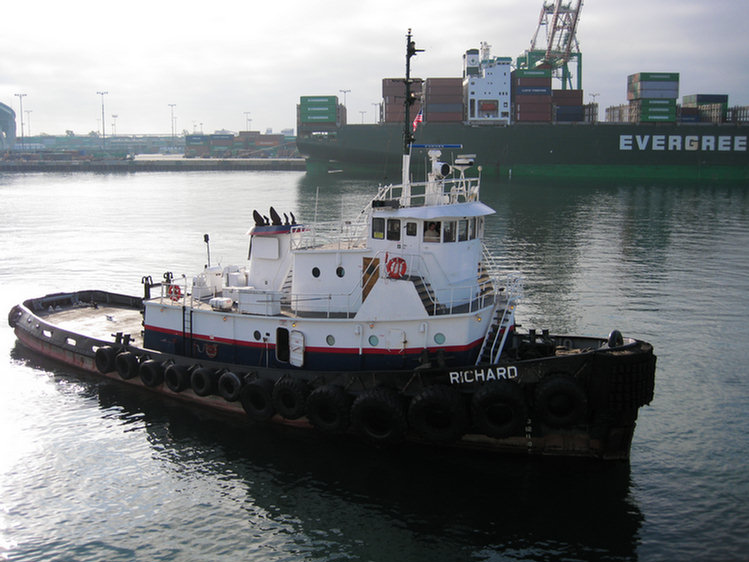 Tugs at work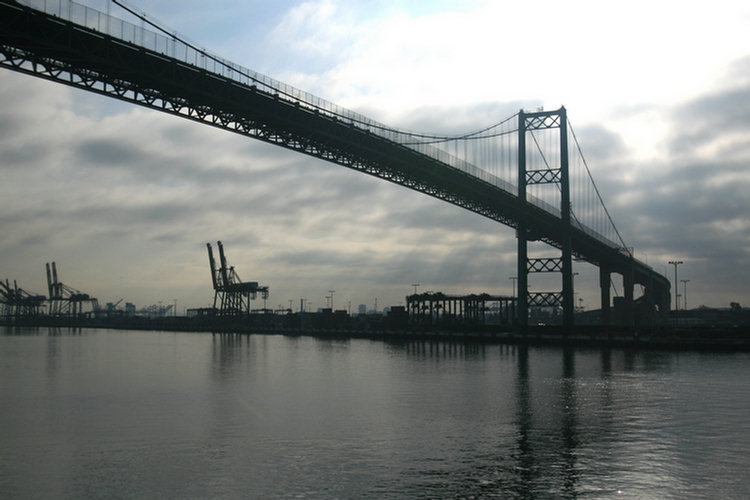 The Lane Victory is directly underneath the Vincent Thomas Bridge in San Pedro
Did You Know? - One San Pedro landmark is the Vincent Thomas Bridge, a 1,500-foot- long suspension bridge linking San Pedro with Terminal Island and named after California Assemblyman Vincent Thomas. It is the third longest suspension bridge in California. Nearby is the Los Angeles Maritime Museum, the largest maritime museum in California, as is the museum ship SS Lane Victory, a fully operational victory ship of World War II and National Historic Landmark.

We studied the seating arrangements and got the best seat in the house...
We could listen to the music, we were in the shade,
close to the food, and high enough to see everything!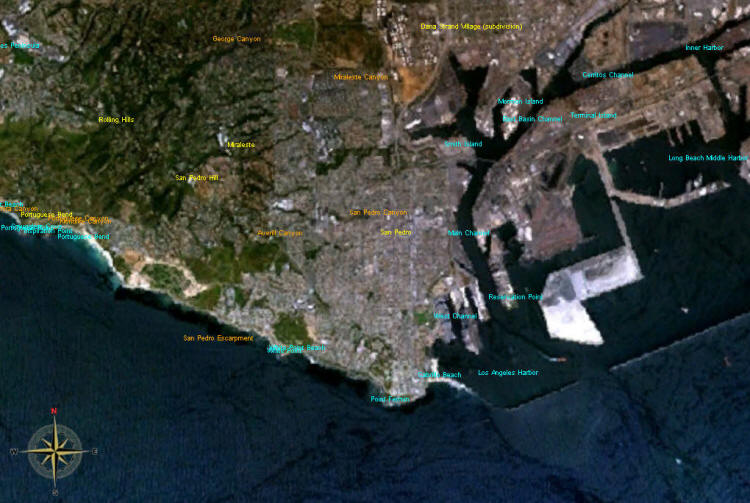 Click to see expanded view. We left from the
main channel at the foot of the VT Bridge.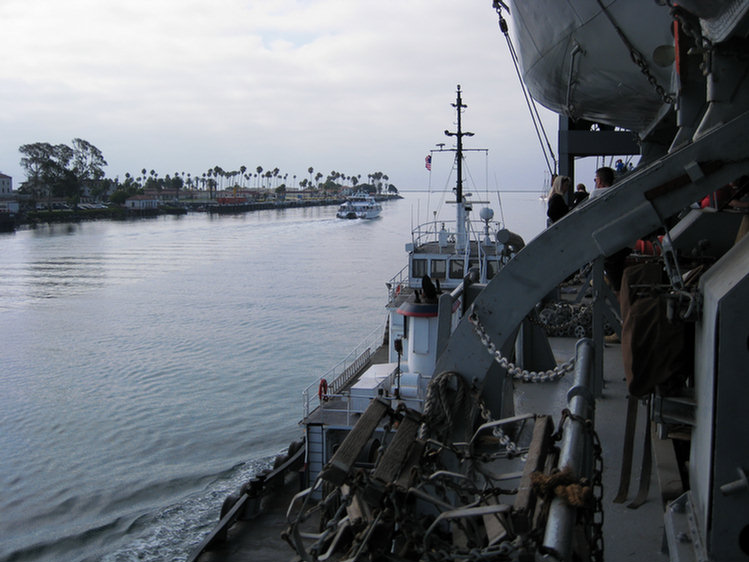 San Pedro Harbor

Our tug was right on time
The Tall Ship Festival Was Underway In San Pedro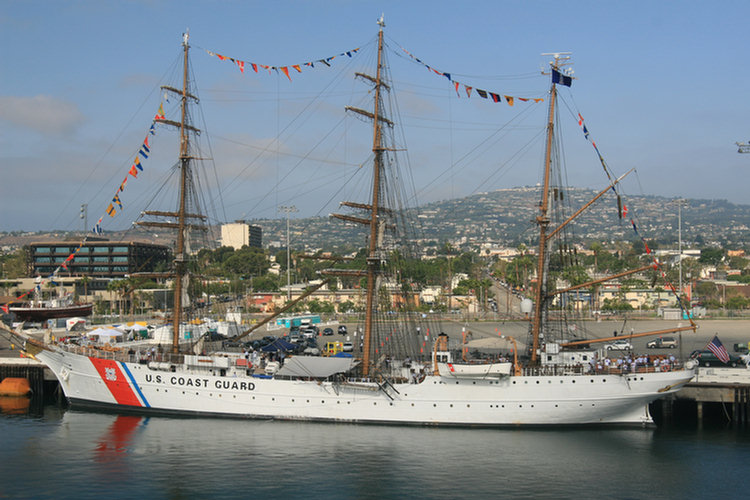 USCGC Eagle (WIX-327), the United States' only active duty tall ship
We Are Headed For Catalina To Deliver The Goods!

Lazy seals lying on the buoy in the harbor sleeping the day away
Oil Oil Everywhere!
Did You Know? - An oil platform or oil rig is a large structure used to house workers and machinery needed to drill and/or extract oil and natural gas through wells in the ocean bed. Depending on the circumstances, the platform may be attached to the ocean floor, consist of an artificial island, or be floating. Generally, oil platforms are located on the continental shelf, though as technology improves, drilling and production in deeper waters becomes both feasible and profitable. A typical platform may have around thirty wellheads located on the platform and directional drilling allows reservoirs to be accessed at both different depths and at remote positions up to 5 miles (8 kilometers) from the platform.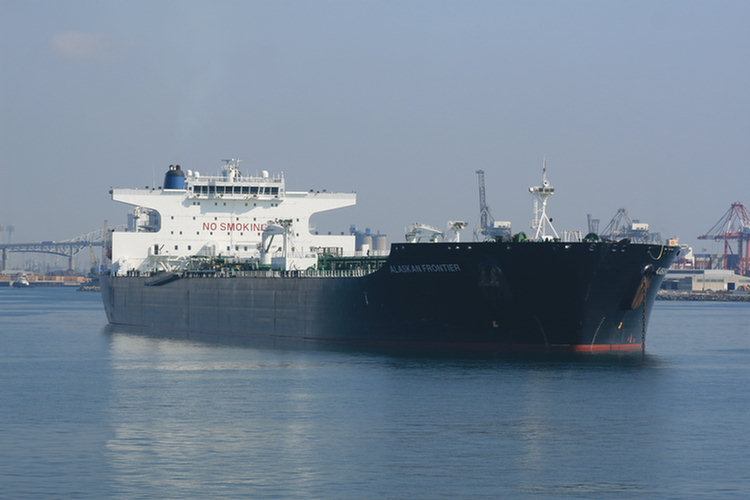 42,000,000 gallons each trip!
We Finally Leave The Breakwater For The Open Sea

We always wonder what they catch besides a cold?
Did You Know? - Offshore breakwaters, also called bulkheads, reduce the intensity of wave action in inshore waters and thereby reduce coastal erosion. They are constructed some distance away from the coast or built with one end linked to the coast. The breakwaters may be small structures, placed one to three hundred feet offshore in relatively shallow water, designed to protect a gently sloping beach. Breakwaters may be either fixed or floating: the choice depends on normal water depth and tidal range.

When oncoming waves hit these breakwaters, their erosive power is concentrated on these structures some distance away from the coast. In this way, there is an area of slack water behind the breakwaters. Deposition occurring in these waters and beaches can be built up or extended in these waters. However, nearby unprotected sections of the beaches do not receive fresh supplies of eroded sediments and may gradually shrink due to erosion.
1940's Dancing Went On All Day!

Good music by a live band enabled us to dance during the adventure.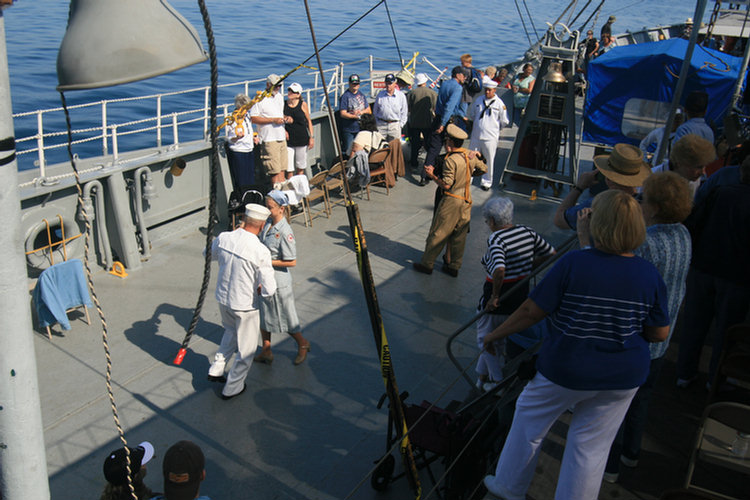 A Ceremony Planned To Honor The Fallen Merchant Marine Seamen
Did You Know? - In WWII, the chances of being killed if you were in the Merchant Marine was 1 in 27 and being killed as a Marine was 1 in 39! The Merchant Marine service was far more dangerous than the US Marines!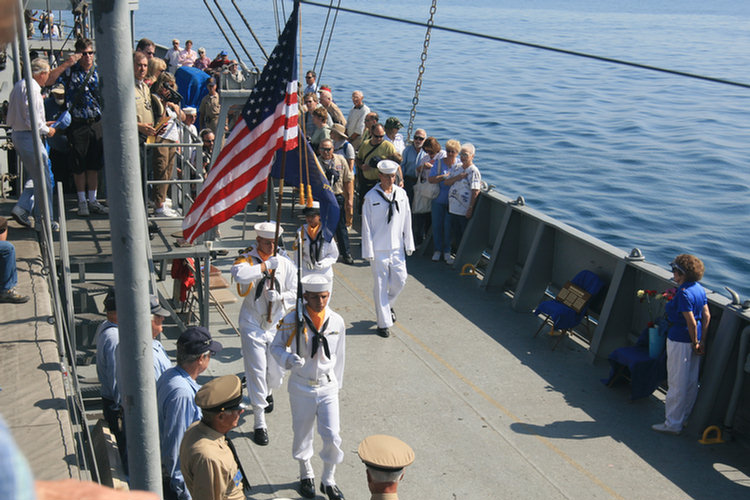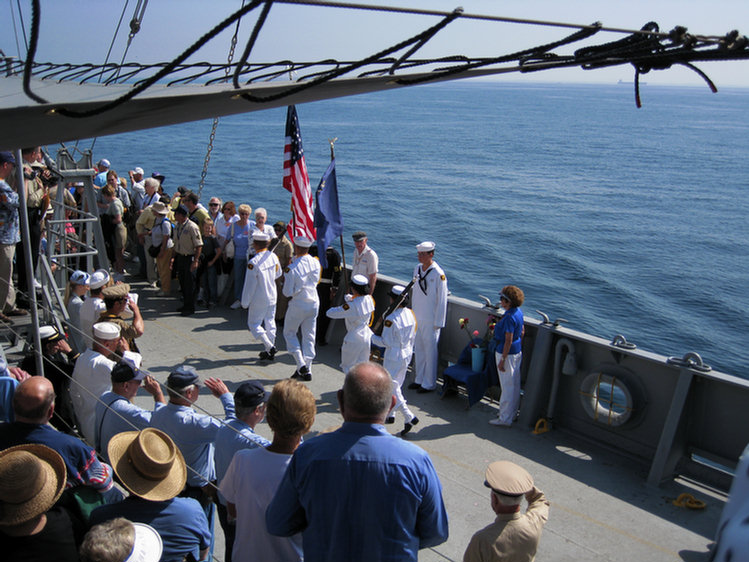 Most people stood up with the hand over their hearts!
We Sat Too Long, Time To Wonder Around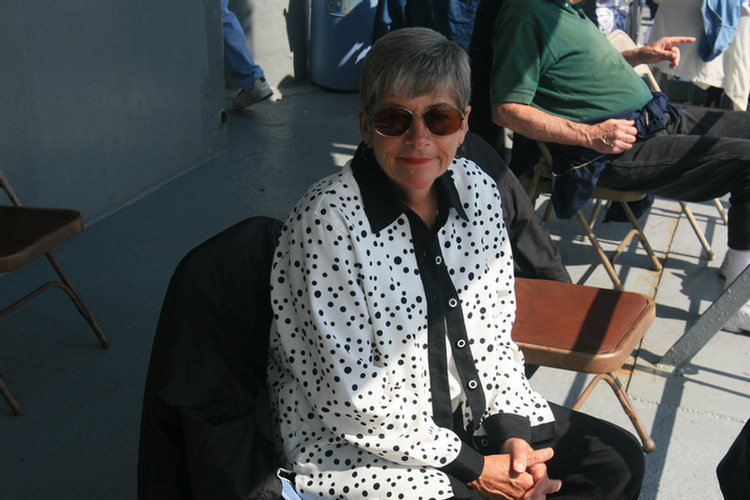 I have been sitting too long!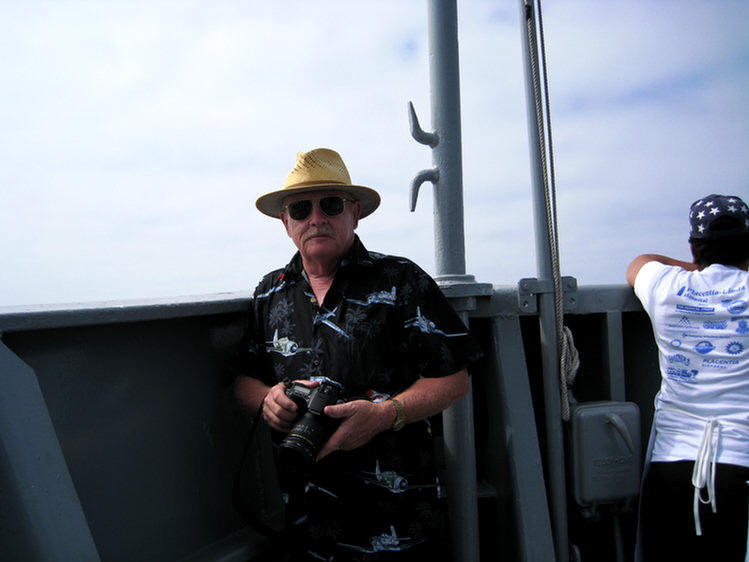 No, I refuse to do the standing up on the front and
fly routine! I'll just hold the camera.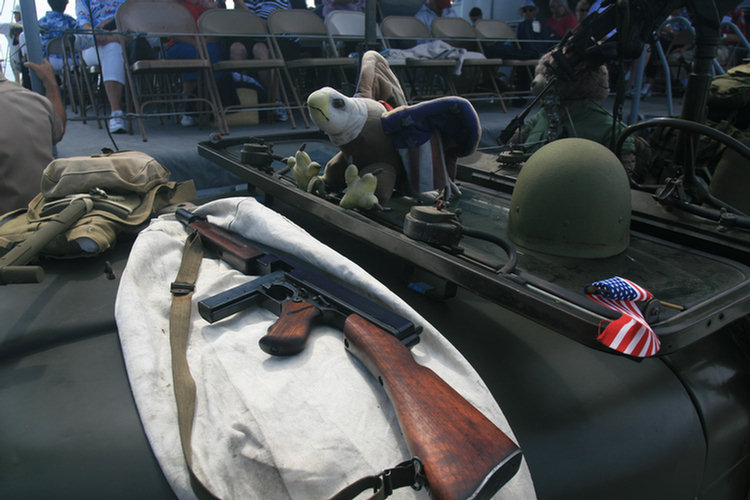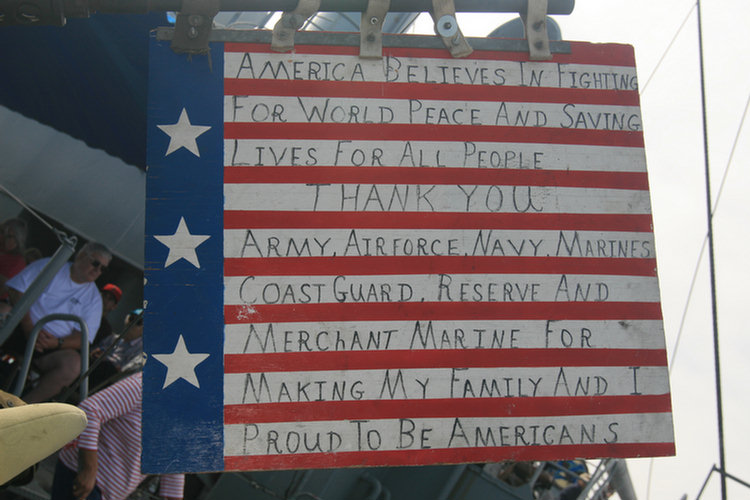 Amen to this sign. We pretty much saved the world from Hitler and the Japanese through the heroic exploits of our servicemen and women!
The Ship Is In Excellent Shape

"Look at these neat little handles!"

The 3" anti-aircraft gun was no air rifle!
Did You Know? - One of the first acts of the United States War Shipping Administration when it was formed in February 1942 was to commission the design of the class, initially designated EC2-S-AP1, where EC2 = Emergency Cargo, type 2 (Load Waterline Length between 400 and 450 feet), S = steam propulsion with one propeller (EC2-S-C1 had been the designation of the Liberty ship design). It was changed to VC2-S-AP1, and the title Victory Ship officially adopted on 28 April 1943.
The VC2-S-AP2,VC2-S-AP3, and VC2-M-AP4 were armed with a 5 inch (127 mm) stern gun for use against submarines, a bow-mounted 3 inch (76 mm) anti-aircraft gun and eight 20 mm cannon, also for use against aircraft. These weapons were manned by United States Naval Armed Guard personnel, members of the United States Navy.

Careful, Sue has the camera!
Don't Mess With Me!
Did You Know? - United States Navy Armed Guard units were established during World War II in an attempt to provide defensive firepower to merchant ships in convoy or merchant ships traveling alone. This was done because of the constant danger from enemy submarines, surface raiders, fighter aircraft and bombers, and because of the shortage of Allied escort vessels necessary to provide the merchant vessels with adequate protection.
The United States Navy Armed Guard (USNAG) were U.S. Navy gun crews consisting of Gunner's Mates, Coxswains and Boatswains, Radiomen, Signalmen, an occasional Pharmacist (Hospital Corpsman), and toward the end of the war a few radarmen serving at sea on Merchant Ships. Armed Guard crews served on Allied merchant marine ships in every theatre of the war. Typically the crew was led by a single commissioned officer, but earlier in the war chiefs and even petty officers had command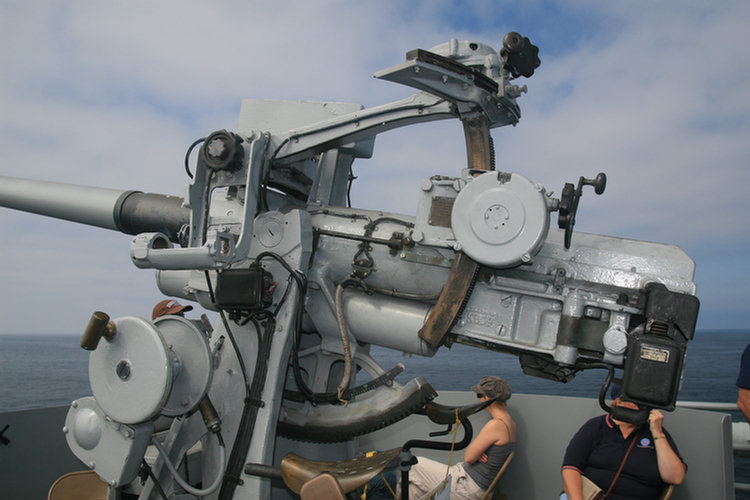 Did You Know? - The ship was armed with a 5 inch (127 mm) stern gun for use against submarines, a bow-mounted 3 inch (76 mm) anti-aircraft gun and eight 20 mm cannon, also for use against aircraft. These weapons were manned by United States Naval Armed Guard personnel, members of the United States Navy.
Did You Know? - California Shipbuilding Corporation built 467 Liberty and Victory ships during World War II, including Haskell-class attack transports. California Shipbuilding Corporation was often referred to as Calship.

The Calship shipyard was created at Terminal Island in Los Angeles, California, USA as part of the WWII shipbuilding effort. It was initially 8 ways, and increased to 14. After the war it was liquidated. Calship was sited on the East Basin side of Terminal Island, north of Dock Street.