Sunday - The Zaitz' Attack Europe (Page One)
10-day Mediterranean Enchantment cruises on the ms Noordam. We departed for Rome on Saturday afternoon arriving on Sunday and then to the ship.
Day

Port

Arrive

Depart

1

Rome (Civitavecchia), Italy - Sunday arrived at boat

which was berthed at the Rome. Rome is not actually on the Mediterranean Sea. It is located on the Tiber River, and the Tiber is WAY too small for cruise ships to sail on. Ancient legends report that Rome was founded on the seven hills flanking the Tiber by the two brothers Romulus and Remus.

Sunday

5.00pm

2

Livorno, (Florence, Pisa) Italy -

Spending only one day in Florence, or Firenze, as it is called in Italy, is almost overwhelming. Florence is one of the most beautiful, fascinating, and popular cities in Europe for travelers. Because of this popularity, many cruise ships sailing the Mediterranean include Livorno, the nearest port to Florence, as a stopover. Even very small cruise ships cannot sail up the Arno River to Florence, so after docking in Livorno, wel needed to ride a bus the 1-1/2 hours into Florence for a full day shore excursion

Monday
7.00am

8.00pm

3

Monte Carlo, Monaco - Our tour was a village on top of a hill outside of Neese, France.

. Arriving by ship into the Monte Carlo harbor is an amazing experience. We were faced with the sight of one magnificent yacht after another vying for space in the little harbor.

Tuesday
8.00am

5.00pm

4

Barcelona, Spain -

The ports are at the foot of La Rambla (Barcelona´s most famous Boulevard, also often referred to as Las Ramblas) which runs through the heart of the city centre.

Wednesday
Noon

5

Barcelona, Spain Page 2 & Page Three - Don't miss the flamengos

Thursday
11.00pm

6

Mallorca, Spain -

Palma de Mallorca, a major port city on the island of Mallorca and the capital of Spain's Balearic Islands, is a delightful cross between the Arabian Nights and the Renaissance, reflecting its checkered past of African and European control. It is the largest city on Mallorca, home to about 300,000 people -- a big, bustling place, with most of the tourist action in the old part of town around the Cathedral.

Friday
9.00am

6.00pm

7

At Sea

Saturday

8

La Goulette, Tunisia & Page 2 -

Tunis is the capital of Tunisia, the northernmost country in Africa, but the city feels neither Arab nor African. It's a place where old and new mix without any seeming conflict, in both the architecture (with Moorish and French influences) and way of life.

Sunday
8.00am

5.00pm

9

Trapani, Sicily. IT -

Trapani (Sicilian: Tràpani) is a city and comune on the west coast of Sicily in Italy. It is the capital of the Province of Trapani. Founded by Elymians, the city is still an important fishing port and the main gateway to the nearby Egadi Islands

Monday
8.00am

5.00pm

10

Naples (Pompeii) , Italy -

Once quite a brilliant city, Naples, on Italy's southwest coast, began a decline in the mid-19th century and hasn't quite recovered since. We decided to see Pompeii in the short time we had. Though Mt. Vesuvius had once been a very active volcano, it had remained dormant for as long as humans could remember. Since no legacy of destruction had been passed down from their ancestors, the people living near the mountain didn't realize there was any potential for danger. The first warning sign came on February 5th, A.D. 62. About midday, a "long, muffled roar" shook the town; nobody could tell what it was, or where it had come from. Soon the earth began to tremble, and buildings collapsed all around. People rushed out of the town and away from the falling buildings, only to fall prey to deep chasms that ripped open the countryside without warning. The town's nearby reservoir also broke, adding floods to the chaotic scene. Though it was destructive, the first earthquake lasted for only a moment; an hour later, however, the area was seized by another tremor. The quakes continued to occur at unpredictable intervals, inflicting alternate moods of hysteria and hope, until nightfall.

Tuesday
7.00am

6.00pm

11

Rome (Civitavecchia), Italy - Rome is a marvelous city, and deserves a visit of several days, weeks, or even months. Those of us who love cruising are lucky to get a few days in Rome, either as a port of call or as a pre-cruise or post-cruise extension. Rome is not actually on the Mediterranean Sea. It is located on the Tiber River, and the Tiber is WAY too small for cruise ships to sail on. Ancient legends report that Rome was founded on the seven hills flanking the Tiber by the two brothers Romulus and Remus. Cruise ships port at Civitavecchia, and passengers are transported the one hour ride into the city by bus. Visiting Rome by cruise ship is much like visiting Florence--it's not that easy to get from the sea to the city, but it's well worth the trip.

Wednesday
7.00am

12-13

Rome Pages 2 , Page 3 , Page 4 , and Page 5

Friday
Saturday
All Day
Da Plane, Da Plane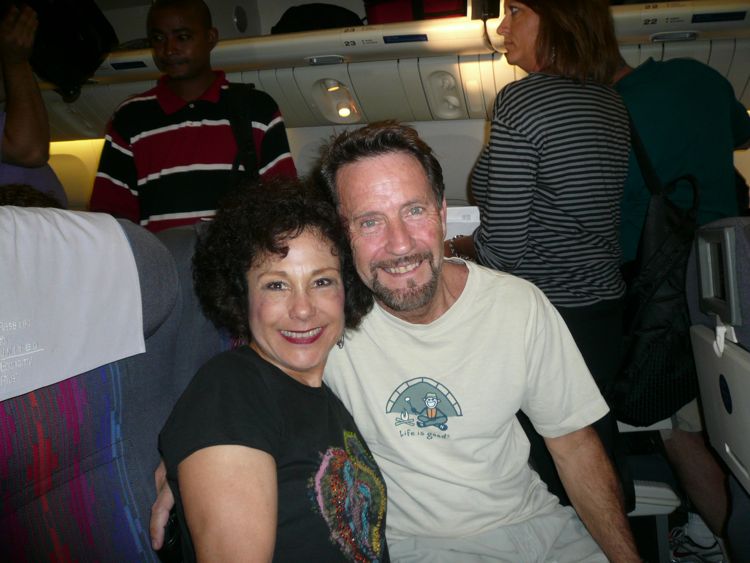 Winging their way to Rome.
We flew out of LA on Saturday picked up a flight in Dulles and then got to Rome on Sunday morning and went directly to the boat.

Airports are so much fun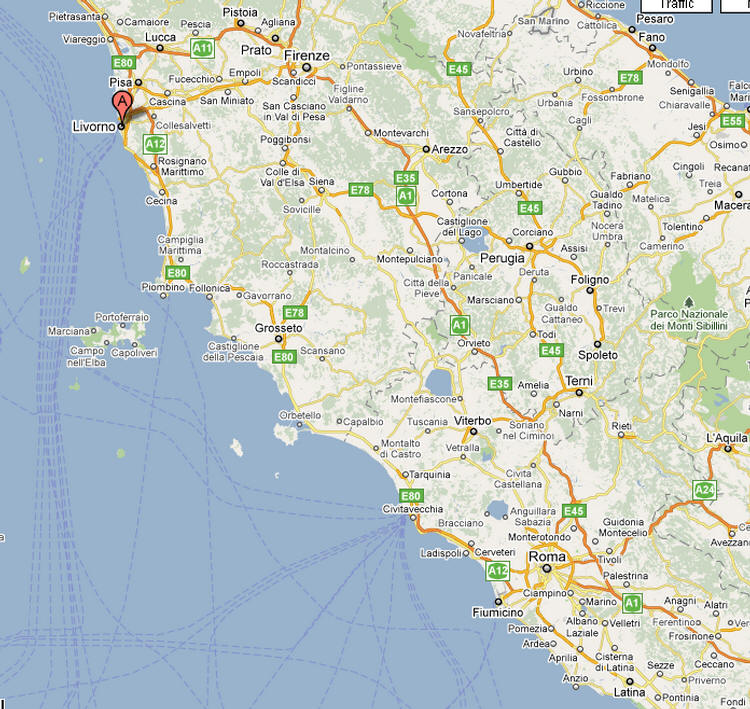 Short ride from Rome To Livorno (158 Miles)
Liverno to Florence called Firenze (50 Miles)
Almost At The Ship

Mr. Toads wild ride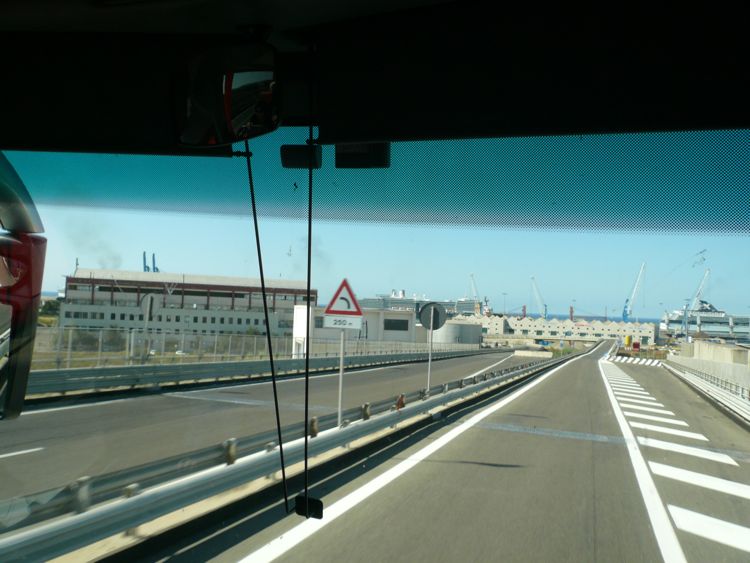 We see he port straight ahead

It was getting blurry after flying all day.... We need a nice warm bath
On The Ship Sunday Afternoon... Time to Unwind!

Hope Bob did not bring his soap!

Donna found a glass of wine

Amazing... Only four Italians pinched her so far!