San Diego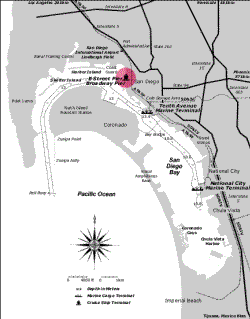 Cruise ships dock in scenic San Diego Bay, a 14-mile long natural harbor located in Downtown San Diego. Just 10 miles northwest of the Mexico border, cruise ships leaving San Diego usually head south along the Baja Peninsula to the Mexican Riviera. Other popular cruises from the "Big Bay" include voyages between San Diego and Florida with stops in Mexico and the Caribbean. Celebrity also offers cruises to South America from San Diego.
San Diego Cruise Ship Terminal is located at the B Street Pier on Harbor Drive just two miles from San Diego's Lindbergh International Airport. Many cruise lines include transportation to the cruise ship terminal from the airport. If you're driving to the cruise ship terminal, get on Ash Street and head west toward San Diego Bay. Turn left on Harbor Drive and the cruise terminal is on your right.
San Diego Wild Animal Park
Covering 1,800 acres, the San Diego Wild Animal Park gives animals room to roam.

Animals mingle just like they do in the wild, and visitors can see them as they might be seen in their native Asia and Africa.
As if that weren't enough, the San Diego Wild Animal Park is also a veritable Noah's Ark.

In its nearly 30-year history, hundreds of endangered species babies have been born in the park, and dozens of nearly-extinct species have been re-introduced into the wild.

In fact, every Arabian oryx now in the the wild is descended from the stock at the San Diego Wild Animal Park.
Pictures Please