Television As We Remember
Amazing that in the 1950's the television was without blood, guts, gore, sex, and bad words and yet it was entertaining. I guess writers had to work hard to be creative and make it entertaining and live within the proper bounds of the times. Today its all violence, sex, and bad behavior... I'll take the 1950's any day of the week!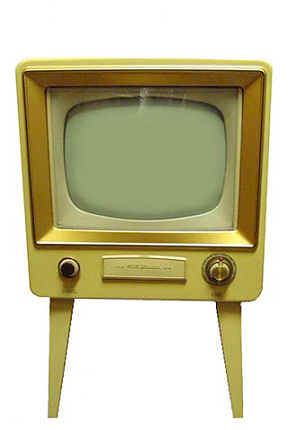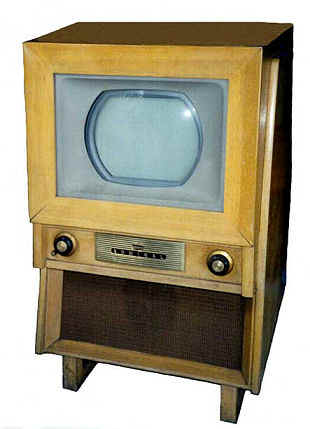 1950 Zenith, 1954 RCA, and a 1953 Admiral Color televisions
In television's electromechanical era, commercially made televisions were sold from 1928 to 1934 in the United Kingdom, United States, and Russia. The earliest commercially made televisions sold by Baird in the UK in 1928 were radios with the addition of a television device consisting of a neon tube behind a mechanically spinning disk (the Nipkow disk) with a spiral of apertures that produced a red postage-stamp size image, enlarged to twice that size by a magnifying glass. The Baird "Televisor" was also available without the radio. The Televisor sold in 1930–1933 is considered the first mass-produced television, selling about a thousand units.

The first commercially made electronic televisions with cathode ray tubes were manufactured by Telefunken in Germany in 1934, followed by other makers in France (1936), Britain (1936), and America (1938). The cheapest of the pre-World War II factory-made American sets, a 1938 image-only model with a 3-inch (8 cm) screen, cost US$125, the equivalent of US$1,863 in 2007. The cheapest model with a 12-inch (30 cm) screen was $445 ($6,633).

An estimated 19,000 electronic televisions were manufactured in Britain, and about 1,600 in Germany, before World War II. About 7,000–8,000 electronic sets were made in the U.S. before the War Production Board halted manufacture in April 1942, production resuming in August 1945.

Television usage in the United States skyrocketed after World War II with the lifting of the manufacturing freeze, war-related technological advances, the gradual expansion of the television networks westward, the drop in television prices caused by mass production, increased leisure time, and additional disposable income. While only 0.5% of U.S. households had a television in 1946, 55.7% had one in 1954, and 90% by 1962. In Britain, there were 15,000 television households in 1947, 1.4 million in 1952, and 15.1 million by 1968.
Television In 1950!
Debuts In 1950
Television Was Not On 24x7 In The Good Old Days!
TV began broadcasting about 5:30 with the American flag and a prayer and went off the air around midnight or one in the morning with a prayer, American flag and a USAF fighter flying through the clouds.
The national TV Guide was first published on April 3, 1953. Its premiere issue cover featured a photograph of Lucille Ball's and Desi Arnaz's newborn son, Desi Arnaz, Jr.

Monday May 1st, 1961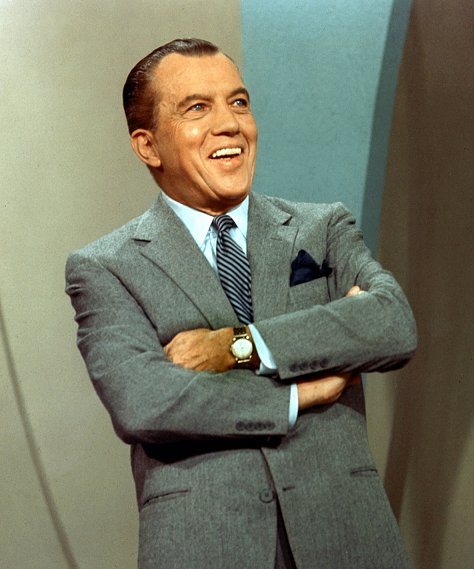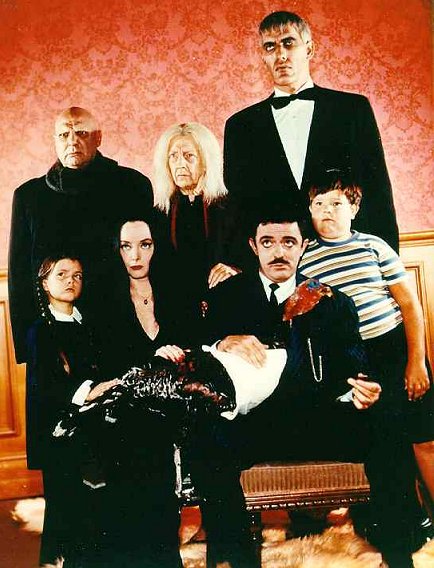 Ed Sullivan and the Addams Family
Did You Know? - Edward Vincent "Ed" Sullivan (September 28, 1901 – October 13, 1974) was an American entertainment writer and television host, best known as the presenter of a popular TV variety show called The Ed Sullivan Show that was at its height of popularity in the 1950s and 1960s. By 1971, the show was no longer in television's top 20. New CBS executives, who wanted to attract younger viewers, canceled the show along with virtually all of the network's oldest shows. Sullivan was so upset and angry that he refused to do a final show, although he did return to CBS for several TV specials and a 25th-anniversary show in 1973. One year later, the man known as "Big Old Stoney Face" died October 13th, 1974 of esophageal cancer at age 73 at New York's Lenox Hill Hospital, coincidentally on a Sunday night. His funeral was attended by 3,000 at St. Patrick's Cathedral, New York on a cold, rainy day. Sullivan is interred in a crypt at the Ferncliff Cemetery in Hartsdale, New York.
Did you know? The Addams Family is a group of fictional characters created by American cartoonist Charles Addams. Earlier Addams had worked in collaboration with his friend Ray Bradbury. In a 2001 interview Bradbury states that after failing to find a publisher, they went their own separate ways, with Bradbury creating the Elliott Family and Addams creating the Addams family. The Addamses are a satirical inversion of the ideal American family; an eccentric, wealthy family who delight in the macabre and are unaware that people find them bizarre or frightening. They originally appeared as a series of single panel cartoons in The New Yorker magazine, which gained popularity in the 1930s. They have since been adapted to other media, including television series, films and video games.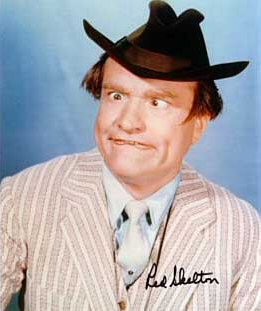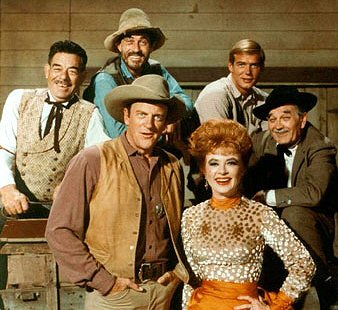 Red Skelton and Gunsmoke
Did you know? Richard Bernard "Red" Skelton (July 18, 1913 – September 17, 1997) was an American comedian who was best known as a top radio and television star from 1937 to 1971. Skelton's show business career began in his teens as a circus clown and went on to vaudeville, Broadway, films, radio, TV, night clubs and casinos, while pursuing another career as a painter. Born in Vincennes, Indiana, Skelton was the son of a Hagenbeck-Wallace Circus clown named Joe who died in 1913 shortly before the birth of his son. Skelton himself got one of his earliest tastes of show business with the same circus as a teenager. Before that, however, he had been given the show business bug at 10 years of age by entertainer Ed Wynn, who spotted him selling newspapers in front of the Pantheon Theatre, in Vincennes, trying to help his family. After buying every newspaper in Skelton's stock, Wynn took the boy backstage and introduced him to every member of the show with which he was traveling. By age 15, Skelton had hit the road full-time as an entertainer, working everywhere from medicine shows and vaudeville to burlesque, showboats, minstrel shows and circuses. While performing in Kansas City, in 1930, Skelton met and married his first wife, Edna Stillwell. The couple divorced 13 years later, but Stillwell remained one of his chief writers .
Did you know? The television series ran from September 10, 1955 to March 31, 1975 on CBS for 635 episodes. Until 2005, it was the longest run of any scripted primetime series with continuing characters in American primetime television.
Conrad was the first choice to play Marshal Dillon on TV, having established the role, but his increasing obesity led to more photogenic actors being considered. Losing the role embittered Conrad for years, though he later starred in another CBS television series, Cannon (1971–1975). Denver Pyle was also considered for the role, as was Raymond Burr who was ultimately seen as too heavyset for the part. According to a James Arness interview, John Wayne was offered the role, but wouldn't do it; Wayne was one of the biggest stars in Hollywood, and at that time, working in television was seen as a huge step down in prestige for a star actor.
In the end, the primary roles were all recast, with James Arness taking on the lead role of Marshal Matt Dillon upon the recommendation of John Wayne, who also introduced the first episode of the series; Dennis Weaver playing Chester Goode; Milburn Stone being cast as Dr. Galen "Doc" Adams; and Amanda Blake taking on the role of Miss Kitty Russell, owner of the Long Branch Saloon. MacDonnell became the associate producer of the TV show and later the producer. Meston was named head writer. Arness, in his role on Gunsmoke, achieved what no other actor at the time had ever matched: he played the same character on the same scripted series for 20 years - at the time the longest uninterrupted period a primetime actor had played the same role in the same show.
Westerns Were Never Far Away!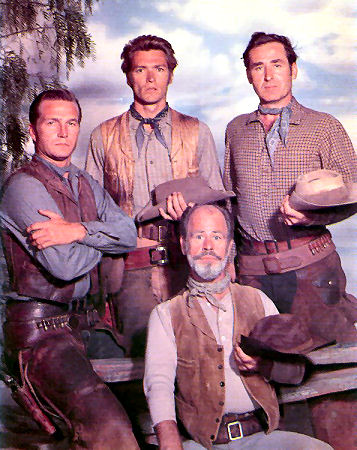 Bonanza and Rawhide were major hits
Did you know? Bonanza is an American television series that ran on NBC from September 12, 1959 to January 16, 1973. Lasting 14 seasons, it is among the longest running Western television series (behind Gunsmoke) and continues to air in syndication. Bonanza got its name from the Comstock Lode which was "an exceptionally large and rich mineral deposit" of silver. Virginia City was founded directly over the lode which was mined for 19 years. Ponderosa was an alternative title of the series, used for the broadcast of syndicated reruns while Bonanza was in first-run on NBC. Ponderosa is also the name of a series prequel airing on PAX-TV from 2001-02.
The Bonanza pilot, "Rose for Lotta," was written by David Dortort, who also produced the series. Dortort's other creations include The Restless Gun, The High Chaparral, The Cowboys, and the Bonanza prequel, Ponderosa. For most of its 430 episode run, the main sponsor of Bonanza was Chevrolet and the stars occasionally appeared in commercials endorsing Chevrolet automobiles. All of the regular cast members had appeared in numerous stage, television and film productions before Bonanza, but none was particularly well-known.
In 1959, the series aired on Saturday evenings opposite, The Perry Como Hour. Bonanza was one of the first series to be filmed and broadcast in color. RCA owned NBC (and the series) and wanted to use it to spur sales of color television sets. However, the Saturday night ratings were dismal and Bonanza was soon targeted for cancellation. Given one last chance, it was moved to Sunday nights at 9:00 PM. The new time slot caused the series to soar, and it eventually reached number one by the mid-'60s; by 1970, it had become the first series to ever wind up in the Top Five for nine consecutive seasons (a record which would stand for decades) and thus established itself as the single biggest hit TV series of the 1960s; it remained high on the Nielsen ratings until 1971, when it finally fell out of the top ten.
The opening burning map of the Ponderosa Ranch was illustrated with incorrect bearings. David Dortort, choosing not to redo the map, altered the compass points.
Did you know? Rawhide was a television western series that aired on the U.S. network CBS from 1959 to 1966. The show starred Eric Fleming and launched the career of Clint Eastwood. The series ran for eight seasons on the CBS network on Friday nights, from January 9, 1959 to January 4, 1966, with a total of 217 episodes, all filmed and broadcast in black and white. It was produced and sometimes directed by Charles Marquis Warren who also produced early episodes of Gunsmoke. Warren based Rawhide on the movie Cattle Empire that he directed in 1958 and for which Endre Bohem was a screenwriter and Paul Brinegar, Steve Raines and Rocky Shahan were actors; all also worked in Rawhide. Its premiere episode reached the top 20 in the Nielsen Ratings. It rose steadily in popularity until, towards the end of the series run, it was one of America's top ten shows. Rawhide was the fifth-longest-running American TV western, beaten only by nine years of The Virginian and Wagon Train, fourteen years of Bonanza, and twenty years of Gunsmoke.
They Continued To Poke fun At The American Male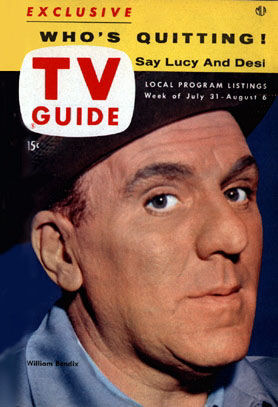 Life of Riley (William Bendix) and Sargeant Bilko (Phil Silvers)
Did you know? William Bendix (January 14, 1906 – December 14, 1964) was an American film actor. Bendix, named for his paternal grandfather, was born in Manhattan, New York City, the only son of Cleveland-born Oscar and London-born Hilda (nee Carnell) Bendix. As a youth in the early 1920s, Bendix was a batboy for the New York Yankees and said he saw Babe Ruth hit more than a hundred home runs at Yankee Stadium. In 1927, he married Theresa Stefanotti.
Bendix worked as a grocer until the Great Depression, before making his film debut in 1942. He played in supporting roles in dozens of Hollywood films, usually as a soldier, gangster or detective. He started with appearances in film noir films including a memorable performance in The Glass Key (1942), which also featured Brian Donlevy and Veronica Lake. He soon gained more attention after appearing in Alfred Hitchcock's Lifeboat (1944) as Gus, a wounded and dying American sailor.
Bendix's other well-known movie roles include his portrayal of baseball player Babe Ruth in The Babe Ruth Story (1948) and Sir Sagramore opposite Bing Crosby in A Connecticut Yankee in King Arthur's Court (1949), in which he took part in the famous trio, "Busy Doing Nothing".
He also played Nick the bartender in the 1948 film version of William Saroyan's The Time of Your Life starring James Cagney. Bendix had also appeared in the stage version, but in the role of Officer Krupp (a role played on film by Broderick Crawford).Bendix was also well known in that era for his radio work, starring as "Chester A. Riley" in the radio situation comedy series The Life of Riley from 1944 through 1951. He also played the title role in the second television version of the series, which ran from 1953 to 1958 (Jackie Gleason played Riley in a short-lived 1949 version)
Did you know? Phil Silvers (May 11 1911 – November 1 1985) was an American entertainer and comedy actor. He is best known for starring in The Phil Silvers Show, a 1950s sitcom set on a U.S. Army post in which he played Sergeant Bilko.
Born Fischl Silver in Brooklyn, New York, Silvers was the youngest of eight children in a Russian Jewish family. His father was one of the workers on the early New York skyscrapers. Silvers started entertaining at age 11, when he would sing in theaters when the projector broke down (a common occurrence in those days). Two years later, he left school to sing professionally, before appearing in vaudeville as a stooge.